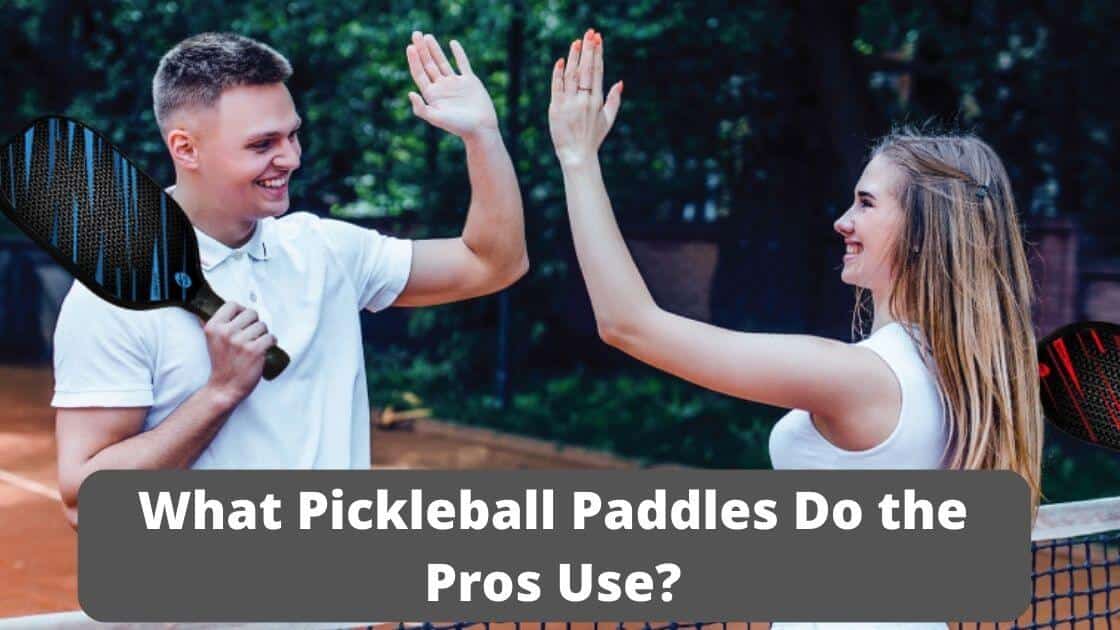 Are you curious about what pickleball paddles the pros use? If yes, then this post is for you.
Pickleball is a popular sport that has been gaining traction in recent years. This racquet sport combines badminton, tennis, and table tennis and is enjoyed by players of all ages and skill levels. As the game continues to grow in popularity, so too does the interest in what pickleball paddles the pros use.
In this article, we will explore the types of paddles and top pickleball paddles used by professional players and discuss why they choose them.
Unlocking the Secrets of the Pros' Pickleball Paddles
If you've ever watched a pickleball match and wondered what in the world those paddles are, you're not alone.
Professional pickleball players use top-of-the-line gear to get every edge they can, but learning which paddles they choose can be tricky. To unlock the secrets of the pros' pickleball paddles, some key characteristics set them apart from the average player's equipment.
The pros typically opt for lightweight paddles with a large sweet spot—the area on the paddle face that generates powerful shots without putting unnecessary strain on their arms and wrists. They also look for a good balance of control and power, meaning they need their paddle to have enough heft to send shots deep into the court but still feel maneuverable in their hands.
We are reader supported and as such may make a small commission at no expense to you if you purchase thru our links! Thank you!
What Pickleball Paddles Do the Pros Use? ( Top Men & Women Players in The World )
Anna Leigh Waters is currently the world #1 ranked women pickleball player who has been competing professionally for over five years. She recently switched to the Paddletek Bantam TS-5 Pro Middleweight paddle, and it's easy to understand why when you look at what this paddle can do.
The most notable feature of this paddle is its extra-long handle which ensures Anna Leigh gets maximum leverage on her strokes.
Its middleweight design means it provides a great balance between power and control, allowing her to compete with confidence no matter the skill level of her opponent.
In addition, the textured surface gives her an excellent grip, which helps prevent slips and misplays during intense matches.
Finally, with its vibration-dampening technology integrated into the handle, players can enjoy a smooth playing experience without tiring out quickly.
It's lighter weight than other paddles due to its mid-core construction; this allows for maximum speed and control when making shots.
This makes the Paddletek Bantam TS-5 Pro Middleweight one of the top picks among professional players looking for a reliable weapon in their pickleball arsenal.
Specifications:
Core: Bantam SRT Core
Weight: 7.6-8.1 oz
Handle Length: 4 ¾"
Grip Circumference: 4 ⅜"
Paddle Surface: Textured Fiberglass Epoxy Hybrid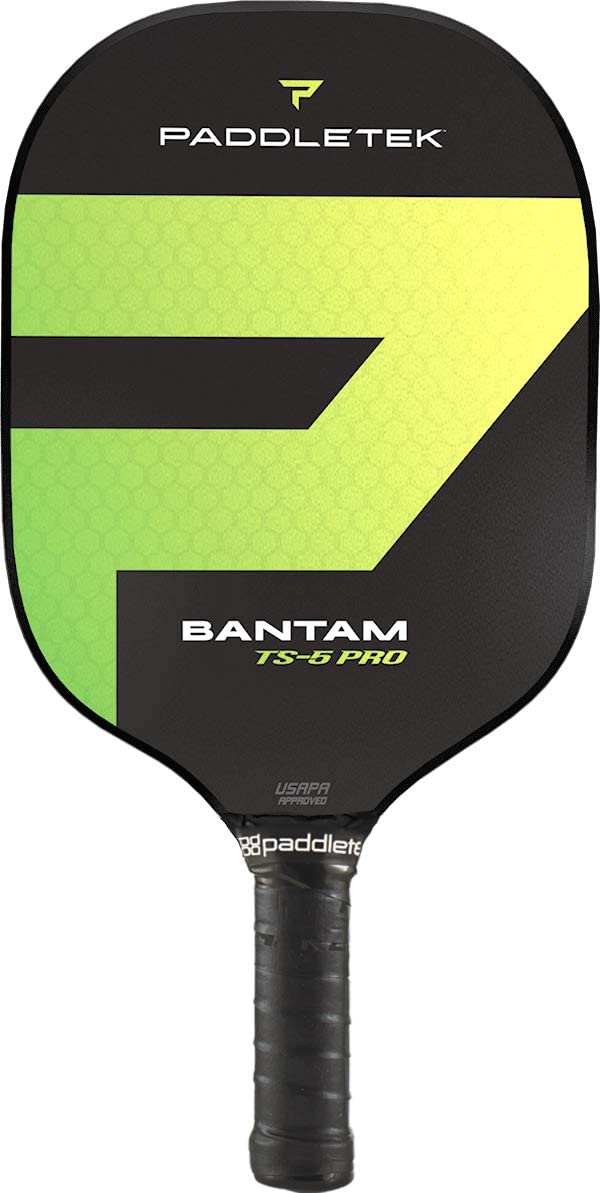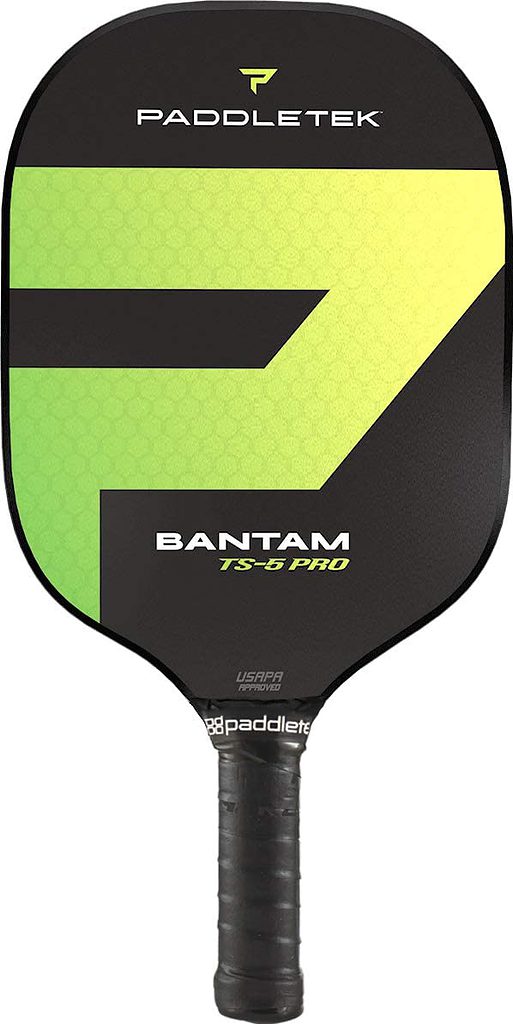 What Pickleball Paddle Does Ben Johns Use?
Ben Johns is a professional pickleball player who is currently ranked #1 in the world. He has consistently placed among the top players and is known for his technical playing style. So, what type of paddle does Ben Johns use to give him the edge over other players?
The answer is the JOOLA Ben Johns Hyperion CFS 16mm Pickleball Paddle!
The Hyperion CFS 16mm is a revolutionary paddle that offers superior performance compared to traditional paddles. It features an advanced carbon fiber surface providing increased play power and control.
Additionally, its unique design helps reduce vibration and shock, allowing for more accurate shots. This makes it an ideal choice for competitive players like Ben Johns, who need precision and accuracy when competing at high levels.
With its superior performance, it's no wonder that Ben Johns chooses this paddle to help him reach his peak performance on the court. Check out our full review of this paddle.
Specifications:
Core: 16mm Honeycomb Polymer
Weight: 8.4 oz
Paddle Length: 16.5″
Paddle Width: 7.5″
Handle Length: 5.5″
Grip Circumference: 4.25″
Paddle Surface: Carbon Friction Surface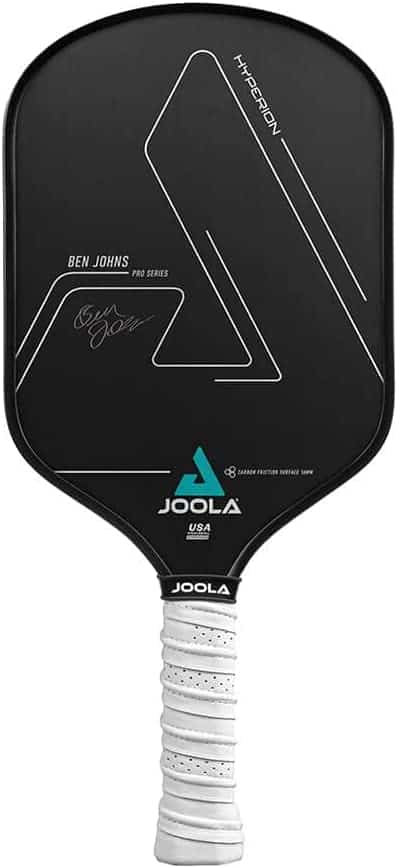 What Pickleball Paddle Does Simone Jardim Use?
Simone Jardim is known for her powerful forehand, but what paddle does she use? The answer is the Joola Simone Jardim Hyperion CFS 16. This paddle has been designed specifically for Jardim's style of play, offering superior control with power shots and spin.
The Hyperion CFS 16 is constructed with a polypropylene honeycomb core and composite fiber face surface. This combination gives the paddle an incredibly lightweight and increased control over strokes that require precision accuracy during pickleball matches.
Furthermore, the polypropylene material helps to reduce vibration on contact with the ball, which allows players to maintain their grip while playing hard shots.
Additionally, the paddle's thick core gives it more power when needed while still providing adequate spin for shots like drop shots or hard serves.
Specifications:
Core: 16mm Reactive Honeycomb Polymer Core
Weight: 7.9 oz.
Paddle Length: 16.5 in
Paddle Width: 7.5 in
Handle Length: 5.5 in
Grip Circumference: 4.25 in
Paddle Surface: Carbon Friction Surface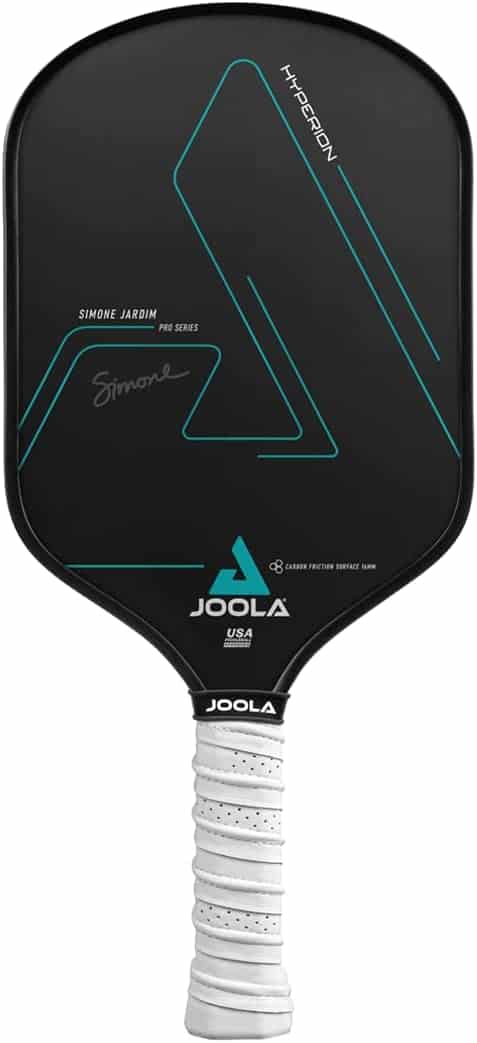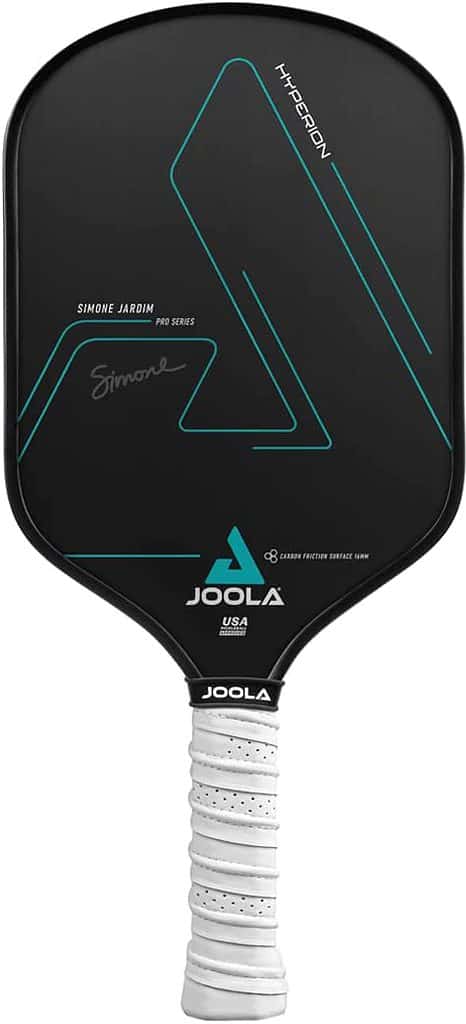 What Paddle Does Catherine Parenteau Use?
In a recent new signing, Catherine singed a new sponsorship deal with Selkirk. She was formerly with PaddleTek. She still has nothing but good things to say about PaddleTek and they signed her to start her career.
Now with Selkrik, she is using the Vanguard Power Air Invikta, which is becomming a very poplular paddle on the tour. You'll see below, it is also the paddle of choice of Tyson McGuffin.
This paddle is great for power and maximum spin. It has nice large sweet spot for great control. This paddle is also extremely aerodynamic.
Specifications
Weight: 7.7-8.1 oz
Grip Circumference: 4 1/4″
Face: Carbon Fiber and Fiberglass Hybrid
Core: Polymer Honeycomb
Paddle Length: 16.5 inches
Paddle Width: 7.375 inches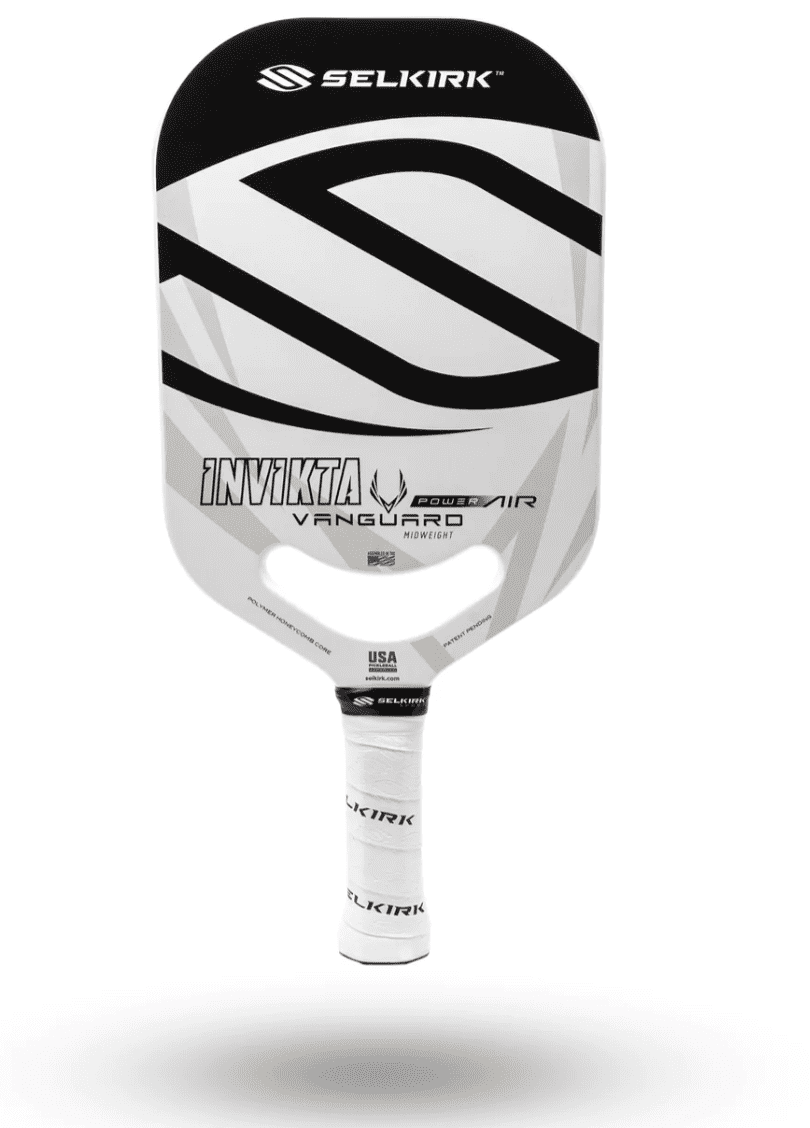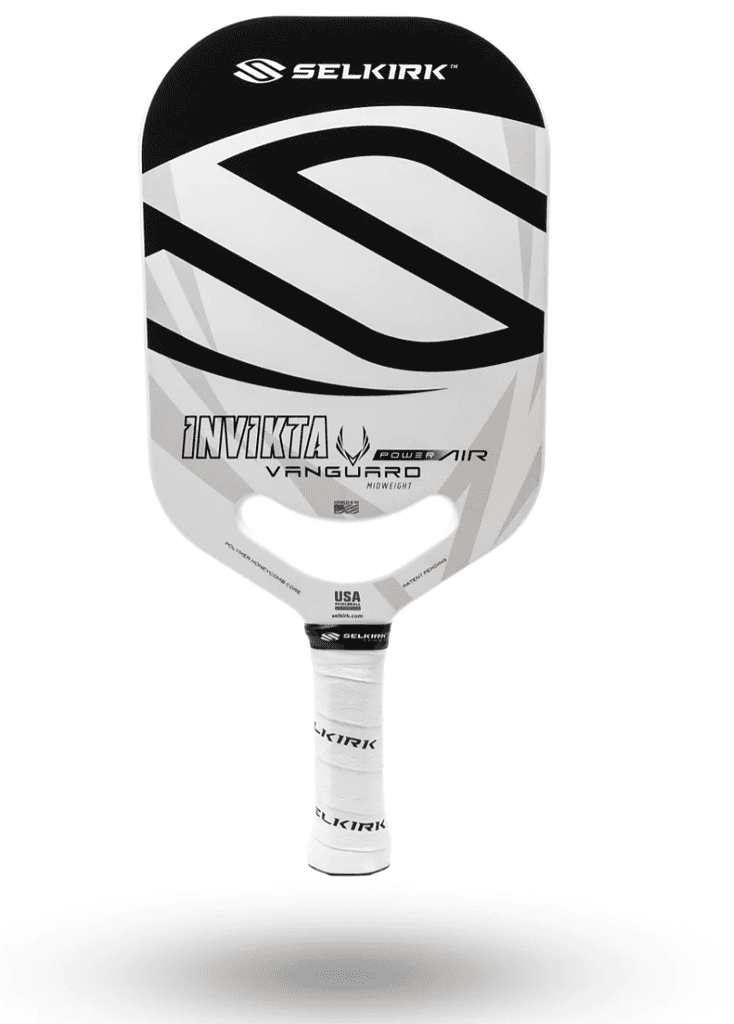 What Pickleball Paddle Does Zane Navratil Use?
Zane Navratil, a world-renowned professional pickleball player, and three-time National Champion is no exception. He has been using Franklin Carbon STK pickleball paddle for the past few years to great success. But what makes this paddle so special?
The Franklin Signature Carbon STK paddle is constructed from high-grade graphite material that provides superior control and spin.
Its unique shape and lightweight design give Zane unparalleled control of his shots as well as an advantage in speed.
The honeycomb core also absorbs shock more efficiently, allowing for a much smoother touch on the ball when playing at a high level of competition.
All these factors combined make this one of the best paddles available in terms of performance and durability.
Specifications:
Core: Enhanced Polypropylene Core
Weight: 8.3-8.6oz.
Paddle Length: 16.5″
Paddle Width: 7.3″
Handle Length: 5.6″
Grip Circumference: 4.25″
Paddle Surface: Carbon Fiber Surface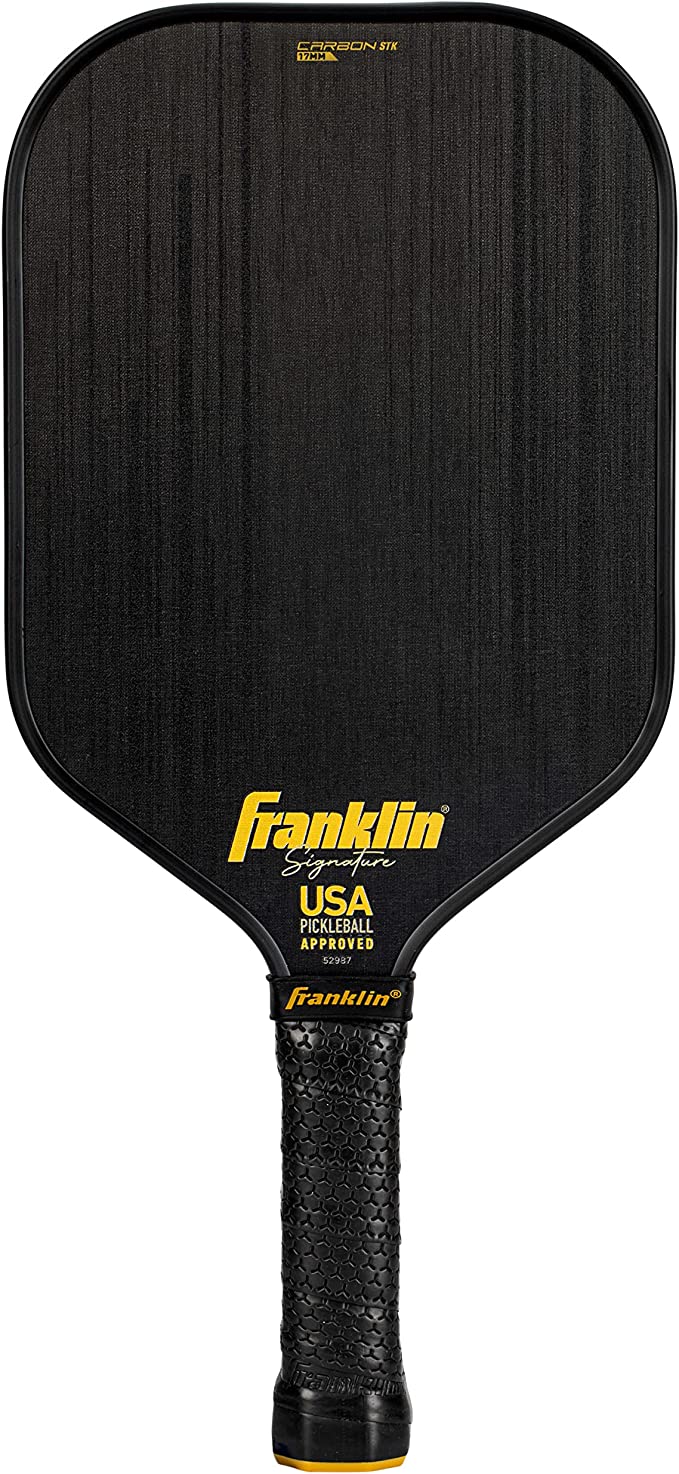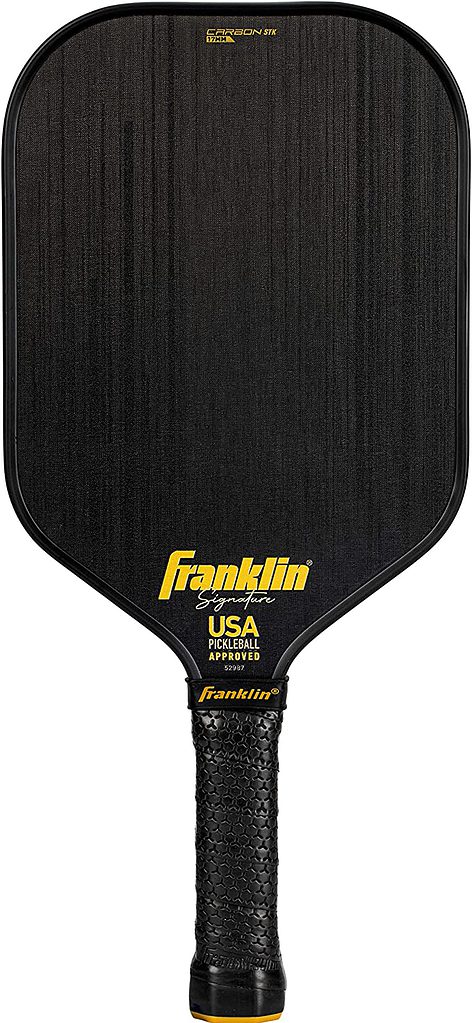 What Pickleball Paddle Does Matt Wright Use?
The pickleball world's top players all use the same equipment when they compete. But what pickleball paddles do the pros use? Many of the most successful pros rely on ONIX EVOKE PREMIER to ensure they have the edge over their opponents. Matt Wright is one of those professionals, and he's here to explain why this is his go-to paddle for tournaments.
The ONIX EVOKE PREMIER is crafted from high-grade graphite and fiberglass materials, giving it superior control and power over other brands.
It also has an elongated handle design which gives it better reach than usual paddles due to its longer surface area.
The 5-inch wide face provides maximum contact while playing as well as extra spin potential when striking the ball.
It has a good grip that helps to keep a solid hold on the paddle during long rallies, and its wide surface area helps to generate more spin with each shot.
Specifications:
Core: Polypropylene
Weight: Lightweight(7.5-7.8). Standard(7.8-8.2), Heavyweight(8.2-8.5)
Paddle Length: 16″
Paddle Width: 8″
Handle Length: 5″
Grip Circumference: 4.125″
Paddle Surface: DF Composite
Check our article about the top two Onix brand pickleball paddle differences and which is better: Onix z3 vs z5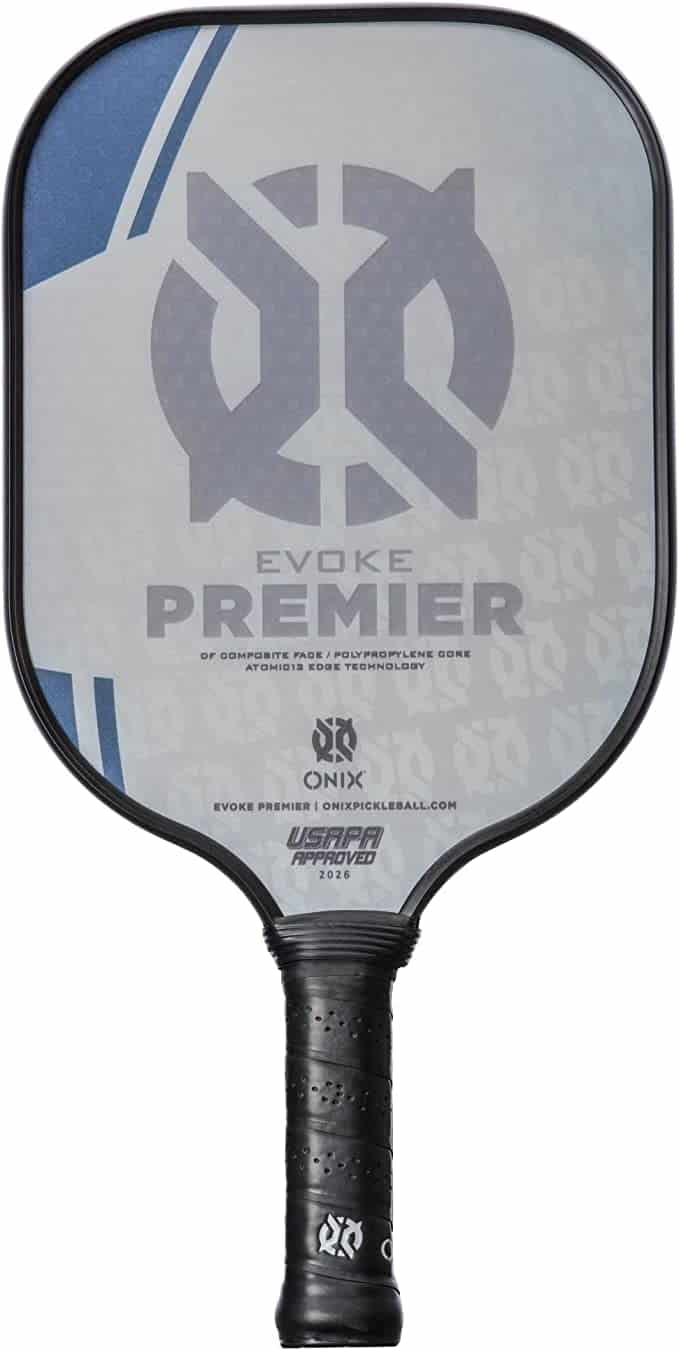 What Pickleball Paddle Does Parris Todd Use?
Parris Todd is a professional pickleball player who has earned numerous medals in tournaments around the world. She has been a triple crown winner as well (win singles, doubles and mixed doubles at the same tournament). She is known for using the SLK paddle by Selkirk, which is quickly becoming one of the most popular paddles among top players. So what makes this particular paddle stand out?
The SLK Paddle by Selkirk was designed with input from Parris and other elite pros to provide an optimal balance of power, spin, and control. It features a unique hybrid diamond shape that allows for greater reach and maneuverability on the court.
The paddle also has an ergonomic handle which provides more comfort during long rallies.
Additionally, its oversized core makes it easier to put more spin on shots while still having maximum control over them.
This combination of features makes it one of the best all-around paddles for competitive play.
Specifications:
Core: SX3 Honeycomb Core
Weight: 7.5 oz.
Handle Length: 5.25″
Grip Circumference: 4.25″
Paddle Surface: Textured Graphite Surface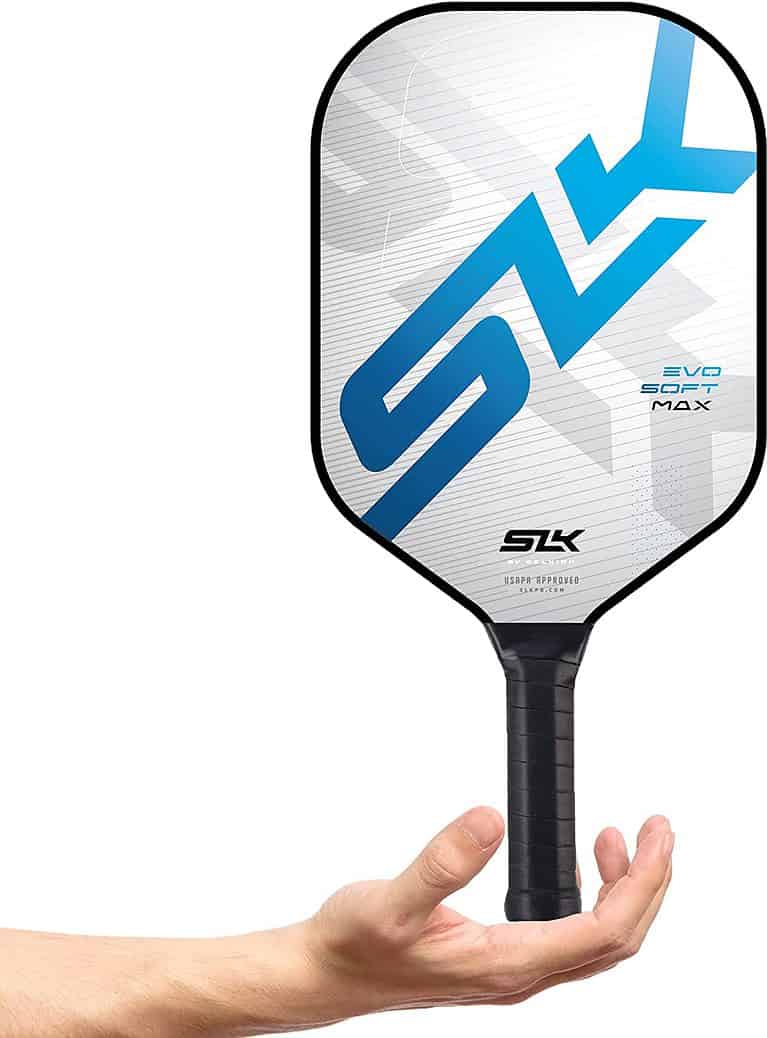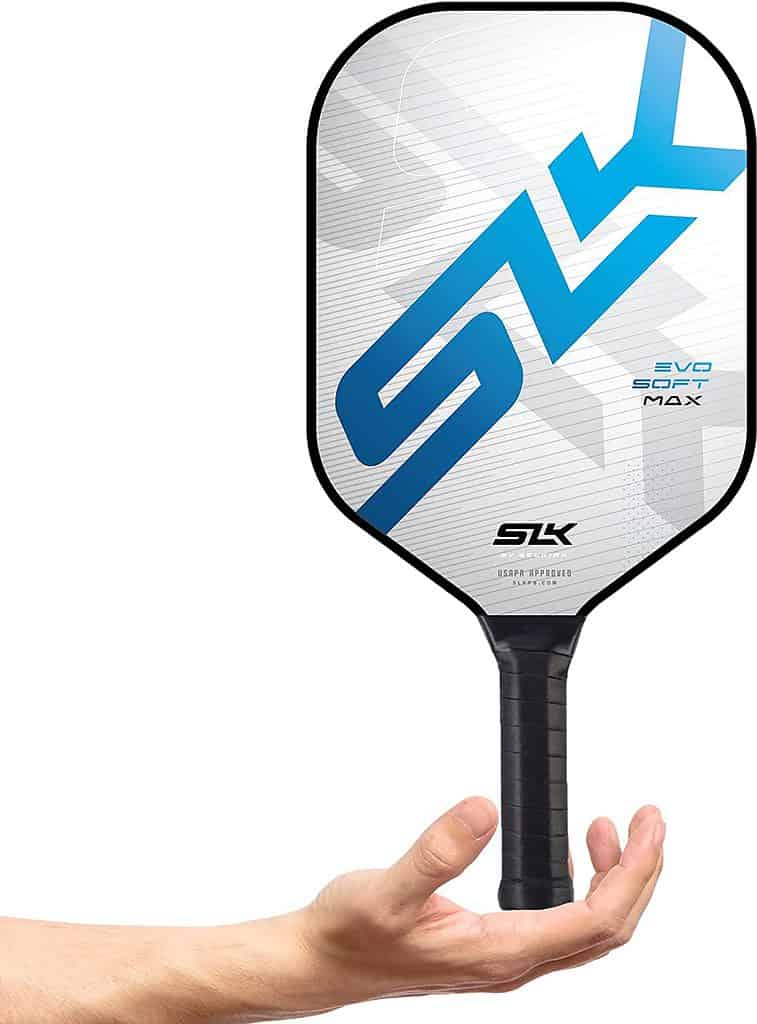 What Paddle Does Tyson McGuffin Use?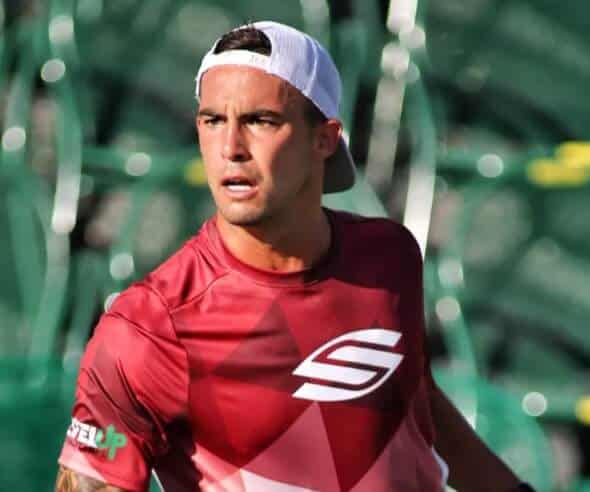 Tyson McGuffin is among the most accomplished pickleball players in the world, so when he chooses a paddle, it should be no surprise that he opts for the best. But what makes one paddle better than another?
For Tyson McGuffin and many other professional pickleball players, Slekirk VANGUARD Power Air Invikta paddles are the choice of champions.
The Slekirk VANGUARD Power Air Invikta paddle is made from graphite and weighs only 7.9 ounces. This lightweight construction allows it to move quickly through the air so that Tyson can make quick changes in direction on the court and deliver powerful shots to his opponents.
The handle has been designed with comfort in mind and features a textured grip pattern to ensure maximum control over each shot.
Additionally, this paddle comes with an adjustable handle length so players can customize it to their individual playing style. Its air cushion grip provides enhanced comfort and balance during long matches without sacrificing power or performance.
The paddle's design also features an oversized sweet spot to increase control on each shot while allowing Tyson to remain agile on the court.
Specifications:
Core: Polymer Honeycomb
Weight: 7.7- 8.1 oz
Paddle Length: 16.5″
Paddle Width: 7.375″
Handle Length: 5.25″
Grip Circumference: 4.25″
Paddle Surface: Hybrid Blend of Fiberglass and Carbon Fiber.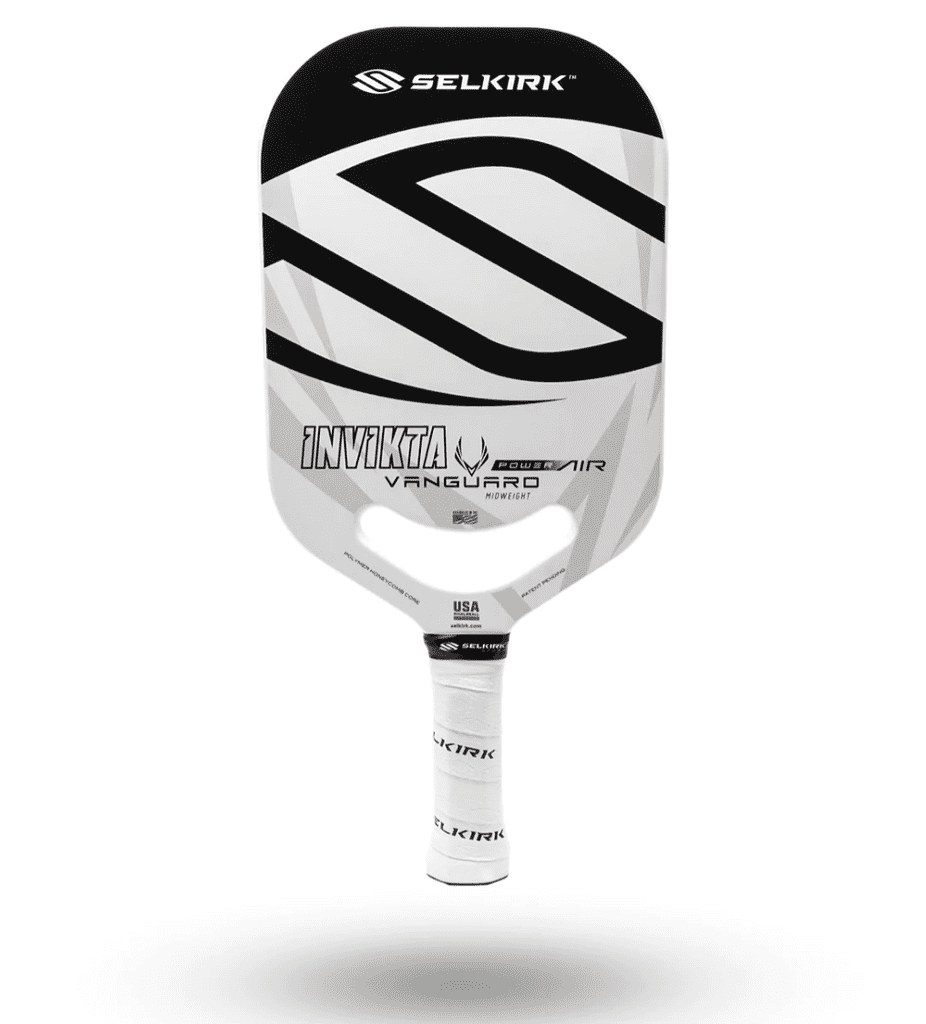 What Weight Pickleball Paddle Do the Pros Use?
Pickleball is one of the fastest-growing recreational sports in the world. As more and more people pick up this game, they often wonder what weight paddle do the pros use? To answer this question, it's important to understand that there are different types of pickleball paddles available. Each type has a unique weight and size, as well as features that make it desirable for certain players.
When it comes to professional-level pickleball players, they typically choose a lighter paddle with a slightly larger head size than intermediate or beginner players might select. This helps them generate more speed on their shots without sacrificing power or accuracy. Additionally, due to their experience and skill level, pro players can control the spin and direction of their shots better when using higher-end lightweight paddles.
Final Thoughts
There is no one-size-fits-all answer to the question of what pickleball paddles the pros use. Most pros have a few paddles in their bag, each with its own purpose and strengths. When choosing a paddle, start with your skill level and playing style, then consider the weight and grip size that fit you best. Get out on the court and test out different styles of paddles until you find the perfect model for your game.
Related Article About: Men's and Women's pickleball shoes