In this blog post, we rank and review the best pickleball shoes for men and women. We take a look at some of the most popular brands of pickleball shoes on the market to help you decide which pair is right for you.
If you're new to pickleball, or if you're looking to improve your game, one of the most important things you can do is invest in a good pair of pickleball shoes.
The right pickleball shoes will provide you with the traction and support you need to move around the court quickly, and they can help improve your game. Also, making sure you have the right shoes can help prevent injuries.
Pickleball is the fastest growing sport and the amount of new products coming out is incredible. That's why we put together this list. It's time to dump those running shoes and grab a dedicated pair of pickleball shoes!
In this blog post, we rank and review the best pickleball shoes for men and women to help you decide which pair is right for you.

Let's get started!
We are reader supported and as such may make a small commission at no expense to you if you purchase thru one of our links…thank you for that! More info here.
What Are The Best Pickleball Shoes For Men and Women?
best Pickleball Shoes overall
Best Pickleball Shoes Overall: Skechers Viper Court Pro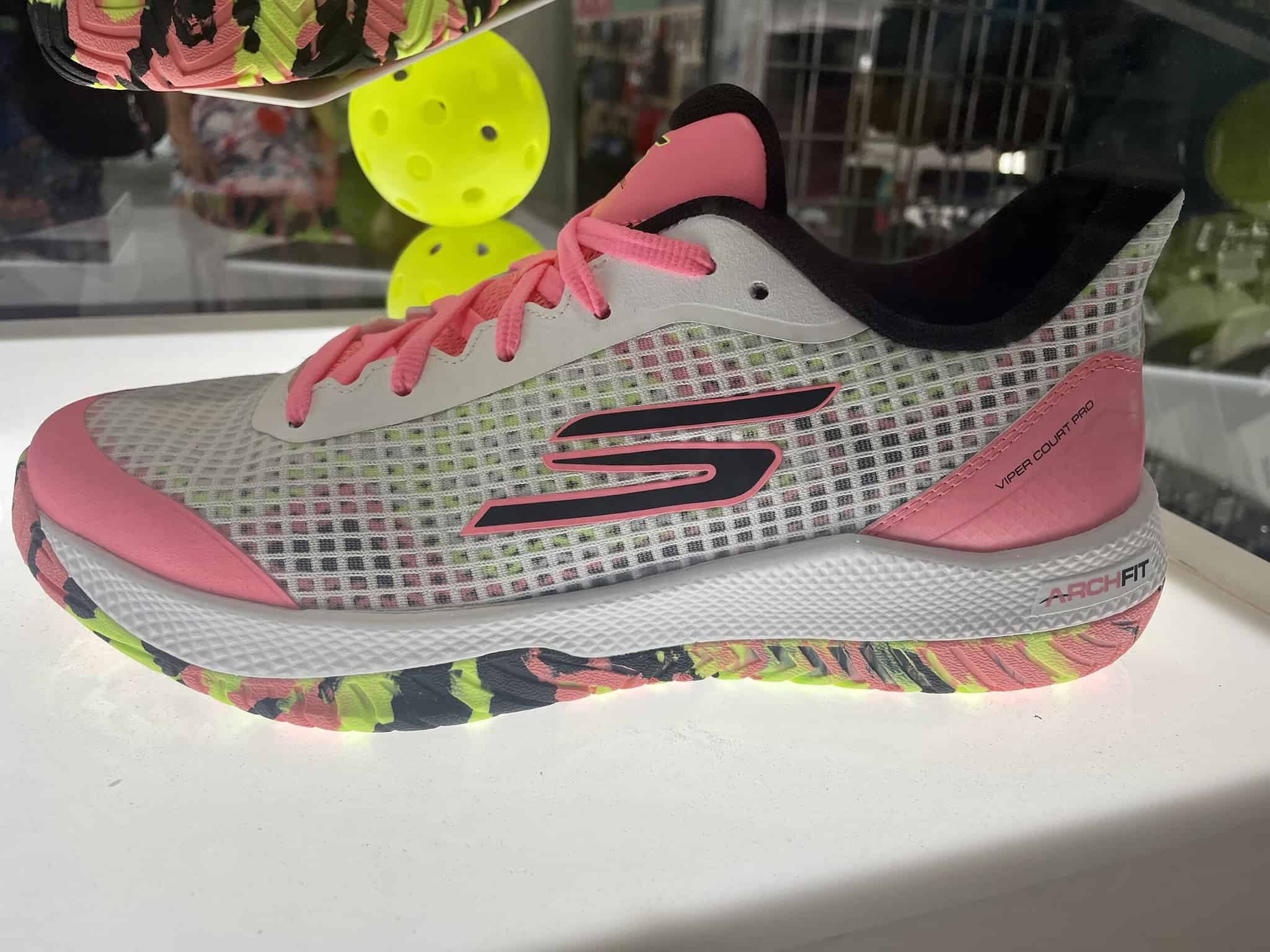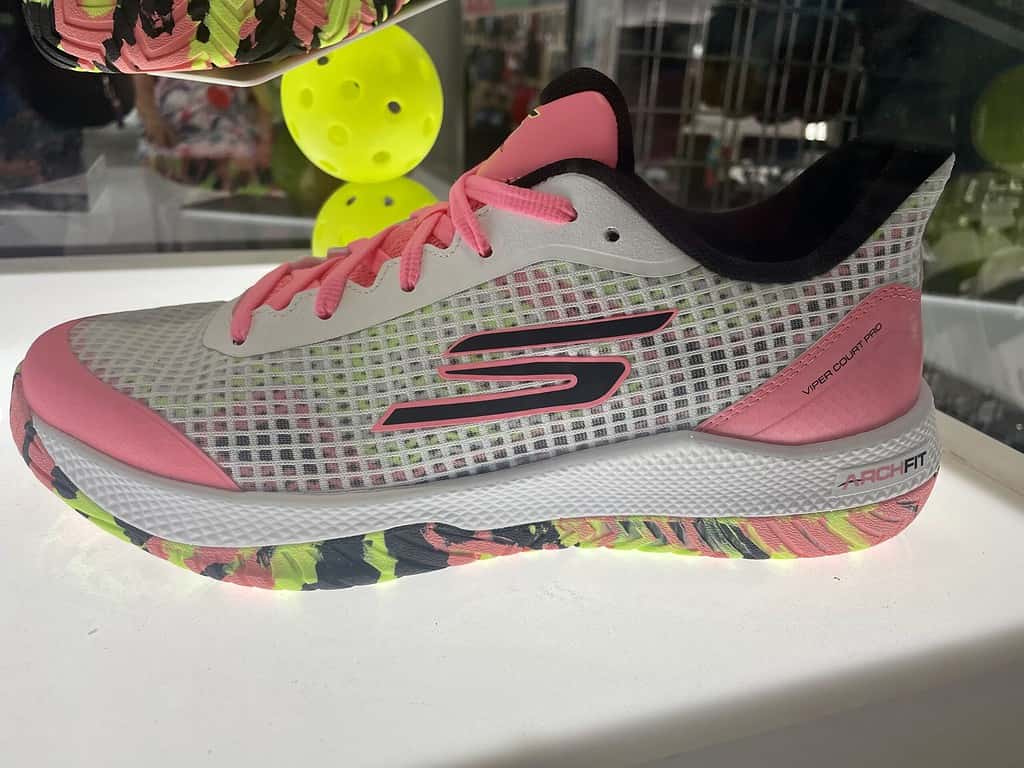 If you want a high-performance court shoe that will elevate your game without compromising on comfort, the newly released Skechers Viper Court Pro Shoe is the best pickleball shoe out there.
The Viper Court Pro pickleball shoes are used by some of the top pros out there including Tyson McGuffin and Catherine Parenteau. And if you have ever seen either of these two play you can see how important good pickleball shoes are for them to dominate the court.
These pickleball shoes are designed with a wider design and toe box to help with balance and stability on the court. They have a reinforced mesh upper and the Ultra Flight Foam midsole that cushions your feet and promotes quicker cuts.
The Arch Fit technology is so nice and really helped propel these to the top of our best pickleball shoes list. It is designed to provide you with arch support, making sure you are comfortable and supported during play.
And with the Goodyear outsole, you won't have to worry about slipping and sliding on the court, no matter the surface.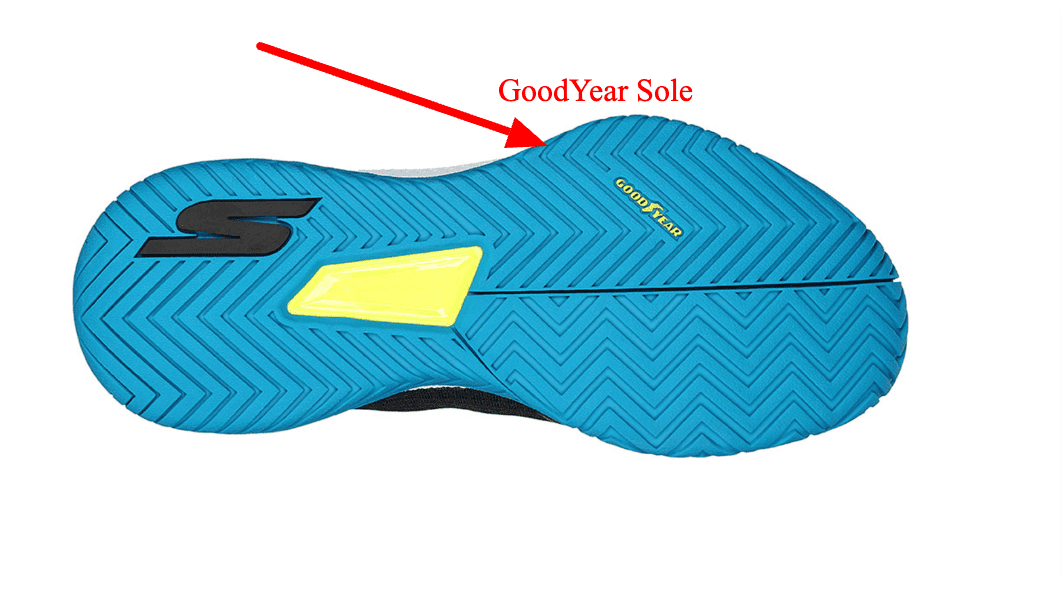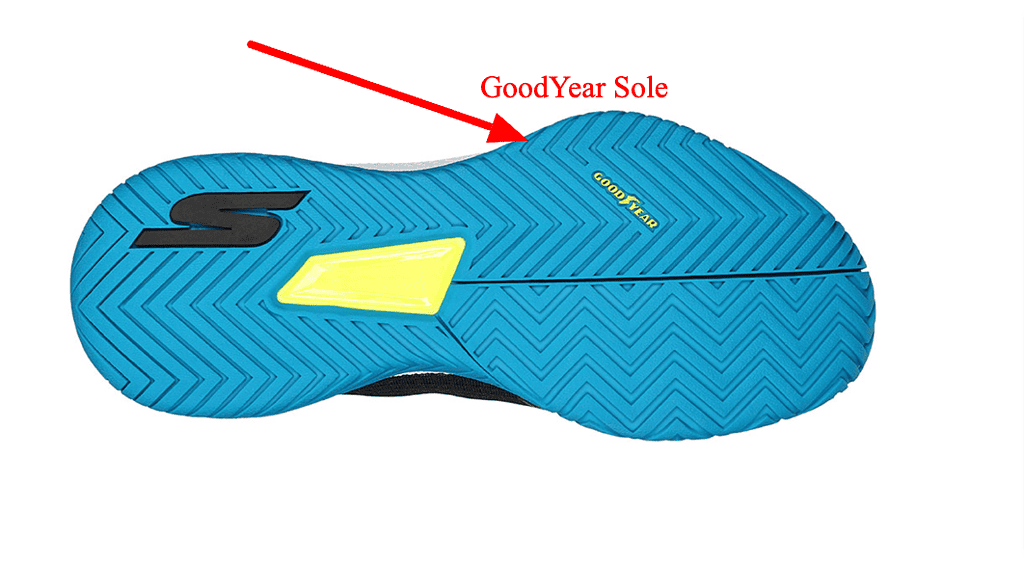 I love these pickleball shoes.
They are the best outdoor pickleball shoes and the best overall no doubt.
The relaxed fit and extra room at the toe box and forefoot feels so nice yet you do not feel like you are loose or not supported.
If you've struggled to find shoes that fit comfortably in the past, the Skechers Viper Court Pro Shoe is definitely worth considering.
Plus, they look so cool!! I love the look, fit, feel, and support!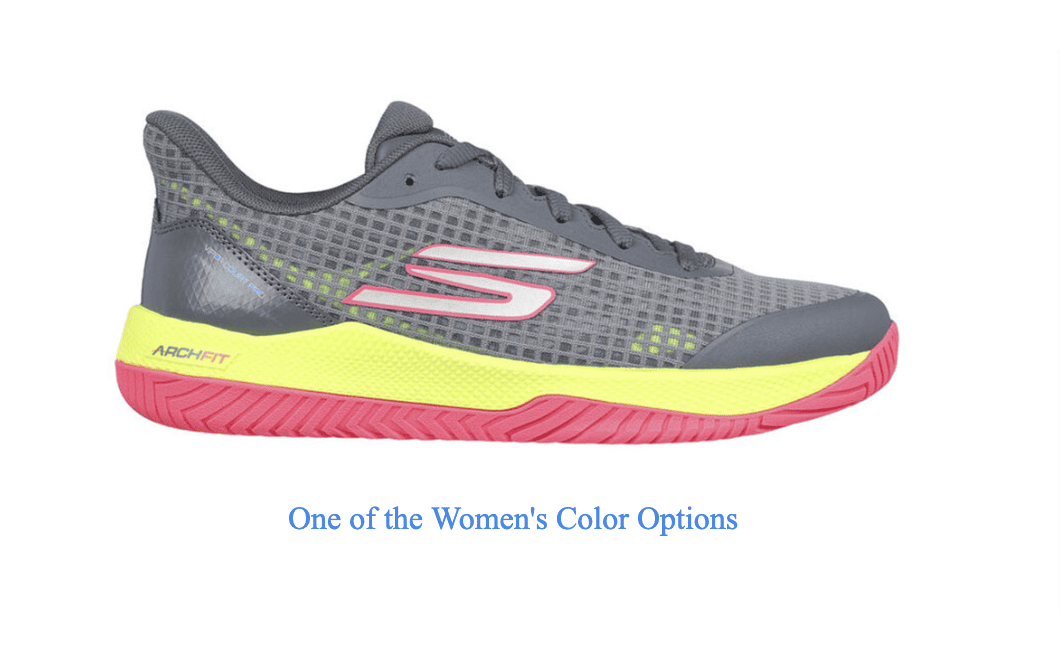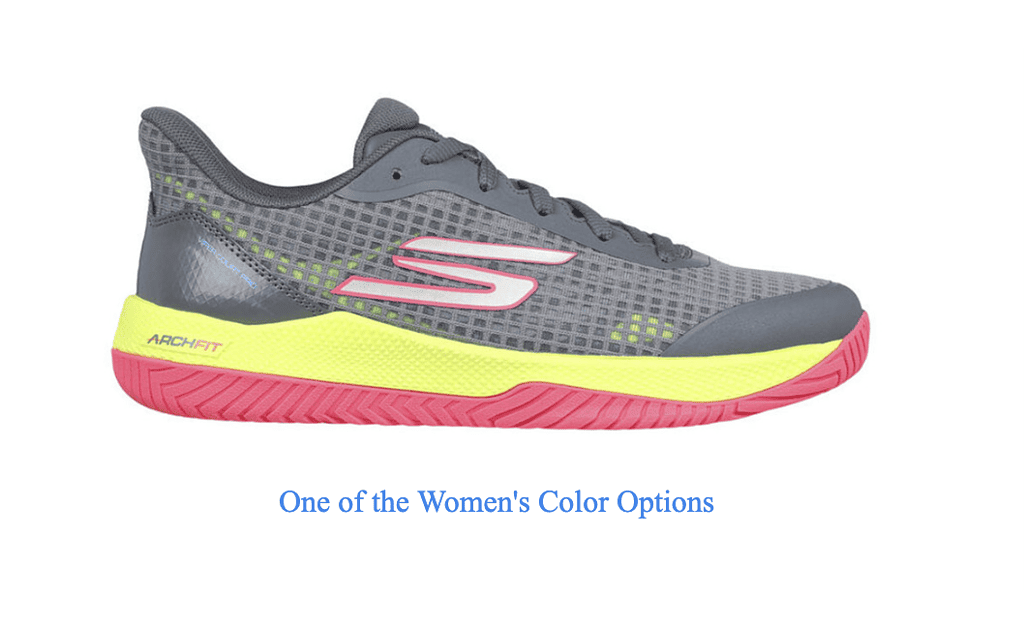 Truly, Skechers has nailed it with these shoes. The original Viper Court was top on our list, and now the Viper Court Pro takes it up a notch.
Overall, the Skechers Viper Court Pro Shoe offers everything you could want from a high-performance court shoe – modern technology and superior traction – with the added bonus of a relaxed, comfortable fit.
Best Pickleball Shoes for traction
Best Pickleball Shoes For Traction: Babolat Propulse Fury 3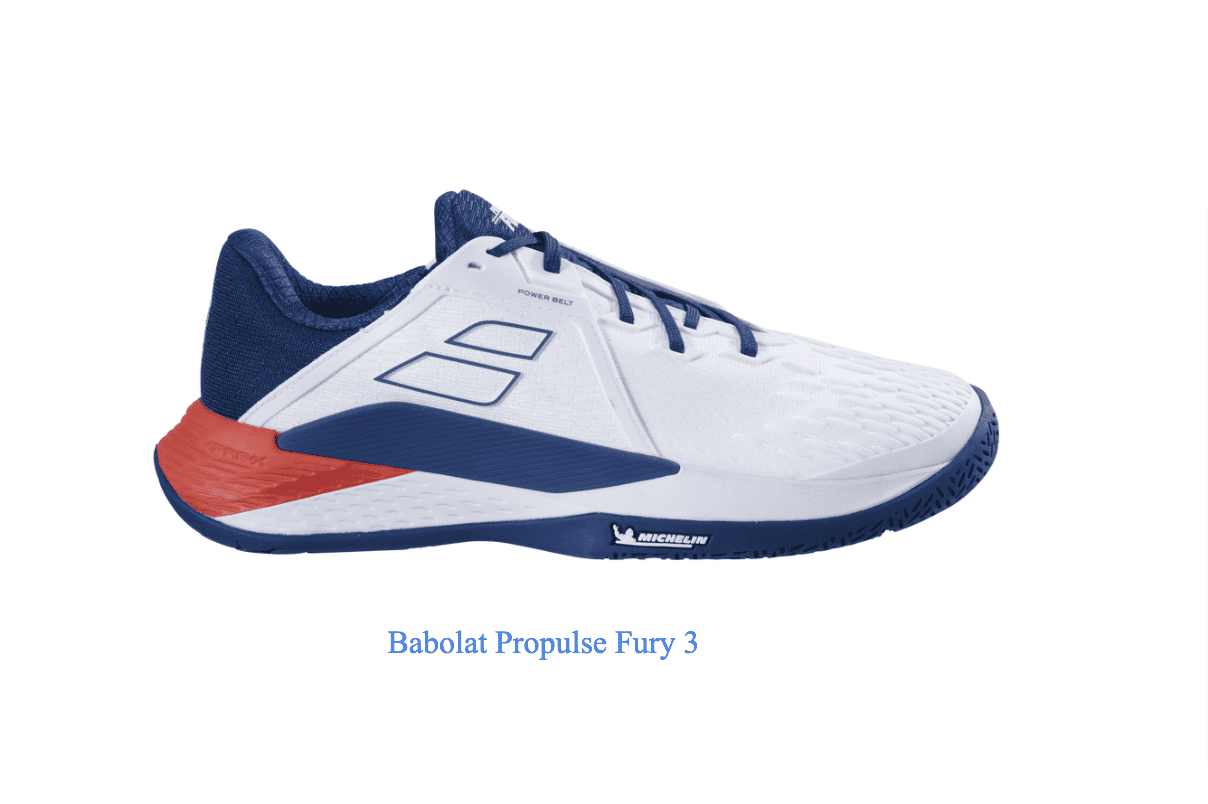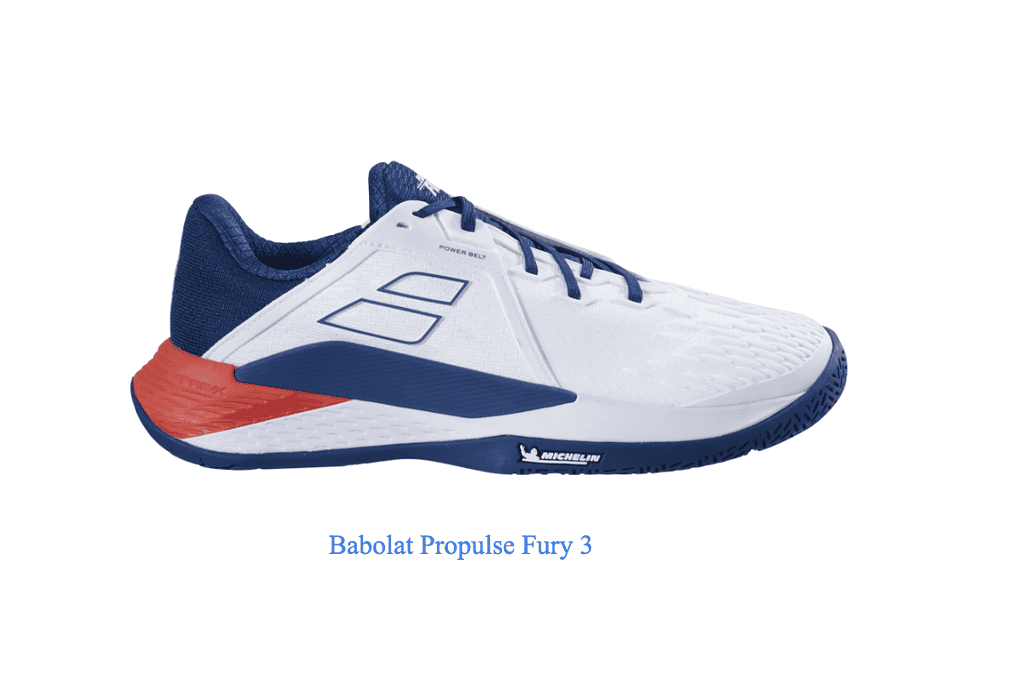 A close runner-up is Babolat's Propulse Fury 3 All Court Shoe. Babolat is known for making some great tennis shoes and pickleball shoes.
This reliable and durable shoe is designed specifically for pickleball players who are playing on abrasive courts, offering superior cushioning and shock absorption so you'll never have to worry about giving it your all. This is one of the best pickleball shoes on the market!
With a premium sole that offers superior traction, this pickleball shoe is the perfect choice for an explosive performance on the court. It features a Powerbelt strap that secures the midfoot in a perfect fit to keep you locked in as you make lightning-fast moves and stops while providing maximum support.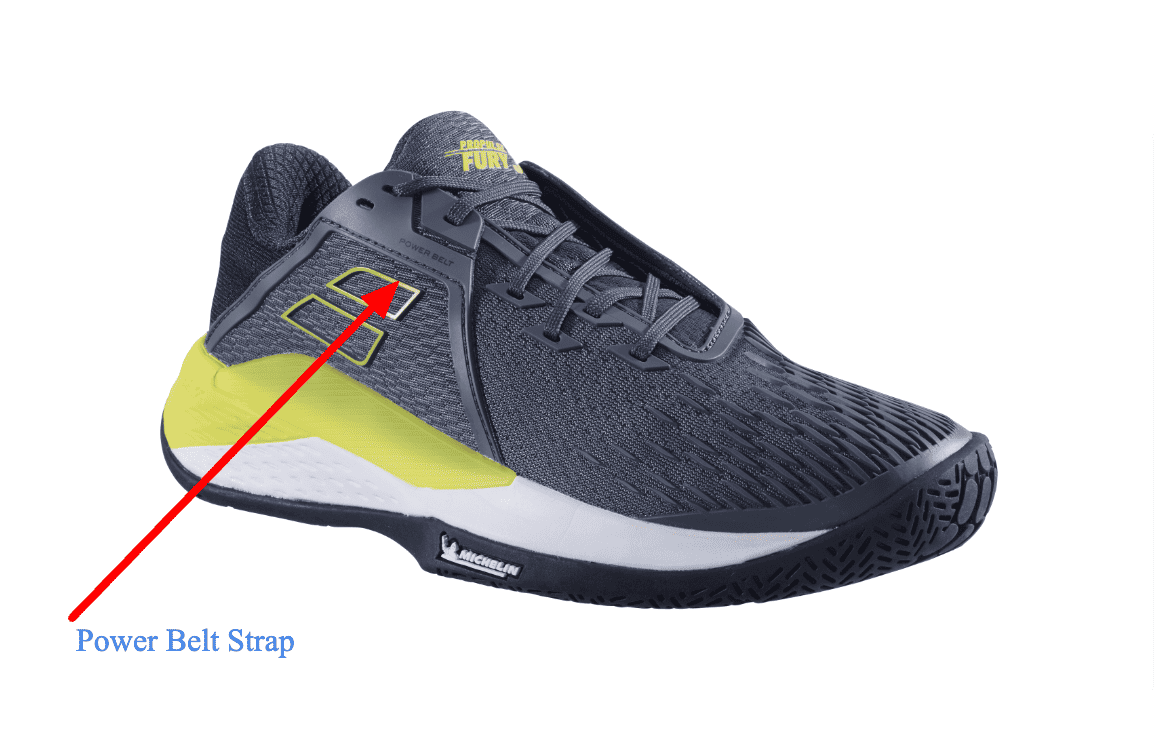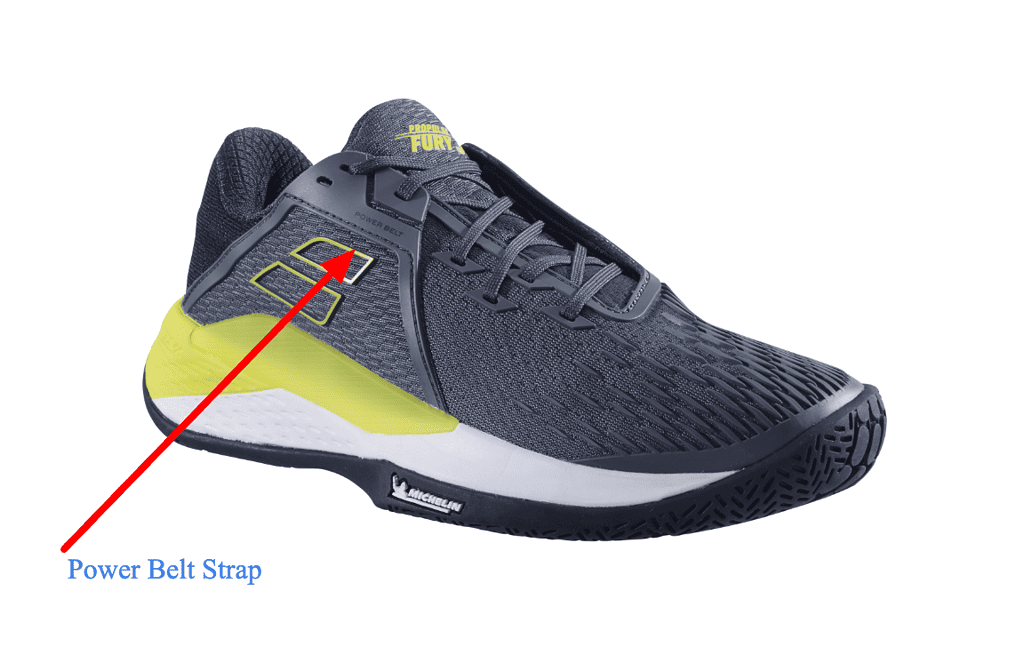 And with Michelin rubber to resist wear and tear, you can have confidence that your pickleball shoes will be able to handle whatever challenges you throw their way!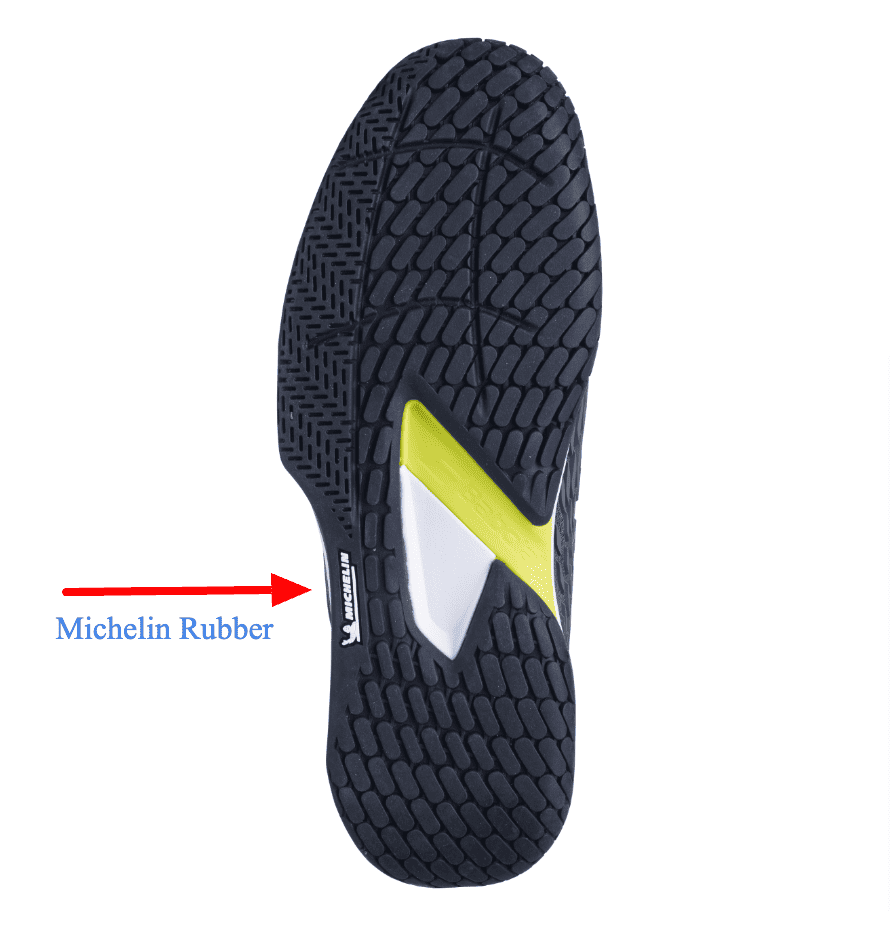 The Babolat's do have a slightly narrow feel to them so keep that in mind as far as fit goes. The toe box is pretty standard. You get a good snug fit with nice lateral support.
Babolat really stands behind these shoes with a 6 month outsole wear guarantee and 12 months for any manufacturer defects. You can really buy with confidence!
Function
Superior cushioning and shock absorption
Designed specifically for pickleball players
Offers superior traction on abrasive courts
Features a Powerbelt strap for a perfect fit
Made with Michelin rubber to resist wear and tear
Fit
Ideal for players who want a true to size fit with narrow heels and standard width toe box
Slightly narrower midsole provides more control and precision when you need it most
Removable insole allows you to customize your fit for ultimate comfort
Lightweight design keeps you fast on your feet during long tournaments
best lightweight Pickleball shoes
Best Lightweight Pickleball Shoes: K-Swiss Express Light Pickleball Shoes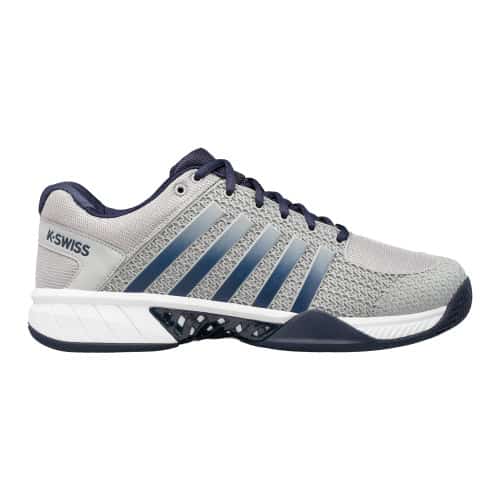 K-Swiss has always been a brand known for its quality tennis shoes. So it's no surprise that they are the first to introduce a court shoe specifically designed for Pickleball.
The Express PIckleball Shoe's non-marking design and modified herringbone outsole make it perfect for any court surface. I was particularly impressed by the thermal plastic plantar support chassis, which provides 180-degree protection, ensuring that your feet don't twist even during the most intense moments.
These pickleball shoes are very comfortable. The sock liner does an exceptional job of wicking away sweat, making long hours on the court more bearable. And if you're worried about your feet slipping inside, the heel grip lining has got you covered. With the added Strobel board, durability is also a big plus.
Beyond its sleek and agile look, the shoe offers great functionality. The Durawrap not only prevents toe dragging mishaps but ensures your movements remain unhindered. The midsole, made of the K-EVA material, strikes a perfect balance between softness and firm support.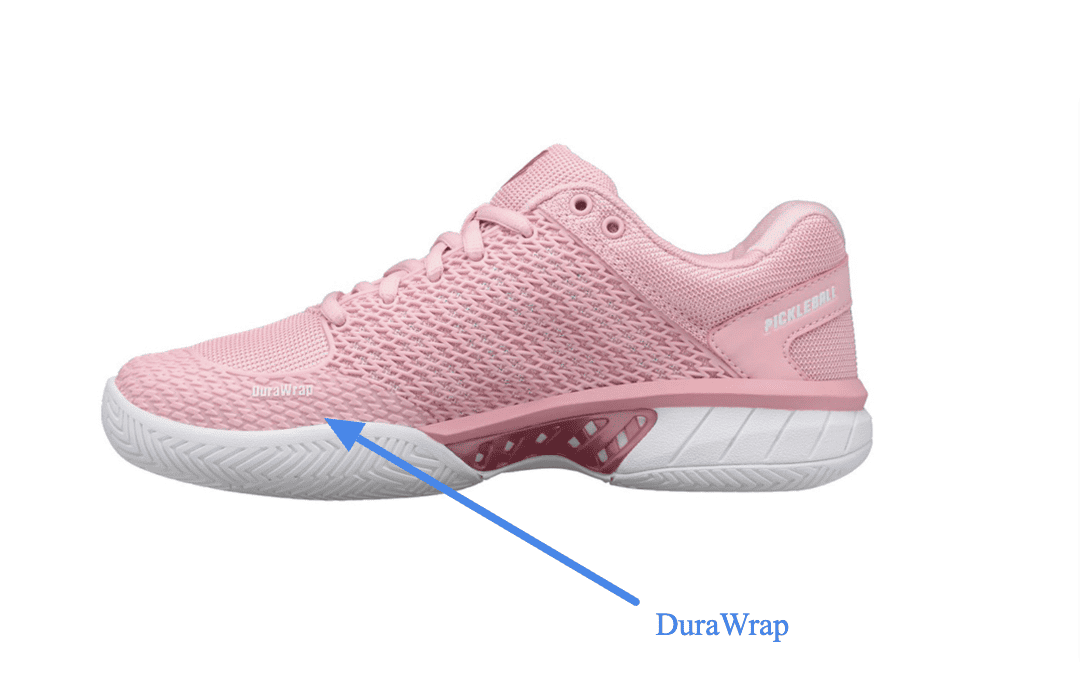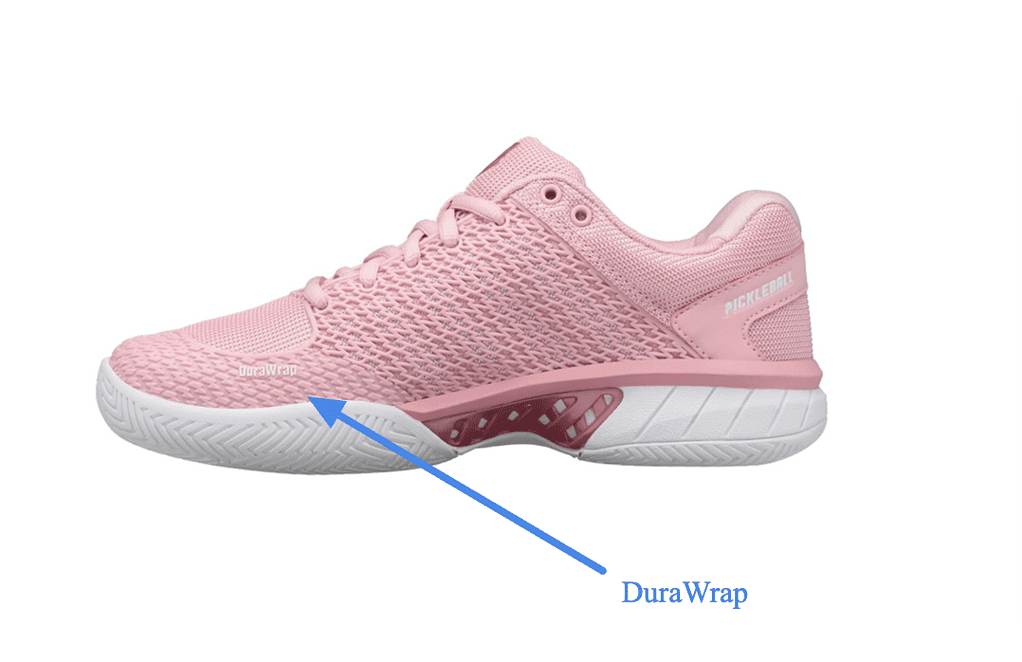 This shoe is built to last. The high-density rubber compound on the outsole ensures minimal wear over time. Drag guards located on the heel and toe areas act as the shoe's first line of defense against abrasions, emphasizing its durability.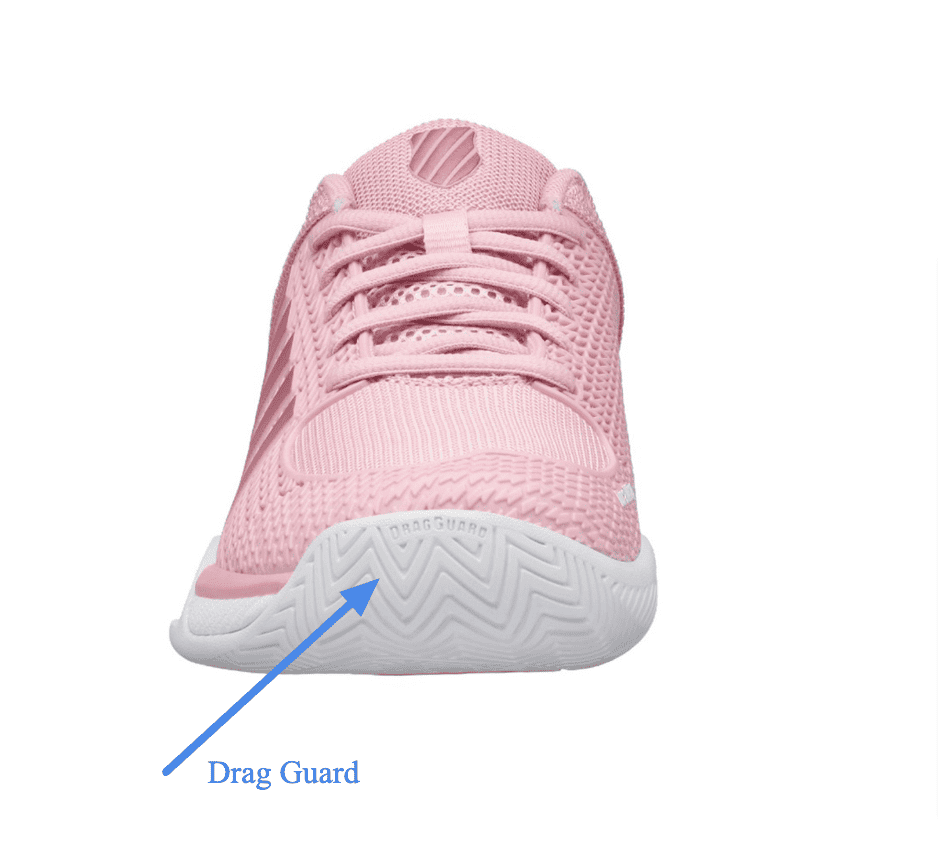 In essence, the K-Swiss Express Light Shoe offers a perfect blend of style, comfort, and functionality. A must-have for any serious pickleball player! Highly recommended these pickleball shoes! Check out our full write up on them!
Function
The K-Swiss Express Light Pickleball Shoes have a special formula EVA that is designed to provide excellent cushioning and durability for the midsole and sock liner.
The heel lining is made of interlocking fibers that grip the sock to minimize movement.
The outsole is made from a rubber compound that provides durability for the entire shoe. It also has DragGuard in the high-wear areas on the toe and heel giving you more durability in those key areas.
The sock liner comes with ortholite which provides moisture-wicking with anti-microbial properties to keep your feet cool and feeling good.
Last, the dura wrap on the upper part of the shoes provides an extra level of support for excessive toe wear and dragging.
Fit
The Hypercourt Express pickleball shoes feature K-Swiss's DuraWrap technology, which provides extra support and stability around the foot.
The midsole is made of EVA foam for cushioning and comfort, and the outsole is made of rubber for traction and durability.
The K-Swiss Hypercourt Express pickleball shoes have a synthetic leather and a mesh upper for breathability and comfort. So not only will they improve your game, but they'll also keep your feet comfortable all match long.
Super light and durable with great traction.
Best Pickleball Shoes For Stability
Best Pickleball Shoes For Stability: Asics Men's and Womens' Gel-Challenger 13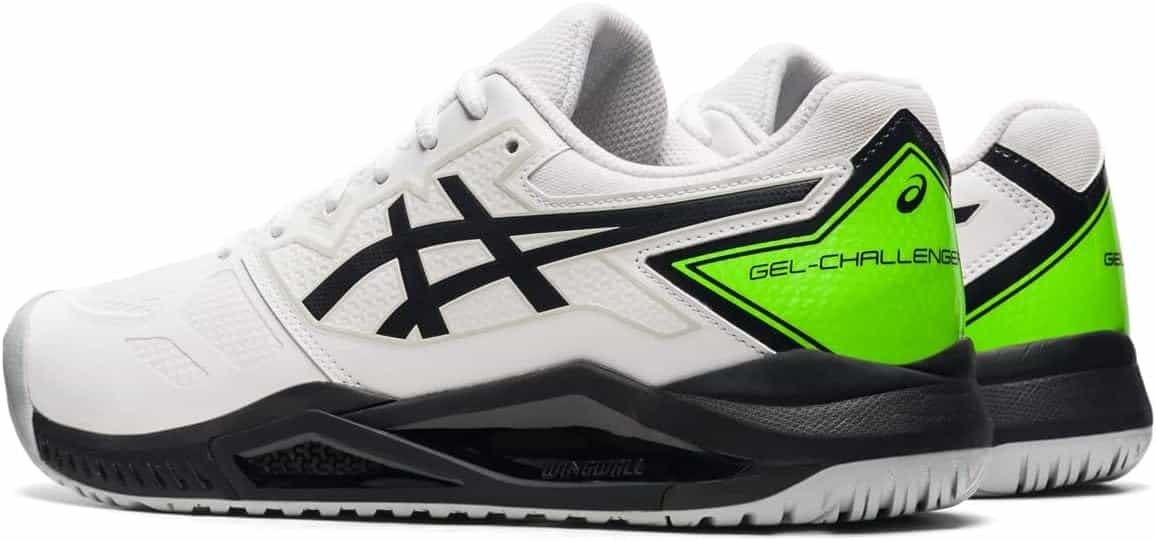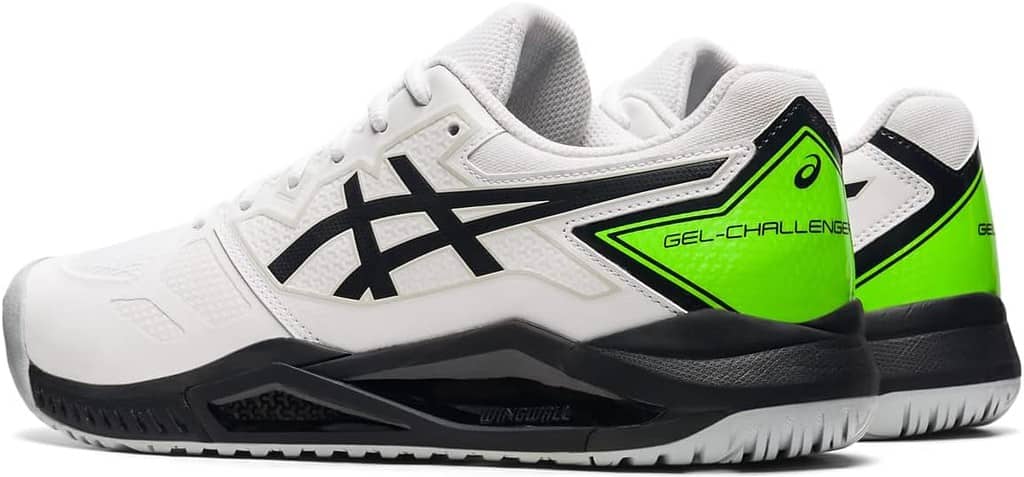 If you're looking for the best pickleball shoes, you can't go wrong with the Asics GEL-CHALLENGER® 13 shoes.
We know Asics Tennis shoes and now we will know Asics pickleball shoes. The difference between pickleball shoes vs. tennis shoes is so similar that is why Asics with their great background in tennis shoes is now producing some of the best pickleball shoes.
One of the standout features of the ASICS Challenger 13 shoe is undoubtedly the PGuard Toe Protector. If toe durability has been a concern with other shoes, this feature ensures you're covered. No more early signs of wear and tear at the front, this protector is there to stay.
The Ortholite Sockliner is phenomenal in managing moisture. The comfort is unparalleled, and the added benefit of this trademarked technology ensures feet remain dry and in prime condition, even after the most demanding workouts.
This shoe provides stability AND comfort with the WINGWALL technology. Whether it's quick turns or jumps, your foot is kept securely in place.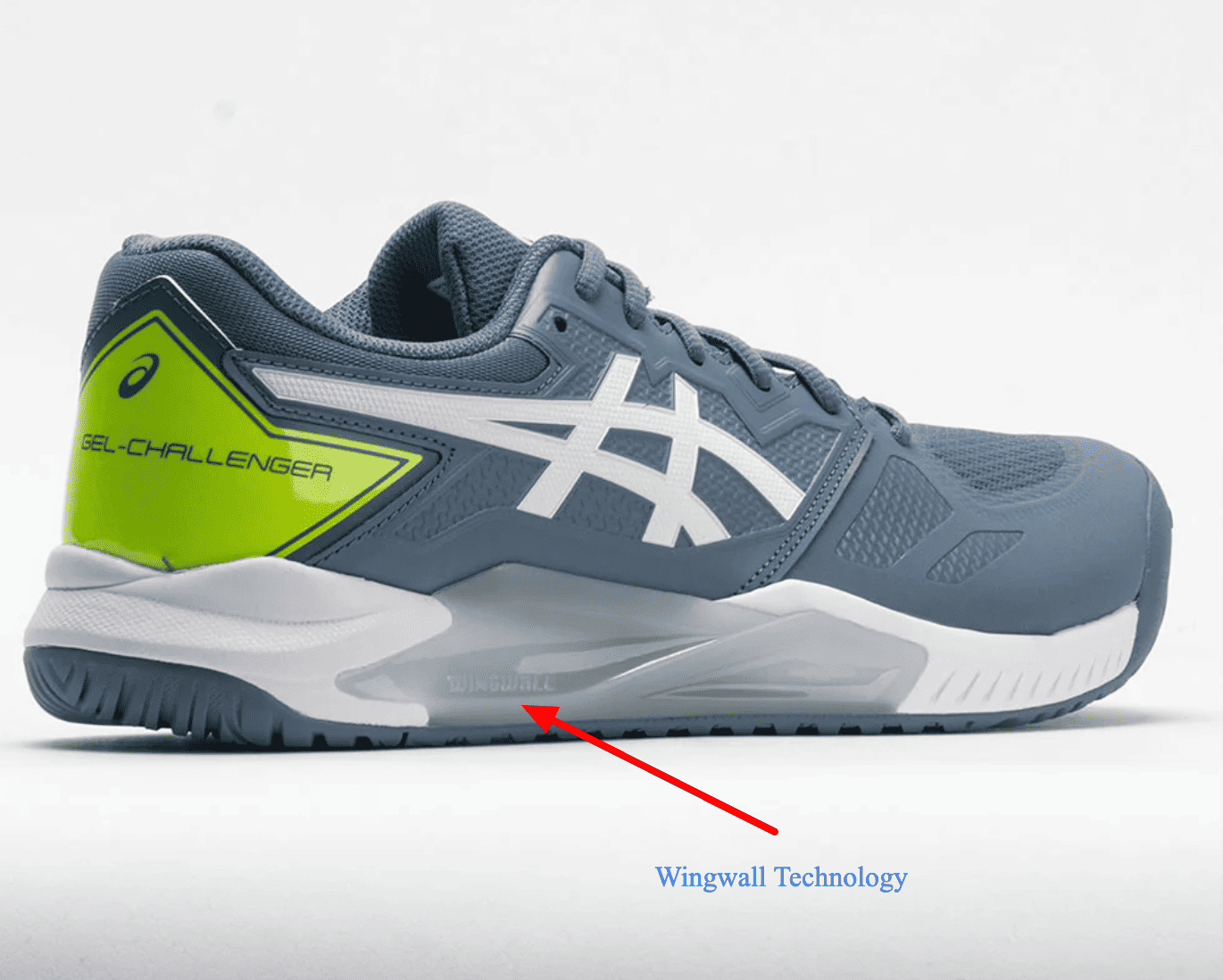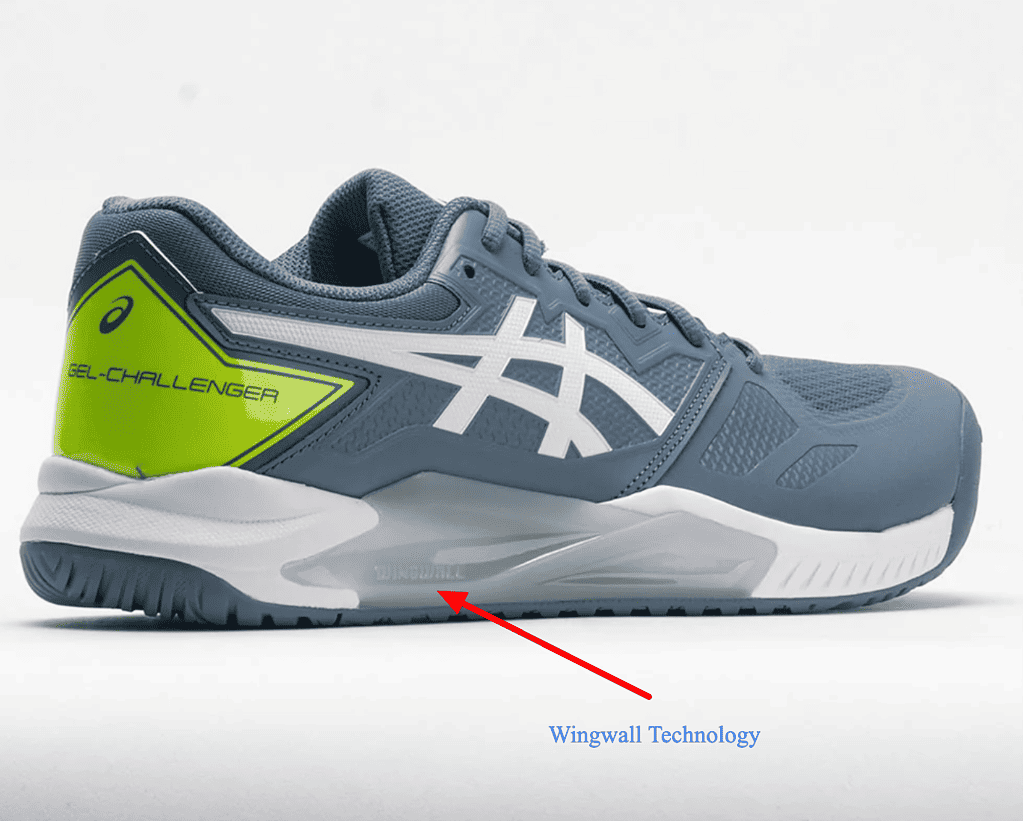 The AHAR Plus Outsole is positioned at critical areas of the outsole. Asics claims the AHAR Plus compound is 50% more durable than the standard ASICS High Abrasion Rubber. That's a game-changer in terms of longevity and resilience.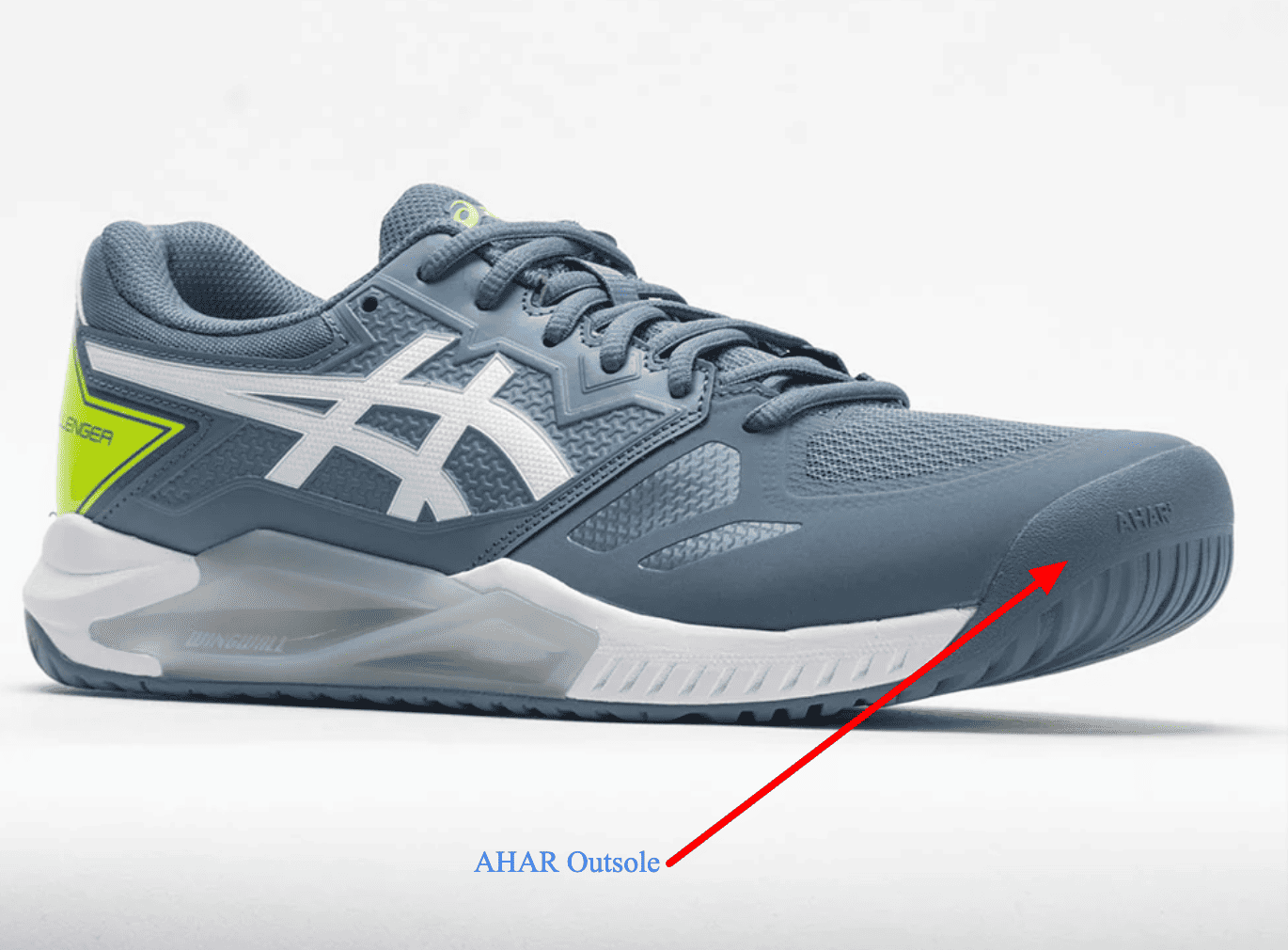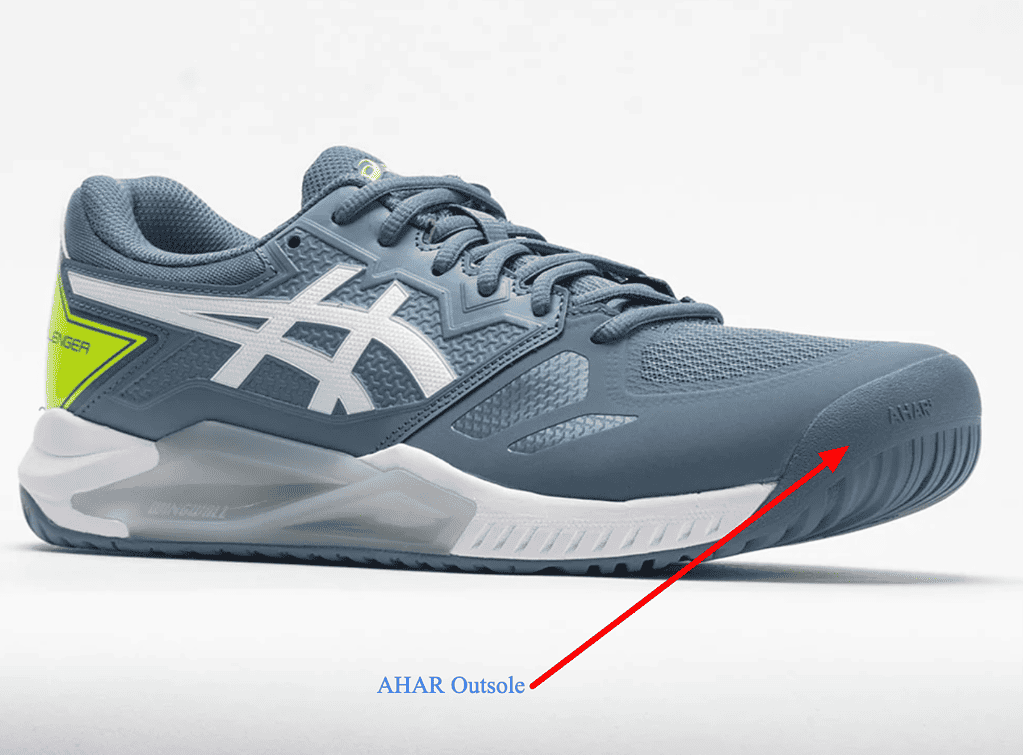 The Challenger 13 also has the Rearfoot and Forefoot GEL Technology Cushioning System. This is where the shoe truly shines. The cushioning system not only provides incredible shock absorption during intense games but also ensures a smooth transition through every phase of the foot movement.
In summary, this ASICS shoe is a testament to the brand's commitment to quality and innovation. Whether it's the long-lasting durability, moisture management, or the exceptional cushioning system, this shoe delivers on all fronts. Highly recommended for anyone looking for a great blend of form and function!
Function
The WINGWALL™ technology is placed in the sidewall to improve stability during side-to-side movements. This feature provides good support, so you can step into your shot and stroke the ball with more confidence and pace.
The GEL-CHALLENGER® 13 is one of the lightest tennis shoes on the market, so you'll never have to worry about being weighed down by your footwear.
Ortholite® Sockliner for moisture management.
Incredibly durable and great for outdoor pickleball shoes, thanks to the AHAR® Plus Outsole.
Fit
WINGWALL technology increases stability, while the Ortholite sock liner helps to manage moisture.
Rearfoot and forefoot GEL cushioning system reduces shock during impact and allows for a smoother transition.
AHAR Plus outsole is 50% more durable than standard ASICS High Abrasion Rubber.
The Asics Men's and Women's Gel-Challenger 13 tennis shoes are some of the best pickleball shoes on the market. With enhanced toe durability, exceptional stability, and cushioned comfort, these shoes will help you take your game to the next level.
Best Pickleball Shoes For Durability
Best Pickleball Shoes For Durability: Asics Gel-Resolution 8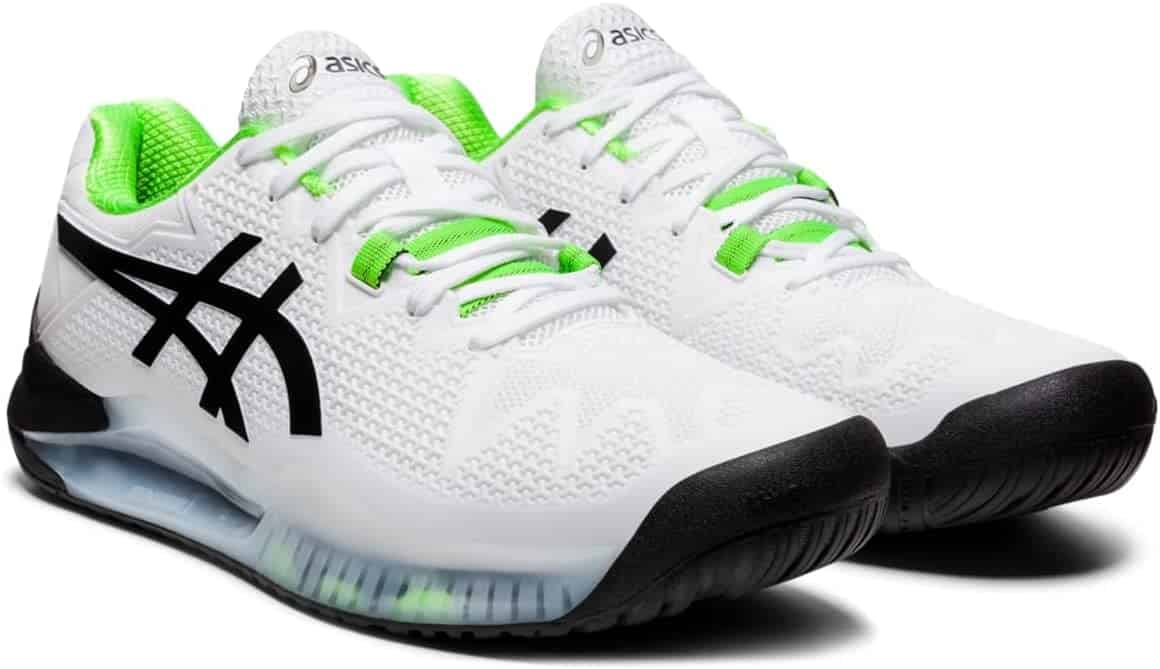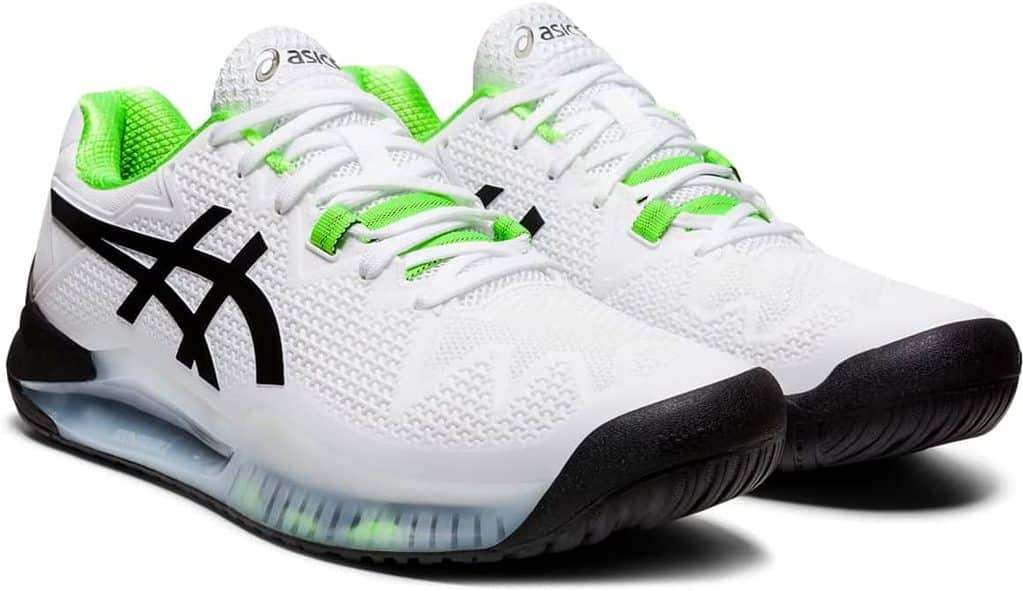 The Asics GEL-Resolution 8's are a great durable shoe.
If you're seeking a shoe that not only brings the best of innovation and design but also promises durability and comfort, the Asics Gel Resolution 8 is the epitome of footwear excellence.
With its synthetic-and-mesh construction, this shoe seamlessly combines style and functionality.
The Flexion fit upper gives you comfort and support and the PGuard Toe Protector is a total game-changer for toe durability! With this, your shoe's lifespan gets extended, especially in the area that goes through the most wear and tear. It's truly impressive how this innovation tackles a common concern and ensures longevity without compromising performance.
The Gel Resolution 8 features the innovative DYNAWRAP Technology, which is essential for maintaining midfoot stability during high-intensity activities. With this technology, your foot stays securely anchored and perfectly centered on the shoe's platform, delivering maximum control and balance. Experience unparalleled support and comfort with the Gel Resolution 8 and take your performance to new heights.
The AHAR Plus Outsole is strategically placed in key areas, making it a significant advancement in outsole technology. With its 50% increase in durability compared to standard rubber, it sets a new standard for long-lasting performance.
The Trusstic System Technology is the shoe's standout feature for many! Asics achieves a lightweight feel without sacrificing durability or stability by reducing the weight of the sole unit while maintaining its structural integrity. This ensures a perfect balance between lightness and robustness, elevating the overall quality of the shoe.
In conclusion, the Asics Gel Resolution 8 is not just a shoe—it's a statement. Every feature has been meticulously crafted to elevate the user's experience, be it in terms of comfort, durability, or performance. It's a must-have for those who refuse to settle for anything but the best. Highly recommended!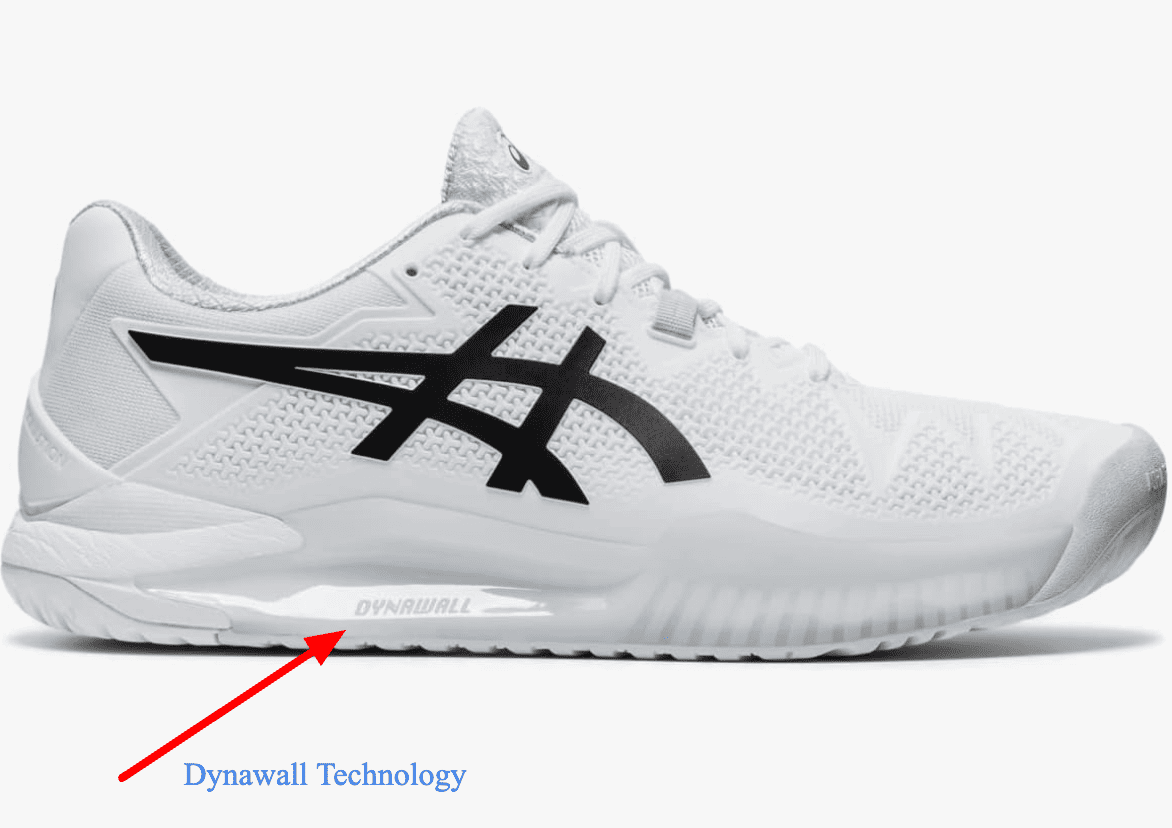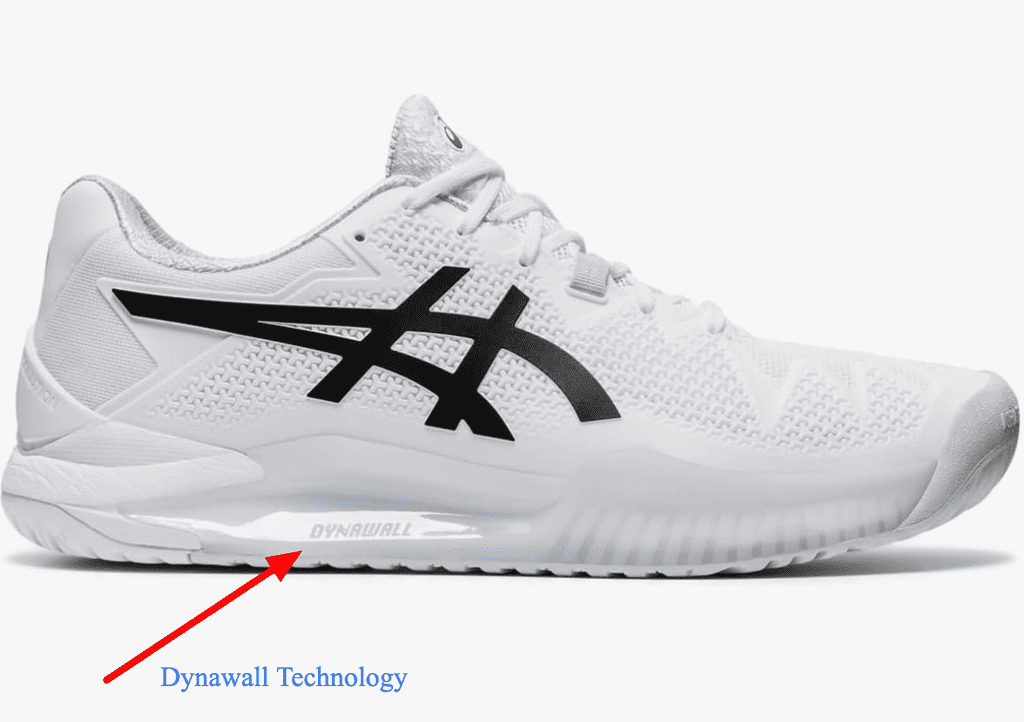 Function
Featuring GEL® technology cushioning in the heel and midfoot, this shoe helps reduce the impact of shock from abrupt stop and go movements on court.
The Asics shoes feature a rearfoot and forefoot gel cushioning system that attenuates shock during impact and toe-off phases, and allows movement in multiple planes as the foot transitions through the gait cycle. This makes them ideal as a pickleball shoe because the game requires quick starts and stops and lots of lateral movement.
The GEL-RESOLUTION® 8 has a responsive stride and close-to-the-court feel to help you perform at your best. The FLEXION FIT® upper provides form-fitting support with the integration of DYNAWALL™ technology, which offers added midfoot stability during lateral movements and coast-to-coast coverage.
Fit
Made from synthetic and mesh that offer a form-fitting comfort without sacrificing support.
The Gel Resolution 8s have a higher level of arch support than other Asics tennis shoes, making them ideal for pickleball players who have high arches or who experience pain in their feet after playing.
The P.H.F. Collar Lining is a unique feature that provides two layers of memory foam that mold to your heel, creating a personalized fit. As a result, you'll enjoy incredible comfort all match long. Plus, the P.H.F. Collar Lining will help to stabilize your ankle, reducing your risk of injury.
The stylish design means you'll look good on the court.
With all these features, it's no wonder the GEL-RESOLUTION® 8 is one of the best pickleball shoes on the market.
Best Pickleball Shoes For Support: Tyrol Volley V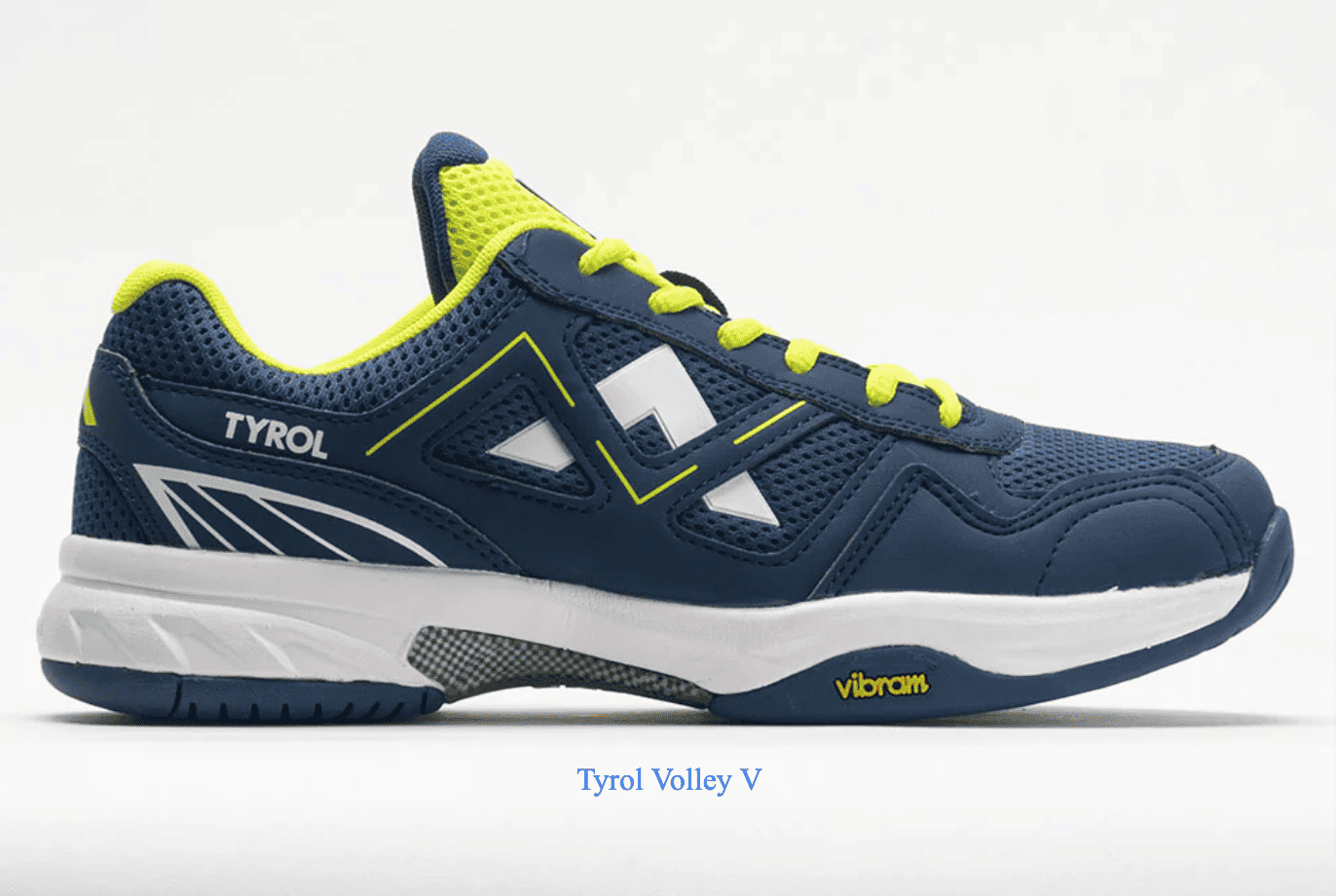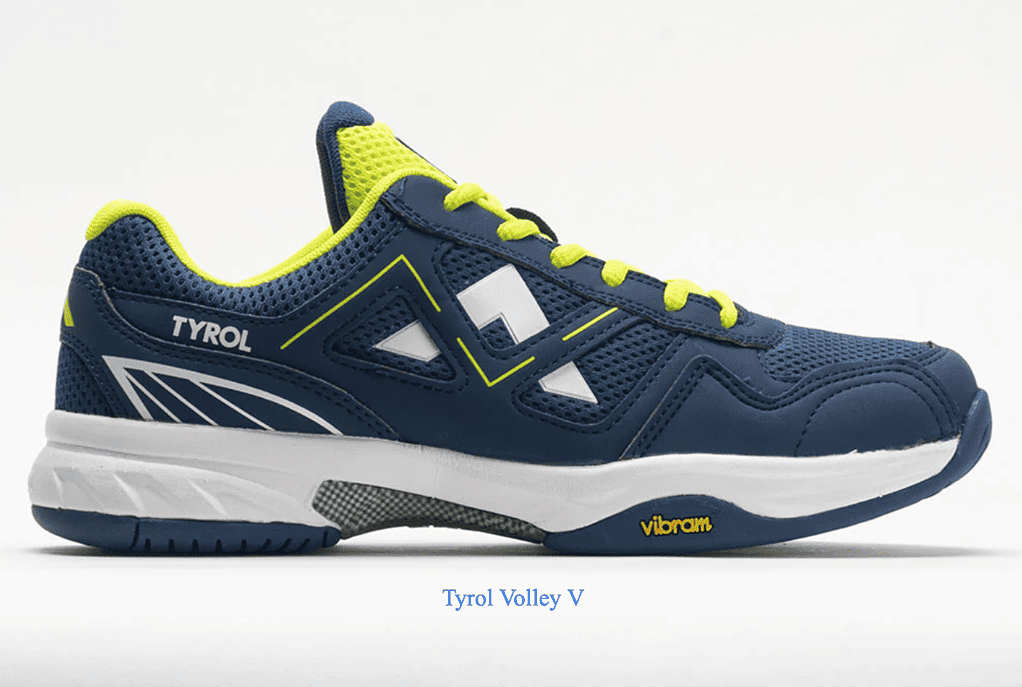 The Tyrol Volley V is the real deal for all you pickleball enthusiasts out there. It's got that perfect mix of style, support, and technical precision that'll take your game to the next level.
The initial attraction lies in its impeccable style. However, this shoe goes beyond aesthetic appeal. Its design is specifically crafted to seamlessly adapt to any outdoor terrain. Whether you're aggressively driving forward for a powerful volley or quickly retreating for a precise lob, you can rely on this shoe to be your ultimate ally on the court, providing unwavering support and comfort to your feet.
The open weave mesh nylon upper, along with the aerated insole, offers incredible breathability, keeping you cool even during intense rallies.
The generous toe box is a total blessing, allowing you to move freely without any restrictions. And let's not forget about the padding that ensures maximum comfort!
Plus, the exterior heel counter and rubber toe guard make for a winning combination, giving you robust ankle support.
The EVA midsole is the unsung hero of this shoe. It ensures that despite the wear and tear of extended matches, your feet remain cushioned, absorbing shocks and keeping fatigue at bay.
The Vibram rubber outsole is widely recognized for its exceptional grip. When paired with the torsion control shank in this shoe, it creates an unrivaled foundation, offering unparalleled stability and traction. Whether you're making swift movements or sudden stops, this outsole ensures unbeatable grip and stability.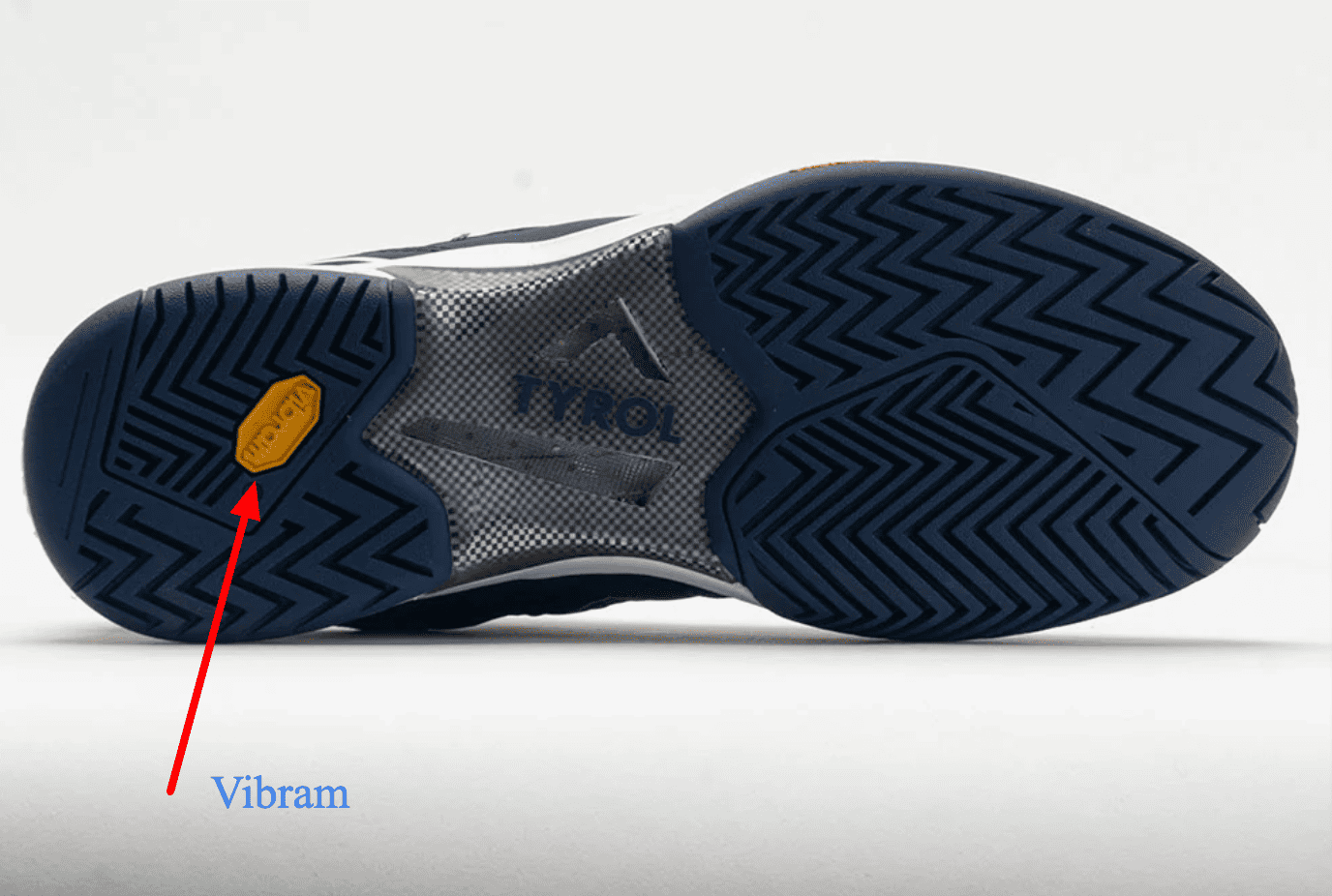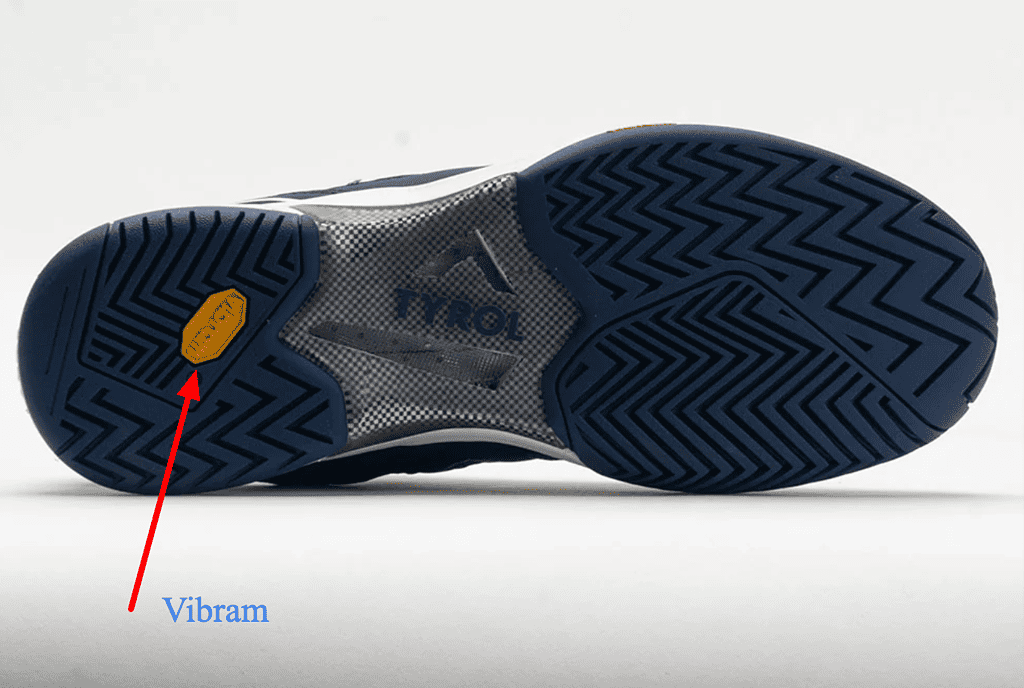 In summary, the Tyrol Volley V isn't just another pickleball shoe. It stands out in our list for its superior support, marrying innovation with practicality. For intermediate players eyeing that perfect blend of softness, stability, and style, there isn't a better choice. The Tyrol Volley V promises enhanced performance, durability, and a touch of elegance to your game. An unequivocal recommendation!
Function
Perfect mix of style, support, and technical precision
Open weave mesh nylon upper and aerated insole for incredible breathability
Generous toe box for unrestricted movement
Exterior heel counter and rubber toe guard for robust ankle support
EVA midsole for cushioning and shock absorption
Vibram rubber outsole for exceptional grip
Torsion control shank for stability and traction
Superior support, innovation, and practicality
Fit
Tailored fit: The shoe molds to the shape of your foot, offering a snug yet comfortable fit.
Roomy toe box: The generous toe box provides ample space for your toes to spread naturally, enhancing balance and reducing foot fatigue.
Padded collar and tongue: These add to the comfortable fit and prevent chafing or blisters.
True to size: Many users report that the Tyrol Volley V fits true to size, eliminating the guesswork when ordering.
Best Pickleball Shoes for Wide Feet
Best Pickleball Shoes For Wide Feet: New Balance 696v4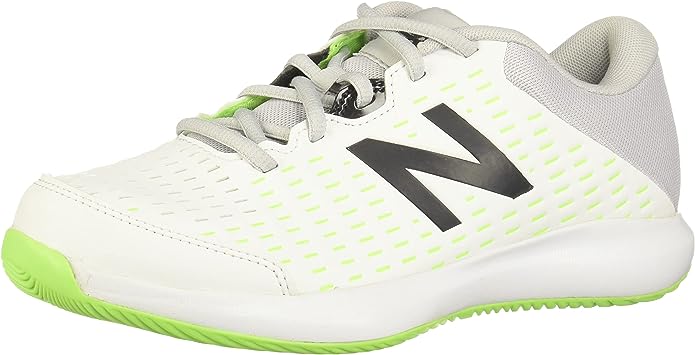 The New Balance 646v4 impresses right out of the gate with its full-length NDurance outsole, designed for both traction and longevity. Those who frequently find themselves replacing shoes due to wear and tear will particularly appreciate this feature. By ensuring players can rely on their footwear match after match, New Balance upholds its reputation for crafting durable athletic shoes.
One of the standout features of the New Balance 646v4 is its herringbone-patterned, non-marking outsole. This design not only aids in lateral movement but also prevents unsightly marks on court surfaces – a detail court owners and maintenance teams will certainly appreciate. The grip provided by these shoes instills confidence in every step, allowing players to focus fully on their game rather than the reliability of their footwear.
The 646v4's outsole material, tailored for hard court matches, shows New Balance's attention to the specific needs of tennis players. This focus on hard court play ensures players get the most optimized performance on such surfaces, though those who play on varied surfaces might want to consider how it performs elsewhere.
A standout in the comfort department, the New Balance REVlite midsole promises and delivers lightweight cushioning, making players feel nimble and agile on the court. Paired with forefoot perforations, the shoe ensures feet remain ventilated, reducing the risk of discomfort during intense matches. However, some players might desire a bit more plush cushioning depending on their foot type and playstyle.
The New Balance 646v4 tennis shoes present a solid choice for hard court enthusiasts. Combining superior traction with commendable durability and comfort features, they serve up a shoe that caters to the modern tennis player. While they shine especially on hard courts, those who play across diverse court types might want a more versatile design. Nevertheless, for those looking for reliability, grip, and comfort in a tennis shoe, the 646v4 should be on their shortlist.
Best Indoor Court Shoes: Asics Upcourt 4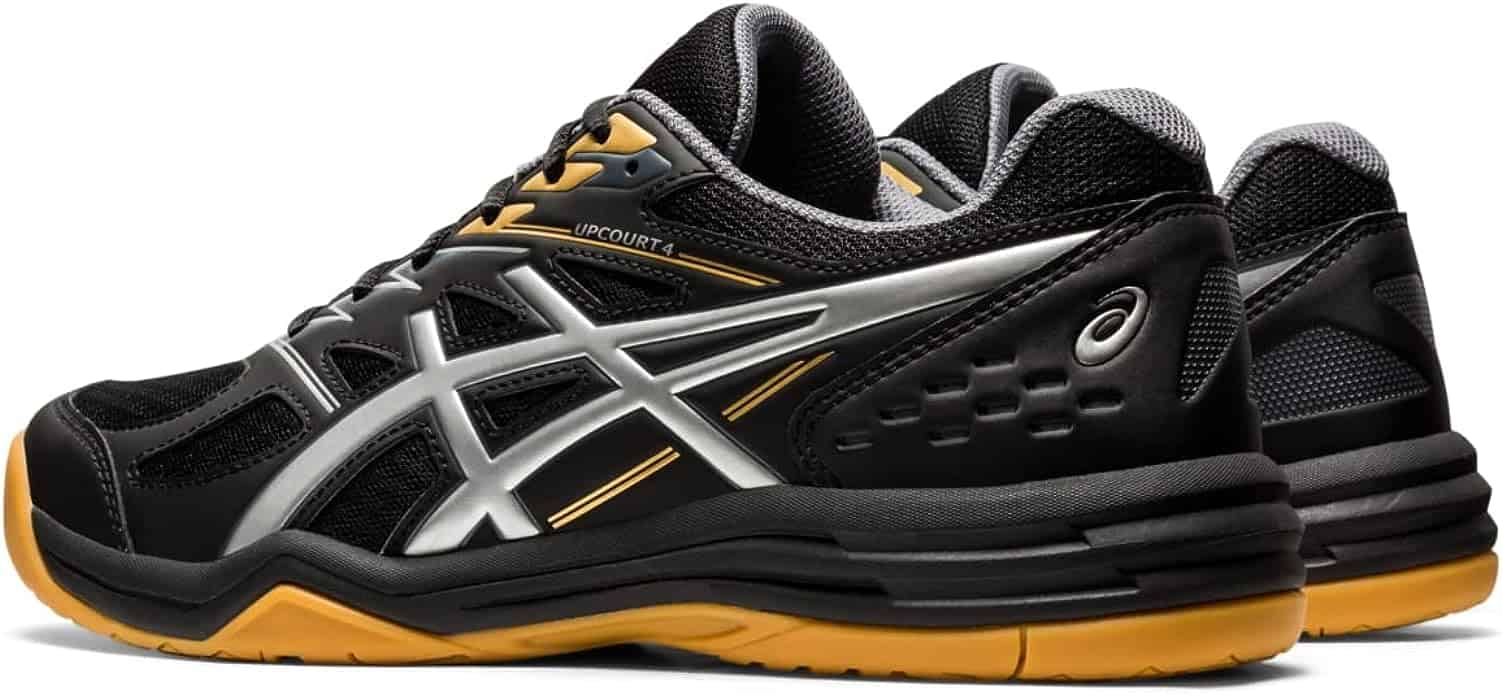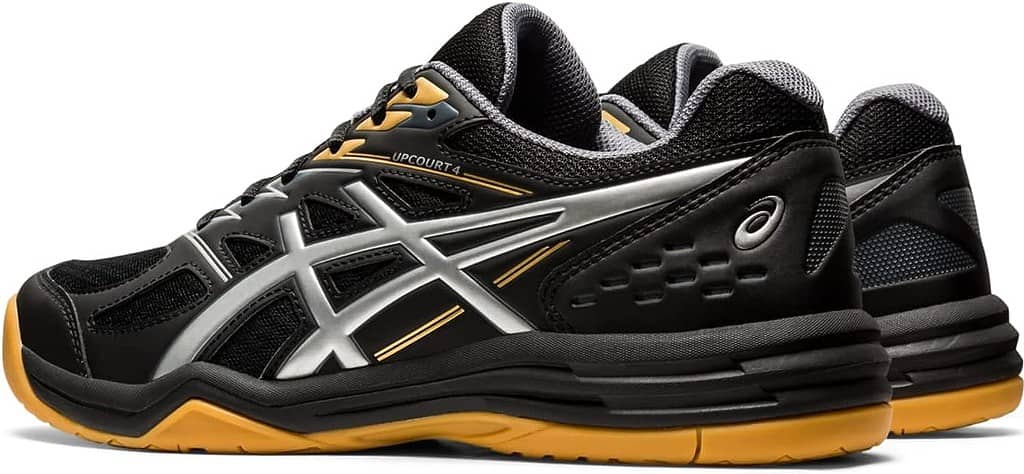 If you're looking for the best indoor court shoes on the market, look no further than the Asics UPCOURT™ 4.
These indoor pickleball shoes are designed for indoor court athletes who want lightweight flexibility, support and durability in their court shoe. This is a popular indoor volleyball shoe. There are just some slight differences from an outdoor pickleball shoe with this indoor court shoe.
Fit and Function
The synthetic leather overlays in these court shoes provide better support and stability during abrupt transitions and braking. The breathable mesh paneling ensures plenty of airflow to keep feet comfortable during matches. Plus, the UPCOURT™ 4 court shoes are designed to improve traction on court, with a rubber gum sole application that emphasizes grip on indoor court surfaces.
Court shoes are really nice on the indoor court surfaces and these are a nice pair from a great shoe company.
Best For All Day Use: ON The Roger Advantage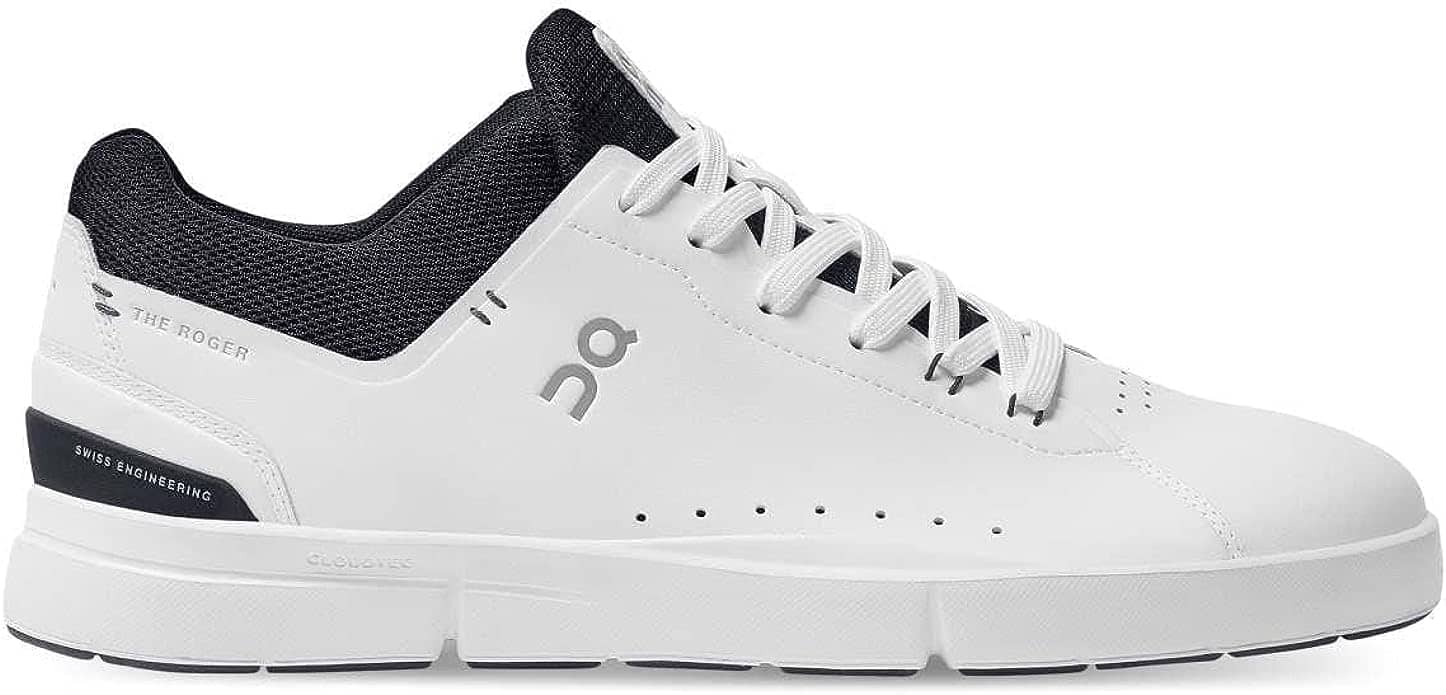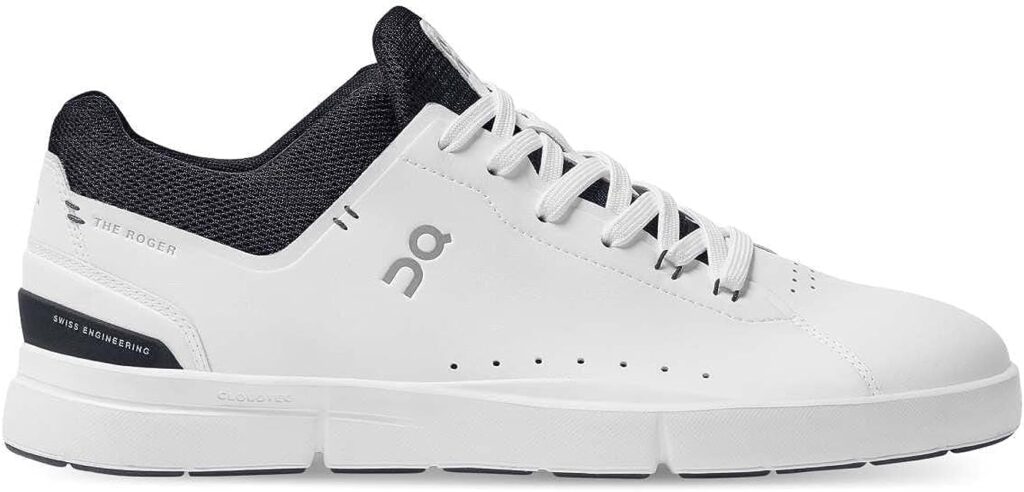 For those who want to wear pickleball shoes all day. On's newest line of sneakers was designed in collaboration with tennis legend Roger Federer. The result is a shoe that is ready for anything – tennis, pickleball, long runs, short walks, you name it.
If you're looking for a pickleball shoe that can do it all, then you need to check out the On The Roger. And while they may look like your average tennis shoe, they're actually even better suited as a pickleball shoe. That's because they have a wider toe box that allows you to move your feet more freely and a cushioned sole that absorbs impact and provides superior comfort and support. In other words, these are one of the best pickleball shoes on the market.
I wear my ON running shoes all the time (not playing pickleball tho!) I have a pair of the Monsters and the are the most comfortable pair of running shoes I have ever worn. At first I didn't want to believe the hype, but ON is the real deal in comfort.
Function
The Cloudflow features a synthetic leather upper that is both comfortable and stylish. Additionally, this all day pickleball shoe is equipped with On's innovative CloudTec technology, which provides an exceptionally smooth ride that you see from their running shoes. So whether you're hitting the outdoor court, the indoor court or just running errands, the Cloudflow will help you get there in style.
Fit
The CloudTec sneaker is comfortable, versatile, and made with patented CloudTec and Speedboard technology to give you the best energy return possible.
With THE ROGER Advantage, you'll get a clean, minimalist look that's sure to turn heads on the court. Ultra-smooth matt vegan leather and minimal stitching give these shoes a tennis-inspired finish that's second to none. And best of all, they're co-created with a champion for a winning aesthetic. So don't settle for ordinary pickleball shoes. With THE ROGER Advantage, you'll have the best pickleball shoes on the market.
Honorable Mention: Skechers Viper Court Pickleball Shoe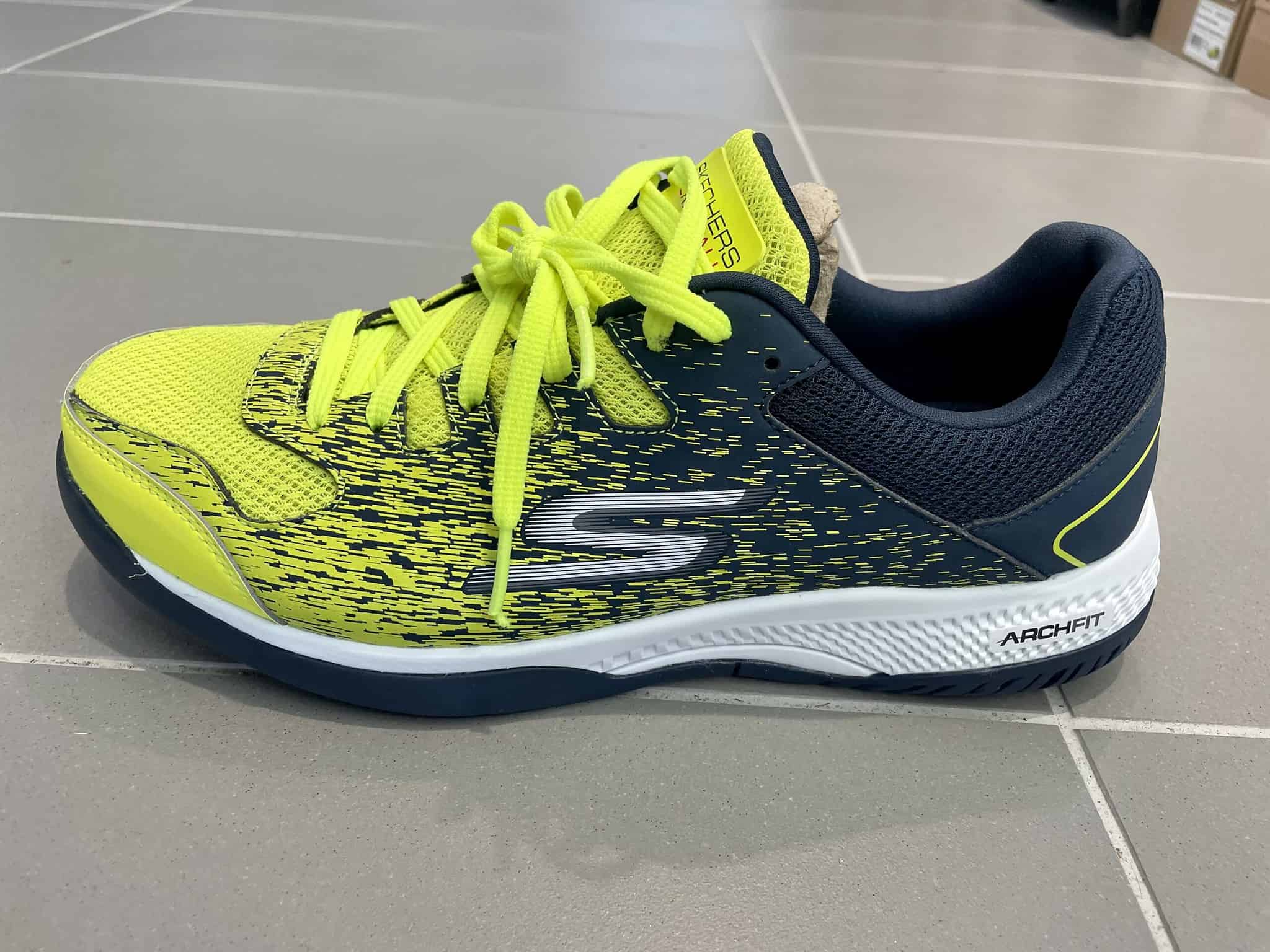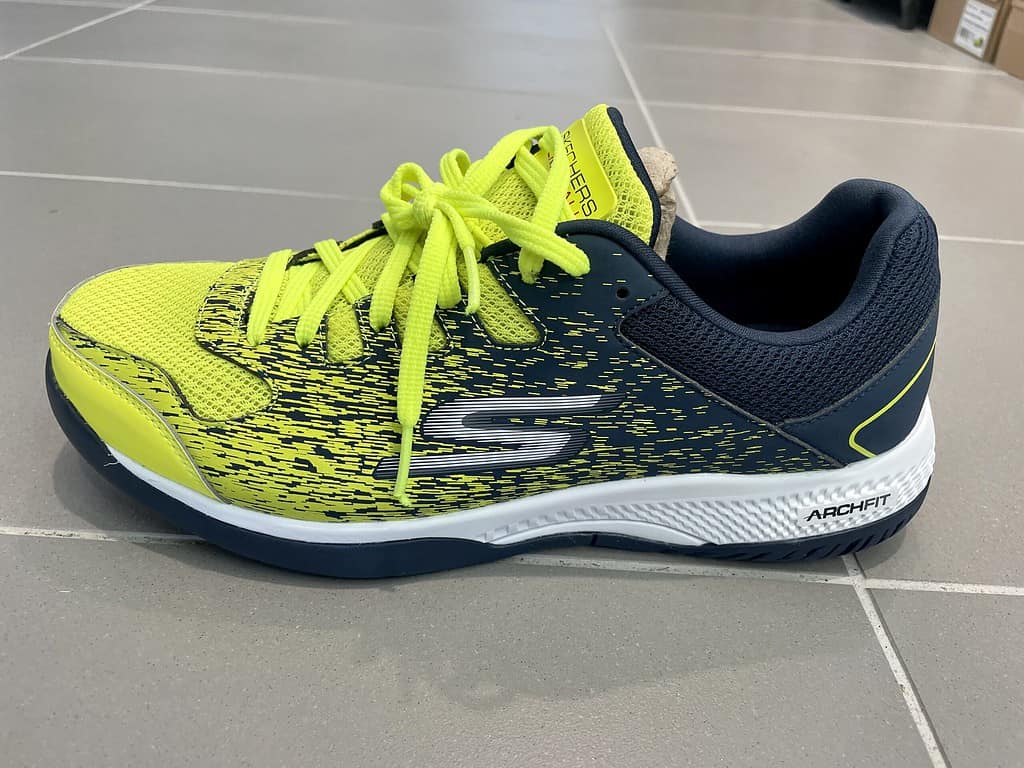 To me, these are kind of like the OG pickleball shoes. At least, they are the ones that got pickleball shoes going in my opinion. Skechers has been growing in popularity on the pickleball scene and now has sponsored one of the biggest names in the game, Tyson McGuffin.
Unlike other athletic shoes, this shoe features a relaxed fit that puts your comfort first. The patented Arch Fit insole system is based on 20 years of data and thousands of foot scans, ensuring podiatrist-certified quality. This innovative design results in a durable shoe with an ultra-light weight that won't weigh you down on the court.
The Goodyear Performance Outsole is specially designed to improve traction while resisting wear, so you can move confidently without slipping. Additionally, the removable insole helps to evenly distribute weight, reducing the risk of overuse injuries. With its shock-minimizing technology and customized fit, this shoe will feel like it was made just for you.
Made with synthetic materials and mesh, the Viper Court allows for airflow and cooling to keep your feet comfortable even during intense matches. Whether you're a seasoned pro or just starting out in pickleball, this shoe supports natural movement while cushioning your feet against jarring impact. Take your game to the next level with the Viper Court Pickleball Shoe by Skechers and see why they are the best rated pickleball shoes.
What Are Pickleball Shoes?
Pickleball shoes are specifically designed footwear to optimize performance, safety, and comfort for players engaging in the sport of pickleball. While pickleball shoes may bear resemblance to tennis shoes, volleyball shoes, or even running shoes, they address the unique demands of pickleball play. Here's a breakdown of what defines pickleball shoes:
1. Traction: A pickleball court is smaller than a tennis court and can be played on both indoor and outdoor surfaces. Pickleball shoes provide the right amount of grip to help players move quickly and pivot without slipping, while also preventing excessive wear and tear on the court surface.
2. Support: Quick lateral movements, stops, and starts are common in pickleball. Pickleball shoes are designed with reinforced side support to stabilize feet during rapid changes in direction, minimizing the risk of rolled or sprained ankles.
3. Cushioning: Playing pickleball can exert a significant amount of stress on the feet and legs, especially during lengthy games. Good pickleball shoes come with enhanced cushioning, especially in the midsole, to absorb shock and protect the joints.
4. Breathability: We know pickleball can get intense, leading players to sweat. A well-designed pickleball shoe offers breathable materials to ensure feet remain cool and dry, reducing the potential for blisters or discomfort. Keeping your feet cool can let you play longer!
5. Weight: Lighter pickleball shoes allow for quicker movement on the court. Pickleball shoes tend to prioritize a balance between support and weight, ensuring players can move swiftly without sacrificing protection. A light pickleball shoe is really nice for quick movements.
6. Toe Protection: In pickleball, it's not uncommon for players to drag their toes. Many pickleball shoes are designed with reinforced toe guards to reduce wear and offer additional protection.
7. Flexibility: While support is crucial in a pickleball shoe, so is flexibility. A good pickleball shoe allows for natural foot movement, ensuring you can respond rapidly to the ball's unpredictable bounces.
While some might opt for regular tennis shoes or other court shoes for pickleball, true pickleball shoes are designed with the sport's specific requirements in mind. Investing in a pair can not only enhance one's game but also reduce the risk of injury. We strongly suggest you do not wear running shoes as they do not provide the lateral support needed on the pickleball court.
How To Choose The Best Pickleball Shoes?
When it comes to the best pickleball shoes, there are a few things you'll want to keep in mind when looking for the best men's and best womens pickleball shoe. Here are some tips for selecting the best pickleball shoes for your needs:
First, you'll want to make sure that the pickleball shoes provide you with adequate traction. Pickleball is played on a variety of surfaces. There are indoor courts as well as outdoor courts. You'll need a pickleball shoe that provides good grip on all of these surfaces. Get an outdoor pickleball shoe if that is where you play most of the time. If you are indoors mostly, then indoor pickleball shoes would be the way to go.
Second, you'll want to make sure that the pickleball shoes are comfortable. Pickleball is a fast-paced game, and you'll be on your feet for long periods of time. You'll want to make sure that your shoes are comfortable enough to wear for extended periods of time. This is particularly important for those with plantar fasciitis. Also, having a light pickleball shoe is a nice feature as well.
Third, you'll want to make sure that the pickleball shoes offer good support. Pickleball can be tough on your feet and ankles, and you'll want to make sure that your shoes offer good support for lateral movements. Do not wear running shoes as they typically don't provide the lateral support you need. You can certainly wear tennis shoes and have great support.
Finally, you'll want to make sure that your shoes for pickleball fit your budget. Pickleball shoes can be expensive, and you don't want to spend more than you have to. With that said, pickleball shoes are an important investment, and you shouldn't skimp on quality to save a few bucks.
What is Pickleball?
Pickleball is an incredibly popular, fun, fast-paced game. It's a great game for all ages and abilities. Pickleball is easy to learn and can be played indoors or outdoors. It combines elements of tennis, badminton, and ping pong (table tennis). It is so fun and that is why it made it on our 107 of the best outdoor activities list!
The game is played on a court with a net, and the object of the game is to hit the ball over the net and into your opponent's court. Pickleball is a great way to get some exercise, and it can be played by people of all ages.
How To Play?
Pickleball is played on a court that is similar in size to a badminton court. The object of the game is to hit the ball over the net and into your opponent's court. Players can move anywhere on their side of the court, but cannot step over or into the no-volley zone (the kitchen). The first team to reach 11 points wins the game.
The court is 20 feet wide by 44 feet long. The net is 36 inches high at the sides and tapers down to 34 inches in the middle. You use a pickleball paddle to hit the ball back and forth over the net. The game can be played in singles or doubles.
To start the game, one player serves the ball underhand diagonally across the court. The ball must be hit below the server's waistline, and you can only bounce it once with each shot. The ball must land in the opposite service box. If it goes out of bounds, the other player gets a point. The first player to reach 11 points wins the game.
See our post on Pickleball Rules for more information.
What Do You Need to Play?
To play pickleball, you will need a few pieces of equipment.In addition to the best shoes, you will need a pickleball paddle. You'll also need pickleballs (the official balls are made of plastic and have 26 holes), and a pickleball net (which can be set up on any tennis court).
Conclusion
In the ever-evolving world of pickleball, having the right gear can make a world of difference in your game. From the nuances of grip to the subtleties of support and cushioning, a shoe can indeed make or break your performance on the court.
We've journeyed through some of the best pickleball shoes available in the market, analyzing their strengths and potential drawbacks. And while there isn't a one-size-fits-all answer, armed with the knowledge from this post, you're well-equipped to find your perfect match.
Remember, the best pickleball shoe isn't just about the brand or the latest trends; it's about the fit, function, and how it enhances your unique playing style.
As the sport of pickleball continues to grow in popularity, we can only expect even more innovations in shoe technology and design. Until then, invest in a shoe that understands your game as much as you do, and watch as it elevates not just your footwork but your overall pickleball prowess.
Happy playing, and may every step on the court be your best one yet!
Looking for more pickleball gear? Check out our list of the best overall pickleball paddles or the best pickleball paddles under $100! And don't forget to pick up a pickleball net to practice your game at home. Happy pickling!