Step into the fascinating world of pickleball as we unravel the extraordinary journey of Ben Johns, a true legend in the sport. If you know pickleball, you know Ben Johns. He is hands down the best player in the game and will go down in history.
Prepare to be captivated by the inspiring story of how he rose to prominence at a remarkably young age and what sets him apart from his fellow players.
In this blog post we go deep into the life of pickleball star Ben Johns, highlighting his remarkable achievements and the incredible path he embarked upon.
So, let's embark on this exciting adventure and discover the secrets behind Ben Johns' unparalleled success.
Let's get started!
Who is Ben Johns?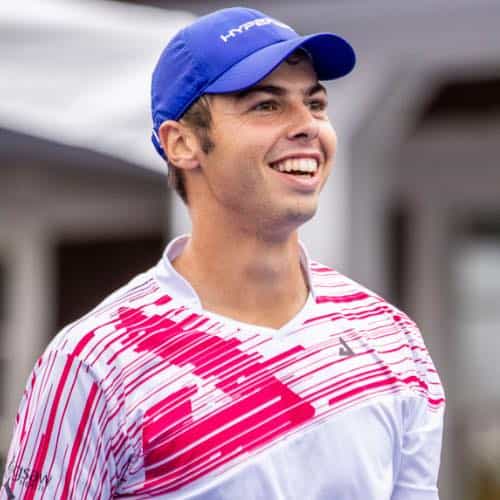 Ben Johns is a renowned and dominant figure in the world of pickleball. He is considered the most successful and talented player in the sport, currently holding the esteemed title of being the number-one-ranked pickleball player in the world pickleball rankings. With numerous pickleball championships and victories to his name, Ben has solidified his status as a legend in the pickleball community.
At an astonishingly young age, he has amassed over 100 titles from the Professional Pickleball Association (PPA), a remarkable achievement that sets him apart not just among players of his age group but also among pickleball players of all ages.
One of the most impressive aspects of Ben Johns' career is his ability to secure "triple crowns" at tournaments. This exceptional feat involves claiming first place in three separate categories within the same tournament: singles, doubles (often partnered with his brother, Collin), and mixed doubles (where he teams up with top-ranked Anna Leigh Waters). It is impressive that Anna Leigh is the top rated female pickleball player but what is more impressive is that she is a 16 year old pickleball player! Such a feat demonstrates his incredible skills and versatility as a pickleball player.
Aside from his on-court prowess, Ben is widely admired for his positive attitude and sense of humor. Even in the face of adversity or defeat, he manages to keep his spirits high, lifting the moods of those around him and earning the respect and adoration of fans and fellow players alike.
As the world watches in awe, Ben Johns continues to be a driving force in the pickleball world, showcasing his talent, dedication, and passion for the sport.
How Ben Johns Got Started with Pickleball?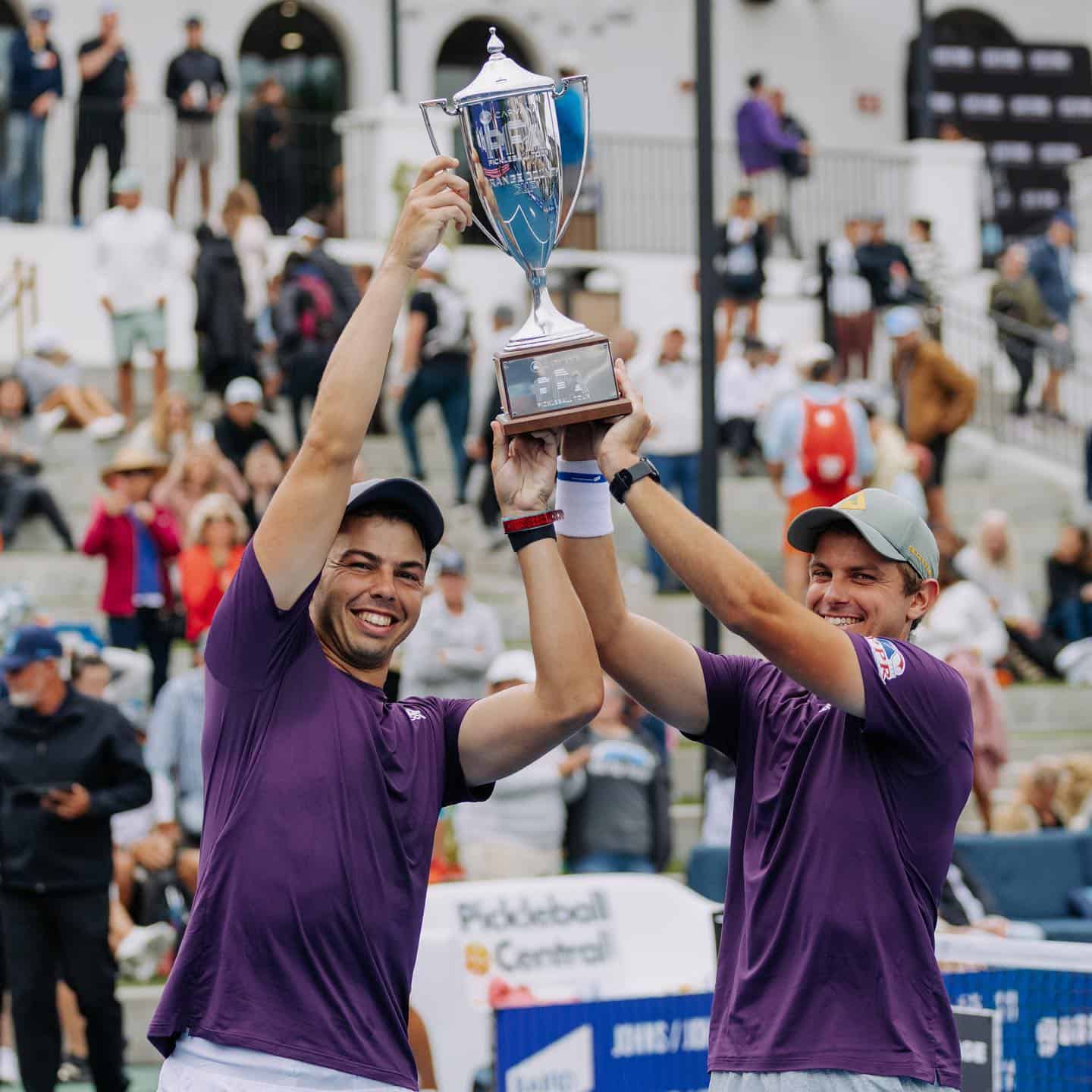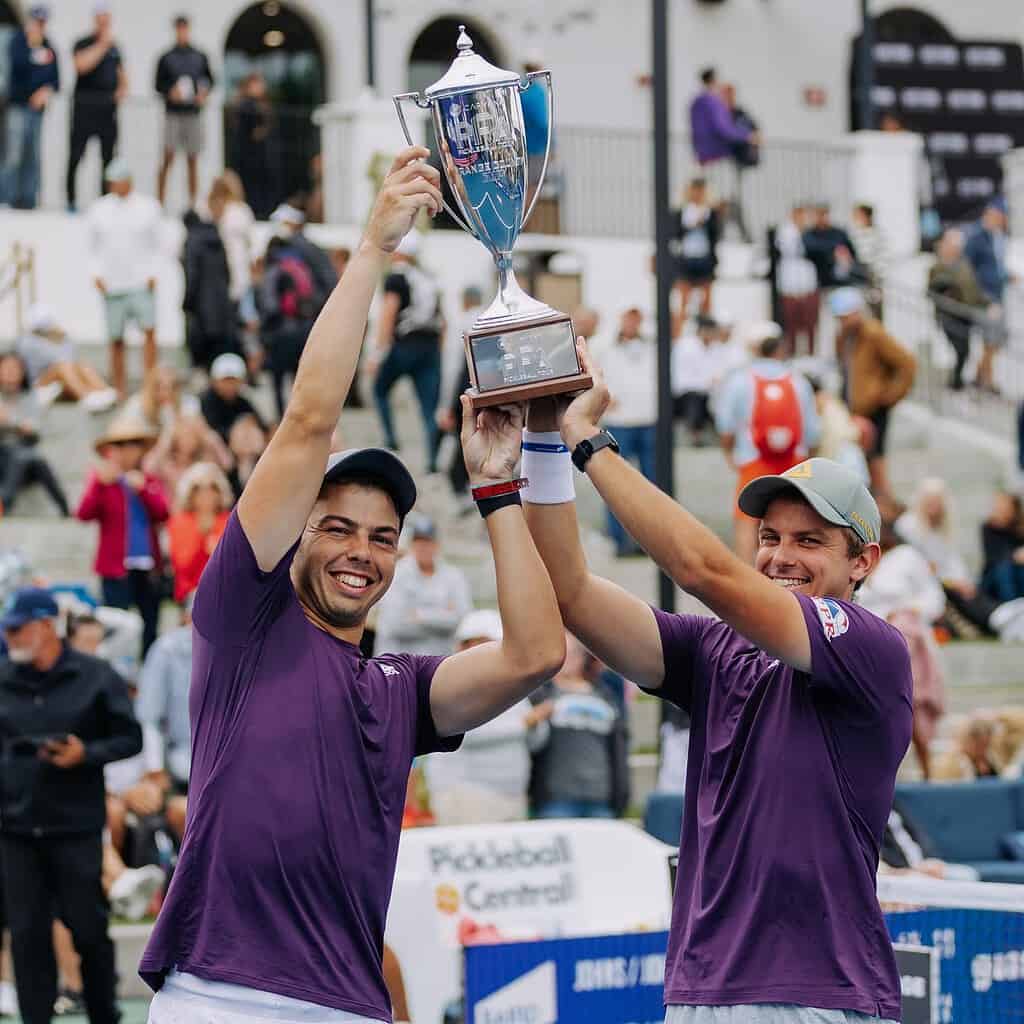 Ben Johns' journey into the world of pickleball began at the age of 17, and it was love at first play of the sport. Coming from a tennis background and competitive table tennis, he was no stranger to racquet sports, which provided him with a solid foundation for his pickleball endeavors.
As the middle child among seven siblings, Ben was no stranger to competition and knew the thrill of pushing himself to excel. His older brother, Collin Johns, played tennis professionally, and Ben often practiced with him, honing his skills along the way.
One fateful day, Ben decided to give pickleball a try, and it was love at first swing. The sport's unique blend of skill, strategy, and camaraderie captured his heart, leading him to jump headfirst into competitive play. His passion and talent quickly became evident as he triumphed in his first tournament, propelling his professional career forward.
Throughout college, Ben Johns continued to pursue his pickleball dreams, playing in pickleball tournaments while balancing his education. By the time he graduated, he had become the top-ranked professional player in global pickleball rankings, a testament to his relentless determination and commitment to excellence.
Alongside his own success, Ben also convinced his brother Collin to join him on the pro tour, forming a formidable doubles partnership. But the family ties don't end there, Ben Johns sister, Hannah Johns, is the TV reporter and interviewer for the PPA Tour.
As his skills and reputation grew, so did the opportunities for sponsorships. Franklin Sports, a prominent global sporting goods company, recognized Ben's potential and signed him for a significant sponsorship deal. This support boosted both his confidence and the visibility of the sport.
When his contract with Franklin Sports concluded, Ben Johns inked a partnership with Joola Pickleball in 2022. Having a background in table tennis, he was familiar with Joola's legacy and was excited to collaborate with them. Together, they developed his signature paddle, the Joola Ben Johns Hyperion CFS 16, incorporating cutting-edge technology to enhance his gameplay. Since then, they have continued to improve on paddle enhancements and recently came out with the lastest Ben Johns Signature Pickleball Paddle, the Joola Ben Johns Perseus CFS 16 Paddle.
In a groundbreaking move for the pickleball world, Ben Johns made history by signing the sport's first-ever lifetime deal with Joola on June 6, 2023. This further solidified his status as a pickleball superstar and demonstrated the growing potential and importance of the sport.
With his continued dedication and the support of Joola Pickleball, Ben Johns' journey is far from over. As he continues to push the boundaries and make strides in the sport he loves, he leaves an indelible mark on the pickleball world, inspiring players of all ages to embrace the game with passion and determination.
What is Ben Johns Pickleball Paddle of Choice?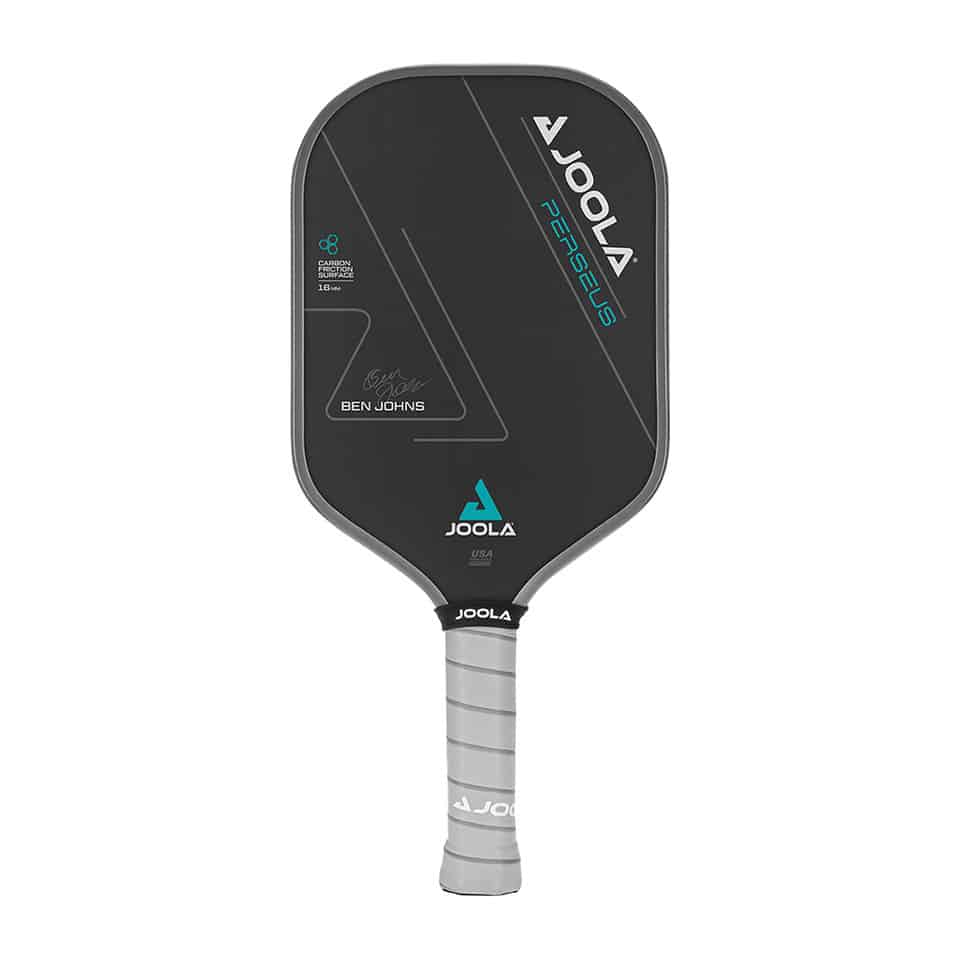 Ben's paddle of choice is obviously the Joola Perseus CFS 16. The Ben Johns Perseus CFS 16 Carbon Fiber Paddle is the long-awaited follow-up to the successful Ben Johns Hyperion CFS 16 paddle. It combines power and control, helping players reach their full potential on the court.
With an 8.0-ounce weight and an elongated paddle shape, this paddle offers both power and leverage. The thick 16mm core and stiff carbon fiber face enhance control and spin, allowing for precise shots. The Reactive Honeycomb Polymer core provides ultimate control and a large sweet spot, while the Sure Grip handle helps generate more swing speed.
Overall, the Ben Johns Perseus CFS 16 Carbon Fiber Paddle is the ultimate paddle for power and control which is expected from a paddle endorsed by Ben Johns. See why is came in as the best pickleball paddle on our list!
What Challenges Does Ben Face And How Does He Overcome Them?
In the fiercely competitive world of pickleball, Ben Johns faces a myriad of challenges that test his skills, mental fortitude, and determination to maintain his position at the top.
One of the primary challenges Ben encounters is the rigorous training regimen required to stay at the pinnacle of the sport. With each match being a grueling battle, he invests countless hours honing his techniques, improving his physical fitness, and strategizing to gain an edge over his opponents. The pressure to maintain his open pickleball championships winning status is a constant driving force, pushing him to push his limits and continually evolve as a player.
In order to stay ahead of the competition, Ben meticulously analyzes the playing styles and strategies of his opponents. This extensive background research ensures he enters each match with a well-informed game plan, ready to adapt to any situation on the court. Staying one step ahead of his rivals is essential, and this requires immense focus and mental agility.
A significant challenge that comes with being a top pickleball player is the demanding travel schedule. Tournament after tournament, Ben must traverse various locations, often dealing with jet lag and adjusting to different playing conditions. The constant movement and time spent away from home can take a toll on his physical and emotional well-being.
Furthermore, the versatile nature of pickleball adds complexity to Ben's career. Excelling in singles, doubles, and mixed doubles demands exceptional versatility and adaptability. Each format requires distinct strategies and teamwork dynamics, making it even more challenging to master all aspects of the game.
Despite these formidable obstacles, Ben Johns remains unwavering in his commitment to excel in pickleball. His determination to establish himself among the best players in the world serves as a driving force, motivating him to overcome each hurdle with resilience and a relentless pursuit of success. By embracing these challenges head-on, he cements his status as a true pickleball legend and an inspiration to aspiring players worldwide.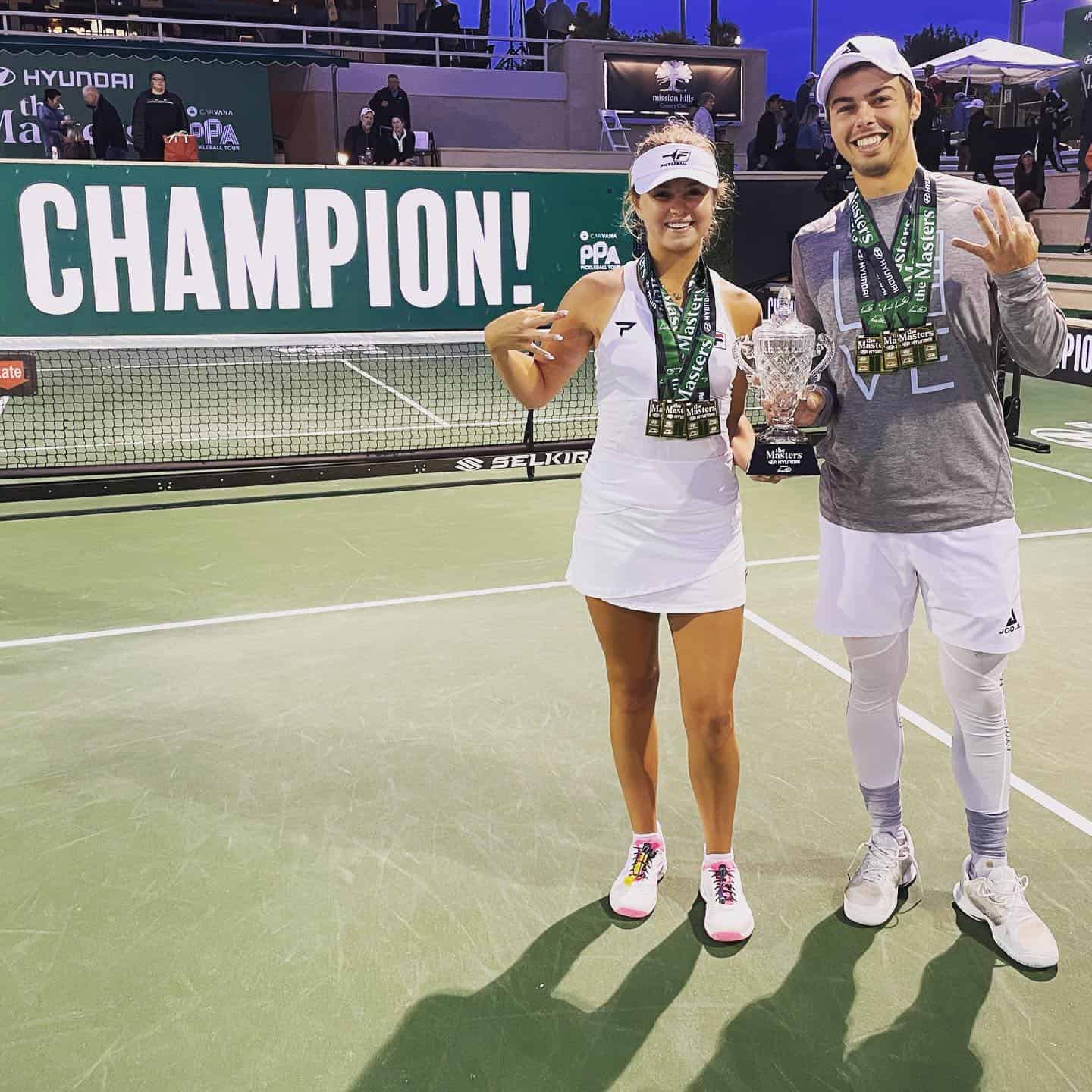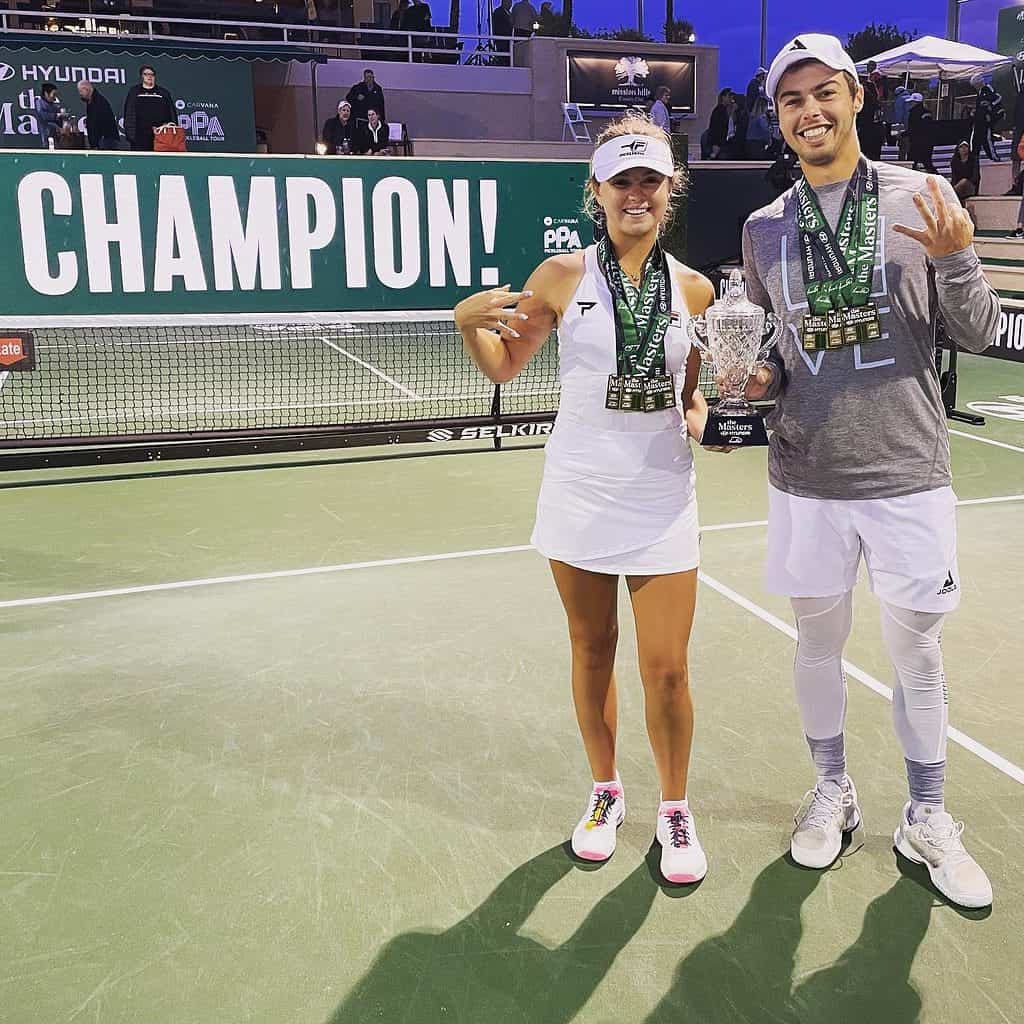 Through his hard work and dedication to the craft, Ben has been an inspiring figure to those who know him. He demonstrates that with commitment, resilience and perseverance, anything is possible.
Ben's unwavering commitment to pickleball serves as a source of inspiration for anyone looking to achieve their goals. His impressive accomplishments are matched by his humility and dedication, proving that anything is achievable if you put your mind to it – no dream too big. It's no wonder why Ben Johns has become a role model for pickleball players everywhere!
Who are some of Ben's favorite opponents?
Ben Johns has always been the definition of a passionate pickleball player, taking on opponents both close and far. His brother Collin was always a brotherly rival, as they both grew up learning the game together.
But no challenge was ever too daunting for Ben, who also took on some of the sport's greatest professionals such as Tyson McGuffin and Zane Navratil in his record-breaking 170-game winning streak – ultimately ended by JW Johnson. Federico Staksrud is quickly becomming a formidable opponent as well!
Despite this defeat, Johns continues to prove why he's one of the greats in tournament play; Dylan Frazier, Jay Devilliers, James Ingnatowich and eventual Las Vegas tournament champion Catherine Parenteau have all faced off against him at some point in their careers. In their battles with Ben they learned valuable lessons from him and his playing style – providing him with an opportunity to hone his skills even further.
Win or lose, Johns never backs down from an opponent, always rising to take on the next challenge that comes his way. That resilience is what makes Ben a true professional in all senses of the term and it will continue to propel him forward as he looks to stay at the top of the leaderboard.
The Accomplishments of Ben Johns in Pickleball (So Far)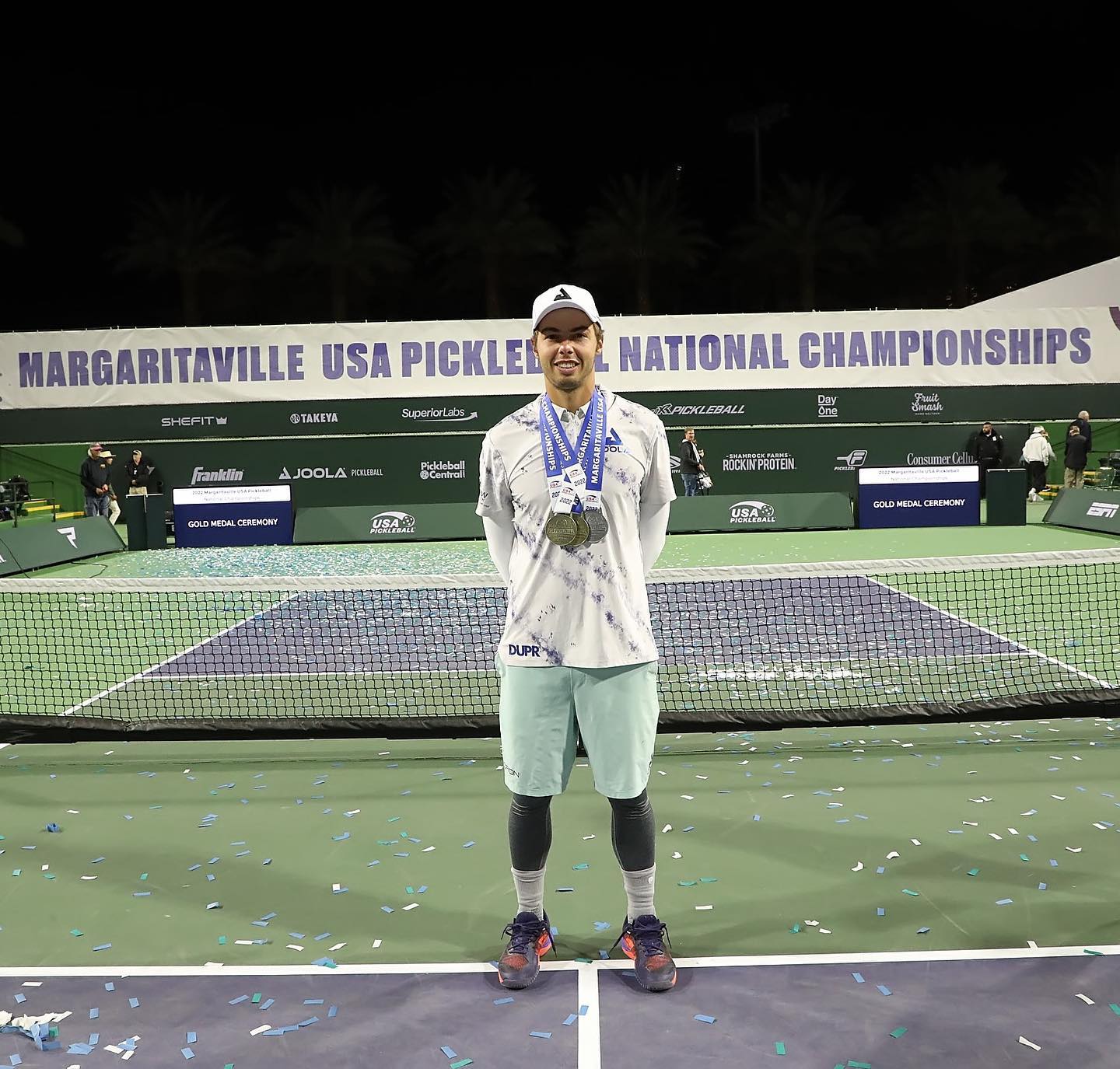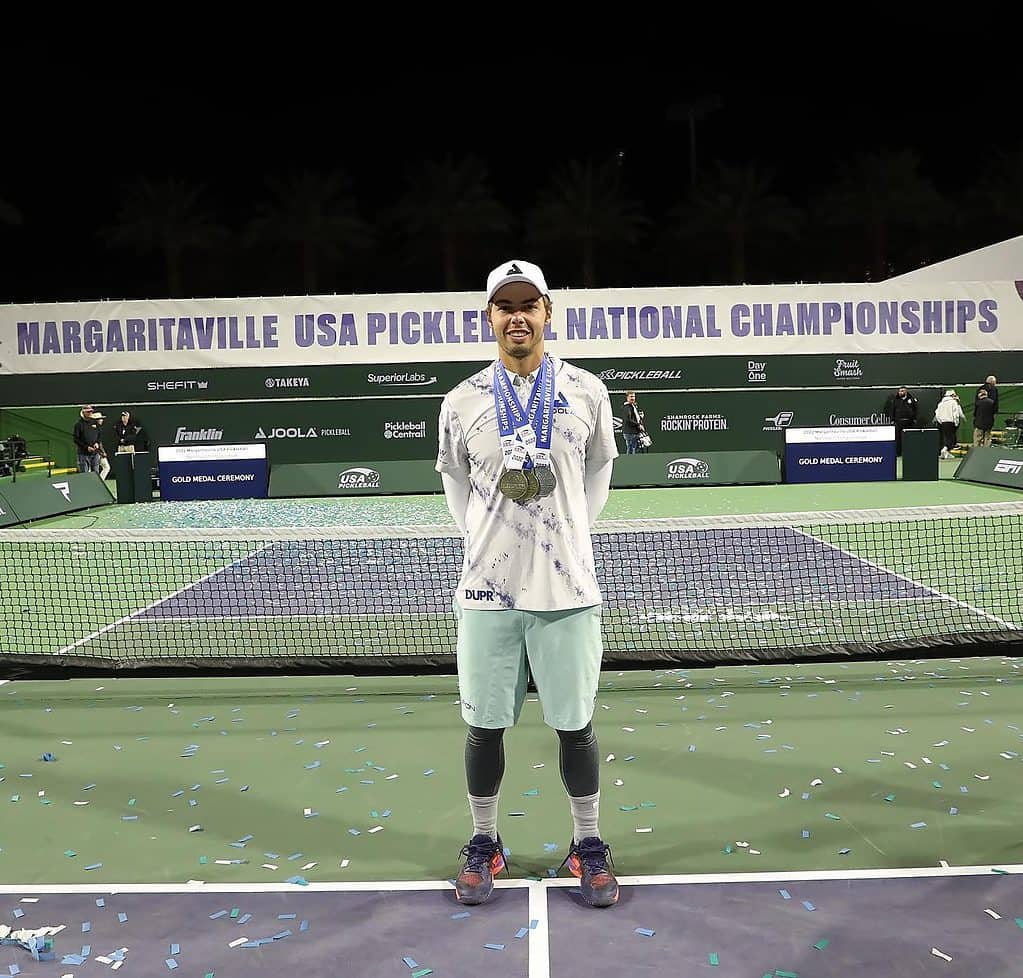 Ben Johns' accomplishments in Pickleball include pretty much everything. Literally.
He holds a record for most matches won consecutively and has captured over 100 professional championships.
Ben's success lies not only in his singles victories on the court but also in his skills as a doubles player – he was recently ranked No. 1 in men's singles and doubles. He's won more than 100 Professional Pickleball Association titles, as well as fifteen triple crown titles (winning singles, doubles, and mixed doubles).
His 108-match winning streak in singles is a record that still stands today. Johns is known for his explosiveness on the court and his mastery of all three disciplines.
Johns has had even more success recently; at the year-ending PPA Masters tournament in La Quinta, California, he claimed two championships to solidify his ranking as the world's top pro player. Though these athletes are fierce competitors on the tennis court, off it they are seemingly friendly rivals.
Ben is also starting to tear it up in the team competition of MLP Pickleball (Major League Pickleball). The format of these events is fun and we suggest checking it out!
Ben's DUPR (basically his pickleball skill rating) is currently at time of writing 7.1 in singles and 6.65 in doubles. Both extremely impressive.
But there's more to Ben Johns than just his achievements in Pickleball. He is an ambassador for the sport, traveling the world and inspiring others to take up pickleball. He has also launched a number of initiatives aimed at growing the sport.
What makes Ben Johns so successful is his passion and dedication to the sport. He has dedicated countless hours to perfecting his skills and developing strategies, which have undoubtedly contributed to his success.
Ben Johns' achievements in Pickleball are nothing short of extraordinary. He continues to break records and push the boundaries of what's possible in the sport of Pickleball, setting an example for others to follow.
His success in Pickleball is a testament to his talent, hard work, and dedication – qualities that will no doubt carry him far beyond the pickleball court.
Ben John's Business Endeavors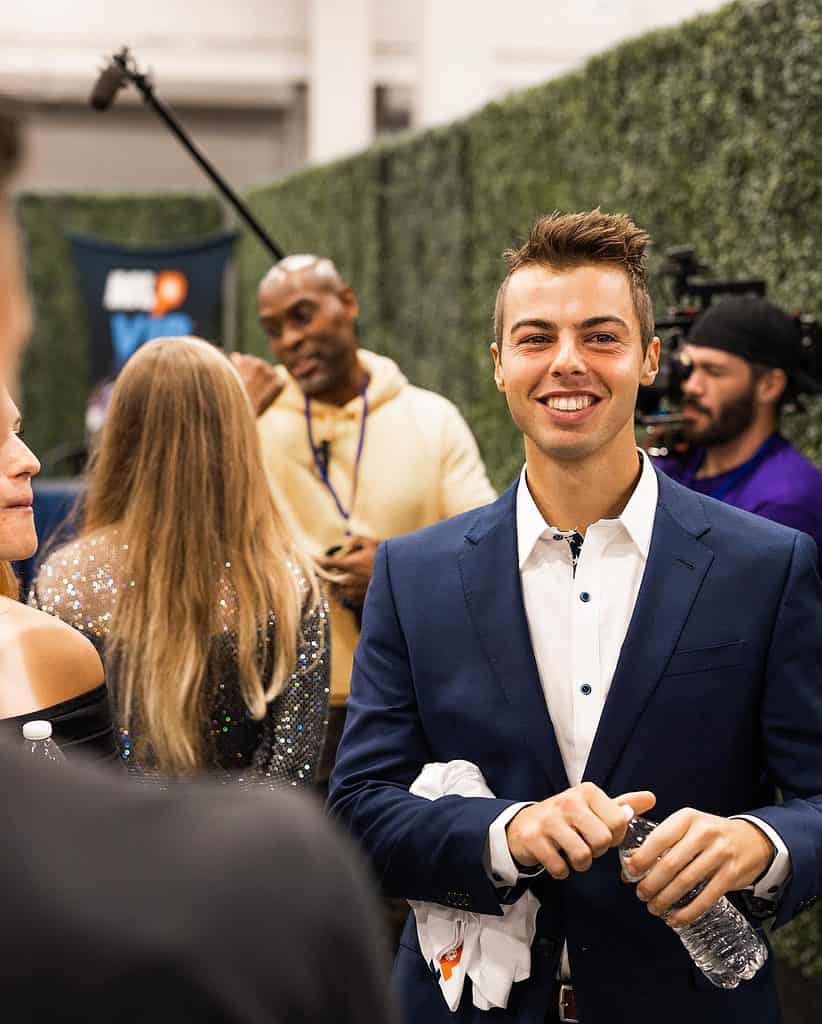 Ben Johns success in pickleball has led him to launch several businesses. In 2021, Ben Johns launched Pickleball Getaways, which combines vacations to exotic destinations with pickleball instruction on-site.
Pickleball Getaways is a pickleball training and teaching program that is combined with a week long getaway vacation at a wonderful resort destination. Some of the places they go are Mexico, Costa Rica, and Portugal coming up this summer.
In 2021, Ben Johns launched an instructional video subscription service titled Pickleball 360. In 2021, Ben Johns also launched elog.com which is a cryptocurrency website.
Lastly, in 2021 Ben Johns launched The Freestyle Boys podcast where they talk about tournament schedules, pickleball info and tips, food, travel, and personal life.
Ben Johns's businesses are all successful and he continues to make a name for himself in the world of pickleball. He is an inspirational figure to many people who enjoy playing this sport and his various ventures have given him an edge over other competitors.
His drive and ambition have put him at the forefront of the pickleball industry, and he is sure to continue his successes in the years to come.
Conclusion
Ben Johns will certainly go down as one of the best in pickleball history, if not the best. That is still to be determined as he in coming into his prime! He is positioned to go down in history with a spot in the Pro Pickleball Hall of Fame. He has demonstrated that anything is possible with dedication and hard work.
He is an inspiration to all aspiring pickleball players and those looking for motivation to pursue their dreams. . Ben Johns is a true role model and a name that stands out when it comes to pickleball.
If you get a chance, be sure to watch some awesome videos of Ben in action. Just about every pickleball tournament he plays is now online to watch. Visit YouTube and you will be able to see just how good Ben is!