Tyson McGuffin is a name synonymous with pickleball. A top-ranked player, he has been dominating the sport for years and is widely regarded as one of the best players out there. And he is certainly one of the most exciting!
Tyson has a big personality, a lot of passion for the game, and is extremely competitive. He has an incredible connection to the sport and truly loves the game. He is a master of the game and is well-known for his aggressive style of play.
Tyson McGuffin has dedicated himself to mastering every aspect of pickleball -singles, doubles, and mixed doubles to technique, strategy, fitness, and nutrition. This has enabled him to become one of the most successful athletes in the game today.
In this blog post, we'll take a look at Tyson's background, how he got into professional pickleball, his paddle of choice, and what he does when he's not playing pickleball.
We are reader supported and as such may make a small commission at no expense to you if you purchase thru one of our links!
Growing Up
Tyson McGuffin grew up in Lake Chelan, Washington. He was a natural athlete and was always involved in sports. Wrestling was his main sport growing up. His dad was even his wrestling coach in high school. It was a big part of their family.
When not wrestling, Tyson was out playing tennis. And he was playing it at a high level. He won two state championships during his junior and senior years in high school. So when it came time for college he had a tough decision to make; Wrestling or tennis?
He chose to play tennis, passing up on college scholarships for wrestling.
After College
After graduating college, Tyson went on to become the head tennis pro at Yakima Tennis Club. He was there for six years teaching and leading their tennis program.
It was during this time that he discovered pickleball. He had heard about the game and decided to give it a try. While it was challenging for him at first, Tyson was immediately hooked. He loved the strategy involved and the fast-paced nature of the game.
With his natural athletism, it didn't take him long to master it and he turned pro six months later in 2016! Since then, he has continued to dominate America's fastest-growing sport and has become one of the most well-known players in the game!
Tyson McGuffin The Pickleball Player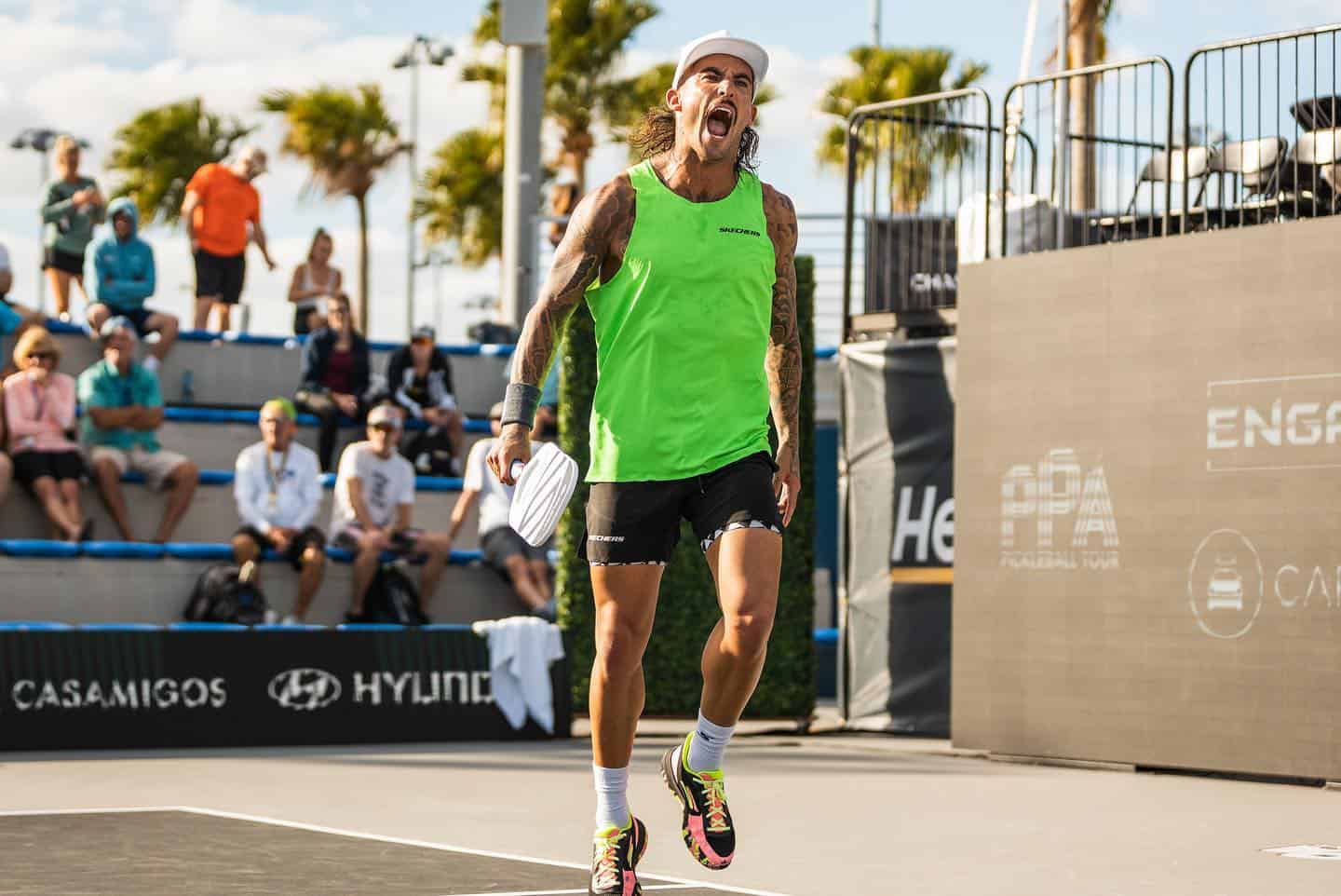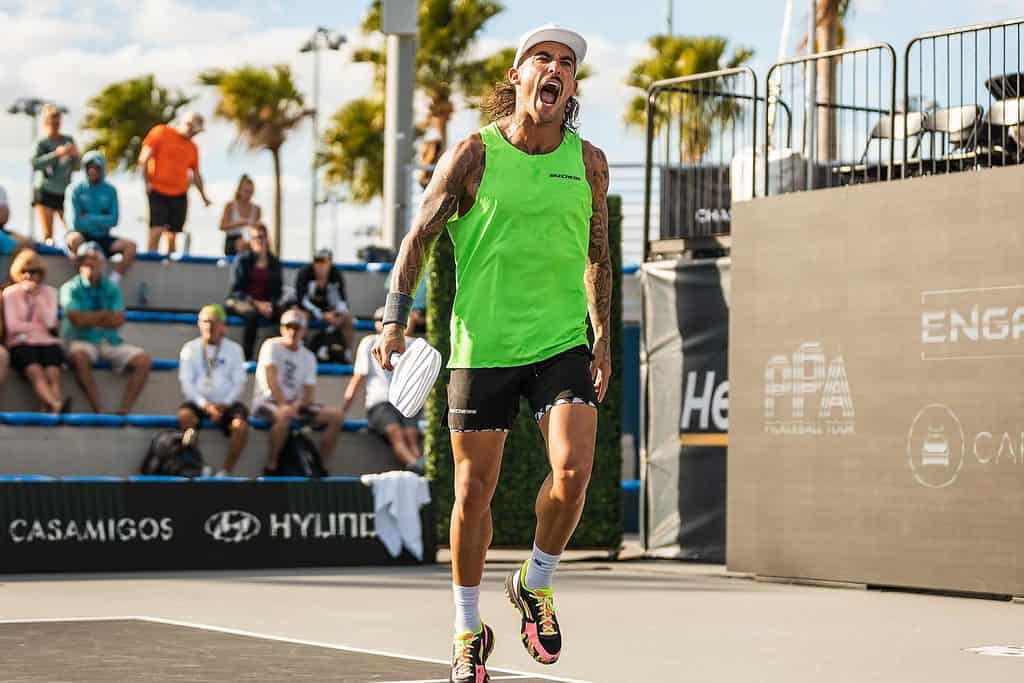 It didn't take long for Tyson to become one of the best pickleball players in the world. He quickly rose through the ranks and is now a top-ranked player. He has competed in tournaments all over the world and won several championships. He is a 5 time Grand Slam Champion and a 4 time National Champion.
Tyson credits his success to dedication and discipline. He puts in the work off court, learning new strategies, honing his skills, and staying in top physical condition.
His passion, competitiveness, and energy make him one of the most popular among fans. He is always out there giving it his best and showing his passion as he plays. His rivalry with other top ranked player Ben Johns has certainly been fun to watch!
Tyson is also an incredible ambassador of the sport and is extremely involved not only on the court but off the court as well.
Related: The Best Pickleball Bags
His Pickleball Paddle of Choice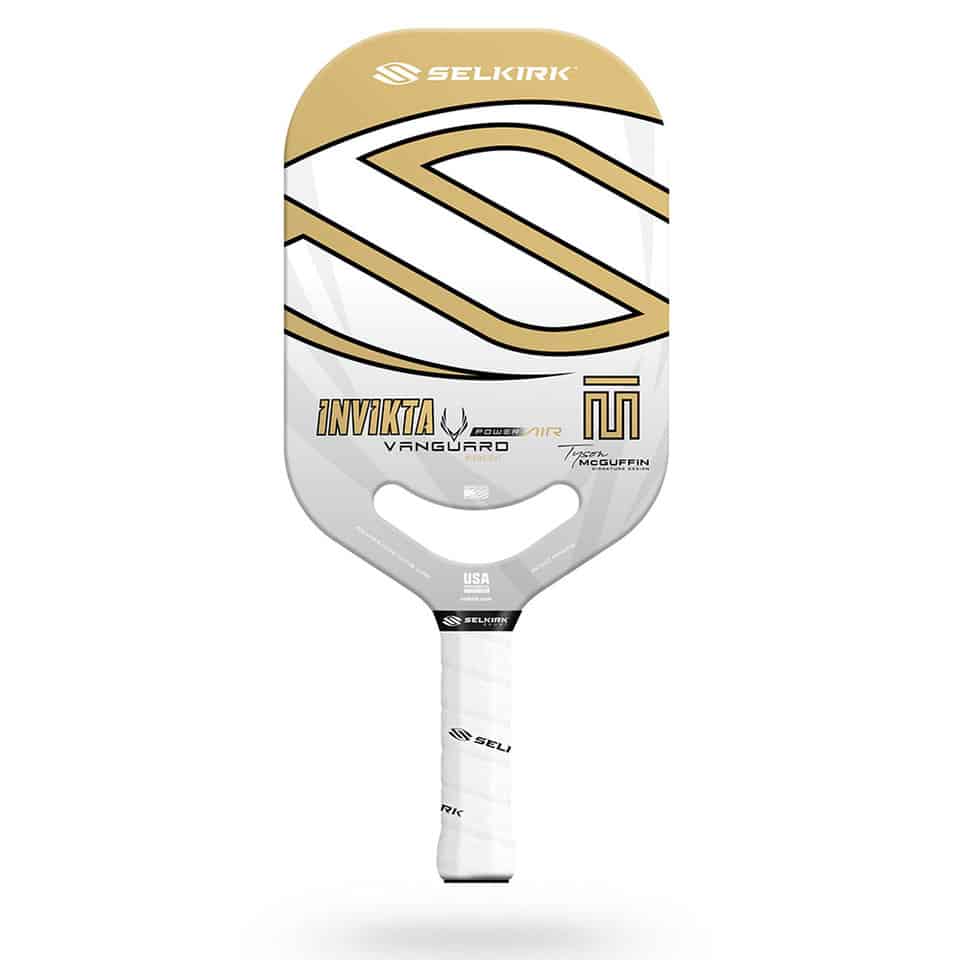 Tyson has a sponsorship with one of the best names in the game, Selkirk.
His paddle of choice is the Selkirk Vanguard Power Air Invikta. It's a great choice for an aggressive player like Tyson. This paddle gives him a lot of spin for those controlled power drives we see from him.
It has a nice large sweet spot with some serious power. Great for those tennis players that have transitioned into pickleball. Did I mention power??
This paddle is sweet and is quickly becoming one of the most popular paddles in the game.
Related: The Best Pickleball Paddles
What Does Tyson Do When He's Not Playing Pickleball?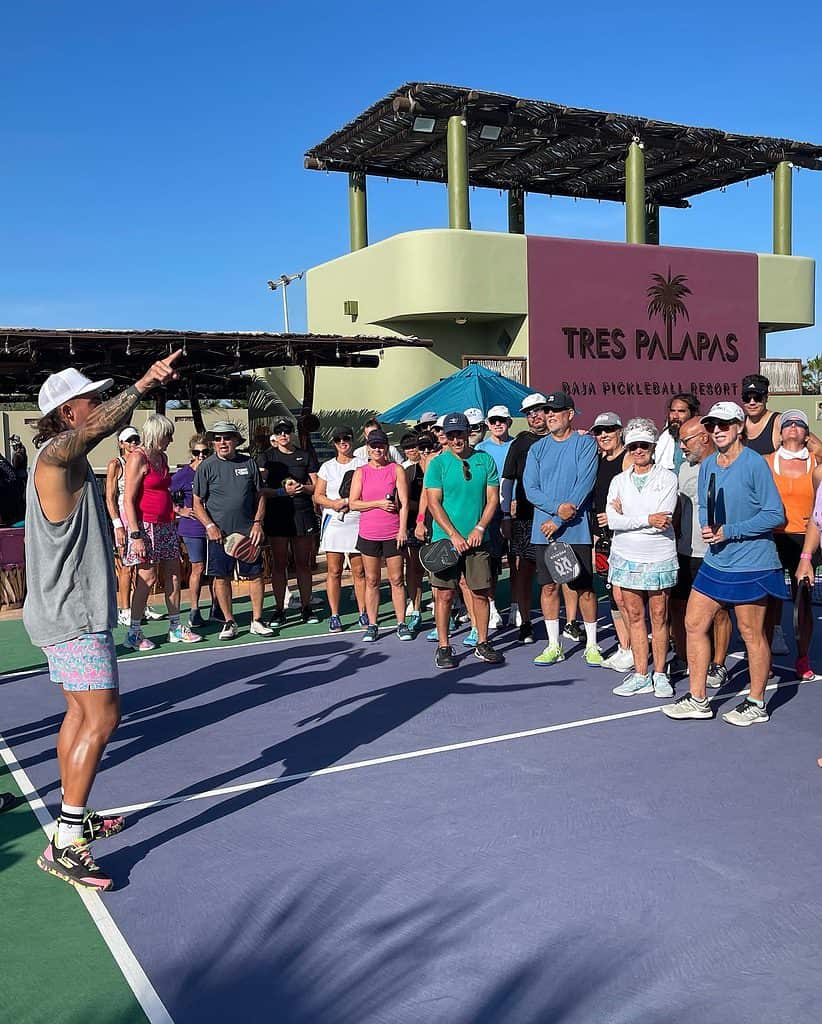 When he is not playing pickleball or competing in tournaments, Tyson is out hustling! This guy gets so much done I don't know how he does it! He started his own pickleball camps and runs clinics for players of all levels. He's passionate about helping others reach their pickleball goals and loves to see his students improve and grow.
His business ventures include:
Tyson McGuffin Signature Pickleball Camps– 2 Day intensive camps located all around the country. Level specific. Covers various topics such as drives, kitchen, speed ups, punch volley, roll volley, serve and doubles play. Lots of clinics led by Kyle McKenzie.
TM PB Coaching
The Tyson McGuffin Show Podcast– Lots of fun on this podcast. Discuss all things pickleball such as rules, tournaments, and coaching tips as well as any other topic they might get on like the UFC or the Seattle Seahawks! Tune in for some fun!
Tyson McGuffin Pickleball YouTube Channel– Has over 18k subscribers at time of writing. Your go-to for instructional videos with tips and tricks. Anything that will help your game you can find it on his YouTube Channel!
When he's not busy working on all that, you can find him training for pickleball and hanging out with his family. He is married to his wife Megan and they have 3 kids; Skyler, Ty, and Banks. They love hiking, traveling, and working out, and you might even catch them out on the dance floor as Tyson loves to dance!
What Tournaments Does Tyson Play in?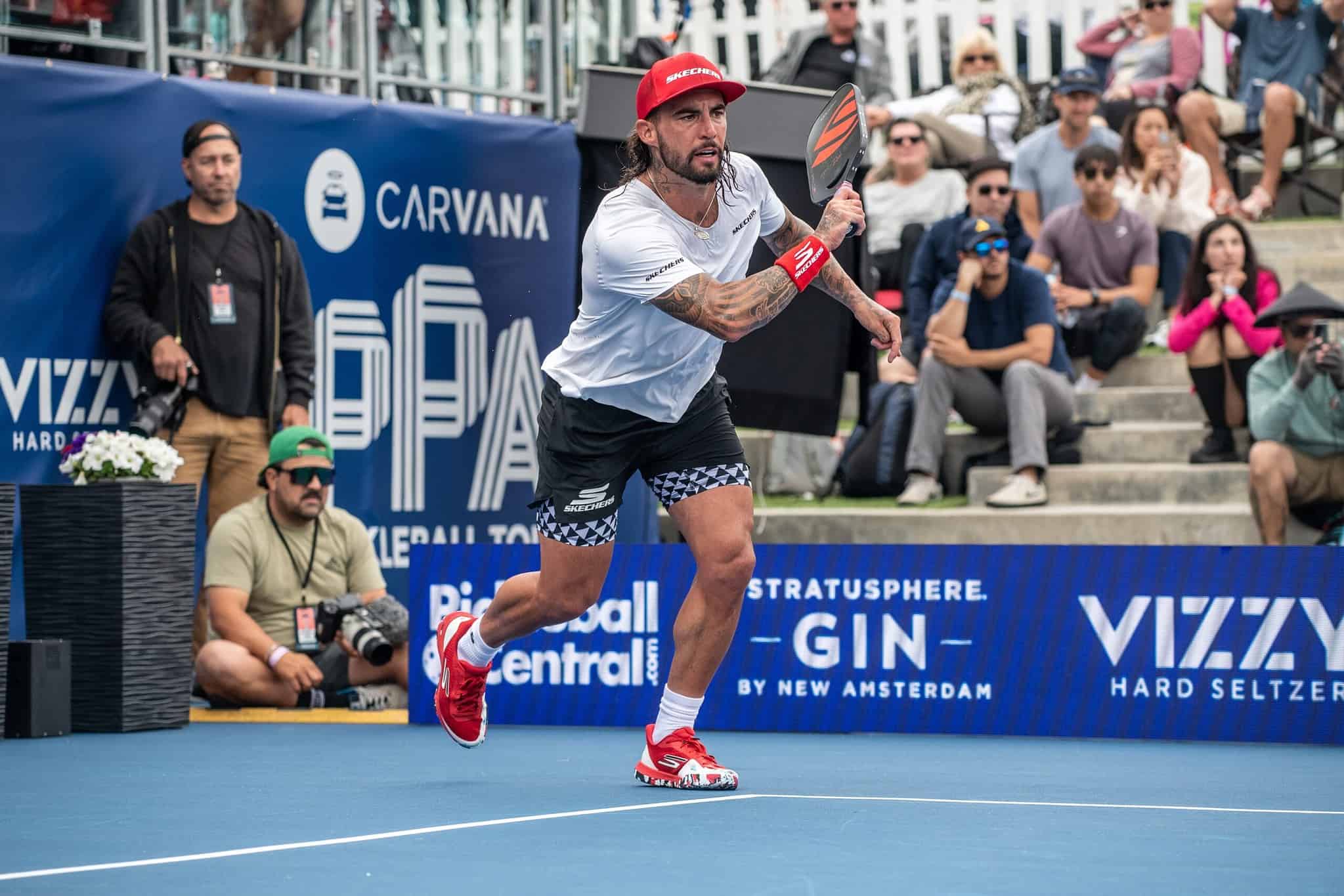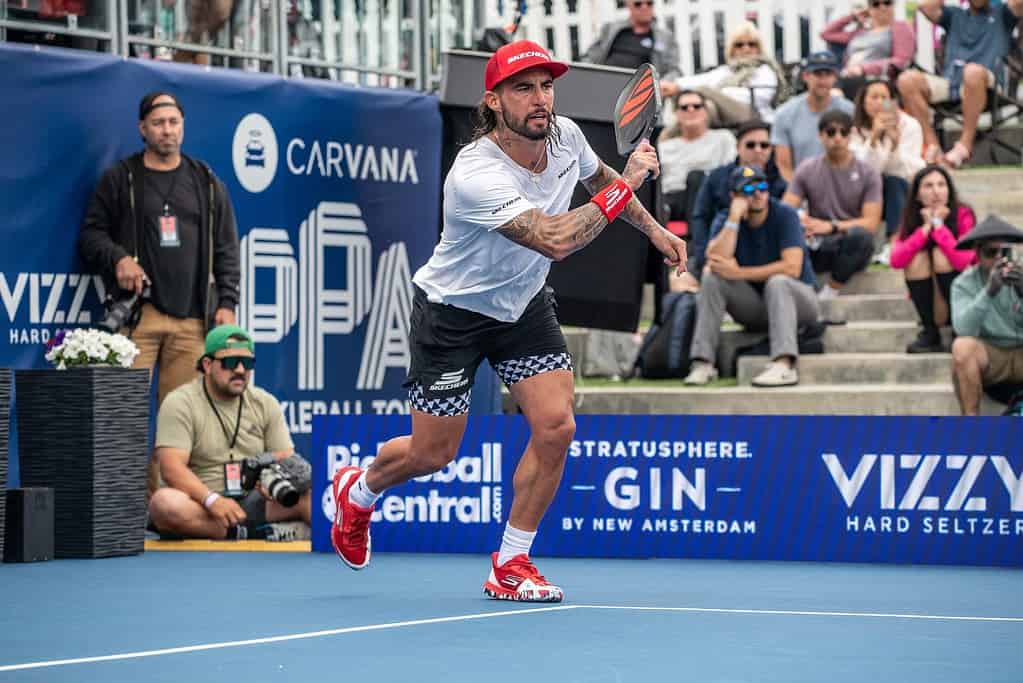 You can find Tyson at most PPA events and MLP events playing men's singles, doubles, and mixed doubles as well. Check his website for his tournament schedule and upcoming events. He's always on the go and is looking forward to competing in more tournaments.
Related: Where to Play Pickleball
Who Sponsors Tyson McGuffin?
Tyson has landed some top sponsors in the pickleball world. Obviously, he inked a deal with Selkirk to produce the Tyson McGuffin Signature paddle. Selkirk is one of the biggest names in pickleball so this is a huge deal.
Tyson has also scored a sponsorship with Skechers Pickleball for shoes. Together with Skechers, they have developed the Viper Court Pro Shoes which has landed in the top spot on our Best Pickleball Shoes for Men and Women Post.
Conclusion
As one of the most accomplished pickleball players around, Tyson McGuffin has made a name for himself as a top player and mentor for others who share his love for pickleball. With years of experience and skill under his belt, Tyson continues to be a force to be reckoned with in the pickleball community and is certainly one of the best players in the world. Whether you're looking for advice, tips and tricks, or just some entertaining pickleball content, Tyson has something for everyone. He promotes pickleball like no one else.
So, if you want to follow this pickleball legend, be sure to check out his website and social media platforms! And don't forget to catch him at the next tournament. I'm sure you won't regret it.
Good luck Tyson! We're rooting for you! 🙂