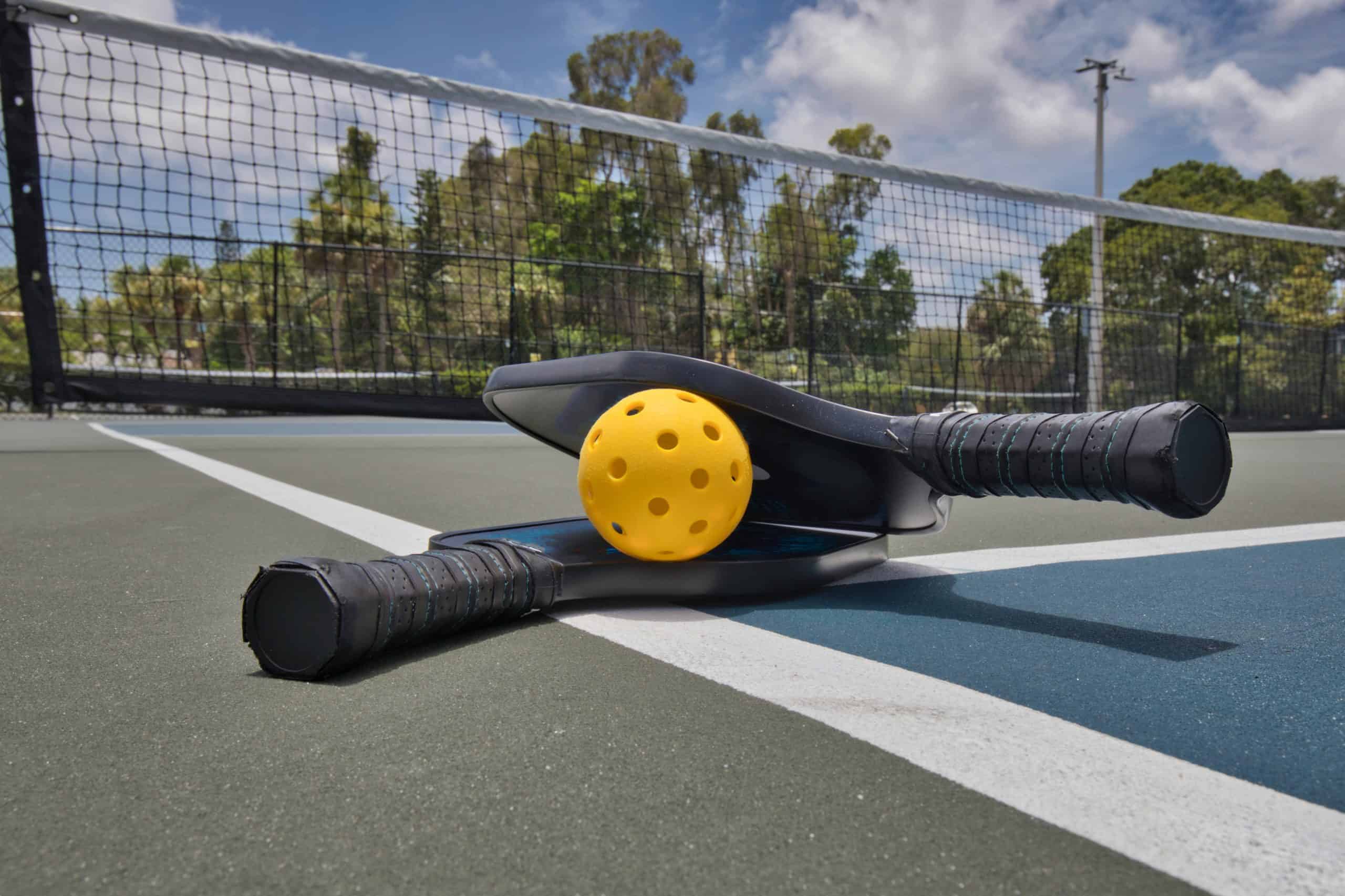 In this blog post, I rank and review the best pickleball paddles.
When it comes to the best pickleball paddle on the market, there are a lot of options! The amount of new paddles coming out is keeping up with the amount of growth this great sport is experiencing! Seems like every time you turn around there is a new paddle on the market.
So how do you know which pickleball paddle is the right one for you?
Do you look into graphite paddles? Carbon Fiber? Elongated paddles? What size paddle face? Widebody? Ugh, this is so confusing!
To help you make an informed decision, we've compiled a list of the best pickleball paddles.
So whether you're just getting started in Pickleball or you're a seasoned pro, be sure to check out our list so you can find the right pickleball paddle for your game.
You won't be disappointed.
We are reader supported and as such, may earn a small commission at no expense to you if you purchase thru our links.
What is the Best Pickleball Paddle?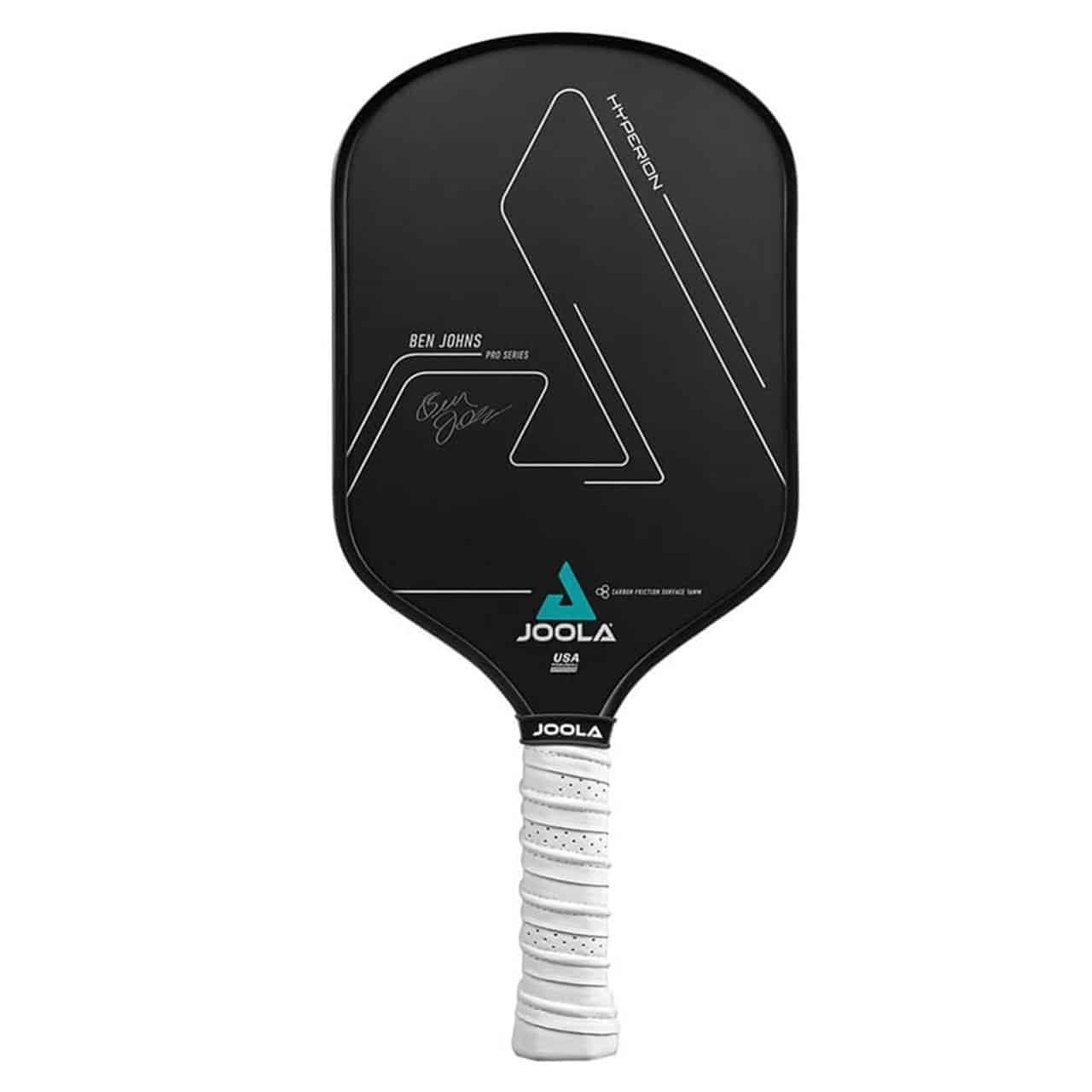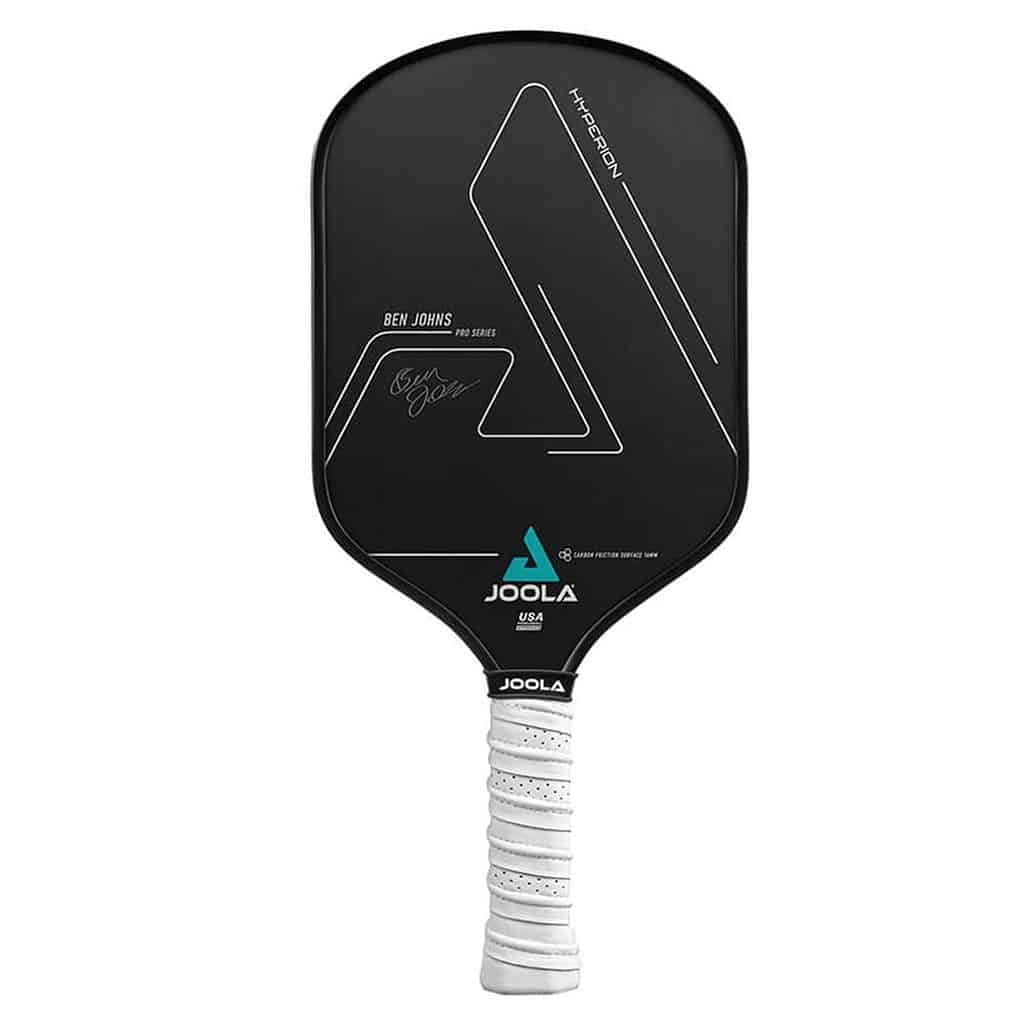 The Joola Hyperion CFS 16mm is the paddle of choice for world number one Ben Johns.
He worked closely with Joola to help design this paddle so you know it is a high-level durable paddle. This paddle does it all…control, power, and spin.
Joola uses their Aero Curve Head which creates less drag for increased swing speed. That combined with the Carbon Friction Surface (CFS) allows for power and spin. Add to that the reactive honeycomb polymer core and you get great consistency which is why it is the best pickle ball paddle!
The sweet spot on this paddle is increased with Joola's Hyperfoam edge wall. What they do is inject a specialized foam into the head to give it weight and increase the size of the sweet spot. As we said, this is a very consistent paddle.
This paddle is a bit heavier, however, they do offer the Swift version which is a little lighter.
We really like the CX Forged elongated handle. I prefer two-handed backhands and this is a great handle for that.
Plus, the anti-slip grip is very encouraging and edge shield edge guard protects the paddle nicely.
Overall, it's no wonder the world's number one designed and uses this paddle! It does it all and it does it all extremely well. If you are a high-level player, you will not be disappointed.
See our full review of the Joola Ben Johns Hyperion here.
Features
Weight: 8.2-8.6 oz
Handle Length: 5 1/2″
Grip Circumference: 4 1/4″
Core: Reactive Polymer Core
Face: Carbon Friction Surface
Paddle Length: 16 1/2″
Paddle Width: 7 1/2″
Edge Guard: 1/4″ overlapping paddle face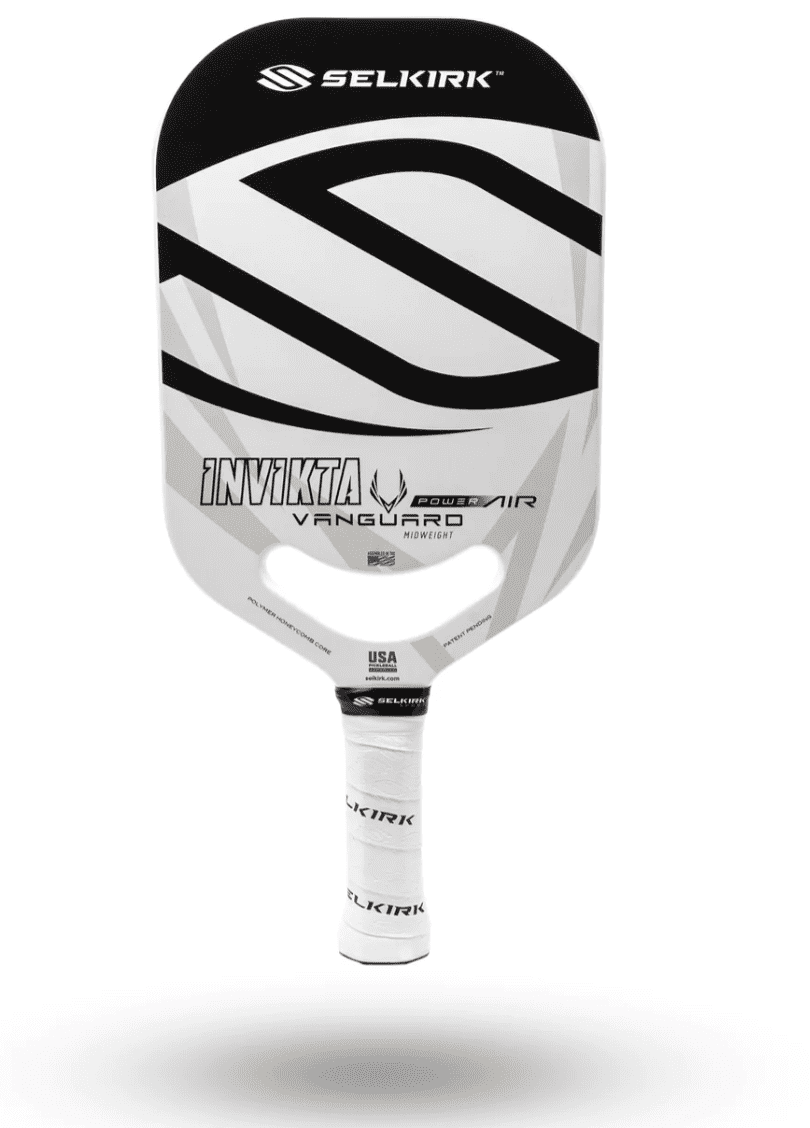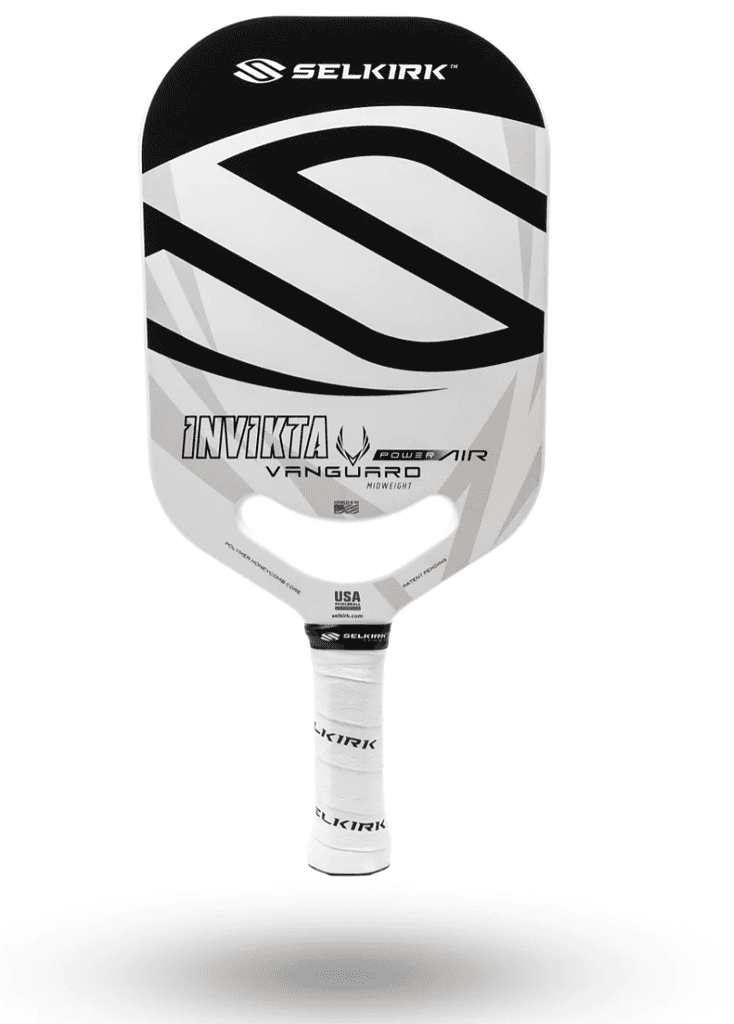 Used by a number of the top Pros on tour, including Tyson McGuffin and Catherine Parenteau, the Selkirk Power Air Invikta is a serious paddle for serious players. This midweight paddle is designed for power yet still offers plenty of control and spin for finesse players.
The paddle has a long shape and a long 5 1/4 inch handle with the Selkirk Geo Grip allowing you to reach more shots and use two-handed backhands if that is your style. This is great for those of you who made the transition to pickleball from tennis.
The core is made from a polymer honeycomb and the face is a hybrid blend of fiberglass and carbon fiber. This gives you power AND spin with The ProSpin+ NextGen Texture on the face.
There is plenty of pop coming off this paddle and it is very consistent as well which is why it is one of the best rated pickleball paddles.
This edgeless paddle and air dynamic throat help reduce wind resistance. This increases your swing speed for tons of power.
Selkirk has done it again for creating the top paddle for all-around use. It's no wonder this high-level paddle is the choice of many of the top pros on tour today.
Features
Weight: 7.7-8.1
Handle Length: 5 1/4″
Grip Circumference: 4 1/4″
Core: Polymer Honeycomb
Face: Fiberglass and Carbon Fiber Blend
Paddle Length: 16 1/2″
Paddle Width: 7 3/8″
Edge Guard: Edgeless DuraEdge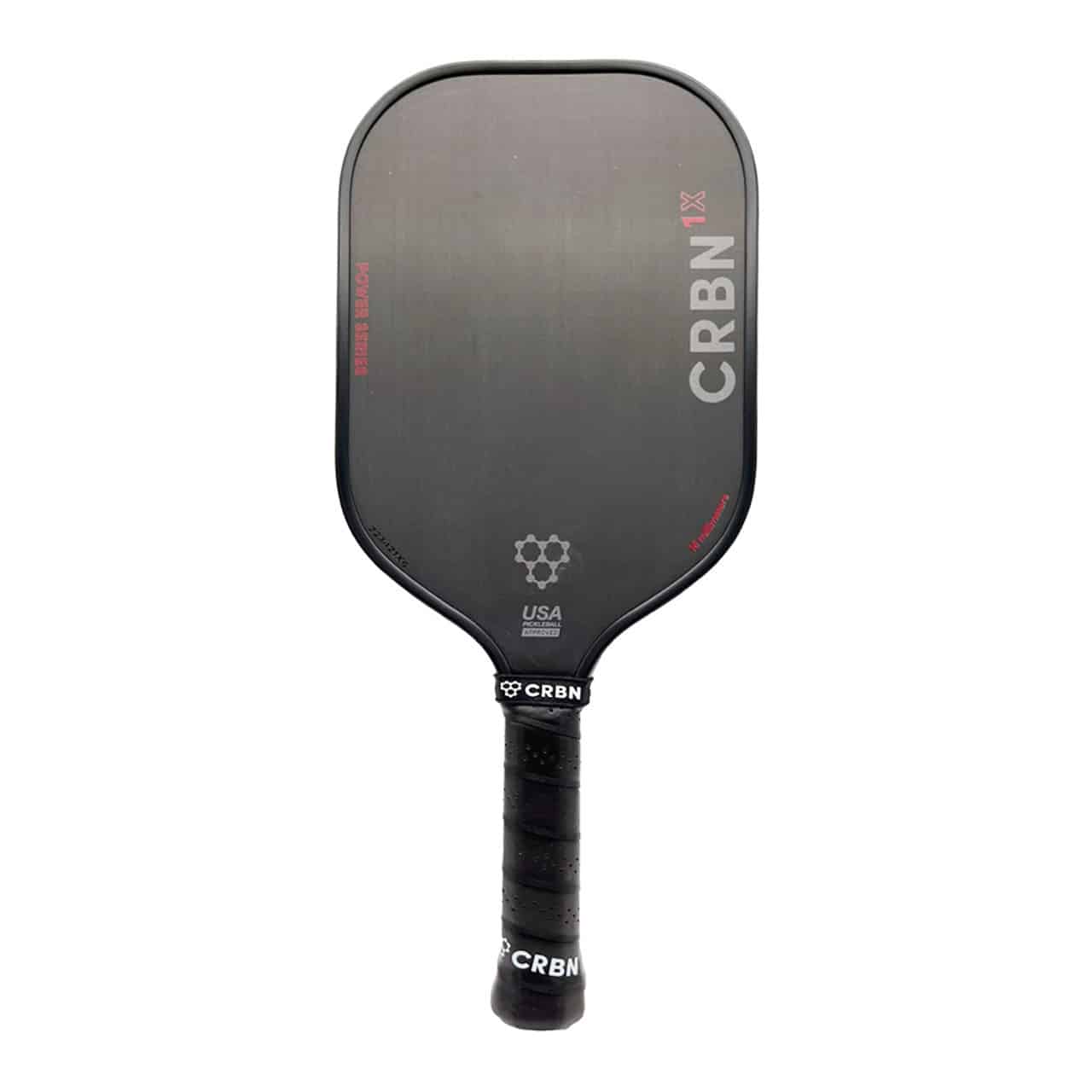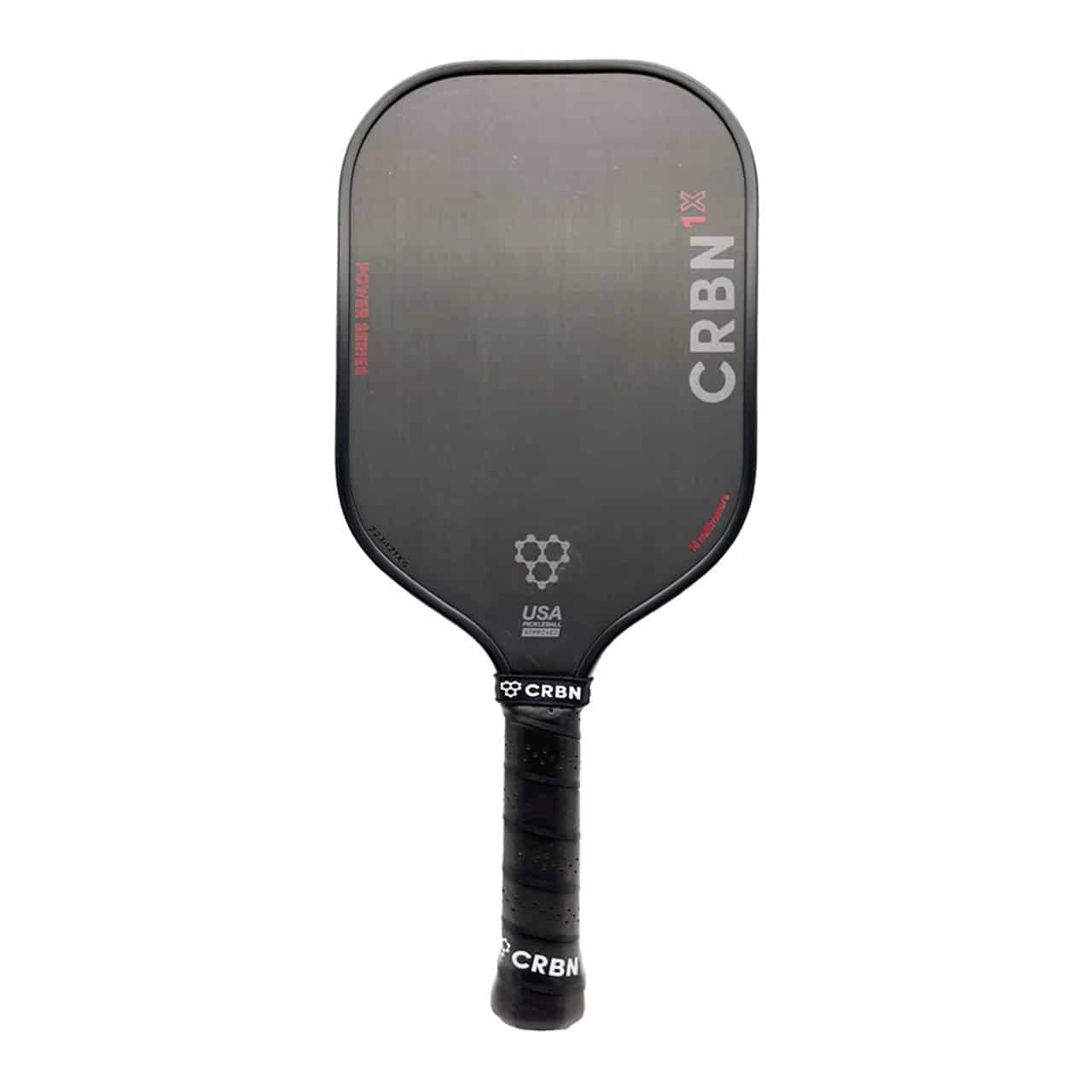 CRBN makes some power paddles and the 1X Power Series is one of them! So good. So powerful! This paddle has a great carbon face with good grit to allow for spin. This paddle is made with a unibody design and a T700 Carbon fiber surface which strengthens the paddle and makes it more durable. Essentially, it's a one piece paddle on the outside with the interior
It has foam injected edge walls which gives you an expanded sweet spot and lessans vibration on the paddle. This makes this paddle very consistent and it has great control!
It comes in 14mm and 16mm thickness. If you want power, pop and good looks this is the one!
See our full review of the CRBN 1X Power Series here.
Specs:
Total Length: 16.5″
Width: 7.25″
Core Thickness: 14mm/16mm
Handle length: 5.5"
Handle grip circumference: 4.25″
Weight: 7.8-8.1 oz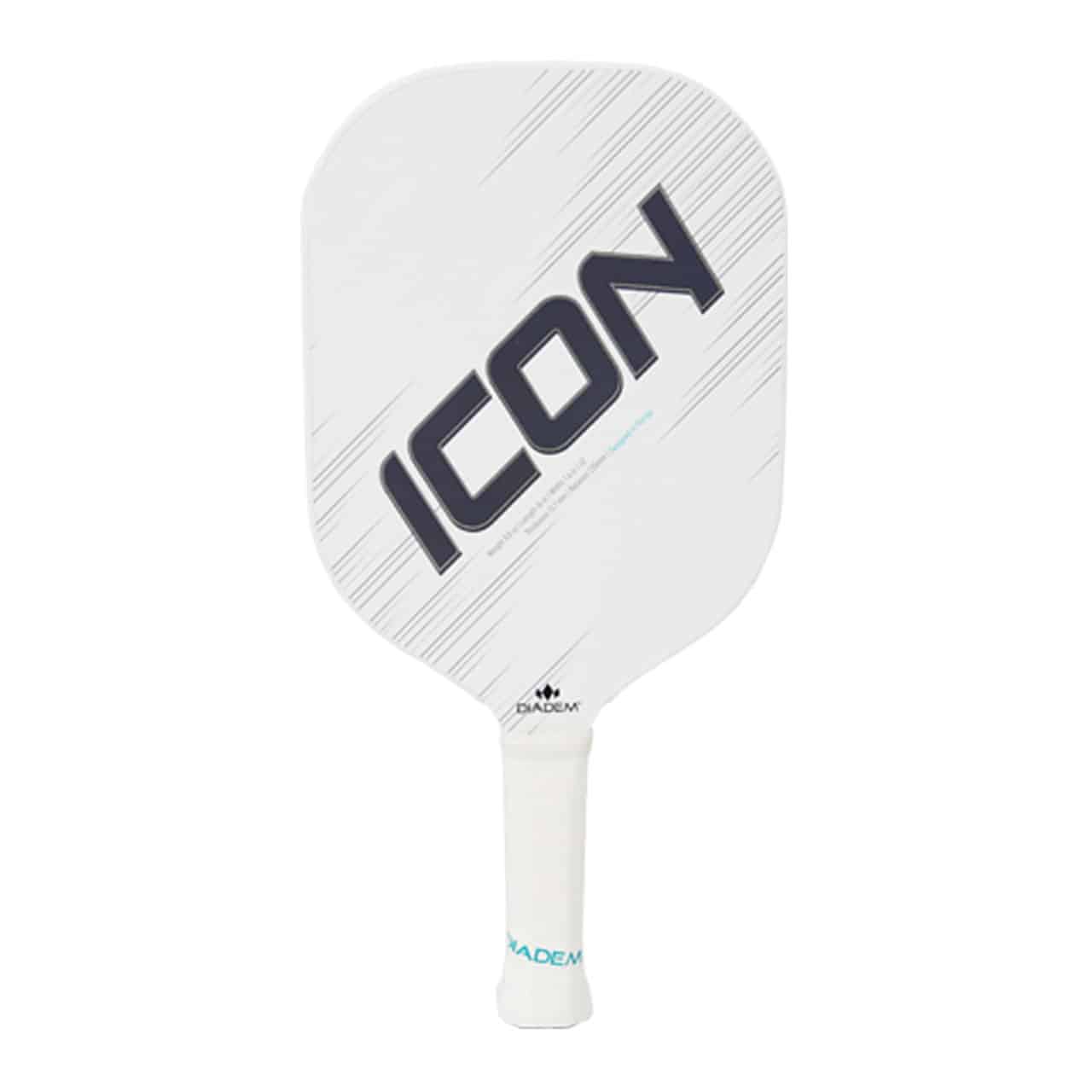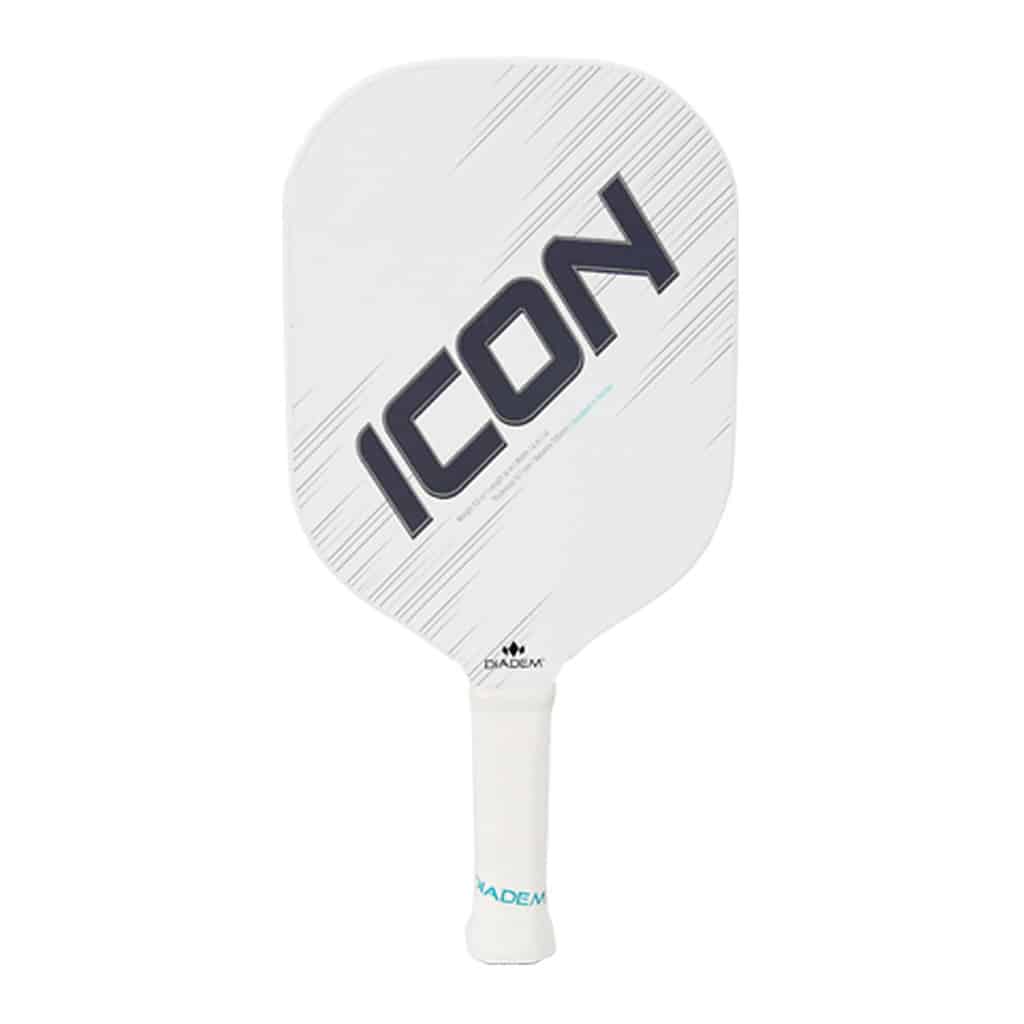 The Diadem ICON v2 paddle is made of high-grade carbon fiber and boasts an ultra-thin frame. The Icon v2 is not your typical power paddle that can cause discomfort as it helps reduce vibration to give you more comfort.
At the core of the Icon v2 is a 3xL Core that comprises two PP honeycomb pieces, each with a density of 8mm. The honeycomb pieces are joined by a layer of proprietary film that reduces vibrations upon impact. The result is a paddle that provides easy access to power while giving users comfortable control.
Diadem has utilized its exclusive RP2 Technology on the Icon v2 face. A proprietary two-component polyurethane coating combined with grit paint creates a long-lasting and spin-friendly surface that is crucial in competitive play.
The Icon v2 also features the revolutionary Flex Stabilization (FS) System Technology, which uses a high-density foam injection around the paddle's outer edge. This technology, which was initially developed for tennis rackets, enhances the paddle's stability and increases the active sweet spot.
It features a stylish design with a protective replaceable edge guard, giving players the power to control the court and look good while doing it.
See Our Full Review of the Diamdem Icon v2 Paddle here.
Specs:
Total Length: 16″
Width: 7.6″
Core Thickness: 13.7mm
Handle length: 5.25"
Handle grip circumference: 4.125″
Weight: 8.0 oz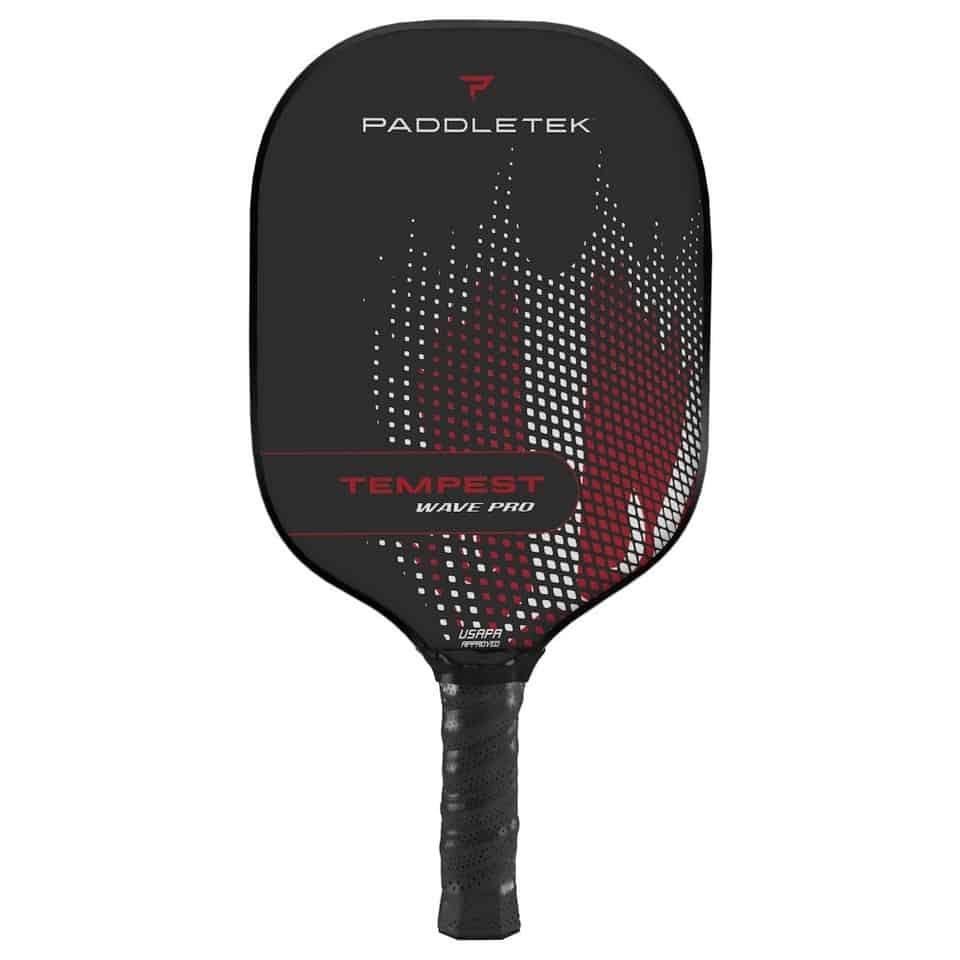 The Paddletek Tempest Wave Pro comes in third place as the best pickleball paddle.
Experience the enhanced feel and sensitivity of the Tempest Pro Graphite Paddle, thanks to its Smart Response Technology.
This paddle offers a broader and more forgiving sweet spot, resulting in consistent responsiveness across the entire face of the paddle. Unlike other control-oriented paddles, you won't have to sacrifice power with this one – it maintains the same level of power as the beloved Tempest model line.
Choose between a thin or thick grip on the 5-1/4″ long handle to customize your playing style. The 8″ wide graphite face provides an ample sweet spot for smooth hits every time. Elevate your game with this high-quality paddle that will take both your skill shots and slams to new heights.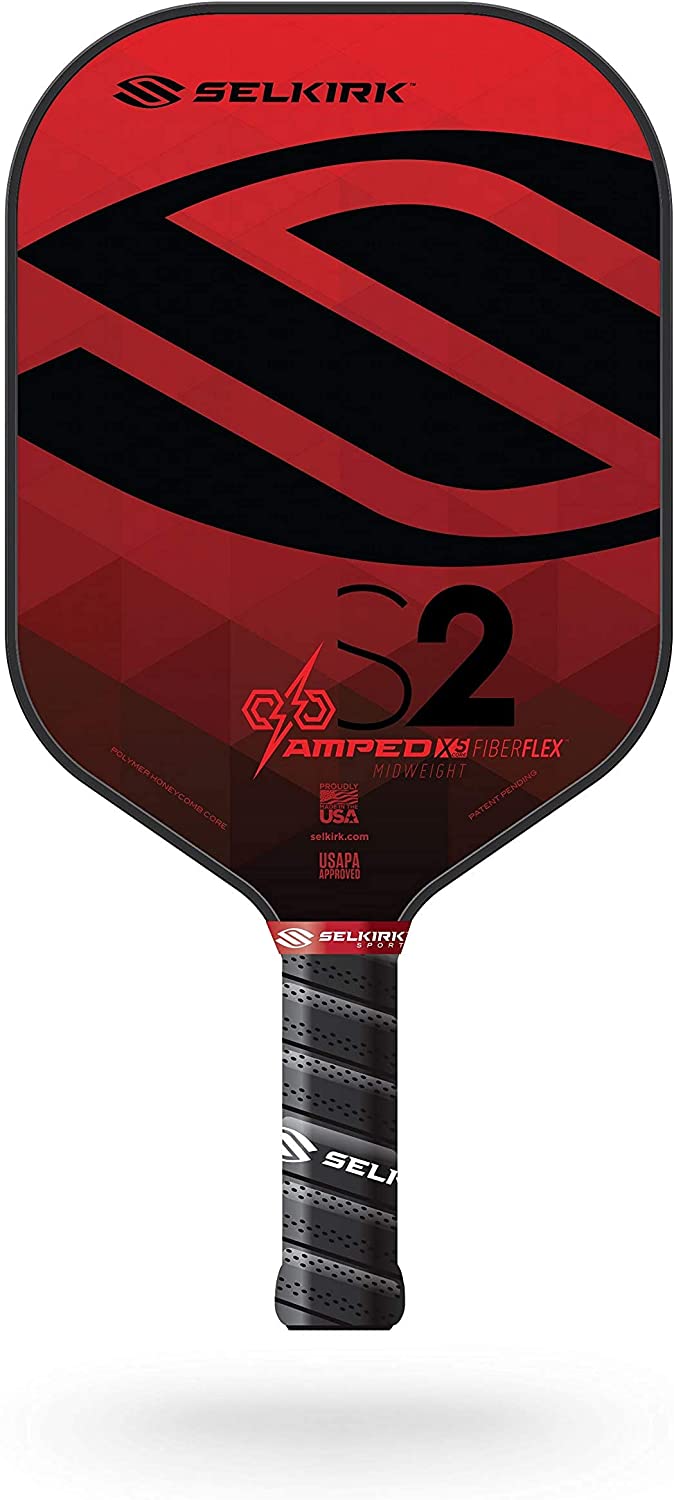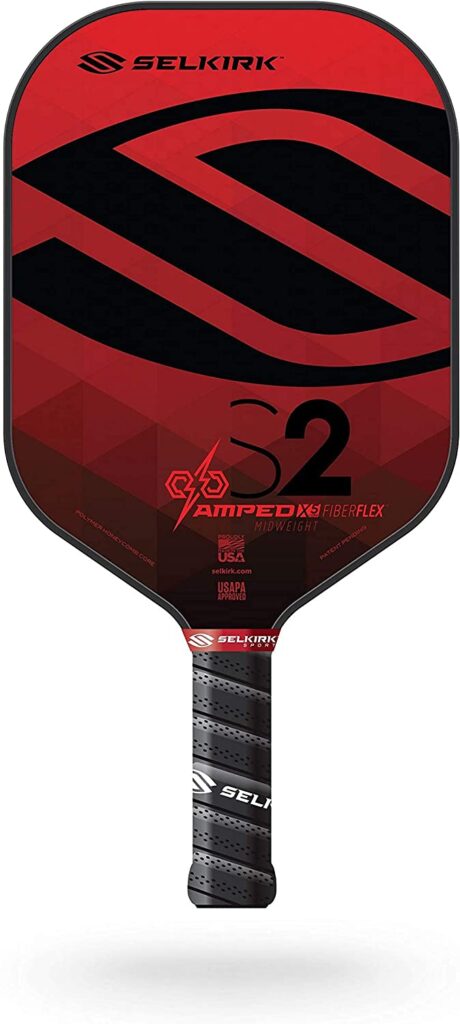 The Selkirk Amped is a great paddle in the 4th spot, and there are several reasons why.
Boasting a wide face, this paddle offers players the largest sweet spot in the VANGUARD line for ultimate enjoyment.
With touch, pop and power wrapped up in an agile and comfortable package, it's hard to go wrong with this paddle. The Hybrid S2 features upgraded VANGUARD elements such as a carbon fiber surface, unique edge guard and Geo grip, while maintaining the same dimensions as the original Prime and Amped models.
Crafted with bi-directional carbon fiber on both sides of the paddle's face, this design creates an exceptional sweet spot for more consistency, defense and overall feel. The low profile edge guard reduces mis-hits while protecting your equipment. The Geo grip boasts superior moisture-wicking properties for better traction and comfort during intense games.
The thick X5 poly core minimizes vibrations and provides a pleasantly soft touch. Available in midweight only at 7.8 – 8.3 oz., the Vanguard Hybrid S2 Paddle keeps you closely connected to the action so you can feel every hit while controlling pickleballs without any strain.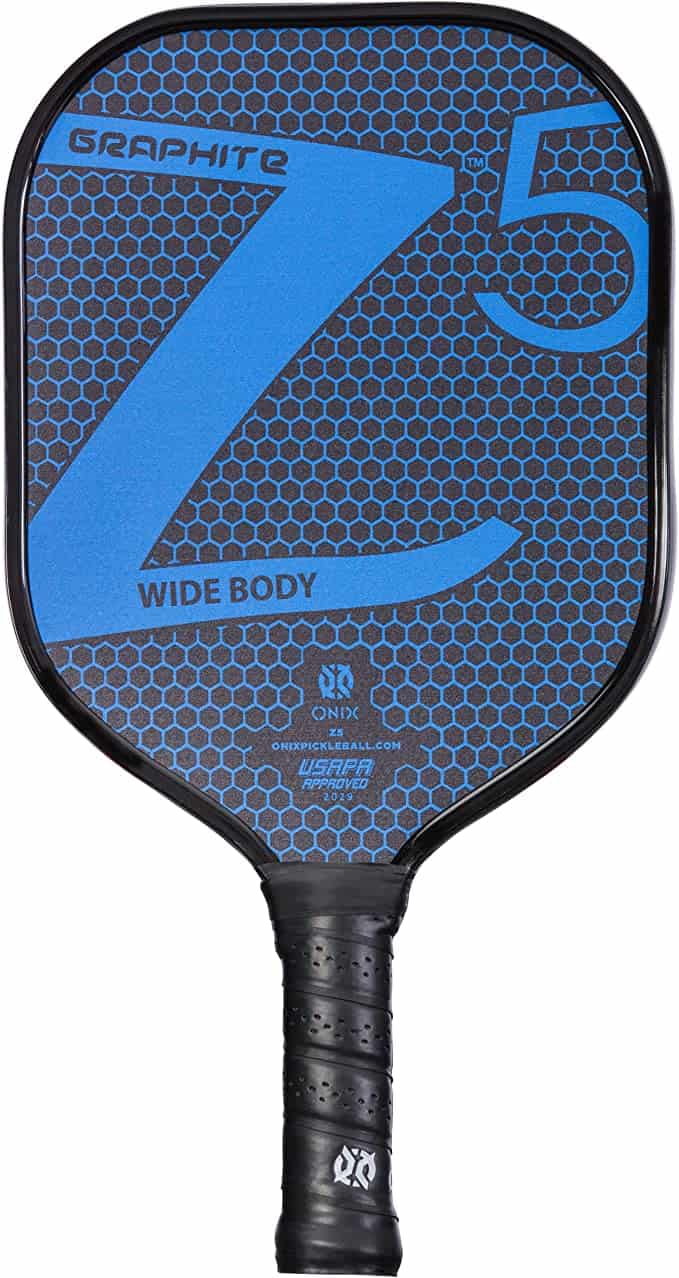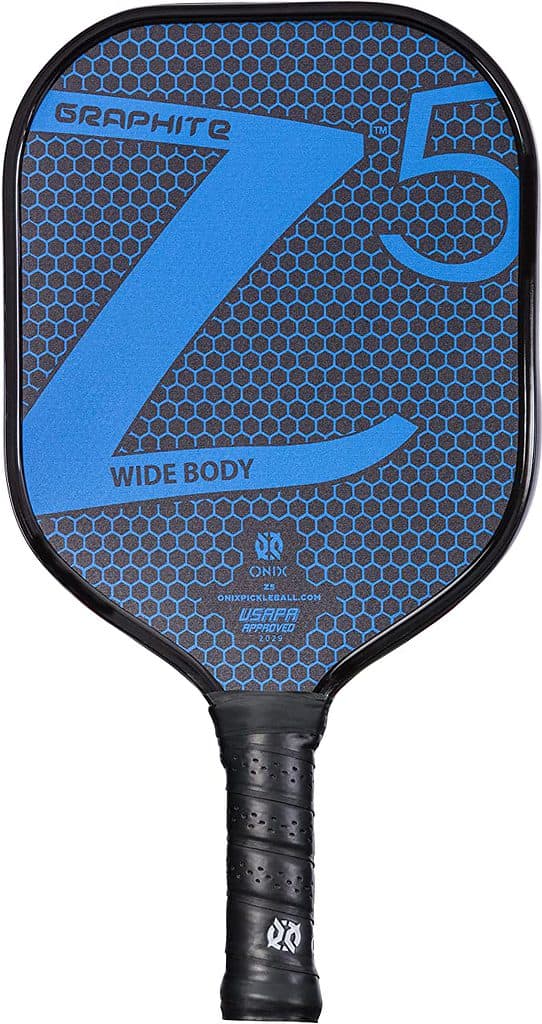 If you're looking for a budget pickleball paddle under $100 that won't disappoint, the Onix Graphite Z5 is a great option.
This paddle has become a fan favorite due to its solid feel and exceptional performance on the court.
Crafted with superior-quality materials, the Graphite Z5 boasts a classic pickleball shape that feels well-balanced in your hand for optimal control and precision shots.
Its 8-1/8" wide face provides a large hitting area, resulting in an impressive sweet spot that many players appreciate.
Weighing between 7.5 to 8.2 ounces, it is a nice mid-weight paddle.
The handle length is sized at 5″.
With great reviews from satisfied customers, it's clear that choosing the Graphite Z5 is a smart financial decision.
Available in multiple vibrant colors such as yellow, red, white, pink, blue, mod pink, mod blue and orange – there's something for everyone!
Related: Onix z3 vs z5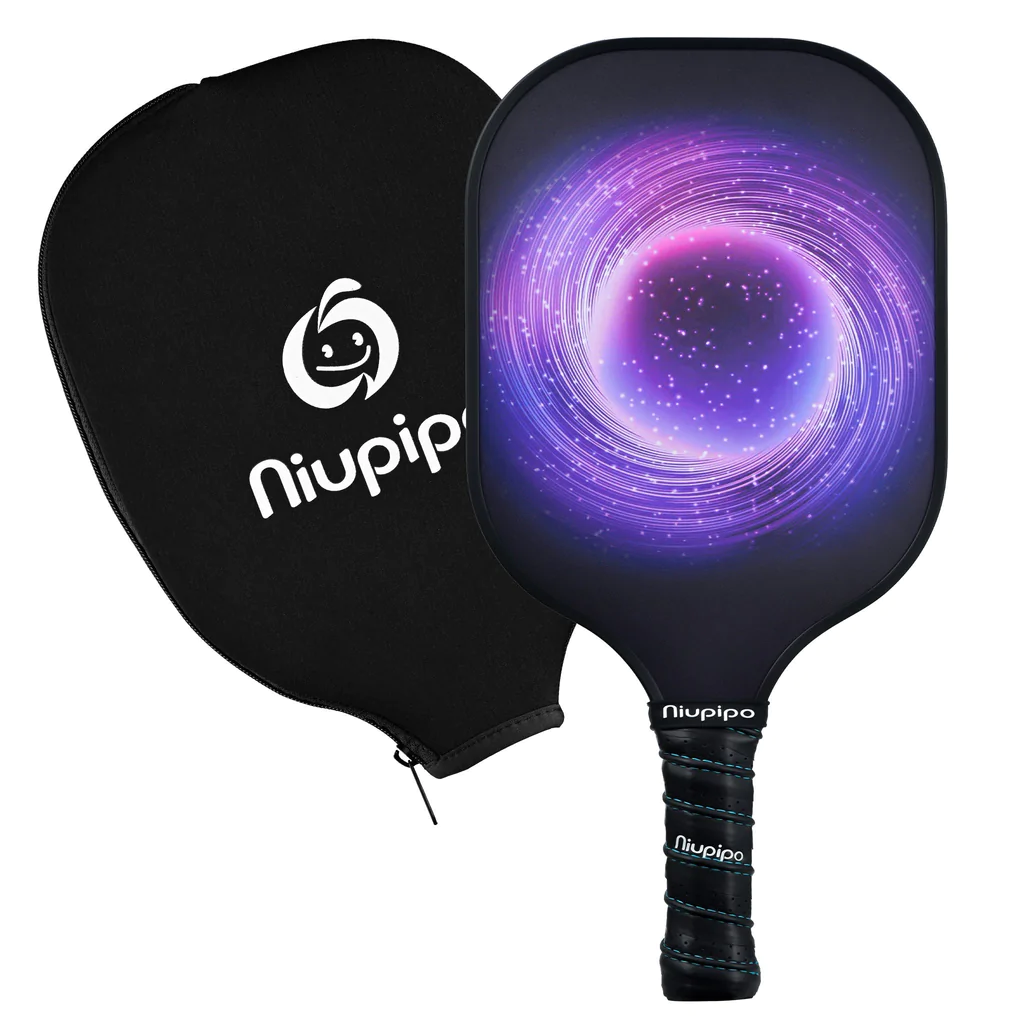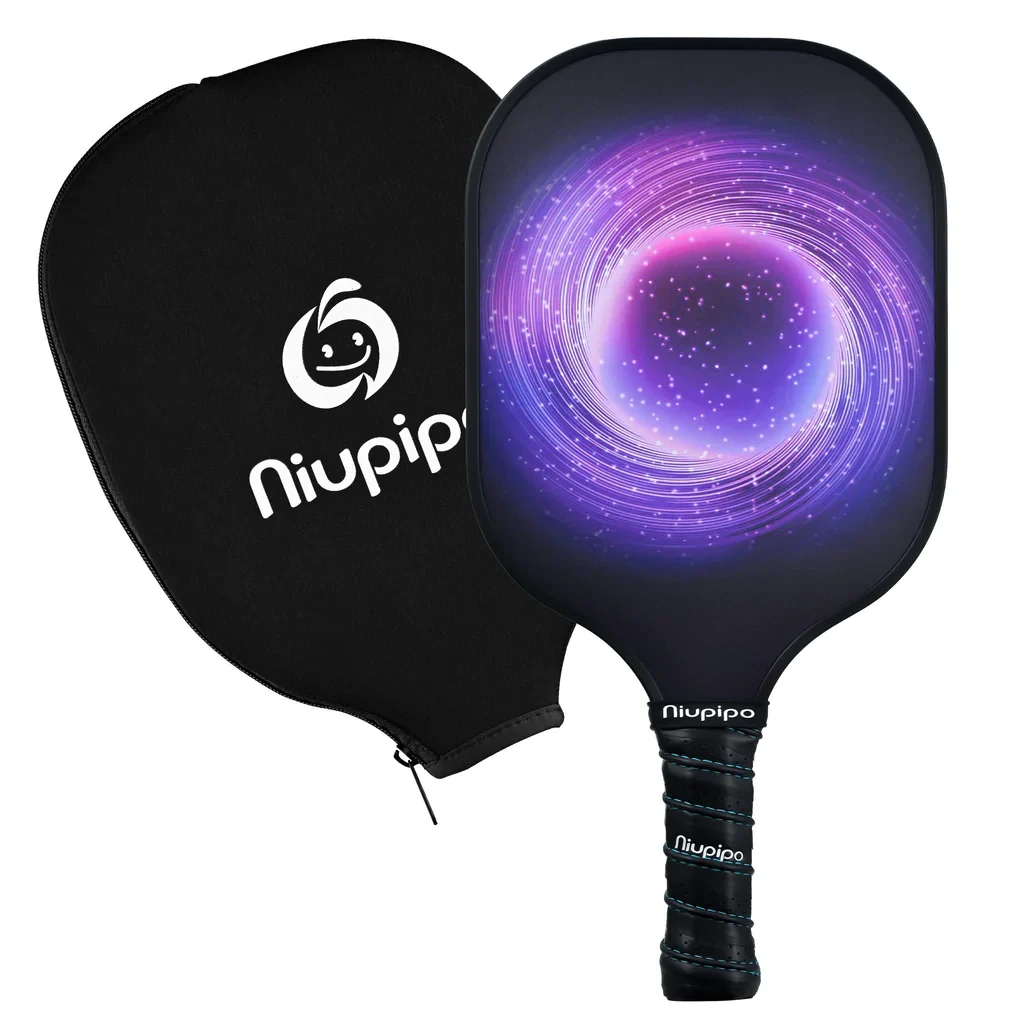 Looking for the best pickleball paddle under $50? Look no further than the Niupipo Fiberglass Pickleball Paddle!
This affordable paddle is made of a fiberglass face and Polypropylen-honeycomb composition for an ideal level of strength and stiffness. The fiberglass face has more power than graphite face, while the Polypropylen is softer and has larger honeycomb cells. This is a good material that holds up well and you won't believe it is under $50!
Because it's a softer material it is quieter but it still has great power. Having a high-quality fiberglass pickleball paddle can completely transform your game!
So don't wait any longer, order your Niupipo Fiberglass Pickleball Paddle today as see why it tops our list of best pickleball paddle under $50!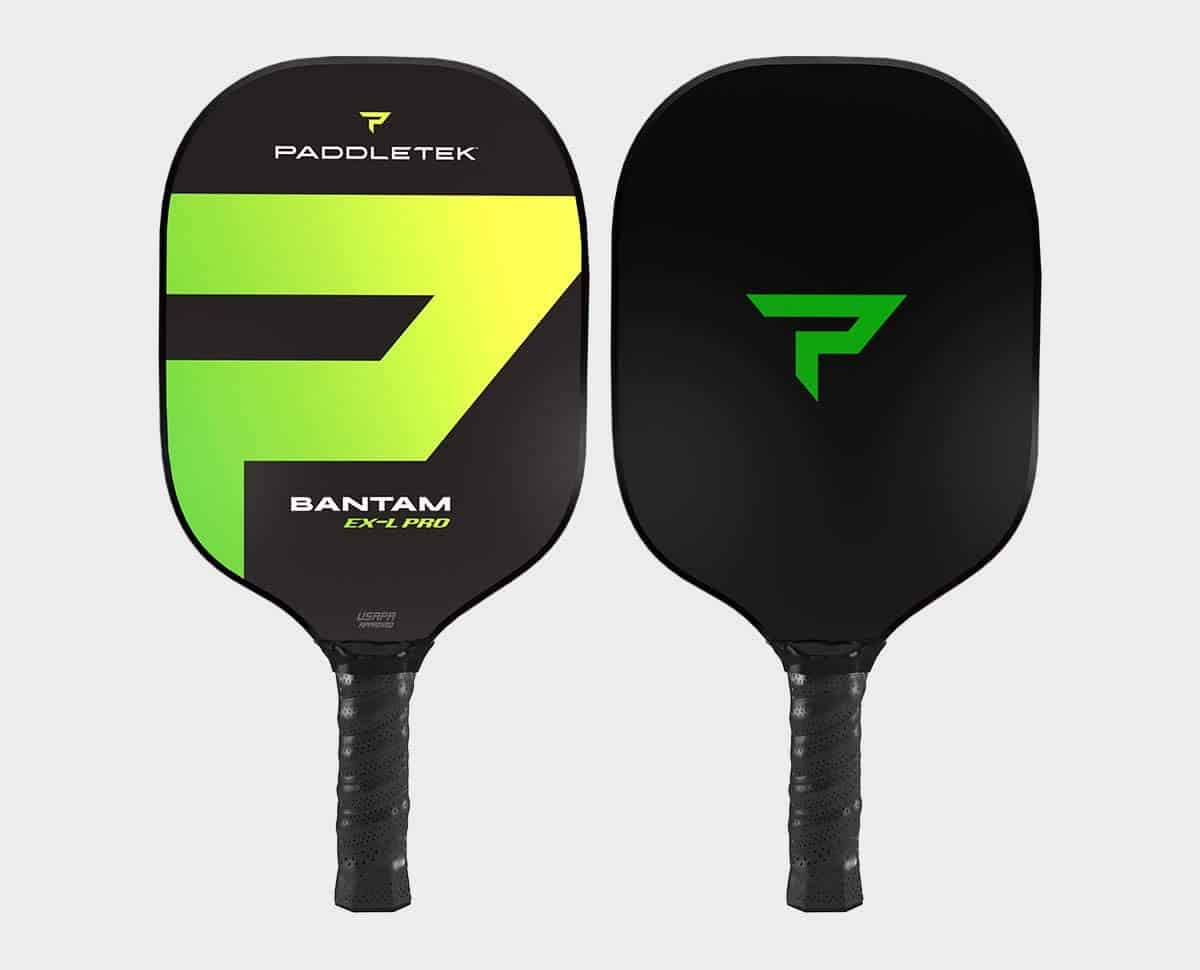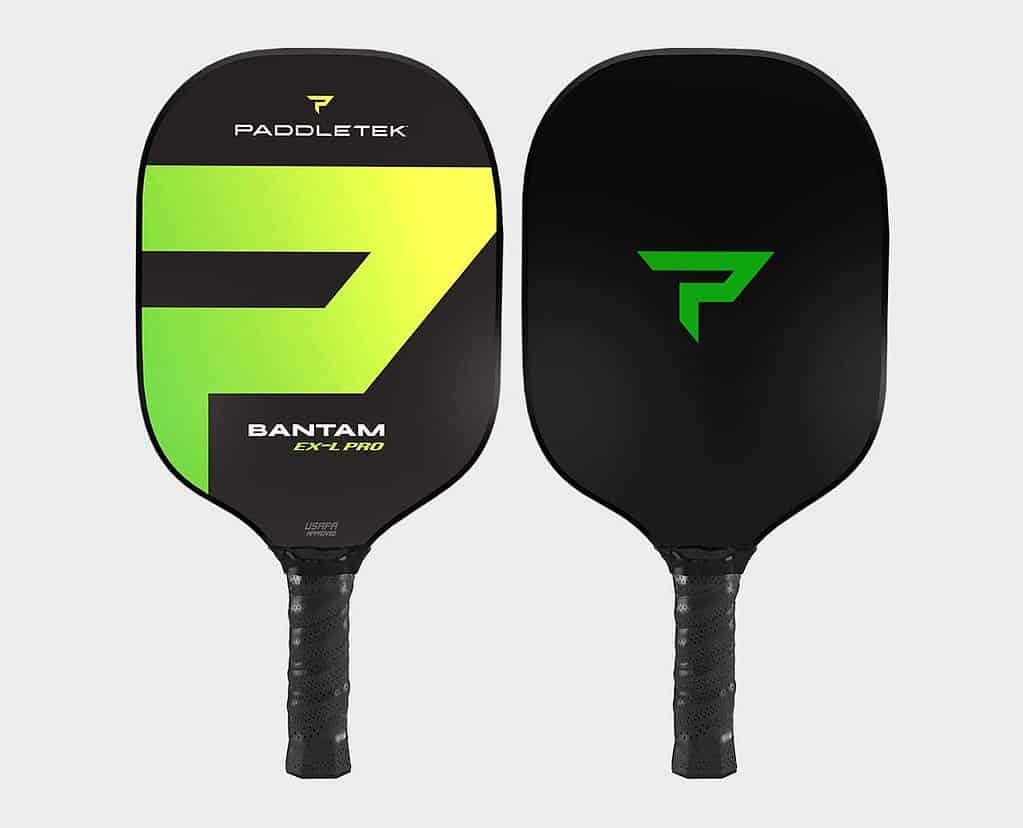 The Paddletek Bantam EX-L pickleball paddle is a top-of-the-line pickleball paddle that offers excellent performance for players of all skill levels.
Debating between fiberglass vs graphite pickleball paddles? Well, this paddle has the face of a graphite paddle and the body of a composite paddle. This makes the lightweight paddle extremely responsive and easy to control, yet it is still powerful enough to deliver solid shots.
This paddle was designed with pickleball in mind and features a specialized polymer core that provides players with excellent power and control. Compared to Nomex core paddles, it also produces quieter hits.
The Bantam EX-L is lightweight yet sturdy, thanks to its high-tech fiberglass face and strong polymer core. Its 7-7/8" wide face gives you enough room to hit your targets while its 5 1/8" long handle strikes the perfect balance between reach and control. The small-sized grip is padded for added comfort during long games.
If you're interested in even more advanced features, take a look at the new 2020 model of the EX-L Pro. It includes Torsional Vibration Control technology that helps improve the size of the sweet spot side-to-side, ensuring successful shots on off-center mis-hits.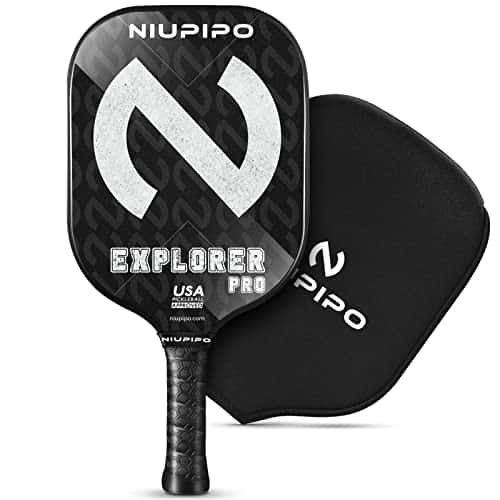 The Niupipo EXPLORER PRO pickleball paddle is designed to fit all levels of players, from beginners who are just learning the game to National Champions such as Vivienne David and Ignacio De Elía.
The surface texture of this pickleball paddle provides excellent grip so you can hit those accurate shots with ease no matter what level player you happen to fall into.
The explorer pro has an added graphite and grit face for better touch, which also helps to keep your ball on track as it rolls off of this blade more easily than ever before!
With its longer spin time combined with increased control when playing there's no reason why anyone shouldn't be happy with this pickleball paddle.
This paddle is made with a durable polypropylene honeycomb core that can take the hits while still being light enough to move quickly.
It's perfect for power players who want their shots accurate and on target, but not too heavy or slow-moving so they don't give opponents any advantage over themselves!
The ultra-perforated cushion grip provides epic hold; it's the perfect touch. With an overall length of 15 inches and weighing 8 ounces with a medium-sized handgrip, this model will keep you playing all day long!
Check back soon for our comparison of the Niupipo Explorer vs Explorer Pro
Related: Which Niupipo to Choose?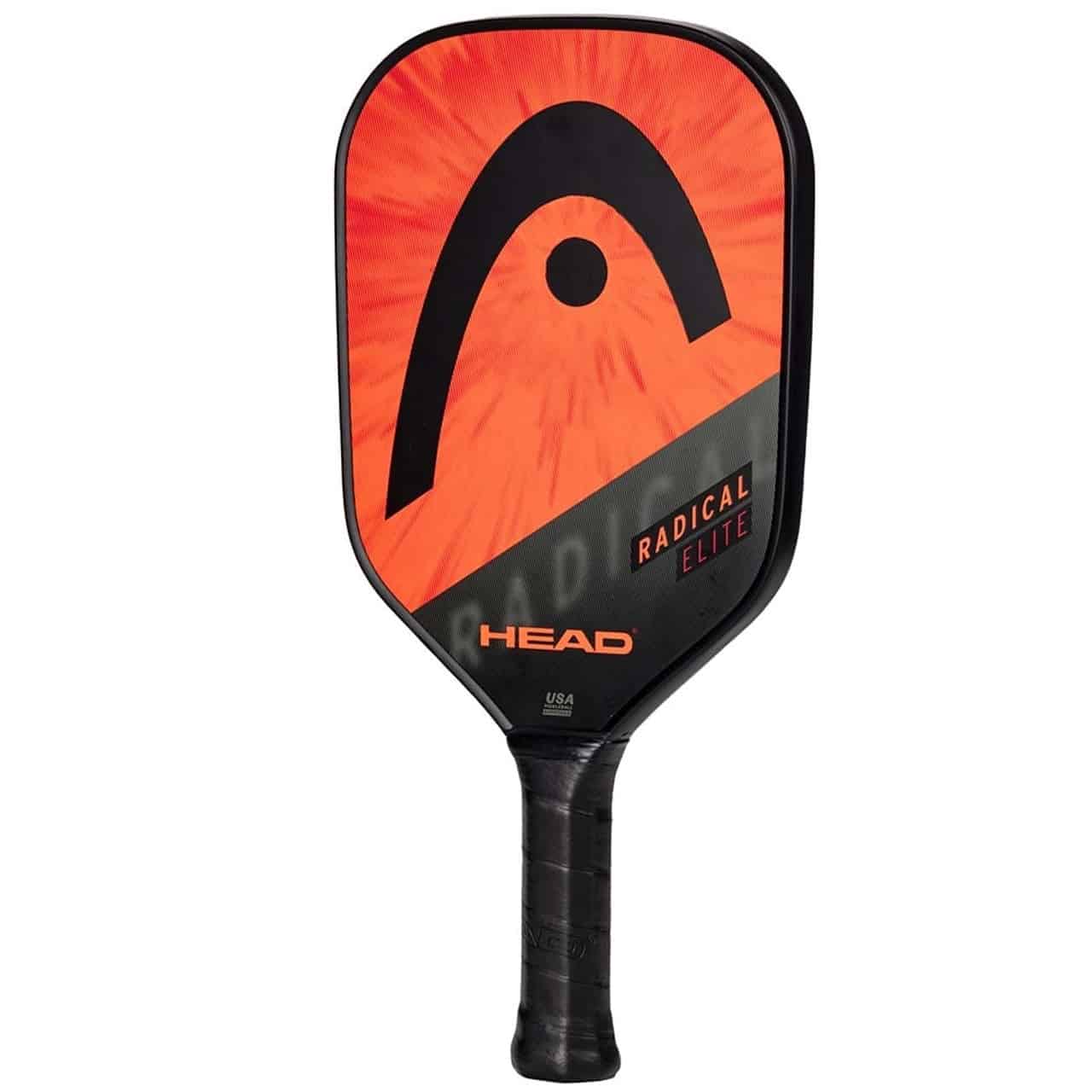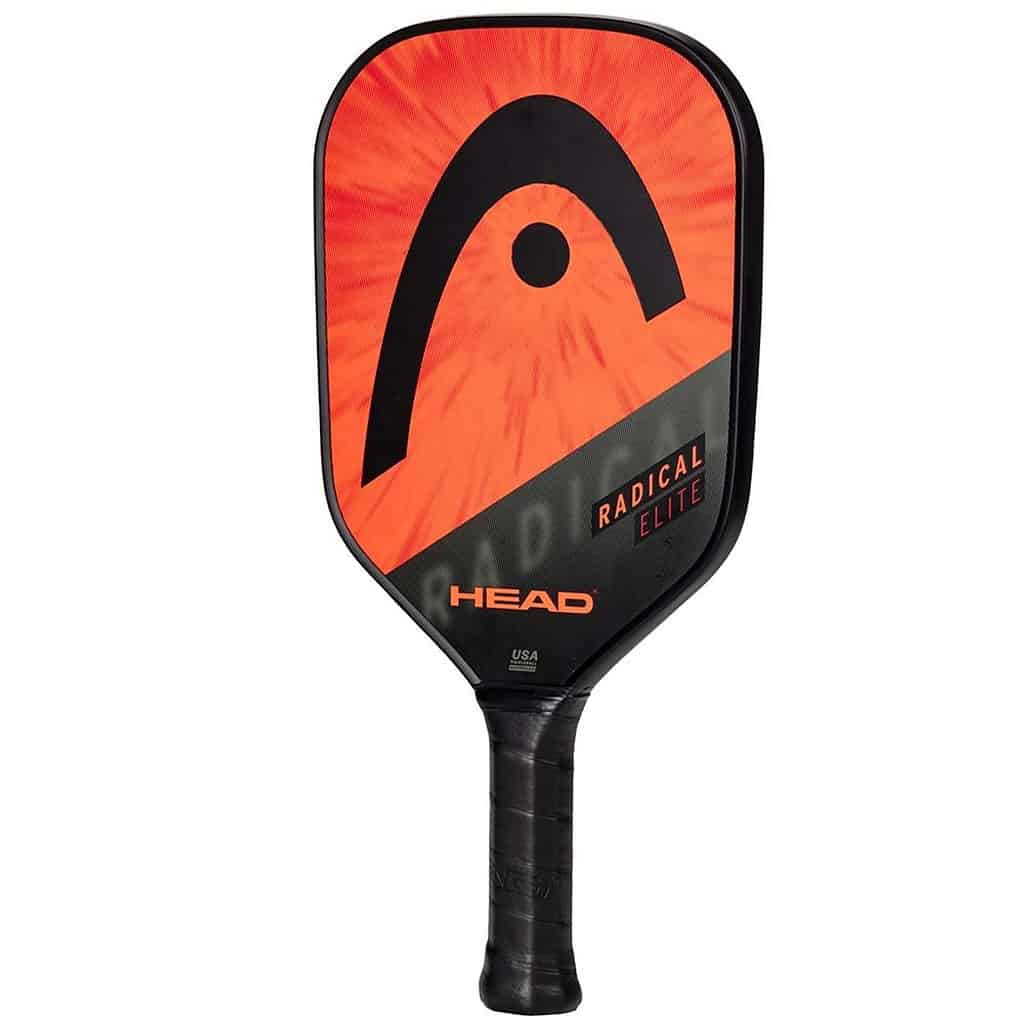 HEAD is the world leader in racquet sports equipment, offering only top-quality pickleball paddles.
The Extreme Elite Composite Paddle has game-changing innovation for pickleball enthusiasts! This paddle boasts a sleek and smooth surface with tapered edges that reduce unneeded surface area, providing an ample sweet spot for players who don't require extra help to put spin on their shots. The solid feel of the composite face with a polymer core ensures high impact performance without jostling your joints.
Designed with a 5″ handle and medium grip, the Extreme Elite Composite Paddle offers a balanced feel that weighs around 7.8 oz. Its efficient shape and generous reach make it easier to return more difficult shots, while its stunning design is sure to turn heads on the court. Featuring a swooping HEAD logo in the center of a blue background and black lower portion with diagonal name printing, this paddle exudes style and sophistication.
Stay ahead of the competition with the unmatched performance and striking design of the Extreme Elite Composite Paddle!
What is Pickleball?
Pickleball is an incredibly popular, fun, fast-paced game. It's a great game for all ages and abilities. Pickleball is easy to learn and can be played indoors or outdoors. It combines elements of tennis, badminton, and ping pong (table tennis). It is so fun and that is why it made it on our 107 of the best outdoor activities list! Here's everything you need to know about pickleball, from the basics of the game to the equipment you'll need.
How To Play?
Pickleball is a paddle sport played on a court that is similar in size to a badminton court. The object of the game is to hit the ball over the net and into your opponent's court. Players can move anywhere on their side of the court, but cannot step over or into the no-volley zone (the area around the net). The first team to reach 11 points wins the game. The court is 20 feet wide by 44 feet long. The net is 36 inches high at the sides and tapers down to 34 inches in the middle. You use pickleball paddles (similar to a ping pong paddle but bigger) to hit the ball back and forth over the net. The game can be played in singles or doubles, indoors or outdoors.
To start the game, one player serves the ball underhand diagonally across the court. The ball must be hit below the server's waistline, and you can only bounce it once with each shot. The ball must land in the opposite service box. If it goes out of bounds, the other player gets a point. The first player to reach 11 or 15 points wins the game. See our Pickleball Rules post for more details.
What Do You Need to Play?
To play pickleball, you will need a few pieces of equipment. The most important is a pickleball paddle. You'll also need pickleball balls (the official balls are made of plastic and have 26 holes or 40 holes), and a pickleball net (which can be set up on any tennis court). You may also want to wear comfortable pickleball shoes and clothing and bring a water bottle. If you need a good starter pack, there are some really nice pickleball sets out there.
Rules
The rules of pickleball are simple enough for anyone to learn, making it an accessible and enjoyable activity for players of all ages and skill levels. Beyond the obvious enjoyment factor, there are also plenty of benefits to playing pickleball. Not only does the game help to increase endurance and improve cardiovascular health, but it can also enhance hand-eye coordination and lower stress levels. So if you're looking for a fun way to stay active or just want to try something new, pick up your pickleball paddle and head on out to that nearest pickleball court! You won't regret it!
Summary
So there you have it: my rankings for the best pickleball paddle on the market today. So which of these pickleball paddles is right for you? Ultimately, the best pickleball paddle depends on your skill level and personal preferences. Pickleball's popularity has exploded in recent years as people of all ages and skill levels have taken up the sport. Whether you're a beginner or an experienced player, there's sure to be a pickleball paddle that's perfect for you! So what are you waiting for?
Get out there and start playing! But remember, no matter which of the pickleball paddles you choose, the most important thing is to have fun out there on the court!