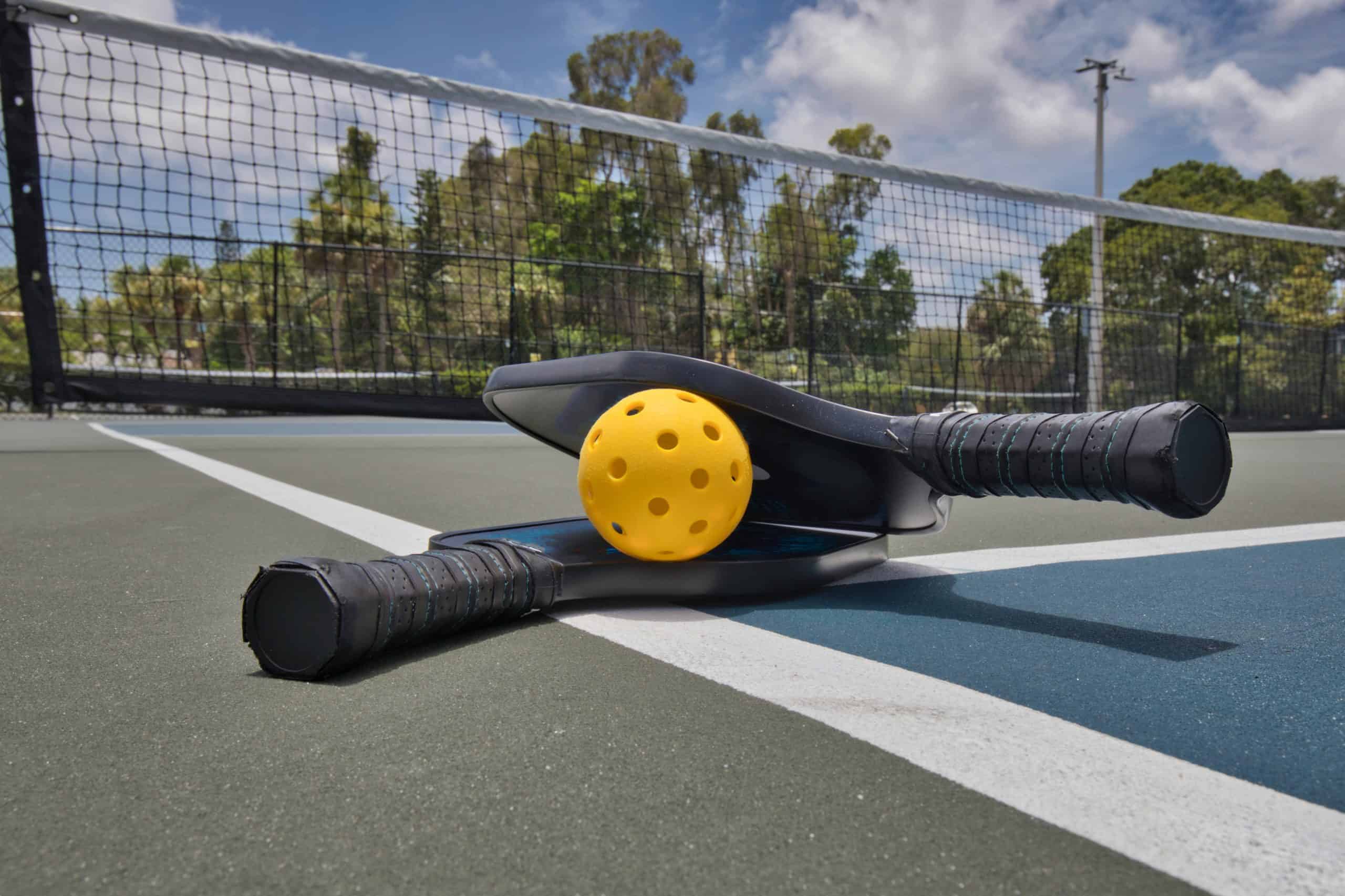 In this blog post, I rank and review the best pickleball paddles.
When it comes to the best pickleball paddle, there are a lot of options on the market. And with so many choices, how do you know which pickleball paddle is the right one for you?
Do you look into graphite paddles? Carbon Fiber? Elongated paddles? What size paddle face? Ugh, this is so confusing!
To help you make an informed decision, we've compiled a list of the best pickleball paddles.
So whether you're just getting started in Pickleball or you're a seasoned pro, be sure to check out our list so you can find the best pickleball paddle for your game.
You won't be disappointed.
We are reader supported and as such, may earn a small commission at no expense to you if you purchase thru our links.
What is the Best Pickleball Paddle?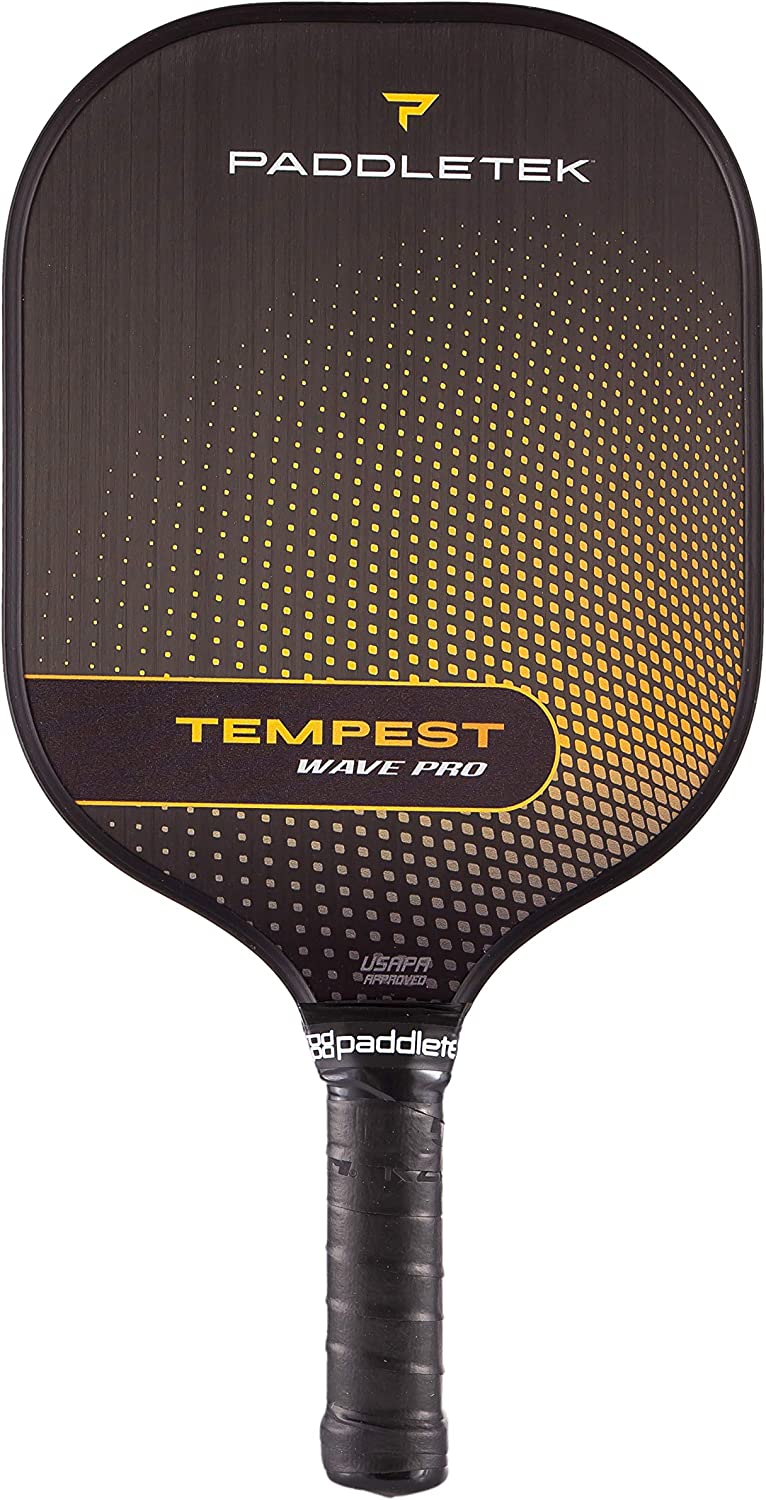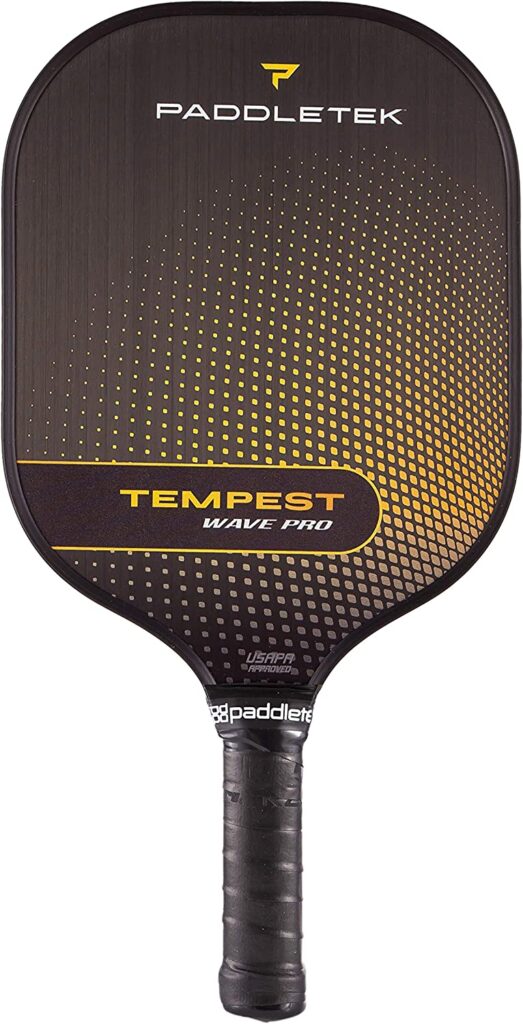 The Paddletek Tempest Wave Pro tops our list as the best pickleball paddle.
The Tempest Wave Pro Pickleball Paddle provides great accuracy allowing you to maximize your game. This paddle offers a perfect balance between control and power, making it ideal for both beginners and experienced players.
The Tempest can create powerful shots, yet still be forgiving at the same time. The perfect pickleball paddle for strategic players who want control over every shot!
Technology
Utilizing smart and responsive technology, the Paddletek Tempest Wave Pro Pickleball paddle allows for pinpoint accuracy. The paddle's unique wave patterns provide optimal stability – making it a very versatile pickleball paddle. The new wave design offers an excellent choice for experienced players needing enhanced performance in their pickleball play.
Fit
The handle of this paddle fits comfortably in the palm of your hand, allowing for longer, more comfortable playing sessions. And with its textured graphite face and contoured composite body, this lighter paddle provides enough grip so you can play with confidence.
Its ergonomic shape fits comfortably into your hand without being too small or too large where one would feel uncomfortable using them; thus providing maximum comfort during gameplay, a necessity in pickleball paddles.
Weight
With a weight range from 7.6 – 8 oz, this pickleball paddle is standard in size with 4 3/8 inch grip circumference and 5 ¼inch long paddle handle. This additional space allows you to adjust your shooting angle when necessary; it also features an extra-thick face that makes shots feel smoother than other models on market today!
Looks
The Tempest Wave Pro paddle is a beauty.
It is a lightweight paddle and has a hyper-responsive Propylene core that guarantees no dead spot when you make contact with the ball!
The grip also features comfortable perforated fingers for better airflow while playing pickleball on any surface.
So if you're looking for speed, power, or control, look no further than the Paddletek Tempest Wave Pro pickleball paddle. It's the best choice by far!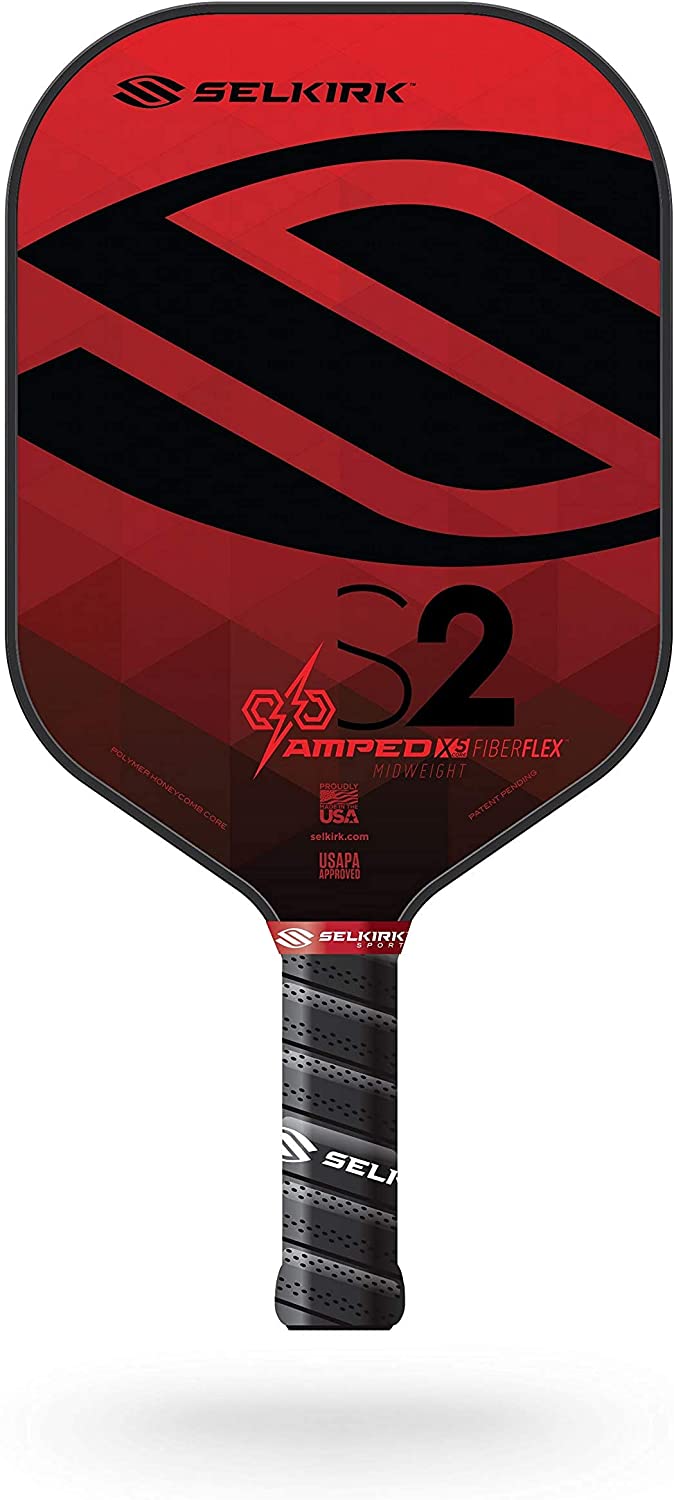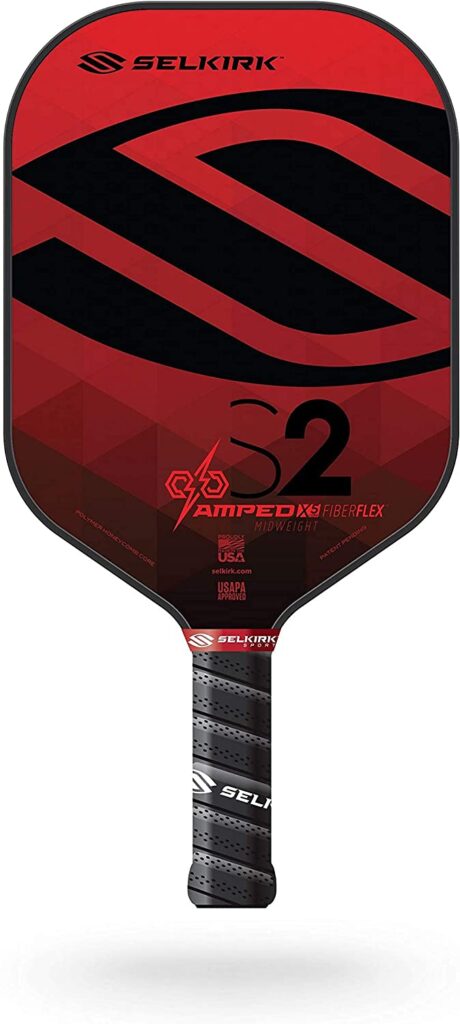 The Selkirk Amped is a close runner up, and there are several reasons why.
Selkirk pickleball paddles are made with the finest materials and proprietary, leading-edge technology. They invested in creating and developing the best pickleball paddles to provide you top of line equipment that fuels your obsession for this sport we love so much!
Technology
The new Selkirk AMPED pickleball paddle has an entirely groundbreaking technology that has never before been seen in Pickleball. It combines the state-of-the-art FiberFlex face with a thicker Polypropylene X5 Core. This provides optimal ball cushioning, and its sleek fiberglass pickleball paddle surface generates unmatched spin for your shots effortlessly!
Selkirk Pickleball Paddles are the paddle of choice for professional players like Tyson McGuffin and Enrique Ruize. Now you can get that same feeling with Selkirk's new polypropylene X5 core, a revolutionary design!
The AMPED technology reduces vibration patterns to create a smoother feel while maintaining speed in your gameplay. This is perfect if ball control is what matters most to you.
Fit
The AMPED pickleball paddle is an excellent choice for players looking to optimize their game. It's a wide body paddle with a large face to provide you with more surface area than other paddles on the market.
The large sweet spot and elongated paddle surface area integrated with a long handle provide full court power and accuracy on every shot. This makes for a great power paddle.
Selkirk says the Flex Face that these new paddles have allow players more time picking their shots. The result is greater power behind every smash or the perfect dink.
If you're looking to improve your game and take it to the next level, the Selkirk AMPED is the pickleball paddle for you!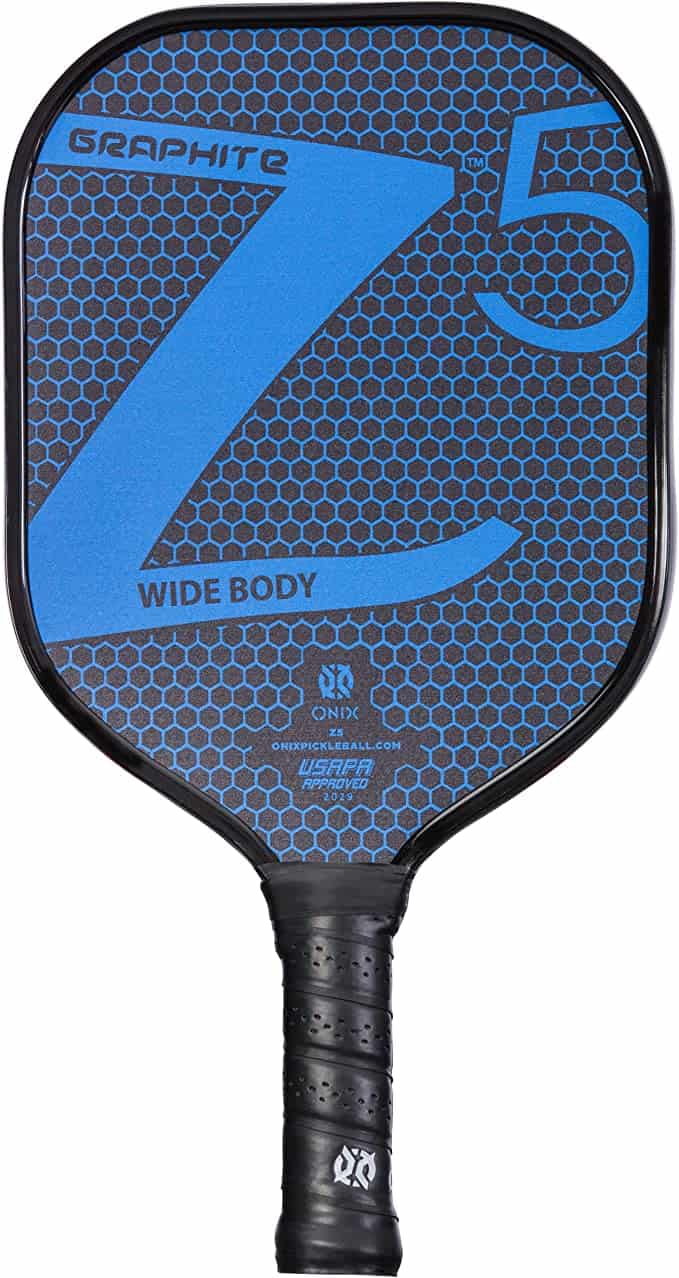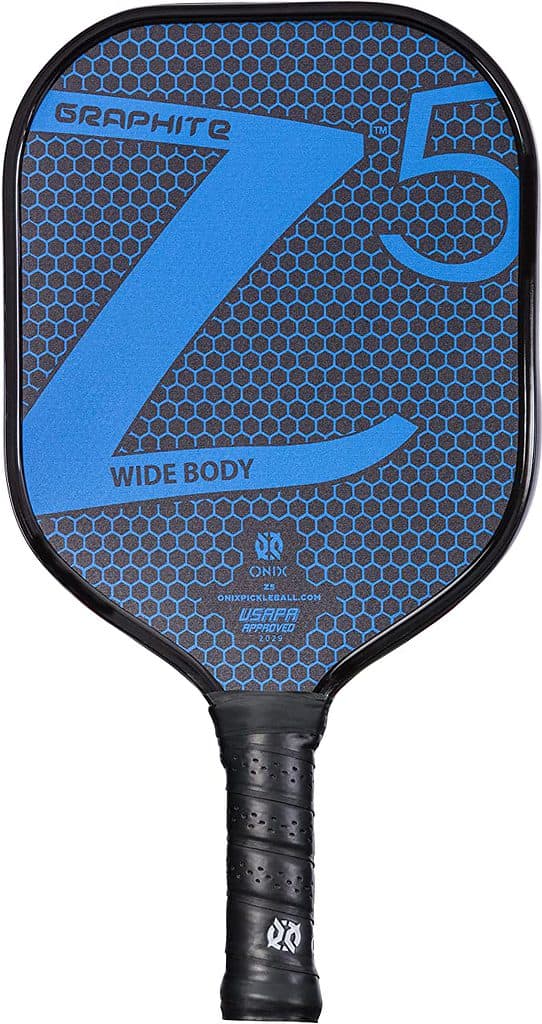 If you're looking for a budget pickleball paddle under $100 that won't disappoint, the Onix Graphite Z5 is a great option.
This graphite pickleball paddle offers excellent value for money, and it's ideal for players who are looking for a quality graphite pickleball paddle without breaking the bank.
The Onix Graphite Z5 features a comfortable grip and an extra-large sweet spot, making it perfect for players of all skill levels.
It also has excellent power and is a great control paddle, making it a great choice for both recreational and competitive players.
With its budget-friendly price tag under $100, the Onix Graphite Z5 is an exceptional value and an excellent choice for anyone looking for quality graphite paddles.
Fit and Weight
This lightweight graphite paddle features an 8-1/8″ wide face and cushy handle with excellent sweet spot management that will allow you to move effortlessly on the court while providing powerful strikes when necessary.
This durable and versatile paddle will give any player control over their shots whether they're beginners just getting started or professionals competing at top levels of competition.
The Onix Z5 Graphite Pickleball Paddle is an excellent choice for anyone looking for a lightweight, durable and precise graphite paddle.
This pickleball paddle is perfect for beginners who are just getting started as well as for professionals who compete at the top levels of competition.
Looks
The Z5 pickleball paddle has many color options to choose from. Whether it be bold or subtle – there's a perfect look for everyone! If you're planning on playing pickleball regularly, the Z5 is a great investment to make.
We're sure you will love the Onix and are confident in placing it on our list! If you're looking for a lightweight, durable and precise graphite paddle for your pickleball needs, look no further.
Related: Onix z3 vs z5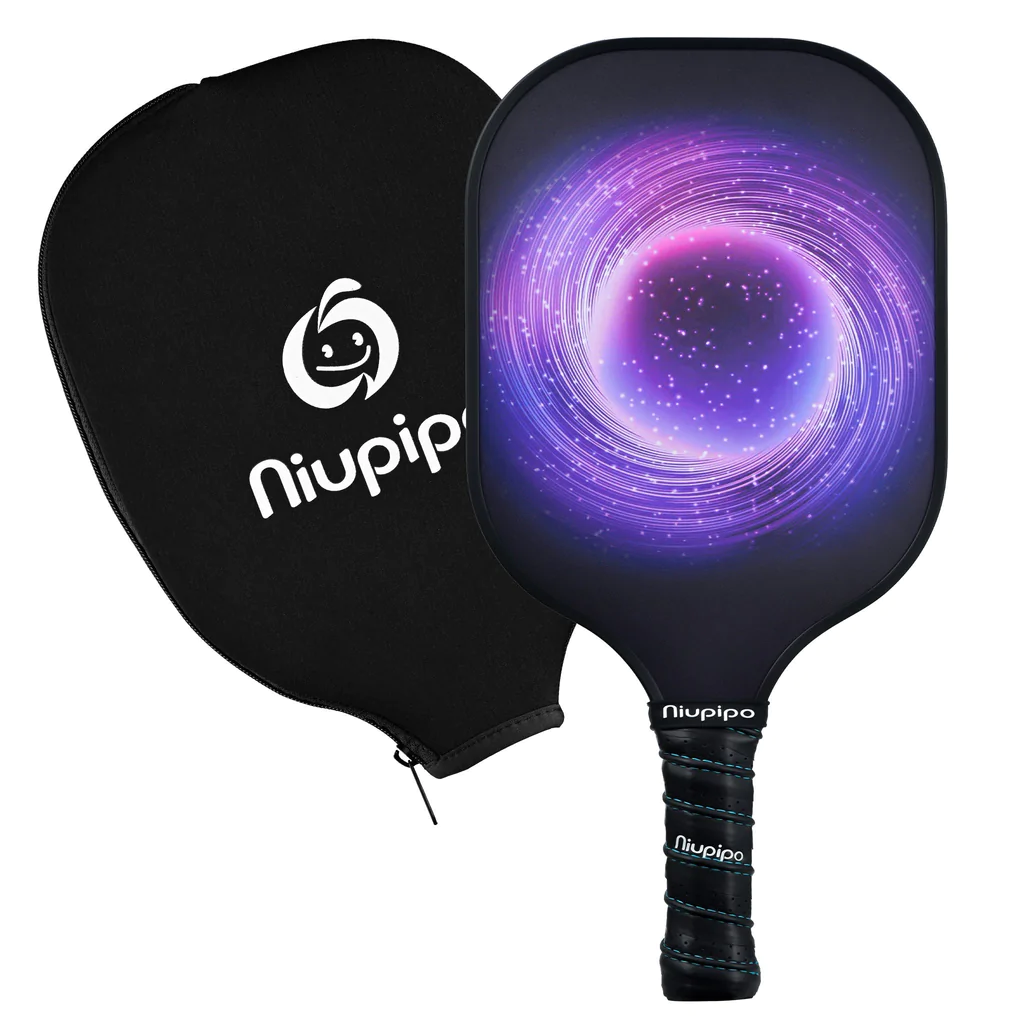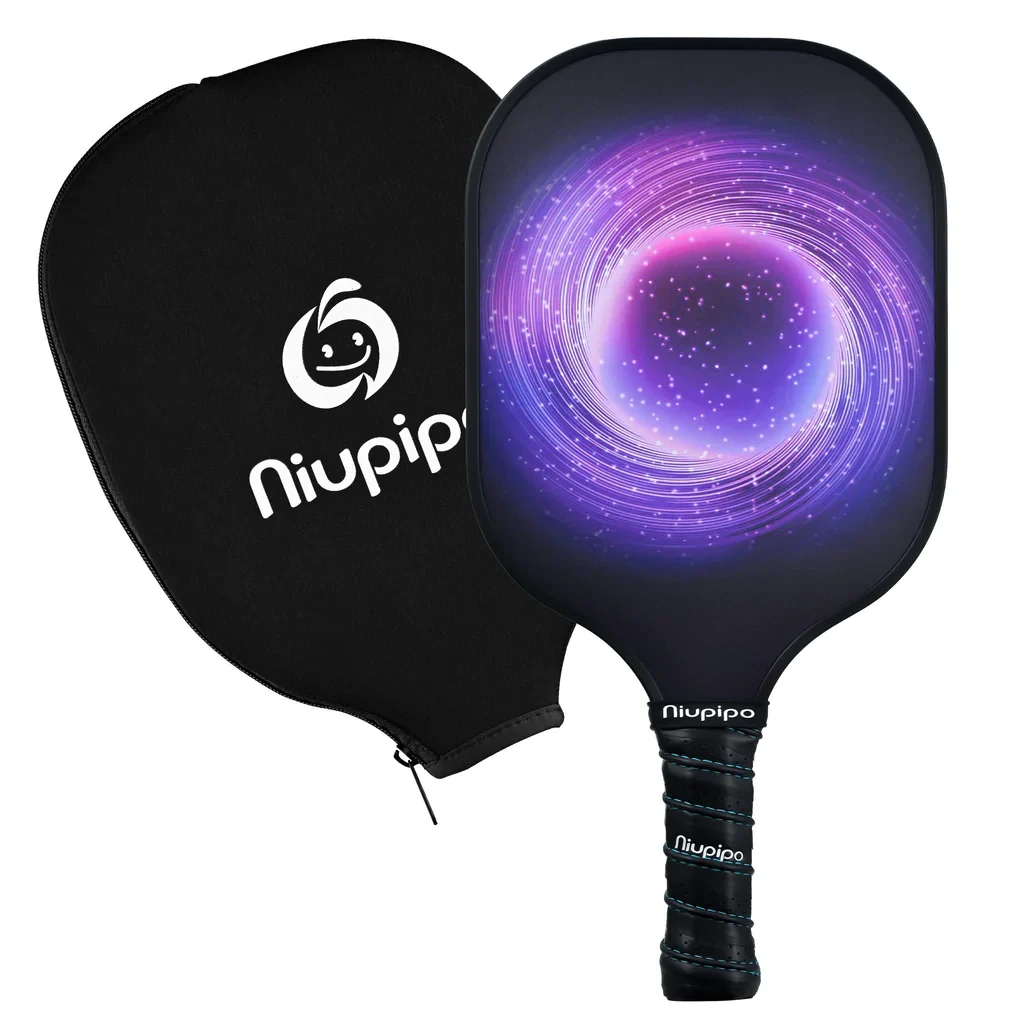 Looking for the best pickleball paddle under $50? Look no further than the Niupipo Fiberglass Pickleball Paddle!
This affordable paddle is made of a fiberglass face and Polypropylen-honeycomb composition for an ideal level of strength and stiffness. The fiberglass face has more power than graphite face, while the Polypropylen is softer and has larger honeycomb cells. This is a good material that holds up well and you won't believe it is under $50!
Because it's a softer material it is quieter but it still has great power. Having a high-quality fiberglass pickleball paddle can completely transform your game!
So don't wait any longer, order your Niupipo Fiberglass Pickleball Paddle today as see why it tops our list of best pickleball paddle under $50!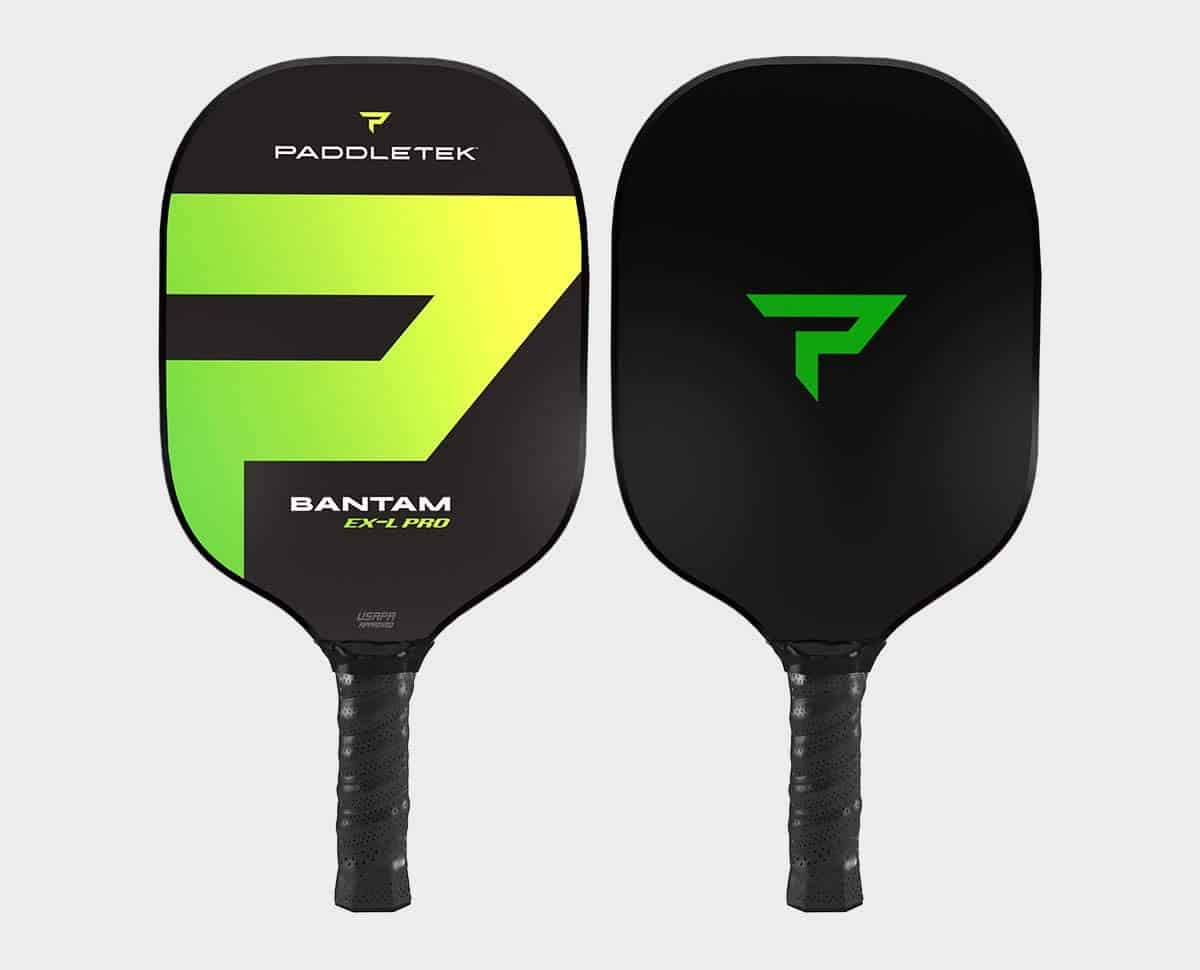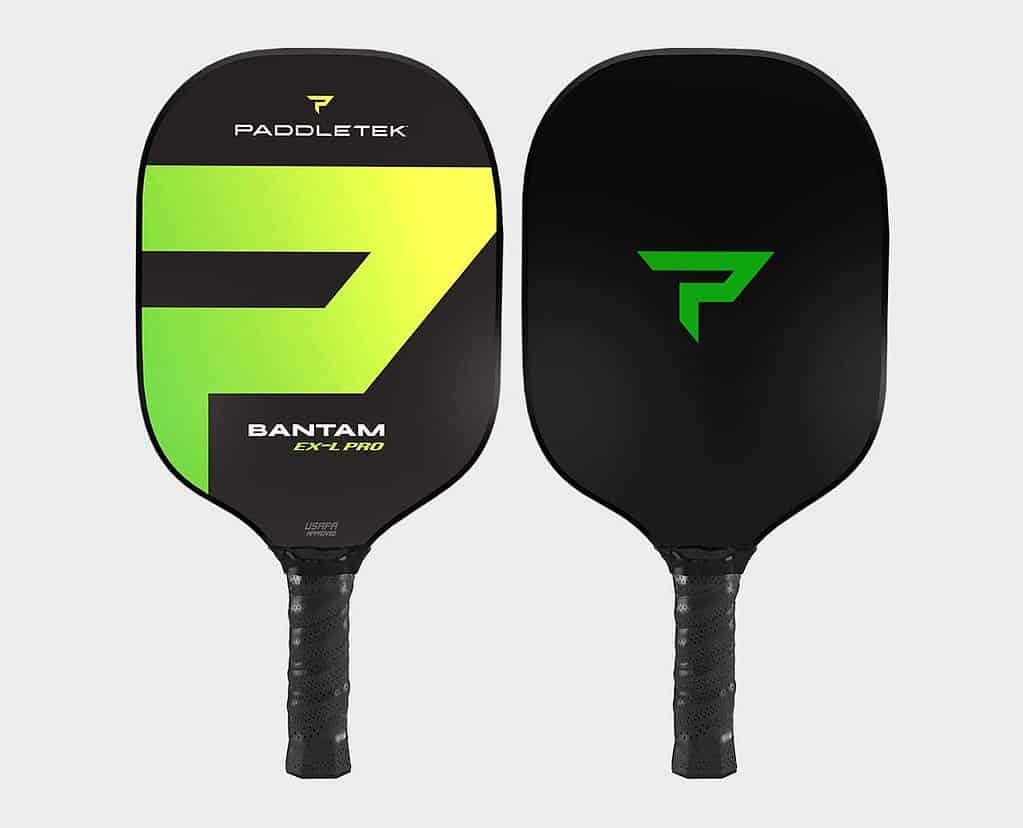 The Paddletek Bantam EX-L pickleball paddle is a top-of-the-line pickleball paddle that offers excellent performance for players of all skill levels.
The paddle has the face of a graphite paddle and the body of a composite paddle. This makes the lightweight paddle extremely responsive and easy to control, yet it is still powerful enough to deliver solid shots.
The Paddletek Bantam EX-L pickleball paddle also features a comfortable grip that is both sweat-resistant and slip-resistant. And with its wide hitting surface, this pickleball paddle is perfect for beginners who are still getting the hang of the game.
Power, Grip, Performance
The Paddletek difference is unrivaled power, consistent control and performance grip.
The EX-L Pro pickleball paddle features smart response Technology which provides a driving force behind your explosive hit while still giving you the accuracy so you can take care of business at any time.
Game-winning performance comes standard with the Bantam series! The legendary design has a top-weighted frame and low-profile shock edge guard which delivers unmatched power, all while preventing mishits.
Precision and Durability
The Paddletek Bantam EX-L paddle optimizes accuracy by delivering maximum pop in every stroke so players can hit their drives appropriately whether they are playing offense or defense. The paddle will help you score when it counts.
This tough-as-nails pickleball paddle is equipped with the Ultra Cushion High Tack Performance Grip and has an ⅛" shock guard. The length measures 4 ¾", width at its widest point 7⅞" wide; weight ranges between 8.3 -8.7 oz.
Overall, if you're looking for a high-quality graphite paddle that can help you improve your game, the Paddletek Bantam EX-L pickleball paddle is an excellent choice. If you're looking for a competitive edge on the court then look no further than this pickleball paddle.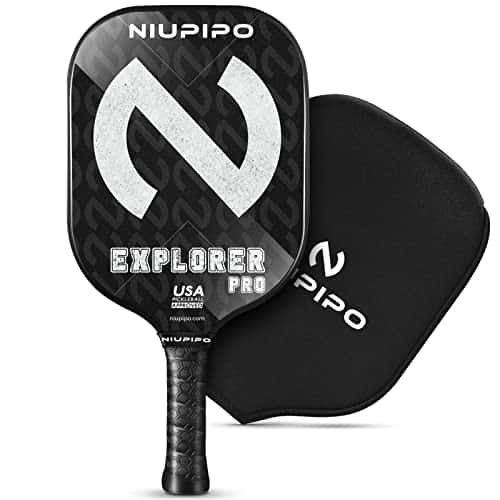 The Niupipo EXPLORER PRO pickleball paddle is designed to fit all levels of players, from beginners who are just learning the game to National Champions such as Vivienne David and Ignacio De Elía.
The surface texture of this pickleball paddle provides excellent grip so you can hit those accurate shots with ease no matter what level player you happen to fall into.
The explorer pro has an added graphite and grit face for better touch, which also helps to keep your ball on track as it rolls off of this blade more easily than ever before!
With its longer spin time combined with increased control when playing there's no reason why anyone shouldn't be happy with this pickleball paddle.
This paddle is made with a durable polypropylene honeycomb core that can take the hits while still being light enough to move quickly.
It's perfect for power players who want their shots accurate and on target, but not too heavy or slow-moving so they don't give opponents any advantage over themselves!
The ultra-perforated cushion grip provides epic hold; it's the perfect touch. With an overall length of 15 inches and weighing 8 ounces with a medium-sized handgrip, this model will keep you playing all day long!
Related: Which Niupipo to Choose?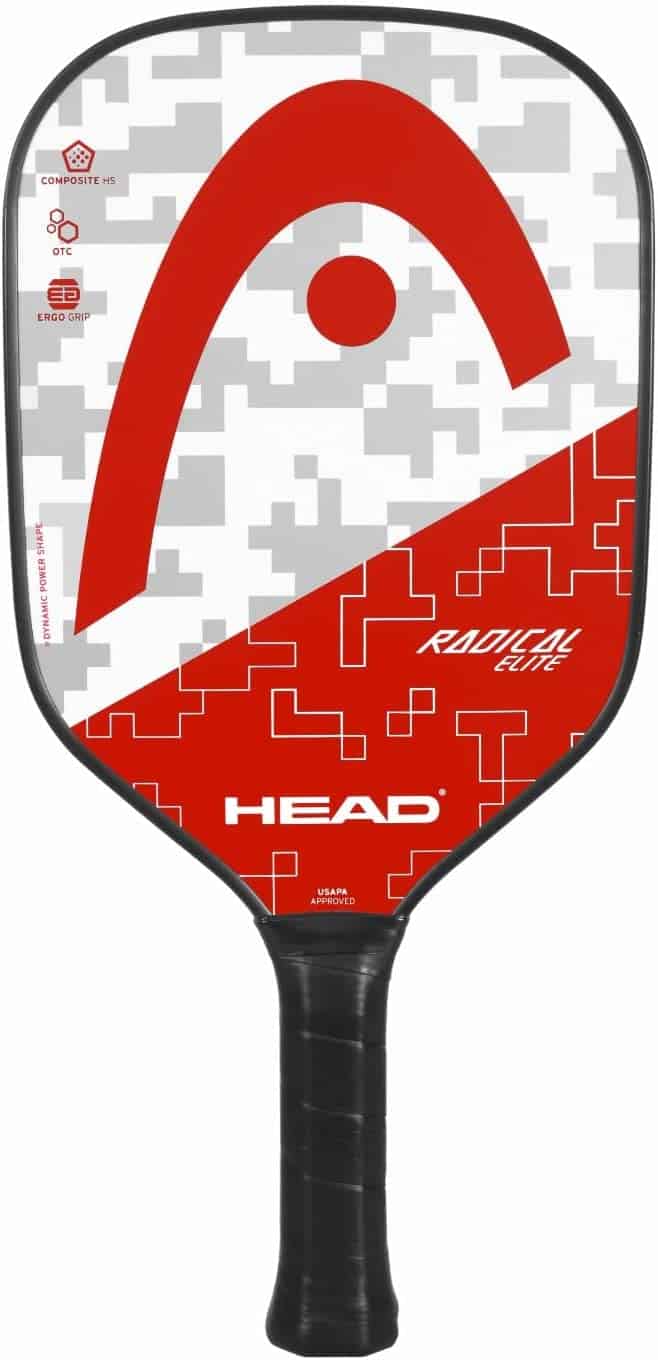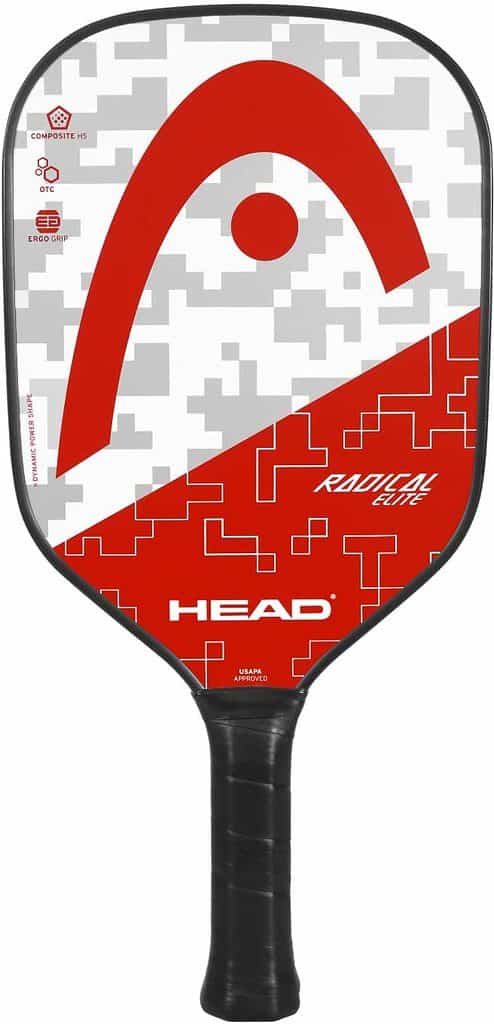 HEAD is the world leader in racquet sports equipment, offering only top-quality pickleball paddles.
The Head Radical Elite is a lightweight fiberglass finish paddle has excellent feel and ample power for competitive players. This is due to its smart construction combining polypropylene honeycomb core technology with the new Ergo Grip design. This maximizes touch response time while minimizing vibration during playtime.
All this at a price point you can afford!
The Head® Radical Elite Composite Pickleball Paddle is a one-of-a-kind paddle that can drive powerful serves yet still be agile enough for net games.
Made with an elongated body and ergonomic grip, this specialized pickleball paddle will help you win every game!
What is Pickleball?
Pickleball is an incredibly popular, fun, fast-paced game. It's a great game for all ages and abilities. Pickleball is easy to learn and can be played indoors or outdoors. It combines elements of tennis, badminton, and ping pong (table tennis). It is so fun and that is why it made it on our 107 of the best outdoor activities list! Here's everything you need to know about pickleball, from the basics of the game to the equipment you'll need.
How To Play?
Pickleball is a paddle sport played on a court that is similar in size to a badminton court. The object of the game is to hit the ball over the net and into your opponent's court. Players can move anywhere on their side of the court, but cannot step over or into the no-volley zone (the area around the net). The first team to reach 11 points wins the game. The court is 20 feet wide by 44 feet long. The net is 36 inches high at the sides and tapers down to 34 inches in the middle. You use pickleball paddles to hit the ball back and forth over the net. The game can be played in singles or doubles.
To start the game, one player serves the ball diagonally across the court. The ball must be hit below the server's waistline, and you can only bounce it once with each shot. The ball must land in the opposite service box. If it goes out of bounds, the other player gets a point. The first player to reach 11 or 15 points wins the game. See our Pickleball Rules post for more details.
What Do You Need to Play?
To play pickleball, you will need a few pieces of equipment. The most important is a pickleball paddle. You'll also need pickleball balls (the official balls are made of plastic and have 26 holes or 40 holes), and a pickleball net (which can be set up on any tennis court). You may also want to wear comfortable pickleball shoes and clothing and bring a water bottle. If you need a good starter pack, there are some really nice pickleball sets out there.
Related: best pickleball shoes.
Rules
The rules of pickleball are simple enough for anyone to learn, making it an accessible and enjoyable activity for players of all ages and skill levels. Beyond the obvious enjoyment factor, there are also plenty of benefits to playing pickleball. Not only does the game help to increase endurance and improve cardiovascular health, but it can also enhance hand-eye coordination and lower stress levels. So if you're looking for a fun way to stay active or just want to try something new, pick up your pickleball paddle and head on out to that nearest pickleball court! You won't regret it!
Summary
So which of these pickleball paddles is right for you? Ultimately, the best pickleball paddle depends on your skill level and personal preferences. If you're a beginner, the Selkirk Sport X5 or the Paddletek Bantam EX-L would be great choices. If you're looking for a budget-friendly option under $100, the Onix Graphite Z5 is an excellent value. And for those looking for a high-end paddle with excellent performance, the Paddletek Tempest Wave Pro is hard to beat. However, no matter which option you choose, you can be sure that you'll enjoy top-notch pickleball play with any of these great pickleball paddles!
So there you have it: my rankings for the best pickleball paddle on the market today. Pickleball's popularity has exploded in recent years as people of all ages and skill levels have taken up the sport. Whether you're a beginner or an experienced player, there's sure to be a pickleball paddle that's perfect for you! So what are you waiting for?
Get out there and start playing! But remember, no matter which of the pickleball paddles you choose, the most important thing is to have fun out there on the court!