If you're a fan of pickleball, then you've most likely heard the name, Catherine Parenteau.
At just 28 years old, this Canadian professional pickleball player has been making waves in the world of pro pickleball with her impressive skills and unwavering determination.
In this blog post, we'll take a closer look at Catherine's journey to becoming a pro player, her notable achievements on the court, and what makes her stand out from the rest.
Let's get started!
We are reader supported and as such may make a small commission at no expense to you by purchasing thru our links and we appreciate that!
The Early Years of Catherine Parenteau
Catherine Parenteau's journey into professional pickleball began when she was just four years old, growing up in Canada. Her parents introduced her to tennis at a young age and it quickly became her passion.
Catherine's dedication and hard work paid off as she developed into one of the best tennis players in Canada, earning a top 5 national ranking. Her impressive skills on the court caught the attention of recruiters from top universities. She was eventually recruited by the University of Arkansas, which had a top-25 team at the time.
After spending one year at Arkansas, Catherine decided to transfer to Michigan State University where she played for three years. During her time there, she continued to excel on the court and helped lead her team to numerous victories
The Transition to Pickleball
Catherine Parenteau's introduction to pickleball was a serendipitous moment that would change the course of her athletic career. In 2015, Catherine's college tennis coach at Michigan State University and current Pickleball star, Simone Jardim, introduced her to the sport during a casual game on campus.
Catherine was immediately hooked and began playing more frequently with Jardim and other members of the team. In less than six months, she was already competing in her first tournament – an impressive feat for such a new player.
But what happened next was truly remarkable. Catherine competed in the 5.0 mixed doubles bracket and ended up winning the tournament alongside her partner! Even more impressive? They beat Ben Johns, who was also new to pickleball at the time but is now considered one of the best players in the world as the current men's number 1 player.
This victory proved to be a turning point for Catherine as she realized her potential in this exciting new sport. She turned pro in 2016 and never looked back. Her professional pickleball career quickly took off as she continued to dominate on the court with her impressive skills and competitive spirit.
Tournament Success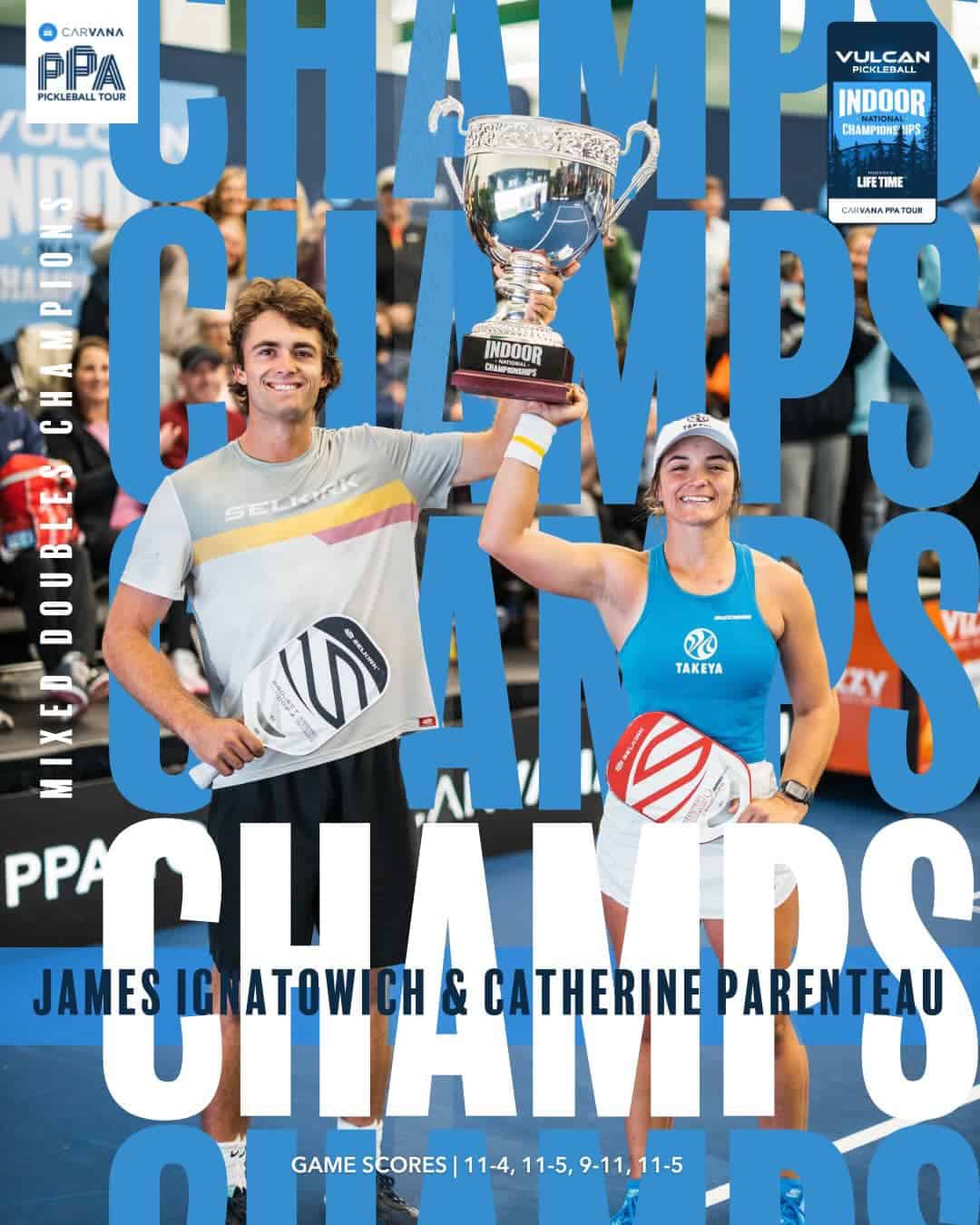 Catherine Parenteau's success in pickleball has been nothing short of remarkable. Since turning pro in 2016, she has quickly established herself as one of the top players in the game today.
One of Catherine's most impressive accomplishments is her record as a 5-time major winner. She has won the US Open, Pickleball Nationals, and the Tournament of Champions cementing her place among the sport's elite players. She is currently top 5 in singles and women's doubles.
In addition to her major wins, Catherine has also racked up an impressive number of PPA titles. With over 20 titles to her name, she consistently performs at a high level and demonstrates her unwavering dedication to the sport.
Toward the end of 2022 at Nationals, Women's world number 1, Anna Leigh Waters, who plays doubles with her mom Anns Waters, saw her mom suffer an injury and had to withdraw. Anna's mom is a great player and this left highly favored Anna Leigh without a women's doubles partner. The story of who reached out to who is somewhat mixed, but somehow Anna Leigh and Catherine connected and Catherine decided to play nationals with Anna Leigh. This created all sorts of buzz because Catherine was already slated to play women's doubles with Allyce Jones. However, Anna Leigh and Catherine went on to win the gold medal match in women's doubles.
And most recently on February 26, 2023, Catherine took home double gold at the Indoor National Championships in Lakeville, MN winning the gold medal match for singles and mixed doubles with her partner James Ignatowich.
Catherine's success can be attributed to a combination of factors – her natural talent on the court, her tireless work ethic, and her ability to stay focused under pressure. Known to be an upbeat and good person, Catherine can turn on the competitive spirit and get herself fired up to win! But perhaps most importantly, Catherine truly loves what she does – which is evident in every match she plays and why she has become a big hit with fans around the country.
Catherine's Paddle Of Choice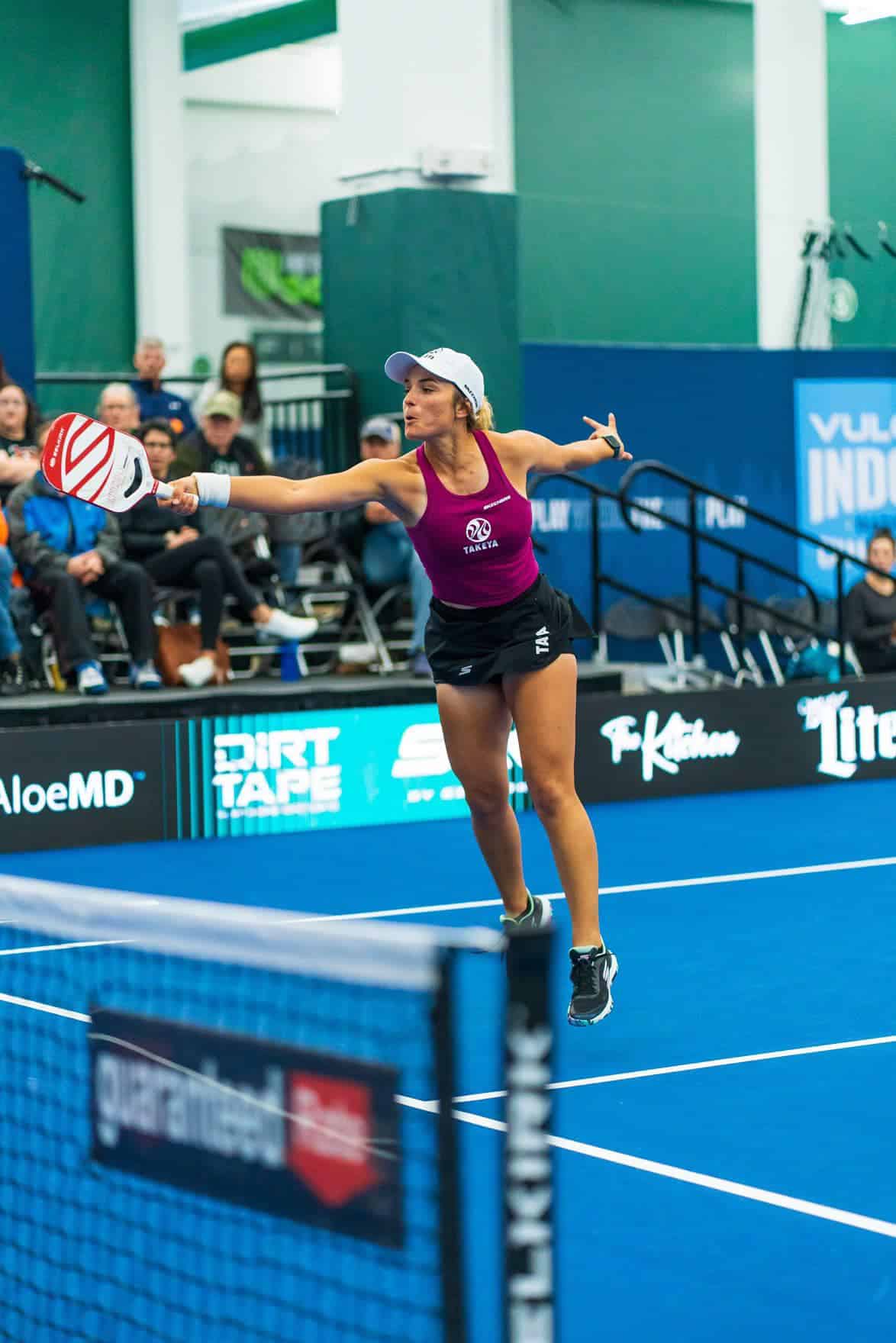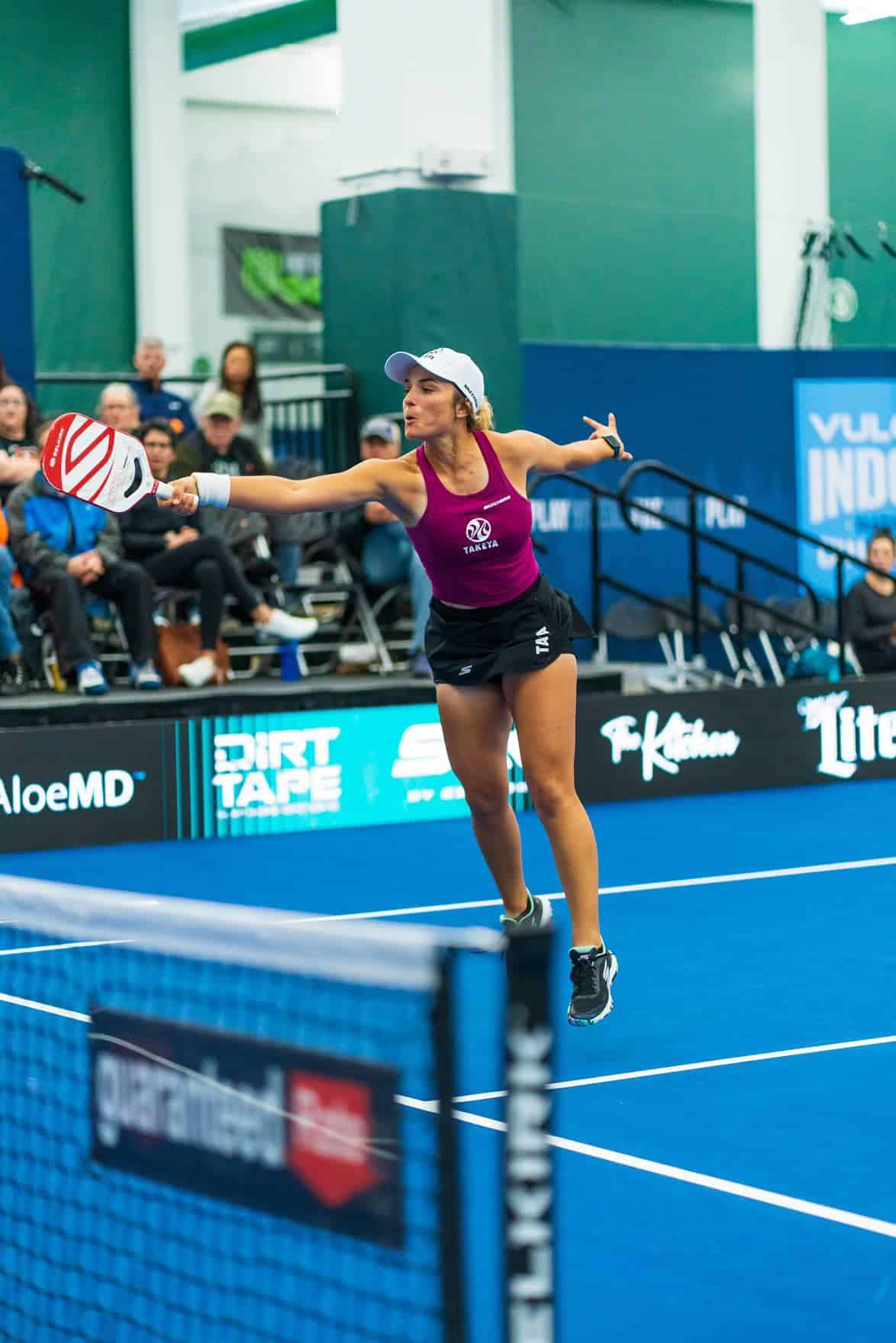 Catherine Parenteau has chosen the Selkirk Vanguard Power Air Invikta as her paddle of choice. And it's no surprise why! Selkirk has become one of the biggest sponsors in the game and sponsors top pros such as Tyson McGuffin, Parris Todd, and Dylan Frazier. They create some of the best paddles on the market.
This paddle is a perfect blend of power and control, making it an ideal choice for players like Catherine who need to be able to execute precise shots while still maintaining a high level of power.
One of the standout features of the Selkirk Vanguard Power Air Invikta is its midweight range, which falls between 7.7 and 8.1 ounces. This weight range strikes the perfect balance between maneuverability and power, allowing players to easily move around the court while still being able to generate plenty of speed and spin on their shots.
Another key feature that makes this paddle so popular among players like Catherine is its Selkirk Geo Grip technology. This grip provides excellent traction and control, even when playing in wet or humid conditions. Plus, with a grip circumference of 4 1/4 inches, this paddle is comfortable for players with all hand sizes.
Overall, the Selkirk Vanguard Power Air Invikta is an exceptional paddle that offers both power and precision on the court. It's no wonder why Catherine Parenteau has chosen it as her go-to paddle for competitive play.
Off The Court
When Catherine is not playing or practicing, she loves to spend her time outdoors. She now lives in the beautiful and growing pickleball city of Naples, FL with her partner Athena Trouillot and their French bulldog Zoey.
Catherine loves being outdoors and enjoys running and also skiing in the Canadian mountains when she goes back to visit. Running is not only a great way to stay fit but also helps clear the mind and reduce stress levels. Skiing, on the other hand, is an exhilarating activity that allows one to enjoy the beauty of nature while getting some exercise.
Apart from her love for outdoor activities, Catherine also enjoys spending time with her partner Athena Trouillot and their furry friend Zoey.
Catherine Parenteau may be a fierce competitor on the Pickleball court but outside of it, she leads an active lifestyle filled with outdoor adventures and quality time spent with loved ones.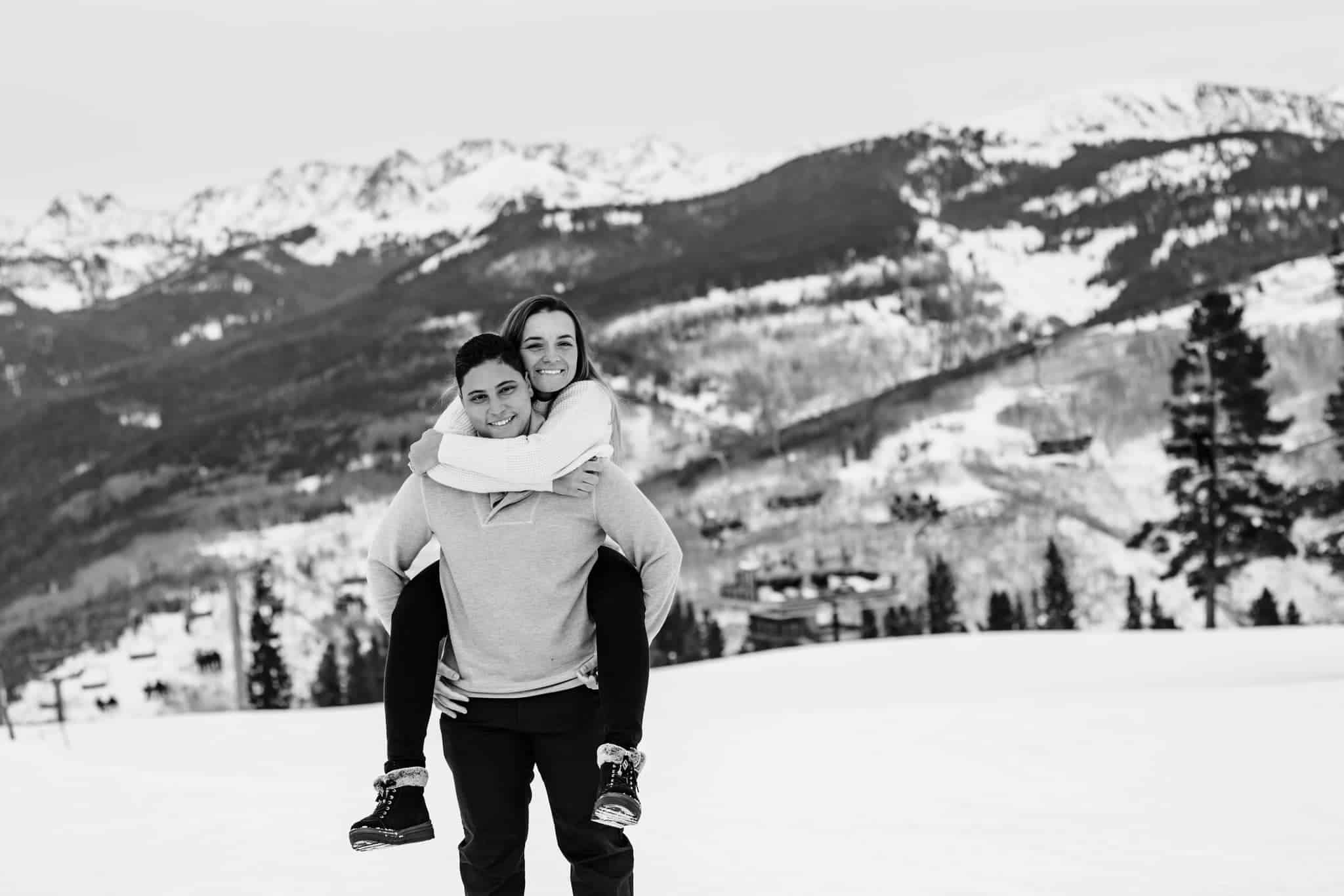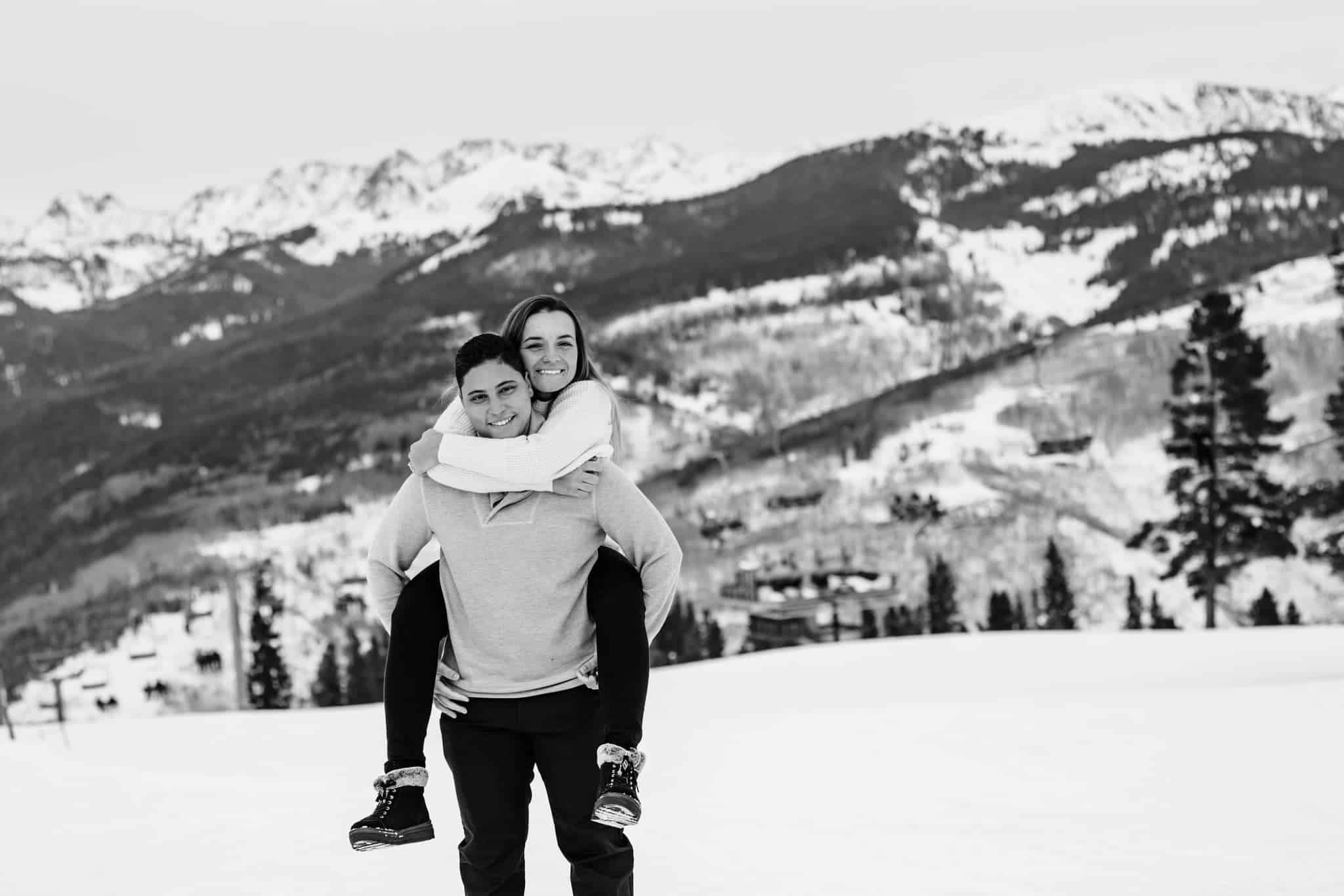 Future Goals
Catherine Parenteau is a passionate pickleball player who has set her sights on some exciting goals for the future. One main goal would be to win a triple crown, which is winning gold in singles, doubles and mixed doubles all at the SAME tournament! Busy weekend to say the least! Not too many pro players have done this but Catherine has the skill and talent to pull it off.
On top of competing at the highest level, one of her greatest joys is teaching others how to play this fast-paced and addictive game. She has been hard at work developing her own coaching clinics where players of all levels can come and learn.
As an IPTPA-certified coach, Catherine brings a wealth of knowledge and experience to the court. She understands the nuances of the game and knows how to help players improve their skills, whether they are just starting out or looking to take their game to the next level.
Catherine's coaching clinics are designed to be fun, engaging, and highly informative. She creates a supportive environment where players can ask questions, try new techniques, and get feedback from an expert coach. Whether you are an experienced player or a complete beginner, Catherine's coaching clinics will help you become a better pickleball player.
Looking ahead, Catherine is excited about the future of pickleball and all that it has to offer. She believes that this sport has the potential to bring people together from all walks of life, fostering community, friendship, and healthy competition along the way. With her passion for teaching and her commitment to excellence, there's no doubt that Catherine will continue to make a positive impact on the world of pickleball for years to come.
What Tournaments Will Catherine Play?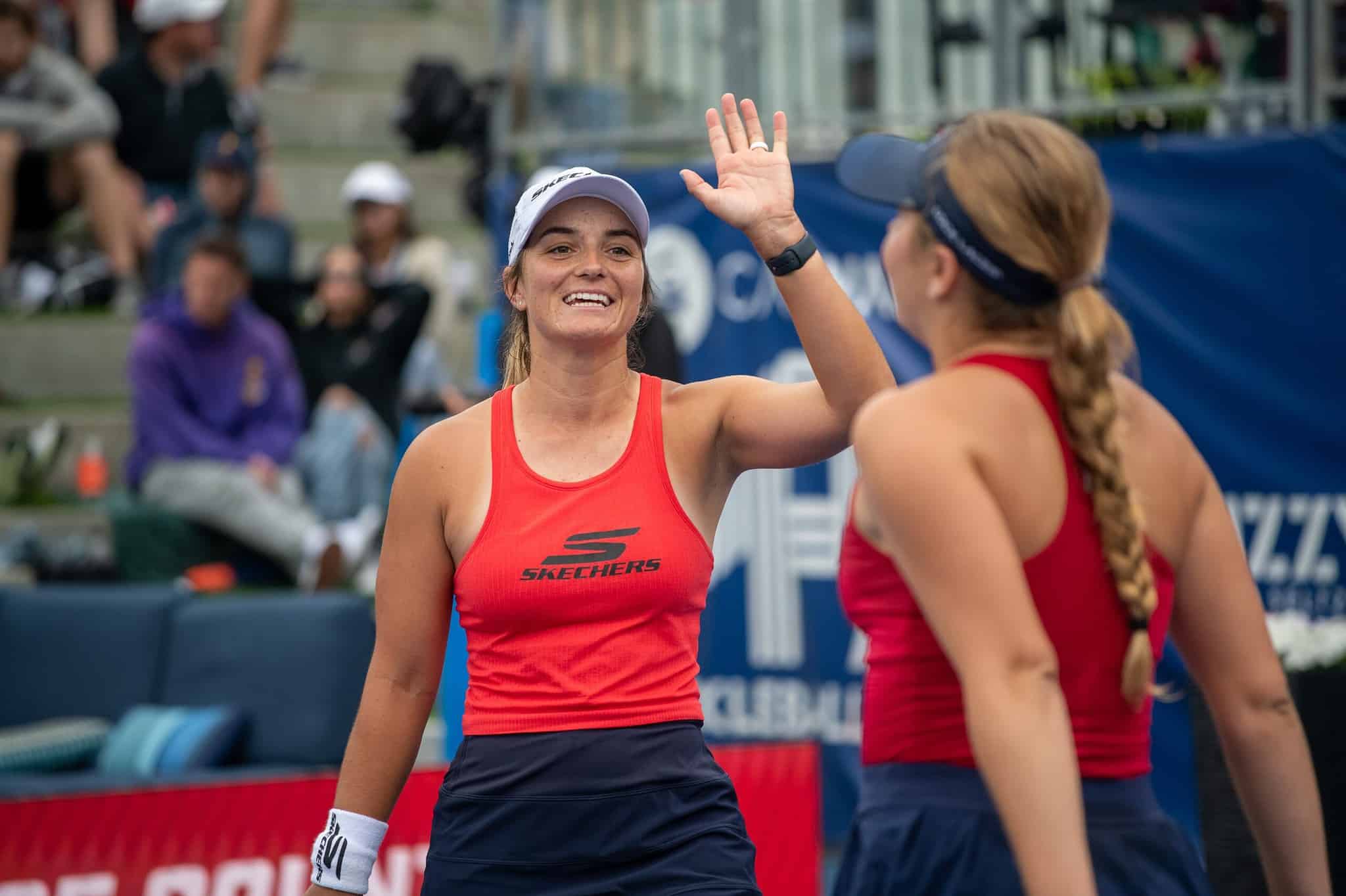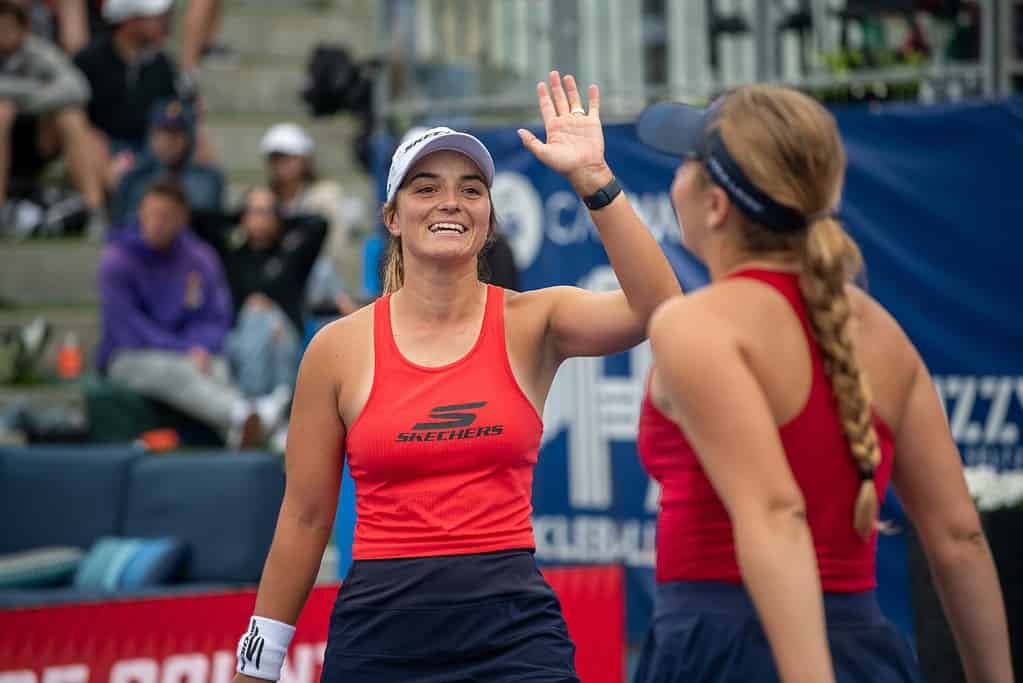 Catherine is ultra-competitive and feels like she is coming into her prime. With that, she plans to compete in most PPA tournament events this year. You can check out the PPA Tour event schedule or check Catherine's website for her tournament schedule. USA Pickleball also has an event list for the entire calendar year. Last, you could be able to watch her play on TV as the Tennis Channel is starting to pick up more coverage of pickleball pro events.
Conclusion
Catherine Parenteau is a force to be reckoned with in the world of professional pickleball. With her impressive track record and unwavering dedication to the sport, it's no wonder she's ranked as one of the top professional pickleball players in the world. From her strong defenses to her on-court tenacity, Catherine has proven time and time again that she has what it takes to succeed at the highest level. Whether you're a seasoned pickleball player or just starting out, Catherine's story is an inspiration to us all. So next time you hit the court, channel your inner Catherine Parenteau and give it your all!