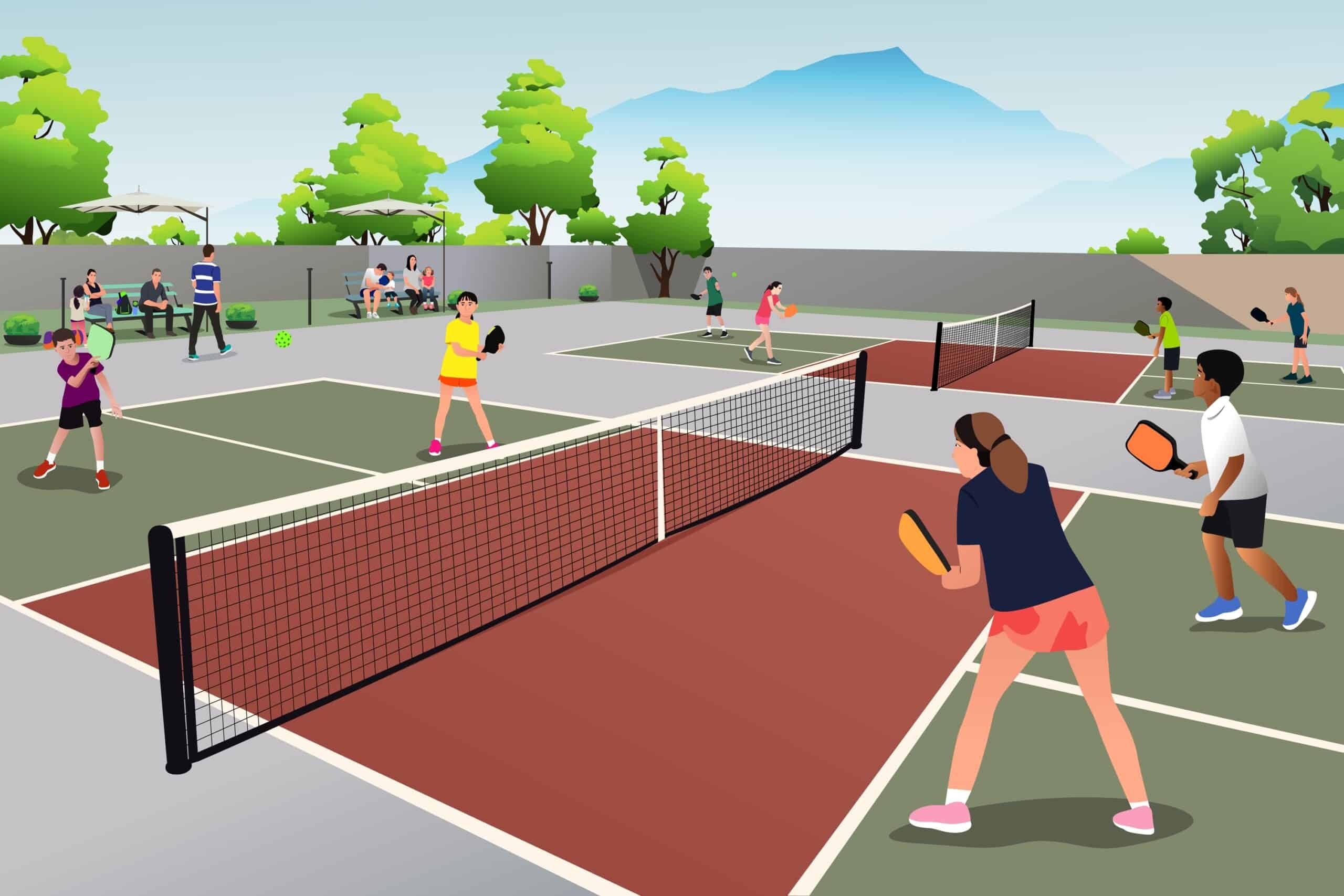 So, you've caught the pickleball bug too and can't stop thinking about it…now what? You need a place to play! Don't worry — finding courts near you is easier than ever if you know where to look.
Pickleball is the fastest-growing sport in the nation, and for good reason. It's fun and fast-paced yet easy enough for anyone to play. It also has a social aspect to it that adds to the fun! With its appeal, more and more people are playing pickleball all around the country. It seems everywhere you look these days you see something to do with Pickleball!
Fortunately, there are a few great resources to help you locate pickleball courts near you so you can satisfy your craving to play!
In this blog post, we list the best resources so you can find out where to play pickleball.
Where To Play Pickleball?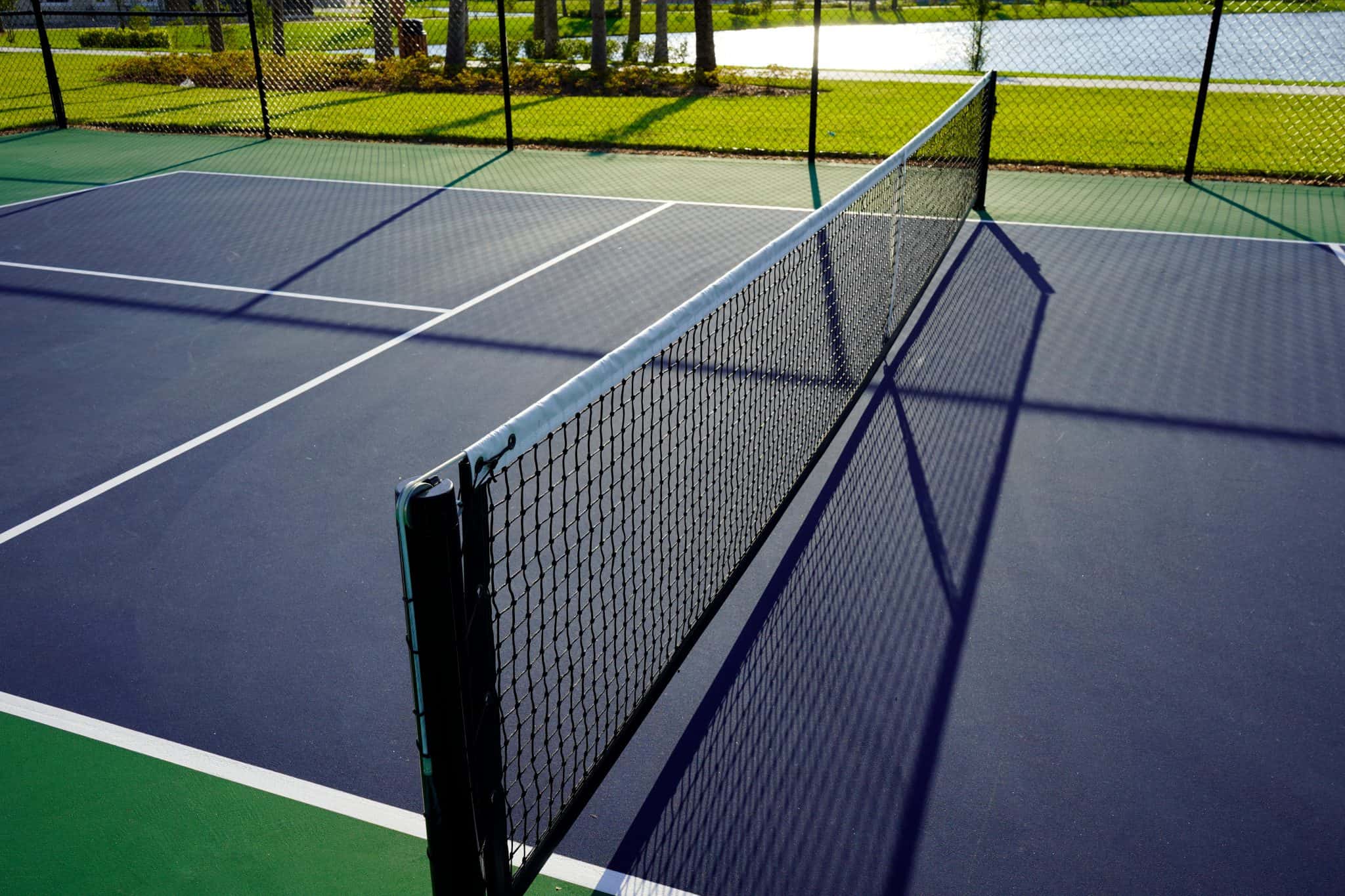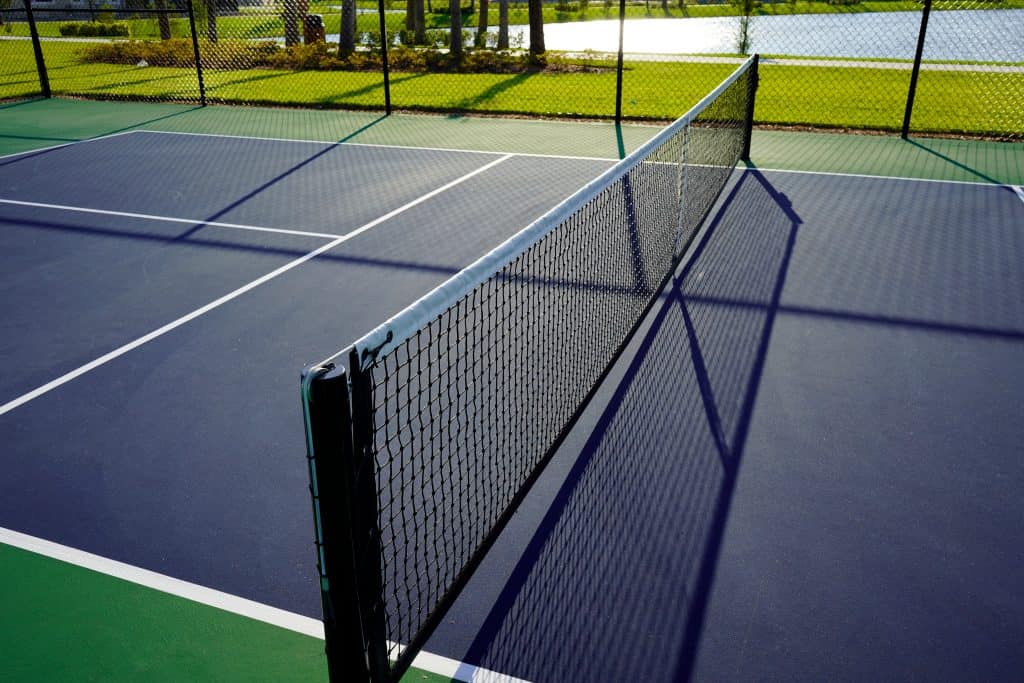 USA Pickleball Places 2 Play Website/App:
The best resource in my option to find a place to play pickleball is The USA Pickleball Places 2 Play website and app is a great resource for finding places to play pickleball near you. Simply type in your city or zip code, and it will locate all the nearby places that offer pickleball courts along with ratings from other players so you can make sure it's up to your standards before heading out.
This resource is extremely helpful as it gives users an interactive map with all nearby locations along with important details like hours of operation and contact information so that players can plan ahead before heading out on their next adventure.
Playtime Scheduler
Free scheduling tool exclusively for pickleball. With Playtime scheduler, you can create and join play time sessions by level. The site is free to use. It's easy to sign up and you can communicate with other players on the site. More and more people are signing up on this site.
YMCA or Community Center:
Your local community center or YMCA are often great places to start when searching for a place to play pickleball. These locations tend to be relatively affordable and offer plenty of courts, equipment, and gaming opportunities for those who just want a place to play with friends. Some centers even have tournaments and leagues if you're looking for more competitive play!
Tennis Centers & Clubs:
Another great resource for finding pickleball near you are tennis centers and clubs. The United States Tennis Association (USTA) has a tool online to find tennis centers near you. The majority of tennis clubs now include pickleball as one of their offerings. Most have some kind of pickleball program these days and often have regular game times open to the public. If your local tennis center doesn't have this information listed on their website, give them a call and ask about it.
Facebook Groups
Get connected with fellow local players by joining any local Facebook groups dedicated to playing pickleball in your area! Not only can these groups provide valuable information on where to find pickleball courts near you, but also provide an opportunity to meet new people who share your passion for the sport! These groups usually have a variety of members who can provide insight on where other players should go based on their preferences (indoor vs outdoor court, skill level, etc). They also often post updates about upcoming tournaments in the area so you never miss out on any big events!
Local Parks and Recreation Center
Many local parks and recreation centers are now starting to offer pickleball courts. Many communities in the United States have added pickleball to their list of available activities for residents. Look on their website or give them a call to see what's available. You may also be able to attend one of their clinics or classes if you're a beginner.
Pickleball clubs
Pickleball clubs are another great resource for finding pickleball courts near you. Again, The USAPA has a pickleball club locater on their site. Pickleball clubs are a great way to meet other players and learn more about the sport in general. Clubs are typically organized by cities and states, so it should be easy to find one near you.
Private Residential Courts
And don't forget about private residential courts! If you have pickleball-loving friends or family who have their own court, consider yourself lucky. We have a court in our neighborhood that we get to use and play with our friends! There's nothing like having the luxury of playing pickleball at home.
USA Pickleball Ambassadors
Lastly, if all else fails, reach out directly to one of USAPA Pickleball ambassadors! USA Pickleball offers ambassadors who volunteer in different regions around the country. These volunteers are incredibly knowledgeable about the sport as well as their local communities – making them great resources if you're looking for information about where to play near you! They are more than happy to help connect players with each other and find courts in their area. All it takes is filling out a simple form on their website here (insert link).
What Do I Need To Play Pickleball?
In order to play pickleball, you will need a few basic items.
First and foremost, you will need a pickleball paddle. There are many different types of paddles on the market today, ranging in size, shape, and material. You can choose from wooden paddles, graphite paddles, aluminum paddles, and more.
Next you'll need a pickleball ball. Pickleball balls come in a variety of colors, but the most popular colors are green and yellow.
It is also a good idea to get a good pair of pickleball shoes. These help with grip and support so when you are out running around that court you stay safe. There are becoming more and more specific pickleball shoe options out there but a good pair of hard-court tennis shoes usually does it!
Finally, you will need a net for your court if you are playing outdoors. Most outdoor courts use the same type of tennis net that can be found at most sporting goods stores.
Once you have these items, you're ready to start playing pickleball! Have fun and enjoy the game!
What Are The Rules of Pickleball?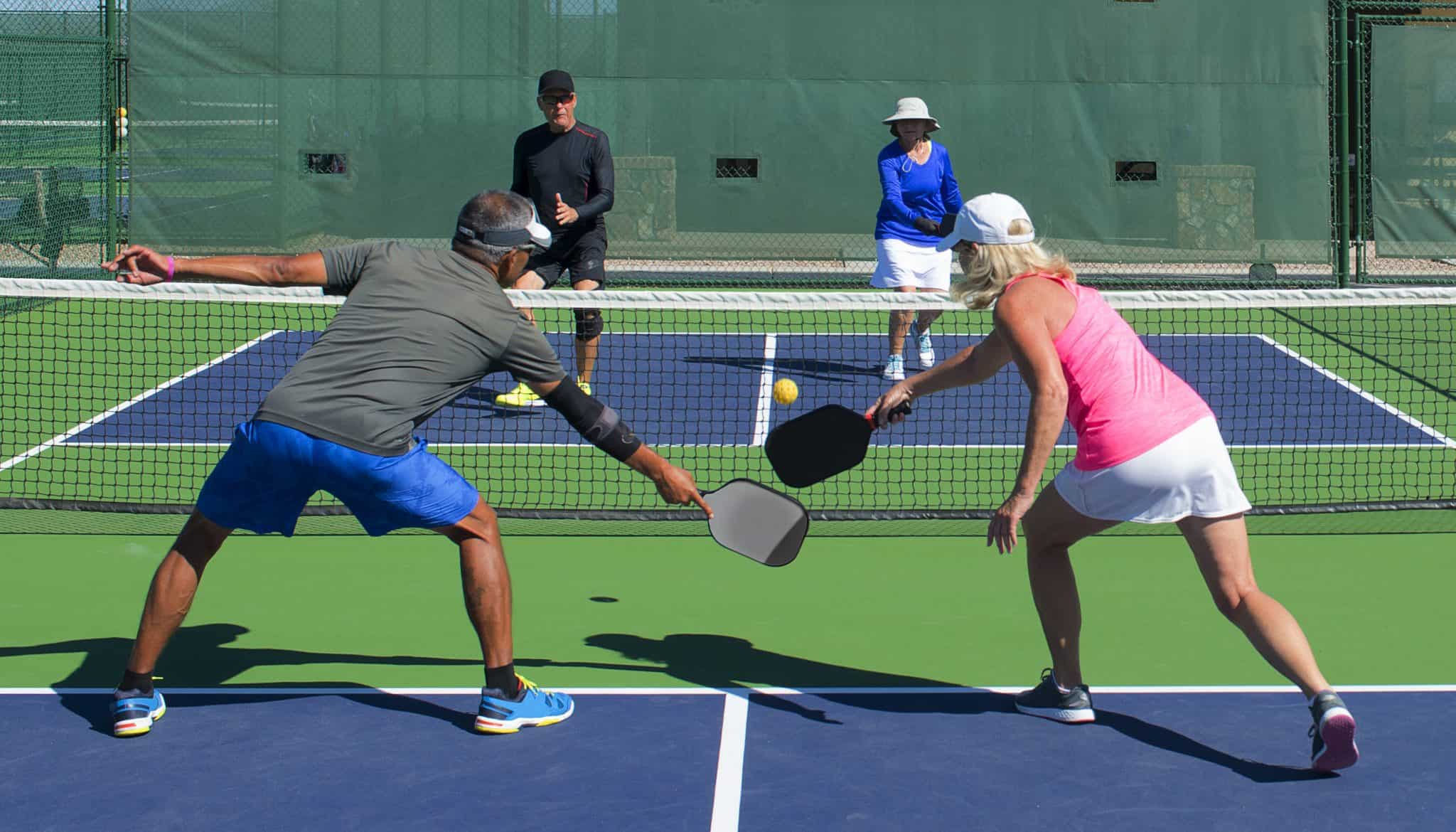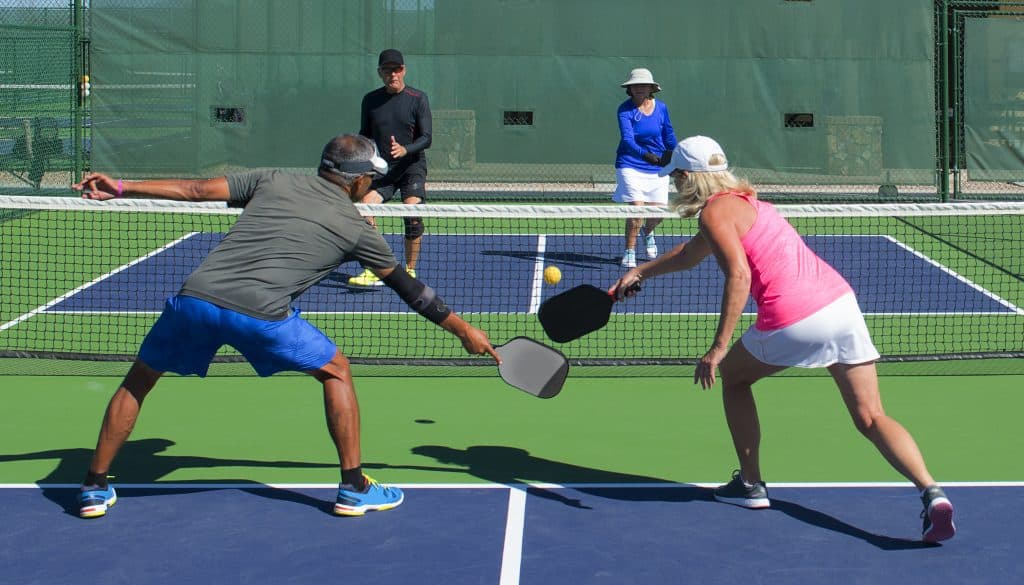 Pickleball is a popular game that is growing in popularity due to its simplicity and accessibility. The rules of the game are simple – it's a combination of badminton, tennis, and table tennis.
To begin playing pickleball, two players or four players (in doubles) stand on opposite sides of a court that measures 20' x 44'. The game begins when the server hits the ball across the net to their opponent. Players then take turns hitting the ball back and forth over a 3' high net, trying to make it difficult for their opponents to hit it back.
The first team or player to score 11 points wins, provided that the margin is at least two points. The serve must alternate between teams, and each team can only score when they are serving.
The game ends when one team or player has reached 11, but if both teams reach a score of 10-10 then the game continues until one team or player reaches a two point lead.
The rules also include a few other technical details, such as the size of the court, the type and material of the paddle and ball to be used, and court boundaries. To learn more about pickleball rules, read our post on the beginners guide to pickleball.
What Is The Best Pickleball Paddle?
When it comes to choosing the best pickleball paddle, there is no one-size-fits-all solution. The right paddle for you will depend on your skill level, playing style, and preferences. The Pros Paddles use the best of the best and that might not be right for someone just getting started.
For beginners, a lightweight composite or graphite paddle is usually the best choice since they offer good control and maneuverability. For more experienced players, a heavier paddle with a larger head size can provide more power and spin.
No matter what type of paddle you choose, make sure it's comfortable to hold and provides good grip. There are many different brands out there offering different types of paddles – take your time looking around until you find the one that fits you best.
You can also ask someone at your local pickleball club or court for advice – they should be able to recommend a good paddle for your level and playing style. Good luck!
Conclusion
Whether you're a beginner just starting out or an experienced player looking for fresh competition, finding somewhere new to play pickled can be fun but also challenging at times. With resources like YMCAs, tennis centers & clubs, USA Pickles Places 2 Play App/Website, Facebook Groups, and even direct contact with USAPA Ambassadors – there are plenty of options when looking for somewhere close by that offers pickleball! So what are you waiting for? Get out there and start playing today!