Caught the pickleball fever, have you? Can't get enough of the exhilarating game that's sweeping the nation? Fear not! Finding out where to play pickleball in your area is easier than you might imagine – if you know where to look.
Pickleball is not just the fastest-growing sport in the country; it's a whirlwind of fun, a perfect blend of speed and simplicity that anyone can enjoy. And let's not forget the social aspect that adds a vibrant layer of enjoyment to the game! With its irresistible allure, pickleball is gaining players nationwide at an unprecedented rate. It's no exaggeration to say that pickleball is becoming a cultural phenomenon!
The good news? There are fantastic resources available to guide you on where to play pickleball and take you straight to nearby pickleball courts!
In this blog post, we list the best resources so you can find out where to play pickleball.
So, get ready to dive deeper into the world of pickleball!
Let's get started.
Where To Play Pickleball?
USA Pickleball Places 2 Play Website/App:

The USA Pickleball Places 2 Play website and app are invaluable resources for any pickleball enthusiast. Effortlessly locate local courts with their user-friendly interface, and access a vast database of places to play, thanks to the contributions of 1,900+ ambassadors and over 40,000 members. The mobile app not only helps you find courts but also connects you with players, events, and clubs. It's your comprehensive tool for immersing yourself in the pickleball community, whether you're a seasoned player or a newbie!
Playtime Scheduler


The Playtime Scheduler for pickleball is a game-changer. This free tool lets you effortlessly organize games and join sessions suited to your skill level. The platform also serves as a vibrant community hub where you can connect with other pickleball enthusiasts. So, whether you're scheduling a friendly match or looking to join the competitive scene, Playtime Scheduler has got you covered. Start today and join the growing pickleball community!
YMCA or Community Center
Your local community center or YMCA are often great places to start when searching for a place to play pickleball. These locations tend to be relatively affordable and offer plenty of courts, equipment, and gaming opportunities for those who just want a place to play with friends. Some centers even have tournaments and leagues if you're looking for more competitive play! Remember we can play pickleball indoors!
Tennis Centers & Clubs
Another great resource for finding pickleball courts near you are tennis centers and clubs. The United States Tennis Association (USTA) has a tool online to find tennis centers near you. The majority of tennis clubs now include pickleball as one of their offerings and often have dedicated pickleball courts or they set them up on their tennis courts. Most have some kind of pickleball program these days and often have regular game times open to the public. If your local tennis center doesn't have this information listed on their website, give them a call and ask about it.
Facebook Groups
Get connected with fellow local players by joining any local Facebook groups dedicated to playing pickleball in your area! Not only can these groups provide valuable information on where to find local pickleball courts near you, but also provide an opportunity to meet new people who share your passion for the sport! These groups usually have a variety of members who can provide insight on the local court, pickleball equipment, play times, and what places have open play. They also often post updates about upcoming tournaments in the area so you never miss out on any big events!
Local Parks and Recreation Center
Many local parks and recreation centers are now starting to offer outdoor pickleball courts. Many communities in the United States have added pickleball to their list of available activities for residents. Look on their website or give them a call to get court information. You may also be able to attend one of their clinics or classes if you're a beginner.
Pickleball clubs
Pickleball clubs are another great resource for finding local pickleball courts near you. Again, The USAPA has a pickleball club locater on their site. Pickleball clubs are a great way to meet other players and learn more about the sport in general. Clubs are typically organized by cities and states, so it should be easy to find one near you.
Private Residential Courts
And don't forget about private residential courts! If you have pickleball-loving friends or family who have their own pickleball court, consider yourself lucky. We have a tennis court in our neighborhood that we get to use and play with our friends! We just set up our own lines and play! There's nothing like having the luxury of playing pickleball at home.
USA Pickleball Ambassadors
Lastly, if all else fails, reach out directly to one of USAPA Pickleball ambassadors! USA Pickleball offers ambassadors who volunteer in different regions around the country. These volunteers are incredibly knowledgeable about the sport as well as their local communities – making them great resources if you're looking to find pickleball courts near you! They are more than happy to help connect players with each other and find courts in their area. All it takes is filling out a simple form on their website.
What Do I Need To Play Pickleball?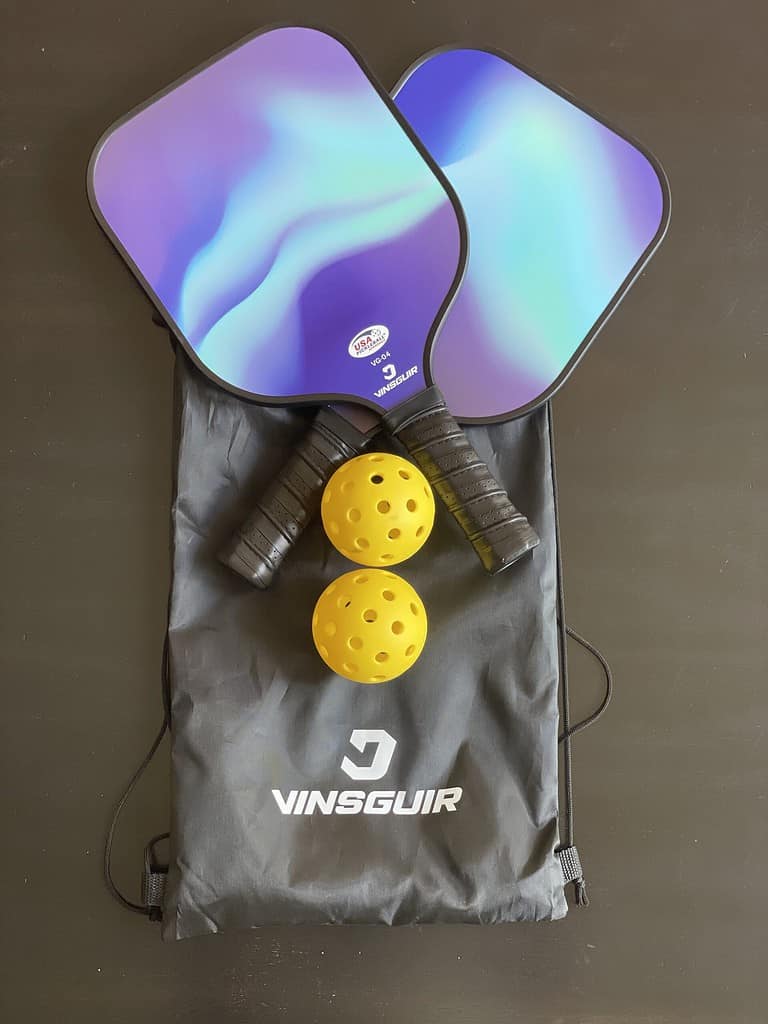 Playing pickleball is a fun and accessible sport that doesn't require much equipment. Here's what you'll need to get started:
Paddle: Unlike tennis rackets, pickleball paddles are solid with no strings. They're typically made of lightweight composite materials like graphite or aluminum. If you are new and just starting out, consider picking up a complete set.

Ball: Pickleball balls are unique, resembling a wiffle ball with numerous holes. They are designed to move more slowly and less predictably in the air.

Court: A pickleball court is smaller than a tennis court, measuring 20 feet wide and 44 feet long. It can be indoor or outdoor. Many public parks, schools, and community centers have pickleball courts available for use.

Net: The net in pickleball is slightly lower than in tennis, standing at 34 inches in the center. Some locations provide nets, but you may need to bring your own portable net for others.

Footwear & Apparel: Comfortable pickleball shoes and clothing are recommended. There's no specific dress code, but standard athletic apparel like t-shirts, shorts, and athletic shoes work well.

Remember, while this list covers the basics, there are additional items like boundary lines, portable nets, and specialized shoes that can enhance your experience as you delve deeper into the game. Happy playing!
Conclusion
Whether you're a beginner just starting out or an experienced player looking for fresh competition for your next game, finding somewhere new to play pickled can be fun but also challenging at times. With resources like YMCAs, tennis centers & clubs, USA Pickleball Places 2 Play App/Website, Facebook Groups, and even direct contact with USAPA Ambassadors – there are plenty of options for pickleball players looking for somewhere close by to play in your city! So what are you waiting for? Get out there and start playing today!