Are you amongst the growing number of over 30 million pickleball players joining this amazing sport?
Did you load up on all sorts of new pickleball gear and now on the hunt for that perfect pickleball bag?
Your search ends here!
Our addiction to pickleball has led us to down the path of endless product reviews and research. And now we've taken it upon ourselves to go deep into the world of pickleball bags, sifting through countless options so you don't have to.
From paddle bags to duffle bags, backpacks, and even sling bags – we've left no stone unturned in our quest to bring you the best pickleball bags.
We've ranked and reviewed each category, giving you an easy-to-navigate guide to help you make your decision.
So, stay tuned as we reveal our top three pickleball bags in each category. This list is designed to help you choose the bag that aligns perfectly with your needs, style, and budget.
Let's get started.
We are reader supported and as such may receive a small commission at no expense to you if you purchase thru our links and we thank you for that! More info here
What Are The Best Pickleball Bags?
Best Pickleball Paddle Bags
Pickleball paddle bags, as the name suggests, are bags specially designed to carry and protect pickleball paddles. They typically feature padded compartments to prevent the paddles from damage during transportation. Most of these bags also have additional pockets for carrying balls and personal items. Compact and lightweight, pickleball paddle bags are an excellent choice for players who prefer to carry only the essentials. They are available in various styles and colors, allowing players to choose one that best fits their needs and personal preference. Essential for both casual players and professionals, these bags make it convenient to bring your game anywhere.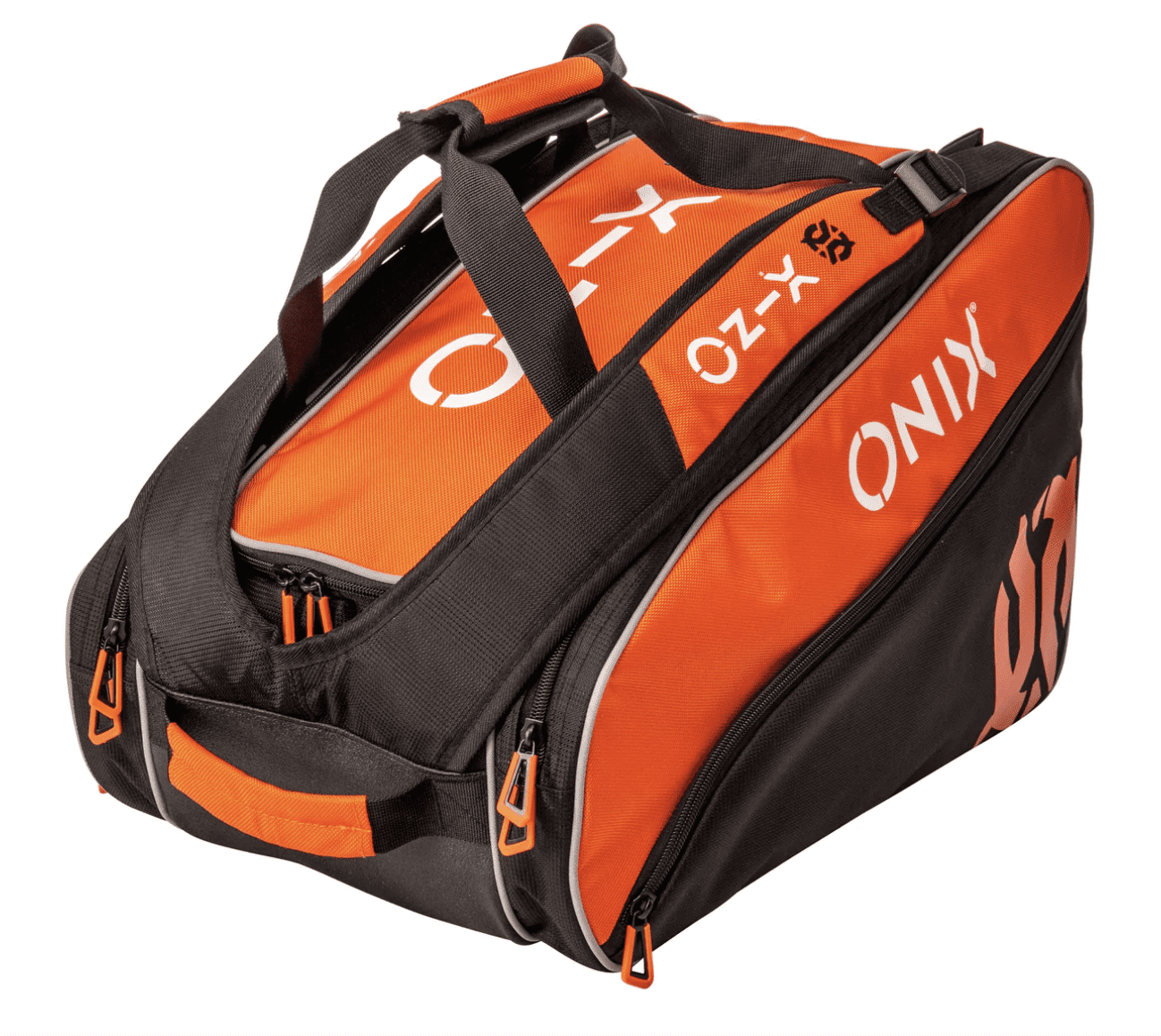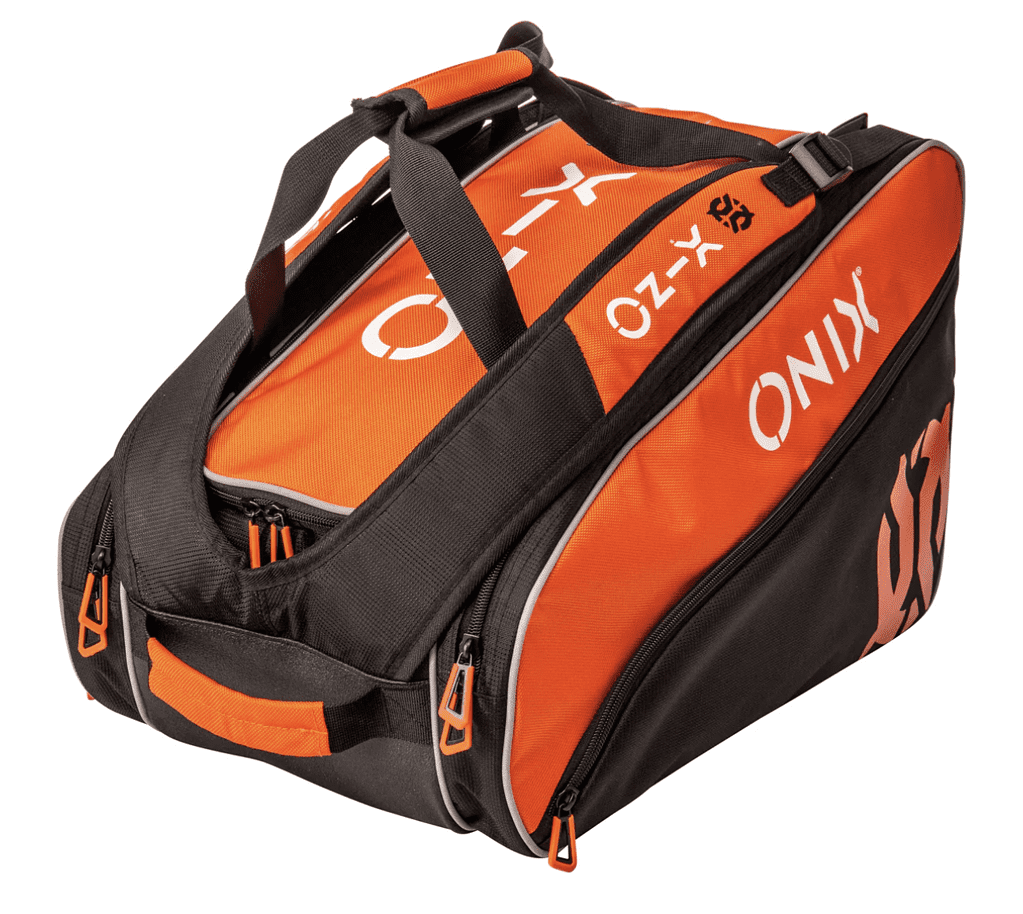 1st: Onix Pro Team Paddle Bag
Price $120
Dimensions: 22 x 13 x 13
4 zippered storage areas including a shoe/wet storage compartment
Hook and Loop closure along with a padded shoulder strap for carrying
Very durable
2 color options
The Onix Pro Team bag has LOTS of room and space to fit multiple pickleball paddles and pickleball gear. It has a separate shoe/wet storage compartment to keep wet/sweaty belongings apart from your clean items. We also like that it has the backpack feature as well as the hook and loop for ease of carrying. The bag has several additional side pockets for smaller items. Nice adjustable shoulder strap.
The smaller compartments are a bit too small to really carry anything substantial in them. Seems like the spacing on them wasn't totally thought thru. Just a bit of an oversight in my opinion, but I'm not knocking it too much as I think it looks great and really holds all of my gear perfectly.
2nd place best paddle bag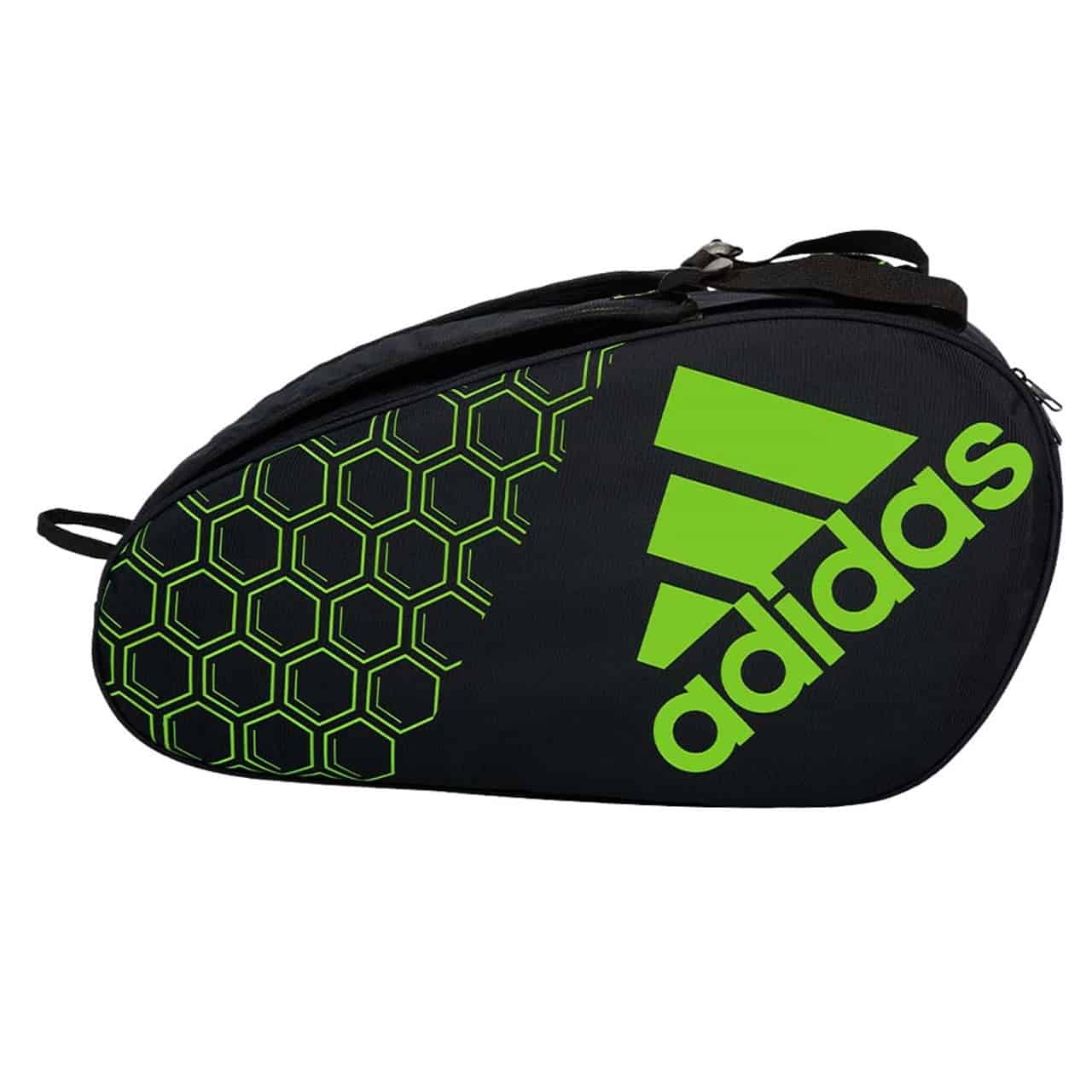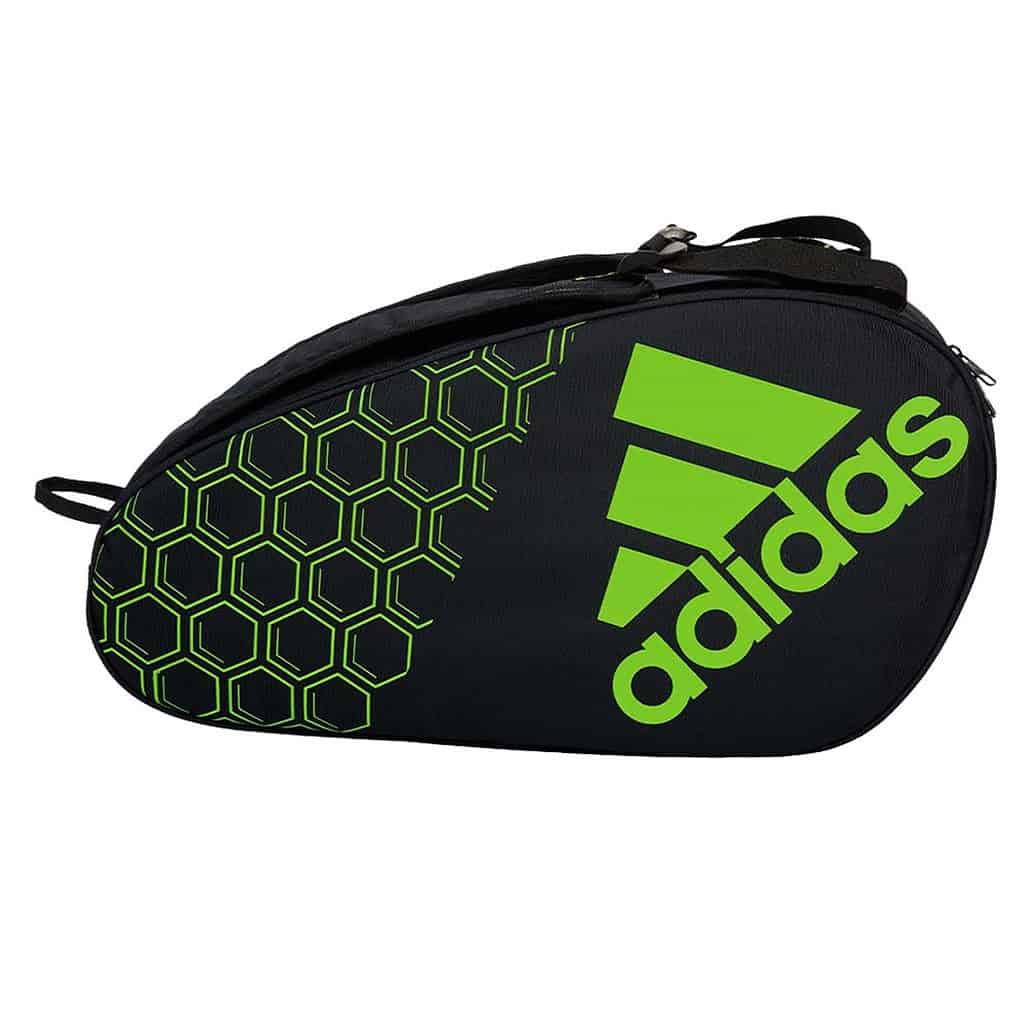 2nd: Adidas Control Bag
Price $60
Dimensions: 22.4 x 12.6 x 15.7 in
Can hold 9+ pickleball paddles
3 color options
Can be embroidered
High quality & water resistant
Main compartment along with a side compartment
Backpack straps for carrying
I like that this bag organized. The paddle compartment is separated and on the side from the spacious main compartment, so you can fit most of your extra personal items & equipment. The backpack feature is a nice option on pickleball bags so you can carry it on your back and still have your hands free for anything else you may be doing on the way to the court. I also like that it can be embroidered so you can make it your own.
Shoes or wet/sweaty clothes have to be stored in the central compartment; no designated shoe compartment area for these items.
3rd place best paddle bag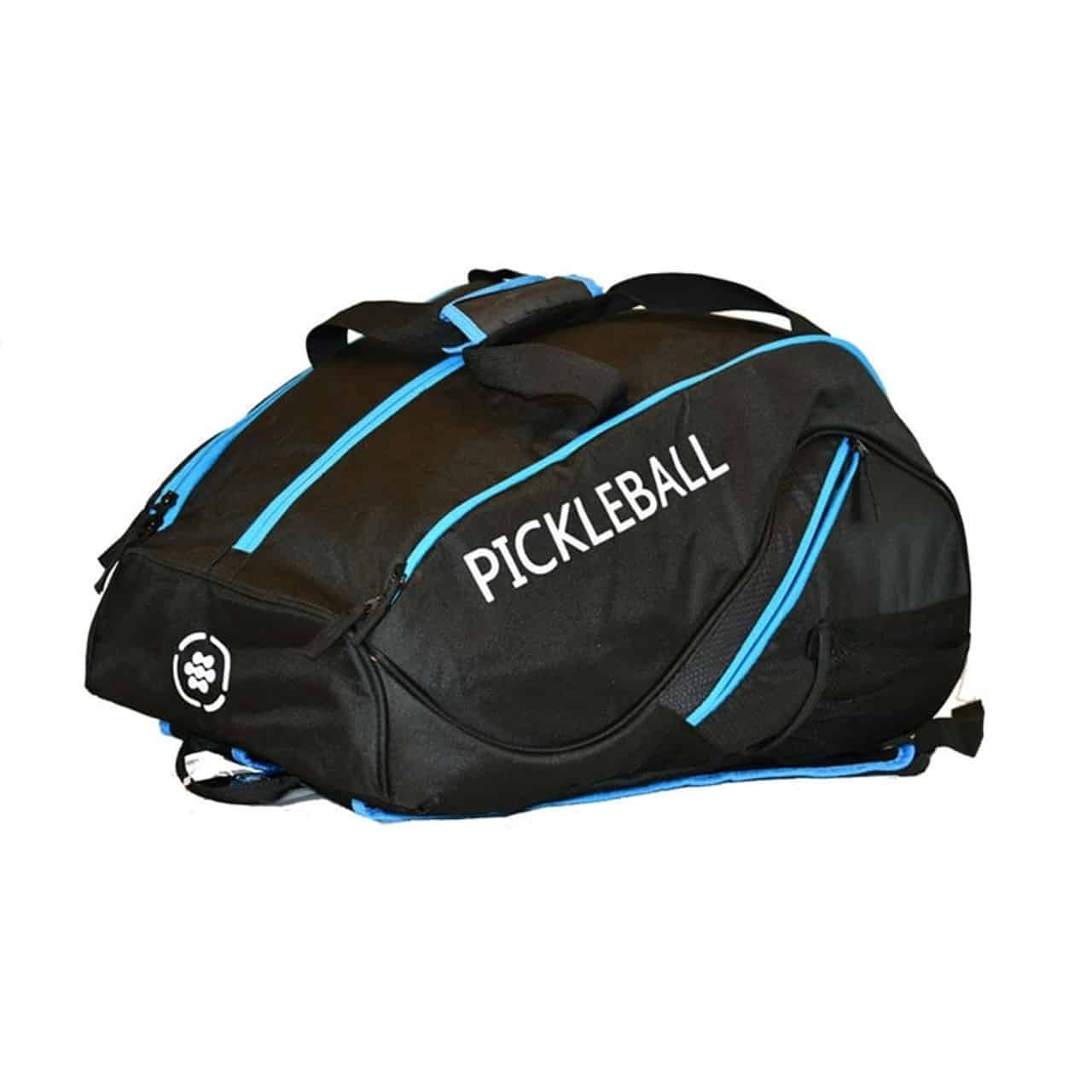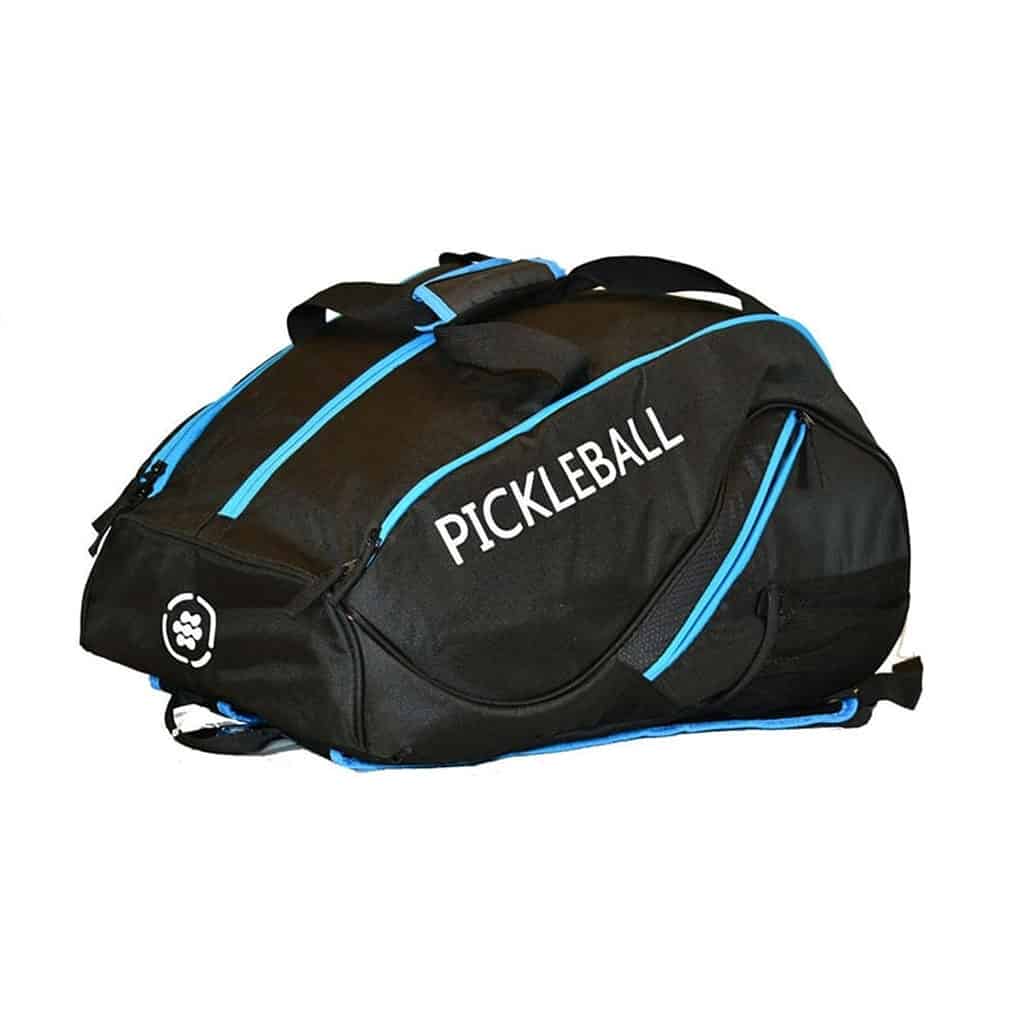 3rd: Armour Pickleball Pro Bag
Price $89.99
Dimensions: 24 x 12x 13
Used as a duffle or worn as a backpack
Paddle compartment with a large elastic pouch, small zippered pocket for keys, 2 exterior mesh pockets, and 2 exterior pouches.
2 color options
Very versatile
Lots of compartments in and outside of the bag. Two mesh exterior compartments for water bottles or towels, etc. Like the other two bags, this also gives you the backpack option for ease and comfort carrying your entire pickleball set. Seems to be a lot of space and can fit multiple paddles and pickleball balls!
No separate designated shoe compartment area for shoes or wet clothes/towel. The material of the bag seems a bit thinner, not cheap, but just thin.
Best Pickleball Backpacks
Pickleball backpacks are a popular choice for enthusiasts seeking a practical and comfortable way to transport their gear. These bags are designed with numerous compartments to keep equipment organized and easy to find. They generally have a dedicated section for paddles and balls, along with additional pockets for personal items and water bottles. Constructed with padded straps and back panels, pickleball backpacks distribute weight evenly across the shoulders, making them comfortable for long durations. They are available in various designs and color options, appealing to the tastes of both male and female players, and making them a stylish and functional option for any pickleball devotee.
Top Pick best pickleball backpack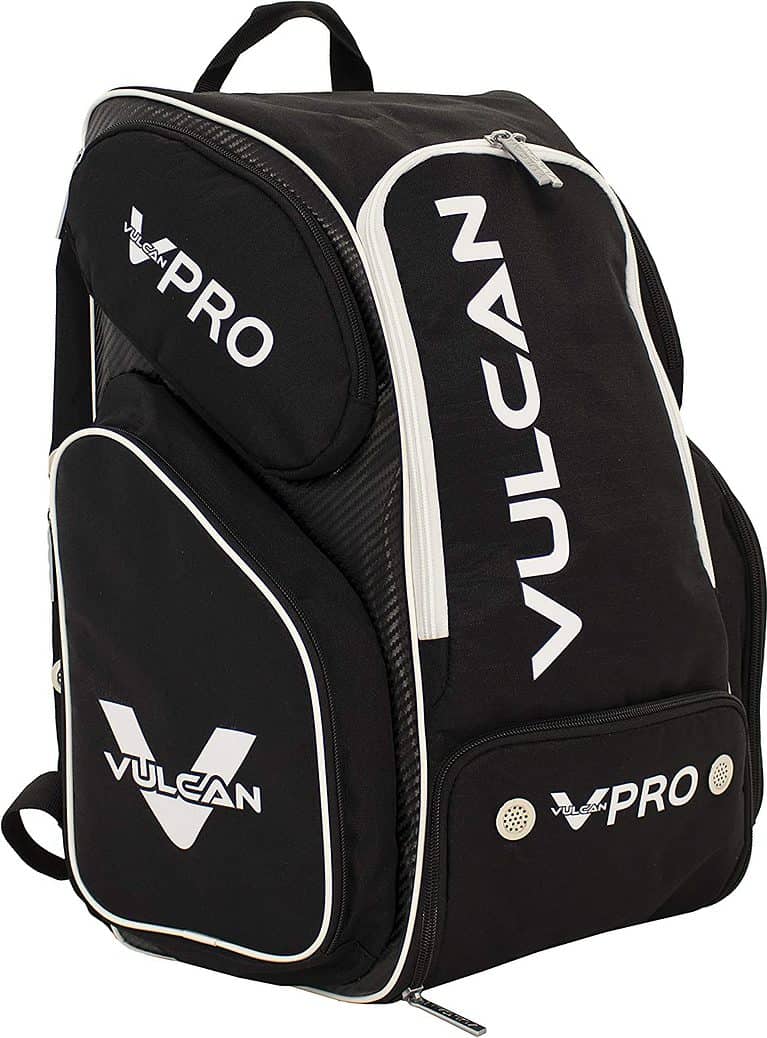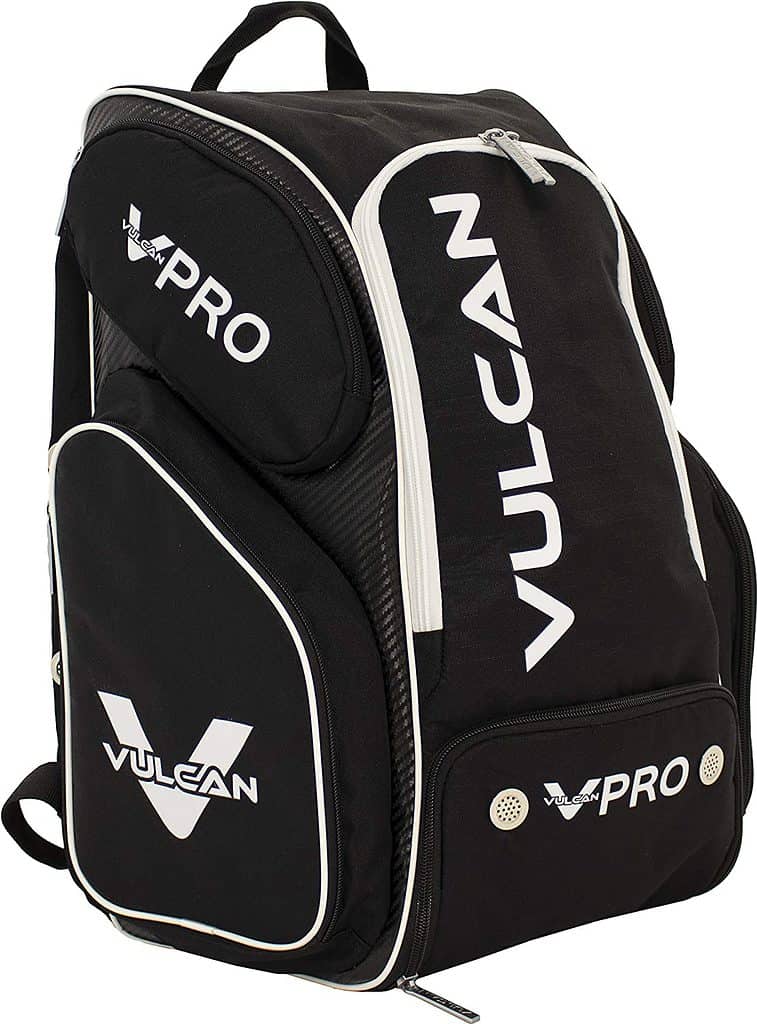 1st: Vulcan VPRO Pickleball Backpack
Price $130
8 color options
Dimensions 10 x 14 x 19
Padded compartment for 2 pickleball paddles
Water-resistant and durable rip-stop material
Large main compartment can carry pickleball paddles with ease
Separated & ventilated pocket for shoes
4 accessory pockets
You can personalize it
This one is my favorite of all pickleball backpacks. To me, it's a perfect pickleball bag. It's stylish, it is super organized, you have 8 color options, and can get it personalized! This pickleball backpack really has it all to feel ready and prepared for your next game and roomy enough to have a change of clothes to meet up after your match!
My only complaint with this pickleball backpack is it's a bit higher in price point than most bags in its category, but I do actually think it's worth it!
2nd place Best pickleball backpack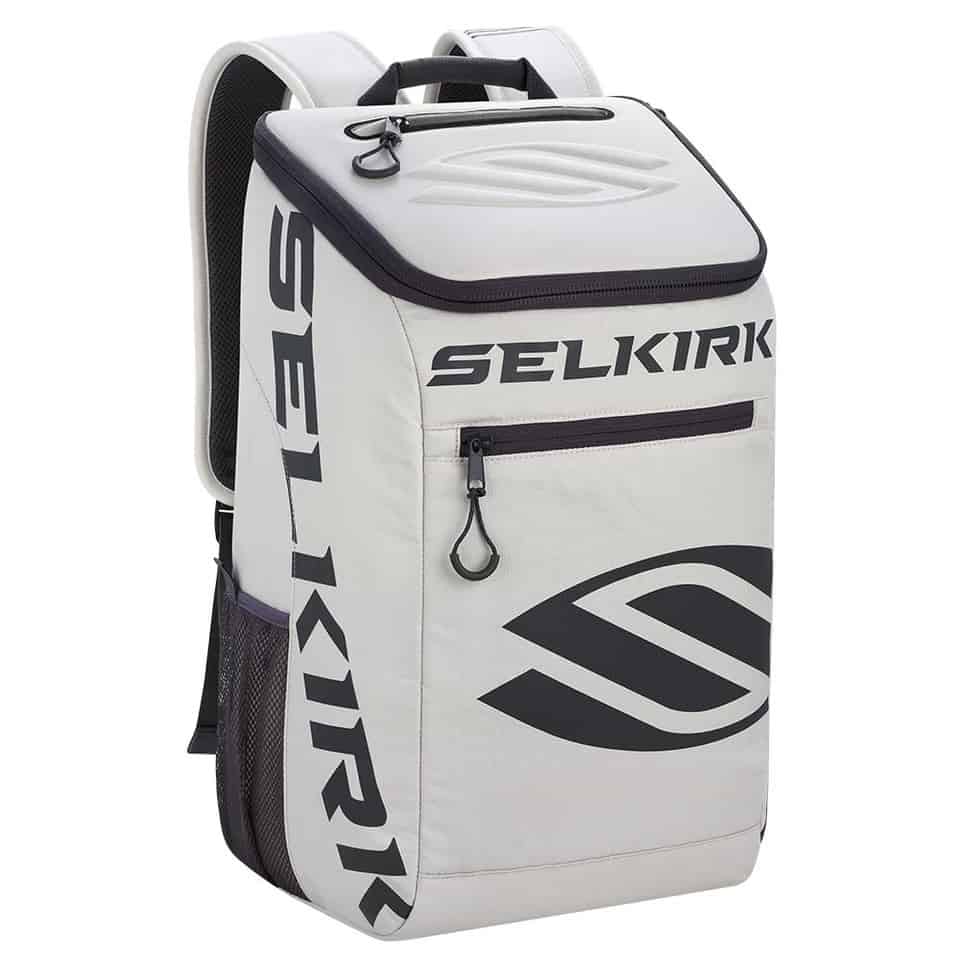 2nd: Selkirk Team Backpack
Price $100
5 color options
Perfect medium size pickleball backpack
Dimensions: 11 x 11 x 20.5
Large main compartment
Internal Laptop sleeve (15" laptop)
3 internal pockets with zippers for smaller items
Padded front pocket
Larger, upgraded mesh water bottle holder
Upgraded padded shoulder Straps & zipper pulls
New Hard EVA top with a cellphone pocket
Selkirk Team Backpack Pros
This version comes with many improvements on past complaints. As stated above, the zippers have undergone an upgrade, they upgraded the mesh to hold your water bottle, they added a cell phone pocket, and more. I like that this isn't a gigantic pickleball backpack, but the more compact version of the "Tour" bag Selkirk offers. Some of these pickleball backpacks these days are getting huge! Use it at the courts and bring it with you to the office, this pickleball backpack is pretty stylish and includes a laptop sleeve to boot.
Selkirk Team Backpack Cons
No designated shoe compartment for wet shoes and clothes.
3rd place best pickleball backpack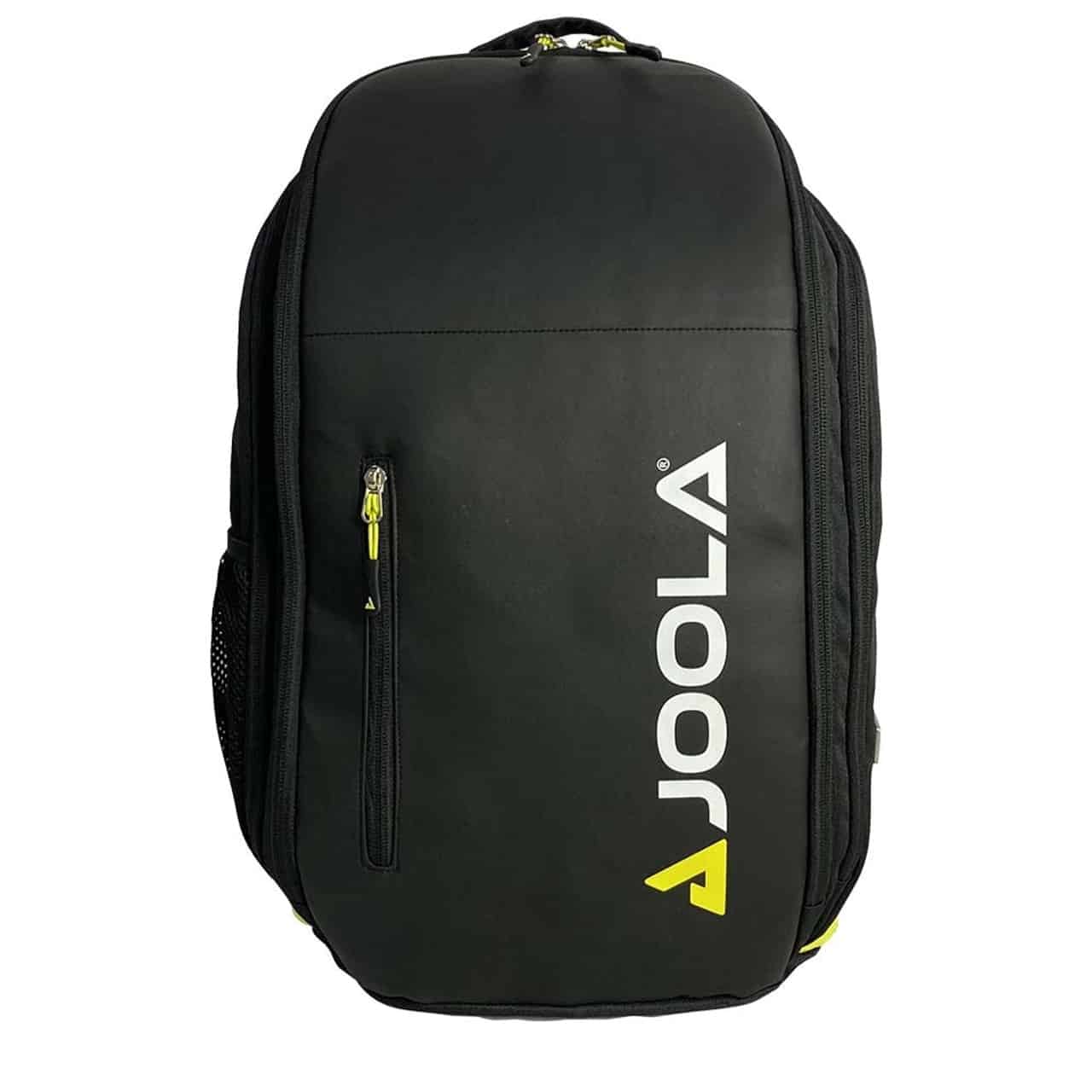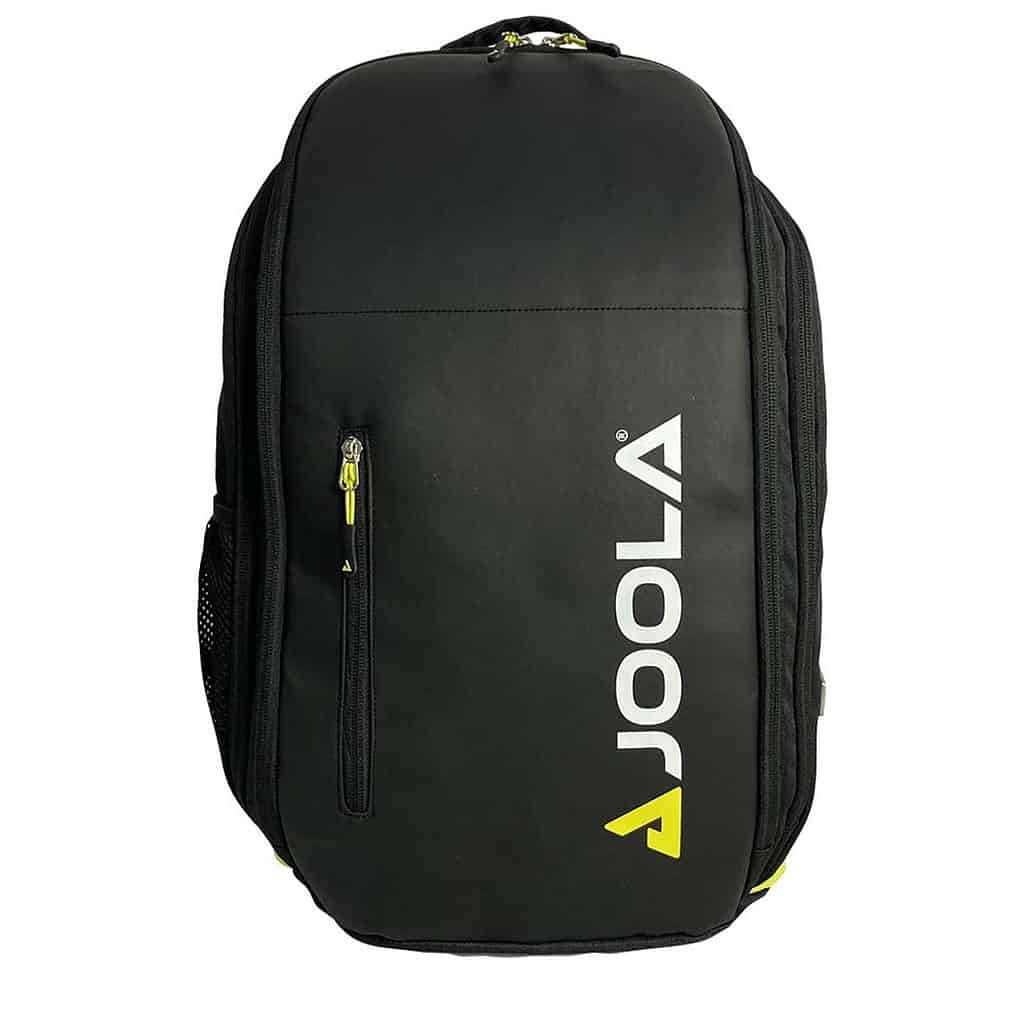 3rd: Joola Vision II Backpack
Price $59.95
Dimensions: 20 x 12 x 8
2 color options
Built-in Laptop pocket
Exterior zip pocket for smaller items
Made out of polyester it is durable and soft
Great pickleball backpack for everyday use and made for everyone
First of all, it's a really nice-looking pickleball backpack. Secondly, it has multiple compartments to store anywhere from shoes to your car keys – very organized. The bag is sturdy and made with durable materials. We also like that the padded shoulder straps. Good size, not huge, can fit your basic needs.
Only two color combinations.
Best Pickleball Duffle Bags
Pickleball duffle bags are another versatile option for carrying equipment. Larger than sling bags, they offer substantial storage space, making them suitable for players who need to carry multiple rackets, balls, and even change of clothes. Their boxy structure and wide opening on top allow easy access to gear, while the sturdy handles and optional shoulder straps make them comfortable to carry. Often equipped with multiple compartments and pockets, pickleball duffle bags ensure organized storage for both pickleball equipment and personal items. They are available in a variety of styles and colors, catering to both male and female players.
top Pick best pickleball duffle bag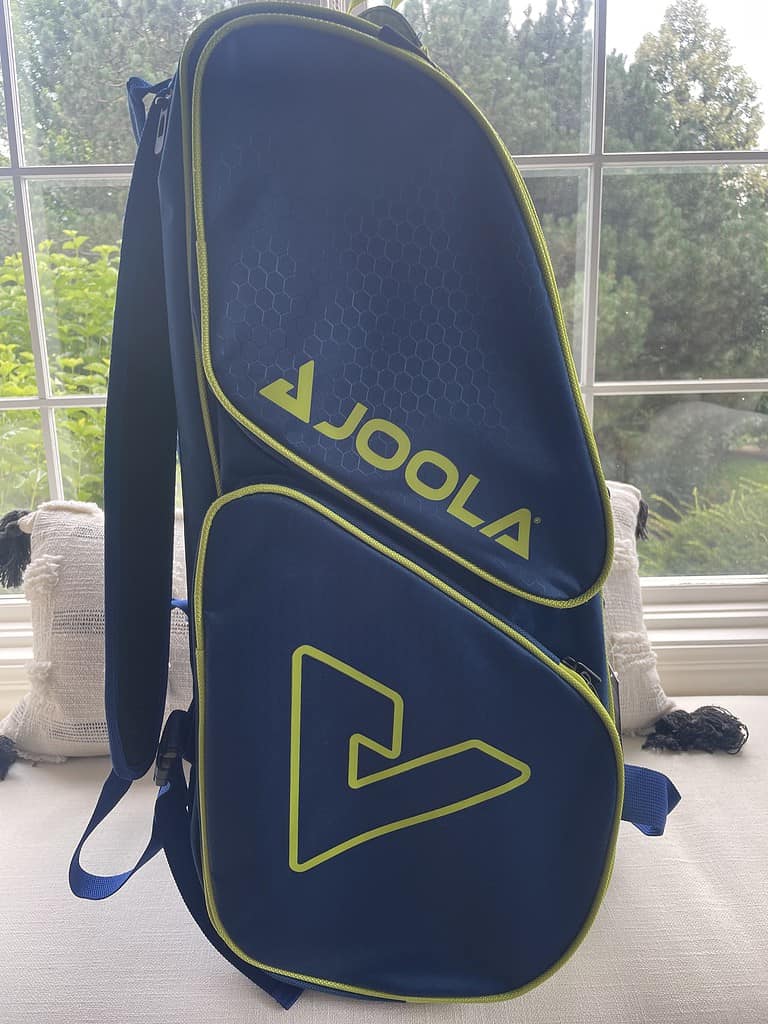 1st: Joola Tour Elite Pro Pickleball Duffle Bag
Price $139.95
Dimensions: 16 x 24 x 11
4 color options
Fence Hook
All the pros are using this bag
Large in size, it will hold all your pickleball gear for all-day use
A dozen different storage compartments for all your storage needs and water bottles
Heavy duty strap and hook to hang on a fence.
You can tuck the adjustable shoulder straps in a hideaway pocket and wear as a pickleball backpack if you choose
Thermal lined paddle compartment to protect your paddles from extreme heat
As the official sponsor of the World's number one pickleball player, Ben Johns, and the PPA tour, it's no surprise that this pickleball bag is innovative and takes the leading position for pickleball duffle bags. This could easily qualify as a pickleball backpack too. This pickleball bag has it all and then some, with a thermal-lined paddle compartment, your paddles are protected all day from extreme heat. This bag was also designed by pickleball players, so they have strategically placed the compartments and their capacity in the forefront of the design and you can tell. Great bag for everyday use and specifically for those out competing all day long!
I don't have anything bad to say about this duffle bag, but the price is a bit high. However, it's worth the investment!
2nd place best pickleball duffle bag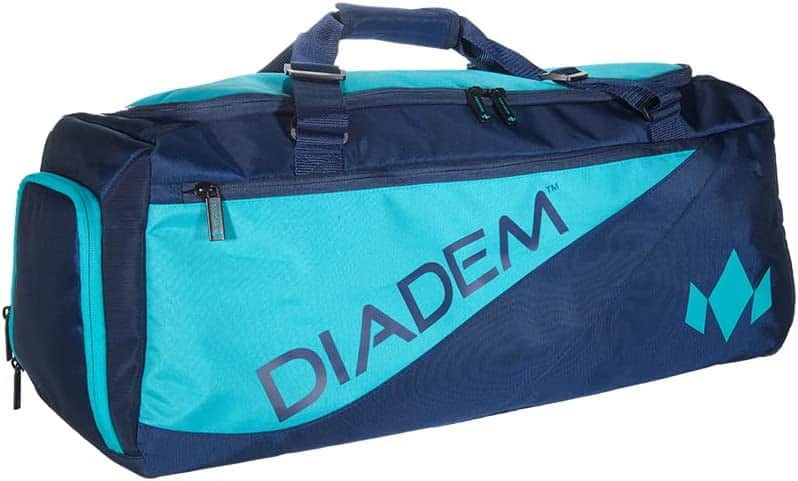 2nd: Diadem Tour Nova Duffel Bag
Price $79.95
Dimensions: 26 x 11 x 11
1 main compartment with a U-shaped zipper for ease of access
Separate shoe compartment
Small side compartment
Adjustable handles
High-quality material with a reinforced bottom
1 color option
This pickleball bag is a big bag with good storage space for all of your needs. Even enough room for your heated vest on those chilly mornings! Multiple pockets all around. I like the U-Shaped zipper for easy access to all your belongings. Good standard duffle bag.
For as large as the bag is, I feel like they could spend more time on organizational compartments within the bag and I wish they had more color options.
3rd place best pickleball duffle bag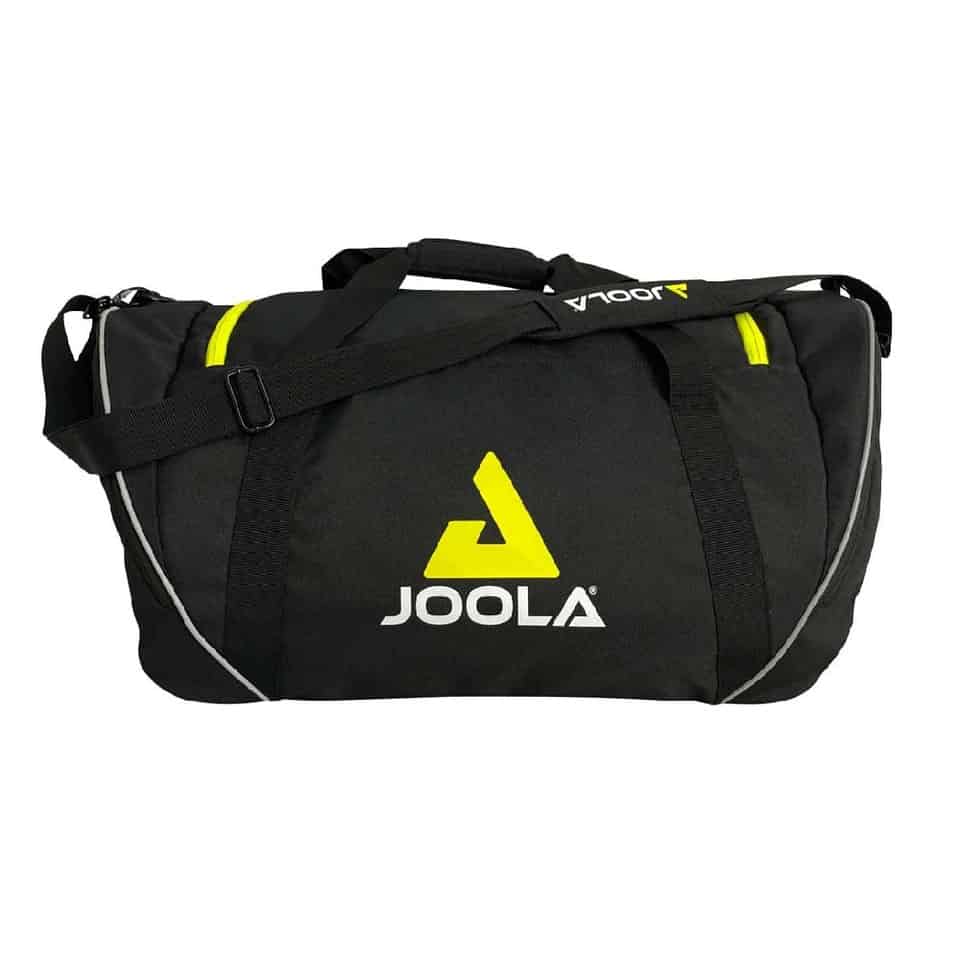 3rd: Joola Vision II Duffle Bag
Price $64.95
2 color options
Dimensions: 20 x 12 x 11.5
Separate ventilated shoe compartment
Multiple compartments to separate your equipment
Front zippered pocket
Grab handles and Shoulder strap
Joola just does it right with their pickleball paddles and pickleball bags. With the player in mind, this pickleball bag has all the organizational compartments for your needs. What I really like, and I say it every time, is the separated shoe compartment/wet storage compartment.
Best Pickleball Sling Bags
Pickleball sling bags are designed to carry pickleball equipment conveniently. They have a unique, ergonomic shape, often resembling a teardrop, that comfortably fits your rackets, balls, and other essentials. With their compact design and crossbody strap, they are easy to carry, providing quick access to your gear and enabling mobility on and off the court.
top pick best pickleball sling bag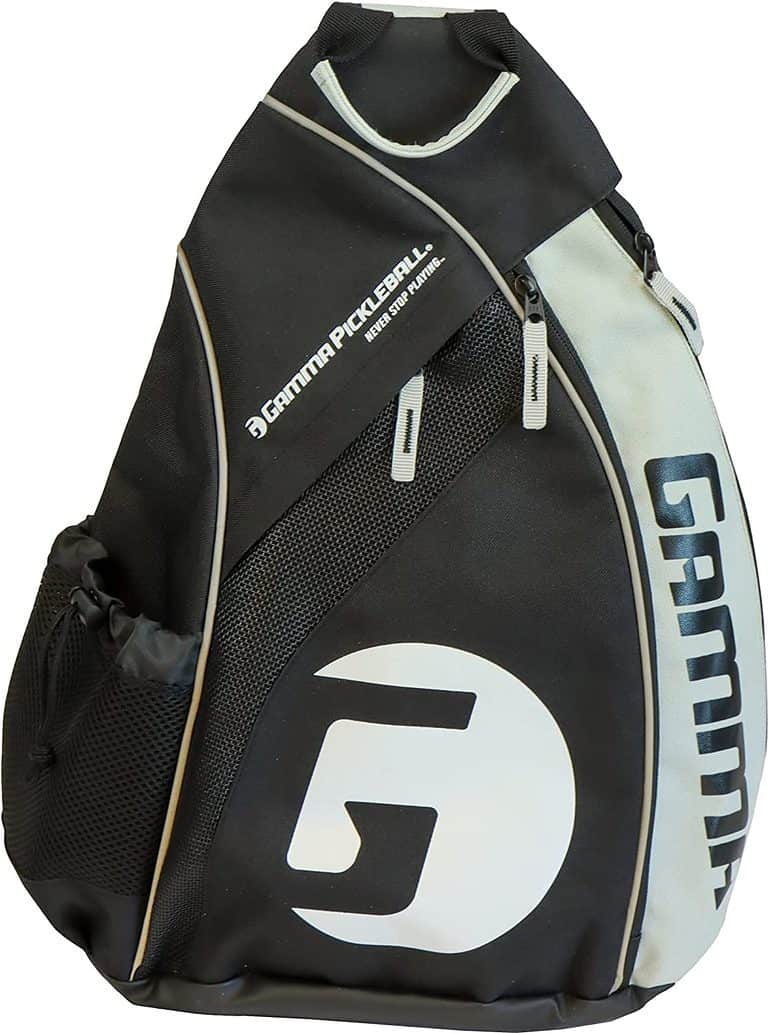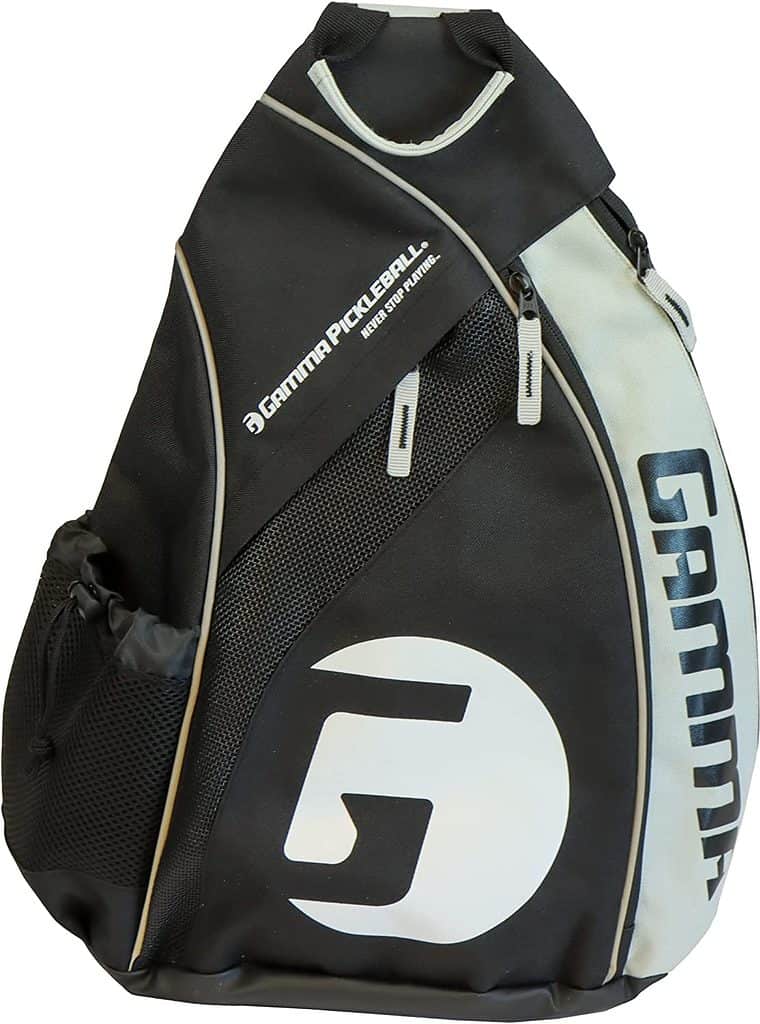 1st: Gamma Pickleball Sling Bag
Price $35
Main compartment stores 2 paddles & up to 6 pickleballs
Mesh outer pocket water bottle holder
Small inner sleeve for phone/keys
One color option
Padded back panel
This crossbody, sling bag is stylish. I like that it's not bulky and a very good bag for the everyday pickleball player. It has a good amount of storage for all your on-the-go belongings and a zippered compartment in the back for your valuables. Easily get to the pickleball courts with what you need.
One color option and again, no separate compartments for shoes.
2nd place best pickleball sling bag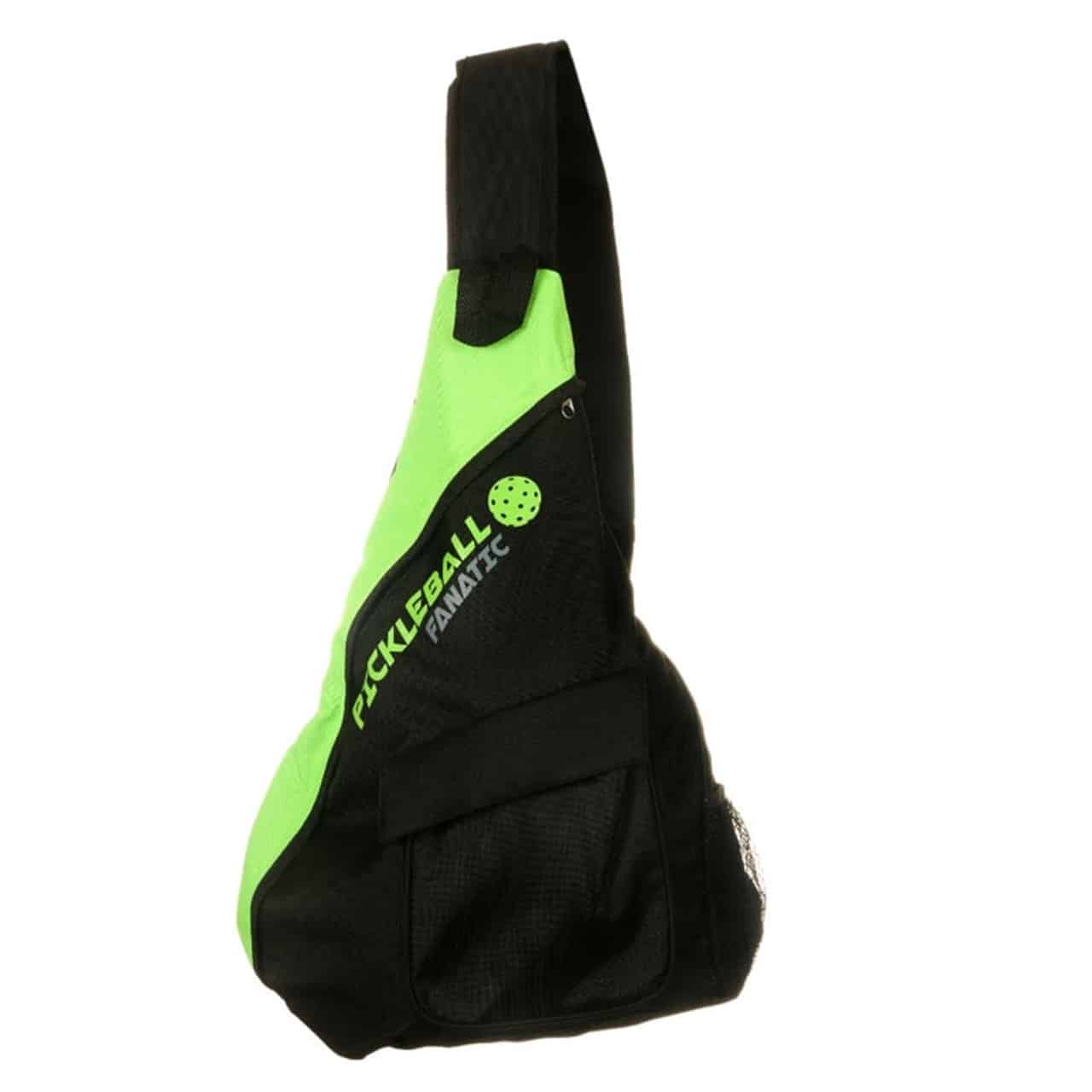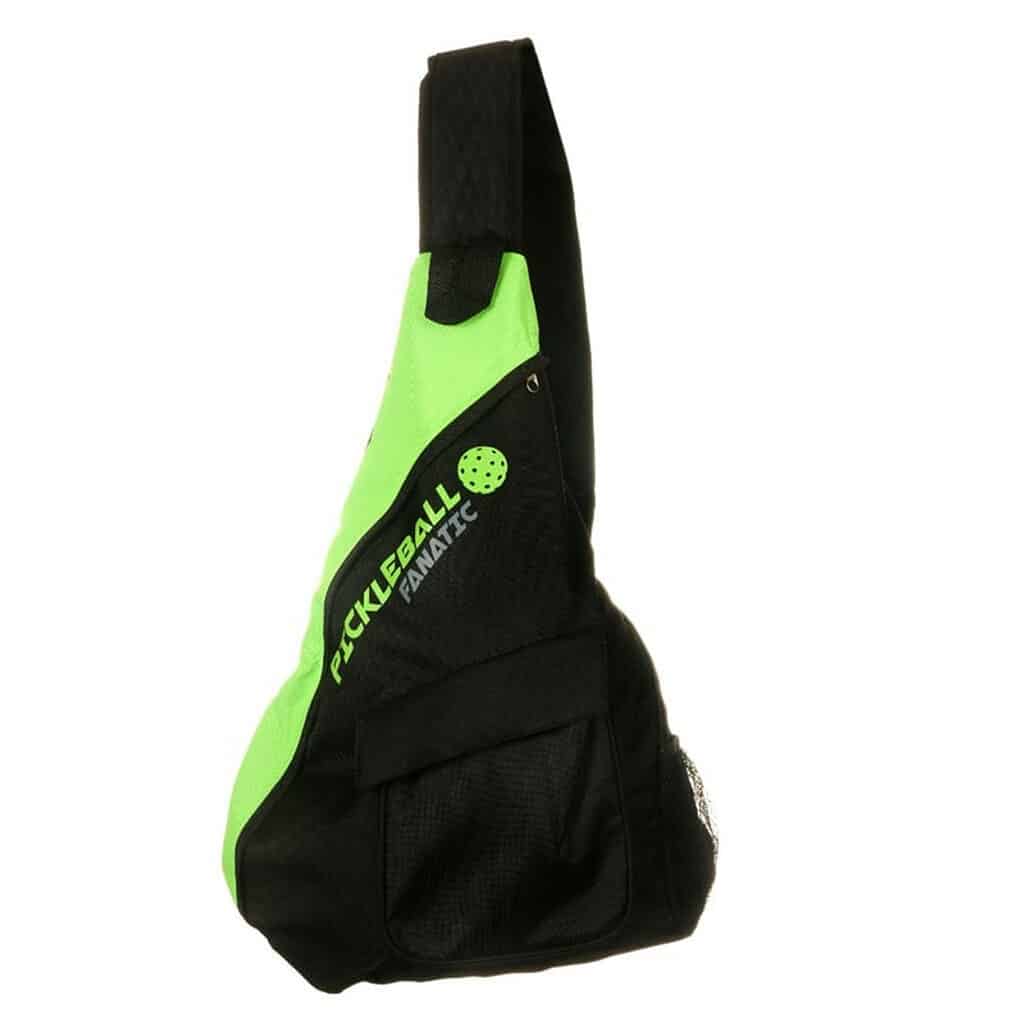 2nd: Pickleball Central Fanatic Sling Bag
Price $25
3 color options
Dimensions: 18 x 13 x 3
Can hold up to 4 pickleball paddles + 3 pickleball balls
Exterior zipper pocket perfect for phone & keys
Comfortable and padded shoulder strap
6 month warranty against defects and workmanship
Adjustable shoulder strap
Pickleball Central Fanatic Pros
The sling bag is meant for all of your essentials, so it's a great choice for the on-the-go, everyday player. And you can't beat the price! You have 3 color options and can fit a decent amount of paddles and pickle balls.
Pickleball Central Fanatic Cons
The mesh pocket for your water bottle is not very large and customers have stated that it either won't fit or the water bottle tips. The zipper seems to frequently come detached and needs replacement. The company will replace it, however, it is an inconvenience to have to ship it back and wait for a new bag.
3rd place Best pickleball sling bag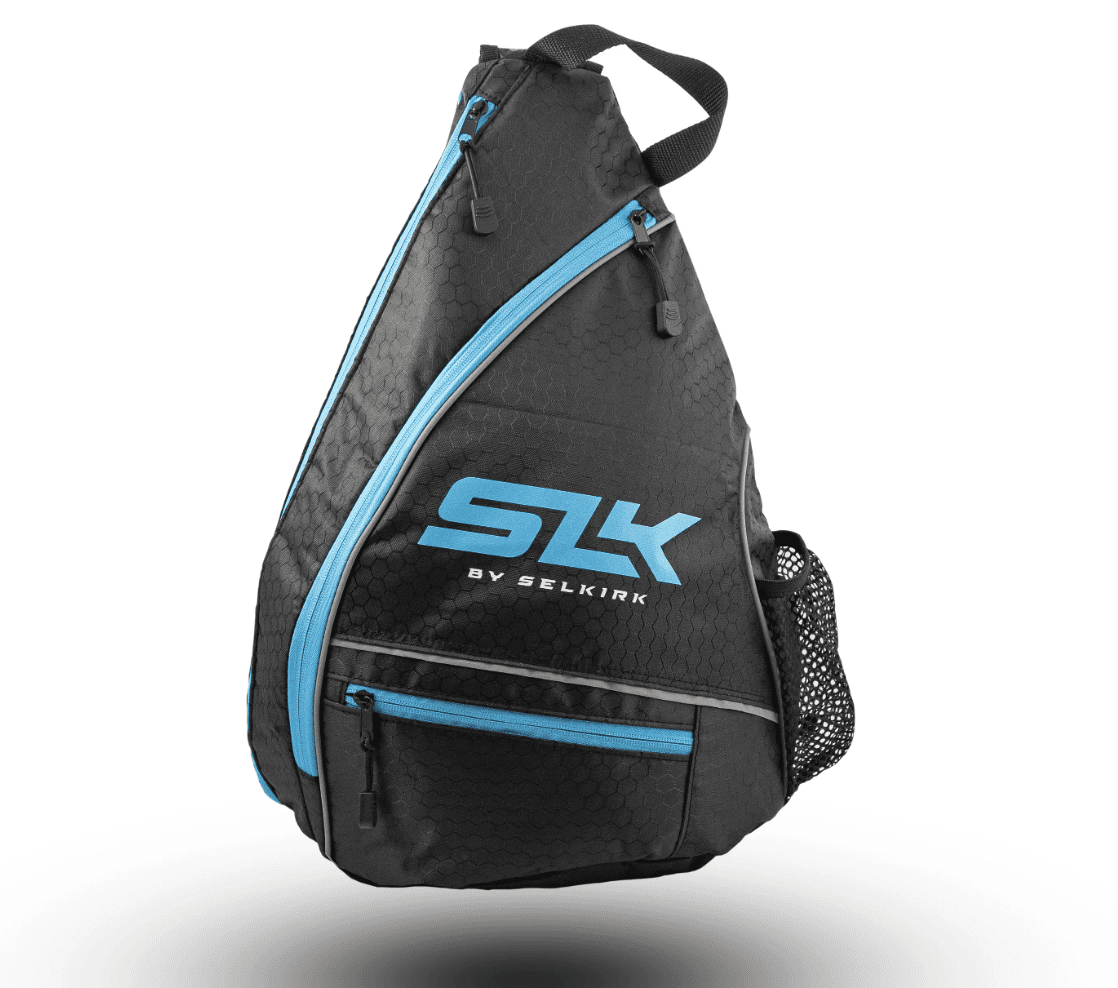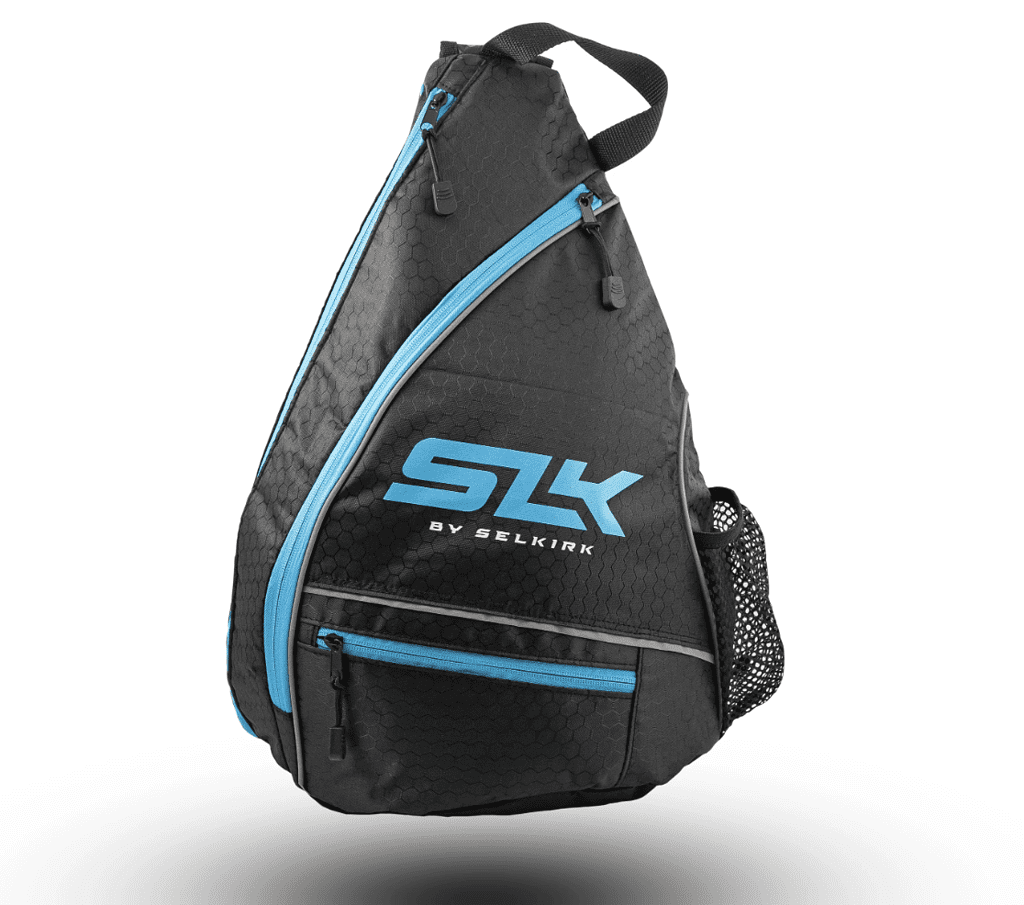 3rd: SLK Sling Bag By Selkirk
Price $35
2 color options
Dimensions: 19h x 14w x 6 depth
Can store up to 4 pickleball paddles
Buckle style strap to allow alternating shoulders for the sling
Hook for hanging on the fence
Padded cushion for comfort
3 zippered pouches and a mesh water bottle holder
Sling Bags are IN. This bag has it all for a small bag and everyday use. Lots of storage and a pouch for your water bottle. SLK by Selkirk designed this bag with the pickleball player in mind.
Since it's meant to be for everyday, on-the-go use, you won't find as many organizational compartments or separations for your shoes.
Best Pickleball Bags For Ladies
Pickleball bags for ladies blend functionality with style, providing a practical yet fashionable solution for carrying pickleball equipment. Specially designed for female players, these bags often feature vibrant colors and patterns, along with a more tailored fit for comfort. They maintain the same ergonomic shape as standard pickleball sling bags, with ample space for rackets, balls, and essentials. Additionally, they often incorporate designated compartments for personal items, making them an ideal accessory for every woman on the court.
top Pick best pickleball bag for ladies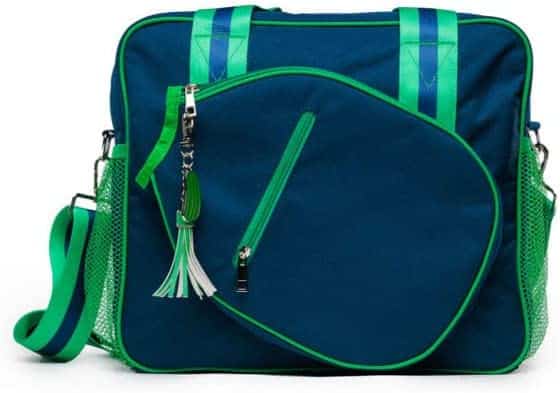 1st: Fresh Pickle Lola
Price: $99
Great Size and amount of pockets
Handles Soft to touch
Durable & well constructed
Super Stylish Bag and trendy
Built In Fence Hook
Details, details, details!
Optional Shoulder strap included
Love this bag! Attention to detail in every way. The look and colors are super cute and trendy. Great size and storage. The inside "pickle" liner is a great touch. The extra padding on the inside add to the sturdiness of the bag. Nylon handles are soft. The fence hooks are so convenient at the court! Having the extra adjustable shoulder strap is nice if you want to carry it cross body or over the shoulder. Comfortable to carry around and look great doing so! And the cute pickle tassel tops it off! Perfect stylish bag for the ladies!
Price on higher end, but the quality and details justify it. The water bottle holder is nice, but it was tight for my 24oz widemouth hydroflask.
2nd Place Best pickleball bags for ladies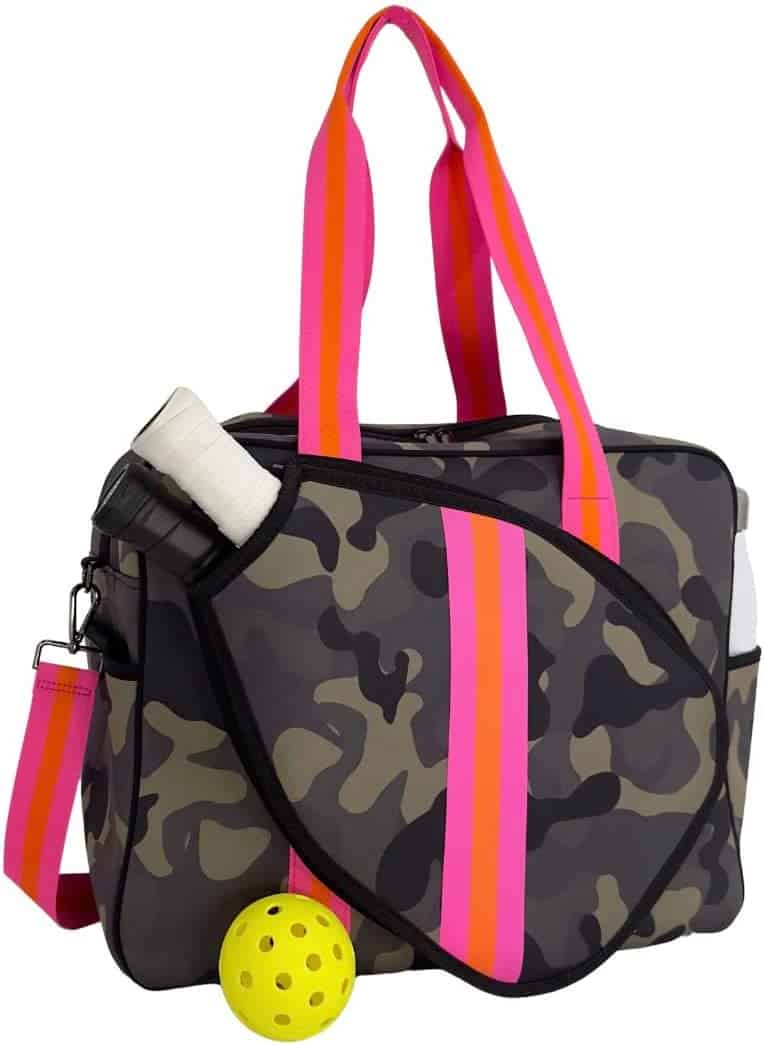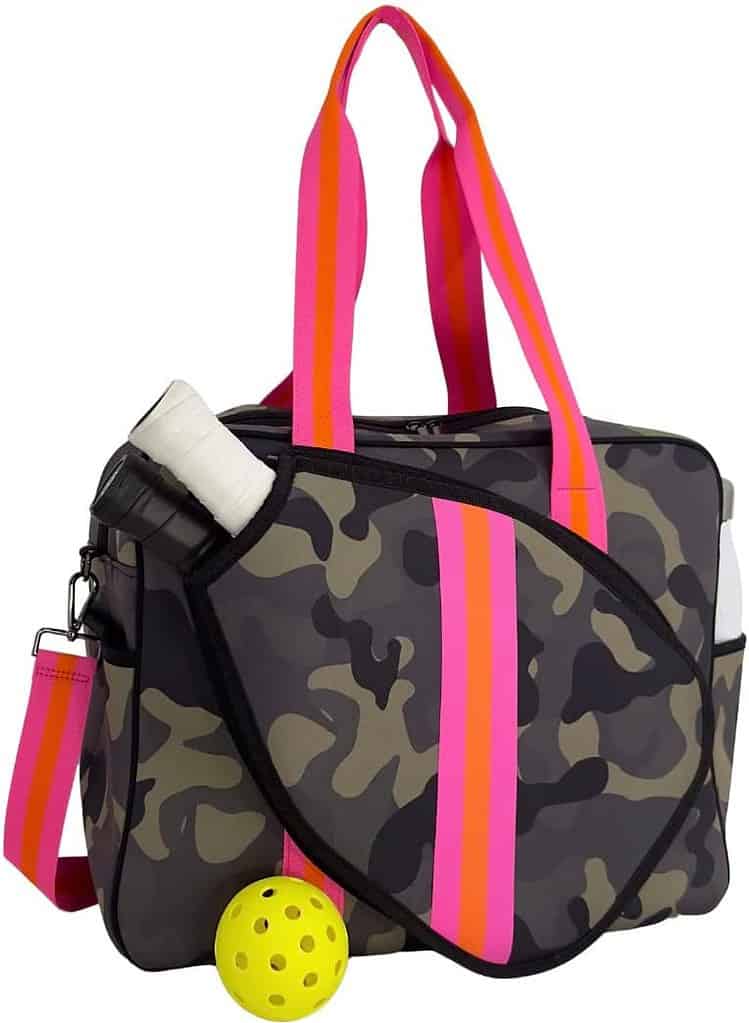 2nd: Queen of The Court
Price: $99
7 color combos
Durable Neoprene Fabric
Big- enough room for shoes
3 internal pockets
Fence hooks
Really good looking, durable bag. Like all the color options available. The fence hooks add to the convenience of the bag. Lots of space with this bag including enough space for shoes and extra clothes.
Could be just a little too big depending on what you are looking for. If you need the extra space for all your gear this is a good bag.
Best Wheeled Pickleball Bag
Wheeled pickleball bags are a convenient and versatile solution for carrying heavy pickleball gear. These bags, equipped with sturdy wheels and a handle, allow for easy transportation without the strain of carrying the weight. They offer generous storage capacity, accommodating multiple paddles, balls, clothing, and personal items with ease. Designed with padded and segregated compartments, wheeled pickleball bags ensure that your equipment stays organized and protected from damage. Available in a variety of styles and colors, they provide a practical yet stylish option for both casual players and professionals. The ease of mobility that wheeled pickleball bags offer makes them an excellent choice for players frequently travelling for tournaments or matches.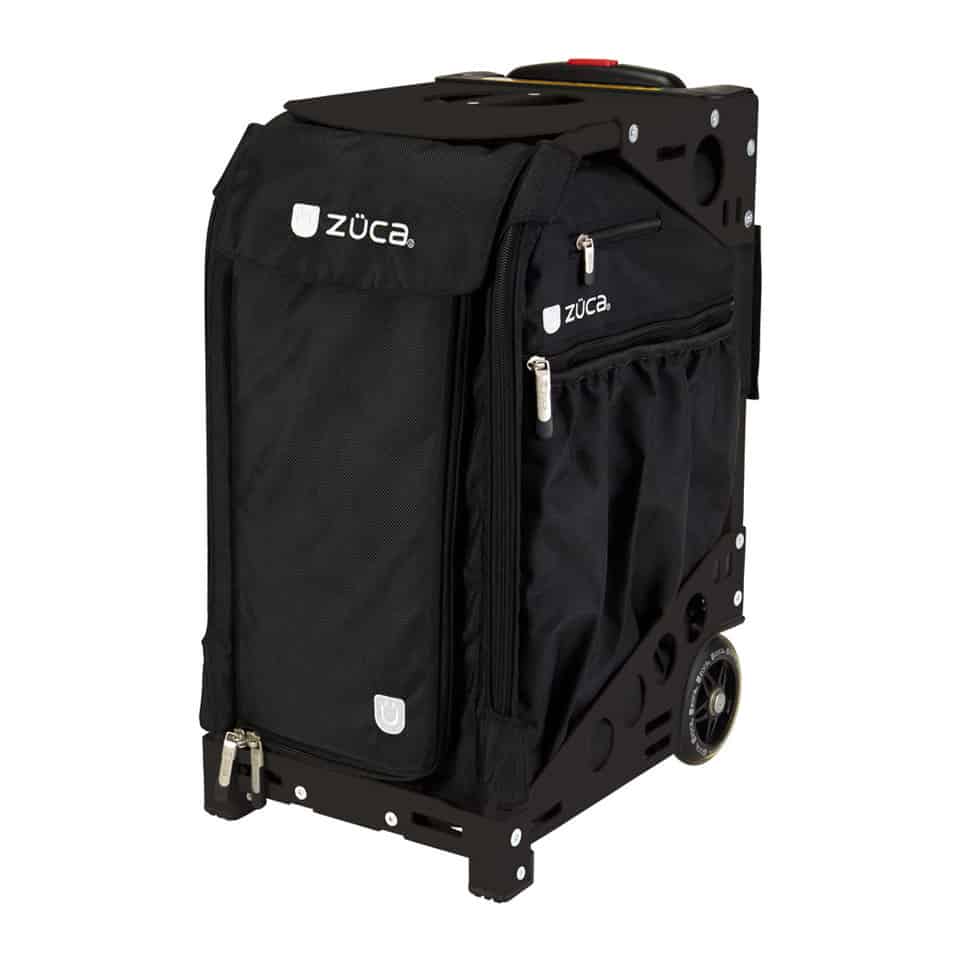 Zuca Pro Pickleball Cart
With its sturdy aluminum frame, large wheels, and telescoping handle, this cart is easy to transport and won't strain your back before big games. The bundle includes a spacious main pocket for extra layers and multiple paddles, a removable water-resistant pouch for valuables, and a zip-closure paddle cover. Plus, the top of the cart doubles as a comfortable seat when you need to rest between games. With an additional paddle cover included and airline carry-on compatibility, this bundle is perfect for long days at local courts or weekend tournaments. See our In-depth review here!
Conclusion
Ultimately, the pickleball bags come in a variety of sizes and designs to fit your needs and your pickleball equipment. When shopping for pickleball bags, you should consider size, design, organization, and durability. These factors will help ensure that you select the right pickleball bag for your gear and get the most out of it!
With this knowledge in hand, you can confidently choose a pickleball bag that meets all your criteria so you can focus on what really matters: playing pickleball!