You caught the pickleball bug! Your mind is filled with thoughts of the game, and you just can't get enough time on the pickleball court to satisfy your cravings. Don't worry, we totally get it. The game is so incredibly fun and addictive, it makes us crave more time on the court too!
With the growing popularity of pickleball, pickleball camps and pickleball clinics around the world are popping up to cater to players of all skill levels. These camps offer an amazing blend of pickleball training and travel, giving you the chance to improve your game while exploring beautiful destinations.
Not only will you play better pickleball, but you'll also have the opportunity to make lifelong friendships with fellow players from all over the globe. Plus, personal attention and some one on one time with the top pros around!
In this blog post, we'll review the top seven best pickleball camps that are guaranteed to satisfy your pickleball itch, provide you with an unforgettable experience and leave playing better pickleball!
Get ready to take your pickleball game to the next level as you embark on exciting journeys to stunning locations, all while indulging in the game we all adore.
So, without further ado, let's dive into the list of the best pickleball camps.
Let the adventures begin!
What Are The Best Pickleball Camps?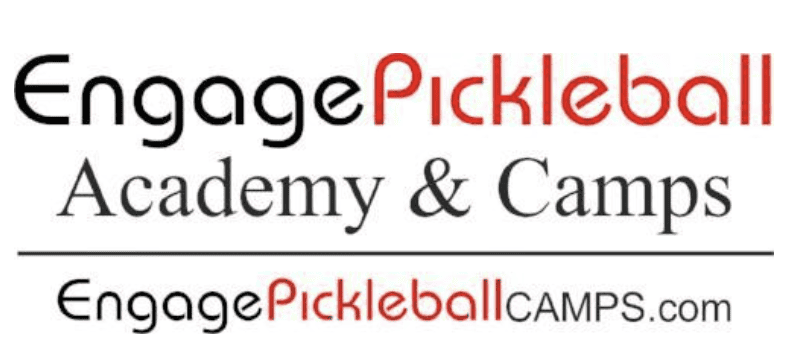 Engage Pickleball Camps stands out as the largest pickleball training provider, offering exceptional instruction and a commitment to excellence. SO many camp options! Led by professional instructors from diverse backgrounds, their comprehensive approach includes strategy, drills, and mechanics for ongoing growth. With destination camps catering to different skill levels, Engage Pickleball Camps fosters a supportive learning environment. They also offer unique incentives and are expanding their reach globally. They offer a lot of different camp dates so you can find the camp that works for you!
Why We Like It
Highly Qualified Instructors: Engage Pickleball Camps has professional instructors who are not only top-tier players but also phenomenal teachers. They bring unique, diverse backgrounds to the training program, creating a rich, comprehensive learning experience.
Focus on Strategy: The camps primarily focus on imparting strategic skills that players can immediately put into play. This hands-on, practical approach makes learning effective and engaging.
Tailored Programs: They offer programs specifically tailored to players at different skill levels, ensuring everyone is training with peers of a similar skill level. From beginner to advanced camps this helps foster a more productive and encouraging learning environment.
Value for Money: As the only 3-day camp provider offering 16 hours of instruction and a free Engage paddle, they deliver great value for the money invested.
Global Locations and Flexibility: The camps are located globally with impending schedules for Canada, South America, Europe, and Asia-Pac. They also offer the option to bring their training to local communities, demonstrating great flexibility and outreach.

Tyson McGuffin Pickleball Camps offer structured and level-based learning experiences for players of different skill levels. With a focus on technique and strategy, participants receive personalized attention with an impressive student/teacher ratio of 8:1. The camp covers various aspects of the game, including building a soft game and developing volleys, while also providing opportunities to engage with professional players. Join Tyson McGuffin Pickleball Camps for a comprehensive and enriching learning experience that will enhance your skills and love for the game.
Why We Like It
Structured Learning: Tyson McGuffin Pickleball Camps provide a well-structured and level-based learning experience, ensuring that training is appropriate to each participant's skill level.
Individual Attention: With an impressive 8:1 Student/Teacher Ratio, the camp ensures that each participant receives sufficient attention, facilitating better learning outcomes.
Curated Curriculum: The camp features a meticulously crafted curriculum focusing on enhancing players' tactical strategies and techniques, delivered by IPTPA/PPR certified instructors.
Interactive Sessions: Unique experiences like "Lunch with the Pros" offer participants the opportunity to engage with professional players, adding an interactive element to the learning process.
Holistic Approach: Through a mix of technical training and strategic play enhancement, the camp offers a comprehensive learning experience aiming to foster participants' love for the game.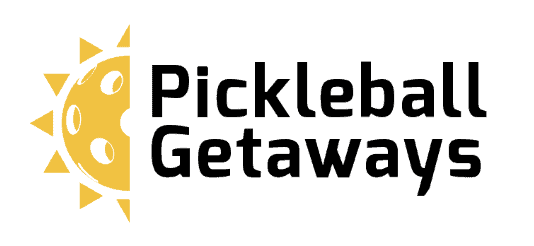 Pickleball Getaways offers adventurous travel experiences combined with high-quality pickleball coaching. Founded by world number one ranked player Ben Johns and professional player Dekel Bar, their goal is to fuse international vacations with a passion for pickleball. With top-notch experiences and expert coaching, Pickleball Getaways is the ultimate destination for pickleball enthusiasts of all skill levels.
Why We Like It
Unique Experience: Pickleball Getaways offers a rare blend of world travel and quality pickleball coaching, ensuring an adventurous and enriching experience for players of all skill levels.
Expert Instruction: With coaching provided by professional players like Ben Johns and Dekel Bar, participants benefit from high-level instruction delivered by some of the top players in the world.
Hassle-Free Travel: All aspects of travel planning are taken care of, allowing participants to focus solely on refining their skills and enjoying their journey.
Exclusive Destinations: The selected locations are influenced by the extensive travel experience of the coaches, adding an extra layer of excitement and exploration to the program.
Learn from the Best: The opportunity to learn from pickleball greats such as Ben Johns, regarded as the best player in pickleball history, adds immense value to this unique experience.


LevelUp Pickleball Camps offers comprehensive training programs for pickleball enthusiasts of all skill levels. From beginners to advanced players, there is a camp designed specifically for each level. The camps focus on building a strong foundation, refining techniques, and exploring advanced strategies. With over 200 locations and experienced instructors and a dedication to success, LevelUp has earned the title of the #1 pickleball camp according to Pickleball Magazine. Join LevelUp for an unparalleled training experience and level up your game!
Why We Like It
Tailored Programs: LevelUp Pickleball Camps offer programs specifically designed for various skill levels. This customization ensures that every player, whether beginner or advanced, can find a program that fits their needs and aspirations.
Comprehensive Training: The camps cover all aspects of the game, from basic mechanics to advanced strategies. This holistic approach helps players to grasp the game's nuances and refine their skills.
Player-Centric Instructors: The instructors at LevelUp are commendable for their adaptability, modifying their teaching approach to best suit each individual's needs. It's clear they have a genuine passion for seeing each camper succeed.
Recognition: Being named the #1 pickleball camp by Pickleball Magazine shows the high-quality training offered at LevelUp. This recognition speaks volumes about their commitment to excellence and consistency.
Emphasis on Fun: LevelUp's focus on making sure participants have fun while learning pickleball adds an extra layer of enjoyment to the training experience. This approach makes the camps an enjoyable and rewarding venture for pickleball enthusiasts.

GAMMA Pickleball Camps offer a distinctive experience with a focus on fun, engaging, and inspiring learning opportunities. With a hands-on approach and small group sizes, personalized feedback is provided throughout the camp. The camp also emphasizes teaching strategies through games and culminates in a practical, competitive environment. With a fun and friendly atmosphere, GAMMA Pickleball Camps is the ideal choice for pickleball players seeking a unique and enjoyable learning experience.
Why We Like It
Unique Learning Approach: GAMMA Pickleball Camps' innovative integration of best current practices for skill learning, retention, and execution ensures that all participants have a unique and beneficial experience.
Personalized Instruction: Thanks to small group sizes and an impressive 8:1 student-to-instructor ratio, attendees receive personalized feedback and instruction, ensuring their unique needs and goals are effectively addressed.
Game-Based Teaching: The games-based approach for teaching strategies allows participants to learn through high-yield drills and apply their skills in actual match-play situations, adding a practical, competitive edge to the learning experience.
Fun and Friendly Environment: The staff and instructors at GAMMA Pickleball Camps create an engaging, inspiring, and welcoming atmosphere, which motivates learners and enhances their skill development.
Practical Application: The culmination of the camp in a competitive game allows participants to put their newfound skills into action, reinforcing learning and boosting confidence.

Rise Pickleball Camps, owned by Rob Davidson, offer a unique learning experience for pickleball players. Rob, an accomplished player and instructor, brings his passion and expertise to every camp session. With a focus on fundamental strategies and mechanics, the camps aim to improve players' skills and enjoyment of the game. The camps provide individual attention, specially designed drills, and a fun atmosphere. Whether you want to improve your game or simply have more fun, Rise Pickleball Camps are an excellent choice.
Why We Like It
Knowledgeable and Experienced Instructor: The camps are directed by Rob Davidson, a highly accomplished player with numerous tournament wins and gold medals from the US Open and USAPA National Championships. His extensive experience in teaching different skill levels makes him a dependable and effective coach.
Comprehensive Curriculum: Rise Pickleball Camps focus on fundamental strategies and mechanics, including dinks, volleys, 3rd shots, and court positioning, among others. This thorough approach ensures participants gain a broad and solid understanding of the game.
Practical and Interactive Learning: The camps introduce a topic, explain it, and demonstrate it before breaking players into groups for specially designed drills. Game formats are used to reinforce the topic at hand, promoting an engaging and hands-on learning experience.
Video Analysis: The unique addition of video recording of players' basic strokes on the first day provides a valuable tool for analysis and feedback, enhancing the learning process.
Fun and Personalized Experience: Rob's heart for teaching and the friendly atmosphere he fosters guarantee a fun and personalized experience for all participants.

Pickleball Trips offers the perfect blend of pickleball and travel, providing unique cultural experiences for small groups of like-minded travelers. Led by IPTPA-certified instructor Scott Moore, participants can expect intensive training, personalized attention, and the chance to explore new destinations. If you're looking to enhance your pickleball skills and embark on an unforgettable adventure, Pickleball Trips is the ideal choice.
Why We Like It
Cultural Immersion and Skill Enhancement: Pickleball Trips offers a unique blend of travel and sport, allowing participants to broaden their horizons while also sharpening their pickleball skills.
Expert Instruction: With IPTPA-certified instructor Scott Moore leading the training, participants can expect in-depth, personalized coaching to enhance their gameplay.
Focus on Key Principles: The program's emphasis on the 10 key principles of the game ensures that participants gain a comprehensive understanding of pickleball.
Flexible Dates and Locations: With a range of dates and locations offered, Pickleball Trips caters to those with a sense of adventure.
Community Building: The setup of small groups of travelers with similar interests promotes camaraderie and relationship-building among participants.
Summary
In summary, each of these pickleball camps offers a unique approach to learning and enhancing one's pickleball skills. From Level Up's emphasis on fun to GAMMA's personalized instruction and game-based teaching methods, from Rise's experienced instructors and comprehensive curriculum to Pickleball Trips' cultural immersion and flexible locations, there is something for every pickleball enthusiast. Whether you are a beginner looking to learn the basics, or an advanced player wanting to fine-tune your skills, these camps will provide you with the tools and experiences necessary to elevate your game.
Conclusion
In closing, pickleball is more than just a sport—it's a lifestyle that promotes physical health, mental well-being, and social interactions. A pickleball camp can provide the perfect opportunity to immerse yourself in the world of pickleball, learning from the best in the industry while also having fun and making new friends. So, pick the best pickleball camp and get ready to enhance your knowledge of the game, pick up some new playing strategies, and have a TON of fun doing it! Enjoy!