In the electrifying world of pickleball, your pickleball paddle is more than just an accessory – it's an extension of your arm, your secret weapon, your trusted ally in every heated rally. It's the difference between a winning smash and a miss hit that costs you the game.
Today, we're going into the heart of this thrilling sport by comparing two Onix Pickleball paddles: the Onix Z3 vs Z5 pickleball paddle.
The Z3 pickleball paddle, with its lightweight design and superior maneuverability, brings agility and speed to your game. The Z5 pickleball paddle, on the other hand, offers a balance of power and control, making it a formidable tool for players who prefer a strategic play style.
But which of these Onix Pickleball Paddles is right for you? Will you be swayed by the nimble finesse of the Z3, or will the balanced might of the Z5 capture your pickleball heart? The answer lies not just in the Onix paddles themselves, but also in the intricate dance of your playing style, your personal preferences, and how you want to command the court.
So buckle up, fellow pickleball enthusiasts, as we embark on this exciting journey of comparison, understanding, and discovery.
By the end of this post, you'll be armed with the knowledge you need to choose the perfect pickleball paddle for your game, and who knows? It might just be the key to unlocking your full potential on the pickleball court.
Let's get started!
We are reader supported and as such may make a small commission at no expense to you by purchasing thru our links and we greatly appreciate that!
Onix Z3 vs Z5 Pickleball Paddles
The world of pickleball is constantly changing and evolving with a variety of pickleball paddles designed to suit every player's unique style. Onix, a well-known name in the industry, offers a range of pickleball paddles that have been tested and proven on the court.
Choosing the right pickleball paddle can significantly impact your game. For instance, the weight of a paddle affects its power generation and swing speed. These two Onix paddles are prime examples of this.
The Onix Graphite Z5 is Onix's best selling paddle due to its outstanding touch and control. Its balanced features make it an excellent choice for players who prefer a strategic approach to their game. However, if agility and speed are more your style, the Onix Z3 could be your perfect match.
So, are you ready to find your perfect match in the Onix Z3 or Z5 pickleball paddle?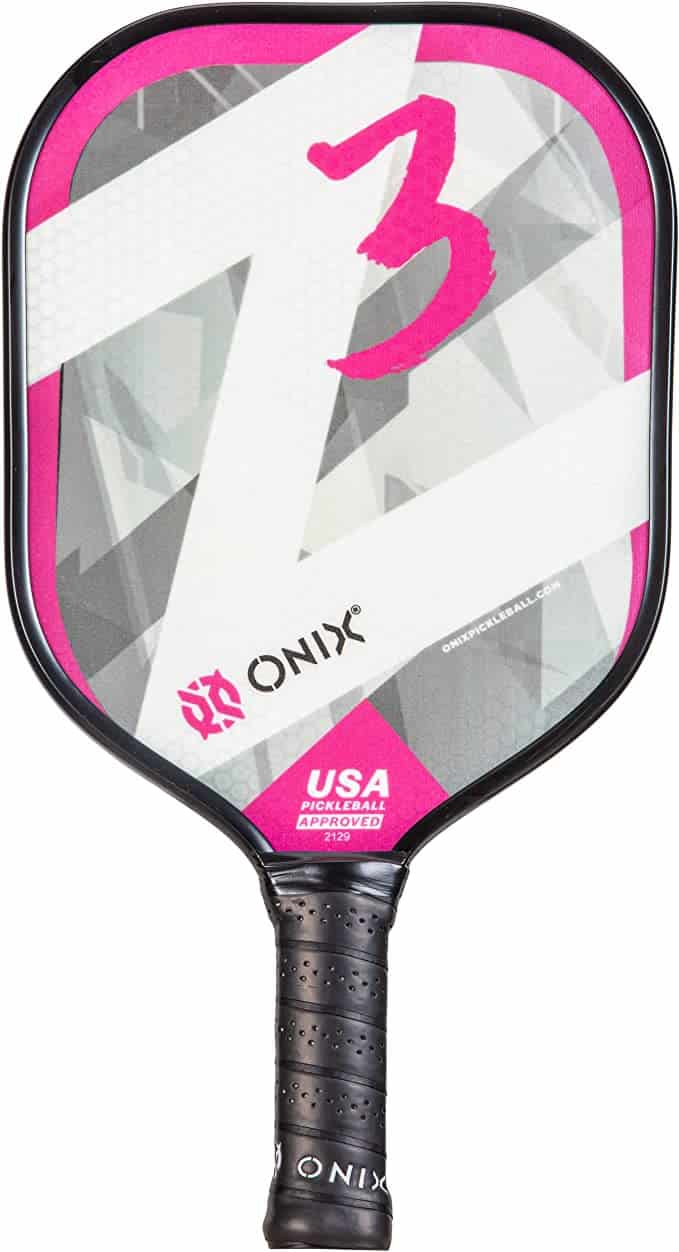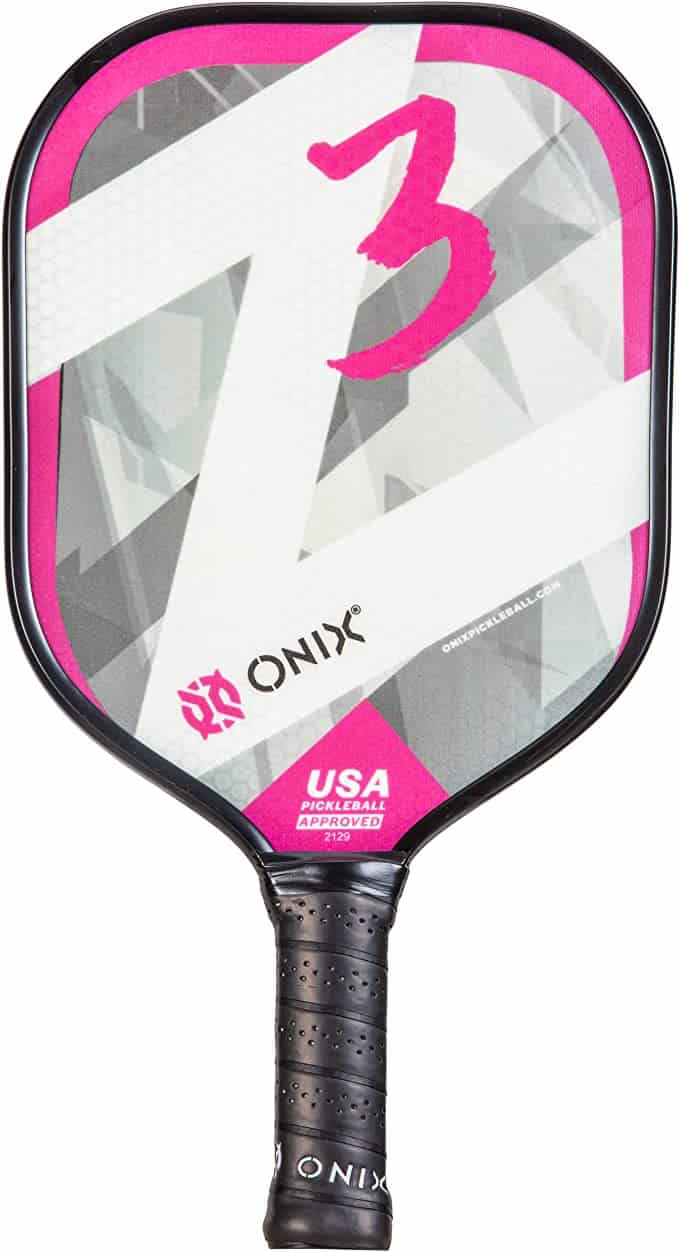 Onix is known for their commitment to excellence and is a leading manufacturer of premium pickleball equipment, including paddles, balls, and accessories. Their products are designed to enhance the competitive edge of players at all levels. With a team of professional players who participate in national tournaments across the country, ONIX's commitment to providing the best equipment for every player's game is unmatched.
Today, we're zooming in on the Onix Z3, the newest Z Series Onix pickleball paddle. This paddle is approved by USA Pickleball and is eligible for use in official pickleball tournament play.
But what makes the Onix Z3 stand out? The answer lies in its exceptional design. The paddle has a durable composite face that ensures longevity and consistent performance. Its core is composed of polypropylene honeycomb, a material known for its excellent response, durability, and lightweight properties. This allows for a swift swing and a solid hit, making the Onix Z3 a joy to wield on the court.
The Z3 also features a protective edge guard, safeguarding the paddle against wear and tear without compromising its balance or feel. It's a testament to ONIX's attention to detail and dedication to delivering top-quality products.
Its widebody paddle shape and 4-1/4″ grip size makes the Onix Z3 an excellent choice for beginners. It offers a larger sweet spot, making ball contact easier, and its grip size accommodates a broad range of hand sizes, ensuring comfort and control.
In essence, the Onix Z3 is more than just a paddle; it's a tool that supports an even, balanced performance, making it a quality paddle for beginners looking to step up their game.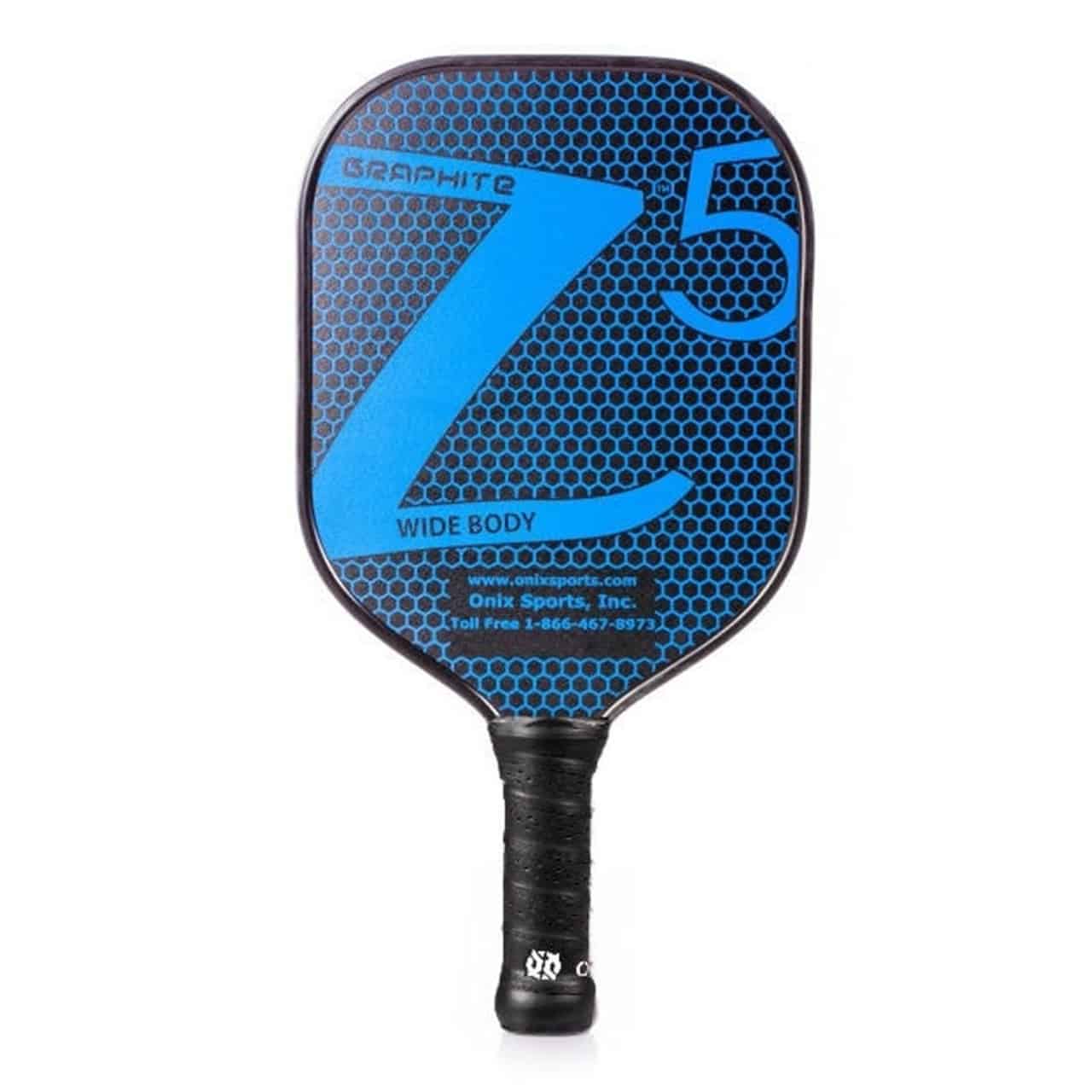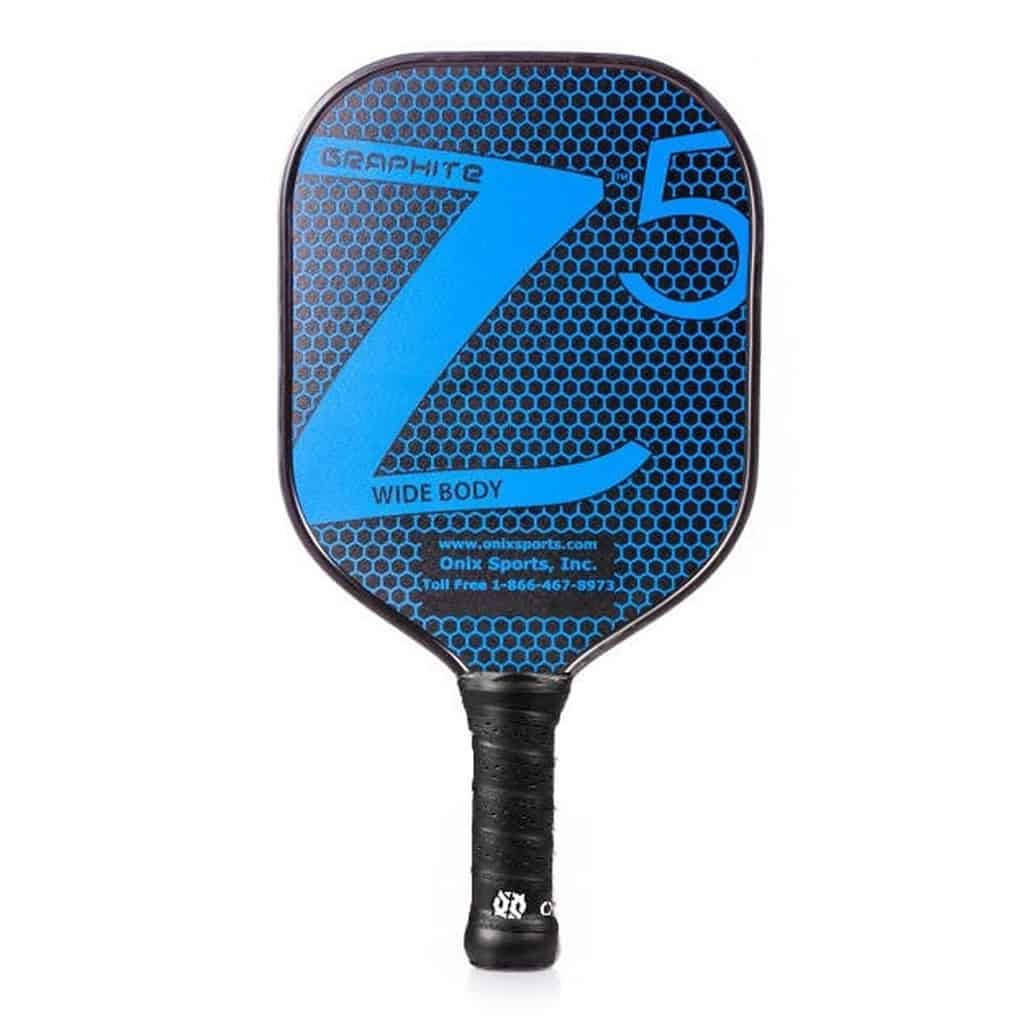 The Graphite Z5 Pickleball Paddle stands out as ONIX's most popular paddle for good reason. Its exceptional touch and control make it suitable for players of all skill levels, from beginners to advanced. This paddle claimed the top spot on our comprehensive list of the best pickleball paddles for beginners.
Even many professional pickleball players use this paddle. With its lightweight design, the Z5 offers the perfect combination of support, speed, pop, and maneuverability on the court.
One standout feature of the Z5 paddle is its tennis handle shape, which mimics the handle shape of a tennis racket. This not only provides comfort but also enhances spin and control. Additionally, each Z5 paddle comes equipped with an edge guard, offering protection and peace of mind when going low for shots.
The Z5 pickleball paddle has a Nomex honeycomb core and gives excellent ball control. This medium-weight graphite paddle strikes the perfect balance between power and speed, allowing you to execute precise shots with ease. Meeting all the requirements set by these governing bodies, the Z5 is approved for official tournament play.
In summary, the Onix Z5 Graphite pickleball paddle is a top-notch option for pickleball enthusiasts of all levels. With ONIX's commitment to quality and innovation, this paddle delivers exceptional touch, control, and versatility on the court.
For design, both paddles come in bright and bold colors like pink, yellow, purple, blue etc. with attractive graphics. Very Fun!
Onix Z3 vs Z5 Pickleball Paddles: Comparison Chart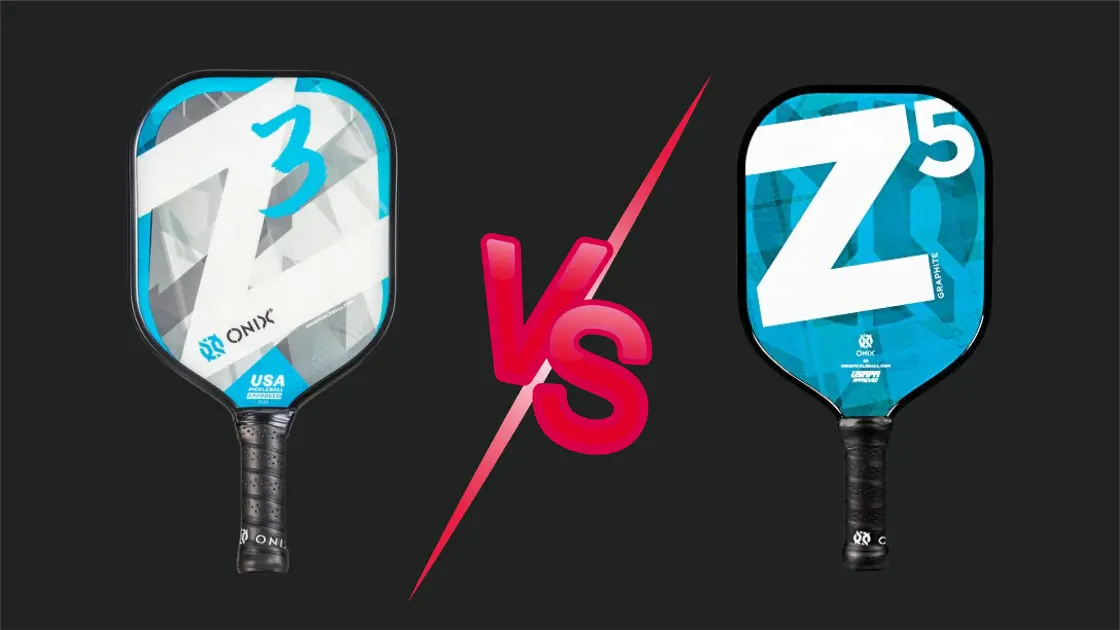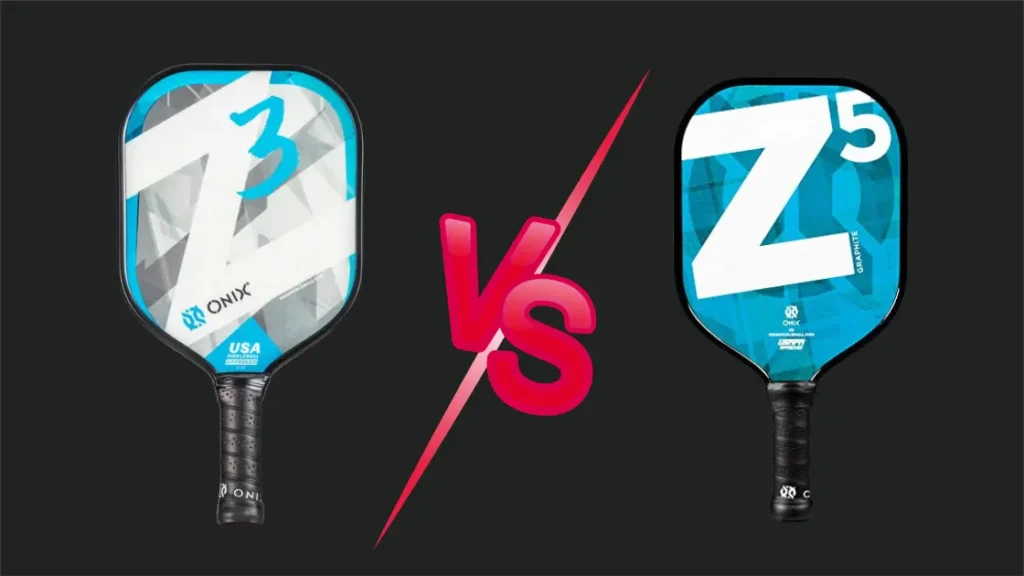 | | | |
| --- | --- | --- |
| Criteria | Z3 | Z5 |
| Weight | Medium Weight (7.5-8.20oz) | Medium Weight (7.5-8.2oz) |
| Grip | Tennis | Tennis |
| Face | Larger Face(8.125 inches) | Larger Face(8.125 inches) |
| Material | Composite Face with Polypropylene Core | Graphite Face with Nomex Core |
Comparison of Z3 and Z5
Differences Between Onix Z3 and Onix Z5
Here are the key differences between the Onix Z5 Graphite pickleball paddle and the Onix Z3 paddle:
Skill Level Suitability:
The Onix Z5 is suitable for intermediate to advanced players but leans more toward advanced players.
The Onix Z3 is specifically highlighted as an excellent choice for beginners.
Design Features:
The Onix Z5 has a tennis handle shape, offering comfort and enhancing spin and control.
The Onix Z3 has a widebody paddle shape and a 4-1/4″ grip size, providing a larger sweet spot and accommodating a range of hand sizes.
Core Material:
The Onix Z5 features a Nomex honeycomb core, ideal for excellent ball control.
The core material of the Onix Z3 is composed of a polypropylene honeycomb, known for its responsiveness, durability, and lightweight properties.
Overall, while both pickleball paddles are manufactured by Onix Sports and approved for tournament play, the Z5 is highlighted as a popular choice for players at all skill levels, while the Z3 is specifically marketed toward beginners. Both have a nice edge guard. The Z5 emphasizes a tennis handle shape and nomex honeycomb core, while the Z3 focuses on a widebody paddle shape and polypropylene honeycomb core.
Pros and Cons of the Onix Z3 Pickleball Paddle
Onix Z3 Pros
Approved for official pickleball tournament play by USA Pickleball.
A polypropylene honeycomb core and a composite face offer durability and balanced performance for various playing styles.
The weight ranges between 7.5 to 8.2 oz
Provides quick reactions and enhanced control.
Onix Z3 Cons
Some users find the shape of the Z3 paddle uncomfortable, requiring an adjustment period to get used to.
Some players have noted that the Z3 paddle produces a loud pop and high pitch, which may not be suitable for all players or playing environments.
Pros and Cons of the Onix Z5 Graphite Pickleball Paddle
Onix Z5 Pros
Outstanding touch and ball control: The Onix Graphite Z5 is known for its exceptional touch and maximum control.
Comfortable grip: The Onix Z5 pickleball paddle features a comfortable cushion grip tennis handle that provides players with more confidence during swings, allowing them to focus on their technique without worrying about their hand slipping off.
Durability: With its graphite face and Nomex honeycomb core, the Onix Z5 pickleball paddle offers superior strength and flexibility. This combination ensures durability and reduces shock when striking the ball, providing a reliable and long-lasting paddle.
Power Control: The lightweight graphite face of the Z5 pickleball paddle enables optimal energy transfer, resulting in extra power. The paddle's handle, designed to feel like a tennis grip, provides a comfortable grip for better control on every shot.
Accuracy: The Z5 paddle's wide body shape allows for greater accuracy and control when making shots. Its state-of-the-art design ensures excellent accuracy and maximum power.
Onix Z5 Cons
Grip: Some players have reported that the grip has come loose and they have needed to add grip tape.
Conclusion
So now that we have compared the Onix Z3 vs Z5 pickleball paddles, which one is right for you? Choosing a paddle can be tough!
As you can see, they are extremely similar in look and feel. When you play with them you will notice slight differences. The price difference isn't much either.
Both of these paddles are great options for players at any level and provide a great amount of control and feel. However, if you are a beginner or intermediate player who wants maximum touch potential with a mid-weight paddle, then the Onix Z3 is recommended for you. If you are an intermediate to advanced player looking for maximum power, the Onix Z5 would be the one to go for.
The Onix Z3, and Z5 Pickleball paddles are both excellent options when it comes to finding a quality paddle for pickleball.
No matter which paddle you choose, make sure to check the pickleball rules before before heading out there to enjoy a game!
So grab your pickleball bag and lets hit the court!
FAQ
Which paddle is better suited for beginners, the Onix Z3, or the Onix Z5 Graphite?
Both the Onix Z3 and Z5 can be used by beginner or intermediate player but the Z3 is more geared toward the beginner player.
Are both paddles approved for tournament play?
Yes, both Onix pickleball paddles are approved and meet USA pickleball requirements for official tournament play.
How do the paddles handle dinking and soft shots?
Both the Onix Z3 and the Onix Z5 are good for touch and control. The wide body shape helps with a larger sweet spot for good control.