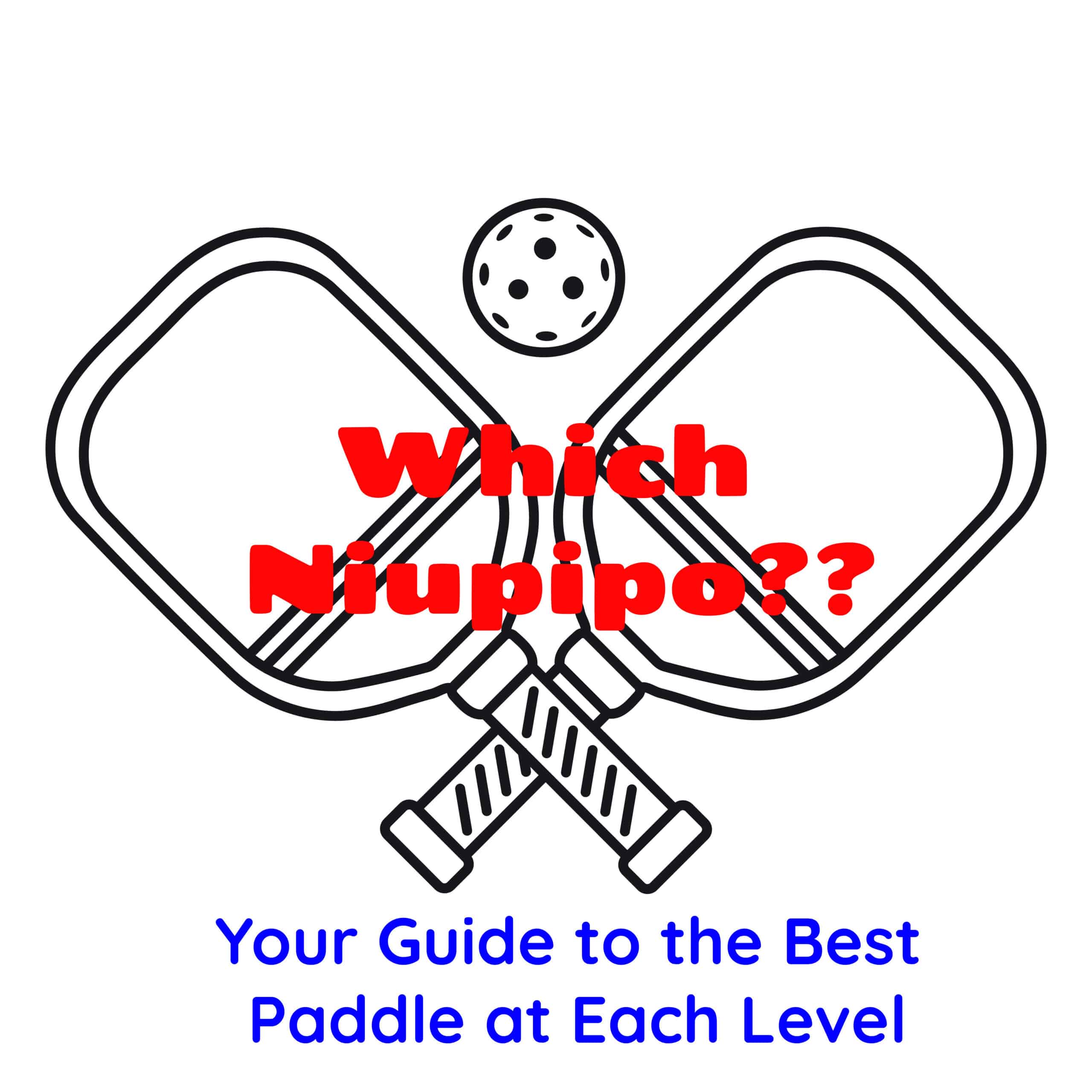 Niupipo Pickleball Paddles are some of the best and most popular on the market. Whether you're a beginner, intermediate or advanced player, there is a Niupipo Pickleball paddle to take your game to the next level.
In this blog post, we review the best Niupipo Pickleball paddle at each level of play, from beginner to advanced. So no matter your skill level, you can find the right paddle to take your game up a notch!
Whether you are just starting out or an experienced player, this post will help guide your decision when selecting the perfect Niupipo Pickleball paddle.
We are reader supported and as such, may make a small commission at no expense to you by purchasing thru our links. Thank you!
The Best Niupipo Pickleball Paddle for Each Level of Play:
Best beginner
Niupipo Fiberglass Starry Circle MX-33
The Niupipo fiberglass Starry Circle pickleball paddle is perfect for beginners. This pickleball paddle has a lightweight design and large sweet spot make it easy to use and control, with just the right amount of power. The Niupipo fiberglass paddle is a great way to get your foot in the door and start playing pickleball.
You can experience power and precision with this Niupipo Fiberglass Pickleball Paddle. USAPA approved, this lightweight pickleball paddle gives you the edge you need in competitive play as it delivers hitting power and ball control due to its durable honeycomb core and fiberglass surface combination.
We like that it is very comfortable to use. This paddle is fitted with moisture-wicking, sweat-wicking, and non-slip fabric that grants a comfortable grip during use. Its lightweight design allows you to play for extended time periods without fatigue.
Features: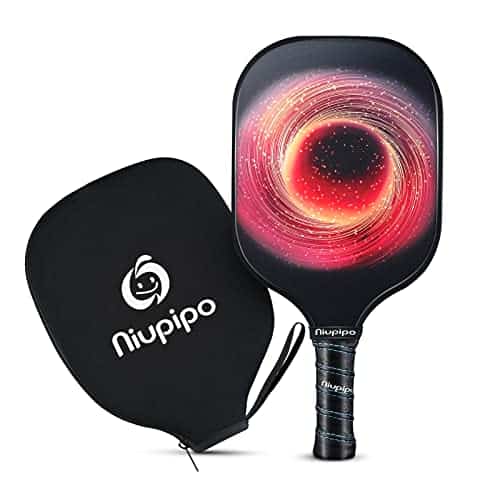 best intermediate
Niupipo Fiberglass Black and Gray Pickleball Set MX-19
The Niupipo MX-19 Fiberglass Pickleball paddle set is a great option for intermediate players looking to take their game up a notch. We love this pickleball set because it includes two pickleball paddles, four pickleball balls and a carrying case. Very cool! It also topped our list of the 7 Best Pickleball Paddle Sets Under $100!
This Niupipo pickleball paddle provides more power than the beginner niupipo fiberglass, making it a great choice for those who have a little more experience playing pickleball.
These paddles are USAPA approved and have been designed with quality in mind for top level performance. The fiberglass construction is able to withstand any challenge that you throw at it. This paddle is lightweight ensuring less stress on elbow and shoulder, so you can play for hours without fatigue.
The face of this pickleball paddle is made from fiberglass while the core is a polypropylene-honeycomb composition giving players more power with less noise when hitting the ball. Superior grip comes as standard with these paddles, meaning you will have absolute control over your shots every time you pick up your paddle.
Forget blisters and hand pains during long games, because this design provides the perfect handle size for maximum comfort when playing. Make sure you are prepared for every match using Niupipo Fiberglass Black and Gray Pickleball Paddles today!
Features: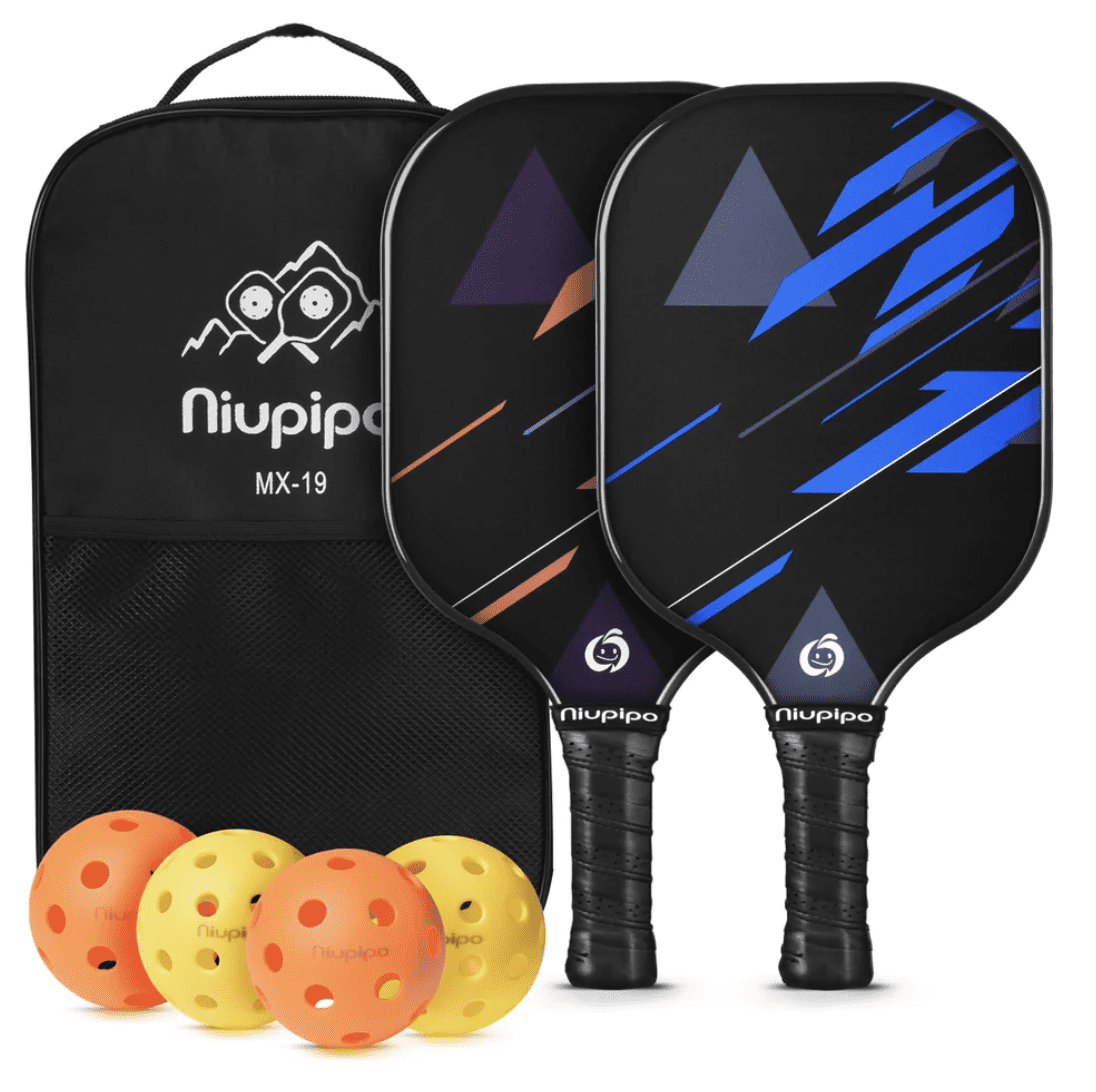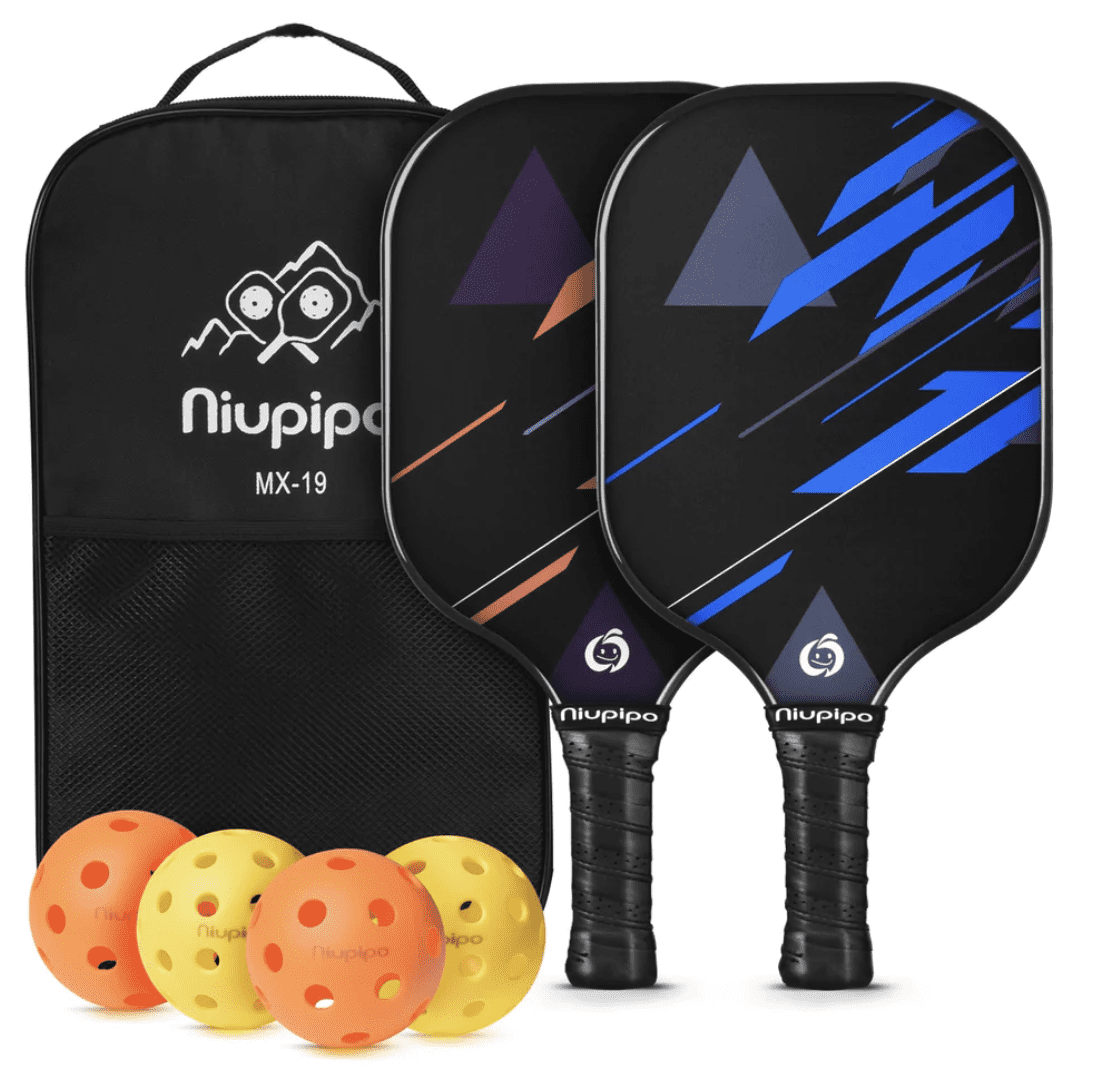 best advanced
Niupipo Explorer Pro Pickleball Paddle N-01
The Niupipo Explorer Pro is the best Niupipo pickelball paddle for advanced players. With its lightweight design and superior control, this paddle offers a truly professional experience and really is a great all around paddle for an even better price.
The Niupipo Explorer Pro Pickleball Paddle is the perfect paddle for those looking to take their game to the next level.
The Niupipo Explorer Pro pickleball paddle is built to maximize your championship potential. Sanctioned tournament play is approved by the United States Pickleball Association. This pickleball paddle will take your game to the pro level.
Developed by and designed for professional players, the Explorer Pro is crafted with graphite carbon fiber for unrivaled pop and spin so you can control the court. The polypropylene honeycomb core blends power and great control with durability.
And it doesn't just look good – its ultra perforated cushion grip adds longer-lasting comfort and tackiness during intense play.
The Niupipo Explorer Pro could be your key to a World Pickleball Championship title!
Features: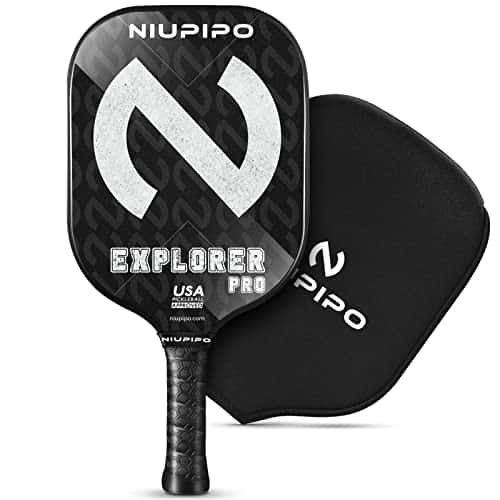 Summary
Niupipo is a leading manufacturer of pickleball paddles and has several options for beginners, intermediates, and advanced players alike.
For those starting off, the Niupipo fiberglass paddle is a great choice. This paddle has passed USAPA testing and has been designed for durability and offers lightweight performance for less stress on elbows and shoulders.
For intermediates, the Niupipo fiberglass black and gray paddle is the perfect choice with a polypropylene-honeycomb core that offers noise-free shots and superior grip for complete control.
The Niupipo explorer pro is the best advanced Niupipo pickleball paddle, offering tournament-level gameplay with graphite carbon fiber for unrivaled pop and spin. This pickleball paddle also has a polypropylene honeycomb core that provides power and control with durability, as well as an ultra perforated cushion grip that adds longer-lasting comfort and tackiness during intense play.
With Niupipo pickleball paddles, you can take your game to the next level.
Conclusion
No matter your skill level, niupipo pickleball paddles can help you take your game to the next level. With our rankings, we hope you have an easier time selecting the best niupipo paddle for you. Good luck and have fun!
Frequently Asked Questions
Where Can I Play Pickleball?
If you are looking to play pickleball, you have plenty of options! There are many locations where you can find pickleball courts and pickleball clubs across the country, so it shouldn't be too hard for you to find a place to play. You can check with your local parks and recreation centers, community centers, gyms, or even look online for pickleball clubs and tournaments in your area. Good luck!
What Do I Need To Play Pickleball?
You'll need a few essential items. The most important piece of equipment is the paddle. They are available in different skill levels, so make sure to pick the one that best fits your level of play. You will also need pickleball balls specifically designed for the game. Finally, you may want to consider getting a good pair of shoes to enhance your game. Once you have all the necessary items loaded in your bag, all you need is an open court and some opponents to play with! Have fun!
What are the Basic Rules of Pickleball?
Pickleball is a fun and fast-paced sport that combines elements of tennis, badminton, and ping pong. It can be played by any age group and can take place both indoors or outdoors. The basic rules of Pickleball are simple, making it a great option for all types of players – whether you're a beginner or a professional. Check our our Beginners Guide to Pickleball for more info!
Are There Specific Shoes Needed For Pickleball?
Yes, while any type of shoe can be used when playing pickleball, some shoes are better suited for the game than others. Shoes that provide excellent shock absorption and cushioning are ideal for pickleball players. This is because the court surface is usually hard and unforgiving, so having a comfortable pair of shoes can help reduce fatigue and injury. Look for shoes that are specifically designed for court sports such as pickleball, tennis, badminton, or squash or just check out our review of the best shoes for pickleball here!
What is Niupipo's return policy?
Niupipo offers a 30-day money back guarantee. Their return policy is for undamaged items purchased directly from niupipo.com or Niupipo-authorized retailers.
What is Niupipo's Warranty?
Niupipo offers a warranty on all Niupipo paddles purchased from niupipo.com or niupipo-authorized retailers. The warranty covers any manufacturer's defects for a period of one year from the date of purchase.