In the exhilarating world of Pickleball, your choice of paddle can be a game-changer. Among the plethora of options available in the market, Niupipo Pickleball Paddles have been making quite a splash.
Known for their top-notch quality, innovative design, and a lower price point, these paddles are becoming the go-to choice for both beginners and seasoned players.
In this blog post, we'll explore the specifics of Niupipo Pickleball Paddles, examining their unique features, benefits and why a Niupipo pickleball paddle might just be the perfect fit for your Pickleball adventures.
Whether you're an experienced player looking to upgrade your gear or a newcomer seeking your first paddle, this comprehensive review will guide you through your next search and decision-making process.
So, let's dive right in and find a Niupipo Pickleball Paddle for you!
We are reader supported content, and as such, may make a small commission at no expense to you by purchasing thru our links. Thank you!
The Best Niupipo Pickleball Paddle for Each Level of Play:
Best beginner
Niupipo Fiberglass Starry Circle MX-33
Perfect for beginners breaking into the game, the Niupipo MX-33 Fiberglass Pickleball Paddle set promises quality pickleball paddles at an affordable price. Its lightweight construct and amplified sweet spot make it easy to play with, while still delivering a substantial punch of power – an ideal combination for those new to pickleball.
Approved by the USAPA, the Niupipo Fiberglass Pickleball Paddle is a blend of power and precision that can enhance your competitive edge. The paddle's honeycomb core paired with a fiberglass surface ensures durability, enabling powerful strikes, great control and superior ball control.
This paddle stands out for its user-friendly features. Equipped with moisture-absorbent, sweat-resistant, and slip-proof fabric, it provides a comfortable grip, ensuring your hand remains steady throughout the game.
Moreover, its lightweight design allows you to engage in prolonged play without experiencing fatigue.
Features: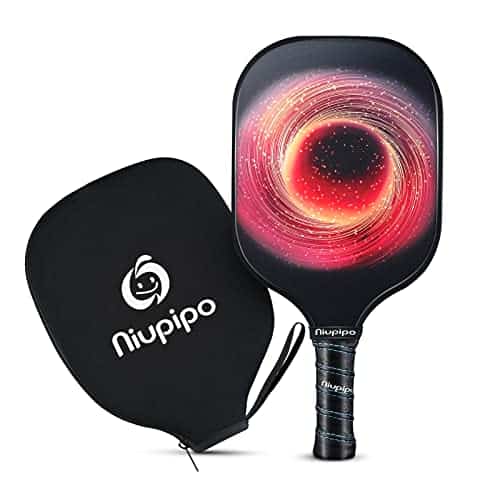 best intermediate
Niupipo Fiberglass Black and Gray Pickleball Set MX-19
For intermediate players ready to elevate their pickleball prowess, the Niupipo MX-19 Fiberglass Pickleball Paddle set is a fantastic choice. This comprehensive set, which includes two pickleball paddles, four pickleball balls, and a convenient carrying bag and case, is not only an excellent value but also clinched a spot on our top 7 Best Pickleball Paddle Sets Under $100!
The Niupipo MX-19 paddle offers a significant power upgrade over the beginner-level Niupipo MX-33 fiberglass model, making it a solid option for those who've already honed their basic pickleball skills.
Boasting USAPA approval, these paddles are designed with performance and quality at the forefront. The fiberglass construction can handle any volley or serve you throw at it, while its lightweight nature ensures minimal stress on your elbow and shoulder, allowing for fatigue-free play.
The paddle's face is crafted from fiberglass, and its back core material is composed of a polypropylene-honeycomb blend. This combination delivers increased power and reduced noise during ball strikes. With superior grip as a standard feature, these paddles guarantee precise control over your shots every time you step onto the court.
Say goodbye to blisters and hand discomfort during extended games, thanks to the perfect handle length and size designed for maximum comfort. Equip yourself with the Niupipo MX-19 Fiberglass Black and Gray Pickleball Paddles today and be match-ready at all times!
Features: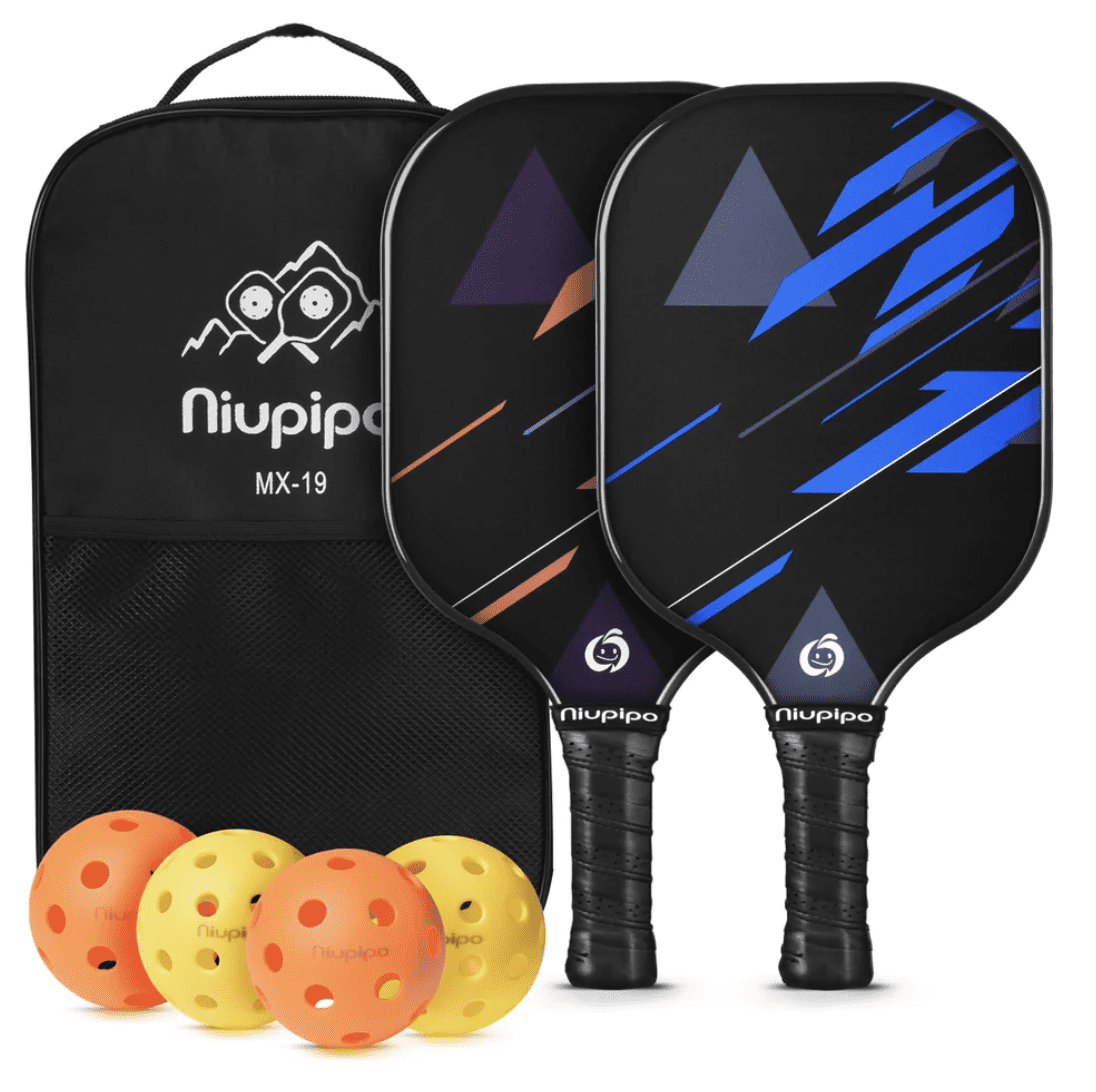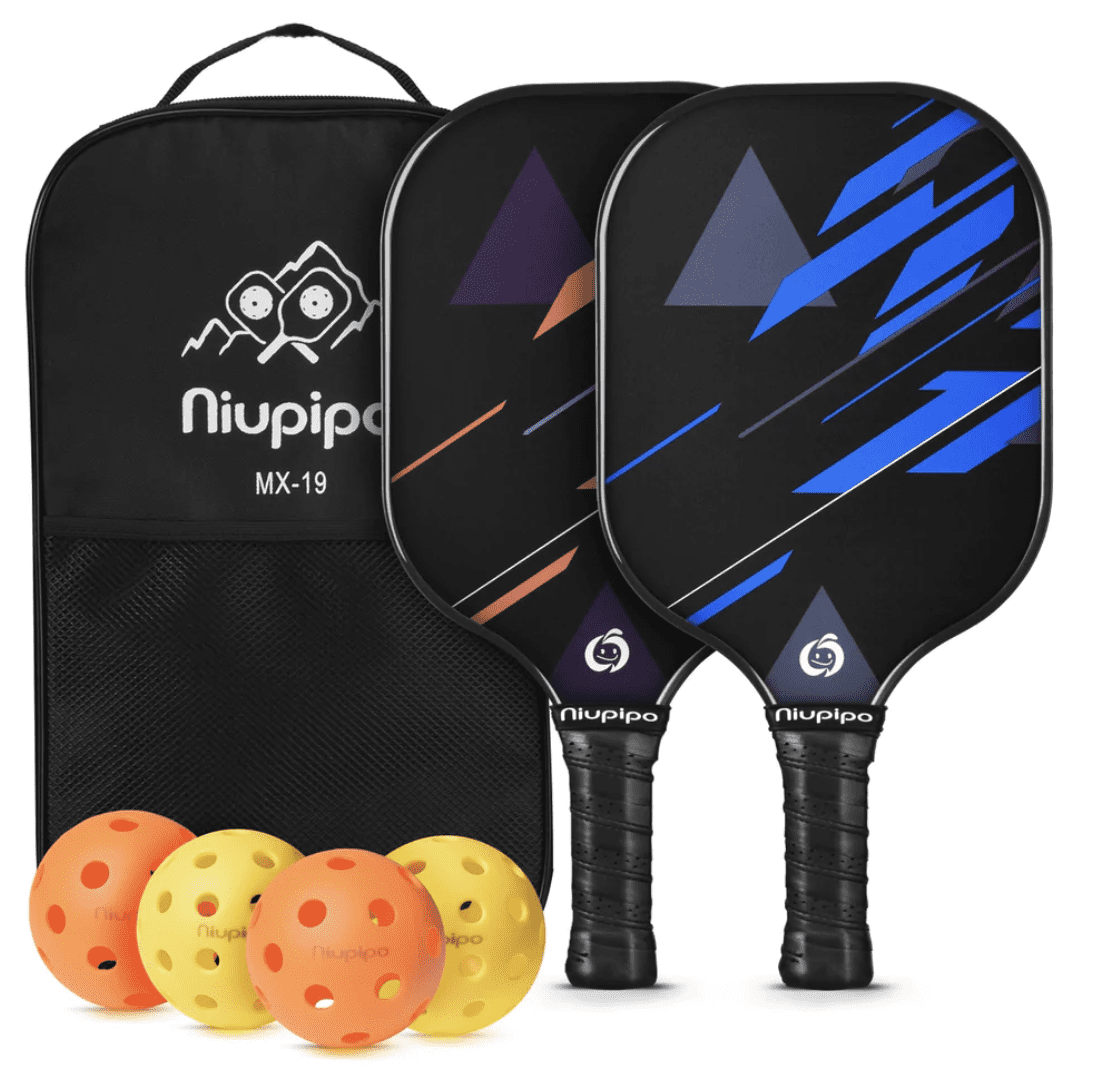 best advanced
Niupipo Explorer Pro Pickleball Paddle N-01
The Niupipo Explorer Pro reigns supreme as the top Niupipo pickleball paddle for advanced players. Its lightweight structure coupled with unparalleled control makes it an excellent all-around paddle that offers a professional-level experience at an incredible value.
If you're an advanced player looking to elevate your game, the Niupipo Explorer Pro Pickleball Paddle is a good match. These pickleball paddles are built with the intention of maximizing your potential and is approved for sanctioned tournament play by the United States Pickleball Association.
The Explorer Pro is developed and designed by professional players. Crafted with graphite carbon fiber, it delivers very good pop and spin that lets you dictate the pace and play on-court. The polypropylene honeycomb core offers both power and control.
The grip is. very nice too. Its ultra-perforated, sweat-absorbent cushion grip ensures long-lasting comfort and stickiness, even during the most intense matches.
Unlock your potential for a World Pickleball Championship title with the Niupipo Explorer Pro – it could be the game-changer you've been searching for!
Features: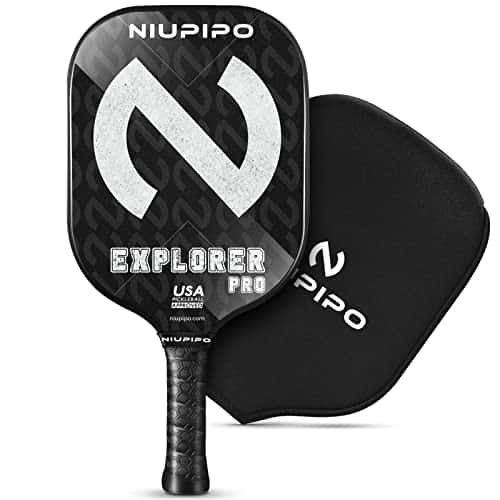 Summary
As leading pickleball paddle producer, Niupipo Pickleball offers an impressive range of options for beginners, intermediates, and advanced players.
For those new to the game, the Niupipo MX-33 fiberglass pickleball paddle is an excellent starting point. Having passed USAPA testing, it's designed with longevity in mind and boasts a lightweight design to ease the strain on elbows and shoulders.
Intermediate players will find their match in the Niupipo MX-19 fiberglass paddle. Its polypropylene-honeycomb core promises quiet shots and superior grip, giving you ultimate control over your game.
For the seasoned players, the Niupipo Explorer Pro is the top-tier offering. This advanced paddle provides tournament-level play, thanks to its graphite carbon fiber composition which delivers really good pop and spin. It also features a polypropylene honeycomb core for a powerful yet controlled play and durability, and an ultra-perforated cushion grip for extended comfort and grip during high-intensity matches.
With Niupipo pickleball paddles, elevating your game is just a swing away!
How To Choose A Pickleball Paddle?
Choosing the right pickleball paddle is crucial in enhancing your performance on the court. Here are some key factors to consider when selecting a pickleball paddle:
Weight: Paddle weight is perhaps the most important factor. Lighter paddles, weighing between 6 to 7 ounces, offer more maneuverability and are easier on the arm, but they may not provide as much power. Heavier paddles, weighing between 8 to 9 ounces, deliver more power but can lead to arm fatigue. Medium-weight paddles balance power and control.

Material: The three main materials used for pickleball paddles are wood, composite, and graphite. Wood is the cheapest but also the heaviest. Composite paddles are a mid-range option offering a good balance of power and control. Graphite paddles are the lightest and offer excellent responsiveness but are usually more expensive.

Grip Size and grip circumference: The grip size should match your hand size. A too-large grip can strain your wrist, while a too-small grip can decrease stability and control. A general rule is to measure from the middle line in your palm to the top of your ring finger.

Paddle Shape and Size: Standard paddles are wider, allowing for a larger sweet spot, while elongated paddles offer better reach but have a smaller sweet spot.

Core Material: Common core materials include aluminum, polymer, and Nomex. Aluminum cores are light and offer good control; Polymer cores are soft and quiet, providing power and control; Nomex cores are hard and noisy, but they offer the most power.

Price: Set a budget before you start shopping. While pricier options often offer better performance, there are also many affordable paddles that perform well.

USAPA Approval: If you plan to play in tournaments, make sure your paddle is approved by the USA Pickleball Association (USAPA).

Remember, the "best" paddle largely depends on your personal playing style, preference, and experience level. It can be helpful to try out different paddles before making a decision.
Conclusion
No matter your skill level, niupipo pickleball paddles can help you take your game to the next level. With our rankings, we hope you have an easier time selecting the best niupipo paddle for you. Good luck and have fun!
Frequently Asked Questions
Where Can I Play Pickleball?
If you are looking to play pickleball, you have plenty of options! There are many locations where you can find pickleball courts and pickleball clubs across the country, so it shouldn't be too hard for you to find a place to play. You can check with your local parks and recreation centers, community centers, gyms, or even look online for pickleball clubs and tournaments in your area. Good luck!
What Do I Need To Play Pickleball?
You'll need a few essential items. The most important piece of equipment is the paddle. They are available in different skill levels, so make sure to pick the one that best fits your level of play. You will also need pickleball balls specifically designed for the game. Finally, you may want to consider getting a good pair of shoes to enhance your game. Once you have all the necessary items loaded in your bag, all you need is an open court and some opponents to play with! Have fun!
What are the Basic Rules of Pickleball?
Pickleball is a fun and fast-paced sport that combines elements of tennis, badminton, and ping pong. It can be played by any age group and can take place both indoors or outdoors. The basic rules of Pickleball are simple, making it a great option for all types of players – whether you're a beginner or a professional. Check our our Beginners Guide to Pickleball for more info!
Are There Specific Shoes Needed For Pickleball?
Yes, while any type of shoe can be used when playing pickleball, some shoes are better suited for the game than others. Shoes that provide excellent shock absorption and cushioning are ideal for pickleball players. This is because the court surface is usually hard and unforgiving, so having a comfortable pair of shoes can help reduce fatigue and injury. Look for shoes that are specifically designed for court sports such as pickleball, tennis, badminton, or squash or just check out our review of the best shoes for pickleball here!
What is Niupipo's return policy?
Niupipo offers a 30-day money back guarantee. Their return policy is for undamaged items purchased directly from niupipo.com or Niupipo-authorized retailers.
What is Niupipo's Warranty?
Niupipo offers a warranty on all Niupipo paddles purchased from niupipo.com or niupipo-authorized retailers. The warranty covers any manufacturer's defects for a period of one year from the date of purchase.
Is It A Pickleball Paddle, Pickleball Racket, or Pickleball Racquet?
The correct term is a pickleball paddle. Some people might refer to it as a pickleball racquet or racket, but in the official terminology of the sport, the equipment used to hit the ball is called a paddle.