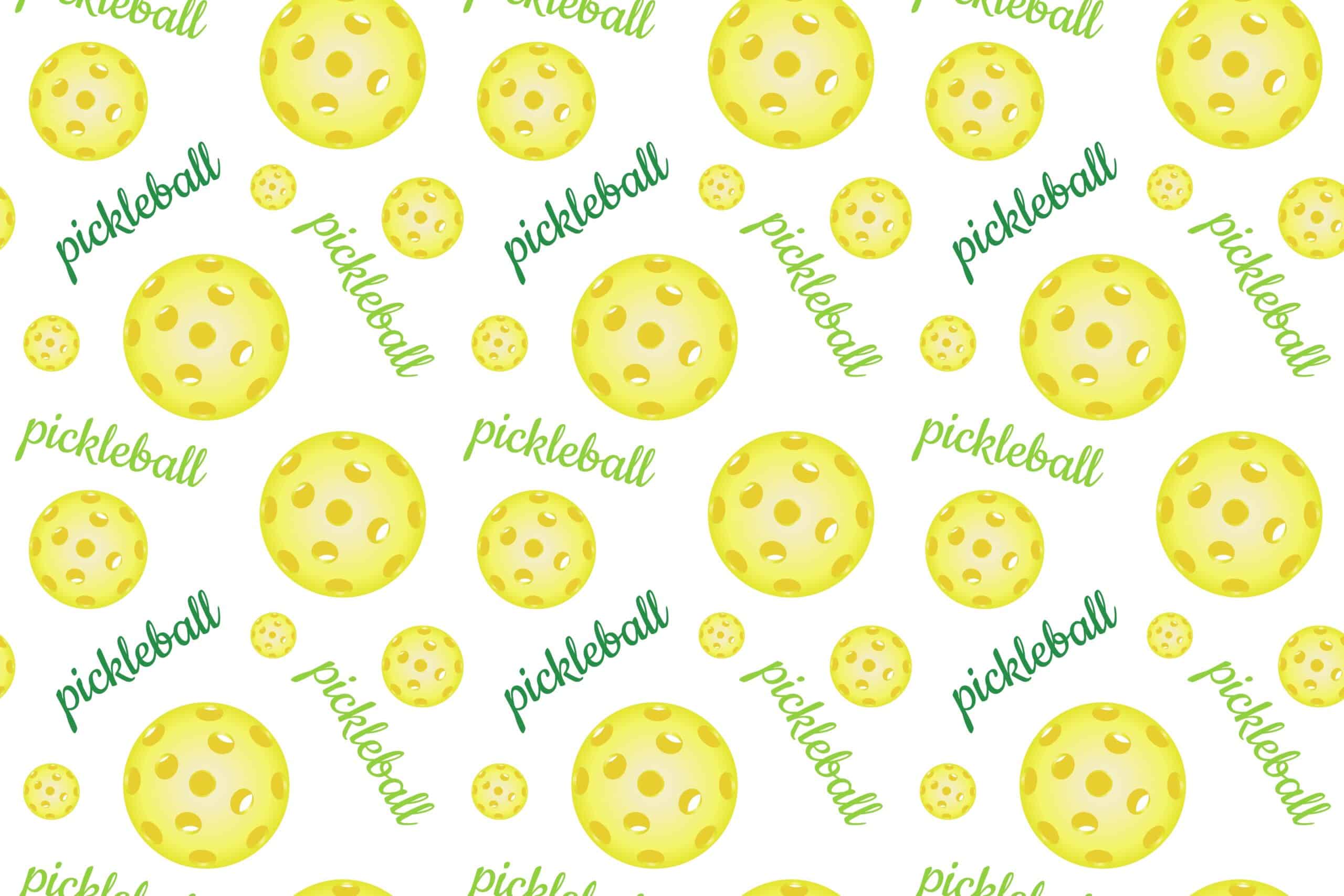 Pickleball is everywhere these days! According to recent statistics by the Sports & Fitness Industry Association Report, Pickleball is one of the most popular sports in America as more than 36.5 million people played pickleball from August 2021-August 2022.
The major reasons behind its increasing popularity are that it is easy to learn, acts as a great workout, and is a ton of fun!
One thing players may not realize is that having the right type of pickle balls can make a big difference in their enjoyment of the game as a player.
In this blog post, we list the 6 best pickleball balls for each type of play.
We are reader supported and as such may make a small commission at no expense to you if you purchase thru our links. Thank you!
What Are The Best Pickleballs?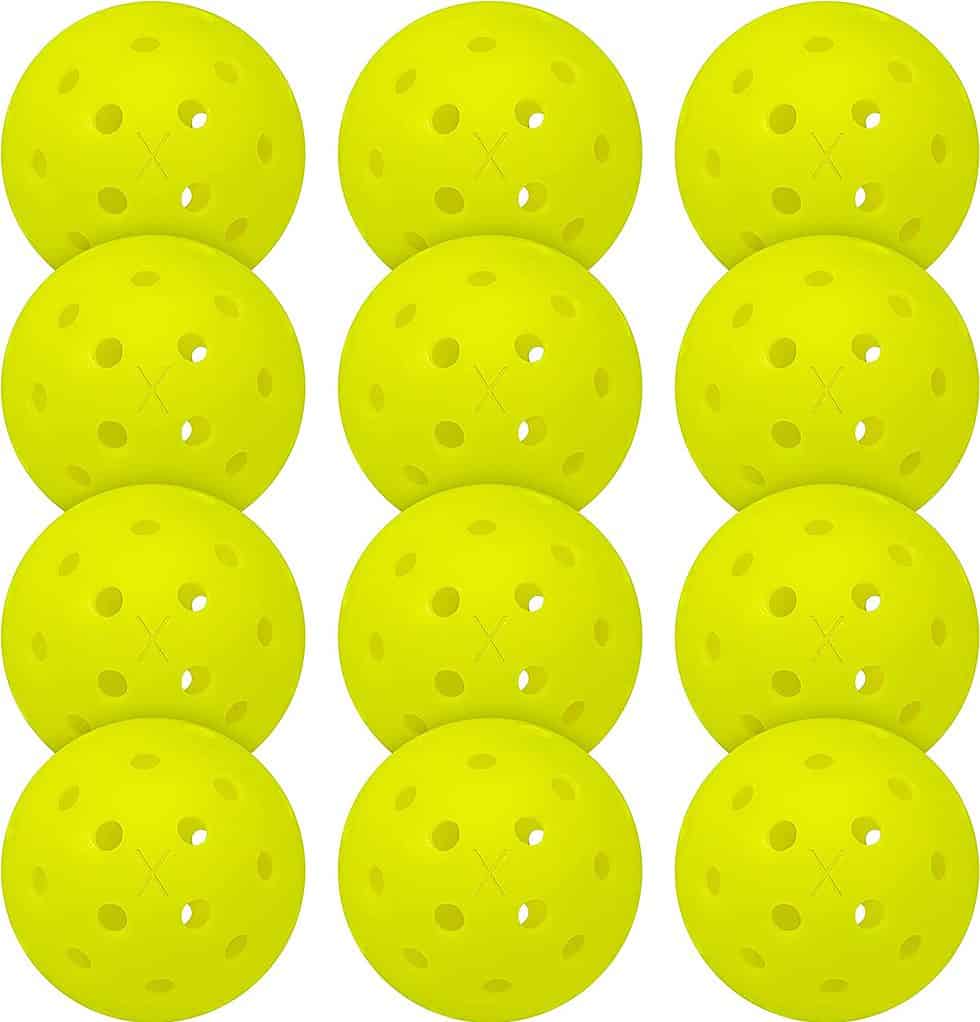 The Franklin X40 is the ball used in the US Open Pickleball Championships. If you want to enjoy pickleball the way they pros do, using a ball that is approved for competition is a must. This ball has exceptional flight and accuracy – above any other on the market – and will give you a wonderful playing experience.
Why Franklin Sports Is the Best Overall
Premium Quality
This ball is the top choice for all levels of players – from amateur to professional athletes. Intricately constructed with superior materials and extensive research, it offers outstanding performance for outdoor courts as well as indoor while ensuring long-lasting durability.
Precision Design
Another important feature of this outdoor ball is its precision design. X-40 pickleball balls are composed of 40 precise machine-drilled holes which ensure a balanced flight pattern. The precision design also leads to reliable and tight spins that remain consistent.
Specialized Features for Outdoor Environment
This specialized outdoor pickleball ball is designed to stand up against the harshest outdoor elements. Outdoor courts are rough and can wear away at the ball. With a seamless one-piece construction, this pickleball can take on any court and remain resilient from cracking or denting even in tough conditions.
What Are People Saying – Customer Reviews
While the ball is praised for its sharp performance outdoors, many users noted that it doesn't perform great in cold weather – making it less than perfect in chilly conditions. Still, with premium quality and precision design you can expect a fun and well-balanced experience on any surface!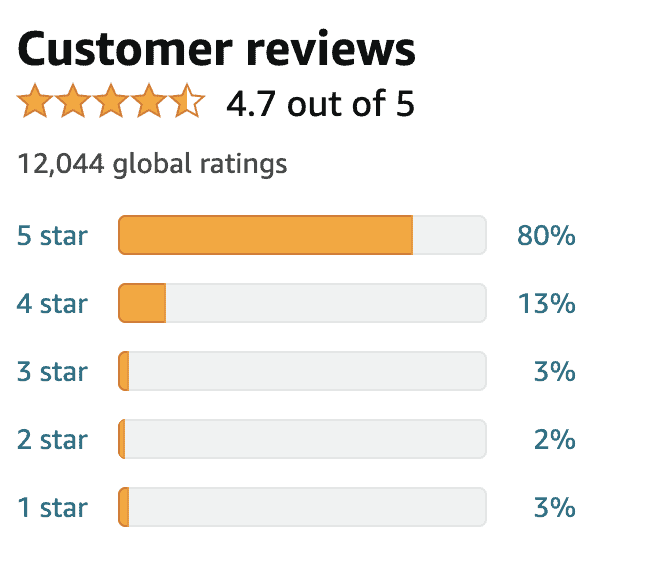 Looking to take your pickleball game to the next level with tournament play? The SLK Competition Pickleball ball by Selkirk is designed for competitive players who are determined to perform their best.
Why Selkirk Is Best For Competition
Wear Resistance
With reinforced wear resistance and an impressive ability to stand up to long hours of intense play, this premium ball offers great performance no matter what you throw it. Experience the enduring power of a truly durable outdoor ball!
Even Weight Distribution
It is constructed with high-quality material and all holes are evenly distributed across the ball. Its weight distribution is also uniform across the ball which ensures a consistent experience during every game.
Ultimate Visibility
Selkirk pickleball adds an extra level of excitement to the game with its enhanced neon hue, giving players improved visibility and amping up the competition.
What Are People Saying – Customer Reviews
Users are loving the product- raving about its unbeatable value for money and racking up 5 star reviews. With improved durability, consistent flight, and a good bounce every time you play with it, this ball offers an unparalleled gaming experience that is sure to leave players satisfied!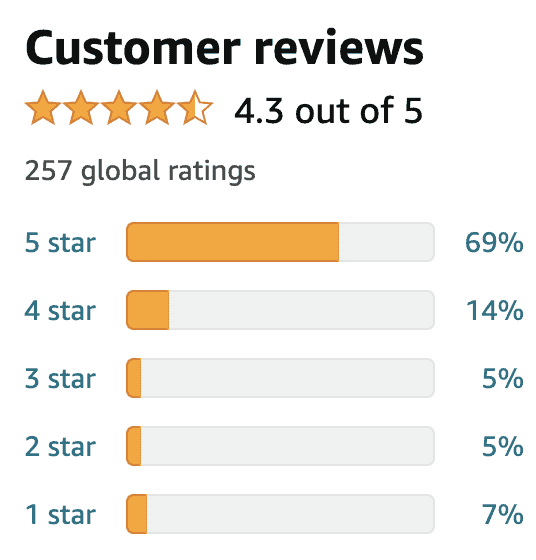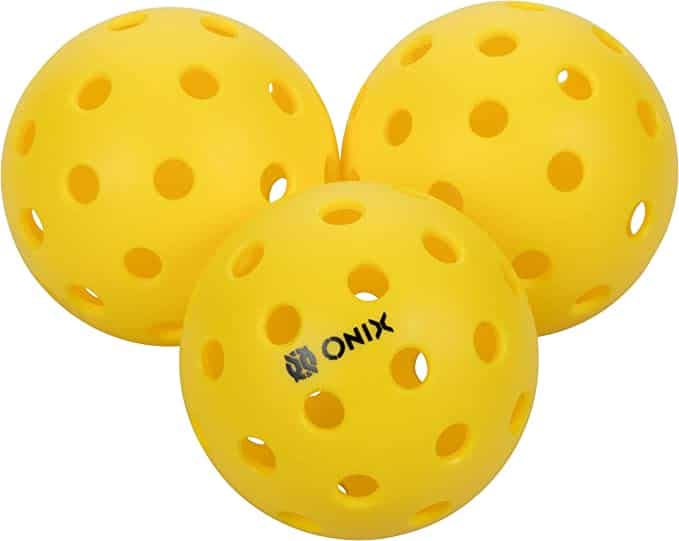 Onix Pure 2 is ranked best for beginners on our list. These multipurpose balls are great to get started in an indoor or outdoor environment.
With their durability, sturdiness, high bounce, and superior balance, they are considered the best ball for beginners.
Why Onix Pure 2 Is The Best Ball for Beginners
True Flight
The balls are specially designed to be a little heavier with their True Flight Technology. This helps the ball to fly straighter in outdoor conditions and deliver consistent flight with exceptional playability and precision.
The two halves are also matched and welded via controlled robotics to generate exceptionally smooth and durable seams.
Authentic Bounce
The Authentic Bounce Technology is a proprietary formula to help provide a pure and consistent bounce.The construct of this ball allows it to maintain its shape and be very durable.
Superior Balance
This ball offers great balance so you can spin away without worry. It's perfectly round holes are strategically aligned and drilled to guarantee perfect balance giving you unrivaled stability in motion.
What Are People Saying – Customer Reviews
The ball has been praised by everyone who's tried it – its true flight, authentic bounce and superior balance give users an incredible performance no matter if they're playing on indoor or outdoor pickleball courts.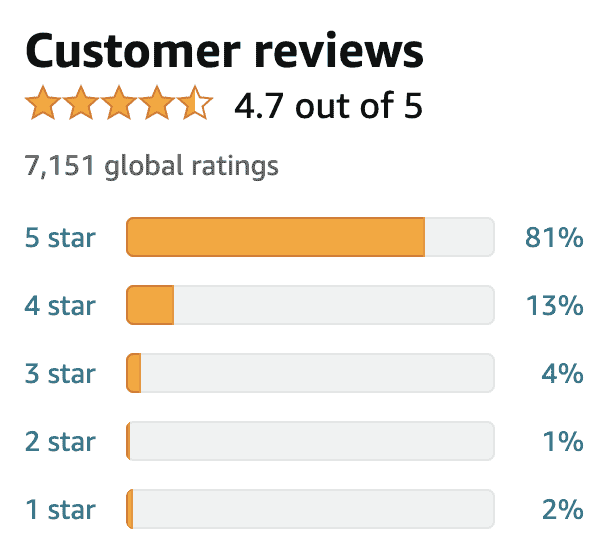 Best Outdoor Specific: Penn 40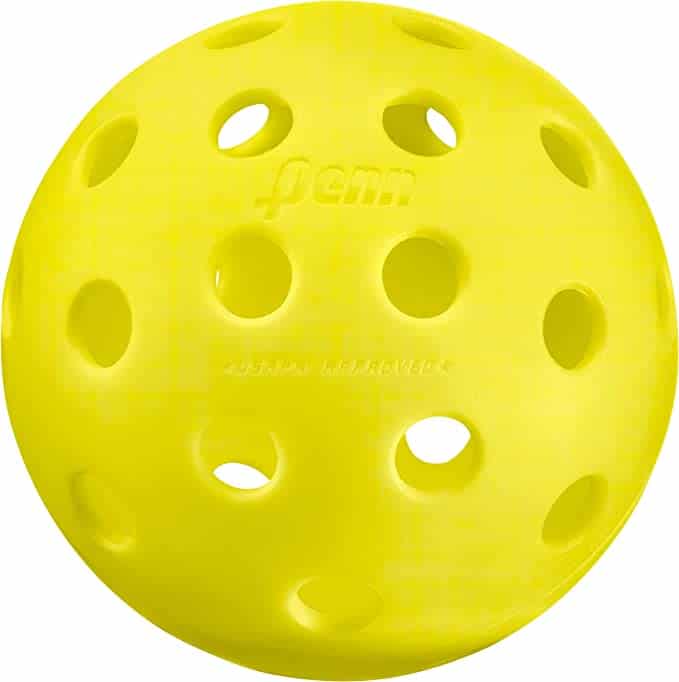 Want to get the most out of your pickleball game? Then you should go with Penn-40, proven and trusted by players at all levels. Boasting outstanding features like enhanced visibility, high durability, a softer touch – it's no wonder why this is the preferred pickleball ball for recreational as well as tournament play!
Why Penn Pickleball Is the Best Outdoor Specific
Dynamic Bounce
The ball is composed of premium quality material which promises to provide you with a consistent bounce in each game. Consequently, this dynamic bounce gives you exceptional performance and incredible playability during every game.
Increased Visibility
The vibrant optic yellow color provides high visibility when playing on any court, while its specially crafted dirt-resistant material allows you to bring the game indoors or outdoors with ease.
Playability In All Conditions
The ball is designed with 40 precision drilled holes which gives the ball perfect attributes to play outdoors in all conditions.
What Are People Saying – Customer Reviews
The pickleball balls superior performance and features have made it a top choice among players. From beginners to pros, its consistent bounce rate provides exceptional controllability while the outstanding quality ensures long-term use. Aligned with these benefits are countless rave reviews from users – verifying that this is indeed the go-to ball for any game!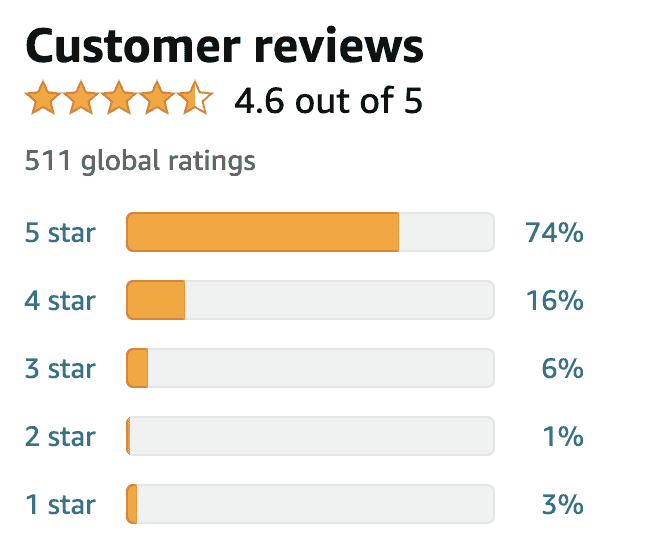 Best Indoor Specific Pickleballs: Jugs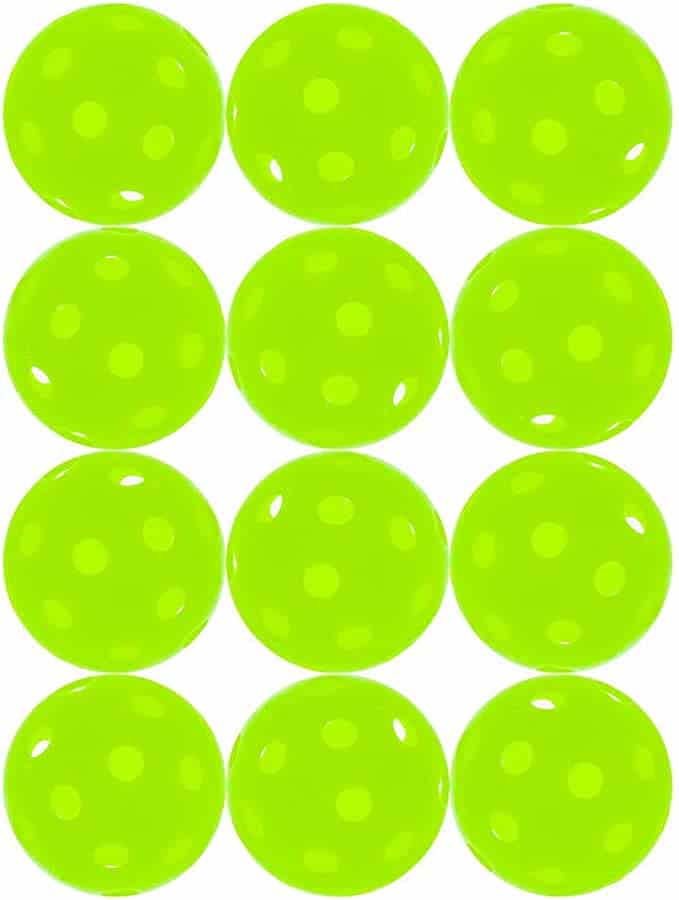 Playing on indoor surfaces is definitely different. And so are the balls!
To truly enjoy the indoor pickleball game, you must use balls that are specially designed for indoor environments. The Jug's indoor balls are one of the best options in this regard.
Why Jugs Is The Best Indoor Pickleball
The Plastic Touch
The ball is made up of relatively softer plastic material which offers improved control and quieter play. Being an indoor ball, it has a fewer number of and larger holes in it than outdoor balls. It enables the ball to respond better to the indoor court's surface.
Good Bounce Rate
The soft plastic material of indoor pickleball balls enables them to bounce at a higher rate compared to outdoor pickleball balls. This is the reason that these balls are easy to control.
Perfect for Indoor Games
The ball is specifically designed for indoor environments and smoother surfaces.
What Are People Saying – Customer Reviews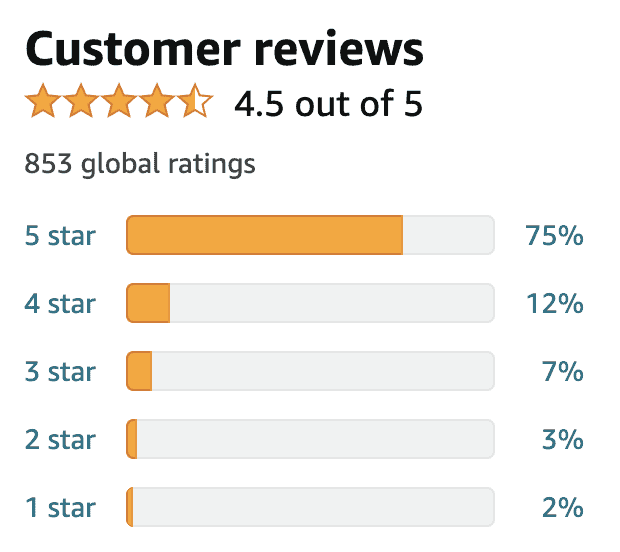 The Best Balanced Pickleball: Gamma Photon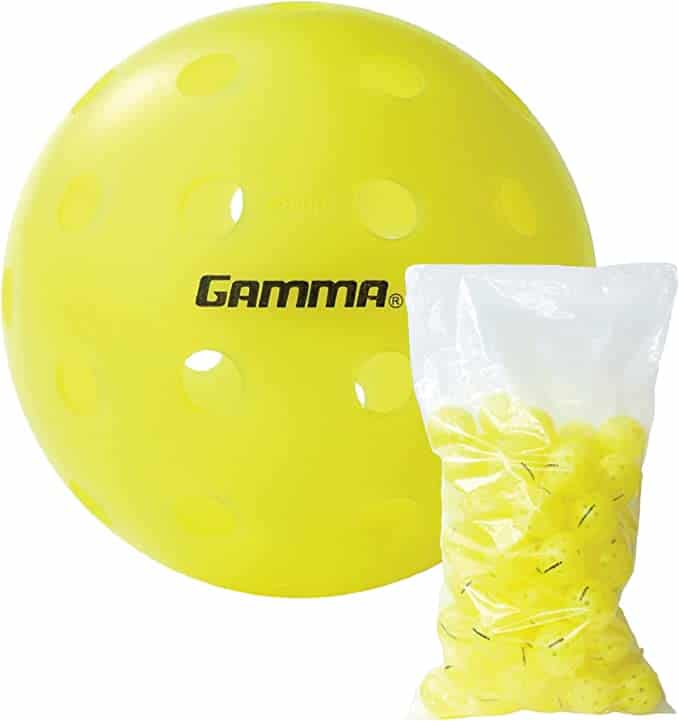 Playing pickleball requires precision and skill, but having the right equipment is essential. The Gamma Photon Pickleball gives you that advantage with its meticulously balanced design to give amateurs and pros alike an edge over their competition. So if you're ready for a competitive boost in your game, this may be just what you need!
Why Gamma Photon Is Best Balanced Pickleball
Ultra Balanced
Gamma stands out with its perfectly balanced ball made of two pieces, allowing players to show off their skills during every match. This knack for balance is what makes this ball so special and fun
Precision Construction
The precision-crafted construction of this perfectly balanced ball makes it one of the top pickleball balls. With 40 molded holes, it always flies a consistent path – whether you're playing outdoors or indoors! Rigorously built to last through all types of play.
What Are People Saying – Customer Reviews
These pickleball balls surpass expectations with their amazing performance and affordability. Their top-notch visibility, liveliness, and durability make them a must have for indoor play – so you can up the fun factor of your game while still saving money!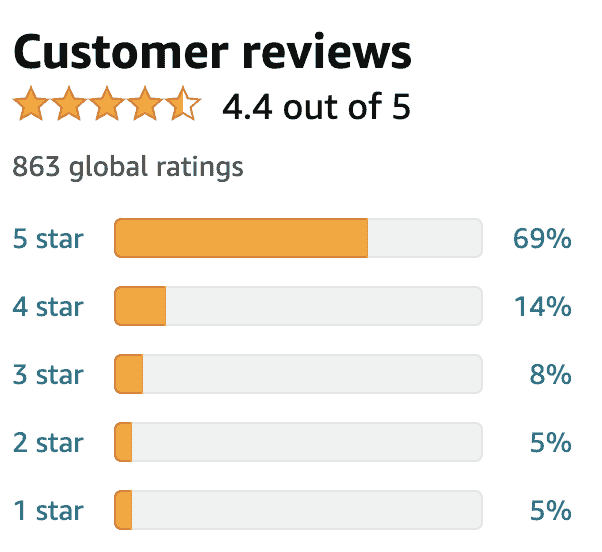 How To Choose The Best Balls
There are a lot of different types of pickleball balls on the market. And the list just keeps growing as sporting goods companies want to jump into the ever-so-popular game of pickleball.
With so many options, it becomes really hard to decide which one is the best.
Here are a few key things to consider when selecting your pickleball balls.
Durability
Durability is definitely a key component to a good pickleball. We don't want to constantly have to replace the balls we are playing with or have them get damaged while we play. You need to find a ball that can handle the wear and tear especially when you are playing outdoors on rough surfaces.
Where You Intend to Play
Another important thing when buying pickleball balls is where will you play most often? Indoors on smooth surfaces or outdoors with wind and rough surfaces? Each has a slightly different type of ball designed for indoor or outdoor play.
Color
When it comes to pickleball, a bright and easy-to-see color can make all the difference. Certain balls come in multiple shades that aid in high visibility on the court, while other brands may only offer one hue. Whichever you choose – remember that an eye-catching color is key for successful game play!
Noise
Noise levels should be taken into account when selecting a ball for your game. While some balls are relatively quiet, others can create quite the sound – especially if playing near people or animals who may not appreciate it!
Weight
The weight of the pickleball can make a big difference.
Finding the right weight for your ball is essential to mastering any sport! For outdoor play, it's best to select a heavier ball so that wind can't mess with trajectories. When playing indoors though, you've got some wiggle room and don't have to worry about environment variables quite as much – just be sure not to stay too light or too heavy (aim for 0.78-0.935 ounces!) and let the fun begin!
Number of Holes and Size of Holes
The number of holes and size of them within a ball plays a determining role in the flight of the ball, therefore, you must play with a ball that fulfills all regulations.
The number of holes may vary in the case of indoor and outdoor balls. In the case of indoor balls, there should be 26 holes whereas, in outdoor balls, the holes should not exceed 40 holes. Indoor ball will have larger holes and indoor balls will have smaller holes.
Hardness
The hardness of the ball is also an important point to consider and it is suggested that balls must have a hardness of 40-50 on the Durometer D scale across an ambient temperature of 75-80 Degrees Fahrenheit.
Consistent with USA Pickleball Specifications
This factor is specifically important if you want a ball for a tournament play. You should consider a ball that fulfills all USAPA specifications. You can check all approved balls from USA Pickle Balls.
Moreover, the ball must have a logo or name of the manufacturer printed on its surface as it ensures that the ball is of good quality
Conclusion
When it comes to selecting the best pickleball balls, there are many factors you should consider. Durability, texture, color and noise levels are all important elements that can enhance your game experience. Additionally, weight, number of holes and bounce will also affect how well a ball performs on the court – so make sure you know what kind of equipment works for your skill level before making any purchases! Finally, check if the ball is consistent with USAPA specifications and has a logo or name from its manufacturer printed on its surface to ensure quality control. With these tips in mind, you'll be able to find just the right pickleball for your next match – enjoy the game!