You can't stop thinking about pickleball! You want to play ALL the time! And it appears, so does everyone else! The courts are packed and it's hard to get time to play! What can you do??
How about a portable pickleball net system???
Set it up just about anywhere and you are set!
But are portable pickleball nets any good? Well, we went to work and did our research to find you the best portable pickleball net!
These net systems are strong and durable, easy to set up and take down, and suitable for any surface. These nets should last you a long time!
So don't let lack of court availability keep you from playing pickleball. With a portable pickleball net, you can play anywhere!
See our list below to help you find the right net to get you playing.
Let's get started.
SwiftNet 2.1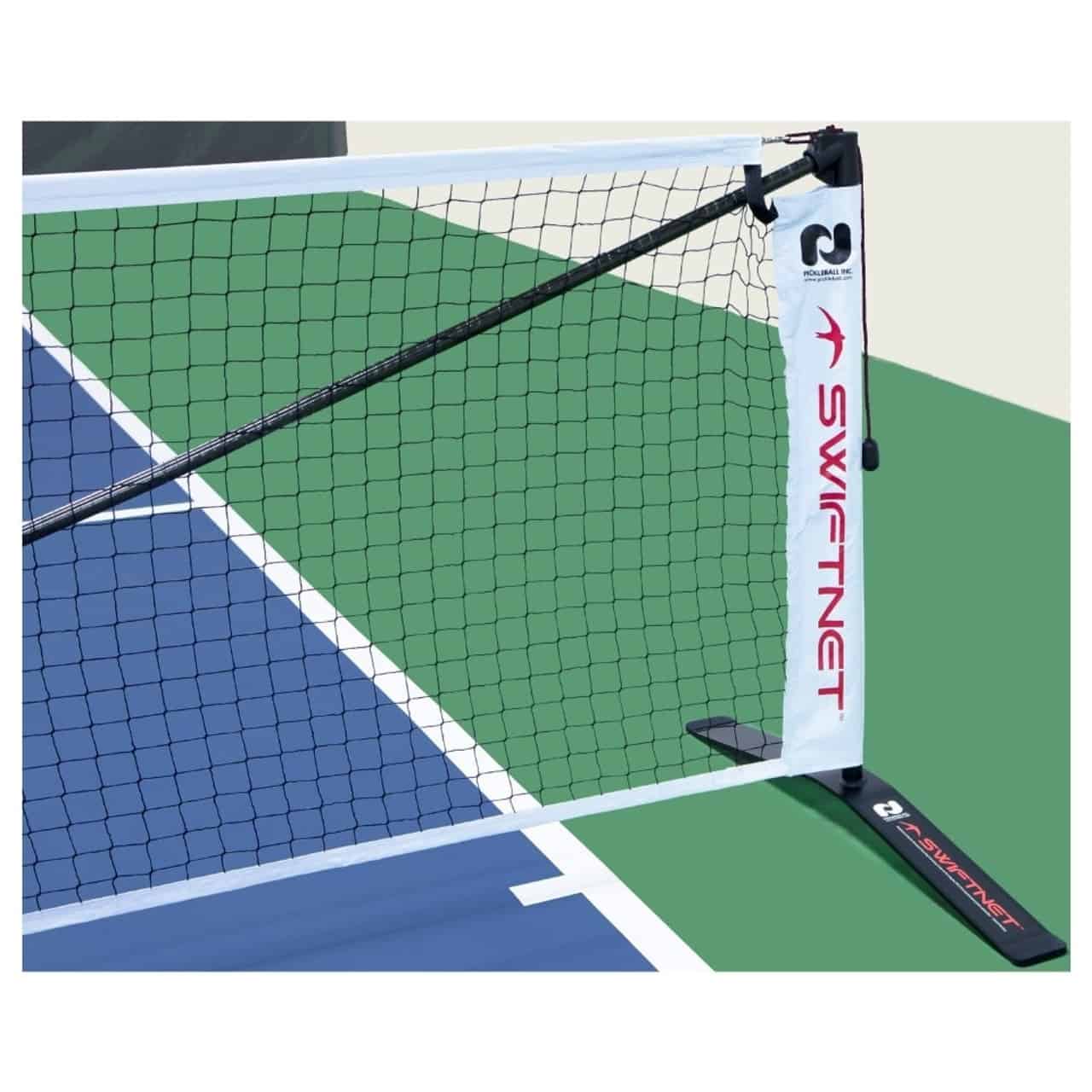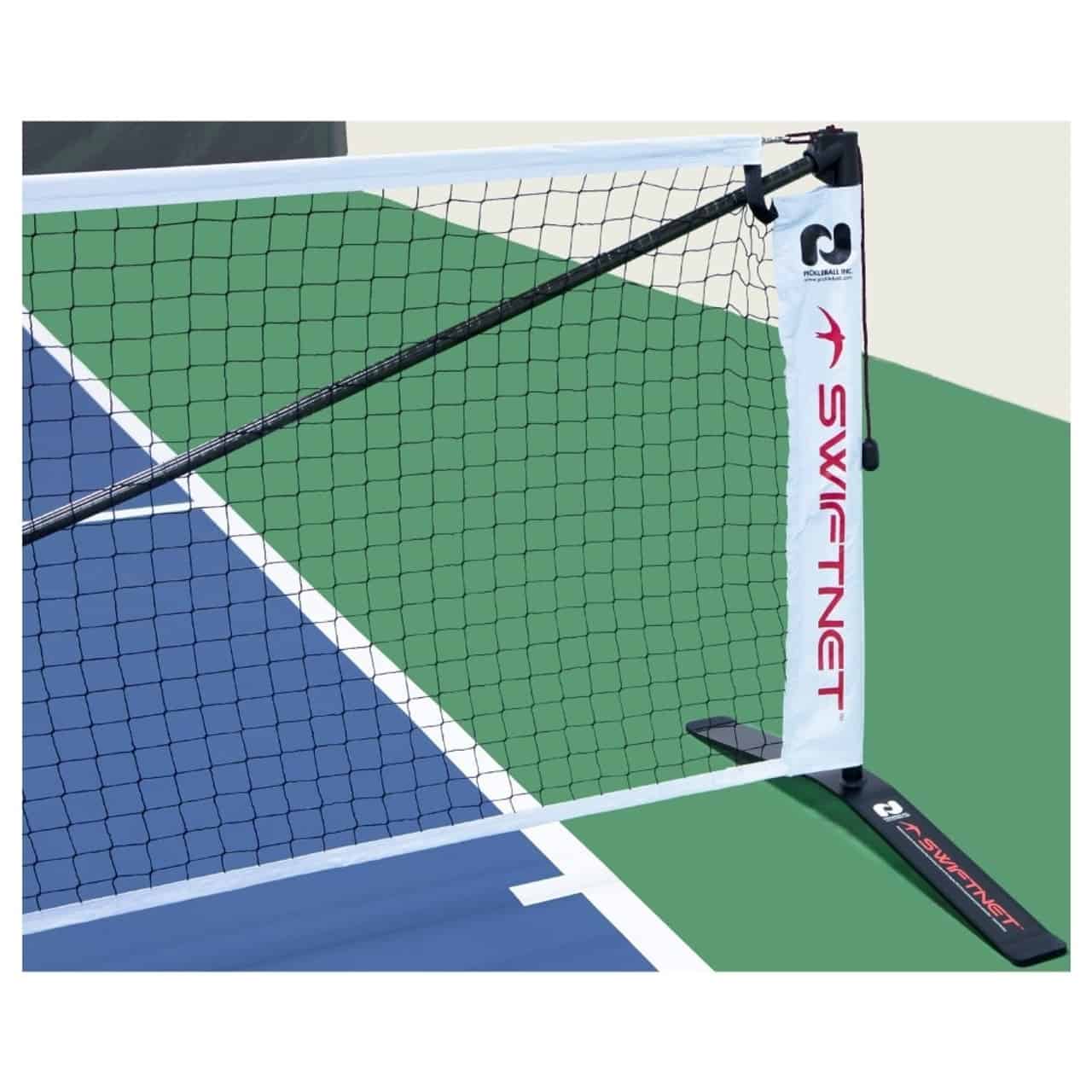 Super easy to set up, lightweight and easy to transport. Great net!
Rally Deluxe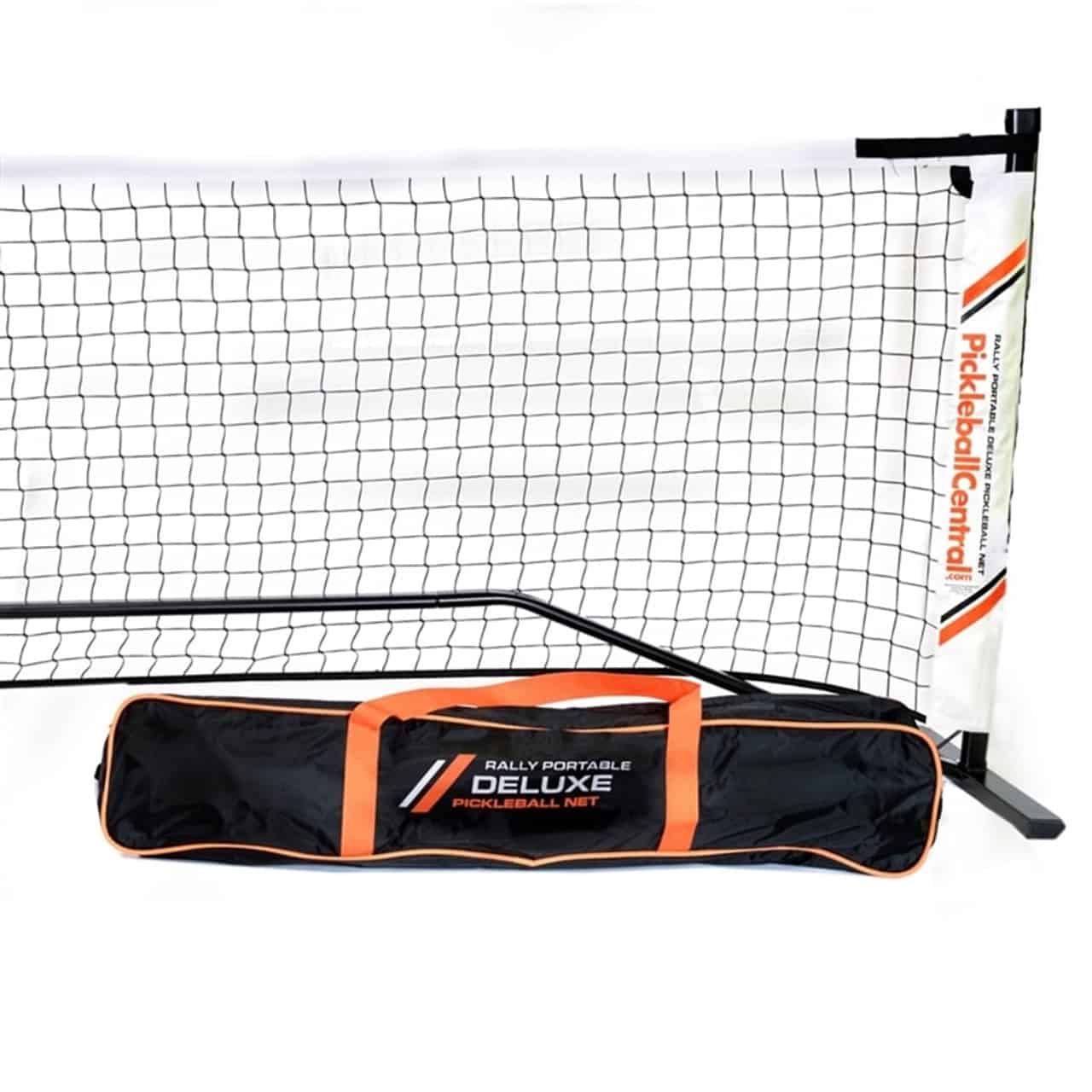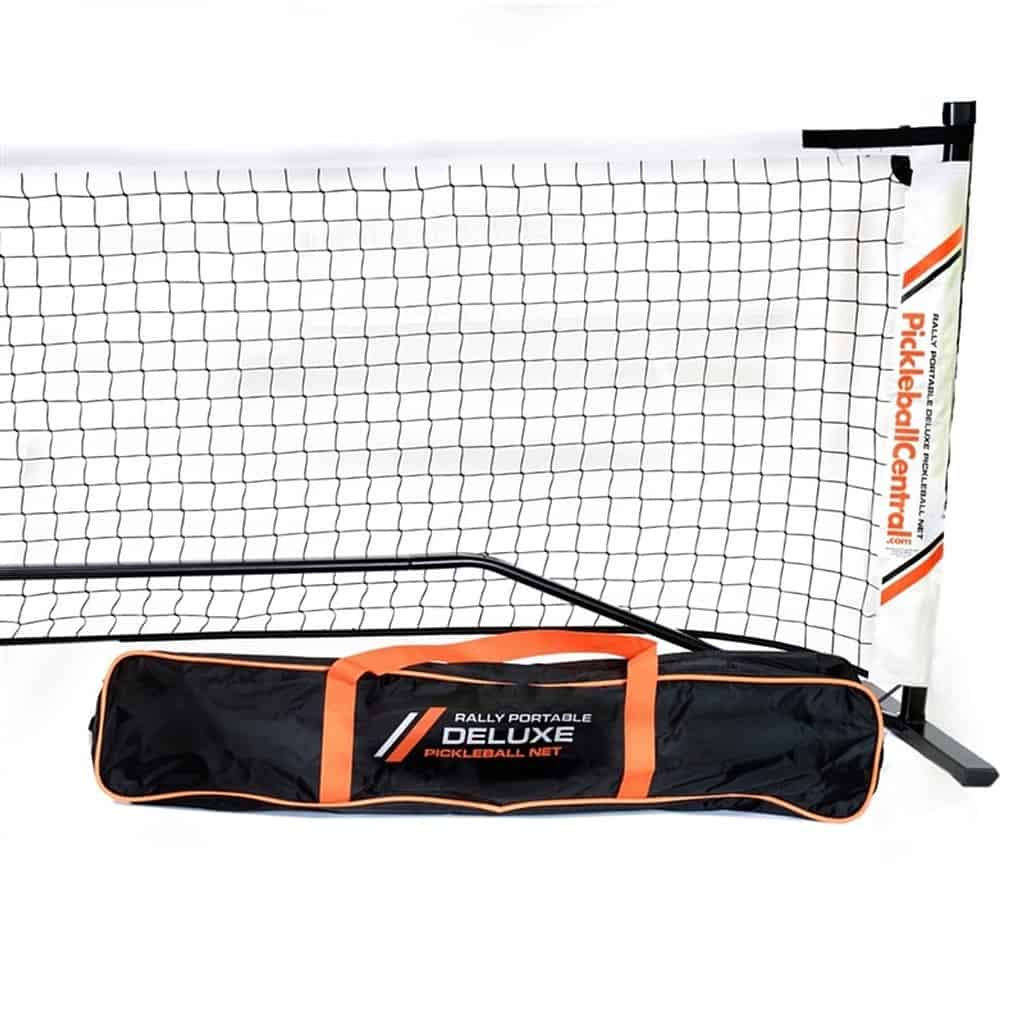 Really solid, stable and sturdy net that is still easy to set up.
OnCourt OffCourt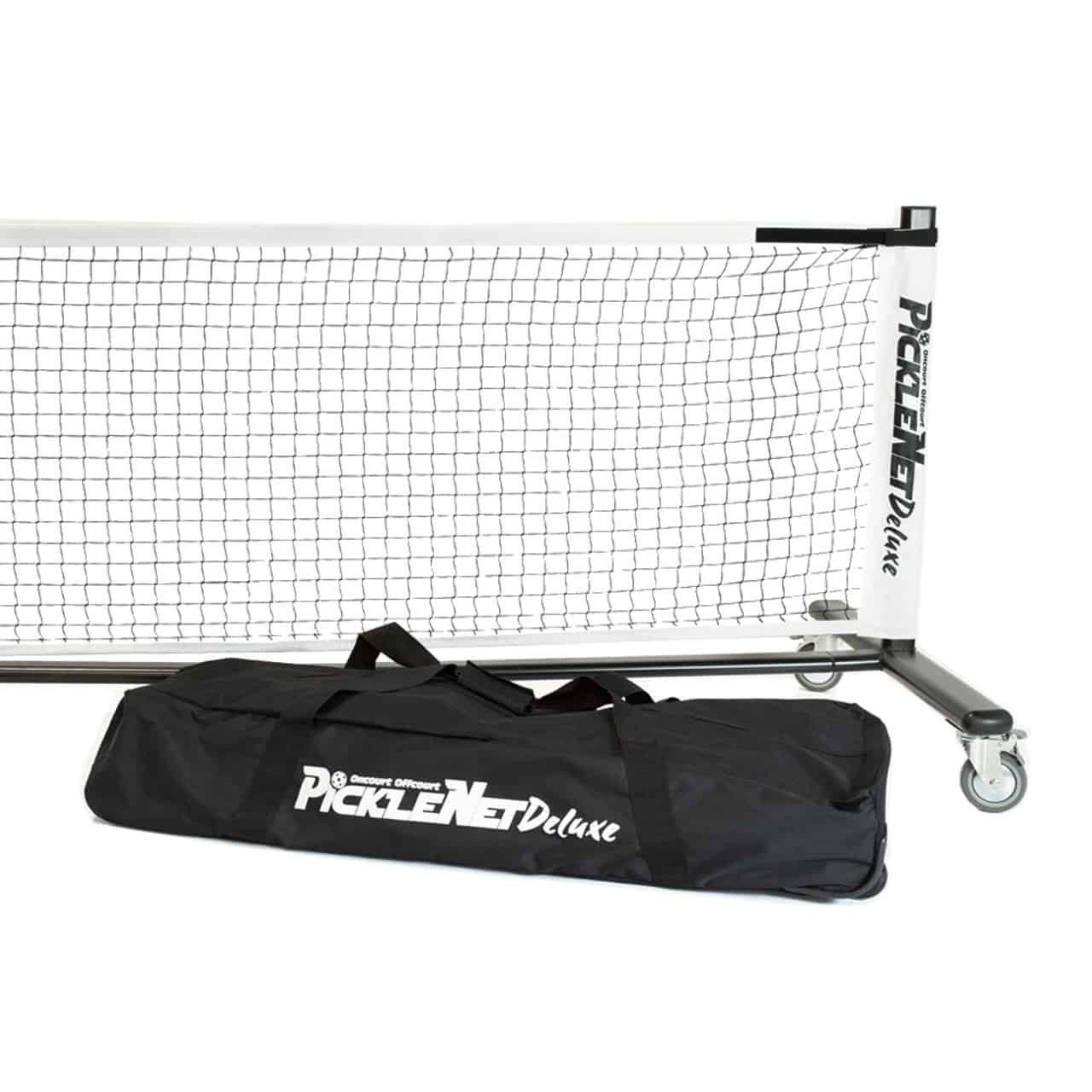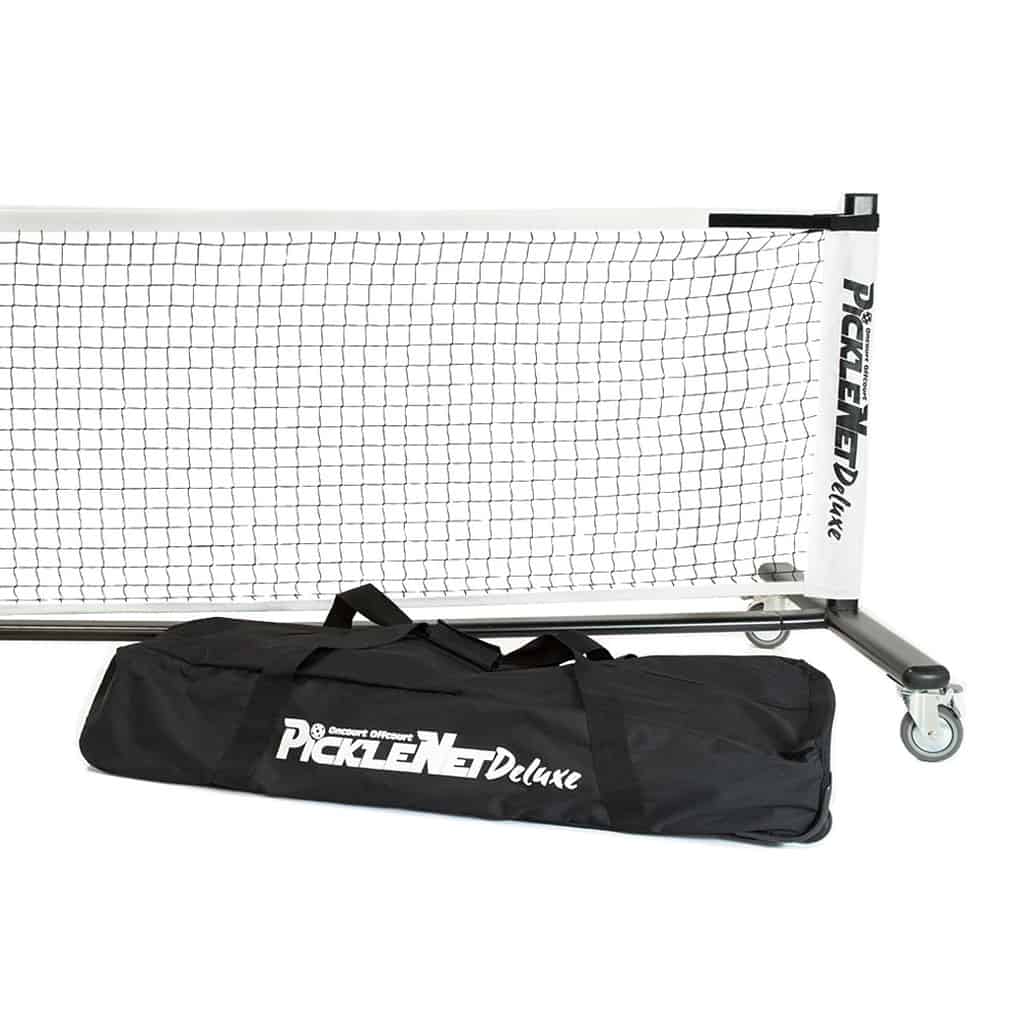 Strong heavy duty net that is easily moved around the court with wheels.
PickleNet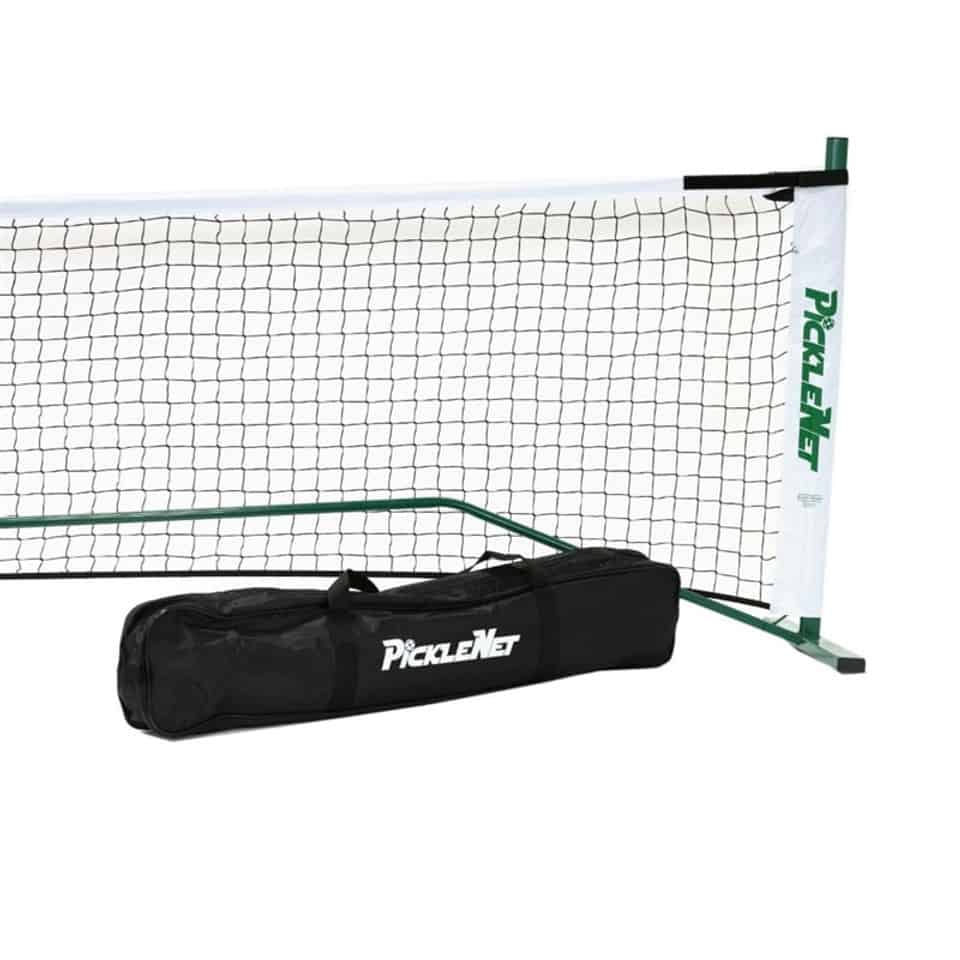 Great value for a dependable portable net system that will last.
Douglas Premier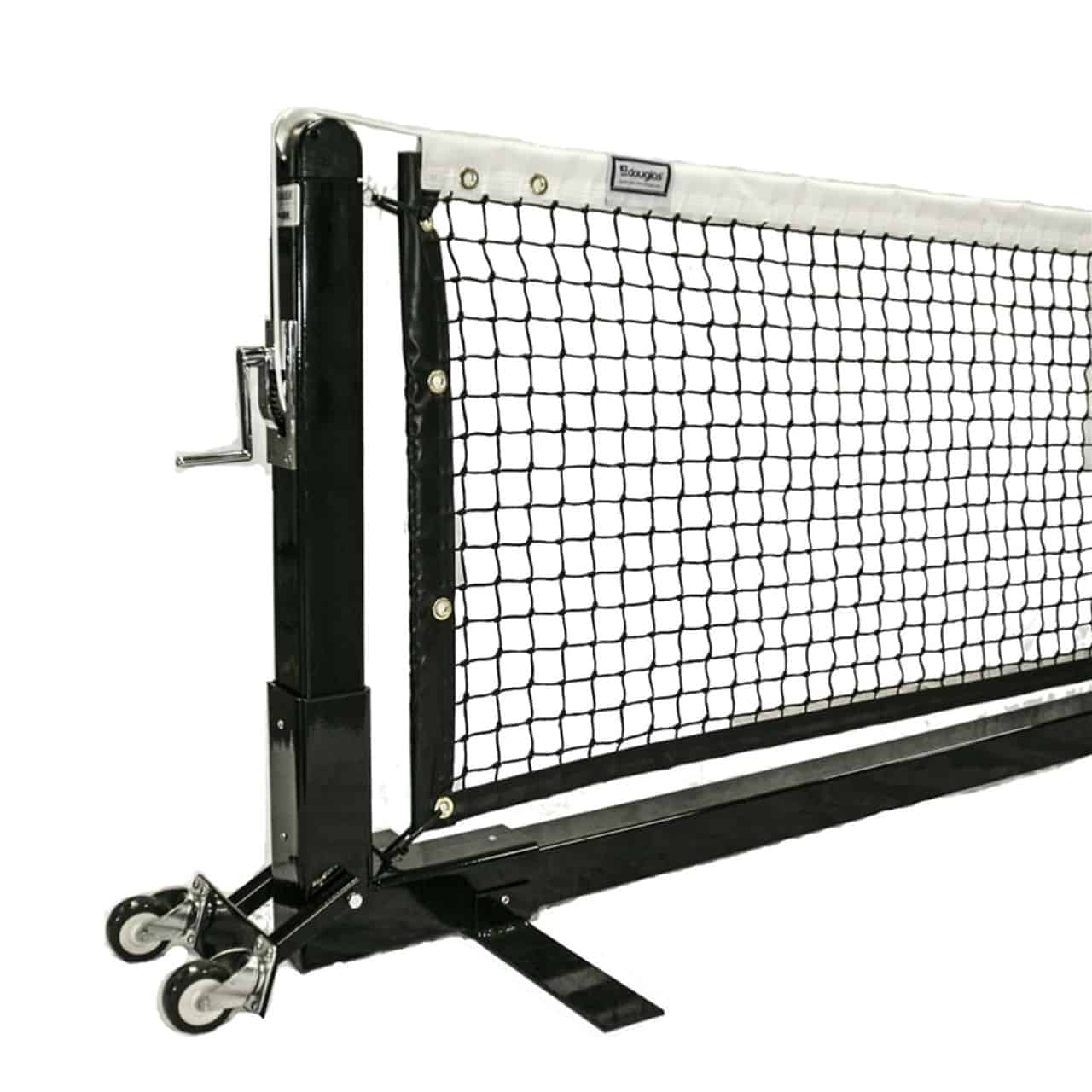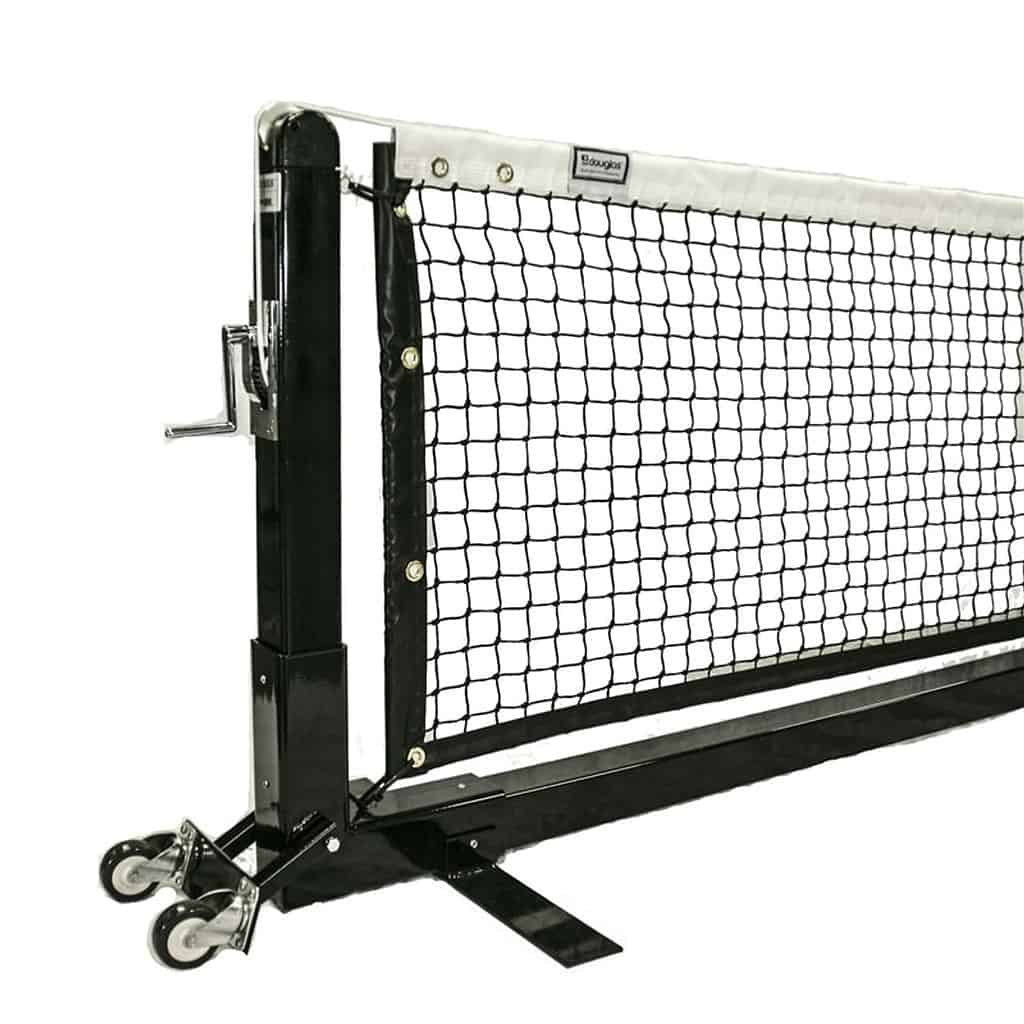 Ultra heavy duty portable net system that acts as a permanent net.
We are reader supported and as such may make a small commission at no expense to you by purchasing thru our links and we appreciate that! More info here.
What Is The Best Portable Pickleball Net?
Here is our list of the best pickleball nets: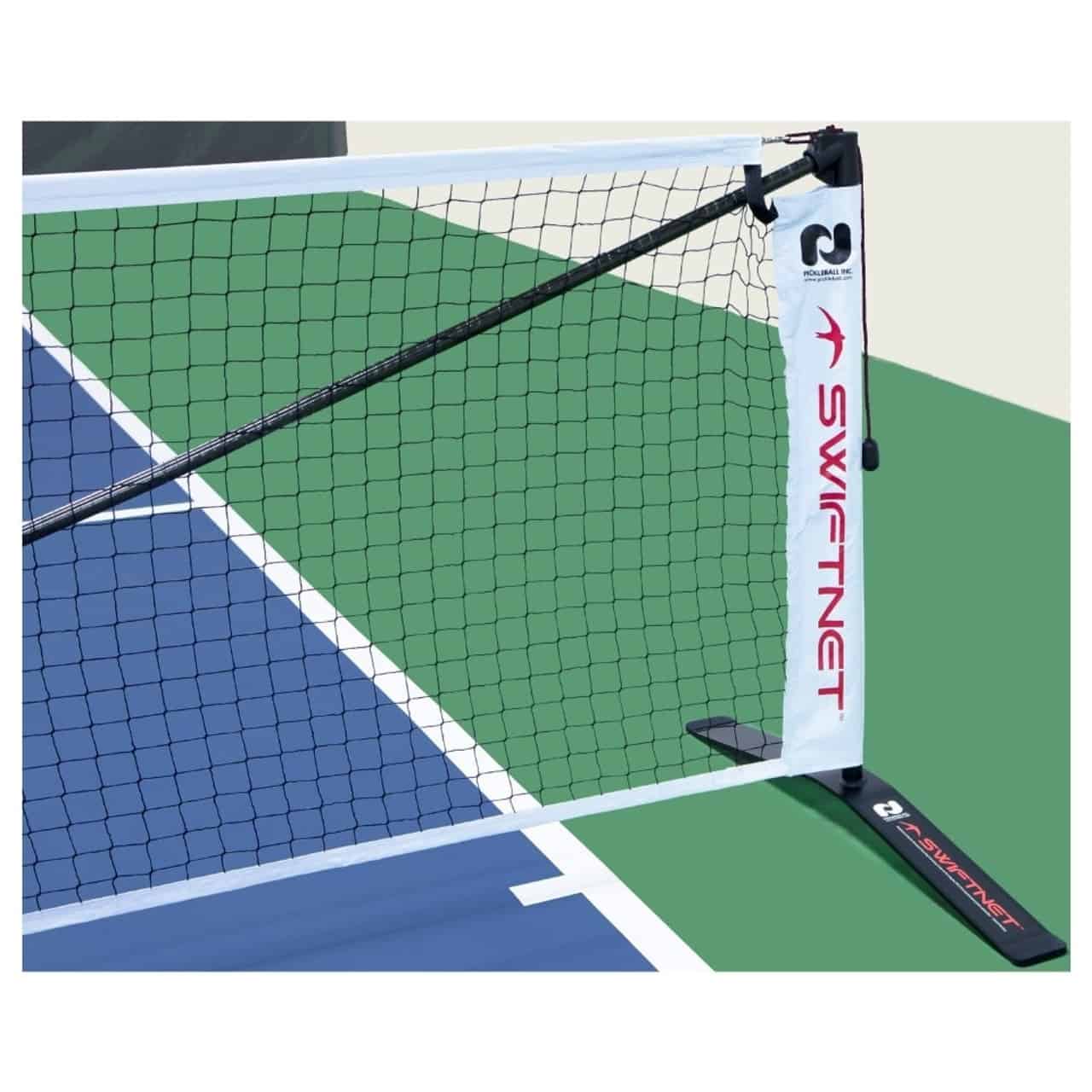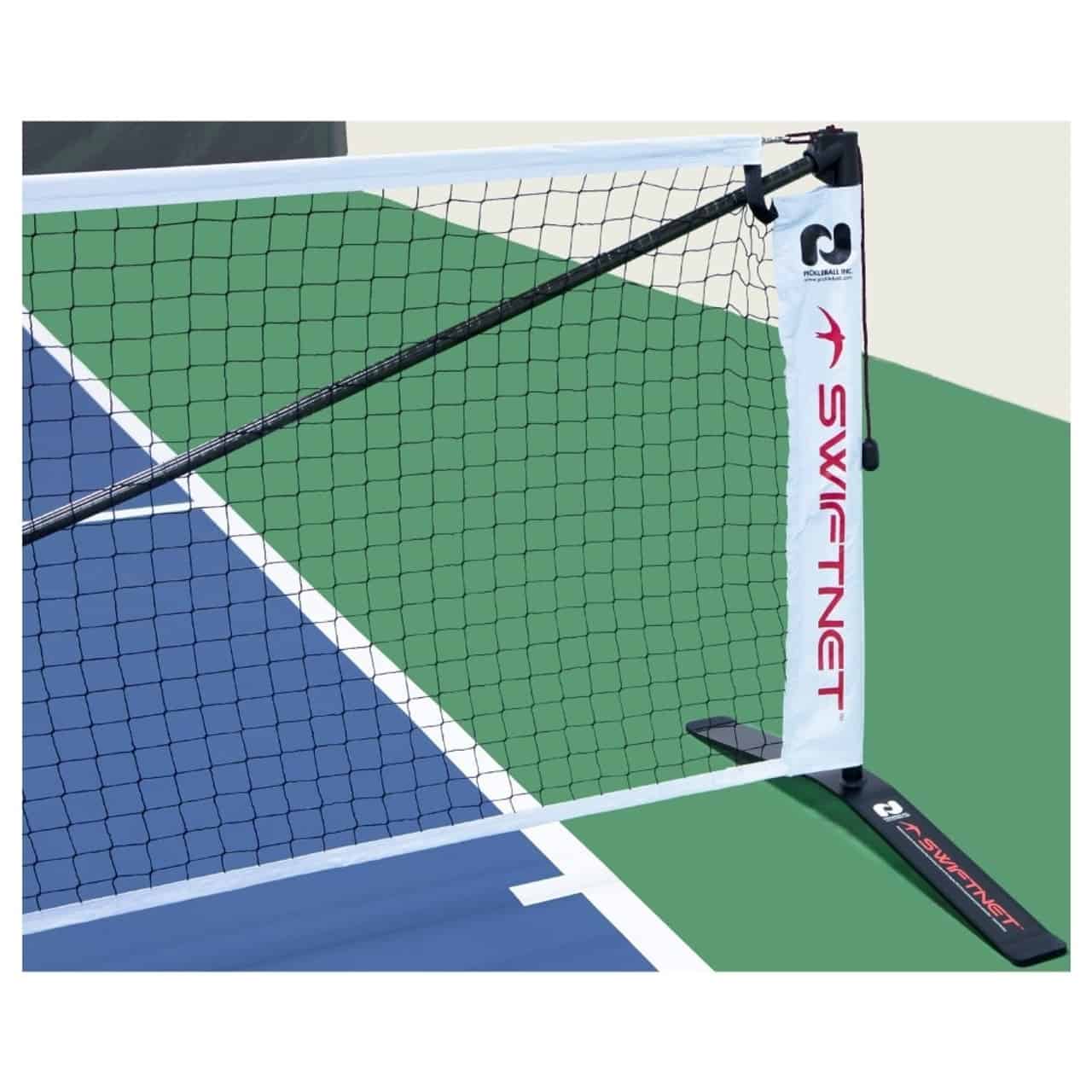 Easily the best pickleball net overall. Hands down.
The SwftNet 2.1 is a top-of-line pickleball net that will not let you down. Their goal was to make portable pickleball nets better, lighter, and easier to use. And they nailed it with this net.
It is super simple to set up and can be done in under 3 minutes. Easiest out there in my opinion. It is also extremely lightweight weighing only 17 pounds which is great for transport or if you have to move it while it is set up.
So, is it sturdy if it is so lightweight and easy to set up?
It absolutely is. It is stable and holds up well against the wind with its foot and post structure that is made from aluminum. It has an aerospace-grade carbon fiber boom that has a nice bend but doesn't break and can survive the impact from the ball during gameplay without needing a replacement net.
The net itself stays at the perfect 34-inch height in the middle and 36 inches at the sides with its unique locking system and supportive brace. The top cord does not sag and is very sturdy.
This is the perfect pickleball net for your portability needs. It's crisp, solid, light, and easy to transport. Plus, it comes with a nice carry bag!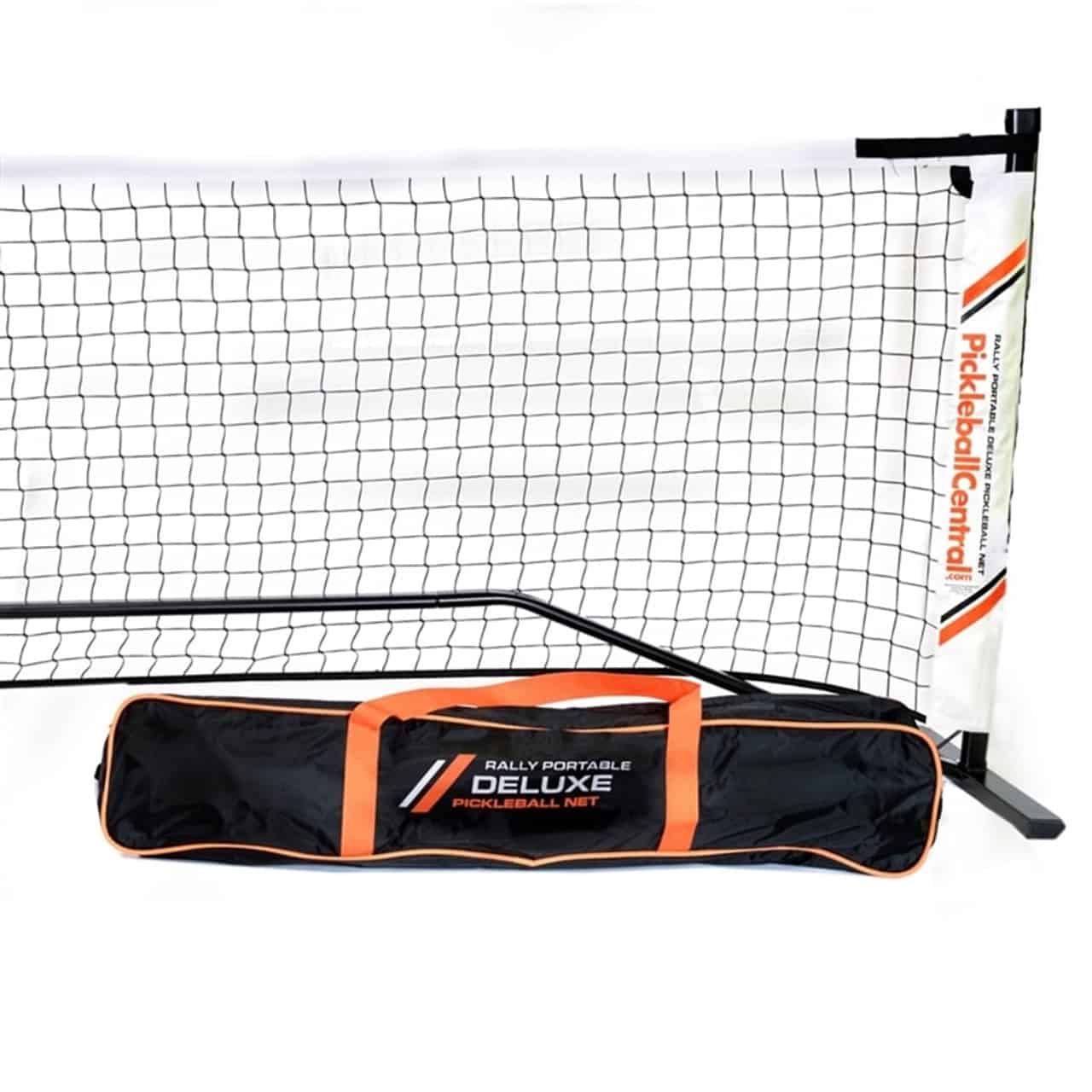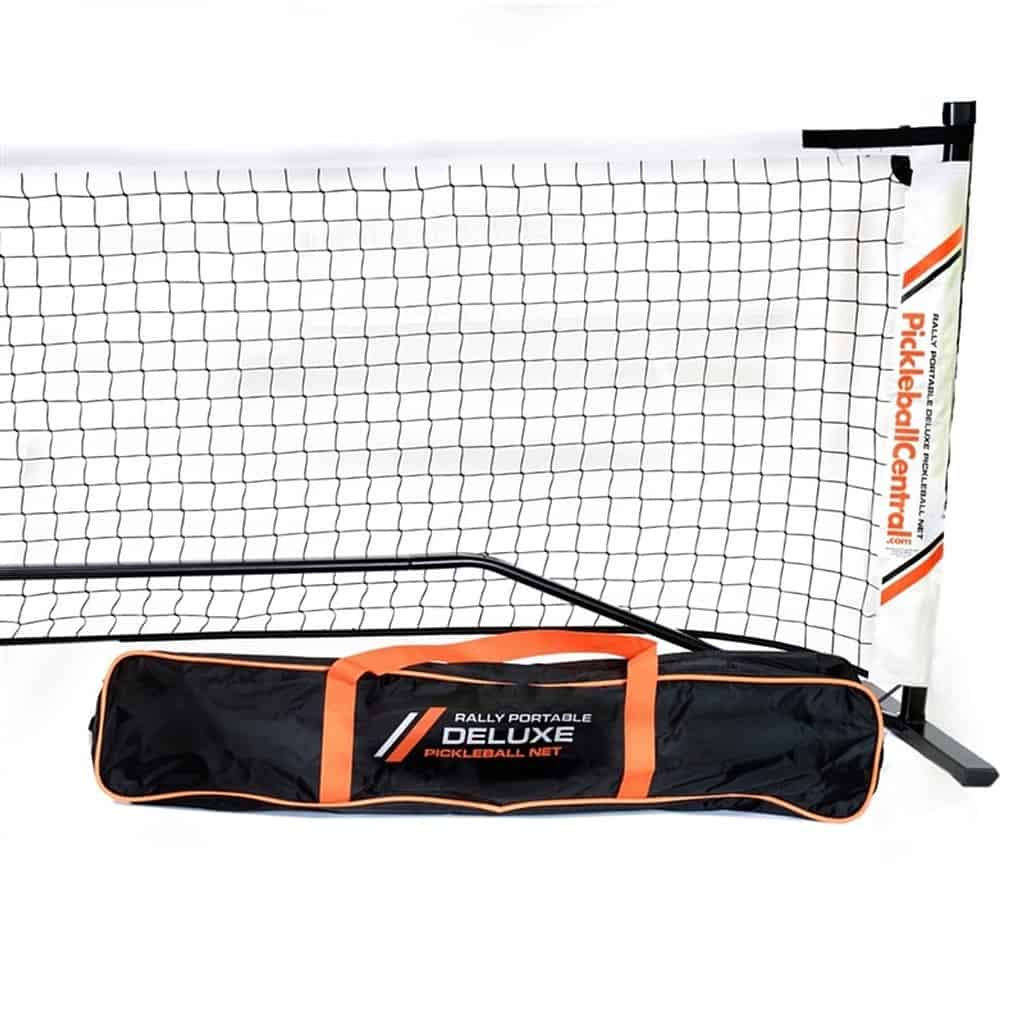 The Rally Deluxe Pickleball Net System is an exclusive high-end net system from PickleballCentral. It is made with a powder-coated, black steel frame that is the standard 22 feet wide.
The net is an unbreakable black nylon net that stays taut at the necessary 34" center height thanks to its Velcro tension system. The sturdy legs located on either side of the net, along with one in the middle for extra support, ensure stability during gameplay.
The oval tubing makes set-up very easy, taking only about 5 minutes to assemble.
Transporting and storing this net system is also super easy with its compartmentalized nylon carrying bag complete with dividers and straps to keep every piece organized and secure when not in use.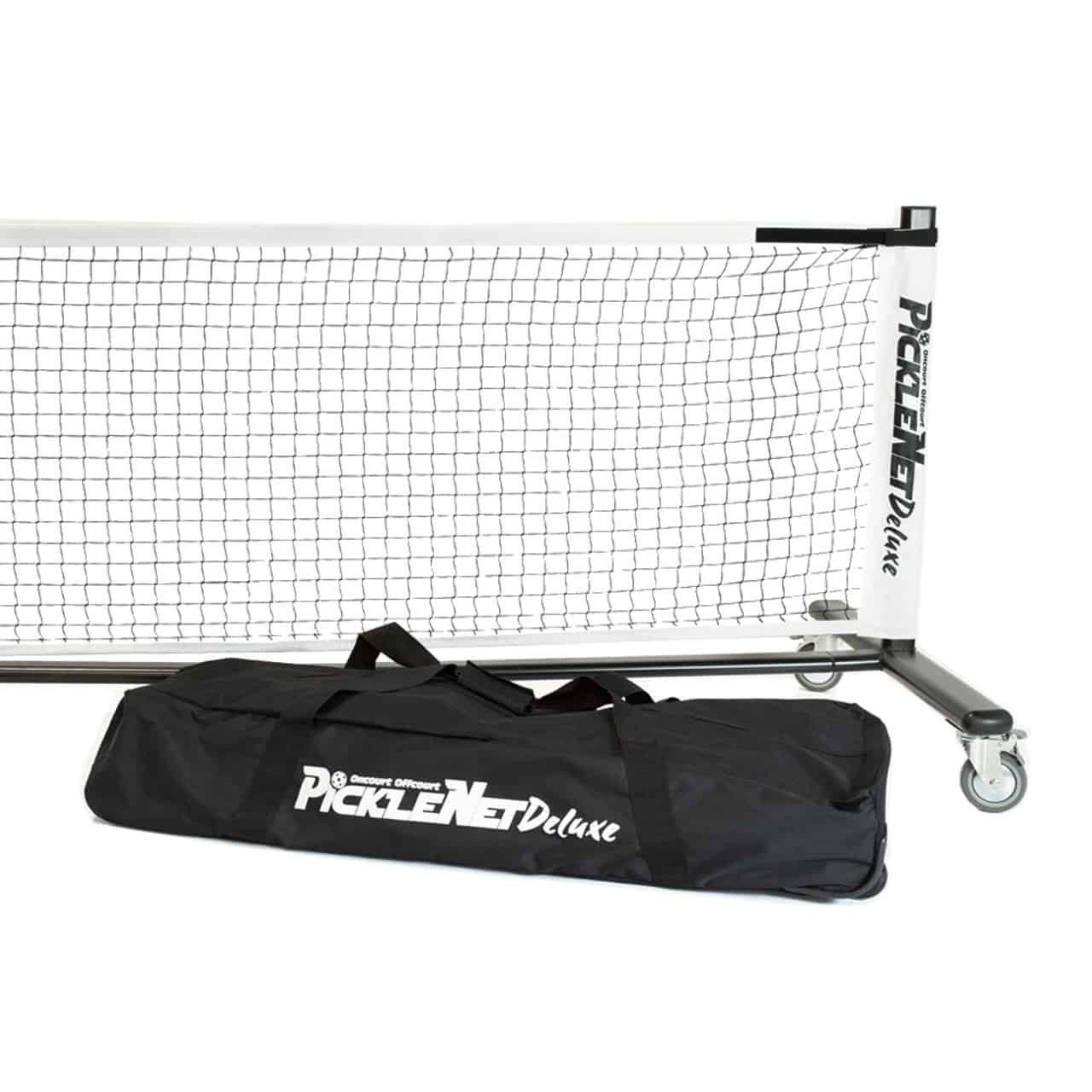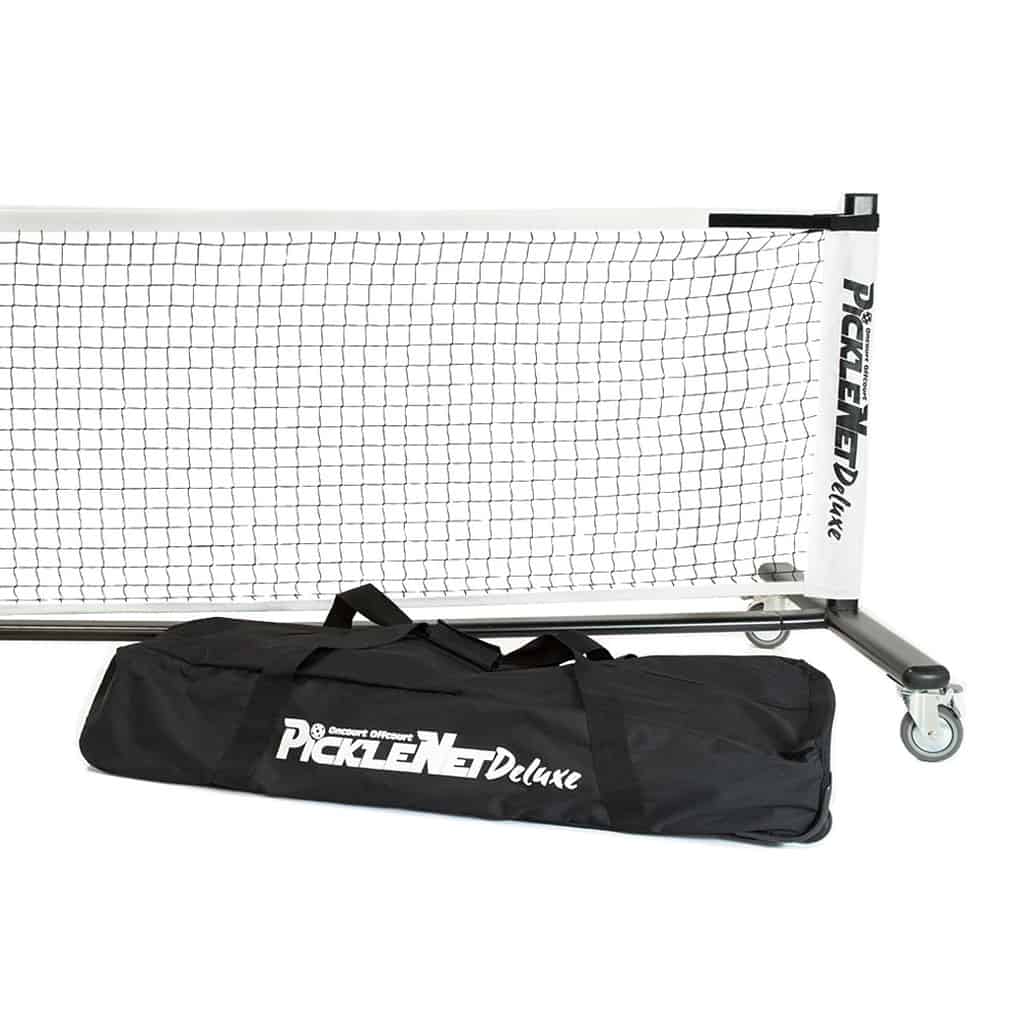 Introducing the OnCourt OffCourt Deluxe PickleNet Portable Net System – the perfect solution for those who need a portable and easy-to-maneuver net system.
With its locking wheels on the bottom feet, this version of the PickleNet Portable Net System is even more mobile. Made with over 50% high-quality aluminum components, it's lightweight and easy to handle (only 42 lbs including the bag on wheels). Measuring 22 feet long and 34 inches at its ends, it meets standard pickleball regulations. You can adjust the tightness of the net through the buckle system.
The Deluxe PickleNet Portable Net System is a heavier-duty version of our popular PickleNet, making it more stable with 1.5″ x 3″ oval tubing and locking 4″ wheels for easier transport. The corresponding duffel carry bag with wheels measures 45″ long, 13″ tall, and 8″ deep, using clasps and dividers to store all individual pieces of the net. It weighs a substantial 63 pounds but can be easily rolled to different locations thanks to its wheels.
This net system is ideal for community centers and other locations that host multiple sports as well as players who want a heavy-duty yet portable net system. And here's some good news: The Deluxe PickleNet Portable Net System is now officially recognized as the Official Net of USA Pickleball!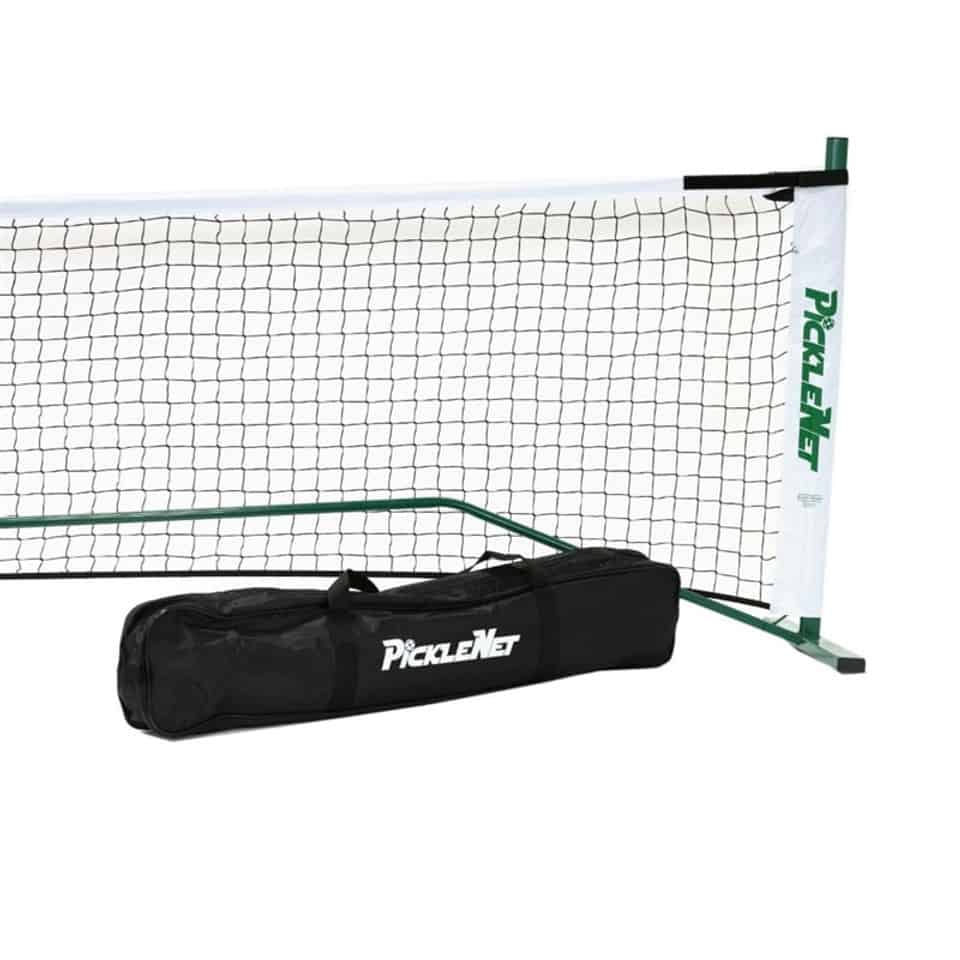 The PickleNet Pickleball Net System boasts a top-notch design at a lower price point that utilizes oval tubing, similar to the Rally Deluxe Pickleball Net System. This ensures that the net remains stable and durable, preventing any sagging or twisting of the tubes.
The net system is coated with a dark green powder-coated steel finish and features "PickleNet" printed on the side of the net sleeve, living up to its name. With a regulation size and height, measuring 22 feet wide and 34 inches high at the center, this system is perfect for serious players.
The updated version of the PickleNet Portable Pickleball Net System (oval design) weighs 32 pounds, making it slightly heavier than its predecessor. Included in your purchase is a carry bag that can accommodate all unassembled pieces of the net system for easy transport.
The top of the net comes with a Velcro-tension system that allows users to adjust the tautness of the net according to their preferences. The re-designed center rod in the middle prevents it from breaking through the top band of the net while keeping it at an optimal height.
The black nylon netting is incredibly durable, while its vinyl headband keeps its edges protected from damage. The newly-designed center post sits atop a molded support which speeds up assembly time and provides a more secure base. It's no surprise why this well-constructed pickleball net is such a hot item – it's even been designated as Official Net by USA Pickleball!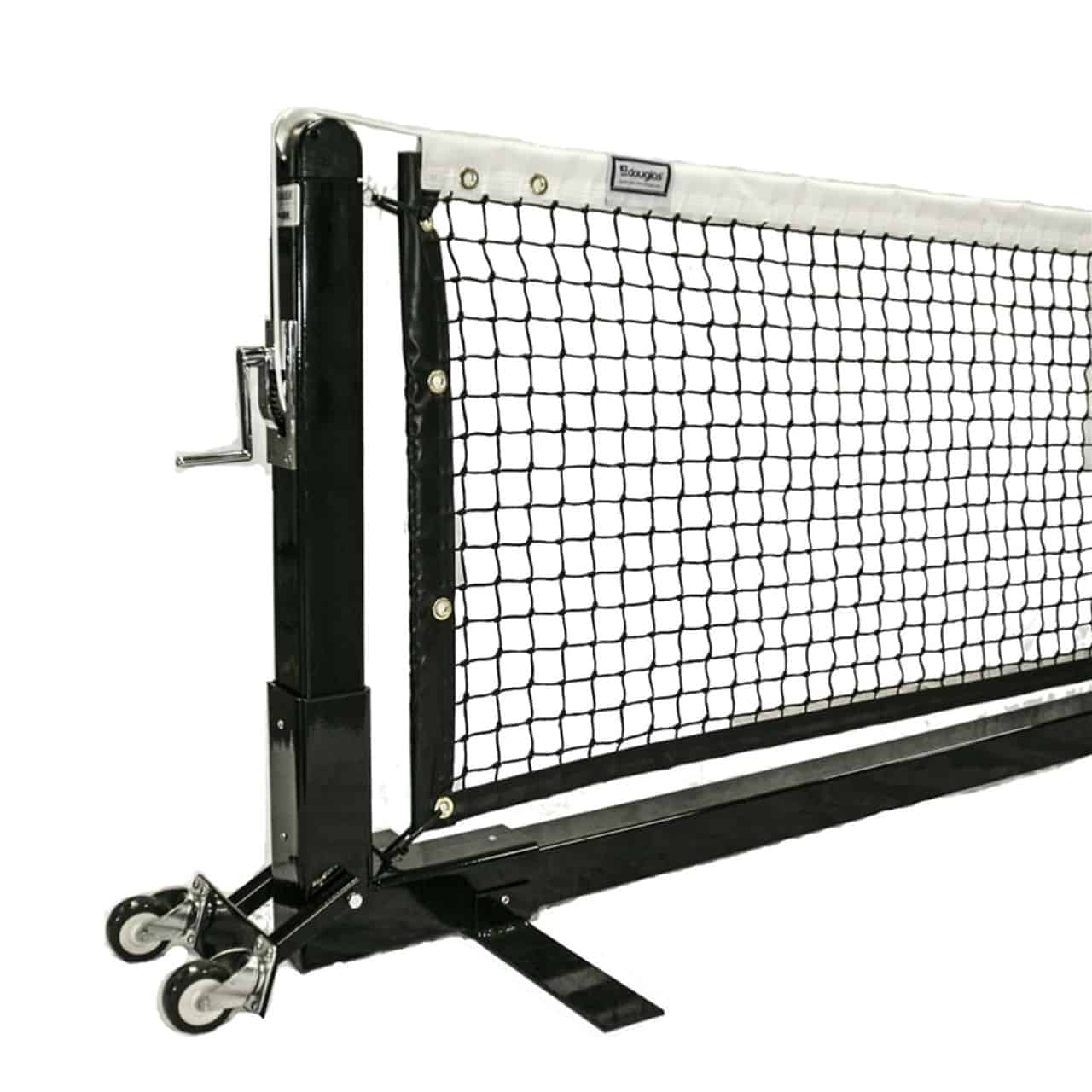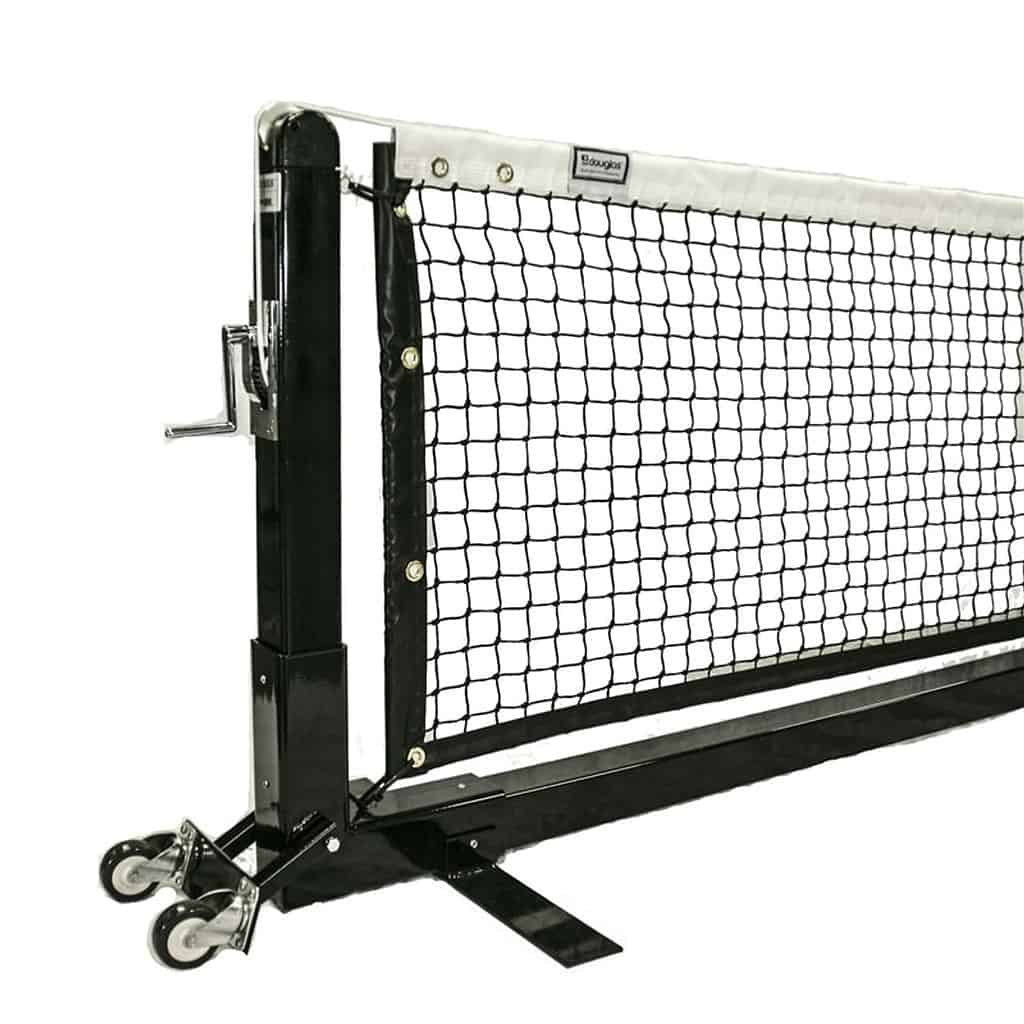 Looking for a durable and high-quality pickleball net system that doesn't require the expense of drilling and pouring concrete? Look no further than the Douglas Premier PPS-22SQ Portable Pickleball Net System.
Originally designed for use at the 2018 USA Pickleball National Championships, this net is perfect for clubs that already have courts for other sports like tennis but want to add pickleball to their offerings.
With an easy-to-assemble design and an internally wound gear mechanism to lock each piece into place, this set up is both sturdy and convenient. The posts are made with 11-gauge stainless steel finished with a polyester powder coat to resist rust.
Top players rave about the rigidity of the net structure, which supports a heavy-duty net cable that can be tightened to an equivalent tension as a permanent net system (400-500 pounds). This tension, combined with the mass of the steel net cable and heavy-duty netting and top strap, means balls tip off the top net-cord in the same way they do on permanent nets. Weighing in at 215 pounds it is heavy, but still easily maneuverable thanks to its end wheel assembly.
It can be used indoors or outdoors thanks to weather treatment for year-round use (though we recommend storing it indoors during off-seasons for prolonged life). Stabilizer legs on both sides improve safety for players, while a Velcro center strap ensures regulation size height at 34″. With a one-year warranty for the net frame and four years for the net itself, this highly sturdy and well-made system will last just as long as most permanent nets with proper care.
How To Choose The Best Portable Pickleball Net?
Here's a guide on how to choose the best portable pickleball net:
Portability: The first thing you want to consider for portable nets is their portability. You want a net that's easy to transport and set up. Many pickleball nets come with carrying cases or bags, so you can easily take them on the go.
Durability: Pickleball nets need to withstand regular use, so it's important to choose a durable option. Look for nets made from high-quality materials like steel or aluminum frames and heavy-duty nylon netting.
Height: Pickleball nets should be 36 inches high at the ends and 34 inches high in the middle to meet regulation size. Make sure the net you choose meets these regulations.
Stability: A stable net is essential for a good game of pickleball. Look for nets with sturdy bases or legs that won't tip over during play.
Price: Portable pickleball nets can range in price from around $100 to $2,00 or more. Consider your budget when choosing a net, but keep in mind that investing in a higher-quality, more durable net may save you money in the long run.
Easy Set Up: You don't want to spend all day setting up a net, so make sure you choose one that's easy to assemble and break down. Many nets come with instructions or online videos on how to set them up quickly.
By considering these factors, you'll be able to choose the best portable pickleball net for your needs and enjoy many games of fun with family and friends!
How To Care for Your Net?
Portable Pickleball Nets are designed for both indoor and outdoor use. However, leaving them outside for extended periods is not recommended as it can lead to damage and rusting.
To ensure the longevity of the net systems, it's best to store them indoors and avoid exposing them to extreme weather conditions. It's worth noting that even though most Portable Pickleball Net Systems are rust-resistant, they are not entirely rust-proof, which means that prolonged exposure to the elements can still lead to damage over time. As such, manufacturers may not be able to warranty products left outside for extended periods.
Is A Tennis Net and Pickleball Net the Same?
No, a tennis net and pickleball net are not the same. However, you can play pickleball on a tennis court.
A pickleball net is smaller and shorter than a tennis net. The height of a pickleball net is 36 inches at the ends and 34 inches in the middle, while a tennis net is 42 inches high at the posts and 36 inches high in the center.
Additionally, a pickleball court is smaller than a tennis court, so the dimensions of the nets are different as well.
What About A Badminton Net?
No, a badminton net and pickleball net are not the same.
A badminton net is taller than a pickleball net, measuring 5 feet at the edges and dipping to 5 feet 1 inch in the middle.
In contrast, a pickleball net is only 36 inches high at the edges and dips to 34 inches in the middle.
Additionally, badminton nets are typically made of different materials than pickleball nets and have smaller holes to prevent shuttlecocks from passing through.
Conclusion
While each system has its own unique features and benefits, some key factors to consider when selecting a portable net system include durability, ease of setup, affordability, and quality.
Ultimately, the best portable pickleball net system for you will depend on your individual needs and preferences as a player. Whether you're a casual player or a seasoned pro, investing in a high-quality net can significantly enhance your pickleball experience and help you take your game to the next level.