Are you a die-hard pickleball fan who just can't get enough of the game?
We totally understand that feeling! Whether you're headed to a tournament, clinic, or simply on vacation, you want to make sure your pickleball gear is always by your side.
But let's face it, traveling with all your equipment can be a hassle.
That's where the ZUCA Cart comes in!
The Zuca Pro Pickleball Cart is specifically designed with pickleball players in mind! With its specialized compartments and pockets, this cart makes it easy to keep all your gear organized and accessible.
Plus, its sturdy frame and large wheels allow for smooth maneuvering on any terrain.
And the best part? It's TSA approved!
In this article, we'll take a closer look at what sets the ZUCA Pro Pickleball Cart Bundle apart and why every dedicated pickleball enthusiast should have one in their arsenal.
So, let's dive right in!
We are reader supported and as such may make a small commission at no expense to you by purchasing thru our links and we greatly appreciate that!
What is the Zuca Cart?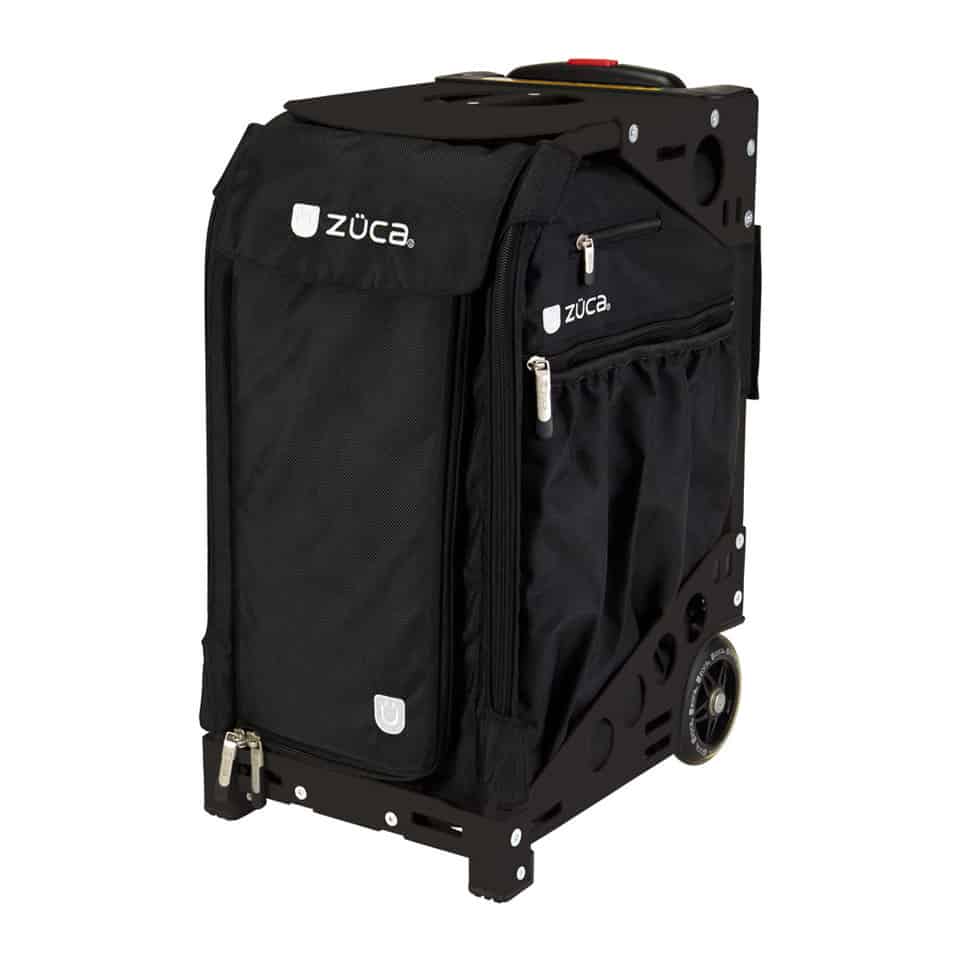 The ZUCA Pro Pickleball Cart Bundle is a wheeled bag that is perfect for all your pickleball gear. The bundle includes a framed carry-all cart, a removable water-resistant pouch, and a zip-closure paddle cover.
The aluminum frame of the cart makes it easy to transport through airports or wherever your pickleball travels take you as it can be carried onto major airlines. It has large 4″ urethane wheels and a 41″ long telescoping handle that helps from having to bend over and risk your back before those big games.
The main pocket of the ZUCA cart provides ample space for multiple paddles, extra layers, and includes a water-resistant removable bag for important valuables. It also comes with an extra paddle cover.
And when you need to take a break from playing, the top of this cart doubles as a comfortable seat!
With all these features combined, the ZUCA Pro Pickleball Cart Bundle is perfect for long days at your local court or weekends spent at tournaments, camps and clinics.
Features of the Zuca Pro Pickleball Cart Bundle
Here is an overview of the cart's features:
Durable frame
The Aluminum Alloy heavy duty frame is lightweight and super strong. It is rated to safely support up to 300 lbs. It offers excellent durability, making it a reliable choice for those who need a sturdy frame for their bags or luggage.
Wheels
The 4″ Lightweight Urethane Wheels are made from high-quality materials that ensure durability, long-lasting performance, and a smooth ride. They provide a smooth and silent ride, making your travels more comfortable whether you're navigating through crowded airports or rolling over bumpy terrain.
Removable and washable bag
The ZÜCA Insert Bag is a durable bag made from high-quality water-resistant 1680D ballistic nylon. It is designed for everyday use and can withstand wear and tear. The bag is easy to clean, making it a solid option for your sweaty clothing after a match.
Gear Platform
The Gear Platform allows you to carry an additional load on your luggage. It's a sturdy and stable platform for attaching extra bags as you roll your bag.
Multiple compartments for storage and organization
The interior storage area has multiple compartments providing plenty of storage space and nice organization. You can easily access your things without having to dig through the entire bag.
TSA-approved for easy traveling
The Zuca Bag meets FAA specifications for carry-on baggage. The bag's dimensions are within the standard size limits set by the FAA.
Doubles as a Chair
One of the unique features of the Zuca Bag is that it can double as a chair. The bag's sturdy frame is designed to support up to 300 pounds so you can sit on it when you need a break between matches or when there are no chairs available while you're traveling. Zuca sells seat cushions on its website for a more comfortable experience!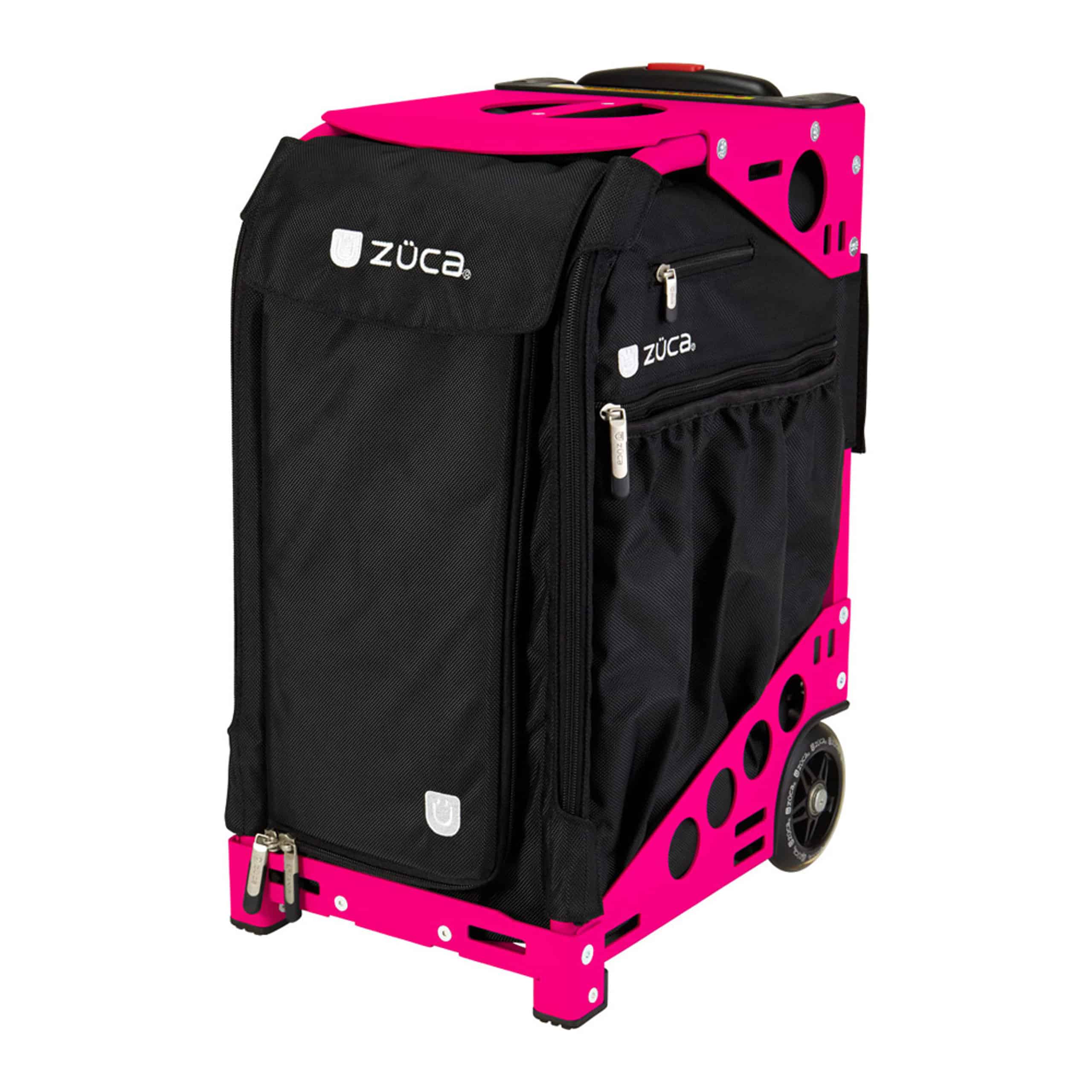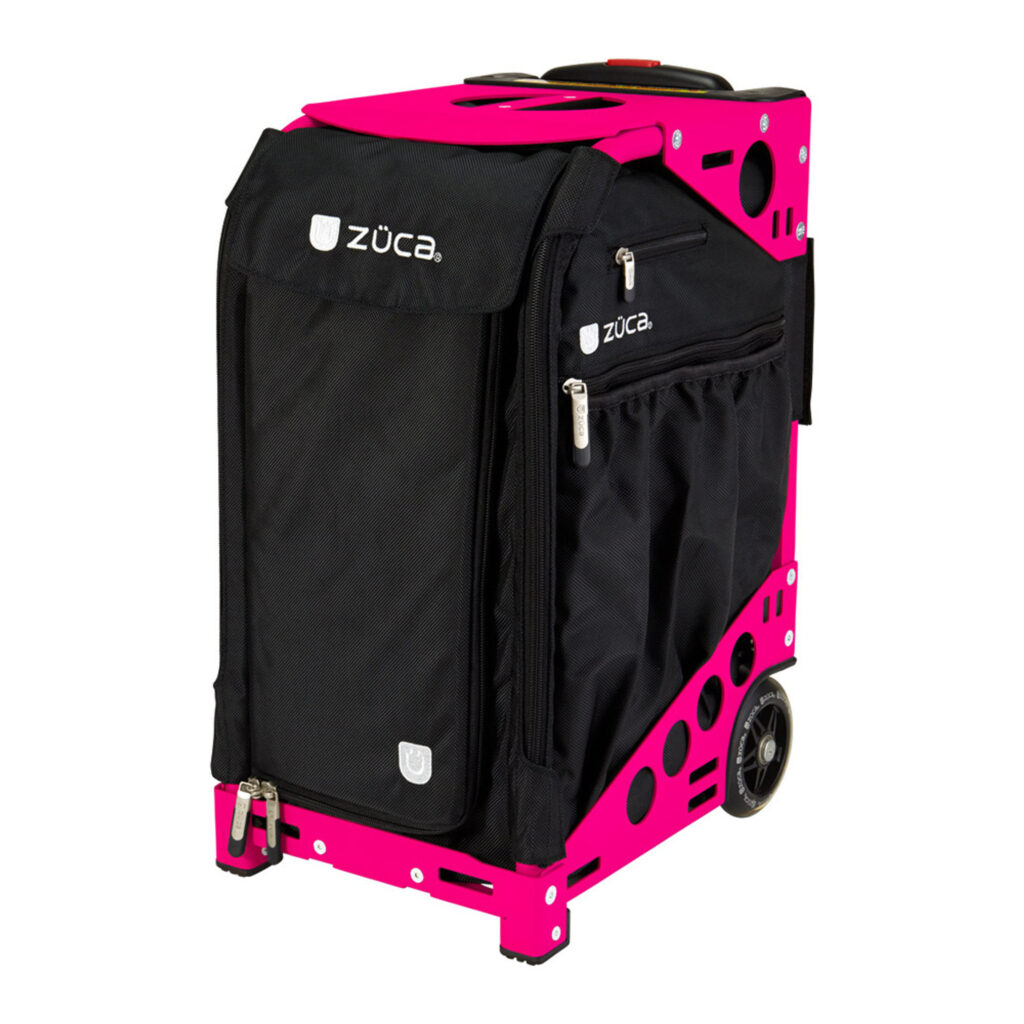 Benefits of using the Zuca Pro Pickleball Cart Bundle
Here are some of the benefits of the Zuca Pro Pickleball Cart Bundle:
Durability – The heavy duty aluminum alloy frame is strong enough to withstand wear and tear, making it a reliable travel companion.
Flexibility – The 4″ urethane wheels make navigation smooth on any terrain. It folds up easily so you can store it in the back of your car or closet when not needed. And it's TSA approved, making it easy to travel with.
Organization – Multiple compartments and pockets help keep your pickleball items organized. The removable bag is great for sweaty clothes after a match.
Comfort – The top of the cart works as a chair when you need to take a break from playing. And the telescoping handle makes it easy to roll your bag around without having to bend over.
Affordability – The Zuca Pro Pickleball Cart Bundle is an affordable option for pickleballers who want a convenient and reliable way to transport their belongings.
Dimensions and Details
The bag measures 19.5″ H x 10″ Wx 13.5″ D
9.3 pounds Frame and Bag
1,952 Cubic Inch Capacity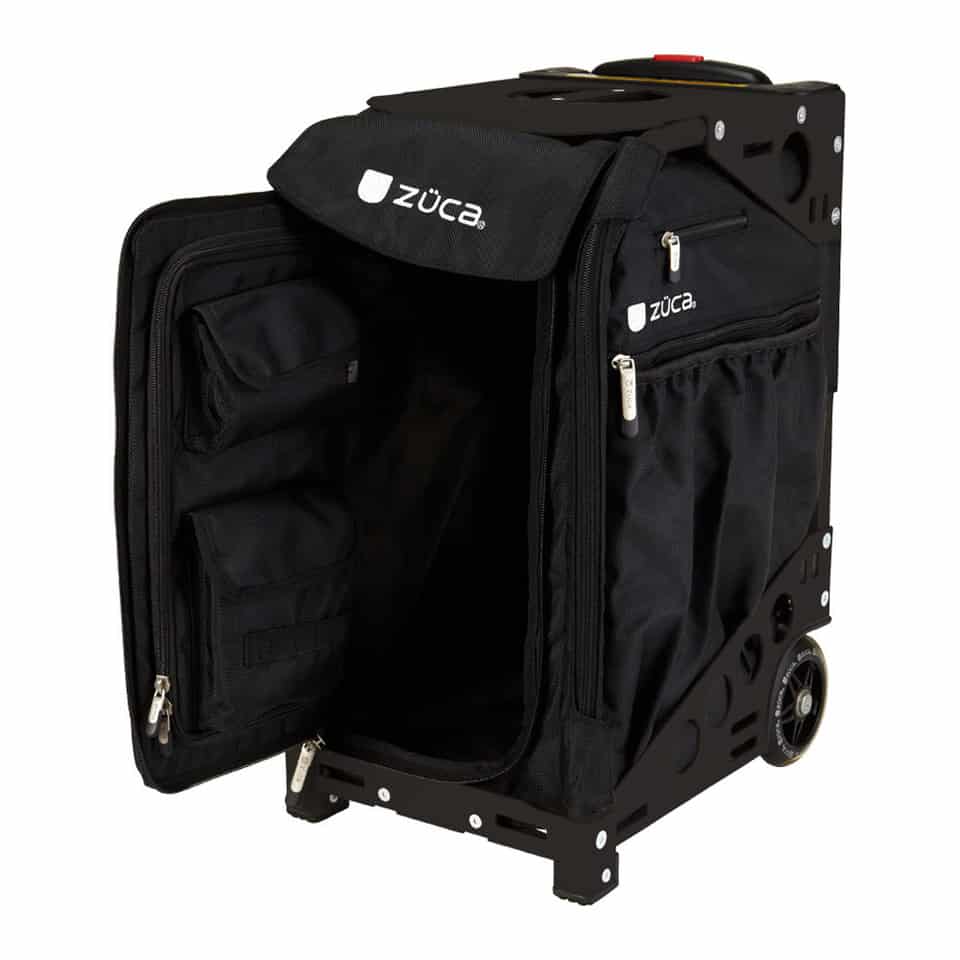 Recap of Key Points
Here are the key points about this product:
The ergonomic design of the cart helps alleviate back strain and shoulder pain during transport, reducing discomfort or injury.
The telescoping handle allows for easy height adjustment, reducing the need for bending or stooping while loading or unloading the bag.
The smooth-rolling wheels make it easy to maneuver.
The spacious interior can hold multiple paddles, multiple balls, and other essential equipment, with built-in dividers keeping everything organized.
Multiple pockets located throughout the cart provide additional storage space for carrying personal items like wallets or phones.
Conclusion
The Zuca Pro Pickleball Cart Bundle is an excellent choice for players who need a reliable and efficient way to transport their gear. Its ergonomic design reduces strain on the back and shoulders, while its multiple compartments keep all your equipment well organized. The telescoping handle and smooth-rolling wheels make it easy to maneuver in any terrain, making this bag perfect for pickleballers of all ages and skill levels.
Whether you're a recreational player or professional athlete, the Zuca Bag will provide you with a convenient solution that keeps everything neat and secure during travel. Get ready to take your game to the next level with this durable yet lightweight luggage option!
Thanks for reading!