If you're here, you are part of the growing number of pickleball enthusiasts looking to elevate their game by investing in a pickleball machine.
Pickleball machines can significantly improve your accuracy, reaction time, and overall performance on the court. They allow you to focus on your specific needs and practice tailored drills.
Plus, they're a ton of fun!
In this blog post, I rank and review the best pickleball machines on the market: The Lobster Pickleball Champion, The Pickleball Tutor Plus Ultra, Slinger Bag Ball Machine, Spinshot Pickleball Machine, and Pickleball Tutor Mini.
Each of these ball machines offers unique features and benefits that set them apart. They can shoot balls with an adjustable ball speed, have random oscillation, some with electronic elevation changes and more!
So, let's dive in and see if we can find the best pickleball machine for you so you can revolutionize your game!
We are reader supported and as such may make a small commission at no expense to you by purchasing thru our links and we appreciate that! More info here
Sports Tutor Plus Ultra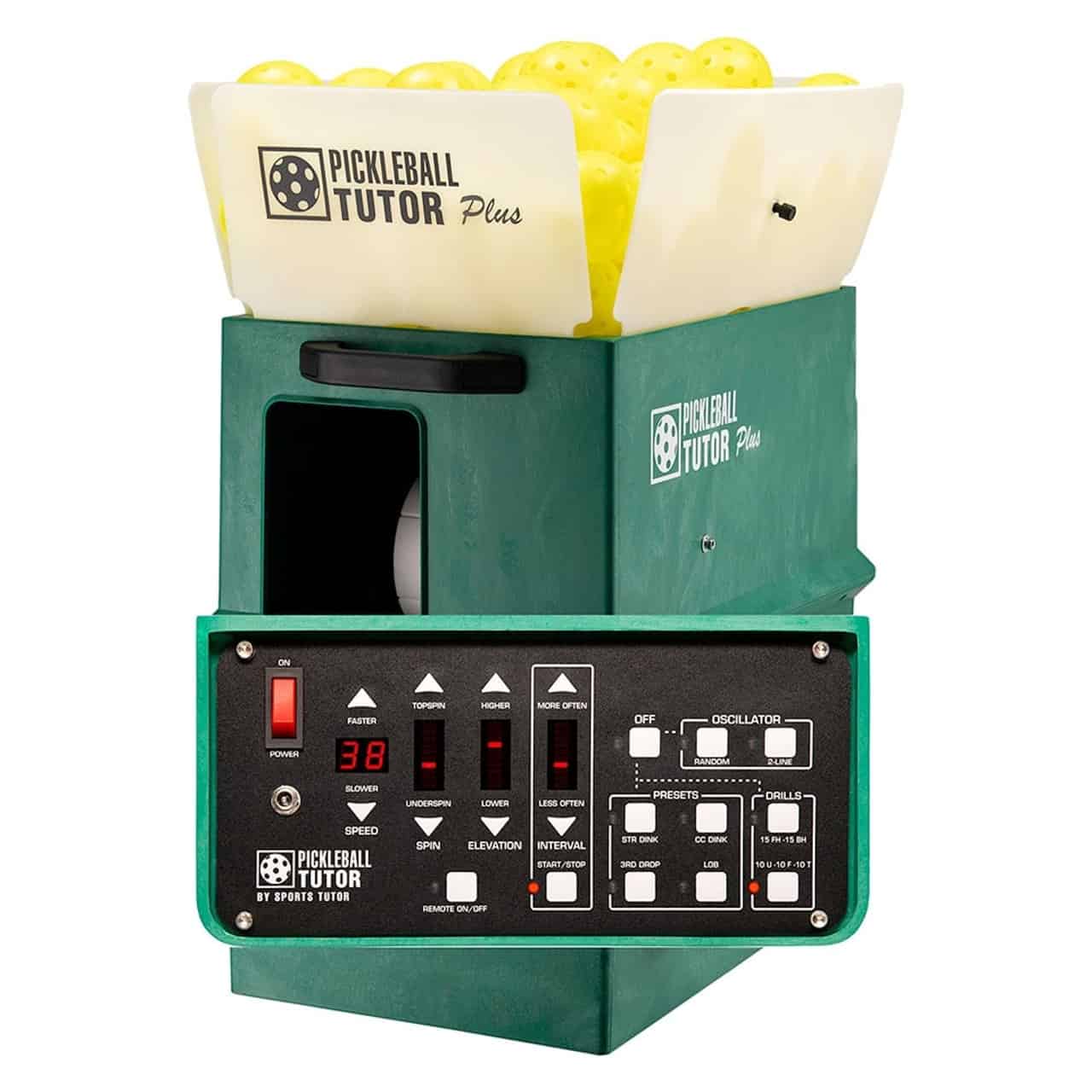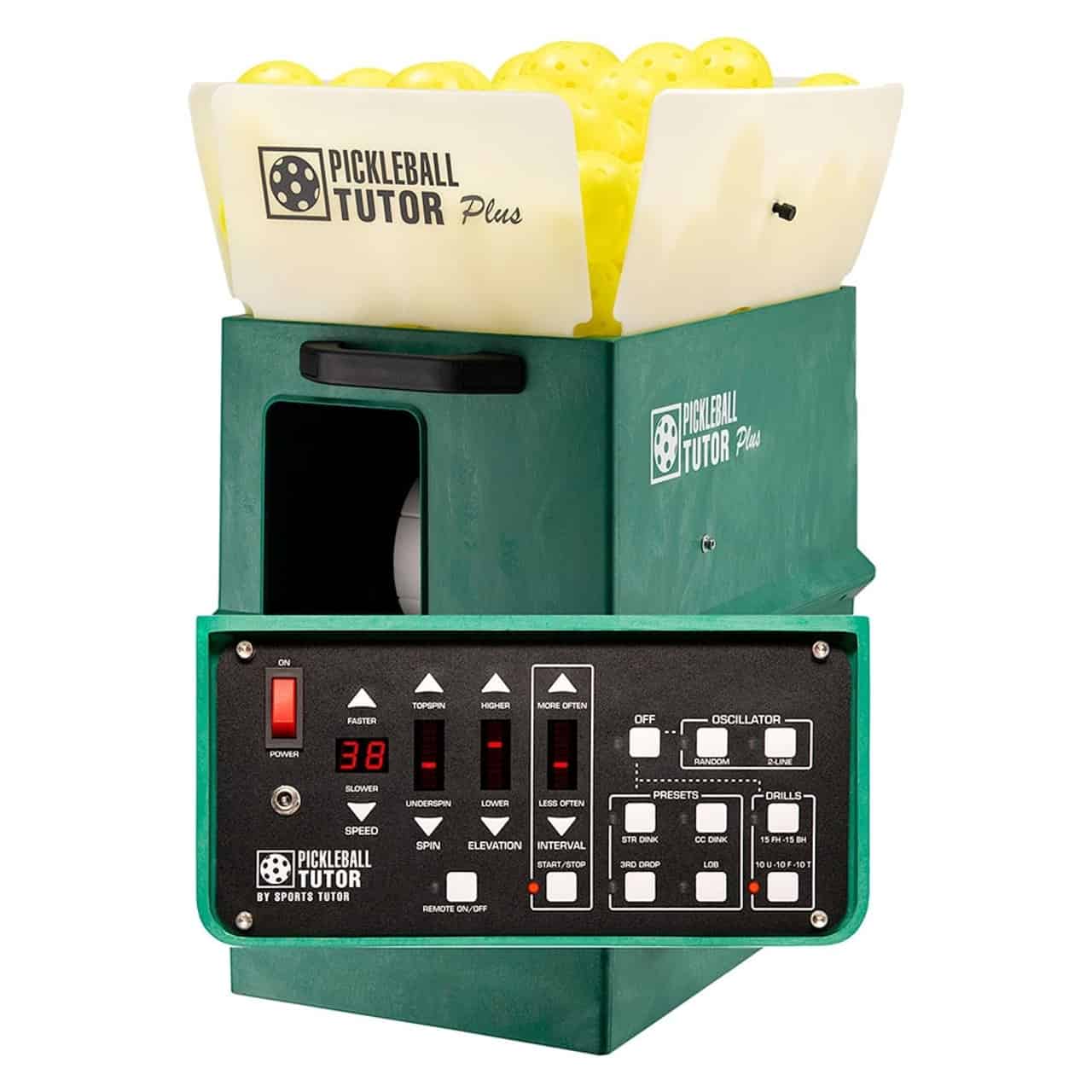 Spinshot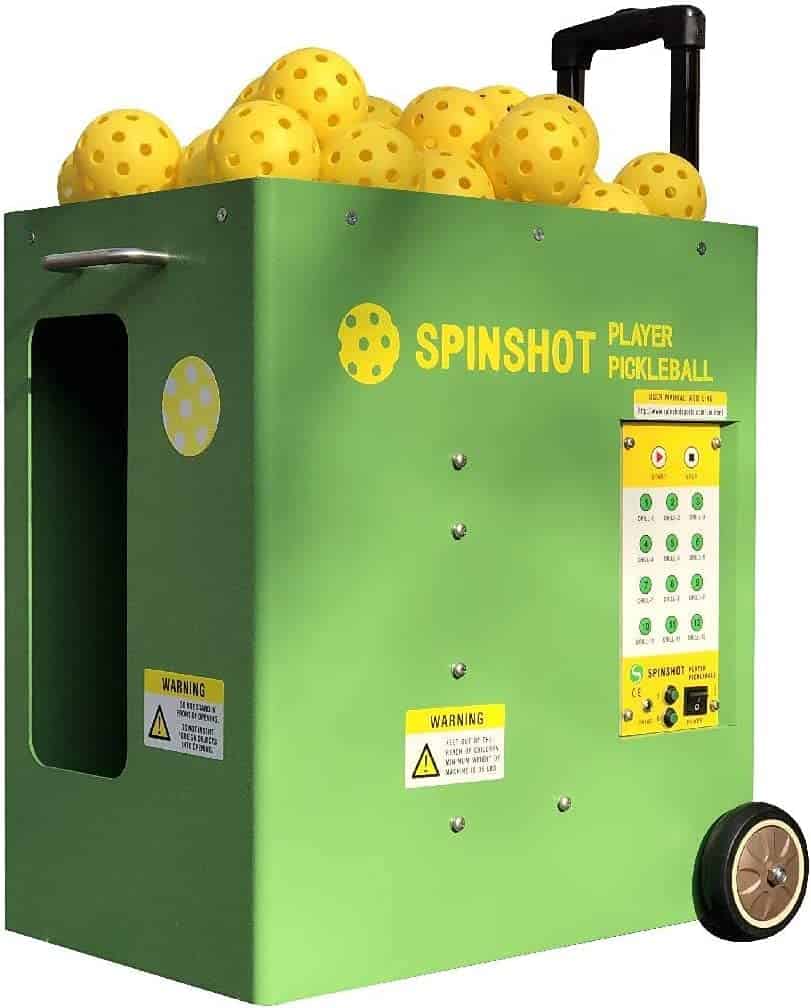 Lobster Pickle Champion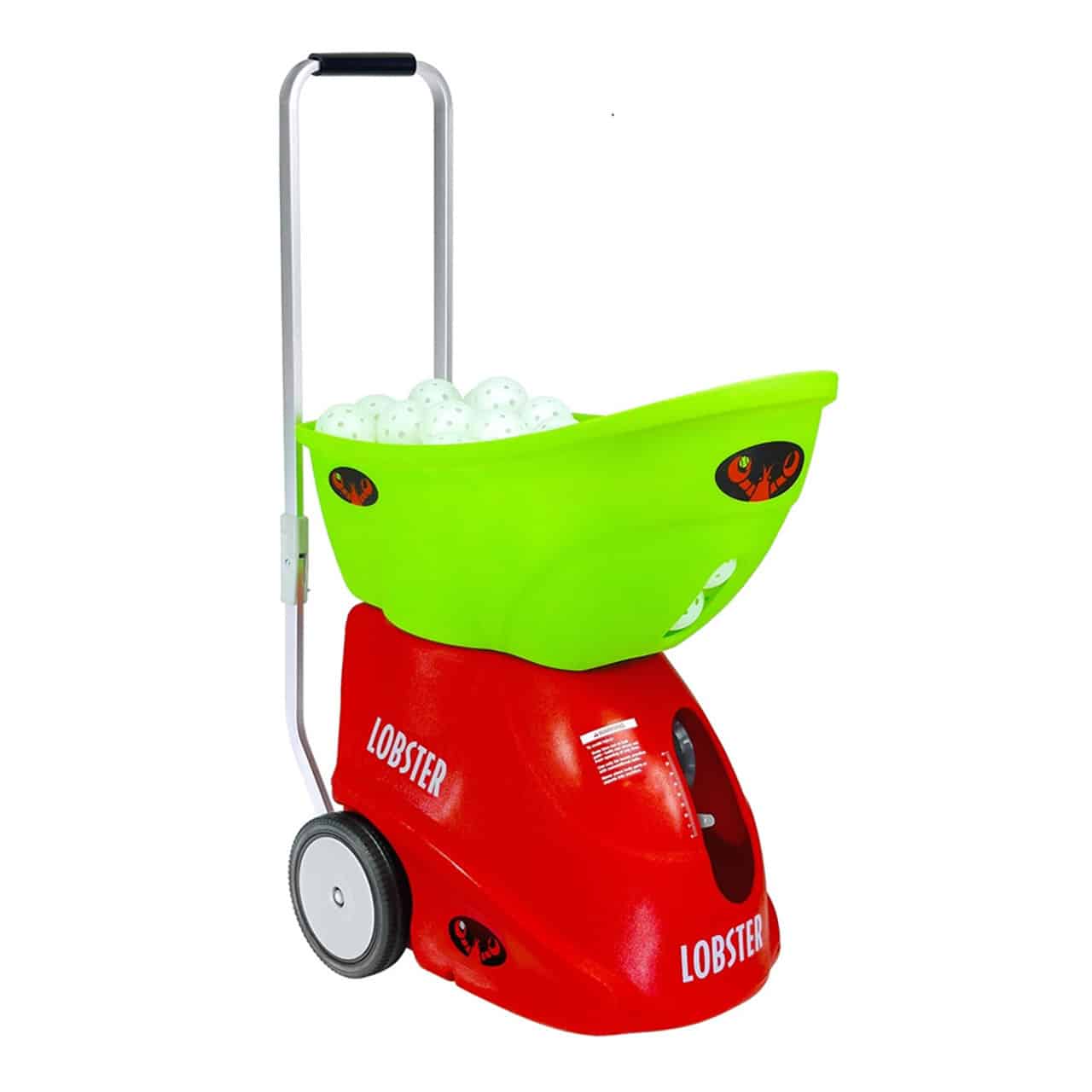 Sports Tutor Mini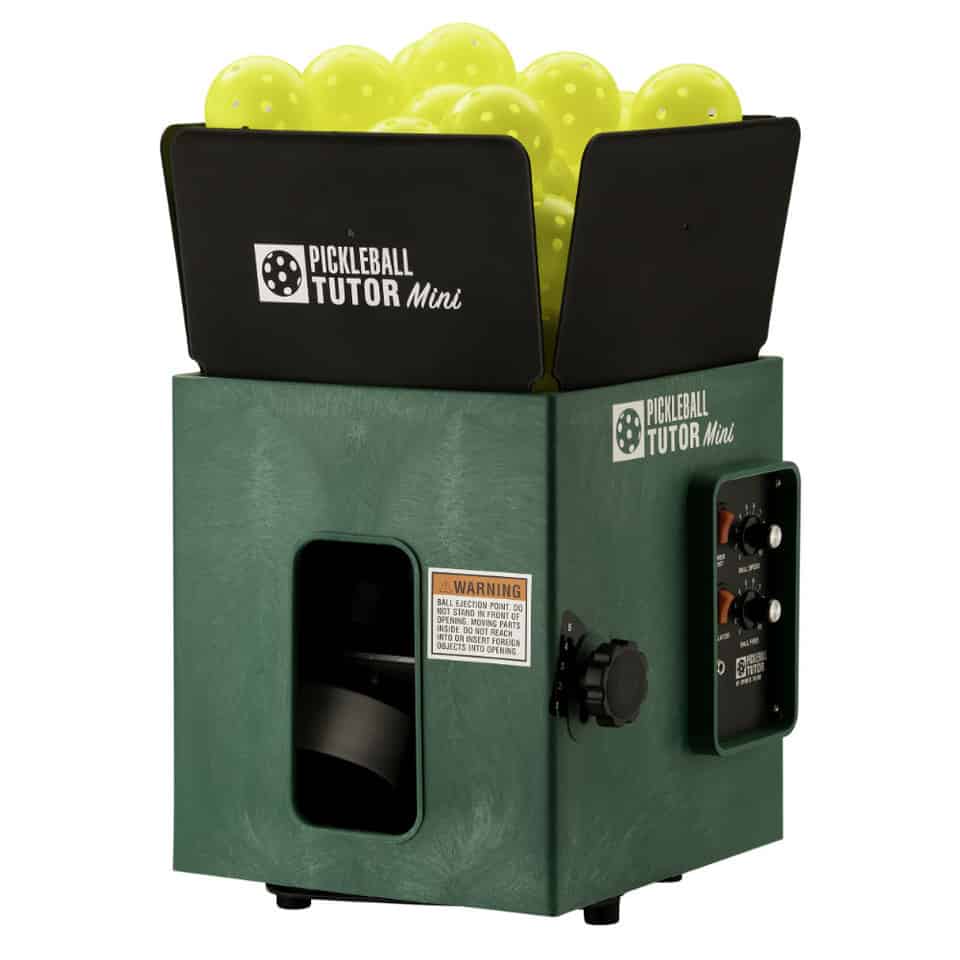 Slinger Bag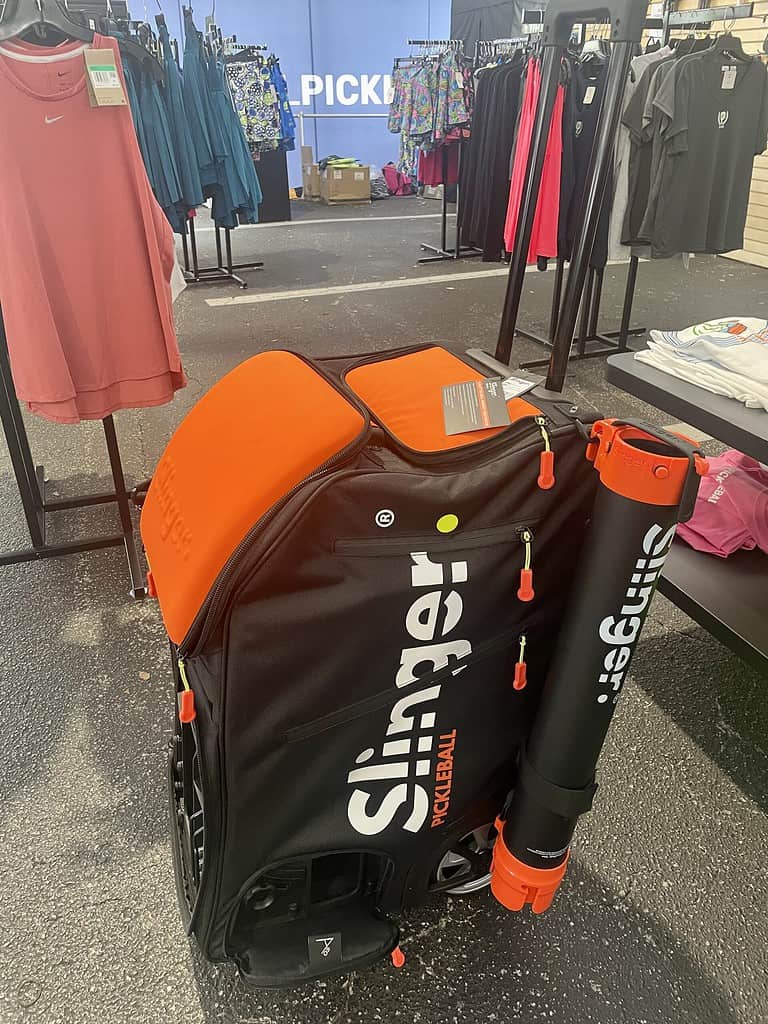 What Is The Best Pickleball Machine?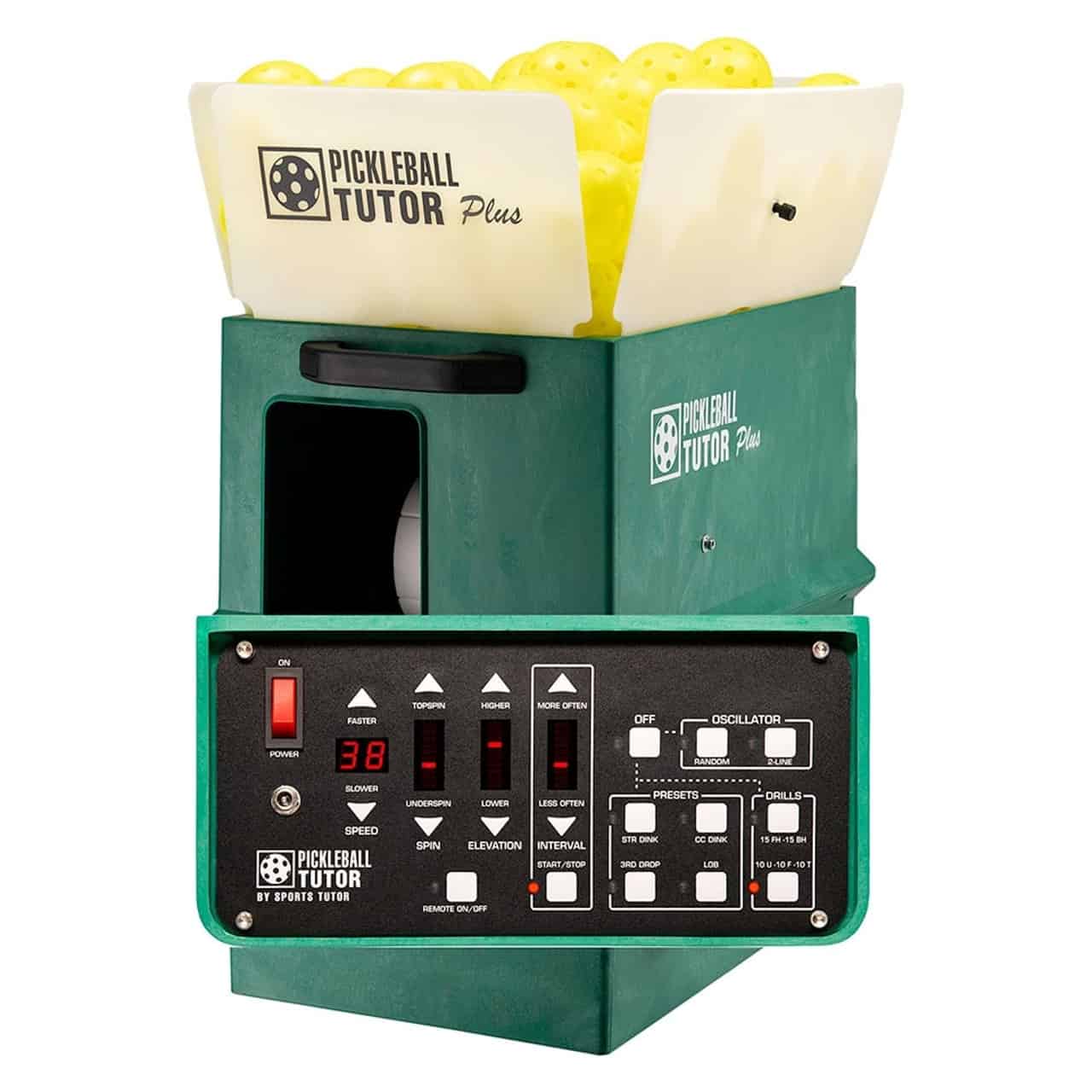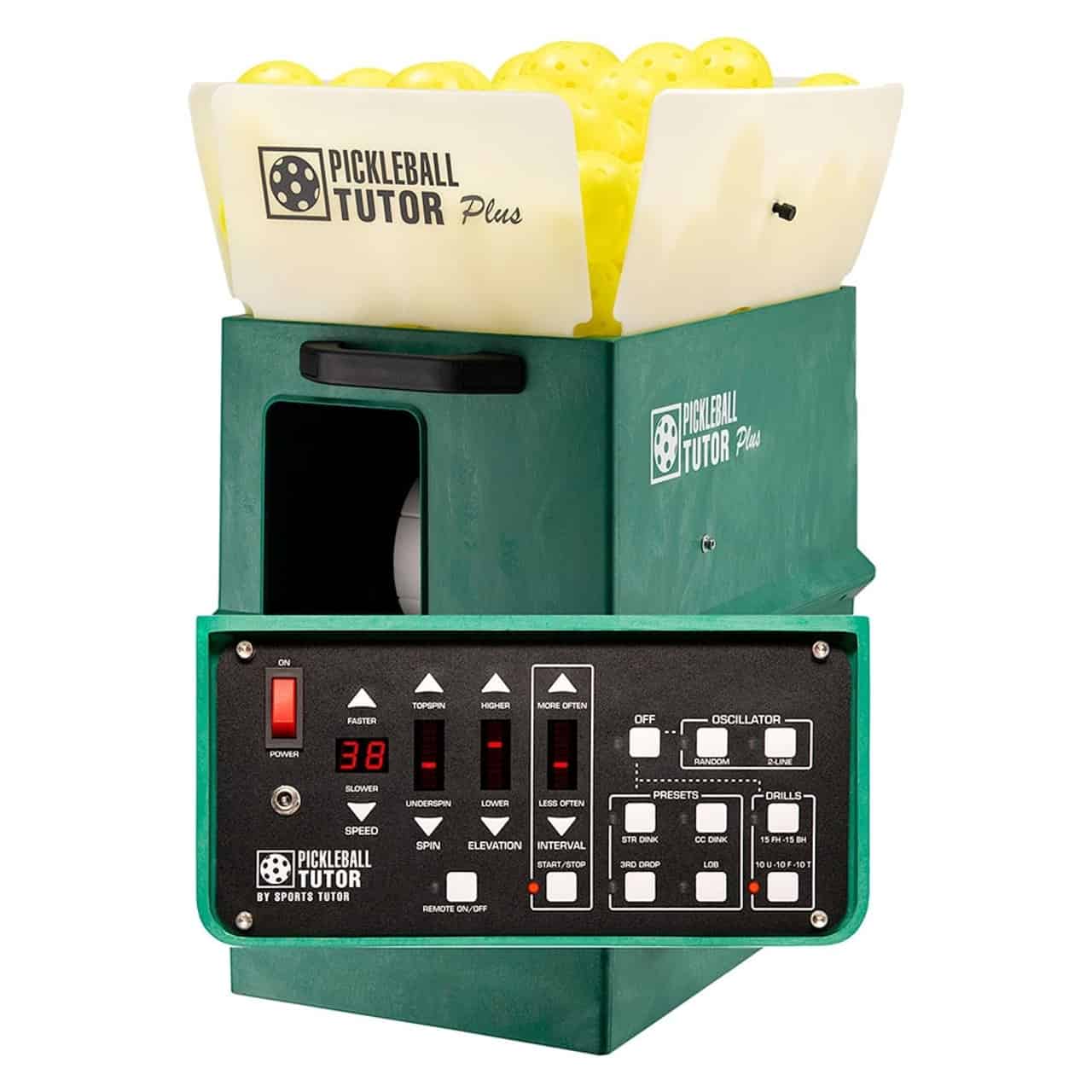 The best pickleball machine on our list is the Sports Tutor Plus Ultra. Sports Tutor is well-known for producing excellent pickleball machines, and the Plus Ultra model is no exception.
It features a digital display and 6 pre-programmed drills, making it easy to customize your practice routine and improve your skills when you want and how you want.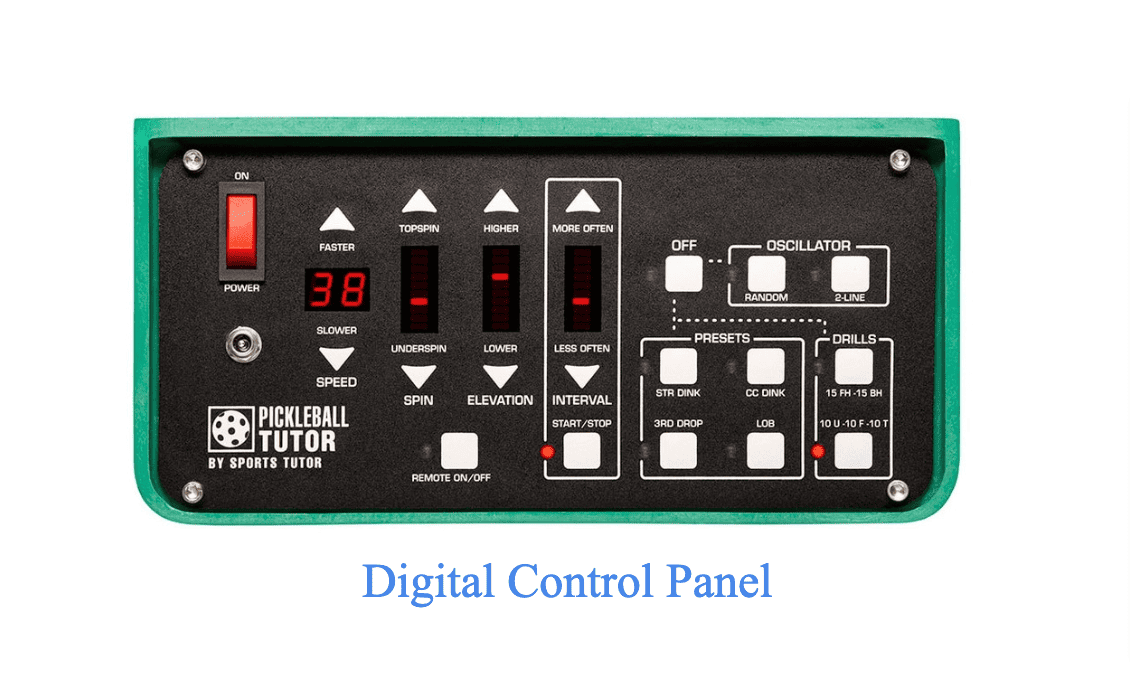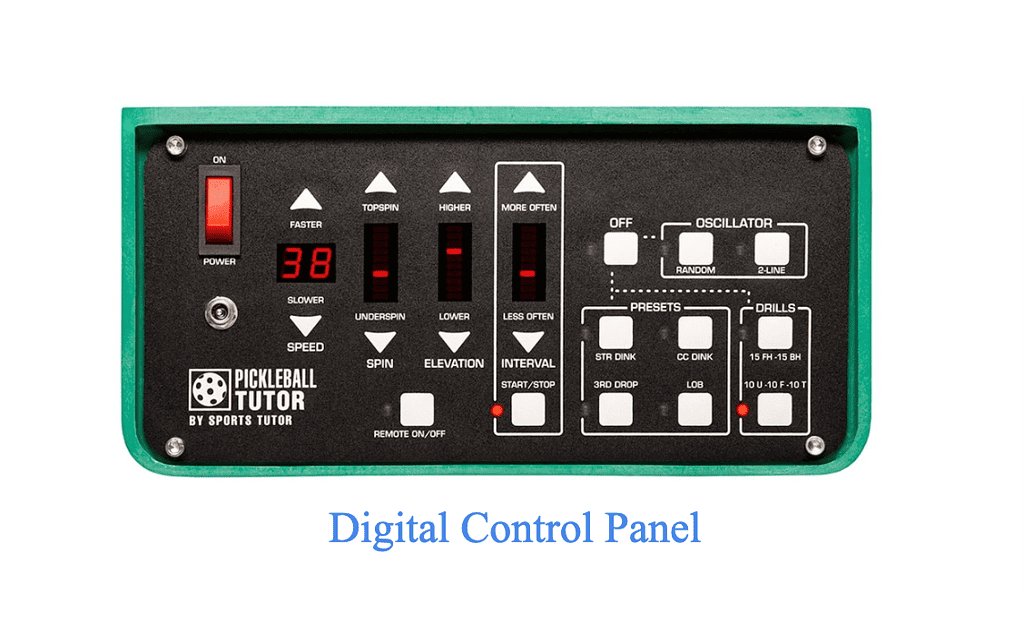 Not only is this pickleball machine convenient, but it also provides versatility. With three remote options, you can easily adjust settings on the Tutor Plus from anywhere on the court. The addition of random oscillation, 2-line oscillation, and electronic elevation control adds variety to your training, simulating real game situations. Really nice features!
Additionally, the machine has an impressive 110 ball capacity and can fire balls at a maximum ball speed of 65 MPH. You can even set it to deliver balls with top or underspin.
The ball feed rate is adjustable from 1 to 10 seconds, allowing you to personalize the speed at which the balls are fed. Have them come quickly to simulate some real game action at the net or slow it down to really work on your form.
The battery life on the Tutor Plus is solid, lasting 3-4 hours on a single charge. Should be plenty but you never know! If you prefer extended playtime, having an extra battery is a worthwhile option.
The Tutor Plus Ultra is a heavy duty machine that comes with a 3-year manufacturer warranty for the machine and a 1-year warranty for the battery. Solid warranty that is appreciated on an expensive unit. With this comprehensive coverage, you can have peace of mind knowing that any issues will be taken care of.
In summary, the Pickleball Tutor Plus Ultra is an excellent machine, earning its top spot on our list for good reason.
Specifications:
Power Source: Battery or AC
Remote: Yes
Pre Programmed Drills: 6
Oscillation: Yes
Elevation: Electronic
Spin: Top & Under
Ball Capacity: 110
Max Ball Speed: 65 MPH
Ball Feed Rate: 1-10 seconds
Battery Life Run Time: up to 4 hours
Weight: 34 pounds battery model
Warranty: 3 years machine, 1-year battery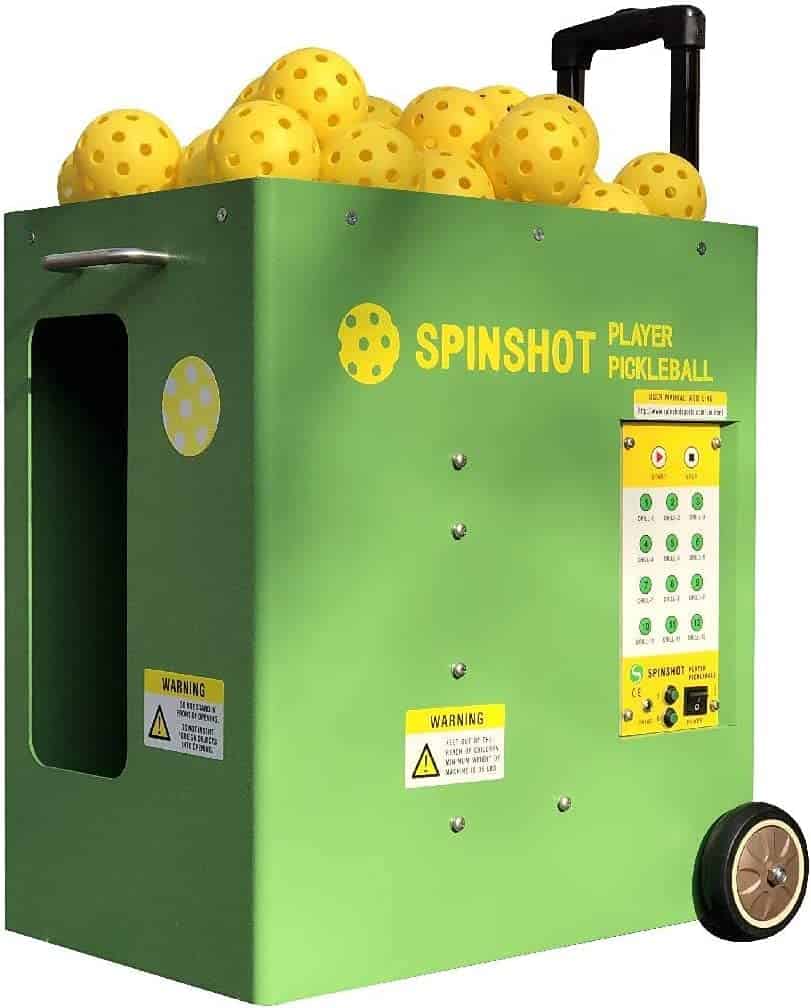 The Spinshot Pickleball Machine comes in as a close runner-up. It offers a solid performance and allows for all the usual customizations: height, direction, spin, and speed for each of the 6 sequential shots. You can even save these drills into your personalized practice routine, in addition to the 12 preprogrammed drills already included that will truly challenge you. In fact, it offers the most preprogrammed drills in our review!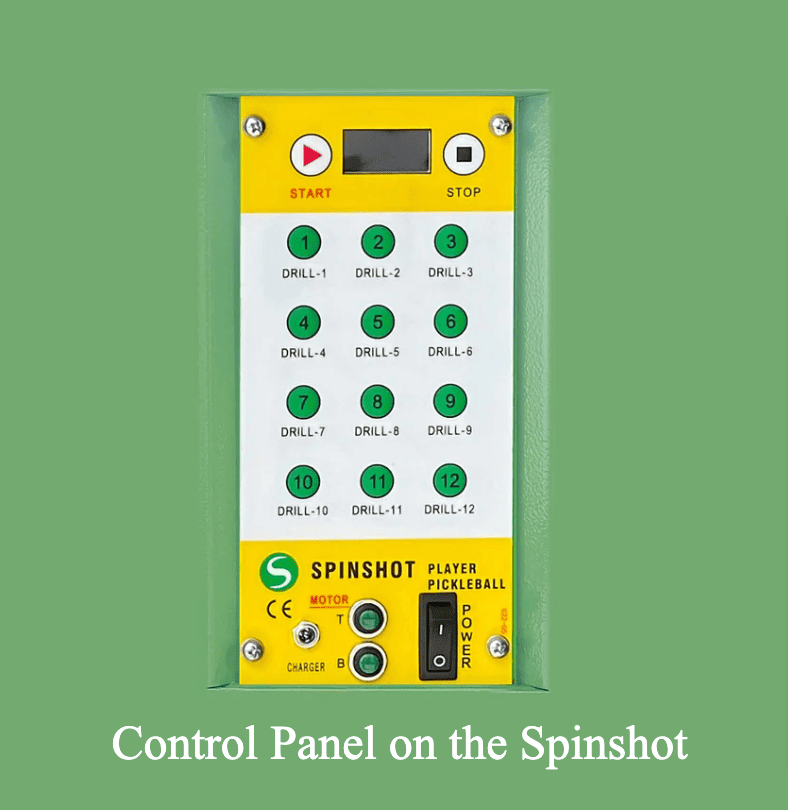 With a ball speed that reaches up to 68 mph (the highest in our review), this machine provides a realistic playing experience with variable speeds that can significantly improve your game. It also has a great anti-ball jam system that works well.
While the battery life lasts between 2-3 hours on a single charge (the lowest in our review), we recommend purchasing an additional battery if you want to extend your training sessions.
You have two options for controlling the pickleball machine: you can use the Apple or Android app as a remote, or you can upgrade to the "remote watch" for an additional cost. This feature allows you to adjust settings from across the court, allowing you to fully focus on your practice and not going back and forth to the machine.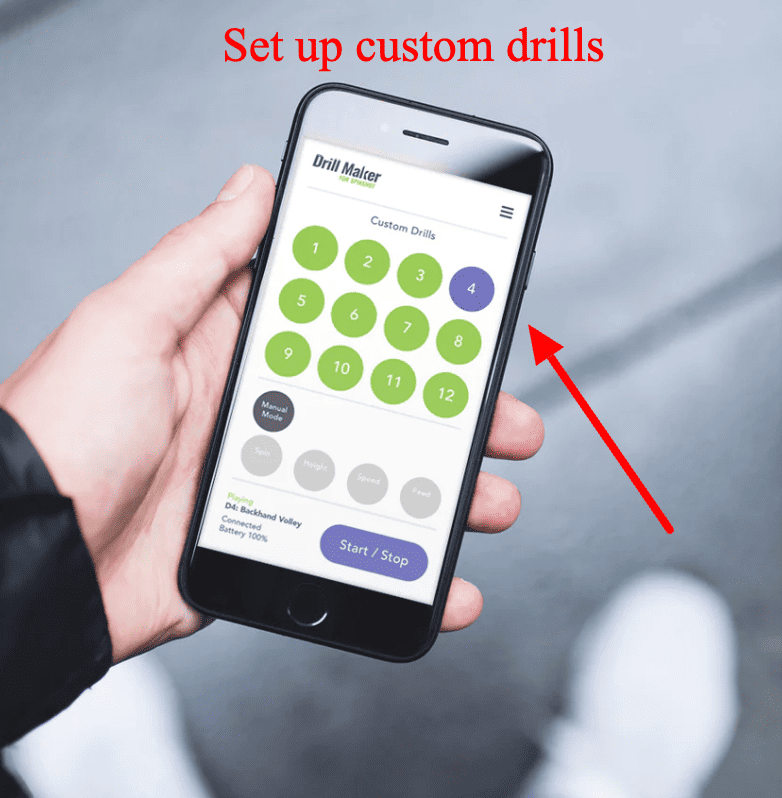 In summary, the Spinshot Pickleball Machine is a reliable and customizable training partner that will help elevate your pickleball game to new heights.
Specifications:
Power Source: Internal & external battery or AC
Remote: Yes
Pre Programmed Drills: 12
Oscillation: Yes
Elevation: Yes
Max Ball Speed: 68 MPH
Ball Feed Rate: 1-10 seconds
Battery Life Run Time: up 2-3 hours
Weight: 42 pounds
Warranty: 2 years machine, 3 month battery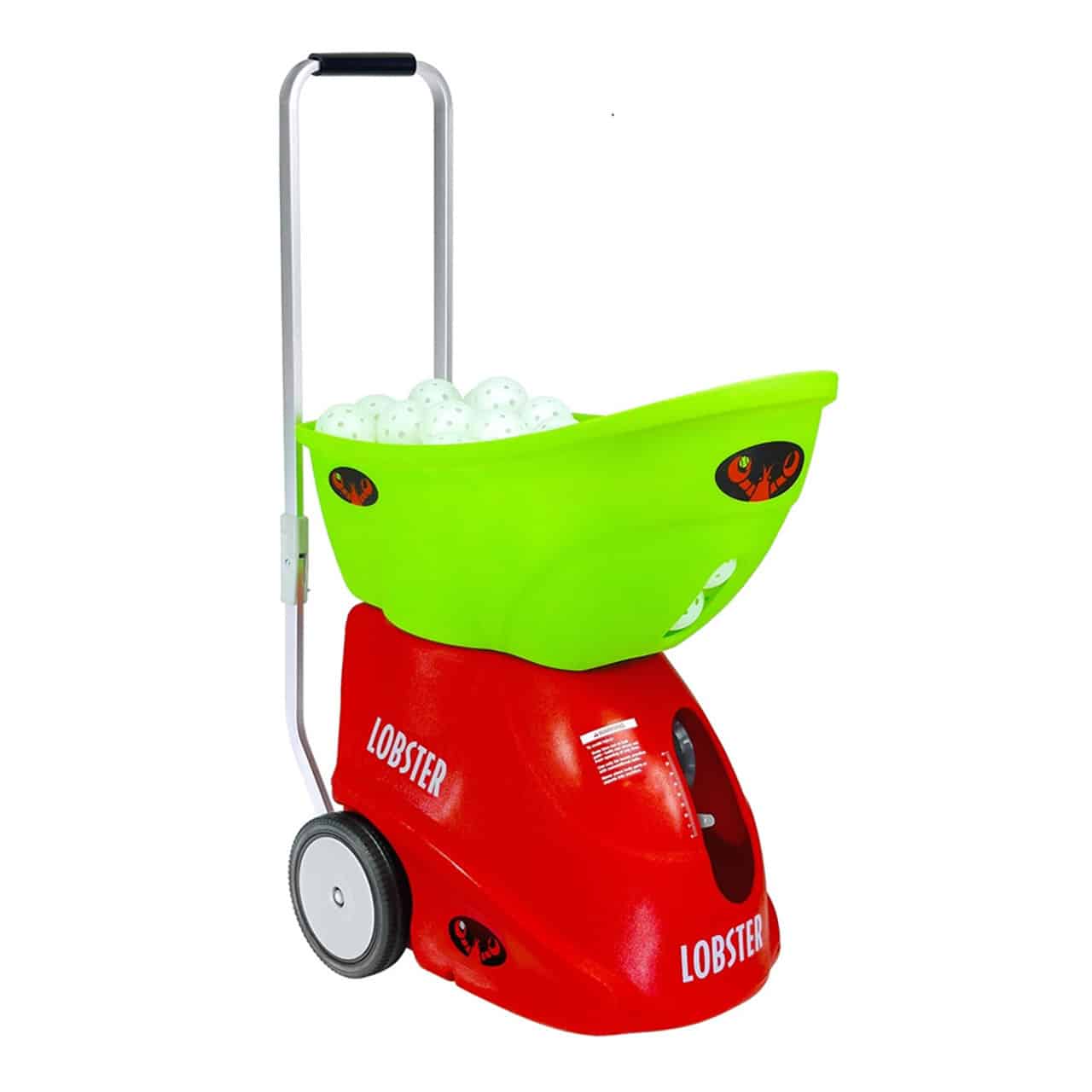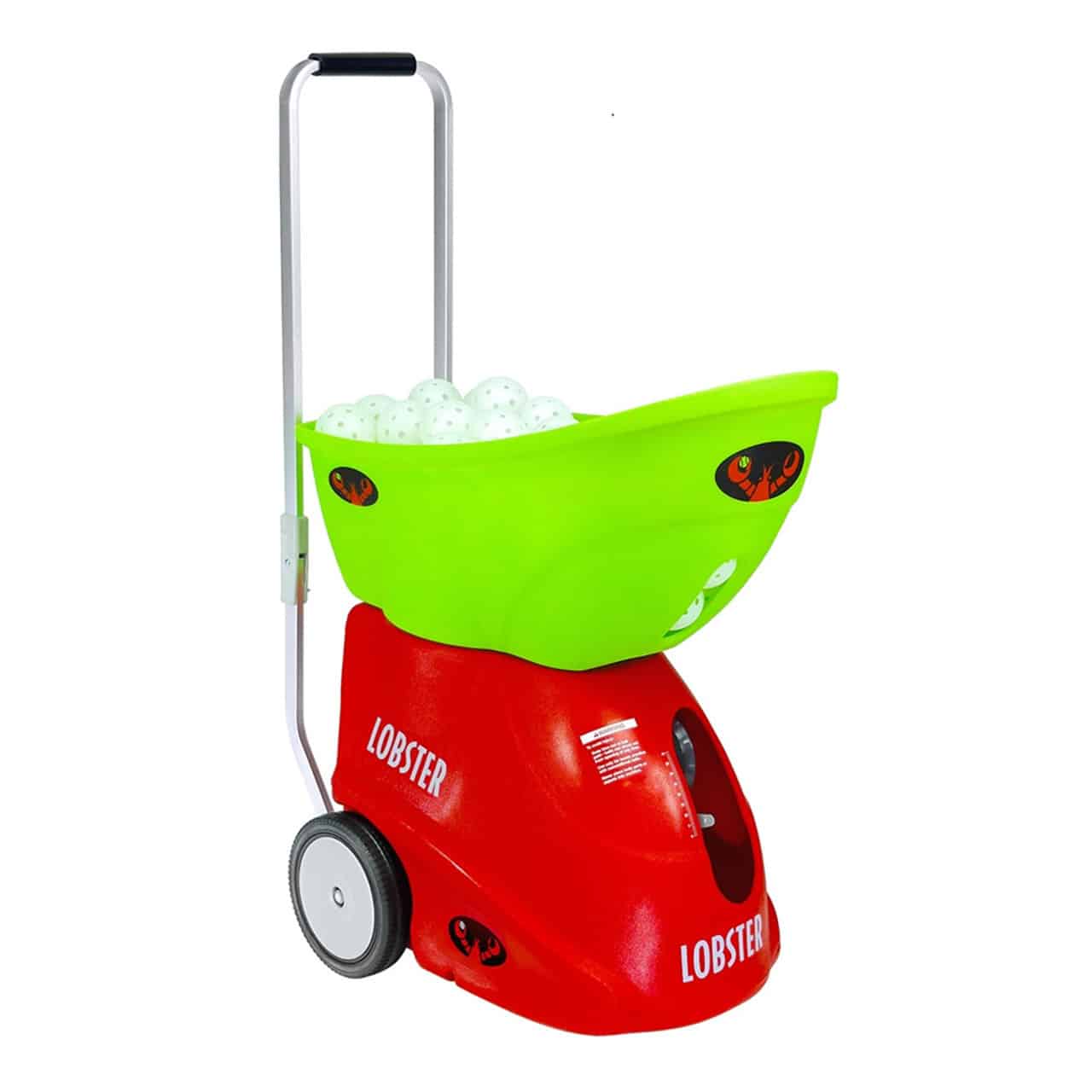 Ranked third on our list is the Lobster Pickleball machine! This machine comes with many features that will take your pickleball game to new heights.
Lobster is well-known for having an exceptional tennis ball machine, and they have now applied their expertise using the same functionality to design top-notch pickleball machines. As pioneers in this field, they have effectively transferred their knowledge from tennis ball machines to a great pickleball version. How lucky we are!
The Lobster excels in every aspect. It offers the flexibility of using either a rechargeable battery or AC power. With its user-friendly digital LED display, you can easily customize and control the six preprogrammed drills to suit your training needs. These diverse drills simulate real game scenarios, enhancing your skills.
Similar to other Lobster products, this machine delivers top and under spin, as well as side-to-side sweeping functionality. It can launch balls at speeds up to 65mph, making it a great machine suitable for players of all levels.
Take your training routine to the next level with the electronic elevation control and two-line oscillation features.
Lobster offers two remote control options, allowing you to fine-tune your settings without interrupting your practice. The first is an app compatible with Apple devices, while the second is a remote control provided by Lobster Sports for non-Apple users.
Regarding the battery, you have two power options: an internal built in battery or external rechargeable battery.
The internal built in battery is integrated within the machine, requiring you to bring the entire unit for charging.
However, with the external battery, you can detach it and conveniently charge it separately, allowing you to keep the pickleball machine on the court if desired. This provides excellent flexibility. Plus, the battery life is an impressive 4-6 hour run time so you can have nice long practice sessions.
With a generous ball capacity of 135 balls (the highest among our reviewed machines), you won't waste time retrieving and reloading balls throughout the day. Additionally, the Lobster machine allows you to train at your own pace with its adjustable feed rate of 2-9 seconds. It accepts both indoor or outdoor balls, enabling you to practice in various settings.
Rest assured, the Lobster Pickleball Machine is backed by a solid 2-year warranty for the machine and a 6-month warranty for the battery. While not as extensive as other ball machines on our list, it still offers reassuring coverage.
Experience the ultimate training companion with the Lobster Pickleball machine. Elevate your game, enhance your skills, and enjoy the convenience of advanced features designed to take your pickleball journey to new heights.
Specifications:
Power Source: Internal or External Battery
Remote: Yes, 2 options
Pre Programmed Drills: 6
Oscillation: Yes
Elevation: Electric
Spin: Top & Under
Ball Capacity: 135
Max Ball Speed: 65 MPH
Ball Feed Rate: 2-9 seconds
Battery Life Run Time: 6-8 hours on the external battery pack
Weight: 44 pounds with the battery model
Warranty: 2 years machine, 6 month battery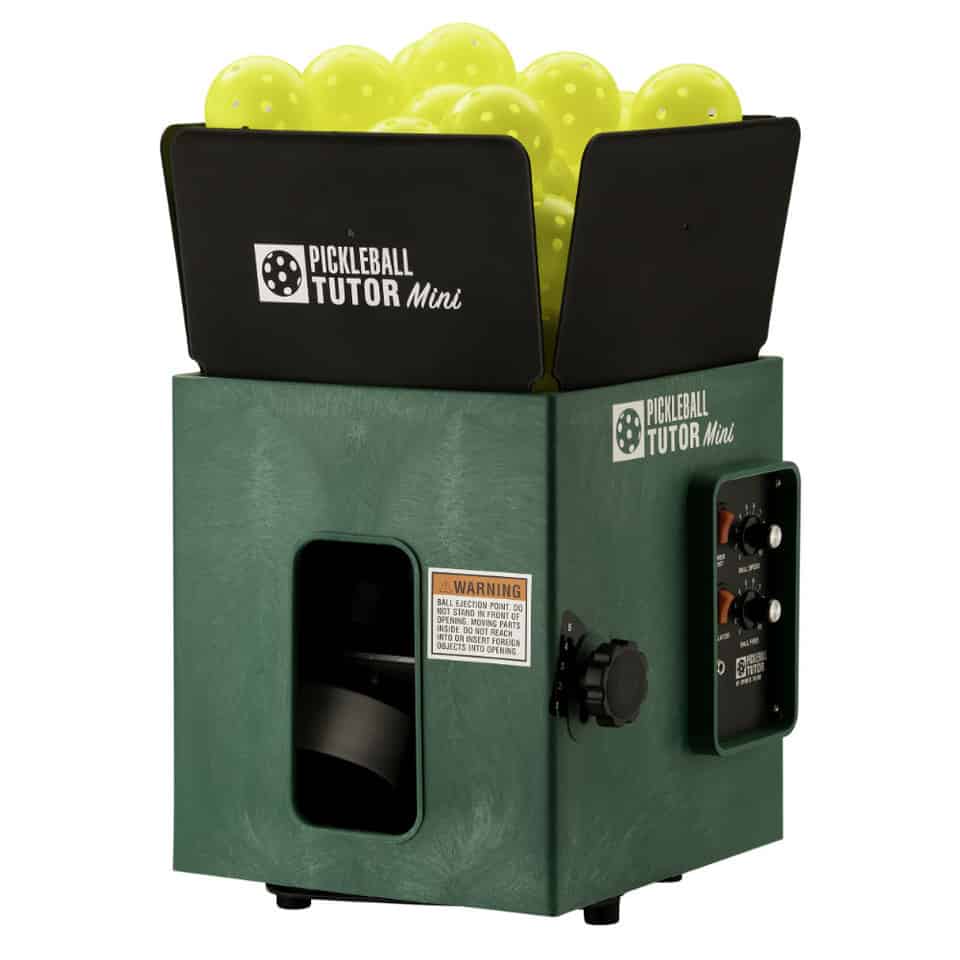 The Pickleball Tutor Mini is a versatile and convenient pickleball machine designed to improve your game. While it is a small unit and very portable machine, it still has a ball capacity of 55 and can launch them at speeds up to 50 mph, offering a variety of drill options.
It's available only as a battery-powered version, but you can choose between an oscillating or non-oscillating machine. If you prefer using AC power, you can buy an external adapter. Weighing just 24 lbs, this pickleball machine is highly portable with its small machine dimensions.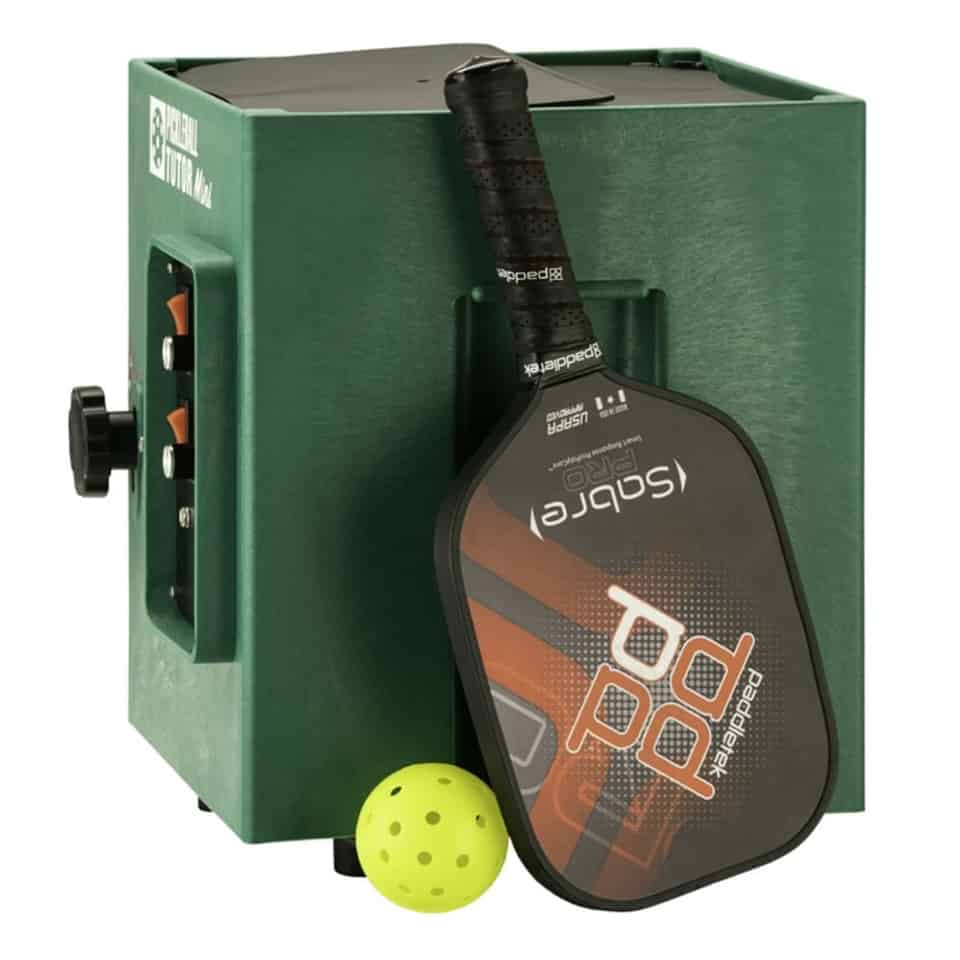 It has a manual elevation adjustment to tailor your practice for different shot types, from lobs to ground strokes. The machine itself comes with a 3-year warranty, and the battery has a year-long warranty.
The rechargeable battery provides approximately 3 hours of playtime, which can be extended with a battery pack. Overall, the Pickleball Tutor Mini is an excellent choice for individuals looking to enhance their game independently, no matter where they are.
Specifications:
Power Source: Battery with optional external ac adapter
Remote: Yes
Pre Programmed Drills: 12
Oscillation: Yes- optional
Elevation: Yes- manual
Max Ball Speed: 50 MPH
Battery Life Run Time: up to 3 hours
Weight: 24 pounds
Warranty: 3 years machine, 1 year battery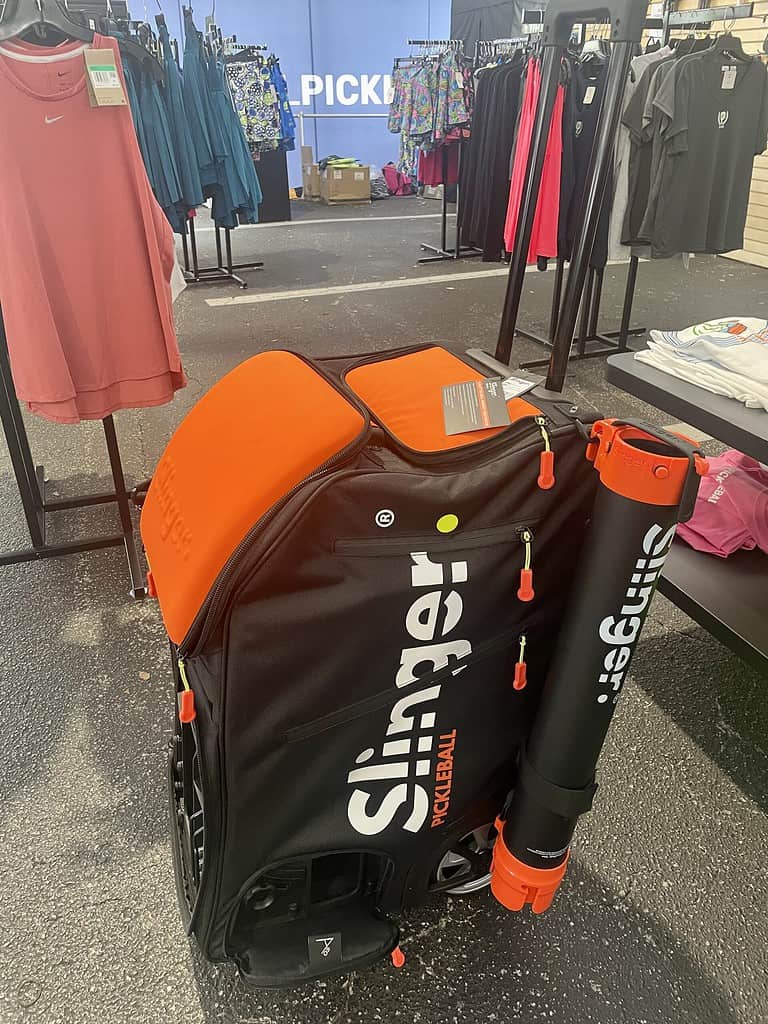 We love the portability of the Slinger Pickleball Bag & Oscillator! This ball machine option is super convenient, weighing only 42 lbs.
It has a user-friendly handle and roller duffel design, making it easy to transport to and from the pickleball court. Plus, it's compact and simple machine that can fit in your car easily.
Setting up the Slinger pickleball ball machine on the court is a breeze, taking just a few minutes. The machine offers lots of customization with adjustable ball speed (10 to 45mph), frequency, height, and spin settings.
The Slinger Bag is versatile, functioning as a storage bag for up to 120 pickleballs and even has space for court accessories like shoes and extra apparel. It even has a phone charging feature!
The Slinger Bag includes an oscillator, camera holder, telescopic ball tube, remote control, and power charger, making it a cost-effective option suitable for players of all ages and skill levels. It offers great value.
While it may not be as fancy as some other models, it's important to remember that this is a ball machine in a bag. We appreciate its simplicity, which is perfect for those who need frequent transportation and easy setup. If that's what you're looking for, then this is the ball machine for you!
Specifications:
Power Source: Rechargeable Battery
Remote: Yes
Pre Programmed Drills: No
Oscillation: Yes
Spin: Top and Under
Ball Capacity: 120 (however the only recommend 72 for best performance)
Max Ball Speed: 45 MPH
Battery Life Run Time: 1.5-3 hours
Weight: 42 pounds
Warranty: 1 year
How To Choose The Best Pickleball Machine?
Pickleball machines have a lot of different options to them. So it's important to get a good awareness of what it is you are looking for in your pickleball machine. Plus, they are not cheap so you want to make sure you are making the right investment!
Here are some key factors to keep in mind when shopping for a pickleball machine:
Ball speed
Varying ball speeds can help you prepare for different playing styles and conditions during a match. Beginners may need a slower speed at first and can increase as they progress. Having a high top speed can help as you progress in your game.
Ball Capacity
Constantly having to reload can really slow down your practice sessions so having a large capacity is a plus! Spend more time hitting than chasing balls! Playing time can be limited so we want to maximize it!
Spin Capabilities
Adjustable spin settings can help you train for different spin types like topspin, backspin, or sidespin. All important aspects of being a good pickleball player.
Oscillation
Oscillation is important because it allows the pickleball machine to randomly distribute balls across the court, simulating game-like situations. This helps players practice their footwork, positioning and reaction time in a more realistic way.
Programmable drills
A pickleball machine with programmable drills is important because they allow players to customize and save their own practice routines. With programmable drills, players can simulate specific game scenarios, focus on specific shot types or improve their weaknesses.
Remote Control Options
A remote control is important because it allows players to adjust settings and change drills without having to approach the pickleball machine. This saves time and energy, allowing you to focus on your training.
Battery Life
Of course, the battery life is important as it determines how long the pickleball machine can operate before needing to be recharged or replaced, affecting training sessions and flexibility. Some can have a life up to 4 hours which is great.
Warranty
The warranty provides assurance that the product is of good quality and that the manufacturer will stand behind the product in case of defects or malfunctions, giving peace of mind to the buyer.
Price
Price is an important factor to consider when choosing a pickleball machine as it determines the affordability of the product, and whether or not it is worth investing in for one's training needs and budget.
Weight
Weight determines the portability, ease of carry for transport, and stability of the pickleball machine during use.
By keeping these factors in mind and doing your research before making a purchase, you'll be able to find the perfect pickleball machine for your needs. With consistent practice using the best pickleball ball machine, you can improve your skills and take your game to the next level.
What Else Do I Need?
Don't forget the balls! We hear this all too often! You order the ball machine and you're super excited when it comes only to realize you need more balls too! We put together a list of the best pickleballs to help you out!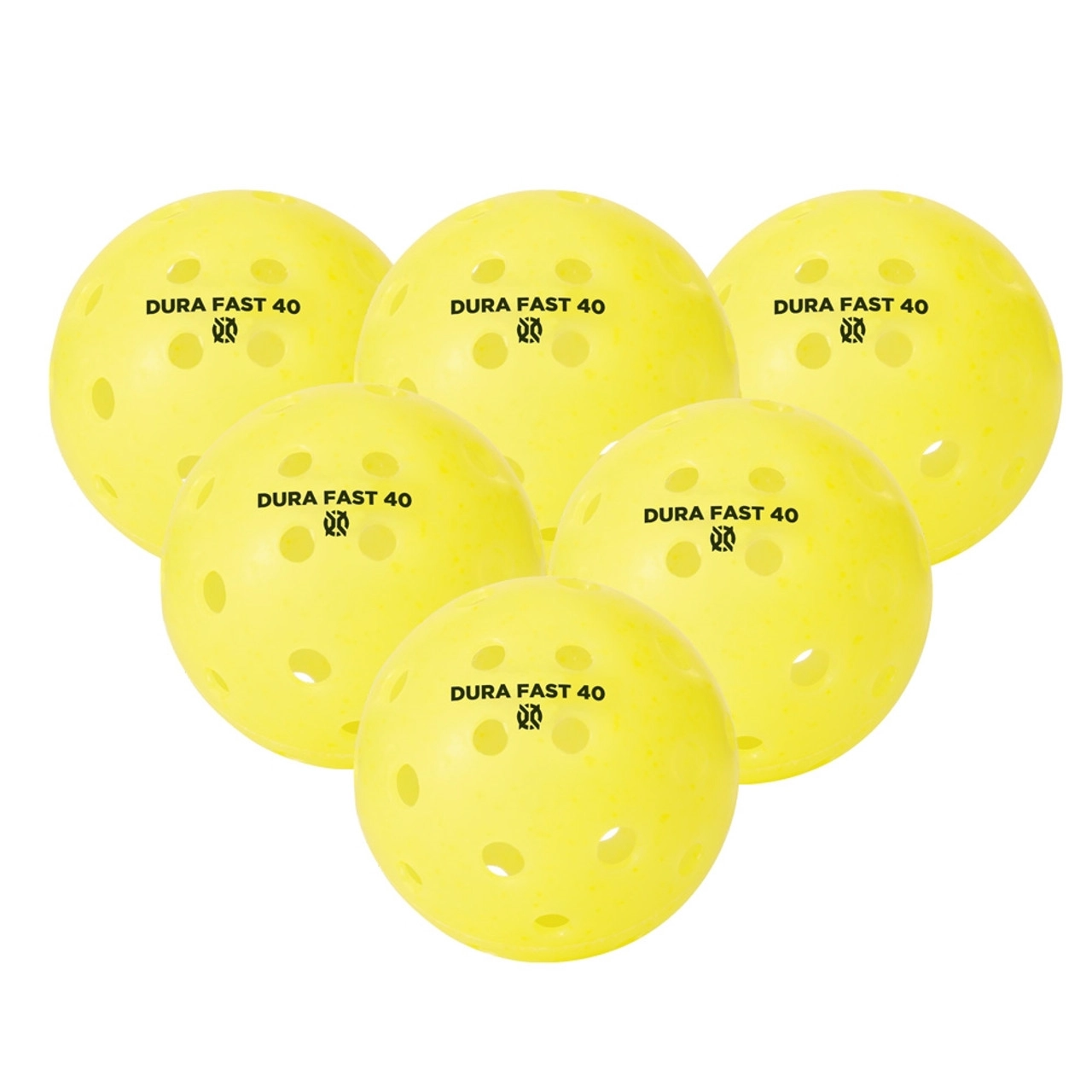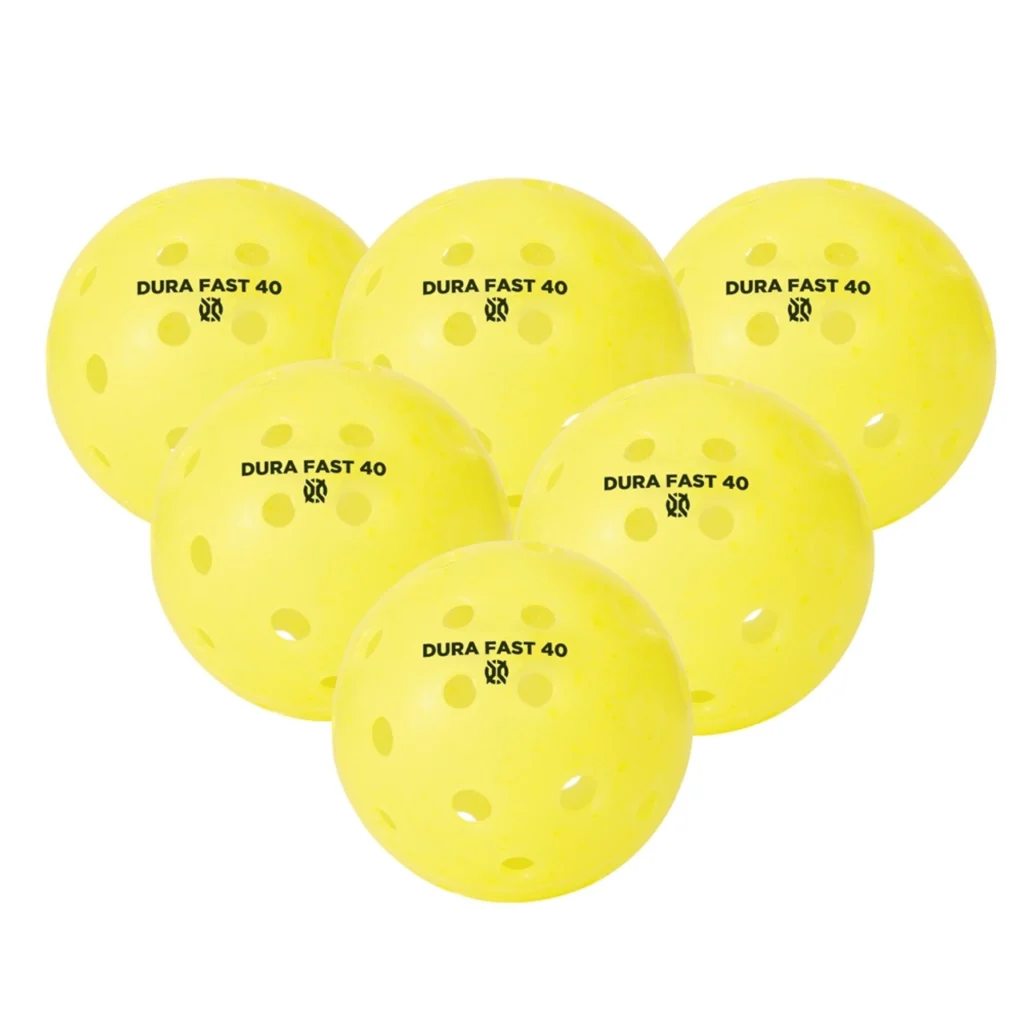 After you get your pickleball machine and all your balls you are ready to go…but remember, once you start crushing those balls as they come at you, you will need to pick them up and reload! Well, we have a list of pickleball hoppers to help you out!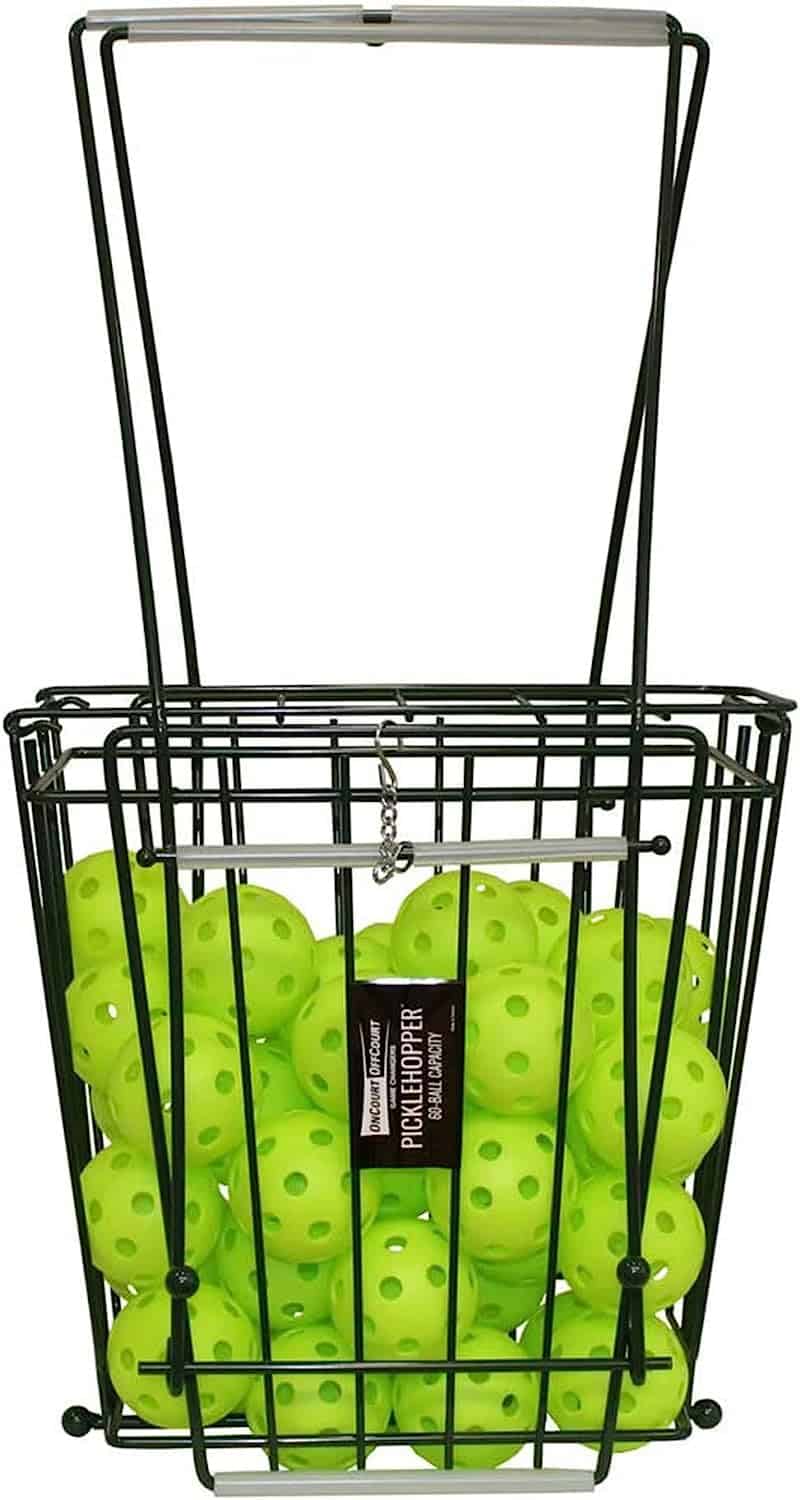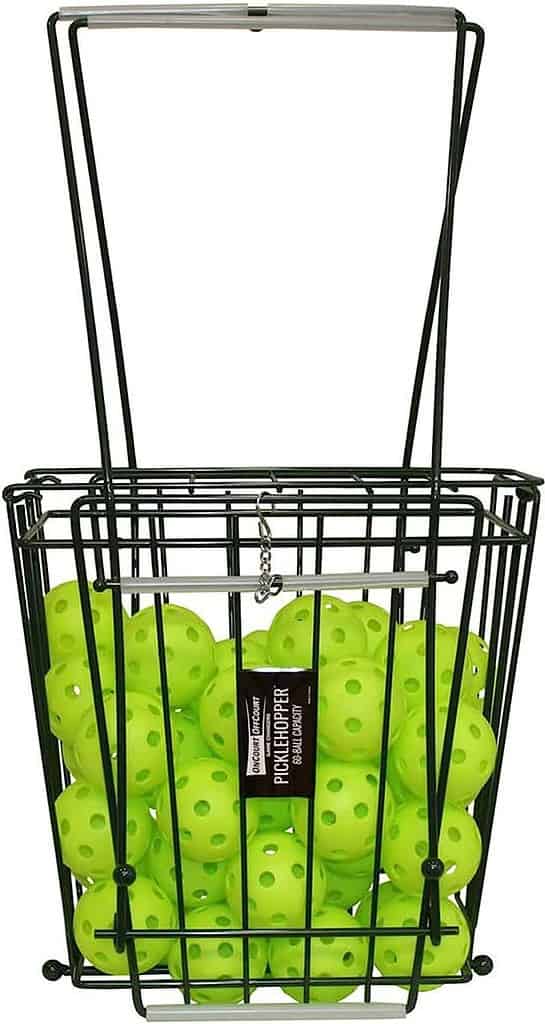 Machine: ✔︎
Balls: ✔️
Hopper: ✔️
Now it's time to have some fun! And of course you want to look good doing it so grab a new pair of pickleball shoes and hit the court!
Frequently Asked Questions
Why would I need a pickleball machine?
A pickleball machine can be beneficial for those who wish to practice their skills outside of regular play, work on specific drills, or enhance their overall game without depending on the availability of a practice partner.
Are pickleball machines suitable for beginners?
Absolutely! Most ball machines offer adjustable settings, which means beginners can set them to slower speeds and simpler patterns. As the player's skill level increases, the machine's settings can be adjusted accordingly.
Can I use regular tennis balls with my pickleball machine?
No, pickleball machines are designed specifically for pickleball balls, which are smaller and lighter than tennis balls. Using tennis balls could damage the machine or cause it to malfunction.
Is it challenging to set up and transport a pickleball machine?
Most machines are designed for easy setup and portability. They often come with wheels and handles for convenient movement. Nevertheless, some heavier models might require more effort or an additional person to move.
Can I use the machine outdoors in any weather?
While many ball machines are designed to be weather-resistant, it's always a good idea to avoid using them in wet conditions. Always check the user manual or manufacturer's recommendations regarding weather conditions.
How often should I maintain my pickleball machine?
Routine maintenance, such as cleaning and checking for any worn-out parts, should be done after every few uses. This ensures the machine functions efficiently and lasts longer.
Are there any safety precautions I should be aware of when using a pickleball machine?
Always ensure the machine is on stable ground before use. Stay clear of the ball exit point when the machine is on. If children are using or around the machine, they should be supervised. Additionally, remember to wear protective eyewear to prevent potential eye injuries.
Can I use a tennis ball machine for pickleball practice?
While tennis ball machines and pickleball machines serve a similar purpose – to automatically launch balls for practice – they are designed for different ball sizes and weights. Tennis balls are larger and heavier than pickleball balls. As a result, using a tennis ball machine might not provide the desired accuracy or speed for pickleball practice. It's recommended to use a dedicated pickleball machine for the best training experience. If you do try to use a tennis ball machine, you might also risk damaging the machine or the pickleball balls.
Conclusion
In conclusion, the best pickleball ball machines can be a great investment for your training regimen. Whether you're looking to improve your skills or master that cross court dink, finding the best machine to match your needs will help you improve your DUPR!
There are a lot of pickleball machines on the market that offer features such as programmable drills, ball capacity, spin options, remote control options, and adjustable settings. Be sure to consider all of these great features when shopping around for a pickleball practice machine so that you find one that best fits your needs and budget.
Pickleball machines can be a great practice partner so take the time to find the right one!
With consistent practice using this tool, you will soon see improvements in your drives, dinks, and all shots in between!