Ladies, are you tired of lugging around a boring and outdated pickleball bag that looks like a standard gear bag? Yeah, I was too. That's why I went on the hunt for the perfect pickleball bag for ladies.
It's time for you to make a statement when you're on the way to the pickleball court with an awesome and stylish pickleball bag. Not only will these unique pickleball bags carry all your equipment, but they'll also showcase your own unique style. Hey, this is one of the fastest growing sports right?? We need to look good out there!
From vibrant colors to chic designs, we've scoured the market to find the best pickleball bags for ladies that are both functional and fashionable.
Functional and fashionable? What else could you ask for!?! The pickleball bags on our list are sure to turn heads while also carrying all your gear.
In this blog post, I rank and review the best pickleball bags for ladies!
So, let's get into it and find the perfect bag that'll make you look and feel like the confident pickleball player you are!
We are reader supported and as such may make a small commission at no expense to you by purchasing thru our links and we greatly appreciate that! Read our disclaimer.
What Are The Best Pickleball Bags For Ladies?
Fresh Pickle Lola Bag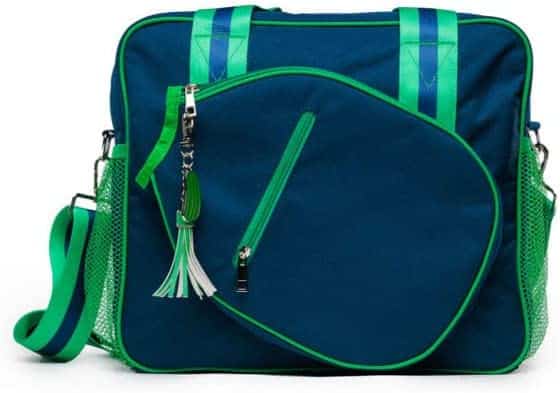 Queen of The Court Tote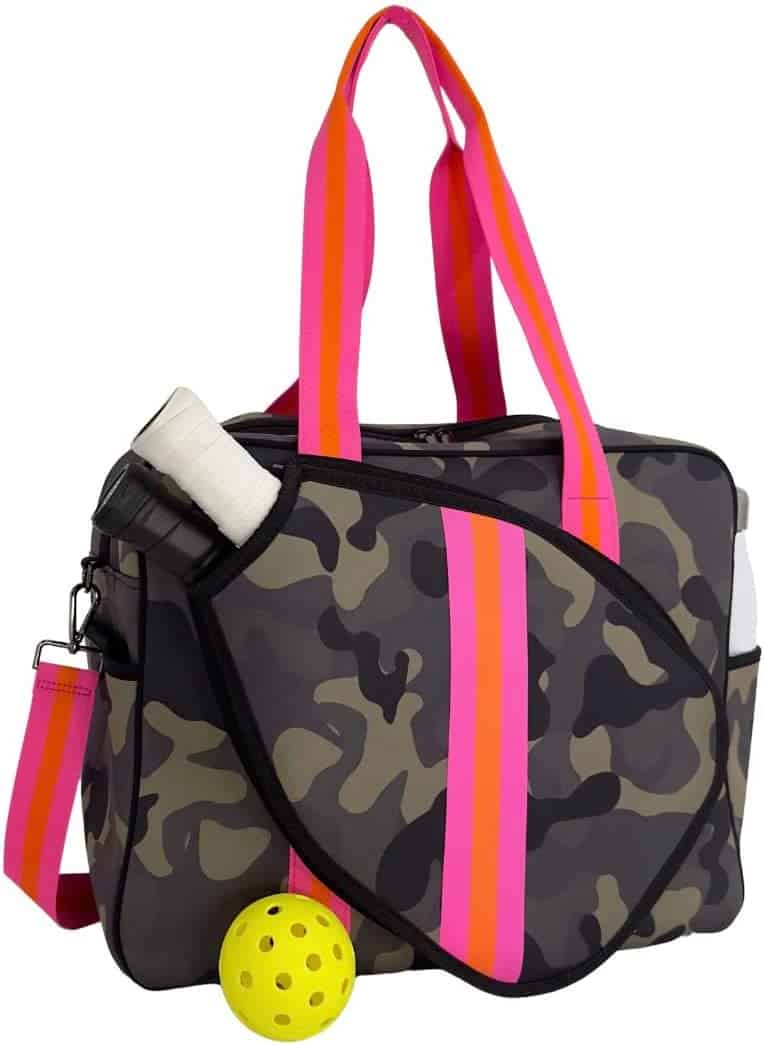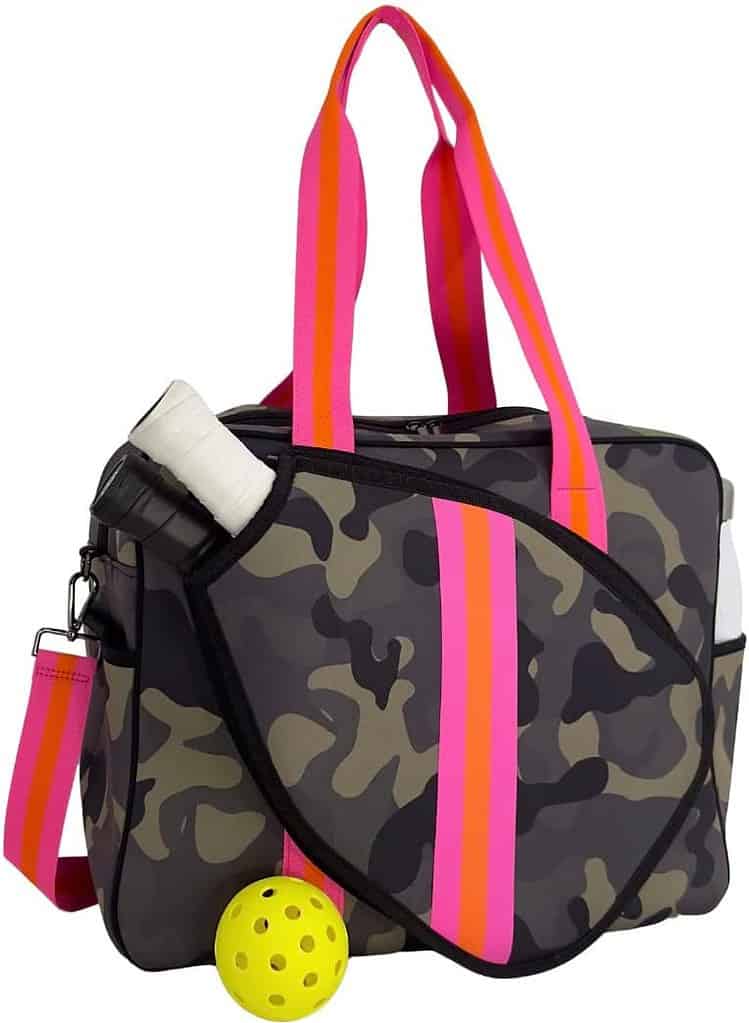 Pik'le'ball Women's Bag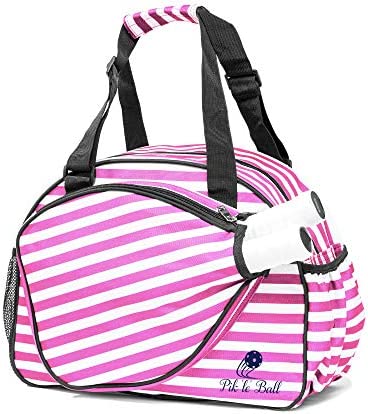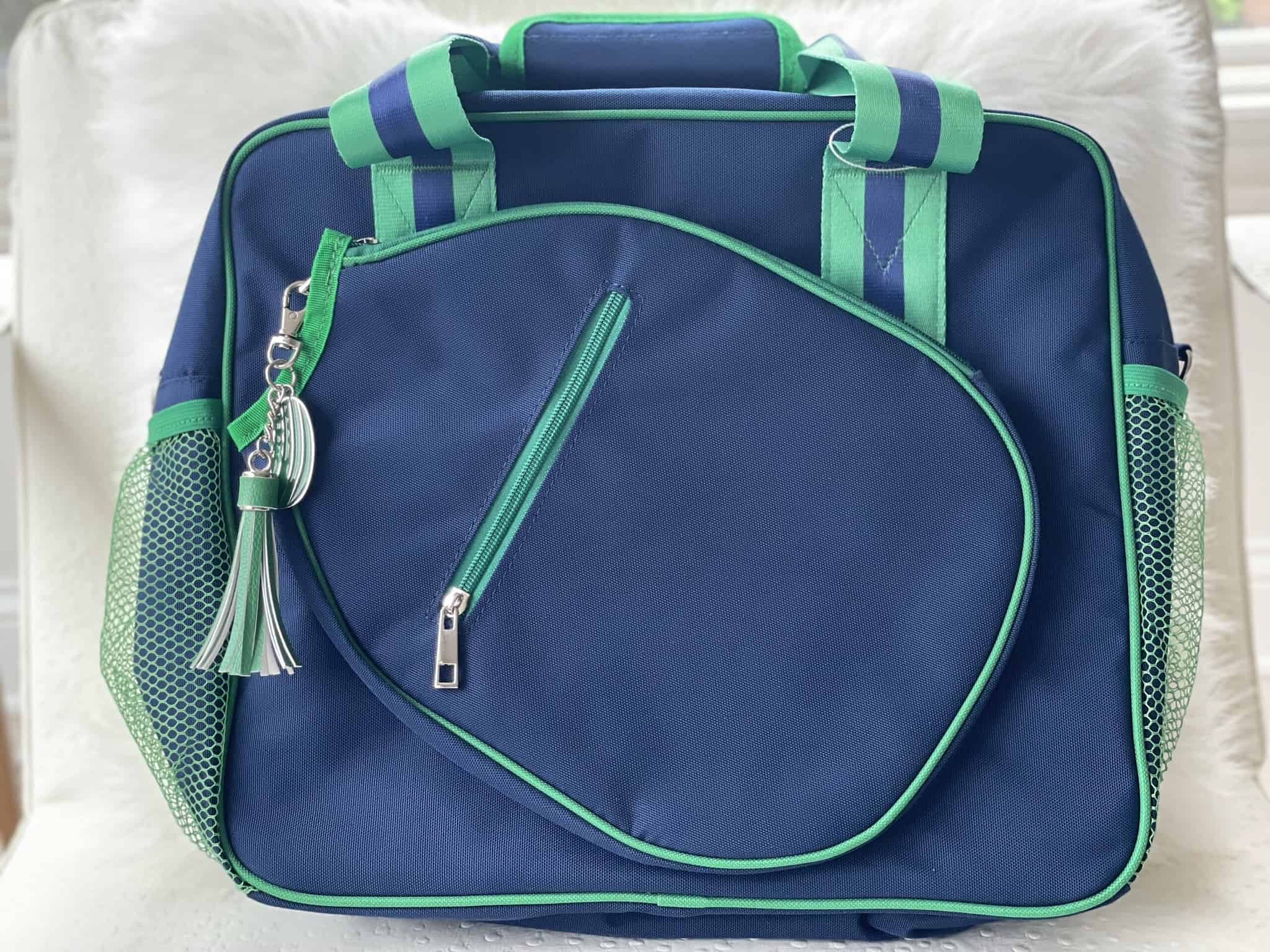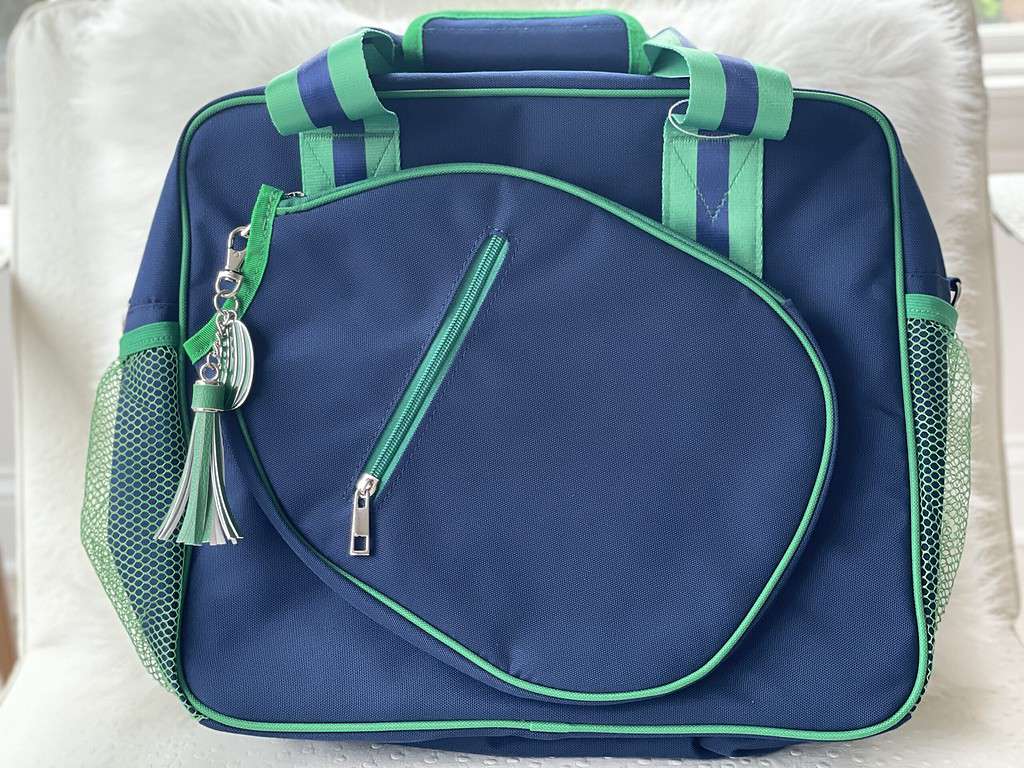 Top on our list is the Fresh Pickle Lola tote bag! I am so impressed with the Fresh Pickle Lola Bag! The attention to detail is amazing – I love the trendy color options and the adorable "pickle" liner inside.
The size is just perfect for me, providing ample storage without feeling bulky. The added padding is a nice touch, making the bag feel really sturdy and protected.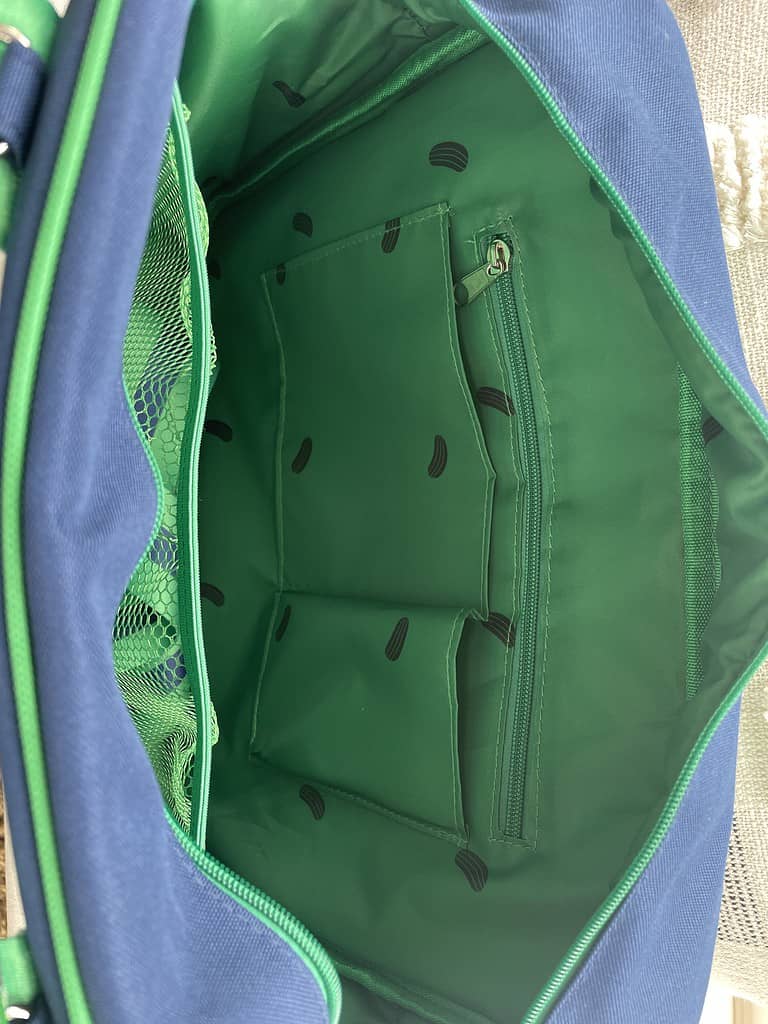 One thing I love about this bag is the soft nylon handles, which are so comfortable for all-day carrying. And the fence hooks are incredibly convenient for hanging the bag up on the court.
And if I prefer to carry it cross-body or over my shoulder, the extra strap makes that easy and comfortable to do so.
And let's not forget about the cute pickle tassel – it's such a fun finishing touch!
Not only is this bag stylish, but it's also super durable and water-resistant thanks to the 1000D nylon material. And cleaning is a breeze – I can just toss it in the washer.
The bag has so many pockets that can hold all my essentials, including keys, water bottles, pickle balls, two paddles and more. I particularly love the exterior zipper pocket and outside pocket for easy access.
Overall, I think this bag is an excellent choice for any pickleball player!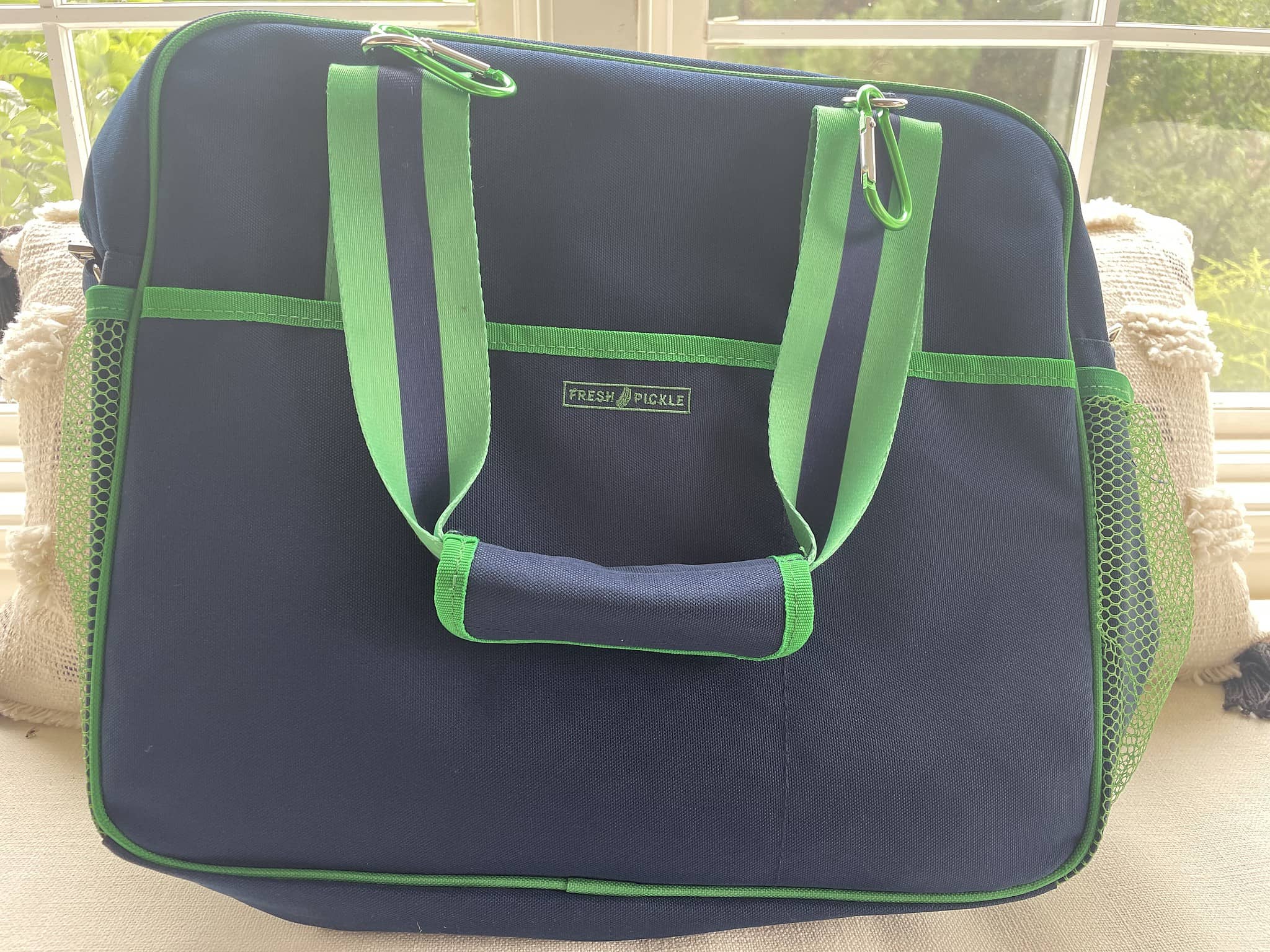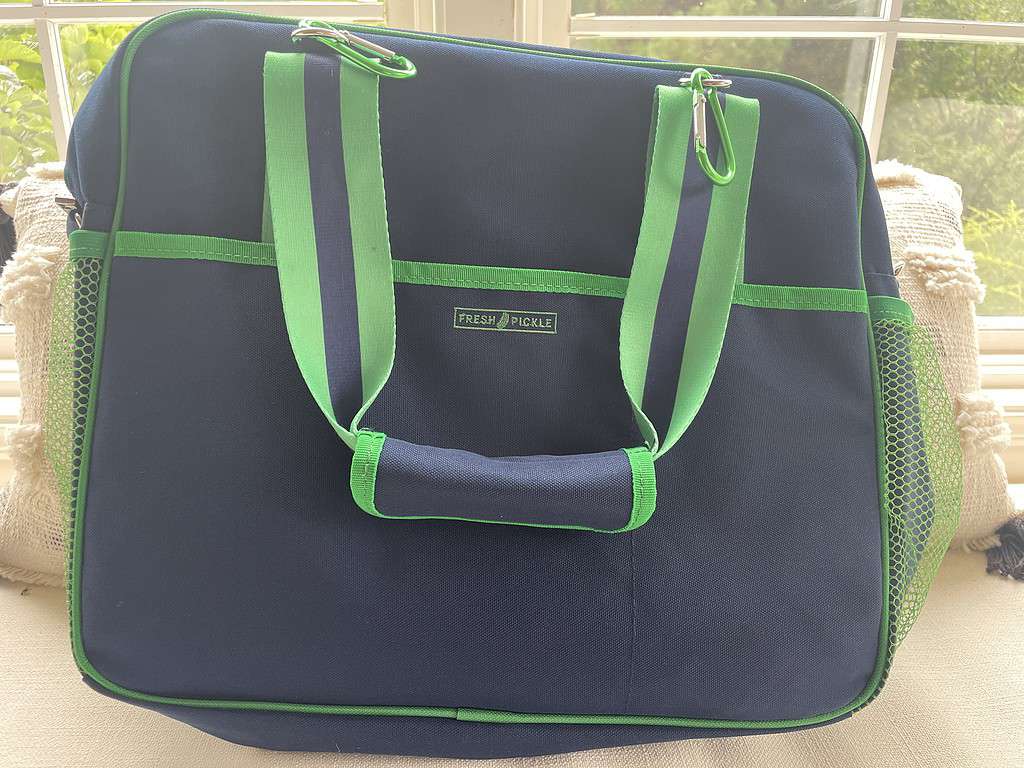 Key Features of the Fresh Pickle:
Attention to detail with trendy colors and a "pickle" liner
Perfect size with added padding for protection
Soft nylon handles and convenient fence hooks
Extra strap for cross-body or over the shoulder carrying
Cute pickle tassel
Super durable and water-resistant
Easy to clean in washer
Multiple pockets, including exterior zipper and outside pocket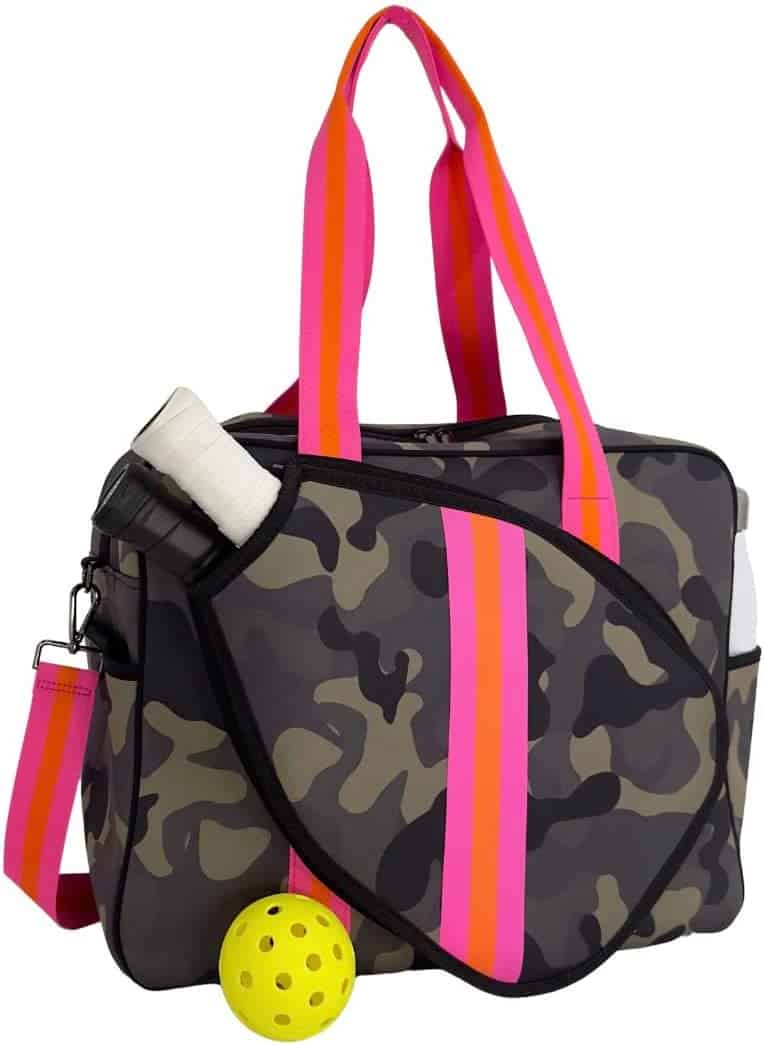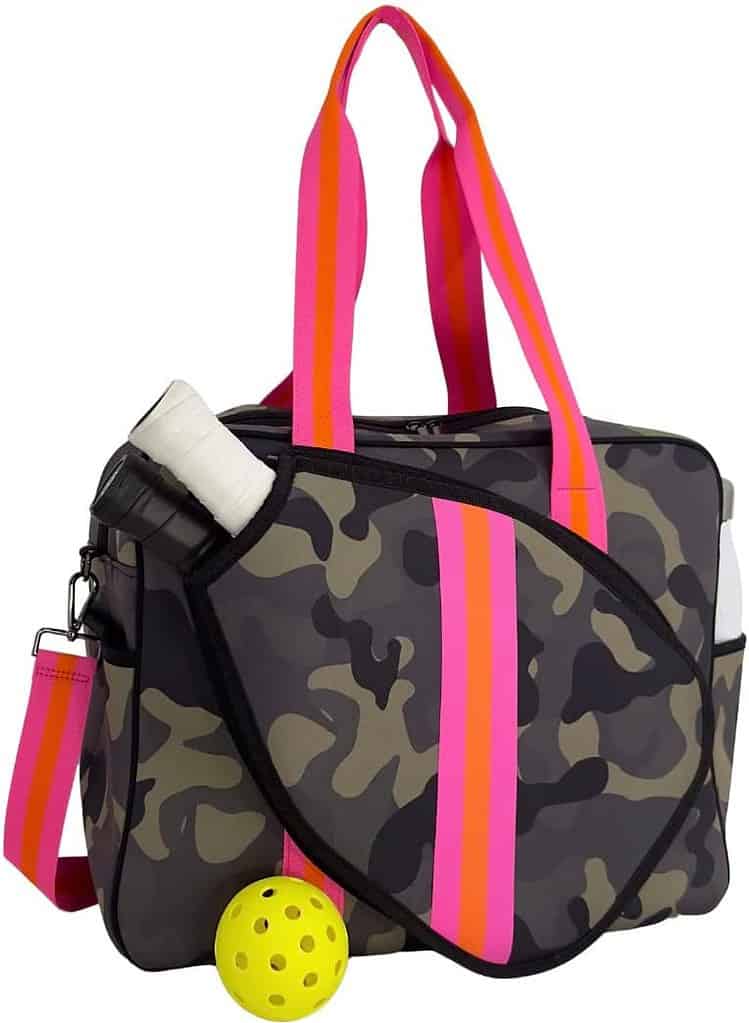 The Queen of the Court Pickleball Bag is made with high-quality neoprene fabric so this bag is not only stylish but also durable!
It features tons of storage space for all your gear, including a separate compartment for your shoes, sweatshirt, and water bottle.
The Queen of the Court Pickleball Bag also has the convenient fence hooks that I love. It is designed to hold 2 pickleball paddles, and also has three interior pockets – a small pocket for your phone or keys and two water bottle/extra ball pockets.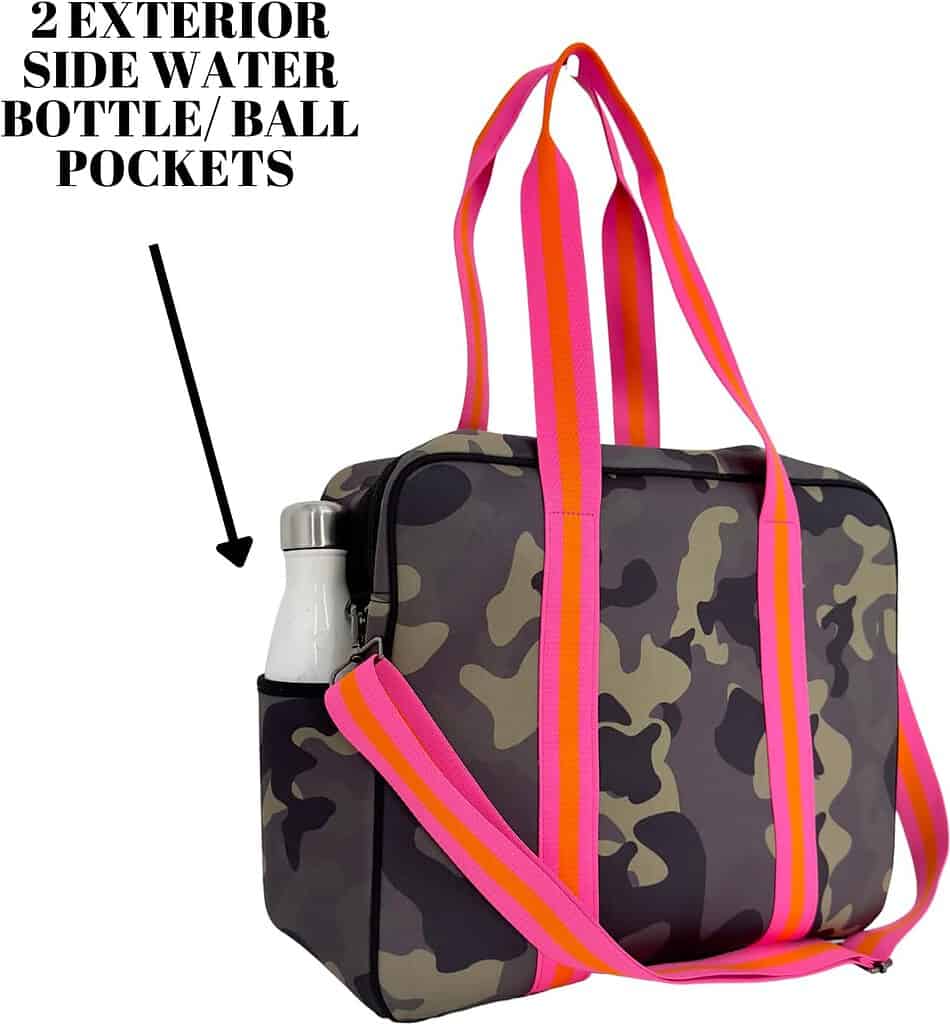 With 7 different color options, there's a bag to suit every taste.
However, keep in mind that this is a big bag, so if you're looking for a smaller bag or sling bag, this may not be the right fit for you.
Overall, the Queen of the Court Pickleball Bag is a great choice for any pickleball player who wants a stylish and spacious bag for all their belongings.
Key Features of The Queen of The Court:
Made with high-quality neoprene fabric for durability and style
Plenty of storage space, with separate compartments for shoes, sweatshirt, and water bottle
Convenient fence hooks for hanging your bag
Holds 2 paddles and has 3 interior pockets
Available in 7 different colors
Large size
Great choice for pickleball players who want a spacious and stylish bag.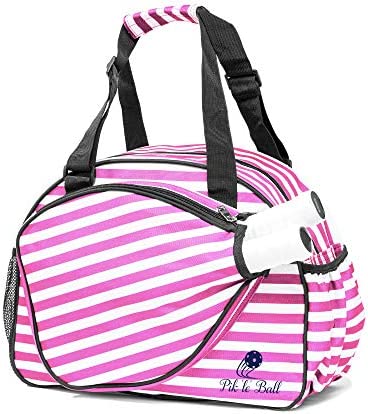 The Pik'le'ball Women's Tote Bag strikes the perfect balance between being spacious and compact, allowing you to fit all your gear without the added bulk.
This bag can hold up to three paddles in the designated paddle holder, and still have plenty of space inside for every other essential you may need. And we need a lot!
On this bag, I really like the ventilation holes. This help to ensure that your bag and belongings stay cool and avoid any nasty smells.
On the outside, it has a paddle case to store and protect your paddles, as well as a mesh water bottle holder. The top straps can also be easily fastened together and hung from a fence hook for added convenience.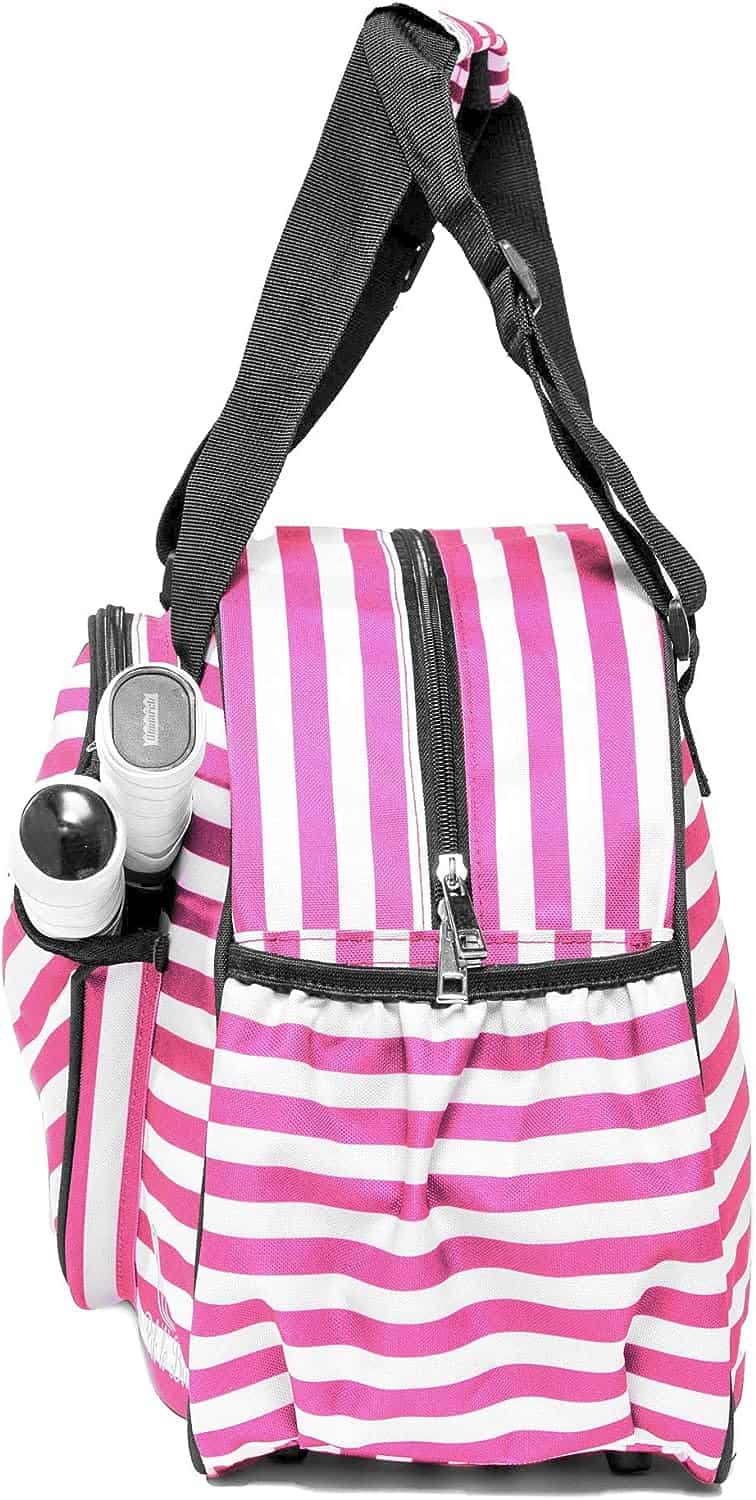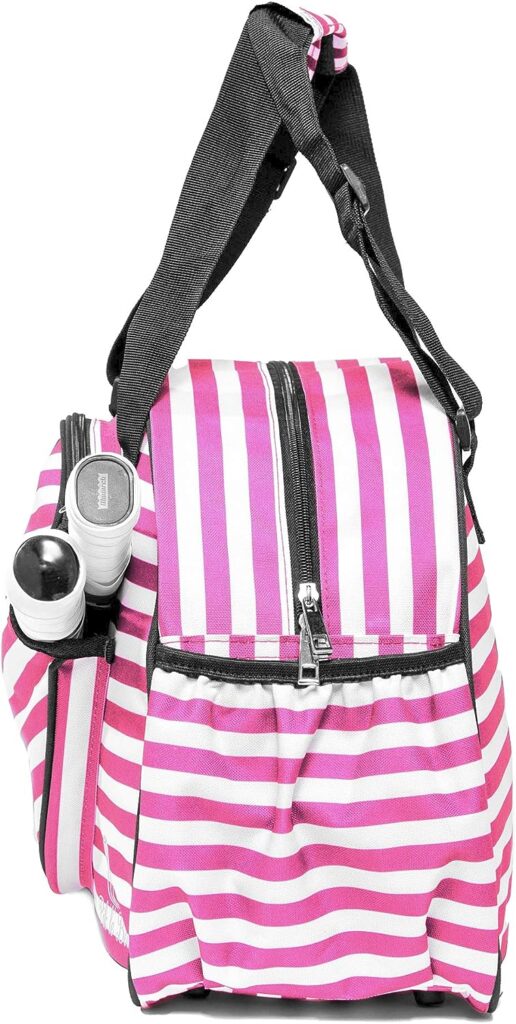 On the inside, you'll find a phone pocket, a pocket for your balls, and another compartment for personal belongings.
Plus, the Pik'le'Ball Tote Bag is eco-friendly and made partially from recycled ocean plastic, with no harmful inks or bleaches used in their printing. And they do all this with a great price! Very cool!
Overall, the Pik'le'ball Women's Tote Bag is a well-designed and practical bag.
Key Features of the Pik'le'ball Bag:
Spacious and compact design
Can hold up to three paddles
Ventilation holes to keep bag and belongings cool and odor-free
Paddle case and mesh water bottle holder
Top straps for easy hanging on fence hooks
Internal phone pocket and ball pocket, as well as personal belongings compartment
Eco-friendly material made partially from recycled ocean plastic
Factors To Consider When Choosing a Pickleball Bag
When choosing a pickleball bag for ladies, there are several factors to consider:
Size and Capacity: Consider the number of paddles, balls, water bottles, and other accessories you will need to carry. Opt for a bag that has enough compartments and storage space to accommodate your equipment. There are many options so you can find the perfect size!

Comfort and Portability: Look for a bag with padded straps or handles that can be adjusted to fit your body comfortably. An adjustable strap is key for proper fit. A lightweight and easy-to-carry bag will make it more convenient to transport your gear.

Durability: Pickleball bags often undergo wear and tear from frequent use. Choose a bag made from durable materials such as nylon or polyester that can withstand regular use without tearing or breaking.

Organization: Look for a bag that offers various compartments or pockets with easy access to keep your items organized. Separate compartments for paddles, shoes, balls, a phone pocket and personal belongings will make it easier to find what you need quickly.

Style and Design: Pickleball bags come in various styles and designs. Consider your personal preferences and choose a bag that reflects your taste and personality.

Ventilation: Look for a bag with breathable panels or built-in ventilation systems to prevent unpleasant odors from developing inside the bag.

Price: Set a budget for your pickleball bag and consider options that fit within that range. Remember, it's important to strike a balance between quality and affordability.

Remember to read product reviews and check customer ratings to get an idea of the bag's durability and functionality.
By taking these factors into account, you can choose a pickleball bag that's both practical and stylish.
What Are The Different Types of Pickleball Bags Available?
There a different type of pickleball bags on the market today. Here are some of the most popular types:
Pickleball Backpack: A pickleball backpack is really nice if you prefer to keep your hands free. If you walk or bike to the court a backpack is a great option. Lots of room for all your stuff and accessories. Super Popular!
Duffel Bags: Think over the shoulder bag. These bags are great for players who want to carry everything in one spacious compartment. They're perfect for players who have a lot of paddles, changes of clothing and shoes. Great for airline travel too. Dont' leave home without your pickleball stuff!
Tote Bags: These bags tend to be more stylish and fashionable than backpacks or duffel bags. They are perfect for players who want to look good both on and off the court. And who doesn't?? Tote bags usually have one main compartment that can fit paddles and balls.
Sling Bags: Pickleball sling bags have one shoulder strap that allows the bag to rest diagonally across your back. The sling bag is great for the minimalist who want to keep their gear organized and easy to access. A sling bag won't hold a ton of stuff, but really easy to carry with your essentials.
Wheeled Bags: If you have a lot of equipment, bad back or play at multiple courts, a wheeled bag is a great option. You can easily roll this bag between courts or from your car to the court. Check out this wheeled bag that doubles as a seat!
So whether it is a pickleball backpack, a sling bag, or any of the other pickleball bags, make sure it's well-made, durable, and has enough space to satisfy your needs!
Conclusion
In conclusion, having a reliable and stylish pickleball bag is essential for any woman who loves the fastest growing sport of pickleball. Whether you are looking for a larger pickleball backpack to carry all your gear or a more compact sling bag option for easy transportation, there are certainly plenty of options on the market so you can find the perfect pickleball bag. Not only do they look great with their eye-catching designs, but they also provide ample storage space and functionality. And don't forget that phone pocket!
So, no matter which pickleball bag you choose, you can be sure to arrive at the court feeling confident and ready to play your best game!