We have been testing out all sorts of pickleball paddles for our blog reviews for quite some time now, and one paddle that keeps staying towards the top of our various reviews is Vinsguir Pickleball Paddles.
Vinsguir had been making fitness equipment before they ventured into the world of pickleball, and I must say, their entry to pickleball has been well received.
We were recently sent a set of the Vinsguir pickleball Paddles model VG-04 to try out for our review. Having tried out a previous Vinsguir pickleball paddle model in the past, we were excited to see what new improvements were made.
We were not disappointed.
In this blog post, we provide our full review of the Vinsguir Pickleball Paddles VG-04.
Let's get started.
We are reader supported and as such may make a small commission at no expense to you by purchasing thru our links and we greatly appreciate that!
What is the Vinsguir Pickleball Paddle VG-04?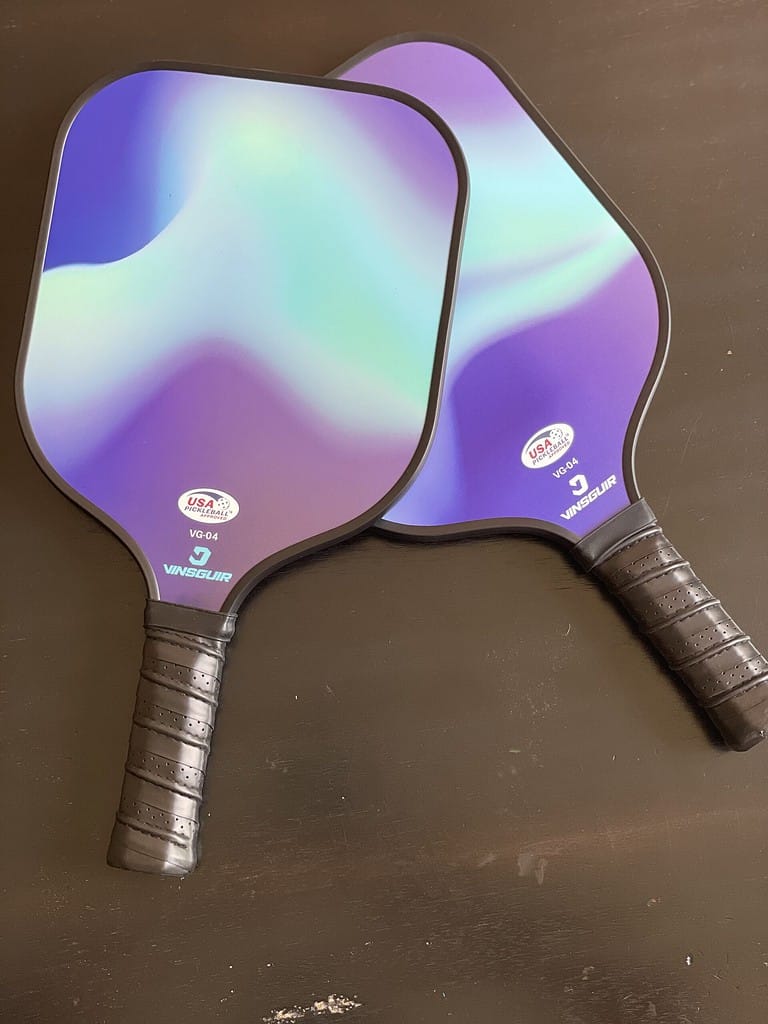 The Vinsguir pickleball set is a nice budget-conscious pickleball paddles set that is approved for tournament play by the USA pickleball association (USAPA). With so many options on the market these days, it is hard to find a pickleball paddle that is made of good quality at a good price. You can certainly find "cheap" paddles, but once you play with them you know they are "cheap". That was not the case with Vinsguir pickleball paddles.
This pickleball paddle provides nice pop and power for a budget-friendly pickleball paddle and an overall decent spin. For me, I liked the pop of this paddle more than the spin, but that is a little more suited to my game these days.
The pickleball paddle set they sent me included two pickleball paddles and two pickleball balls. The balls were totally fine for outdoor use in our test and we had no complaints with them. It even included a small portable pickleball bag carrying case which was nice to be able to transport them to the pickleball courts in addition to the usual pickleball bag we carry. Vinsguir pickleball sells this as a pickleball set of 2 or 4, with balls included.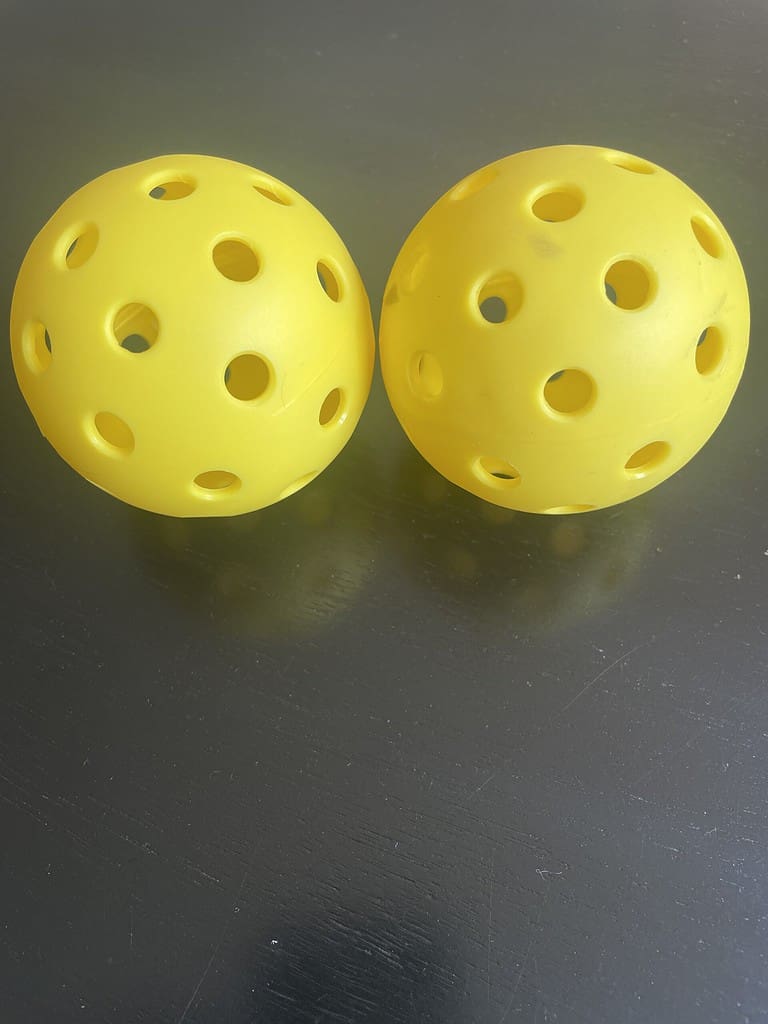 Again, for the price, I think it is hard to find a pickleball paddle set that is equally as good. There are a couple that I feel compete with this, like the Niupipo, but head to head these are both two of the best selling paddles for intermediate players.
Vinsguir Pickleball Paddle Specs
Weight
This Vinsguir Pickleball paddle is a lightweight pickleball paddle that comes in at an average weight of 7.8 oz. This allows for quick maneuverability at the net and is easy on your arm and elbow.
Handle and Grip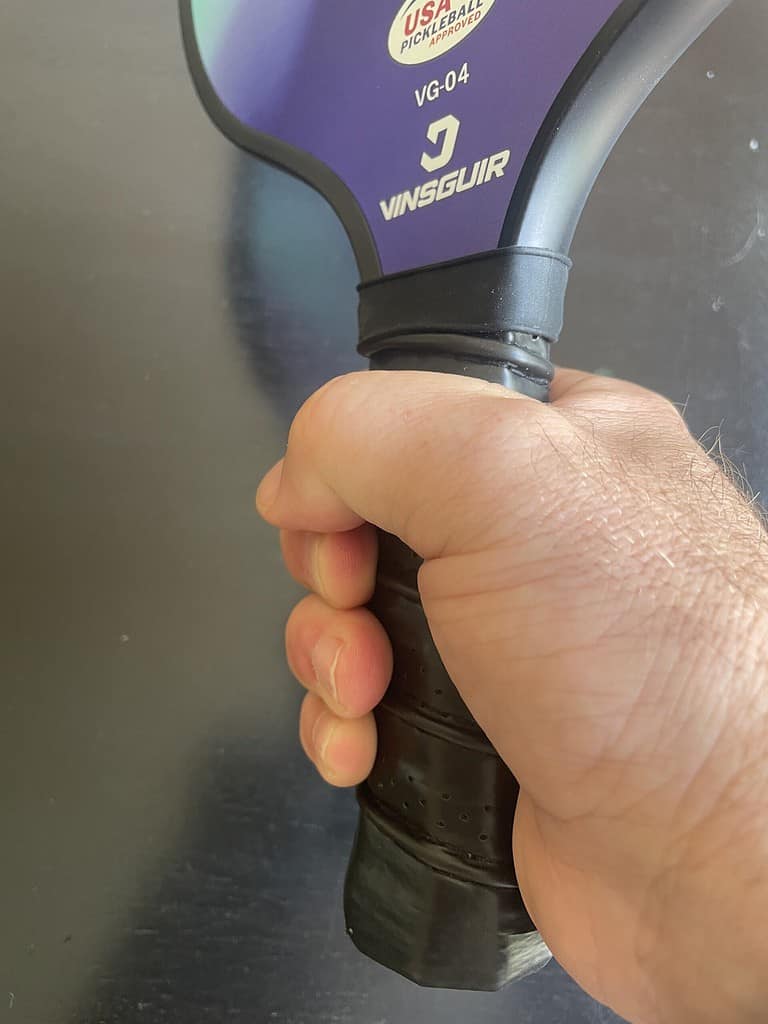 The grip length measures 5 inches, which is fairly standard. I prefer slightly longer grip as longer handles provide for room for my two-handed backhands, plus a little more reach, but the 5-inch grip length is still capable of allowing me to do that. I just found it to be a tad small for my preference.
I did find the sweat absorbent grip to be very comfortable and secure. It handled sweaty hands with no problem and I didn't lose grip at all. It has a 4.25 inch grip circumference which felt nice in your hands.
Materials
The Vinsguir pickleball paddles have a fiberglass finish and internal honeycomb core. This resilient surface offers accuracy with its potent and precise returns. Its honeycomb core minimizes vibrations, guaranteeing a smooth contact with each hit and slightly more power than you might be used to with a paddle of this price. The fiberglass surface gives you the advantage of adding great ball spin to the ball, elevating your game significantly.
Sweet Spot
The paddle face is 8.1 inches wide providing a nice wide sweet spot. We found this paddle to be very forgiving while playing. This is really helpful for those just getting started on their pickleball journey.
The face is wrapped with a very solid edge guard to help prolong paddle life.
Summary
The Vinsguir pickleball paddle is a lightweight, high-performance pickleball paddle averaging 7.8 oz for quick maneuverability and minimal strain on the arm and elbow.
The 5-inch handle is standard, although slightly smaller than ideal for two-handed backhands. The grip is comfortable and secure, maintaining its hold even in sweaty conditions. Its 4.25-inch circumference fits nicely in the hand.
The paddle's materials, including a fiberglass finish and polymer honeycomb core, ensure great drives and reduced vibrations, while also allowing for good spin on the ball.
The 8.1-inch wide paddle face offers a generous sweet spot, making play more forgiving – especially for beginners. An additional solid edge guard wraps the face to extend the paddle's lifespan.
The Vinsguir Pickleball paddles set is a great buy.
Things to Look For In a Pickleball Paddle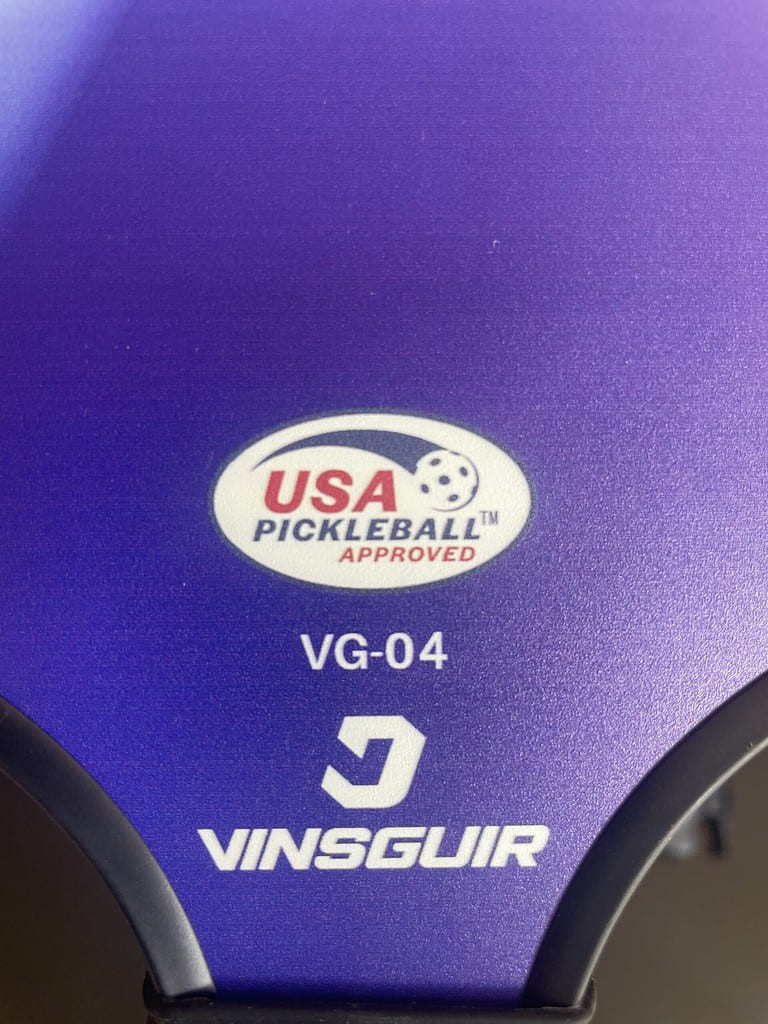 When shopping for a pickleball paddle, there are several factors to consider to ensure you select the best one for your playing style and skill level:
Weight: This is crucial as it can impact your control and power. There really isn't a "normal weight" as it comes down to player preference. Lightweight pickleball paddles (under 7.5 ounces) offer quick maneuverability but less drive. Heavier paddles (over 8.0 ounces) provide more power but can strain your arm.
Material: Pickleball Paddles are typically made from wood, composite or graphite. Wood is inexpensive but heavy, composite offers a balance between durable carbon fiber and performance, and a graphite pickleball paddle is light and high-performing, but more expensive.
Grip Size: Ensure the grip fits comfortably in your hand. A too-large grip can lead to tennis elbow, while a too-small grip can cause wrist strain.
Paddle Size: A larger paddle face gives a larger sweet spot, but may reduce maneuverability. A smaller face increases maneuverability but requires more precision.
Core Type: The core affects the feel and performance of the paddle. A polymer Honeycomb core is popular due to their balance of control and power. They can be made from aluminum, polymer or Nomex.
Edge Guard: This is a protective frame that extends the life of your paddle. Some players prefer edgeless paddles for a larger hitting area.
USAPA Approval: If you plan to compete in tournament play, make sure your paddle is approved by the USA Pickleball Association.
Price: Determine your budget. While cost often correlates with quality, there are excellent paddles available at every price point.
Remember, the best pickleball paddle is one that feels right for you and complements your style of play. This will give you the added leverage you need to take your game to the next level. Vinguir has the Viento X23 paddle which landed on our list of best pickleball paddles.
It's always a good idea to try out different paddles before making a purchase and going used in an excellent option. From beginners to pro level paddles, you can find a paddle that is shaped right, provides a wide area on the face, or something lighter in the right price point. Check out some used options here.
Conclusion
In conclusion, choosing the best pickleball paddle involves more than just picking up the first one you see. It's about finding a balance between weight, material, grip size, paddle size, core type, and whether or not it has an edge guard. Additionally, you need to consider your budget and whether you plan to play in official competitions, which require USA Pickleball (USAPA) approved paddles.
We really enjoyed the Vinsguir pickleball paddles set and think you will too if it matches your needs. It's a solid buy that should last you a long time as your progress in pickleball or even move into tournament play. And the portable pickleball bag is a nice plus to keep your pickleball paddles safe.
Remember, every player is unique, and what works for someone else may not necessarily work for you. The key is to try various pickleball paddles and find the one that feels the most comfortable in your hand and complements your playing style. If you are looking for slightly more power on your ground strokes or a lightweight pickleball racquet set, you can find it! With the right pickleball paddles, not only will your performance improve, but your enjoyment of the game will also significantly increase.
Happy playing, and may each game take you one step closer to mastering the exciting sport of pickleball!