Professional pickleball has seen a rapid rise in popularity in recent years, with players from all over the world competing in tournaments and leagues at the highest levels of the sport.
One such player is James Ignatowich, a rising star in the world of professional pickleball.
James' impressive skills on the court have earned him a reputation as one of the top players in the game today.
He has also earned the reputation of having the best post-match interviews! We will get to that below!!
In this blog post, we will take a closer look at James Ignatowich's journey to becoming a top pickleball player, from his early days playing tennis to his current success on the pickleball court.
We will explore his background, his accomplishments on the court, and what makes him such a unique and talented player, like having pickle juice and mustard during his matches!
And don't forget those awesome post-match interviews 🙂
So without further ado, let's take a look at the rising star of pickleball: James Ignatowich.
We are reader supported and as such may make a small commission at no expense to you by purchasing thru one of our links and we greatly appreciate that!
The Early Years
Born and raised in Darien, Connecticut, Ignatowich began playing tennis at a young age. He continued to excel as he grew up in the sport and committed to playing Division 1 college tennis at Vanderbilt University. It was during his college years that Ignatowich discovered pickleball and immediately fell in love with the game.
After graduating, Ignatowich made the switch to pickleball, a decision that has proven to be a game-changer for his career.
The Transition To Pickleball
Since picking up the paddle, Ignatowich has quickly become one of the top 10 singles players in the world, thanks to his impressive work ethic, power, and quick hand speed. He credits his success to his love and passion for the game, saying that "Pickleball is just more exciting than tennis."
Ignatowich's dedication to the sport is evident in his rigorous training regimen, which includes hours of drilling and practice every day. He has also secured a sponsorship deal with Selkirk, a leading brand in pickleball equipment, and has brought home two PPA gold medals in singles and mixed doubles.
Tournament Success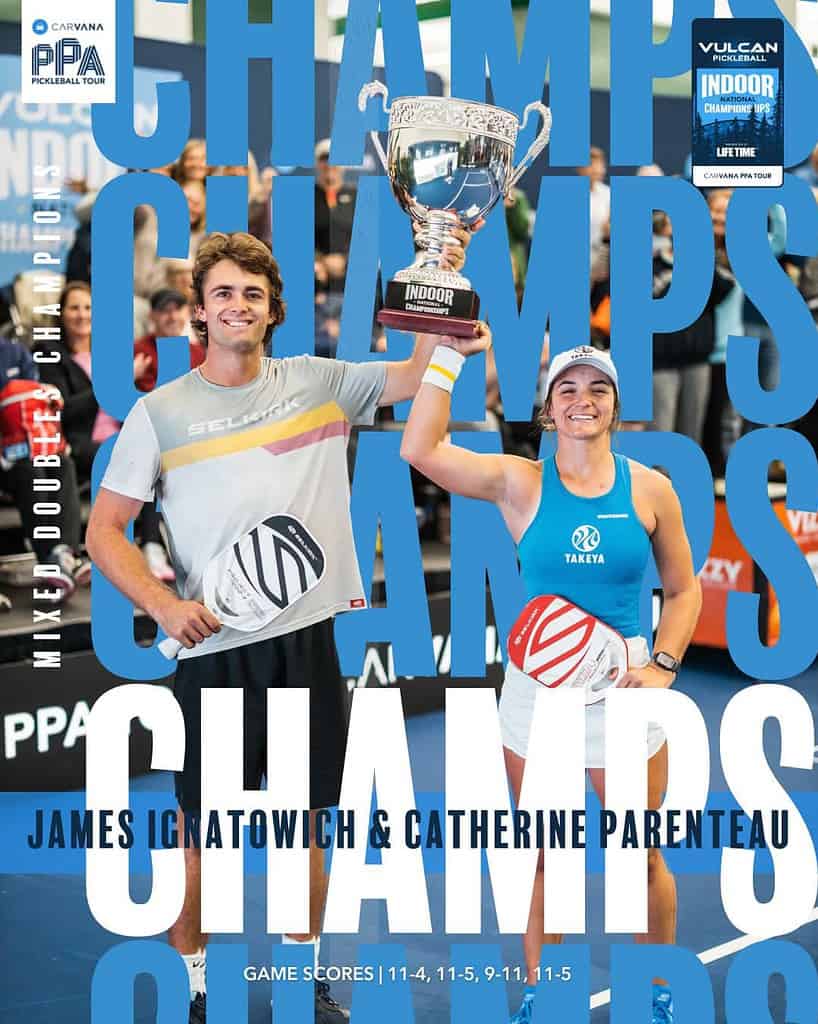 In 2022, Ignatowich won the Major League Pickleball Newport Beach, cementing his status as one of the top players in the game. He continued his winning streak in 2023, taking home two more gold medals at the Vulcan Indoor National Championship in singles and mixed doubles, playing alongside Catherine Parenteau.
The Interviews
Legendary. That's all I can say. I can't wait for the next one. See a nice video below of some of James' interview highlights!
Paddle Of Choice For James Ignatowich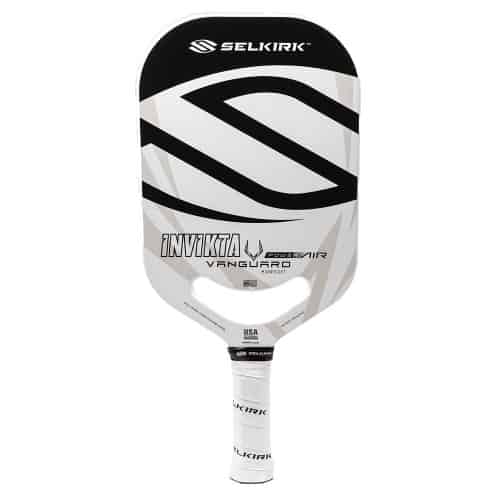 James' paddle of choice is the Selkirk Vanguard Power Air Invikta like so many other top pros. This is also the paddle of choice for some of the biggest names in the game like Tyson McGuffin and Catherine Parenteau.
Selkirk Pickleball's VANGUARD Power Air Epic paddle has been promoted as the ultimate tool for power and spin, incorporating new technology into one of the brand's most popular, classic-shaped paddles.
The paddle's aerodynamic throat opening allows for enhanced maneuverability and swing speed, while its edgeless design maximizes the hitting area. The throat also flexes to increase the dwell time of the ball on the paddle's face, thereby adding power to each hit.
The ProSpin+ NextGen Texture provides excellent ball-grabbing ability, imparting maximum spin. In addition, the face is made up of two layers of Fiberflex fiberglass and two layers of Quantum+ carbon fiber, offering players the best of both worlds in terms of power and control.
To enhance the paddle's durability and sweet spot distribution, a FlexFoam material has been injected beneath its edgeless perimeter, which also prevents torquing of the paddle in your hand if you strike the ball off-center.
The VANGUARD Power Air Epic measures 15-3/4 inches long and 8 inches wide, allowing for consistent all-court play. The polymer core is 1/2 inch thick, and the paddle weighs between 7.7 and 8.1 ounces, with an average weight of 7.9 ounces. The handle of this model is slightly longer than other paddles, measuring 5-1/4 inches long.
The VANGUARD Power Air Epic from Selkirk Pickleball combines the latest technology from Selkirk into one package, providing higher-skilled players with a paddle that offers all of the technology and spin capabilities that Selkirk is known for.
Where Can You Watch James Play?
For those interested in watching James Ignatowich play (or his interviews!) you can catch him at most PPA tournaments (Professional Pickleball Association). The PPA holds a number of events throughout the year. These events typically feature top players from around the world competing in various categories, including singles, doubles, and mixed doubles. The PPA broadcasts many of their events on their website and social media channels, allowing fans to watch the action live from anywhere in the world.
Additionally, you can catch him in the MLP (Major League Pickleball) in 2023. This league will feature top players from around the world competing in team-based matches, with franchises located in cities across the United States. It is a really fun environment for the fans!
It may be helpful to follow his social media accounts or check the rosters of specific tournaments or teams to see if he is competing. Additionally, the PPA and MLP websites will likely have updated schedules and information on which players will be competing in upcoming events. YouTube also has a number of videos that talk about upcoming events.
Conclusion
James Ignatowich is truly creating a name for himself in pickleball. His aggressive play and style are proving to be a force to be reckoned with. He has played the best of the best and is on the rise. Follow James Ignatowich and watch him take on all the best of pickleball…You won't want to miss it!