Thinking about getting a new pickleball paddle? You should definitely check out the Engage Pursuit Ultra EX 6.0. Engage pickleball paddles are some of the best on the market and this latest release steps it up!
In this blog post, we take an in-depth look at this pickleball paddle. As the sport of pickleball gains popularity around the world, so does the demand for high-quality pickleball paddles. The Engage Pursuit Ultra EX 6.0 is one of the newest additions to the market, and it certainly packs a punch.
We take a look at everything from the paddle's weight and grip circumference to its power, spin and control. We'll also dive into the paddle's vibration control technology, proprietary polymer composite core, and how you can achieve maximum ball responsiveness with this new pickleball paddle.
If you're an intermediate up to an experienced player, the Engage Pursuit Ultra EX 6.0 Pickleball Paddle is worth a look. Whether you're looking for maximum power, excellent ball control or a combination of both, this pickleball paddle delivers.
In this review, we will discuss everything you need to know so you can make an informed decision before purchasing.
Let's get started.
We are reader supported and as such may make a small commission at no expense to you by purchasing thru one of our links and we greatly appreciate that!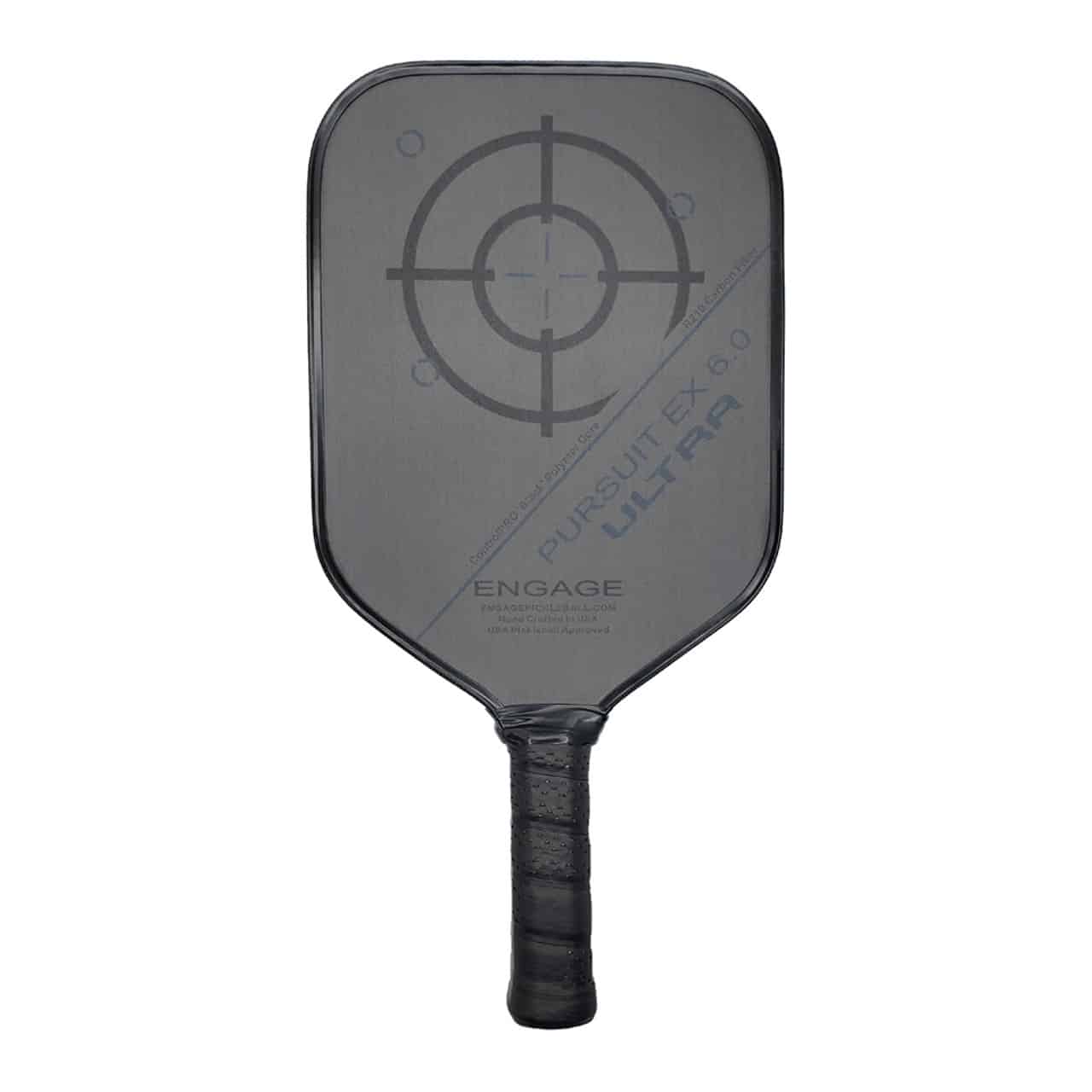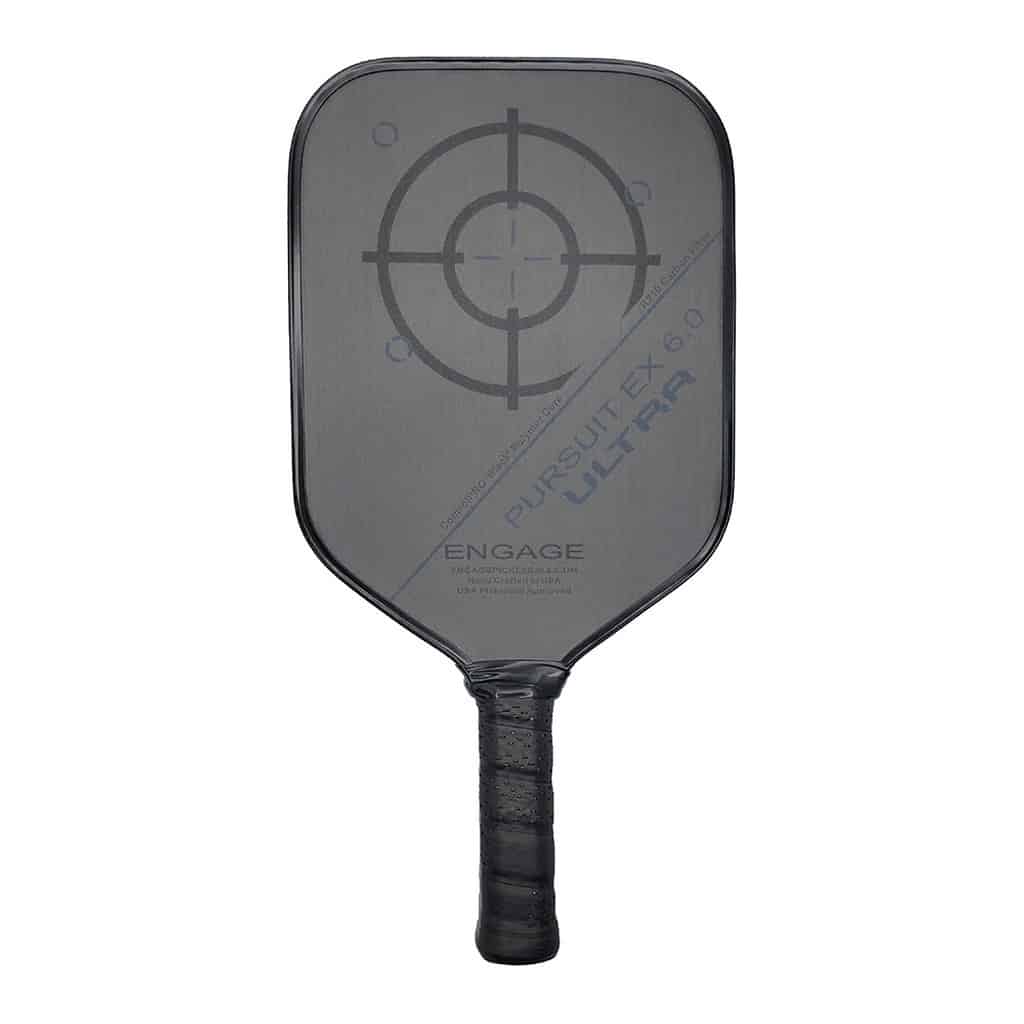 The Engage Pursuit Ultra EX 6.0 is a really nice pickleball paddle. It is made with an R210 carbon fiber hitting surface. This textured surface allows the ball to hang on the face longer, making it easier to control and spin. The course texture really helps to give you good control on your shots.
The paddle has a 16mm thick Control Pro Black Polymer core. This thick core gives the pickleball paddle a soft feel that controls compression and ball rebound rate. Compared to the Pursuit Ultra EX Pickleball Paddle, the 6.0 is the thicker, softer option.
The 6.0 pickleball paddle offers extra control and still provides great power. The new Vortex Barrier edge technology injects a composite material into the outer honeycomb cells, which increases the swing weight of the paddle while also spreading out the sweet spot. This is a really cool concept. This technology also helps with paddle balance and reduces impact vibrations which can lead to injuries like tennis elbow.
All Engage Paddles comply with USAPA guidelines and are approved for sanctioned tournament play.
R210 Carbon Fiber Face
Engage is going with an R210 Carbon Fiber face. This unique chemically bonded Carbon Fiber technology gives a lot of texture and friction so you can get a lot of spin on your shots. It has developed a stronger surface making for better control and feel when playing.
Vortex Barrier Edge Technology
The Vortex Barrier Edge technology helps to control vibration and even out weight distribution. This technology increases the weight at the edge of the paddle to give a larger sweet spot and point of contact surface area with the ball. It also significantly reduces sound and vibration.
Uniform Guard Technology
This bonds the edge guard and the paddle together which leads to an enlarged sweet spot, increased control, and a better ball feel at the point of contact.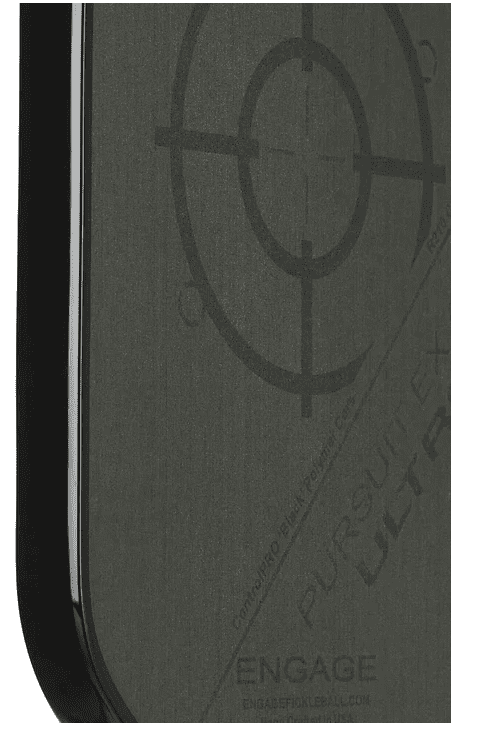 Counter Balance Technology
The counterbalance technology lowers the balance point of the paddle making it closer to your hand. This helps with improved hand speed, and makes the paddle feel slightly lighter in your hands, resulting in less fatigue in your arm so you can keep playing longer!
Control Pro Black Polymer Core
The Control Pro Black Polymer Core is a proprietary innovation that gives you an extremely soft core. It also helps with paddle compression and rebound to provide a great soft feel when making contact with the ball. You get great consistency too.
Specifications
Pickleball Paddle Size: 16×8
Handle Length: 5 inches
Core thickness: 16mm
Standard Weight: 8.2-8.5 oz
Lite Weight: 7.8-.1 oz
Core: Control Pro Black Polymer Core
Grip Circumference: 4 3/8 inches
USAPA Approved: Yes
Why We Like the Pursuit Ultra EX 6.0 Carbon Fiber Pickleball Paddle
Durability and Lightweight Build
One of the key factors that we really like about the Pursuit Ultra EX 6.0 Carbon Fiber Pickleball Paddle is its unique carbon fiber construction. This carbon fiber design is very strong and durable. You also have two paddle weight options to choose from. The paddle's lightweight nature means that you can play for longer periods without experiencing fatigue, making it an ideal choice for players who love playing pickleball for an extended period of time. And who doesn't??
Excellent Balance of Control and Power
The Pursuit Ultra EX 6.0's broad face provides players with excellent control, allowing you to place your shots with pinpoint accuracy. At the same time, the paddle's design offers ample power, making it easy to hit fast, hard drives without overexerting yourself.
Versatility
One of the things I love about the Pursuit Ultra EX 6.0 Carbon Fiber Paddle is its versatility. The paddle is excellent for both singles and doubles games and is suitable for different positions on the court, making it an excellent option for players looking for a versatile paddle that can adapt to different gameplay style scenarios.
In conclusion, the Pursuit Ultra EX 6.0 Carbon Fiber Paddle is a paddle that we highly recommend. Its durability, maximum ball responsiveness, excellent balance of control and power, and versatility make it a great choice for any pickleball player looking to improve their game.
Who Is Engage Pickleball?
Choosing a pickleball paddle brand is hard. That is why it is important to know your company.
Engage Sporting is a US-based manufacturer of sporting goods equipment and apparel. Their goal is to create complete product ranges for active individuals worldwide.
Their designs are engineered using applied physics to optimize positioning and technology in relation to the hand and point of contact. On average, Engage says they innovate and test different materials and dimensions every 7-10 days. Engage Sporting also claims they invest more in Research and Development than any other sporting goods manufacturer in the pickleball industry, relative to their total revenue.
In addition, 'all' of Engage Sporting's designs, innovations, and R&D are done internally by their engineers. They collaborate with experts in fabrication to design and create new components and processes, continuously developing to produce the best pickleball paddles.
Engage Sporting has an awesome 'no question asked' money-back guarantee and great warranty for all their products. Their customer service is great and you can get a full refund if you are not happy.
What Other Products Beyond Engage Pickleball Paddles?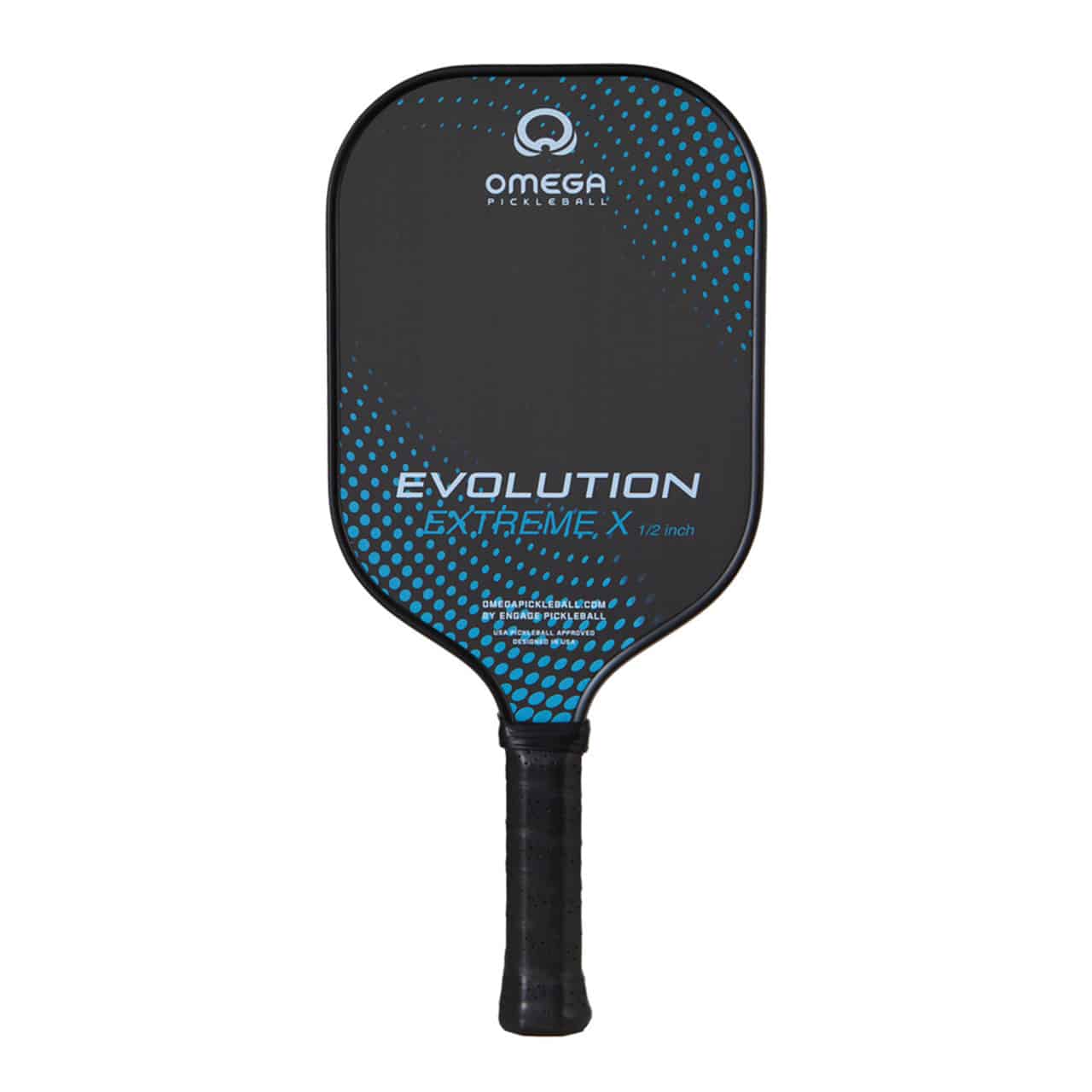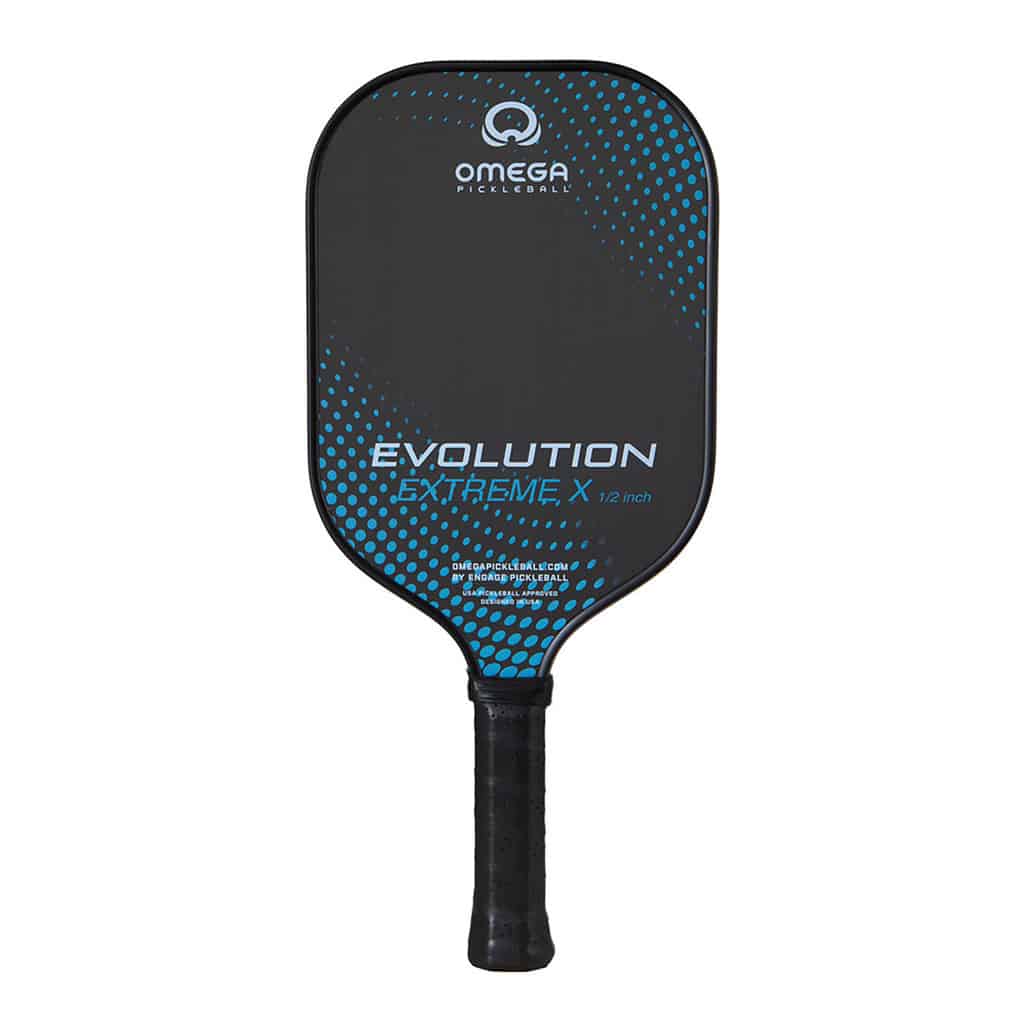 While Engage Pickleball offers high-quality paddles in their signature line, they also offer a more affordable pickleball paddle option with their Omega Paddles. These paddles still uphold Engage's unwavering commitment to quality but are available at a value price.
Pickleball Bags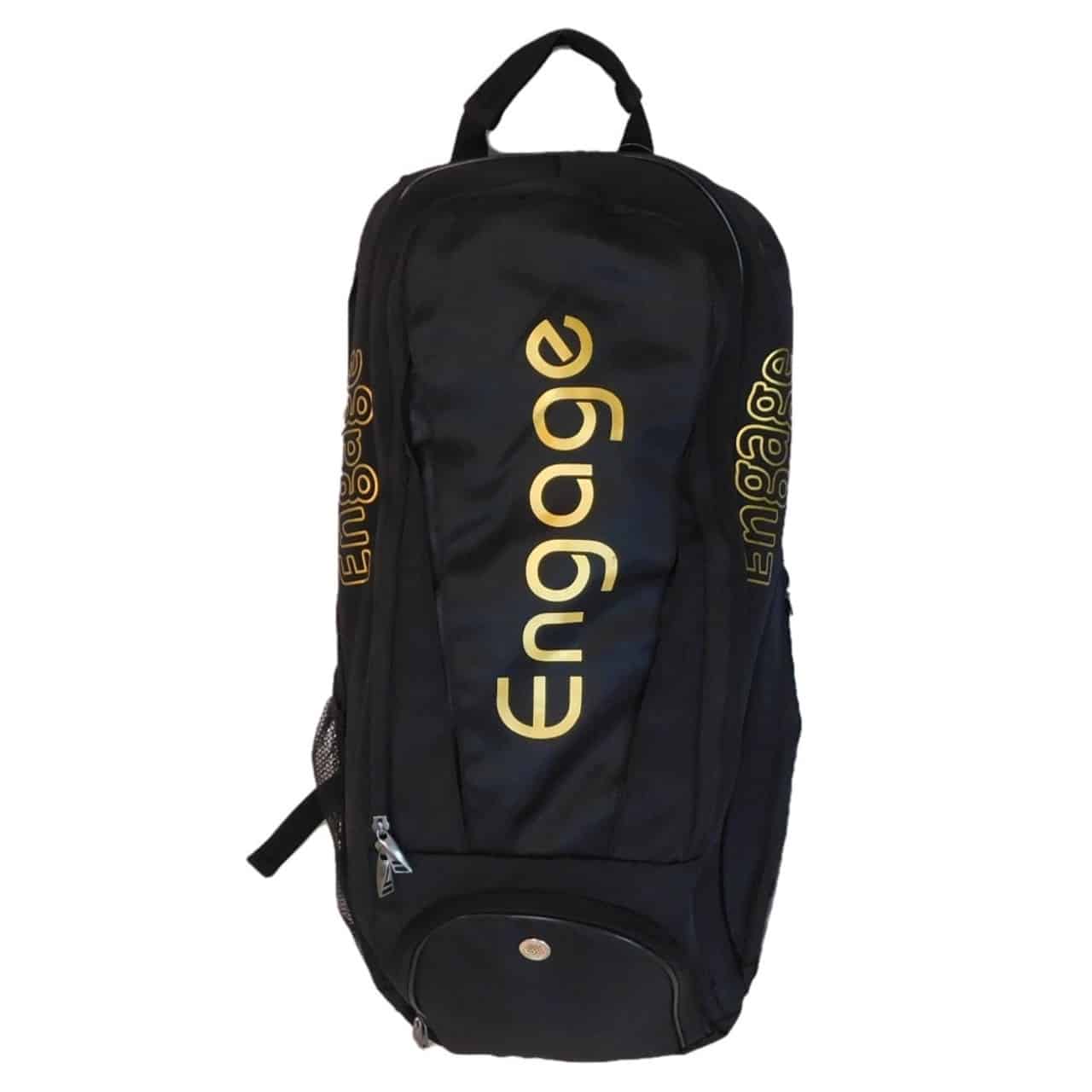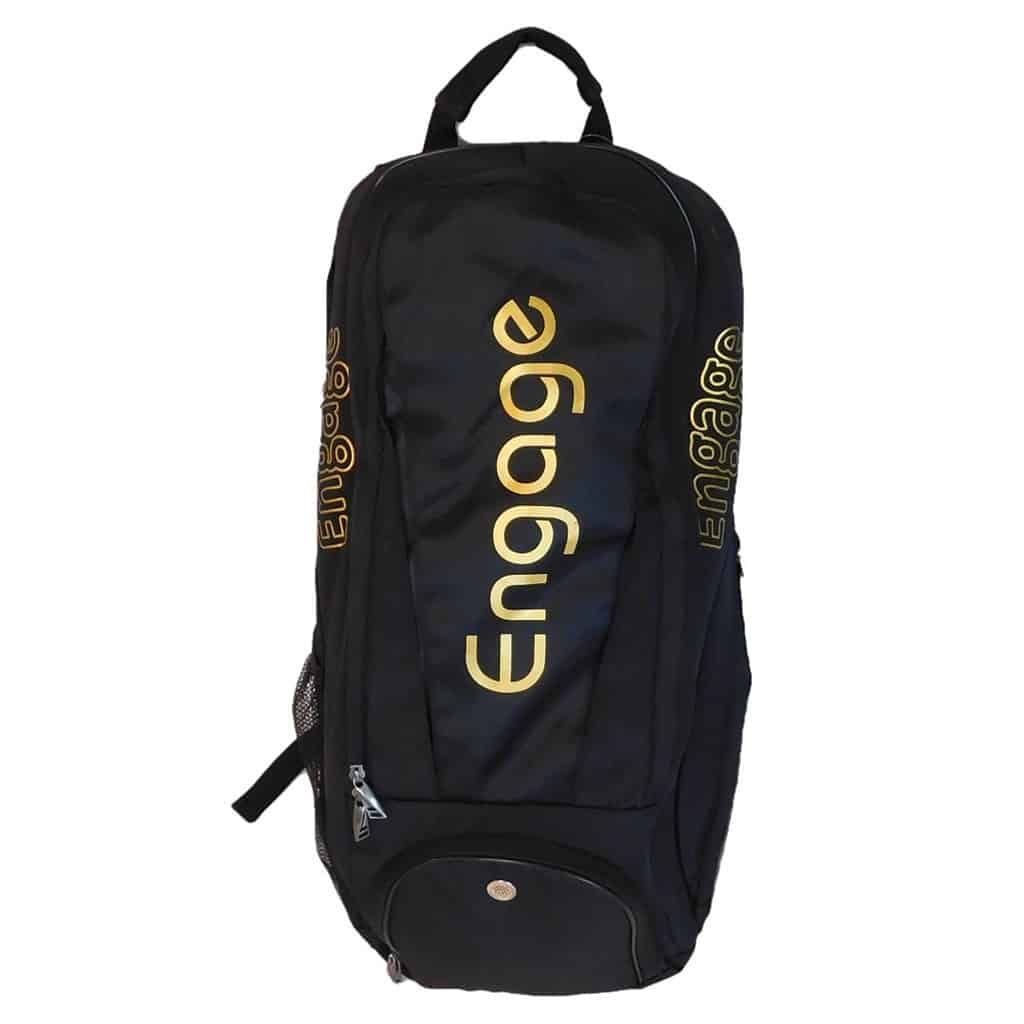 We need to transport all our great pickleball gear right? Engage pickleball bags come in a range of styles and sizes, so you can find the perfect fit for your needs.
Pickleball Balls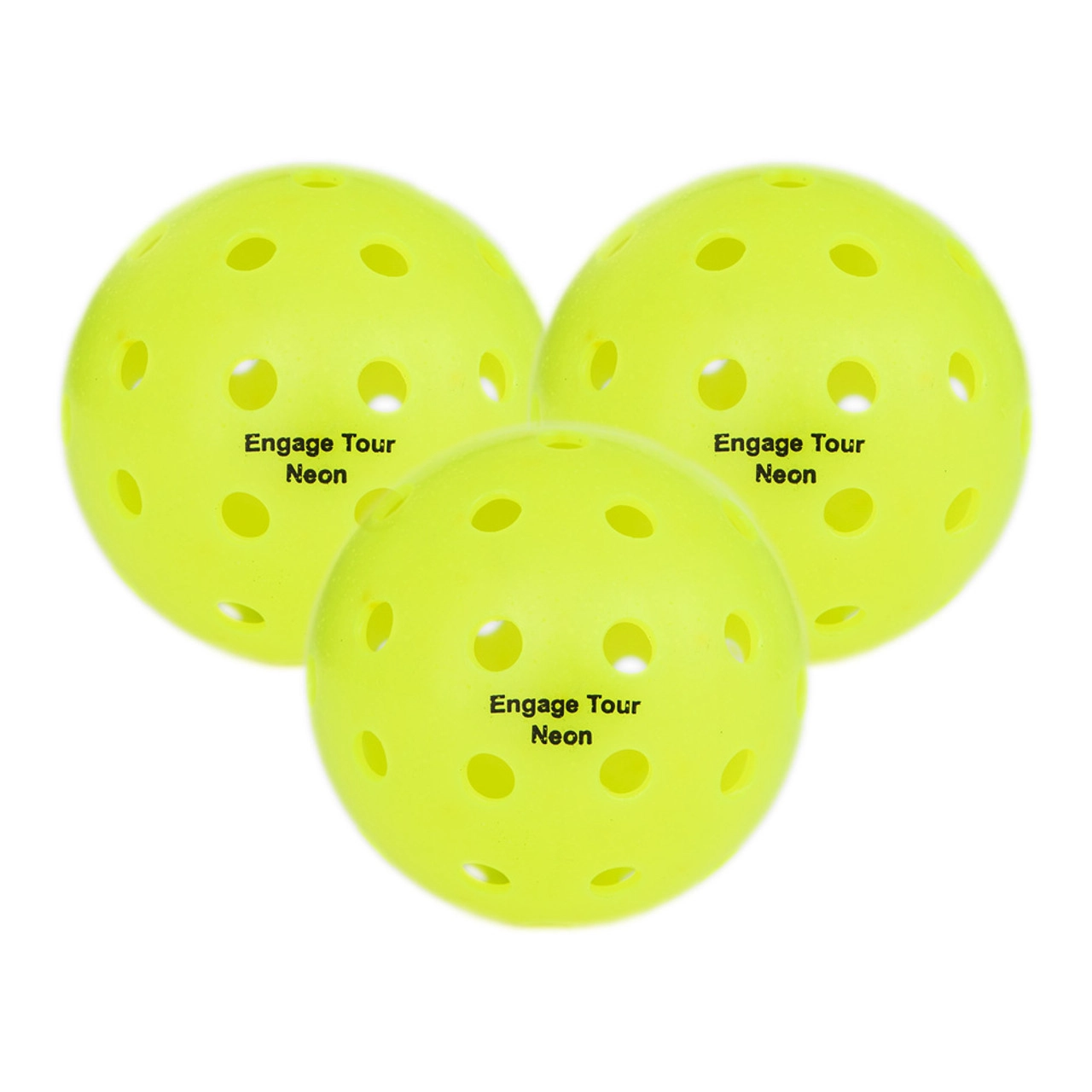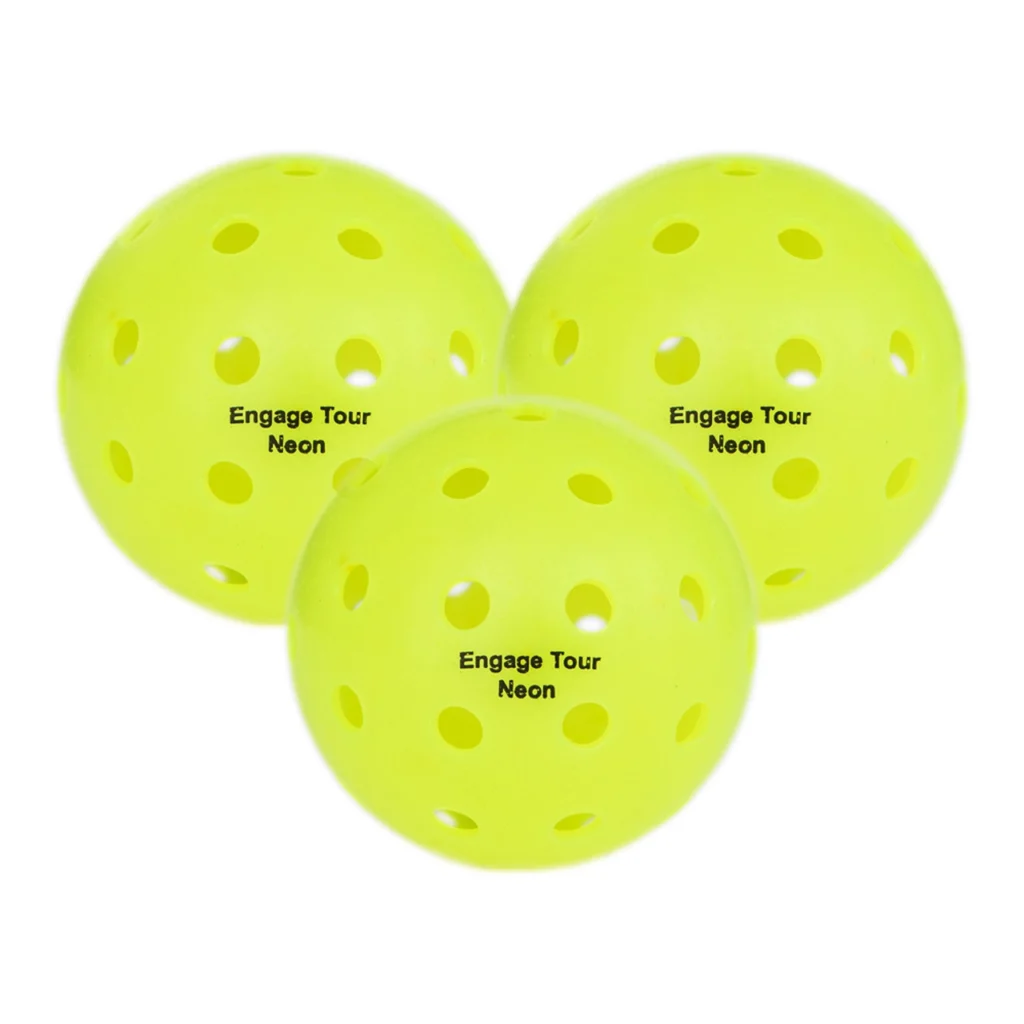 What's a game of pickleball without, well, pickleballs? Engage offers pickleball balls made with their ball launch technology, ensuring that they will perform consistently every time you play.
Portable Net System
Engage makes a nice portable net system. This easy-to-set-up net can be used indoors or outdoors and comes with a carrying case for convenient storage and transportation. Finding open courts to play on in our local communities is becoming harder and harder so having a portable net is a great option!
Apparel
Engage Pickleball has a range of apparel for the pickleball enthusiast. They have a nice selection of shirts, hats, and tank tops.
Engage Pickleball Camps: The Ultimate Training Experience
Engage Pickleball Camps has earned the distinction of being the largest pickleball training provider in the world. They offer a three-day, 16-hour camp for players looking to take their game to the next level.
Engage Camp participants attending the three-day, 16-hour Engage Pickleball Camps receive a FREE Trident paddle!! That's sweet! For those attending camps less than 16 hours, they get a 30% discount on a paddle of their choice. Not bad!
Individuals at Engage Pickleball Camps are placed on the court with other players of similar skill level. All camps are exclusively designed for skill levels ranging from 3.0-4.0+, except for those highlighted as advance beginners only (2.5-2.9) or advance 4.0+ "only".
Advance beginners are required to have basic knowledge of the game, be able to serve/return, and should have their own paddle. On the other hand, advanced 4.0+ "only" players must possess a rating by a club, pro, or other professional entity.
Engage Pickleball Camps provide a unique opportunity to learn from some of the best players in the game and improve your skills
To sign up for a camp or for more information, visit: https://engagepickleball.com/pages/camps
Conclusion
In conclusion, Engage Pickleball Paddles are some of the best in terms of performance and durability on the market today. We only covered the Pursuit Ultra EX 6.0 pickleball paddle in this review, but they offer a wide range of paddles to choose from, so there is an Engage pickleball paddle for every kind of player.
Whether you're a beginner or an advanced player, Engage paddles offer a unique blend of power, control, and comfort that can give you an edge on the court. So, if you're looking to boost your pickleball game, give Engage Paddles a try and experience the difference for yourself!