We're excited to share our review of the Diadem Icon V2 pickleball paddle, the latest paddle from Diadem Sports.
As you know, the pickleball paddle you choose can make all the difference in your game. That's why we've put the Diadem Icon V2 to the test to see how it performs in terms of power, control, and overall feel.
Whether you're a seasoned pro or just starting out, we think you'll find our review helpful in deciding whether this is the right paddle for you.
So, let's get started and see what this pickleball paddle is all about!
We are reader supported and as such may make a small commission at no expense to you by purchasing thru our links and we greatly appreciate that!
What Is the Diadem Icon V2 Pickleball Paddle?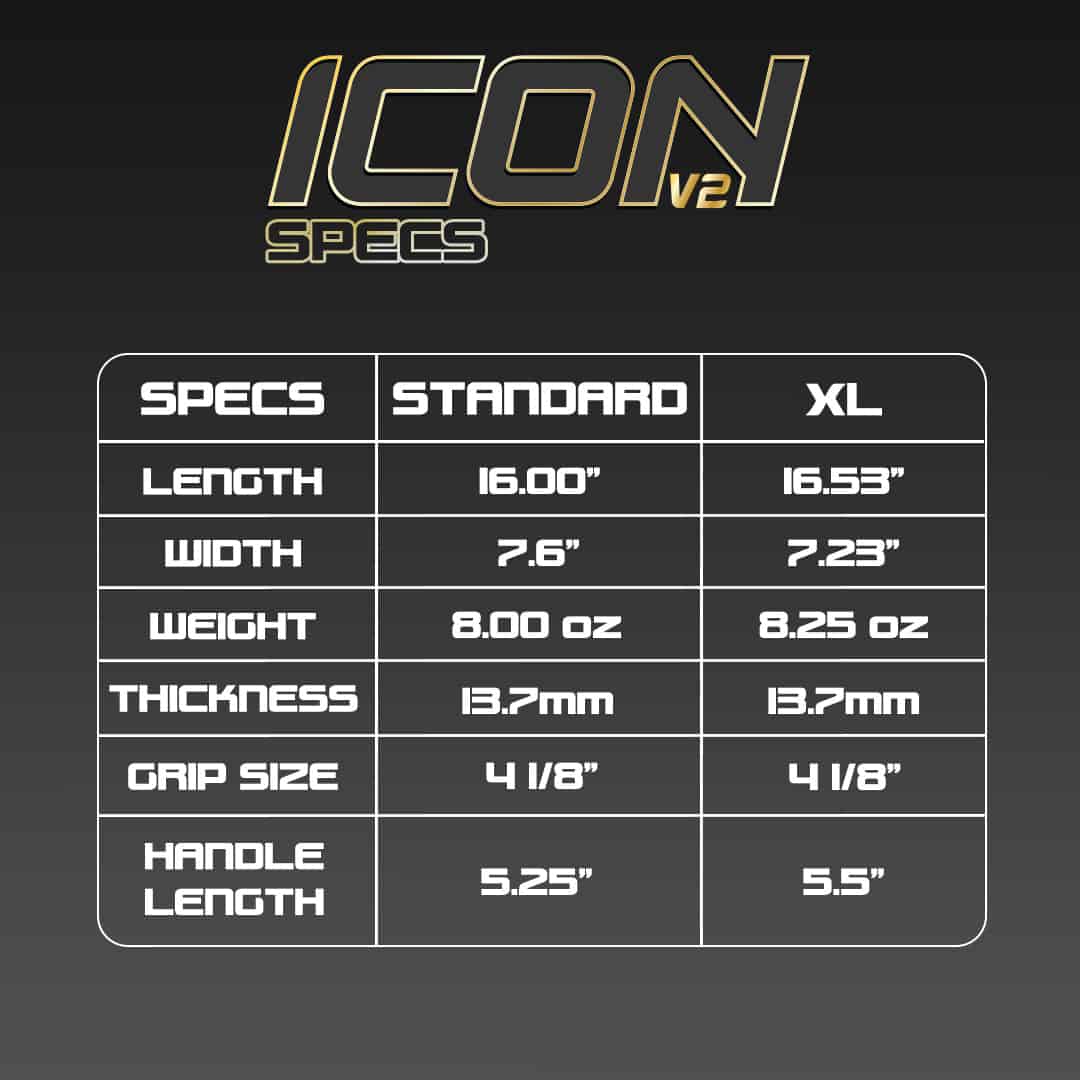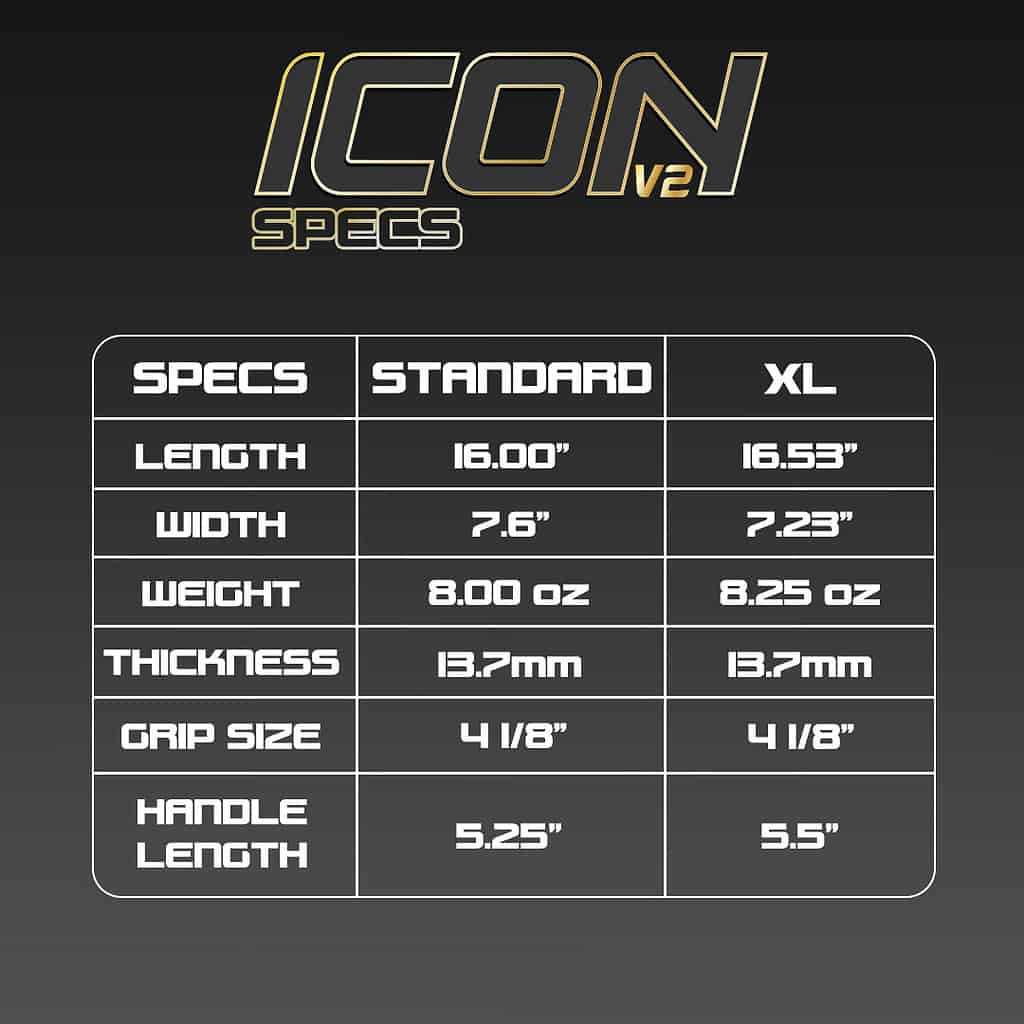 The much-awaited Diadem Icon V2 Carbon Fiber Paddle has arrived with a complete redesign and a plethora of new and advanced technologies. This beautifully designed pickleball paddle has several key upgrades compared to its predecessor model, the classic Diadem Icon V1.
The award-winning Diadem Icon has gone through yet another form of evolution, making it even more powerful than before. With a slim frame made of high-quality Japanese carbon fiber, this pickleball paddle is the ultimate paddle for any power player out there.
Unlike other power paddles that can be extremely rigid and unyielding, the Diadem Icon v2 has several innovative features that eliminate harmful vibrations, making it not just a powerful option, but also the most comfortable and arm-friendly power paddle Diadem has ever created.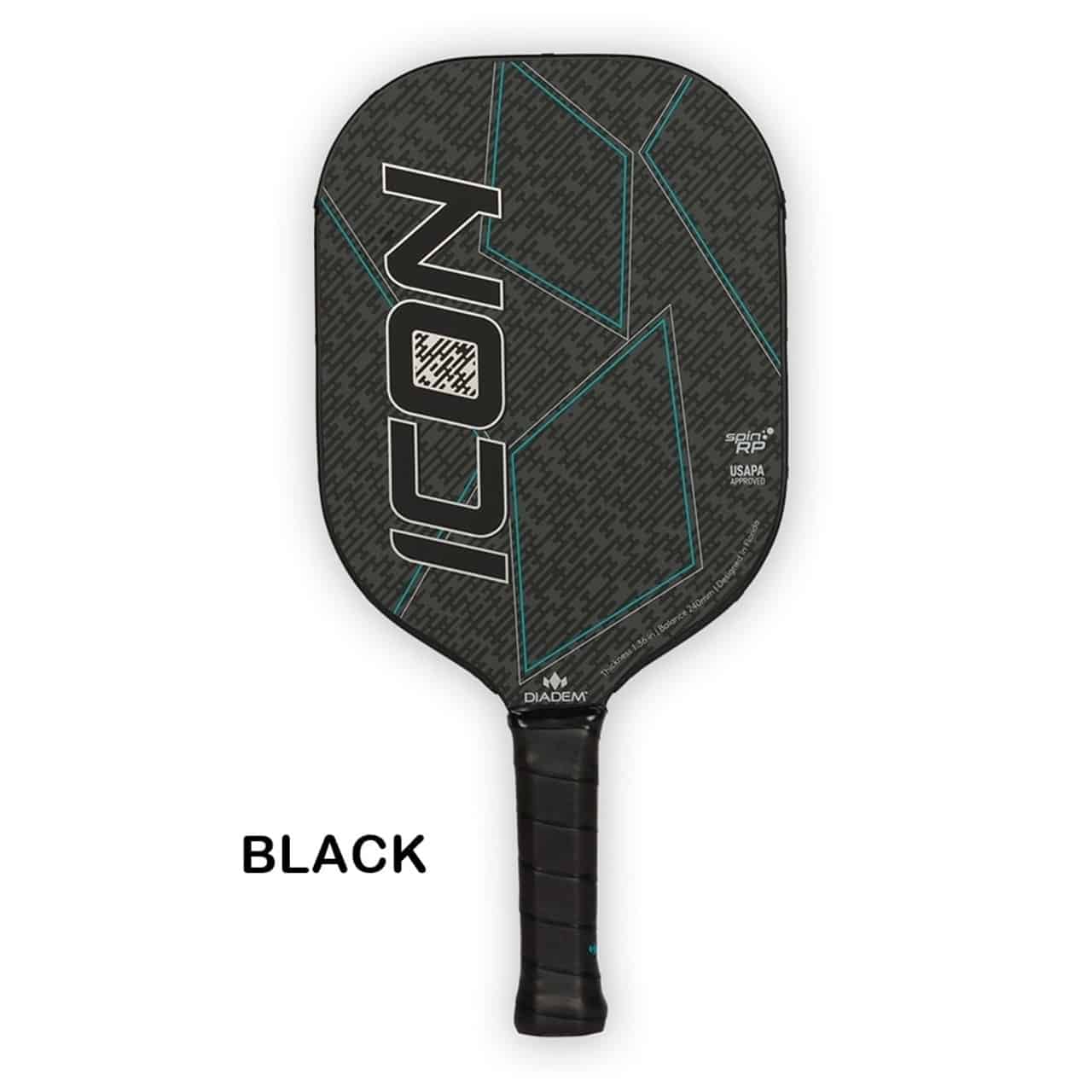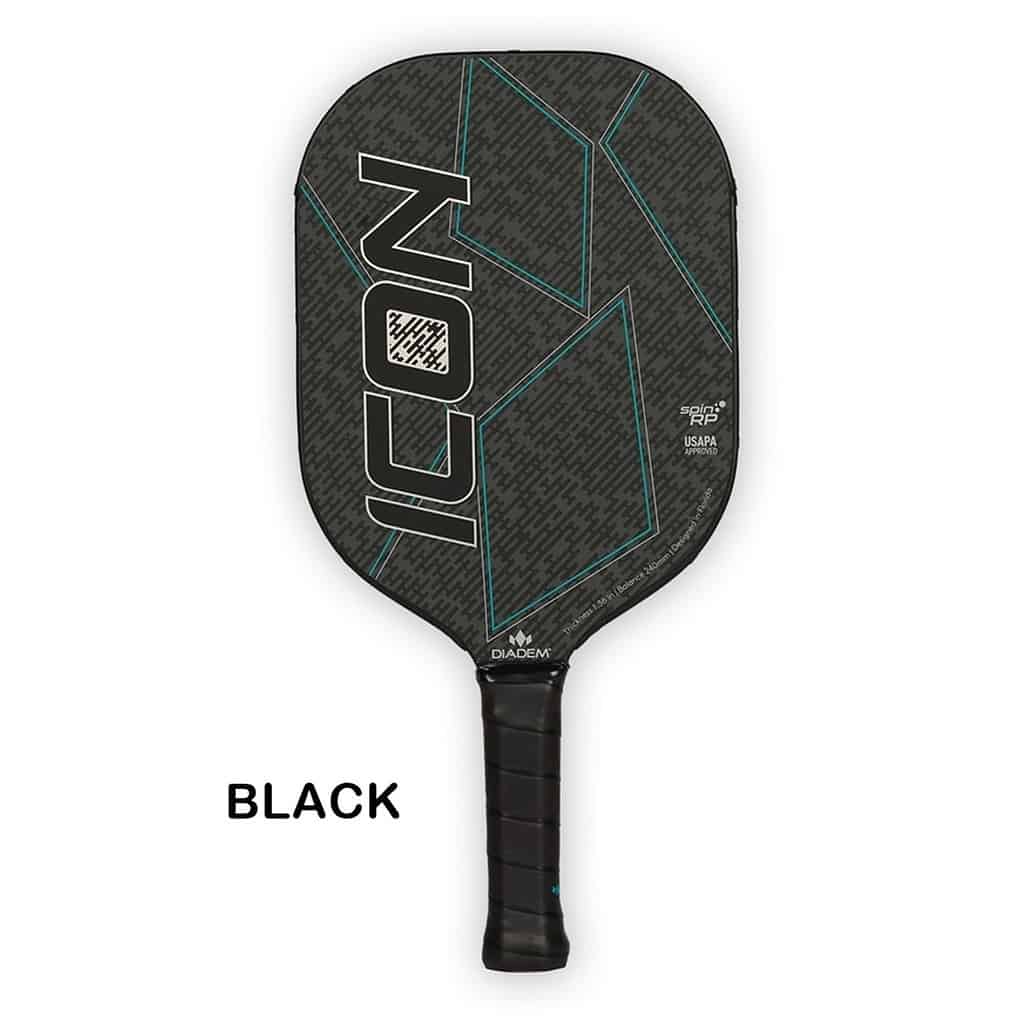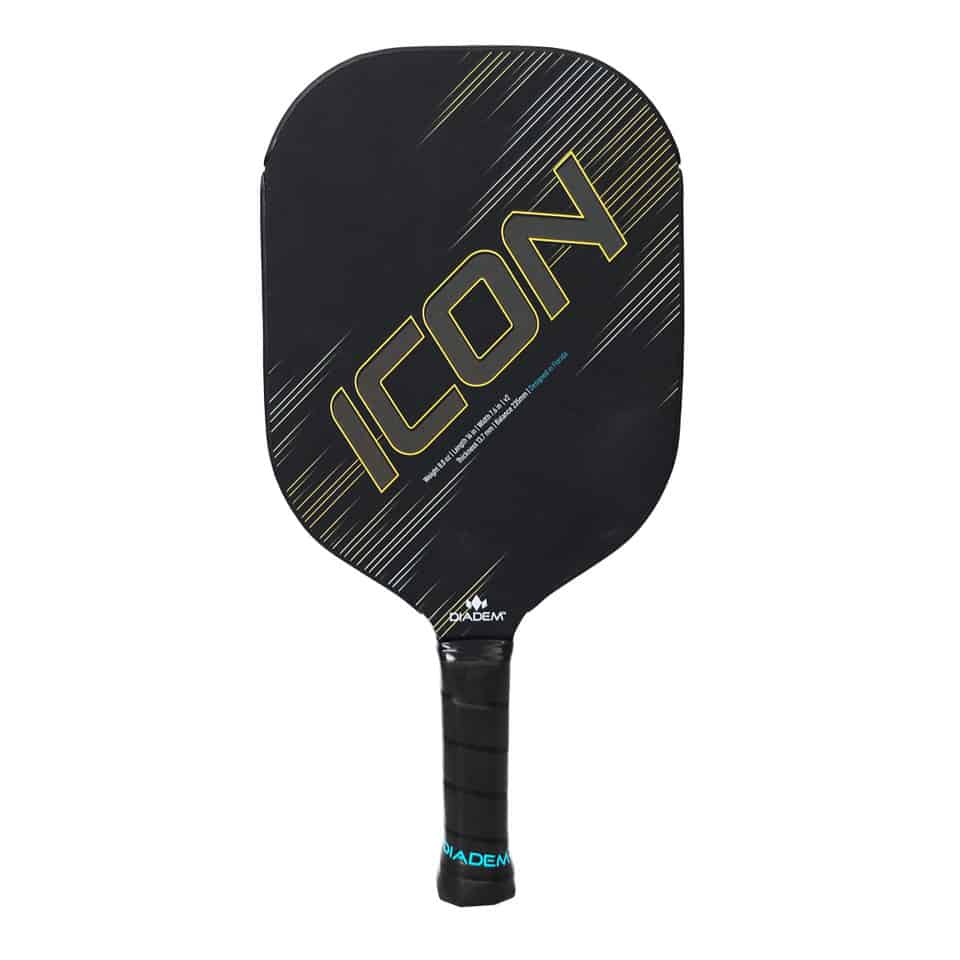 Core
The 13.7mm (0.539″) thick paddle from Diadem uses their world renowned multi-layer 3XL core which was made widely popular by the Warrior Paddle. This advanced technology gives you excellent touch and superior vibration dampening, improving your overall playing experience.
The 3XL core is also precision crafted using a unique and patented dampening material, which is placed between two polypropylene honeycomb layers, ensuring players get maximum control without sacrificing power.
The core features two 8mm pieces of PP honeycomb infused with a proprietary film that provides vibration dampening upon impact. The result is perfectly balanced power that does not compromise with comfortable control over the paddle.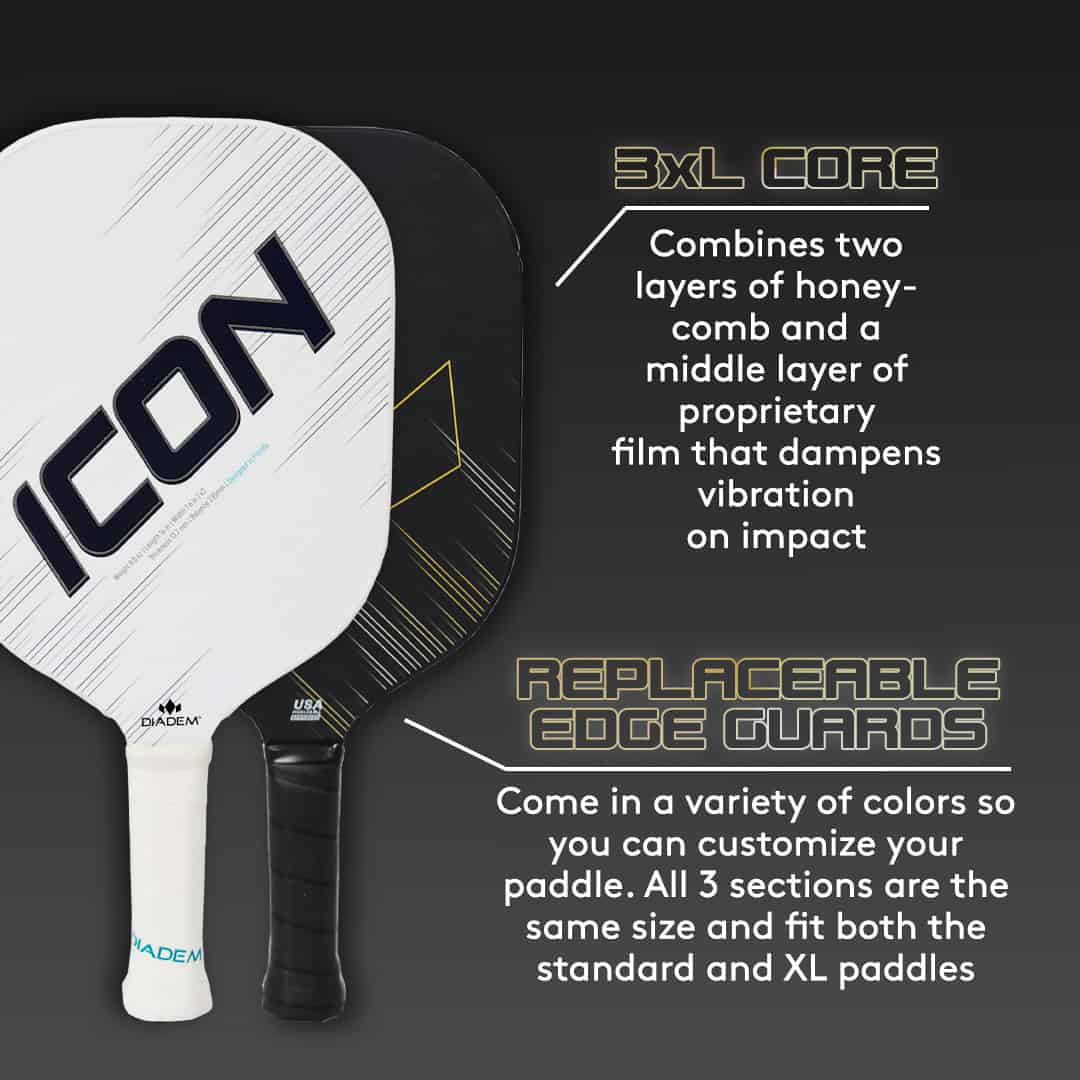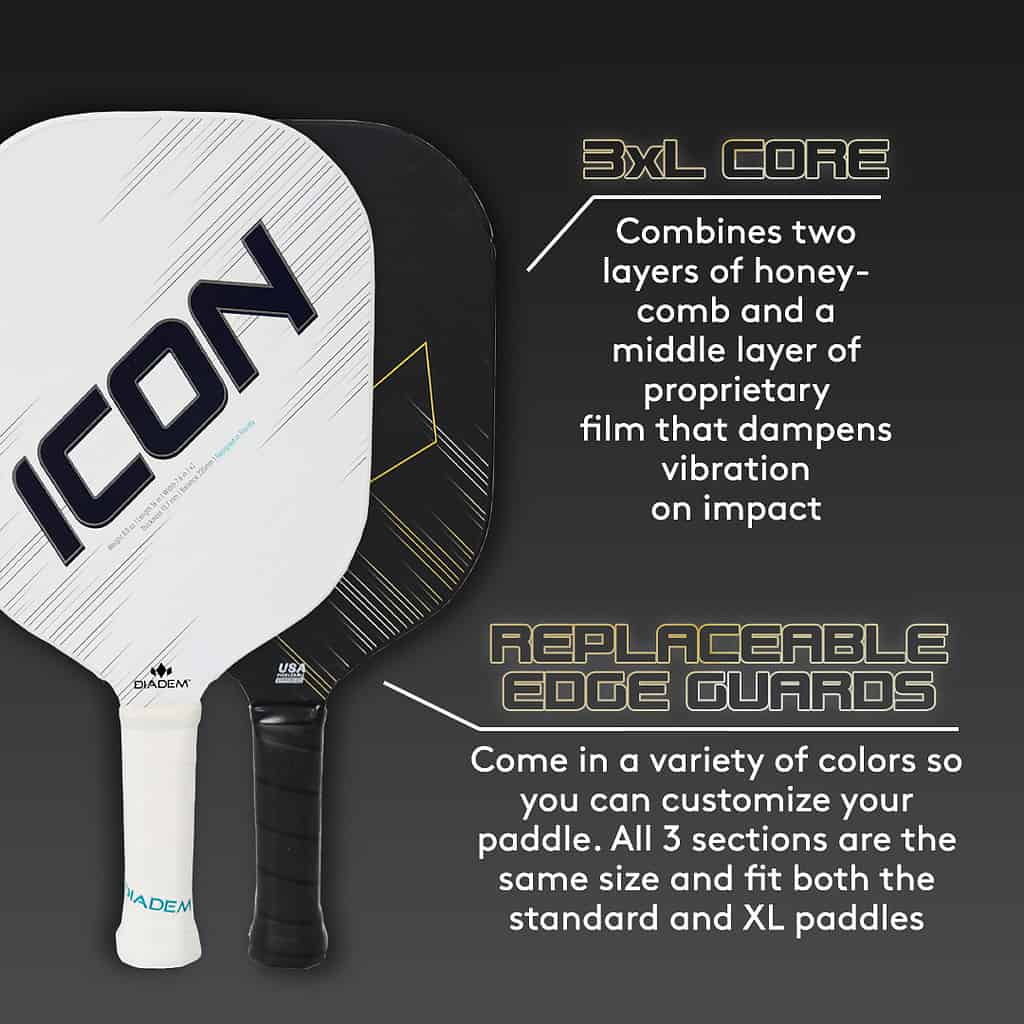 Face
At the forefront of the Diadem Icon V2 paddle's design is the RP2 Technology. This came from the concept Vice paddle launched at DIACON 22. What it does is combines a two-component polyurethane coating combined with specialized grit paint which gives the Diadem Icon V2 a highly-durable and spin-friendly face.
Its carbon fiber face has been updated with an RP2 coating and adds a textured element that aids in prolonging ball contact. This will give you control even with your powerful drives.
Additionally, the molded edge of the paddle is lined with injected foam that not only expands the sweet spot but also provides added protection. And no need to worry about wear and tear – the protective replaceable edge guard ensures your paddle stays protected and looking good all season long.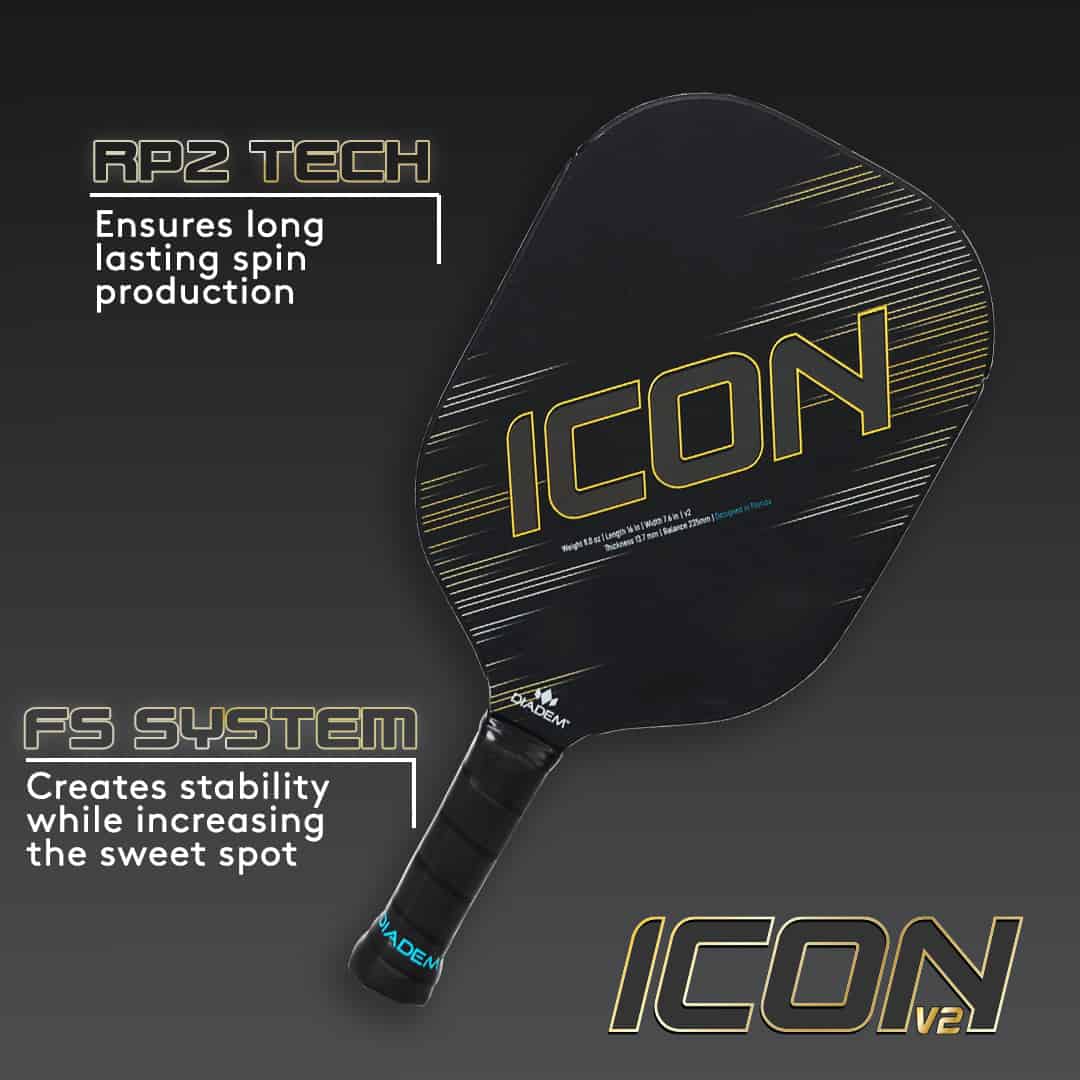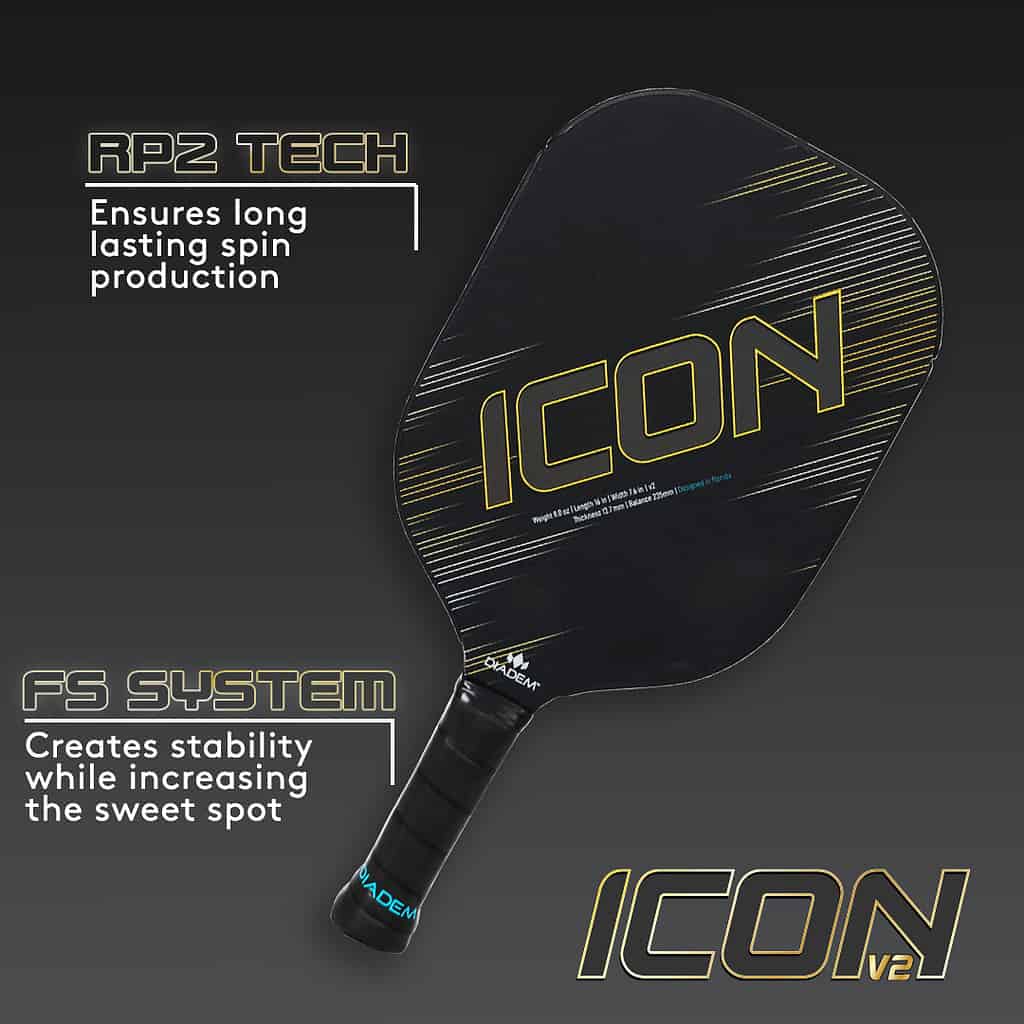 Injected Foam
This paddle uses a proprietary Flex Stabilization (FS) System Technology taken from their tennis rackets. The FS System blended a high-density foam injection around the outer edge of the paddle to maximize stability, allowing for precise shots with every swing.
The Core Molding System also contributes to making this paddle stable while expanding the active sweet spot of the paddle. With the injected foam along the molded edge of the paddle, the sweet spot increases from edge to edge, providing maximum coverage on the 10.75″ by 7.6″ hitting surface.
Handle
The Standard size Diadem Icon V2 comes with a 5.25″ handle length complimented by the Diadem Comfort Max grip.
Who Is Diadem Sports?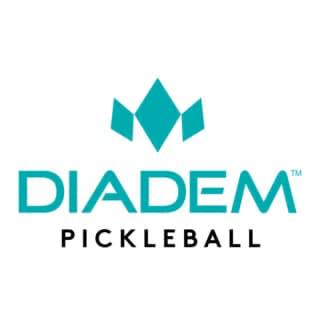 Diadem started in 2015 as a tennis company. Their vision was to create exceptional tennis merchandise that can enhance a player's performance. They noticed that the tennis industry had become dull, with very little innovation happening. So, they assembled a team of ex-collegiate and professional players and coaches to create fresh and inventive products that could cater to all levels of players.
As the sole remaining American tennis brand, Diadem creates products at their global headquarters situated in the vibrant sports hub of Fort Lauderdale, Florida. Their thorough research process and strict testing protocols guarantee that all Diadem products meet peak standards of excellence.
Diadem has an extensive range of high-performance tennis and pickleball equipment, comprising of top-tier strings, rackets, paddles, balls, bags, grips, and other accessories.
What Are The Different Types of Pickleball Paddles?
There are several types of pickleball paddles, each with its own unique characteristics. Here are some of the most common types:
Graphite paddles – These paddles are lightweight and offer great control and touch. They are ideal for players who prefer finesse over power.
Composite paddles – These paddles are made from a combination of materials such as fiberglass and carbon fiber and are known for their durability and power. They are great for players who want both touch and power.
Wooden paddles – These paddles are the most traditional type of pickleball paddle. They are heavier than other types of paddles, but offer great touch and control.
Edgeless paddles – These paddles have a seamless edge design (no edge guard) and offer a larger sweet spot.
Wide body paddles – These paddles have a larger paddle width surface area and are great for players who want a bigger sweet spot.
Ultimately, the type of pickleball paddle you choose will depend on your playing style and personal preferences. It is important to try out a few different so you can determine your preferred paddle length, paddle width, and other differentiating factors.
How To Choose A Pickleball Paddle?
Choosing a pickleball paddle can be a personal decision based on factors such as skill level, playing style, and budget. Here are some general guidelines to consider when choosing a pickleball paddle:
Weight – Pickleball paddles usually weigh between 6-14 ounces. Heavier paddles may offer more power, while lighter paddles may provide better control and maneuverability.
Grip size – The grip size of your paddle should feel comfortable in your hand. Generally, smaller grips offer more touch and control, while larger grips can provide more power.
Material – Pickleball paddles can be made from materials such as wood, composite, carbon fiber and graphite. Wood paddles are the most affordable but may wear down over time. Composite and graphite paddles are more expensive but are often more durable and provide better performance.
Shape – Pickleball paddles come in a variety of shapes, including teardrop, oval, and square. The shape can affect the distribution of weight and the sweet spot of the paddle.
Price – Pickleball paddles can range in price from around $20 to over $200. Consider your budget and how often you plan to play when choosing a paddle. Also, consider buying used pickleball paddles!
Ultimately, it's essential to try out different paddles and find one that feels comfortable and suits your playing style.
Conclusion
So, there you have it- my review of the Diadem Icon V2 pickleball paddle. As I wrap up this review, I want to emphasize that choosing the right pickleball paddle can make a significant difference in your overall performance on the court. The Diadem Icon V2, with its excellent balance, power, and control, is a paddle that I recommend for players of intermediate levels and higher. It is a high performance paddle.
If you're willing to invest in a quality pickleball paddle that will help boost your game, the Diadem Icon V2 is a great option and definitely worth considering. Thank you for taking the time to read my review, and I hope it has been helpful in your paddle selection process.
Keep playing and keep improving!