If you're anything like me, you love scouring the internet for hours looking at different pickleball paddles.
During your searches, you have certainly come across Paddletek Pickleball Paddles.
Paddletek paddles range of pickleball paddles includes three series, each designed to cater to different playing styles and skill levels.
They have the Bantam Series, the Tempest Series, and the Phoenix Series.
As an avid player myself, I'm excited to share my knowledge and experience of these paddles with you.
So, let's take a look at the Paddletek Pickleball Paddles and explore what sets them apart from the rest of the competition.
We are reader supported and as such may make a small commission at no expense to you by purchasing thru our links and we appreciate that!
What Are The Different Paddletek Pickleball Paddles?


The Bantam Series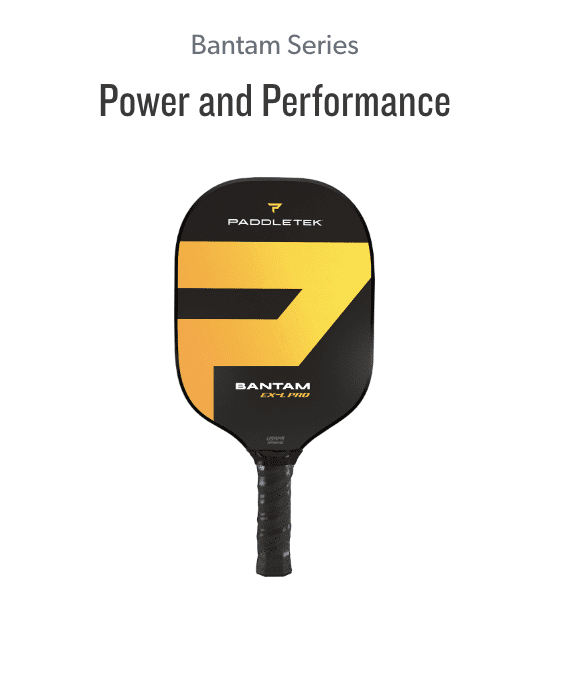 The Bantam series is made for power and performance. The Bantam series pickleball paddles are designed for players who want maximum power behind their shots.
I highly recommend the Bantam paddles. They offer excellent pop, allowing you to drive the ball across the court with ease. Furthermore, the dynamic sweet spot ensures tremendous power without ever sacrificing control.
The Bantam Series offers the EX-L and EX-L Pro, The TS-5 and TS-5 Pro, The Sabre Pro, and the new TS-5 Anna Leigh Waters Edition.
The simple difference between the regular version and the pro version of these pickleball paddles is the size, weight, and core thickness.
Our Top Pick in the Bantam Series is the Bantam EX-L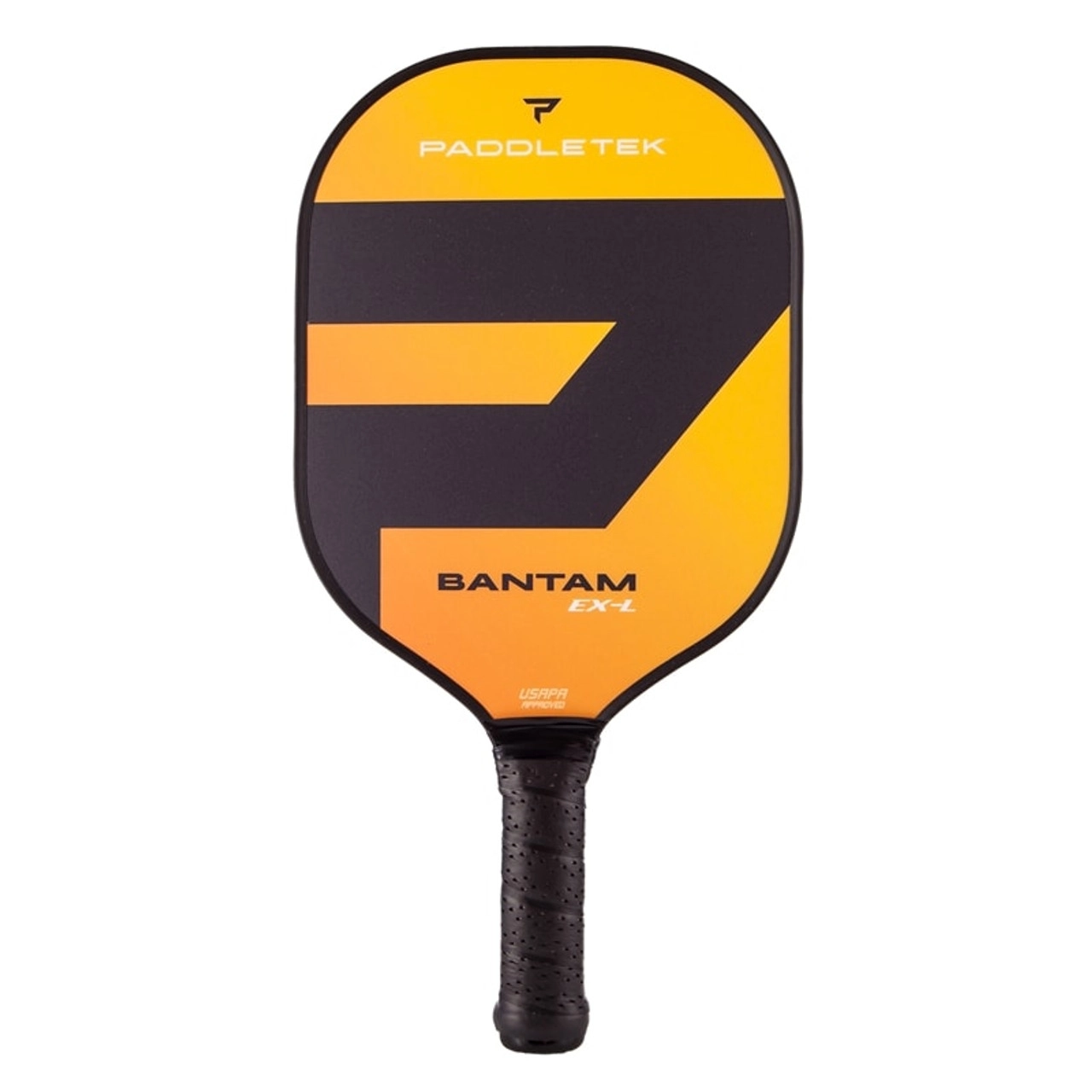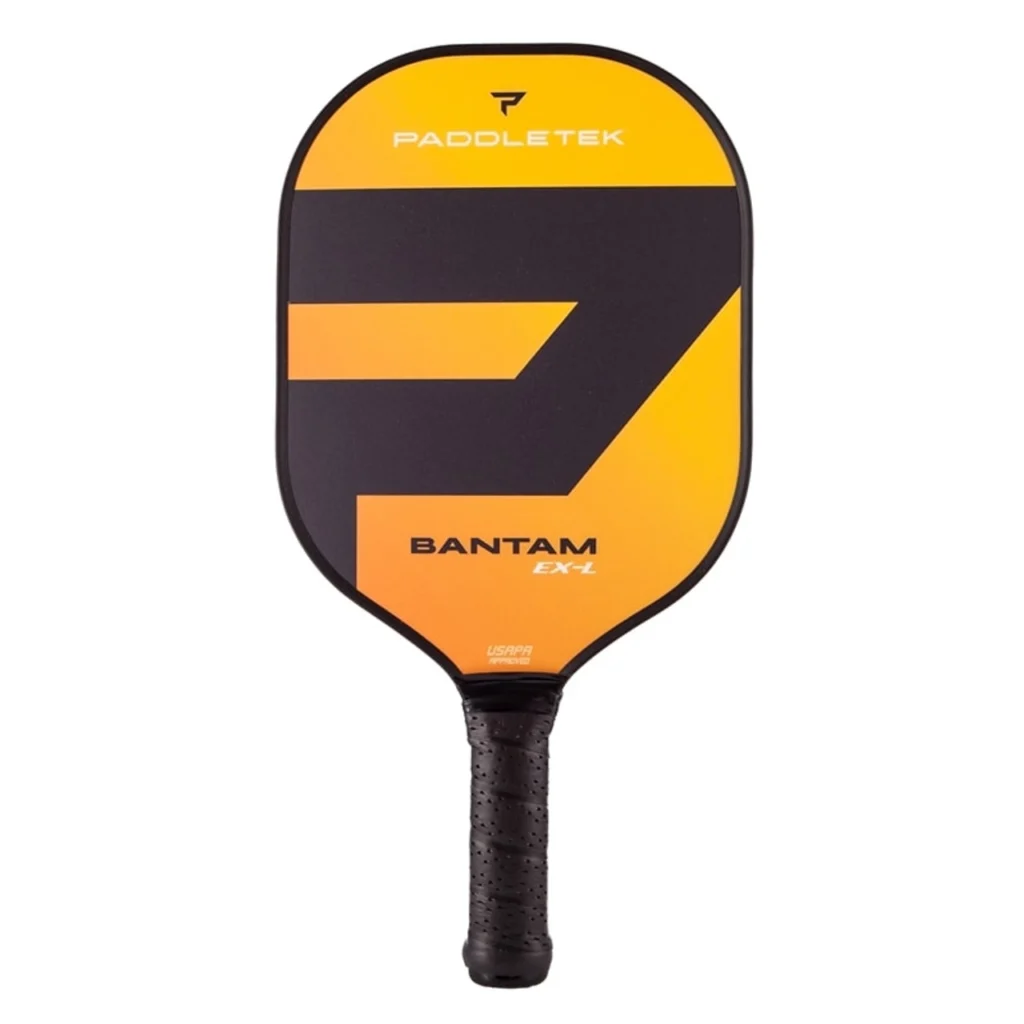 The Bantam EX-L Composite Pickleball Paddle is undoubtedly one of the most sought-after pickleball paddles on the market. It boasts a unique polymer core that offers players an unprecedented combination of power, control, and quieter hits compared to other paddles. Additionally, Paddletek engineered the Bantam to be a lightweight paddle.
The Bantam EX-L paddle falls within the sweet zone for weight of most players, weighing between 7.7 to 8.4 ounces. This weight provides players with enough power while also being able to add spin and control.
The paddle's 7-7/8" wide face offers enough space for optimal ball response, while the 5 1/8" long handle provides good reach, power and room for two handed backhands. Overall, the paddle measures 15-5/8" from the top of the paddle to the bottom. The small-sized grip is padded to ensure players' comfort as they play.
The Tempest Series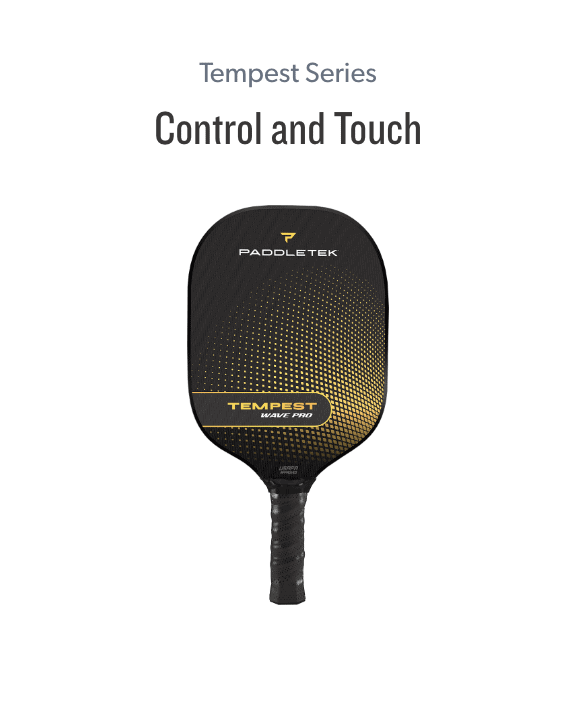 The Tempest series is perfect for those who seek control and touch. The Tempest series stands out for its ability to offer exceptional ball placement control with remarkable accuracy. It made our list as the best pickleball paddle for forgiveness.
This range of paddletek pickleball paddles prioritizes speed and precision, making them a top pick for those who value strategy and decisiveness in their game. With the Tempest series, you can expect great control and accuracy.
The Tempest Series offers the Tempest Wave Pro, Tempest Wave 2, Tempest Reign Pro, The Original Tempest Wave, and the Tempest Wave Pro Badger Edition.
Our Top Pick in the Tempest Series is the Tempest Wave Pro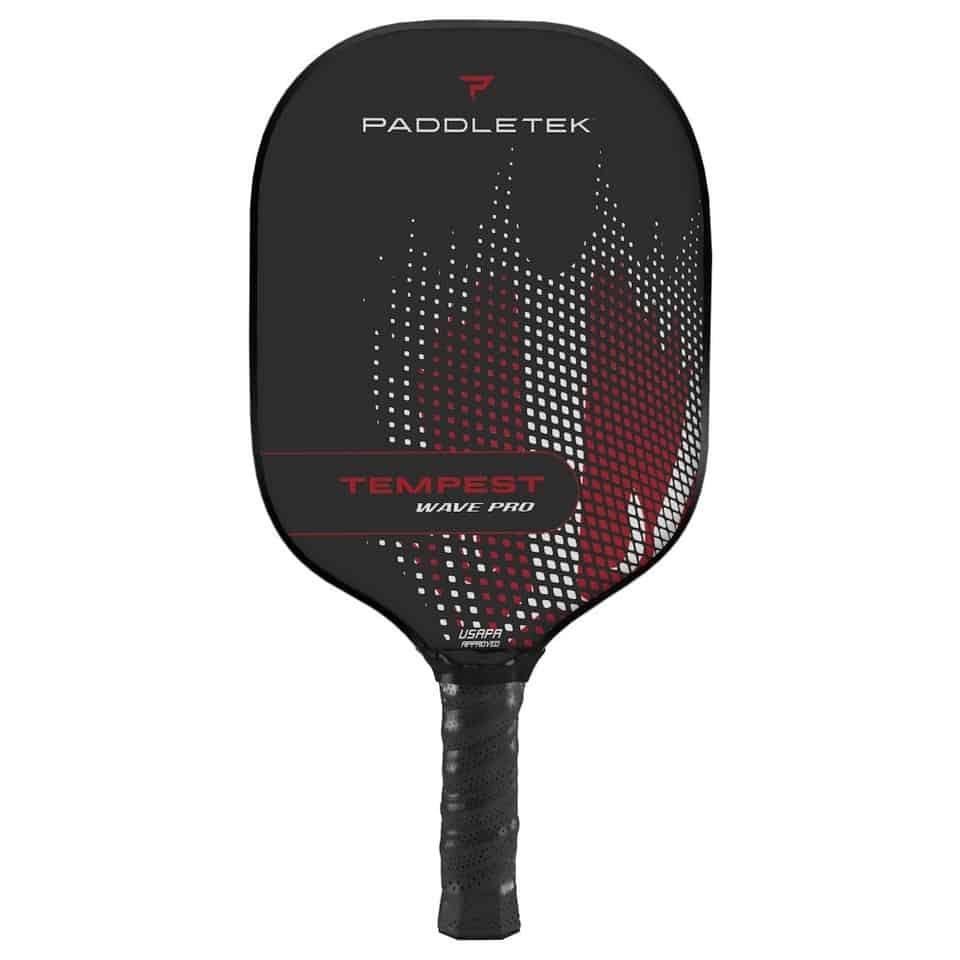 The Tempest Pro Graphite Paddle has some really great features, including the Smart Response Technology that enhances the sensitivity and feel of its predecessor, the Tempest Wave.
This cutting-edge technology alloes you to experience the same level of touch as the original paddle while providing a broader and more forgiving sweet spot. This gives you real good consistency across the entire face of the paddle, making it an excellent option for those who really appreciate control but don't want to sacrifice power.
The Tempest Pro is the perfect paddle for players who expect nothing but the best from their equipment, and it sets a new standard in the highly-renowned Tempest model line.
The Tempest Pro Graphite Paddle is offered in either a thin or thick grip, allowing you to select the style that best suits your playing style. With its handle measuring 5-1/4″ long, you can enjoy extra space to adjust your grip for increased reach or better control.
This expertly designed paddle features an 8″ wide graphite face that creates a large sweet spot, providing a smooth feel no matter where you hit.
Crafted using high-quality materials, the Tempest Pro Graphite Paddle is designed to help with both skill shots and smashes, making it a top-performing paddle in the marketplace.
It's the ideal choice for serious players seeking consistency and control in their game.
The Phoenix Series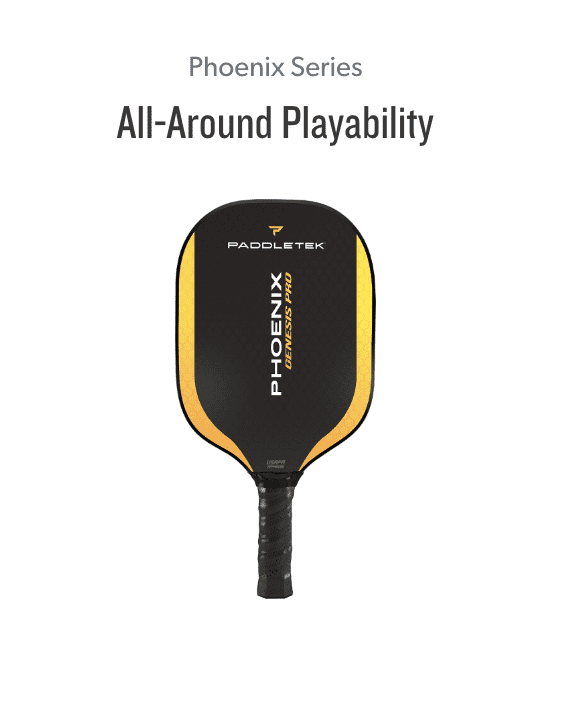 The Phoenix Series is the perfect choice for players who need all-around playability. You get a good balance of control and power.
The Phoenix series of paddles are made with superior forgiveness and playability, allowing you to play your best every match.
The Phoenix Series offers the Phoenix Genesis and Genesis Pro, the Phoenix G6, and The Phoenix Genesis Leigh Waters Edition.
Our Top Pick in the Phoenix Series is the Phoenix Genesis Pro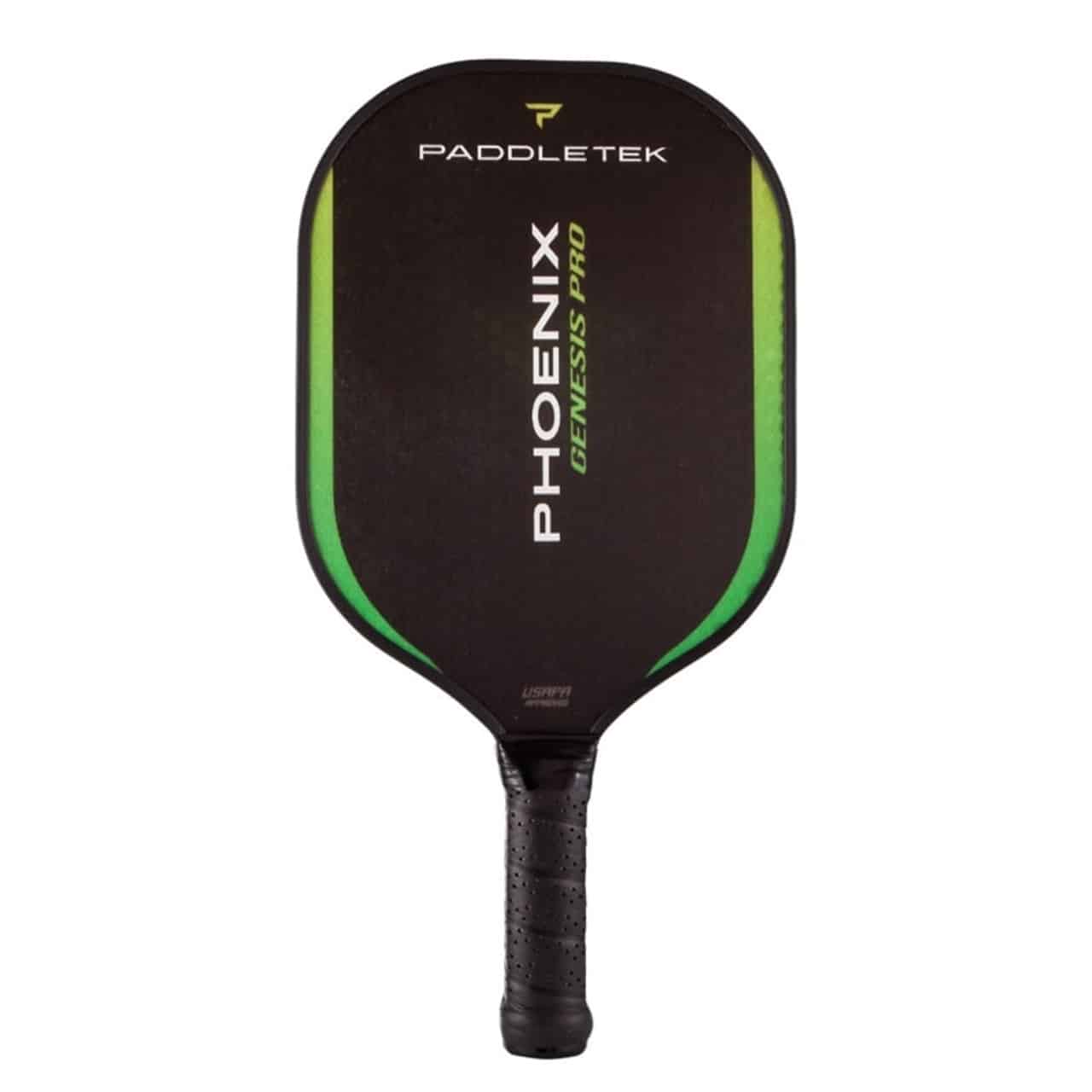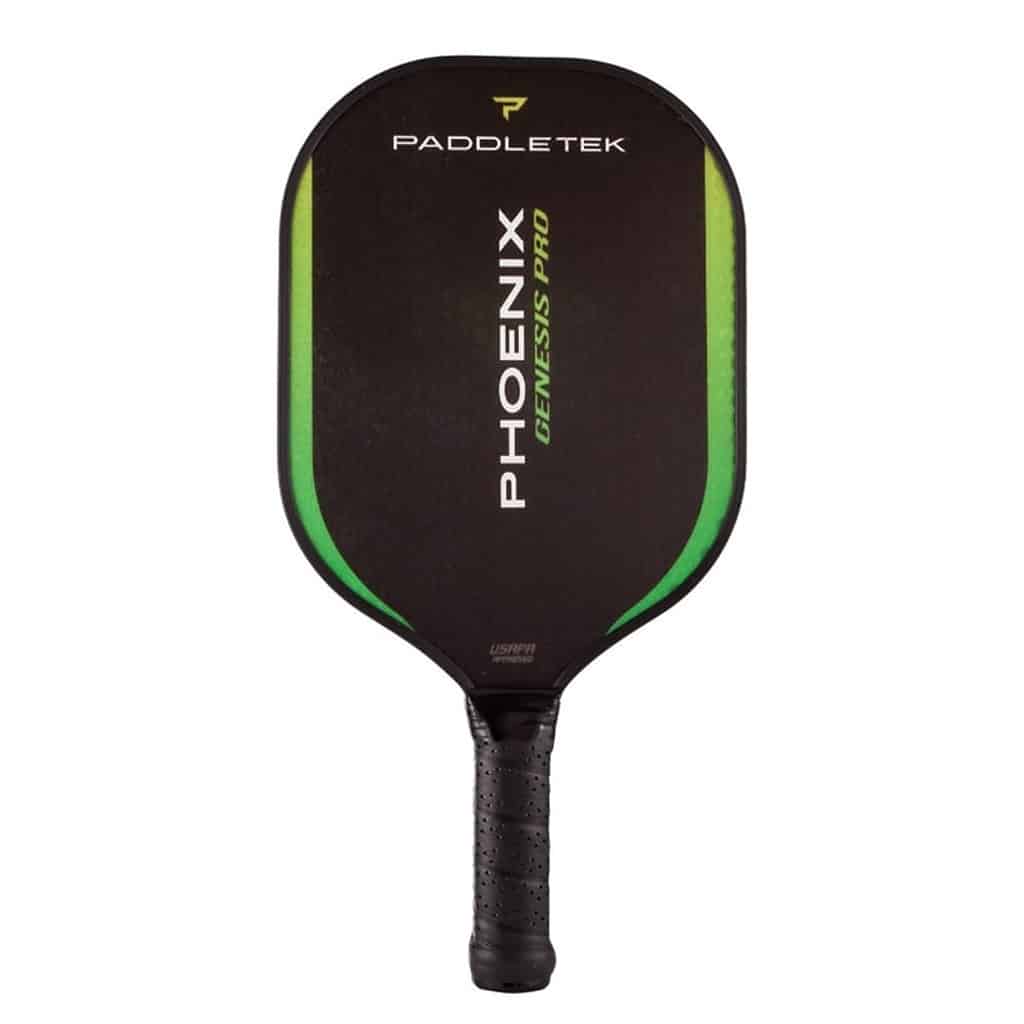 The Phoenix Genesis Pro paddle has great feel that enables you to respond to any shot with ease. The large sweet spot that extends throughout the face provides a poppy and controlled feel to every shot, so you can return tricky balls and defend against slams with confidence.
Incorporating Paddletek's innovative Smart Response Technology, the Phoenix Genesis Pro paddle uses a stable and forgiving core to improve stability during gameplay. Additionally, the paddle's Torsion Vibration Control technology ensures that your shots remain consistent, even if you mis-hit off-center.
With the Grip Vibration Dampening feature, this paddle protects your elbow joints from strain by reducing jolts and vibrations during hard impacts, allowing you to play longer and with greater comfort. Big plus!
Weighing between 7.8-8.2 oz, the Phoenix Genesis Pro comes with a medium circumference grip that is lightly cushioned, providing players with a natural feel in the hand while still offering the controlled power. Overall, the Phoenix Genesis Pro Composite Pickleball Paddle is an exceptional option for players looking for a top-of-the-line paddle.
Summary
There is no doubt that Paddletek offers top-quality paddles in all of their series. Every single paddle is crafted with meticulous attention to detail and high-quality standards, promising the best possible performance on the court. Paddletek is dedicated to excellence, ensuring their products are made with passion and designed to help take your game to the next level.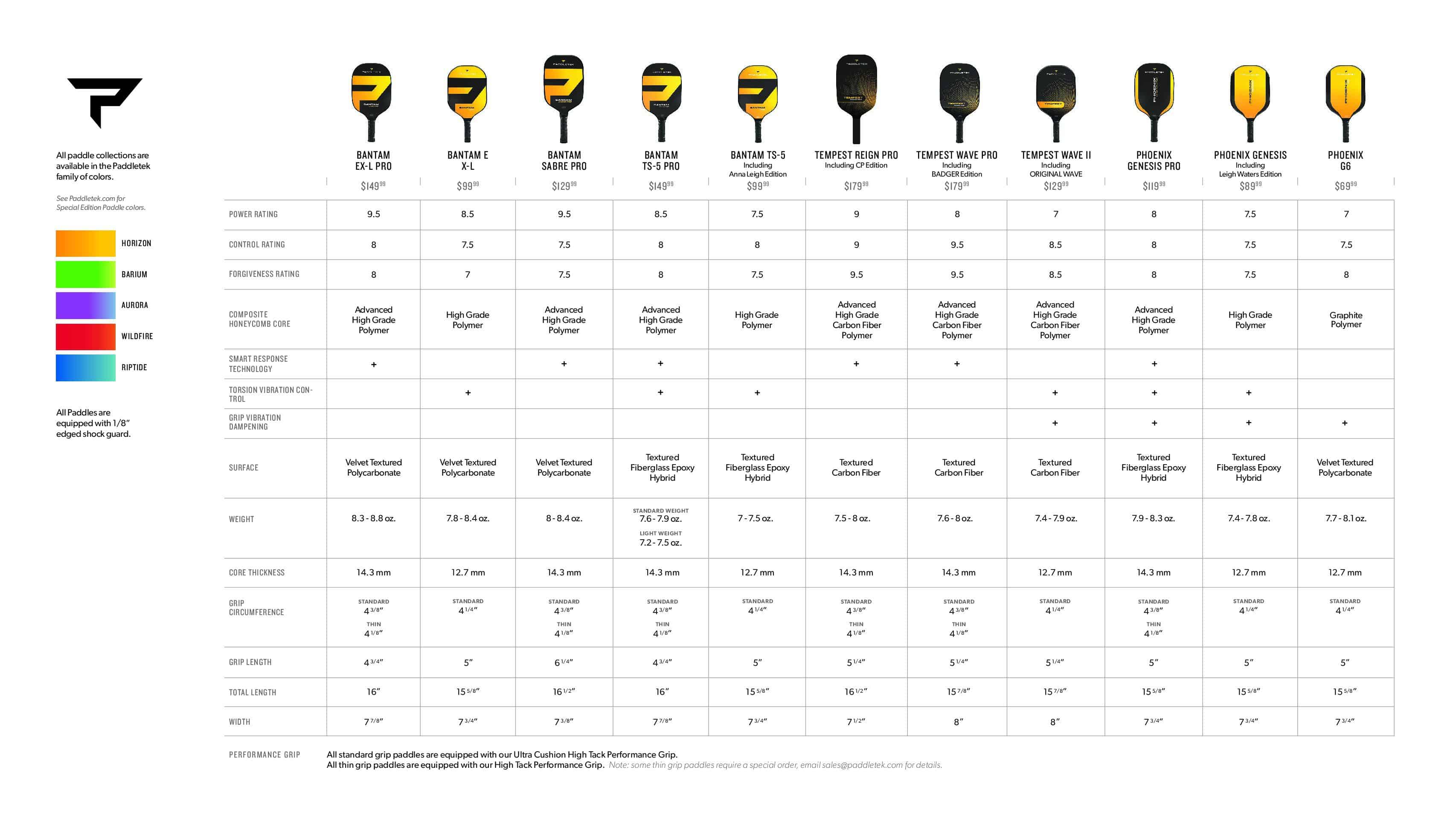 Frequently Asked Questions
Who Is Paddletek Pickleball Company?
Paddletek was founded by a family who shared a passion for the game and a desire to enhance paddle technology. From humble beginnings, we have expanded to become one of the top providers in pickleball. Despite our growth, our mission to elevate your gameplay to new heights remains at the forefront of everything we do.
Who Are Some Of The Top Pros Who Use Paddletek Pickleball Paddles?
Paddletek is the paddle of choice for many top pickleball professionals including:
Leigh Waters
Adam Stone
Scott Moore
What Else Does Paddletek Offer?
Paddletek also offers apparel for men and women including shorts, shirts, skirts as well as hats, and pickleball bags as well.
What Is Paddletek's Warranty?
Paddletek offers a limited lifetime performance guarantee for every paddle it sells. This guarantee safeguards customers against any defects that may result from the manufacturing process. Customers are required to register their paddles within 14 days of purchase on the company's website.
Conclusion
If you're a pickleball player looking for gear and a paddle that can help you improve your game, you'll want to check out Paddletek as they have something to offer for just about anybody, including top pros. Their range of paddles all provide excellent control, power, and maneuverability. And, thanks to their advanced technology, you know that you're getting a high-quality paddle that is built to last at a price point that satisfies.
But Paddletek is more than just a brand that makes great paddles. They are committed to the sport of pickleball and to providing you with the best possible equipment. This commitment translates into a dedication to exceptional quality and innovative design that you can feel on the court.
With all of the options on the market these days, there's no reason to settle for a run-of-the-mill paddle that doesn't provide you with exactly what you need. If you're serious about improving your pickleball game, Paddletek paddles are definitely worth considering. With their superior performance and exceptional quality, you'll be sure to notice a difference in your gameplay.