I really love the pace of all the new development that is happening in pickleball right now. Not just because we get to try out a lot of the new stuff, but for what it is doing for the sport. Pickleball paddle innovation is really changing the game for the better. I am a firm believer that competition helps drive results and improvements.
That is certainly happening in pickleball right now. It seems every day there is something new coming out. When you read our Diadem Edge 18K review you will understand!
Diadem makes some great paddles. The Diadem Warrior Edge paddle is one of their top sellers and we also did a full review of the Icon V2 paddle.
Today, we are going to take a look at the new Diadem Edge 18K pickleball paddle. If you've seen this new paddle, you know how cool it looks. The unique triaxial weave really catches your eye.
But does this beauty deliver on the court? Will it give you the competitive edge you have been looking for?
Read on to find out and see if the new Diadem Edge 18K lives up to the hype.
Let's get started.
We are reader supported and as such may make a small commission at no expense to you by purchasing thru our links and we greatly appreciate that! More info can be found here.
Diadem Edge 18K Review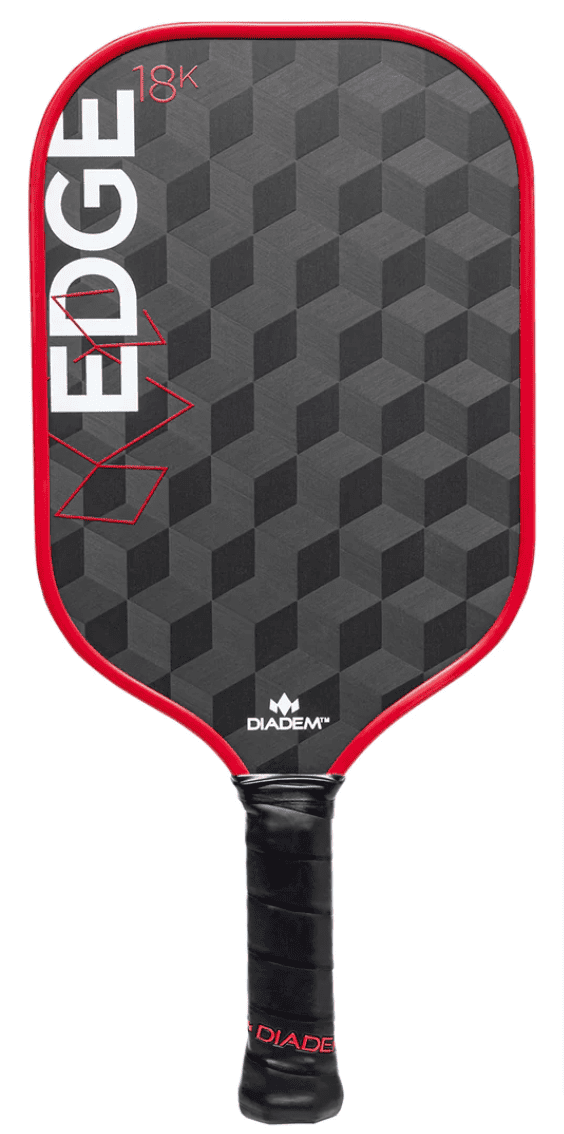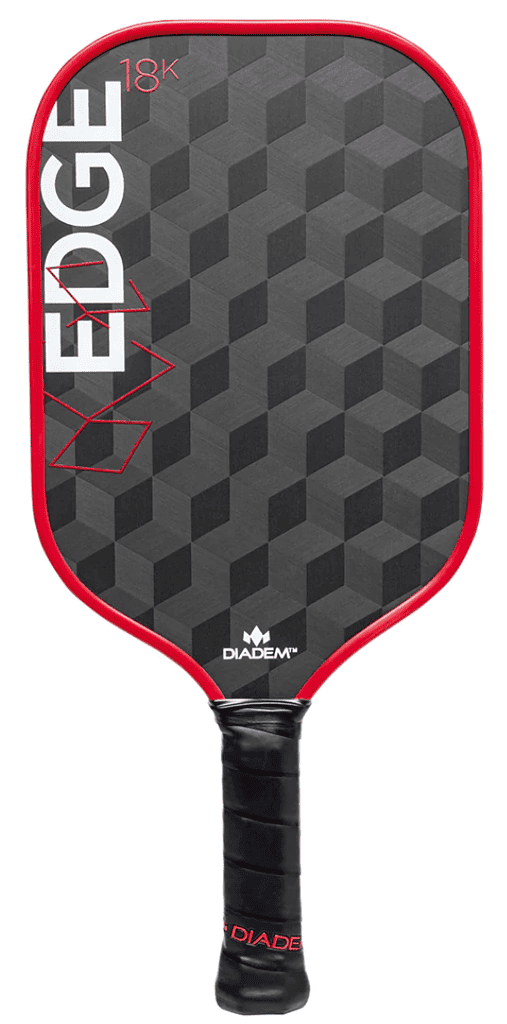 For me, what I have seen most lately, is that the paddle face materials have been improving the most. The Edge 18K is proof of that.
Can you say SPIN? The grit on this face is amazing. If you are a spin player, this is for you. When we re-rank our best pickleball paddles post I have a feeling this one could land on the best paddle for spin.
Yes, this paddle looks amazing. It really stands out. And then you play with it and you realize it delivers in ways you have not experienced before.
The Face of the Paddle: 3D 18K Carbon Fiber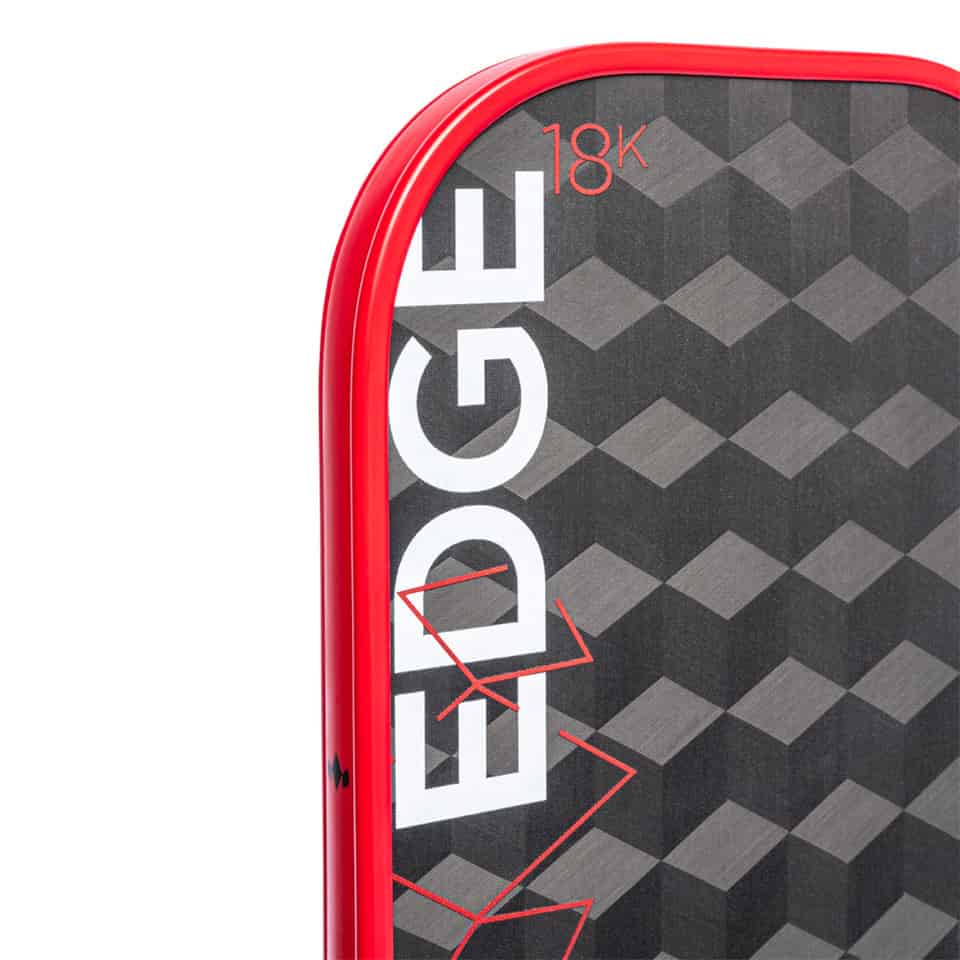 The Diadem Edge 18K pickleball paddle isn't just about its captivating looks. One of the most impressive things about it is the innovative face material – the 3D 18K Carbon Fiber. Let me tell you, this isn't your average carbon fiber. It's made with Triaxial carbon fiber, which gives it a cool geometric visual and, more importantly, improves play.
The paddle's face surface material has amazing grit as I said earlier and that really boosts your spin generation. This can add a whole new dimension to your shots.
This 3D 18K Carbon Fiber face paddle offers a stiffer, stronger, and more resilient performance. It outlasts other carbon fiber surfaces, proving that the Diadem Edge 18K is all about substance as much as it is about style.
The Edge Guard: Edge Shield Pro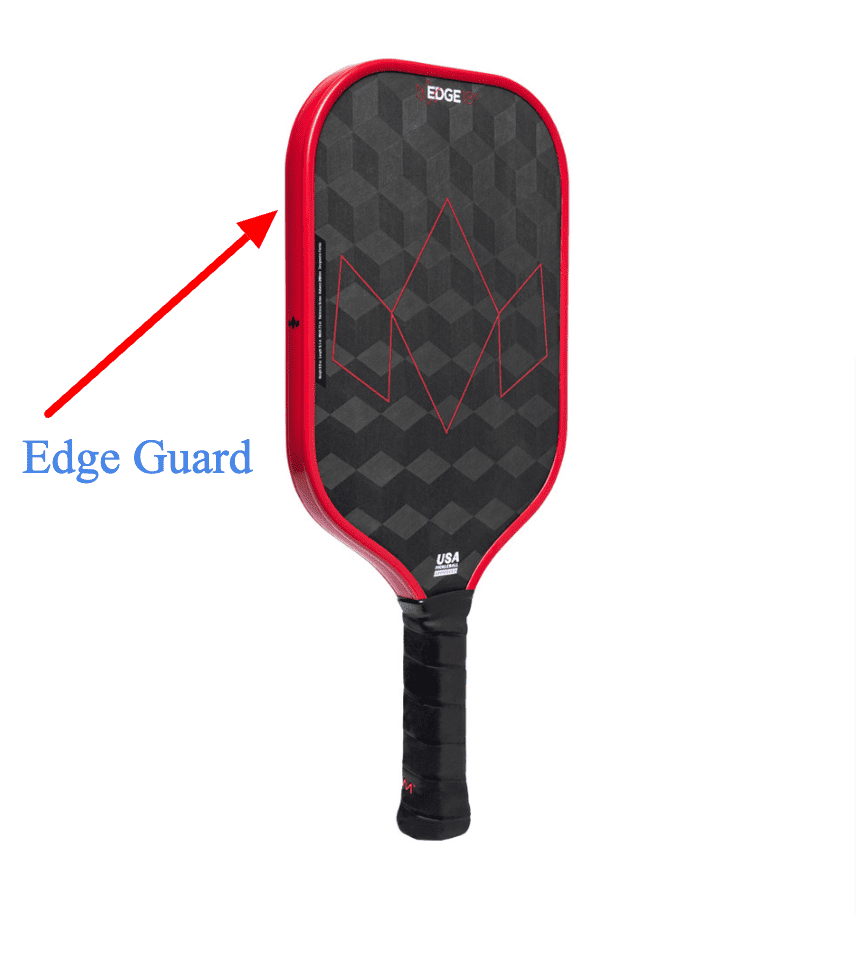 The state-of-the-art technology of the Diadem Edge 18K doesn't stop at its impressive 3D 18K Carbon Fiber face. It extends to the edge of the paddle as well, with the Edge Shield Pro edge guard.
The Edge Shield Pro edge guard enhances the paddle's durability and performance, providing an extra layer of protection for when your paddle scrapes the ground, something that is appreciated with a paddle at this price point!
The Paddle Weight: A Balanced Powerhouse
While the 3D 18K Carbon Fiber hitting surface adds a transformative spin to your shots, it also presents another advantage – it's lighter. This isn't just a random design choice; it's a strategic move that allows Diadem to better control the Edge 18K's average weight, which clocks in at a well-balanced 8 ounces.
This strategic balance of power and weight provides you with a paddle that is easy to wield, but tough on the court. The lightness of the material doesn't compromise the paddle's strength; instead, it adds to the overall maneuverability. This not only enhances your overall control during play but also allows for swift and responsive shots.
The Core of the Paddle: Expansive Sweet Spot with Honeycomb Polymer
At the heart of the Diadem Edge 18K lies a 16mm (0.63″) thick honeycomb polymer core, the unsung hero that truly powers this innovative paddle. This core is not just about providing a solid backing to the impressive 3D 18K Carbon Fiber hitting surface; it's about enhancing your overall gaming experience on the court.
The Edge 18K is equipped with a honeycomb polymer core that gives you an awesome sweet spot for better accuracy and precision. It also keeps the impact noise in check, so you can stay focused without worrying about any neighborly complaints!
And let's not forget about the amazing feedback it provides! This paddle gives you plenty of input to fine-tune your shots and strategies based on how it responds to each hit.
The Diadem Edge 18K is more than just a paddle – it's a game-enhancing instrument, a dependable ally that adapts to your every move, tempo, and playing style. This is what truly distinguishes the Diadem Edge 18K – it's not solely about playing the game, but rather about evolving alongside it.
The Handle: Compact Yet Powerful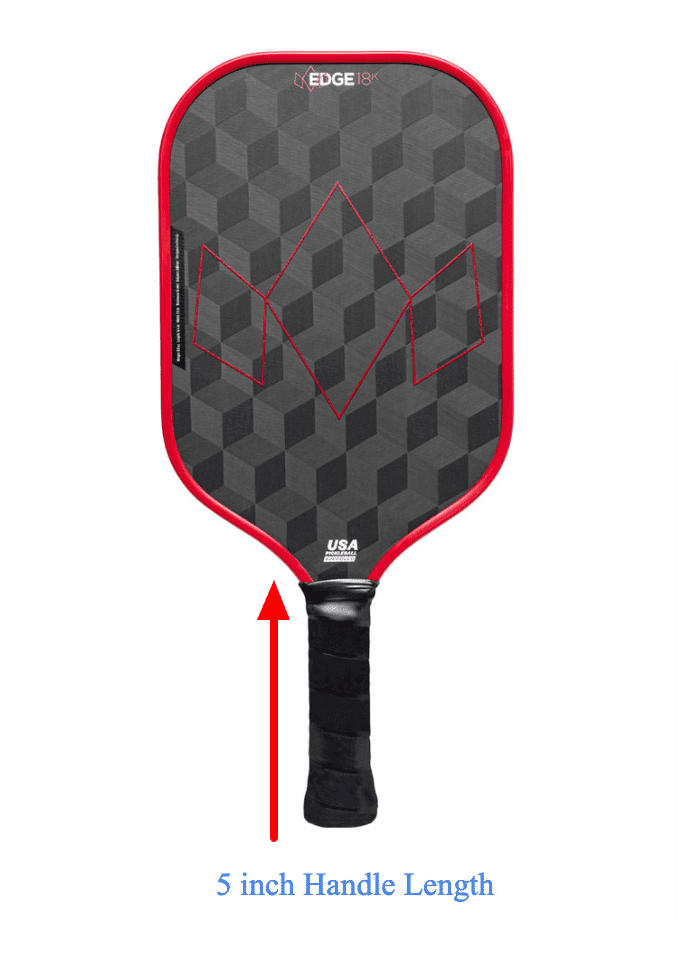 The handle on the Diadem Edge 18K is a nice size for most I would say. The 5″ long handle is short enough to still be super maneuverable at the net, yet just enough room to squeeze in both hands for two-handers if you prefer.
The handle length gives you the opportunity to strike everything from dinks to drives to overhead put-aways smack dab in the middle of the generous sweet spot. This design not only enhances your control but also provides a solid, confident grip that adds an extra layer of precision to your shots.
The Diadem Edge 18K paddle shows that the handle isn't just for holding—it's a key part of your performance on the court. You'll notice the difference this awesome design makes to your game with every grip!
Diadem Edge 18K Pickleball Paddle Technical Specifications
The Diadem Edge 18K is a showcase of top-tier features and specifications that make it a jewel in the pickleball landscape. Here are some of its key technical attributes:
Average Weight: The paddle weighs an average of 8.0 ounces – a well-balanced weight for optimal game performance.
Weight Range: The paddle's weight can vary slightly, ranging from 7.8 to 8.2 ounces.
Grip Circumference: The paddle has a grip circumference of 4 1/8″ (Small). Note that actual grip sizes may vary up to 1/8″.
Grip Style: The grip style of the Diadem Edge 18K is the Comfort Max Grip, designed for maximum comfort during play.
Grip Manufacturer: The grip is produced by Diadem, ensuring consistency in quality.
Handle Length: The handle length is 5″, compact yet powerful, perfect for intense volley exchanges.
Paddle Length: The total paddle length is 16.4″, designed for superior reach and control.
Paddle Width: The paddle has a width of 7.5″, providing a generous hitting surface.
Paddle Face: The paddle face is made from 3D 18K Carbon Fiber, giving it a unique and impressive surface for striking the ball.
Core Material: The core of the paddle is made from a Polymer Honeycomb, ensuring a solid and responsive hitting experience.
Core Thickness: The thickness of the core is 16mm (0.63″), providing a perfect balance of power and control.
Edge Guard: The paddle is equipped with the Edge Shield Pro Edge Guard, enhancing the durability and longevity of the paddle.
Summary
In this detailed review, we took a deep dive into the awesome features and amazing performance of the Diadem Edge 18K pickleball paddle. It's got a high-tech 3D 18K Carbon Fiber face and an Edge Shield Pro edge guard that make it super tough and deliver top-notch performance.
Weighing in at just 8 ounces on average, you get a nice balance between power and maneuverability. The core, there's a thick 16mm honeycomb polymer, which gives you an awesome gaming experience with a big sweet spot, noise reduction, and great user feedback.
The 5″ long handle fits the paddle design like a glove, giving you control, a solid grip, and extra precision. The Edge 18K isn't just any old paddle; it's a game-changer that grows with you. The paddle's technical specs include a Comfort Max Grip, a weight ranging from 7.8 to 8.2 ounces, a paddle length of 16.4″, and a width of 7.5″. With the Diadem Edge 18K, you'll truly dominate the game.
Conclusion
In conclusion, the Diadem Edge 18K pickleball paddle is seriously impressive with its cutting edge technology. It is a big upgrade on the very popular Warrior Edge Paddle. It's a perfect combination of top-notch technology, sleek design, and outstanding performance.
With its awesome features like the 3D 18K raw Carbon Fiber face, honeycomb polymer core, and compact yet powerful handle, this paddle brings your game to a whole new level. It's not just about playing – it's about improving, adapting, and dominating the court with precision and power.
Investing in the Edge 18K means investing in your pickleball journey. Whether you're a pro or just starting out, the Diadem Edge 18K evolves with you, allowing you to have swift and calculated movements as you play. Get ready to embrace the future of pickleball with the Diadem Edge 18K – the paddle that puts you right in the heart of the action.