Pickleball, the exciting sport that combines elements of tennis, badminton, and table tennis, has been rapidly gaining popularity in recent years. With its fast-paced gameplay and accessible learning curve, it's no wonder that athletes from all walks of life are drawn to the court.
Among the rising talent in this thrilling game stands Anna Bright pickleball sensation. Anna is a young pickleball prodigy who is quickly making a name for herself in the world of competitive play.
In today's post, we'll be shining the spotlight on Anna Bright, diving into her journey as an up-and-coming pickleball star, and exploring the qualities that set her apart from the rest. From her early beginnings in the sport to her current successes, Anna's story is a testament to the power of passion, dedication, and hard work.
So, without further ado, let's delve into the incredible world of Anna Bright, and discover what makes her a true pickleball sensation!
We are reader supported and as such may make a small commission at no expense to you by purchasing thru our links and we greatly appreciate that!
Anna Bright: The Early Years
From a young age, Anna Bright's love for racquet sports was evident. Born and raised in Texas, throughout her childhood, Anna's commitment to tennis only grew stronger.
She spent countless hours practicing her serve, refining her footwork, and mastering her strategies, all while developing a deep understanding of the game's intricacies. With each passing year, Anna's prowess on the court continued to flourish, eventually catching the attention of college recruiters.
Anna's hard work and perseverance paid off when she was recruited to play college tennis at the prestigious University of California, Berkeley (Cal). As a member of the Cal Golden Bears, Anna's remarkable skillset shined brightly, propelling her to become a standout player on the team. Her incredible performance throughout her college tennis career was a testament to her unwavering dedication to the sport she loved.
While Anna's journey as a tennis player set the foundation for her athletic success, it was only the beginning of her accomplishments in the world of racquet sports. Eventually, her college tennis path would lead her to discover and excel at pickleball, a sport that would showcase her talents in new and exciting ways.
Anna Bright's Post-Graduation Adventure: Conquering the Pacific Crest Trail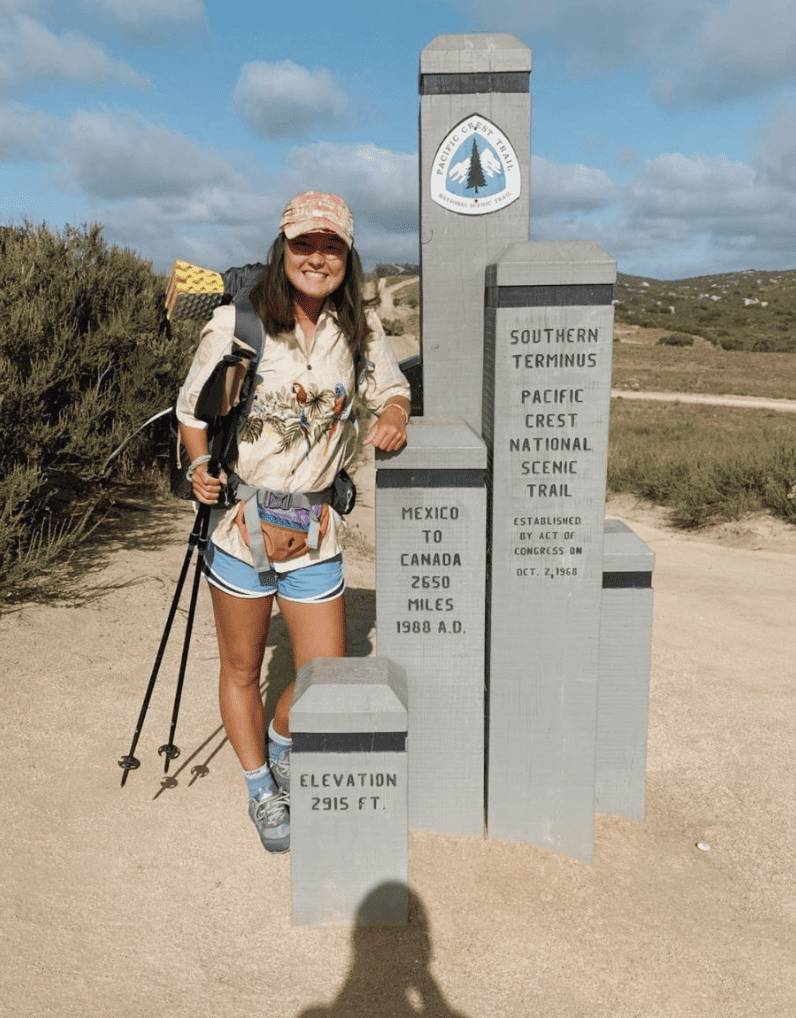 After completing her college degree and an outstanding college tennis career at Cal, Anna Bright was eager to embark on a new adventure. With a deep sense of determination and a thirst for exploration, she set her sights on one of the most grueling and rewarding challenges in North America: hiking the Pacific Crest Trail.
The Pacific Crest Trail, or PCT, is a 2,650-mile-long trek that stretches from the border of Mexico all the way to Canada. Traversing through arid deserts, lush forests, and rugged mountains, the Pacific Crest Trail is a true test of physical and mental endurance. Undeterred by the challenge, Anna embarked on the journey, ready to conquer the trail and push her limits.
For 113 days, Anna trekked through the diverse landscapes of the Pacific Crest Trail, experiencing the beauty and hardships of the trail firsthand. Her determination and resilience were unwavering, as she faced countless obstacles and navigated the ever-changing terrain. Each step of the way, Anna drew upon the mental toughness she cultivated during her tennis career, propelling her forward and closer to her goal.
Upon completing the Pacific Crest Trail, Anna emerged with more than just a sense of accomplishment. The experience ignited a newfound love for outdoor adventures and a desire to explore new sports. As a result, she continued to seek out new challenges and opportunities to push her boundaries, proving that her adventurous spirit and athletic prowess know no limits.
Transition To Pickleball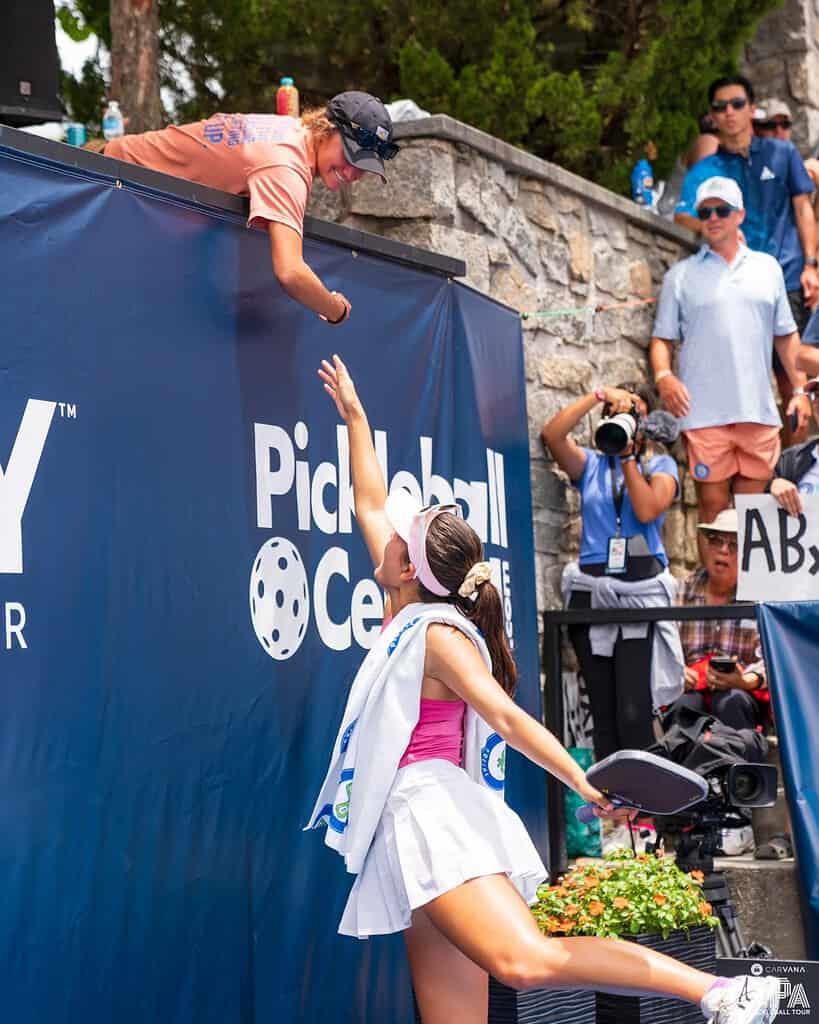 After returning from her life-changing adventure on the Pacific Crest Trail, Anna Bright was eager to channel her newfound energy and passion into a fresh challenge. In October 2021, she discovered the sport of pickleball, and it was love at first swing.
Pickleball piqued Anna's interest immediately. With her years of tennis experience and natural athleticism, she quickly adapted to the game and its unique demands. Her quick reflexes, honed on the tennis court, made her a formidable opponent in pickleball matches.
Wasting no time, Anna dove headfirst into the world of competitive pickleball. Just two weeks after picking up a pickleball paddle for the first time, she entered her first tournament, eager to test her skills against other players.
Anna credits her rapid success in the sport not only to her tennis background but also to the mental strength and confidence she developed throughout her athletic career.
Her first tournament really set the bug of pickleball and caused her to press forward even more.
Anna Bright's Bold Leap into Full-Time Professional Pickleball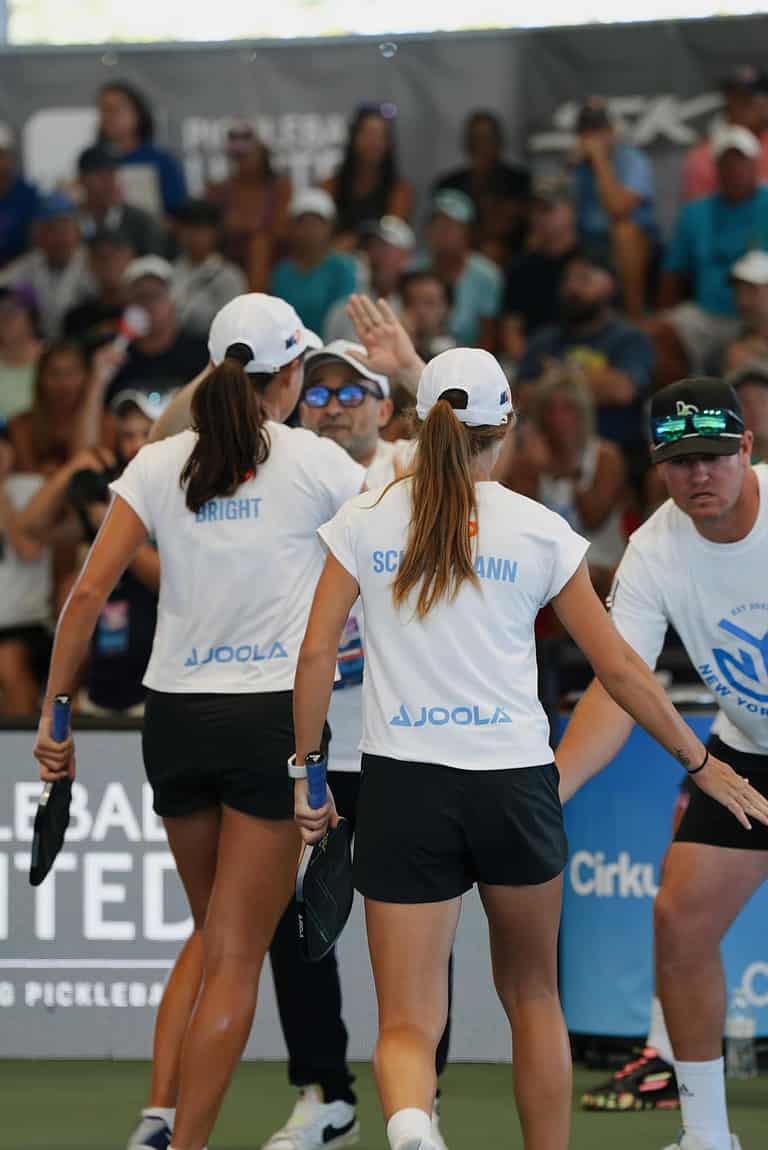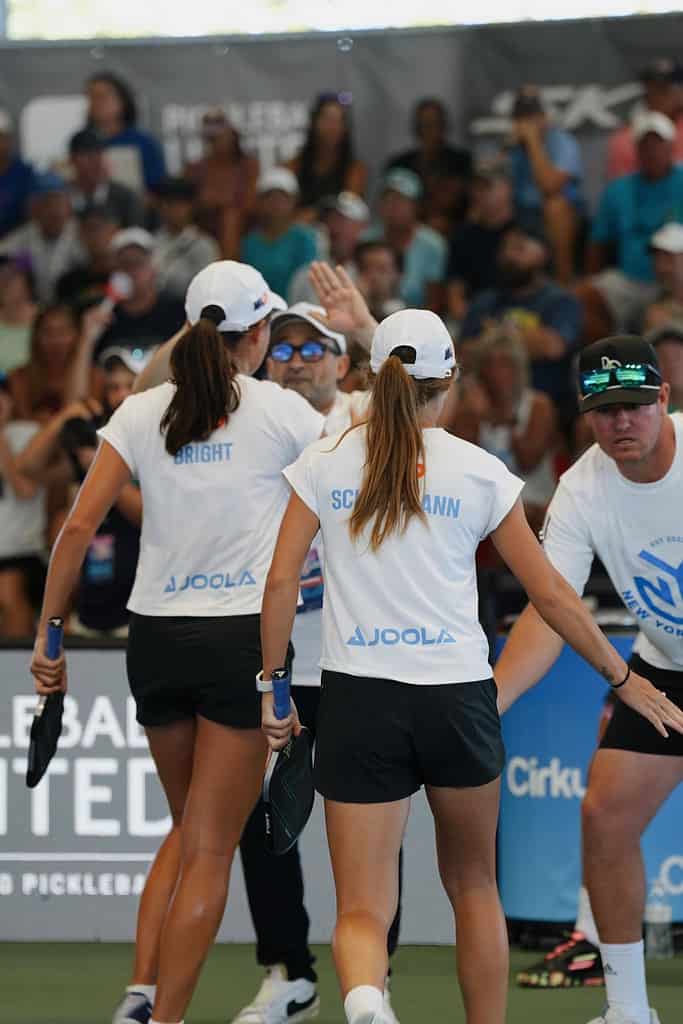 Fueled by her love for the sport and a burning desire to excel, Anna Bright made the courageous decision to leave her job at DUPR and fully commit to her professional pickleball career. This leap of faith has allowed her to focus entirely on honing her skills and competing at the highest level in the pickleball world.
Anna's dedication has paid off, as she now competes on a regular basis on both the prestigious Major League Pickleball Tour and the Carvana Professional Pickleball Association (PPA) Tour. If you havent seen an MLP Tournament, be sure to check one out. Their season consists of a team format and the matches are really fun to watch.
Anna Bright's transition to full time professional pickleball is a testament to her unwavering commitment and passion for the sport. Her bold decision to step away from her job and pursue her dreams has opened new doors and opportunities, enabling her to compete at the highest levels and inspire others to follow their own athletic aspirations.
Rapid Rise to Success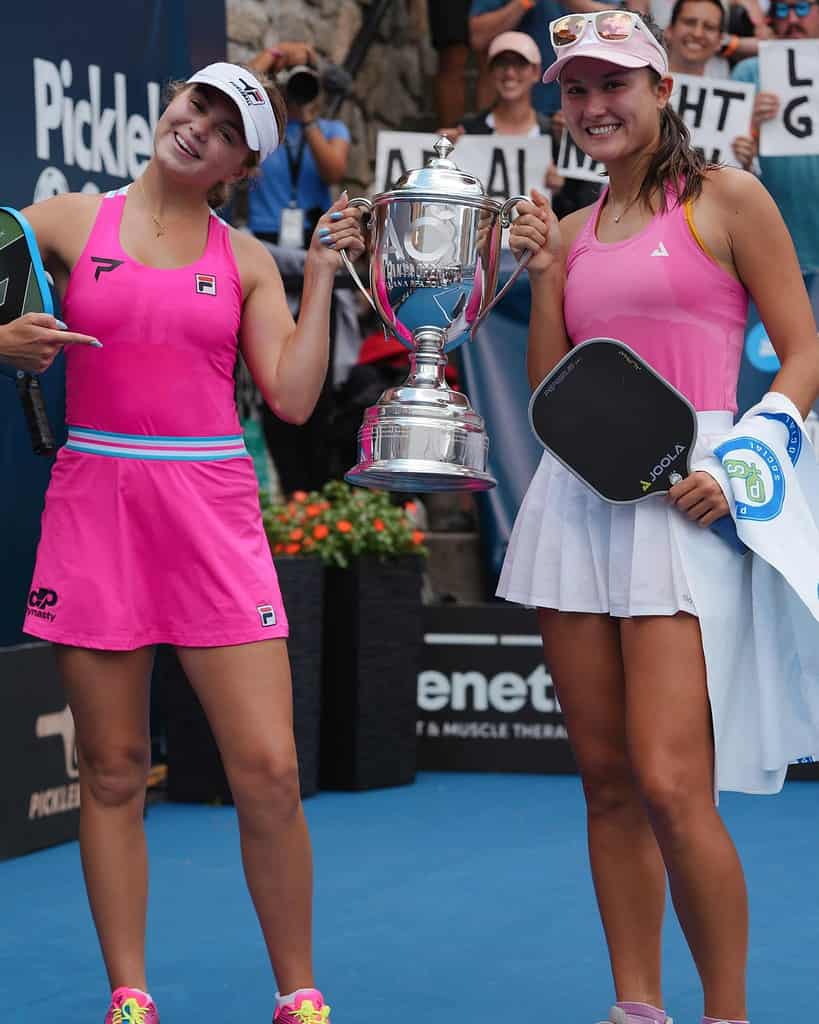 Anna Bright's transition from tennis to pickleball has been nothing short of remarkable. Her background in tennis provided her with a significant edge as she embraced this new sport, allowing her to quickly become a force to be reckoned with on the pickleball court. The skills she developed during her time on the tennis court, such as fast hands, consistency, and anticipation, seamlessly translated to her pickleball performance.
Anna now partners up with some of the best in the world for both doubles and mixed doubles. She has recently won gold medals in double's with World #1 Anna Leigh Waters. Anna Bright is currently the #2 ranked woman in doubles so those two make quite the team!
She also found the winning combination with James Ignatowich winning gold in mixed doubles gold with him. James is also Anna's boyfriend! If you want to see a fun match, just watch James Ignatowich. Always entertaining.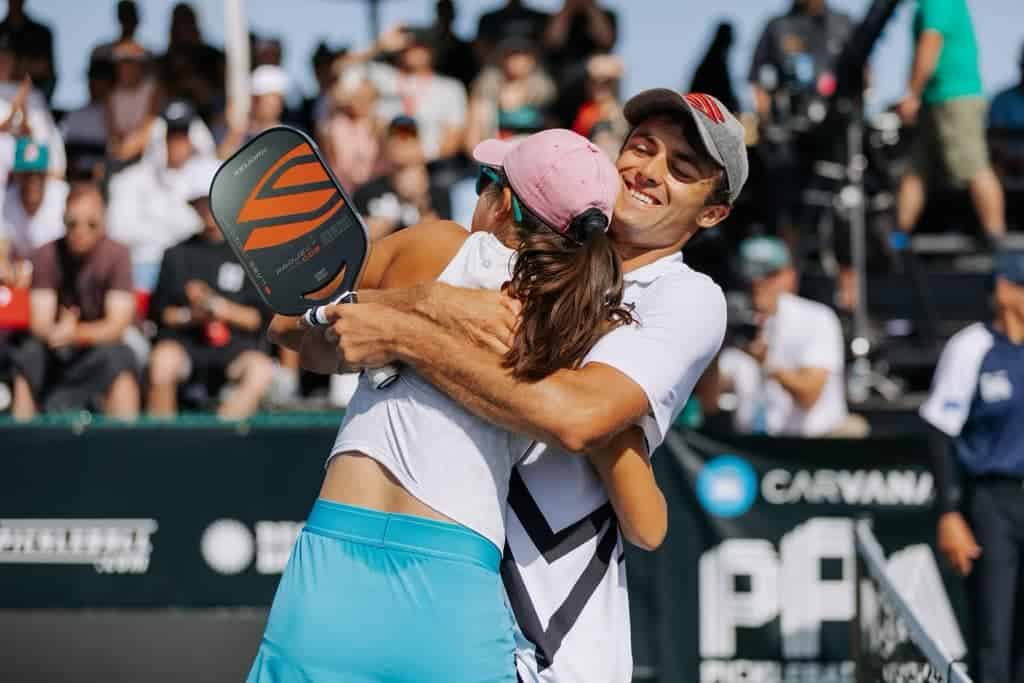 Residing in South Florida has also been advantageous for Anna, as it allows her to practice and play with many of the sport's top players. The support of her family has been instrumental in her journey, providing her with encouragement and motivation every step of the way.
Anna Bright's swift ascent in the world of pickleball is a testament to her dedication, talent, and passion for the sport. As she continues to compete at the highest level, her story serves as an inspiration for aspiring athletes looking to make their mark in the world of racquet sports.
The New Anna Bright Pickleball Paddle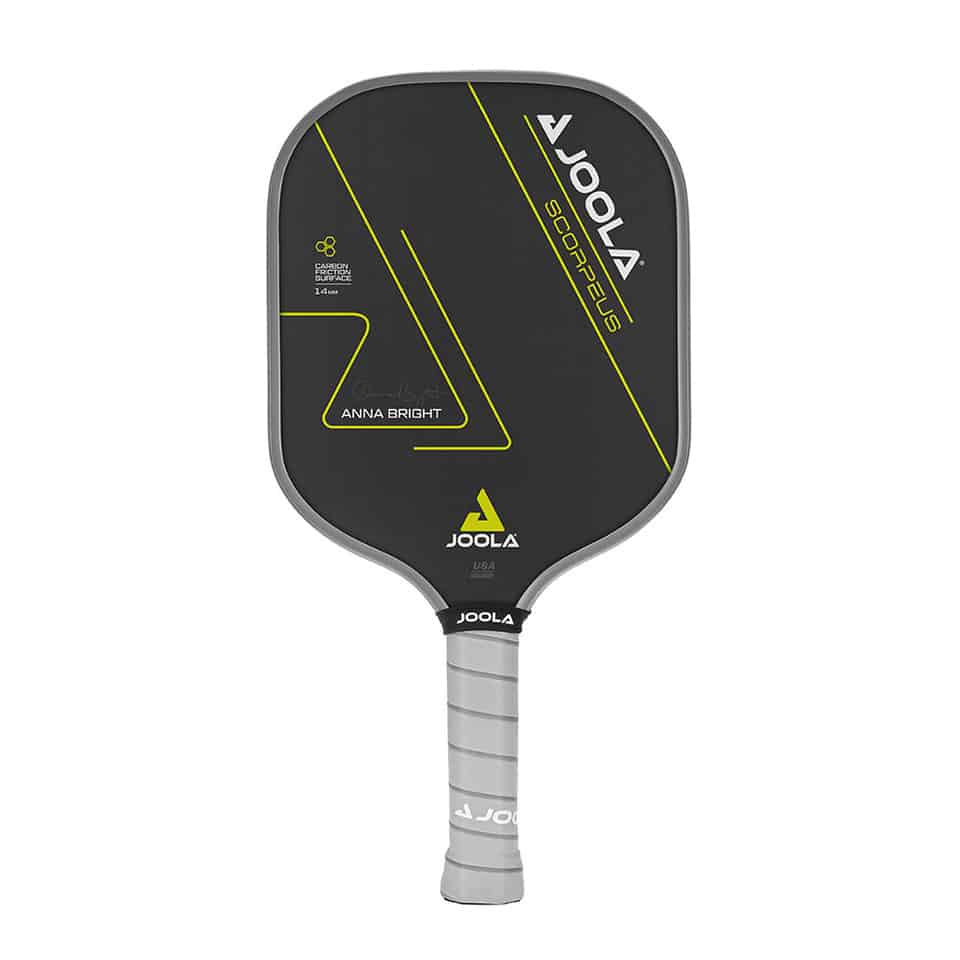 Anna's success in pickleball had led to a new sponsorship from Joola Pickleball. Her paddle of choice is the new Joola Scorpeus Anna Bright Signature Model in 14mm.
The JOOLA Anna Bright Scorpeus Pickleball Paddle offers a perfect blend of power, control, and performance. Its 14mm Reactive Honeycomb Polymer core delivers exceptional rebound and pop while maintaining the touch and feel that advanced players demand. The 5.25″ handle, featuring JOOLA's Sure Grip, enhances swing speed for more effective drives.
Despite its traditional 16″ x 8″ size, this paddle ensures impressive power and accuracy. The 11.75″ x 8″ Carbon Friction Hitting Surface expands the sweet spot across the entire surface, making off-center hits more forgiving. The rough-textured carbon fiber surface improves ball grip, allowing for spin serves and precise cut shots. With an average weight of 7.8 ounces, the paddle also allows for quick defensive reactions when not controlling the game.
In summary, the JOOLA Anna Bright Scorpeus Pickleball Paddle delivers a well-rounded combination of strength, stability, and precision in a timeless design.
The "Bright" Future Ahead
Anna Bright's journey in pickleball has only just begun. At a young age, she has already established herself as a rising star in the sport. With her dedication, unwavering work ethic, and natural talent, there is no doubt that Anna's future in pickleball holds remarkable achievements and exciting opportunities.
Conclusion
Anna Bright's swift and impressive journey from a college tennis player to a top pickleball athlete serves as a shining example of resilience, adaptability, and an unwavering passion for racquet sports. Her story illustrates the boundless opportunities that await those who courageously chase their dreams.
As she continues to make her mark on the pickleball tour, Anna not only inspires aspiring athletes to embrace new challenges and strive for greatness, but she also embodies the spirit of pickleball itself: a sport that celebrates hard work, dedication, and a love for the game. Let Anna's story motivate you to keep pushing for success both on and off the court, whether you are new to pickleball or a seasoned player.