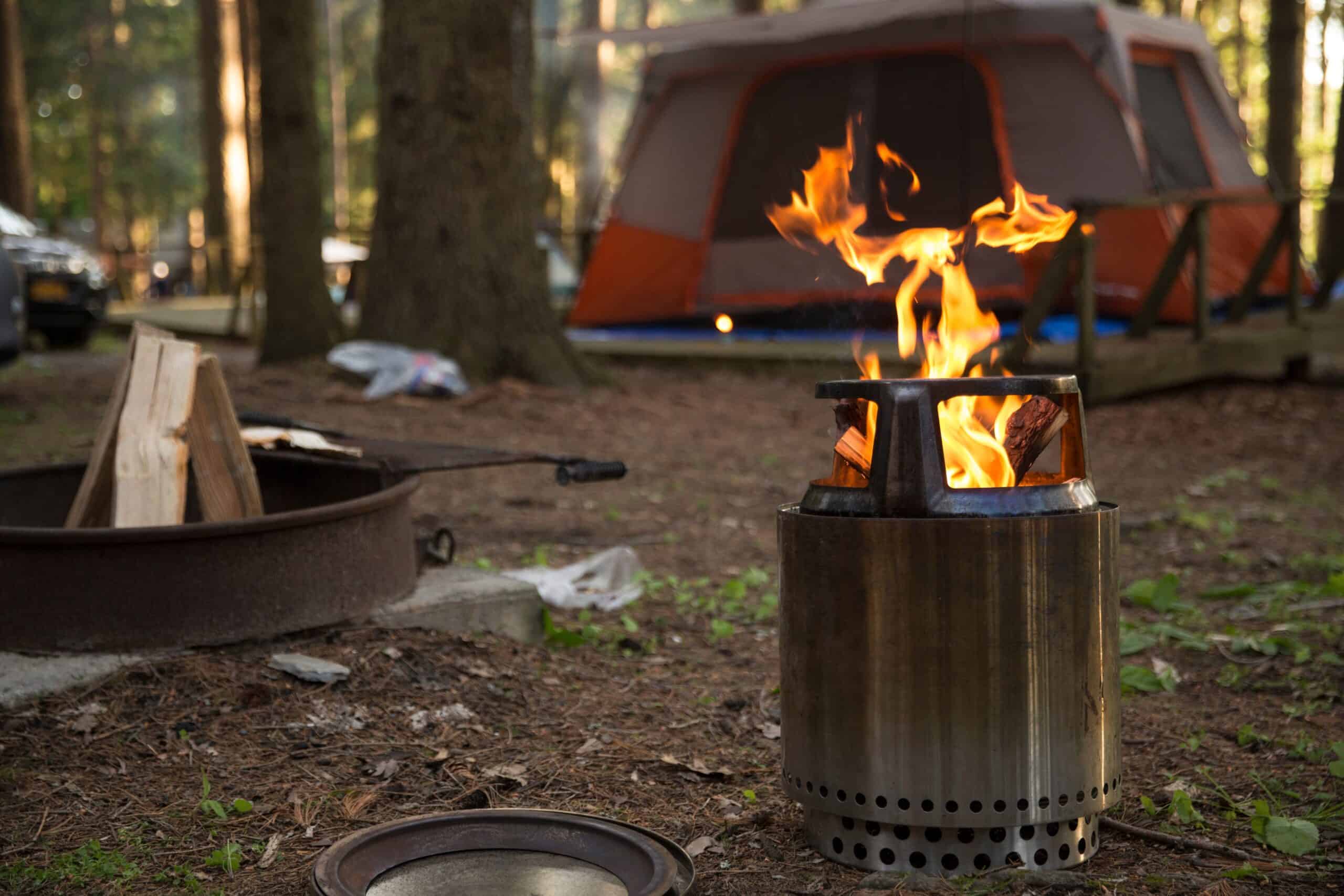 You got that new Solo Stove and LOVE it!
We know, it is an awesome addition to your backyard or your camping adventures. It is our favorite of the smokeless fire pits.
But are you aware of all that it can do and all the awesome fun fire pit accessories that are available for these fire pits?
In this blog post, we will discuss our top 12 picks for the Best Solo Stove accessories and the features and benefits of each.
We are reader supported and as such may make a small commission at no cost to you if you purchase through our links
What is the Solo Stove?
A Solo Stove fire pit is a wood-burning fire pit that is designed to give you a smokeless, clean-burning fire. This innovative smokeless fire pit is designed to minimize smoke and maximize airflow, so you can enjoy clean, efficient fires. And it's constructed from high-quality stainless steel and aluminum for lasting durability.
There are a variety of Solo Stove models available, so you can choose the perfect fire pit for your needs. We did a full review of the Solo Stove Bonfire 2.0 you can check out.
What Are The Benefits of Using a Solo Stove?
The Solo Stove fire pit offers many benefits, including:
They are easy to set up and use
They are very efficient, so you use less wood
They produce minimal smoke, so you can enjoy your fire without the smokey smell
They are portable, so you can take them with you camping or to the beach
They are durable and built to last fire pits
What Are The Best Solo Stove Accessories?
There are a variety of Solo Stove accessories available so you can customize your fire pit to suit your needs. Our top 12 picks fir the best Solo Stove Accessories include: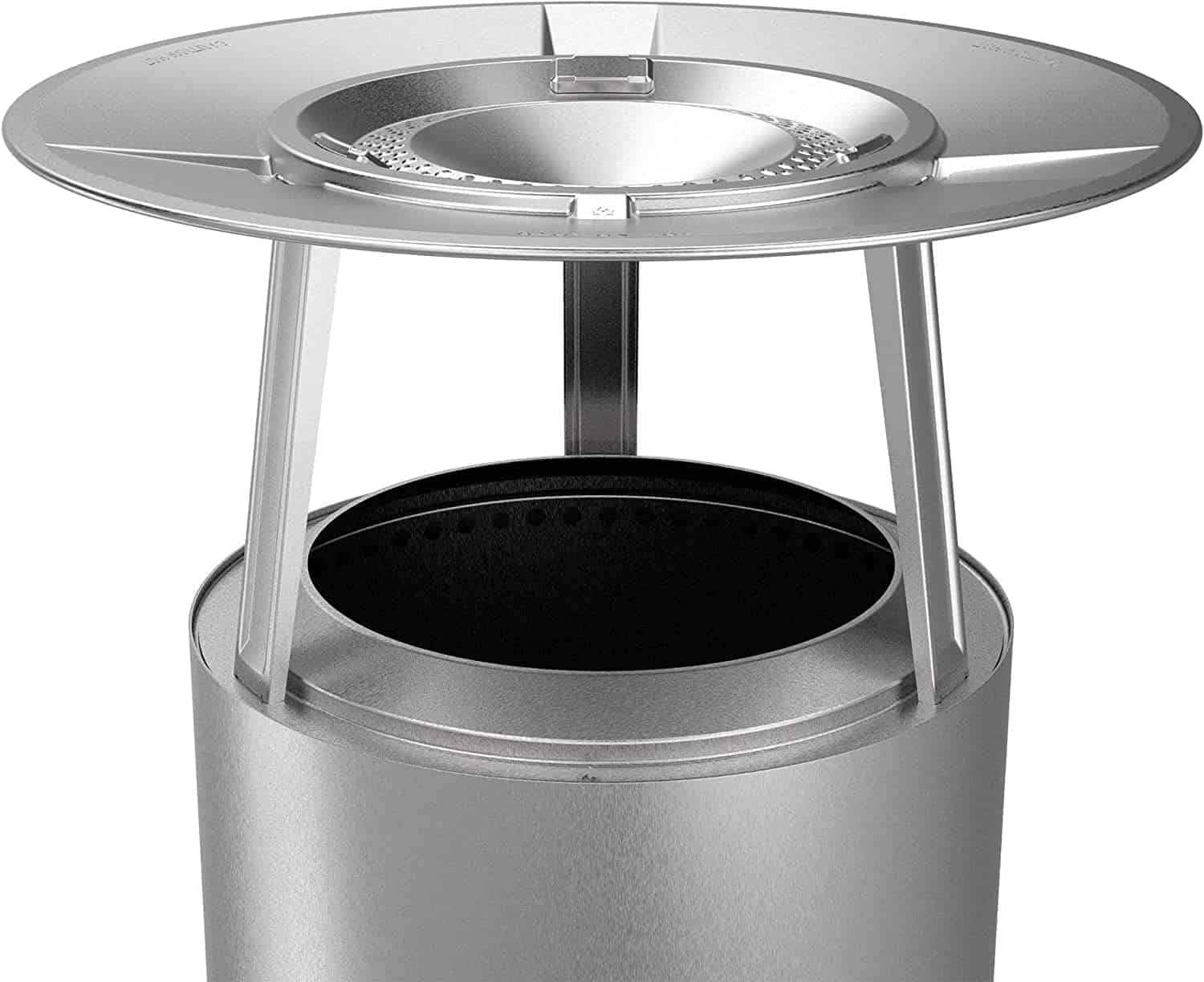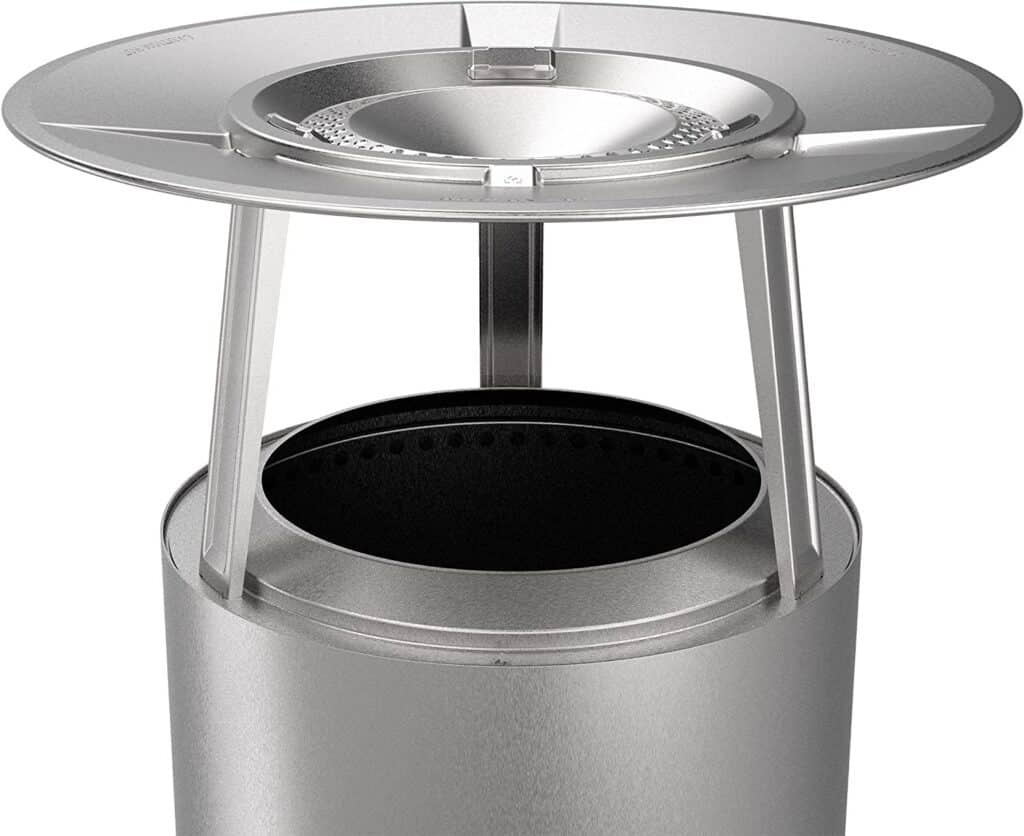 Heat Deflector
The Solo Stove Heat Deflector is a great accessory for your fire pit. It is designed to help redirect heat for more fireside warmth. The heat deflector pushes the heat out the sides of the Solo Stove to reach everyone sitting around the fire pit and keep them warm. This is great on extra chilly nights! Does it work? Check out our review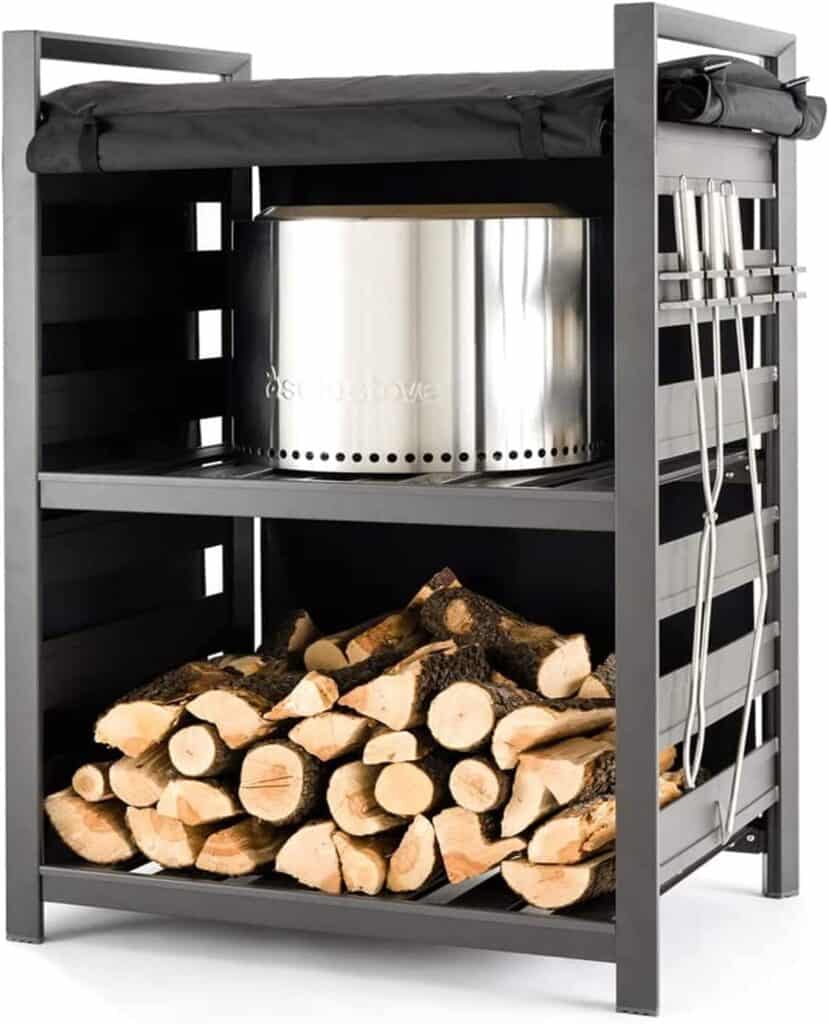 Solo Stove Station
We love this one and if you are the super organized type like we are you will too. The Station is the all-in-one storage for your Solo Stove, fire pit accessories and firewood. The cover keeps everything protected from the elements with its all-weather cover and keeps your wood dry for great burning. While it is a little pricey, protecting your Solo Stove is important. Plus it looks great on your patio with its sharp design.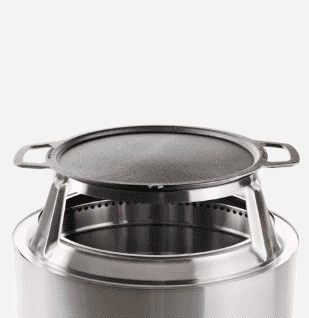 Cast Iron Griddle Top & Hub
I mean this has delicious food written all over it doesn't it? The do it all cast iron griddle top sits right on the hub for awesome fire pit cooking. There are so many things you can cook on this! Check out our list of 7 Easy Keto Meals you can cook on the griddle.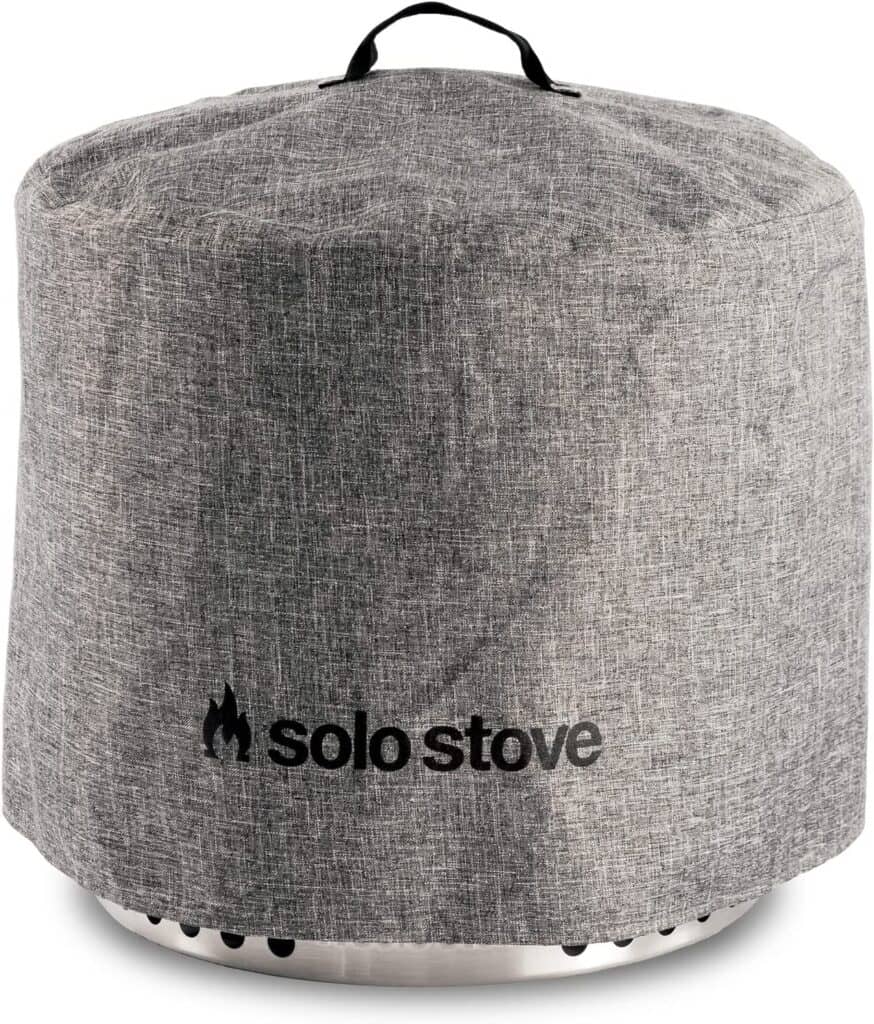 Solo Stove Shelter
If you are not into the Station or don't need a place to store your wood, or maybe it's just too much money, then check out the Shelter. The Shelter is a weather-resistant fire pit cover that protects your fire pit and looks good doing so! This is a great way to protect your fire pit for not much money. Protect your investment! The carrying case does not protect from the elements FYI.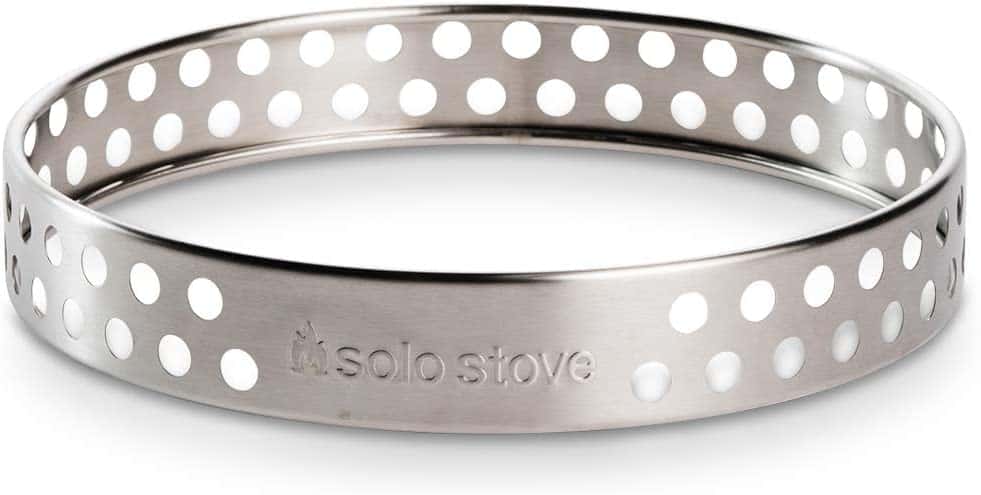 Solo Stove Stand
Having the addition of a stand allows you to use your fire pit on most heat-sensitive surfaces. You can use your Solo Stove on the stand on your deck, grass, dirt, rocks, and other turfs. It is easy to use and means you can take your fire pit anywhere.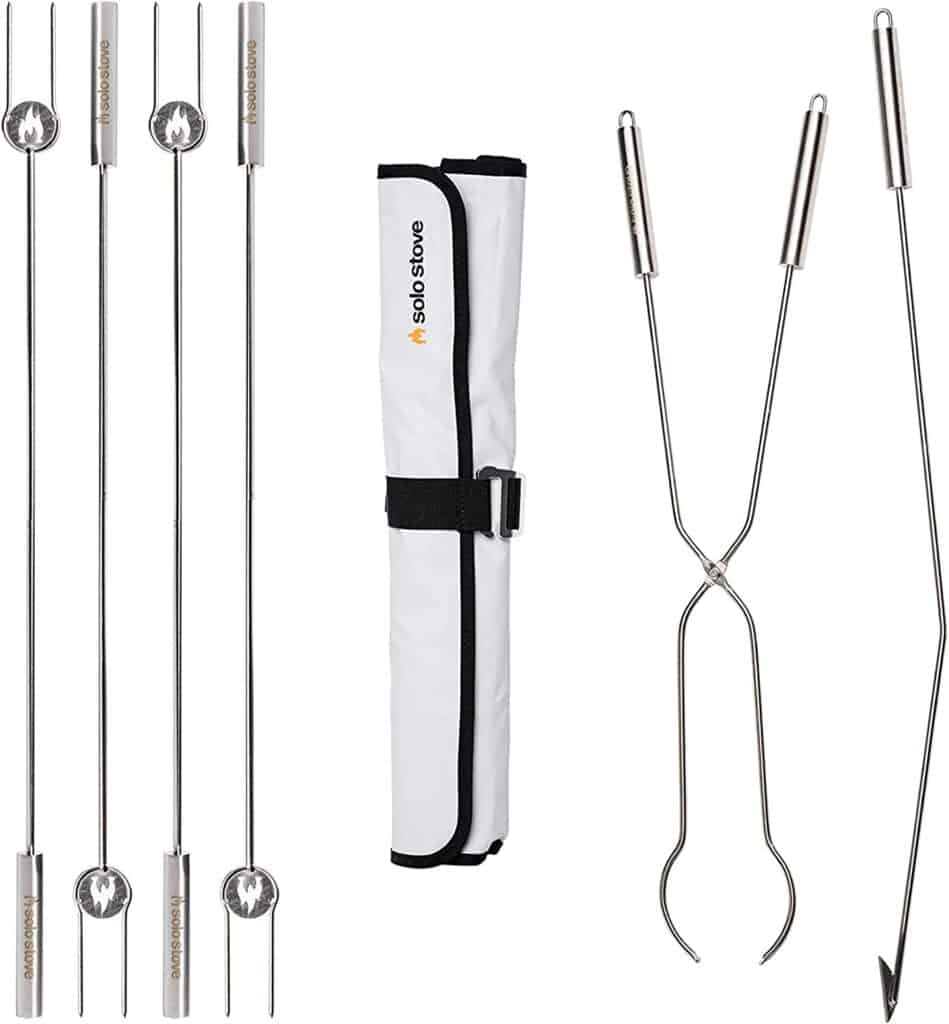 Sticks & Fire Pit Tools Bundle
This kit contains the essential fire pit accessories to enjoy this wonderful fire pit you have. It contains an angled fire poker, log grabber and roasting sticks. The angled poker will be a pleasant surprise at how nice the angle is to stoke your fire. And the log grabber can help you add logs to your fire pit without even having to get up from your comfy outdoor furniture! With the roasting sticks you can be roasting marshmallows and hot dogs as long as you want with the dual prong, hollow stem roasting sticks. They extend to 36″ to keep you a safe distance away from your fire while roasting those perfect s'mores.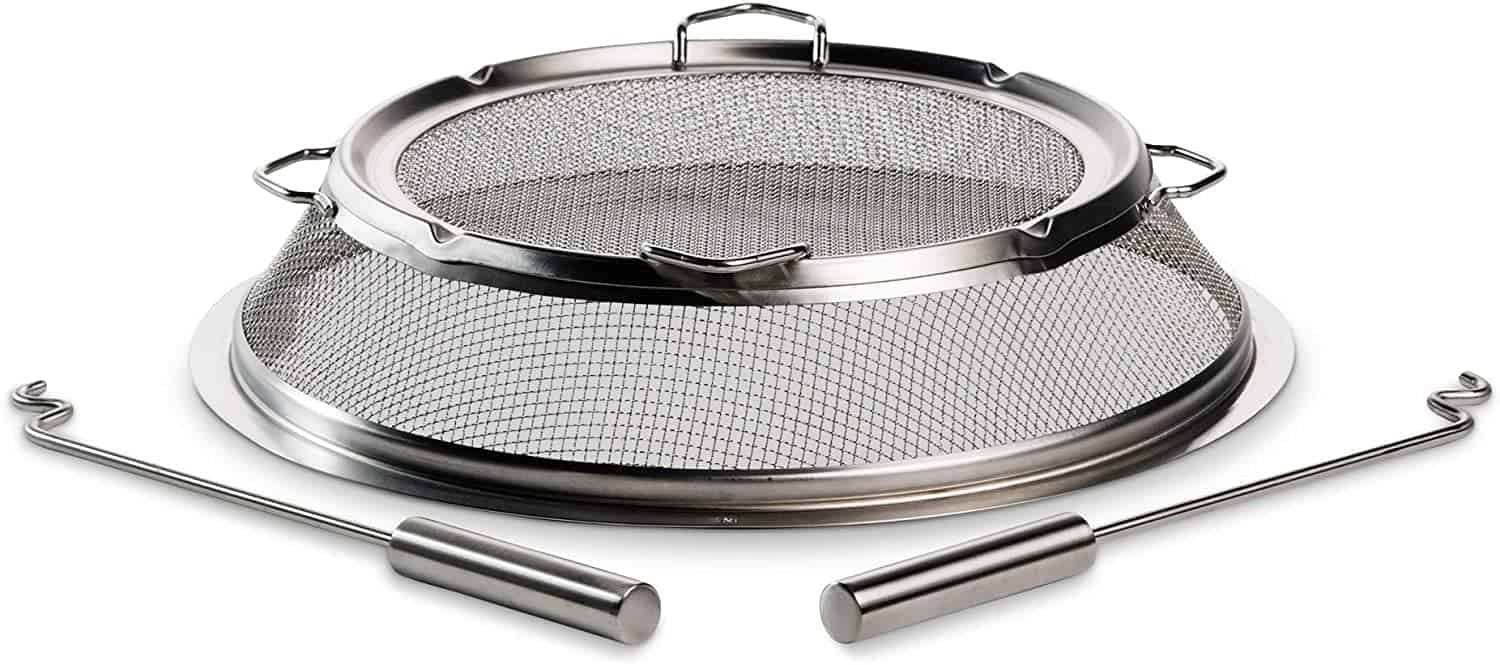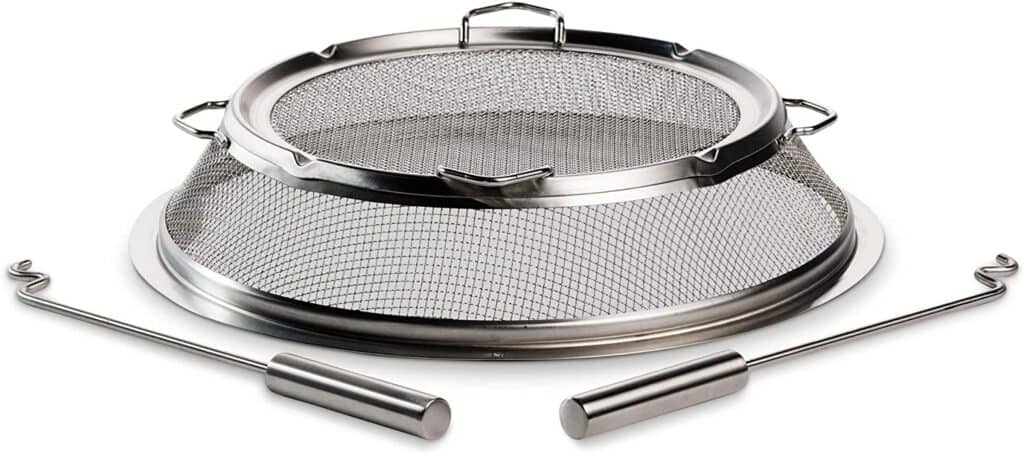 Solo Stove Shield
The shields help keep your fire pit even safer. The shield goes right on top of your Solo Stove to help keep any sparks or embers from going up into the air and landing on someone or something. An essential accessory for added peace of mind.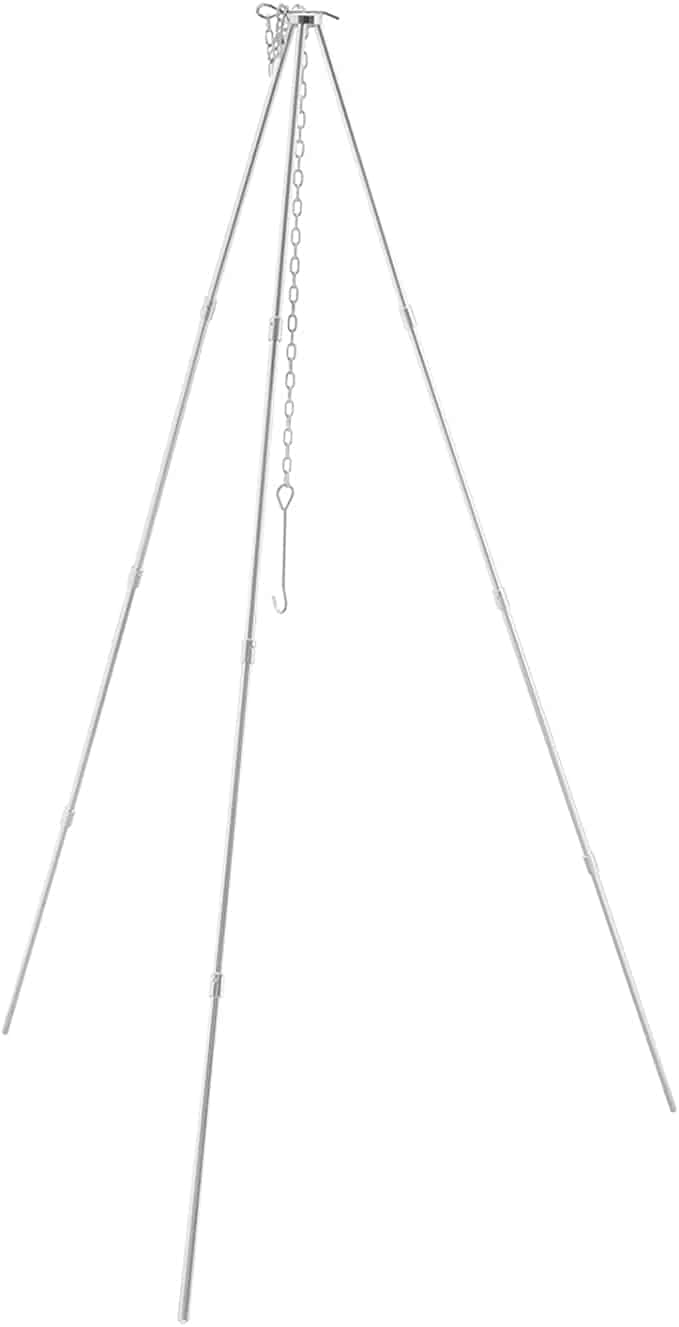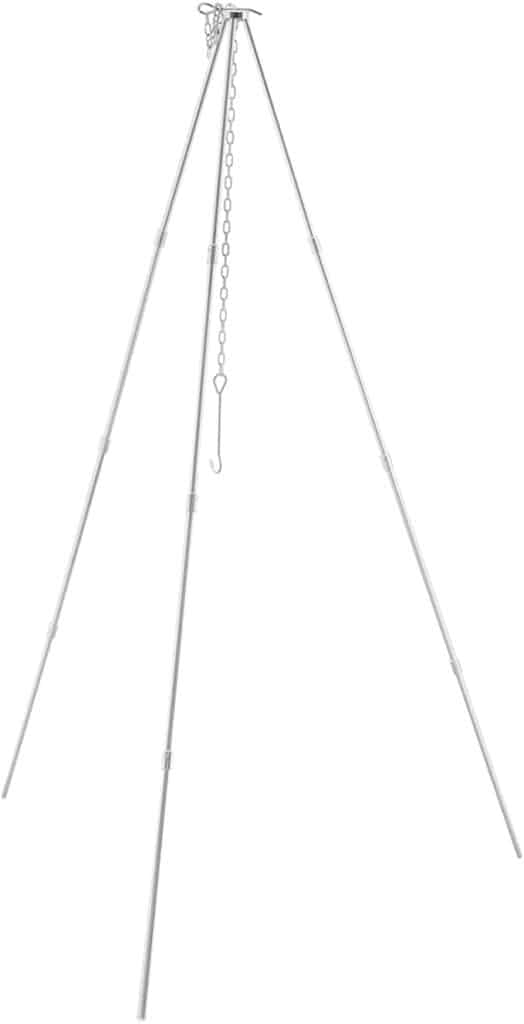 Tripod
Love to cook over your fire pit? Then take a look at the tripod. The Tripod allows you to hang your food right over the fire and you can adjust how close it sits to the flame. Need to boil? Keep it close. Need to just keep it warm? Raise the chains up and you're set. One of the essential accessories for cooking.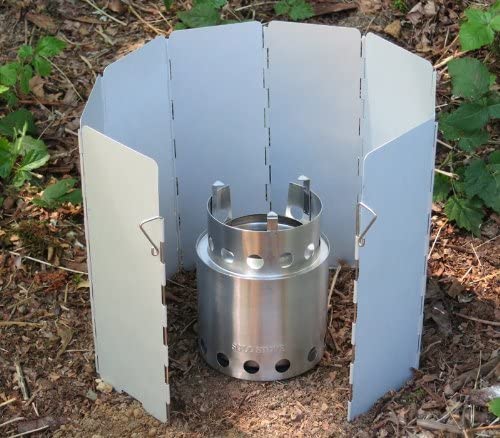 Aluminum Windscreen
Sometimes there is just a lot of wind. Of course, you don't need to worry about the smoke, but you do want to keep your flame going on those windy days. Especially if you are cooking on your Solo Stove. That's where the windscreen comes in. The eight-paneled windscreen will protect your flame to keep your heat going for your cooking.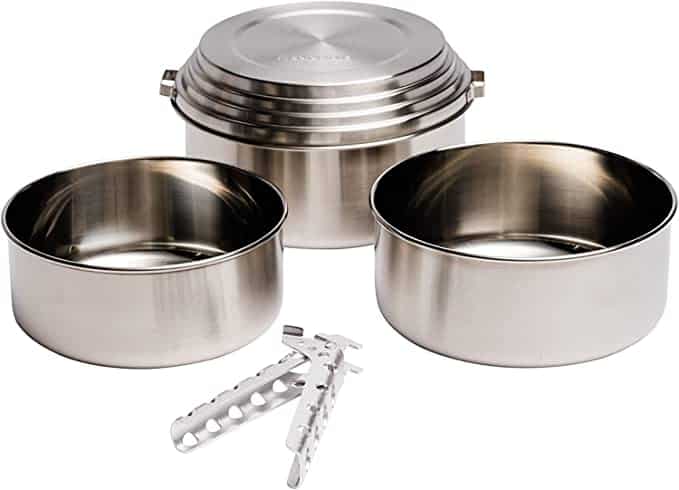 Three Pot Set
Looking to take your Solo stove on your next backpacking adventure? Bring along the super compact and portable 3 pot set. The set contains a 2L pot, a 1.5L pot, and a 1.25 L pot all with lids. Interested in other compact pots and pans? See our review of the Best Stackable Pots and Pans.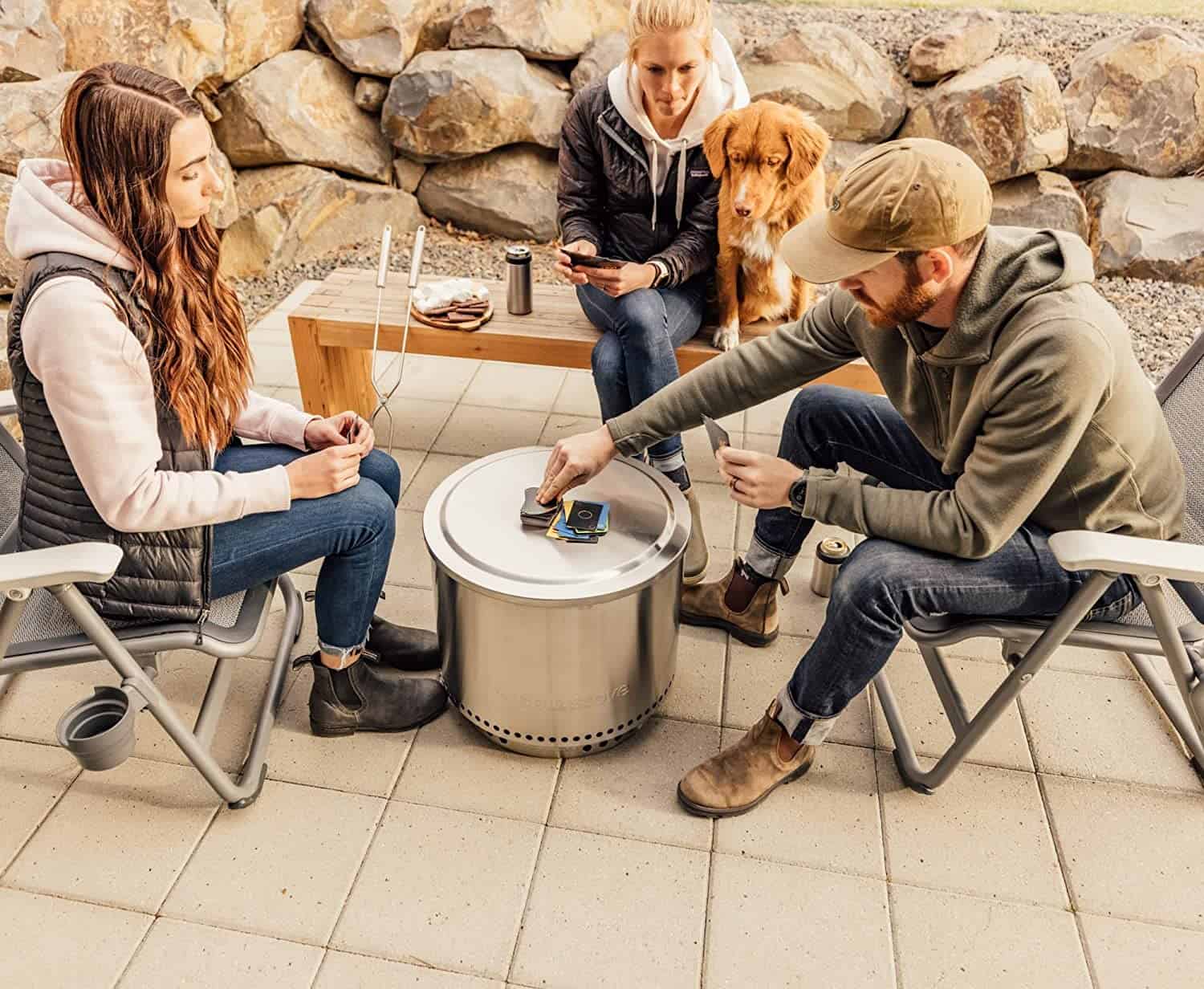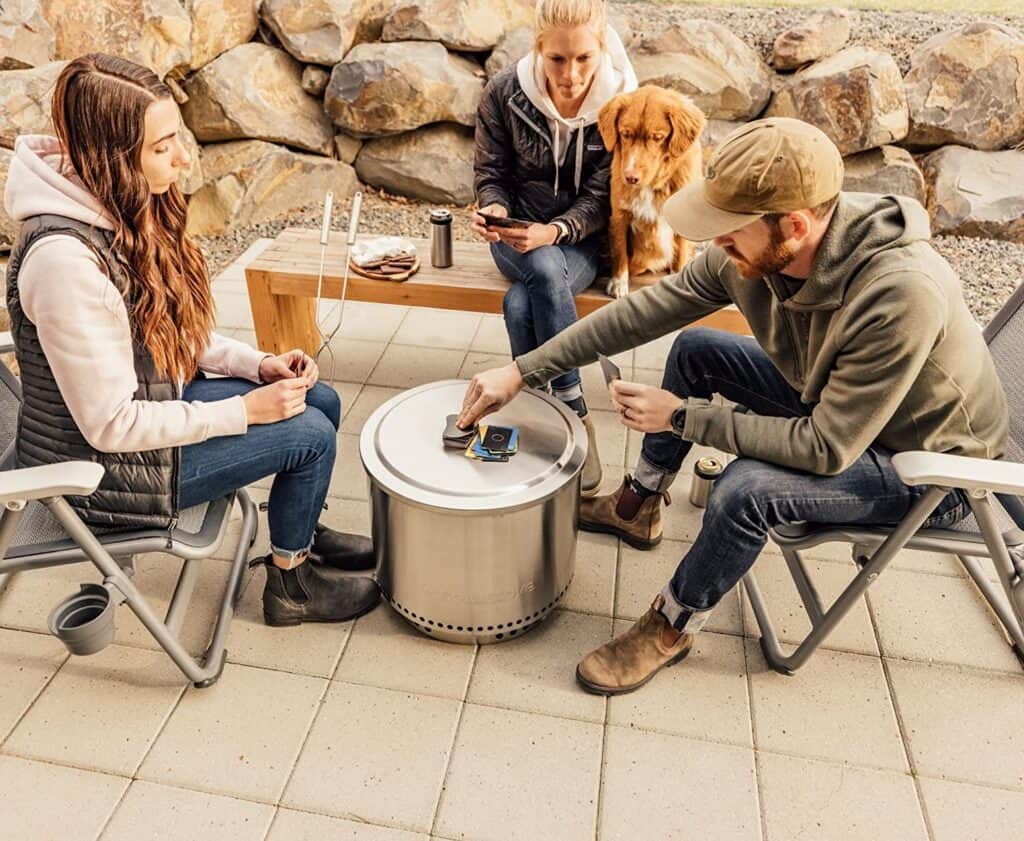 Lids
Kind of speaks for itself. A nice lid to cover your fire pit at the end of the night to contain ash and embers but also doubles as a nice tabletop when needed.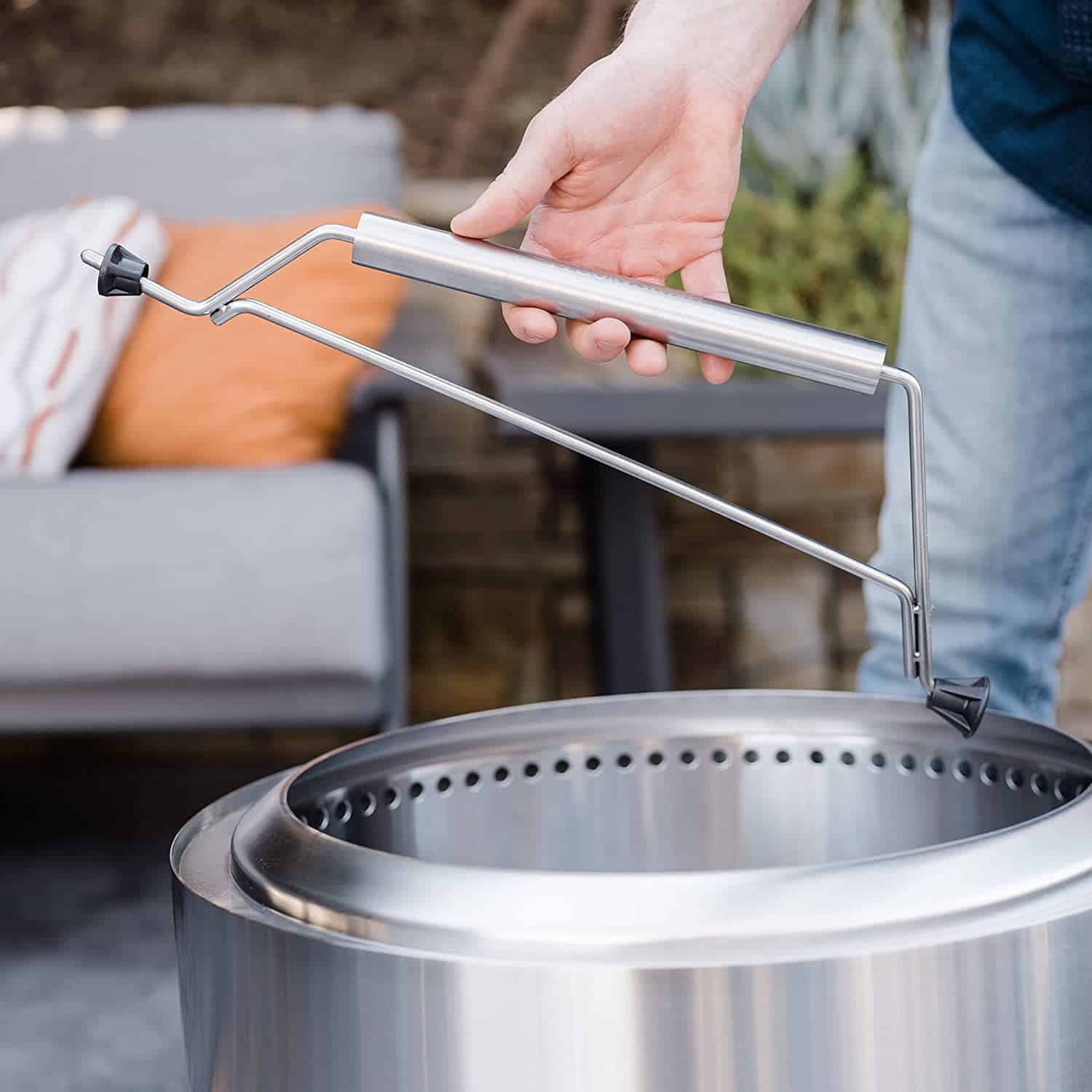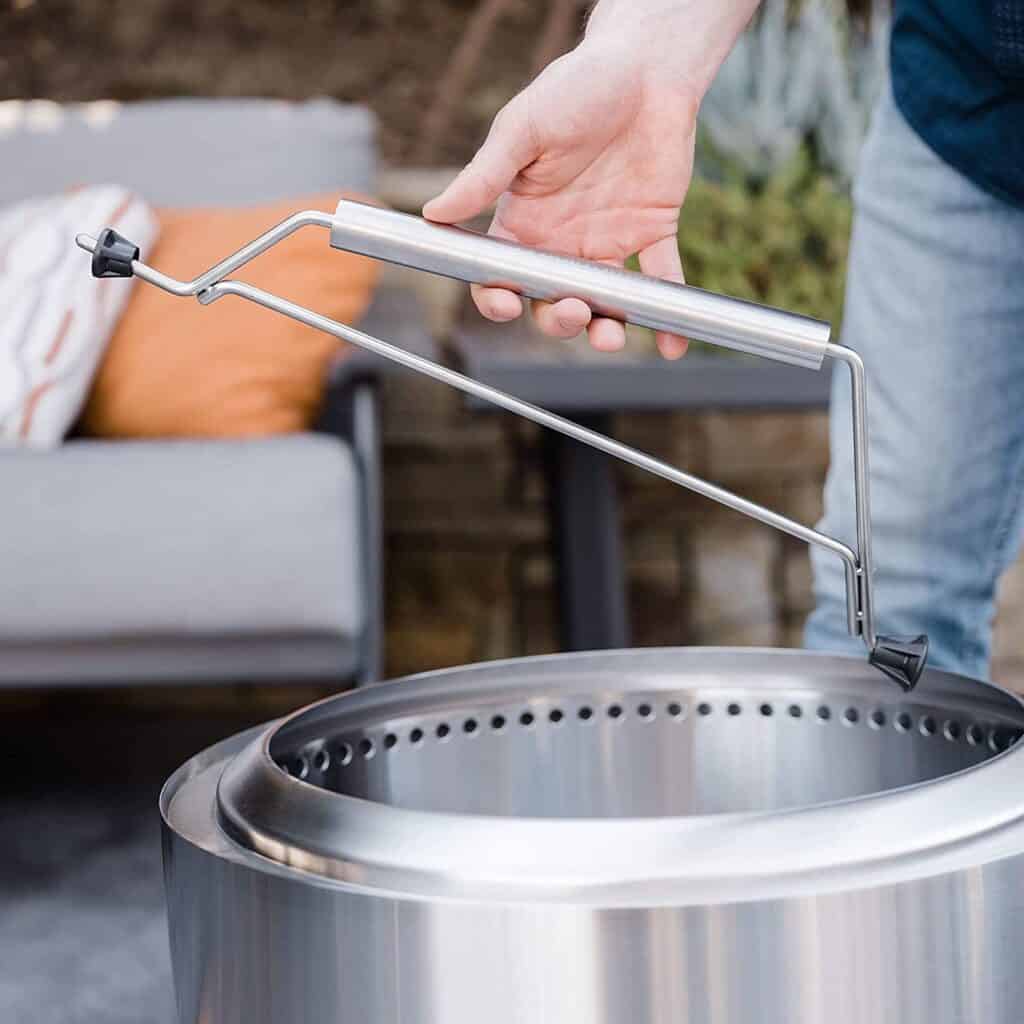 Handles
Plan on moving your Solo Stove around a lot? Then we suggest adding the Handle. It makes it super easy to carry your Solo Stove and move it around your space or campground.
Conclusion
There are a variety of accessories available for the Solo Stove that can make your next camping or hiking trip more enjoyable. If you are wondering where to buy Solo Stove accessories you can support our page and get them right thru our link!
We love our Solo Stove Bonfire and in particular the Solo Stove Bonfire cooking accessories. Whether you need pots and pans set for cooking meals or a heat deflector to distribute your heat better, there is an accessory out there that will suit your needs. So what are you waiting for? Get out there and start exploring with your new Solo Stove accessories!
For more info, be sure to check out Solo Stove's Website.