As an avid traveler who spends a significant amount of time on the road in an RV, I know firsthand the importance of getting a good night's sleep. If you are an RV owner, there is one thing that we can probably all agree on…the standard RV mattress that came with your camper is not good and so uncomfortable!
So, we have two options for a better night's sleep.
A replacement RV Mattress or an RV mattress topper.
A replacement RV mattress can be great but can also get expensive.
So what about an RV Mattress topper? Are they any good?
Well, we did the research and are happy to report back with the 7 best RV mattress toppers!
These RV mattress toppers will provide you with a great night's sleep to help you wake up feeling refreshed and ready for another day of outdoor adventures!
So, buckle up, and let's get started.
We are reader supported and as such may make a small commission at no expense to you by purchasing thru our links and we appreciate that!
What Is The Best RV Mattress Topper?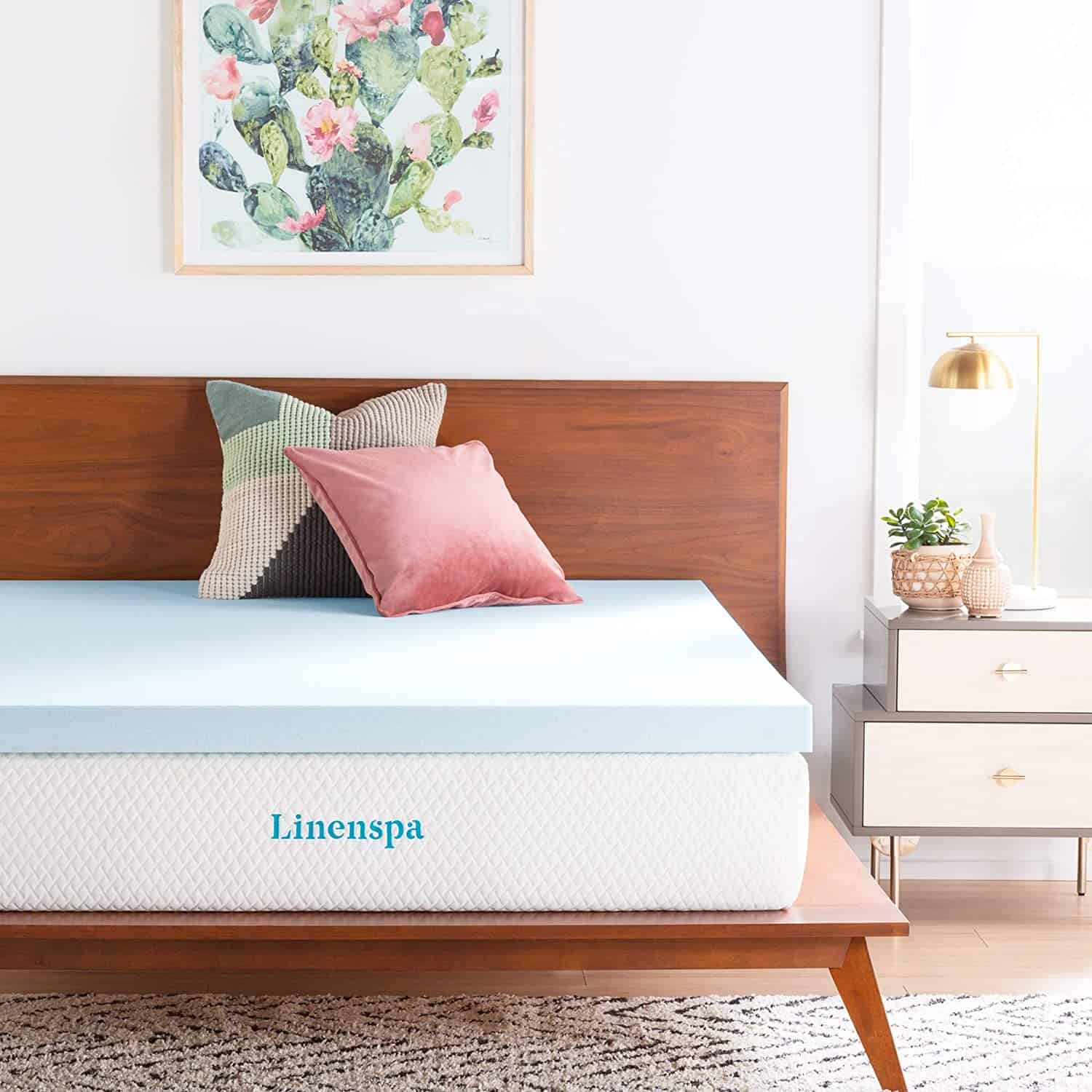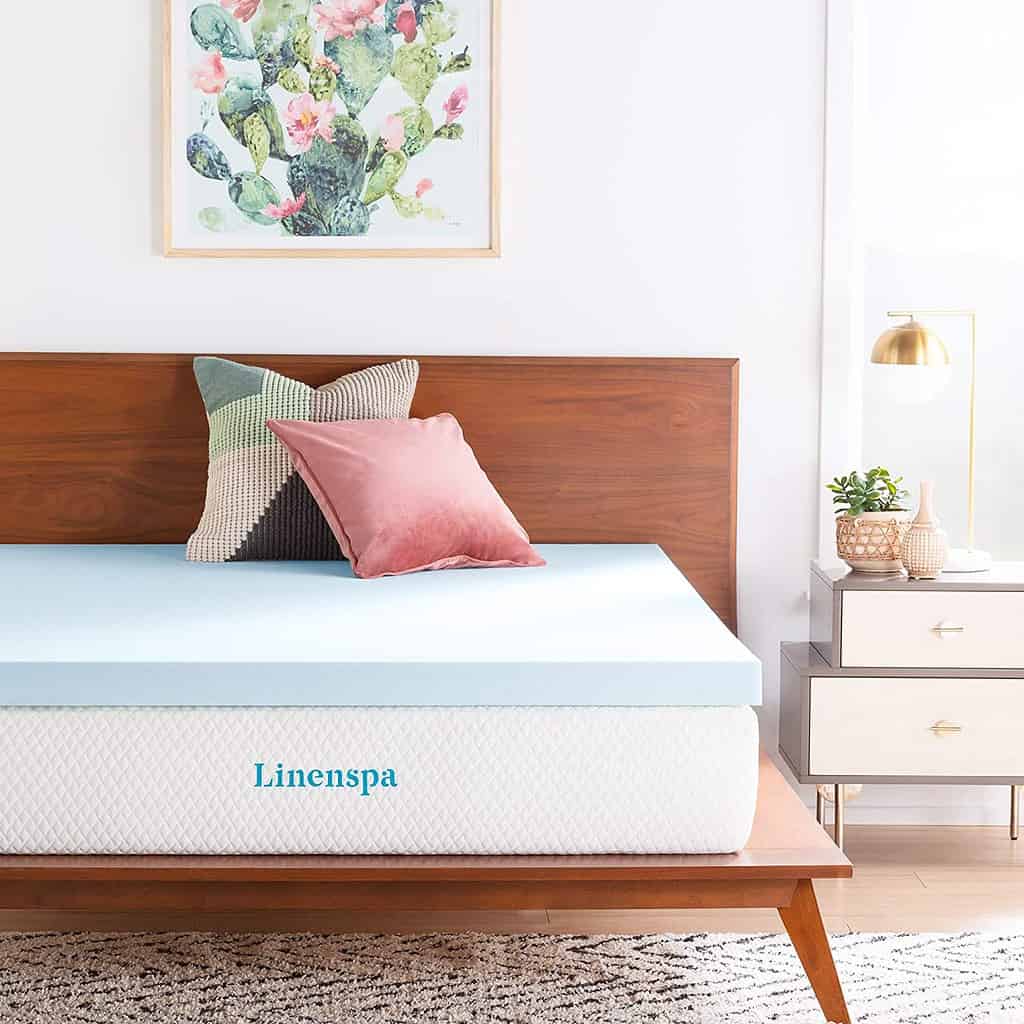 Top on our list of the best RV mattress topper is the the Linenspa 3 Inch Gel Memory Foam Mattress Topper. This mattress topper is made of soft, luxurious memory foam pad that conforms perfectly to your body. It really gives you unbeatable support and relieves pressure points.
What is really nice about this mattress topper is the innovative gel infusion that keeps you cool and comfortable all night long. Say goodbye to those sweaty, uncomfortable nights and hello to a refreshing morning.
The Linenspa mattress topper contours to your body shape and aligns your spine, which gives you a really comfortable sleep and gets you ready to tackle the day's adventures.
The topper's gel infusion feature is especially impressive – it regulates temperature so that you can sleep cooler than you would with a standard memory foam mattress topper. Thousands of tiny gel beads capture and distribute heat throughout the topper, keeping you comfortable throughout the night.
The Linenspa is made with a unique blend of 100% Polyurethane Memory Foam Gel Beads. This makes it a very comfortable and durable option. With its 3 Inches Gel-Infused Memory Foam layer, you'll be sure to have a great sleep.
Additionally, the foam used in this mattress topper has been thoroughly analyzed by independent, accredited testing laboratories, and meets CertiPUR-US standards for content, emissions, and durability. To go along with that, this topper comes with a 3-year limited warranty, ensuring consumers will have some peace of mind with their investment.
Overall, this mattress topper is an excellent choice for anyone looking for a topper that is both comfortable and durable. Its innovative design and construction ensure that you will sleep soundly, without any aches or pains the next day. Try for yourself to see why this is the best mattress topper on our list!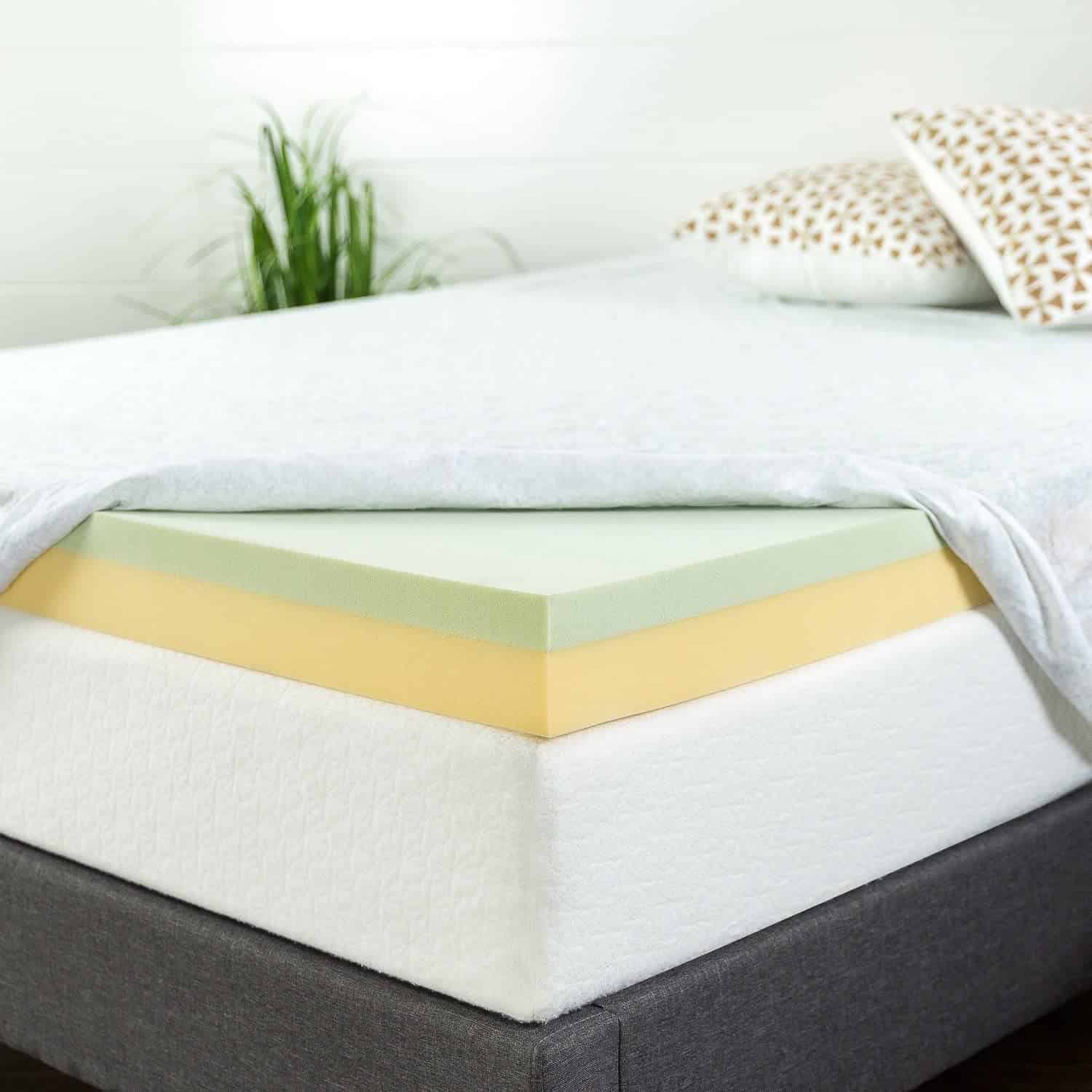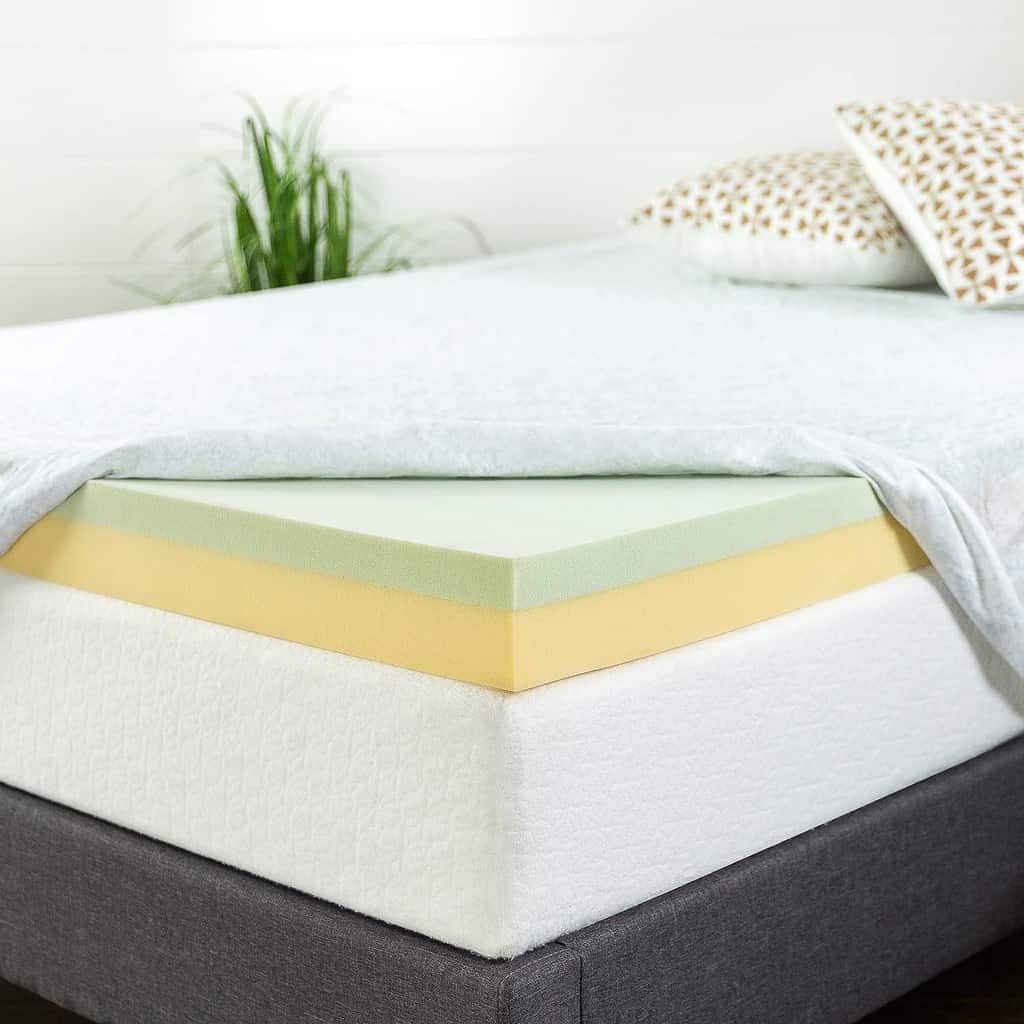 What sets the Zinus Green Team Memory Foam topper apart is the addition of natural green tea and Activ charcoal infused into the memory foam. This combination helps to absorb moisture while providing you with a rejuvenating rest and refreshing sleep that leaves you feeling restored and refreshed.
The 1.5 inches of memory foam has natural additives like green tea, charcoal and plant oil. Below that is an additional 2.5 inches of durable high-density base foam to ensure your comfort. Plus, the foam used in the Zinus 4 inch Green Tea Memory Foam Mattress Topper is CertiPUR US Certified.
The Topper comes expertly packed and conveniently compressed into one box that's easily shipped to your doorstep ready for easy transport to your RV.
It's simple to set up too – just unbox, unroll and let the topper expand to its original shape within 72 hours.
Given the quality of this product, it comes with a solid 5-year limited warranty, adding to its overall value.
If you're in need of a great mattress topper that provides excellent support and a great sleep experience, the Zinus 4 inch Green Tea Memory Foam Mattress Topper is a strong contender in the market.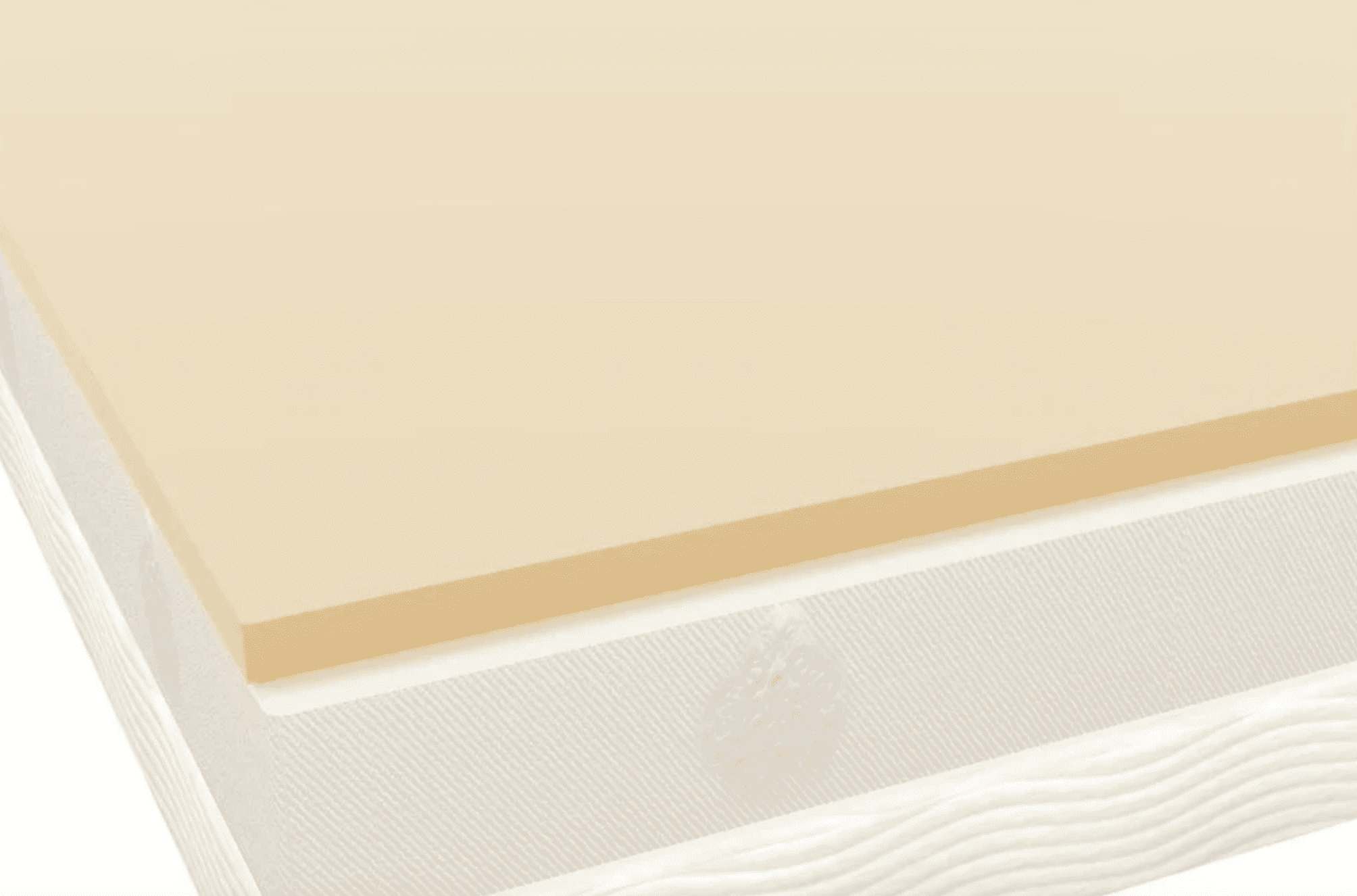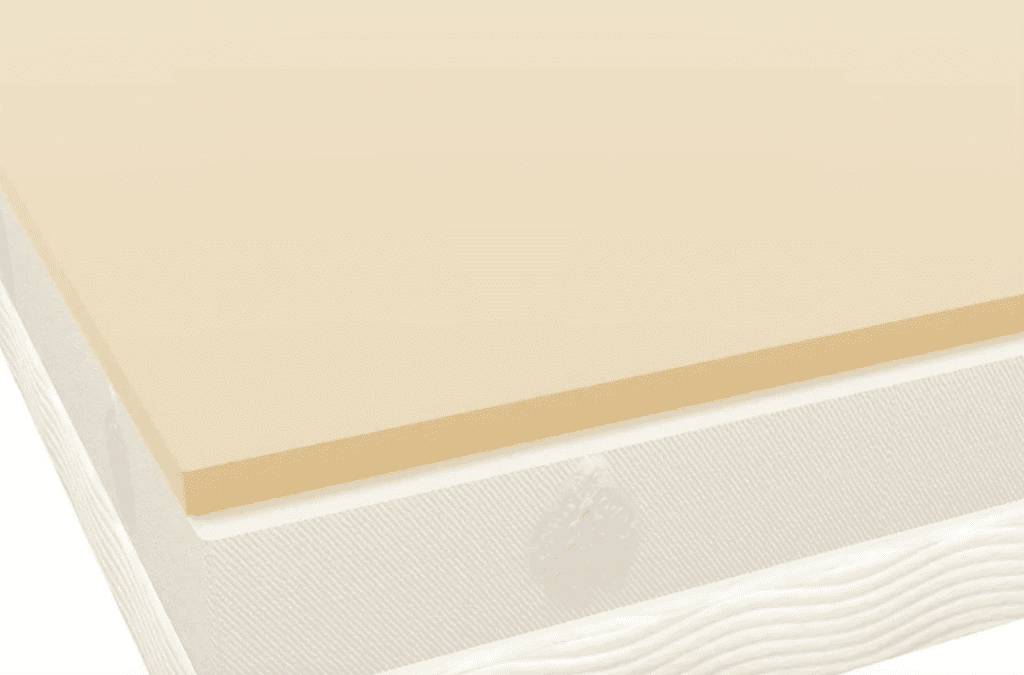 Third on our list is the PlushBeds Luxury mattress topper. This mattress topper comes in two densities – a softer 4lb density for those who need a little more pressure relief, and a more supportive 5.34lb density for those who like a firm topper.
The 2″ thickness of this memory foam mattress topper is perfect for those with lower body weight, while the 3″ thickness is perfect for heavier folks or those who want to sink in a little more.
You can also choose the level of support and responsiveness that's perfect for your needs. For a little extra indulgence, I'd recommend the three-inch topper. It provides better insulation from your mattress and can easily support more weight, so you don't feel like you're just lying on top of your old bed.
The PlushBeds mattress topper provides enhanced airflow, moisture management, and cooling, which gives you a comfortable sleep. This mattress topper is also certified by CertiPUR-US® and GREENGUARD Gold, so you can "rest" assured that it's free of harmful odors and gases.
If you're sensitive to allergens, the PlushBeds RV mattress topper is a good choice with its allergen-resistant features like being hypoallergenic, antimicrobial, dust mite, and mildew-resistant.
Additionally, if you prefer an organic option, the optional organic cotton cover is available for those who want an all-natural sleeping experience.
It's a very durable mattress topper. The materials and workmanship are top-notch, made right here in the USA with the highest product quality standards.
No matter what your preferences are, this mattress topper has got you covered with a variety of options to choose from.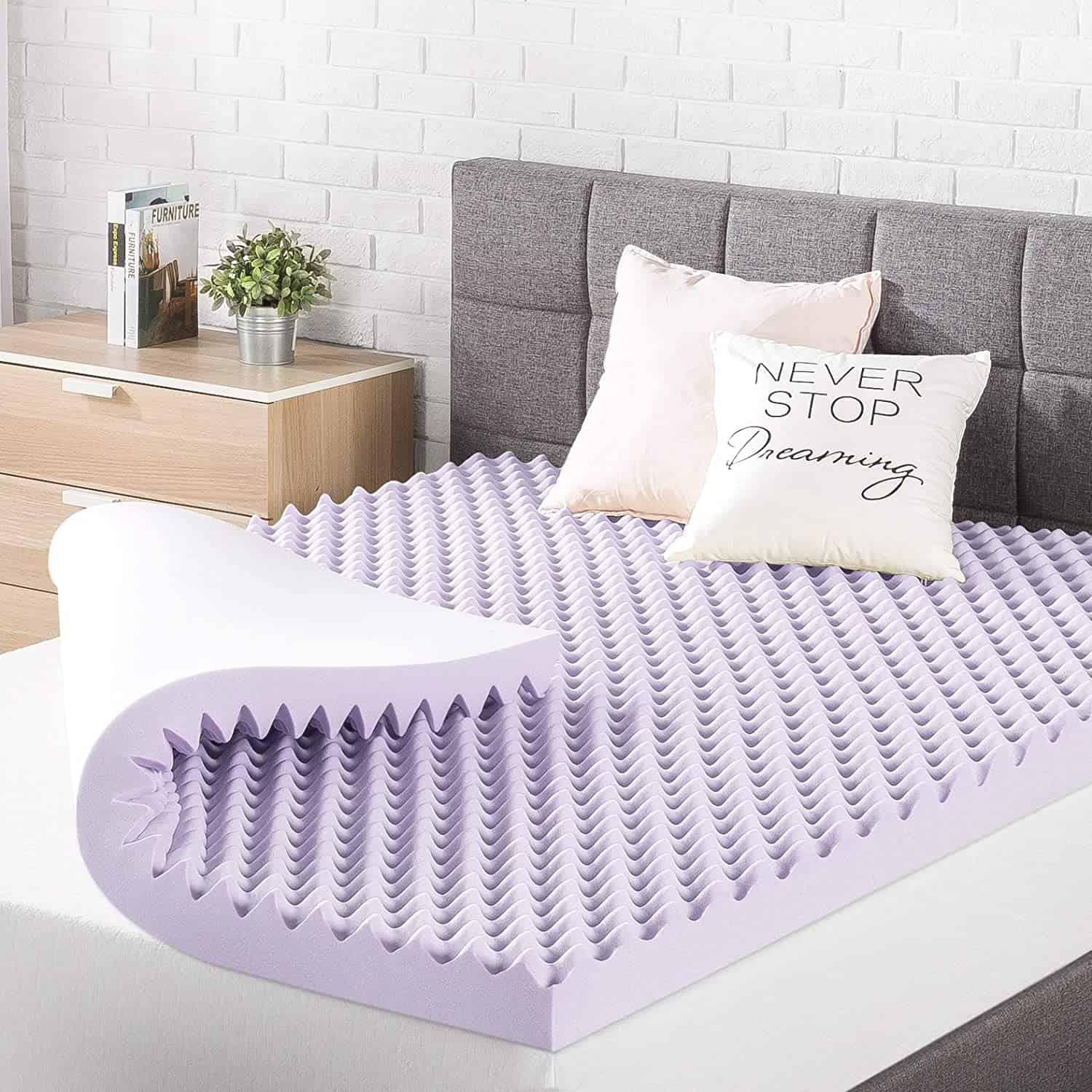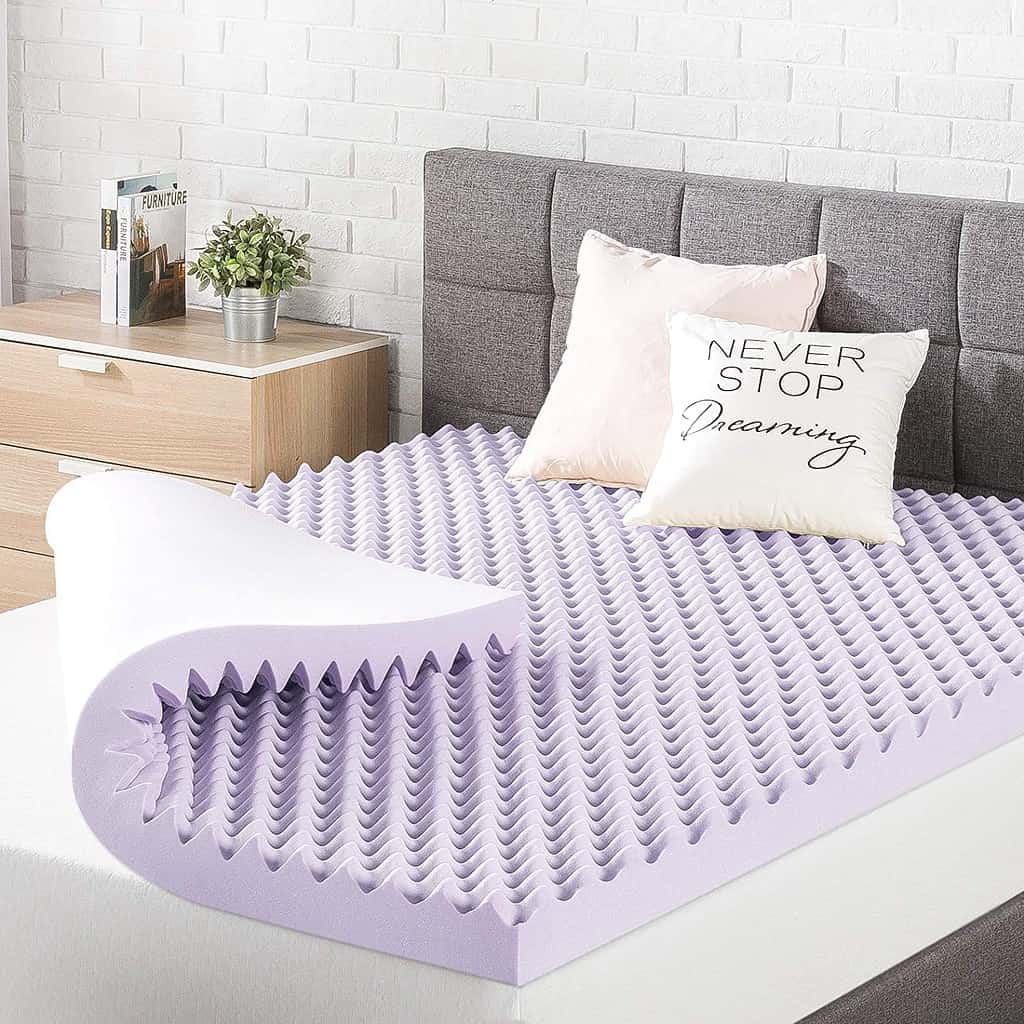 What's great about the Best Price Mattress topper is that they provide high-quality sleep products that won't break the bank! Finally!
Their toppers are designed with your needs in mind and come CertiPUR-US certified for added peace of mind.
And you don't have to worry about disturbing your partner's sleep, thanks to its ability to minimize motion transfer. Additionally, the soothing lavender infusion helps you de-stress and get a deep, restful night's sleep.
The Best Price Mattress Topper is designed to offer an enhanced level of comfort and support as you sleep. With its responsive memory foam and pressure-relieving qualities, you can rest assured that you'll wake up feeling refreshed, without any aches or pains.
Order now, and enjoy the unmatched comfort of the Best Price Mattress Topper, delivered right to your doorstep in a convenient box.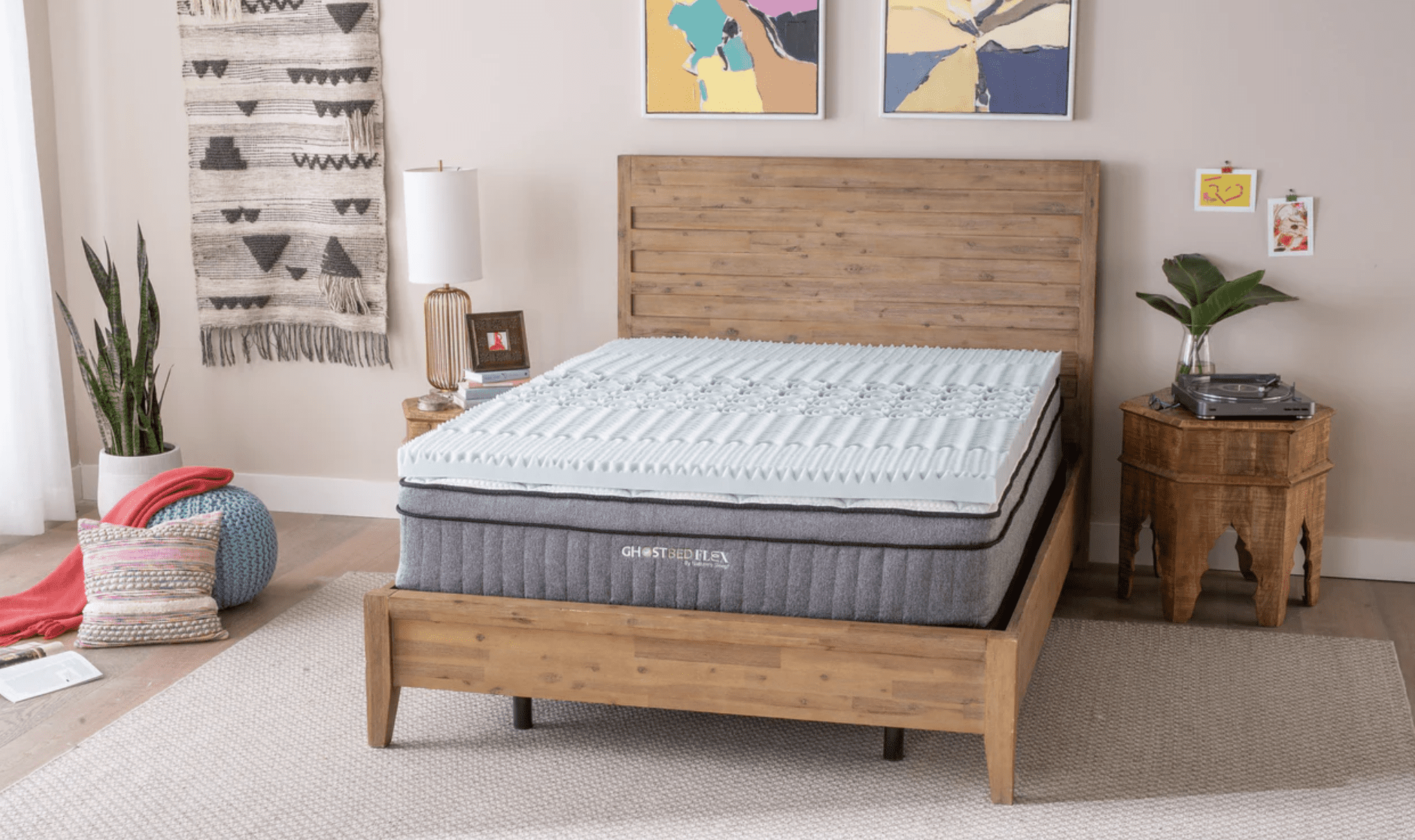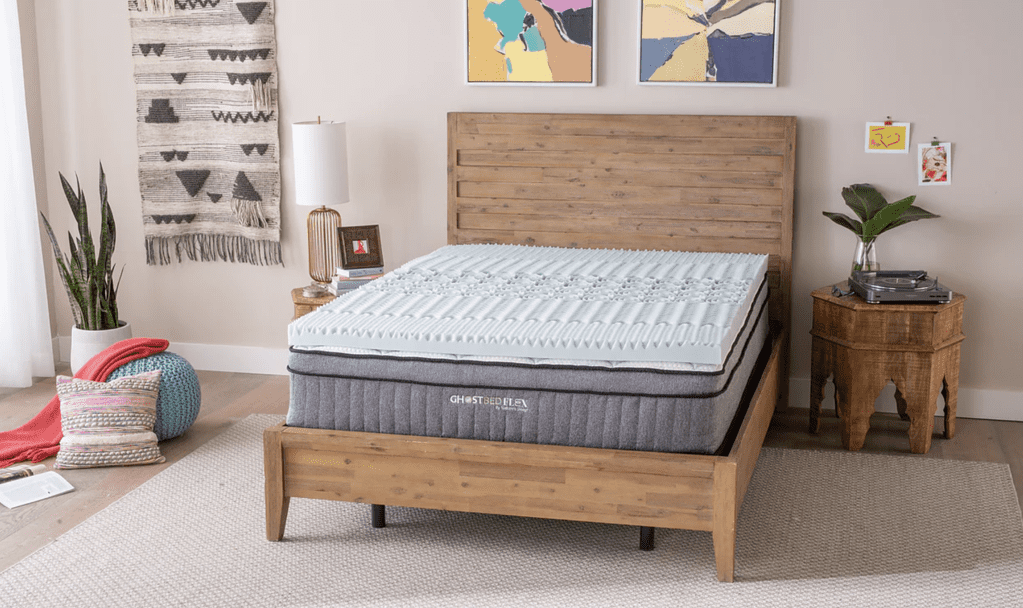 In our research of the best RV replacement mattresses, we stumbled upon GhostBed. GhostBed has a great RV mattress and we are happy to report they have a very solid mattress topper as well.
This topper has 3″ of cooling gel memory foam that contours to your body. It really molds nicely to your body and keeps you cool while sleeping! Key for those warm summer nights in your camper.
The cover for the mattress topper is really impressive. It keeps my topper in excellent quality and also protects me from spills or accidents. And, the best part is that it's made in the USA
Last but not least, the 2″ signature GhostGrip elastic band that securely holds the mattress topper in place is pure genius. One of my biggest pet peeves is having the sheets or mattress topper come off the mattress in the middle of the night!
The GhostBed RV Mattress Topper has a gel memory foam layer that effectively absorbs heat, and its cool-to-the-touch cover adds an extra layer of comfort.
With its different comfort zones, you can snooze in whatever style you prefer, and its waterproof cover keeps everything extra clean, dry, and dust-mite-free. There's nothing like a good night's sleep, especially when you're on a long camping trip. So, get ready to wake up feeling refreshed and ready for your next adventure!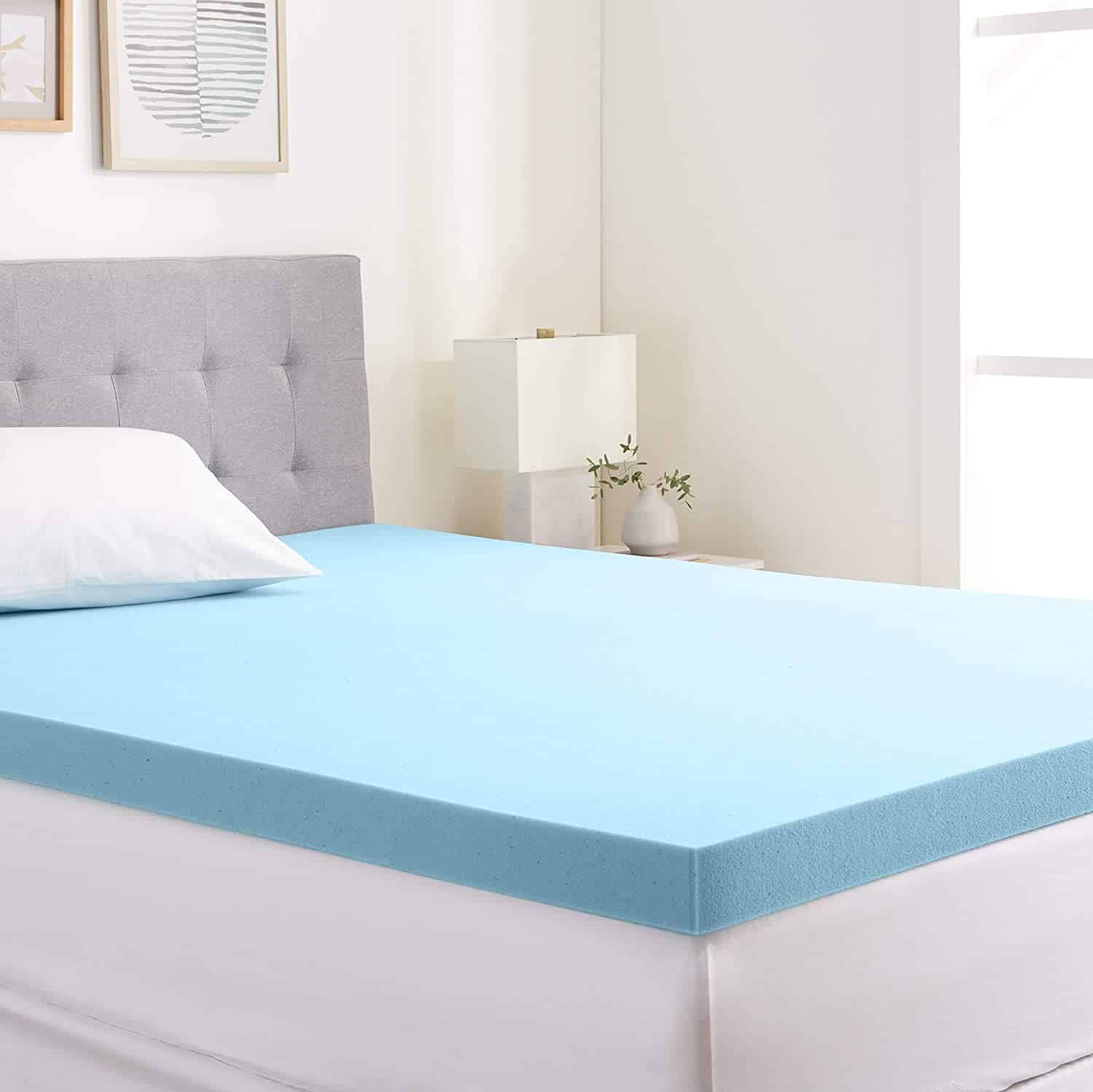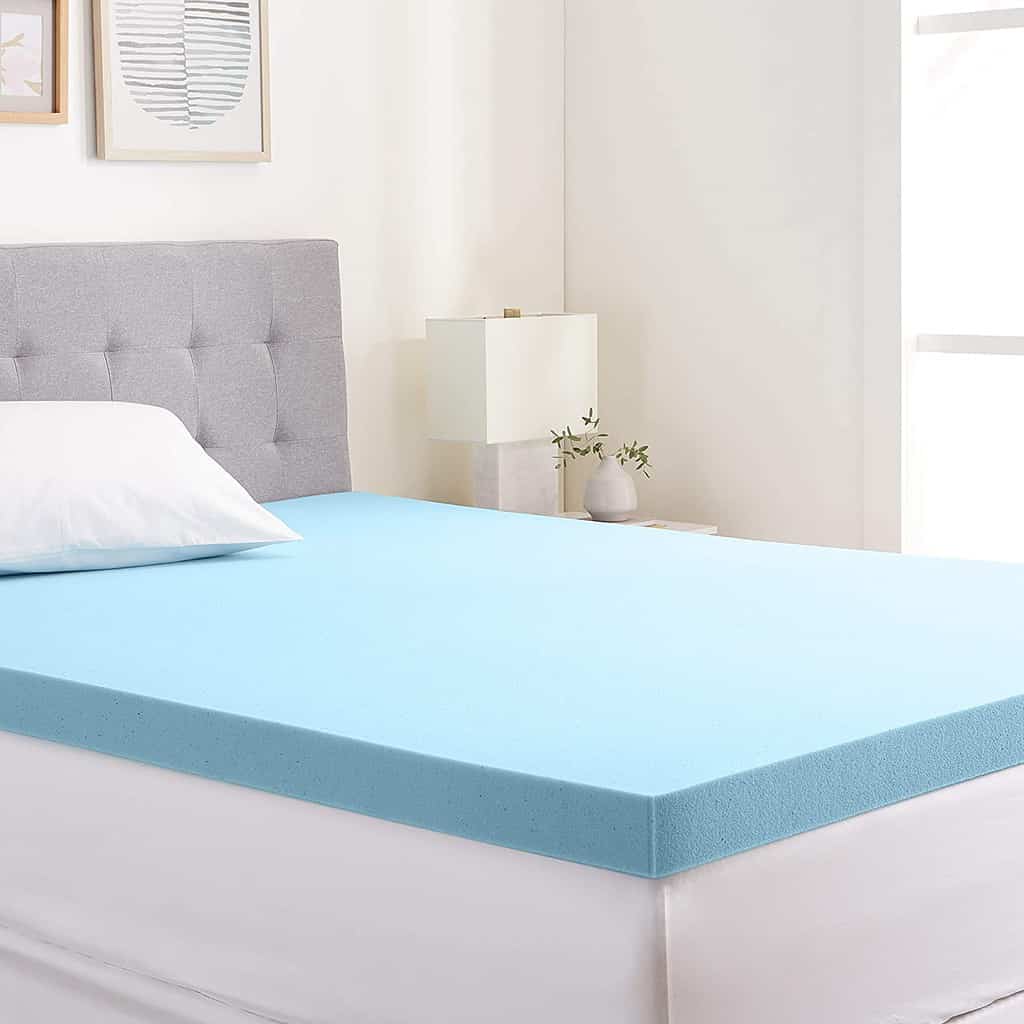 Amazon does it again with the Amazon Basics cooling gel-infused firm support mattress topper! Made in the USA with top-quality polyurethane foam, this topper is designed to transform any old (or new) mattress into a comfortable, supportive bed.
The 3-inch alternative latex foam is what sets this topper apart from the rest. Unlike memory foam, it feels bouncier and provides a medium firmness that instantly responds to your movements. This topper is also infused with a temperature-regulating cooling gel that will keep you cool and refreshed all night long. So nice!
This mattress topper is CertiPUR-US certified. This certification guarantees that the foam used is free of harmful chemicals and materials that could affect your health.
It comes vacuum-packed for easy delivery and handling, making it the perfect solution for those taking this to their RV or motorhome.
And if allergies are a concern, you'll be happy to hear that it's hypoallergenic, providing a safer and healthier sleeping environment.
If you're looking for a fairly simple way to improve your sleep quality, the Amazon Basics cooling gel-infused firm support mattress topper is definitely worth considering.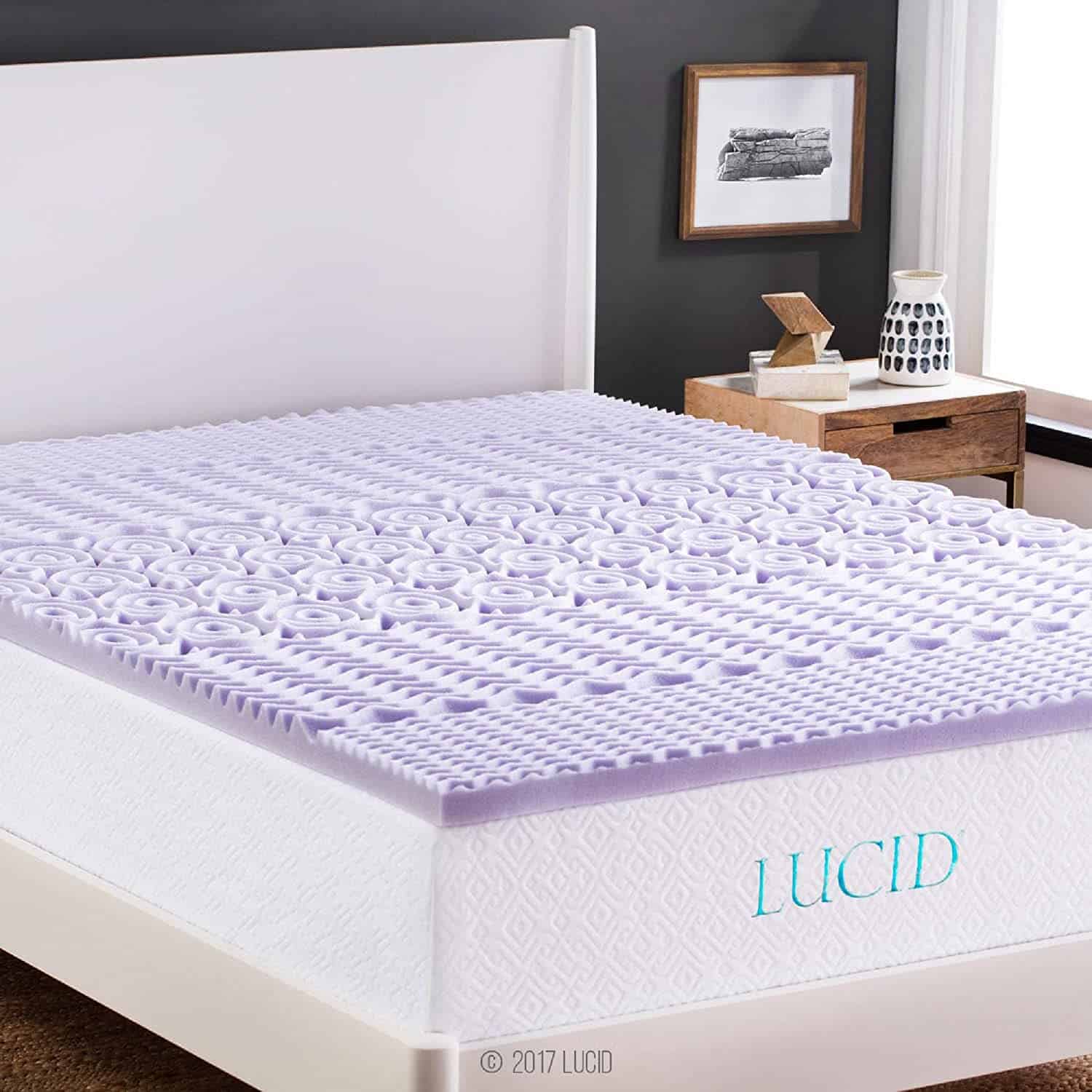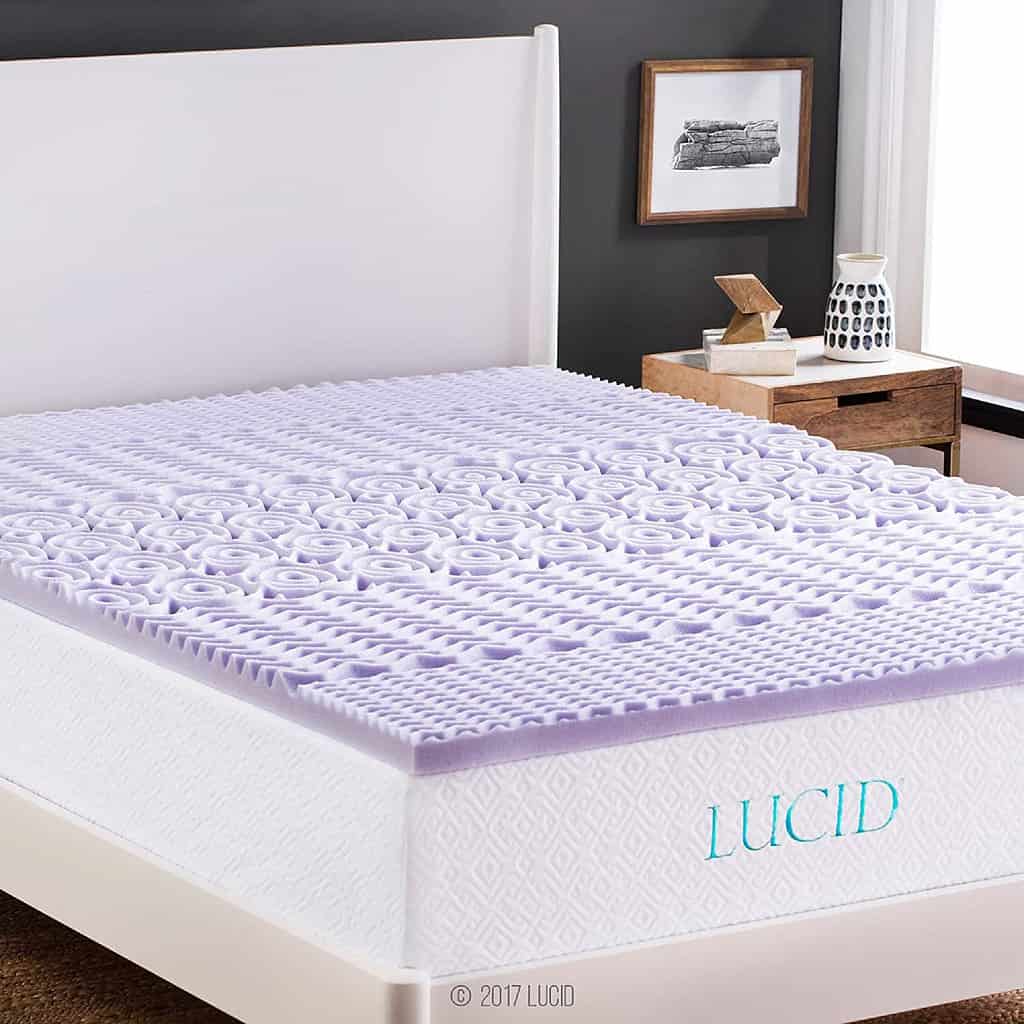 One of the most notable features of the Lucid mattress topper is its raised zones that are strategically positioned to target and relieve various pressure points of your body. This gel-infused memory foam mattress topper also ensures a cooler sleeping experience when compared to other mattress toppers. The textured material also improves breathability, so you stay comfortable throughout the night.
The Lucid has a unique 2-inch memory foam construction with 5 specialized zones to maximize comfort. It utilizes a cooling gel infusion and textured design to promote breathability and relieve pressure points. The memory foam used is a premium quality, making the bedding extremely soft, airy, and responsive.
Last, Lucid provides a 3-year warranty on this topper along with free shipping and returns, making it easy to try out.
Whether you are looking to upgrade your RV's sleeping arrangement or enhance your at-home bed, the Lucid range of mattress toppers is an excellent choice.
Criteria For Selecting The Best RV Mattress Topper?
When selecting the best RV mattress toppers, the following criteria were used:
Material: The material used in the topper should be comfortable and supportive, such as memory foam or latex.
Thickness: The thickness of the topper can affect its comfort and support level. Typically, thicker toppers provide more cushioning.
Density: The density of the topper can affect its durability and support. Higher density toppers can offer better support and last longer.
Breathability: A breathable topper can help regulate temperature and prevent the buildup of moisture and odors.
Allergies: If you have allergies, you may need to select a topper that is hypoallergenic or made from materials that won't aggravate your allergies.
Price: The cost of a topper can vary widely, so it's important to set a budget and find a topper that offers good value.
Size: The topper should be the right size for your mattress, so make sure to measure your mattress before making a purchase.
Brand and reviews: Look for reputable brands and read reviews from other customers to help you make an informed decision.
Keep in mind, RV mattress sizes are a little different than a regular mattress. You may need to cut the topper down to fit properly. Some will offer an exact fit RV mattress topper for an RV queen or RV king but make sure to measure your own RV mattress for accurate size.
Should You Replace Your RV Mattress or Get A Topper?
The big question we get. Should you replace your RV mattress all together or just get an RV mattress topper? Well, there are some pros and cons of each option to help you reach an informed conclusion.
The replacement RV mattress option
This choice involves completely replacing your old mattress with a new one that's customized to your liking – whether you prefer firm or plush. It's also an opportunity to indulge in a fancy memory foam or hybrid mattress that will have you sleeping like a baby! Plus, you won't have to worry about any wear and tear or stains that may have accumulated on your old mattress. On the downside, the cost of a replacement RV mattress can be quite steep, and disposing of the old mattress can be a hassle.
Adding A Mattress Topper
Alternatively, the RV mattress topper is a more affordable option that can breathe new life into your old mattress. The mattress topper can give you additional support and cushioning without breaking the bank. It's also an excellent way to delay the purchase of a new mattress if you're not ready to invest. However, it cannot address the underlying problems of your old mattress, such as sagging or worn-out springs. Depending on the thickness of the mattress topper, you may feel like you're sleeping on a giant marshmallow.
One other thing, you may have an old mattress topper. This should be replaced too as they lose their comfort and need updating as well!
Our Recommendation?
So, what do I recommend? It all depends on your budget and the condition of your current RV mattress. If it's in relatively good shape but just needs a little extra comfort, then an RV mattress topper is an excellent choice. On the other hand, if you're experiencing restless sleep and back pain night after night, then it might be time to invest in a replacement RV mattress. Whichever option you choose, be sure to do your research and read reviews before making your final decision. After all, you'll be spending a substantial amount of time on it, so it's wise to choose wisely.
Different Types Of Mattress Toppers
Here are six of the most common types of RV mattress toppers you can consider for better sleep during your travels:
Memory foam toppers: These are a popular option in the mattress topper industry. They are known for their ability to conform to the user's body shape, thus providing superior support and comfort. A memory foam mattress topper is also great for relieving pressure points, often caused by a traditional RV mattress.
Latex toppers: If you're looking for an eco-friendly option, you may want to consider a latex topper. This type of mattress topper is made from natural materials and is hypoallergenic. Latex toppers provide an exceptional level of support and comfort that can last for many years.
Gel-infused toppers: Often referred to as "cooling toppers," gel-infused toppers are ideal for those who tend to overheat during the night. These mattress toppers work by dissipating heat, which results in a cooler sleeping surface. Gel-infused toppers are available in different thickness levels, so you can choose the one that suits your needs.
Wool toppers: Wool toppers are often the preferred choice for those looking for an all-natural alternative to memory foam or gel-infused options. They are an eco-friendly and sustainable option, while still adding an extra layer of comfort and support to the RV mattress.
Feather and down toppers: If comfort is your top priority, you may want to consider a feather and down topper. These toppers are known for their luxurious feel and add a soft, fluffy layer to your RV mattress.
Polyfoam toppers: If you're looking for a more affordable option, polyfoam toppers may be an excellent choice. Polyfoam toppers come in varying degrees of softness, so you can find the right one to suit your comfort level.
Regardless of which RV mattress topper you choose, it's vital to consider the thickness and density of the product. The right mattress topper can make a significant difference in the quality and comfort of your RV bed.
Conclusion
To sum up, selecting the perfect RV mattress topper can truly enhance your travel experience. Whether you prefer a memory foam mattress topper that adjusts to your body or breathable options to keep you cool during summer nights, you will have various alternatives that cater to your personal preferences.
The 7 toppers we have mentioned in this article are all highly recommended and have received great reviews, providing you with an excellent starting point to begin your search for a more comfortable sleep while on the road.
I hope this article was informative and helped narrow down your choices for RV mattress toppers. Now, it's time for you to relax and catch up on your much-needed sleep.