Door County, Wisconsin is a great destination for travelers. There is so much to do all year round. Hiking, golf, swimming, boating, shopping.
And don't forget the great Door County wineries and wine tastings!
But did you know that there are also a ton of great restaurants in door county making it a wonderful destination for food lovers?
We have been coming with our family for years, and I grew up coming with my family. It's a great family spot for us and my husband and I also frequent for long weekend getaways.
Over the years, we have come to appreciate the great restaurants in Door County. We have started to frequent some and still explore and try out others.
In this blog post, I detail 13 of our favorite restaurants in Door County.
This list is sure to grow as we continue to explore all the dining there is in this wonderful vacation area.
From Fish Creek to Egg Harbor, Ephraim to Sister Bay, there are plenty of amazing restaurants in Door County with delicious dishes that will satisfy any appetite.
So come to Door County, Wisconsin for the outdoors, but stay for the food. You won't regret it! Enjoy!​
What Are Our Favorite Restaurants in Door County?
Egg Harbor
Egg Harbor, Wisconsin is the perfect destination for a memorable getaway. Whether traveling solo or with family and friends, there's something for everyone. From beautiful beaches and lakefront parks to delicious restaurants and charming shops, this little town is sure to leave you feeling relaxed and refreshed.
And one of the best things about it is the food. Some of the best Door County Restaurants are right here. From Fireside Restaurant to Casey's BBQ, Village Cafe for breakfast to Big Easy Coffee – there are plenty of delicious options for any appetite. Whether you're in the mood for breakfast, lunch or dinner, you won't be disappointed with all the amazing places it has to offer.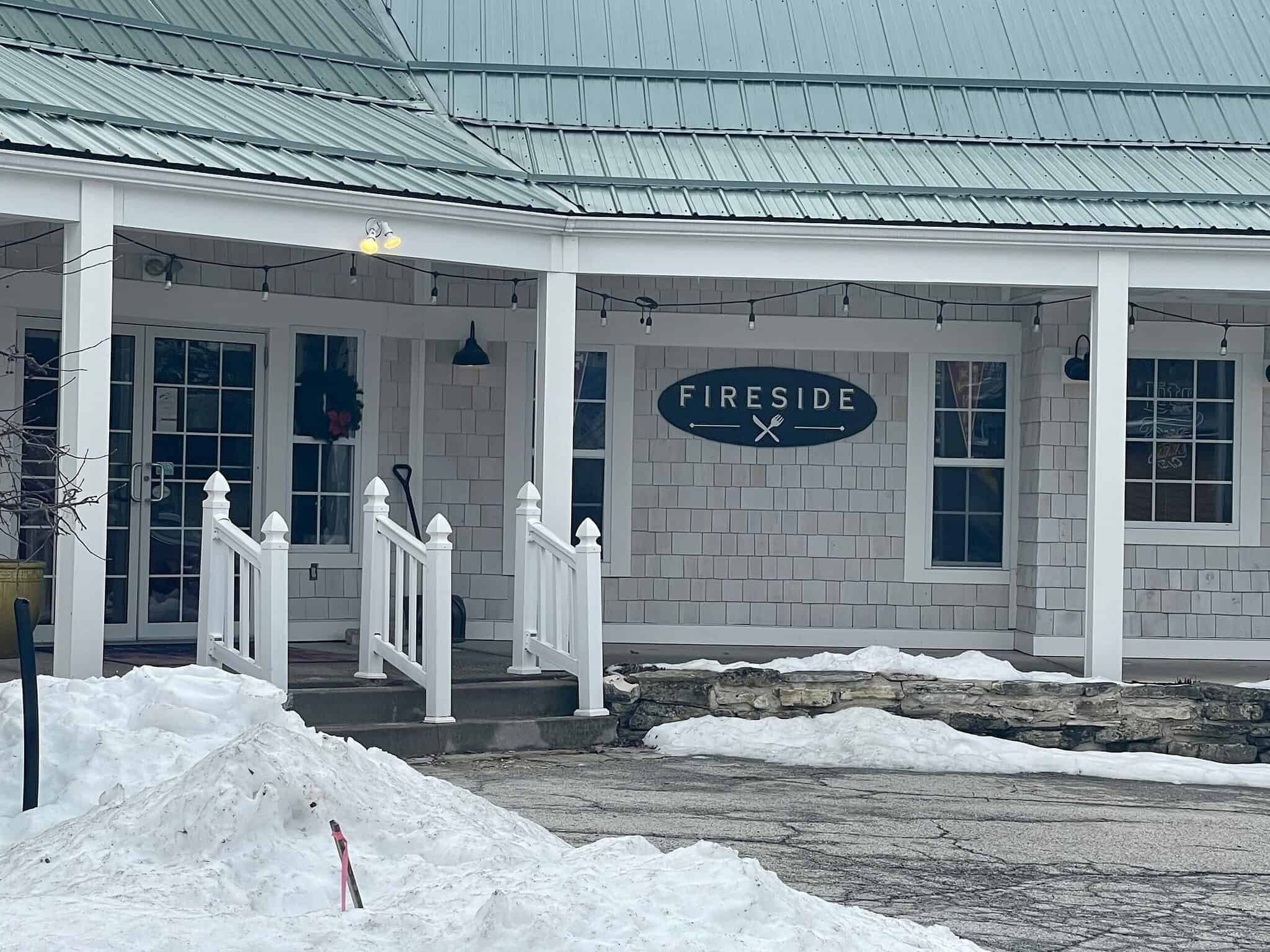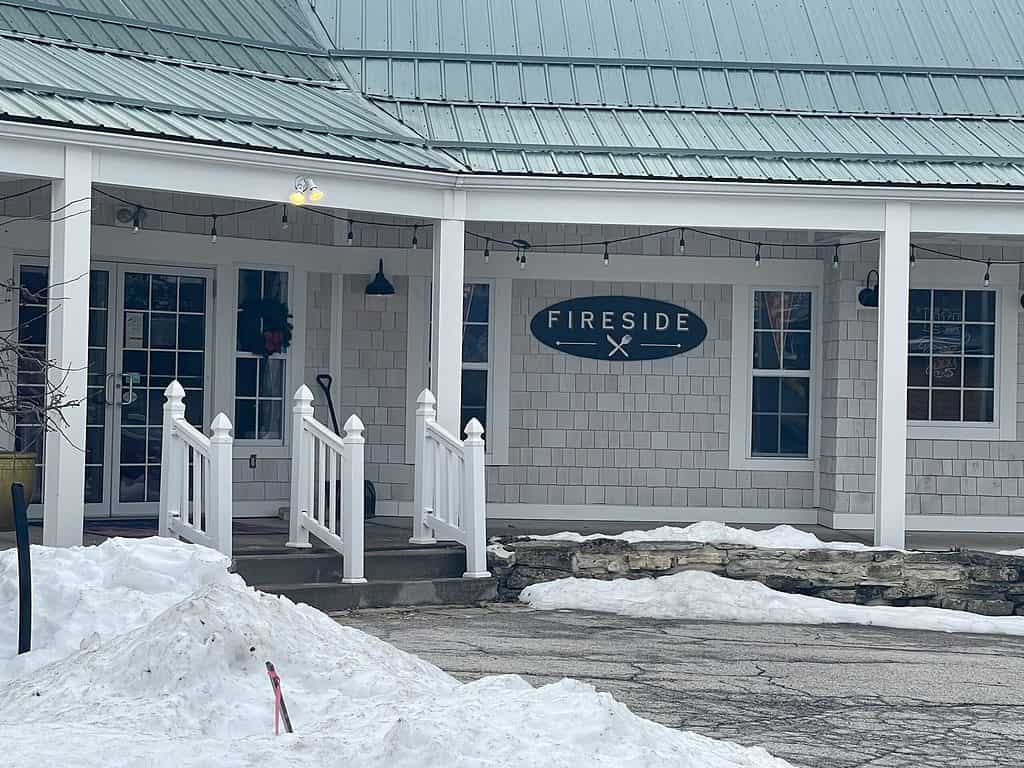 It is in a great Location. You walk in and it has a cozy atmosphere. Not super casual but will accept walk-ins from a day of shopping, so you don't have to worry about a dress code.
There is a large bar area with TVs for all your sports enthusiasts that is connected but separate from the restaurant dining area.
We started our meal with the buffalo cauliflower. It is a large portion and very well prepared. Enough for 3-4 people to share.
Next up was a Bacon Blue Wedge salad and the salad itself was generously portioned, but make sure to ask for extra dressing. We couldn't actually find dressing on the salad itself, just underneath, so be aware of that.
My husband had his with filet which was an upcharge, but very minimal and it was delicious! I accompanied my wedge with Fire Roasted Tomato soup. It sounds spicy, but it isn't (in case that matters), but it was very much a bisque style tomato soup and it was also very delicious.
We rounded our meal out with 2 desserts: Deconstructed Key Lime Pie and a Caramel Chocolate Pot de Crème.
First of all, the Key Lime was to die for. We couldn't stop eating it even though we were full. It is prepared in a glass jar and layered to the top. It was every bit of delicious and would order it again absolutely.
The second dessert was also delicious if you are a chocolate fan. We thought it would be more caramel-forward, but the chocolate was definitely positioned as the star of the dish. Also prepared in a shallow dish, you scoop out with a spoon. Its very creamy and thick between the chocolate and the caramel. If you have a sweet tooth, this one is for sure a must.
Overall, a great meal and experience at Fireside Restaurant and we will return again!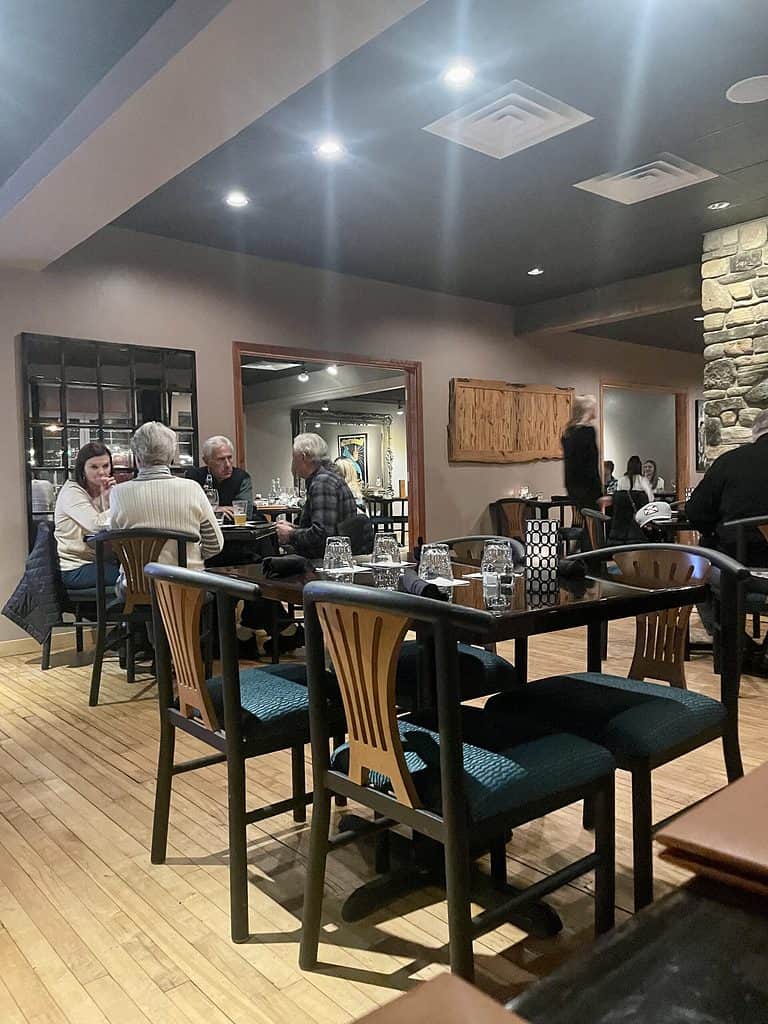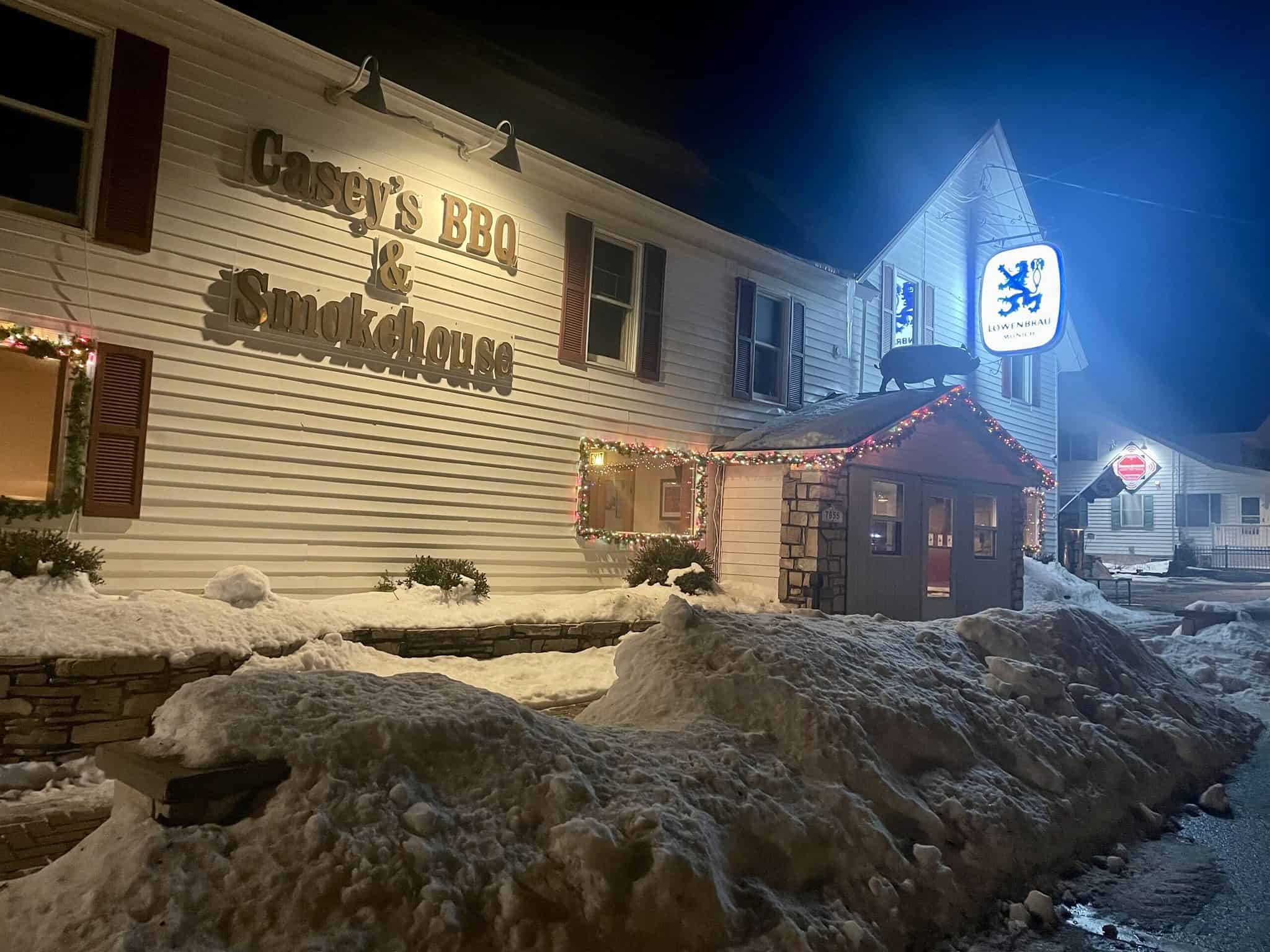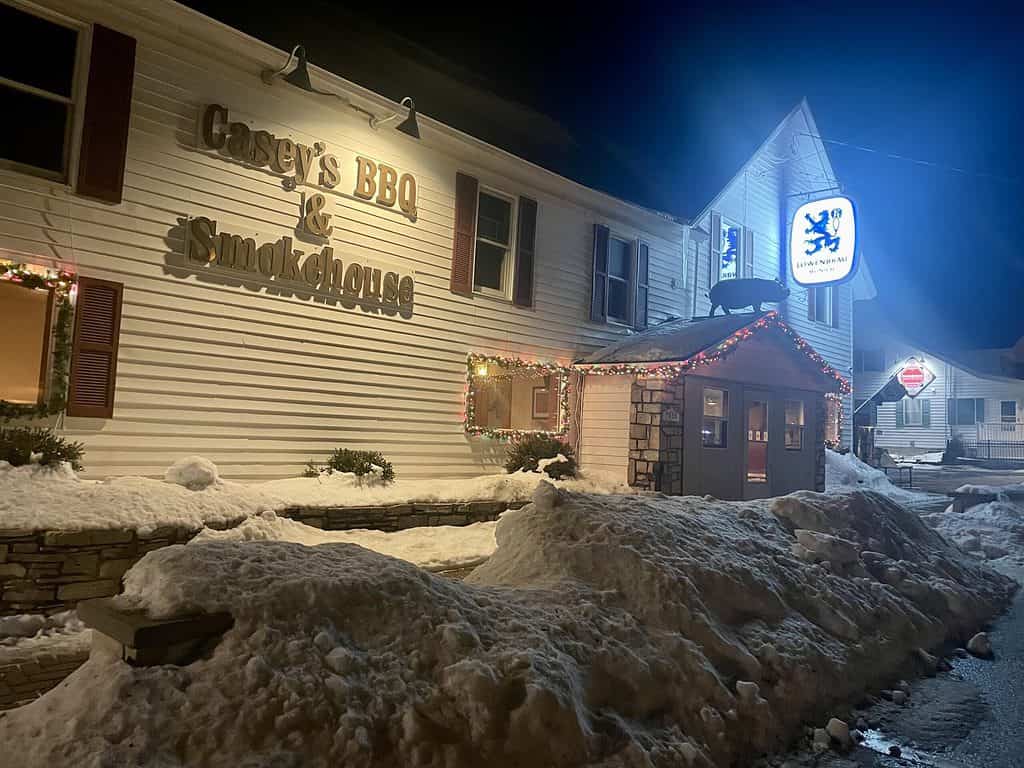 Casey's BBQ is a local favorite! It offers some of the best BBQ of all Door County restaurants, with dishes ranging from pulled pork sandwiches to ribs and brisket. The restaurant has a casual bar atmosphere that's perfect for an informal meal with friends.
Casey's has been around for almost 100 years.
It is a solid spot for lunch and dinner. Everything is delicious, especially their Chili – loaded with brisket, you get a sizable portion in a crock. You can opt for it with cheese and onion, which we did. It's a minimal upcharge, but worth it. We loved ours so much we went back a couple days later for another bowl.
We also had the Casey's Pig Skins. These are potato skins topped with their pulled pork. Really good!
And of course, we got the cheese curds too, because how can you skip cheese curds?? Delish as usual.
Casey's at the time was short-staffed (who isn't these days) since it was off-season, but Bartender, Andrea did not skip a beat. Very welcoming, with great food and great drinks.
For seating, they have a dining area and a sizable bar area. We ate at the bar when we had dinner and sat in the dining room when we came back for lunch.
Super casual, and outdoor seating is available when the weather allows.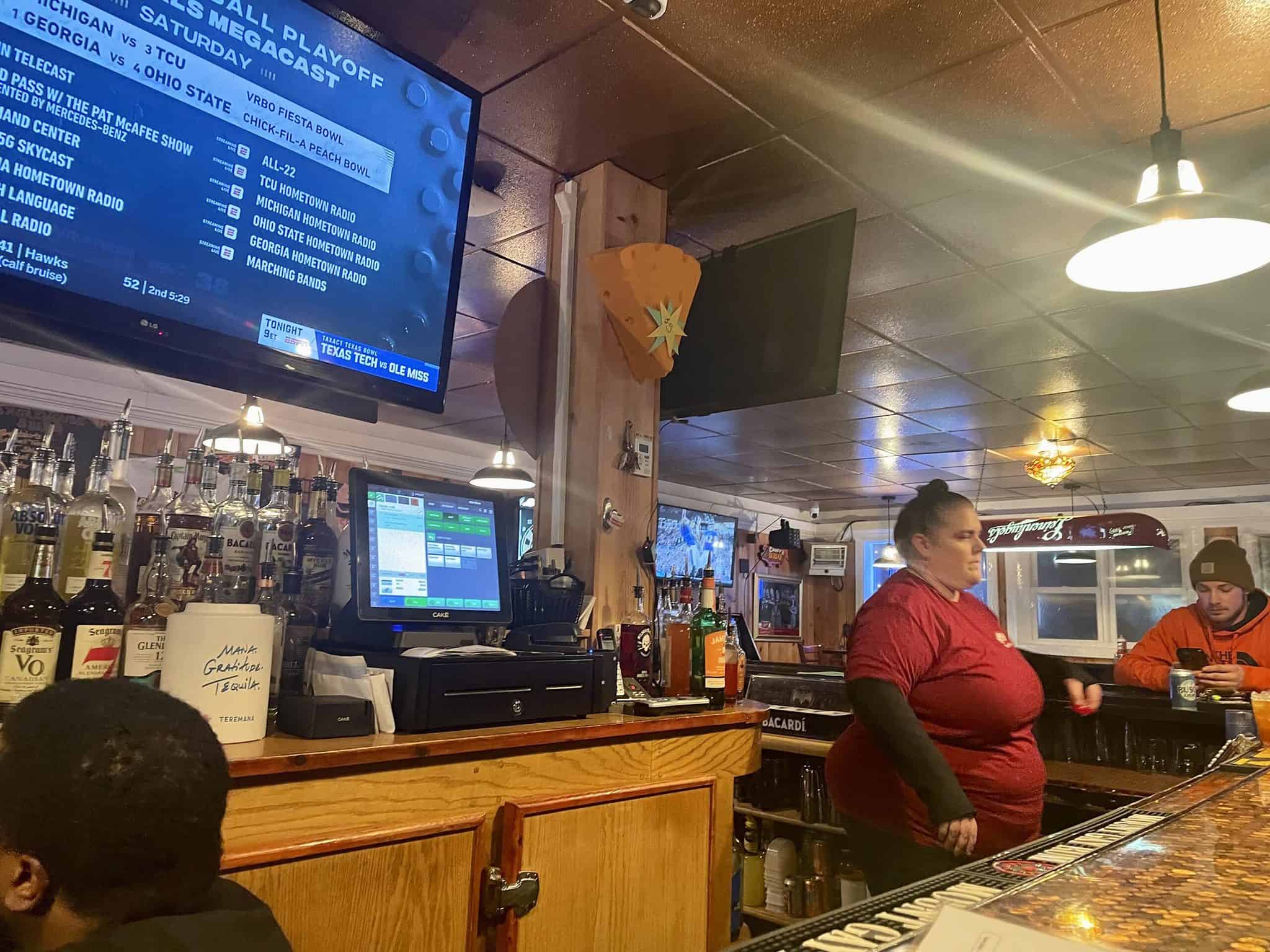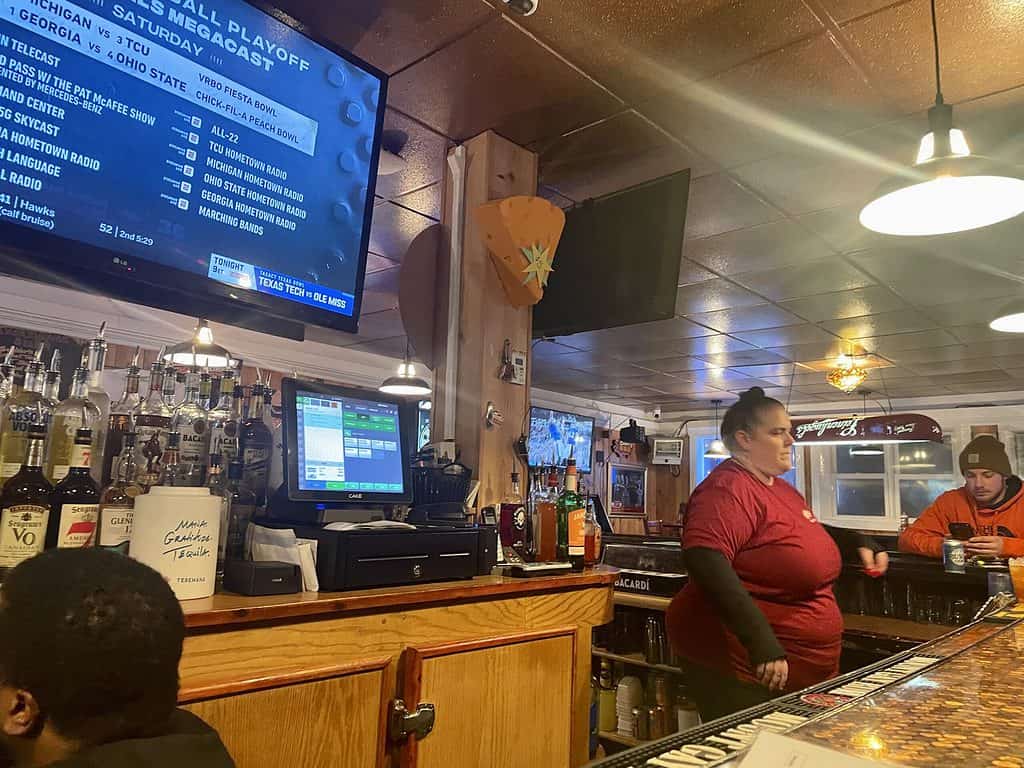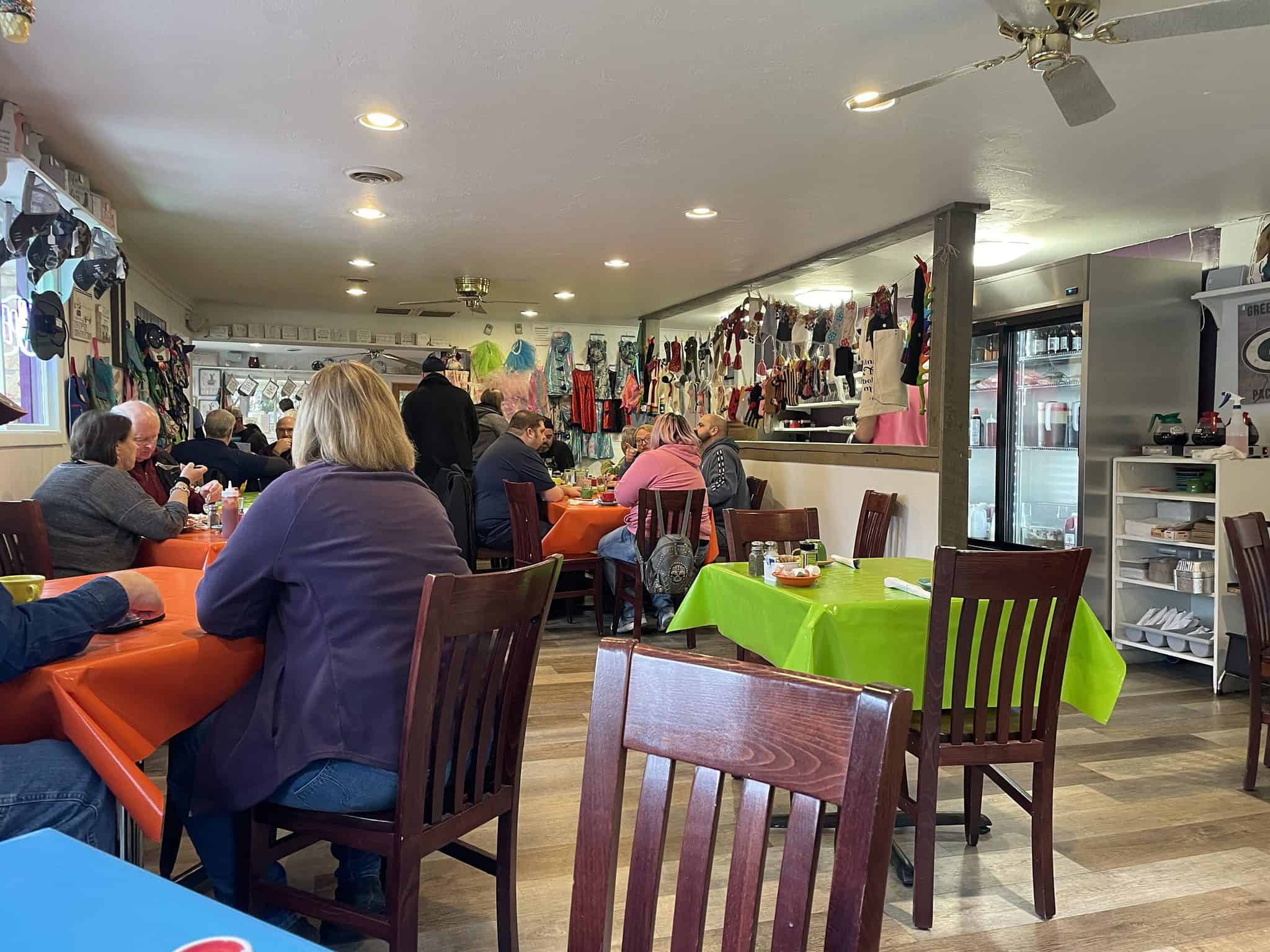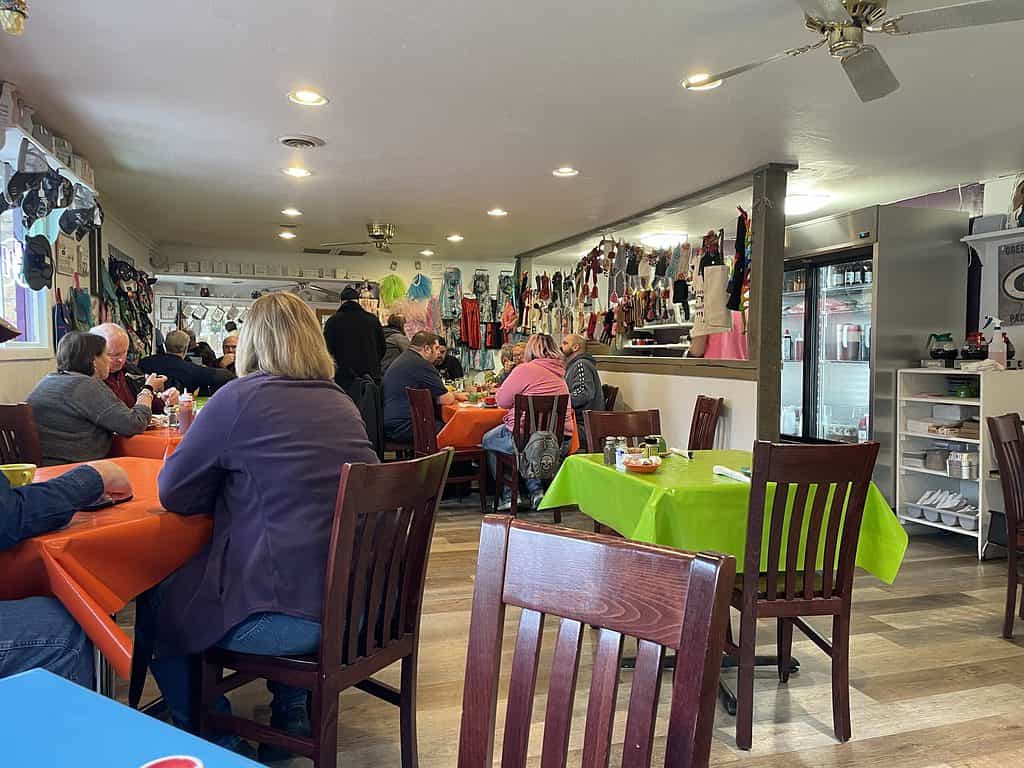 Part of the Mojo Restaurant group, this place is always packed with people. It's a breakfast and lunch spot right as you're traveling out of downtown Egg Harbor. I wanted to love this place because it's always busy (which seems positive) and it's adorable. It's a stand-alone building with local artists' work hanging on all the walls and in cabinets, filling every ounce of open space they can. I love the local support!
I had an omelet and my husband had the Quiche of the day. I don't have anything to really complain about as far as quality, service, or taste, it was all good. The problem for me was that it was just that, "good". My omelet was half the size of what I would consider "normal", came with the cheese on the top (which is a pet peeve) and then topped with microgreens (that's just nitpicky). Served with a generous side portion of baby potatoes which I would believe they are known for. The potatoes were also good, again not great, and they sell the spices right when you walk in the door, AND you can order a "potato bowl", so I'm just assuming the potatoes are definitely a feature for this restaurant. Back to my review of the omelet being good, not great, it was a higher cost and a smaller portion than almost anywhere you can get breakfast from, which made it hard to justify.
Moving on to the quiche. Village Café had two options of quiche for the morning, one was sold out. So, my husband got the bacon, onion, spinach & cheddar quiche. The quiche comes with a muffin. When the quiche came, my husband was quite surprised, the portion was a very small pie slice and the cost of it was $12. Being first-timers, we didn't know, but he started his meal already disappointed. While he said the quiche was good in taste, it had undisclosed mushrooms in it (which unfortunately he doesn't like). So, this was in total a disappointing meal for him.
My review of Village Café is that it is a cute spot with very friendly staff and just good enough food to get by under the radar. Breakfast options are very limited in Egg Harbor, so this is a big win for Village Café on captivating an audience.
Their food was good, I truly don't have anything bad to write about it, but I wanted to love this place and just liked it. With the small portions and high price tag, sadly I don't see us re-visiting this café. Perhaps one day we'd give it a try for lunch!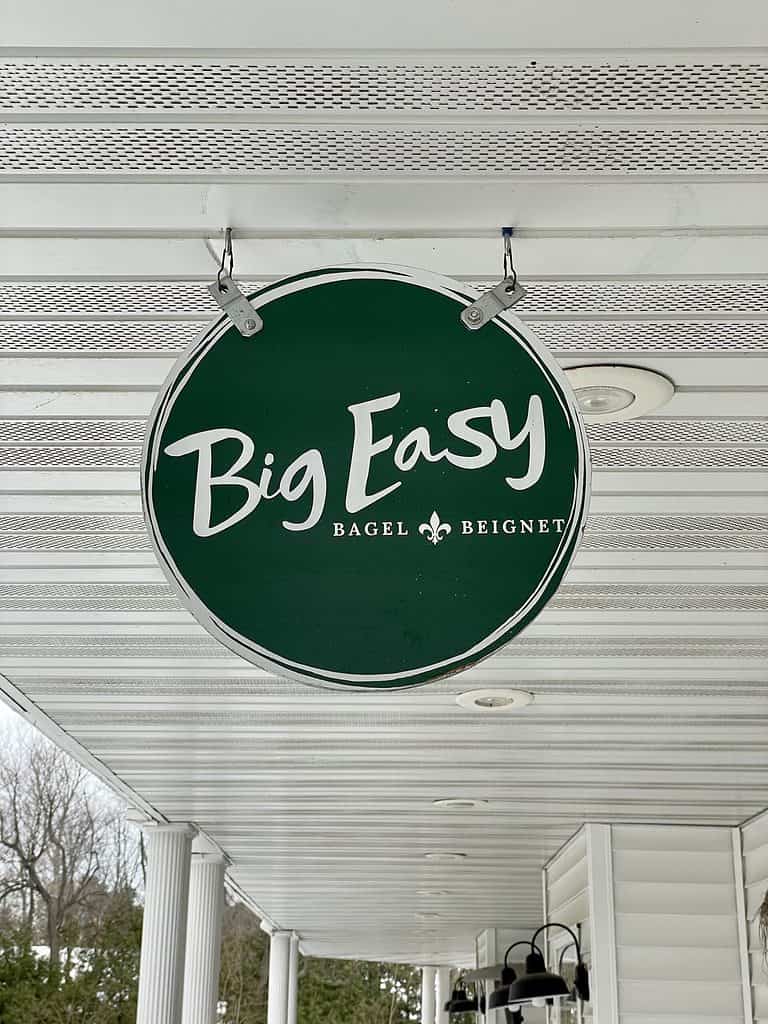 I'm so glad that this new little gem has arrived. Connected to Fireside Restaurant, it is a very simple breakfast spot with BIG flavor.
Opens at 7 am, great for your coffee, lattes, americanos, hot chocolates, and all of your barista needs. They have a bakery case full of breakfast staples and are specifically known for their Beignets, scratch-made in-house. Yum!
They offer a limited menu of breakfast options, but all are equally delicious, made to order, and well-portioned. Every time we stopped in here it was busy so people are spreading the word about how good it is! Friendly staff, you go right up to the counter to order, then find a seat and they'll call out your name when the order is ready. Keep in mind, it is a very small inside dining space, but they do offer carry out, along with outdoor dining when the weather is right.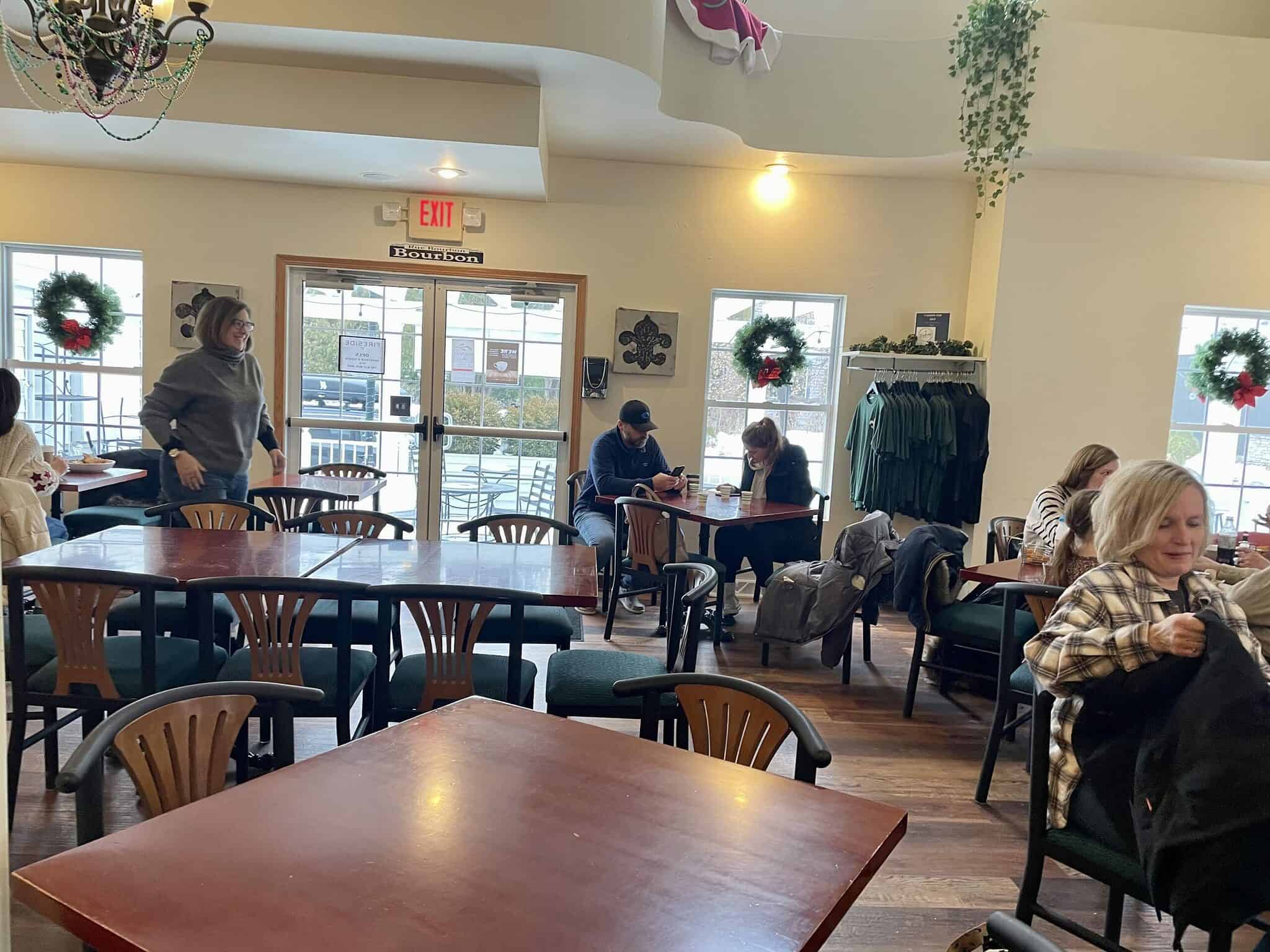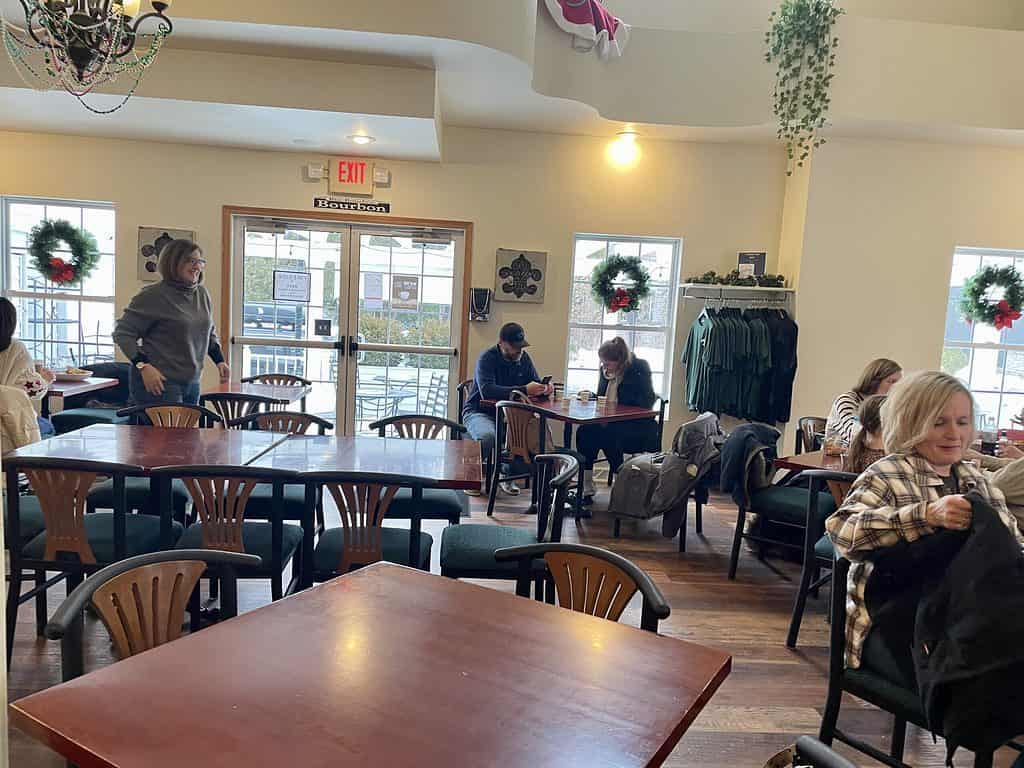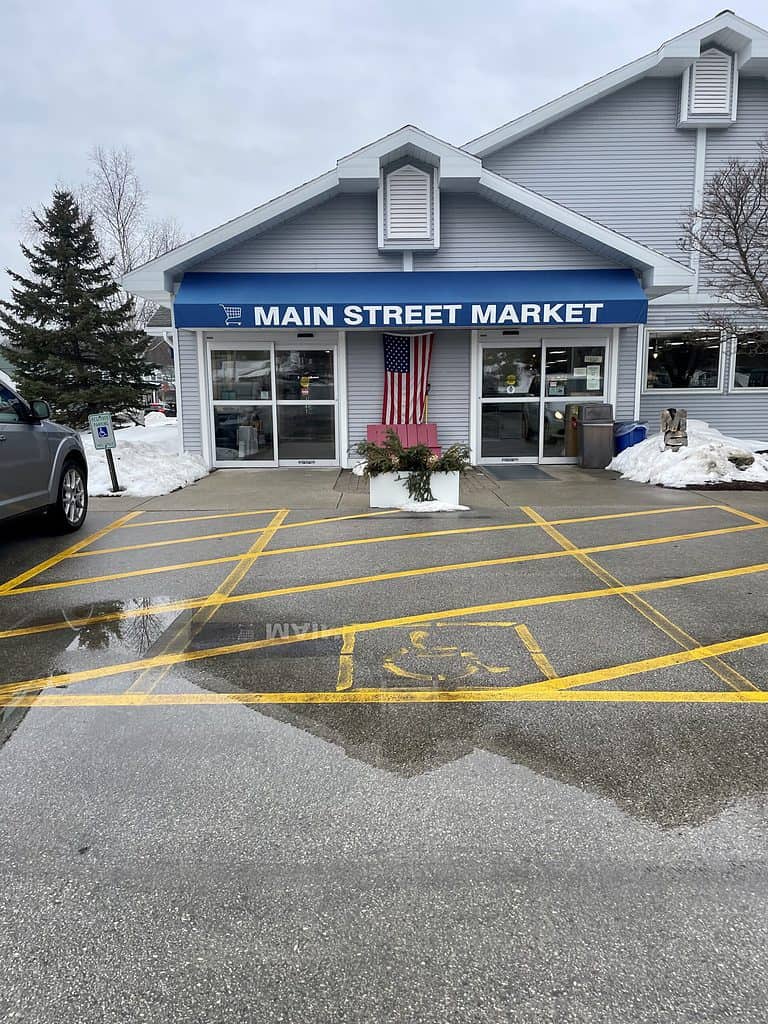 Local grocery store for all your grocery needs. Placed perfectly in the center of town, they have everything. Full produce, meat, and deli along with all the snackable aisles as well. Great little market and they have an absolutely awesome selection of wine!! We couldn't believe the gems they had. If you are a wine lover, you will be extremely excited about their wine selection.
Door County Coffee: Carlsville (10 mins from Egg Harbor)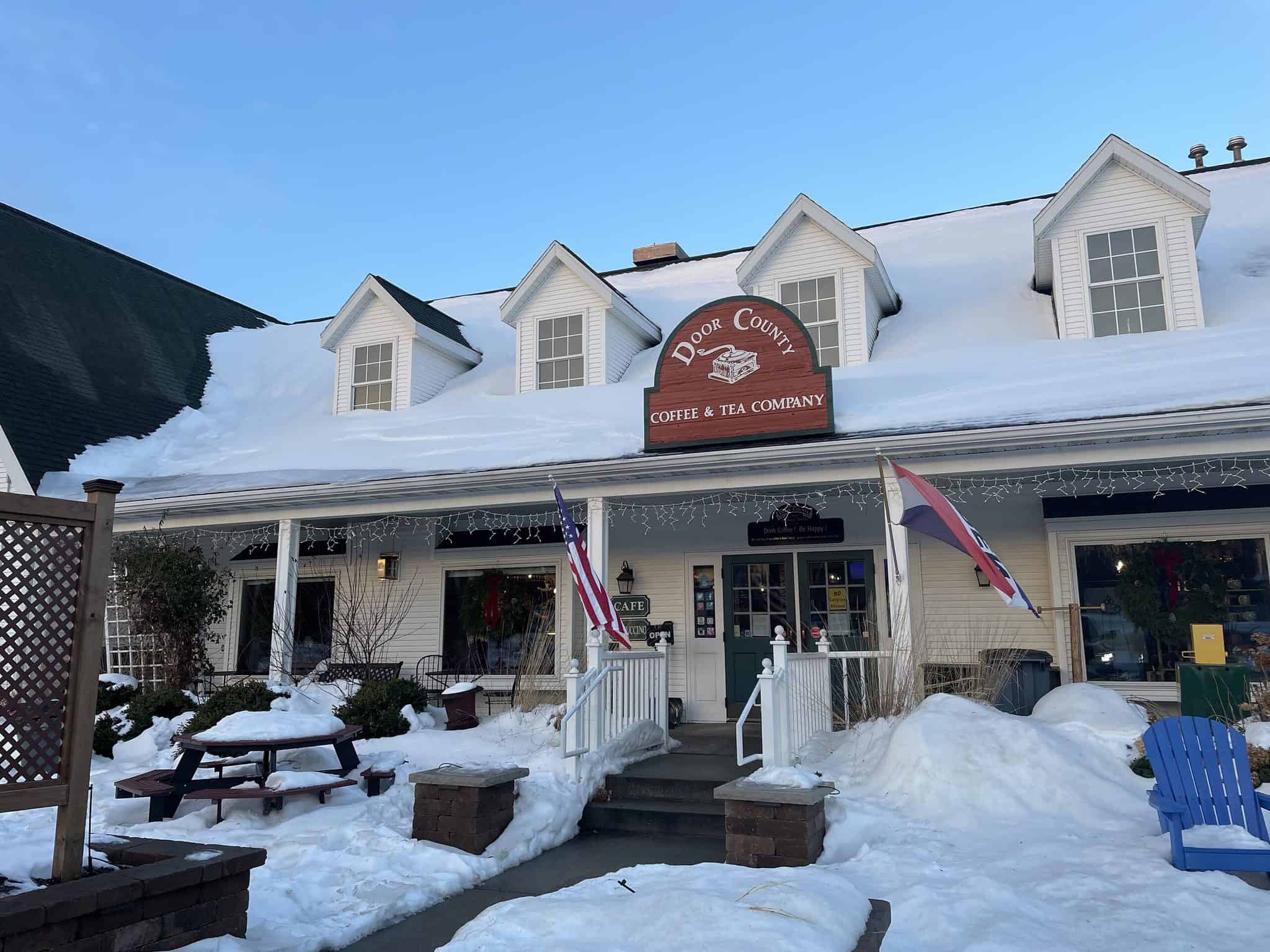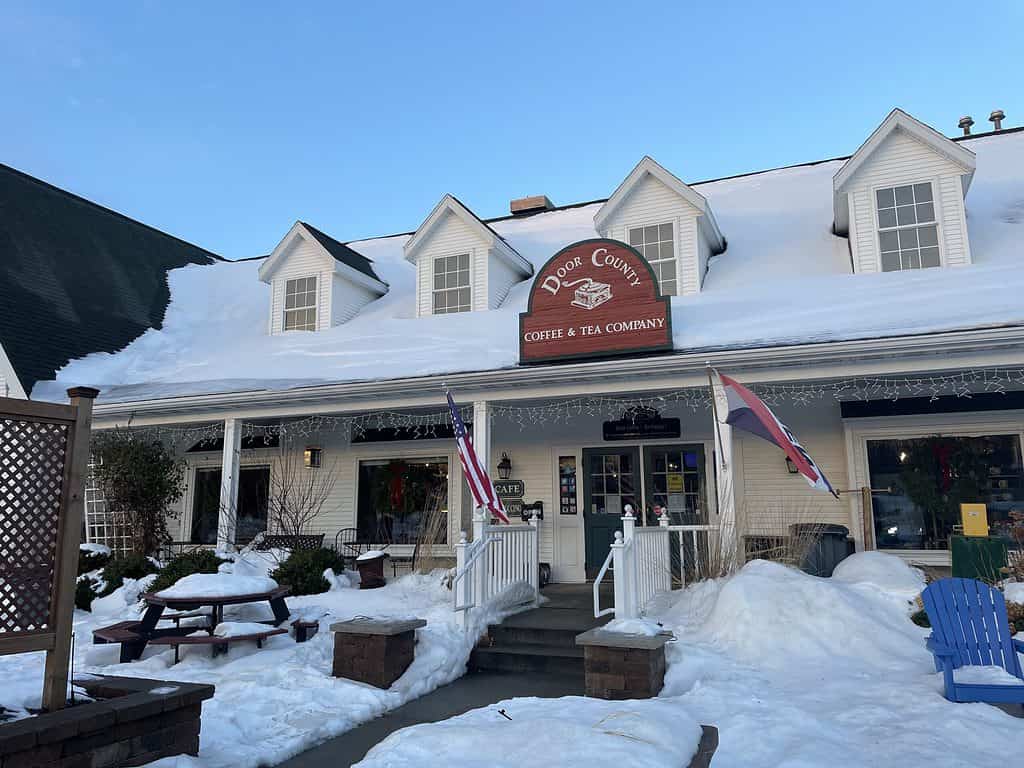 Great gourmet coffee. We order direct from them when we are home. We always stop in when we are in town. They have a great bakery and it is also a great spot for a quick bite to eat (breakfast/lunch). Open early, and always seems to be open (year-round). HUGE variety and the coffee plant is right in-house. The main area is connected to a shop where you can buy other Door County staples along with some of their unique artists selling their items as well.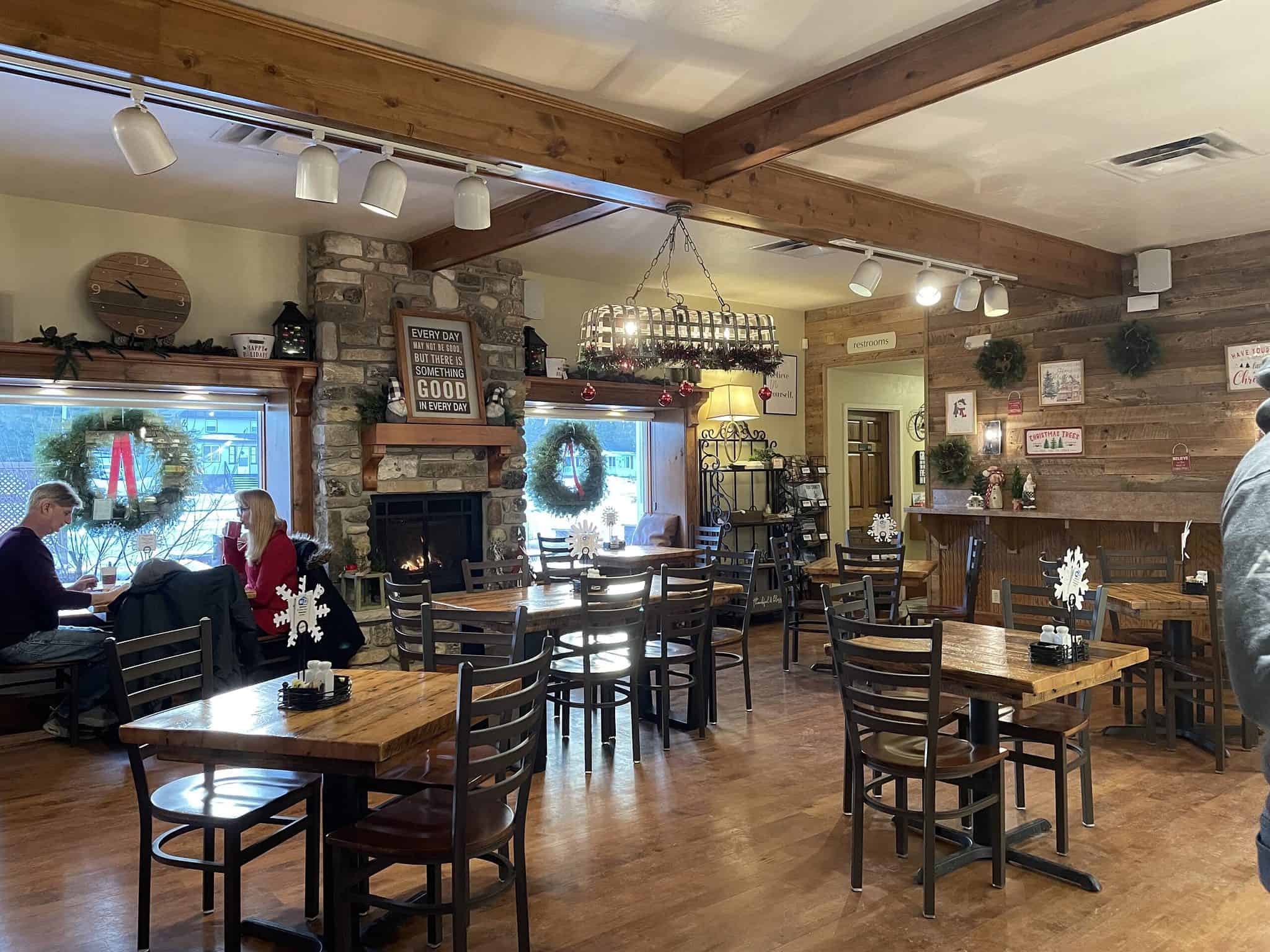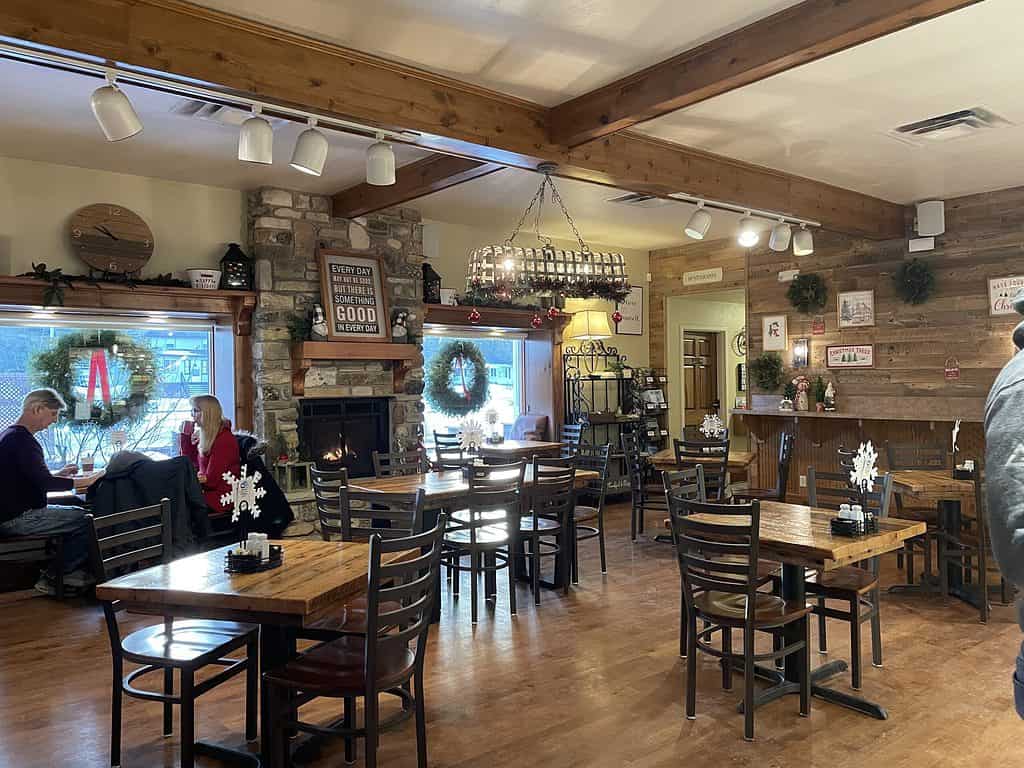 Fish Creek
Fish Creek, Wisconsin is a picturesque town and home to a wide range of outdoor activities and attractions, from hiking trails and state parks to boat tours and beachfront restaurants. For visitors looking for a laid-back getaway, Fish Creek offers the perfect combination of relaxation and adventure.
Bayside Tavern is conveniently located right in the main shopping area of Fish Creek and they have nice indoor and outdoor dining as well when the weather is warmer. We've been here quite a bit and while we still come back, it can be hit or miss for the food. However, they have a variety of options along with kid-friendly options, and a great bar with great drinks, so we do keep coming back and you should too.
The chili for me is not good. It's thick thick thick. Basically, it's a bowl of chili-flavored meat and toppings. No sauce or base that I am accustomed to, so it felt dense and dry and I couldn't finish it. Bummer.
The kids usually get the mac n cheese because it's Kraft 😊so they don't complain about that. We've had their burgers and sandwiches, and fish fry and they have not disappointed. I would skip the munchie basket as an appetizer as it's mostly fries and fries come with your meal, so don't bother. I would upgrade to sweet potato fries if that's your thing- Definitely worth the $1 more.
Lastly, they do have a vast selection of drinks and beers. We've never had a bad drink and the tavern itself has a great vibe and friendly staff so in total we think you'd enjoy your experience and you should pop on in if you get the chance.
While it sounds like you are going to be visiting a restaurant, it's really a bar with a few seats and they serve food. I feel like I need to disclose that because it has "restaurant" in the name and I don't know if I'd bring my kids in there or if they are even allowed? It certainly didn't feel like it was kid friendly and it definitely screams bar over restaurant.
I know they have good reviews on food and they are fairly new as a bar/restaurant in Fish Creek, (it has been other businesses in the past), but we didn't quite have the same experience. The décor is simple and modern and the space is very clean. It's a rectangular bar with a few extra tables. We sat at the bar with the intention of stopping in for a quick drink before our dinner reservation so I will not be vouching for food at this restaurant at this time.
Our server was not that friendly or attentive and felt like she'd rather not be working. My drink was super sweet and truly didn't taste like it typically does and I didn't even get to halfway before giving up on it. My husband had a beer and it was good.
IF we come back, it will only be to try the food, otherwise, we don't feel like it's a stop we need to make again.
Ephraim
Ephraim, WI is a beautiful destination located in Door County. With its picturesque waterfront views and charming atmosphere, visitors flock to Ephraim. Not a ton going on in Ephraim, but it does have a few awesome places to eat and is one of my favorite towns in Door County.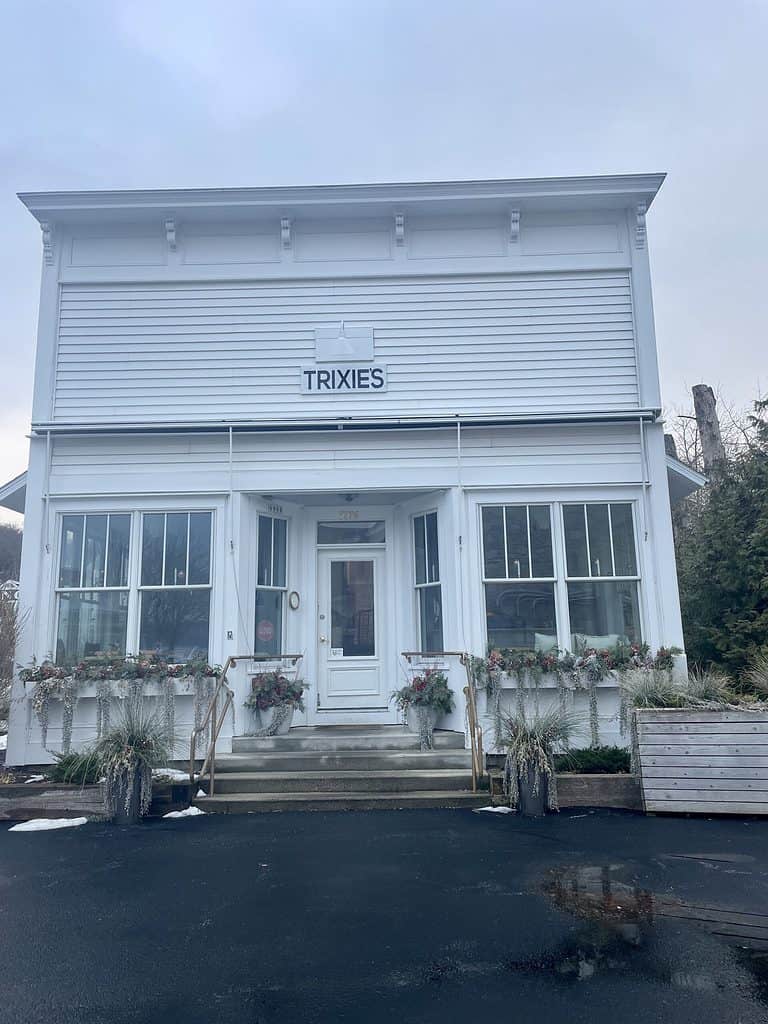 This place is by far one of the best restaurants in Door County and my most favorite restaurant arguably anywhere. It is a diamond in the rough because its location is not front and center in the community and I think many people still don't know about it?! Something tells me the locals like it being the best-kept fine dining secret around.
This restaurant has very limited seating, and by limited I mean there are maybe 5 tables and a very small bar. You need to have a reservation or be prepared to wait or possibly miss out. Everything at Trixies is made from scratch and is also mostly locally sourced. They have a small menu but do not let that deter you. They have delicious food and it is perfectly prepared.
We had the Battered Scallion and the Winter Root Salad to start. All of the dishes can be shared or portioned and I would encourage you to do so because you want to try it all. The battered Scallion is enough to feed 5 people! Big portion, we thought it was a very creative way to do "onion rings". They are the whole stalk of green onion, lightly breaded and fried with a horseradish aioli.
The Winter Root Salad was delicious. I typically don't like fruit or nuts in salads but my husband does so I thought we'd try! Wow. The roots and the rice on the kale salad were such a refreshing texture to the salad overall. The kale was perfectly prepared and the ingredients make you feel like you're eating a power bowl. It was such a nice surprise for myself that I enjoyed it, but truly it's a fantastic salad. Again, share it because the portions are generous and you don't want to get full before even trying the main courses.
For the mains, we chose our go-to: Cacio E Pepe which is heaven In a bowl and a signature dish. The combo of the montamore to noodle to cracked pepper w/ the lemon, everything is perfectly balanced and prepared. The noodles are made from scratch every morning and you certainly can tell the difference.
Our next main course was the Seared Whitefish Arrabiatta. If you like spicy, you'll love this. If you don't, bummer because you'll be missing out on a great dish! Like all of their dishes, it is a generous portion, with equally generous amounts of fish and sauce. The sauce for me was to die for. I love a good kick and this packed a punch. I believe this dish is seasonal, so we are so glad we were able to give it a try.
To round up our meal we went with my husband's favorite, Carrot cake. This truly does not seem like an ordinary carrot cake. From start to finish it was delicate and light with all the homemade carrot cake vibes in between. We couldn't stop eating it and we were SO full from everything else.
We brought our own bottle of wine, but they do offer a wide range of organic, sustainable wines that represent the regions from which they are made.
I cannot say enough good things about Trixies. I can't believe it doesn't have a Michelin star next to it, the food quality is that good! If you come to door county, no matter the place, get your reservation at Trixies!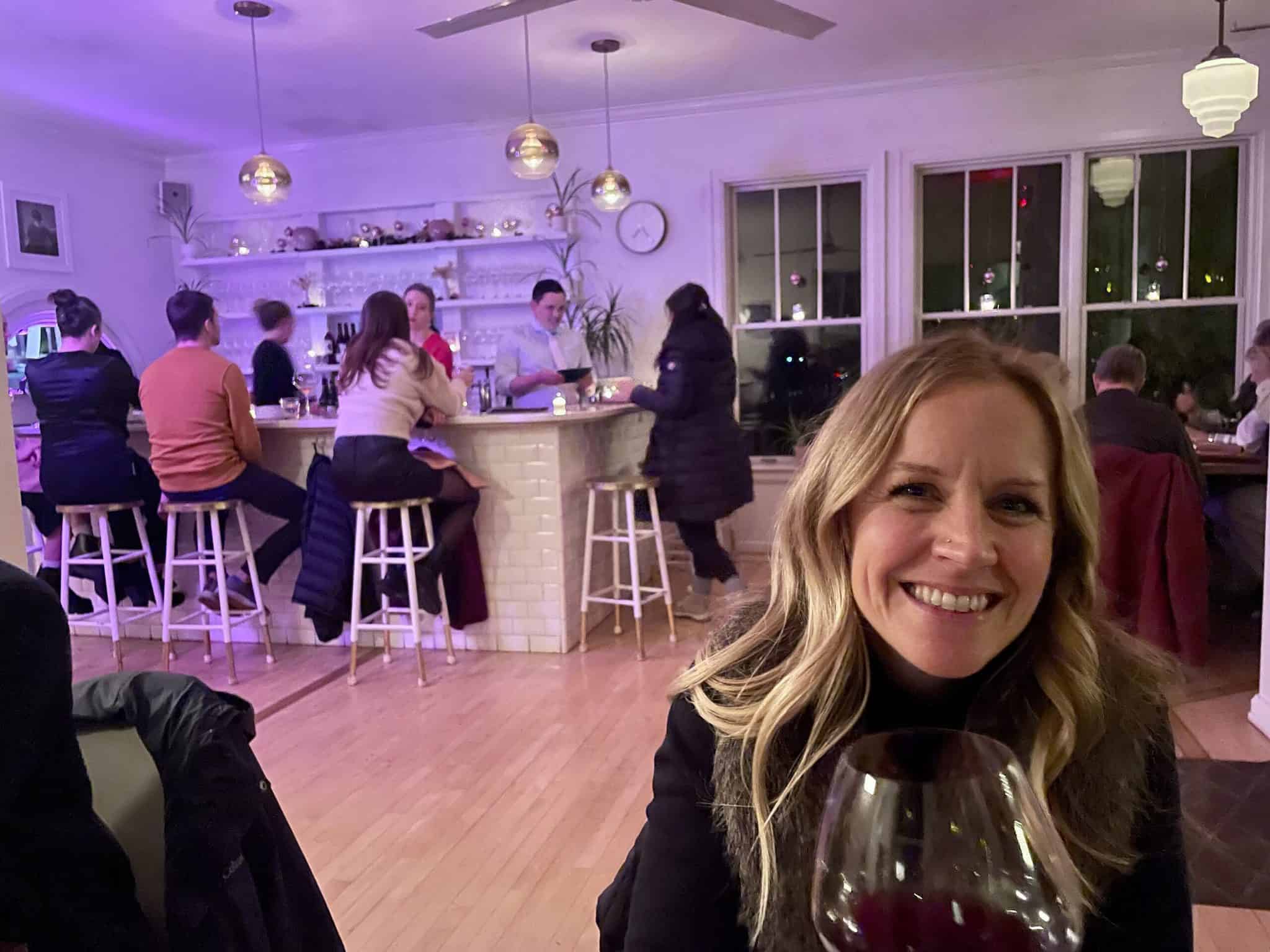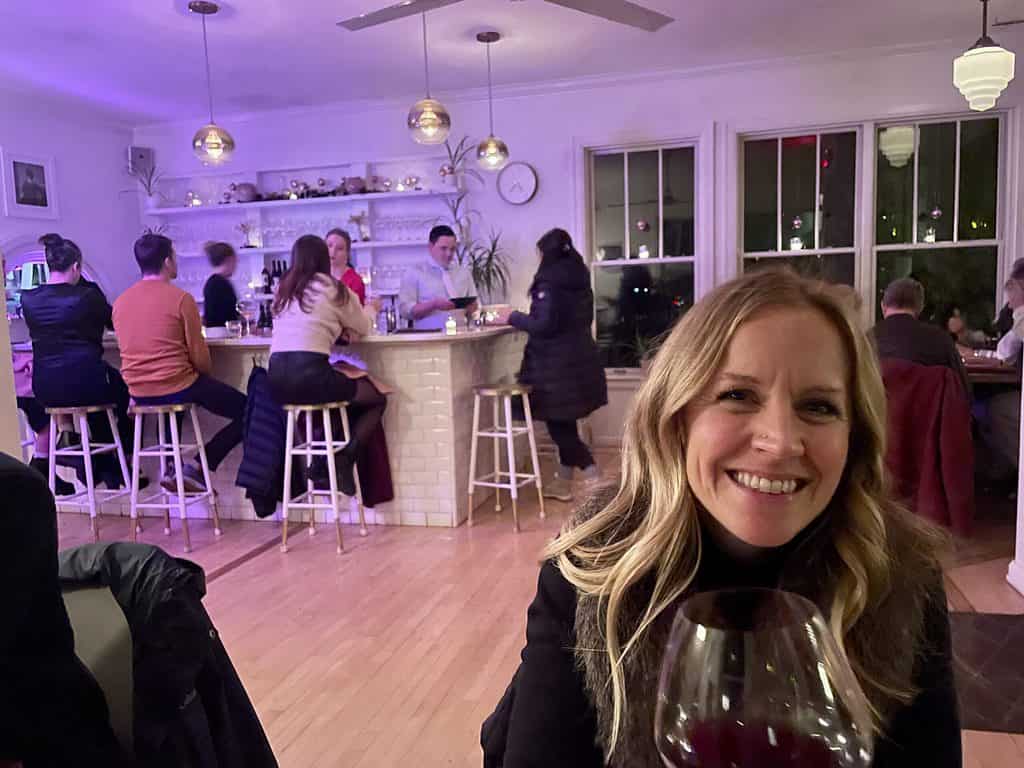 Wilson's Restaurant and Ice Cream Parlor in Ephraim is a popular spot for door county locals and tourists alike. This family-owned eatery has been serving up delicious dishes since 1906 and is known for its homemade milkshakes, soft serve ice cream, sundaes, and classic American fare. The restaurant is especially popular during the summer months, when people come to enjoy their ice cream with a view of the Harbor. Whether you're in the mood for breakfast, lunch, dinner or just a sweet treat, Wilson's has something to satisfy everyone's taste buds.
Sister Bay
Sister Bay is a stunning and welcoming Door County town located on the shores of Lake Michigan. It has been a popular tourist destination for decades, offering visitors a unique opportunity to experience beautiful natural scenery and an array of activities.
The charming downtown area is home to a variety of restaurants, cafes, and bars. Whether you're in the mood for seafood, Italian cuisine, or a classic burger and fries, Sister Bay has something to satisfy every appetite.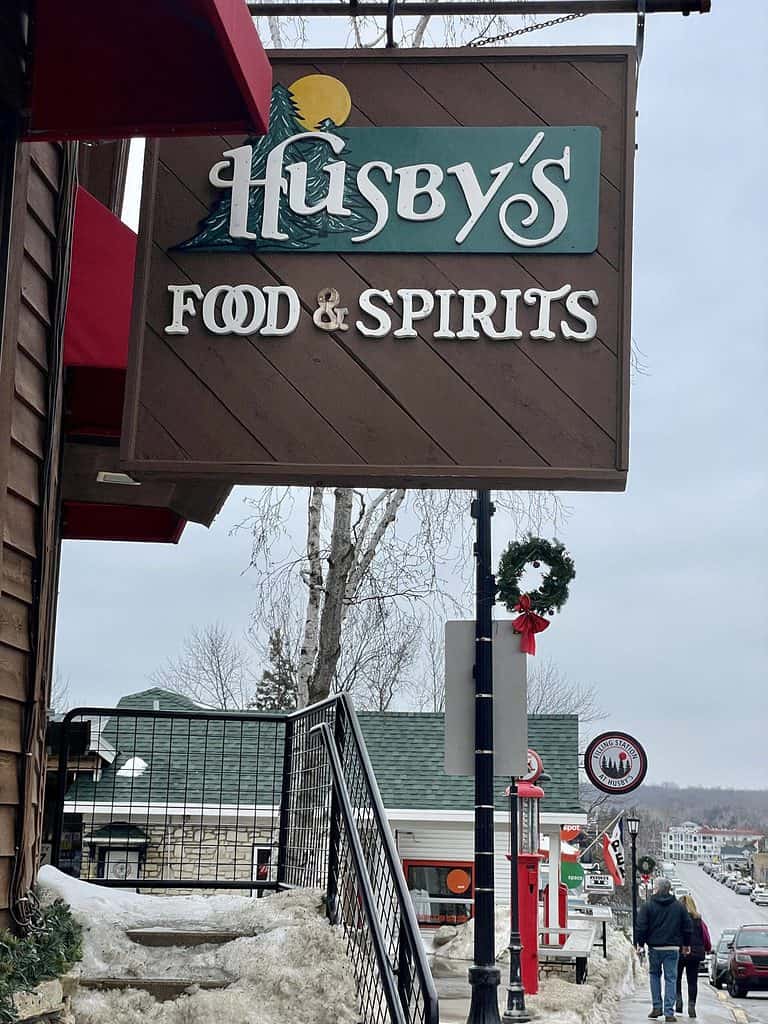 Husby's in Sister Bay, Wisconsin is a popular spot for those looking to satisfy their craving for classic pub grub. This charming eatery offers a wide selection of dishes from burgers to sandwiches and salads. Husby's also has an impressive drinks menu, with several unique craft beers on tap.
We love Husby's. It's definitely a staple in the area. They have a large circular bar, a large indoor seating area, outdoor seating, and a stage for Live Music.
The vibe is upbeat, with a lot of energy, and fast and friendly servers and bartenders. The food and drinks have always been good for us, so we go back every time we are in Door County.
Husby's opens early and closes late, they play virtually every sport/team/game on their TVs for you to enjoy, and they have a big menu with a lot of options even for those of us with a dietary restriction. I always go back for the chili, but everything I've had has always been good. If you have not been to Husby's, make sure you stop in. Don't let the busyness deter you from trying it out. It's busy for a reason!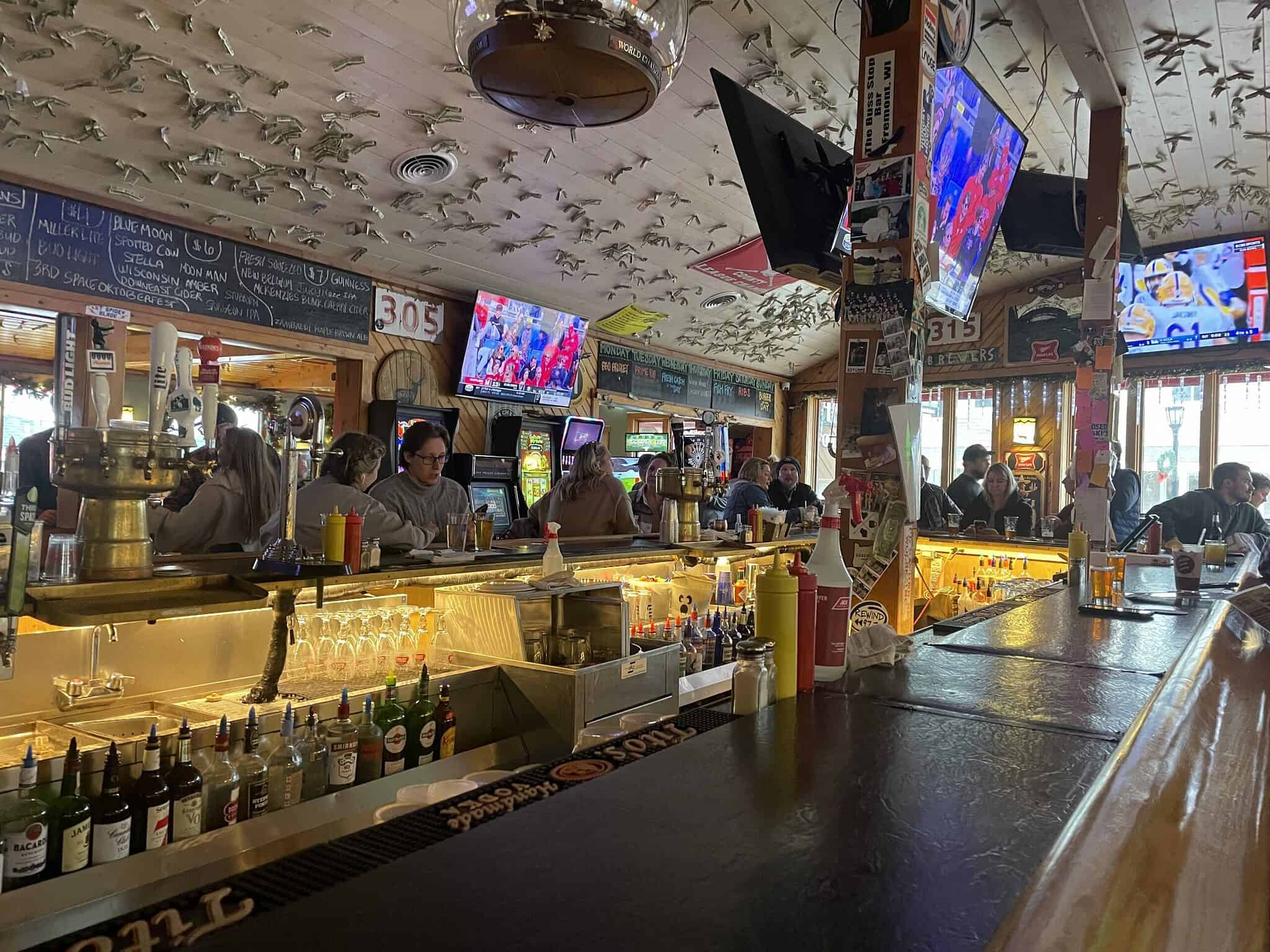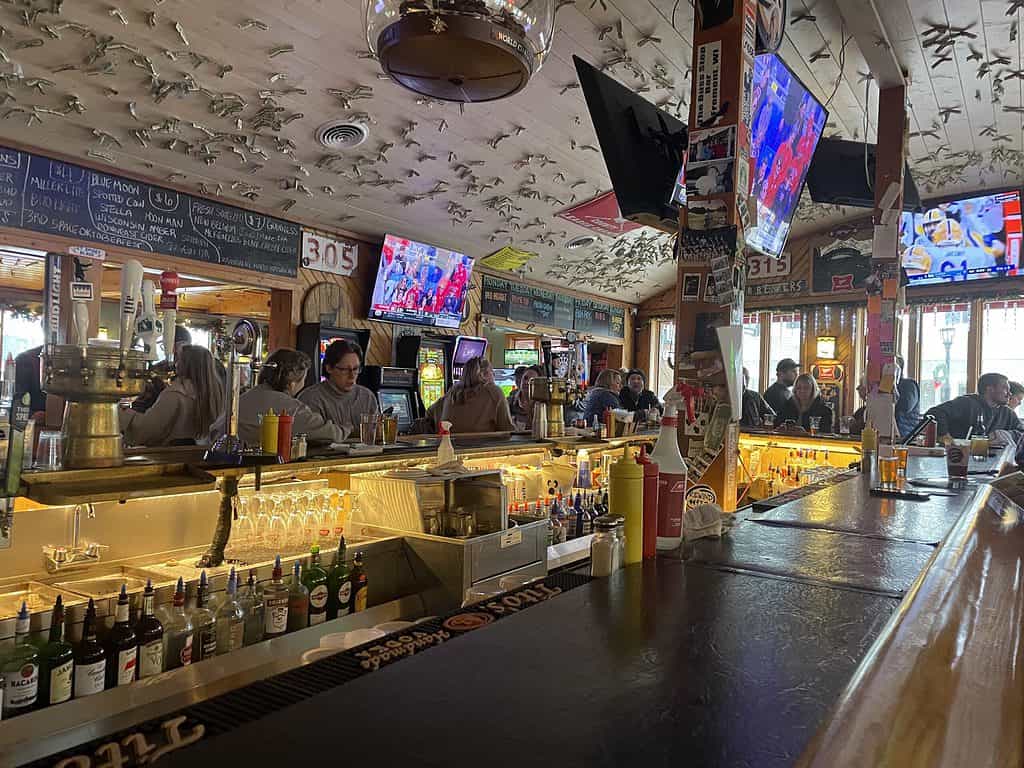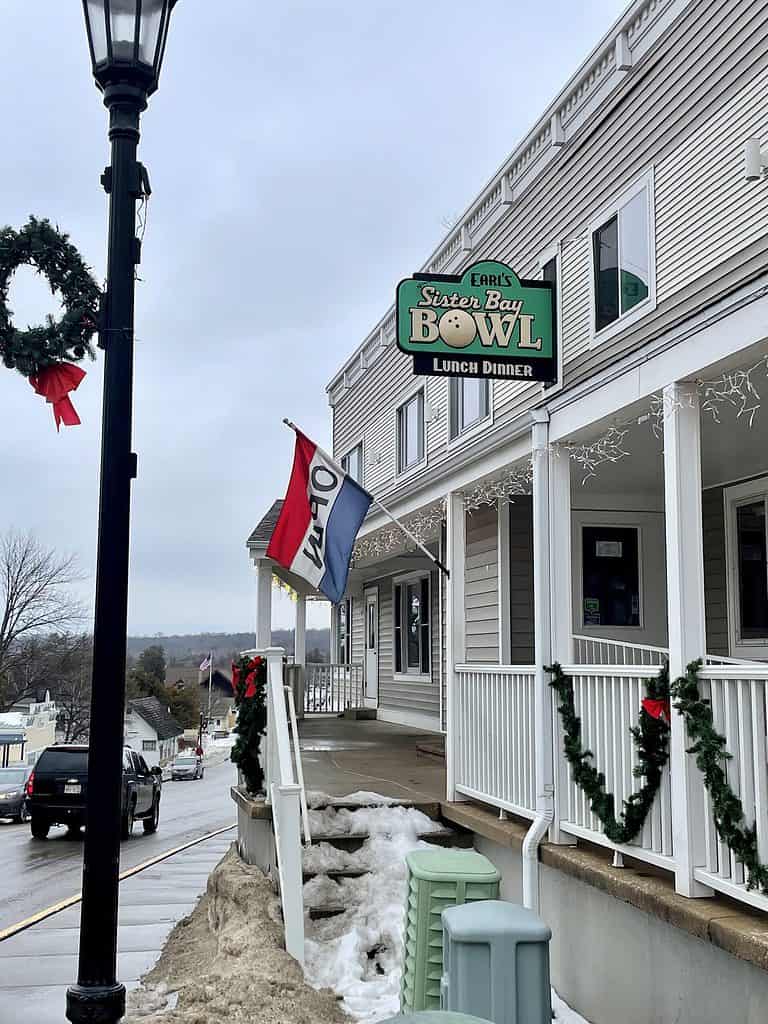 Sister Bay Bowl. I know right?! Who would have thought you'd go to the bowling alley to enjoy one of the best restaurants? This place is cool. It's so old and it's still an operational bowling alley.
From the second you walk in, you feel and see the history of this family-owned restaurant. Nostalgia at its finest. We've been coming to this casual eatery for years for the Saturday night steak special but this time we stopped in for lunch.
My husband had the corned beef and swiss and this sandwich takes the W! Thick lean corned beef on marble rye was delicious. The fries were standard, nothing special, but nothing wrong.
I had a cup of Chili and I'm pretty sure it was yesterday's leftovers. Texturally it was mushy and thick like it had been cooking for hours and hours and it was only 11:30 AM! Cheese curds were great as they should be in Wisconsin. You get a large portion enough for a family to share. Along with the chili I ordered Chicken tenders. Safe choice really, they were good, not great, but truly nothing wrong with them at all.
I have to note that the bowling alley was extremely busy when we went and they were severely understaffed (just one waitress). Our server worked her butt off, ran around trying to make sure everyone had an enjoyable experience and I'm pretty sure she succeeded!
Overall, Sister Bay Bowl is nostalgic and a very cool place to come and possibly rent a lane or two and play! The food was pretty good, but very limited in options, so check out the menu first. You should check it out sometime!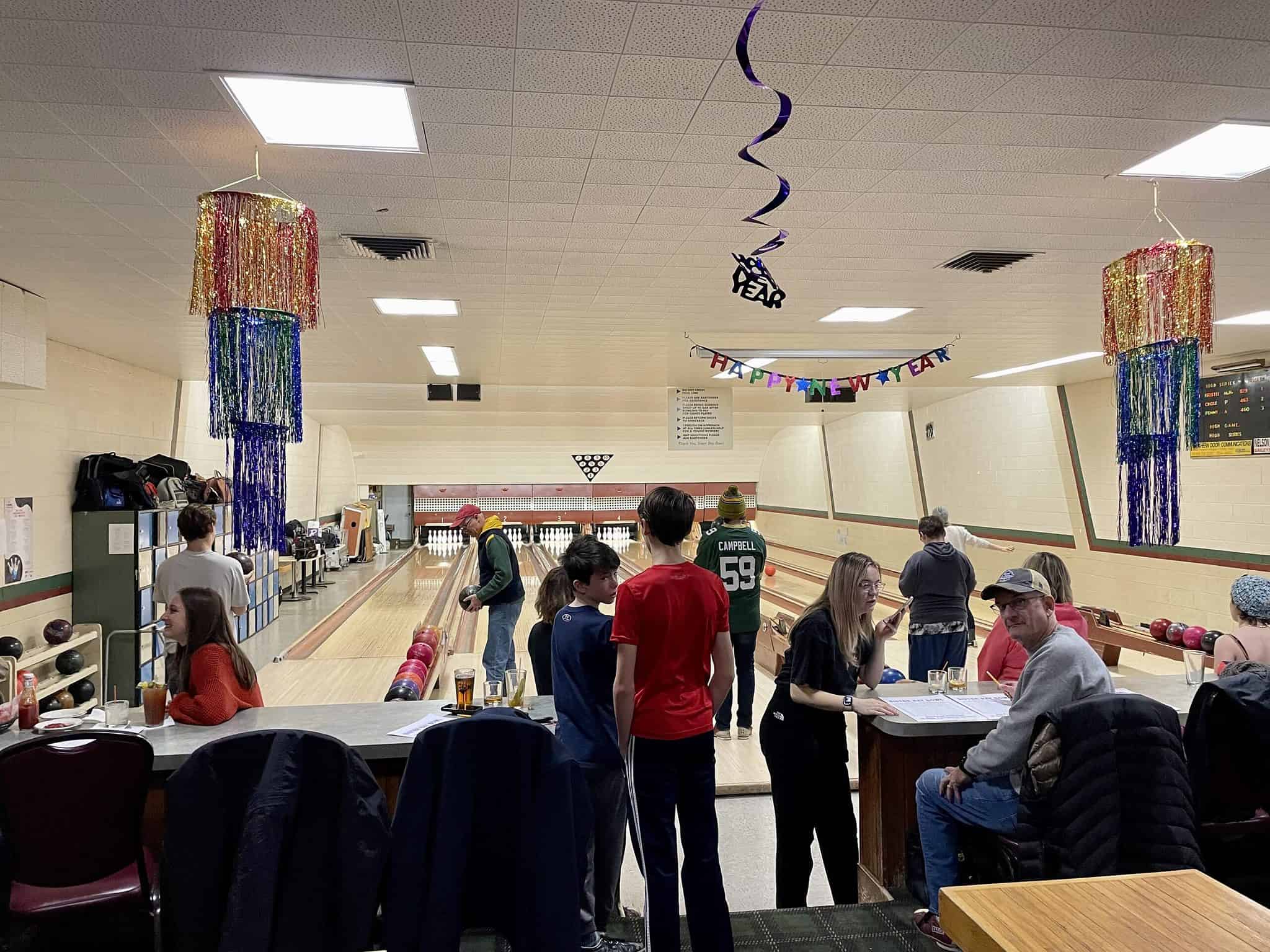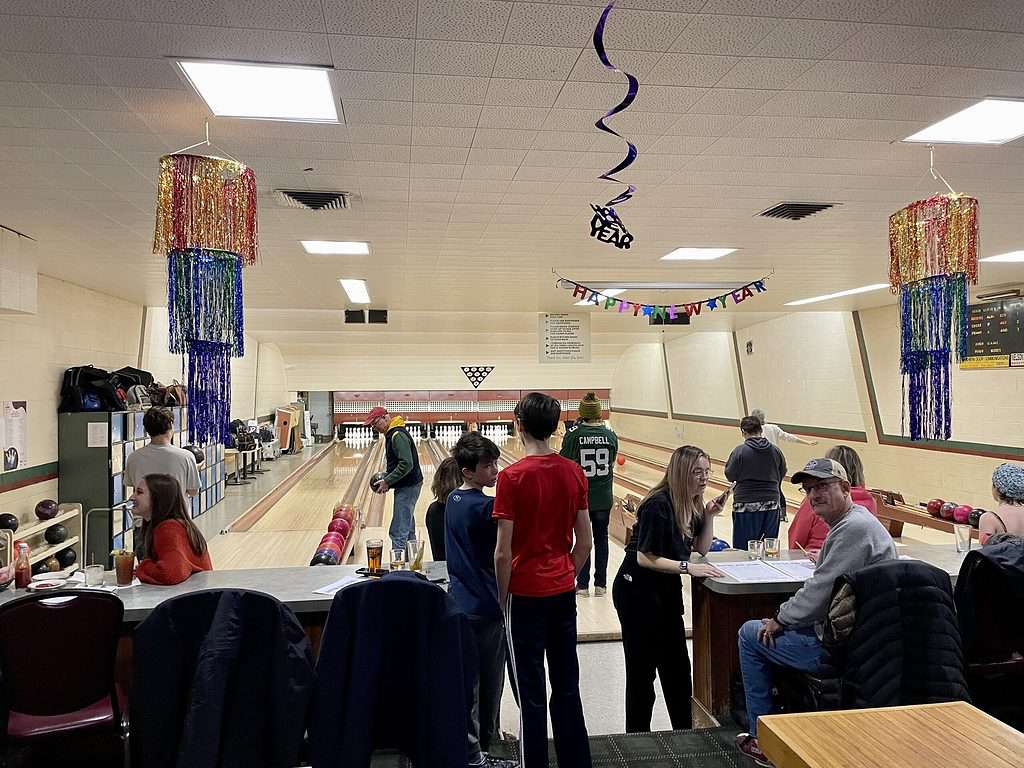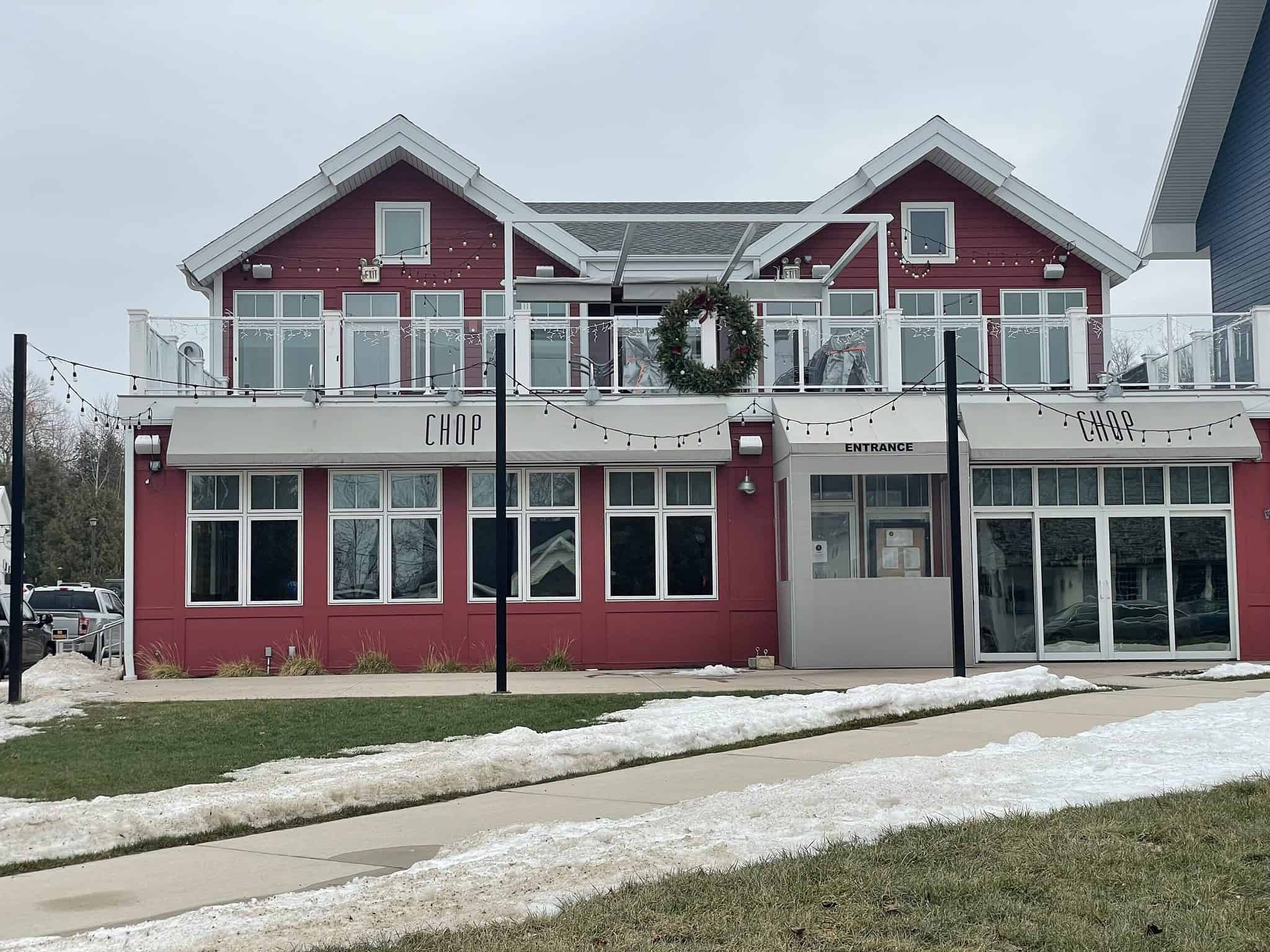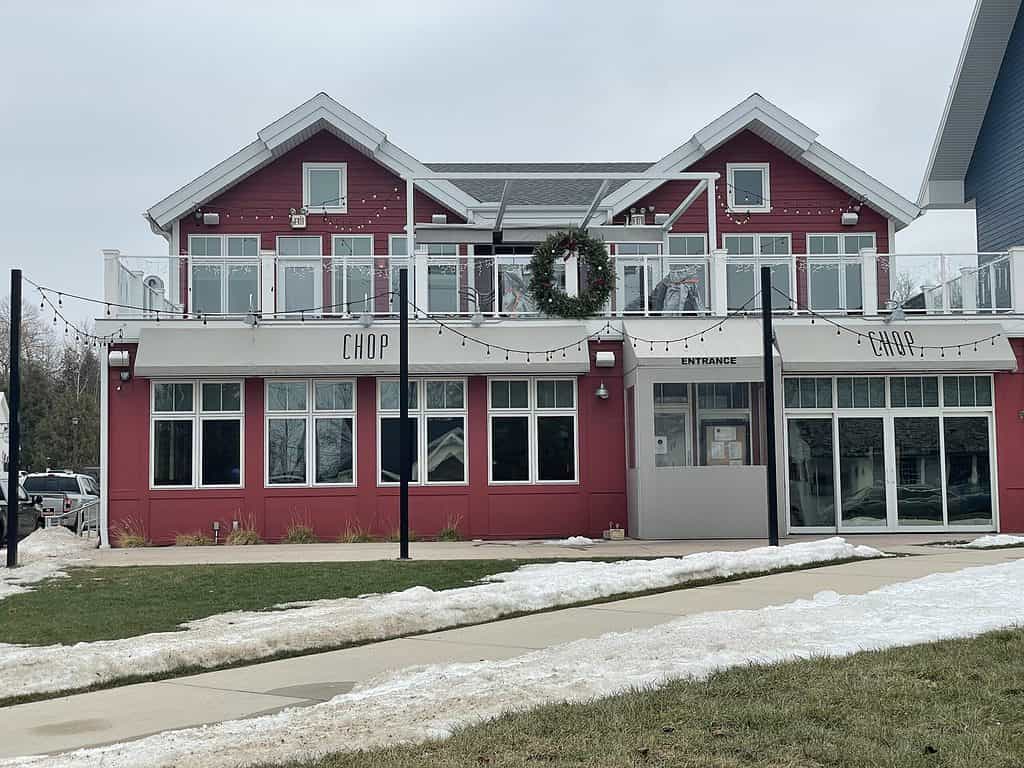 Chop is an upscale restaurant. The modern interior is stylish and inviting, making it the perfect spot for date night or a special occasion. The restaurant also offers an extensive wine list to choose from.
We came on New Years Eve with reservations for 8:30. We arrived about an hour earlier to enjoy a drink at the bar prior to dinner. We had never been to Chop before, so this is a first time for us. Very nice place, good steakhouse vibe with a modern flare vs supper club.
Bar is very small, but we were luckily a product of timing and were able to find two seats. I had the Golden Martini which was one of their drink specials and holy cow It was delicious!! Really great drink sprinkled with gold dust on the top. My husband ordered the Door County Mule and he enjoyed his as well. The bar and restaurant were both extremely busy as you'd expect for NYE.
On to our dinner portion of the evening, we started the evening with their Goat Cheese Crostinis, and they were delicious. They come out warm and fresh and the balsamic was equally as good.
For dinner, we both ordered the 6 oz filet. Steaks come with potato and soup or salad which I feel is very nice since most steakhouses operate ala carte. I tried the lobster bisque. While the taste was good, it was too cream-tasting. It actually seemed like they added a swirl of cream right before serving for an artsy décor on the soup, and it really didn't need that. I would have liked it much more without the added cream. Plus, it came out rather cold and I sent it back to be warmed up in the "microwave".
My husband and I both additionally had Chop's House Salad and that was also good. The steaks came out and they were perfect. They cut the beef in house and they were a superior portion of meat. My husband ordered the twice baked potato and that unfortunately was not so good. He felt like it was cooked the day before and reheated. I had baby red mashed potatoes and they were good.
Dessert was, yet again, carrot cake and it was delicious. Felt homemade. Large slice and very moist. We loved it.
In total, Chop was a great fine dining experience. The steak was definitely the highlight of the meal but all of the accompaniments were good as well. The bar is small but nice and the drinks were excellent. The staff was friendly and the service was very good. It's pricey, but I would recommend a stop at Chop next time you're in Sister Bay.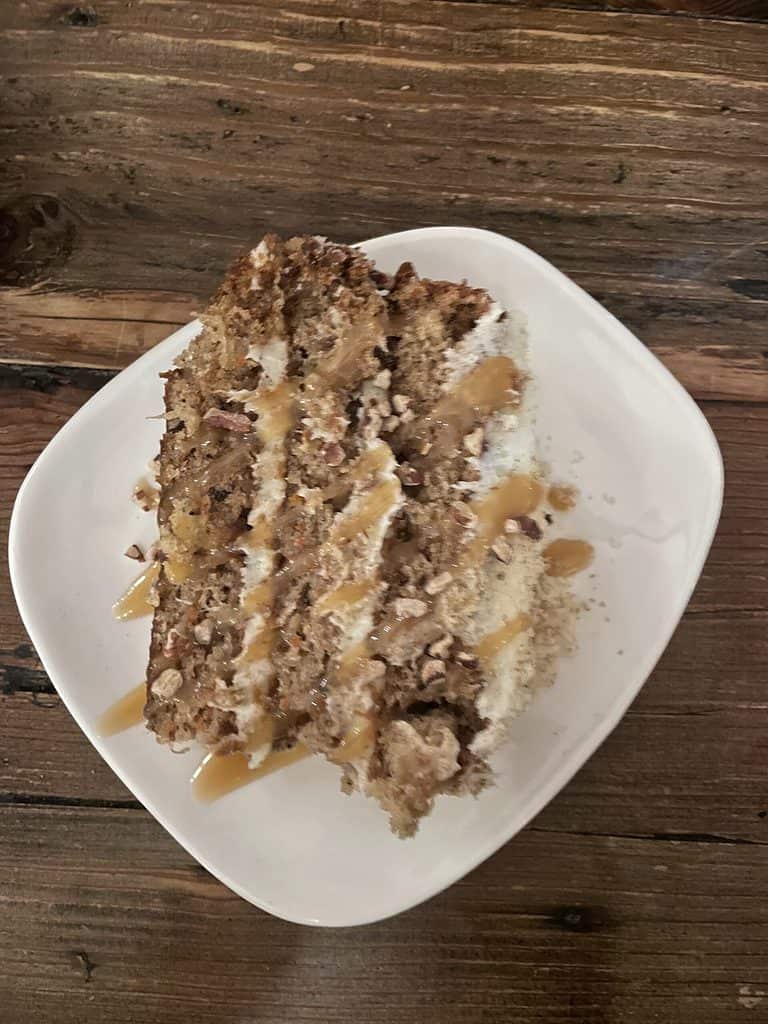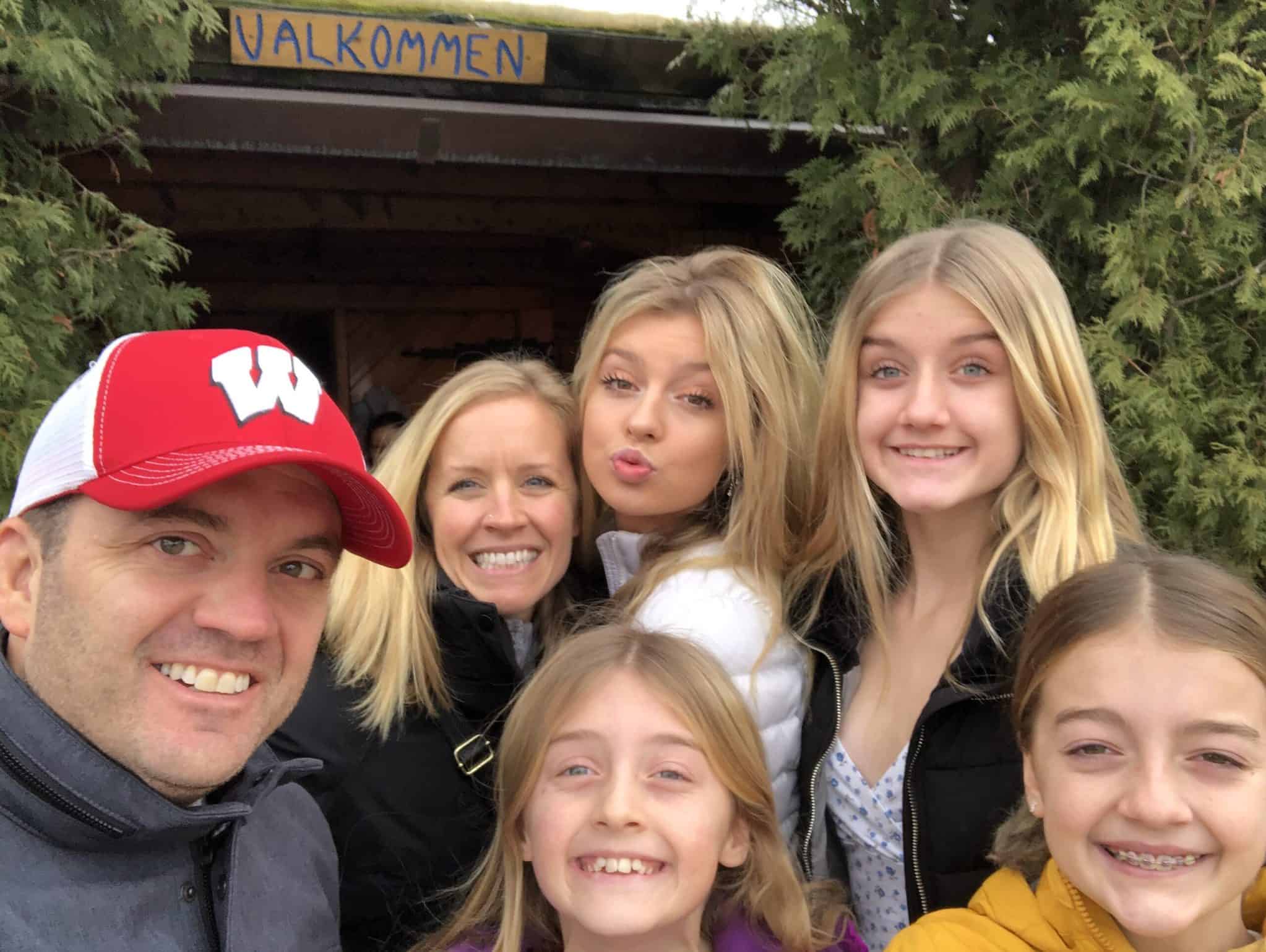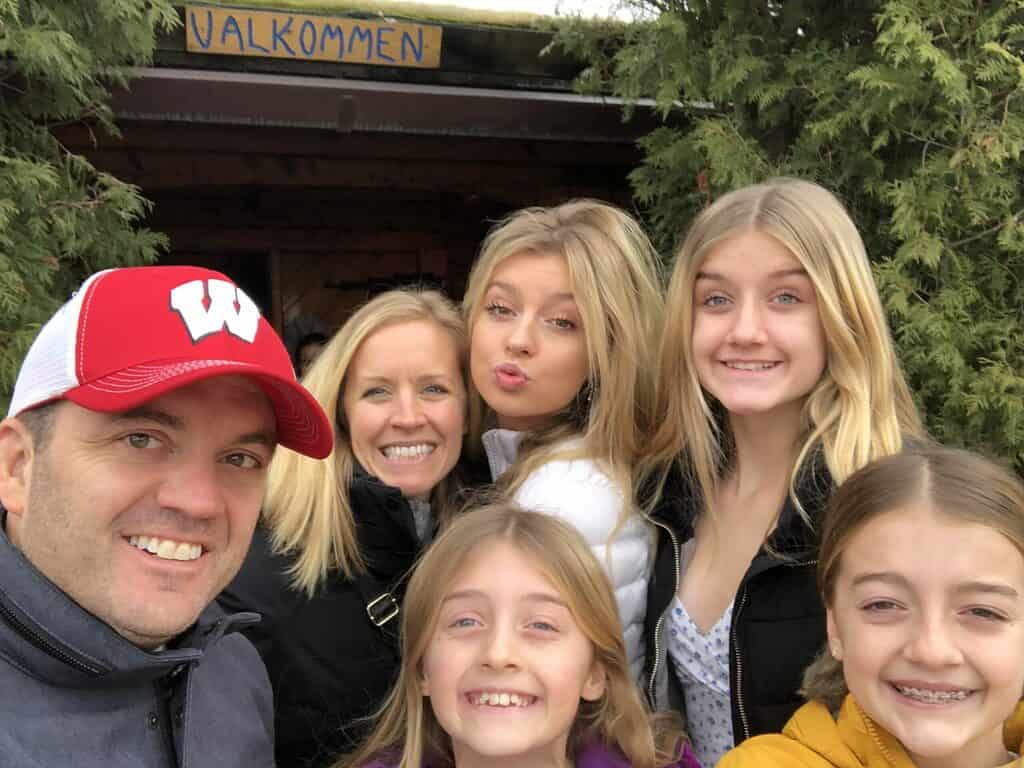 Al Johnson's Swedish Restaurant is an iconic Door County restaurant that has been serving delicious Swedish pancakes and other traditional Scandinavian dishes since 1949. This charming restaurant, known for its cozy atmosphere and friendly staff, is located right off Main Street and is adorned with colorful flags from Sweden, Norway and Finland – a fitting reminder of their heritage.
In the summertime, you will see goats grazing on the grass roof. Yep.
The menu features classic Swedish dishes such as meatballs and lingonberry jam, as well as pancakes topped with fresh fruit, whipped cream and other sweet toppings. Al Johnson's is a must-try spot for anyone visiting Door County!
What Are The Top Things To Do In Door County?
Door County, Wisconsin has no shortage of attractions to explore! From its stunning natural beauty to its unique restaurants and shops, door county offers something for everyone. Here are some of the top things to do in door county:
1. Visit a lighthouse
With 11 lighthouses on door county's shores, it's easy to see why this is a popular destination for lighthouse enthusiasts! Take a tour or climb the stairs for a stunning view of the door peninsula.
2. Take in the views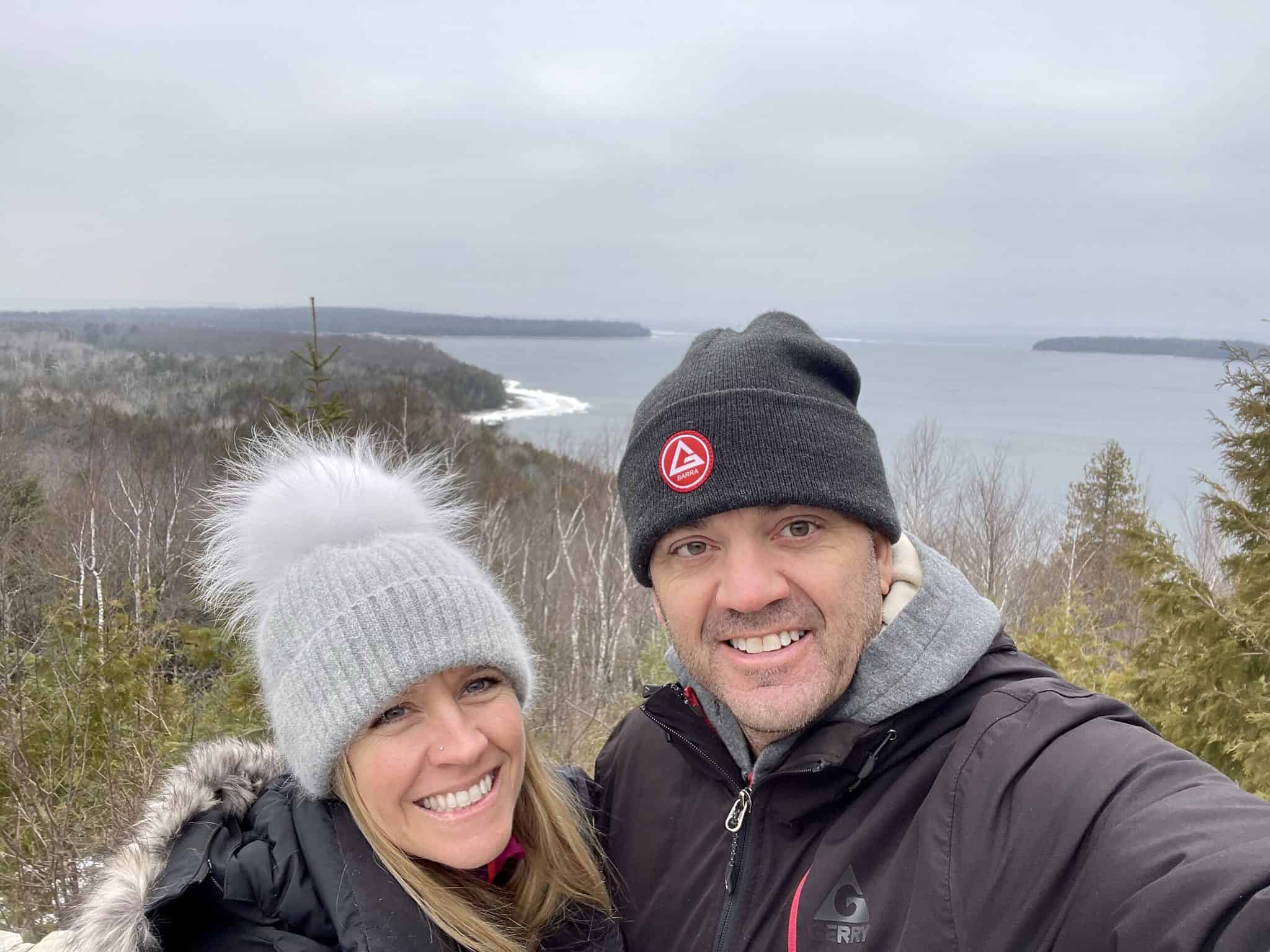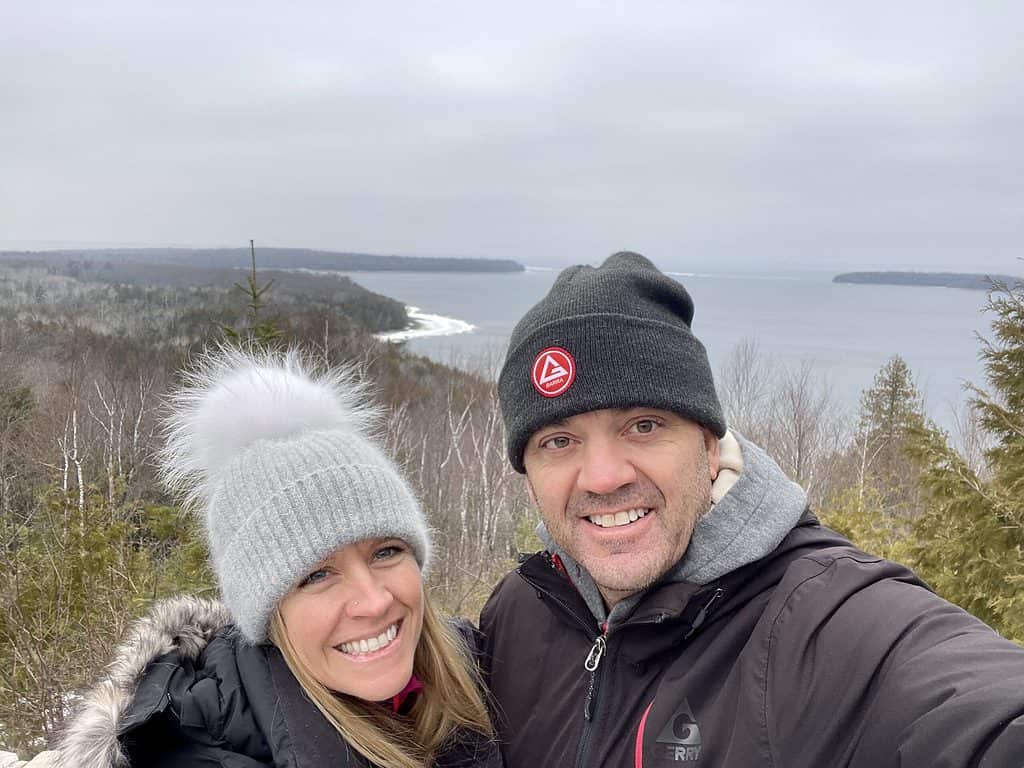 Door county offers beautiful views from both land and sea! From its five state parks, numerous nature preserves and marinas to its charming small towns, door county is a photographer's dream destination.
3. Enjoy local cuisine
With so many unique restaurants, door county has something to please any palate. From classic fish boils, Scandinavian-inspired dishes, and the best pies, door county's culinary options are sure to delight!
4. Explore the outdoors
Door county offers plenty of outdoor activities for visitors including kayaking, sailing, biking and hiking. With its numerous nature trails, door county is the perfect destination for adventurers of all ages.
5. Shop 'til you drop
From traditional markets to unique boutiques, there's has something for everyone. Whether you're looking for a one-of-a-kind souvenir or just browsing the local shops, door county's shopping scene won't disappoint.
Door county is a destination that offers something for everyone! From its unique attractions to its abundance of outdoor activities, door county is the perfect place to visit and explore.
Conclusion
This is just a sampling of some of the great restaurants in Door County. We still have exploring to do and there are more we want to try and write about it.
There are a few other towns to visit like Sturgeon Bay, Ellison Bay and downtown Baileys Harbor that have a couple nice options as well.
Top on our hit list is Wickman House in Ellison Bay which consistently ranks as one of the top Door County restaurants. We called for reservations weeks ahead and they were booked. They added us to a waitlist and still no luck! Next time for sure!
Also on our hit list is Thyme Restaurant. We visited the Twelve Eleven wine bar next to it and it was super cool! We will certainly check this one out next time as well.
Oh, one last piece of advice? Get a slice of local cherry pie. We love Bea's Ho-Made Pies up in Gills Rock. Worth the drive!
Maybe we will see you out in Door County exploring but until next time, enjoy!