Welcome to the world of pickleball! If you're new to this fun and addictive sport, you might be surprised to learn that pickleball gloves can be an essential part of your equipment. Every player knows that having a good grip on your paddle is important to your success on the court.
And what about those cold weather mornings or hot and humid afternoons? That's where pickleball gloves can come in.
Whether you need protection from the elements or extra grip while playing pickleball, these pickleball gloves can make all the difference.
So strap on your gloves and get ready to take your pickleball skills to the next level!
We are reader supported and as such may make a small commission at no expense to you by purchasing through our links and we greatly appreciate that!
What Are The Best Pickleball Gloves?
Head Web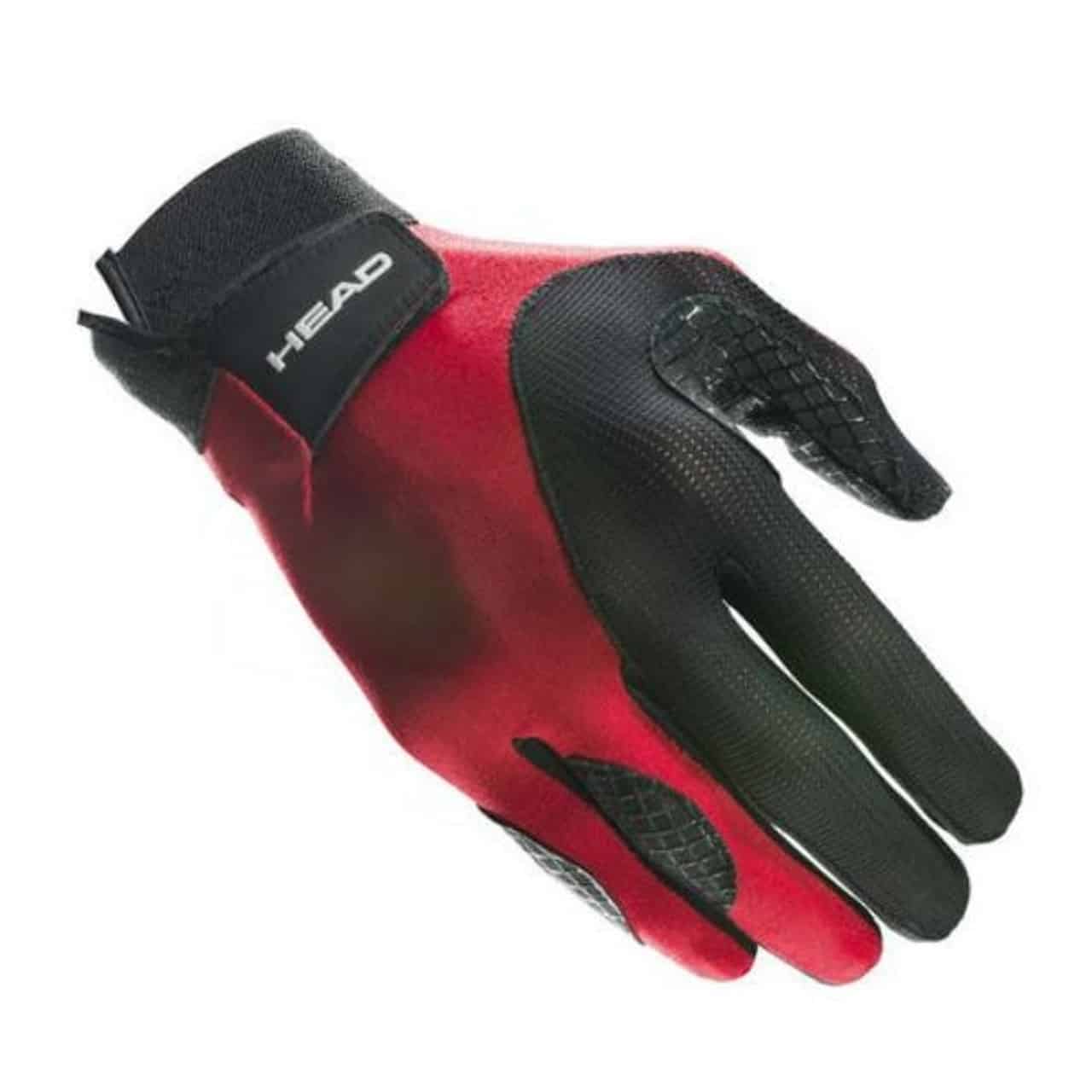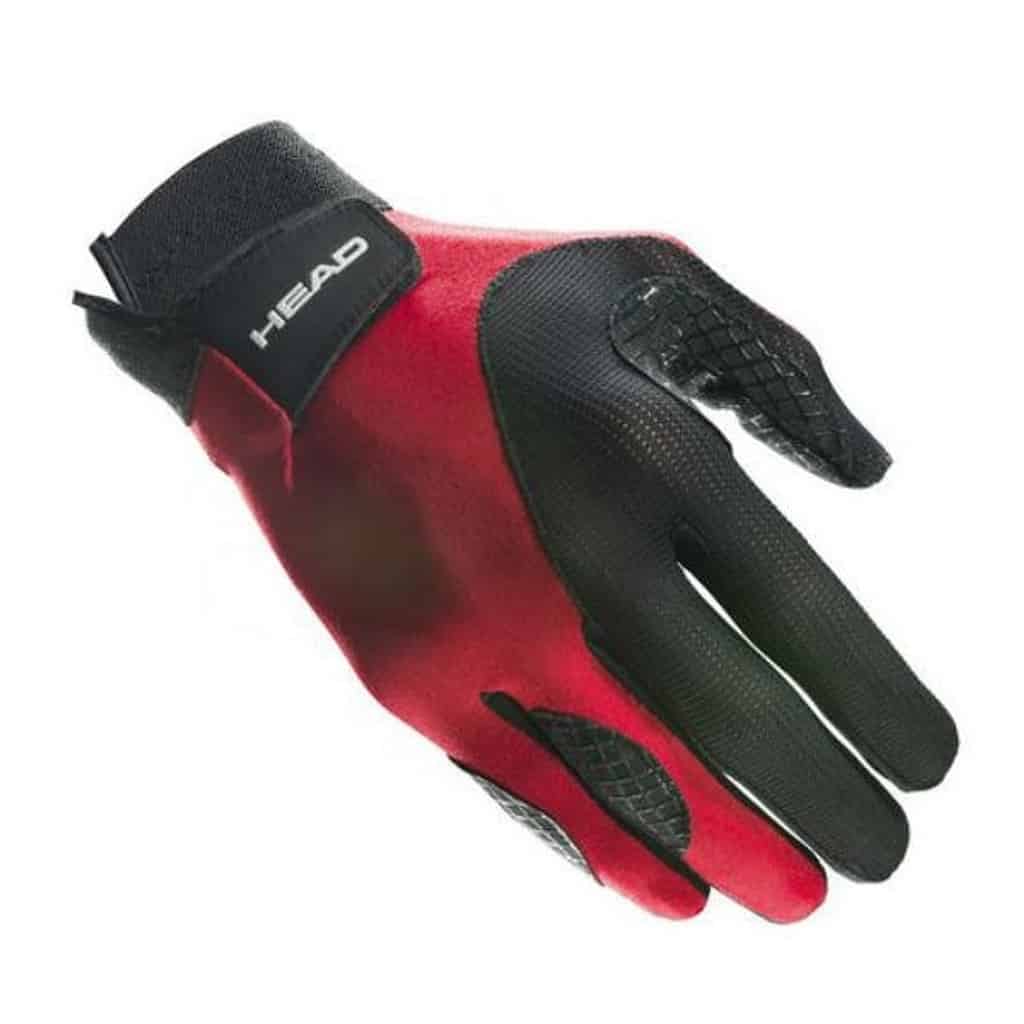 Durability, comfort, and a secure grip with its synthetic leather, knuckle pads, Lycra backing, and silicon-treated palm pattern, all at an affordable price.
Franklin Performance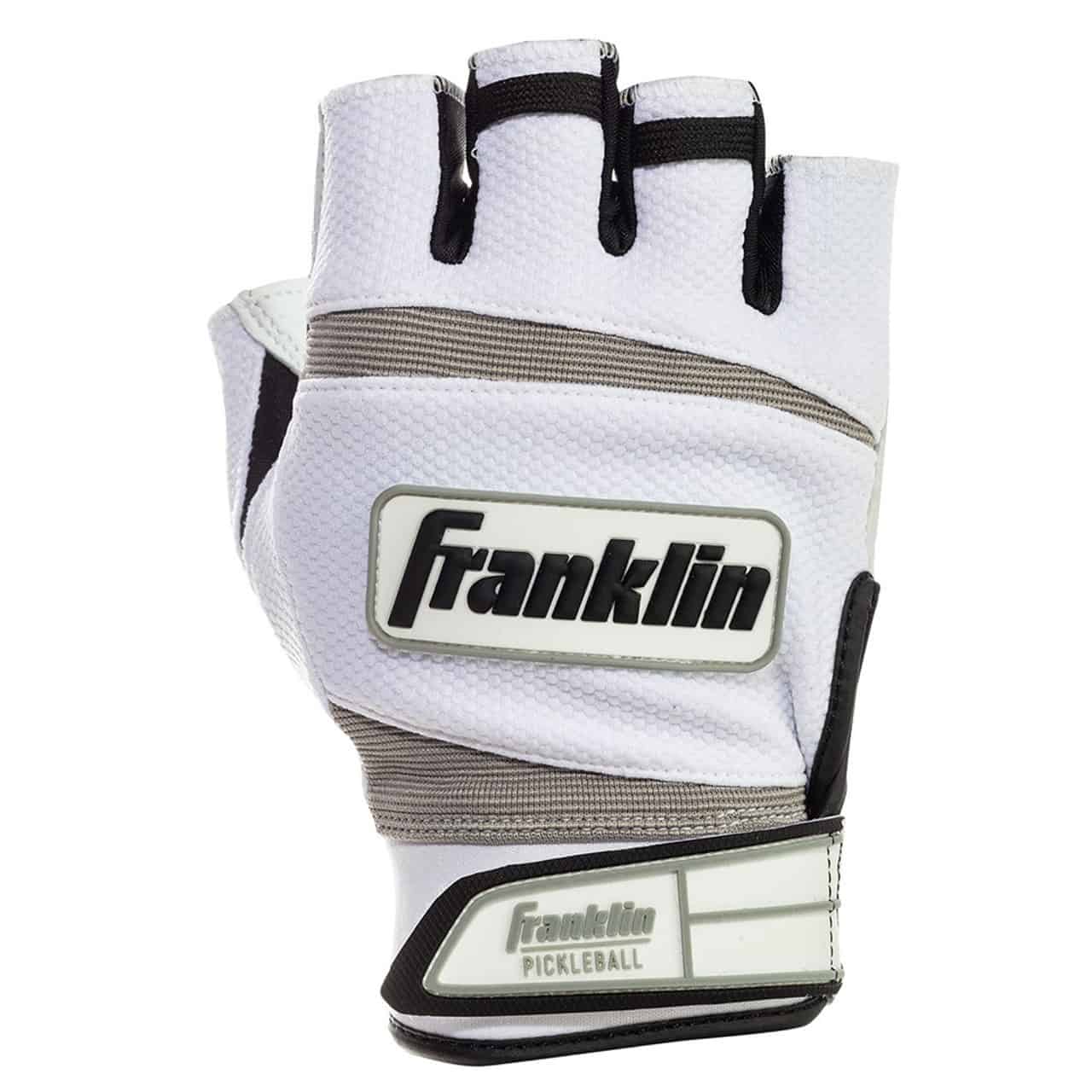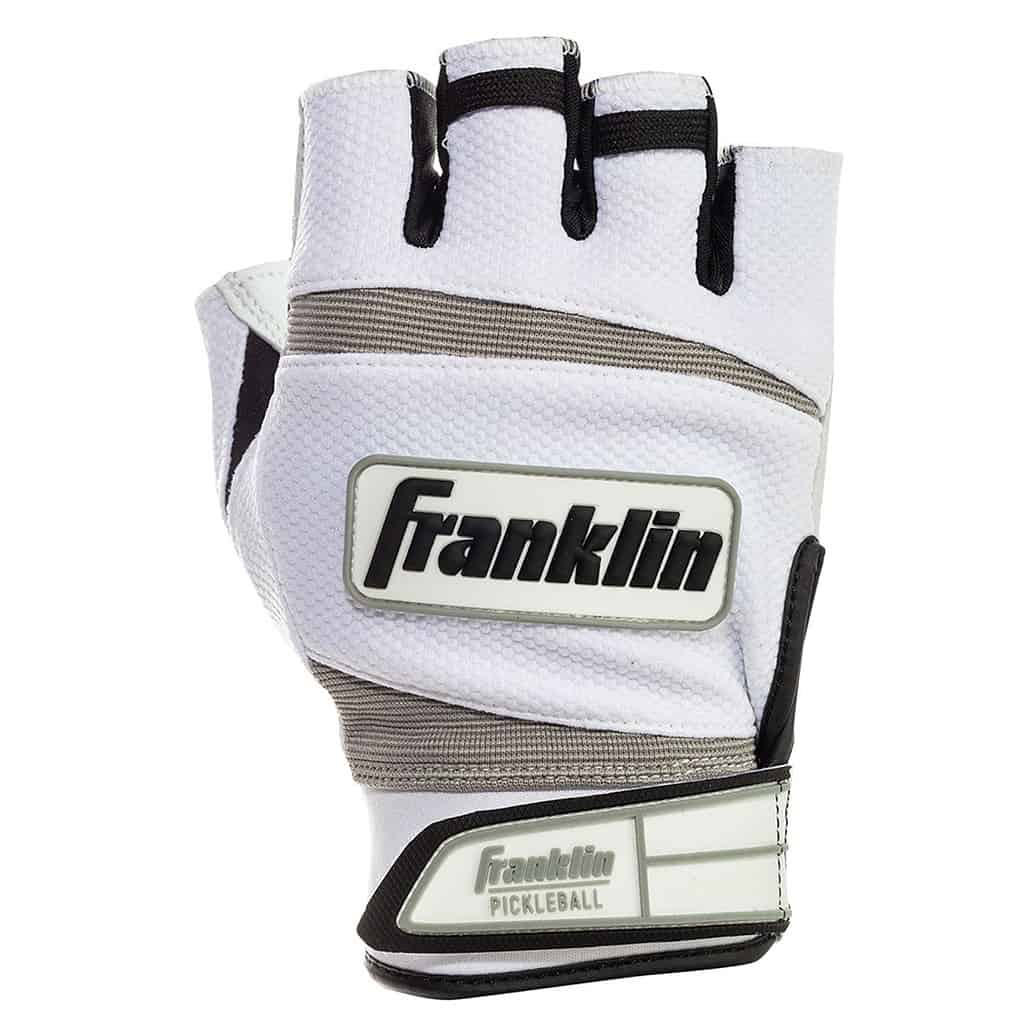 Premium leather palm, padded thumbs and index fingers for comfort, and a reliable hook-and-loop closure for a secure fit, providing exceptional grip and control during every game without discomfort.
Tourna Hot Glove Mitt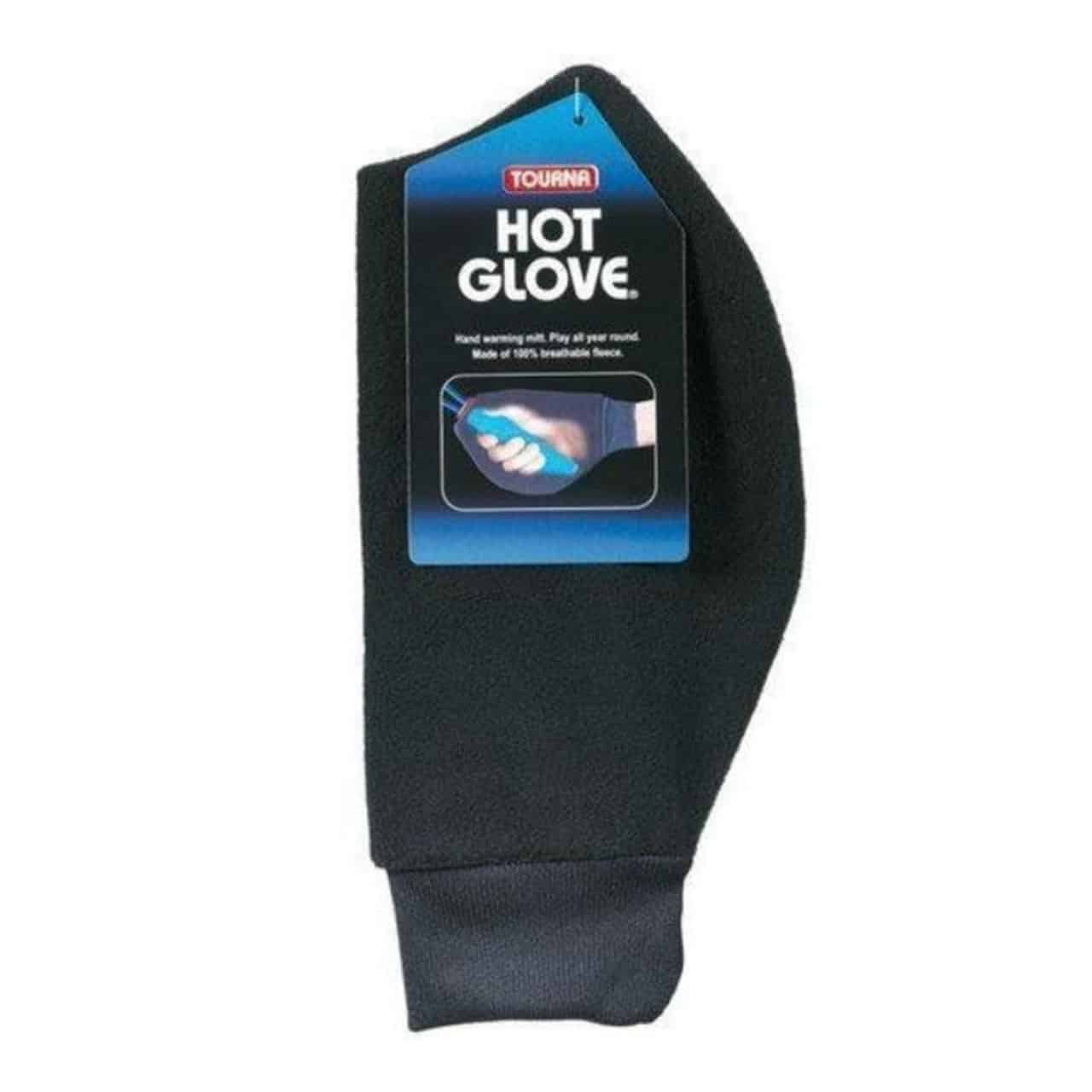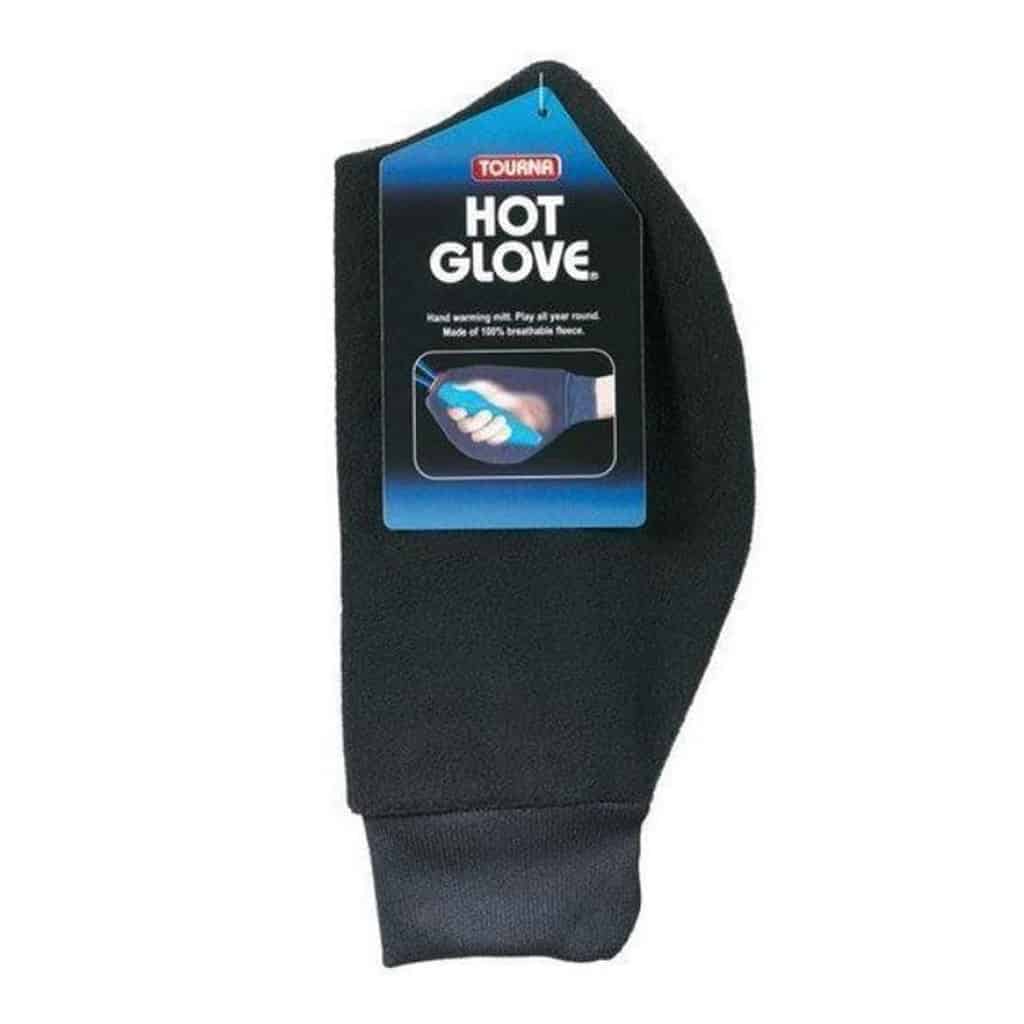 Made of 100% breathable fleece, offers a snug fit around your hand and paddle handle while allowing comfortable barehanded grip, ensuring unobstructed play in a sleek black design with white fleece lining.
Tourna Glove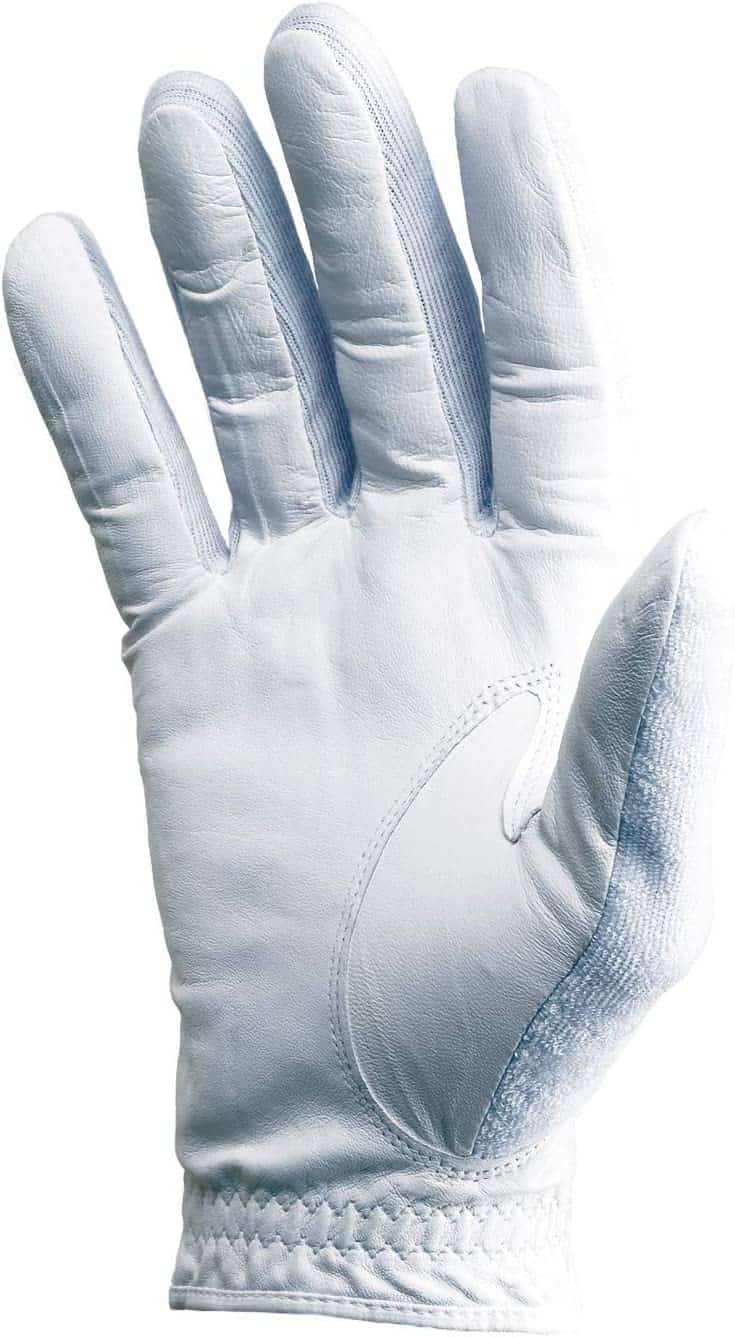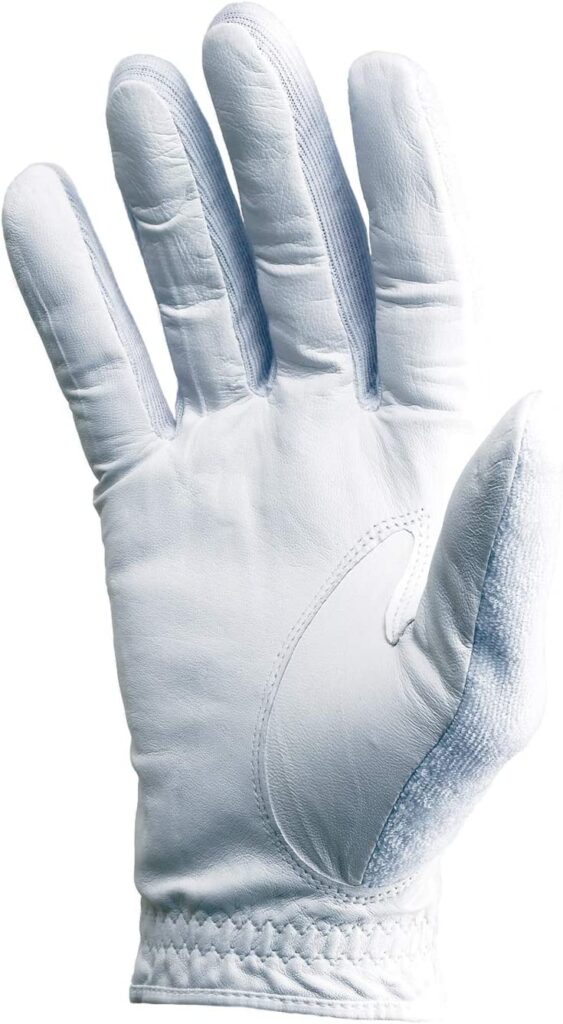 Comfortable fit, easy-to-use velcro closure, and premium calfskin leather for excellent grip and control in both tennis and pickleball, while keeping hands warm in cold weather and sweat-free in warmer conditions.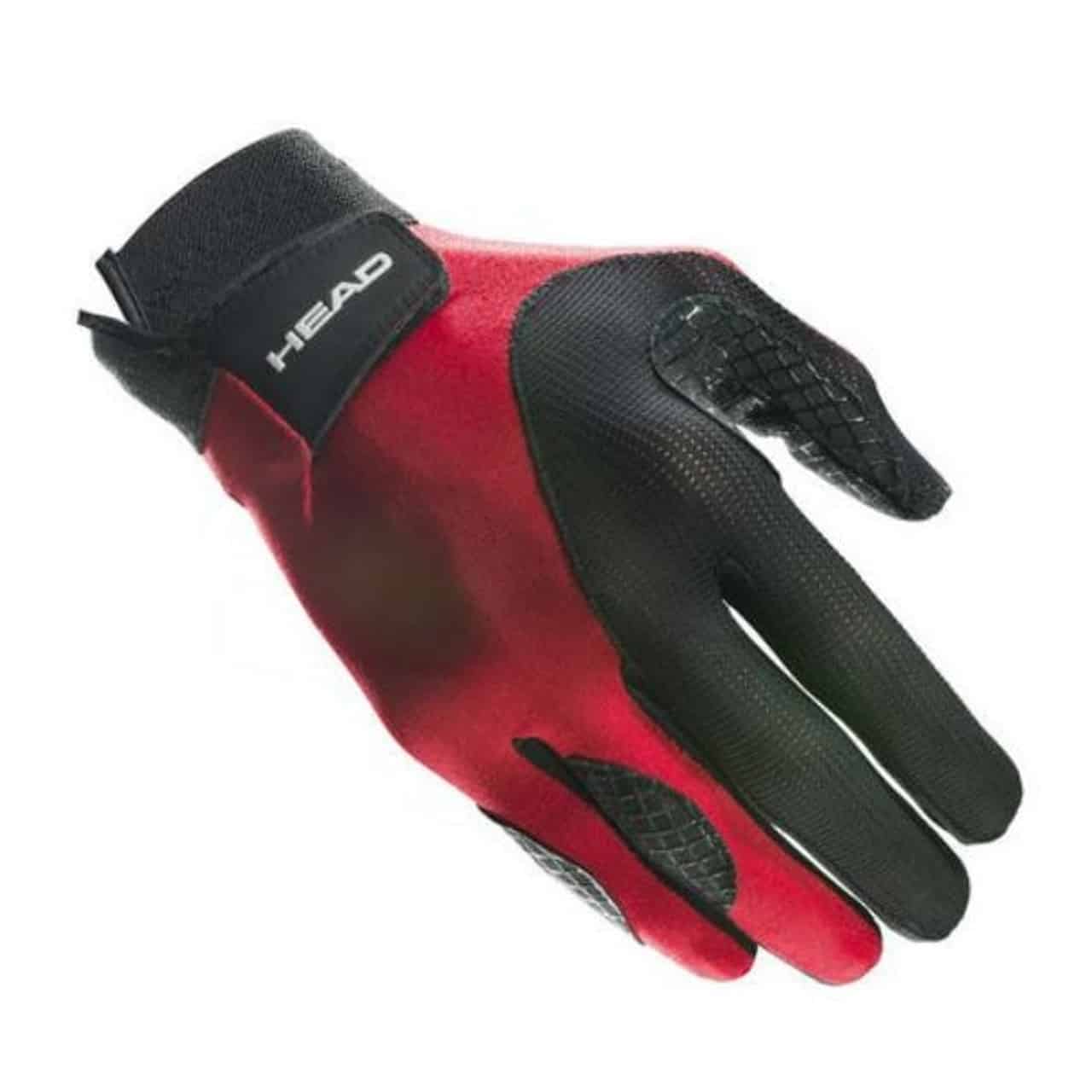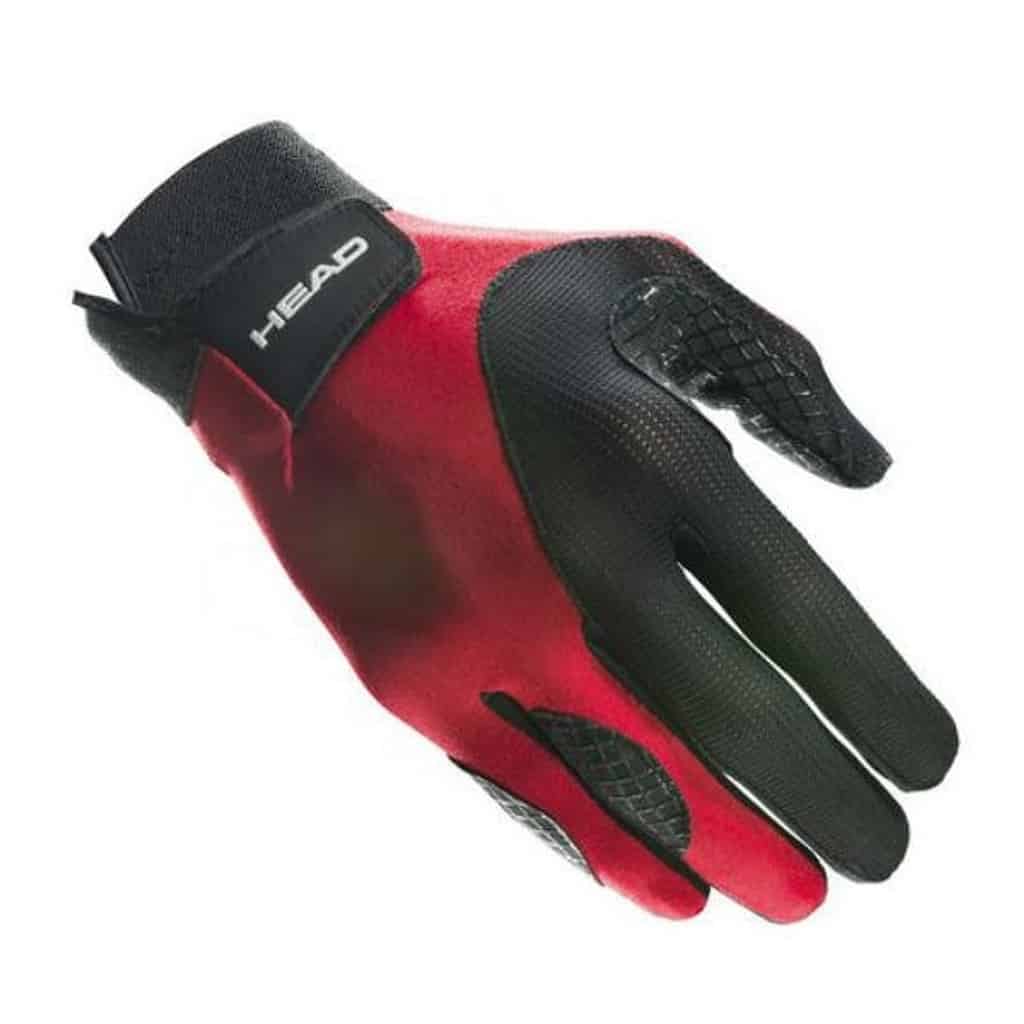 The Head Web glove is the best pickleball glove overall on our list. It is a really nice pickleball glove that tops our list and won't break the bank!
The HEAD Web Glove is made with synthetic leather so it is very durable and should last a long time. It also has knuckle pads to keep your hand safe from accidental bumps against other paddles or the ground.
It's a very comfortable glove that that keeps a good grip on your paddle during your games. The Lycra backing helps prevent sweat buildup and offers some stretch in the fit.
The palm has a silicon-treated pattern that keeps your hand in place. And with its nice red and black design, complete with the HEAD name printed on the pull-tab near the wrist in white, it is a stylish pickleball glove.
This glove will help you deal with sweaty palms and a slick grip. It is well made with the Head name who has been in racket sports for a long time backing it.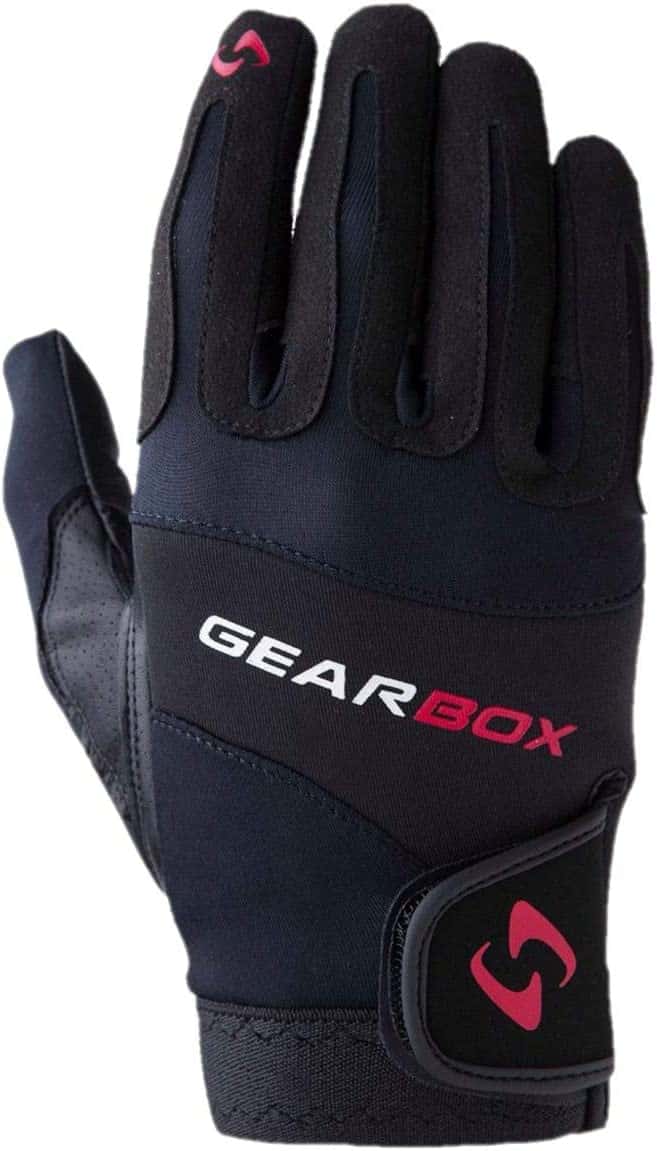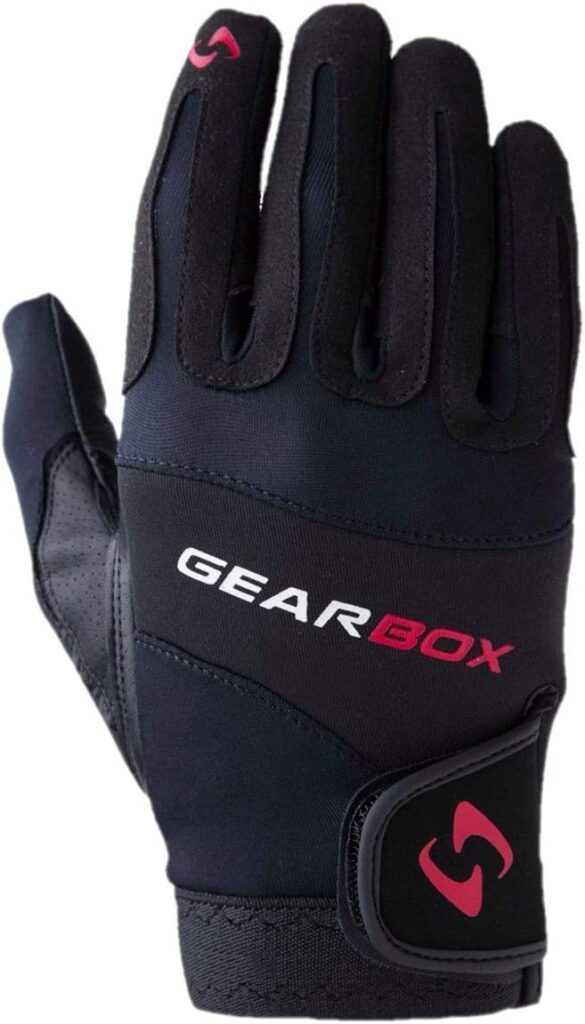 The Gearbox Movement glove is a nice high-quality glove still at a great price. The Pittard leather and pitted palm work together to create a comfortable, durable glove that wicks away sweat.
The suede leather on the fingers and Neoprene and spandex fingers give a nice snug fit. The feel of the hand is very nice with the leather between the hand and grip. The micro-pore design keeps your hands and grip dry, and the extra length on the wrist prevents binding.
Overall, the Movement glove is a great choice for anyone looking for a reliable and comfortable pickleball glove.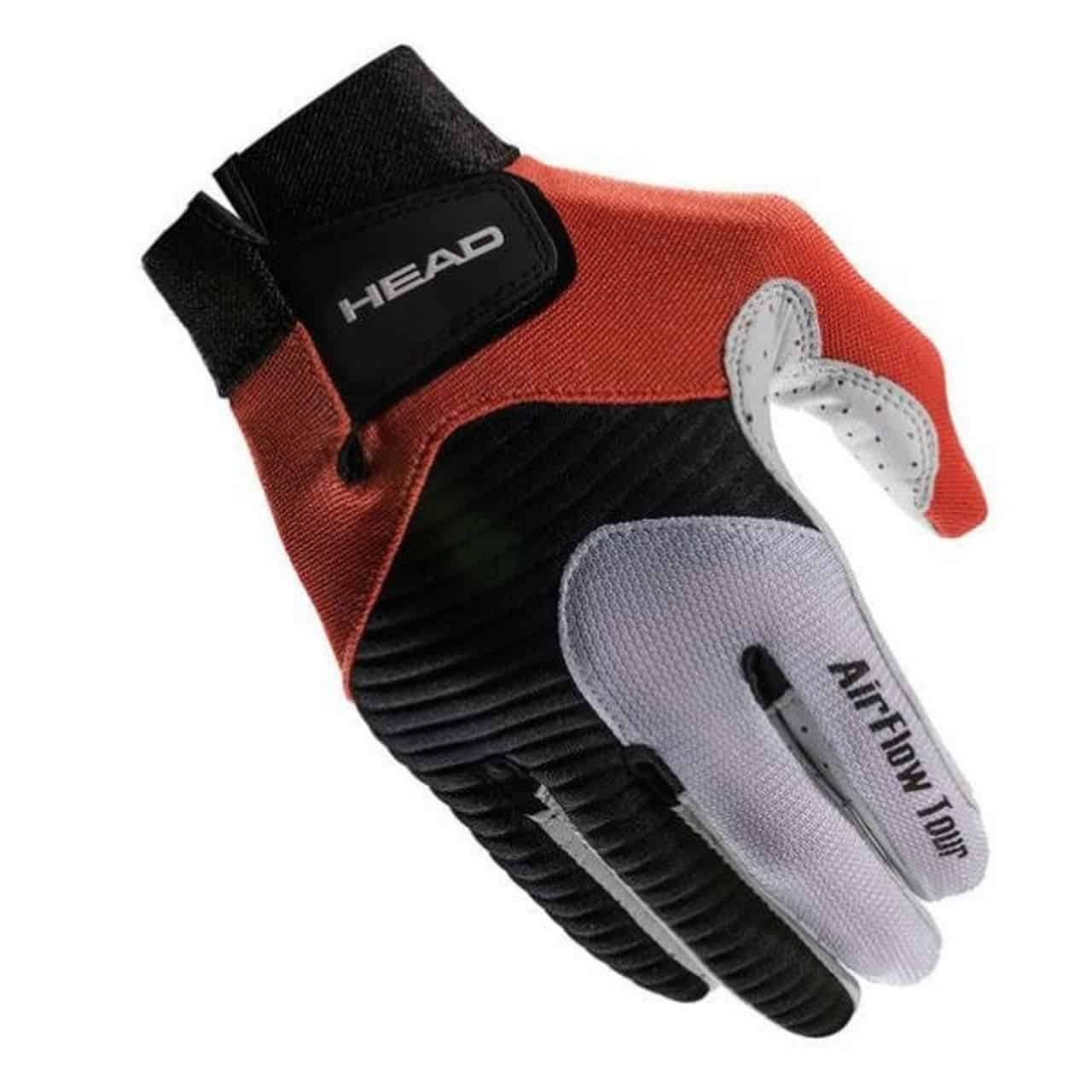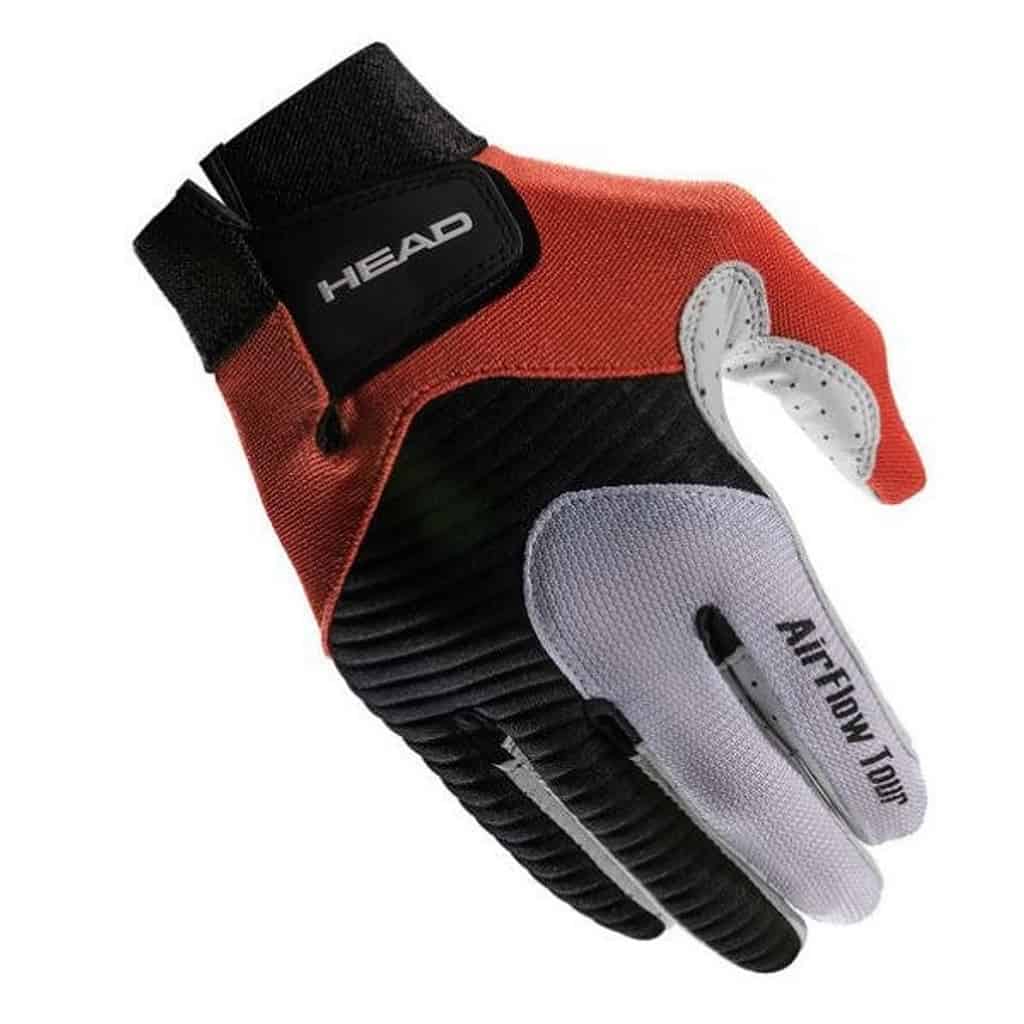 The HEAD Airflow Tour Glove is also a very nice pickleball glove.
It's made with perforated Cabretta leather and Airprene. This gives you great ventilation as well as providing solid grip and protection. It also has a mesh Lycra backing that adds a little stretch and comfort.
They have a ribbed structure that makes bending your hand easy and doesn't interfere with natural movements. The pull tab is reinforced for extra security. Additionally, the glove's eye-catching design combines orange, black, and white colors, making it both stylish and practical.
With its exceptional airflow, comfort, and durability, this glove is a great choice.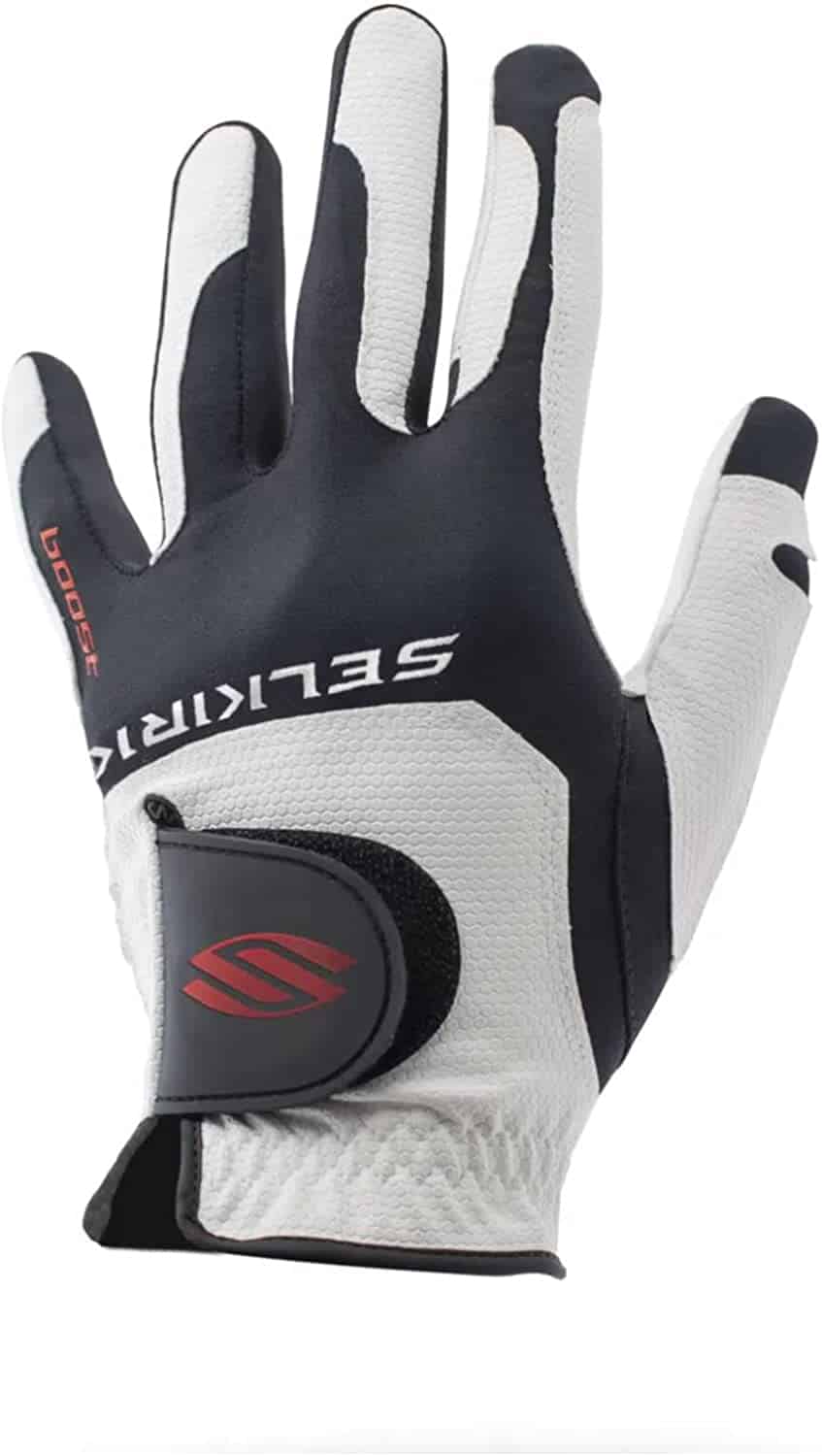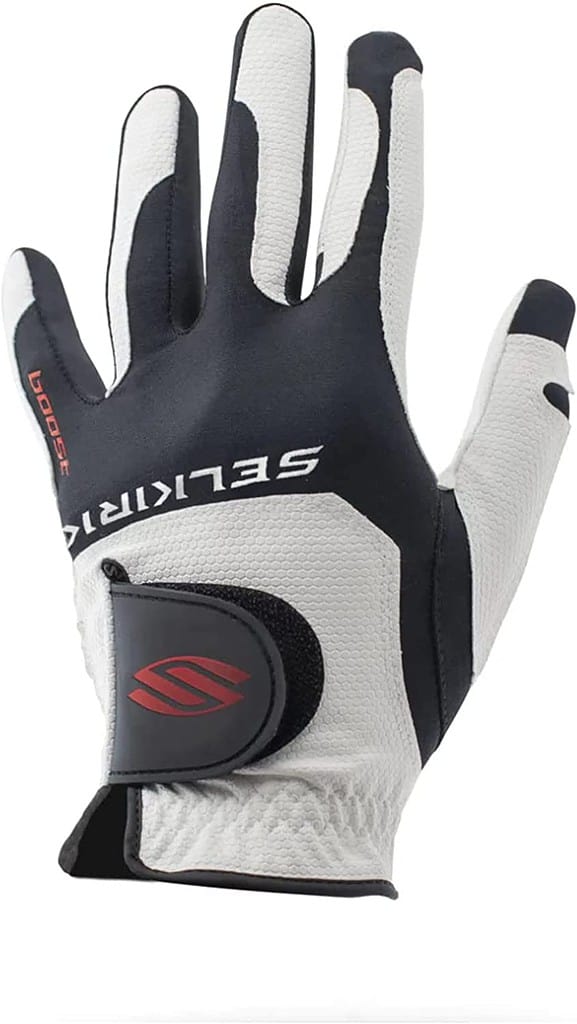 The Selkirk Boost Pickleball Glove has a unique honeycomb structure on the palm that gives you really nice grip in both hot and rainy weather. The breathable Lycra material helps keep your hands comfortable and cool.
Selkirk makes some great paddles, and they are now making a nice glove here.The glove's Flexx Fit ensures a really nice fit for players of any hand size. It is a very durable and comfortable glove. These are some high tech gloves.
The Selkirk Boost Pickleball Glove is definitely worth checking out.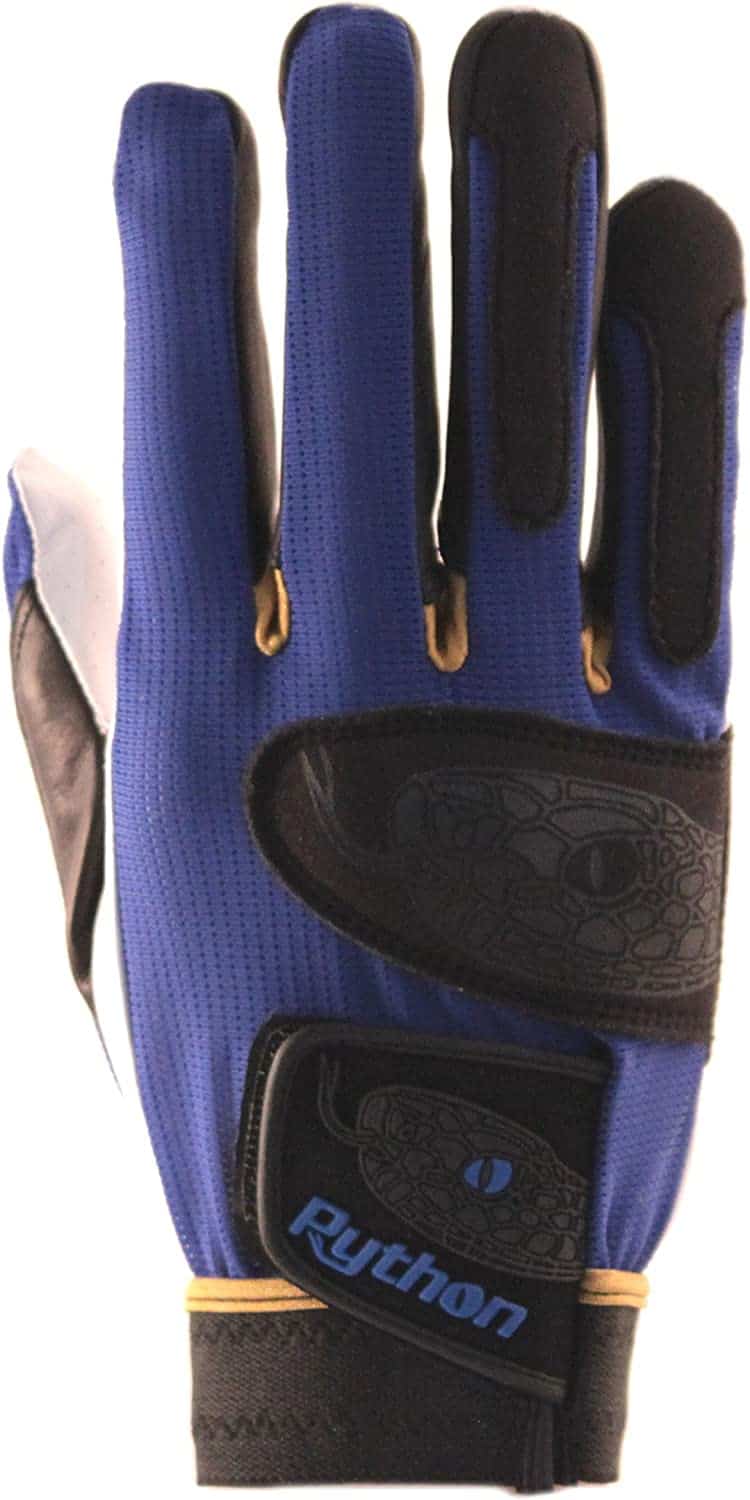 The Python Deluxe glove is made with perforated Cabretta leather. This makes it more breathable and also sweat resistant. Nice glove for indoor and outdoor play.
It is made for raquetball but can easily be used for pickleball like most raquetball gloves. The added grip strip across the palm provides increased power, while the high elastomeric back ensures a great fit no matter how intense the game gets.
The nylon/spandex back delivers gives you a snug yet comfortable fit.
Overall, the Python Deluxe glove is a good glove. I don't see it worth the few extra bucks compared to the others but personal fit is extremely important in selecting the right glove.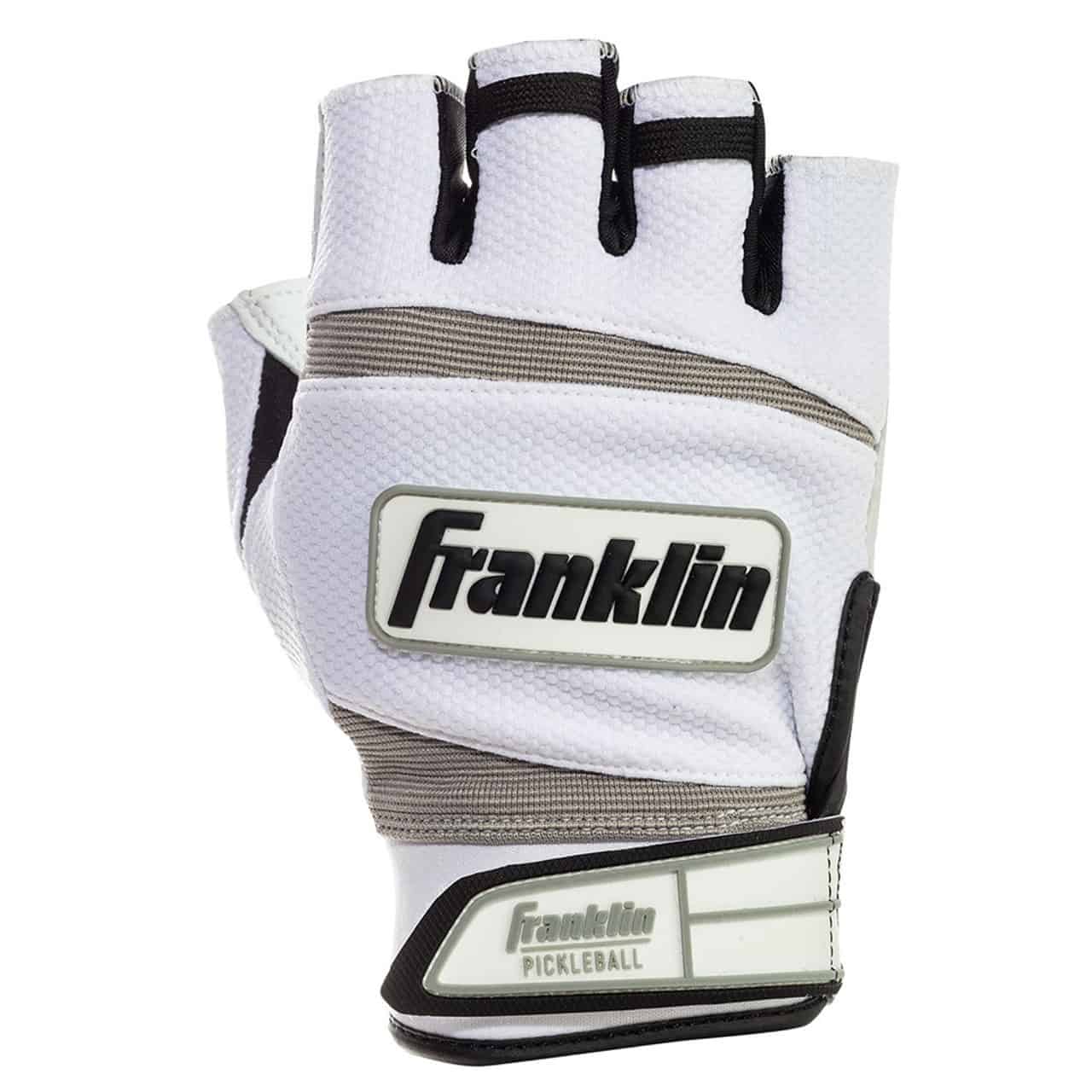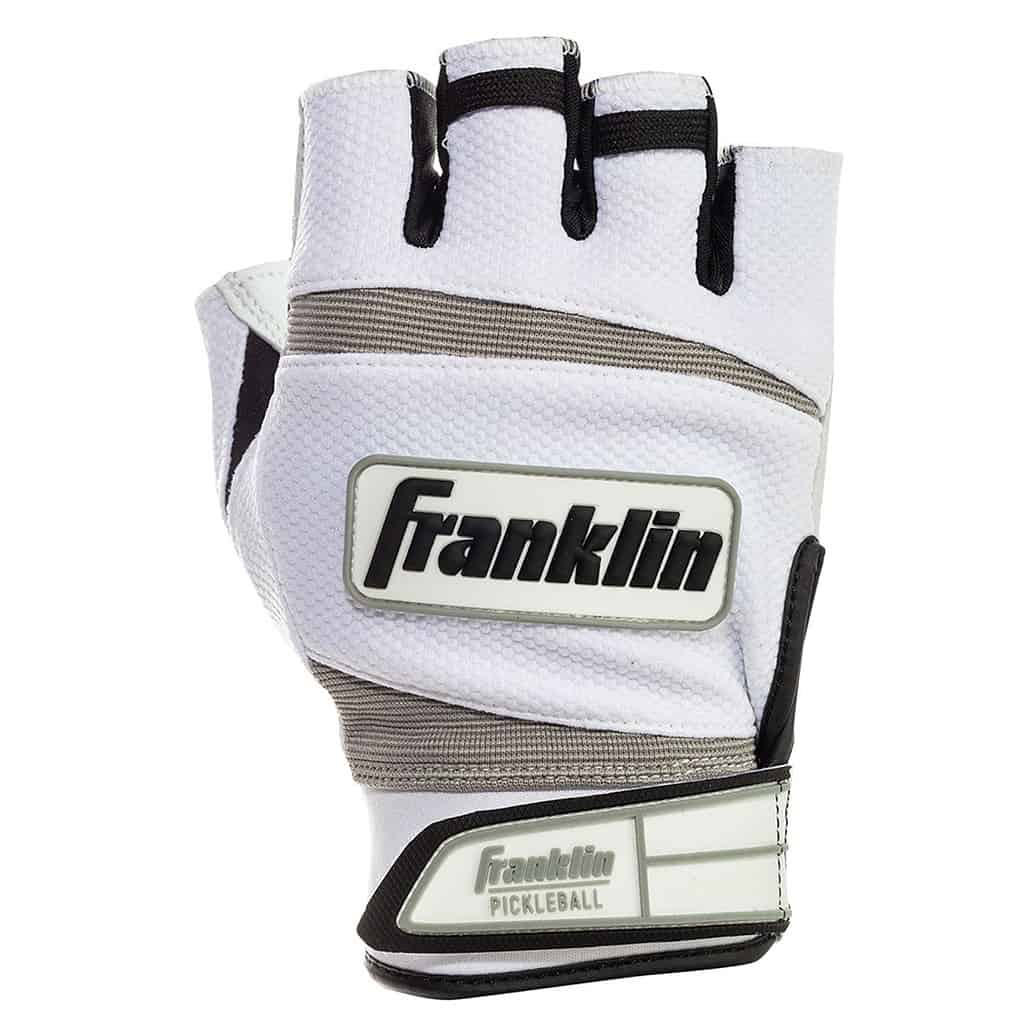 Looking for a half-finger pickleball glove? Look no further than the Performance Glove from Franklin.
While this may be Franklin's first foray into the world of pickleball gloves, their long history of designing sporting gloves for baseball and other sports shines through. I grew up using Franklin Batting Gloves and loved them.
Crafted with a premium leather palm, these fingerless gloves offer unbeatable grip and control during every game. And thanks to padded thumbs and index fingers, you can play without worrying about blisters or discomfort.
But what really sets the Performance Glove apart is its reliable hook-and-loop closure. This ensures a secure fit every time you step onto the court, allowing you to focus on your game instead of fidgeting with your gear.
Overall, the Performance Glove from Franklin is the best pickleball half finger glove. With its premium materials and thoughtful design, it's sure to become your go-to glove every time you hit the court.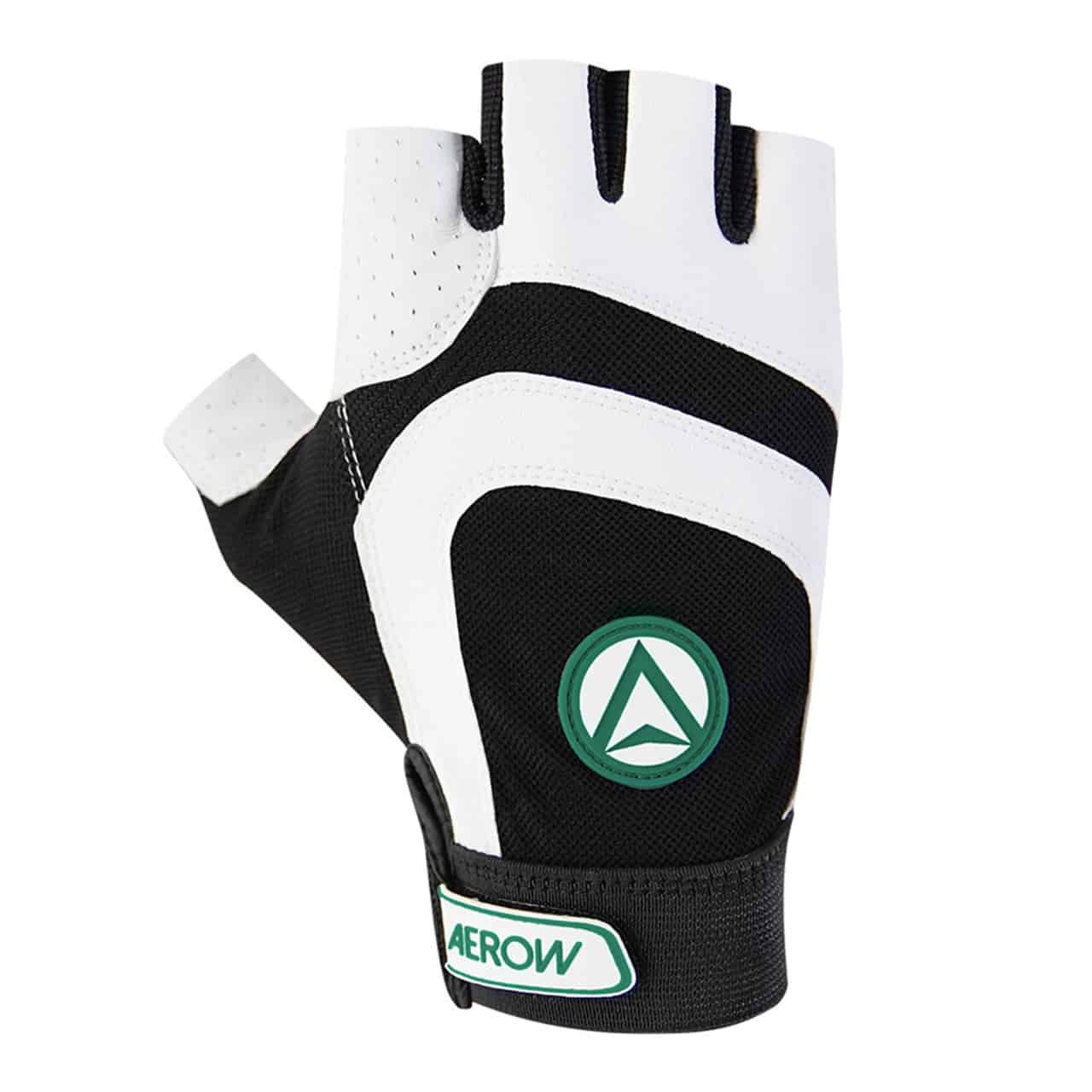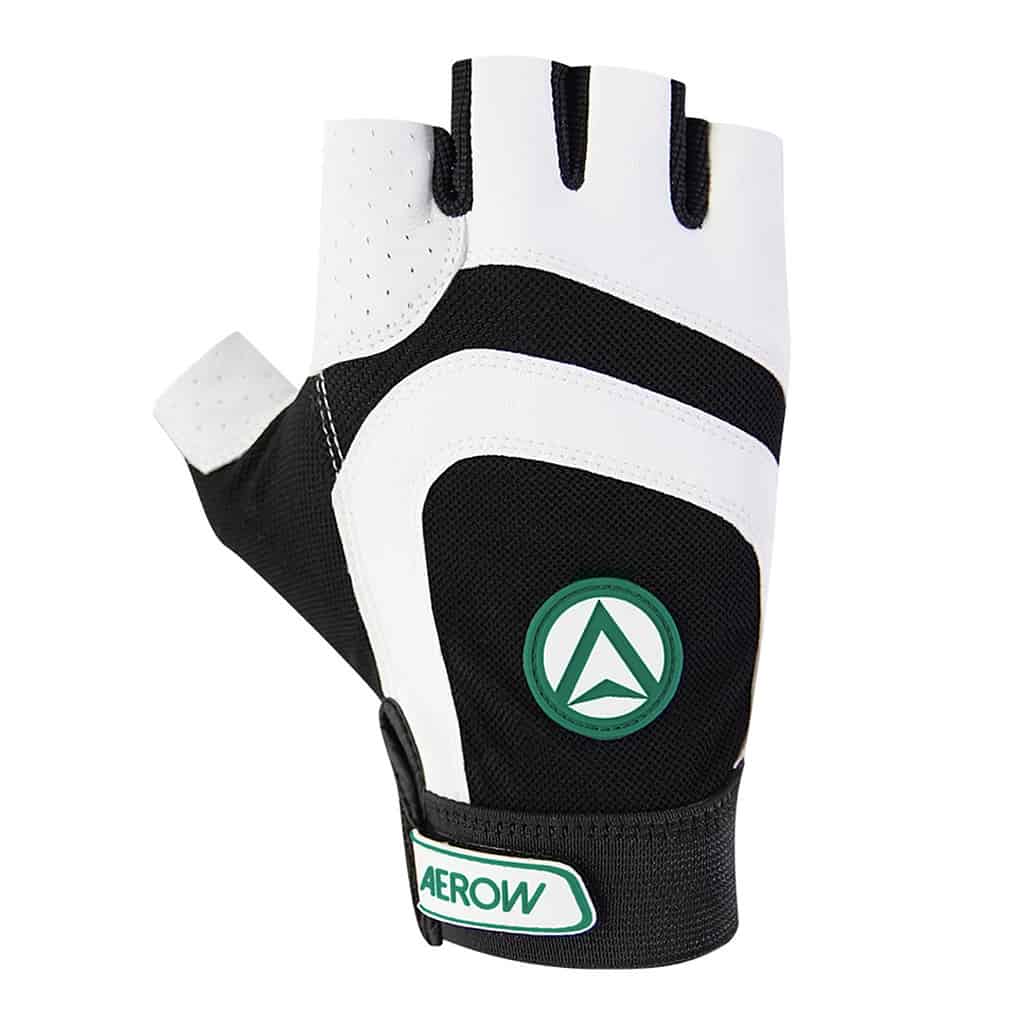 The Aerow Recon Fingerless Pickleball Glove is made from premium cabretta leather which gives you a secure and flexible fit. The glove is also very breathable with the mesh material on the back of the hand and strategically placed perforations. It really helps to prevent sweaty hands.
The Recon Fingerless Pickleball Glove is available for both right and left hands, and comes in sizes ranging from XS to XL. If you're looking for a glove that will keep your hand comfortable and your mind focused on the game, this is an excellent option to consider.
If you're a pickleball player who dreads cold fingers during early morning or evening games, the Tourna Hot Glove Mitt is here to help.
This glove fits snugly around your hand and paddle handle without getting in the way of your play. Unlike gloves which can make it difficult to grip your paddle during cold weather, this mitt allows you to hold the pickleball paddle handle with your bare hand comfortably.
Made of 100% breathable fleece, the Hot Glove Mitt comes in a sleek black color with white fleece lining on the inside. The elastic wristband ensures that one size fits all, stretching to fit any wrist size. At only 1 ounce, the lightweight material won't weigh you down during play, and its compact size makes it easy to carry around.
The Hot Glove Mitt is a great option for players who don't want to sacrifice outdoor play during colder weather.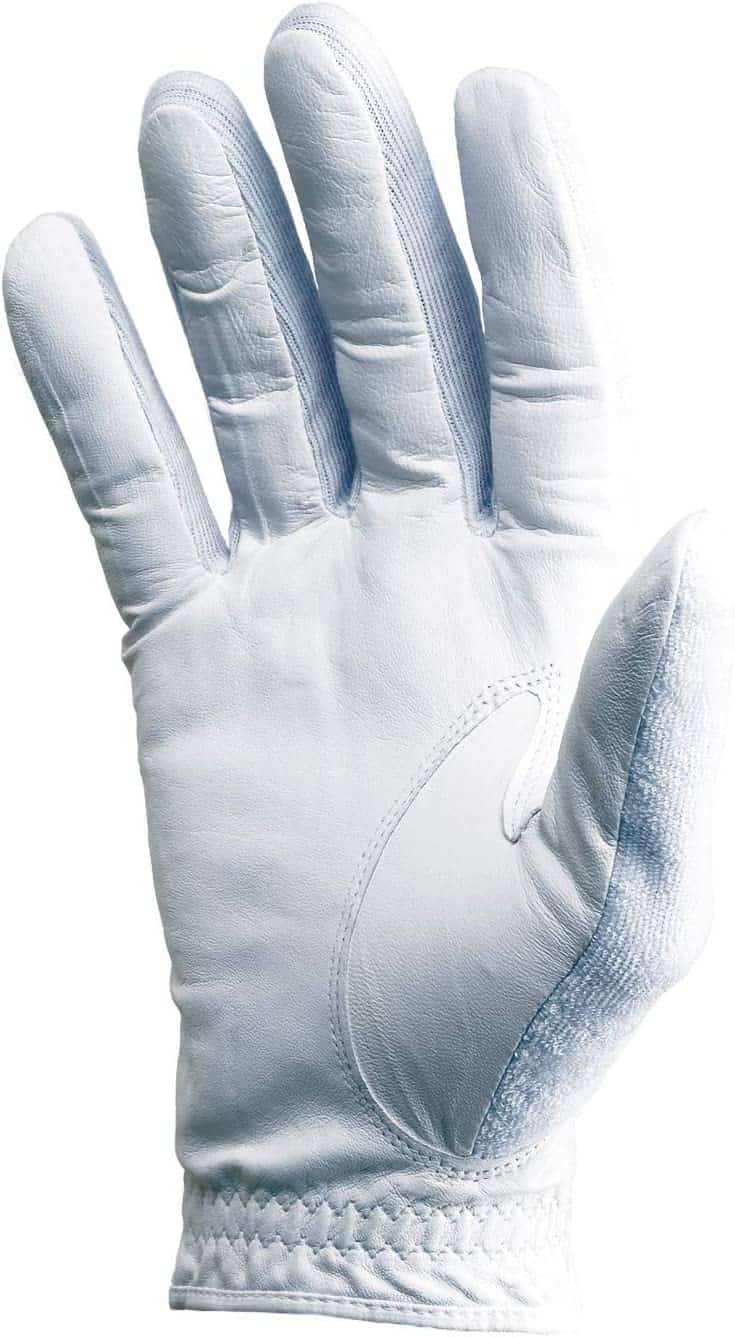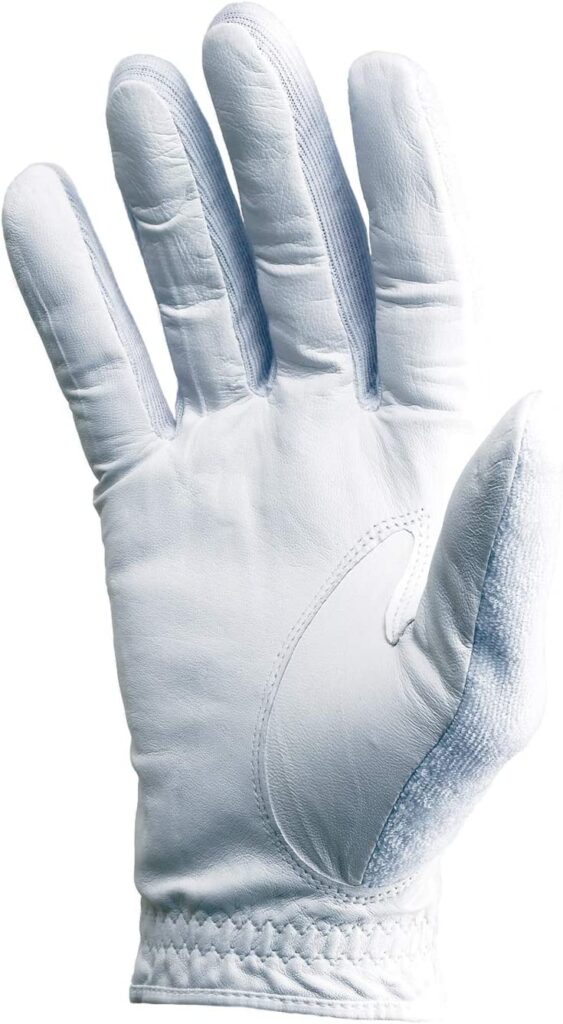 The Tourna Pickleball glove is the best budget glove on the market.
It is made of 99% leather and 1% terry and provides nice comfort. The velcro closure makes it easy to put on and take off.
The extra soft and thin premium calfskin leather provides a smooth, soft and comfortable feel. This glove has very good grip and control for both tennis and pickleball players. It's also great for keeping your hands warm in cold weather and absorbing sweat in warmer weather.
Overall, the Tourna Pickleball glove is a fantastic buy for any player looking for a quality glove at an affordable price.
What Are Pickleball Gloves?
Pickleball gloves are a type of specialized sports gloves used by some pickleball players to improve grip on the paddle, reduce hand fatigue, and improve overall performance.
They are typically made from lightweight, breathable materials like synthetic leather, neoprene, or spandex to ensure comfort during gameplay. The palm area of the glove usually has extra padding or a textured surface to provide a secure grip, while the back of the glove may have ventilation holes for better airflow. Wearing pickleball gloves can help players avoid blisters, calluses, and sweaty hands, leading to a more enjoyable playing experience.
What To Look For In A Pickleball Glove?
When choosing a pickleball glove, consider the following factors to ensure optimal performance and comfort on the court:
Material: Pickleball gloves can be made of real leather, synthetic materials, or a combination of both. Leather palm gloves offer better grip and durability, while synthetic gloves are more breathable and lightweight. Choose the material that best suits your preferences and playing conditions.
Fit and Comfort: A well-fitting glove should feel snug but not too tight on your paddle hand. Look for gloves with adjustable closures, such as Velcro straps, to ensure a secure and comfortable fit.
Padding and Protection: Some gloves have padded areas or reinforced panels to provide additional protection and support for your hands during play. This can help prevent injuries and reduce fatigue, especially if you play racquet sports frequently or for extended periods.
Breathability and Moisture Management: Gloves with mesh panels or moisture-wicking materials can help keep your hands dry and comfortable during play. This is particularly important in hot or humid conditions, as sweaty hands can make it difficult to maintain a good grip on the pickleball paddle.
Grip Enhancement: Many pickleball gloves feature textured or tacky surfaces on the palm and fingers to improve grip on the paddle. This can help you maintain better control during play and reduce the risk of dropping your paddle.
Style and Design: While functionality should be the primary consideration, you may also want to choose a glove that matches your personal style or complements your other pickleball gear.
Price and Quality: As with any sports equipment, there's often a correlation between price and quality. Determine your budget and weigh the benefits of investing in a higher-quality glove that may offer better performance and durability over time.
By taking these factors into account, you'll be able to find the best pickleball glove to enhance your performance and enjoyment of the game.
Do You Need To Wear A Glove to Play Pickleball?
It is not required to wear a glove while playing pickleball, but some players prefer to wear gloves to improve their grip on the paddle and prevent blisters. Additionally, wearing gloves can provide extra cushioning and support for your hands during gameplay. Ultimately, whether or not you choose to wear gloves while playing pickleball is a personal preference.
Are Pickleball Gloves Essentially Raquetball Gloves?
Yes, pickleball gloves are very similar to racquetball gloves. Both gloves are designed to provide a better grip on the racquet or paddle, reduce slippage, and offer some protection to the hand. However, there may be slight differences in materials or design, so it's always best to choose a glove specifically designed for your preferred sport to ensure optimal performance.
Can You Wear A Golf Glove?
Yes, you can wear a golf glove to play pickleball if it provides you with the grip and comfort you're looking for, but I wouldn't totally recommend it. While golf gloves are not specifically designed for pickleball, they can offer some benefits such as improved grip, reduced sweat, and protection against blisters. However, you may want to consider trying a pickleball-specific glove or even a racquetball glove, as these are designed to provide better performance and support for the unique demands of pickleball.
Conclusion
In conclusion, finding the best pickleball glove is a matter or trial and error. So much of it comes down to fit and feel.We have discussed various factors to consider when selecting the best pickleball gloves, such as grip, durability, breathability, and fit. The top recommendations mentioned in this post are not only high-quality but also cater to different preferences and budgets.
Remember, the choice of a glove ultimately depends on your individual needs and playing style. So, don't hesitate to try out a few options before making a decision. With the perfect glove, you'll be well on your way to improving your skills and acing the pickleball court. Happy playing!