With Ooni Pizza Oven recently having its 10th anniversary, I thought it would be a perfect time to review this ever-so-popular outdoor pizza oven that is taking over our social media streams and finding a special place in our hearts (and stomachs).
This could be the perfect addition to your outdoor kitchen space…. After all, who doesn't love an authentic, awesome pizza cooked right from the comfort of your own home in a wood-fired pizza oven?
In this blog post, I will provide an unbiased review of the three Ooni Pizza Ovens: the good, the bad, the facts, and my overall take on what I've learned and share which one is my favorite pizza oven.
I'll also give you some tips on how to choose the right Ooni model for your needs.
So, let's get into it!
We are reader supported and as such we may make a small commission at no expense to you by purchasing thru our links.
What are the 3 Different Ooni Pizza Oven Models?
Ooni has 3 different outdoor pizza oven designs: The Ooni Karu, Ooni Koda, and Ooni Fyra. Let's take a look at each.
The Ooni Karu 12 inch & Ooni Karu 16 inch Multifuel Pizza Oven
Karu 12 Inch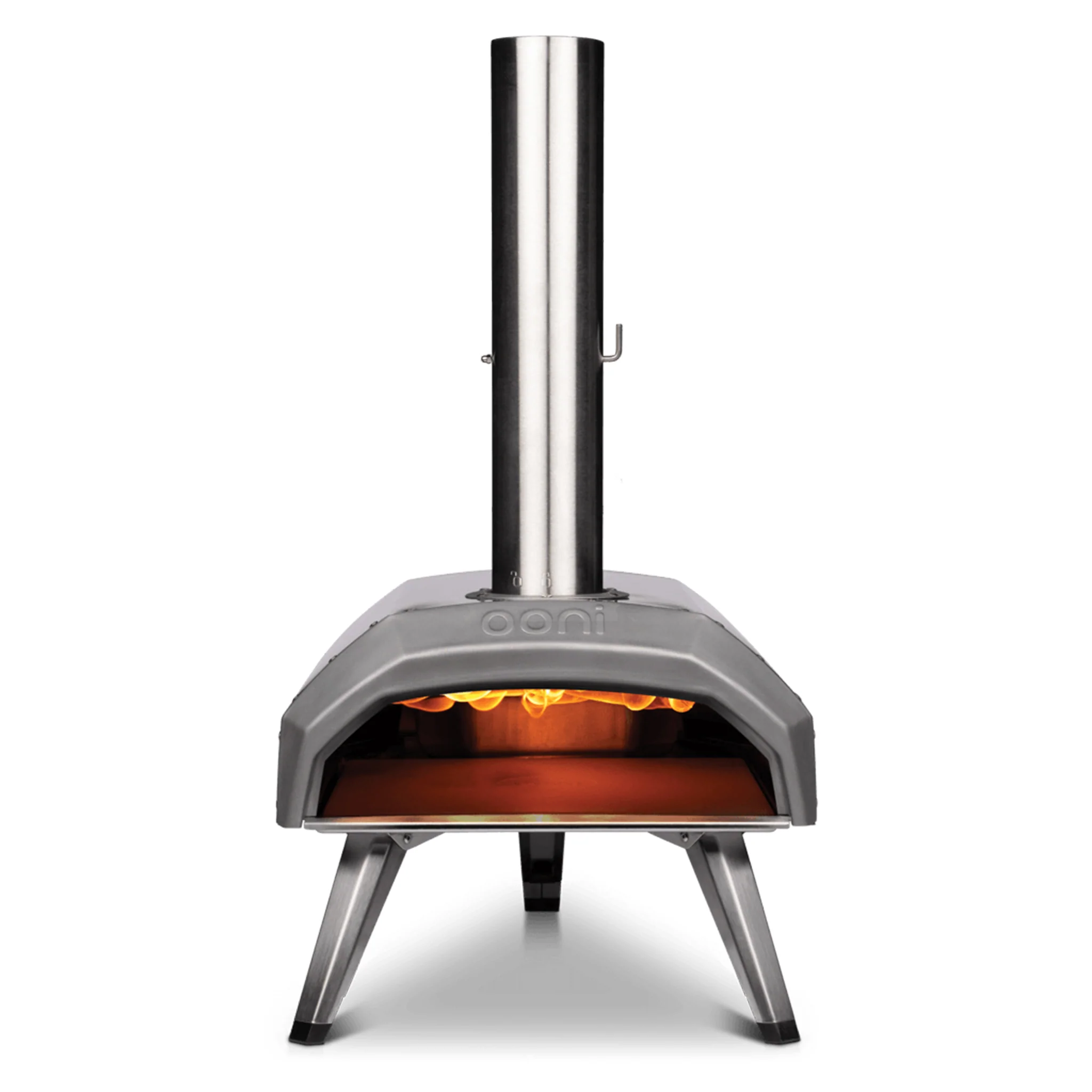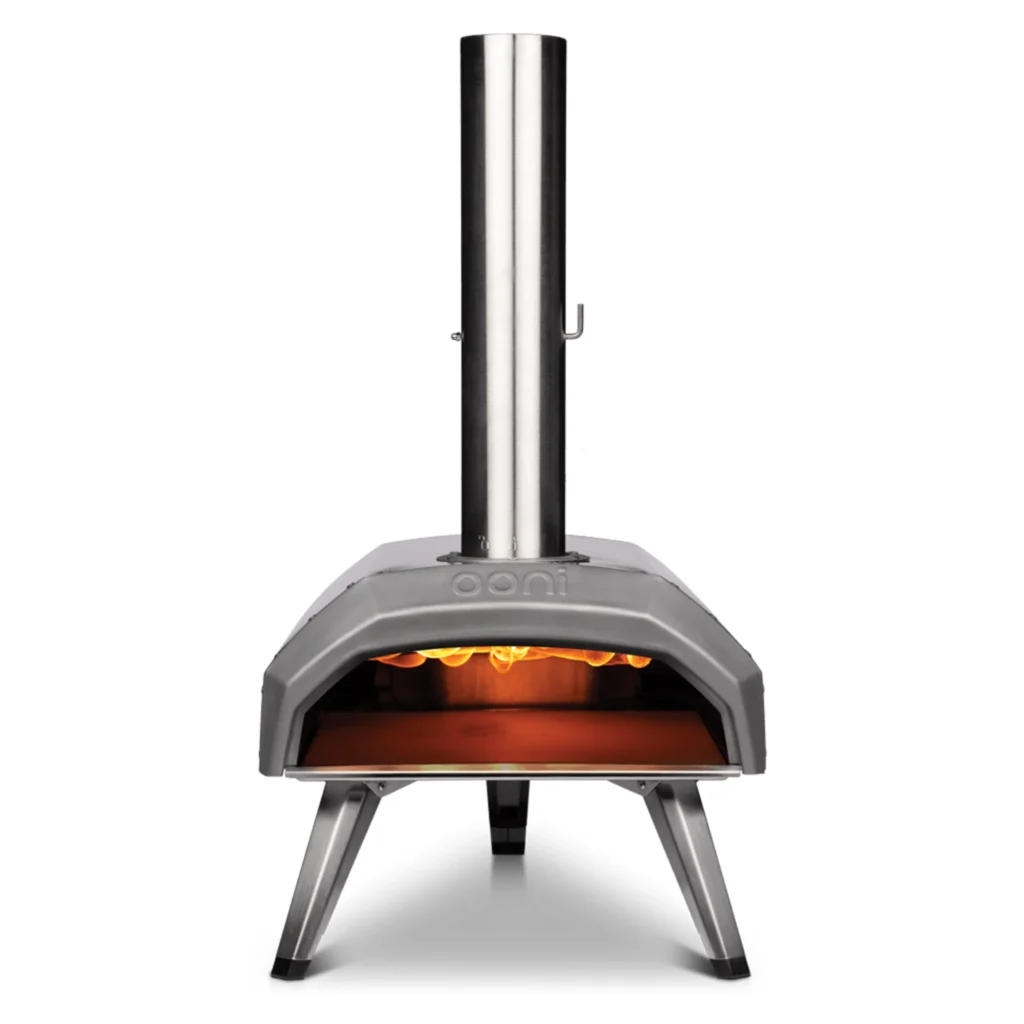 Karu 16 Inch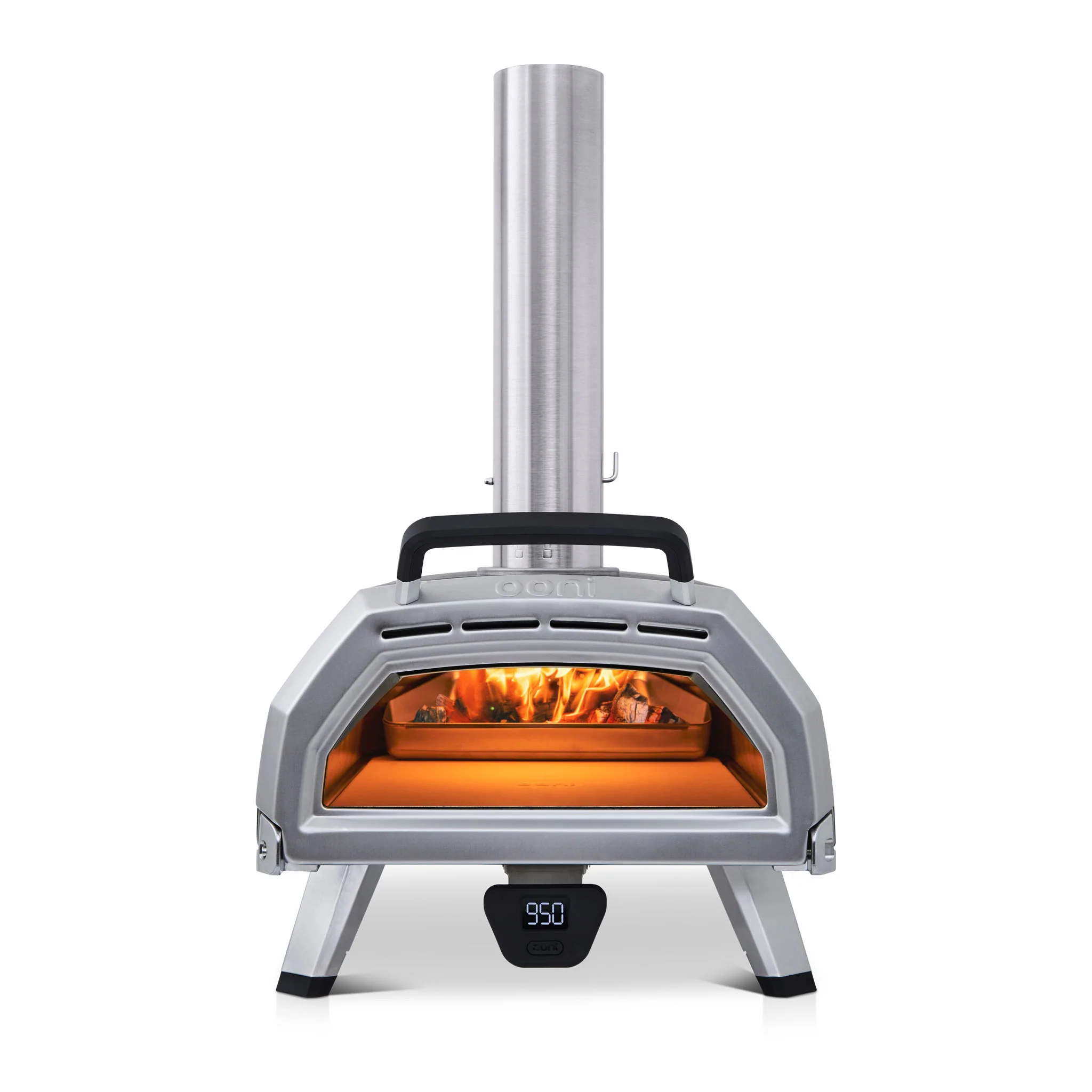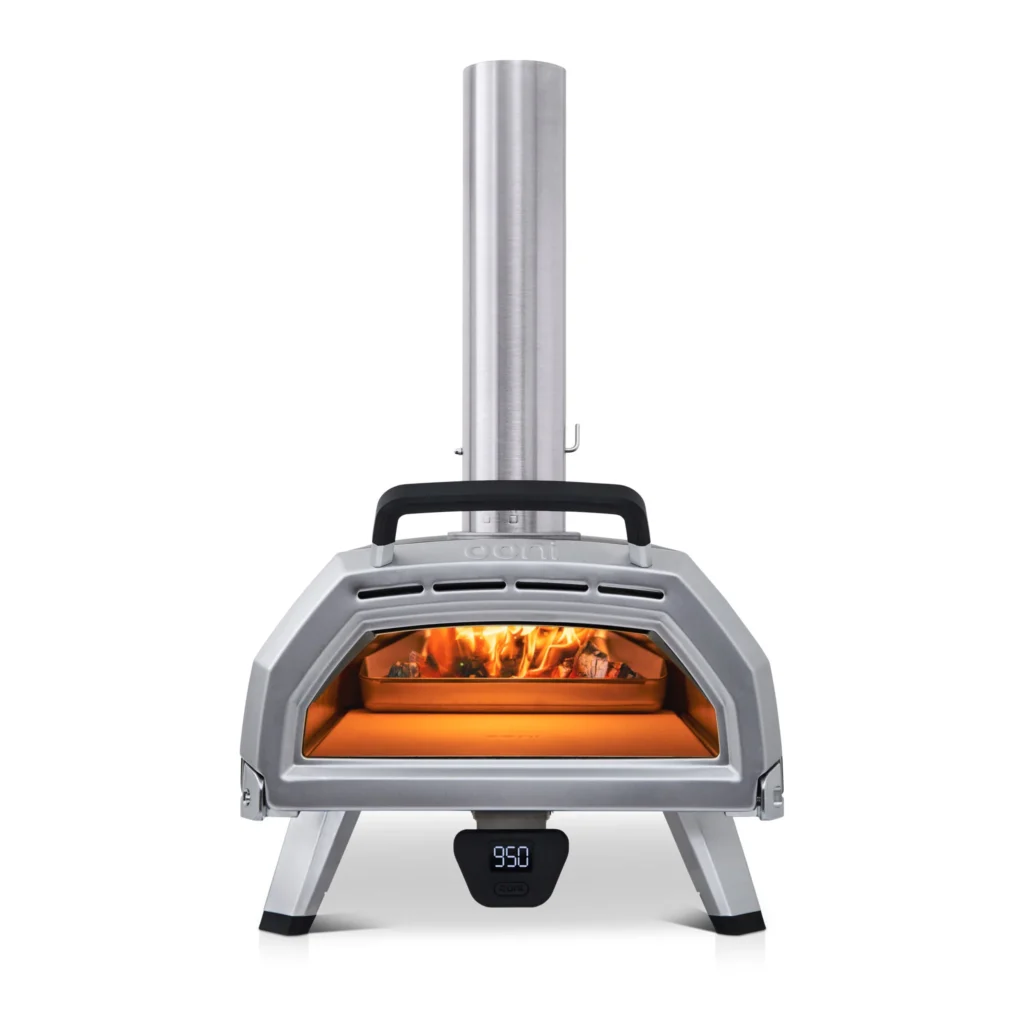 The Ooni Karu outdoor pizza oven is the most versatile of all their options.
The Karu is Offered as a 12-inch and 16-inch pizza oven and is a multi fuel pizza oven. What that means is that you can use them with wood, charcoal, propane gas, wood pellets or natural gas.
The Karu also has a built-in thermometer so you can always monitor your temperatures while your pizza cooks. Temperature is key for that wood fired style!
The Ooni Karu outdoor pizza oven is ready to go out of the box and they've added a new feature for the Ooni Karu 16; a hinged door with a view, to boost visibility on those flame cooked toppings or any other food you decide to make. This is a great feature for those who want to keep an eye on their pizzas (or anything else) as they cook.
The Ooni Karu doesn't really need my endorsement as they've proven to be a leader in pizza ovens for quite some time, BUT, the Karu is my favorite model Ooni has to offer. I love the size and options of a multi-fuel oven and think that really seals the deal for me as I review all of their models!
I am a big wood-fired pizza girl, but also if I'm hosting guests for a pizza night, gas is the more efficient way to go. Thats why I love the multi fuel option.
Also, I am a family of 6, so the larger Ooni Karu 16 if perfect for us to be able to make larger pizzas and satisfy those kiddos! But, if the size of your pizza oven doesn't matter, you can save the extra money and get all those awesome accessories for your Ooni!
Ooni Koda 12 & 16 Gas-Powered Pizza Oven
Koda 12 Inch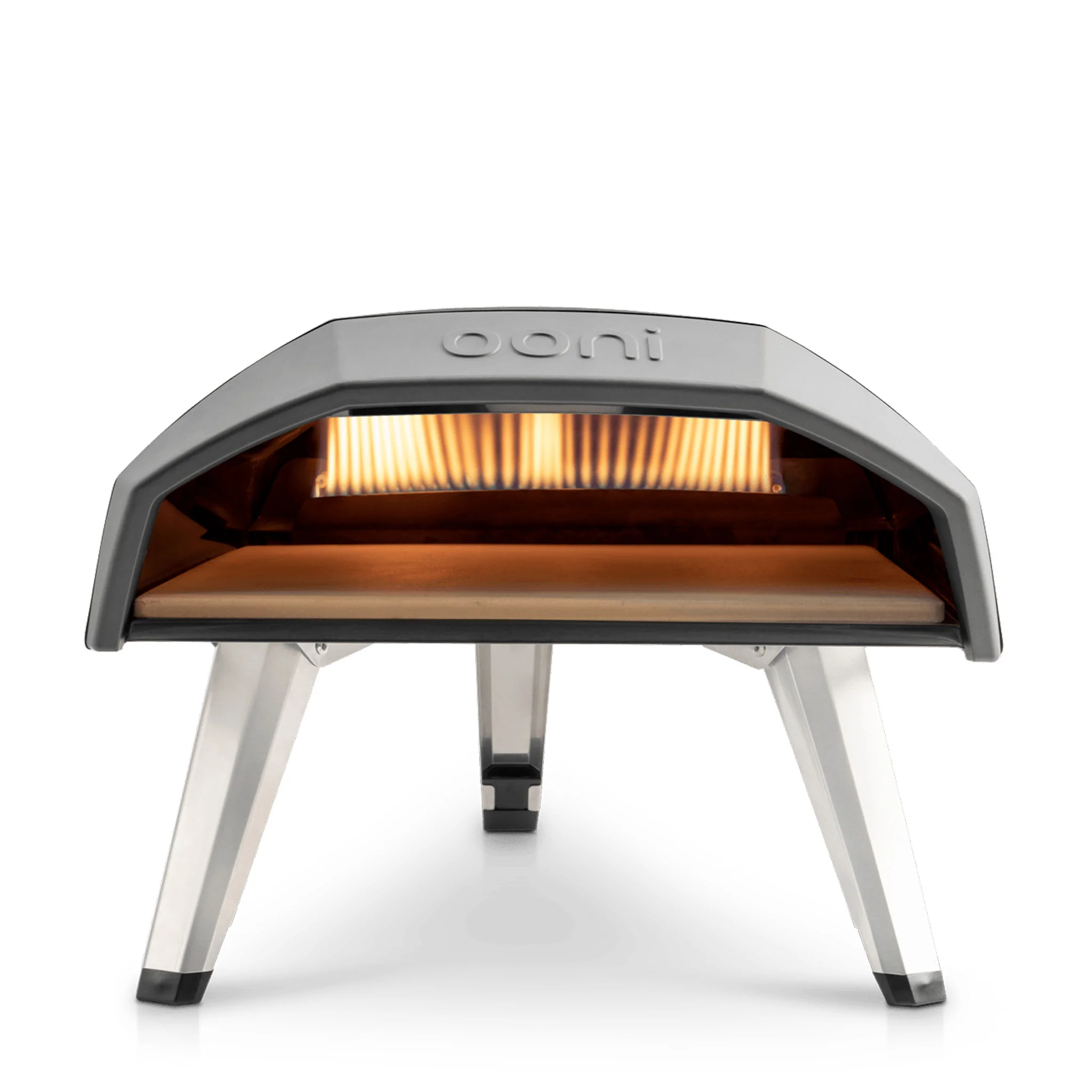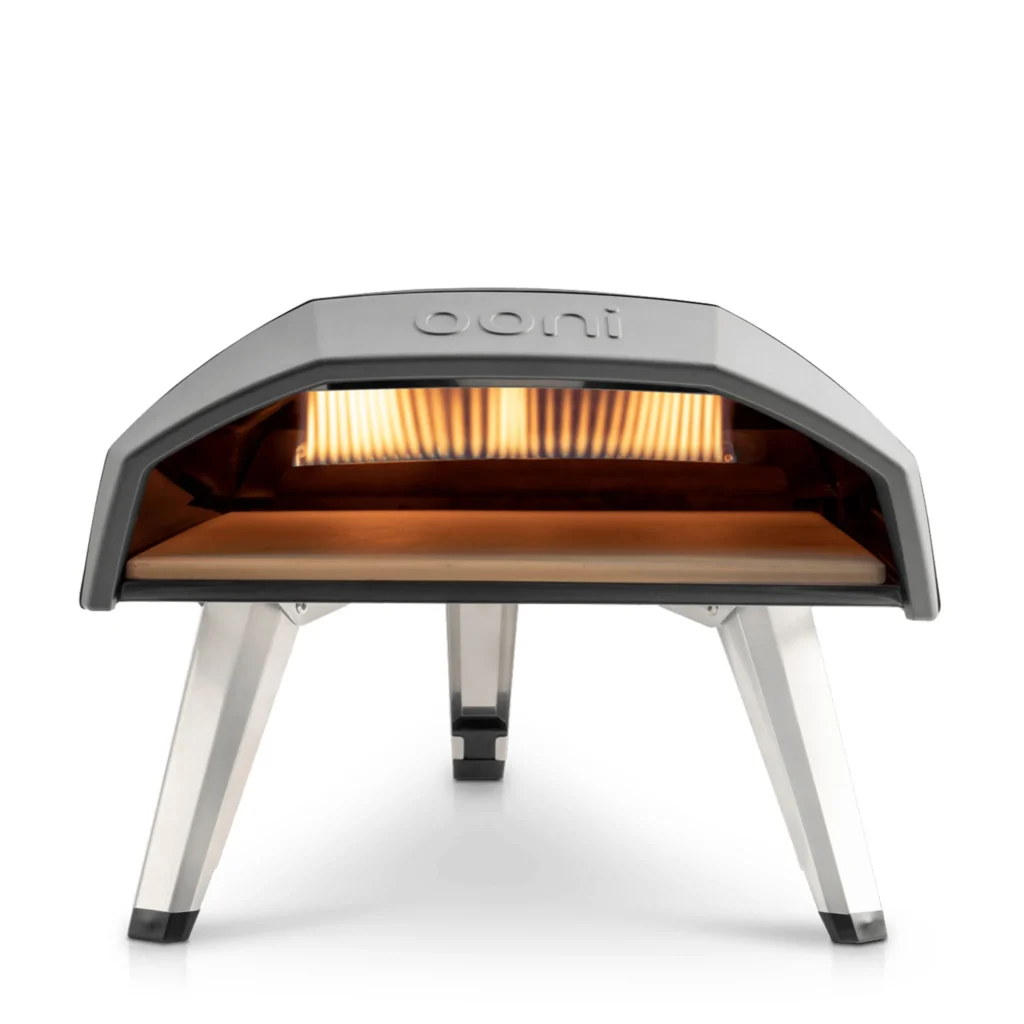 Koda 16 Inch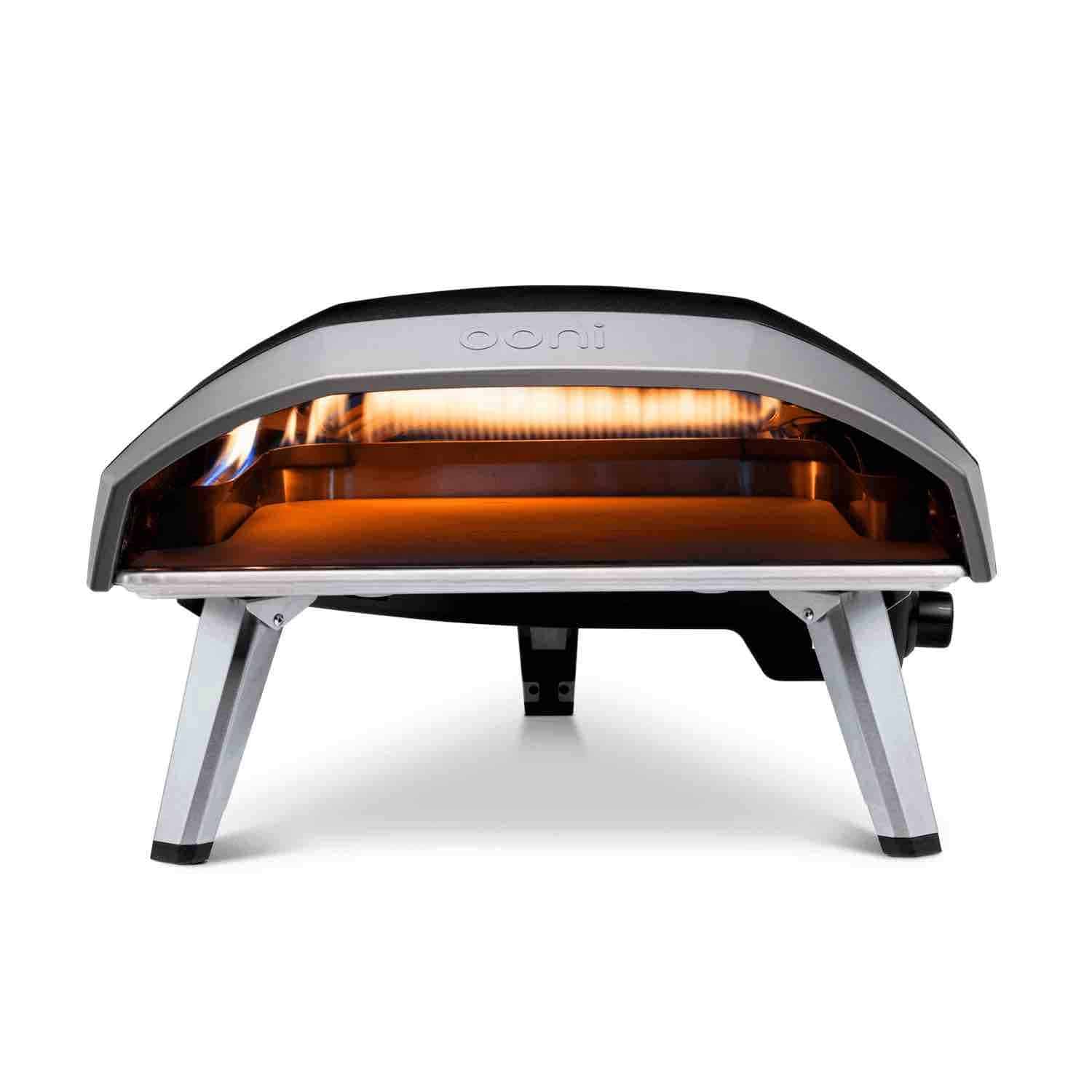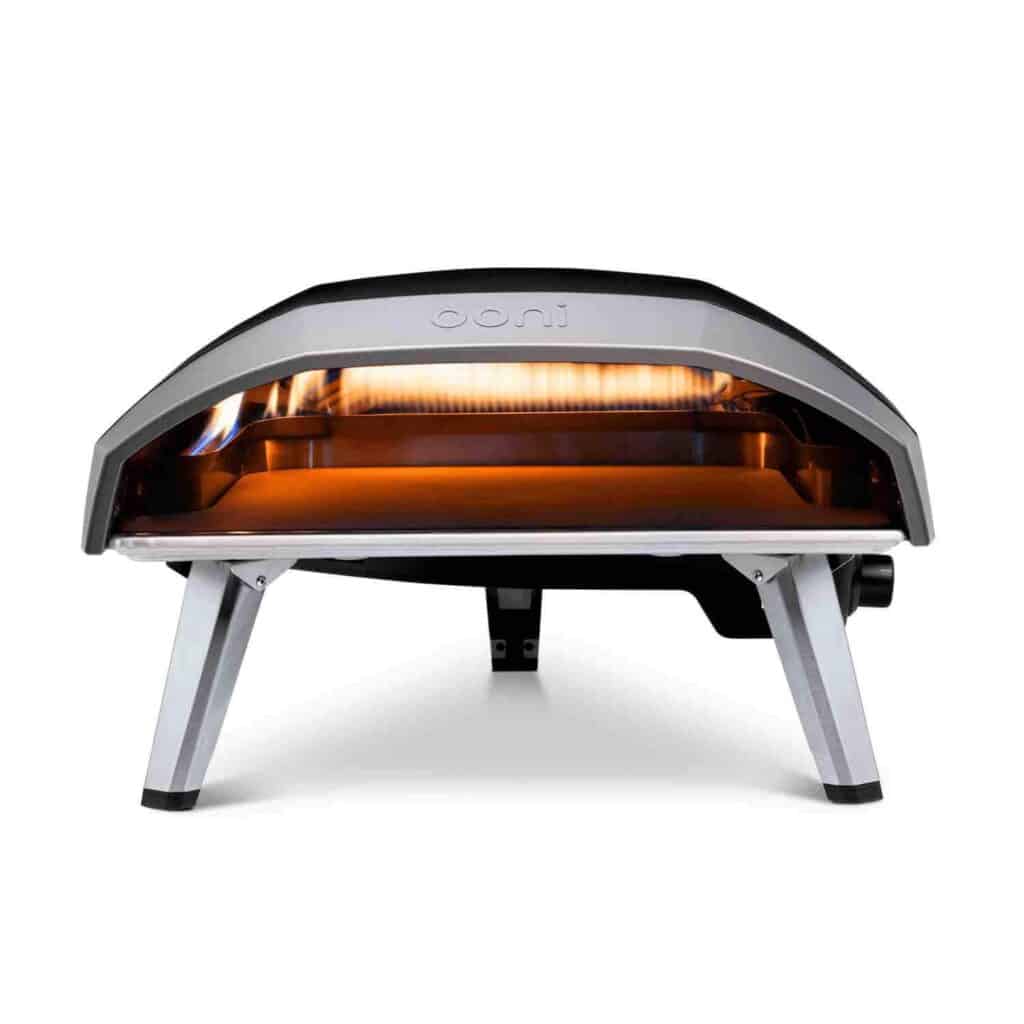 The Koda has 2 pizza oven sizes available to you: 12 inch & 16 inch.
Both sizes are ready right out of the box, they offer an innovative L-shaped flame for one-turn cooking giving you the perfect char on the crust. There is also a temperature dial to regulate the heat which is easier with a gas only powered oven.
And, with all gas models, your cleanup is super simple since you don't have any leftover residue from the wood.
As with all the Ooni models, the Koda 12 & 16 both get up to 950 degrees and make awesome pizza in under 60 seconds.
Overall the Ooni Koda does not disappoint. It is easy to use. Easy to clean. It is also lighter weight than the Karu, making it more portable and can truly fit in any place in your outdoor kitchen.
The ease and efficiency of having only a gas burner not only makes your pizza cleaning a bit simpler but your ability to create a perfect pizza also a bit less trial and error as well.
The Koda pizza oven is sleek, ready to go out of the box, and a perfect companion for those wanting an authentic pizza right at home!
Ooni Fyra 12 Wood Pellet Pizza Oven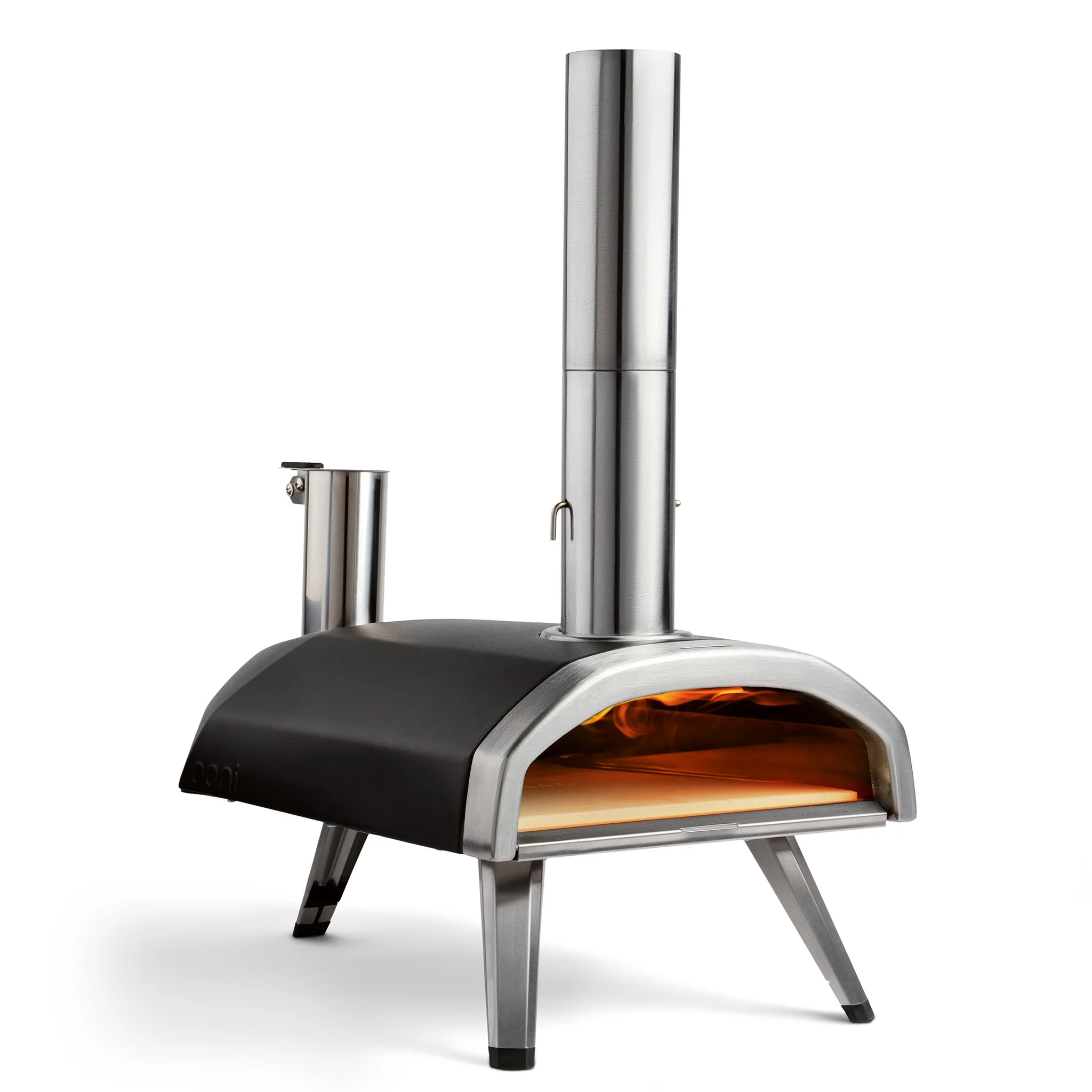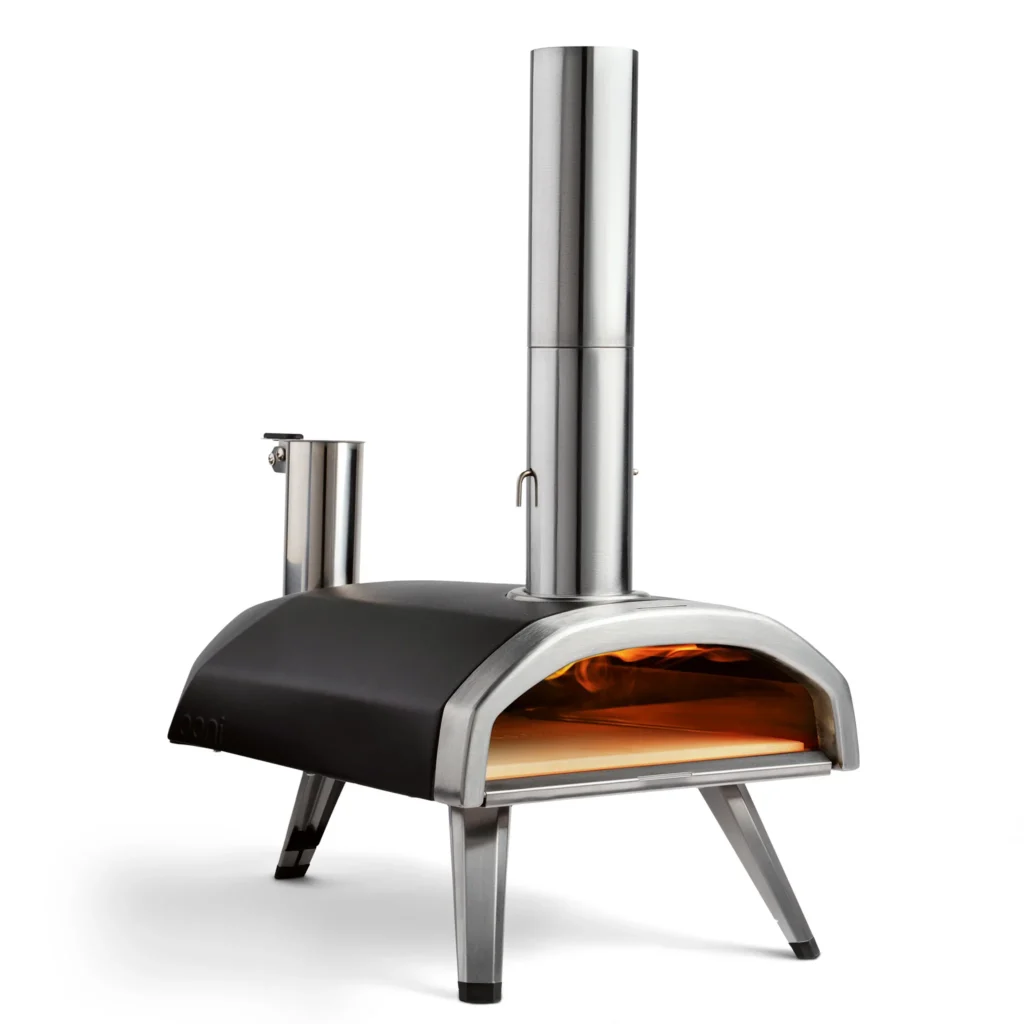 The Fyra is Ooni's only Wood Pellet Pizza oven and is only offered in one size: 12 inches.
The Fyra pizza oven is the model for the "no-nonsense, live fire experience" and packs a punch with its flavors. It has a hopper for wood pellets that is automatic for effortless cooking.
Just like all of the Ooni models, the Fyra is ready to cook in under 15 minutes and reaches 950 degrees. The Ooni Fyra is the successor of the Ooni 3 pizza oven, which was the world's very first portable, wood pellet pizza oven.
There really isn't anything not to love about the Ooni Fyra if you want that truly flavorful, perfectly charred, wood-fired pizza. Because it is ultra-portable, this would be a fantastic option to have at the campground, a tailgate or take with you on the road!
The authenticity of having that wood-fired oven flavor will keep your family and guests coming back for more. The possibilities are endless nowadays with all the different options of pellets you can purchase.
It's the lowest cost of all the Ooni Pizza Ovens making it a great choice for that perfect holiday gift.
Who Is Ooni Pizza Oven Company?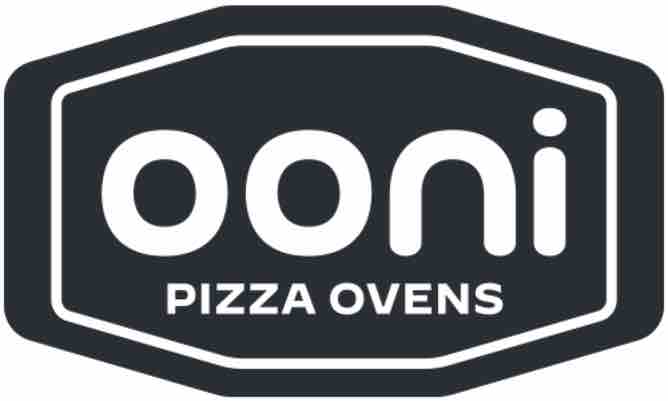 Launched in 2012 by a husband-wife duo, Ooni Pizza Ovens have been picking up steam and garnering accolades like the 'Best Pizza Oven' award by Wired.
Operating internationally out of Scotland with teams in the US and Europe, they are laser-focused on being value-driven, passionate and innovative.
All their ovens come with a 60-day money back guarantee plus a 1-year warranty; registering with them will also earn you an additional 3 year warranty.
I believe we have all come to know Ooni as a superior pizza oven by now. They are the first and only outdoor pizza oven to be 'Recommended for Domestic Use' by the Associazione Verace Pizza Napoletana, the acclaimed international authority on true Neapolitan pizza.
So you can be sure that with Ooni, you are getting an authentic pizza-eating experience.
What Does Ooni Offer?
Ooni has 3 outdoor pizza ovens for us to choose from: The Karu (12-inch and 16-inch), The Koda (12-inch and 16-inch), and The Fyra.
Ooni also offers a complete accessory line for your outdoor pizza oven – from pizza peels and fire starters, to infrared thermometers and carrying covers.
Plus, they have a one-stop shop grocery store with essentials like dough balls and flour plus some special bundles of New York and Detroit-style pizzas.
Their website includes all kinds of recipes so you can make that perfect dough or sauce -including a gluten-free cauliflower crust pizza dough recipe that's great in wood-burning ovens.
And it goes beyond just cooking pizza – there are recipes for turkey, mashed potatoes, lamb chops, pork chops, shrimp, and more – all cooked in your own Ooni oven!
What is the Ooni Upgrade System?
This is a pretty cool program to keep you in the Ooni Family.
There is a nice benefit to being a Ooni Owner. If you decide to upgrade or buy another Ooni, all you have to do is contact them with your serial number to get 20% off your purchase.
Plus, you don't even have to send back your old pizza oven – keep it or give it away – it's entirely up to you! With this kind of deal, why wouldn't you want another oven?
Also, If you want to give the gift of Ooni, but are not sure which pizza oven they would like best, you can purchase an e-gift card on their website.
What is the Ooni Pizza Oven App?
Another cool option from Ooni…the Ooni Pizza Oven App.
Get the perfect consistency for your pizza dough every time with this app's dough calculator. Access dozens of recipes and watch helpful how-to videos and get troubleshooting tips to make perfect pizzas!
How Does Ooni Compare to Other Pizza Ovens?
The Ooni pizza oven is a top contender in the portable pizza oven market. Its compact size and ability to reach high temperatures quickly make it stand out from other ovens in its category. Compared to traditional brick ovens, the Ooni may not have the same capacity or flavor profile, but it offers convenience and versatility for home cooks and outdoor enthusiasts alike. Ultimately, the choice of pizza oven will depend on individual needs and preferences.
How To Care For Your Pizza Oven?
Storing your pizza oven in a covered area like a patio or garage is key to keeping your oven in optimal condition.
To clean, use a soft brush to scrape away any leftover toppings and cheese. Avoid using soap on the stone as it can leave an unpleasant taste that lingers with each pizza you make – instead just scrape off any large buildup and you'll be ready for the next round of wood-fired deliciousness!
Conclusion
With three different models to choose from, Ooni has a pizza oven for every type of chef. If you're looking for portability, the Fyra is the model to go with. The Karu 16 is perfect for big parties, and if you want something that's easy and quick to use, then the Koda is your best bet. Whichever you choose, you can't go wrong – just add your favorite toppings and get cooking!
I hope this helped in your search for the perfect Ooni pizza oven. If you have any questions please don't hesitate to reach out to us! We are always happy to help. Be sure to check out our step by step guide to perfect wood fired pizza at home!
Happy cooking!