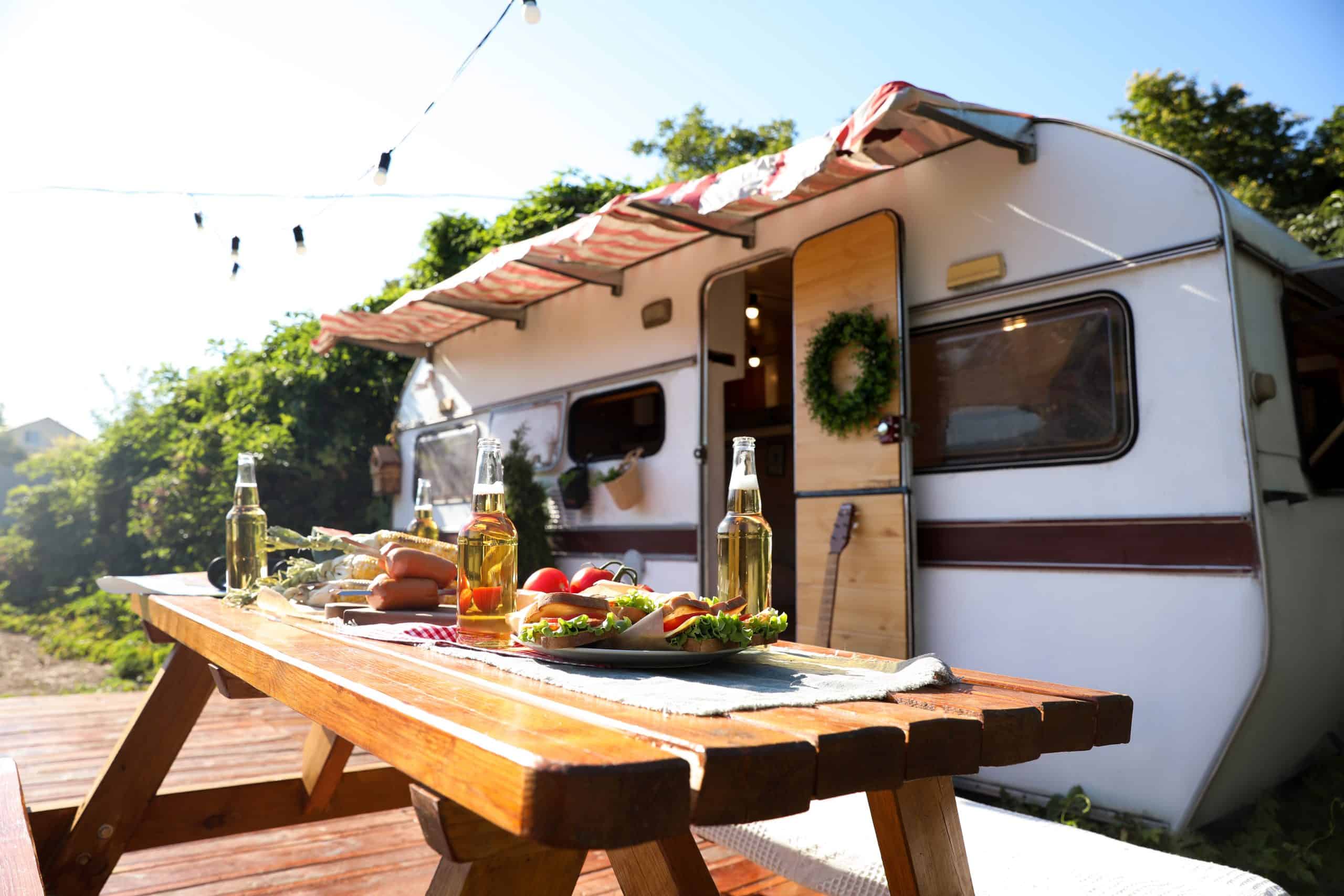 The Keto diet is fast becoming a popular choice for those looking to take charge of their health and wellness. With an increased focus on reducing unhealthy carbs and sugars, the benefits of following a Keto lifestyle are plentiful – from enhancing overall health to improving mood and energy levels. No longer a secret amongst the community, more and more people are hopping on board this journey for a healthier tomorrow.
My husband and I have followed the keto diet for many years and we personally feel better inside and out when we stick to the restrictions.
It's not a diet for everyone, but if it's for you, we have come up with some easy & delicious Keto Camping meals that can be made on your flat top grill at your home, camping, or RV for years to come.
Our List of 7 Easy & Delicious Keto Camping Meals on Your Flat Top Grill
1. Grilled Caprese Portobellos (Vegetarian):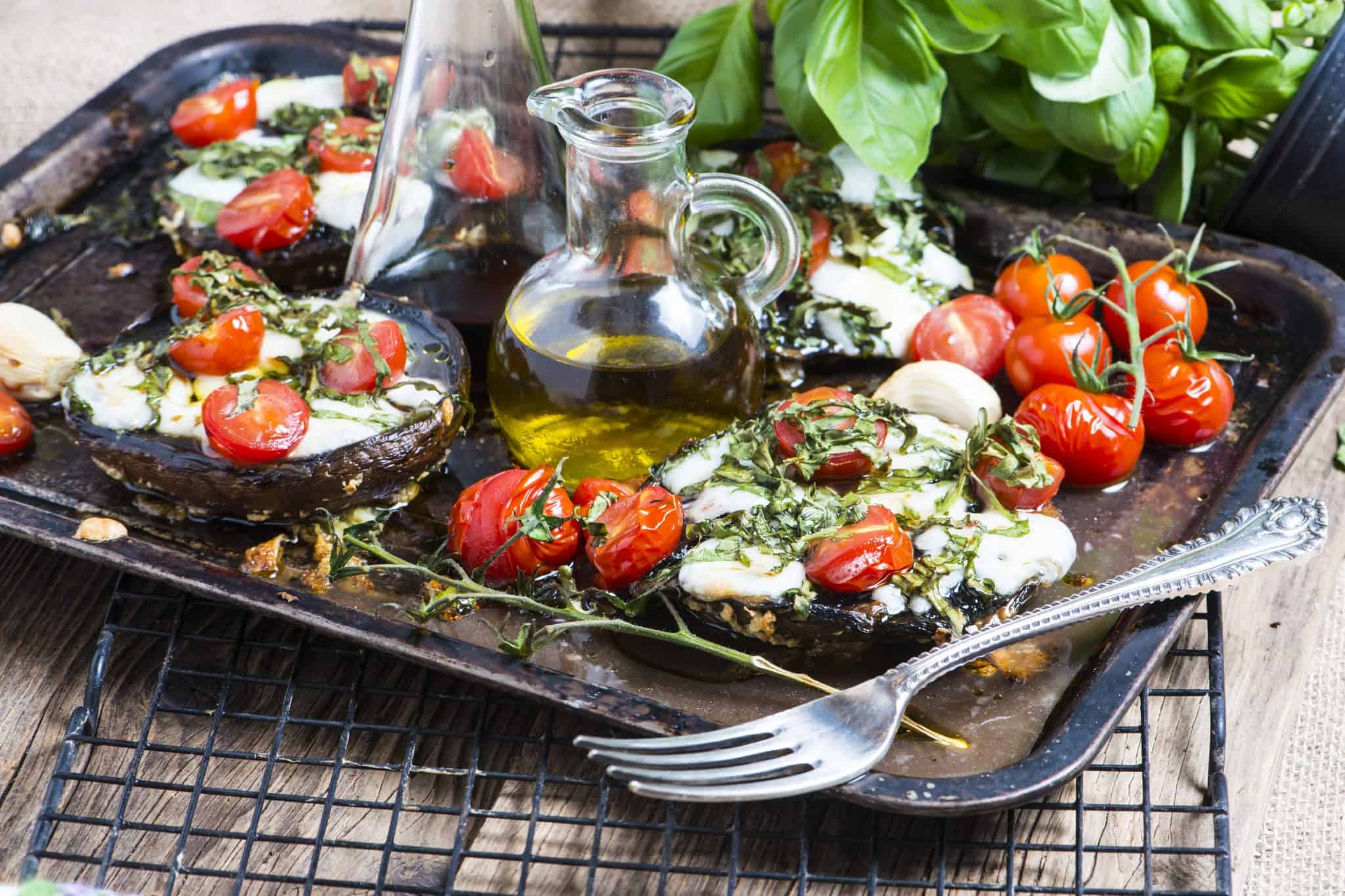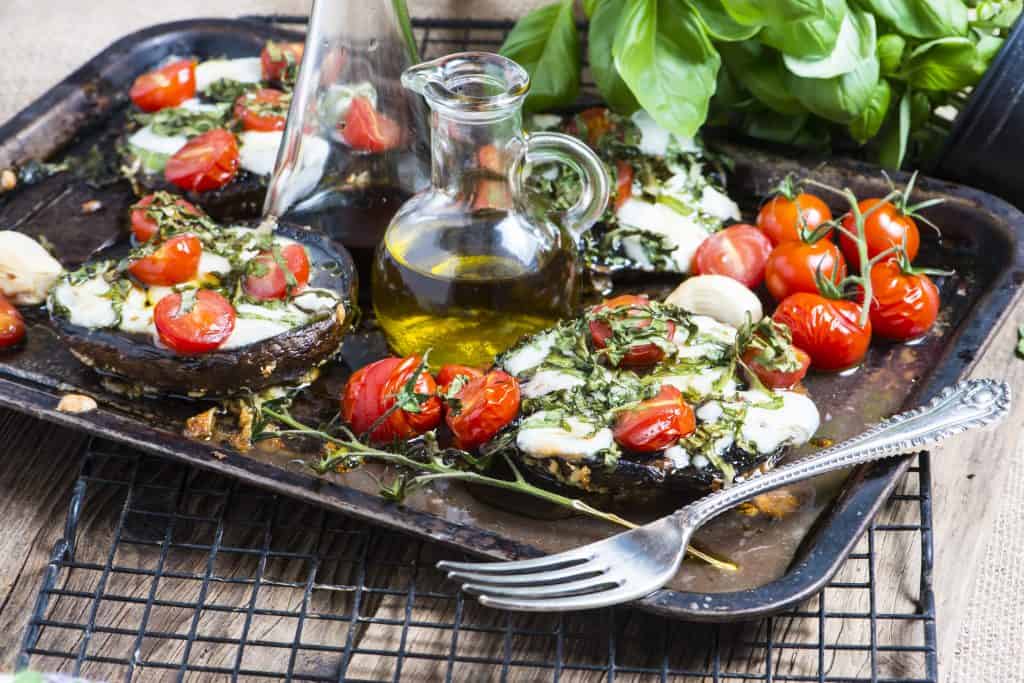 Portobellos are often used as a meat alternative when cooking vegetarian. This vegetarian friendly and keto take on pizza, is super easy to make and only 5 ingredients to boot.
Ingredients:
2 portobello mushroom caps (remember to remove gills)
2 cherry tomatoes quartered, I use vine-ripe, but you can use any
Mozzarella cheese: I love to use fresh mozza pearls for this, but you could alternatively use 1/2 cup shredded
1/4 cup olive oil
2 Tablespoons fresh chopped basil
Directions:
Preheat your flat top grill to medium-high heat; nearing 400 degrees F.
Layer your surface with olive oil (to prevent mushrooms from sticking).
While your grill heats to temp, brush the mushrooms with olive oil and sprinkle with salt & pepper.
Take your quartered tomatoes and toss in a tablespoon of your olive oil; more salt & pepper if you'd like.
Place 1/2 your shredded or fresh mozzarella on the bottom of the mushroom cap and then layer 1/2 of the tomatoes over the top.
Sprinkle 1 Tablespoon of basil over each mushroom cap.
Place on the grill for about 15 minutes until caps are cooked through. I like to place a dome over the caps just to help melt the ingredients together.
Remove from the grill and top with parmesan cheese or crushed red pepper if you'd like and serve!
2. Carne Asada Fajita Bowls (serving 2):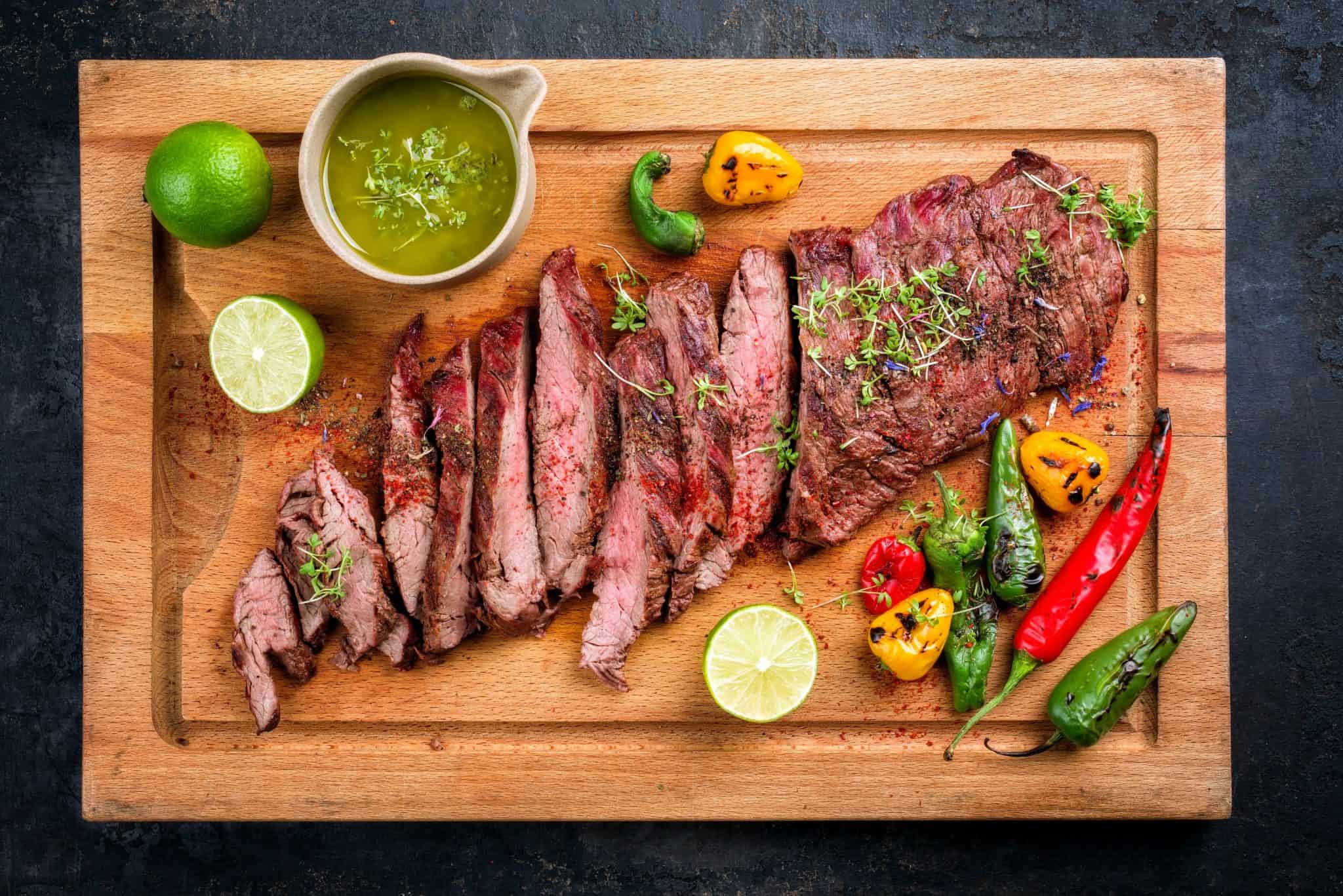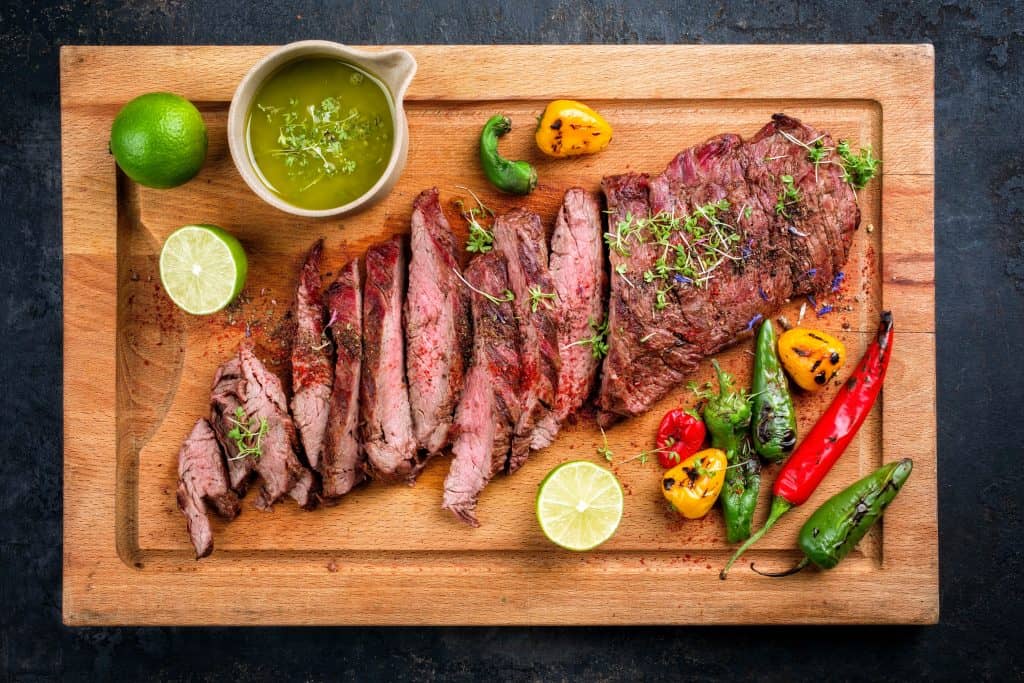 You can use any type of meat or meat alternative of your choosing, but I use the Carne Asada from Trader Joes and it's delicious!! If you haven't tried it, I encourage you to make the extra stop and check out this gem of a store (if you have one). This recipe can be done in advance and marinated in flavors or done on short notice, either way, it's always delicious and fulfilling. Because we are focused on keto, we make fajita bowls instead of tortillas.
Ingredients:
1.5 lbs Carne Asada
Pre-Made Fajita seasonings (for simplicity) or if you have your own recipe, please use!
1 white onion
1 red bell pepper
1 green bell pepper
1 poblano
Jalapeno (optional)
Pre Packaged Cauliflower Rice (optional): I use Birds Eye Riced Cauliflower, Spanish Style (I let it thaw)
Toppings (optional):
Cotija cheese or shredded mexican style cheese
Avocado
Sour cream
Directions:
Pre Heat your flat top grill on med-high.
Prepare your veggies by slicing and dicing to bite size pieces. I place all my veggies in a bowl and marinate with olive or vegetable oil and about 1/2 a packet (or 2 TBS of your own) seasonings.
Mix all together and set aside.
Next take your carne asada, I leave it uncut and in its original state at this point and sprinkle with the remaining seasonings.
I personally start with the veggies first. I like a solid char on the veggies and thus, the cooking time takes a bit longer than the carne asada.
I cook the veggies for about 10-15 minutes, frequently flipping and tossing on the grill to evenly cook.
Next and on the same grill (turning the heat down on the veggie side), I place a coat of oil on the grill for the beef. Place the carne asada on the grill to get your seared sides. This preparation of beef is fairly thin, so it doesn't take long to cook. Maybe 5-7 minutes max. I like to sear one side, flip, sear the other side and then turn the heat down just a bit and cook until it is to your meat-heat liking.
Remove all ingredients from the grill and serve in bowls with your favorite low carb, keto friendly toppings!
Optional Rice: The cauliflower rice I mentioned above is microwavable friendly, but, since we are cooking on the flat top, I simply let the package thaw out first and then I place alongside my vegetables on the grill and cook thru. So easy!!
No one misses the tortillas with this recipe and it's so packed with flavor, it's hard to stop eating!! But if you do save some leftovers, it's just as delicious the next day!
3. Grilled Fish "Taco" Lettuce Wraps with an avocado-lime dressing: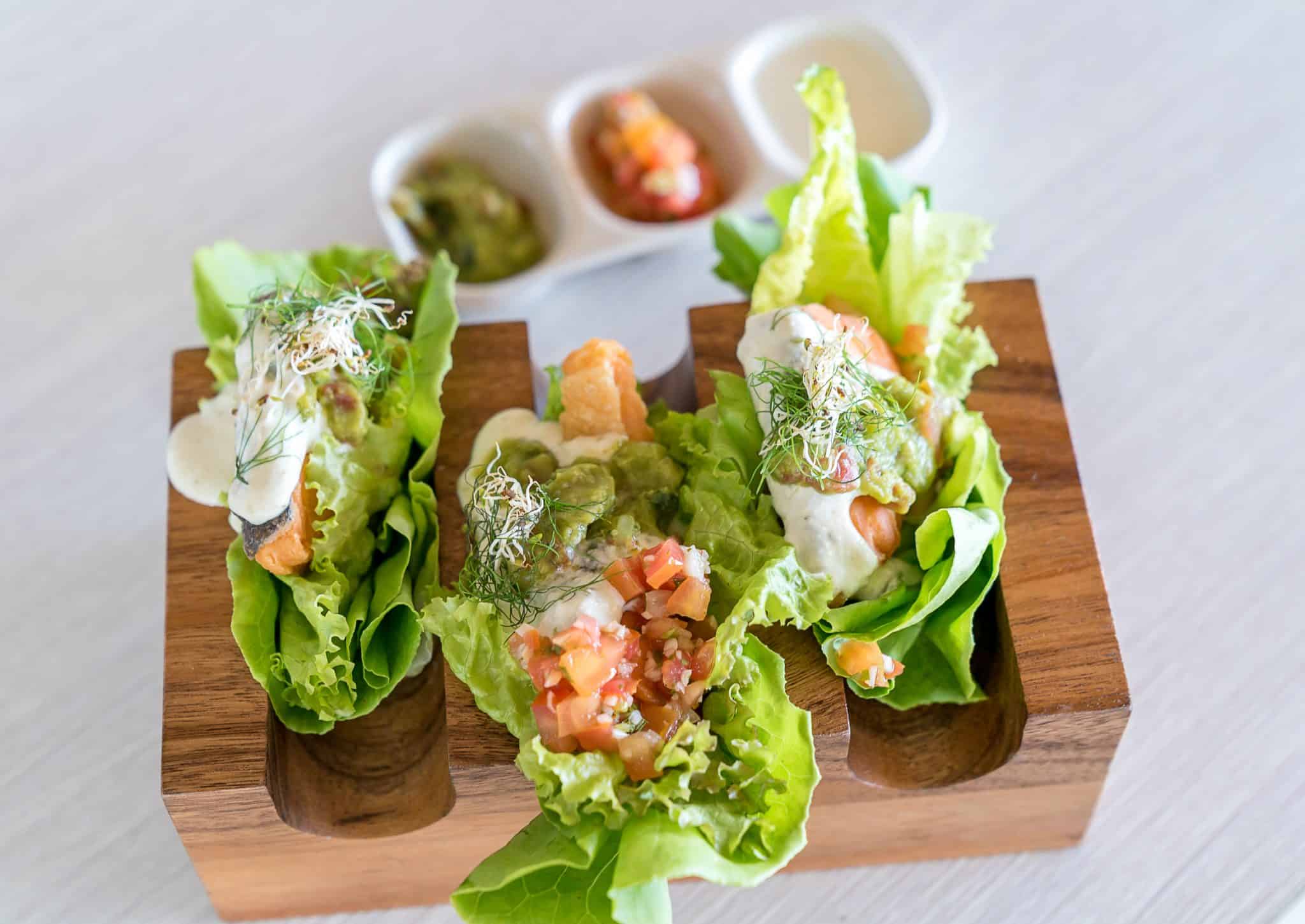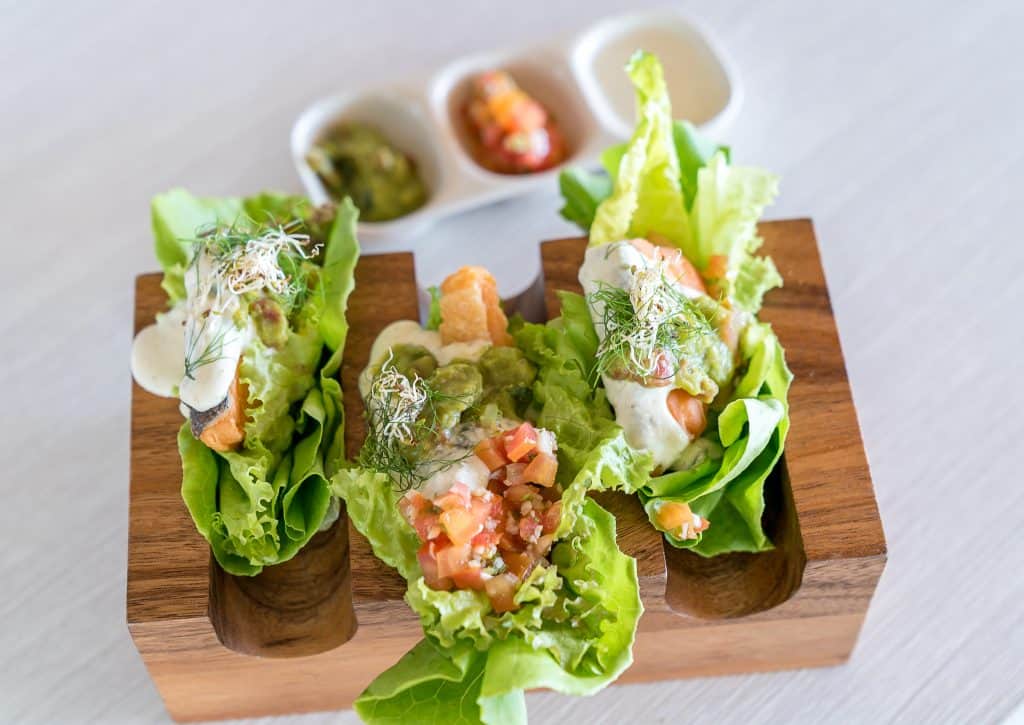 All I have to say is YUM!! This recipe is So Simple, Quick, and refreshing for a nice summer/warm weather meal. This limited ingredient meal is packed with flavor, crunch, that won't leave you feeling weighed down on those warm summer nights!
Ingredients:
1 1/2 lbs fish: Mahi, tilapia, and cod all work well.
Bag of tri-colored coleslaw
Whole Romaine or Head of Lettuce
2 Avocados
4 limes
1 bunch of cilantro
Toppings (optional):
Cotija or shredded cheese
Hot sauce
Sour cream or Greek Yogurt
Directions:
We start with the avocado-lime dressing first. Cut your avocados in half and remove the core.
Take both avocados and place in a blender or food processor.
Next chop your cilantro off the stem. I use about 1/2 the cilantro from the bunch and set the other 1/2 aside.
Place 1/2 in blender or food processor.
Juice two limes and place the juice in the blender.
Mix/blend together until it's a smooth consistency. If it is too thick, I juice another 1/2 lime and add the juice slowly until the consistency is just right for me. It won't be runny, it will be a little thicker so don't worry!
Next we'll prep the romaine. Make sure you rinse thoroughly first. Then cut the core off. I re-rinse the leaves and then set on paper towels to dry off. That's it.
Now our grill is ready to start preheating. Medium-high heat works well for fish.
While your grill is getting to temp, take your fish and sprinkle with your favorite mexican-style seasonings: cumin, paprika, little garlic, cayenne are all some of my faves.
Next place your coleslaw in a bowl, juice your remaining lime and add to the coleslaw.
Sprinkle salt and pepper and toss it to mold the flavors. Set aside.
The grill should be ready to go now. Oil your grill to prevent the fish from sticking.
Place your seasoned fish on the grill, sear or brown your fish to your desired liking. I squeeze the remaining half lime over the fish and continue to cook thoroughly. This does not take long! 5-7 minutes on a med-high temp so watch carefully.
Once your fish is cooked through, remove from the grill.
Place a romaine leaf down, add your fish, then the coleslaw, then the avocado-lime dressing. Done and Done.
This recipe is so good, if you're making for a crowd, they'll all rave about it.
4. Vegetarian Friendly – Cauliflower Fried Rice: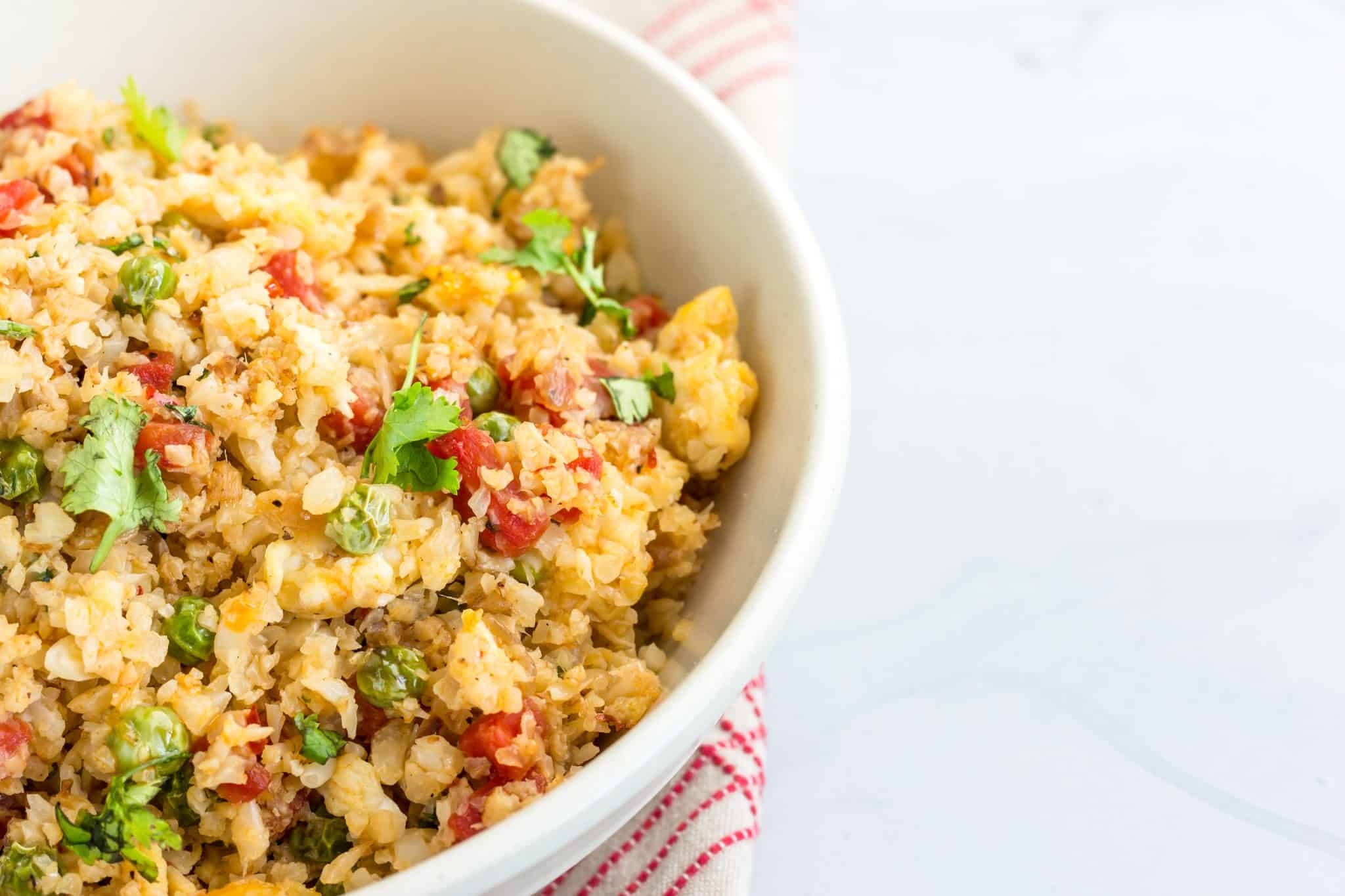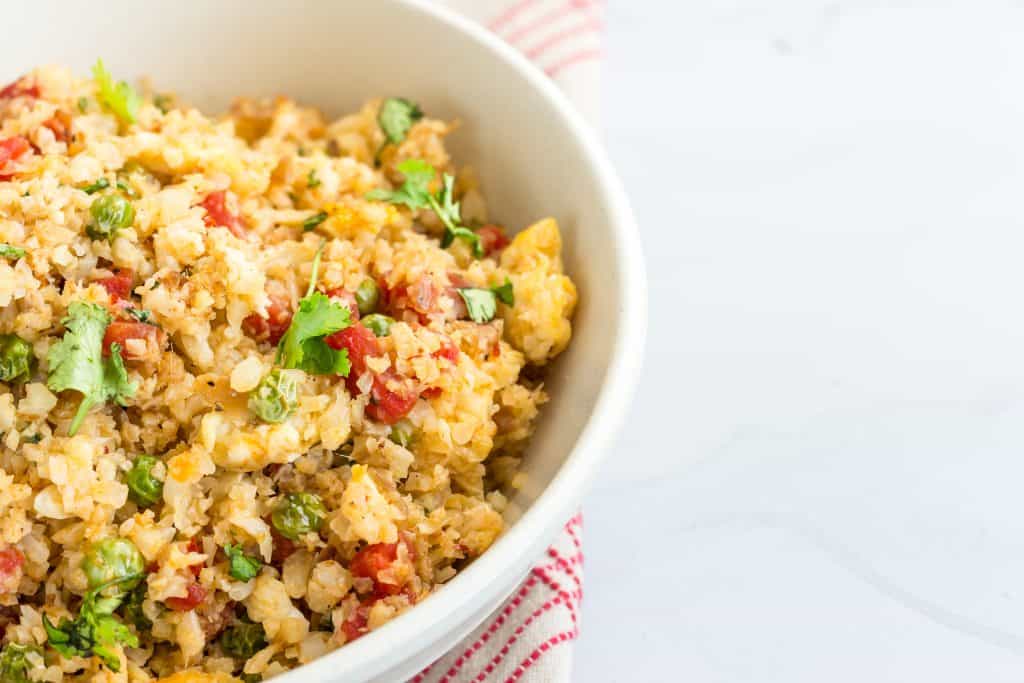 You can make this recipe with or without meat, totally your call, either way, this easy and tasty recipe takes just about 15 minutes total that you can make in a pinch!
Ingredients:
1-2 bags of frozen cauliflower OR 6-12 oz fresh cauliflower-riced
1 egg
2 Tbsp sesame oil
1 Tbsp butter
1 carrot diced
1 green onion; you will use the whole thing
1 clove of garlic or 1 Tbsp minced garlic
1-2 Tbsp liquid aminos (Bragg brand)
1/2 cup ginger snap peas
1 Tbsp ginger
Directions:
Preheat your flat top grill on Medium heat.
Prep your veggies: Dice the carrot finely and set aside, chop your green onion (both green and white portions), crush your garlic. Take all your ingredients to the grill.
Melt your Butter and 1 Tbsp Sesame oil on the flat top.
Place your riced cauliflower, snap peas,and carrots on the oil/butter – cook for about 5 minutes turning regularly.
Next add in your crushed garlic and white portion of the green onion-cook for about another 3 minutes.
Add in your egg; stirring and turning often to get it "scrambled" in. Once the egg is cooked, Stir in the Aminos, green portion of the onion, ginger, and remaining sesame oil.
Cook for another 2 minutes. Dish out and serve it while it's hot!!
5. Cauliflower Crust Pizza: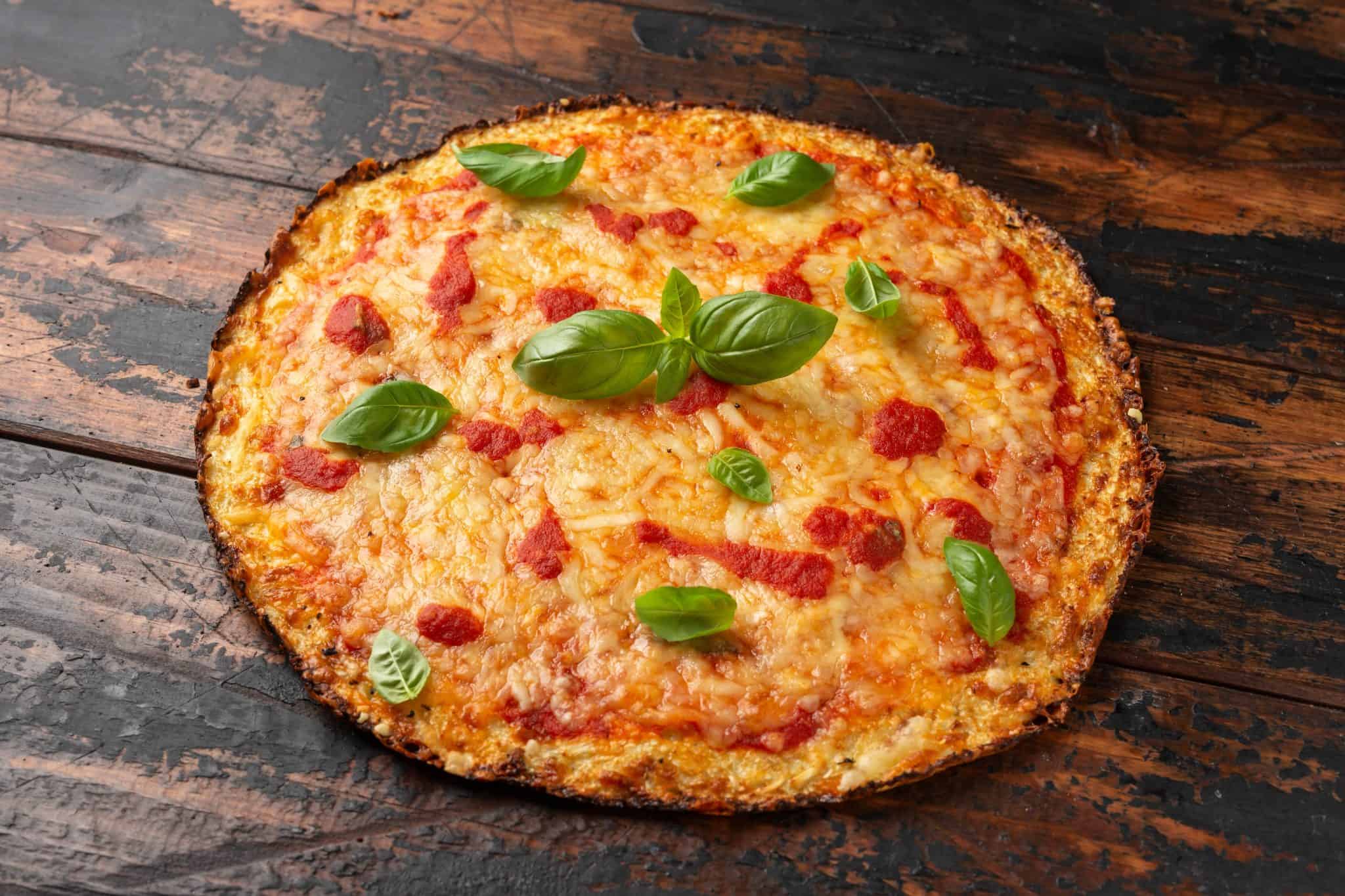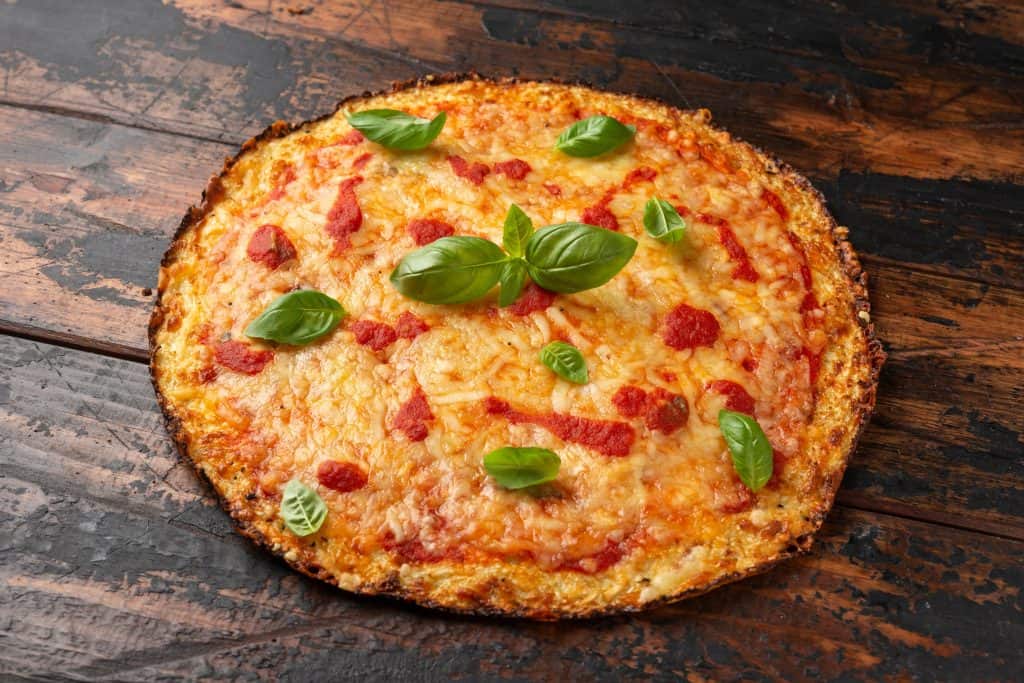 Who doesn't love a grilled pizza?? Wait, and it's healthy? Okay, sign me up! Yes I know it's cauliflower, but I assure you it's good. The prep takes a bit longer because I truly recommend ricing the cauliflower yourself for this one, but it's worth it! I'm making this recipe for 2 pizzas, because when it's healthy who eats just one?!
Ingredients:
2 heads of cauliflower -riced
2 eggs-beaten
4 Tbsp cream cheese-softened
1/2 cup parmesan cheese
1 cup mozzarella -shredded (may use more)
Jar/Can of pizza sauce (or your own recipe if you have one)
1/4 cup basil chopped
McCormick Italian Seasonings Grinder
olive oil for basting
2 cloves garlic – crushed
1 cheesecloth (you can use paper towels for this too)
Favorite Pizza toppings
Directions:
First we'll start with the cauliflower. Since we are making two pizzas, I separate the cauliflower 1 & 1. I use a food processor, so you need to cut the heads of the first cauliflower into pieces and remove from its core.
Place in the food processor and rice it until its very finely sized.
Then, place in a large microwavable bowl with 2 tablespoons of water and cook thoroughly. Timing for one head riced and in the bowl is about 6 minutes give or take. Then I repeat for the second head of cauliflower.
Once the cauliflower is removed from the microwave, you place it in a cheese cloth and drain as much juice and liquid as you can. Literally squeezing and squeezing until it's mostly dry.
Place the cauliflower back in the bowl. Add one egg, 1/4 cup of parmesan cheese, 2 tbsp cream cheese, seasonings and mix all together.
Preheat your grill to medium heat. Generously oil your grill where you will be cooking the crust.
Place the bowl of cauliflower mixture onto the oil and flatten out to a pretty thin layer of crust using a spatula. Thinner is better.
Let cook for 15-20 minutes, watching it closely as grill heat sometimes cooks it faster. You want the crust to be browned and firm or you are going to have trouble flipping.
Once the crust has browned, using a pizza server, flip the crust over. Brush olive oil, sauce, and garlic over the top. Then add your cheese and any toppings you'd like to have.
Cook for an additional 10-15 minutes. Again, watch it closely but you'll want it pretty brown.
That's it! You'll repeat for your second pizza or if you have a large flat top grill, you can prepare them at the same time! I hope you enjoy this recipe as much as we do, because we LOVE pizza!
6. Bacon Stuffed Jalapeno Poppers: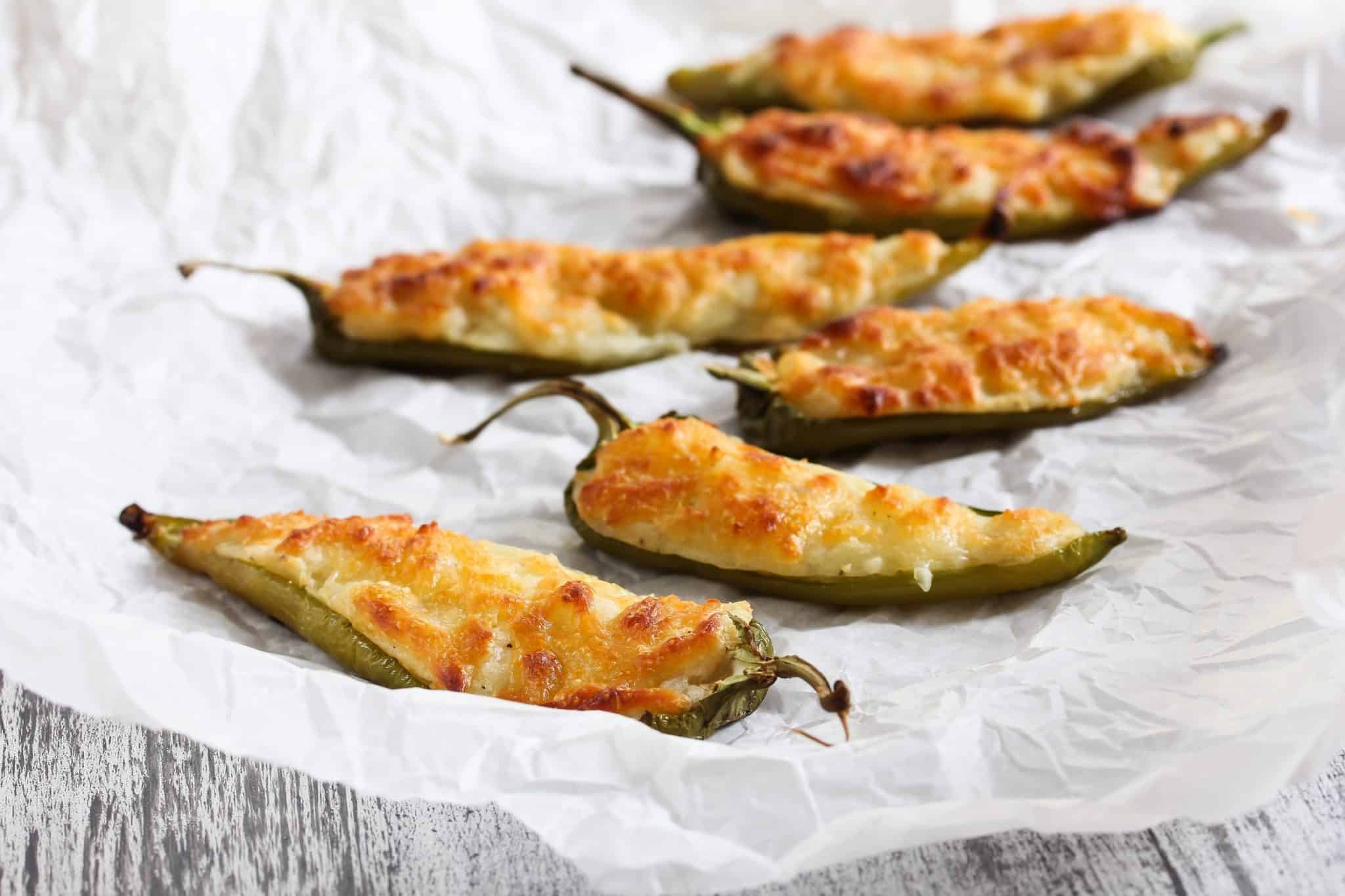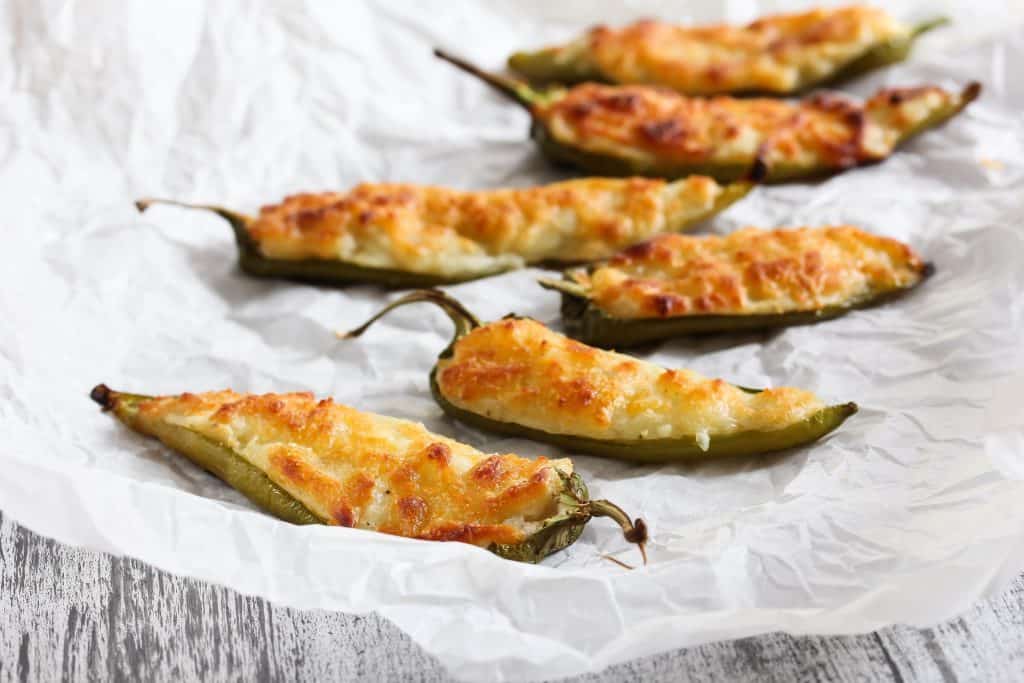 What I love about this recipe is it's easy, you can eat it as an appetizer or as a meal and it's seriously delicious. There are only 4 ingredients, yes 4!! and it doesn't take much time at all. Enjoy!
Ingredients:
4 Jalapeños – halved and cored
1 block cream cheese – softened is best/easiest
4 slices bacon crumbled or 1 package of fresh bacon bits
3 Tbsp shredded cheese
Directions:
Cook your bacon, but if you're using bacon bits, then move on.
PreHeat your flat top grill to medium-high heat.
Rinse your jalapeños, slice in half stem to bottom and spoon out the core and seeds. Set aside.
In a bowl, combine softened cream cheese, bacon bits or crumbles and shredded cheese until well combined.
Spoon the mixture into the jalapeno halves. Be generous!
Once all the jalapeños are prepped and filled, bring out to your grill.
Oil the grill to prevent sticking and place the halves directly on top. Cook for about 15 minutes until your jalapeños have a bit of char and your filling looks melty.
That is it. Remove from the grill and serve.
7. Shrimp Egg Roll in a Bowl: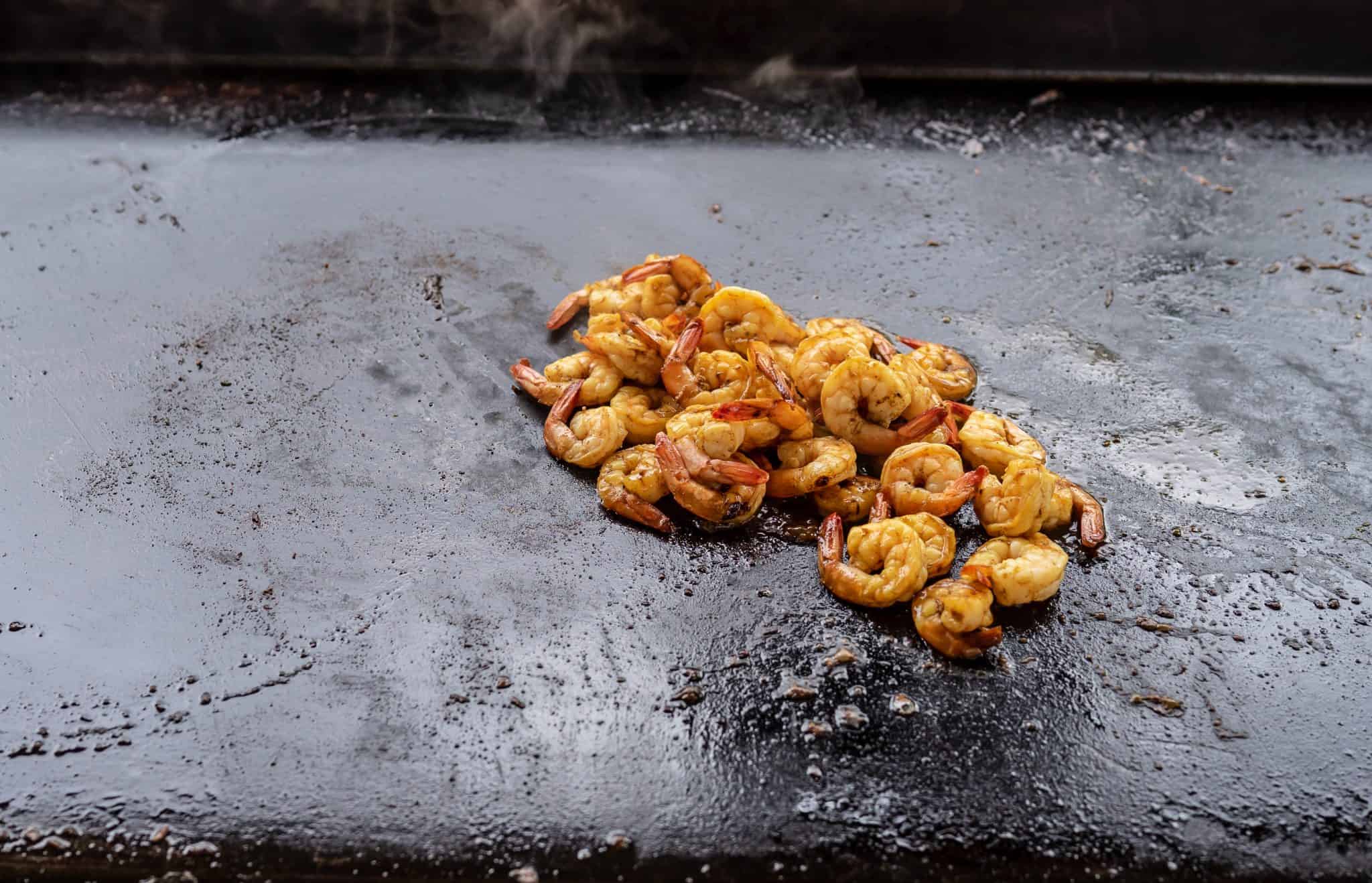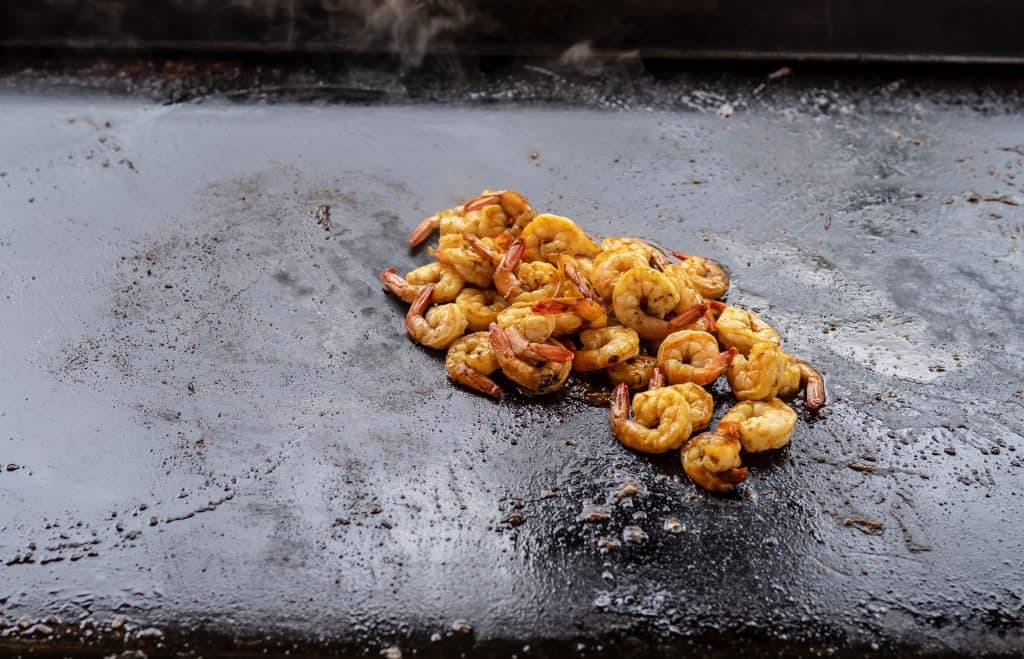 This is a fantastic take on Chinese cuisine. Who doesn't love a great egg roll. It's so fun to create new ideas on your flat top grill that your family and friends will love you for. My version is going to be shrimp, but you certainly could prepare it with a meat alternative.
Ingredients:
3 tablespoons Sesame Oil
4 Green onions: sliced, you will use both green and white parts
4 cloves garlic – crushed or 3 Tbs minced garlic
1 lb Shrimp
1 Tbsp fresh ginger (I use the bottled, already prepared)
1 Tbsp your favorite hot sauce (I like Franks Red Hot best for Keto)
1 14 oz bag of tricolored coleslaw
4 Tbsp Braggs liquid aminos
1 Tbsp rice wine vinegar
Directions:
Prep the veggies first, and have garlic and ginger prepared as well. Set aside.
PreHeat your flat top grill to medium heat.
Heat the sesame oil, garlic, and white part of the green onion, stirring frequently for about 5 minutes.
Next you'll add your shrimp, ginger, and hot sauce. You'll cook this thoroughly, about 7-10 minutes.
Once cooked, you'll add your coleslaw mix, Liquid aminos, and Rice wine vinegar. You'll mix and turn consistently until the cabbage is tender, about 5 minutes.
Done and Done! Dish out and serve fresh! If you want additional sauce, you can add hot sauce to your liking on your bowl. Enjoy!
Conclusion
Eating Keto doesn't have to be hard – with these 7 easy, delicious and customizable recipes, you can fire up that flat top grill and start cooking! Whether you're looking for something veggie-forward or meat-based, there are plenty of options to choose from.
But that's not all! If your camping trip calls for other meals and desserts, take a look at our list of Easy Camping Meals for Family and 5 Camping Desserts in 5 Ingredients or less. And if you don't have an outdoor countertop pizza oven yet, our review of the top ones on the market might help you find one.
Enjoy your meal!