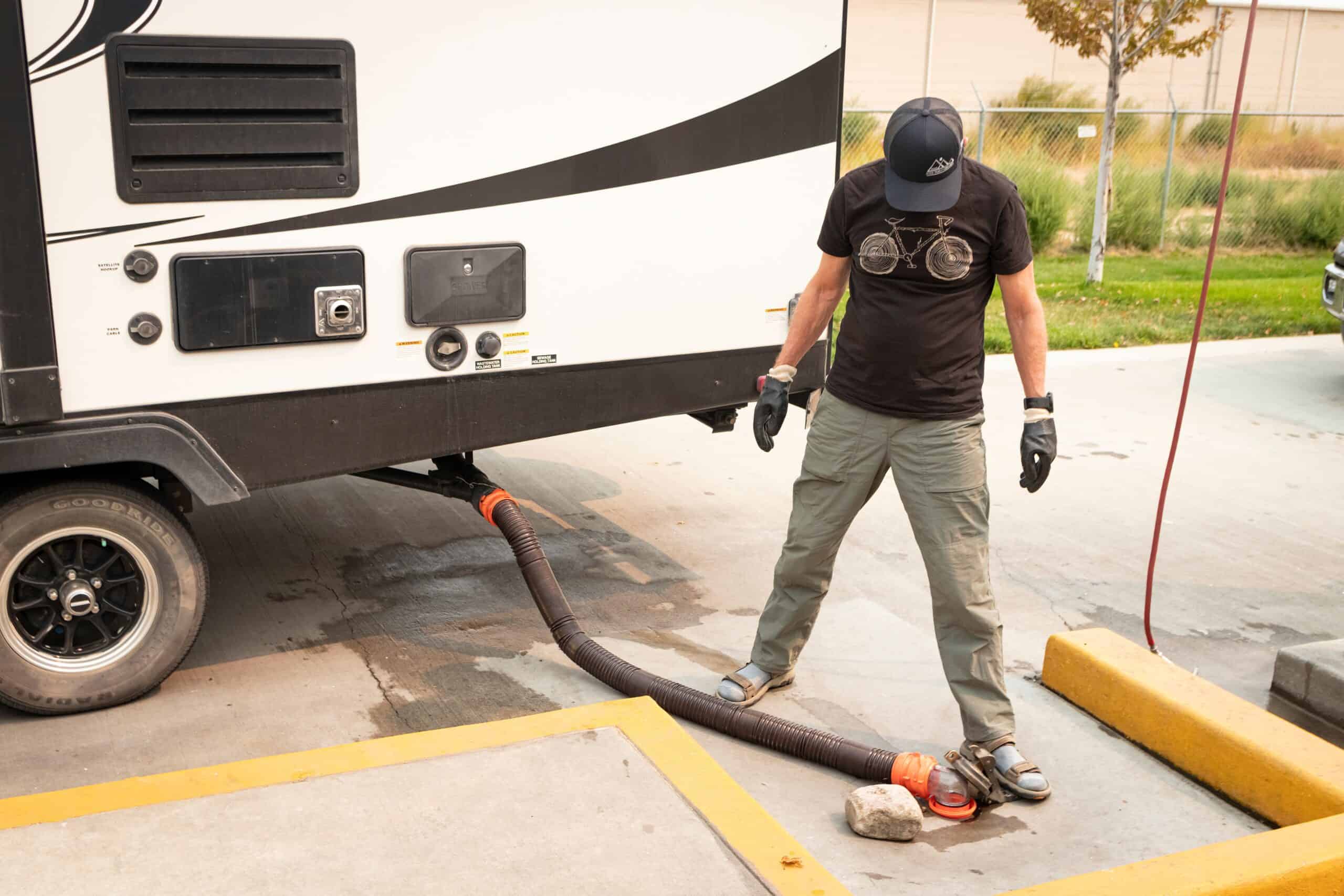 If you're an RV owner, an important thing to consider is how long your RV sewer hose needs to be. After all, a correctly sized hose makes it easier to empty your sewage tanks and maintain your RV's plumbing system. The last thing you want is to not have a sewer hose long enough to reach the sewer dump station or reach your sewer hook-up at your site!
In this article, I'll discuss what the ideal length of an RV sewer hose is, as well as a few other factors that could impact the length of your hose. So, keep reading.
What Is an RV Sewer Hose and What Do You Use It For?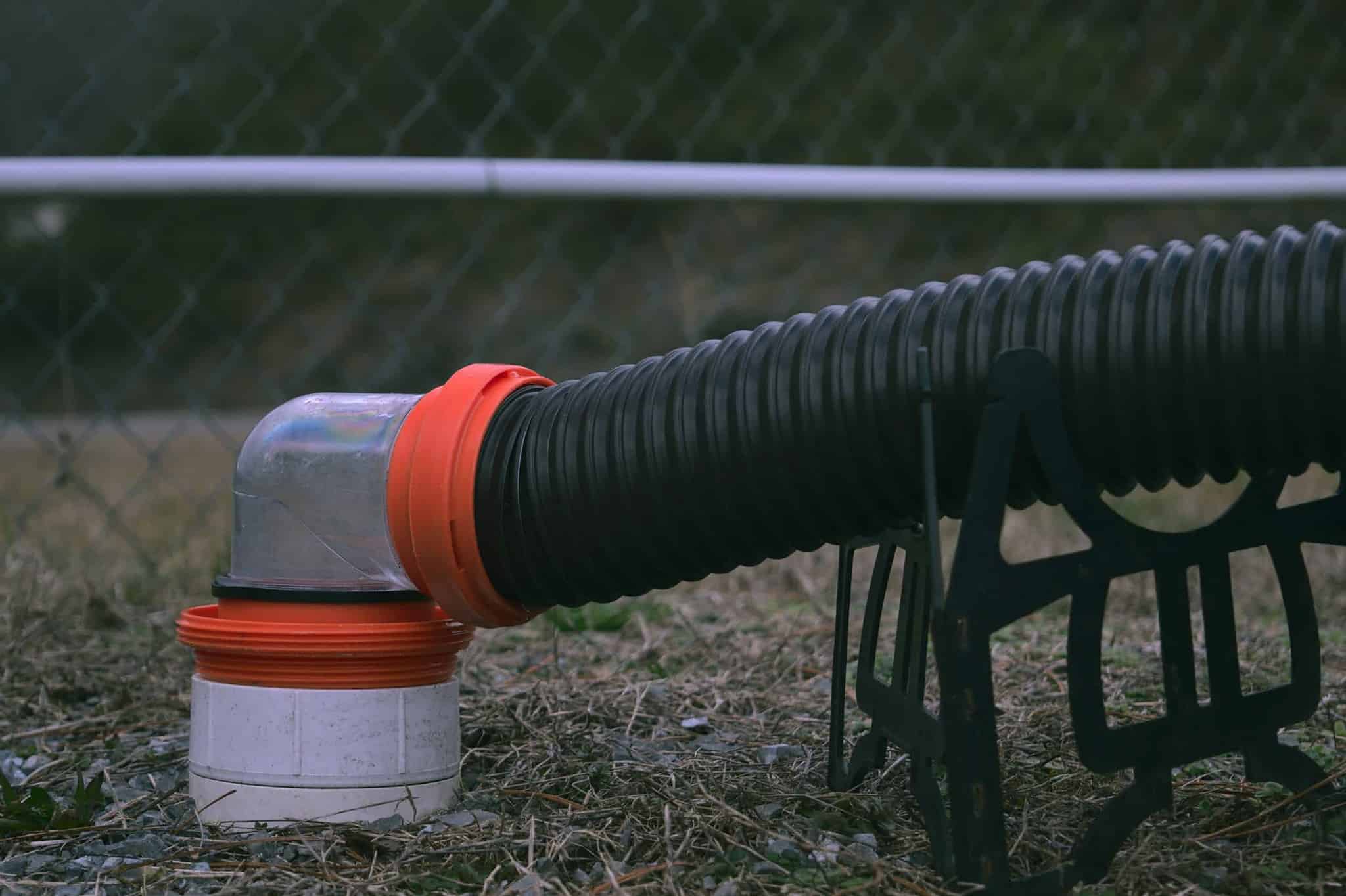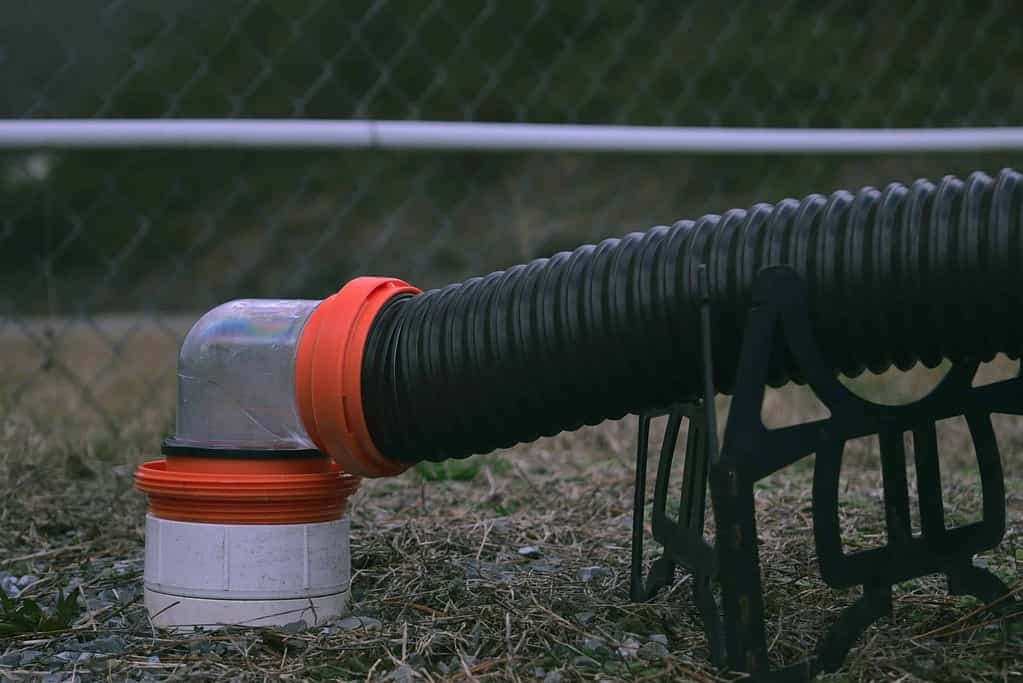 An RV sewer hose is an essential part of the camping experience. They are used to drain black and gray water from your RV's holding tanks and transport it safely into an RV sewer outlet or dump station.
Knowing what an RV sewer hose is and how to use it properly can make your camping trips much more enjoyable. I always suggest using a good holding tank treatment as well to help break down the waste and prevent any clog ups.
But do you know how long your RV sewer hose should be? Sometimes, we don't think this thru until it's too late…like when you are all set up at the campsite that you paid extra for the full hook ups and your sewer hose isn't long enough! What a pain! Ask me how I know!!
How Long Should RV Sewer Hose Be?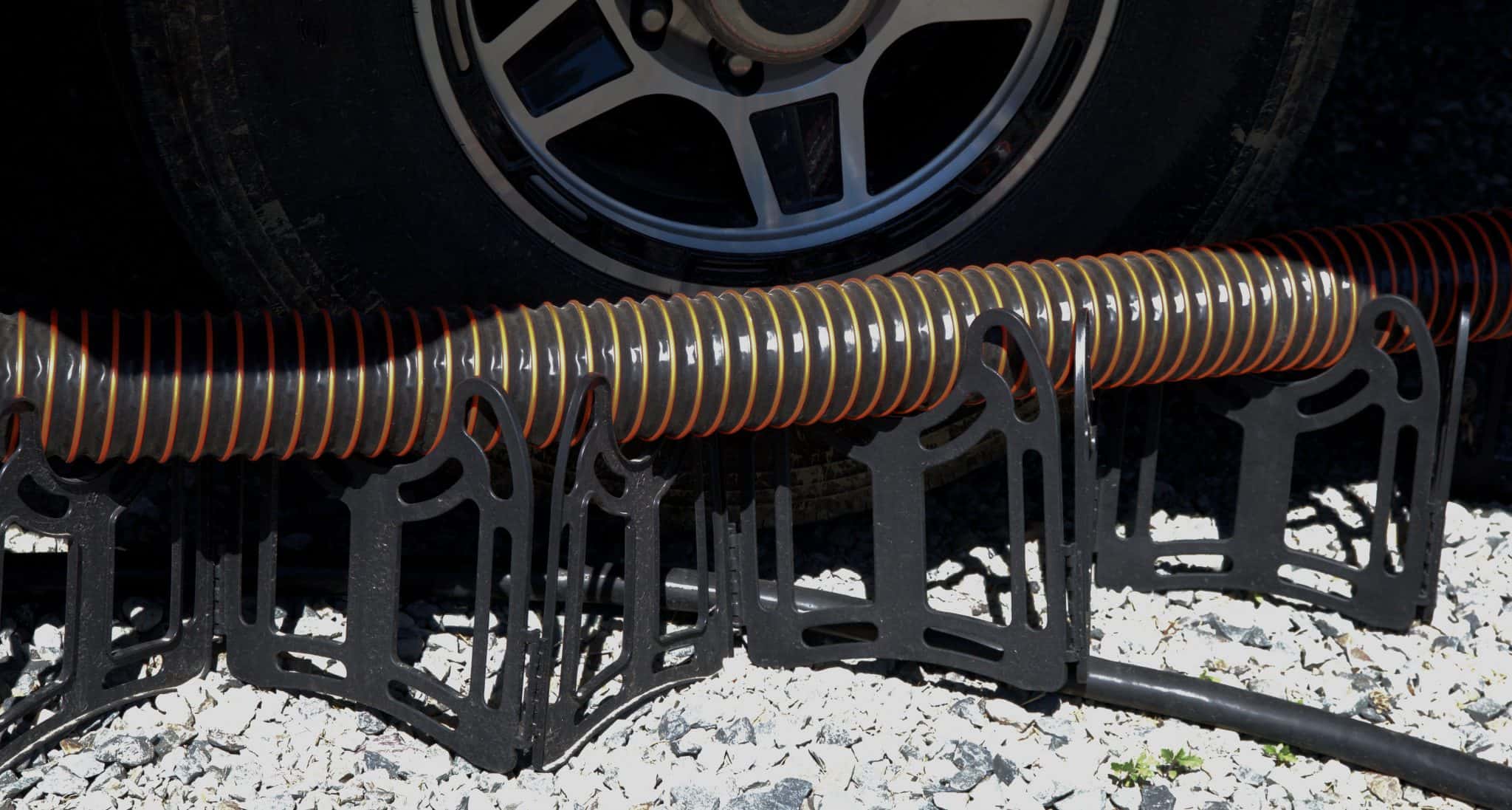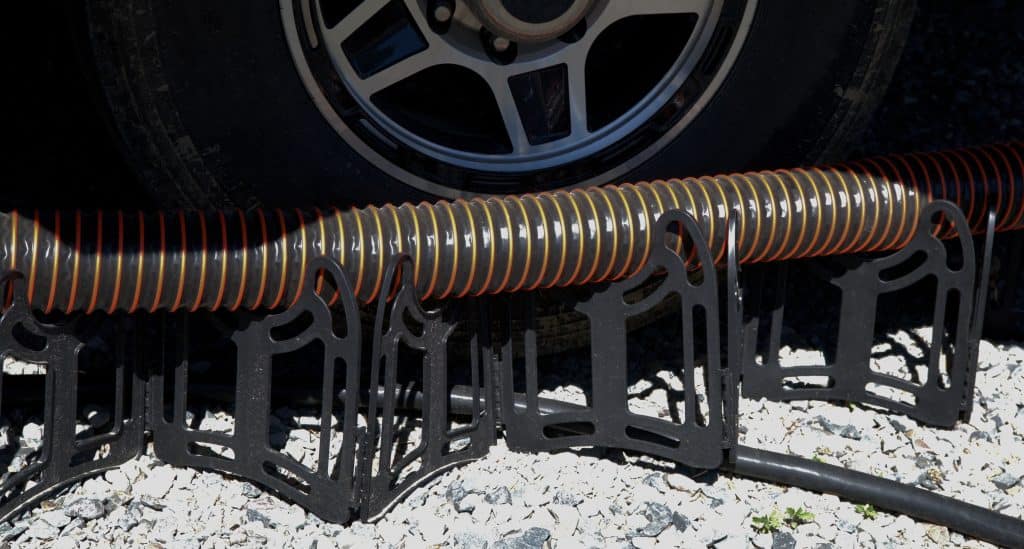 The ideal length for an RV sewer hose depends on several factors such as where you plan to park your rig and where the connection is that you will use during setup. In general, a 15-20 foot long hose should suffice for most situations but it certainly depends on the length of your camper and where the sewer outlet is. Not all campsites are created equal, so planning ahead is important.
We always take a few minutes when we first pull up to a site and get out and look around. The two things I am looking for are, how much room do I have for my slides outs to go out, and where is the sewer hose connection if I am at a full hook up site. These are a couple good things to put into your set up routine.
If you plan on parking your RV at a more remote site or require extra reach from your connection point then you may want to consider purchasing a longer hose up to 25 feet in length or one that comes in two longer parts you can connect.
If possible, try to go as short as possible when choosing the size of your RV sewer hose. Longer hoses can be heavy and difficult to maneuver into place while shorter ones will take up less storage space. We like having the option to connect two pieces together to create a longer hose IF we need it. If we do, we have it. If we don't, we don't use it.
What Is the Best RV Sewer Hose?
When it comes to camping in an RV, having the best RV sewer hose is provides great peace of mind. A well-made and long-lasting sewer hose ensures that any wastewater from your RV will be disposed of safely and quickly. The right type of hose should also be easy to install, maintain and store. I have some sewer hose kits suggested for you that we took from our more detailed sewer hose review post. You can choose one which will fit your needs the best.
What is the Best Way To Store RV Sewer Hose
First, always remember to flush your gray tank last. That helps clean out whatever was coming out from the black tank (gross).
When not in use, it is important to store your trailer sewer hose correctly. If left exposed to harsh weather conditions or moisture, the lifespan of the hose can decrease dramatically. To keep your hose in good condition and extend its life, make sure you store it in a cool dry place. We loved having the option to store it in our trailer bumper when we had a travel trailer! Now we just throw it in a storage bin in our storage compartment.
FAQ:
How Often Should You Replace RV Sewer Hose?
There's no exact answer to this question, as it depends on the type of environment your hose is exposed to and how often it is used. But, most RV owners should plan on changing their sewer hoses every three to five years, unless of course you spring a leak!
If your RV is exposed to extreme temperatures or particularly acidic environments, consider replacing the hose more frequently.
Additionally, if you use your RV extensively then you may need to change out the hose more regularly than those who only take a few trips per year.
Before investing in a new one, inspect your existing sewer hose for any signs of wear or damage such as cracks in the flexible PVC material or leaking fittings. If detected, replace without delay.
Do You Leave the Tanks Open When Hooked up To Sewer?
This is such a good question we did an entire post about it to answer the question. Read here to get your answer!
Can You Hook 2 RV Sewer Hoses Together?
Yes, you can hook two RV sewer hoses together. This is our preferred option if you need to reach an area farther away from your waste tank. By connecting two hoses, you can increase the length of your setup and make it easier to handle the task of emptying the tank
How Far Can You Run an RV Sewer Hose?
The length of an RV sewer hose varies depending on the type and size of the hose you purchase. Most RV sewer hoses range from 15 feet to 20 feet in length, but some models can extend up to 25 feet when fully extended. If you need more than 25 feet, then it's possible to connect two RV sewer hoses together to increase the total distance that your rig can reach. However, remember that the longer your setup is, the heavier it will become so be sure to take this into consideration when deciding how far you want to run your hose.
Final Thoughts
The length of an RV sewer hose should be determined by the size of the rig it is used on. A general rule of thumb is to have a hose that is at least 10 feet in length for small rigs and up to 20 feet for larger ones. Be sure to double-check any measurements before purchasing a sewer hose for your rig in order to ensure that everything fits properly.
Looking for other RV Must Haves? Check out our list of 91 Must Haves for Your RV.