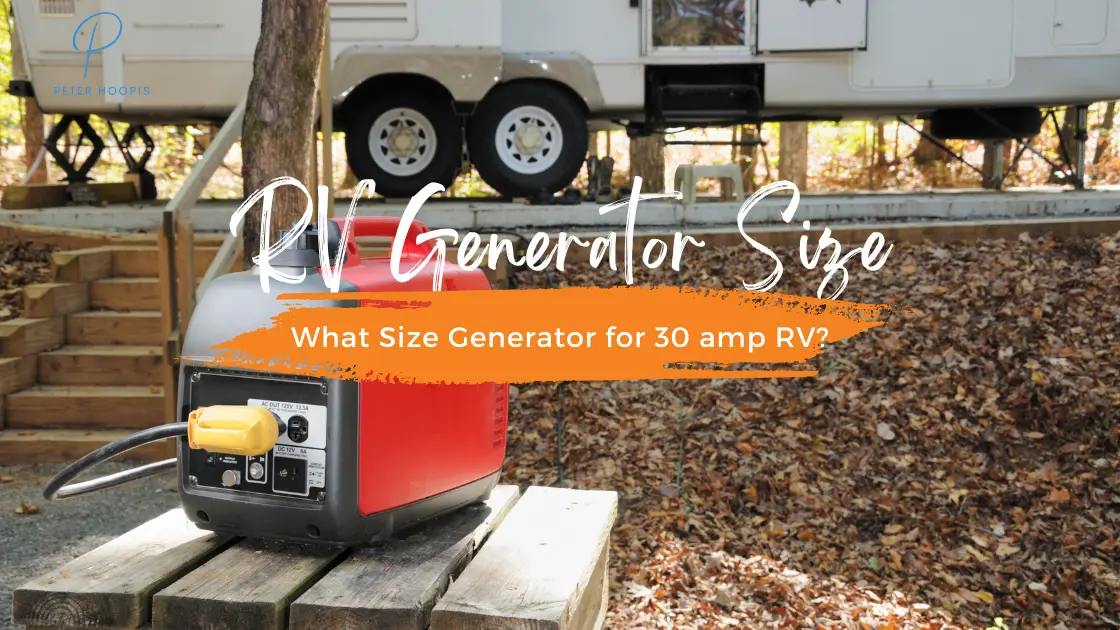 If you are looking for the right solution for what size generator to use for a 30 amp RV, then you've come to the right place. Generators provide a convenient way to power your RV without relying on shore power or other external sources.
There are many different sizes and types of generators available, so it can be confusing to figure out which one is best for your needs.
In this blog post, I will explain some of the tips to help you determine what size generator to use for a 30 amp RV.
Let's dive in!
How Much Electrical Power Does a 30-Amp RV Require?
Determining the electrical power requirements of a 30 amp RV may be difficult. To ensure compatibility with your camper and the necessary hook-ups, it is important to plan ahead and understand the electricity needs of your vehicle.
Typically, RVs that have a 30 amp power cord require around 3,600 watts of electricity. Minimum. I would go for more just because but this is usually enough to power most basic items such as air conditioners, refrigerators, and microwaves. But maybe not enough to power them all at the same time. Having too many high wattage appliances plugged in at once can cause damage or blow out fuses on the circuit breaker.
Recommended Article: 5 Best RV Black Tank Treatment Reviews
What Size Generator Do You Need to Power A 30-Amp RV?
When powering an RV, it is important to find the right size generator. Choosing too small of a generator could lead to insufficient power and dangerous situations. To determine the most appropriate size for your needs, first consider what type of appliances you will be running and how much power each appliance requires. Each one will use a different amount and will a different start up amount. So it is important to take into consideration which appliances you might want to or need to run at the same time.
To generate enough electricity to power a 30-amp RV, you will need a generator that can produce at least 3,600 watts (30 amps x 120 volts). I would really suggest more just for sake of having the ability to power more and it is safer. However, if you have lower-wattage appliances, then something smaller such as 2000-3000 watts would suffice as long as you aren't running at the same time or using the AC which draws a lot of power.
It's important to note that not all generators are created equal, and some may not be suitable for powering RVs.
Some Generators You Can Use in Your 30-Amp RV
According to market analysis and my experience, I have listed some of the best generators which can be a good choice for a 30 amp RV:
WEN 56380i Super Quiet 3,800-Watt Portable Inverter Generator
Champion 4,500 Watt Dual Fuel Inverter Generator
Honda Handi EU 3,000 Watt Inverter Generator
Yamaha EF3000iSEB 3000 Watt Portable Generator
Champion Power Equipment 200986 4,500-Watt Portable Inverter Generator
WEN 3800 Watt RV-Ready Portable Inverter Generator
Westinghouse Outdoor Power Equipment iGen4500 Super Quiet Portable Inverter Generator
Extra Features To Consider
1. Boost Power Control
RV Generator Boost Power Control allows RV owners to take complete control of their power supply. With its intuitive design and functionality, you can easily adjust the output of your generator according to your needs without worrying about disruption or wasting energy. This feature is an invaluable asset for any RV owner looking to make the most of their generator's power.
Recommended Article: The Best RV Mattress: Ranked and Reviewed
2. Economy Mode
The economy mode on this generator engine is designed to save fuel by automatically adjusting the speed of the generator to fit your needs. When you don't need full power, the engine runs at a slower speed so you can still enjoy all the power capabilities while reducing costs. If you need more juice – like cooling down you camper on a hot day or powering a larger appliance – then it'll adjust itself accordingly and provide extra oomph when needed.
3. RV Outlet Plug
RV outlet plugs provide a convenient way to get power in campgrounds and marinas. These plugs come with several different types of connectors – the 30A twist-lock and the 50A power cord being two of the most popular options. Known colloquially as "shore power", these outlets are an important part of maintaining comfort during RV trips, as they provide a direct connection from your RV to an external source of electricity. Each connector has its own unique characteristics that make it best suited for certain types of RV models or other equipment.
Conclusion
Choosing the correct size generator for your 30 amp RV is fundamental for staying safe and having a successful trip. The size of your RV, activities you plan to do, and number of electronic devices you intend to plug in are all factors that should be considered when selecting the best generator. Most efficiently, it's recommended to opt for a 3600 Watt+ generator, which will provide an ample amount of power without overloading the unit. With this knowledge in mind, you'll have all the information needed to make an informed decision. Here's wishing you a joyful and safe journey!
Related Posts: