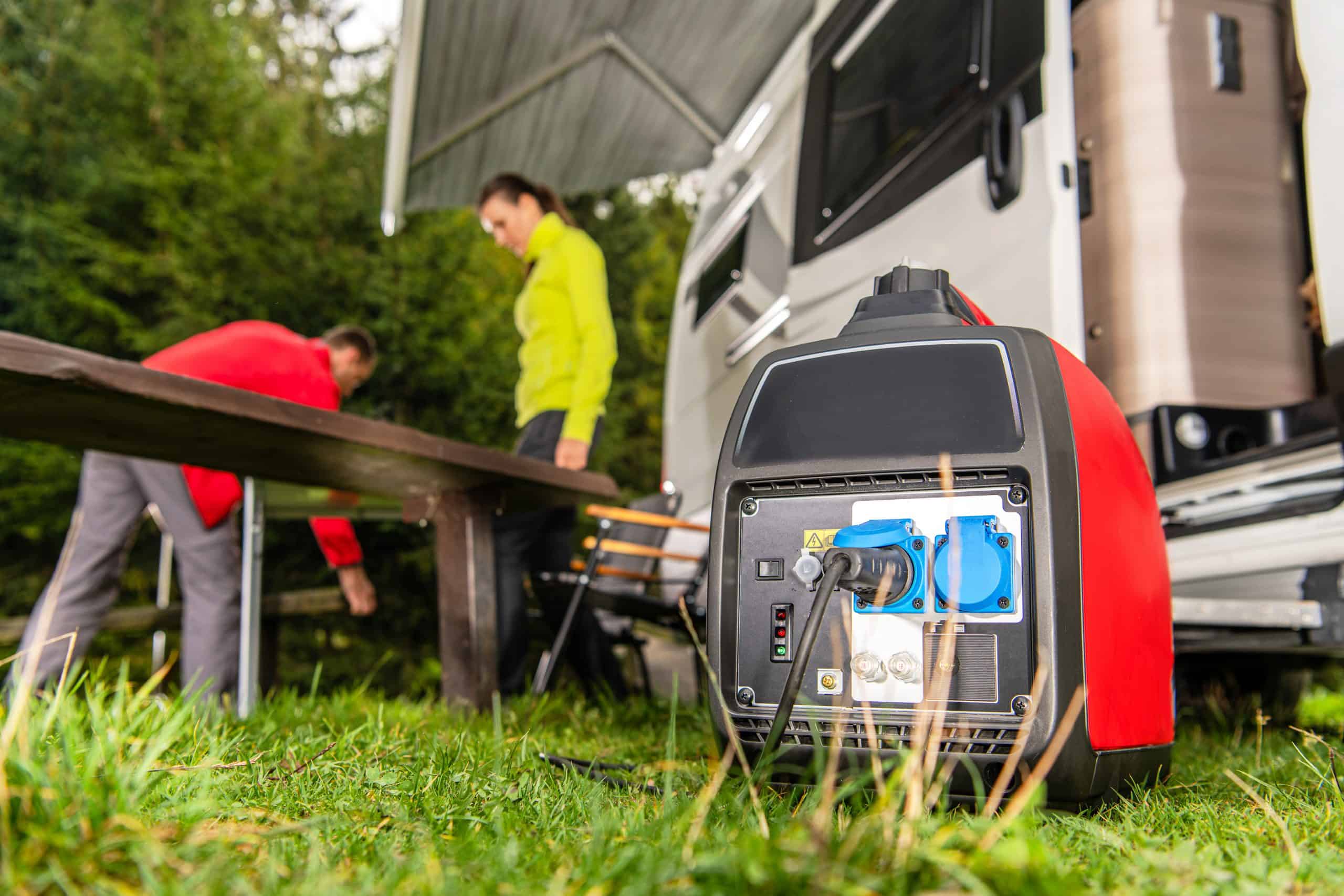 In this blog post, I review the best portable generators for RV camping.
I've been camping for years and now have two campers I keep on seasonal sites. I see (and hear!) a lot of different types of RV generators while I'm camping so I decided it was time to do a review and see which is best.
In this article, we'll rank and review the best RV generators on the market right now. So whether you're looking for a portable generator that's quiet, powerful or both, we've got you covered.
We are reader supported and as such, we may receive a small commission at no expense to you by purchasing thru our links.
What are The Best RV Generators?
Our Pick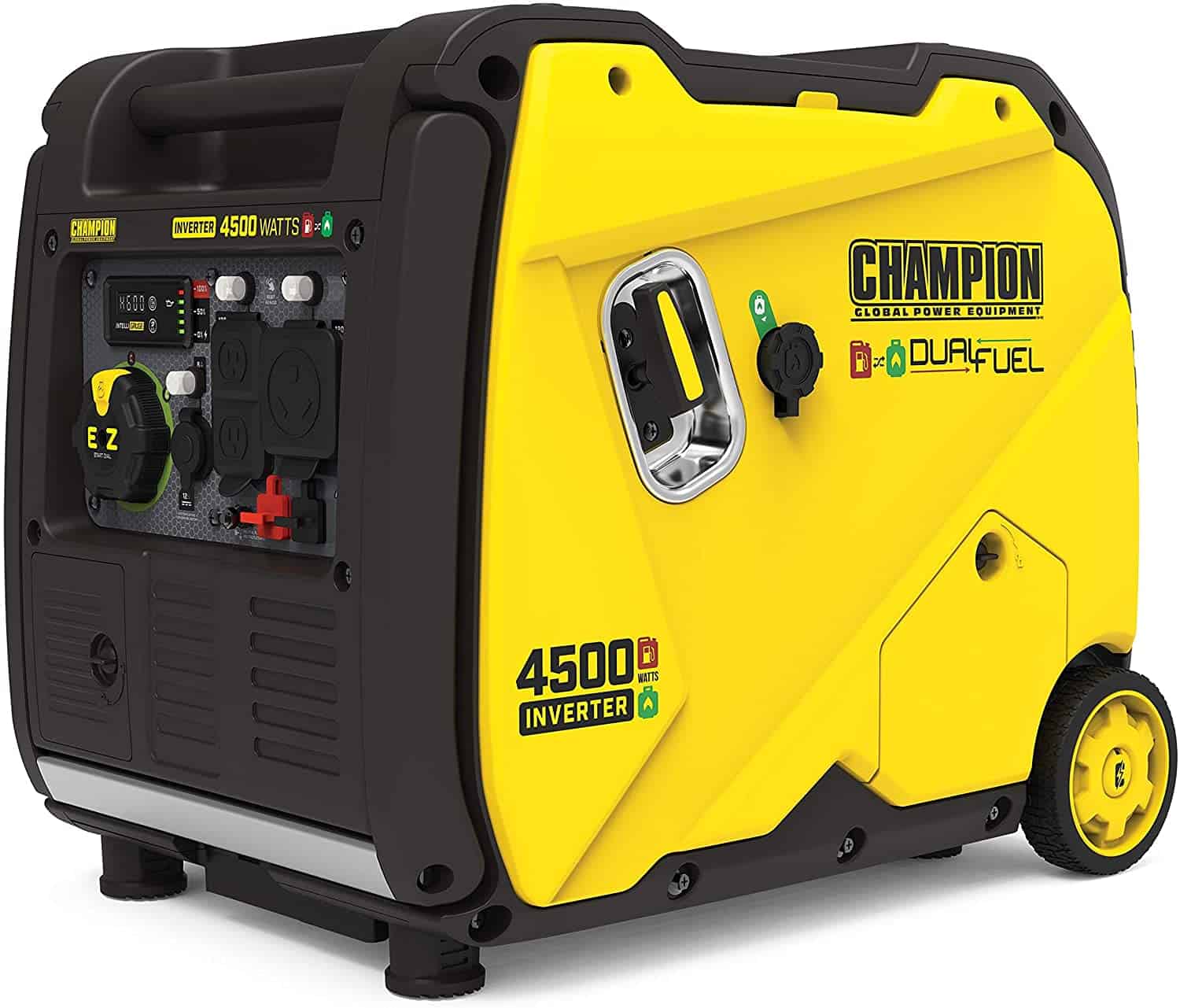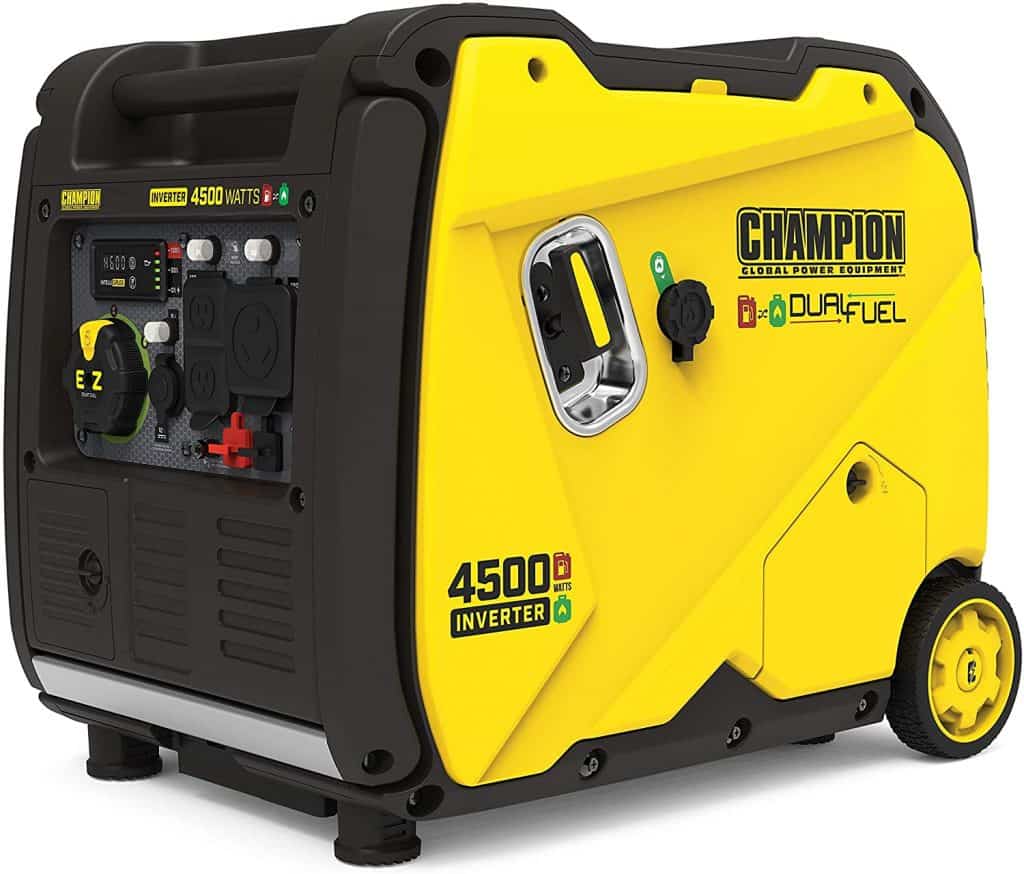 The Champion 4500 Portable RV Generator is a great unit.
One of the standout features of this generator is its dual fuel capability, which means you can operate the 4500-watt generator right out of the box on either gasoline or propane. The unit also holds 0.6-quarts of oil (10W-30 oil included) and has a low oil shut-off sensor, making it easy to use and maintain.
Another great feature is the electric start, which comes with a battery included.
Plus, the Quick Touch Panel allows you to access all your controls in one spot, making it easy to use even if you're not a tech-savvy person.
The generator also operates very quietly, with a noise level of just 61 dBA. This makes it perfect for camping or tailgating, as well as backup power for your home or your next project.
It features 4500 starting watts and 3500 running watts, with up to 14 hours run time on gasoline.
And you don't have to worry about damaging your electronics with dirty power, as the Champion 4500 is RV ready with a 120V 30A RV outlet and two 120V 20A household outlets with clean electricity (less than 3% THD).
There's also a 12V DC outlet with dual USB adapter, which is very useful for charging phones and other devices.
Overall, I highly recommend the Champion 4500 Portable RV Generator. It's a reliable, versatile, and high-quality product that comes with a 3-year limited warranty and FREE lifetime technical support from dedicated experts.
Specs
Brand: Champion Power Equipment
Wattage: 4500 watts
Item Dimensions: LxWxH 23.2 x 17.7 x 20.1 inches
Item Weight: 97 Pounds
Electric Start
Voltage: 120 Volts (AC)
Engine Displacement: 212 Cubic Centimeters
Runtime: 14 hours
Output Wattage: 3000 Watts
Fuel Type: Gasoline, Liquefied Petroleum Gas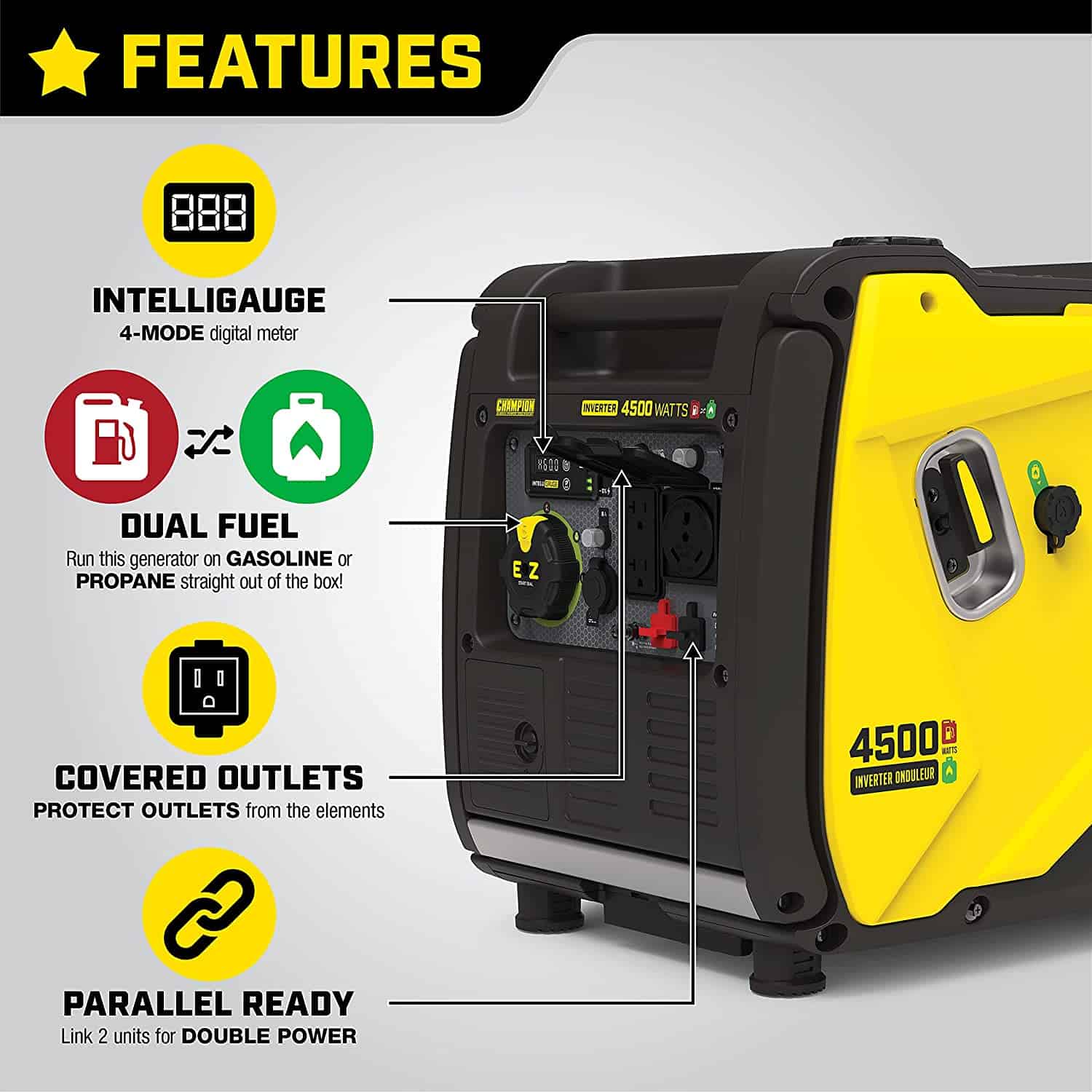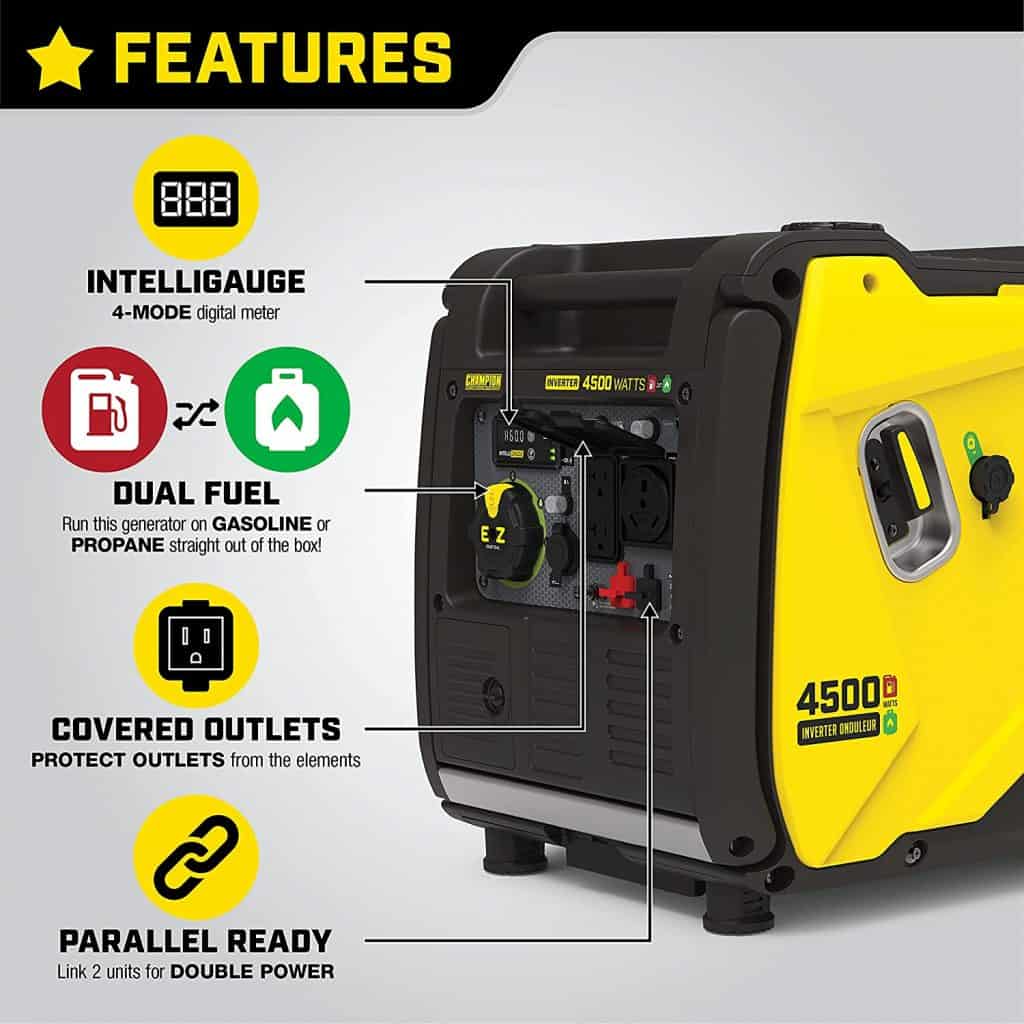 Lightest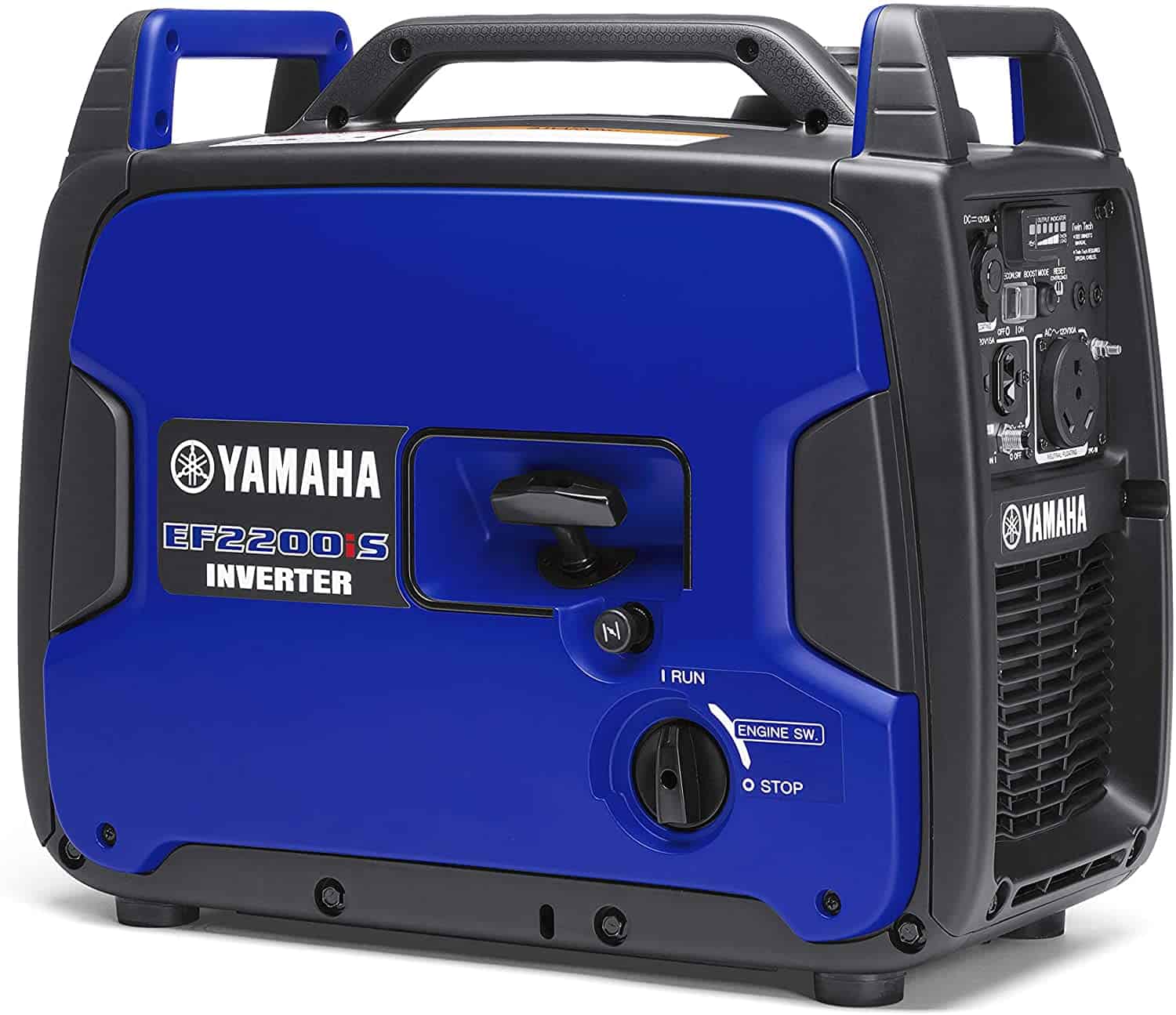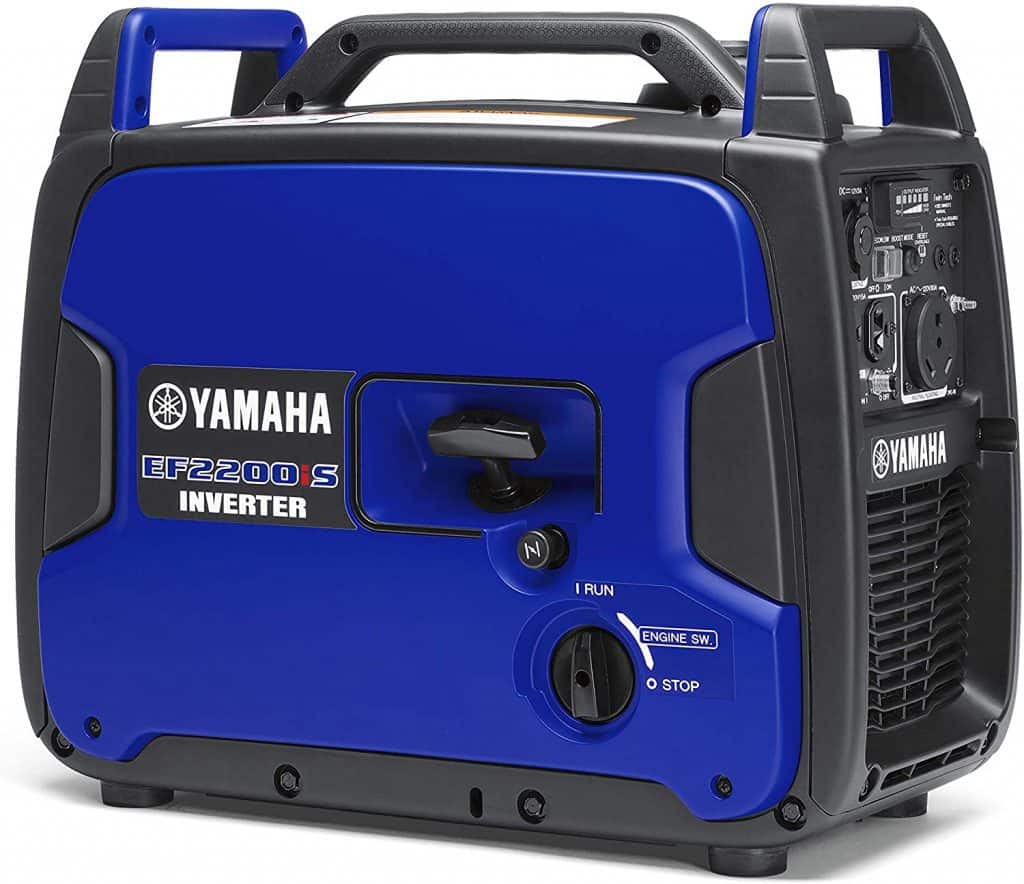 The Yamaha EF2200iS was the lightest generator on our list. But don't let the size fool you, this generator packs a punch with its powerful Yamaha 79cc engine and high power output.
We love the Yamaha EF2200iS quiet technology. This generator operates quietly, making it a great option for activities such as camping or tailgating where noise levels are a concern.
Another convenient feature of this generator is the standard RV outlet, which eliminates the need for searching for the right adapter. Additionally, the DC outlet allows for flexibility in charging and using devices.
The illuminated multi-function LED display is not only easy to read, but it also allows for status checks at a glance, day or night. The smart dial knob makes start-up simple and easy, while the smart throttle's automatic load sensing feature adjusts power to device needs.
All in all, the Yamaha EF2200iS proves to be a top contender for those in need of a portable and efficient generator.
Specs
Brand: YAMAHA
Wattage: 2200 watts
Item Dimensions: LxWxH 21.9 x 11.8 x 18.5 inches
Item Weight: 55.2 Pounds
Color: Blue
Voltage: 120 Volts
Engine Type: 4 Stroke
Engine Displacement: 79 Cubic Centimeters
Frequency: 60 Hz
Runtime: 10 hours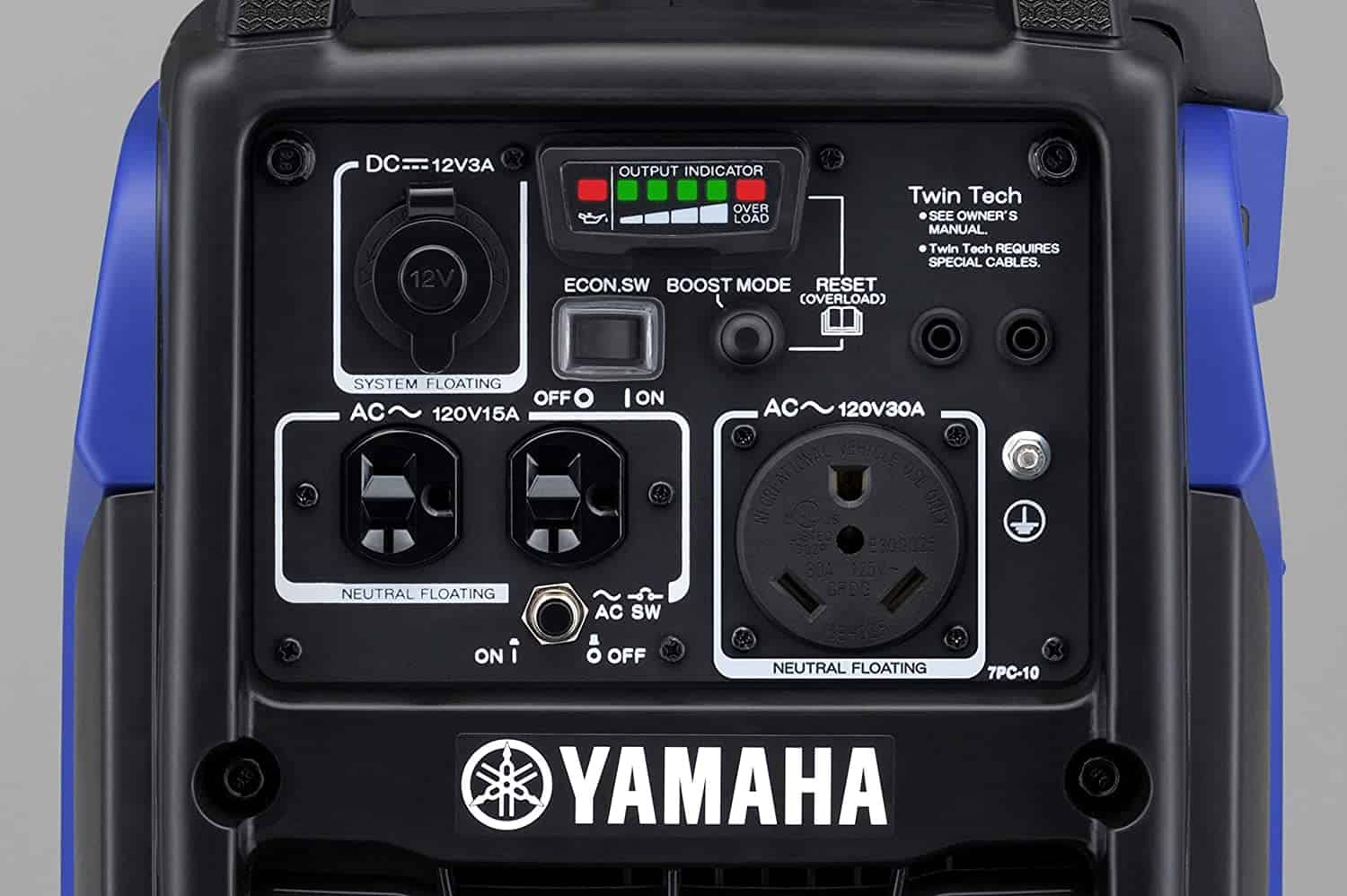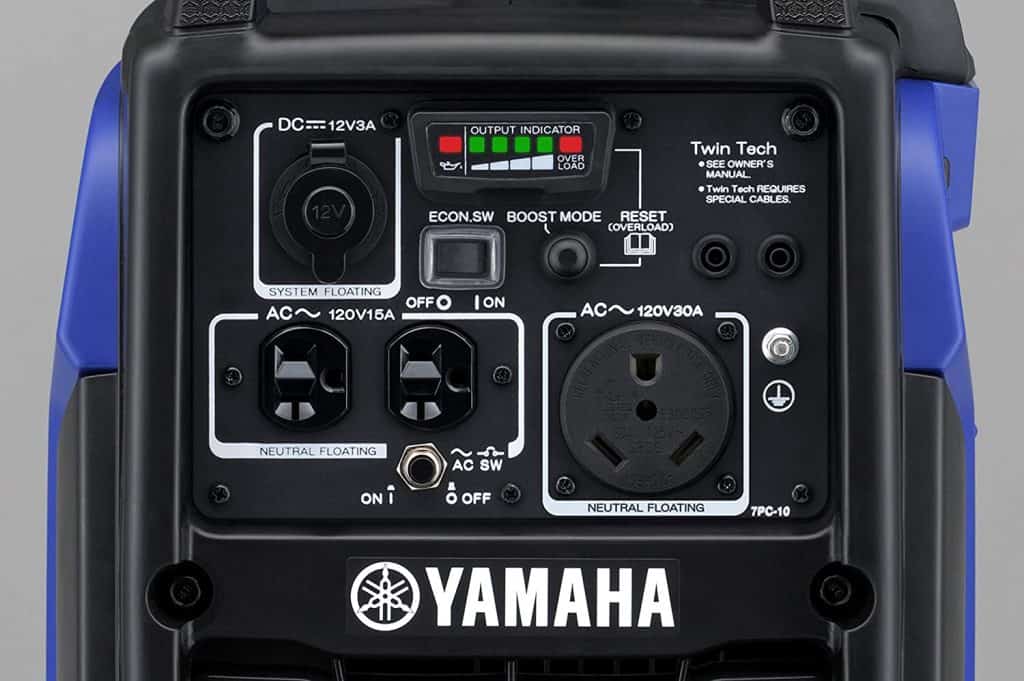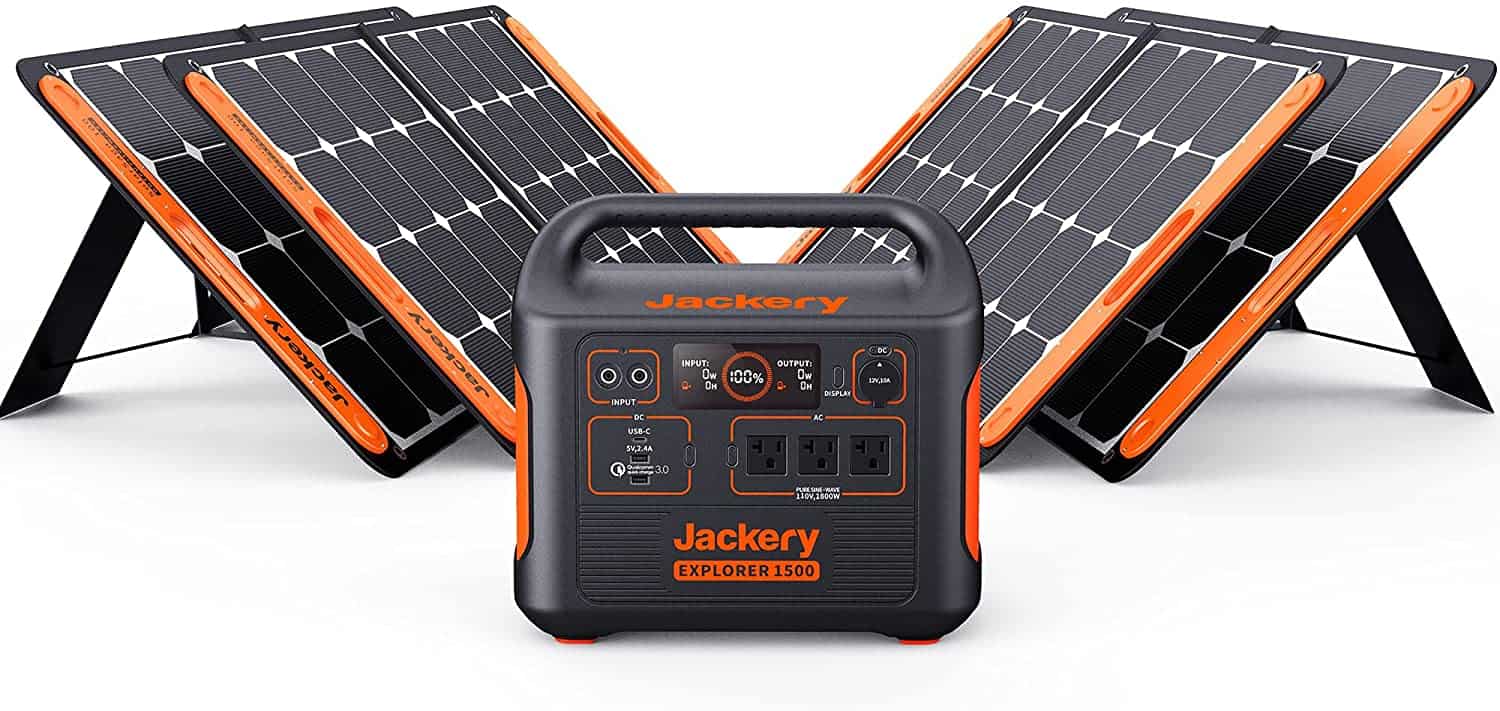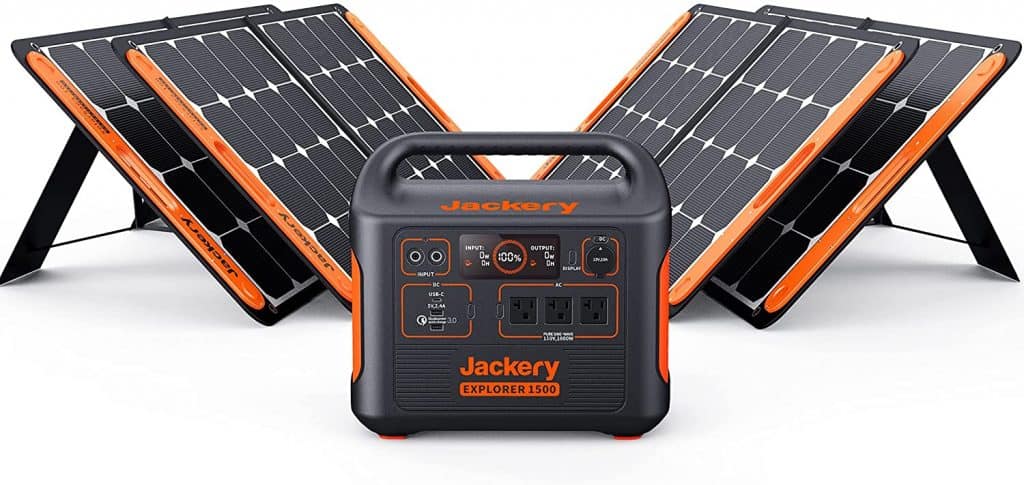 Power your RV in a sustainable and eco-friendly way with the Jackery Solar Generator 1500!
This generator is powered by solar energy, making it a great choice for those looking to reduce their carbon footprint. With its 1534Wh capacity and 1800 high running wattage, this portable solar generator is capable of powering most devices as well as appliances like electric stoves, microwaves, and refrigerators.
Plus, with Jackery's Solarpeak Technology you'll get 30% greater efficiency when recharging your generator – it only takes 4 hours of solar energy to get up and running!
Make the power switch today and get the best that solar has to offer.
Summary
Enjoy a clean, green, and sustainable power source
30% more recharging efficiency with Solarpeak Technology
Massive 1534Wh capacity and 1800 high running wattage
4 hours of solar energy to get the generator up and running
Perfect for RVing and other outdoor activities
Specs
Brand Jackery
Wattage 1800 watts
Voltage 110 Volts
Output Wattage 100 Watts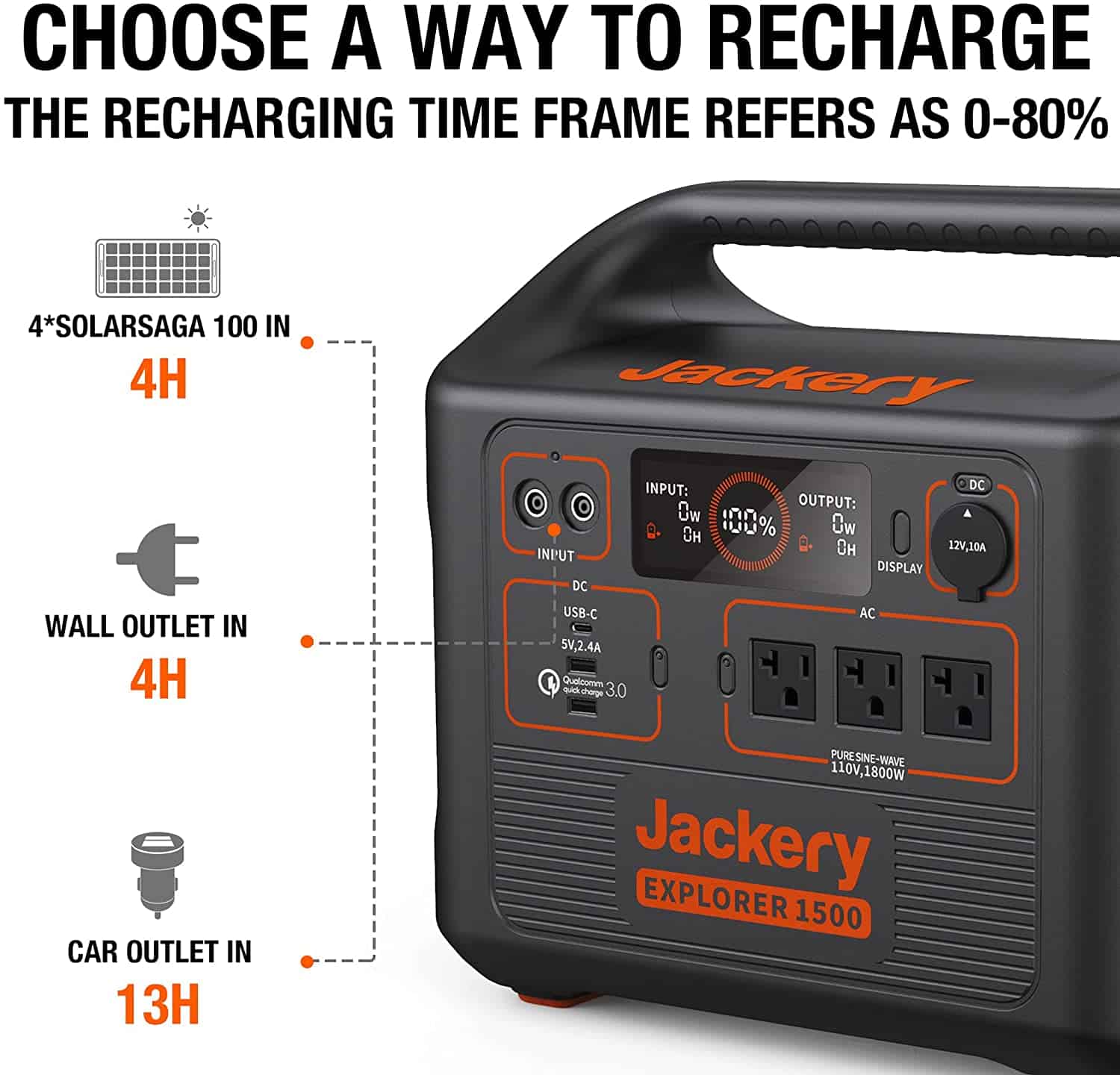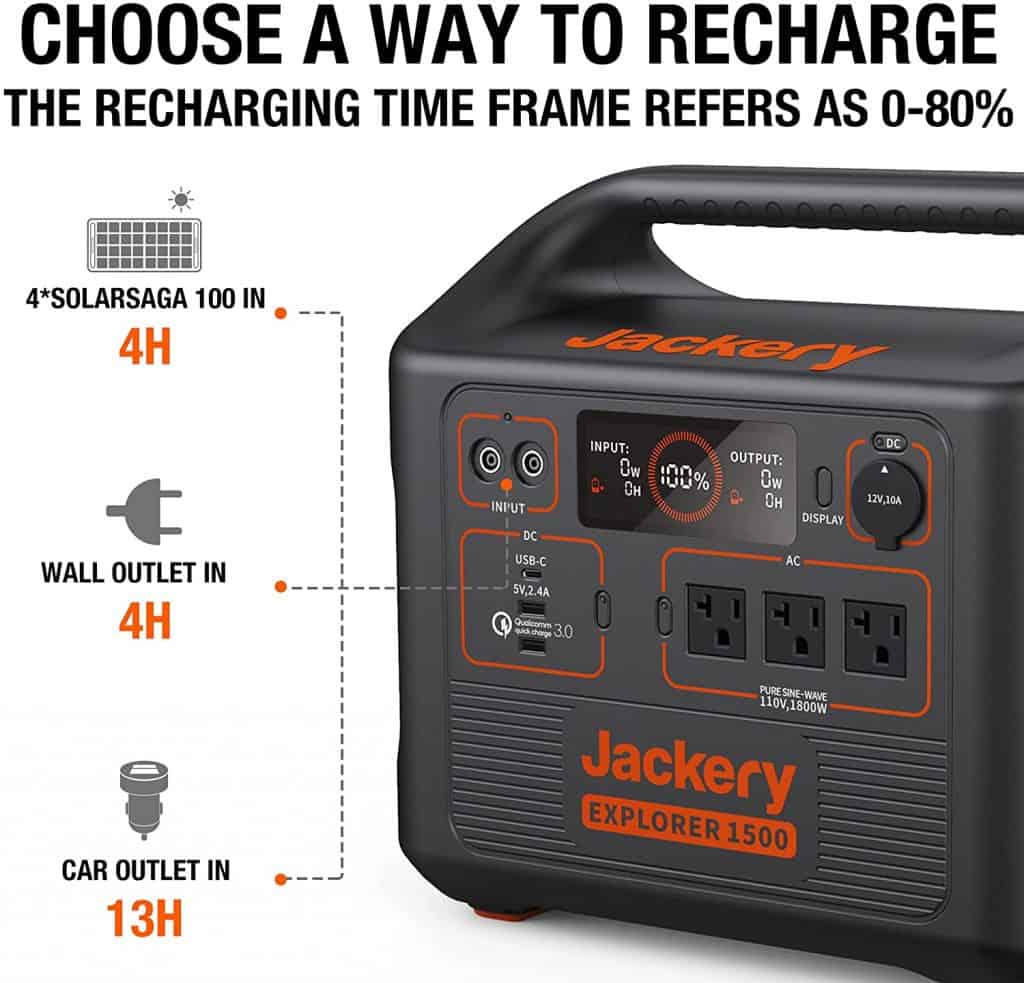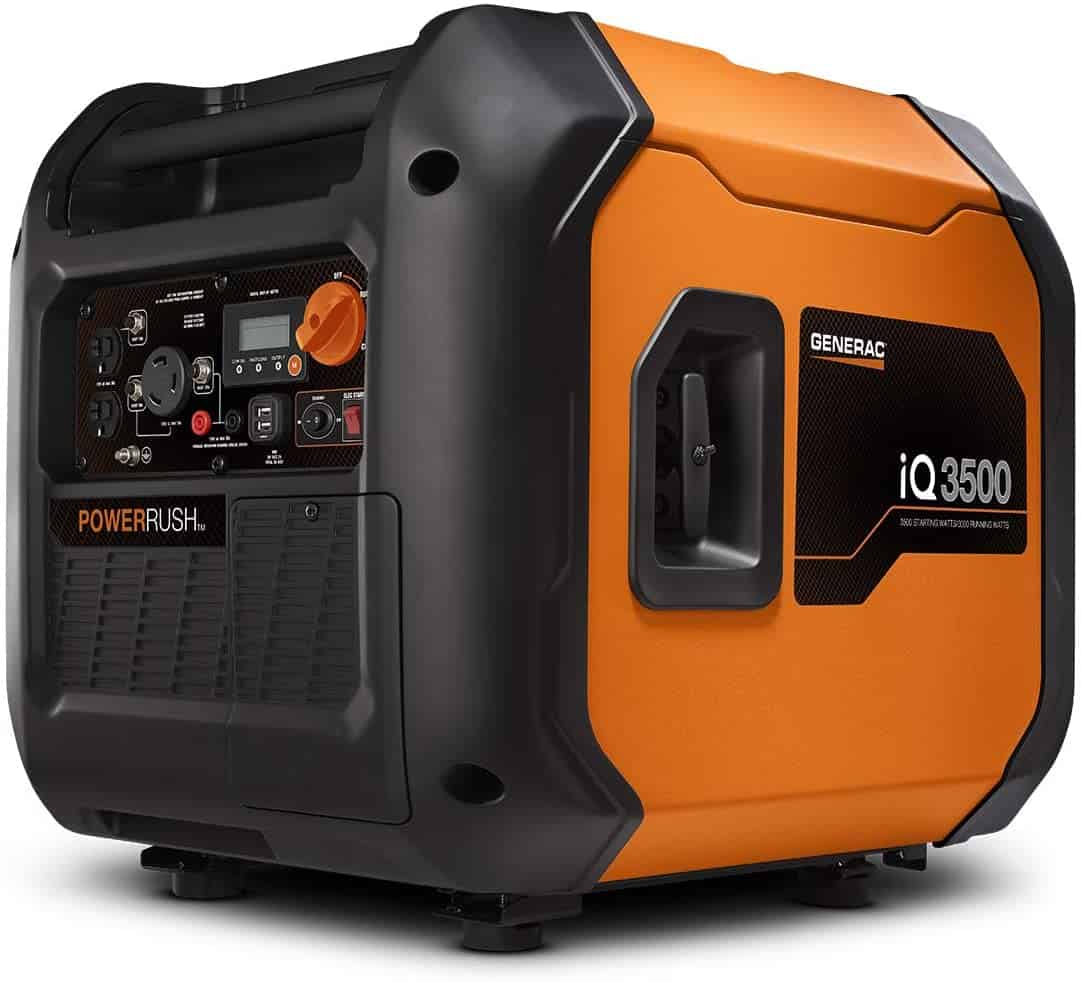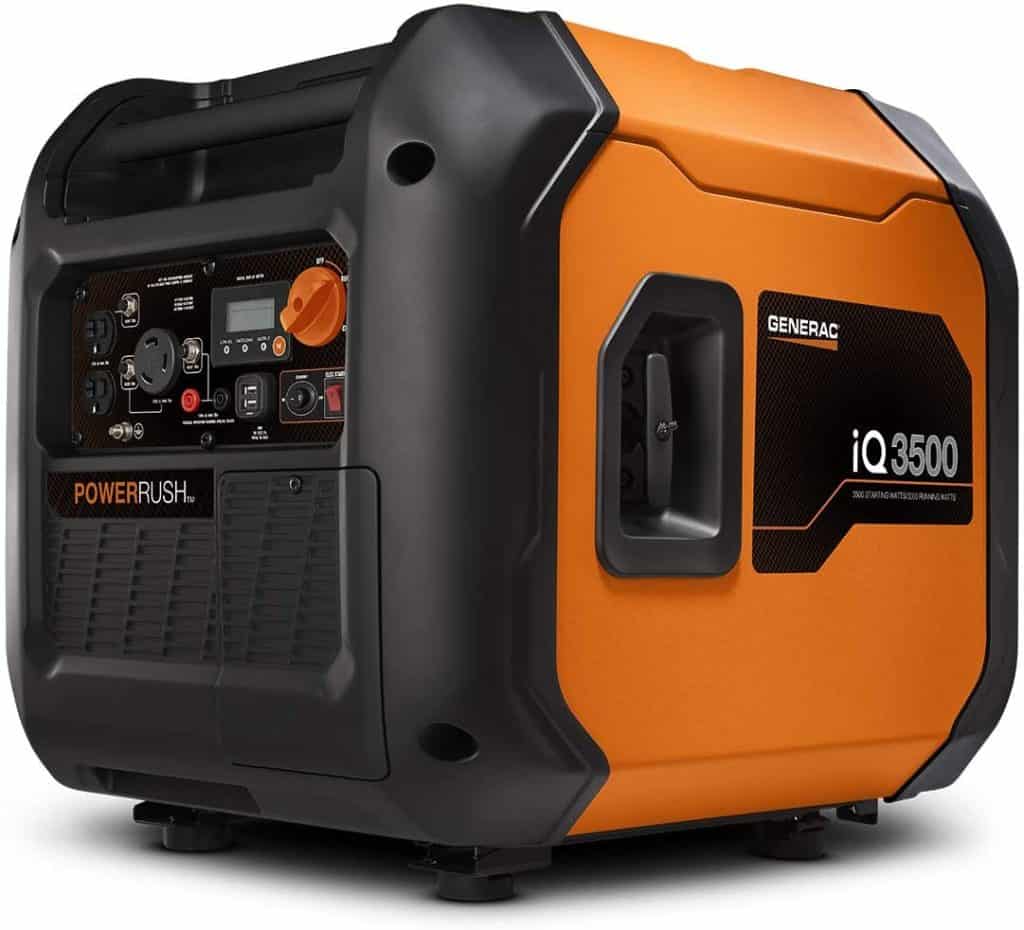 Are you looking for a portable and powerful generator that won't disturb your camping neighbors? The Generac 7127 iQ3500-3500 Watt Portable Generator is the perfect solution.
This efficient machine packs a lot of power into its small size, delivering 16% more than Honda generators of a similar size.
And thanks to advanced inverter technology and a well-designed enclosure, it runs super quiet too!
Digital smart LCD and USB charging ports make it easy to keep all your devices charged without making any extra noise.
Summary
More power than Honda generators of a similar size
Advanced inverter technology for quiet operation
Well-designed enclosure further reduces noise
Digital smart lcd and USB charging ports
Perfect for a jobsite, camping, or any other outdoor activity
Specs
Brand Generac
Wattage 3500 watts
Item Dimensions LxWxH 23.7 x 18 x 21.7 inches
Item Weight 109.1 Pounds
Color Orange/Black
Voltage 120 Volts
Frequency 60 Hz
Output Wattage 3500 Watts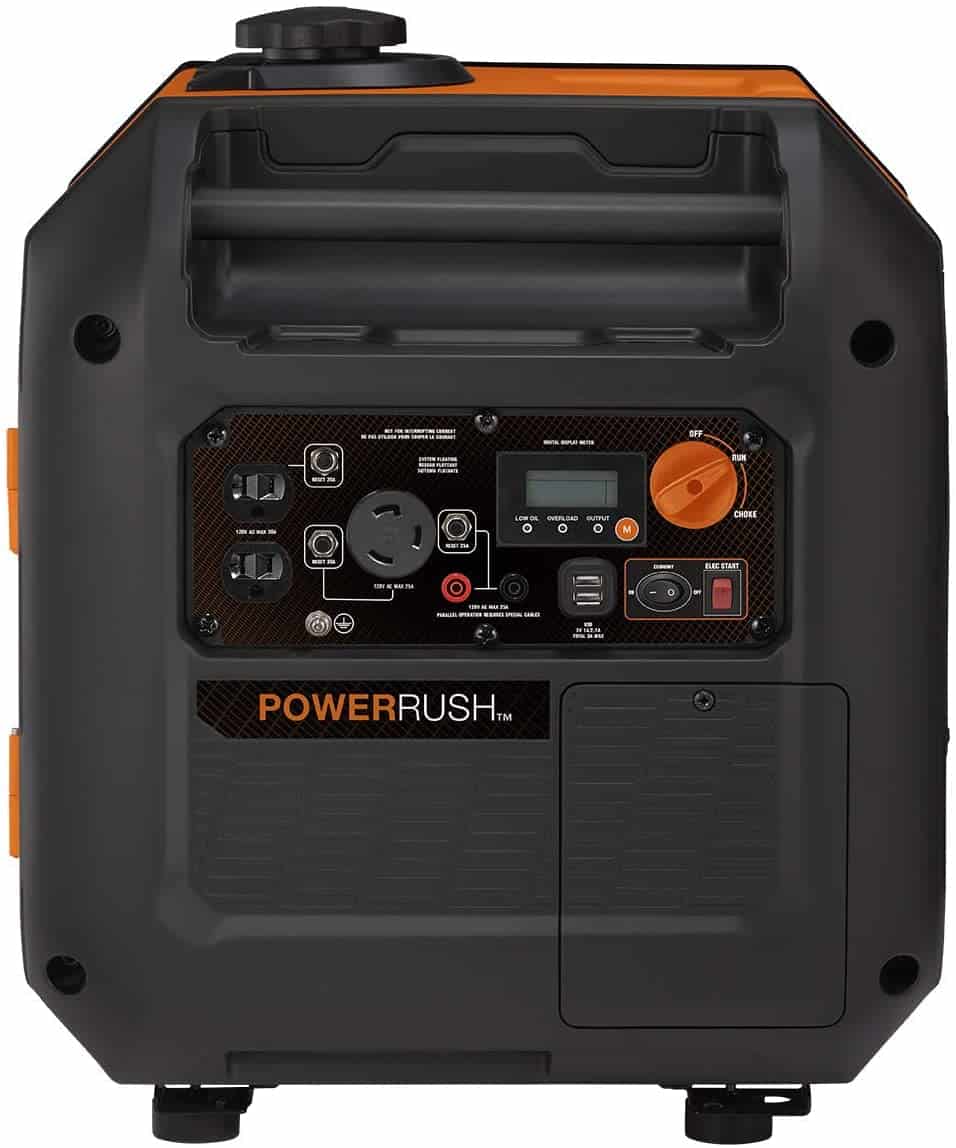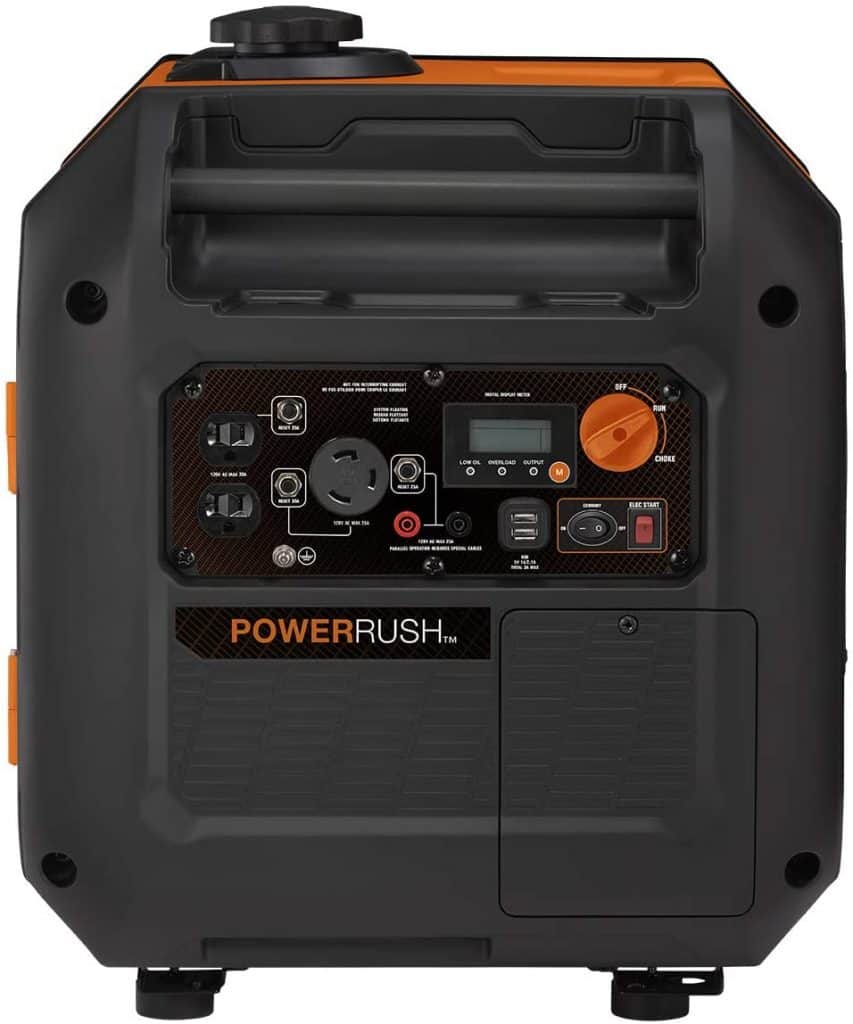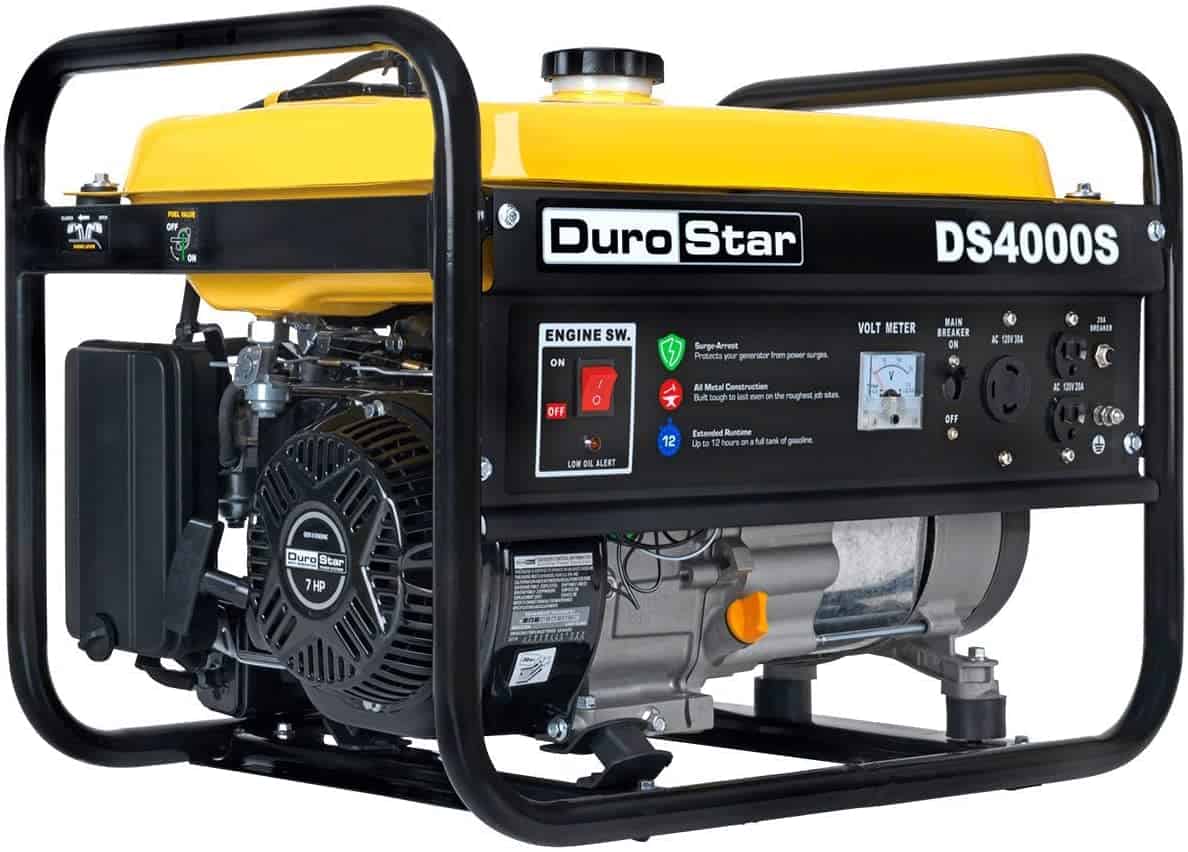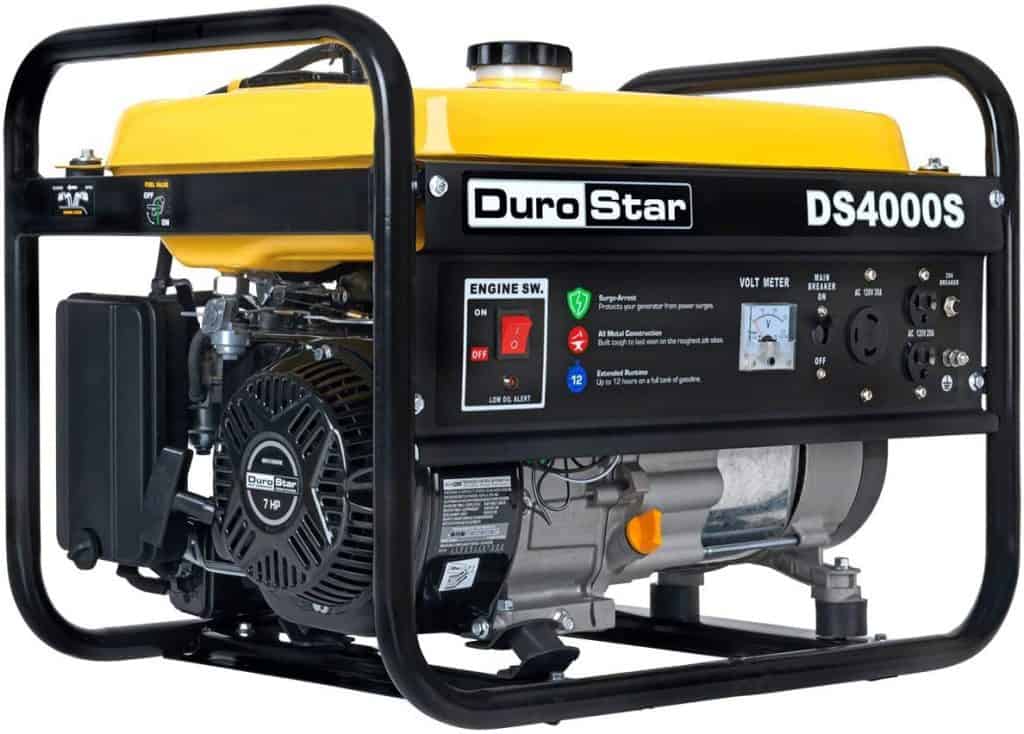 Are you looking for a generator that can power up all your needs? The DuroStar DS4000S is the ideal choice.
With 4,000 peak watts and 3,300 running watts, this unit is perfect for lighting, refrigeration, air conditioning and any other high-amperage tasks. The powerful 208cc OHV engine provides dependable performance and safety is ensured with the low oil shutoff feature.
Best of all, the DuroStar DS4000S has both EPA and CARB approval.
If you need reliable power without sacrificing on portability then the DuroStar DS4000S might be just what you're looking for.
Summary
4,000 peak watts and 3,300 running watts
208cc OHV engine for plenty of power
EPA and CARB approved for environmental friendliness
Low oil shutoff feature to protect the engine
Specs
Brand DuroMax
Wattage 3300 watts
Item Dimensions LxWxH 24 x 17 x 17 inches
Item Weight 94 Pounds
Color Yellow/Black
Voltage 120 Volts
Engine Type 4 Stroke
Engine Displacement 208 Cubic Centimeters
Frequency 60 Hz
Runtime 8 hours
6. Best for Ultimate Portability: Westinghouse WH2200iXLT Super Quiet Portable Inverter Generator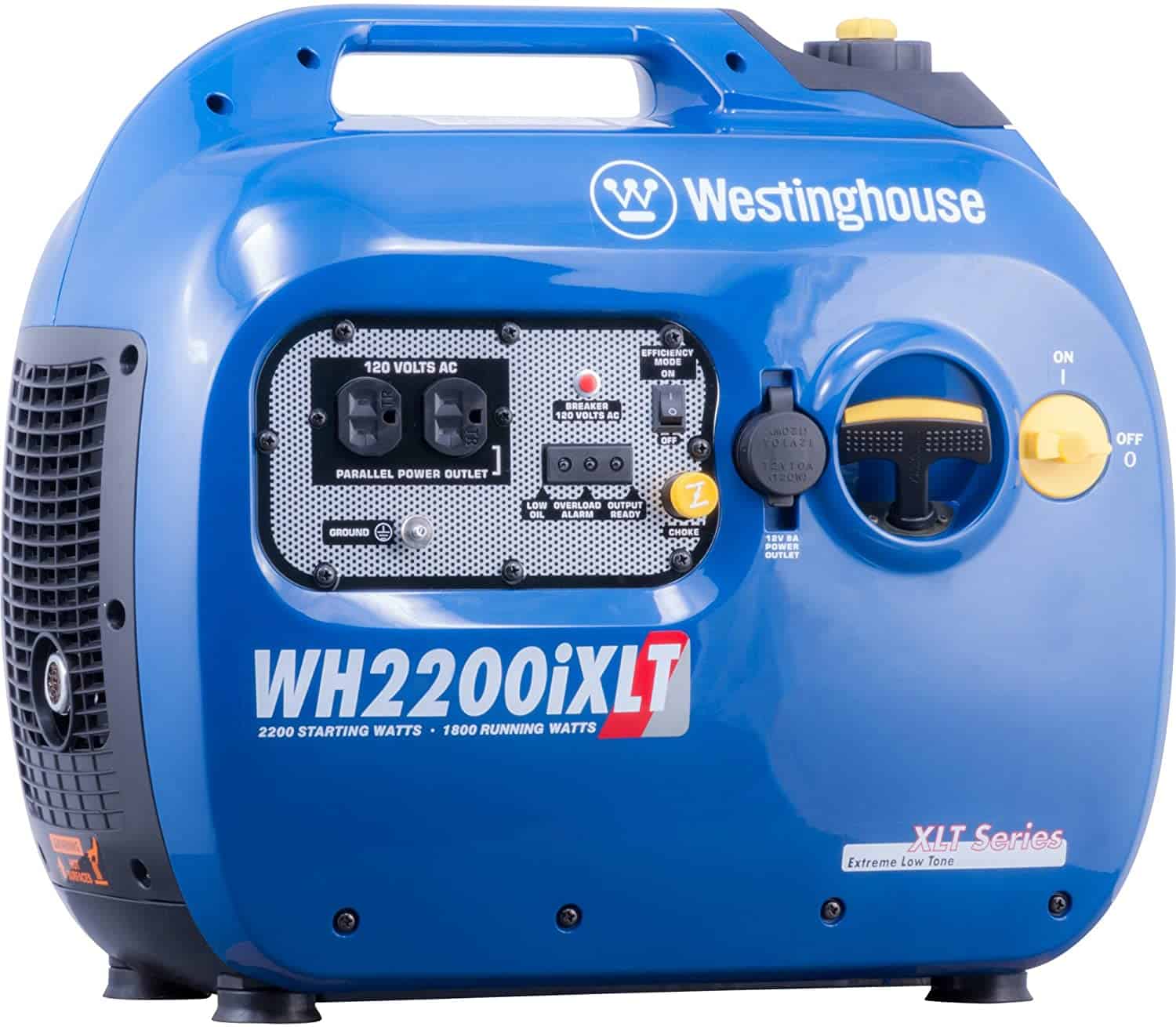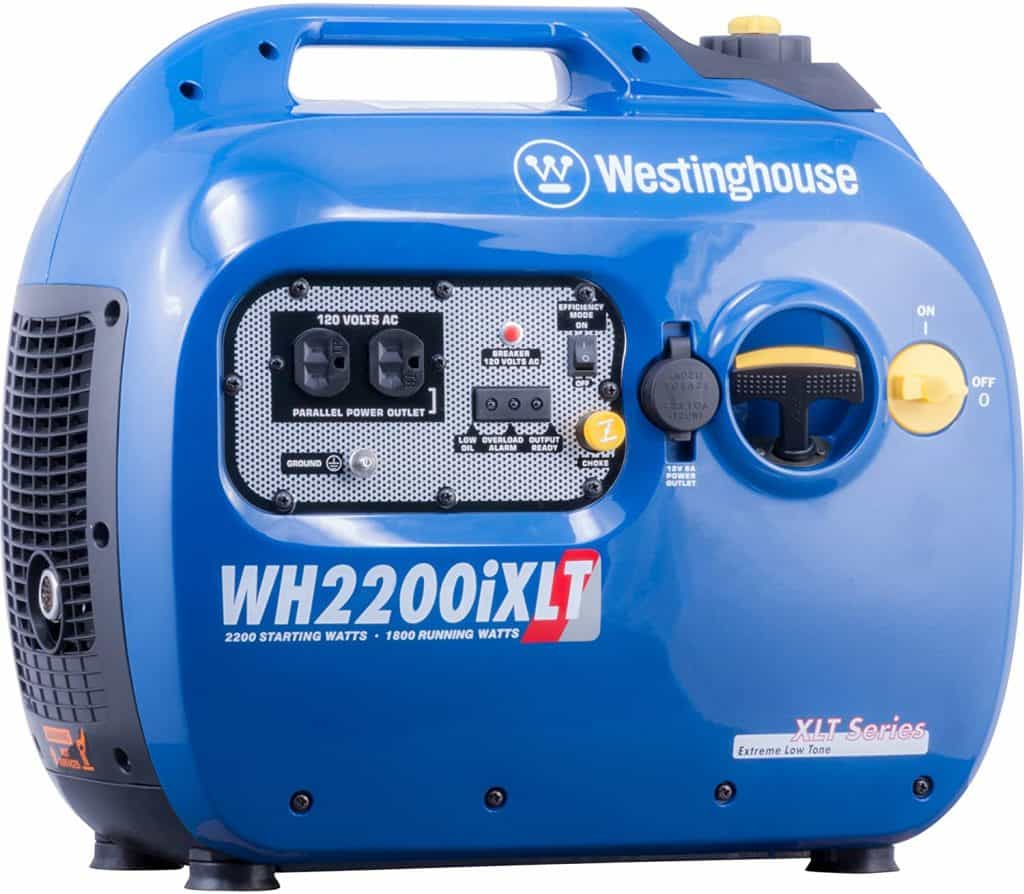 Looking for the most portable generator? Look no further than the Westinghouse WH2200iXLT as it tops our list of the most portable generator.
This portable generator provides 1800 rated watts and 2200 peak watts of power output at less than 3% THD. It only weighs 46.3 lbs., making it the best portable RV generator.
Plus, it has great fuel efficiency, with up to 13 hours of run time on a 1.3-gallon gas tank. The WH2200iXLT is also parallel capable, so you can combine it with another WH2200iXLT to increase available wattage and amperage. Really cool!
All Westinghouse portable generators are backed by a 3-year warranty, so you can rest assured that your investment is protected.
Summary
1800 rated watts and 2200 peak watts of power
Less than 3% THD for clean, efficient operation
Strong Fuel efficiency – up to 13 hours of run time on a 1.3-gallon gas tank
Parallel capable – combine with another WH2200iXLT for more power
Backed by a 3-year warranty
Specs
Brand Westinghouse Outdoor Power Equipment
Wattage 2200 watts
Item Dimensions LxWxH 20.3 x 12.5 x 17.8 inches
Item Weight 46.3 Pounds
Voltage 120
Engine Type 4 Stroke
Total Power Outlets 2
Engine Displacement 79 Cubic Centimeters
Frequency 60 Hz
Runtime 13 hours
Why Do You Need an RV Generator?
Investing in a portable generator is a great way to ensure you are always prepared for whatever situation may arise.
Whether it's an emergency situation or an overnight stop on a road trip, the generator will provide reliable power when shore power isn't available. Not only that, but having a generator also gives you the freedom to camp off-grid with no worries of not having any power.
Last, with a portable RV generator, you can have peace of mind knowing that you're one step ahead of any unpredictable situations.
What is an Inverter Generator?
Inverter generators are the ideal choice for a variety of portable power needs. Whether you're RVing and camping, or need to power sensitive electronics like televisions and laptops, these generators provide a quieter and more fuel-efficient alternative to other types.
While they may be more expensive than traditional generators, inverter models offer significant value as they're far less intrusive on your fellow campers. Plus, their ability to convert DC power into AC power makes them an overall great pick for anyone looking for an effective solution for reliable power on the go.
What Are The Advantages And Disadvantages Of Different Types Of RV Generators?
Choosing the right RV generator can be a tricky task.
Inverter generators, for instance, are generally quieter and more fuel-efficient than other types – but they typically cost more. Portable generators offer easy transportability, allowing you to take your power supply with you wherever you go, while powerful generators are great for running multiple appliances and air conditioners – though their large size can make them difficult to move around.
Ultimately, the best type of generator for you depends on your particular needs and preferences; if quietness and fuel efficiency are at the top of your list, then an inverter generator might be the way to go; if transportability is important, portable generators are an excellent choice; and if you're looking for output that can support multiple devices simultaneously, powerful RV generators could be just what you need!
What Type of Fuel Do Generators Run On?
Most RV generators run on gasoline. However, there are also some diesel generators that run on diesel fuel. Last, there are propane generators as well as natural gas generators.
It's important to choose a gas-powered generator that runs on the type of fuel that you have available. For example, if you only have access to gasoline, then you would need to choose a generator that runs on gasoline. If you have access to multiple types of fuel, then you can choose the generator that best meets your needs.
How to Choose the Right RV Generator?
When looking for the right RV generator, it's essential to consider your preferences and needs. Some of the key elements you should take into account include wattage, runtime, noise level, and fuel type.
Wattage determines how many appliances a generator can simultaneously power, so if you need to run several items at once select one with a high rating.
The runtime indicates that length of time the engine runs before refueling is necessary. If you require an extended operation period choose one with a longer time span.
Noise levels are pertinent because they will determine how loud the generator is when in use. To find a quieter machine look for those with lower sound ratings.
Finally determine what type of fuel your chosen model requires. There are options which run on gasoline, diesel or propane – find the best option which suits your accessibility and practicality requirements
Ultimately there's an RV generator on the market for every need – by evaluating wattage, runtime, noise level and fuel type you can easily sort through all available options and find the perfect choice for you.
How to Maintain a Generator?
If you have an RV generator, it's important to properly maintain it in order to ensure its longevity and performance. Some things to remember when maintaining a generator include:
Checking the oil level on a regular basis and changing the oil when needed
Making sure that the fuel is fresh and clean
Cleaning the generator on a regular basis
Storing the generator in a dry and well-ventilated area
By following these simple tips, you can keep your RV generator in top condition and ensure that it lasts for years to come.
Conclusion
Hopefully, this article helped you narrow down your search for the best RV generator. We've ranked and reviewed the best RV generators on the market, so you can be sure to find one that fits your needs. Looking for other items for your RV? Check out our list of RV Must Haves now! Thanks for reading and happy camping!