If you've been on TikTok lately, you may have seen the newest must-have item – the Stanley Adventure Quencher H2.0 Flowstate Travel Tumbler. It seems like everyone is sipping out of their personal stainless steel Stanley tumbler and showing off how cool they look.
I kept hearing about the Adventure Quencher H2.0 travel tumbler from my kids and had to see what all the hype was about!
So what exactly is it?
Who is Stanley, and why are these tumblers so popular?
Let's find out!
We are reader supported and as such may make a small commission at no expense to you by purchasing thru our links! Thank you!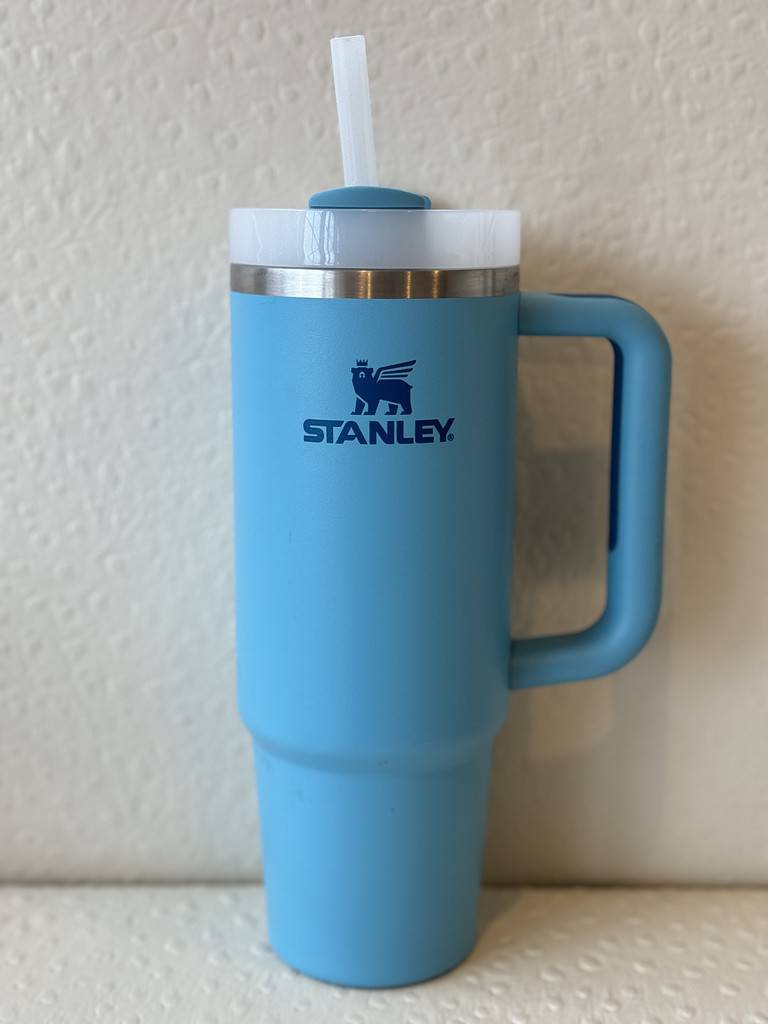 Be sure to sign up for Rakuten for $30 back plus discounts!
The Adventure Quencher Flowstate Tumbler is the company's newest addition to its lineup of outdoor products.
It's an insulated tumbler that keeps drinks hot or cold for hours on end. The double-walled stainless steel construction ensures that your drink stays at the perfect temperature no matter how much time passes between sips.
Plus, it comes with a leak-proof lid so you don't have to worry about spills or messes, and an ergonomic handle for easy carry.
It's made of high-grade 18/8 stainless steel and features vacuum insulation technology that traps air between two walls of metal to create an impenetrable barrier against heat transfer.
This means that you can fill up your 40 oz tumbler with ice-cold water and it will stay cold for up to 11 hours—or fill it with steaming coffee and enjoy its warmth up to 7 hours later.
The 40 oz stainless steel tumbler is perfect for any activity, whether you're commuting to work as it fits in just about any cup holder, taking a workout class, playing pickleball, or just relaxing at the campsite, you'll want this tumbler by your side keeping you hydrated all day.
Vacuum insulation locks in coldness so that drinks stay icy-cold for hours' end that no heat can dare penetrate.
The advanced FlowState lid is ergonomically designed with a rotating cover that provides three positions: straw opening with reusable straw holder, drink opening, and full-cover top.
Moreover, it includes comfort-grip inserts to ensure easier carrying and has a narrow base that fits a standard car cup holder perfectly.
Crafted from recycled stainless steel with sustainable sipping and maximum hydration, this Tumbler is truly an indispensable companion for lasting refreshment!
Benefits
Keeps drinks cold for hours on end (or hot)
Advanced FlowState cup lid with rotating full cover top for multiple drinking positions
Includes comfort-grip inserts and is made from recycled stainless steel
Cup Holder Compatible
Who Is Stanley?
Stanley is a company that specializes in making products for outdoor use. Founded in 1913, they have a long history of producing reliable and durable items like coolers, thermoses, and camping cookware.
They're best known for their original double wall vacuum insulation bottle—the same one your grandpa used to carry around—which has been around since 1913! This is what was so funny to me when my kids were talking about the "new" Stanley mug.
Pretty sure I had an awesome Stanley lunch box as a kid!
Why Is Stanley So Popular?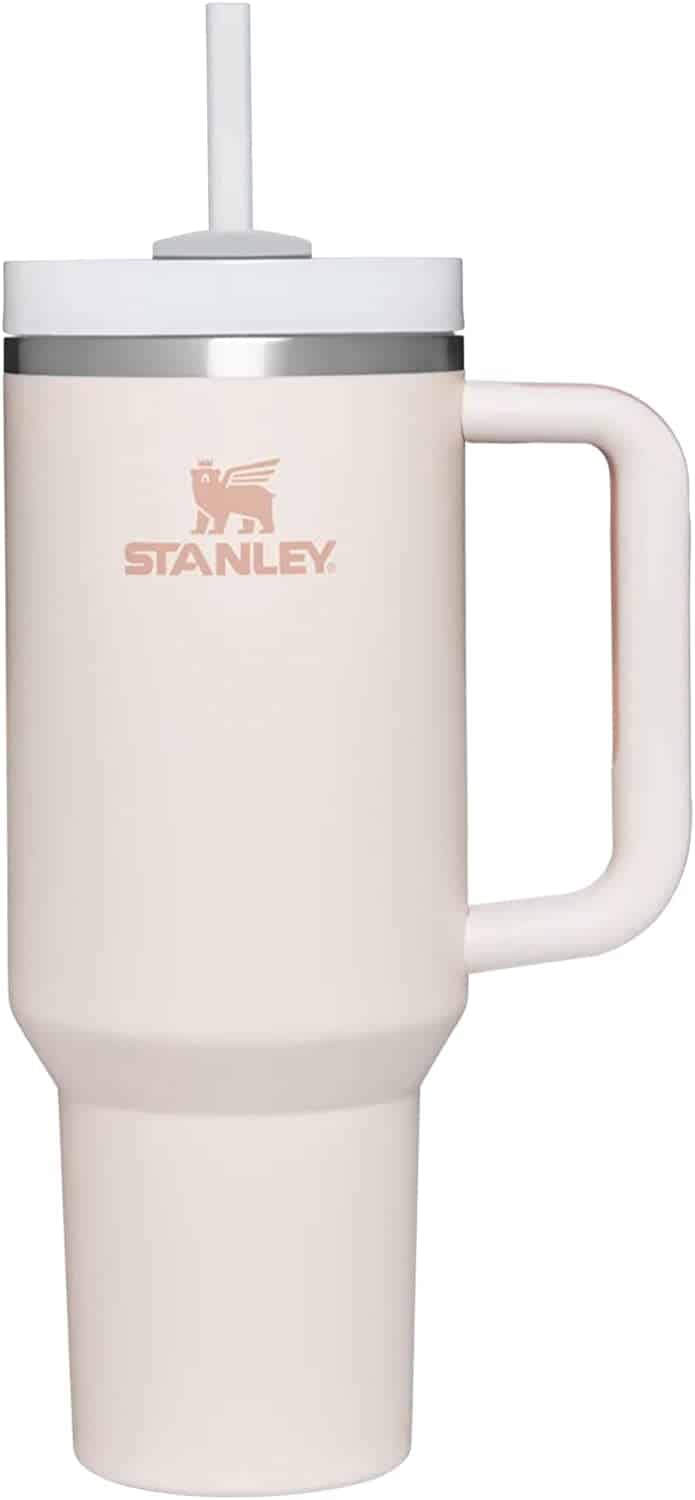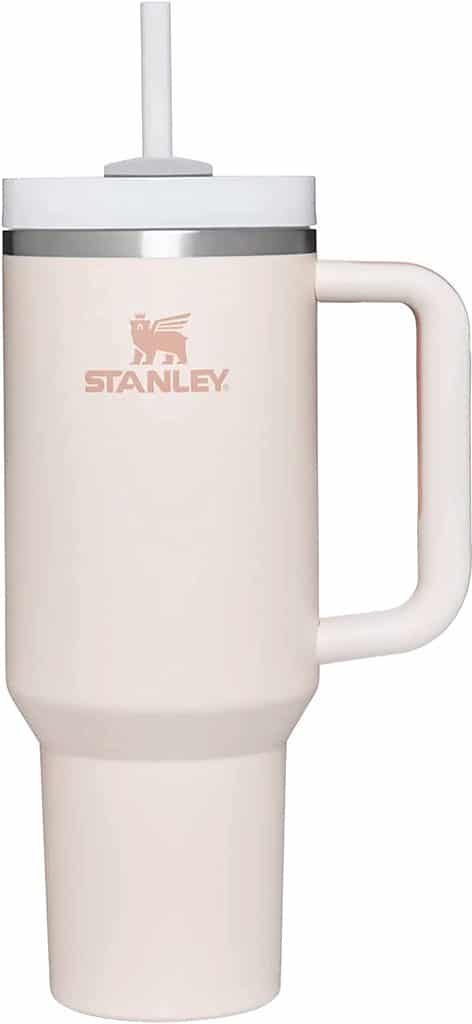 The popularity of Stanley on TikTok and other social media platforms is due to several factors. Specifically, the 40 oz Adventure Quencher H2.0 Flowstate Tumbler is what has been blowing up your feeds.
First, they're incredibly sturdy and stylish; the stainless steel exterior won't chip or scratch, and the insulated interior will keep your drinks cold for hours (or hot).
Second, their eye-catching design and variety of colors and sizes allow you to choose the perfect tumbler for your needs.
Third, you can help the environment out by using fewer plastic water bottles.
Finally, it comes with an unbeatable lifetime warranty so you can feel confident knowing your purchase will last forever.
And if that wasn't enough, there are dozens of Instagram influencers who are promoting it nonstop on social media with their reviews—so it's easy to see why this product has become so popular so quickly!
Recommended Article: The Blackstone Pizza Oven
Recommended Article: Our 11 Favorite Blackstone Accessories
How Can You Get Your Hands on One?
If you're looking to get your own Adventure Quencher Travel Tumbler, you can find them online and in stores.
However, purchasing one right now might be a challenge as you will see a lot of "Sold Out" and might have to wait.
The 40 oz Quencher H2.0 Travel Tumbler is quickly becoming the must-have item.
With their durability, variety of sizes and colors, and affordable price point, it's no wonder why so many people are rushing to get their hands on one. So if you want to stay cool and join the trend, grab your own today!
Recommended Article: The Solo Stove Bonfire 2.0 Review
Why Choose the Stanley Adventure Quencher H2.0 Tumbler?

The Stanley is more than just a cup; it's an investment in your drinking experience.
Unlike other insulated cups that are prone to sweating when filled with cold liquids, this tumbler has no condensation on its exterior walls.
The tumbler lid allows for three different positions. One allows you to use the reusable straw with the straw opening. The second allows you to sip directly from the tumbler. And the third position allows you to close the lid to avoid any spills.
The durable construction of this tumbler means that it's built to last for years—so you won't have to worry about having to replace it anytime soon.
Last, it is dishwasher safe! A big plus for me!
The Adventure Quencher Travel Tumbler can keep your drinks cold for up to 11 hours, hot for up to 7 hours and ice for up to two days!
SPECS
Weight: 1.4 lb.
Dimensions: 3.86L x 5.82W x 12.3H in
Recommended Article: 91 RV Must Haves For Your Next Trip
Conclusion
The Adventure Quencher Travel Tumbler by Stanley is blowing up on social media right now and we can certainly understand why! This product was made by a company with years of experience in making quality outdoor gear and accessories and is backed by their unbeatable lifetime warranty.
With its trendy design and wide range of colors, this tumbler has become an instant classic—and one that will likely be around for many years to come!
So if you've been looking for the perfect way to sip on that iced coffee all day long, then look no further than the Stanley Tumbler! You won't regret it!