Looking for a convenient way to keep your RV temperature under control, even when you're away from your rig?
Then check out the Micro-Air EasyTouch RV Thermostat. This smart thermostat is easy to install and comes with a large 3.5-inch touchscreen display. You can control it via Bluetooth and WiFi.
Best of all, it's compatible with most major brands' RV thermostats, so it can be an easy and beneficial upgrade to your RV.
Take your RVing experience to the next level with the Micro-Air. It's an awesome solution for regulating and monitoring temperature in your RV while you are away.
Keep reading to learn more about the Micro-Air.
We are reader supported and as such may make a small commission at no expense to you if you purchase thru our links! Thank you!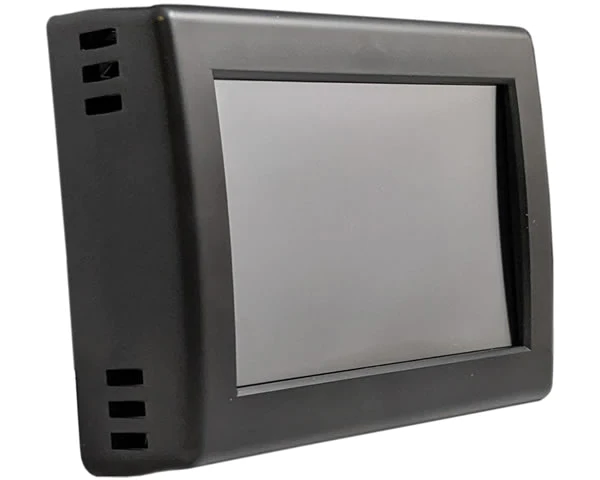 The Micro-Air EasyTouch is a smart thermostat designed specifically for RVs. This device offers Bluetooth and wifi connectivity that enables you to control the temperature of your camper from anywhere using a user-friendly app.
Unlike standard analog or digital thermostats that come with an RV, the EasyTouch provides advanced features similar to those found in residential thermostats. With the ability to preset temperatures for different times of day or make adjustments on-the-go, you can keep your camper at the perfect temperature all year round.
If you have pets or are concerned about extreme temperatures while away from your RV, the EasyTouch allows you to monitor and adjust the temperature remotely, providing peace of mind and comfort for your furry friends.
The EasyTouch is particularly useful for those who keep their camper on a seasonal site like us as it can be remotely controlled before arrival so that it's comfortable when you arrive.
Features
Bluetooth and wifi connectivity for remote temperature control
User-friendly app for easy temperature adjustments
Advanced features similar to residential thermostats
Ability to preset temperatures for different times of day
Remote monitoring and adjustment of temperature
Ideal for pet owners or those concerned about extreme temperatures while away from RV
Perfect for seasonal campers who want to remotely control the temperature before arrival
Comes in black or white.
Can be used for up to 4 zones!
Has a home and away setting
Use for Air Conditioner, Furnace, Heat Strip, Heat Pump, Fan Only
Benefits Of Using A Smart RV Thermostat
Here are some benefits of using a smart RV thermostat:
Energy savings: Smart thermostats can learn your habits and adjust the temperature accordingly, helping you save energy and money on your utility bills.

Convenience: With a smart thermostat, you can control the temperature of your RV from anywhere with an internet connection. This means you can adjust the temperature before you even arrive at your destination or while you're out exploring.

Customization: Many smart thermostats offer customization options, such as scheduling and setting different temperatures for different times of day or areas of your RV.

Remote monitoring: Some smart thermostats also offer remote monitoring capabilities, allowing you to keep an eye on the temperature and other settings even when you're not in the RV.

Improved comfort: By maintaining a consistent temperature throughout your RV, a smart thermostat can help improve overall comfort levels during your travels.

Why It's The Best RV Thermostat On The Market
Its simple installation and intuitive app make it easy to get started and adjust temperature settings from anywhere.
The large 3.5-inch color touchscreen display and Bluetooth/WiFi compatibility make using it a piece of cake!
Whether you're a full-time RVer, a seasonal like us, or just like to take your RV out for weekend getaways, the Micro-Air EasyTouch Thermostat is the perfect solution for keeping the desired temperature in your rig.
With its advanced features, convenient access from anywhere, and compatibility with most major RV thermostat controls, it's the best RV thermostat on the market.
How To Install And Set Up The Micro-Air Thermostat
To install and set up the Micro Air RV thermostat, follow these steps:
Turn off the power to your RV's air conditioning unit.

Remove the old thermostat from the wall and disconnect any wires attached to it.

Install the mounting plate for the new thermostat in the same location as the old one using screws or adhesive.

Connect the wires from your RV's air conditioning unit to the corresponding terminals on the new thermostat.

Turn on the power to your RV's air conditioning unit and test that it is working properly with your new thermostat.

Follow the instructions provided with your specific Micro Air RV thermostat model to set up its settings and preferences, such as temperature limits, fan speed, and programming options.

Enjoy a comfortable climate-controlled environment in your RV!

Recommended Article: The Best Replacement RV Mattresses
Compatibility
Yes, the Micro-Air Smart RV Thermostat is compatible with most major RV thermostats like Furrion, Coleman, and Dometic RV thermostat. You can easily check Micro-Air's website to see if your system is compatible.
Tips For Maximizing Energy Efficiency With Your Smart RV Thermostat
Here are some tips for maximizing energy efficiency with a smart RV thermostat:
Set your temperature wisely: You can set the temperature of your RV to adjust automatically based on the time of day or your location. This can help you save energy and money by reducing unnecessary heating or cooling.

Use the fan mode: When it's not too hot or cold outside, consider opening the windows using the fan mode instead of air conditioning. This can help circulate air and keep your RV comfortable without using as much energy. We are camping right??

Keep track of your energy usage: Many smart thermostats come with an app that allows you to monitor your energy usage in real-time. By keeping track of how much energy you're using, you can make adjustments as needed to maximize efficiency. You might be surprised!

Take advantage of programmable settings: Smart thermostats often come with programmable settings that allow you to set different temperatures for different times of day, such as when you're sleeping or away from your RV. By taking advantage of these settings, you can save energy without sacrificing comfort.

Overall, by being mindful of how you use your smart RV thermostat you can maximize energy efficiency and save money on heating and cooling costs while still staying comfortable on the road.
Wrap up – Why You Should Invest In The Micro-Air
In conclusion, we highly recommend this product. Its ease of installation, user-friendly interface, and temperature monitoring capabilities have made our RV experience much more comfortable.
Not only has it improved our own comfort, but it also provides peace of mind when leaving our furry friends behind. We can confidently explore the great outdoors knowing that sudden weather changes or power failures won't affect the temperature inside.
Overall, this upgrade has exceeded our expectations and we wholeheartedly endorse it to anyone looking to enhance their RV experience.
Happy Camping!
Have Questions? We Have Answers
Answers to our frequently asked questions.