The K-Swiss Men's Express Light Pickleball Shoe is a fantastic option for pickleball enthusiasts seeking an all-around shoe that delivers exceptional performance on the court. This shoe has an innovative design, superior comfort, and outstanding durability to provide you with a top notch pickleball shoe.
In this blog post, we take a look at the K-Swiss Men's Express Light Pickleball Shoe. We explore the features, design, and performance of this top-of-the-line pickleball shoe to help you make an informed decision when selecting your next pair.
Having the right shoe can make all the difference for you on the court.
Will this be the right shoe for you?
Read on to find out.
We are reader supported and as such may make a small commission at no expense to you by purchasing thru our links and we greatly appreciate that!
What is the K-Swiss Men's Express Light Pickleball Shoe?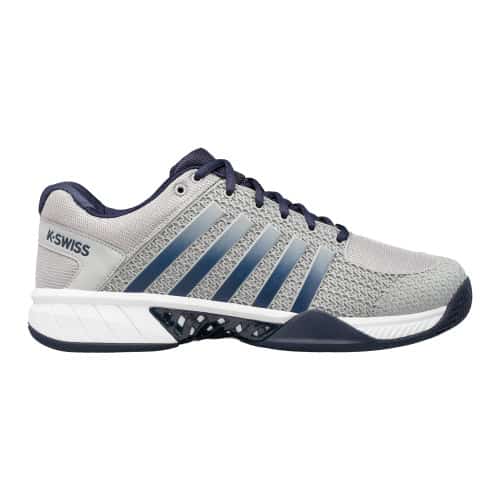 The Express Light is an all-around shoe that offers players the perfect combination of comfort, support, and durability to help you excel on the court.
Key Features and Technologies
Customized Pickleball Sockliner: The shoe comes with a unique sock liner that provides extra cushioning and support tailored for pickleball movements.
Durable Outsole: A non-marking rubber outsole ensures excellent traction on various court surfaces while also providing long-lasting wear.
Breathable Upper Material: Constructed using lightweight mesh material, the upper part of the shoe promotes breathability to keep your feet cool during intense matches.
Padded Collar & Tongue: Extra padding around the collar and tongue enhance overall comfort while reducing irritation caused by friction during play.
A Perfect Fit for Pickleball Players
Its customized pickleball sockliner offers additional cushioning in areas where it matters most – ensuring maximum shock absorption during fast-paced games. Furthermore, its durable construction guarantees longevity even after countless hours spent on the court.
This all-around court shoe is not only a breathable shoe that supports your on court movement, but also aims to provide optimal comfort during extended play sessions.
The breathable upper material allows for proper air circulation, preventing excessive sweating and discomfort with its good moisture management. Additionally, the padded collar and tongue further contribute to a comfortable fit that adapts seamlessly to your foot's shape.
Its customized sock liner, durable outsole, breathable materials, and padded collar & tongue provide comfort and support tailored to the specific needs of pickleball players. This shoe will undoubtedly help you elevate your game while ensuring maximum comfort throughout every match.
Design and Construction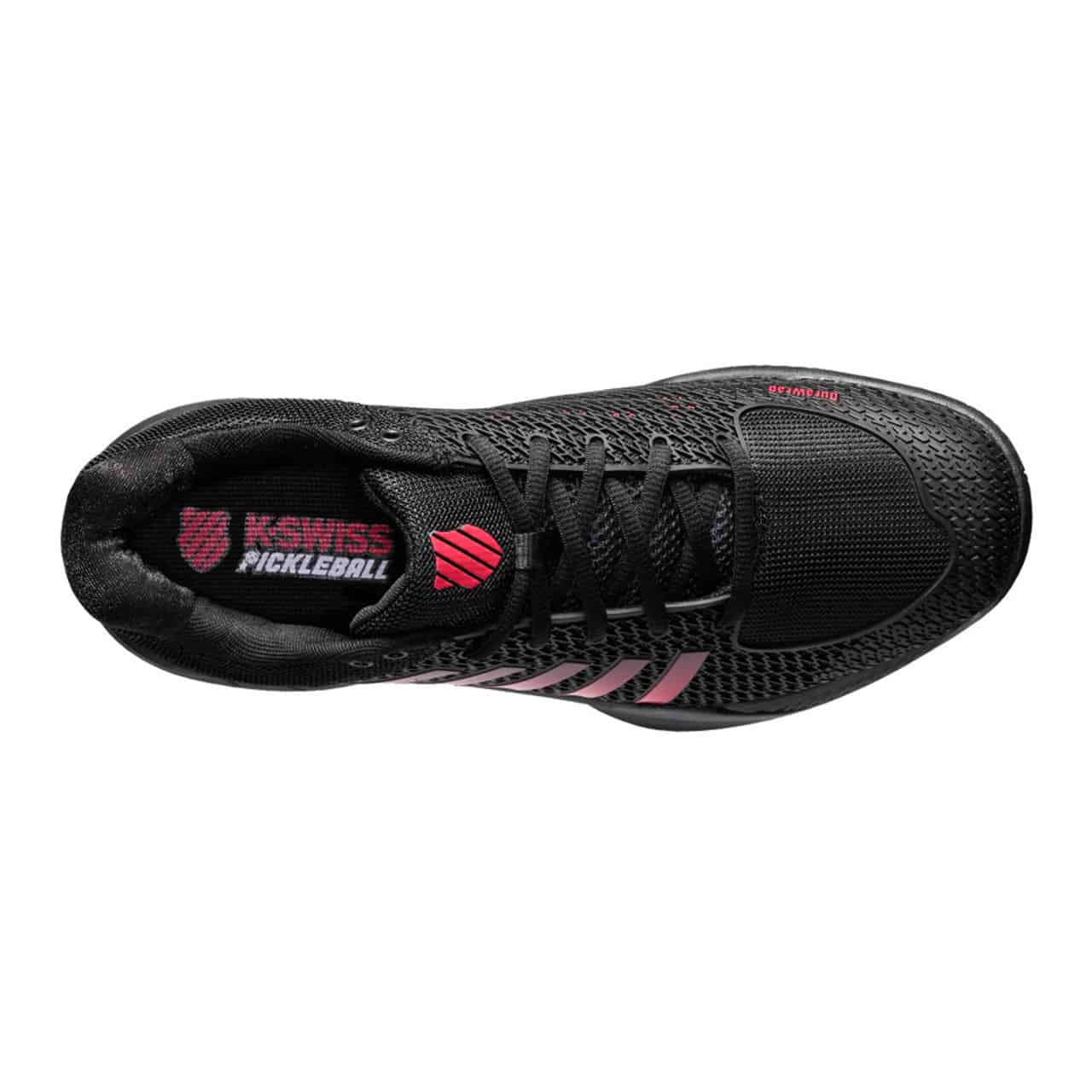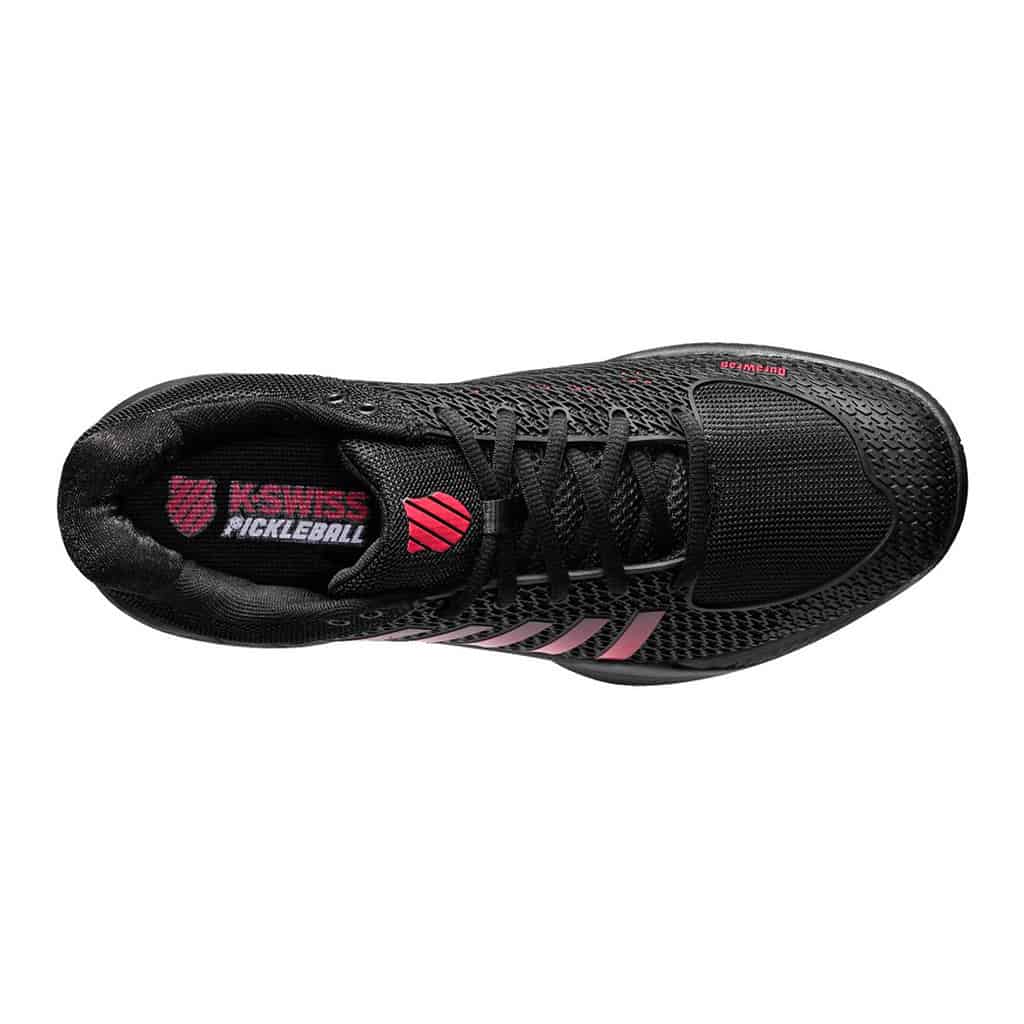 The shoe features a combination of synthetic leather and mesh upper for enhanced breathability while maintaining durability.
Lightweight and Breathable Materials
The customized pickleball sockliner not only provides excellent cushioning but also wicks away moisture to keep your feet dry throughout the game. The use of mesh material in its construction allows proper air circulation, preventing overheating or discomfort during intense matches.
Supportive and Stable Construction
Aosta II rubber outsole: This high-density rubber compound gives you plenty of durability as well as providing players with reliable traction on various court surfaces.
Rigid 180 PCS midfoot support chassis: This helps support on court movement and is designed to enhance mid foot stability during lateral movements. It also helps prevent injuries by keeping your foot securely in place within the shoe.
EVA midsole: A lightweight yet durable foam material that absorbs impact while offering cushioning for great performance on the court.
This is a lightweight and breathable shoe that offers excellent stability during lateral movements. Its Aosta II rubber outsole provides reliable traction on various court surfaces, while the non-marking herringbone tread pattern ensures grip indoors or outdoors. Overall, this shoe is an ideal choice for the new or frequent player seeking comfort and support with excellent performance on the court.
Comfort and Fit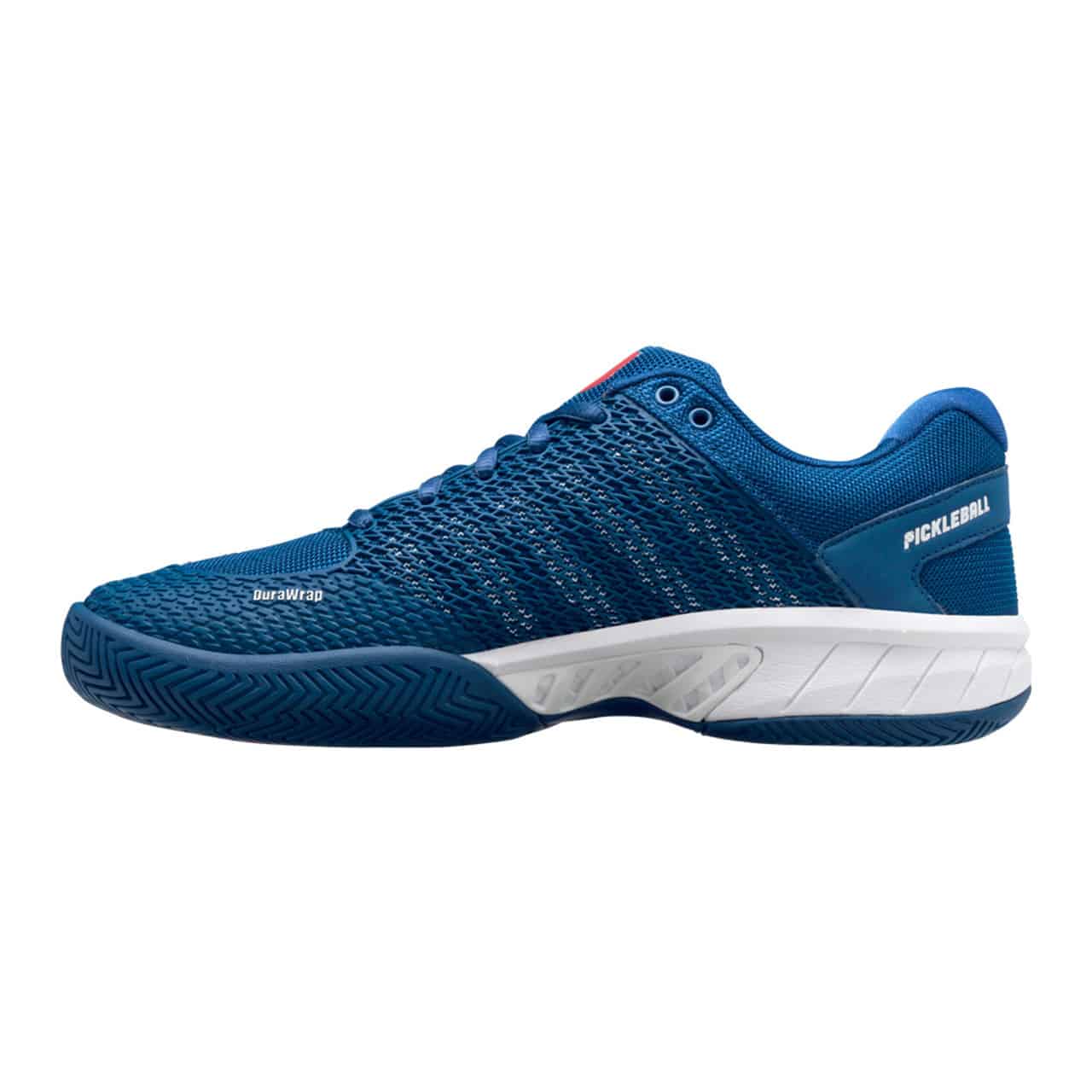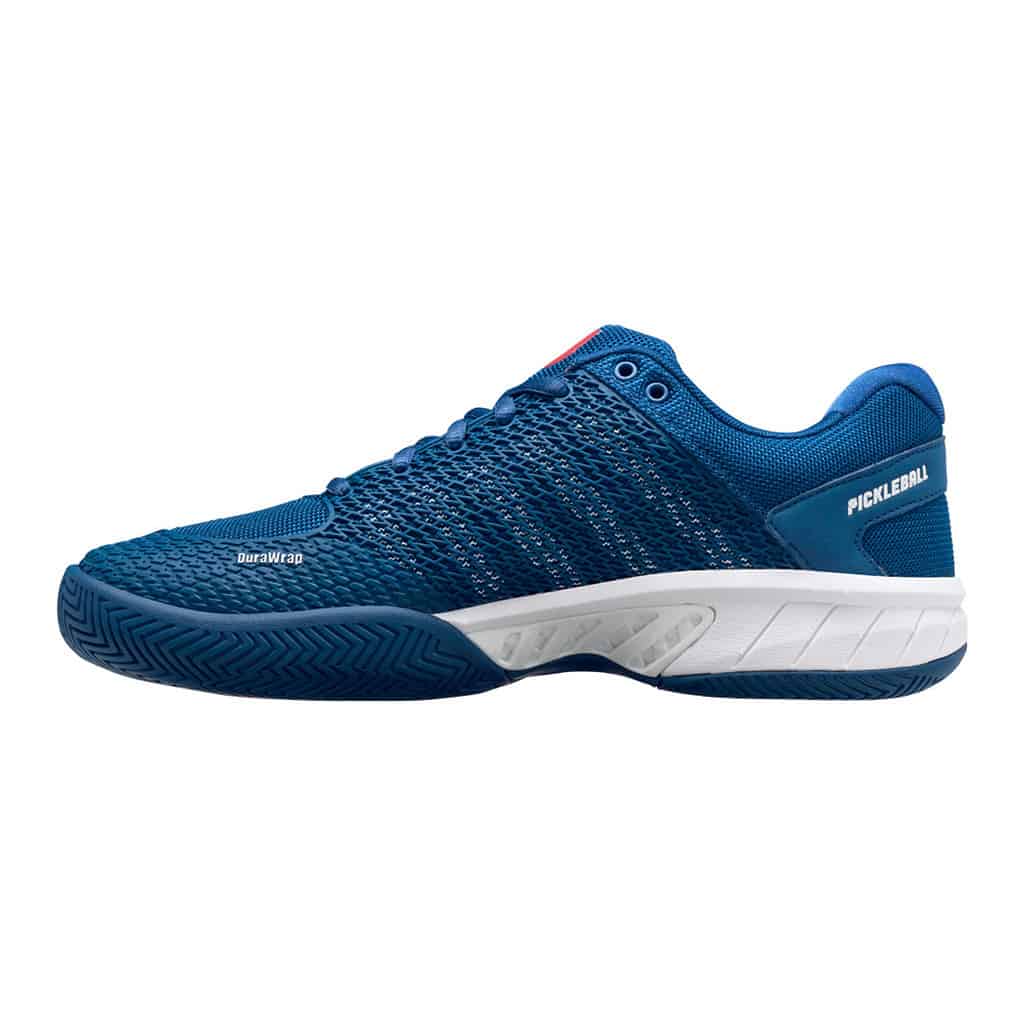 Now let's take a look at the cushioning and impact absorption, breathability and moisture-wicking properties, as well as the adjustable and secure fit of this court shoe specifically designed for pickleball.
Cushioning and Impact Absorption
As we mentioned, one of the key features of this shoe is its customized pickleball sockliner. This provides excellent cushioning for shock absorption during your games. The midsole is made from a lightweight EVA material that offers both support and responsiveness to help reduce foot fatigue while playing pickleball. Additionally, the heel area includes extra padding to ensure maximum comfort during quick movements on the court. Make sure to get a great pair of pickleball socks too!
Breathability and Moisture-Wicking Properties
Breathability is enabled by the mesh upper, allowing air to flow freely around your feet. This helps prevent overheating or excessive sweating, which could lead to discomfort or even blisters. And that's the last thing we want!
Moreover, the sock liner has moisture-wicking properties that draw sweat away from your skin so it can evaporate quickly – keeping you comfortable during those long hours on the court.
Adjustable Secure Fit:
Lace-up closure: The traditional lace-up system ensures a snug yet customizable fit for your unique foot shape.
Padded tongue & collar: padded areas around the toe and heel offering extra comfort while also preventing chafing caused by friction between your foot and shoe.
Heel grip lining: A special material on the inner heel area helps to prevent your foot from slipping out of the shoe during quick movements, providing a secure fit at all times.
This shoe is designed to provide comfort and fit. It has a customized pickleball sockliner, breathable mesh upper, moisture-wicking properties, lace-up closure, padded tongue/collar and heel grip lining for secure fit options. Overall, this shoe offers an impressive combination of features that will keep you playing at your best on the court.
Performance on the Pickleball Court
With its combination of lightweight materials, supportive construction, and excellent traction, this shoe will help you improve your maneuverability and agility.
Traction and Grip on Various Court Surfaces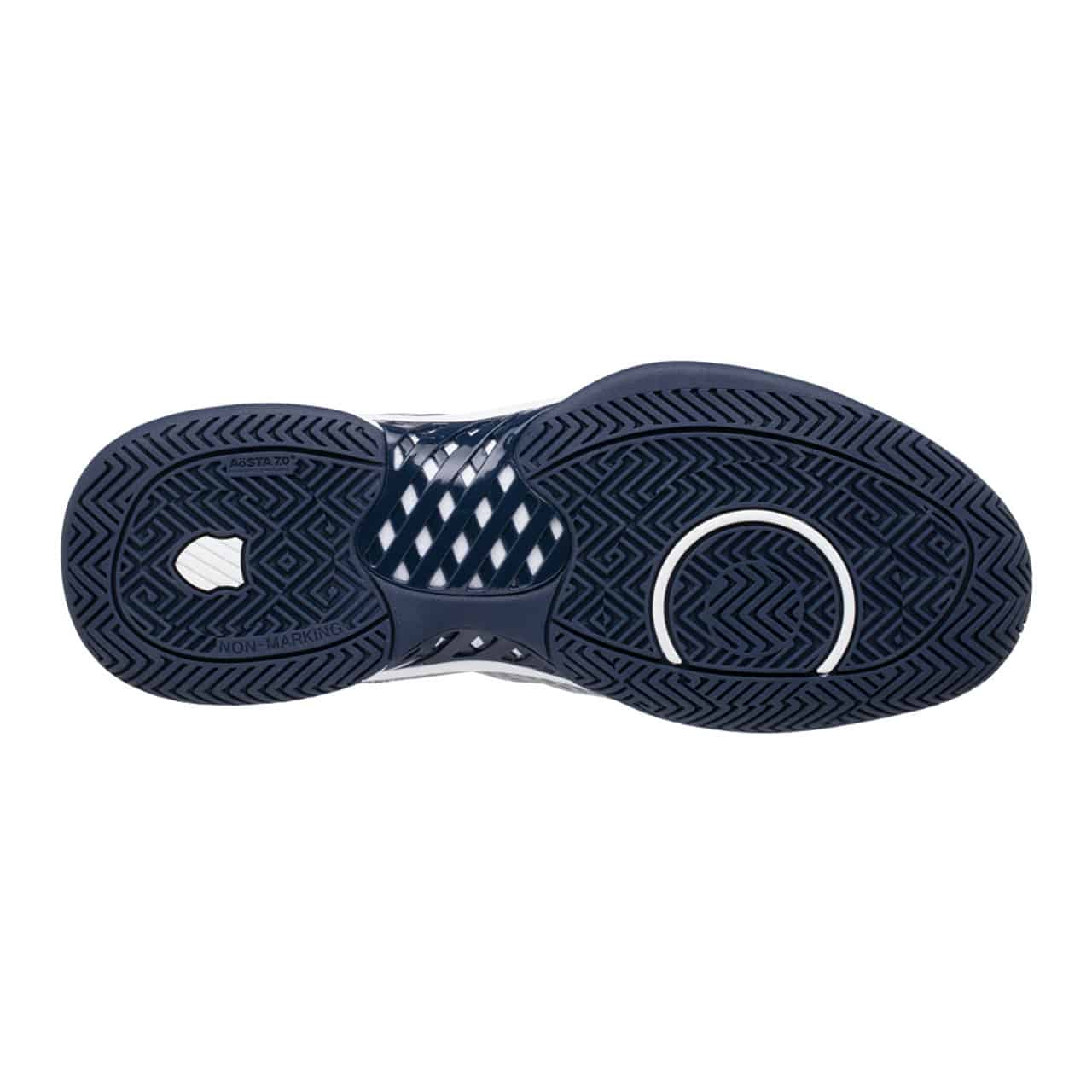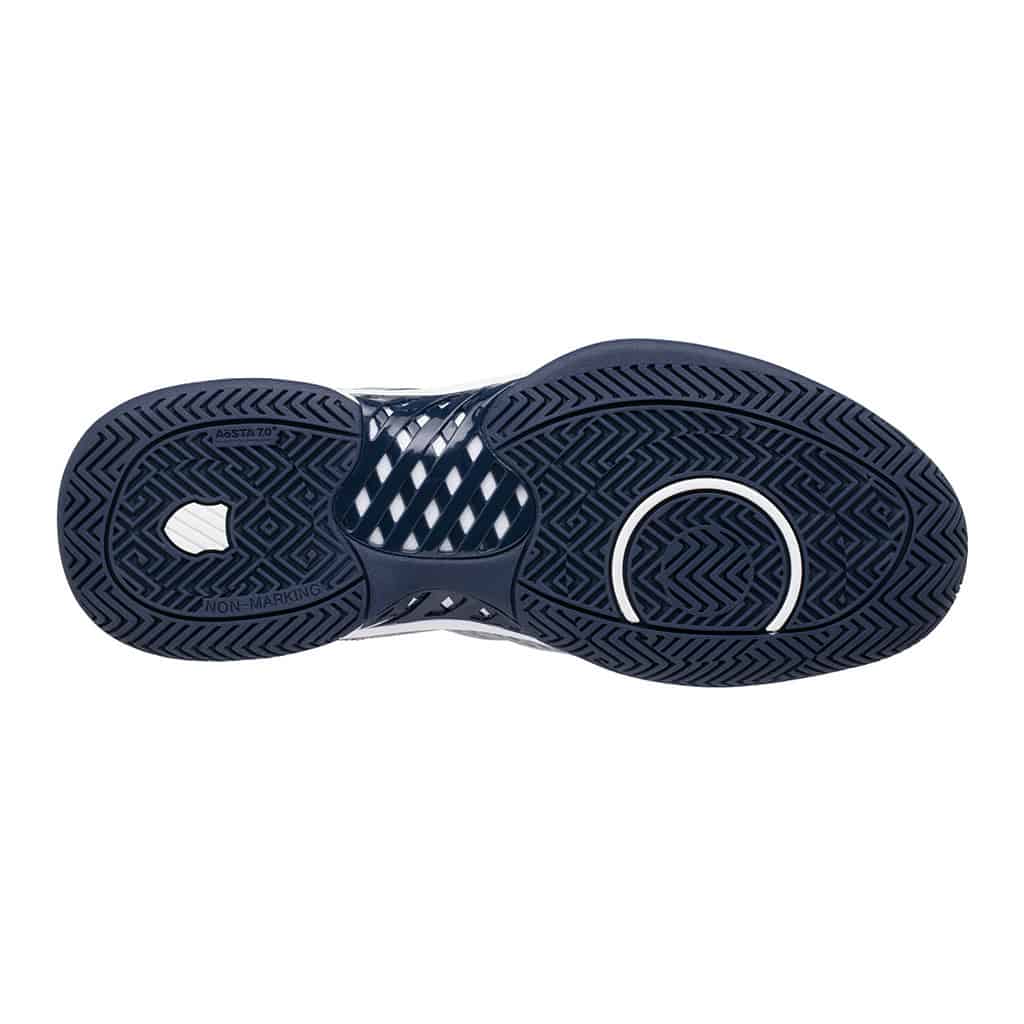 This K-Swiss pickleball shoe incorporates a non-marking herringbone tread pattern on its outsole, which delivers excellent grip regardless of whether you're playing indoors or outdoors, or even on grass or a clay court.
This versatile design allows you to confidently make quick cuts, sudden stops, or swift changes in direction without losing footing or risking injury due to slipping.
Additionally, the Aosta II rubber compound used in the outsole is highly resistant to abrasion, ensuring that your shoes maintain their grip even after extensive use on various court surfaces.
Enhanced Maneuverability and Agility
The K-EVA midsole material contributes to improved maneuverability by offering cushioning without adding extra weight. This means you can move around the court with ease, making it easier to reach those tough shots or change direction quickly.
Responsiveness and Quick Movements
Traction: A high-quality rubber outsole ensures excellent grip on various court surfaces.
Durability: The Aosta II rubber compound used in these shoes is known for being long-lasting while maintaining great traction throughout their lifespan.
Grip: An enhanced herringbone tread pattern allows players to maintain grip even during sudden changes in direction.
Impact on Performance and Gameplay
These shoes can have a significant impact on your overall performance. They have a lightweight design that is combined with supportive construction and excellent traction. This allows you to move around the court more efficiently and with an improved range of motion.
This shoe is specifically designed to enhance performance on the court with its lightweight materials, supportive construction, and excellent traction. It provides improved maneuverability and agility while ensuring optimal responsiveness.
Why the K-Swiss Men's Express Light Pickleball Shoe is a Top Choice for Players
This shoe provides a combination of comfort, features that boost the movement and performance needed and an attractive design, all contributing to a better pickleball playing experience.
Key Points and Benefits:
Customized pickleball sockliner: The shoe comes with a specially designed sock liner that provides enhanced cushioning and support specifically tailored to the needs of pickleball players.
All-around shoe: This versatile footwear option caters to various skill levels and playing styles, making it suitable for both casual players and competitive athletes alike.
Durable construction: Made from high-quality materials, these shoes are built to withstand the wear and tear associated with frequent play on different court surfaces.
FAQs
Questions? We Have Answers.
Get answers to a list of the most Frequently Asked Questions.
Conclusion
In conclusion, the K-Swiss Men's Express Light Pickleball Shoe is an excellent choice for anyone looking to up their game on the pickleball court. Its lightweight design, comfortable fit, and durable construction make it a great shoe for players of all levels. Whether you're a beginner or a seasoned pro, these shoes will provide you with the support, stability, and flexibility you need to play your best.
So if you're looking to take your pickleball game to the next level, be sure to check out the K-Swiss Men's Express Light Pickleball Shoe – and get ready to dominate the court!