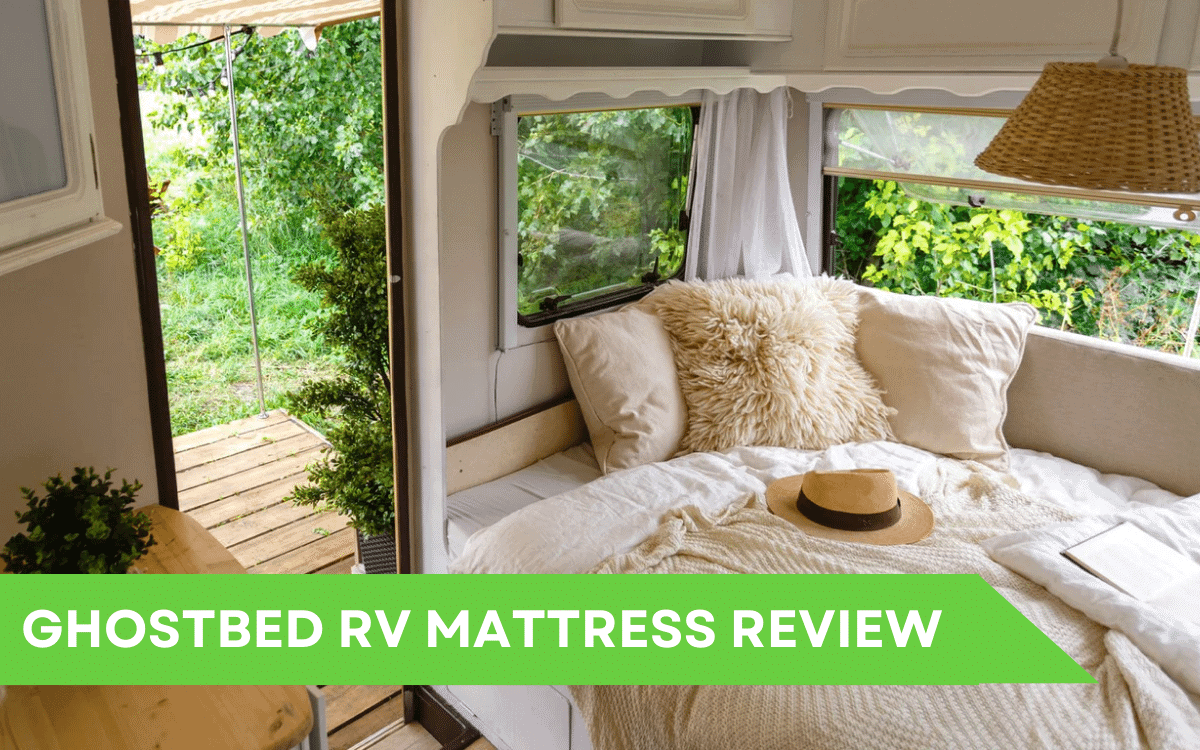 RVing is a great way to get out and explore the outdoors and it is what many people do to take in the sights and sounds of nature.
It is super convenient and a great way to explore. My family and I have been doing it for years. But the one thing that always seems to be lacking…the stock RV mattress is brutal! That's why many RVers choose to invest in a replacement mattress for their recreational vehicle.
Whether you are considering an upgrade or just researching for a new RV mattress, the GhostBed RV Mattress is what you're looking for.
In this review, we'll go over the features, benefits, pros, cons, pricing, warranty, and more of the GhostBed RV Mattress.
Let's get into it.
We are reader supported and as such may make a small commission at no expense to you by purchasing thru our links and we appreciate that!
What is The GhostBed RV Mattress?
RV mattresses are typically known for being uncomfortable and lacking in support. But the GhostBed RV mattress defies this stereotype with its top-notch materials and construction. It boasts a design that makes it perfect for any recreational vehicle.
Plus, thanks to its 3 zone construction, the GhostBed RV Mattress is sure to provide optimal support no matter your body type.
Here are the main features that make the GhostBed RV Mattress stand out from the rest.
Gel memory foam: The mattress is made of layers of gel memory foam. The top layer provides great pressure relief and cushioning, while the second layer offers contouring support. The gel memory foam is best for cool sleeping as it absorbs and distributes temperature better than conventional foam.
Naturally antimicrobial: This mattress is naturally antimicrobial due to its construction. This helps to keep your mattress clean and free of dust mites, bacteria, and other allergens. So you can rest assured that your mattress won't be breeding any unwanted germs.
CertiPUR-US certified: Every layer of the GhostBed RV Mattress is certified by CertiPUR-US for safety and durability. This ensures that you won't be breathing in any harmful chemicals or gasses while you sleep.
Perfectly sized: Worry not, the GhostBed RV Mattress is perfectly sized to fit your recreational vehicle. It is available in Short Queen, and Short King sizes. But if you need a custom size, they can also accommodate your needs.
Made in the USA: The GhostBed RV Mattress is made in the USA, giving you confidence in craftsmanship and quality.
High-density base foam: The high-density base foam creates a solid and stable foundation for the mattress. This helps to increase its durability and longevity so you can enjoy it for years to come.
Construction Of the GhostBed RV Mattress – What's Inside?
When looking at the construction of the GhostBed RV Mattress, you'll see that it is made with some of the best materials and construction available. This mattress is available in two sizes, Short Queen (60″ x 74″ x 10″) and Short King (76″ x 74″ x 10″). But if you need a custom size, they can accommodate your needs. Remember, RV mattress sizes are different than regular mattress sizes.
The mattress is constructed with three and five layers. ALL-FOAM GhostBed RV comes with three layers and the HYBRID version comes with five layers.
Here's what you need to know about the construction of this mattress:
Construction Of ALL-FOAM GhostBed RV Mattress
As previously mentioned, the all-foam version of GhostBed RV Mattress consists of three layers. The layers are as follows: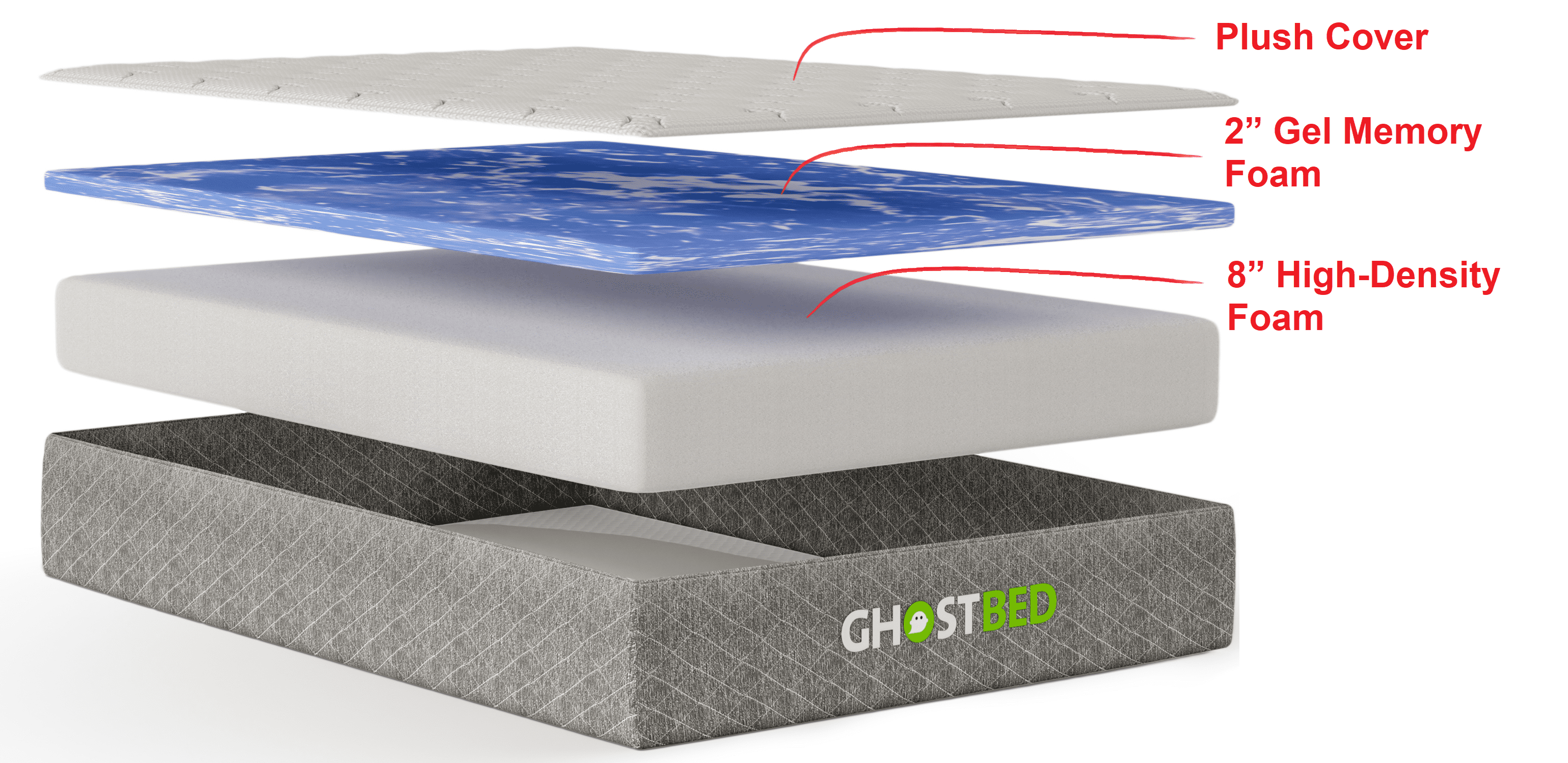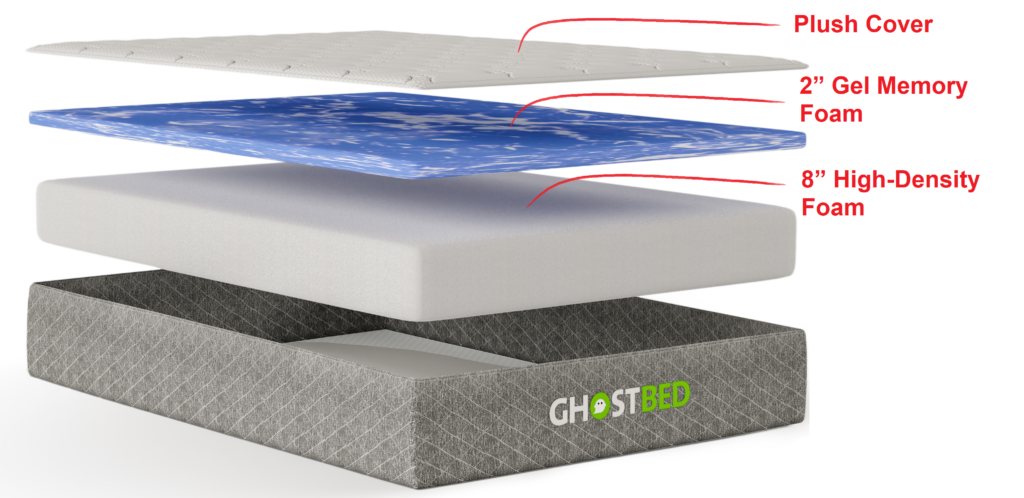 First Layer: Plush Cover
The cover is made of a plush, soft-touch fabric that provides a great feel. Want to know the best part? It is removable and washable! Yes, I like that!
Moreover, the blend of polyester and viscose gives this mattress a breathable and cool feel. So, this stretchy, quilted cover provides great air circulation and temperature regulation.
Second Layer: 2" Gel Memory Foam
The second layer is made of 2" gel memory foam which contours to your body shape and provides support to the spine as well.
Open-cell technology of this foam helps with air circulation, which results in cool sleep. Additionally, it also prevents any kind of motion transfer and gives you a restful sleep.
For anyone who disturbs due to pressure points and needs support, the gel memory foam will be ideal for them. That's why GhostBed RV Mattress is perfect for side, back, and stomach sleepers.
Third Layer: 8" High-density Base Foam
The third and last layer is made of 8" high-density base foam. Many mattress brands do not use high-density foam in their mattresses due to its expensive cost and weight. However, the GhostBed RV Mattress provides superior support with this layer.
This foam layer also works as a foundation for the mattress, it distributes body weight evenly and increases its longevity too. For spinal alignment and pressure relief, this layer is very effective.
Additionally, the foam is CertiPUR-US certified for safety and durability. So, you can be sure that you are not breathing in any toxic chemicals or gases while sleeping.
Construction Of the Hybrid GhostBed RV Mattress
The hybrid version of GhostBed RV Mattress consists of five layers. This version is suitable for those who need extra cushioning and pressure relief.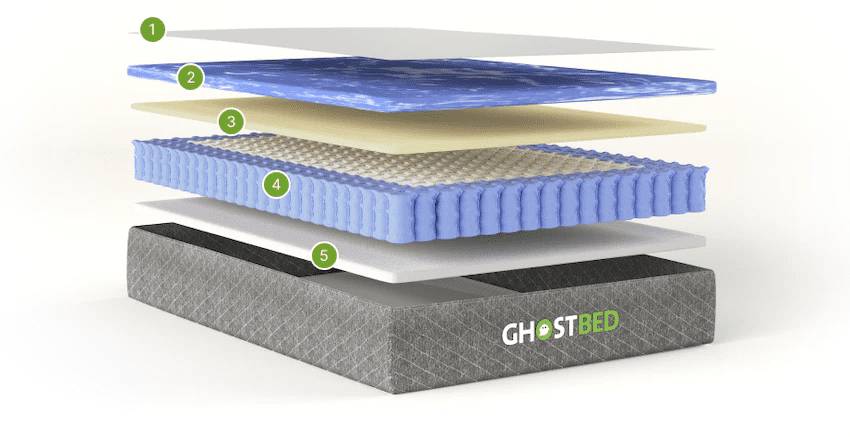 The layers are as follows:
1.5" Quilted Cover with Cooling Fiber: Want extra cushioning and comfort? The cooling fiber quilted cover is perfect for providing ample cushioning to your body.
2″ Gel Memory Foam: As previously mentioned, this layer provides support to the spine and contours to the body shape.
0.75" Soft Transition Foam: This layer acts as a transition between the softer top layers and the firm bottom layer. It helps in distributing weight evenly across the mattress and provides support. Plus insulate the coils from the rest of the mattress.
6" Individually Wrapped Coils: The individually wrapped coils provide bounce and support to the mattress. It also helps in isolating motion transfer so you won't feel your partner's movement while sleeping.
0.75" High-Density Base Foam: The last layer is a high-density base foam. It acts as a foundation for the mattress and helps in distributing weight evenly across the mattress.
This version of the GhostBed RV Mattress provides superior cushioning and support to those who need a little extra cushioning. 
Both versions of this mattress are backed by a 20-year warranty; this shows GhostBed's confidence and trust in their products. The hybrid version is slightly expensive but offers superior cushioning and motion isolation. Both versions are extremely comfortable, so it comes down to your preference. 
GhostBed Services – What You Get?
Any brand is not complete without its perqs. GhostBed provides some great benefits that make it a perfect choice for RV owners. Here are some of benefits:


Free Shipping – You don't have to worry about paying for shipping as GhostBed RV Mattress comes with ultra fast free shipping. Promise to deliver within 24 hours.
101 Night Sleep Trial – Want to try before you buy? No problem! GhostBed offers a 101-night sleep trial so that you can test the mattress and see if it is the right choice for you.
20 Year Warranty – GhostBed provides a 20-year warranty on all mattresses so that you can be sure of quality and durability. The warranty also covers any manufacturing defects or premature sagging of the mattress.
Vacuum-packed – The mattress is vacuum-packed and shipped in a box for easy delivery. This also reduces the risk of damage during shipping.
Excellent Customer Support – Worried about setup or any other query? GhostBed customer support team is available 24/7 to solve your queries and help you out. Even live chat is available during business hours that respond within minutes.
Overall, if we take into consideration the quality materials, construction, and services that GhostBed RV Mattress offers, then it is definitely a great choice for any camper or RV owner. Not only does it provide superior comfort and support but also lasts long with its durable foam layers. Plus, you get to enjoy some excellent services when you buy this mattress.
GhostBed RV Mattress VS Other RV Mattresses
For all RV owners who are considering other brands, we have compared GhostBed RV Mattress with other popular mattress brands. Let's discuss its advantages over other mattresses and see how it stands out.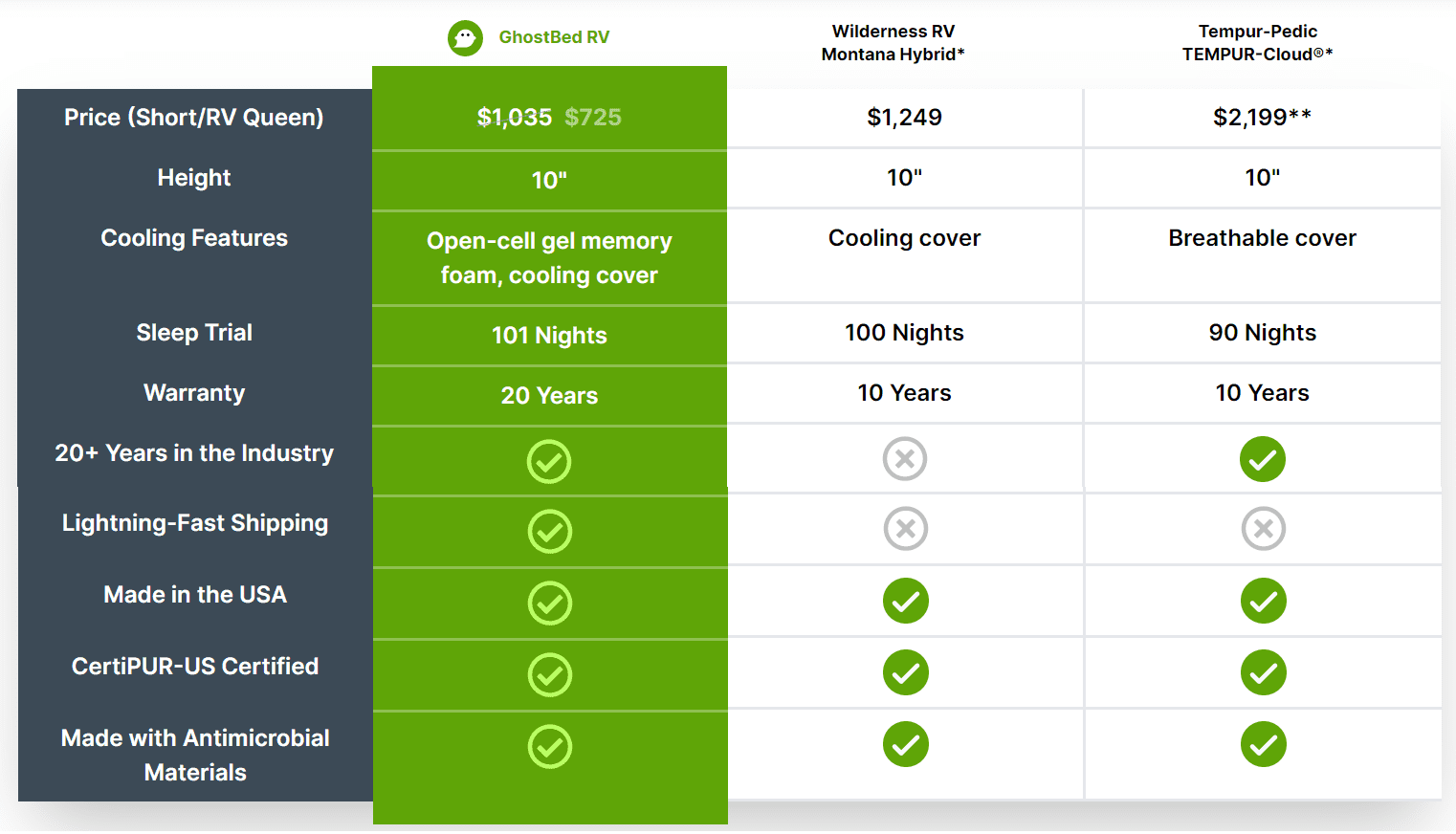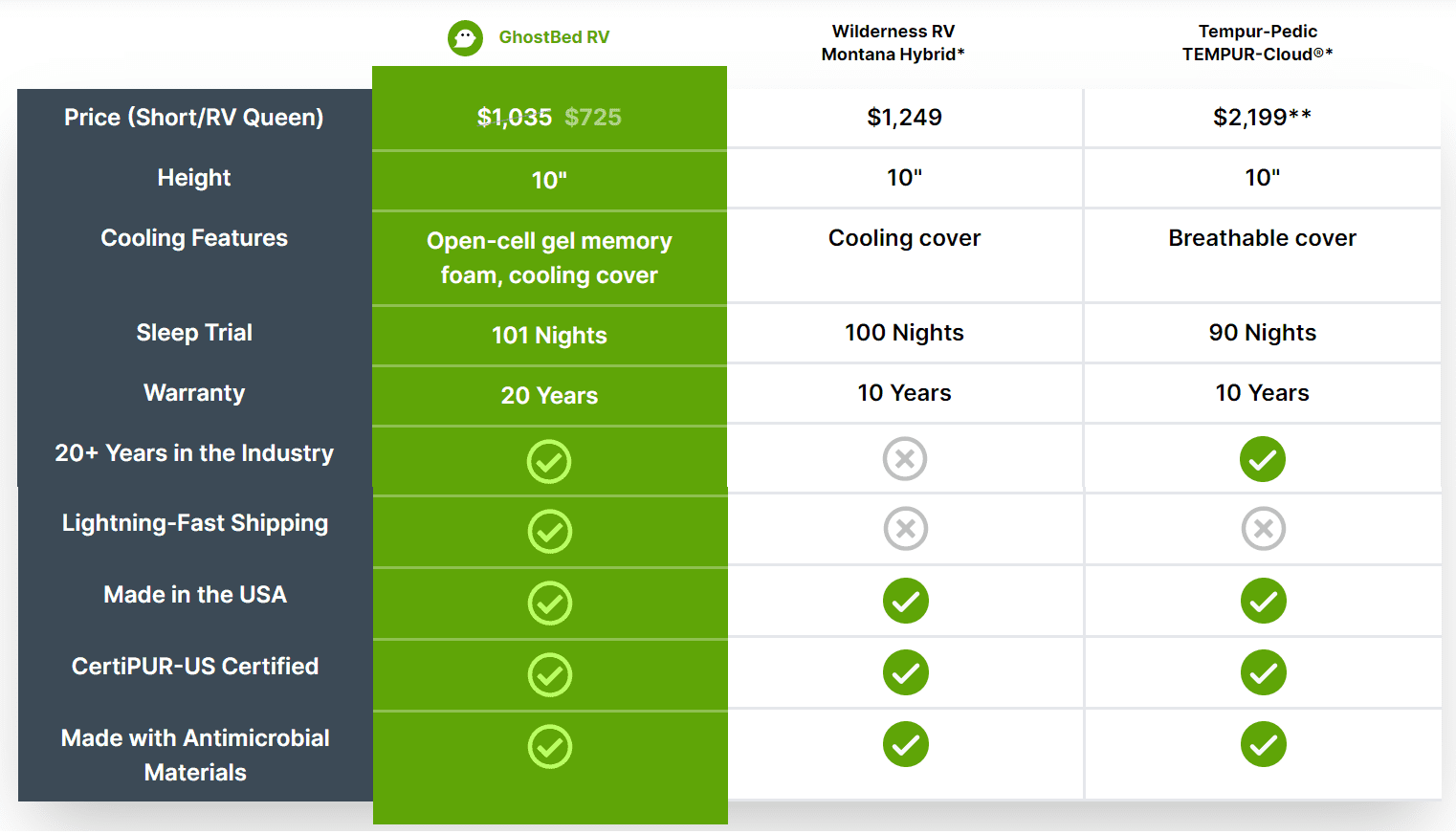 Offers ultra-fast free delivery
Comes with a 101-night sleep trial
20-year warranty
Vacuum-packed and shipped in a box for easy delivery
CertiPUR-US certified foam for safety and durability
Excellent customer support
Affordably priced as compared to other RV mattresses
GhostBed RV Pricing Overview
The GhostBed RV Mattress is reasonably priced. It is one of the most affordable mattresses in comparison to other brands and offers great value for money. The price may vary as per your mattress size and type, however, on average you can expect to pay $699 – $1299 for the RV mattress.
As it's available in two options, you can choose from the following: 
GhostBed RV All Foam Mattress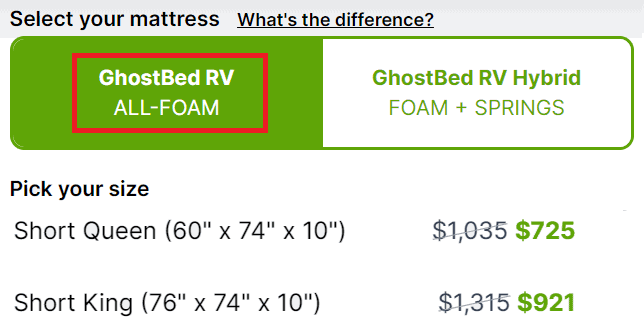 GhostBed RV Hybrid Mattress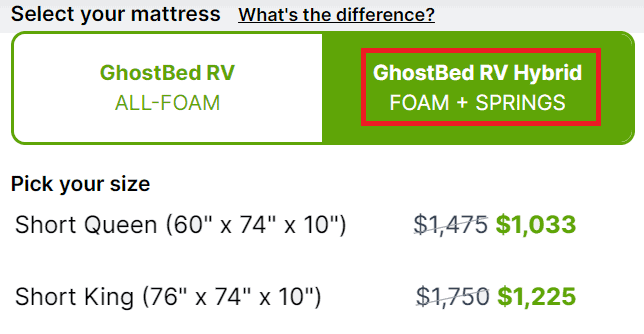 How Does the GhostBed RV Feel?
GhostBed RV Mattress is a medium-firm mattress that provides an excellent balance of comfort and support. It has just the right amount of sink and bounces to provide complete body contouring while still supporting your spine.


The mattress is cool and airy due to its breathable fabric cover and foam layers with open-cell technology. So, you don't have to worry about overheating while you sleep.
The GhostBed RV also does a great job at motion isolation, so if you are sharing it with your partner then there won't be any disturbance due to movement.
Conclusion – Final Thoughts!
RV, camper, and trailer owners can now sleep peacefully with the GhostBed RV Mattress. It is designed to fit in your RV perfectly and provides superior comfort, support, and cooling. The mattress also comes with some great services like free shipping, a 101-night sleep trial, 20 years warranty, vacuum-packed delivery, and excellent customer service.
So, with outdoor activities and long road trips, you don't have to worry about waking up with back pain and soreness. GhostBed RV Mattress is truly a dream come true for anyone who loves camping and traveling.
Make your nights joyful after busy and tiring days of exloring or travel with the GhostBed RV Mattress and start exploring the outdoors. Enjoy your outdoor adventures!