If you're into pickleball, then Federico Staksrud is a name that you probably know and have been hearing a lot lately.
He's a professional pickleball player who has been making waves in the sport in his short amount of time since picking up a pickleball paddle and turning pro.
In this blog post, we'll take a closer look at the short but impressive Federico Staksrud pickleball career and explore what makes him such a winner and a formidable opponent on the court. From his early beginnings in Argentina to his most recent accomplishments, we'll cover it all.
So, if you're ready to learn more about one of the top pickleball players in the game, Federico Staksrud, then keep reading.
Let's get started.
The Early Years
Federico Staksrud was born and raised in Buenos Aires, Argentina. He first started playing tennis at the age of 5. His love and commitment to the sport had him ranked in the top 7 nationally in the under 18 group while in high school. This led him to pursue his education and his tennis career in College in the United States. He attended Tennessee Wesleyan and the University of New Orleans.
College Tennis Career
Federico Staksrud started his college career at Tennessee Wesleyan. While there, he compiled a 31-7 record in singles and a 33-4 record in doubles. He was named the conference player of the year in 2015-2016. He also went on to play one season at the University of New Orleans. He competed in singles and doubles on the Division 1 level and would win many matches.
Post College
After college, Federico went on to become the assistant men's and women's tennis coach at Hanover College. He was balancing a lot post-college, while he was teaching tennis, working at a software company, and also going to school to receive his master's in Information Systems. He was busy and hard working, always staying disciplined.
Federico Staksrud Pickleball Transition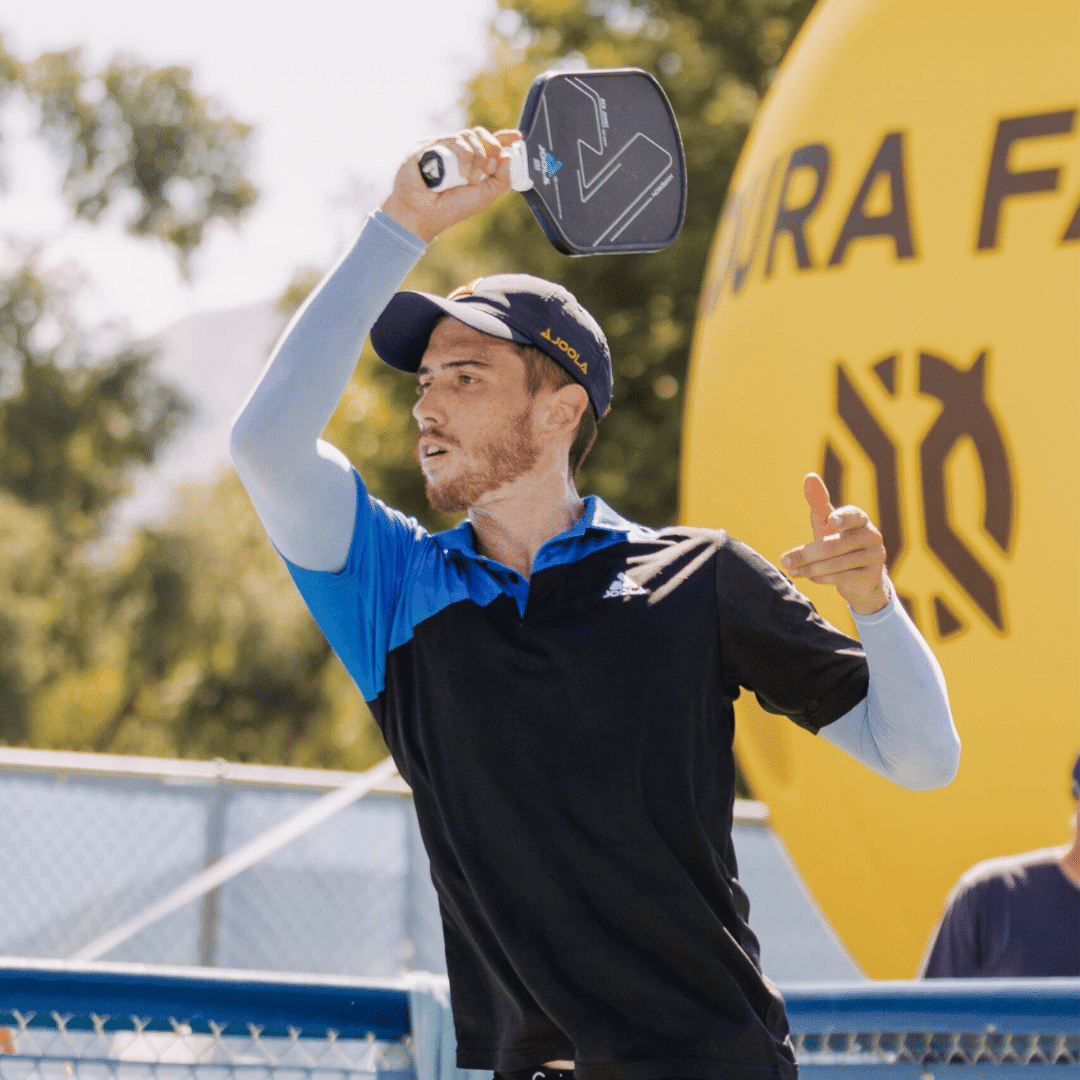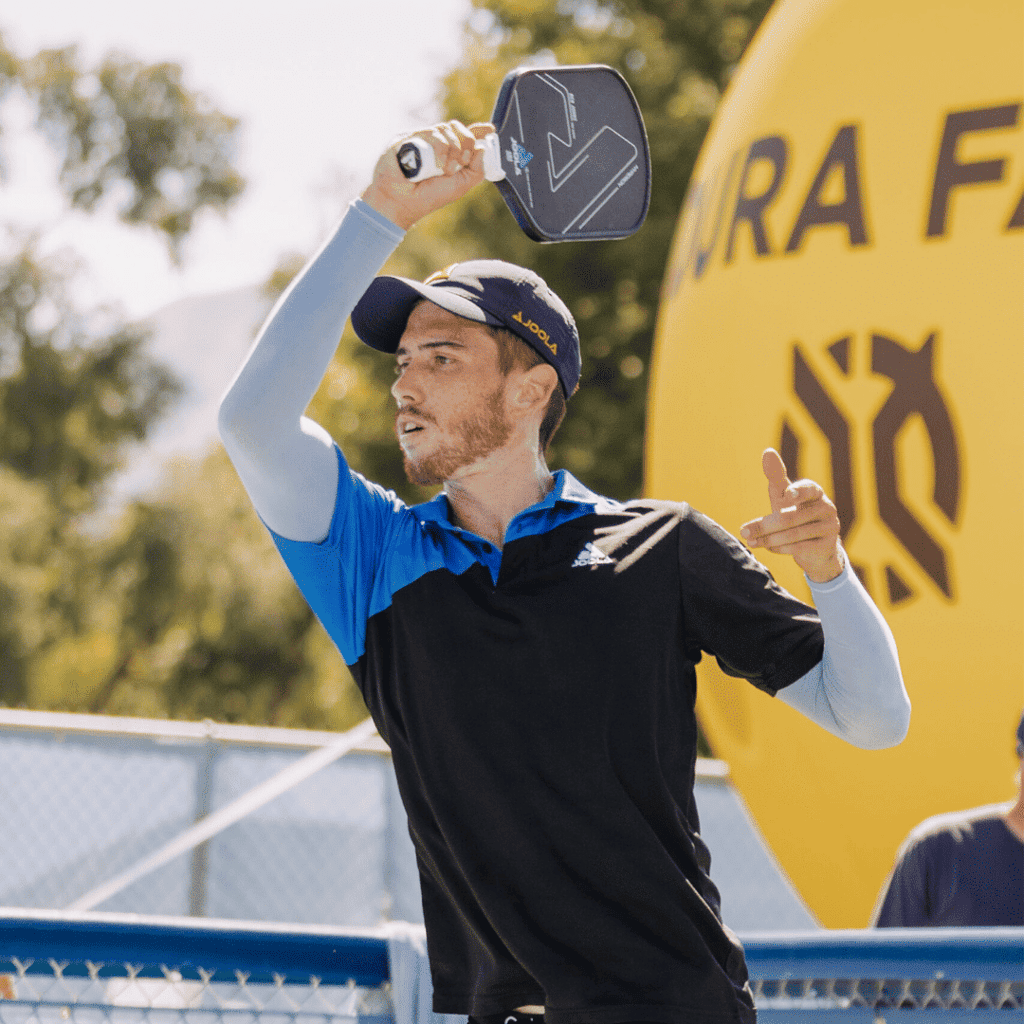 It was one of his friends from a tennis clinic that introduced Federico to pickleball in July of 2021. Federico agreed and the rest, as they say, is history.
Federico played and practiced as much as he could and he quickly established a name for himself in Pickleball. Being in Naples, FL he was fortunate to have some amazing practice partners on site. He was lucky to be able to practice with some of the best in the game like Simone Jardim, Kyle Yates, and Pablo Tellez to name a few.
He turned pro just shortly after picking up a pickleball paddle and less than a year after that would win gold at the PPA Atlanta Open.
His tennis background certainly helped, but he did say some adjustments had to be made when switching to pickleball. In doubles in particular, adjusting to the "soft game" was something he had to work on, and in particular the dink. He said his competency with ground strokes easily transitioned over to pickleball which is attributable to his success in singles pickleball.
Pickleball Career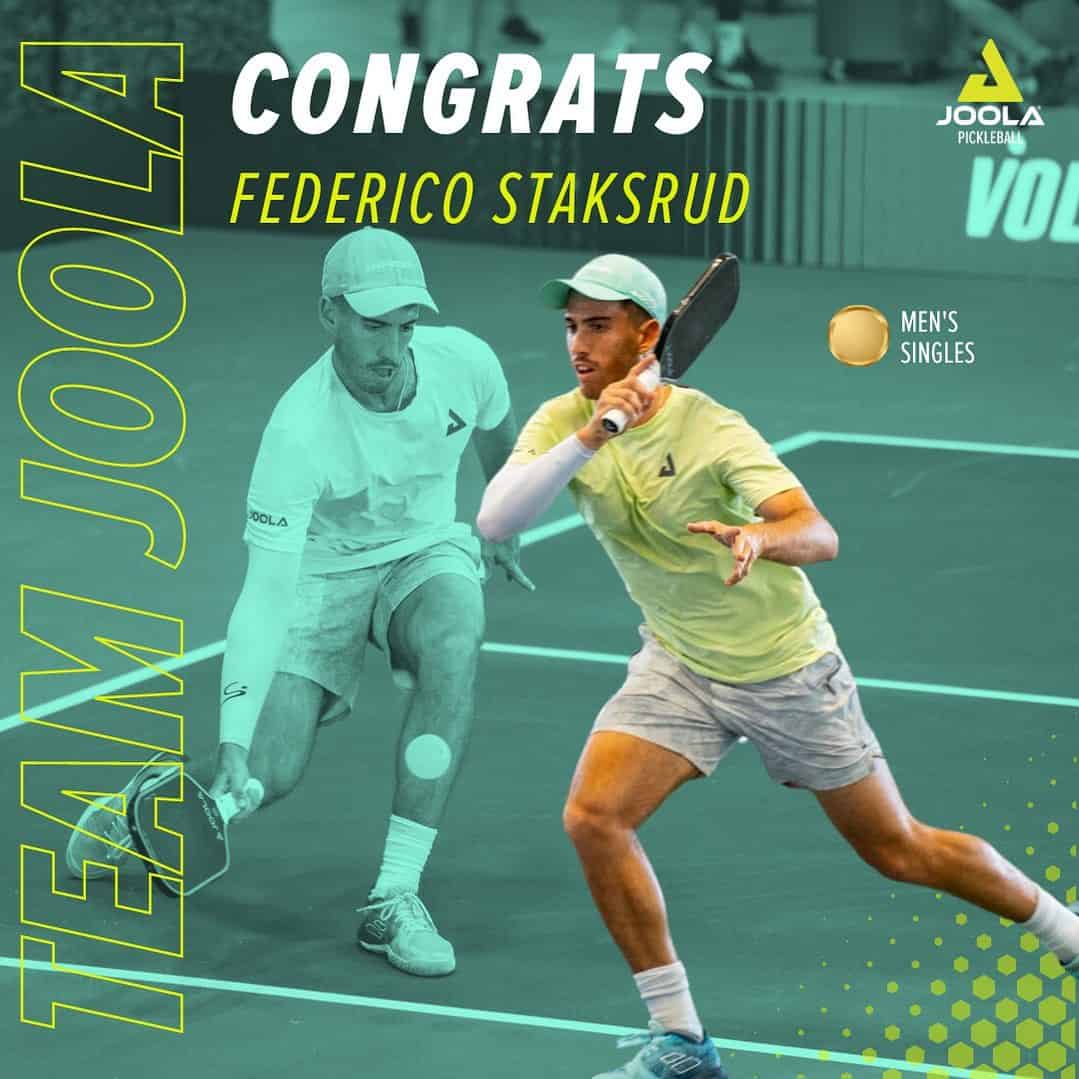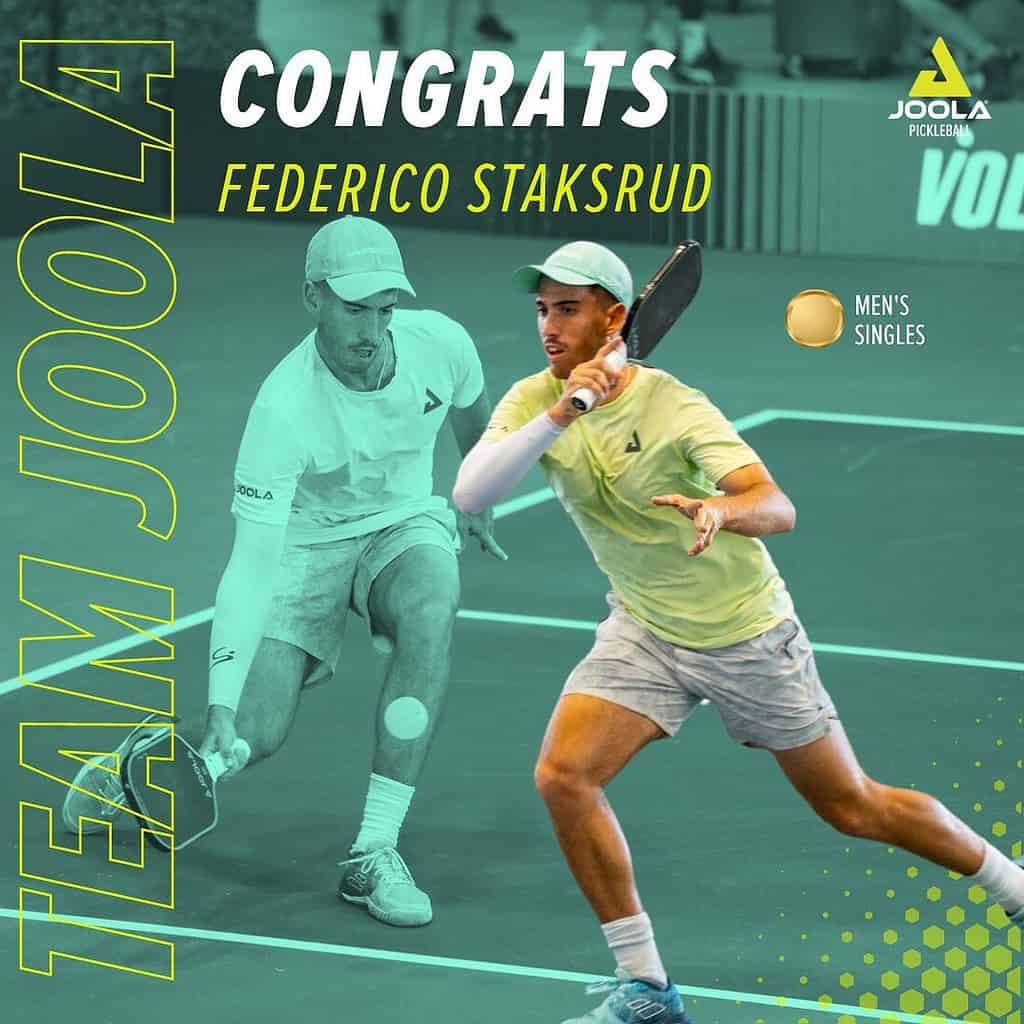 Federico's short pickleball career thus far has been pretty impressive. He has been ranked as high as #2 in men's singles and also a force in doubles. He has notched up many podiums so far including:
Gold at PPA Atlanta Open
Gold at APP Indianapolis Open
Gold at APP SoCal Open
Gold at PPA Carvana Arizona Grand Slam (beat Jay Devilliers in gold medal match)
Gold at PPA OS1st North Carolina Open (beat Tyson McGuffin in gold medal match)
Silver at APP Delray Open
Silver at PPA Masters
Silver at PPA JW Marriott Desert Ridge Open
Silver at PPA Onix Austin Showdown
Bronze at APP New York Open
These are just some of his tournament successes and he is quickly adding to his list of accomplishments!
Federico's Pickleball Paddle Of Choice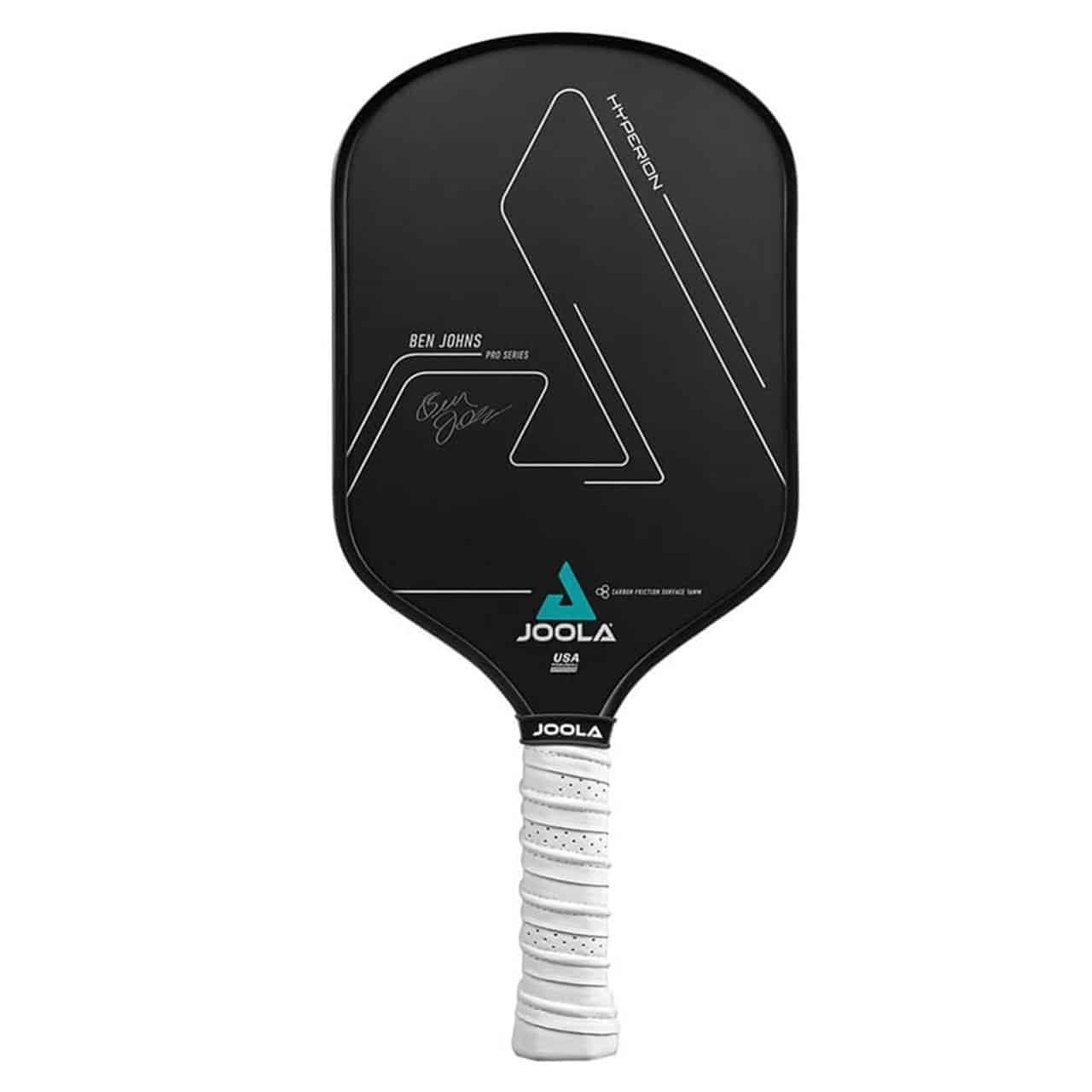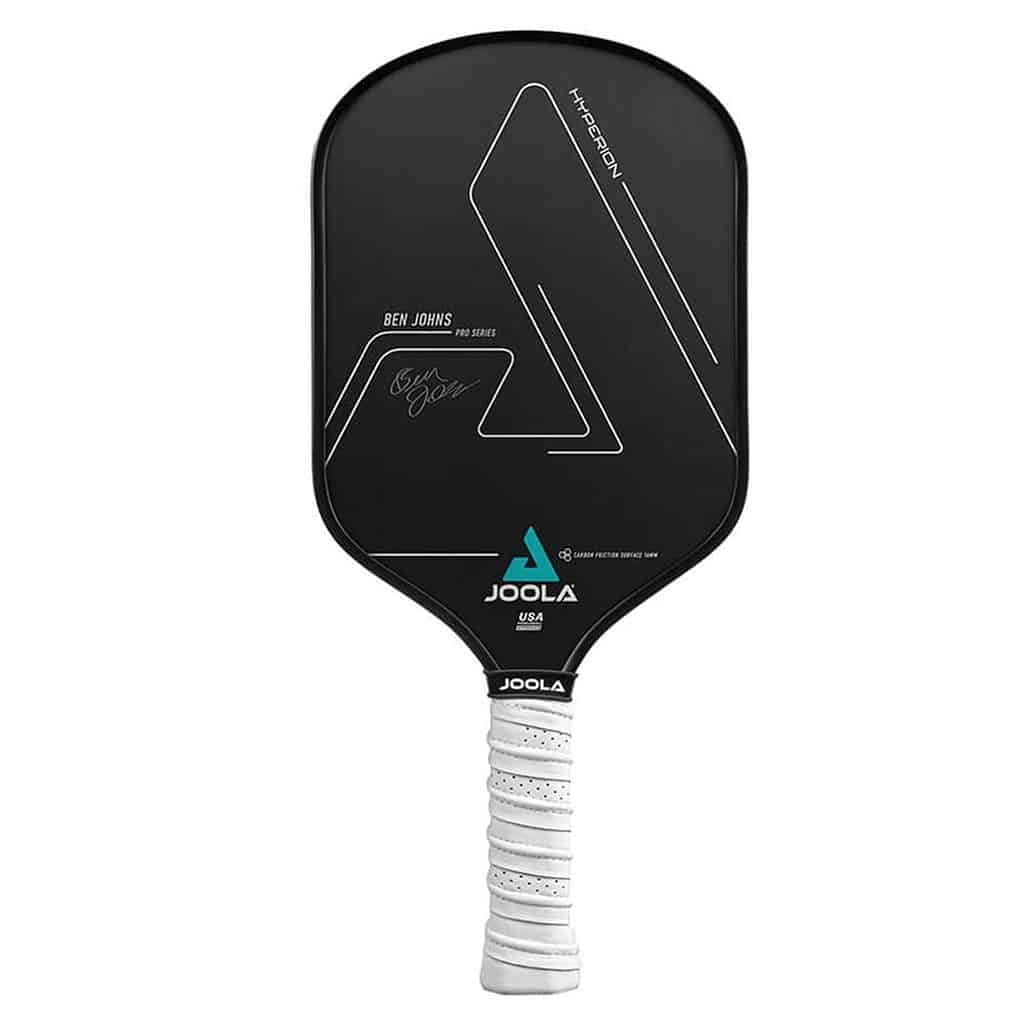 Federico's pickleball paddle of choice is the Joola Ben Johns Hyperion CFS 16mm. This pickleball paddle utilizes JOOLA's unique foam-injected perimeter and polymer core to improve consistency, weight distribution, and the size of the sweet spot.
The paddle also features a textured Carbon Friction Surface for enhanced spin control and an extended length of 16-1/2″ to assist with reaching low balls. Additionally, the thicker core of 16mm helps to dampen impacts, maximize control, and reduce recovery time from off-center hits. This is the same paddle that was designed for world number one Ben Johns. You can see our full review of this paddle here.
Where Can You Watch Federico Staksrud Play?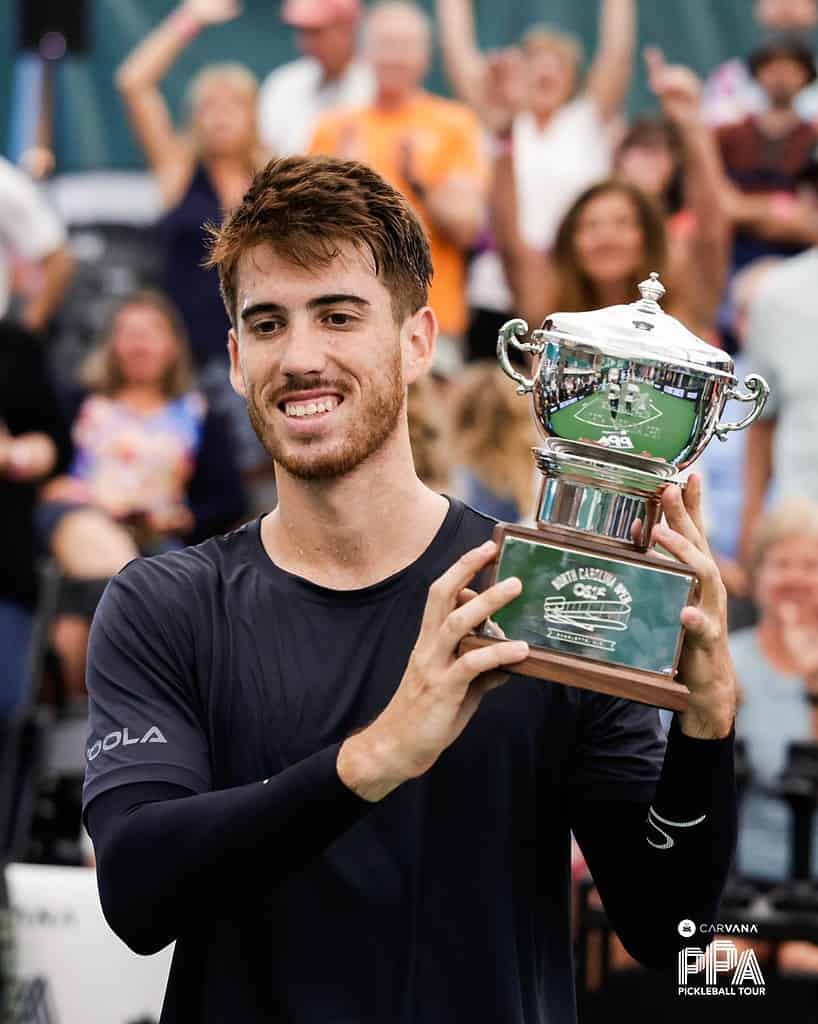 Federico keeps a busy schedule week after week on the road with his tournament schedule. He lives in Naples, FL now but you can find him on the PPA Tour as well as the MLP events. If you haven't checked out an MLP event, be sure to! The team format and dynamic of the tournament is really fun to watch! There are some great videos that highlight some of the action!
With the amazing growth of pickleball, major networks have started to pick up television coverage. The PPA Tour has struck a deal with Amazon Prime Video to air some tournaments. You can also catch some of the action on CBS Sports and ESPN who all will have coverage of professional pickleball events! Lucky us! Now we can join in the action from home!
Conclusion
In conclusion, Federico Staksrud is a rising star in the world of professional pickleball. His passion for the sport and dedication to training has led him to become one of the best players in the game. With his impressive list of accomplishments and his strong work ethic, it's clear that he has a bright future ahead of him. Whether you're a fan of pickleball or simply someone who appreciates hard work and dedication, Federico Staksrud is definitely a player to watch.