Are you tired of waking up with aches and pains from an uncomfortable night's sleep when you are on the road in your RV? Look no further than the Dynasty RV Mattress Cool Breeze Memory Foam.
This innovative mattress is designed to provide the ultimate sleeping experience by combining advanced cooling technology with luxurious memory foam. Say goodbye to restless nights and hello to a rejuvenated morning with the Dynasty Cool Breeze Memory Foam Mattress.
In this blog post, we'll dive into what makes the Dynasty Cool Breeze RV mattress so special and why it's a must-have for anyone looking to upgrade their sleeping situation in their RV.
We are reader supported and as such may make a small commission at no expense to you by purchasing thru our links and we appreciate that!
What Are The Features of The Dynasty RV Mattress?
As a traveler, you know how important it is to get a good night's sleep. After long days of driving or exploring, you need a mattress that will help you relax and recharge for the next day.
The Dynasty CoolBreeze Gel Memory Foam Mattress is designed to do just that – provide a comfortable and supportive sleeping surface that'll help you get the rest you need.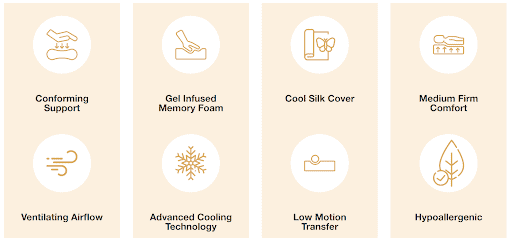 Let's take a look at some of the features that make this mattress so special:
Gel-infused Memory Foam
Dynasty's RV mattresses have high-density foam core. It uses gel-infused memory foam for superior cooling comfort. The mattress contours to your body shape, distributing weight evenly and providing a relaxing sinking feeling.
Hypoallergenic
The Dynasty Mattress is allergen resistant and easy to clean. It's CertiPUR-US certified and naturally antimicrobial, making it resistant to dust mites, mold, and bacteria.
Motion Transfer Control
Do you know what RV owners often complain about when it comes to mattresses? Yes, that they are uncomfortable, but after that? It's the motion transfer. If you have a partner, their movements can cause your mattress to shake and wake you up. This innovative mattress comes with motion transfer control that ensures you won't be disturbed by your partner's movements. Its gel-infused memory foam core withstands the movement giving you uninterrupted sleep all night long.
Airflow Ventilation
If you're someone who sweats easily, overheating at night can be a real problem. But with Dynasty mattresses, you need not worry about that! That's because they've incorporated airflow ventilation into their design, which allows air to travel through the mattress via a breathable cover and fire barrier. This innovative feature keeps the overall heat of the mattress in check, ensuring that you get a cooler and more comfortable sleeping experience all night long.
Durability & Supportiveness
The Dynasty Gel Memory Foam Mattress is built to last, retaining its shape even after years of use. Its high level of durability ensures that you'll have a comfortable sleeping surface for many nights to come.
Not only is this mattress durable, but it's also highly supportive. With its perfect amount of cushioning and contouring, the Dynasty Gel Memory Foam Mattress provides the ideal level of support for your body, allowing you to sleep soundly throughout the night.
In addition, the responsive 4lbs Gel Infused Memory Foam in the mattress compresses and evenly distributes body weight, relieving common pressure points so you can wake up feeling refreshed and rejuvenated.
Dynasty Mattresses Construction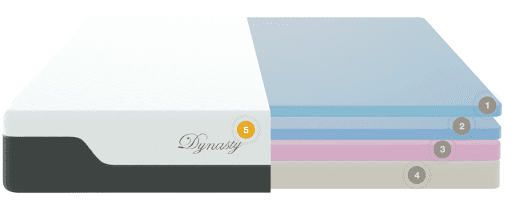 Let's take a look at what's inside:
Cool Silk Machine Washable Mattress Cover: The mattress cover is crafted from luxurious silk, making it soft and breathable. Conveniently, it's also machine washable for easy cleaning and maintenance. Additionally, the side zipper location enables easy removal and changing of the cover.
CoolBreeze©️ Gel Memory Foam Layer: The open cell structure of this layer allows for better airflow while the cooling gel beads absorb heat and help regulate body temperature.
High-Density Luxury Memory Foam Layer: This is the third layer of the mattress and it is made from high-density memory foam. The memory foam compresses and contours to your body and provides excellent support and pressure relief.
Latex Layer: When compared to other materials, this layer is more durable and provides better support. It also helps keep the mattress consistent for longer.
Strong Foam Base Layer: The final layer of the mattress is a strong foam base that helps provide additional support and durability. This layer extends the lifetime of your mattress, so it can last for many years to come.
Different Sizes of the Dynasty RV Mattresses – Which One Is The Right Fit For You?
Dynasty Mattress is available in three different thicknesses – 10-inch, 12-inch, and 14.5-inch. The main difference between these mattresses is the thickness and pricing.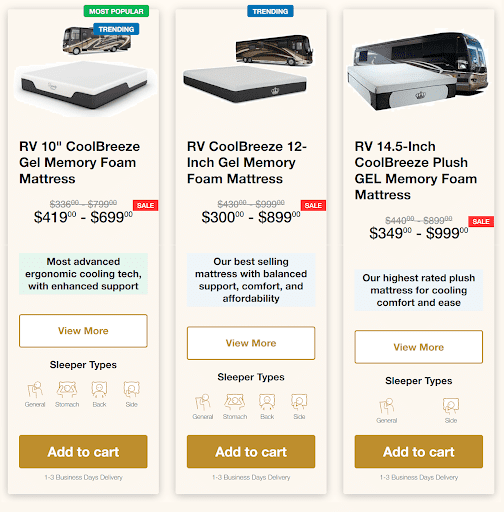 Let's discuss each of the mattresses and find out which one is the right fit for you:
RV 10″ Dynasty Gel Memory Foam Mattress
Dynasty Mattress 10 inch Gel Memory Foam Mattress
The Dynasty Mattress 10 inch gel memory foam mattress is a high-quality mattress that offers a comfortable and supportive sleeping surface.
This mattress features multiple layers of premium memory foam throughout, including a layer of gel-infused memory foam that helps regulate body temperature and provide pressure relief. The mattress also has a soft, breathable cover that helps keep you cool throughout the night for restful sleep.
With its medium-firm feel, the Dynasty 10 inch gel memory foam mattress is suitable for most sleepers and can help alleviate back pain and other discomforts.
Overall, this mattress is a great choice if you're looking for a comfortable, durable, and affordable option for your bedroom.
The price is $419 – $699.
RV 12″ CoolBreeze Plush Gel Memory Foam Mattress
If you prefer a thicker mattress, the 12.5-inch option is an excellent choice for you! It caters to both general and side sleepers, offering extra cushioning for a comfortable sleeping experience. This mattress is particularly beneficial for side sleepers. The price of this mattress ranges from $300 to $899, depending on the size.
RV 14.5" CoolBreeze Plush GEL Memory Foam Mattress
If you're an RV owner looking for a plush and comfortable mattress, the 14.5-inch CoolBreeze Plush GEL mattress from Dynasty Mattress is definitely worth considering. This mattress is one of the thickest options available, providing extra cushioning and support for a great night's sleep on the road.
Available in various sizes, this mattress ranges in price from $349 to $999 depending on your preferred size. Don't settle for uncomfortable nights while traveling – upgrade to the luxurious CoolBreeze Plush GEL mattress today!
Dynasty Customer Services
Dynasty Mattress has great customer service that can help with any questions or concerns you have when shopping for a mattress. They also offer delivery, setup assistance, and warranty support.

Free & Fast Delivery: Dynasty Mattress offers free and fast shipping for their mattresses in the continental United States. Their warehouses are located in California and Illinois which allows them to deliver your mattress in a much shorter time frame. The 1-3 day shipping is an average, depending on the destination.
30-Year Limited Warranty: When you purchase any mattress from Dynasty Mattress, it comes with a 30-year limited warranty. This warranty will cover manufacturer defects and workmanship errors during the first 30 years of ownership. In addition to this, adjustable bases also have a 10-year parts and labor warranty.
Certi-Pur US Certified: All Dynasty RV Mattress mattresses are Certi-Pur US certified, which means they're made with safe and high-quality materials.
Intertek's Celan Air Certification: Dynasty Mattress is committed to providing clean air for its customers, which is why all of its mattresses have Intertek's Celan Air certification. This certification ensures that the foam materials used in their mattresses are free from chemicals and pollutants.
Delivered In A Box: Dynasty Mattress mattresses are delivered in a box, which makes it more convenient for RV owners. All you have to do is unpack the mattress and let it expand to its full size.

Dynasty Gel Memory Foam RV Mattress Pros & Cons
When it comes to buying an RV mattress, there are plenty of things to consider. Here are some of the pros and cons of owning a Dynasty Gel Memory Foam Mattress for your RV:
Whether you're looking for a mattress to put in your RV/Camper or just need something comfortable and affordable, Dynasty Mattress has you covered with their gel memory foam mattresses. With a price range of $300 – $999, depending on the size and thickness, it's an affordable option for RV owners. 
What People are Saying About Dynasty RV Mattresses
When searching for reviews of Dynasty mattresses, you'll find plenty of positive feedback from their customers. People are especially impressed with the comfort level and quality of these mattresses. Many have said that they offer great value for the money and would definitely recommend them to others.
What Customers are Saying…

If you're looking for an RV mattress that's comfortable, supportive, durable, and affordable then be sure to check out Dynasty mattresses. With their top-notch customer service and quality products, they are definitely worth considering.
Conclusion – Final Thoughts!
RVing is one of the most enjoyable pastimes and having fun while on the road is a priority for many. Having a comfortable bed to sleep in after long days of exploring can make all the difference.
Dynasty RV gel memory foam mattresses are a great option for RVers looking for an affordable, good-quality mattress.
They offer free and fast shipping, a 30 year limited warranty, and the assurance of a Certi-Pur US and Intertek's Celan Air certification. So if you're looking to upgrade your rig with something comfortable, supportive, and durable, then look no further than Dynasty Mattress. With their great customer service and quality products, you can rest easy knowing that you're getting a good night's sleep on your next RV adventure.
I hope this article has been useful in helping you to choose the best RV mattress for your needs. Have a great time out on the road and maybe we will see you out there!
Happy camping! 🙂