In this blog post, I rank and review the 5 Best Wood Pellets for Smoking.
Pellet Smokers are certainly popular these days. And the food that comes out of them tastes oh so good!
So now that you got that new smoker you're ready to go. But, what are the best wood pellets for smoking?
To help you make an informed decision, here are the top 5 wood pellets that will give your food a delicious flavor every time. Whether you're new to cooking with wood pellets or a seasoned veteran, these pellets have what you need to take your meals to the next level!
We've ranked them based on flavor, price, and how well the wood pellets smoke or grill.
So no matter what your budget is, or what type of flavor you're looking for, you'll be able to find the perfect wood pellets for your needs.
As an Amazon Associate, I may earn a small commission from qualifying purchases at no expense to you
What are the Best Wood Pellets for Smoking?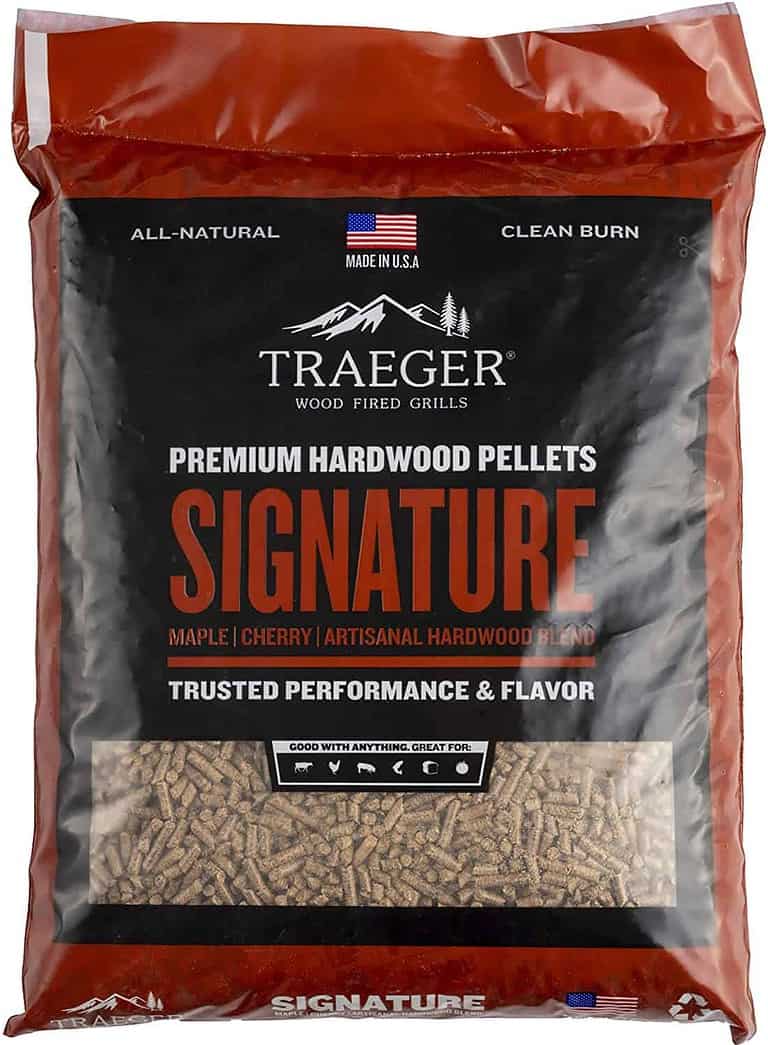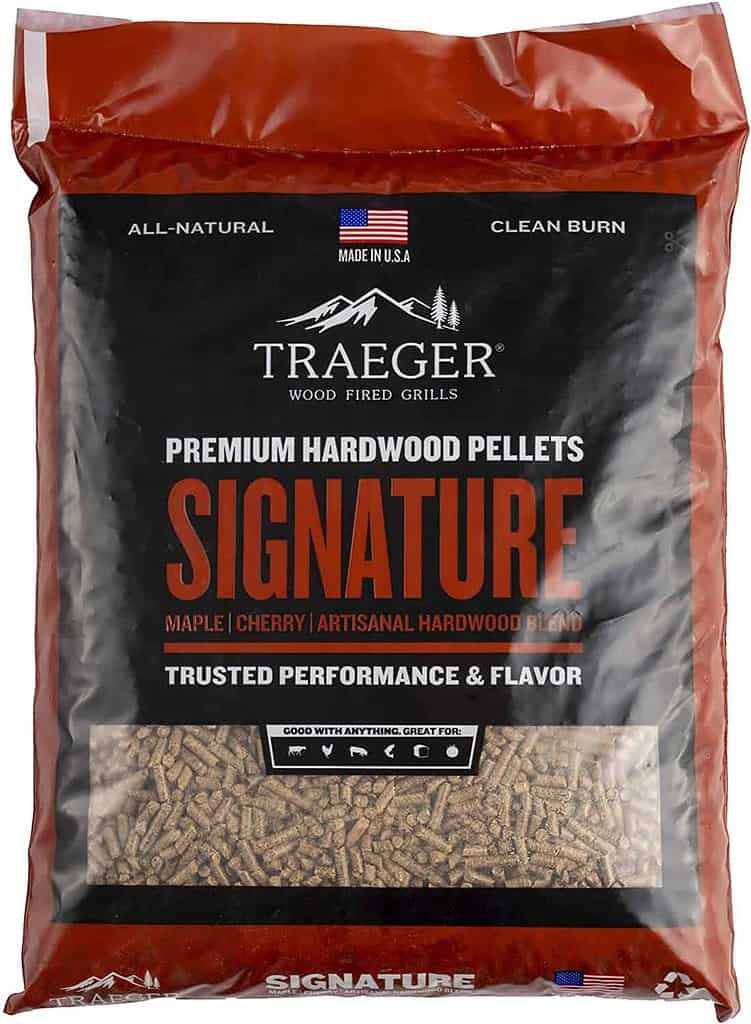 The most popular choice for wood pellets are the Traeger Signature Blend wood Pellets.
Get ready for a flavor explosion with Traeger's signature blend of hickory, maple and cherry hardwood pellets! This all-natural, clean-burning product enhances your BBQ meats, fish, and vegetables as it delivers a full-bodied bold flavor that will make your dishes stand out. Slow burning and just the right amount of moisture ensures the integrity of these premium pellets as they give off an incredible smokey aroma and taste. Try Traeger's wood pellets today and find out what sets them apart from the rest!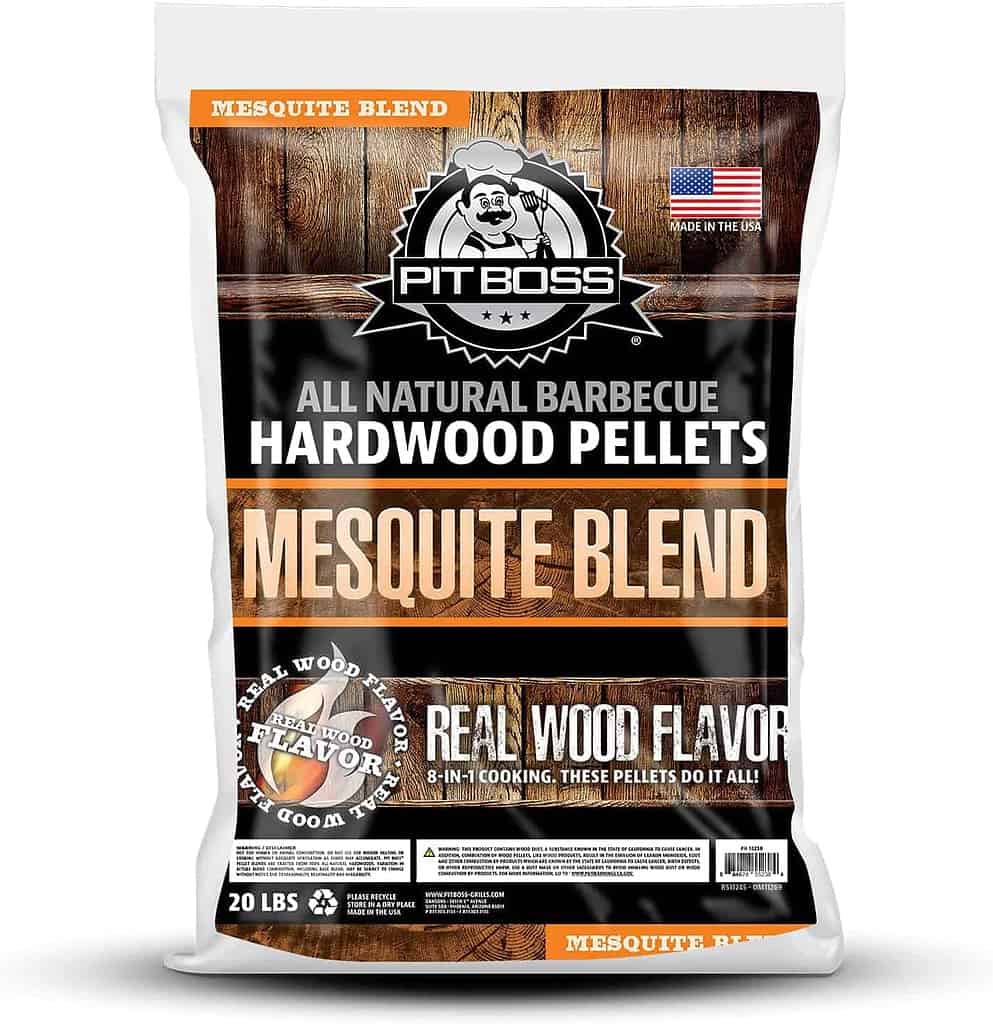 The Pit Boss Mesquite Hardwood Pellets really pack a smokey punch!
Kick it up a notch with Pit Boss Mesquite Hardwood Pellets! You won't find any artificial flavors, chemicals or glues here – just 100% all-natural mesquite wood for a bold and robust flavor. Perfect for grilling and smoking, this is one authentic Texas-style flavor that will give your meal a real kick – tangy and spicy but all delicious.
Whether you're cooking steak, pork butt, chicken or Tex-Mex cuisine, Pit Boss has you covered. I tried it on chicken myself and the results were amazing! So fire up the grill, bring out your best recipes and get ready to experience real Texas BBQ!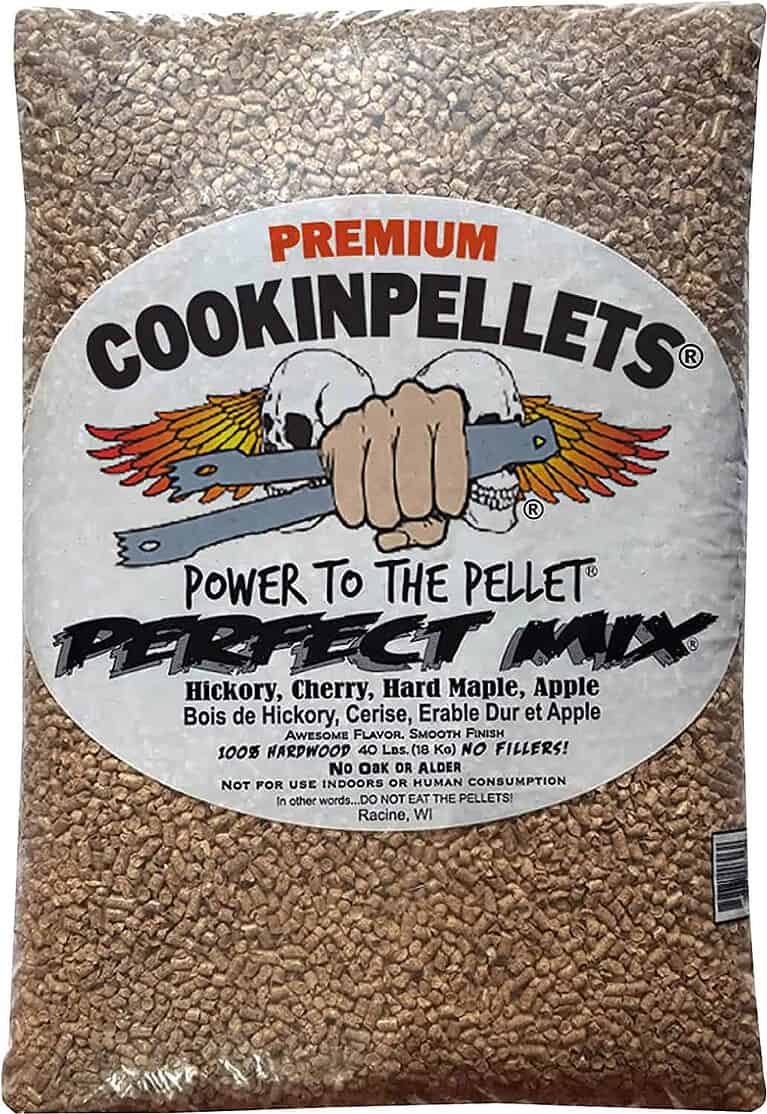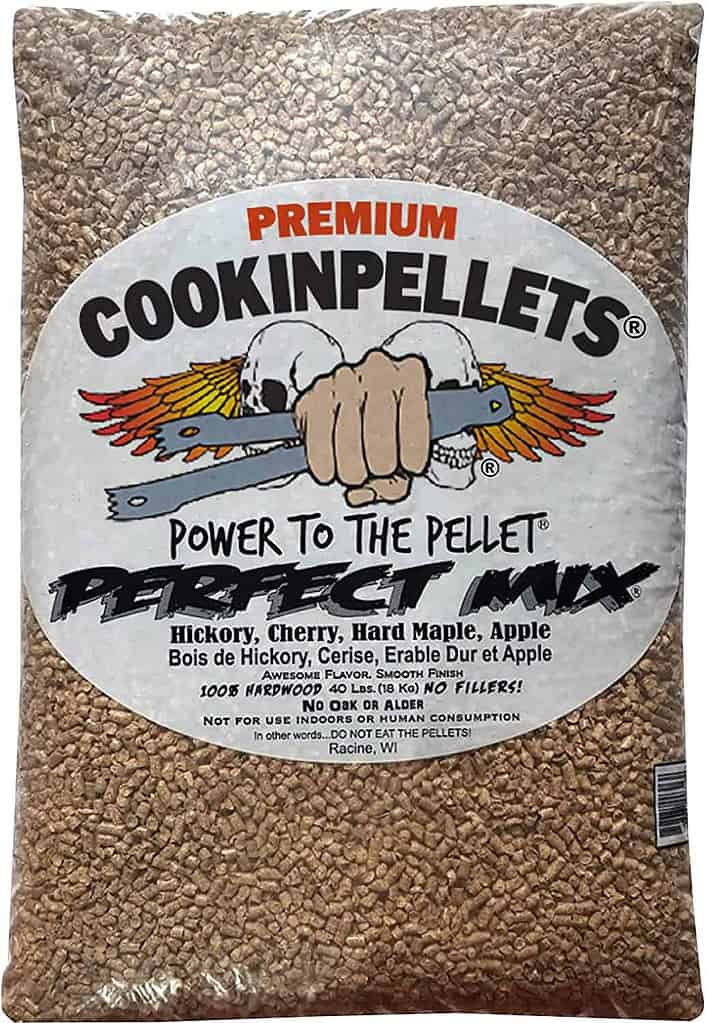 Looking for a wood pellet that will add a great smoke flavor to any food? Look no further than the PERFECT Mix!
CookinPellets offers a unique blend of hickory, cherry, hard maple and apple that make for the perfect smoke flavor when barbecuing. This mix not only tastes great, but also provides a smooth smoke that isn't too strong nor too light. It's especially beneficial when cooking long smokes making it ideal for entertaining larger crowds. And at an amazing price point, their wood pellets are sure to provide users with unrivaled flavor and quality.
Definitely can't go wrong with these wood pellets.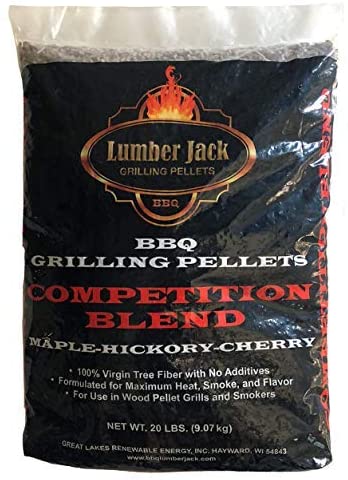 The Competition Blend Wood Pellets has a flavor that will take your meal from good to great!
Indulge in a unique smoking experience with the LumberJack Competition wood pellets. This blend of 1/3 Maple, 1/3 Hickory, and 1/3 Cherry ensures a robust and delicious flavor. Smoke salmon or any other kind of meat to get that perfect combination of sweet and smoky goodness.
With no fillers, oils, sprays, binders, or artificial ingredients this blend is 100% all-natural wood from the bark and cambium layer of trees for the most intense flavor. Get ready for a hot burn with more smoke and maximum surface area with these small diameter pellets.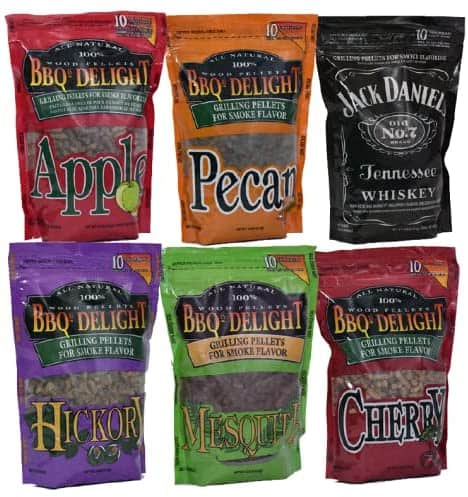 For when you can't decide!
BBQr's Delight Super 6 Pack Wood Smoking Pellets are the 6 most popular wood smoking pellets in 1-pound (each) resealable bags. These wood pellets give you a variety of different flavors. I got these at the beginning of the camping season last year and had fun being able to experiment with food and friends.
The pack includes 6, 1 lb. bags of pellets made from different types of wood, including apple, hickory, mesquite, cherry, pecan, and Jack Daniel's. Each has it's own unique flavor. It really is perfect for the "can't decide!"
With such a variety of wood pellets to choose from, you'll be able to smoke any type of meat or vegetable to perfection. So no matter what type of flavor you're looking for, you'll be able to find it in this pack.
What Are Wood Pellets and How Are They Made?
Wood pellets offer an easy and convenient way to infuse smokey flavor into your favorite dishes. By combining different types of wood together, each type adds its own distinct flavor to the smoke, allowing you to customize the taste according to your desired outcome. The size and shape of wood pellets also make them very versatile for various smokers.
Standard Benefits:
Provide an easy, convenient way to smoke food.
Come in a variety of different sizes and shapes, making them versatile for a variety of smokers.
Available in a variety of different woods, providing a range of unique flavors.
Some are 100% organic, making them a healthier option than traditional smoking methods.
What's the difference between heating pellets and smoking pellets?
Heating pellets are most commonly made from softwoods such as pine or spruce. These produce a hot, quick burn that is suitable for heating homes and garages. On the other hand, wood pellets used for smoking usually come from certain hardwoods. This results in a much cooler and slower burning process, which gives the wood its distinct flavor. Smoking food with wood pellets is an easy and convenient way to add smoky goodness to any meal.
Do you have to use the same brand of pellet as your pellet grill manufacturer?
You don't need to use the same brand of wood pellets as your grill manufacturer. If you're looking for specific flavors, you can stick with a brand that produces pellets from that type of wood. But if you're looking to experiment, why not mix and match different brands? For instance, mesquite, apple, oak or cherry wood pellets all offer their own distinct flavor – so why not combine them for something new and exciting? Experimenting with various pellets can open up an array of possibilities so don't be afraid to give it a go!
What are the different wood pellet flavors?
Hickory, mesquite, apple, cherry, and pecan wood pellets are popular types of smoking woods that each impart their own flavor onto the food. Hickory provides a strong smoky profile with a hint of sweetness. Mesquite takes it even further with a distinctly sweet, smoky taste. Apple and cherry lend mild fruitiness to the dish while pecan brings out a rich, nutty flavor. So no matter what you're smoking, there's always the perfect wood pellet to match!
How Do I Use Wood Pellets?
Wood pellets are incredibly versatile and make for an amazing addition to any pellet grill or smoker. By adding them to the firebox or hopper, you'll be able to enjoy slow burning of the pellets which will create a delicious smoky flavor within your food. The end result? A flavorful and unforgettable eating experience!
What's the difference between smoking and grilling with wood pellets?
Whether you're cooking for yourself or entertaining a crowd, it's important to choose the right cooking method depending on the food and flavor you're after. Smokers infuse your favorite dishes with an undeniable smoky flavor, while grills offer a char-grilled taste that simply can't be beaten. For something in between, why not try using both smokers and grills to enhance the flavor of your dish? However you decide to cook, experimenting with different cooking methods will result in a delicious meal every time.
Conclusion
Experimenting with wood pellets for smoking and grilling can be a great way to explore and discover your own personal tastes. With such a wide variety of options out there, you're sure to find the right combination of flavors that work best for you. Whether you're aiming for a smoky taste or something suitable for grilling, our recommended selections have been tested and approved by many – providing an enjoyable experience all around! And don't forget, you can always try again if the first attempt didn't quite hit the mark.