Looking for the best outdoor countertop pizza ovens? Check out our list of the top 7 models on the market!
These ovens offer unbeatable convenience, versatility, and flavor, allowing you to cook up delicious pizzas right in your own backyard.
In this blog post, we'll break down each of these amazing appliances and help you choose the perfect one for your needs. Whether you're a pizza enthusiast or just looking to step up your outdoor cooking game, these must-have ovens are sure to impress. Don't settle for mediocre pizza – upgrade your outdoor kitchen with one of these top-rated ovens today!
Let's get started.
We are reader supported and as such, we may make a small commission at no cost to you by purchasing thru our links.
What are the Best Outdoor Countertop Pizza Ovens?
Ooni Karu 16 multi-fuel Outdoor pizza oven
Our Pick
Ooni Karu 16
950 degrees
Less than 15 minutes to preheat
3-year warranty, w/ a 60-day money-back guarantee
Pros:
Cons: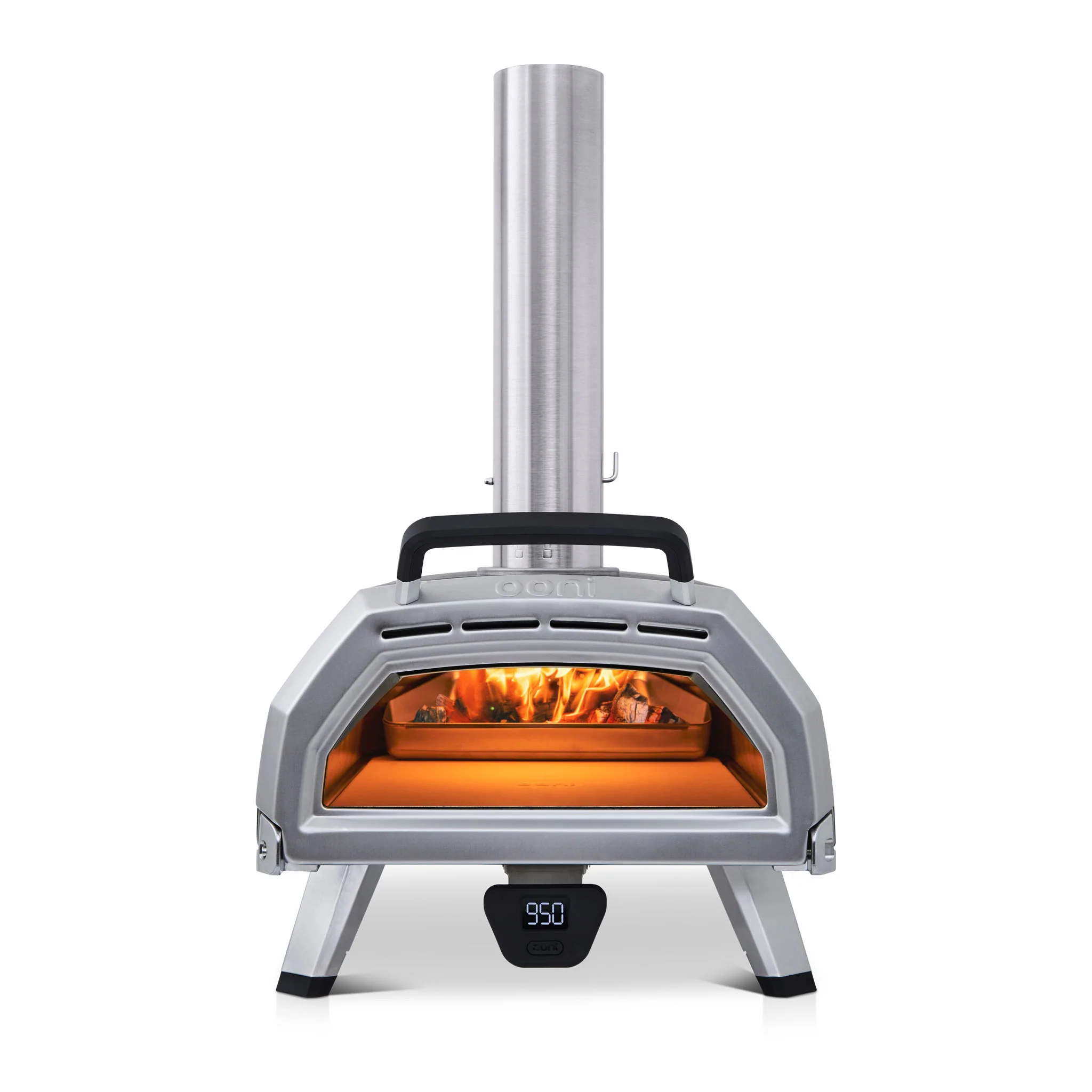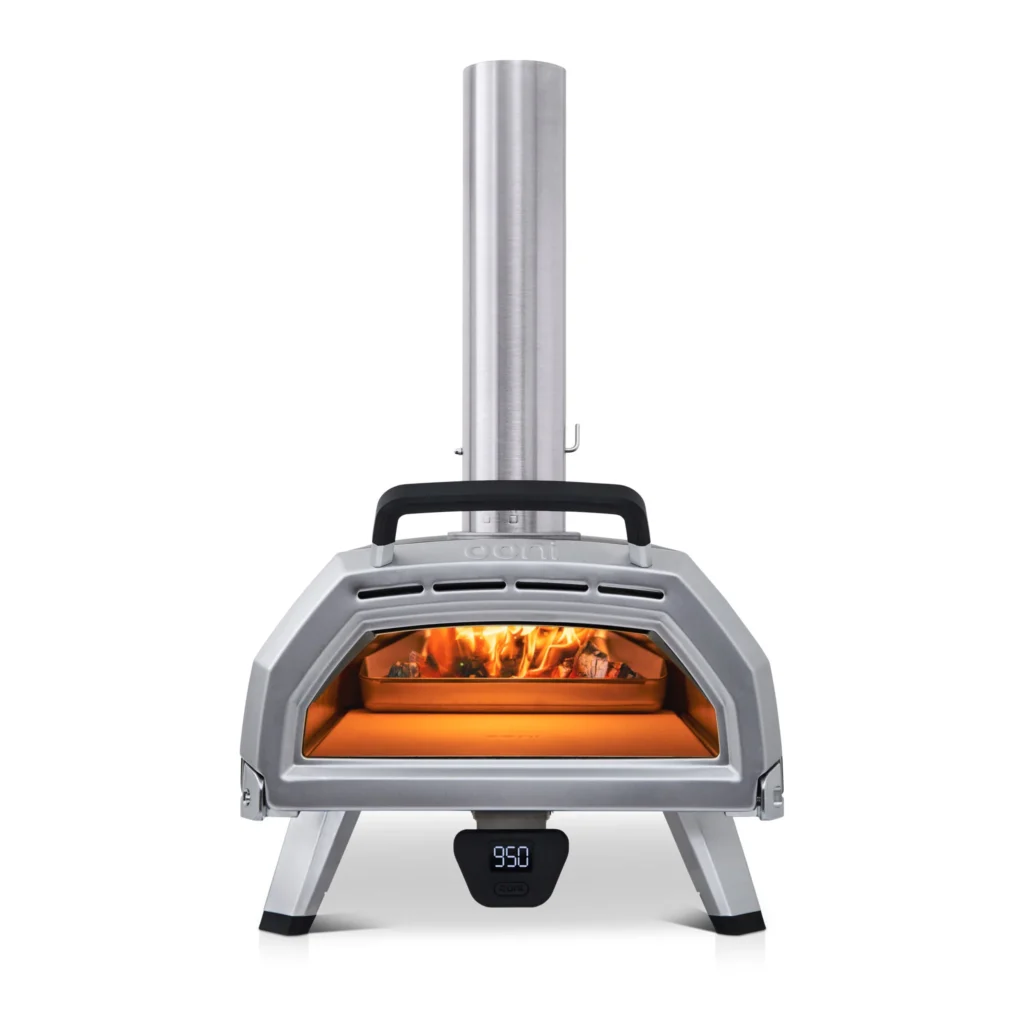 Write Up
I believe we have all come to know Ooni as the best outdoor pizza oven by now. In fact, they are the first and only pizza oven to be 'Recommended for Domestic Use' by the Associazione Verace Pizza Napoletana, the acclaimed international authority on true Neapolitan pizza.
This oven is not just limited to pizzas, it offers an array of cooking options with its versatility. In fact, some have even baked mouth-watering cheese breads and frozen appetizers in it.
What sets this oven apart is its hinged door with a view that provides enhanced visibility of your food as it cooks. Plus, the Ooni Karu boasts multiple cooking options including gas, wood, charcoal, and comes equipped with a mounted digital thermometer to ensure perfect cooking temperatures.
With the largest area for cooking pizzas up to 16 inches in size, the Ooni Karu has earned its reputation as one of the best outdoor pizza ovens on the market. Trust us when we say you won't be disappointed if you choose this countertop pizza oven!
Bertello Outdoor Pizza Oven Everything Bundle
Runner up
Bertello Everything Bundle
Gets up to 930 degrees in 10-15 minutes to preheat. Weighs in at a nice 46lbs and comes with a 3 year warrant. Price of unit alone is $305.99. Can get the Bertello Grande for $499 which is a 16 inch cooking surface for those looking for a bigger oven.
Pros:
Cons: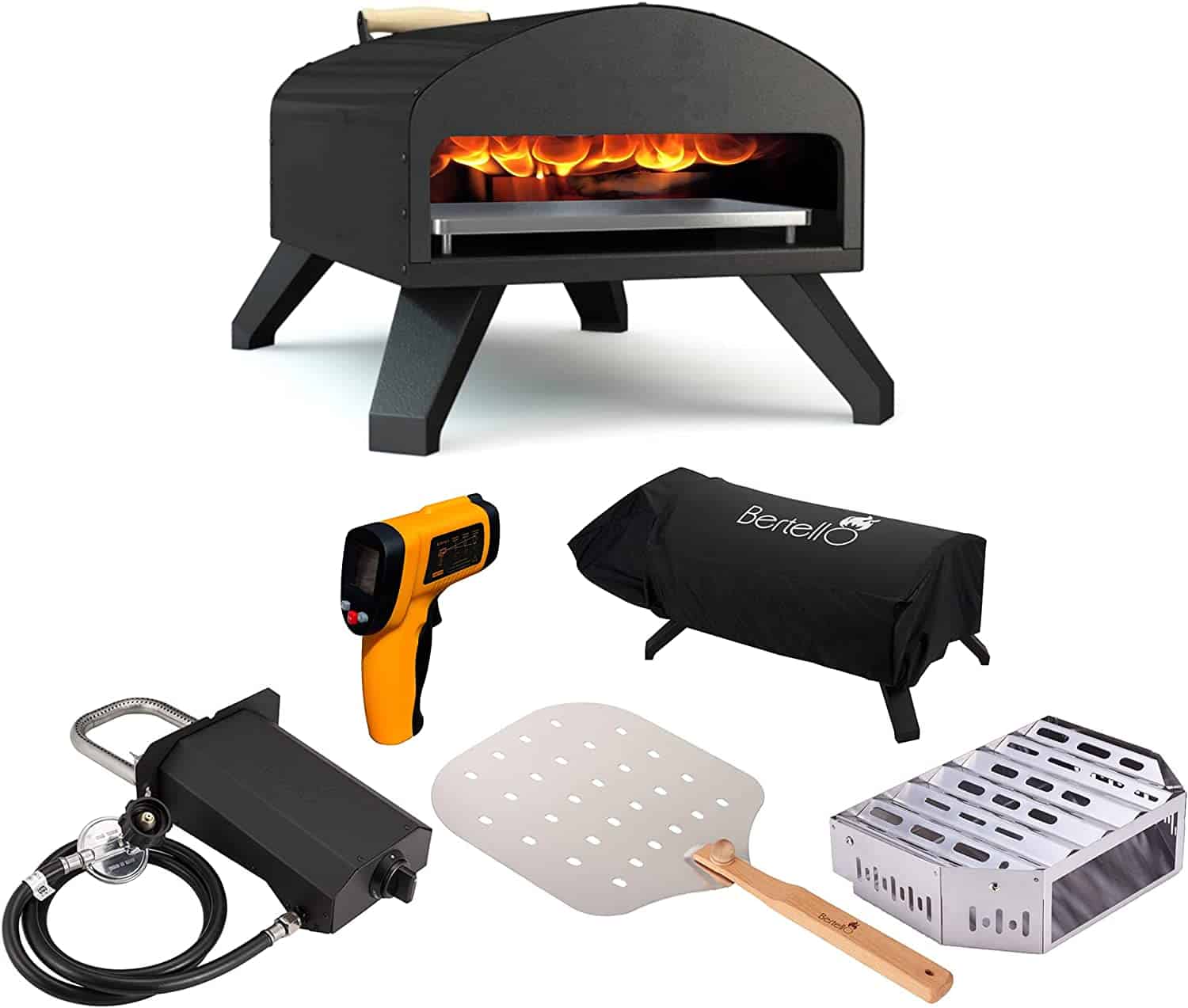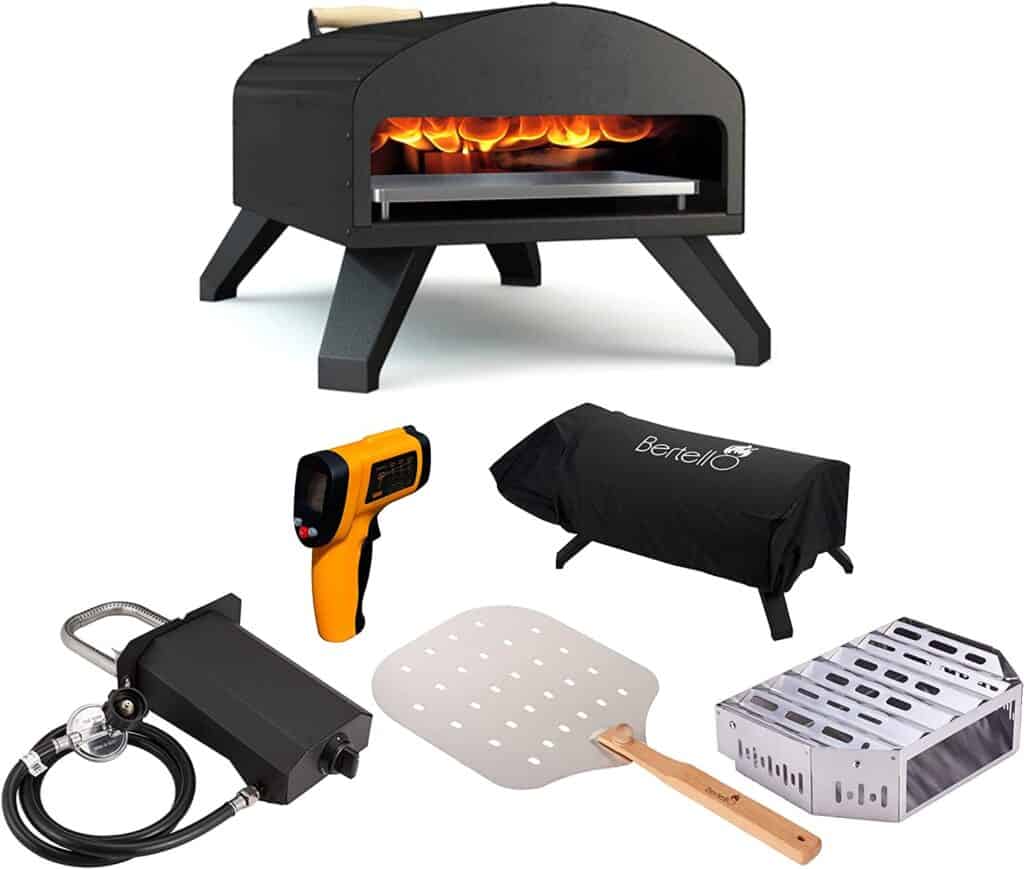 Write Up
It's no wonder this outdoor pizza oven has been partnered up with Shark Tank's very own, Kevin O'Leary! Mr.Wonderful saw something in Bertello as one of the best countertop pizza ovens and he wasn't wrong!
I'm reviewing the Bertello Outdoor Pizza Oven Everything Bundle, and by everything, they mean it!
Honestly, with all the outdoor countertop pizza ovens out there, this one really gives you the best bang for your buck!
This portable, 46-pound oven can reach temperatures up to 930 degrees, cooking an authentic pizza with a crispy crust in under two minutes. Plus, with the option to use both gas and wood, you can enjoy the perfect blend of convenience and authenticity.
While the cooking surface may be smaller than some other options on the market, don't let that deter you. Bertello's versatility allows you to cook a variety of foods beyond just pizza. And with recipes available on their website, your culinary creativity can truly shine.
One of the best parts? Bertello offers a 1-year satisfaction guarantee with no questions asked. So why not give it a try today and perfect your pizza-making skills while discovering why Bertello is one of the top outdoor pizza ovens available.
Solo Stove Pi Pizza Oven
Third Place
Solo Stove Pi
Can reach 850 degrees in just 10-15 minutes preheat. We love the Lifetime warranty! Solo Stove makes some great products!
Pros:
Cons: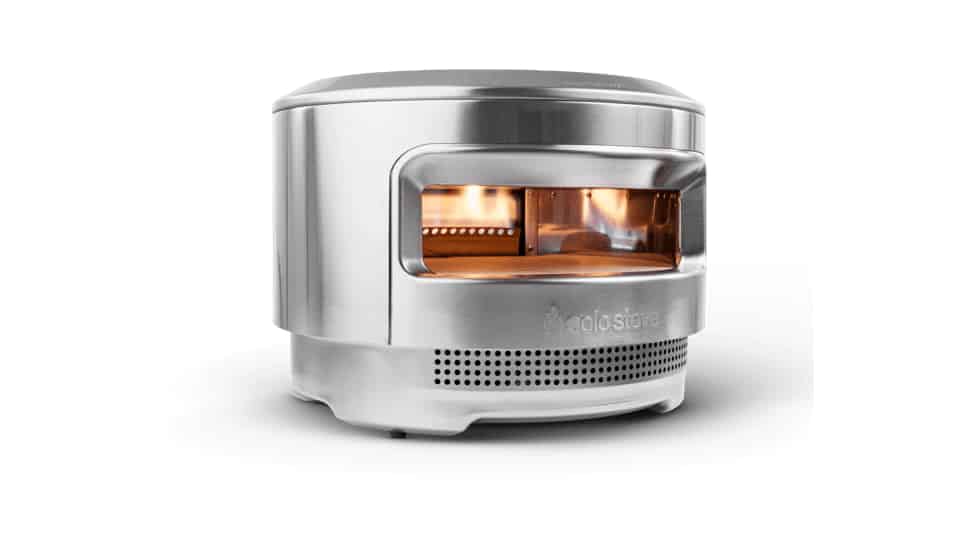 Write Up
Solo Stove is crushing it right now for outdoor products. We love the Solo Stove Bonfire and all the awesome accessories they have. It just makes sense they have this very sleek outdoor pizza oven that fits right in their wheelhouse.
Included this year on Oprah's Favorite Things list, the Solo Pi Pizza oven doesn't disappoint.
It is the most modern looking of all the pizza ovens on the market. The price point is in line with most other countertop pizza ovens, and you can bundle it up and get everything you need at once, should you choose.
The Solo Stove Pi pizza oven is very lightweight at 30lbs making it feel truly portable and is highly efficient on its usage of fuel.
Along with all their products on the market, Solo Stove Pi pizza oven offers a lifetime warranty which is truly amazing! It seems like no one offers that anymore. So with a 30-day satisfaction guarantee, and lifetime warranty, Sounds like Solo stands by their self-proclamation of being "the pizza oven for everyone".
With Solo Stove being one of the hottest brands on the market, why not try this combo gas/wood pizza oven and see why it makes our list of the best pizza ovens?
ALFA One Pizza Oven
4th Place
ALFA One
This is a serious pizza oven. Has a brick floor, not stone. Uses only gas for heating. Wood option is available on the Nano. You can cook up to 14 inch pizza in it.
Pros:
Cons: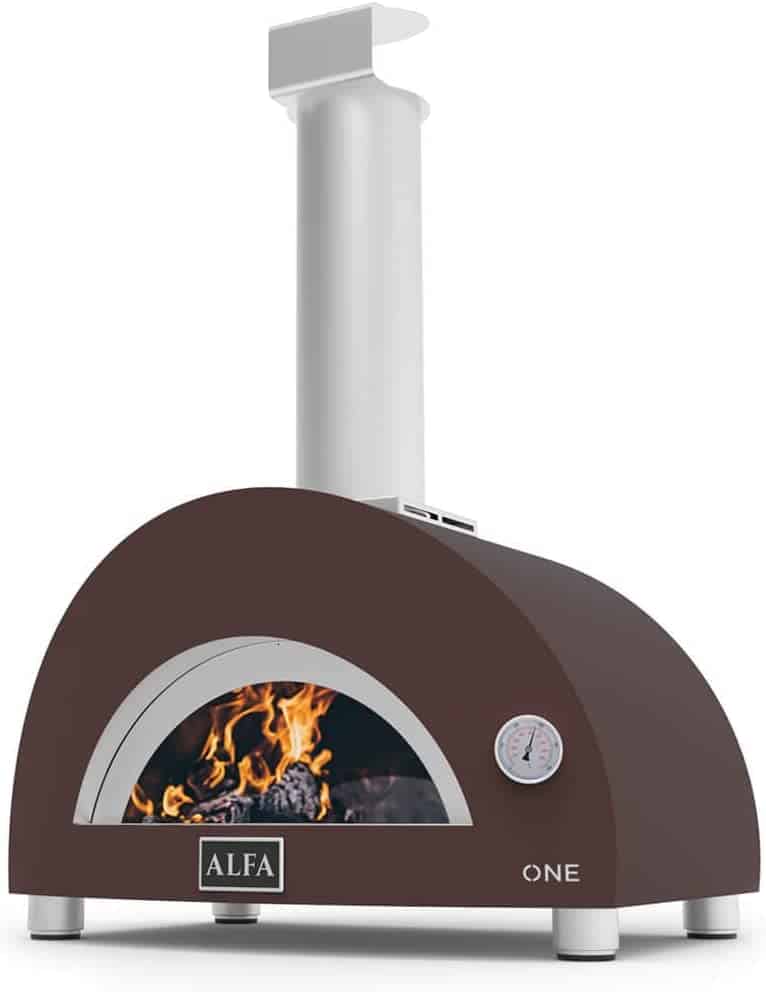 Write Up
Introducing the "Alfa" pizza oven – the ultimate dream for all pizza lovers out there! This magnificent oven is a true work of art that combines both gas and wood compatibility in one sleek and modern design. With its patented technology, the Alfa reaches high temperatures with minimal fuel usage, ensuring a perfectly cooked pizza every time.
With a large brick surface area, this countertop oven can cook up to a 14″ pizza and reach up to an impressive 1000 degrees! And let's not forget about its Italian craftsmanship – Alfa has been leading the industry for over 40 years, keeping the Italian tradition alive.
The Alfa Pizza oven is available in various options such as just a countertop or with a base or table. Assembly takes only five minutes, preheating just ten minutes, and cooking time only a minute and a half for that perfect Neapolitan pizza.
While accessorizing with Alfa tools may come at an additional cost, it's definitely worth it if you've invested in this incredible oven. If you're looking to create an outdoor kitchen or have that modern backyard space, the Alfa Nano should be at the top of your list. Trust us; your guests will be impressed! After all, who doesn't love pizza?
Roccbox Portable Pizza Oven Bundle
5th Place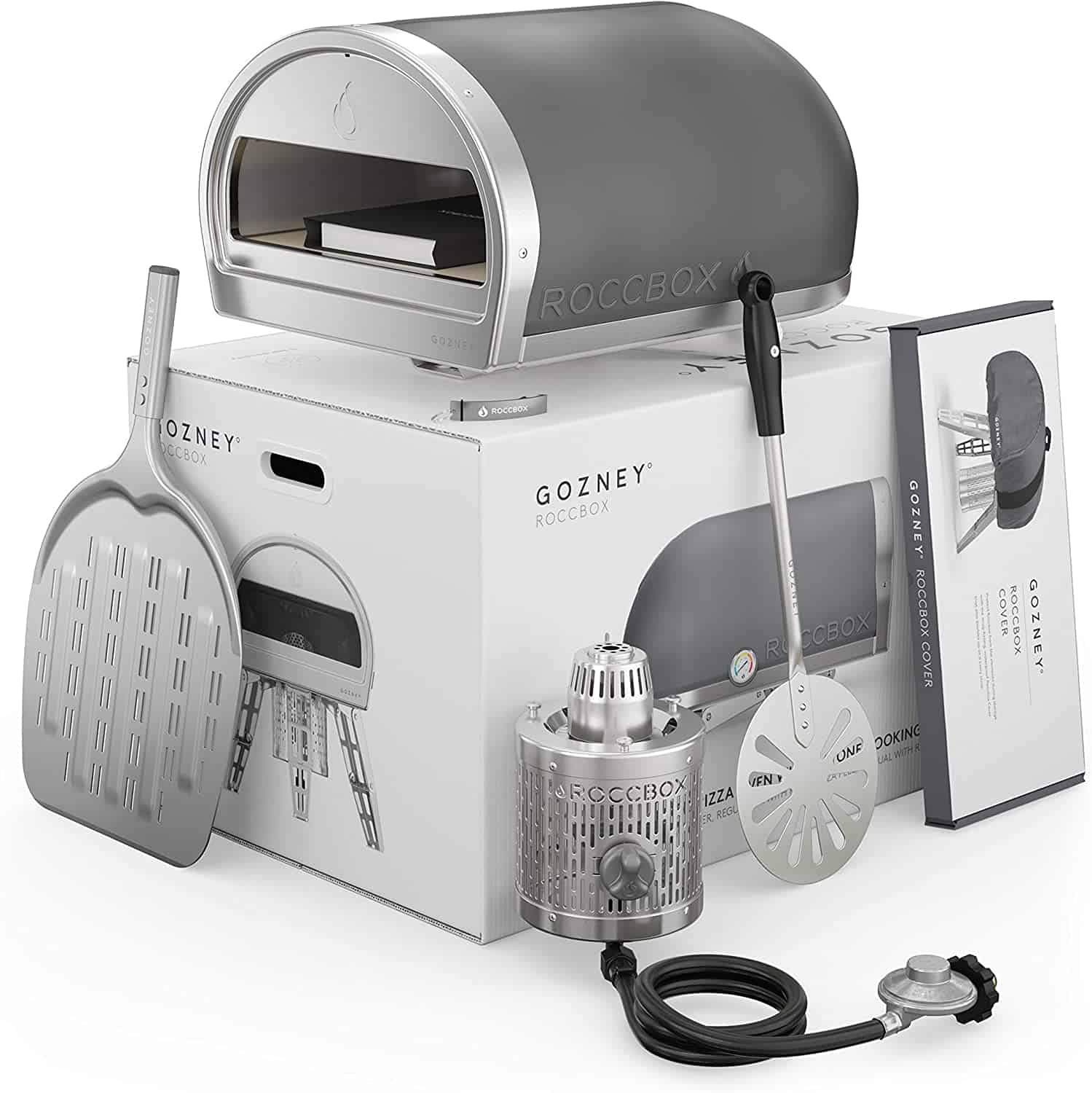 Write Up
The Roccbox is quickly gaining traction and capturing attention in the world of countertop ovens, and it's not hard to see why!
What sets it apart from other pizza ovens is its innovative silicone jacket, making it a safe option for families and friends to enjoy together. Roccbox takes pride in offering restaurant-grade quality, which has earned the endorsement of many chefs in the industry.
Despite its small size, this portable pizza oven can handle up to 930 degrees Fahrenheit, cooking pizzas in under a minute – so make sure your dough is ready! With retractable legs, lightweight design, and a convenient carry case, the Roccbox is perfect for outdoor use.
Compared to its competitors, the price of the Roccbox pizza oven is reasonable. It boasts excellent reviews from satisfied customers who have fallen in love with it. Although it lacks a satisfaction guarantee and cannot be returned once opened, it comes with an impressive 1-year warranty plus a 5-year extended warranty.
If you're looking to host fun-filled pizza parties with family and children around you, then the Roccbox would undoubtedly be my top pick!
Pizzello Forte Pizza Oven Bundle
6th Place
Pizzello Forte
Pros:
Cons: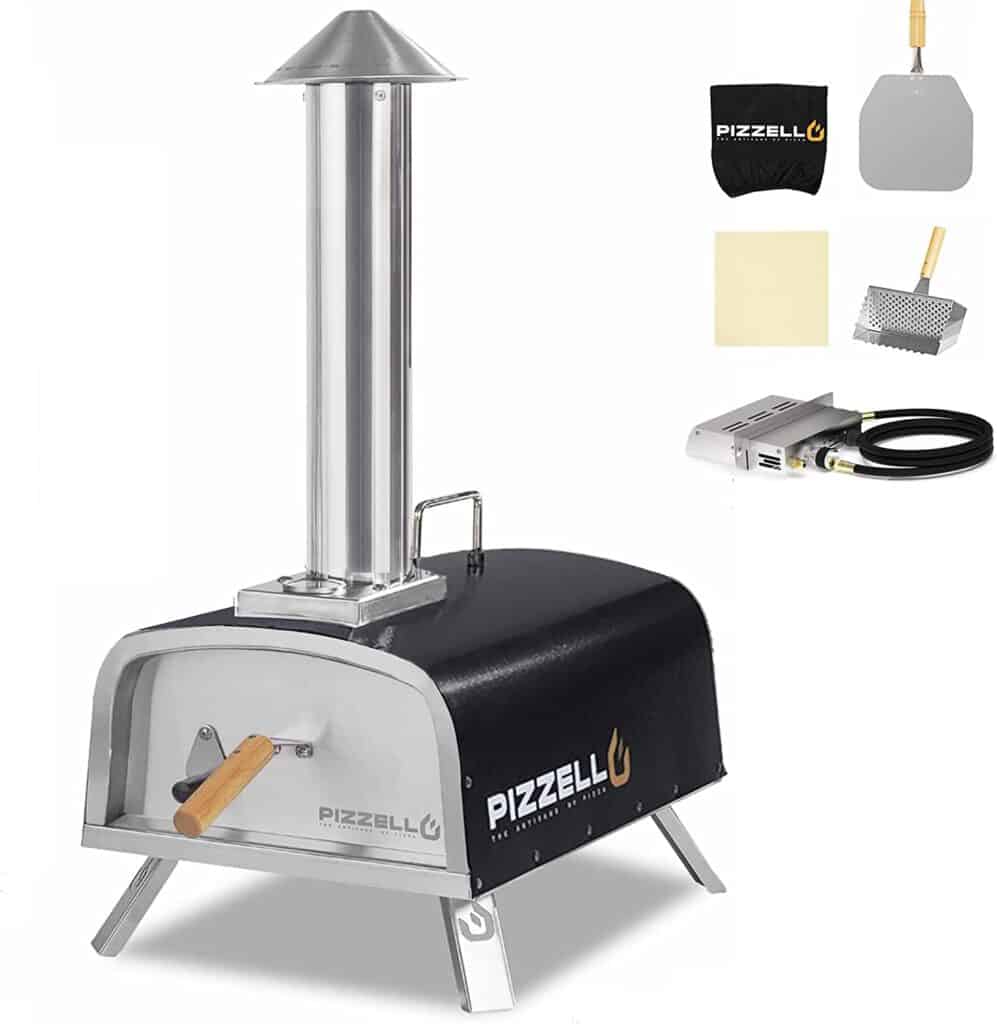 Write Up
Are you new to the world of pizza cooking? Look no further than the Pizzello Forte Pizza oven, perfect for entry-level pizza makers. This oven has many pros that will leave you satisfied with your purchase. It comes with everything you need to get started, whether you prefer cooking with gas or wood. The two-layer design allows you to cook multiple pizzas at once, which we absolutely love.
The Pizzello Forte pizza oven is lightweight and portable, making it easy to transport wherever you go. It competes with other ovens in its class and consumers have been raving about its value for the money.
Some users have expressed concerns about regulating the temperature and maintaining heat levels, but it still reaches a maximum of 752 degrees – hot enough for most pizza lovers!
Additionally, this pizza oven comes with a standard 1-year warranty and an option to extend it for an additional 3 years for only $5 – a no-brainer deal.
If you're in search of a dual-fuel, affordable, and portable pizza oven, look no further than the Pizzello Forte.
Camp Chef Italia Artisan Pizza Oven, Stainless Steel
7th place
Camp Chef Italia
Pros:
Cons: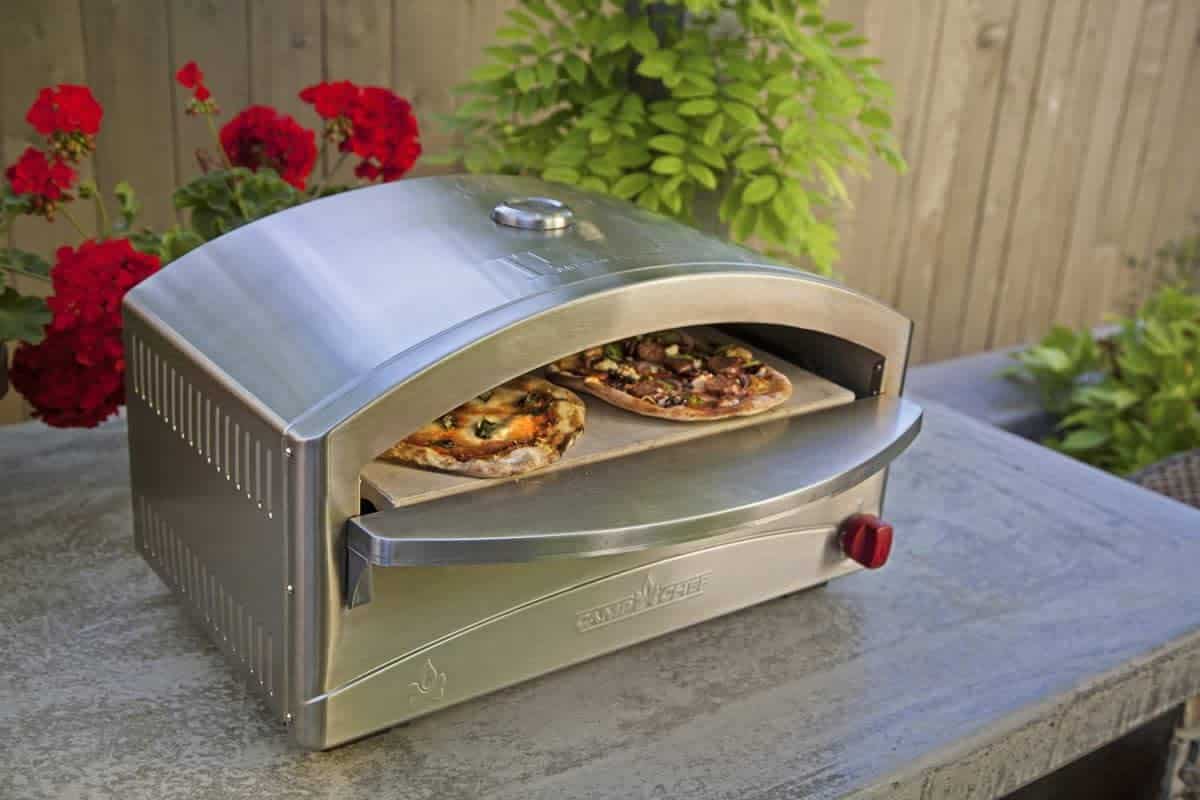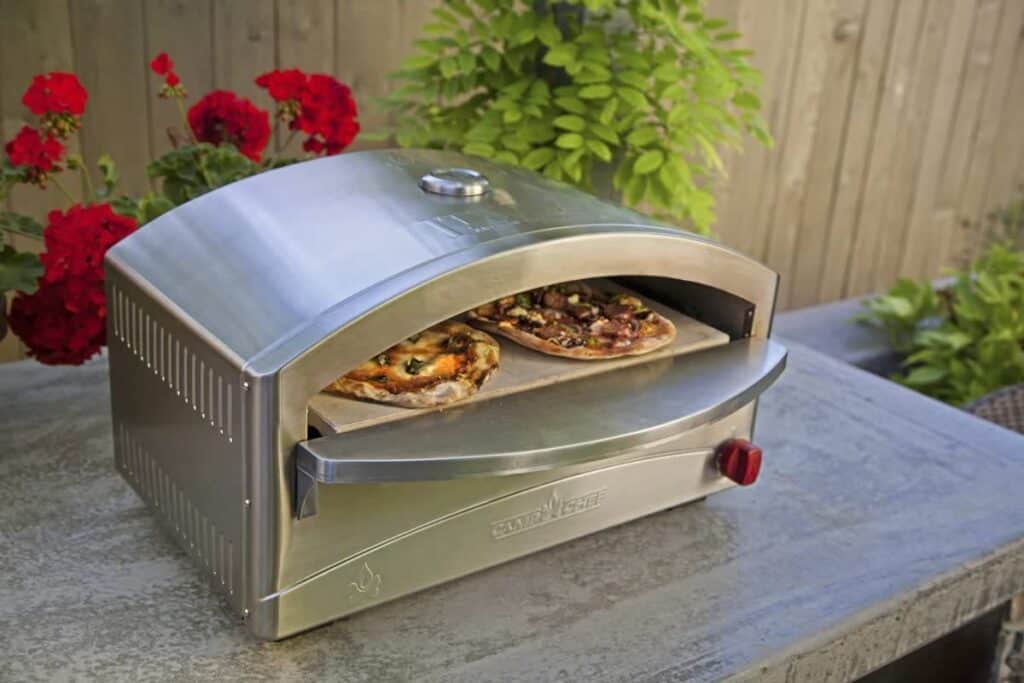 Write Up
Are you an outdoor enthusiast? If so, chances are you're familiar with this brand. As a top American company specializing in outdoor cookware, they've revolutionized the game when it comes to portable and versatile pizza ovens for your adventures.
This lightweight oven is ready to use straight out of the box, making it the perfect addition to your camping gear or backyard setup. It's highly portable, meaning that wherever you go, it can come along for the ride.
While this pizza oven is sold on its own for under $100, there are plenty of accessories available to help you get the most out of it without breaking the bank.
In my opinion, there are a couple of downsides. Firstly, it operates using gas only – so don't expect that delicious wood-fired flavor. Secondly, it only heats up to 700 degrees Fahrenheit – which is lower than some of its competitors.
However, if you're looking for a quick meal (even frozen pizzas!), this oven is perfect. And when it's time to pack up and hit the road again, it's easy to fold away and store until next time.
What is an Outdoor Countertop Pizza Oven?
An outdoor countertop pizza oven is a small and convenient appliance that allows you to enjoy the delicious taste of wood-fired pizza without having to invest in a large oven.
It is perfect for those who have limited space in their backyard, patio, or deck, as it usually takes up very little space.
These ovens are fueled by either wood, natural gas or propane and can get very hot, allowing pizzas to cook quickly and evenly.
Many countertop pizza ovens come with features such as adjustable burners, timers, and built-in thermometers for accurate cooking temperatures.
They are relatively easy to use and maintain, making them an ideal choice for anyone who loves the flavor of wood-fired pizza.
How To Choose An Outdoor Countertop Pizza Oven?
When it comes to choosing the right outdoor countertop pizza oven for your needs, there are a few key factors to consider.
First and foremost, you should take your budget into consideration. Depending on how much you have to spend, you'll be able to narrow down which models offer the features and quality you're looking for.
Next, think about what size oven best suits your needs. If you plan on hosting large dinner parties or cooking pizzas regularly, then you will want a larger unit with higher power output and greater capacity. Alternatively, if space is at a premium or if you're only feeding small groups of people, then a smaller countertop model might be more suitable.
You'll also want to take into account fuel type when making your decision. Wood only, propane, natural gas, hybrid etc.
Finally, think about any additional features or accessories that would make the cooking experience easier or more enjoyable for you. This could include things like integrated lighting for visibility at night time cooking sessions, portability, bundle packages and so on.
How To Use an Outdoor Countertop Pizza Oven?
If you're new to outdoor pizza ovens, here are a few tips on how to use them.
To use an outdoor pizza oven, first start by building a fire inside the oven using kindling and small pieces of wood. Allow the fire to burn for about an hour or until the temperature inside the oven reaches around 700°F. Once the oven is heated, use a long-handled brush to push any remaining embers to one side of the oven. Then, place your pizza on a wooden paddle and slide it into the oven onto the hot stone surface. Cook for about 2-3 minutes, rotating occasionally with a metal peel for even cooking. Once done, remove the pizza from the oven using a peel and enjoy!
How to Care for Your Outdoor Pizza Oven?
To care for an outdoor pizza oven, there are a few steps you can follow:
Clean the oven regularly: After each use, remove any leftover ash or debris from the oven floor and walls. This will prevent buildup that could affect the taste of your pizzas and potentially damage the oven.

Cover the oven: When not in use, cover the oven with a weather-resistant cover to protect it from rain, snow, and other elements.


Use high-quality wood: Only use dry, seasoned hardwoods like oak or maple in your pizza oven. Avoid softwoods like pine or cedar that can produce excessive smoke and negatively impact flavor.

Check for cracks: Regularly inspect the exterior of your pizza oven for any cracks or damage that could affect its performance.

By following these simple steps, you can help ensure that your outdoor pizza oven stays in great condition for many delicious pizzas to come!
Can You Use Your Outdoor Pizza Oven in the Winter?
Yes, you can use an outdoor pizza oven in the winter. However, there are a few things to keep in mind. Firstly, you should ensure that your pizza oven is designed for outdoor use in cold weather conditions. Secondly, you may need to adjust your cooking times and temperatures due to colder ambient temperatures affecting the heat retention of the oven. Finally, be sure to dress appropriately for the weather and take extra care when handling hot surfaces in cold weather conditions.
Conclusion
In conclusion, outdoor countertop pizza ovens are a fantastic addition to any backyard. They provide a fun and unique way to cook delicious pizzas for family and friends. The best outdoor countertop pizza ovens offer features such as high temperatures, easy-to-use controls, and durable construction. Some top options include the Ooni Koda 16, Roccbox Pizza Oven, and the Bertello Outdoor Pizza Oven. Ultimately, the right choice will depend on your specific needs and preferences. No matter which model you choose, investing in an outdoor countertop pizza oven is sure to bring joy and satisfaction to your culinary adventures.