Welcome to our blog post on Riley Newman, a renowned name in the world of Pickleball. Currently standing at an impressive #2 ranking in the Men's & Mixed Doubles globally, Riley Newman isn't just a player; he's a force to be reckoned with. His amazing career is studded with accolades, including 18 PPA Tour gold medals and a 5-time Major champion title.
This blog post takes a closer look at Newman's journey, exploring his profound impact on Pickleball and his inspiring pathway to success.
Let's get started.
Early Life and Introduction to Pickleball
Riley Newman was born and raised on Whidbey Island, Washington, into a family passionate about sports. As one of seven siblings, Riley found himself in the middle of a lively and competitive environment that fueled his interest in sports.
Growing up, he enjoyed playing basketball, soccer, baseball, and tennis. His love for basketball and tennis didn't stop at mere enjoyment, however, as he earned a scholarship at a D1 college in Seattle, Washington, to pursue these sports at a higher level.
In the summer of 2017, Riley's life took a turn when his friend and former referee, Mark Cook, introduced him to pickleball. With his background in high-level tennis, Riley adapted quickly to this new game. The transition from holding a racket to a paddle was smooth for this former D1 tennis player, and learning the strategic nuances of pickleball was an exciting challenge he readily embraced.
Since then, Riley has relocated and currently resides in Phoenix, Arizona, where he continues to dominate the world of pickleball.
Rise to Prominence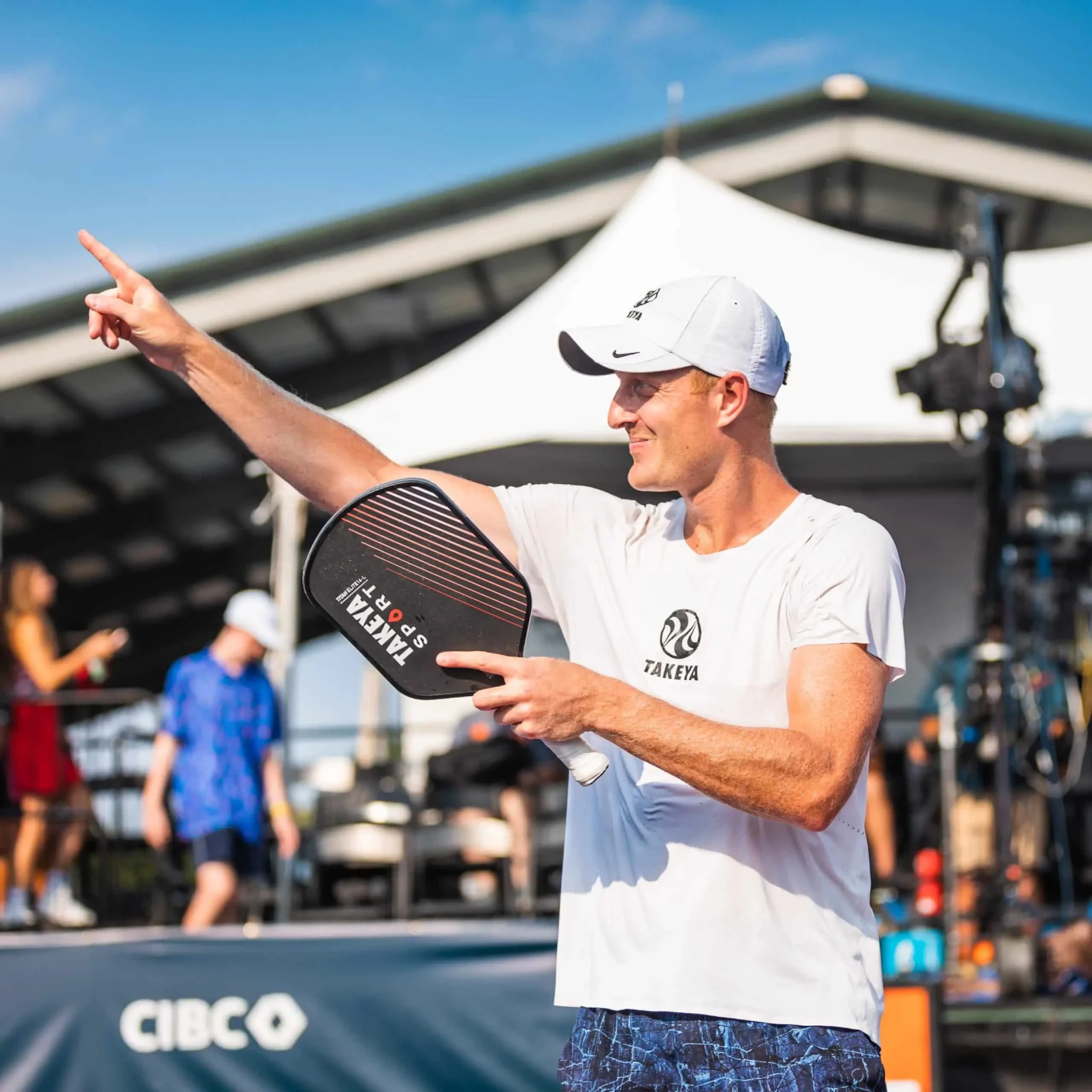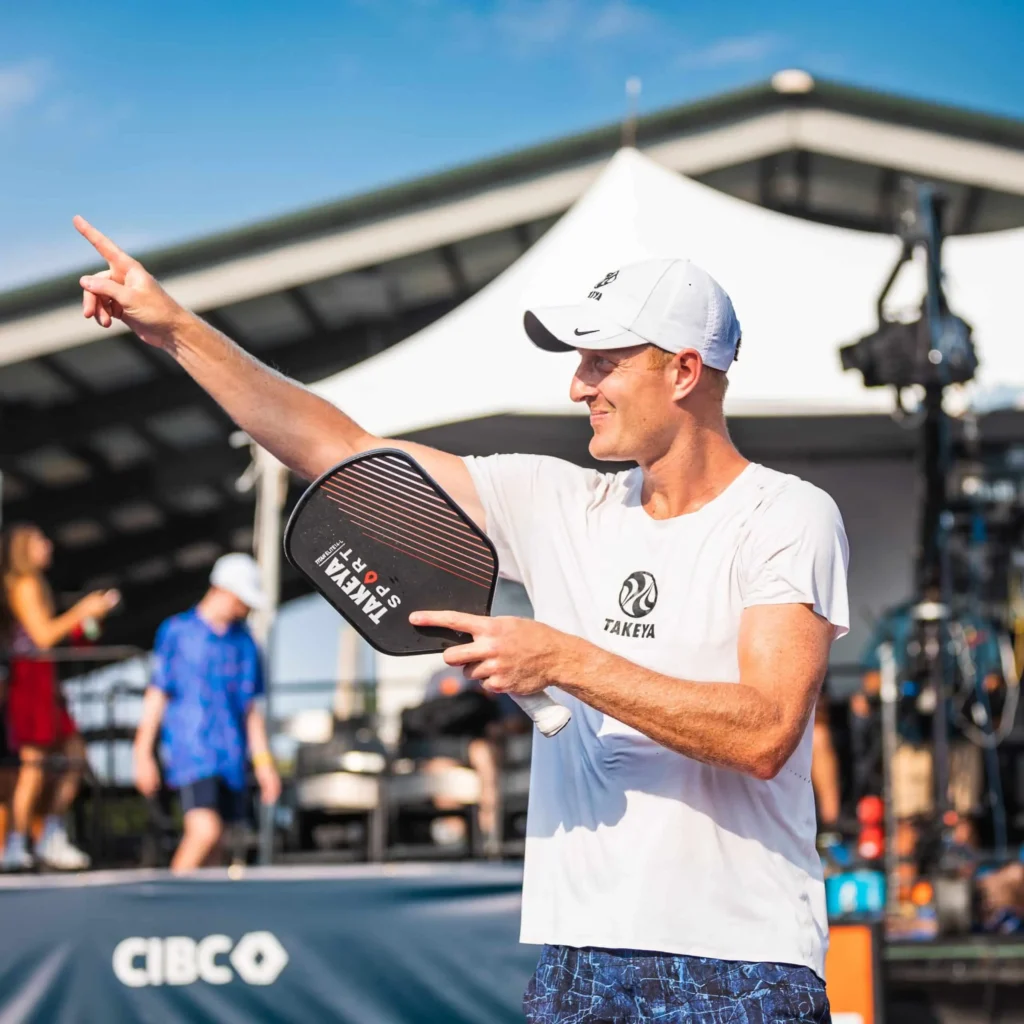 Riley Newman quickly became a prominent figure in the pickleball world, rising to fame at an astonishing speed. His first foray into the competitive scene was when he entered a 5.0 tournament, teaming up with his sister, Lindsey Newman. The dynamic duo proved unstoppable and won gold in the mixed doubles bracket. This initial success ignited a spark in Newman, hooking him onto pickleball and paving the way for a fervor that continues to this day.
Newman's career highlights are many, but one memory stands out most prominently. It was during his third US Nationals tournament in 2021, Newman and his sister once again joined forces. Their excellent teamwork led them to the center court, where they emerged victorious in the mixed open Gold Medal Match, a memory Newman treasures. This victory not only cemented the Newman siblings' position in the pickleball elite but also signified Riley Newman's undeniable rise to prominence.
Playing Style and Strengths
Riley Newman's playing style is both distinctive and dynamic, making him a formidable opponent on the pickleball court. Newman uses a long extended paddle handle, an adaptation that brings familiarity and comfort to former tennis players like him, as well as two-handed pickleball players.
Newman's strength lies in his power and aggression. His powerful serves are often the opening move that sets the tone for the entire match. With a serve as strong as his, opponents are often taken by surprise, giving Newman an early advantage in many of his games.
But it's not just his power that is to be reckoned with; it's his aggressive approach to the game. Newman's competitive spirit is evident in every match he plays. He relentlessly pressures his opponents, refusing to back down, and always looking for openings to seize control of the game. This aggressive, competitive style underscores his status as one of the top athletes in the sport of pickleball.
Doubles Partnerships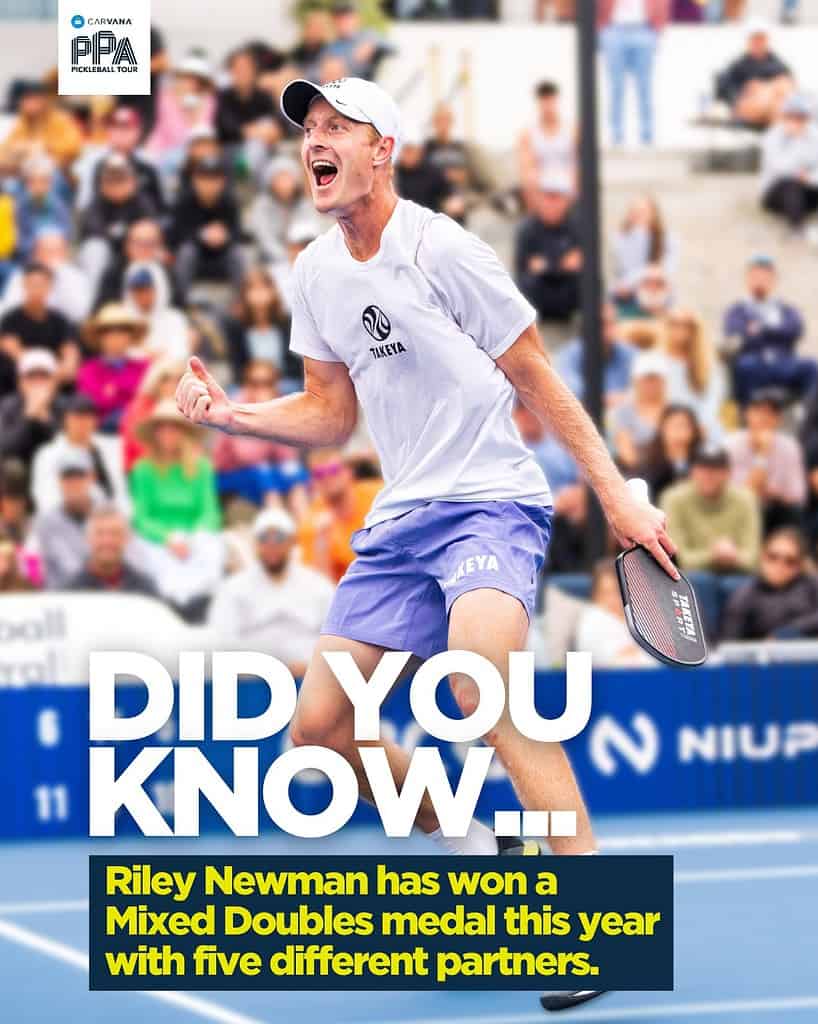 A significant aspect of Riley Newman's pickleball career has revolved around his doubles partnerships. For a considerable period, Matt Wright stood alongside Newman as his partner in the men's doubles. Their strong partnership frequently saw them contending for gold, primarily against formidable opponents like Ben Johns and Collin Johns and well as JW Johnson and Dylan Frazier.
The battles between Newman and Wright and the Johns brothers have always been a blast to watch! However, in a recent development, Newman sought a change in dynamics, leading to the dissolution of this successful duo. We will see what happens in the second half of the year with his new partnership.
Newman's new partner in the men's doubles is AJ Koller, a skilled player with whom Newman has started building a fresh rapport on the court. This new partnership is keenly watched by fans and competitors alike, eager to see how it evolves and impacts the pickleball landscape. They recently took home silver together at the Vulcan Tournament of Champions.
On the mixed doubles front, Newman often teams up with his sister, Lindsey Newman. Their familial bond, coupled with shared experiences and understandings, make them a powerful team on the court. Their victories, including the standout win at the US Nationals tournament, are testimony to their impressive synergy. Beyond his sister, Newman has shared the court with Jessie Irvine and Parris Todd in mixed doubles. Each partnership brings unique dynamics and strategies, contributing to Newman's evolving game and continued dominance in the sport of pickleball.
Riley Newman's Achievements and Awards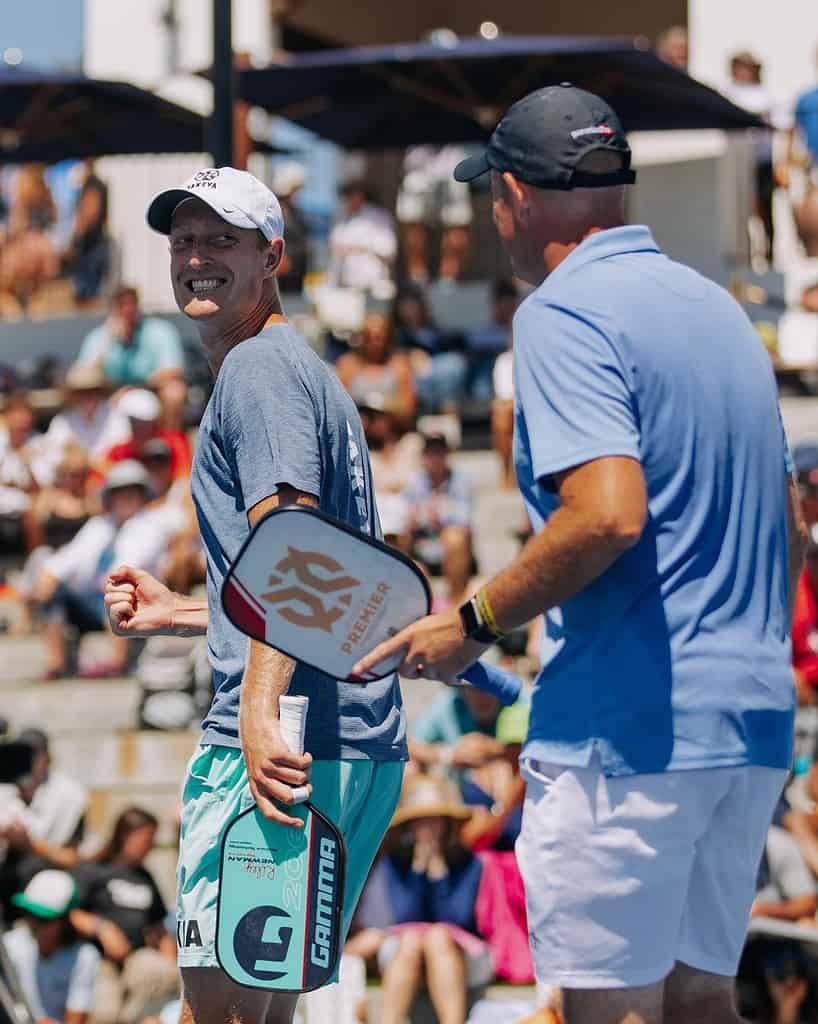 Riley Newman's accomplishments in the realm of pickleball are long. One of his notable feats includes amassing 18 gold medals on the Professional Pickleball Association (PPA) Tour. This string of victories not only highlights his skill and prowess in the sport but also attests to his status as one of the top players in the competitive world of pickleball.
Beyond his impressive run in the PPA Tour, Newman has secured the prestigious title of Major Champion five times. This achievement places him among the outstanding players who have managed to consistently perform at the highest level in major tournaments.
These accomplishments speak volumes about Newman's dedication and talent, reinforcing his standing as a powerhouse in the sport of pickleball. Newman's journey continues to inspire and influence the pickleball community, setting a high bar for aspiring players worldwide.
Off the Court
Away from the intensity of the pickleball court, Riley Newman absolutely loves spending time with his family. As a huge fan of professional sporting events, he frequently attends matches, soaking in the exhilarating atmosphere of competition.
Fitness remains a vital part of his life, even off the court, as he regularly engages in workouts to maintain his physical prowess. And when it comes to picturesque landscapes, Newman can't resist vacationing in his favorite part of the country – the Pacific Northwest, especially during the summer. This serene region offers him a much-needed break from his rigorous training routines and high-stakes tournaments, allowing him to unwind and recharge.
Where to Watch Riley Play?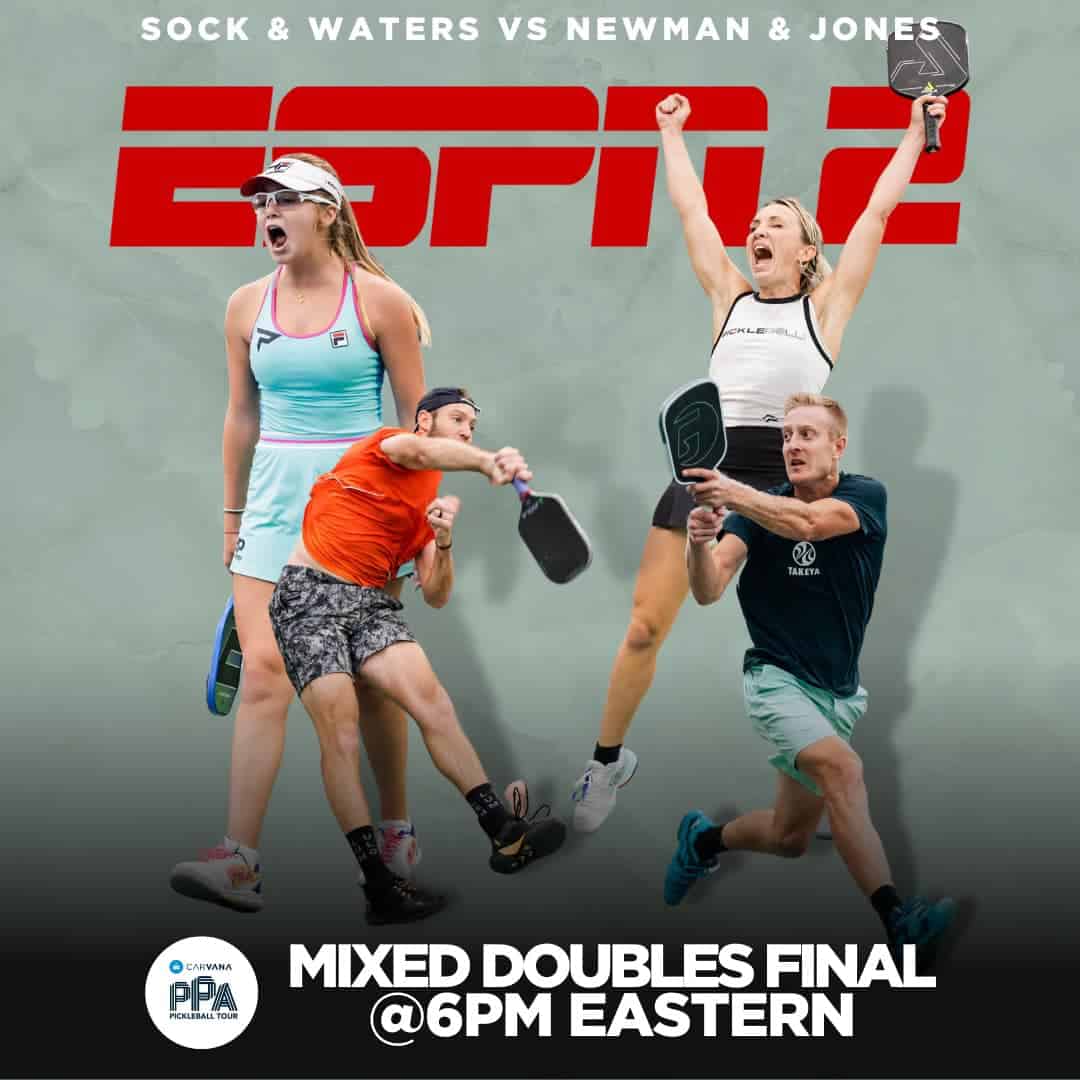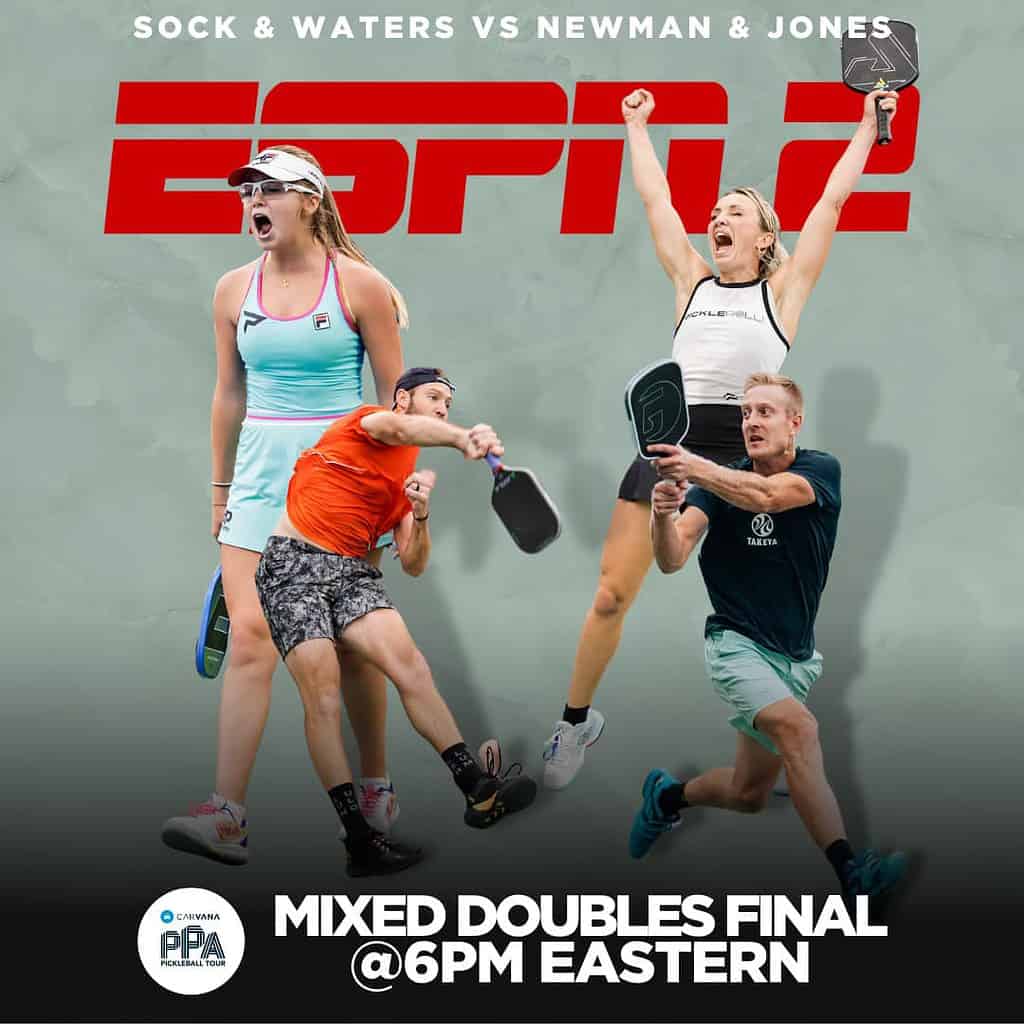 Riley Newman is a staple in the professional pickleball scene, and fans can regularly watch his electrifying performances in various tournaments. If you're interested in watching Newman in action on the Professional Pickleball Association (PPA) Tour, you have several options. PPA Tour events are often live-streamed on the official PPA YouTube channel. Additionally, select PPA Tour events are also aired on CBS Sports and ESPN, providing another avenue for fans to tune in. Last, get out and watch him live! The Tour stops in all sorts of major cities and attending professional sporting events is so much fun!
Moreover, Newman's participation extends beyond the PPA Tour into Major League Pickleball (MLP) events. MLP, a revolutionary league format in the pickleball world, offers matches that feature Newman. MLP matches are typically live-streamed on their official website and YouTube channel, ensuring fans don't miss out on any high-stakes action.
Conclusion
Riley Newman, with his aggressive style, unwavering competitiveness, and exceptional talent, has undeniably made a significant impact on pickleball. His prowess on the court, as seen in his numerous awards and gold medals, is a testament to his standing as one of the sport's top players.
His dynamic doubles partnerships, notably with his sister Lindsey Newman and new partner AJ Koller, have added an interesting facet to his game, keeping fans and competitors eagerly anticipating each match.
Off the court, Newman's love for family, fitness, and the tranquil beauty of the Pacific Northwest adds depth to his persona. Newman's continued dominance in both PPA and MLP events keeps fans hooked, offering them a chance to witness his electrifying performances and vast contributions to the sport.
His journey in the world of pickleball serves as an inspiration to many, setting a high bar for aspiring players globally. Truly, Riley Newman's influence on pickleball is profound and enduring, shaping the sport today and for generations to come.