In the exciting world of pickleball, there's this rising star that's totally bringing new energy to the game. Let me introduce you to Oneshot Pickleball, this relatively young company that's been making waves with their super innovative and high-performance paddles. They're seriously shaking things up in the industry!
Oneshot Pickleball paddles are all about catering to the needs of the modern pickleball player. They've got a whole range of sizes and weights that are absolutely perfect for different playing styles, giving you that extra precise control over your shots. And let's not forget about their super cool looking paddles that adds a touch of style to the game!
But here's where OneShot Pickleball's paddles really stand out: the technology behind them is seriously impressive. Their patented airflow technology in the Aero Oneshot paddle is about giving you that extra power and durability, while still keeping the paddle light and responsive.
I was fortunate to get my hands on three of their most popular paddles; the Aero Infinity Shot, the Katana Shot, and the Katana XL.
In this blog post, we will provide our OneShot Pickleball Paddles review for you so you can find out if these paddles live up to the hype.
Ready to find out?
Let's get started.
we are reader supported and as such may make a small commission at no expense to you by purchasing thru our links and we greatly appreciate that! See our disclaimer.
What Are Oneshot Pickleball Paddles?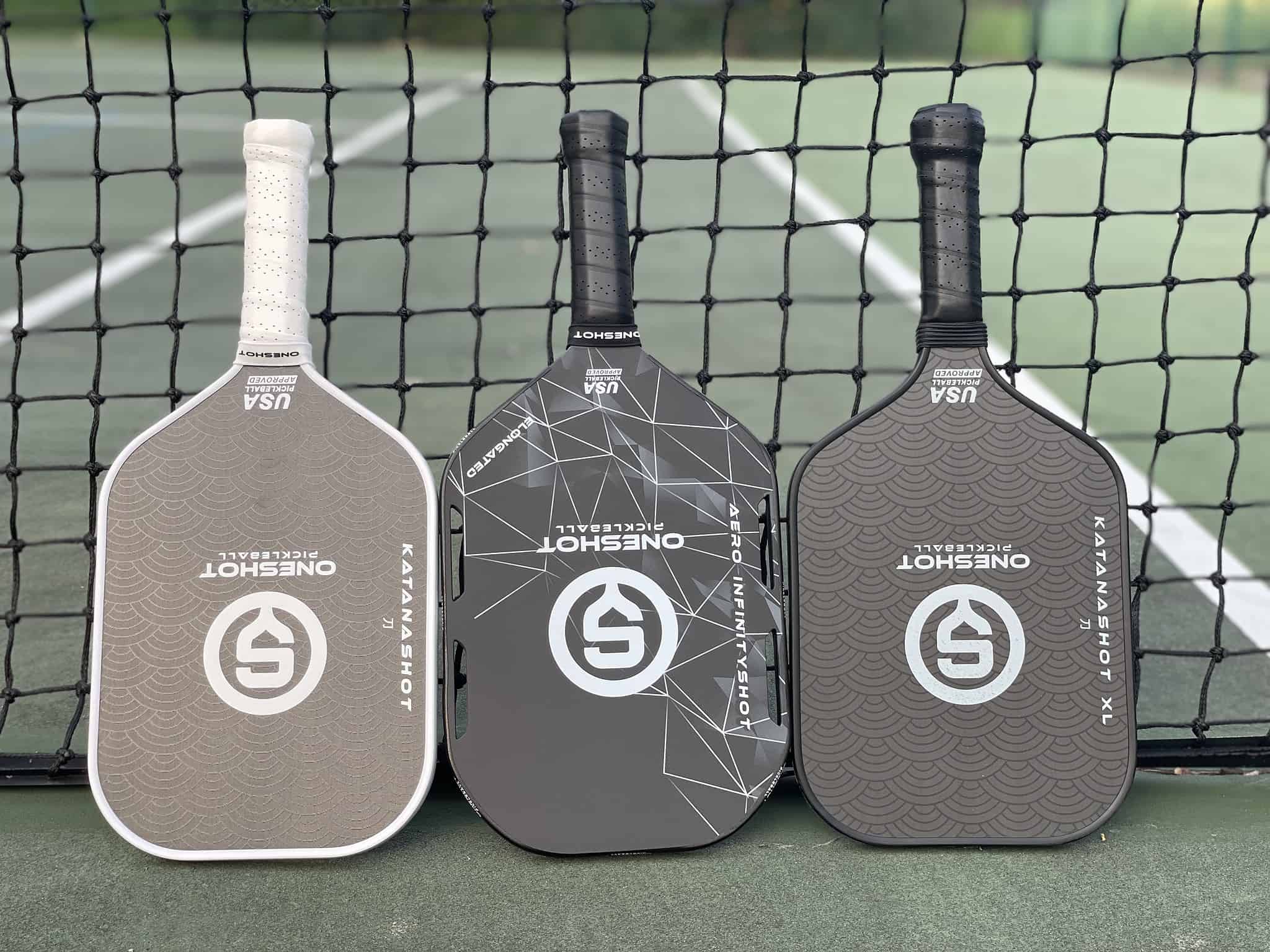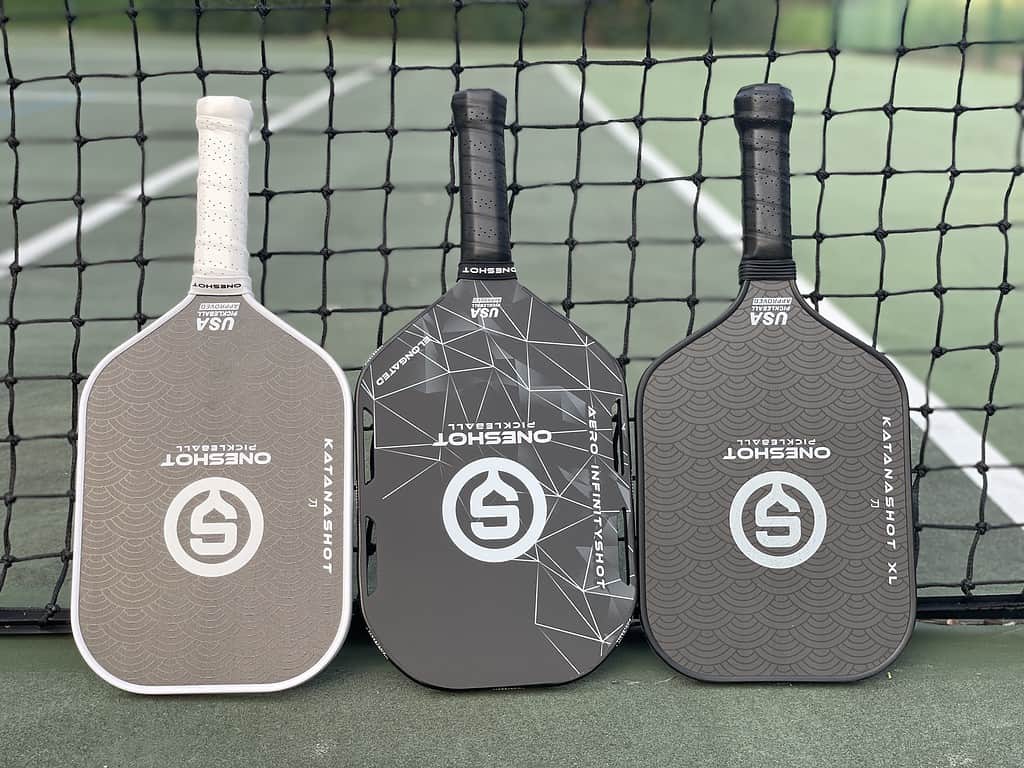 Oneshot pickleball paddles are making a mark in the battle of pickleball paddles. In 2019, they launched a range of paddle series including Powershot, Ultimateshot, and Juniorshot, ensuring that every member of the family, regardless of age, could find the perfect paddle. Since then, they have continued to push paddle technology to new heights.
Oneshot Aero Infinityshot Review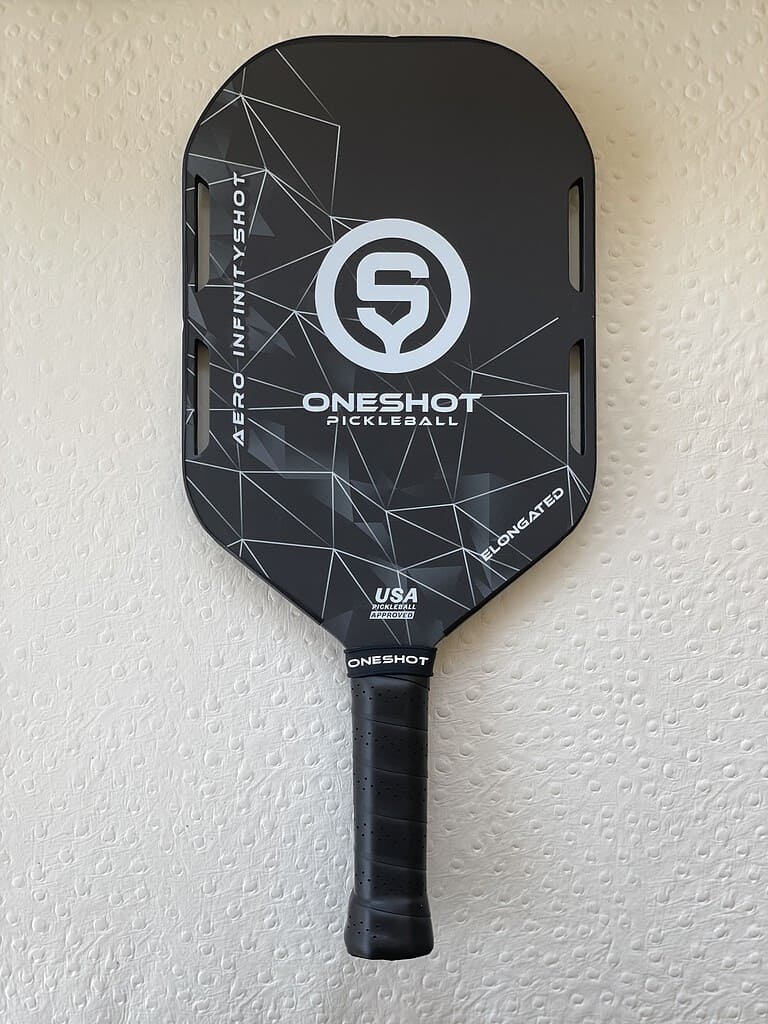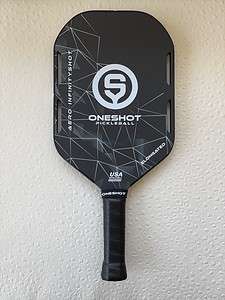 The Oneshot Aero Infinityshot Pickleball Paddle is an awesome looking pickleball paddle. Its standout feature, the unique Airflow technology hole design along the edges reduces drag, allowing you to generate more powerful swings.
This is an evolved version of Oneshot's pioneering "Aero" side-hole design, which first appeared in 2021 with the Aero Proshot and Aero Powershot paddles. The difference in drag reduction on this Oneshot paddle is noticeable – especially on serves, groundstrokes, and overhead put-aways.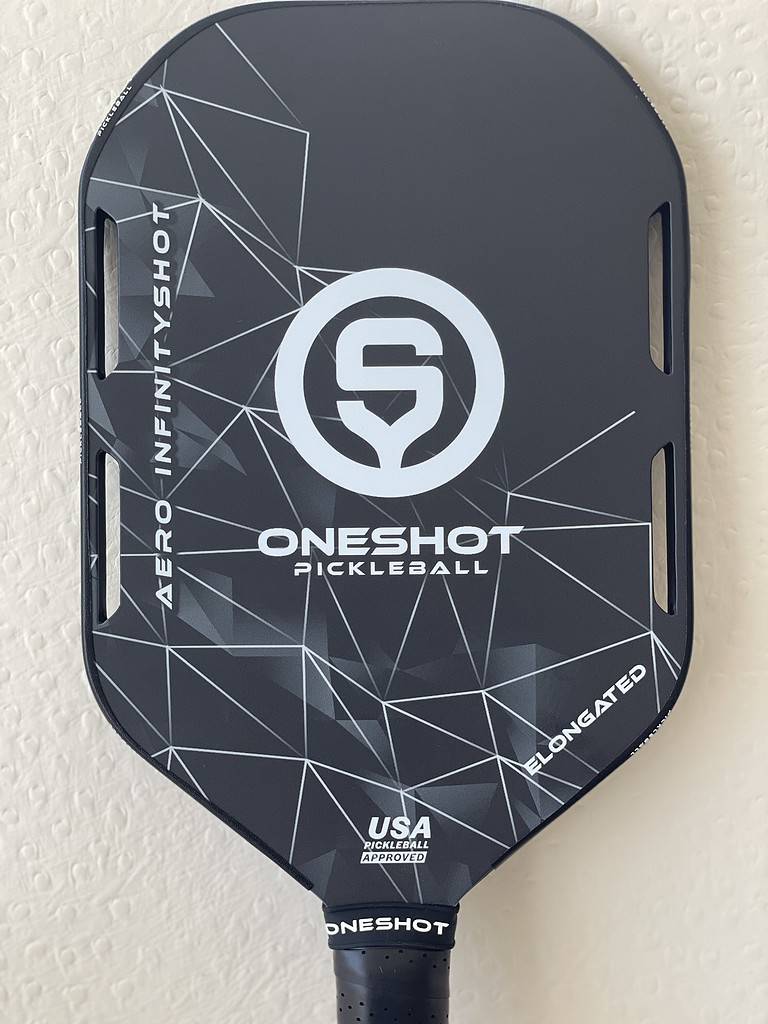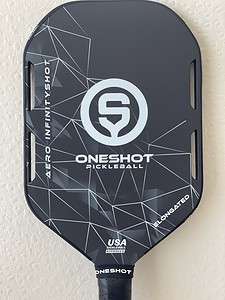 The paddle's graphite face is a spin players dream and I thoroughly enjoyed it! The face has such a coarse texture that it grips the ball effortlessly and gives you that spin to your shots when you ask for it.
The dimensions are fairly standard – 16.5″ long by 7.5″ wide. It has a nice size 5.5″ long handle with a medium circumference of 4.25″. It was very comfortable in my hands and is wrapped in a perforated cushion grip for added comfort.
The interior of the paddle houses a 14.5mm thick polymer honeycomb core, fortified around the perimeter with injected foam. This creates a nice large sweet spot that I could easily tell while playing. I also had some mis-hit forgiveness I noticed that certainly helped with player error!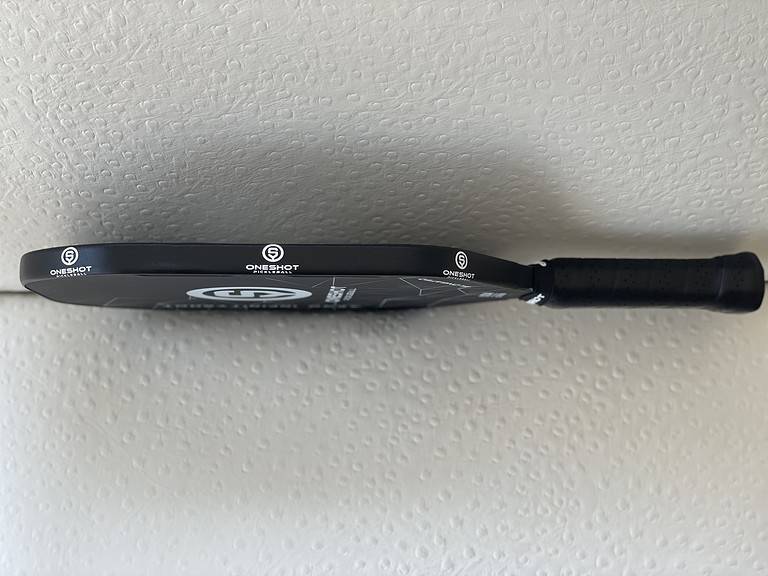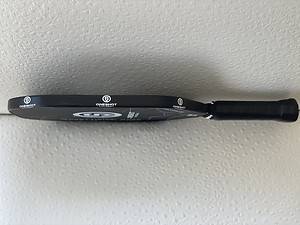 I really enjoyed this Oneshot paddle. The spin, power and control gave me confidence with each hit and was a joy to play with. I kept going back to this paddle to "make sure" I really like it. Turns out, it is an excellent choice for a player like me that loves spin, control and power when needed. It is a fantastic paddle.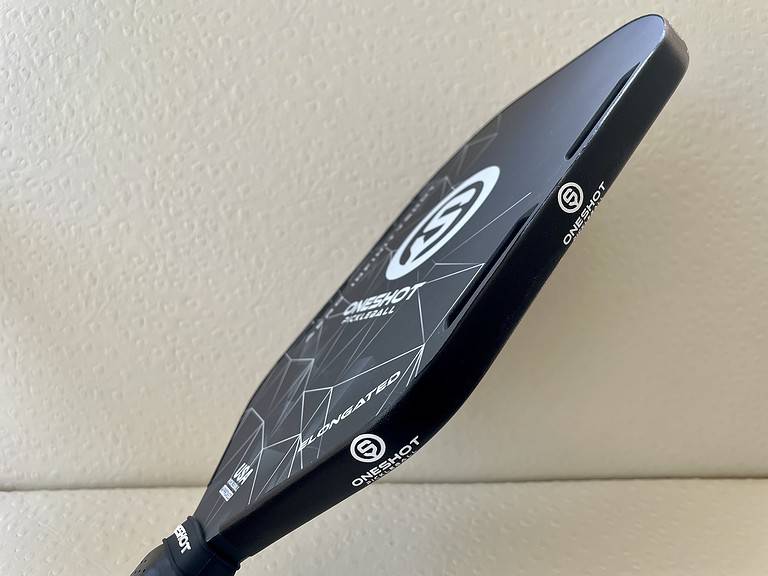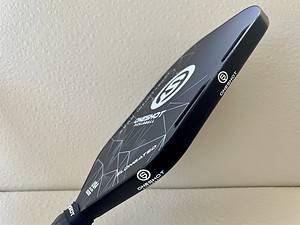 In conclusion, the Aero Infinityshot Paddle from Oneshot Pickleball is a great mix of control, spin and power in an elongated shape. This paddle certainly lives up to the hype, making it a great addition to any pickleball player's arsenal.
Oneshot Katana Shot Review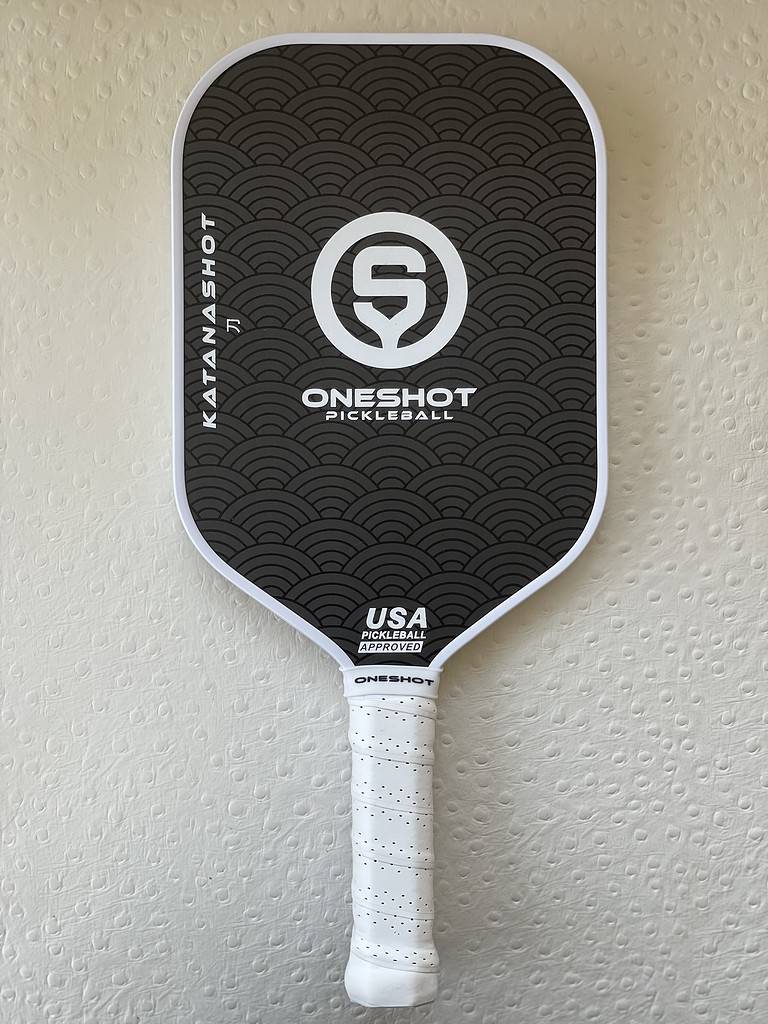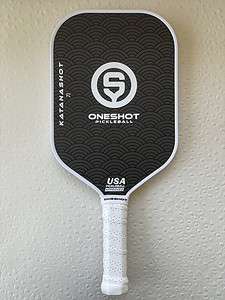 The Oneshot Pickleball Katana Shot Paddle is a beauty that combines power and precision for every shot. The paddle, which is beautifly designed in my opinion, helps players deliver confident drives, precise dinks, and spins. I felt super confident at the kitchen line with my dinks and my soft game with this paddle. It just felt right in my hands.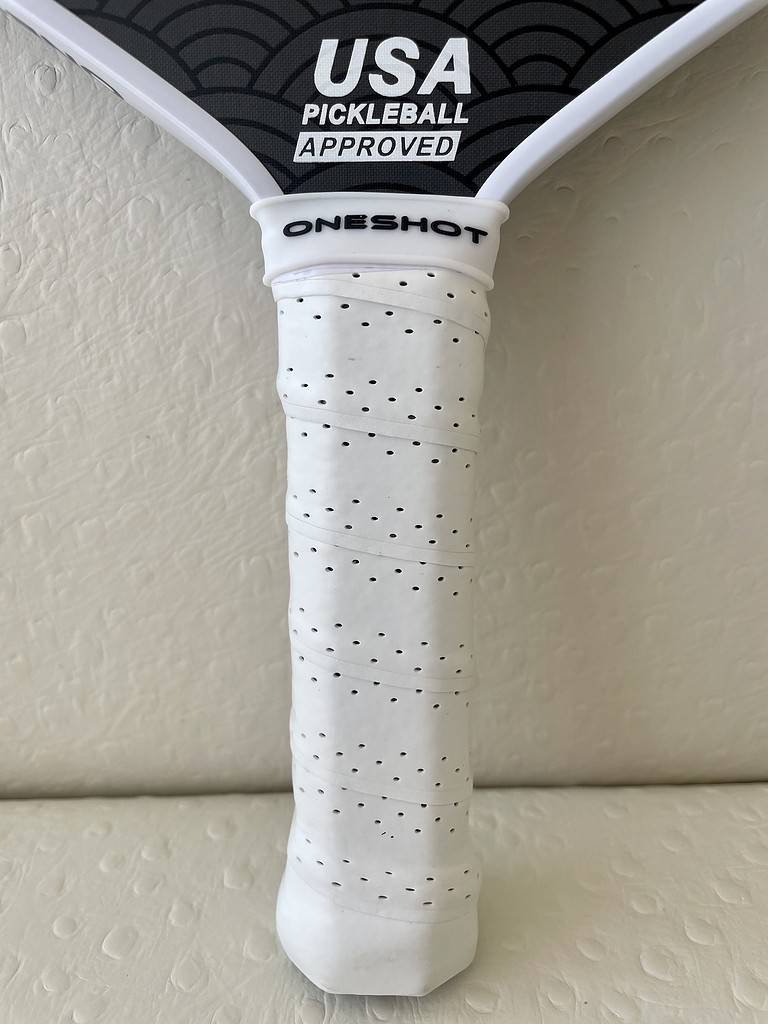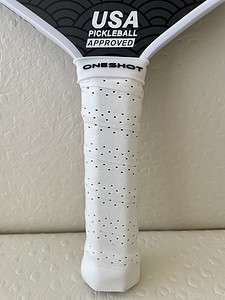 A nice feature of the Katana Shot is its highly textured carbon fiber face that helps your spin game. Its control-oriented 13.5mm-thick polypropylene core ensures every shot is a frustrating winner for your opponent.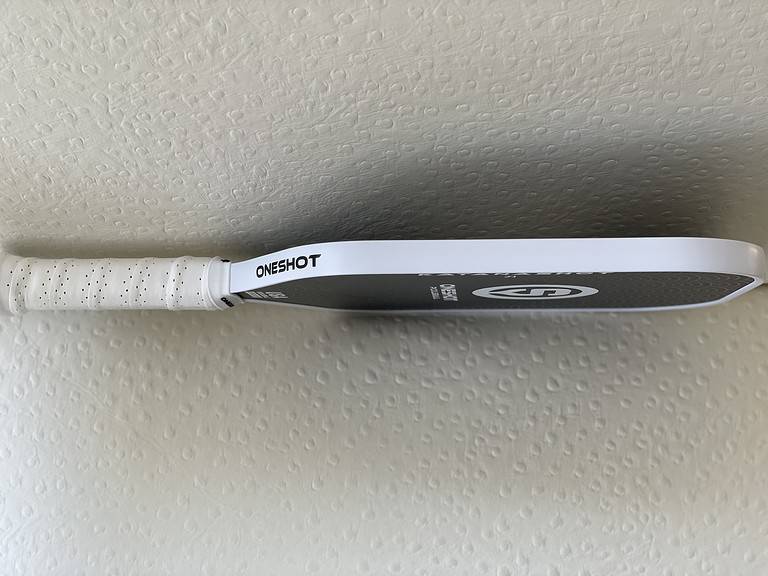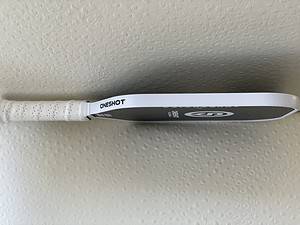 The paddle's 16.5″ length provides the leverage needed for powerful passing shots from deep in the court. My drives were strong and yet still felt under control
The weight of this paddle is at the 'sweet spot' of the midweight range – between 7.9 to 8.3 oz. – The Katana Shot boosts confidence, power, and control, making it a very good choice for those who love pickleball. The paddle comes with a medium handle circumference of 4.25″ and a solid 5.5″ handle, good for two-handers.
Oh, and did I mention how nice this paddle looks??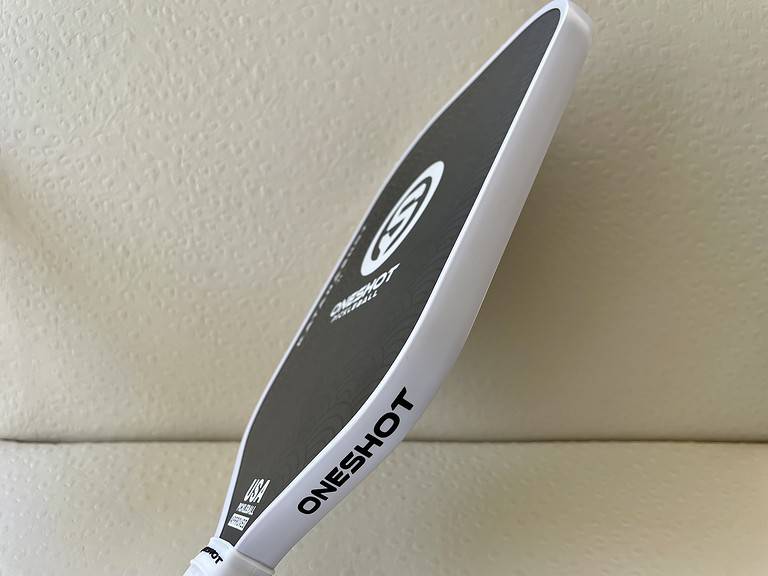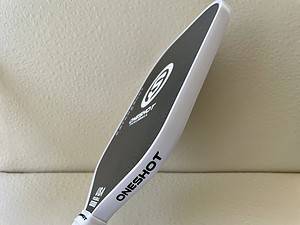 To sum it up, the Oneshot Pickleball Katana Shot Carbon Fiber Paddle shows the modern pickleball technology. With its tennis player approved length and top-tier materials, it empowers you to control the match and keep your opponents on their toes. It is indeed a testament to Oneshot Pickleball's commitment to innovation and superior design.
Oneshot Katana XL Review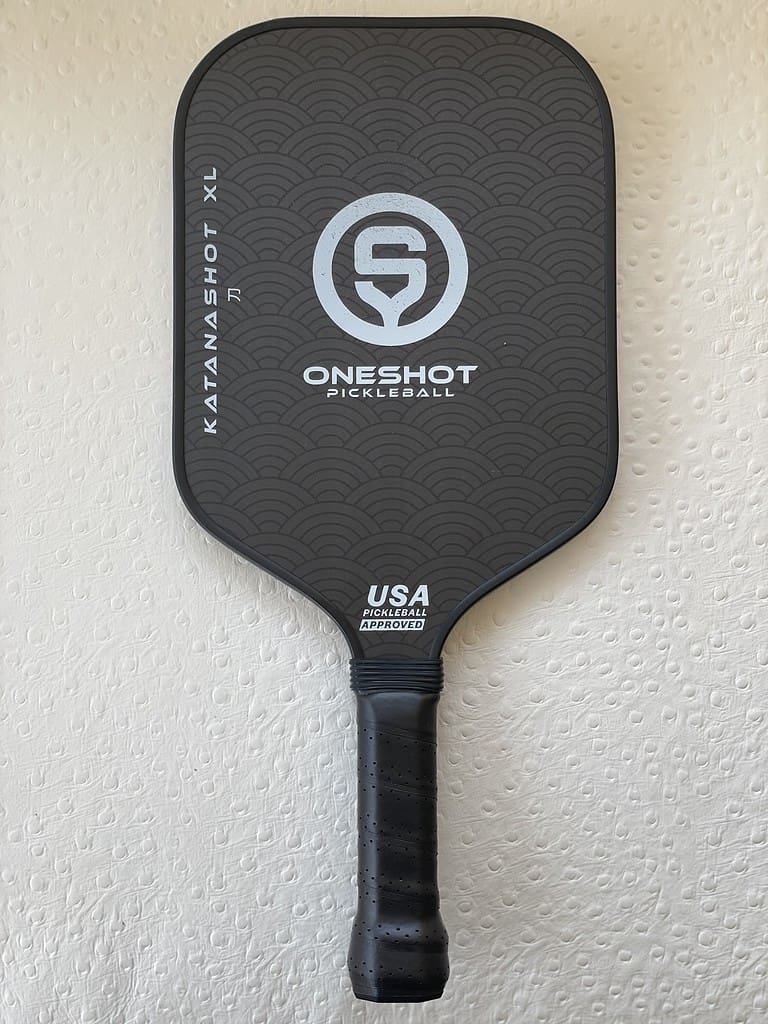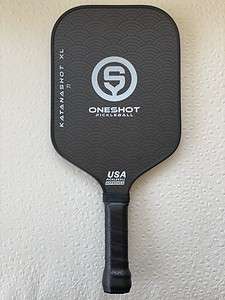 If you play with a dominant two-handed backhand then the Oneshot Pickleball Katana Shot XL Paddle is likely to become your new go-to paddle. Weighing in at 8.1 oz., this paddle features a long 6″ handle, which is half an inch longer than that of the original Oneshot Katanashot Pickleball Paddle.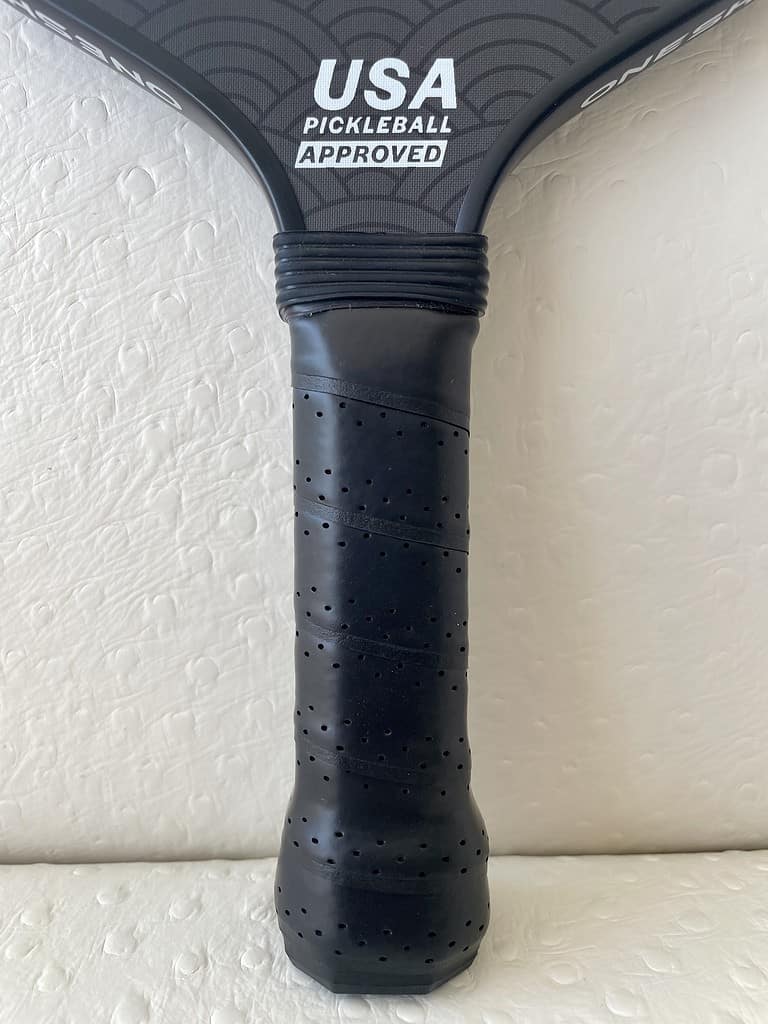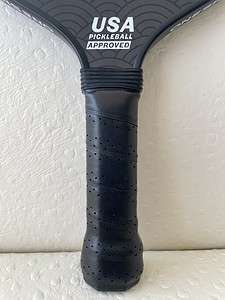 This handle length, combined with a perforated cushion grip, allows for two handed backhands that can add considerable power to your drives from deep in the court and help you reach for those strategic dinks near the kitchen.
The power provided by the length of the Katana Shot XL is further amplified by the 13.5mm-thick core, which offers an impressive pop on the ball without sacrificing touch. The wide 7.5″ face of the paddle is equipped with a T700 Carbon Fiber hitting surface — a high-quality material that balances the paddle's power aspects with controllable response.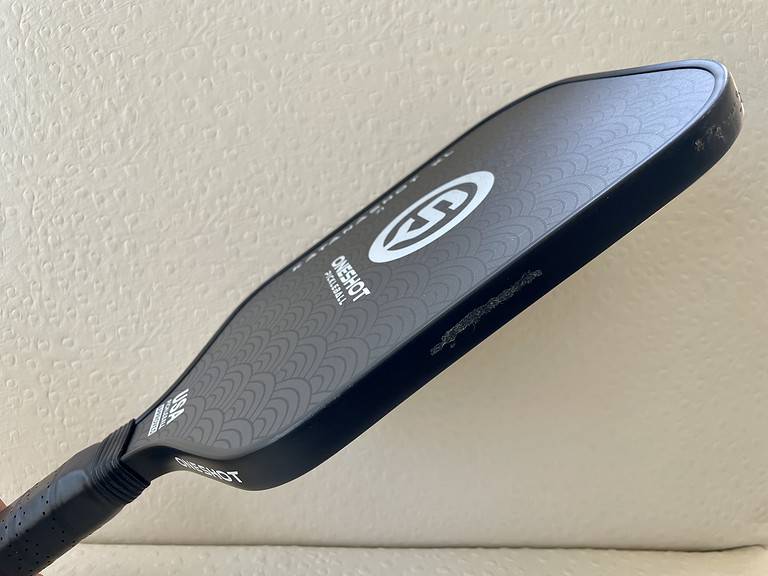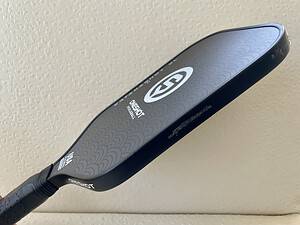 In conclusion, the Katanashot XL Carbon Fiber Paddle by Oneshot Pickleball elevates your game by providing an extended reach, allowing for a comfortable two-handed grip, and delivering impressive power to outmaneuver your opponents with precision. This paddle exemplifies Oneshot Pickleball's commitment to cutting-edge design and exceptional craftsmanship.
Summary
In this blog, we've explored and reviewed three exceptional pickleball paddles from Oneshot Pickleball – the Aero Infinity Shot, the Katana Shot, and the Katana XL. I really enjoyed the Oneshots paddles, each displaying a unique blend of innovative design and superior craftsmanship.
The Aero Infinity Shot (my personal favorite) offers an impressive mix of spin, control, and power with its unique hole design and graphite face.
The Katana Shot is a true warrior on the court, providing comfort and versatility.
Finally, the Katana XL offers added power and reach with its T700 Carbon Fiber hitting surface, perfect for those who prefer two-handers.
These paddles showcase Oneshot Pickleball's commitment to leading the game of pickleball with innovation and quality.
Oneshot Pickleball Demo Program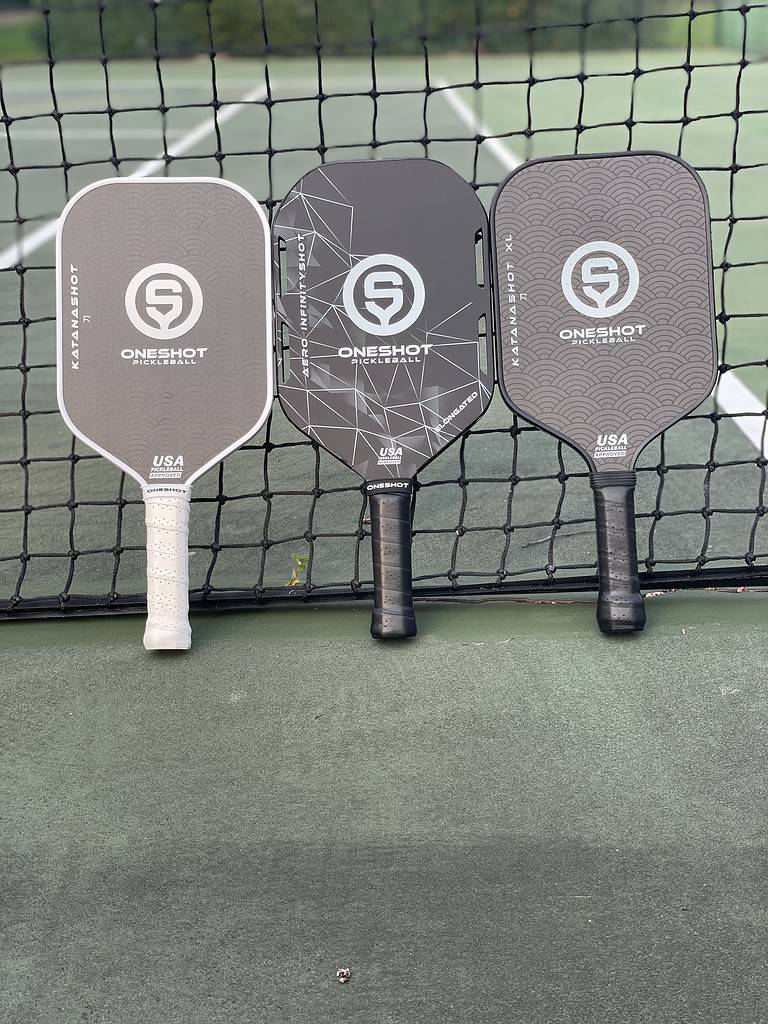 Oneshot Pickleball has an awesome demo program that lets you test up to 3 paddles. You can try them out and decide which one suits your game best. Choose the three you want to try and they ship the paddles to you, usually within 3-5 business days.
Once the paddles arrive, you'll have a whole week (7 days) to play around with them and get used to them. This gives you plenty of time to figure out if any of them are the right fit for you. When you're done, just put the demo paddles back in the original box, slap the pre-paid shipping label on top, and drop it off at your nearest UPS or USPS location. Done!
The cost of the demo program is a $25 shipping fee, which covers both the delivery to you and the return back to Oneshot Pickleball. And if you decide to buy one of the paddles, you'll get a $15 discount at checkout. It's a great way to try out some top-notch paddles before making a purchase.
I did this program and absolutely loved it!
Conclusion
In conclusion, Oneshot Pickleball's Aero Infinity Shot, Katana Shot, and the Katana XL are all premier paddles that cater to a variety of playing styles, providing a unique blend of power, control, and finesse. Their innovative designs coupled with top-tier materials make them a fantastic choice for beginners and advanced players alike.
Each paddle is not only designed to enhance your game, but they are also embodiments of Oneshot Pickleball's dedication to creating products that revolutionize the game of pickleball. Whether you are aiming for power shots from the baseline or precise dinks at the net, these paddles are undoubtedly worthy additions to your pickleball arsenal.
Make no mistake, when you step on the court with an Oneshot Pickleball paddle in hand, you're not just playing; you're making a statement.