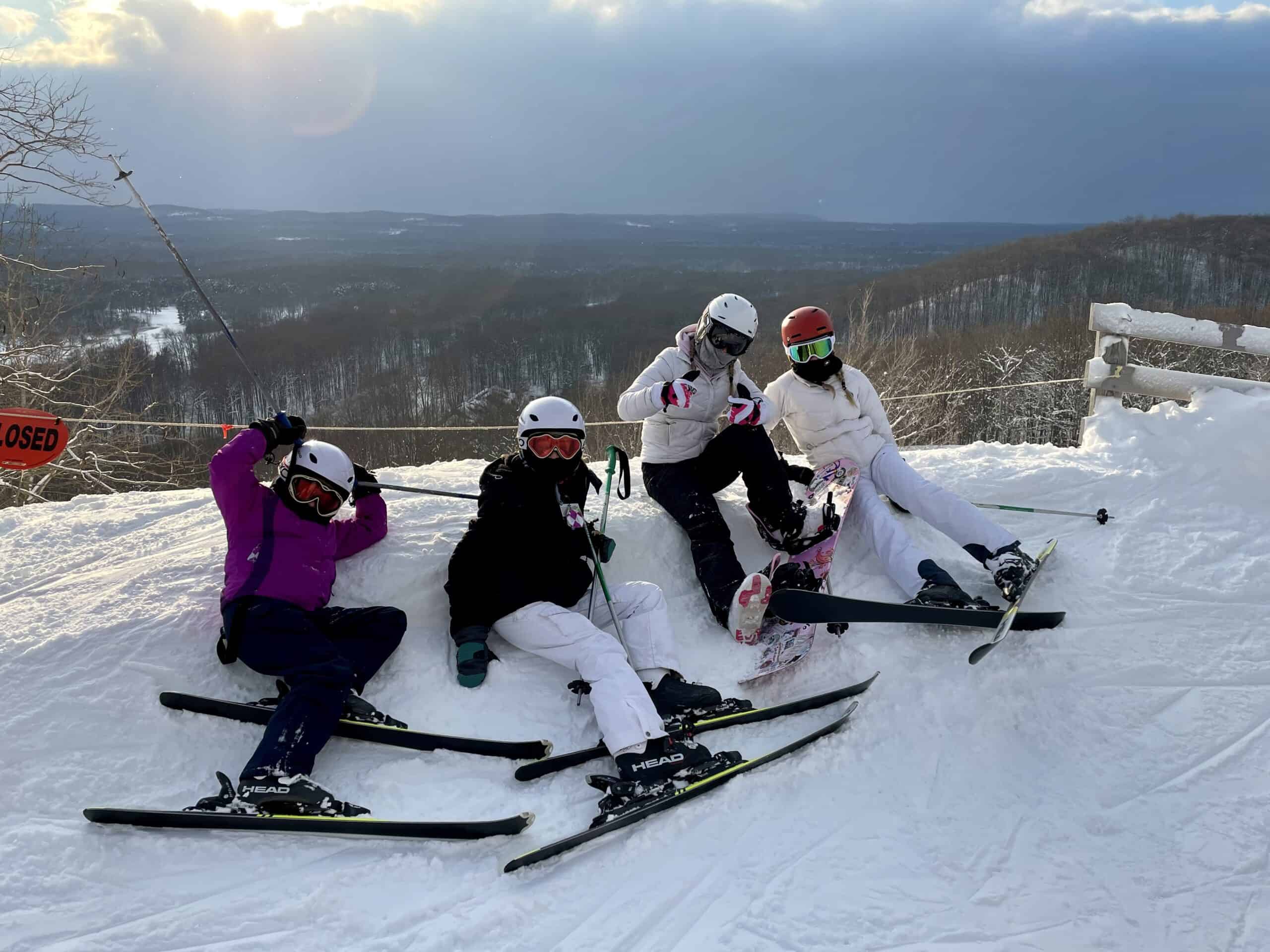 Skiing is my favorite of all winter activities. I started skiing when I was just three years old! 40 plus years later and I'm still going strong!
Whether you're a seasoned ski veteran or an absolute beginner, there's nothing more exhilarating than flying down the ski slopes.
But before you hit the trails, it's important to make sure you have all the gear and know-how necessary for a safe and successful day of skiing.
That's why I put together this simple skiing checklist.
Let's take a look at what you need to be prepared for a great day of skiing.
Our Skiing Checklist To Make the Most of Your Trip
Safety First
Safety should always be the top priority when skiing. Skiing can be a thrilling and exhilarating experience, but like any other outdoor sport, it comes with certain risks. Taking the necessary precautions to stay safe on the mountain is essential for having an enjoyable day.
The first step in staying safe while skiing is understanding the terrain and conditions of the mountain. Knowing your limits and skiing within them is essential for staying safe, so it's important to familiarize yourself with all aspects of the resort before hitting the slopes.
It's also important to take note of any potential hazards that may be on the trails, such as rocks, trees, or other skiers. Being aware of your surroundings can help you to anticipate any potential dangers and make smart decisions on the mountain.
Finally, always wear appropriate safety gear when skiing, such as a ski helmet and ski goggles. Wearing the proper safety equipment will help to protect you from the elements and reduce your risk of injury in case of a fall.
It's also not a bad idea to have a small first aid kit if you are doing some extreme skiing.
Gear Up!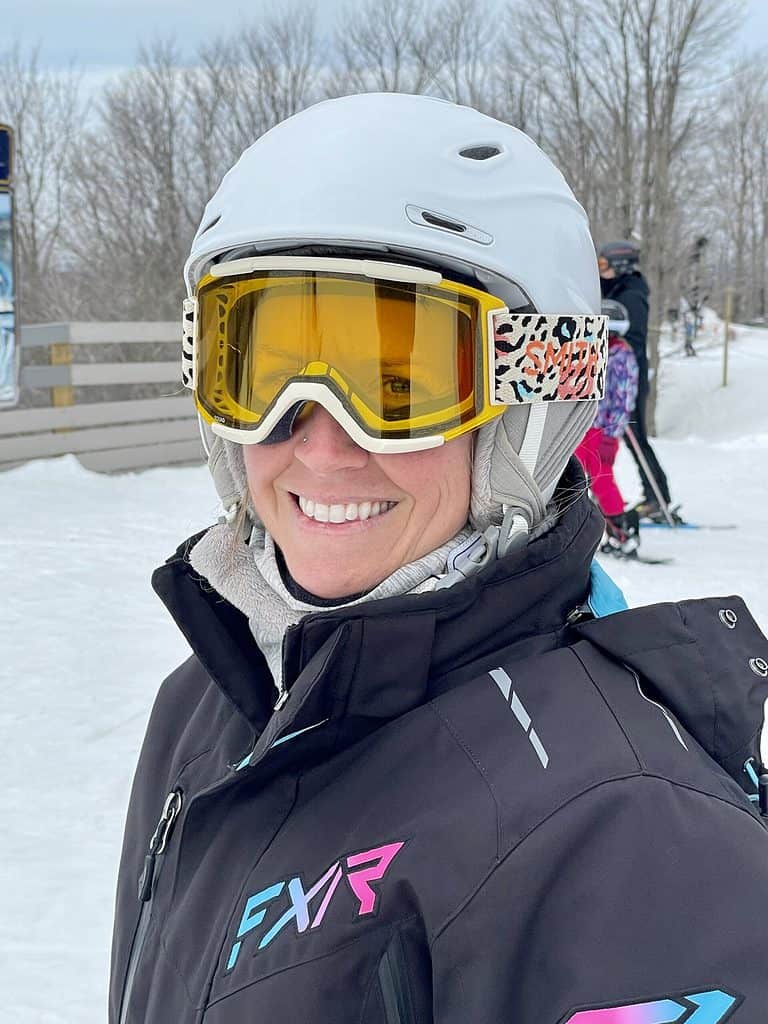 An important part of any ski trip is having the right ski gear. Good skis and snowboards are essential for having a great time on the slopes. If you're new to skiing or snowboarding, it's important to get ski equipment that's appropriate for your skill level. If you don't have your own equipment, don't worry—most resorts have ski shops with a full array of rental options available.
Renting is also a great option if you don't want to purchase your own ski gear yet and are still trying to figure out what you like. I rented and demo'd skis and ski boots for a while until I found the exact pair I wanted.
Ski gear is expensive so you want to get it right.
Be sure whatever gear you choose fits properly; if it doesn't feel right, then it probably isn't! Uncomfortable ski boots are the worst!!
Gear you'll need:
Skis– Make sure you get skis that are appropriate for your level and skiing conditions.
Ski Boots– Make sure your ski boots are comfortable and fit properly. Uncomfortable ski boots can ruin an otherwise great day of skiing.
Ski Poles – Ski poles are essential for balance and stability on the slopes
Helmet – Invest in one if possible; it can save your life! Worst case, RENT ONE! But don't go without one.
Ski Goggles – Protects your eyes from wind, sun, and debris while skiing. Having a pair with changeable lenses is a plus for changing light and weather conditions.
Sunglasses– I prefer to wear goggles all day no matter what, but I know plenty of people who love wearing their sunglasses.
Ski Bag– If you own your own skis, ski bags are a necessity for travel. Get a solid, durable bag to keep your skis safe!
Boot Bag– I've had the same boot bag for over 20 years. Its funny, but I love it. Stores my boots obviously but also some extra gear when i go to the resort and I leave it in my car. Perfect size for that.
Snow Boots– For when you're not in your ski boots. I mean, who can walk in ski boots anyway??
Wear The Right Clothes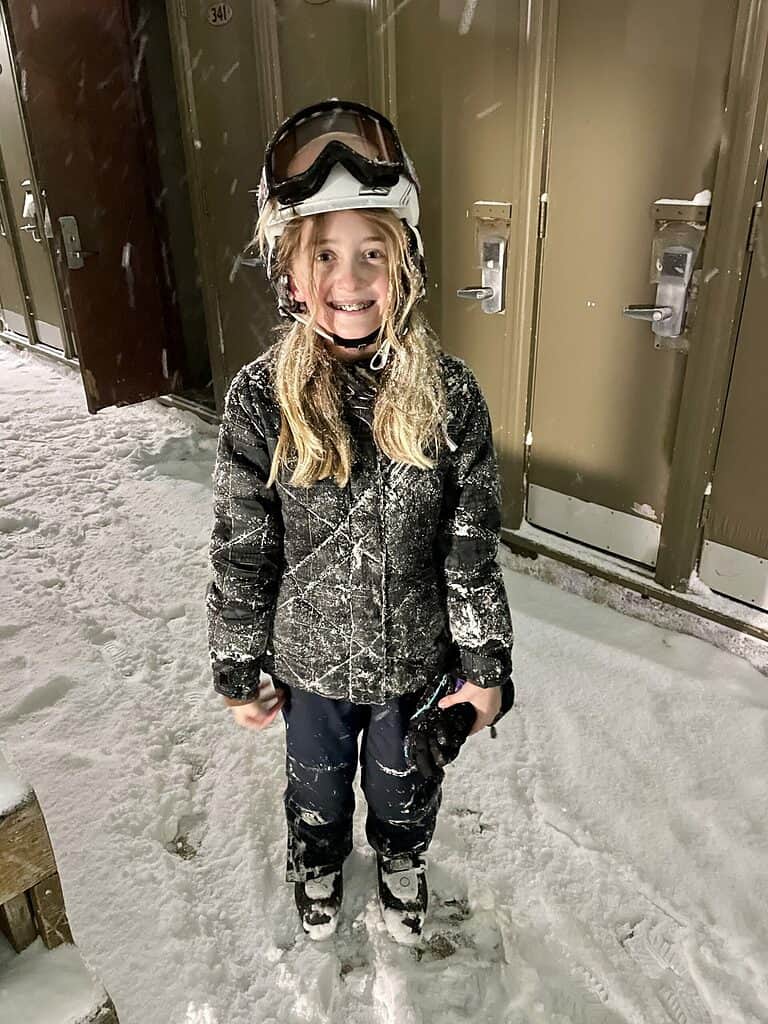 Dressing well is key on your ski trip. Make sure your ski clothing fits well and keeps you warm, as temperatures can change quickly at higher elevations. Layer up with breathable materials such as merino wool or synthetic fabrics like polyester; these will help wick away moisture from sweat and keep you comfortable all day long. Things you will need:
Ski Jacket– This is a big one. Invest in a good-quality ski jacket that is waterproof and breathable. Some are even windproof. Try on a lot. Some like big bulky ski jackets while others prefer lighter jackets that they layer up underneath. I prefer a lighter jacket and layers.
Ski Pants– Some like bibs, some like regular pants. Try some on and decide what you prefer. Also, make sure they are designed for skiing as they will have powder cuffs and instep guards. Choose a pair of ski pants that are comfortable, breathable, and waterproof. Some are even windproof. GORE-TEX is great.
Gloves– Keep your hands warm and dry while skiing or snowboarding. Cold hands can quickly ruin the day.
Ski Socks– get a good pair of ski socks designed for skiing. It will make a huge difference. And, just one pair of socks at a time. Don't double up. Trust me.
Quality Base Layers– Investing in good base layers will keep you warm and comfortable all day.
Quality Mid Layers– A good mid layer will provide warmth and can be easily removed when you start to get too warm. The key is layering up, so that you can adjust as needed during the day.
Balaclava– these are great for cold days when your face gets chilled quickly.
Neck Warmer– A nice fleece neck warmer is my wife's favorite must have!
Know Your Ability Level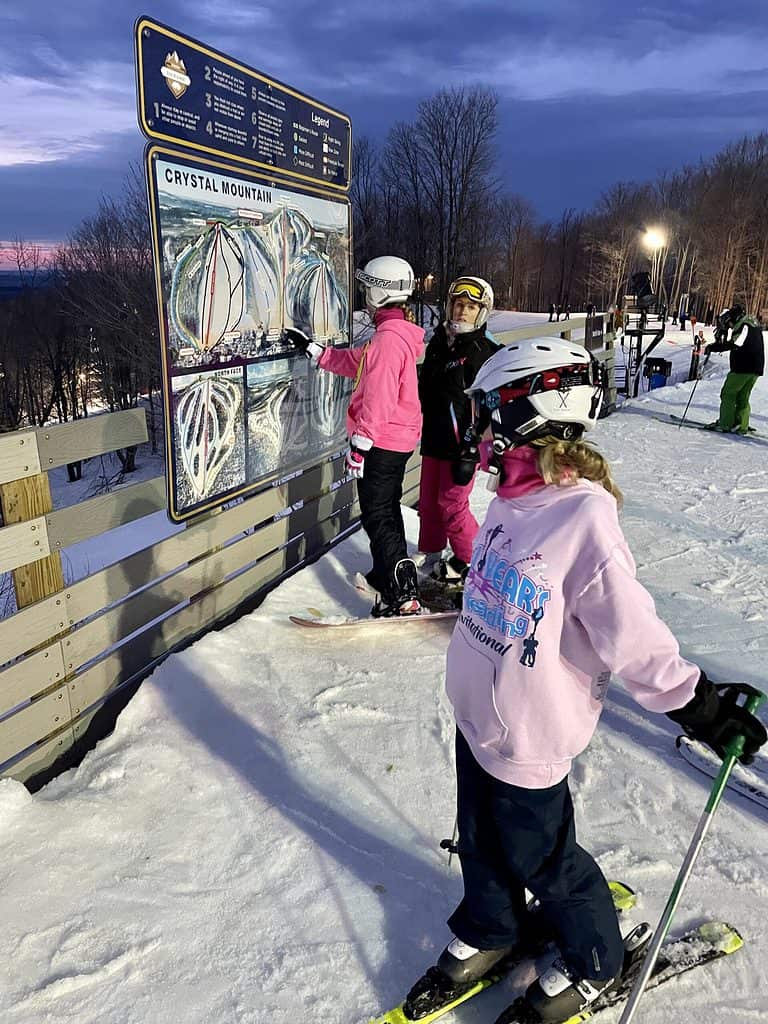 It's important to know your limits when it comes to skiing or snowboarding. I know you are super excited about your ski trip, but don't try anything beyond your skill level as this could cause serious injury.
If you don't know how to do something or feel uncomfortable with any part of skiing or snowboarding, ask for help from an instructor or guide who can show you how to do it properly. Knowing when not to push yourself is just as important as knowing when to push yourself! Be especially careful at the end of the day when you and the others around you are tired. Lots of accidents happen at the end of the day.
Be Prepared For Unexpected Weather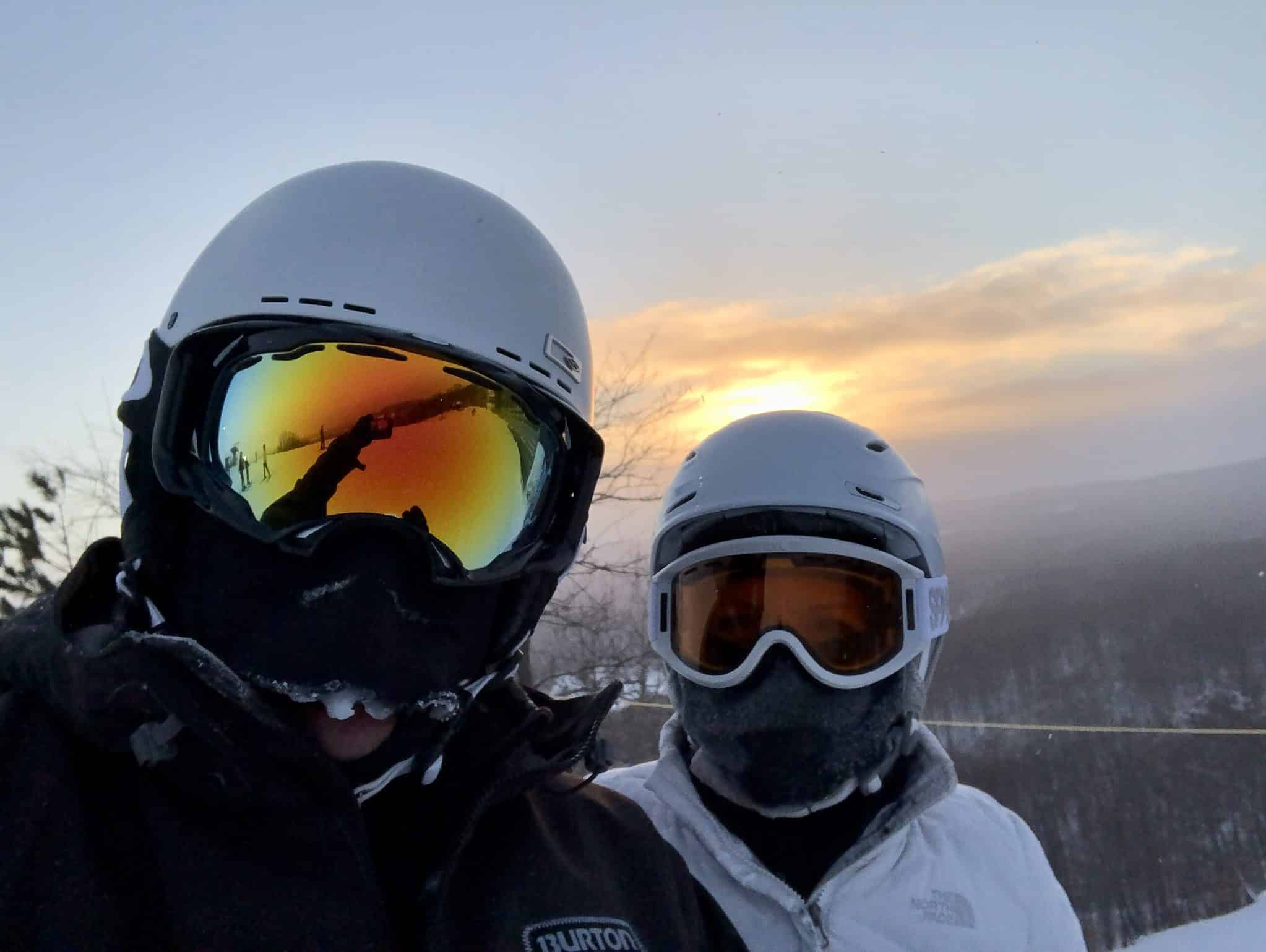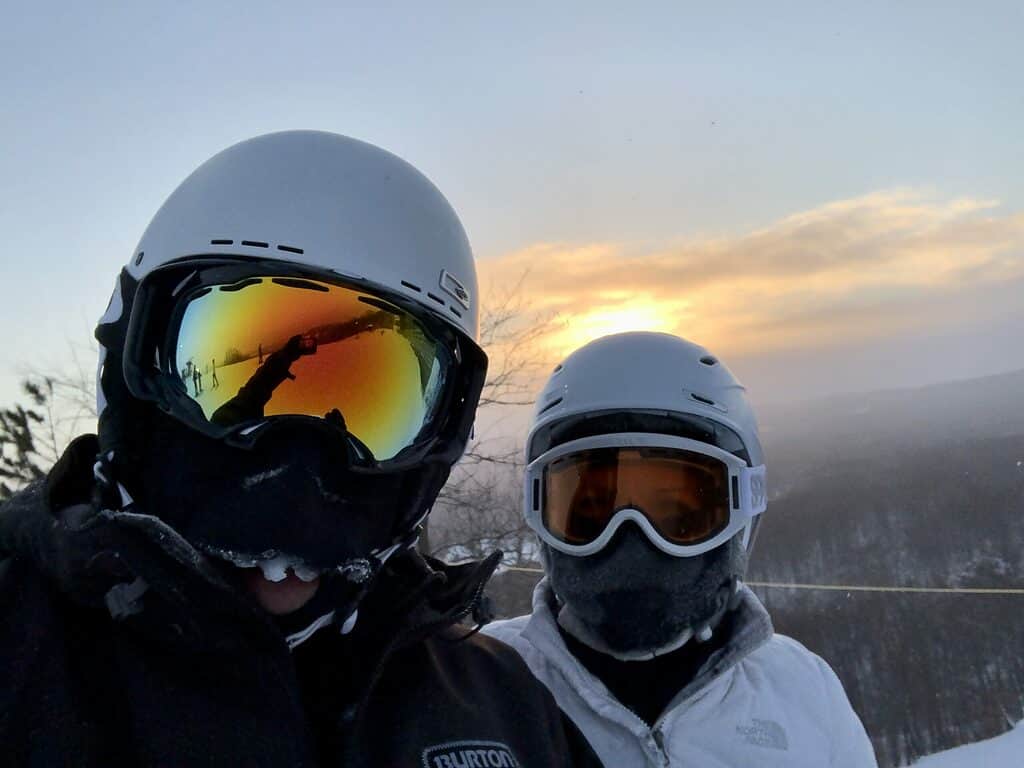 When heading out for a day on the slopes it's always best to check the weather forecast beforehand so that you can be prepared for whatever Mother Nature may throw at you. While some days may be sunny and beautiful others might bring snowstorms, sleet, hail, or even rain, which can cause dangerous conditions on the mountain so make sure that whatever clothing/gear/equipment that you bring with you is suitable for any type of weather conditions that may arise throughout the day.
Stretch
This is one thing I have been doing for over 20 years. Just take a few extra minutes while you are getting ready to stretch and loosen up.
Stretching before skiing is often overlooked.
Stretching helps to reduce soreness, increase flexibility, and prevent injuries while skiing. In addition to helping protect your body while skiing, stretching can also help improve your performance on the mountain.
Stretching before skiing can also help to warm up your muscles and get them ready for the activity. By stretching before skiing, you can increase your range of motion and agility which will reduce fatigue and allow for smoother movements on the slopes.
Be Aware of Your Surroundings
Being aware of your surroundings while skiing is key to having a safe and enjoyable experience on the slopes. When on the chair lift, take note of the terrain. Is it steep? Icy? Rocky?
Always pay attention to other skiers and snowboarders.
I was an early adapter of wearing helmets while skiing. I am a very advanced skier. The helmet was to mostly protect me from some crazy out of control skier that could hit me. I am always paying attention to other skiers and snowboarders out there. Keep an eye out.
Staying aware of your surroundings while skiing can also help you stay safe in the event of an emergency – if something goes wrong or a fellow skier gets injured, it is important to know where you are and how best to get assistance. Being aware of your surroundings will enable you to quickly assess what needs to be done and take action accordingly.
By taking the time to be aware of your surroundings, you can enjoy a worry-free ski experience and make sure that everyone has a great day on the mountain. This simple step can go a long way in ensuring that your time on the slopes is both safe and fun!
Stay Hydrated
Staying hydrated while skiing is extremely important for both your safety and performance on the mountain. Skiing can be a physically demanding activity, and it's easy to become dehydrated if you're not careful, especially in high altitudes.
Dehydration can lead to fatigue, headaches, dizziness, and muscle cramps which can hinder your ability to ski safely and effectively.
Drinking plenty of water before, during, and after skiing can help keep you hydrated while also boosting your energy levels. I pretty much always have a water bottle or Camelbak with me while I'm out there.
Pack Sunscreen
Racoon Eyes anyone??? Yep, we've pretty much all been there. That goggle tan sure sticks out!
Skiing in cold weather doesn't mean that the UV rays are any less intense – in fact, the sun reflecting off the snow makes it more intense, so it is still important to put on sunscreen before heading out on the slopes.
Wearing sunscreen when skiing can help to protect your skin from burning and reduce your risk of developing skin cancer or premature aging. Sunscreen should also be reapplied after a few hours of being outdoors, or after any swimming or sweating.
And don't forget the lip balm. You can grab one right at the local ski shop and get one with SPF.
Bring Extra Layers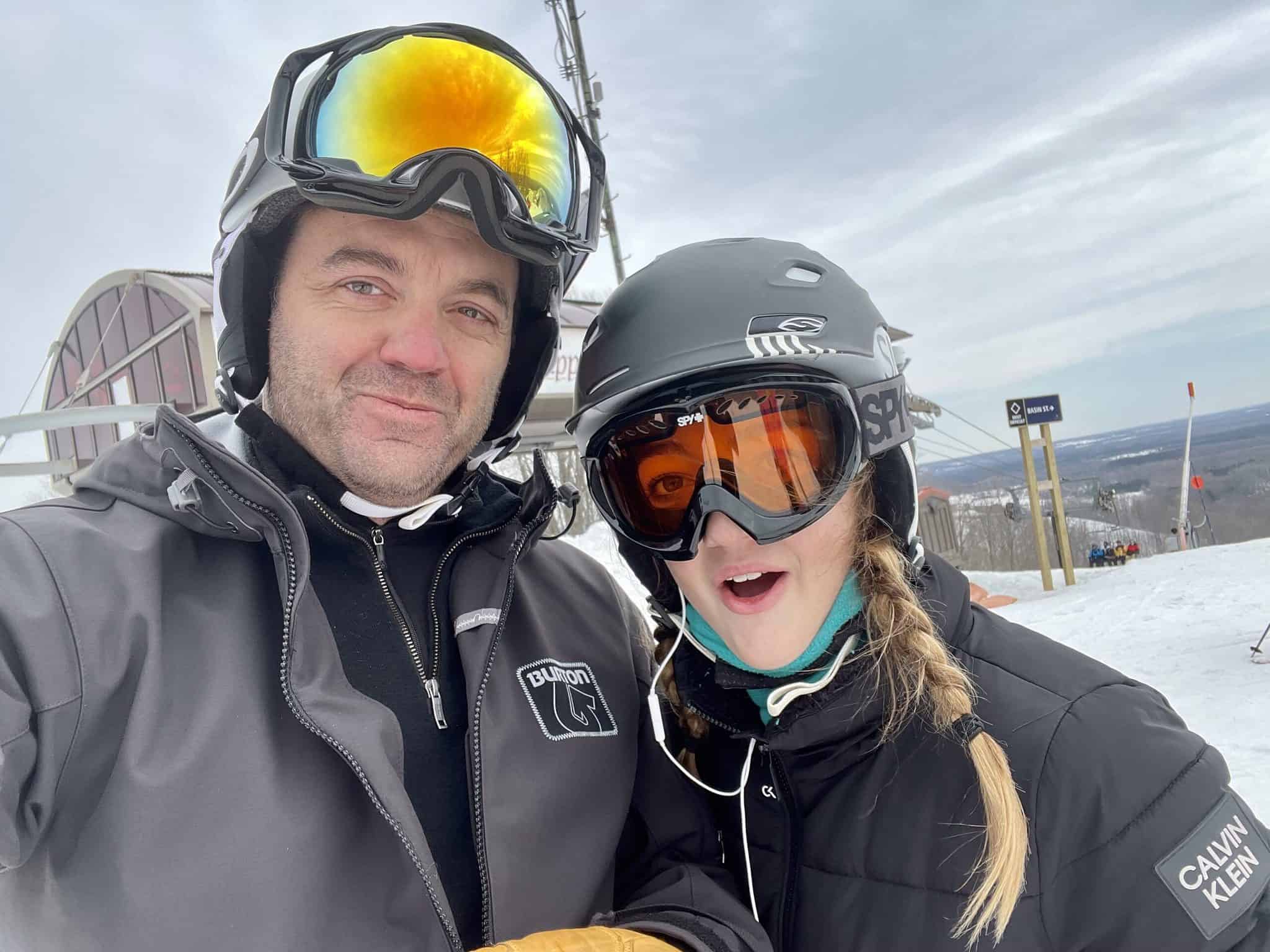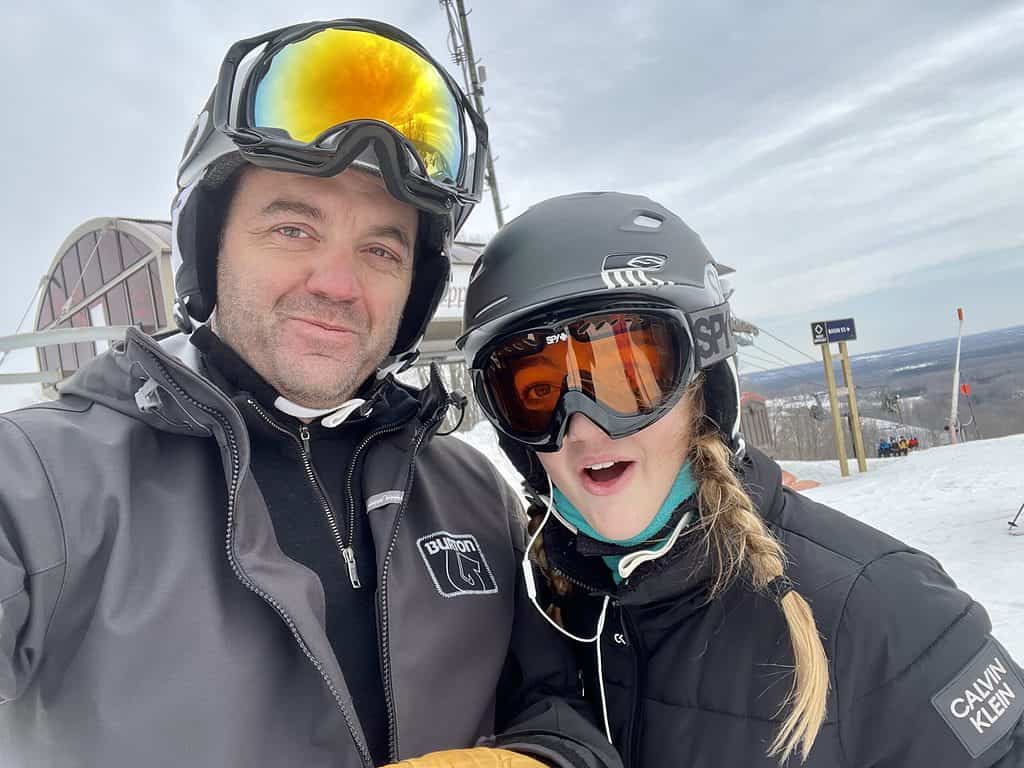 Bringing extra layers with you when skiing is an important part of staying safe and comfortable on the mountain. Skiing in cold weather can quickly end your day if you don't have the proper gear, so it is important to be prepared for any temperature changes throughout your day on the slopes.
Having additional clothing with you will ensure that you stay warm and dry during long days of skiing. Some extras to leave in your ski bag for extra warmth should include:
Extra socks
Neck Gaiter
Mid Layer
Glove Liners
Gloves
Light Fleece Shirt
Take a break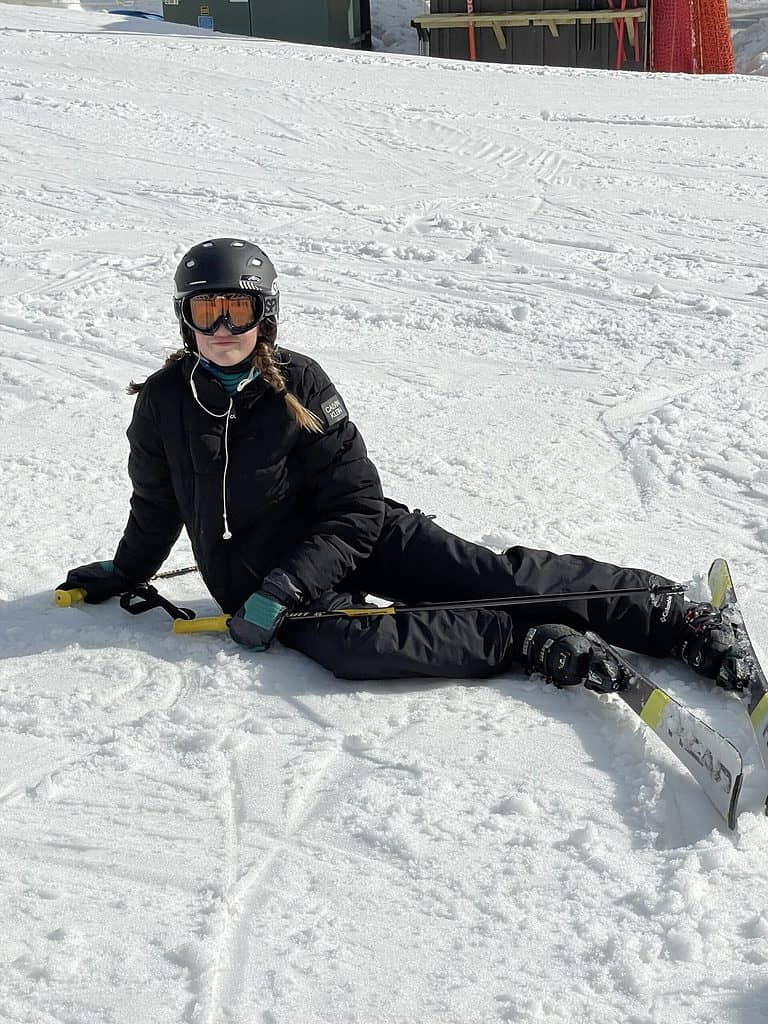 I'm usually a first-chair kind of guy and always trying to squeeze in one more run. What can i say, I love skiing and those lift tickets are expensive!
But taking a break while skiing is essential for having an enjoyable and safe experience on the mountain. Skiing can be a physically demanding activity, both mentally and physically, especially if you're tackling difficult terrain or spending long days on the slopes.
When your body and mind start to tire out, it's important to take breaks to rest and refuel.
Taking a break while skiing is also important for staying focused and alert so that you can make smart decisions on the mountain. Having regular breaks throughout your day will help to keep you refreshed and energized, making it easier to stay aware of your surroundings and make the most out of your ski experience.
Save the Cocktails for "Apre"
Drinking alcohol and skiing is a dangerous combination. Just don't do it. At all.
Skiing requires a high level of concentration and coordination, two things that can be greatly impaired by even a small amount of alcohol or other drugs. Consuming alcohol before or during skiing can create an environment for accidents to occur, as it impairs judgment, reaction time, balance, and coordination.
So, save the cocktails for "apre" (after) skiing! Enjoying a drink once you're off the mountain is a great way to celebrate the end of your day, and it's much safer than drinking while skiing.
Pack a Snack
I usually have a granola bar or trail mix with me. Just a little something to keep me powered up while I'm out there. Skiing burns a lot of fuel so it's important to put some back in.
Packing a snack while skiing is an easy way to prolong your day.
Choosing snacks with a good balance of carbohydrates, protein, and fat can help keep your energy levels up and prevent you from feeling fatigued. Some great snack ideas to pack include trail mix, granola bars, sandwiches, nuts, apples, or oranges.
Taking the time to refuel your body will help ensure that you stay energized and enjoy all that nature has to offer on the mountain.
Mental Preparation
Might sound weird, but it goes a long way. It's important that you go into your ski day with the right attitude. Take some time before hitting the slopes to relax and clear your mind so that you can focus on enjoying yourself without worrying about anything else going on in life.
Set a goal for the day. What is it that you want to accomplish? A certain amount of runs? A certain amount of elevation? A specific trail or area you want to ski? Or, you just want to enjoy the beautiful scenery. Whatever it is, set your goal for the day.
The better mental state you're in before heading out onto the mountain, the more likely it is that your experience will be enjoyable and satisfying (not to mention safe!).
Conclusion
Overall, skiing is an incredibly fun and rewarding activity that requires careful preparation. From making sure to pack the right layers of clothing and snacks for energy, to taking regular breaks throughout your day and setting goals before you hit the slopes – it's essential to do a little planning ahead to ensure you have a safe and enjoyable ski holiday.
These are just some of the things I have done over my 40-plus years of skiing to maintain a safe, fun, and enjoyable time on the slopes! Hope to see you out there!!