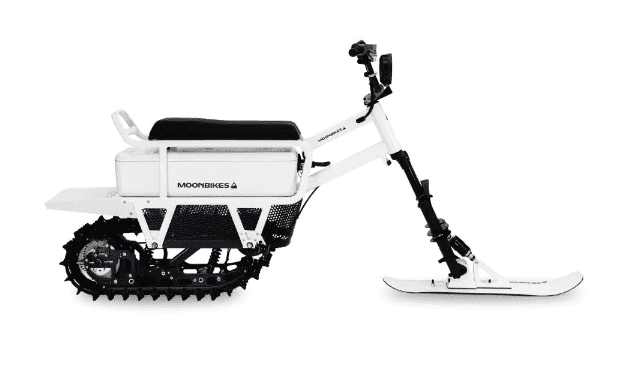 Alright this thing is pretty cool. Definitely different. I am a snowmobiler so this caught my eye.
The MoonBikes Electric Snow Bike is the world's first 100% electric snow bike.
EVs (electric vehicles) are certainly all the talk these days so why not take that technology to the snow?
That is exactly what MoonBikes is doing. So, what exactly is an electric snow bike and how does it work? Is it good? Fast? How long does the battery last?
Read on to learn more about the MoonBikes Electric Snow Bike.
What Is The MoonBikes Electric Snowbike?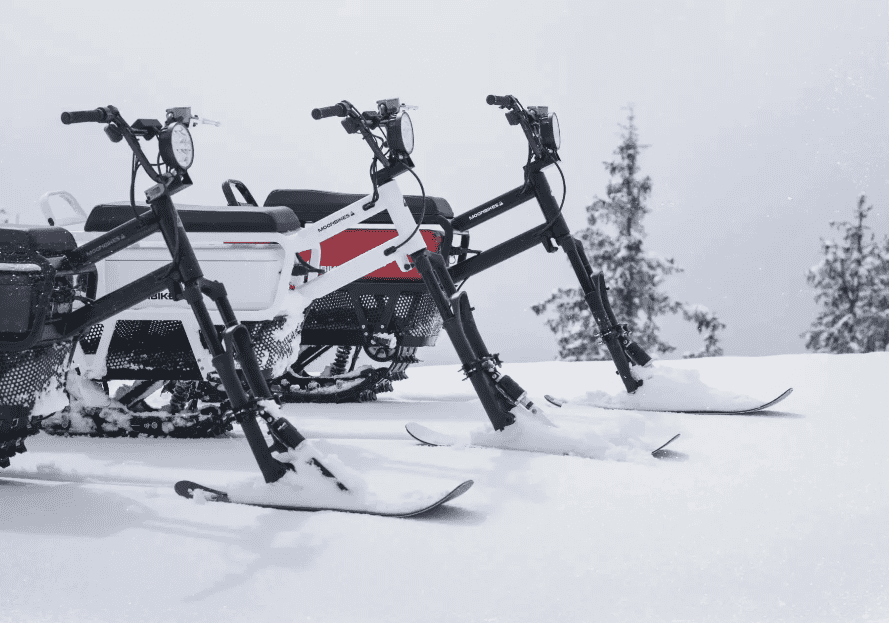 The MoonBikes Electric Snow Bike is a revolutionary new way to experience the winter season! This all-electric snow bike offers an incredibly quiet and low-impact ride, with no exhaust fumes and minimal noise pollution.
The standard battery can last up to 15 miles per charge. The bike also has a top speed of 26 mph. Not bad, but certainly not going to keep up with your friends on their snowmobiles. It is fairly capable of taking on some decent terrain with its durable track and solid suspension system.
You can add a second battery to double your range which I would highly encourage.
What Are The Benefits Of The MoonBikes Electric Snowbike?
The MoonBikes Electric Snow Bike offers many benefits, including:
Zero emissions – no exhaust fumes or smell, just clean winter air. The main point to this bike.
Environmentally friendly – again, kind of the main point of this.
Decent range – up to 15 miles per charge on the standard one battery set up. Perfect for ice fishing adventures.
High performance – capable of reaching speeds of up to 26 mph, perfect for tackling the toughest terrain conditions
Quiet ride – so you can enjoy the quiet of nature, without disturbing it
Durable track – for a smooth and safe ride
Comfort – a nice suspension system to ensure maximum comfort on every ride.
Easy to Ride, Easy to Transport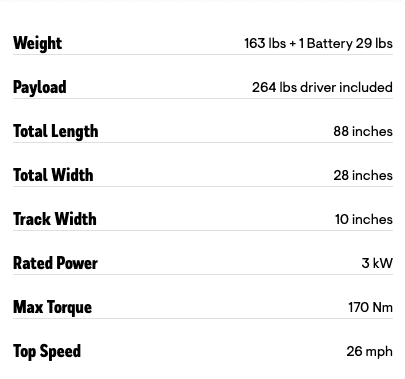 The MoonBikes Electric Snow Bike is designed to be lightweight (163 lbs) and easy to maneuver. You can put it right on a hitch rack on your truck or place it in the bed of your pick up. No trailers needed.
And once you get where you're going, its powerful propulsion system can help you explore remote areas without having to worry about loud noises or smelly exhaust fumes — all while leaving behind no operational footprint!
This electric snow bike is also easy to ride thanks to simple functions.
Plus, there's obviously no need for refueling since it runs solely on battery – all you have to do is plug it in when you're done riding!
Powerful and High-Efficiency Propulsion System
The MoonBike is equipped with a powerful and high-efficiency propulsion system that packs a powerful punch with a top speed of 26 mph and a max torque of 170 Nm.
It also comes with an optional dual battery (29 lbs) that increases its range up to 3 hours. Absolutely recommend this so you can get further out into those remote areas without worrying about running out of juice.
The bike is assembled by Bosch and comes with an optional fast charger that charges 50% faster than standard batteries. I would also recommend this.
Options Galore
When it comes to options, MoonBikes offers plenty. We mentioned you can add on an extra battery to double your range up to 3 hours and even get a fast charger that will charge 50% faster than the standard battery. This brings charge time down from 5 hours and 45 minutes to 3 hours. You will definitely want this.
For those of you who like the back country skiing, there is an optional ski rack that mounts to the side of the Snowbike. This is a nice option for to get to some remote ski areas.
There is also a convenient luggage rack if you are doing a cabin to cabin mountain adventure. This is something I want to do and could see a lot of adventure companies doing this!
For our ice fisherman, there is a nice Pulka for you to load up all your gear and head out on the ice for your ice fishing. The Snowbike is really great for ice fishing as you don't have to worry about overheating your snowmobile. Most of the time, all you need is to be able to get your gear out to your shelter and this is a perfect solution. Really like this for the ice fishing option!
The bike also comes in 3 colors (black, white & red) so you can pick your favorite.
And if you are going to be leaving it outdoors, they have a nice cover to protect your Snowbike from heavy snow or other debris.
Conclusion
If you're looking for an eco-friendly yet powerful way to experience winter sports and explore nature, then the MoonBikes Electric Snow Bike is a solid option! It is different, fun, requires no fuel and serves a nice purpose. Explore your property, go to town on a snow day if you live in a remote area, ice fishing, back country skiing etc.
I don't see this competing with snowmobiles. At least not yet. The range and top speed will limit it for that, but the other options I listed before sure make it a fun option to have on a snow day!
For more info visit www.moonbikes.com