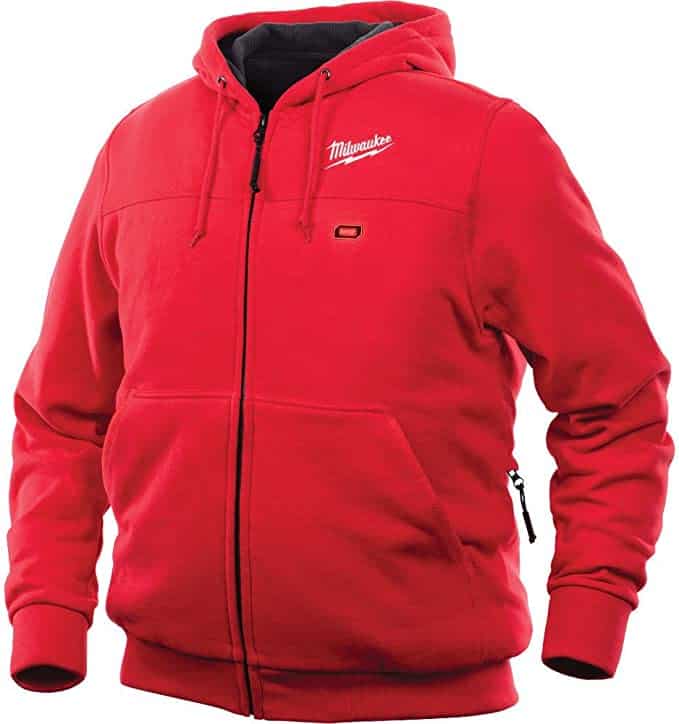 A heated hoodie. Doesn't that just sound awesome?!?
Don't let cold weather stop you from enjoying the great outdoors – stay warm and comfy with the Milwaukee Heated Hoodie!
This stylish and functional hoodie has been designed to help you survive even in the chilliest of temperatures. With three heat settings and Milwaukee M12 redlithium battery technology, this hoodie is sure to keep you cozy no matter what.
Plus, it comes in a range of colors and sizes, so you can put your own spin on outdoor wear! Stay warm without compromising on style with the Milwaukee Heated Hoodie.
Let's dive into what makes this hoodie so awesome.
We are reader supported and as such may make a small commission at no expense to you by purchasing thru our links! Thank you!
The Milwaukee M12 Heated Hoodie
Features
The first thing that stands out about the Milwaukee M12 Heated Hoodie is its good-looking design. The hoodie has a nice traditional fit that looks great and is designed to be worn over other layers of clothing or under a vest.
The second standout feature is the three heat settings. With the push of a button, the carbon fiber heating elements create and distribute heat on the chest and back heat zones. It gives you a nice warmth that really spreads around your core for complete comfort. Milwaukee claims the heating elements on this hoodie heat up 3 times faster than market competitors with its quick heat function.
Another nice feature of this hoodie is the battery pass-thru pocket. The hidden battery pass-thru pocket allows you to select battery placement to either the front or back pocket to allow for comfort depending on what activity you are doing. You can also always carry a spare battery with you to make sure you don't run out of power!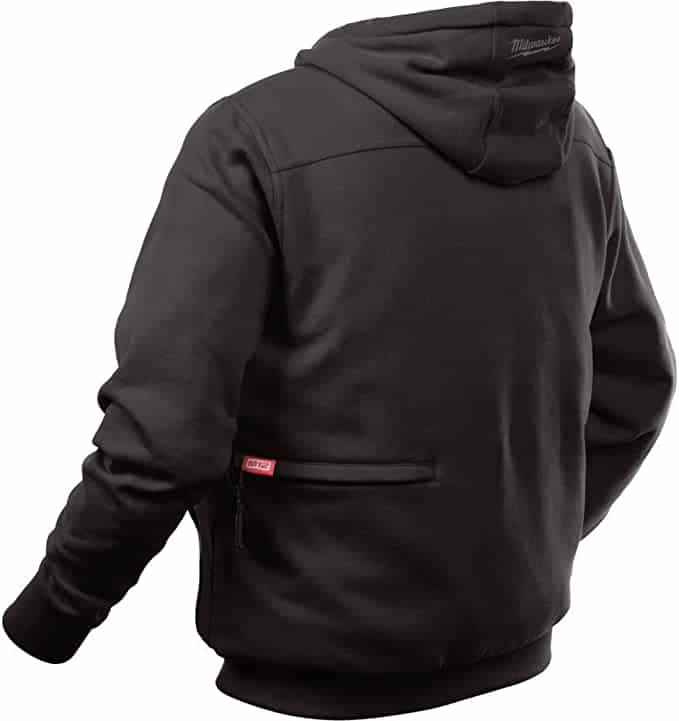 Battery Life
Battery life will vary depending on what setting you are running the heat on. The one-touch LED controller lets you easily select your heat settings. On the low setting, the battery can last up to 8 hours, on medium, it can last up to 4 hours, and on high it can last up to 2 hours—so you can find the perfect temperature for whatever activity you're doing.
Fit and Looks
It is also just a really nice hoodie to wear. You might think something with carbon fiber heating elements in it might be uncomfortable. Definitely not the case. With the comfortable jersey lining this hoodie will keep you warm and comfortable at the same time.
The hoodie comes in five colors, black, gray, green, hi-vis, and classic Milwaukee Tools red.
The size ranges go from small up to 3XL.
The hoodie has nice durable utility pockets with reinforced edges that can hold your tools or other items while keeping them secure.
The hoodie itself is made from a cotton and polyester blend with a waffle weave thermal lining that is very comfortable. It is also washer/dryer safe so there's no need to worry about it if it gets dirty or wet.
Function
The easy-to-use one-touch LED controller button on the chest allows you to turn it on, turn it off, and set your desired heat level at the touch of a button.
And finally, it comes with a 1-year warranty for the hoodie itself and a 2-year warranty for the battery so you don't have to worry about it not lasting through these cold months.
Summary
The Milwaukee Heated Hoodie provides great comfort and warmth for outdoor workers or anyone who loves being outside in colder weather! It keeps you warm but not too hot so you can stay comfortable while working hard outdoors all day long without having to add bulk underneath your workwear or coat.
The hoodie is also great for outdoor sports like golf, pickleball and paddle or recreational activities like camping, fishing, hiking, and snowshoeing. Its lightweight design allows you to shed bulky layers without worrying about being cold!
Plus, the hoodie is stylish, looks great, and is very comfortable.
All in all, this heated hoodie from Milwaukee Tools is a great way to stay warm while looking good at the same time. This hoodie is a must-have for anyone who loves the outdoors.
The Milwaukee M12 Heated Hoodie is an awesome piece of workwear that can make your time outdoors more enjoyable and productive this winter. So, if you're looking for a warm and stylish hoodie, this is a great option.