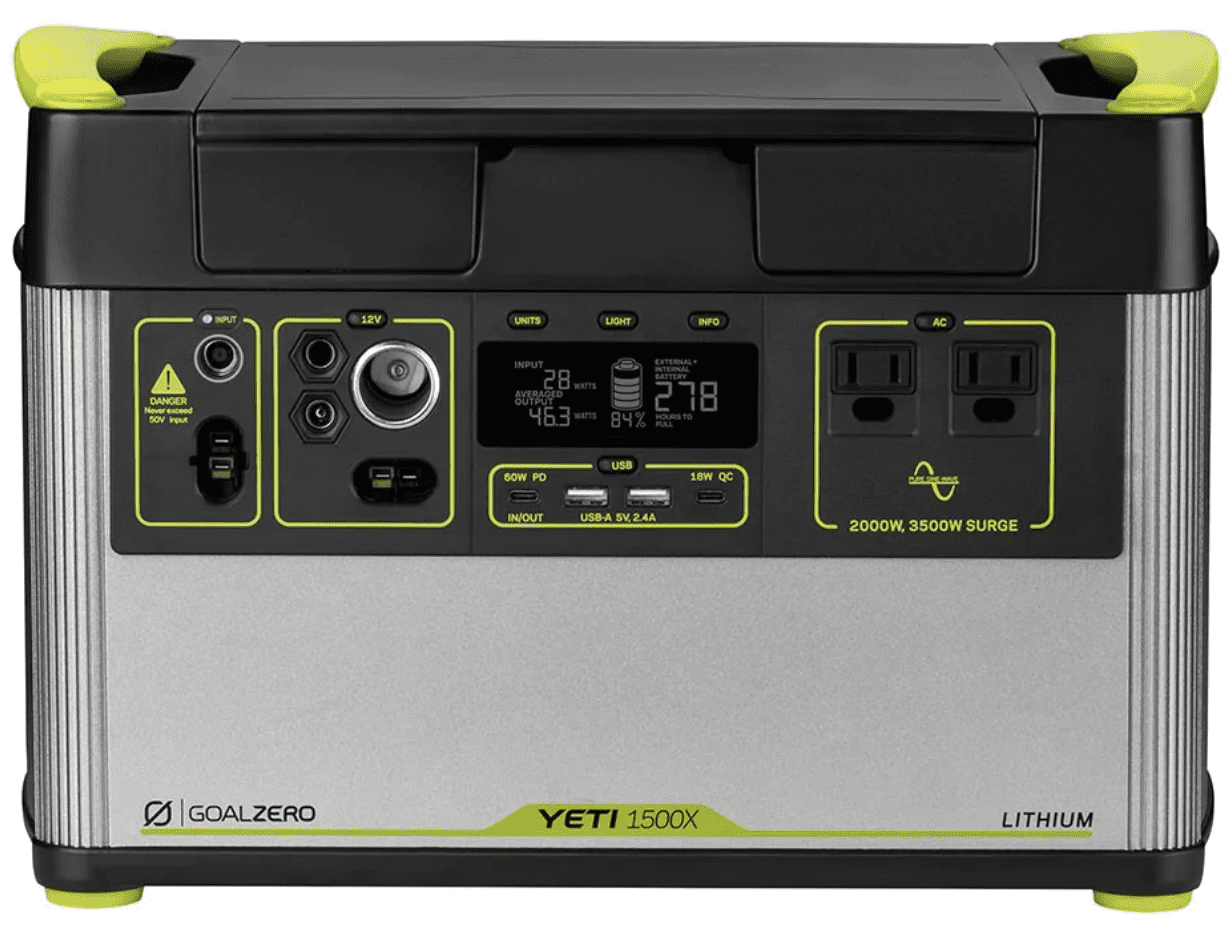 As an avid RV enthusiast, I'm always looking for gear that makes life on the road more comfortable and convenient for our readers. The Goal Zero Yeti 1500x portable power station is turning into the next must have for your RV, camping, tailgating or other outdoor adventures.
In this blog post, we take a look at the Goal Zero Yeti 1500x power station. This baby can charge and recharge a wide range of devices, from phones and laptops to mini-fridges, TVs, and more.
With 1500 watt-hours of capacity, you can go off-grid for days at a time without worry of draining the battery or not having power. It's the perfect solution for boondocking or camping in remote places where hookups aren't available.
Whether you're looking to upgrade your RV's portable power system or want an emergency backup in case the main battery fails, the Goal Zero Yeti 1500x is worth a serious look.
Let's get started and learn more about the specs and capabilities of this power station and why it deserves a spot in your RV.
We are reader supported and as such may make a small commission at no expense to you by purchasing thru our links and we greatly appreciate that!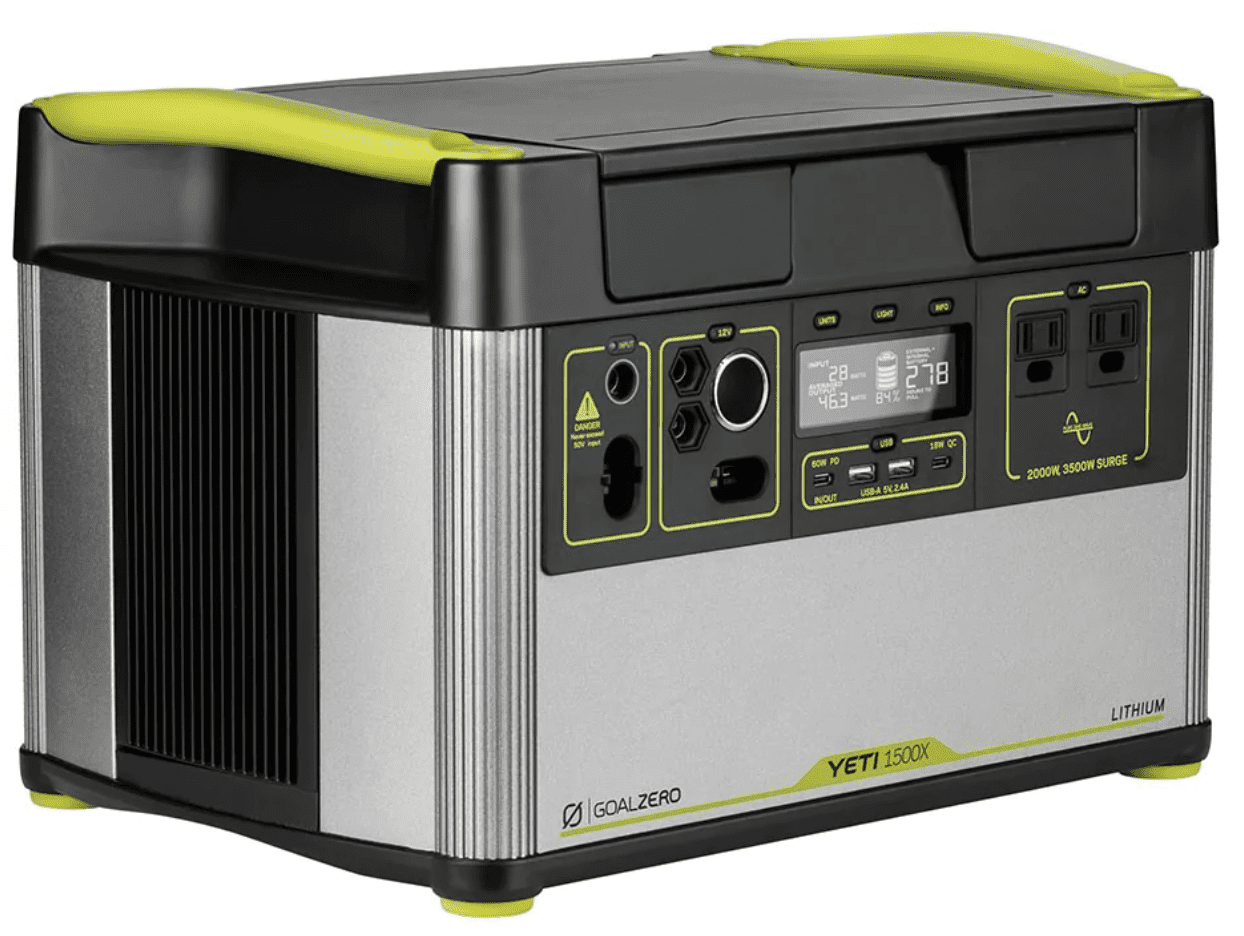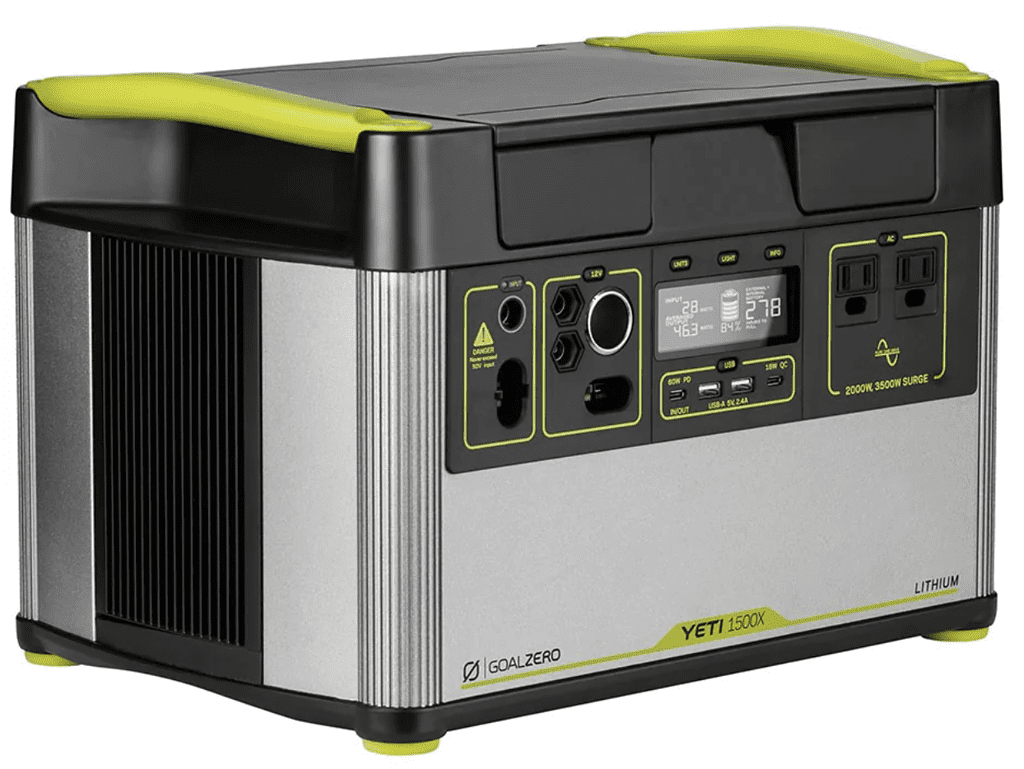 The Yeti 1500x is a powerful and versatile power station that has become increasingly popular among outdoor enthusiasts and anyone in need of reliable off-grid energy.
Camping, teleworking or enduring a power cut in the home – this portable power station provides dependable energy for you.
With its whopping 1,516Wh total capacity, the Yeti 1500X surpasses other popular options like the Jackery Explorer 1000, making it a solid choice for those who require power on-the-go.
In addition to its impressive battery life, this portable powerhouse offers multiple charging port options, such as portable solar panels (sold separately), wall outlets, or car chargers.
Battery Capacity: The Yeti 1500X has great battery capacity of up to 1516Wh – perfect for charging multiple devices simultaneously.
Variety of Outputs: Equipped with AC outlets, USB ports, and USB-C connections – you'll have no problem charging everything from smartphones to laptops.
Solar Charging Capability: Pairing it with compatible portable solar panels enables eco-friendly recharging under sunlight – great for extended trips off-grid.
The Goal Zero Yeti 1500x is an innovative and powerful power station that offers a reliable source of energy for all your needs. With its impressive features and specifications, it is sure to meet the demands of any outdoor enthusiast.
Features and Specifications
Let's take a look at the features and specs:
Battery Capacity and Charging Options
The battery is a high-quality lithium-ion battery that has a long lifespan. It can be charged using three different methods: solar panels (such as the Goal Zero Boulder series), wall outlet, or car chargers. We like the different options to keep your power station fully charged for a seamless backup power supply experience.
Output Ports
AC: Two AC outlets provide up to 2000W continuous output for appliances like refrigerators and power tools.
USB: There are multiple USB-A ports for charging smartphones, tablets, cameras, etc., while one USB-C port supports fast-charging compatible devices.
PV Input Port: Connect compatible solar panels directly to this input port for an eco-friendly and efficient solar charge.
In comparison with other portable stations such as the Jackery Explorer 1000, the Goal Zero Yeti 1500X offers more output options and greater overall capacity. However, it faces stiff competition from its sibling model – the Jackery Explorer Pro 1500.
Portability and Design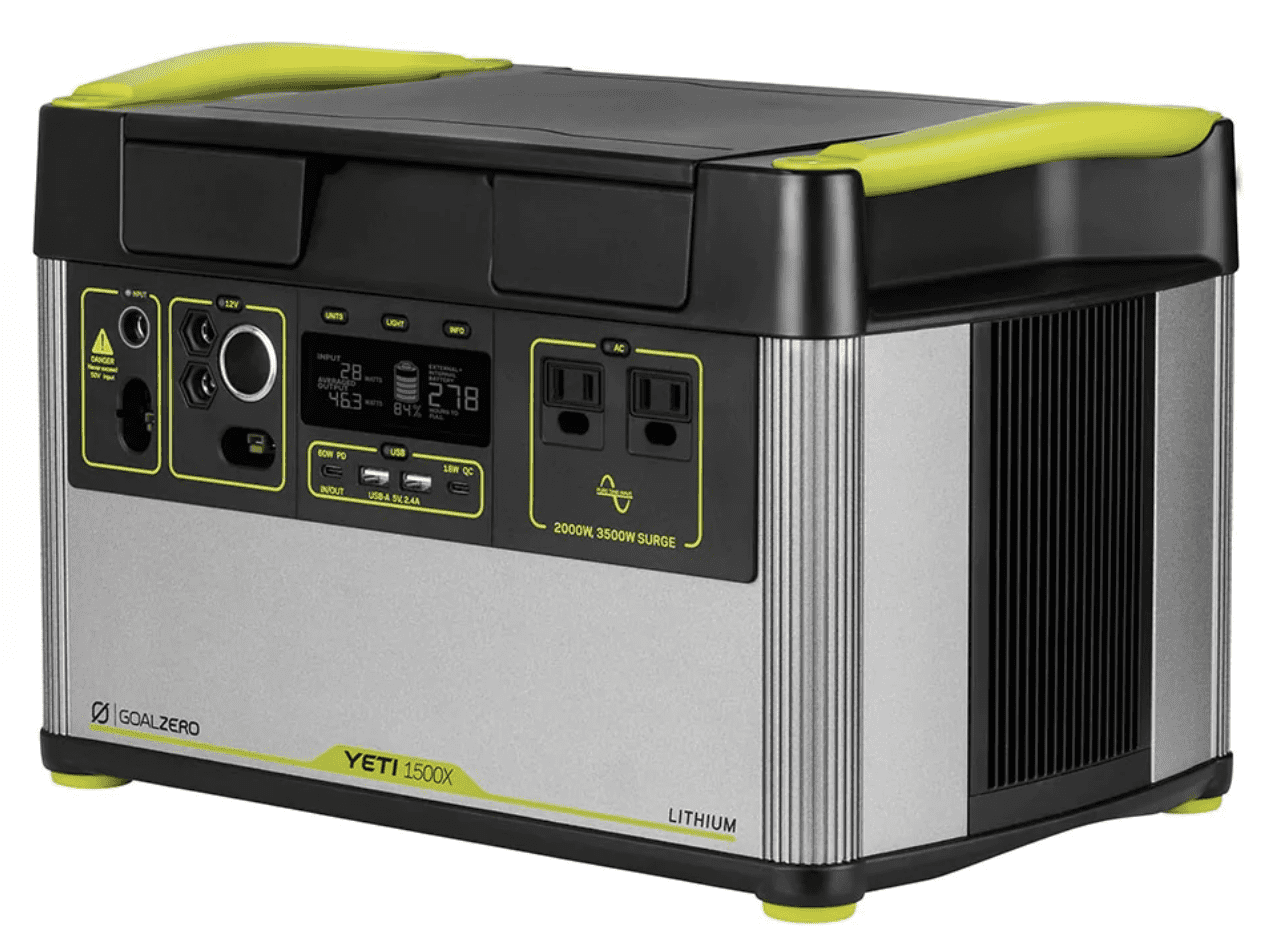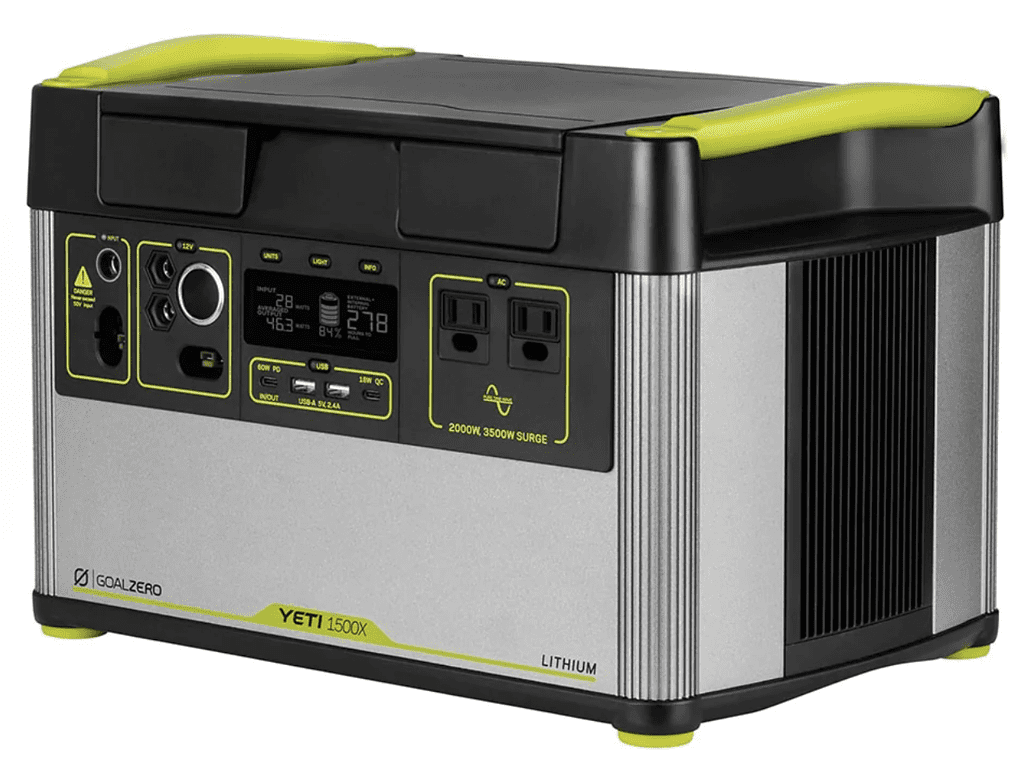 The Goal Zero Yeti 1500X is sleek making it an attractive addition to your outdoor gear. Weighing in at 45.6 lbs, the Yeti 1500X is not the lightest power station around; however, its built-in handles make transporting it more convenient than some of its competitors.
When compared to other portable power stations like the Jackery Explorer 1000, which weighs around 22 pounds, or the Jackery Explorer 1500 Pro, weighing approximately 33.1 pounds, the Yeti 1500X may seem less portable due to its weight.
However, considering its total capacity of over double that of the Explorer 1000 and significantly more than the Jackery Explorer Pro's capacity, one can argue that it offers greater value for those who need higher energy storage capabilities.
Yeti 1500X: Weight: ~45.6 lbs | Total Capacity: ~1516Wh
Explorer Pro: Weight: ~33.1 lbs | Total Capacity: ~1488Wh
Explorer 1000: Weight: ~22 lbs | Total Capacity: ~1002Wh
Think about the balance between portability and capacity when selecting a power station that suits your requirements. If you need a power station with a high capacity, the Yeti 1500X is an excellent choice.
The Yeti will give you way more portability than a regular RV generator. Regular RV generators are an excellent choice for your ultimate power needs, but when portability is an issue, this is the way to go.
The design of the Goal Zero Yeti 1500X is both aesthetically pleasing and highly portable, making it an ideal choice for outdoor activities.
Performance
The performance of the Yeti 1500X is really strong. Here are the details:
Charging Devices
Phones: With its 1,516 watt-hours total capacity, the Yeti 1500X can charge an average smartphone up to 100 times!! Got to stay connected!
Laptops: The USB-C PD port provides fast charging for laptops like MacBook Pro or Dell XPS…sometimes work calls!
Cameras: Its multiple output options make it easy to charge DSLR cameras and other photography equipment on-the-go so you can capture all those great outdoor views!
Rapid Charging Options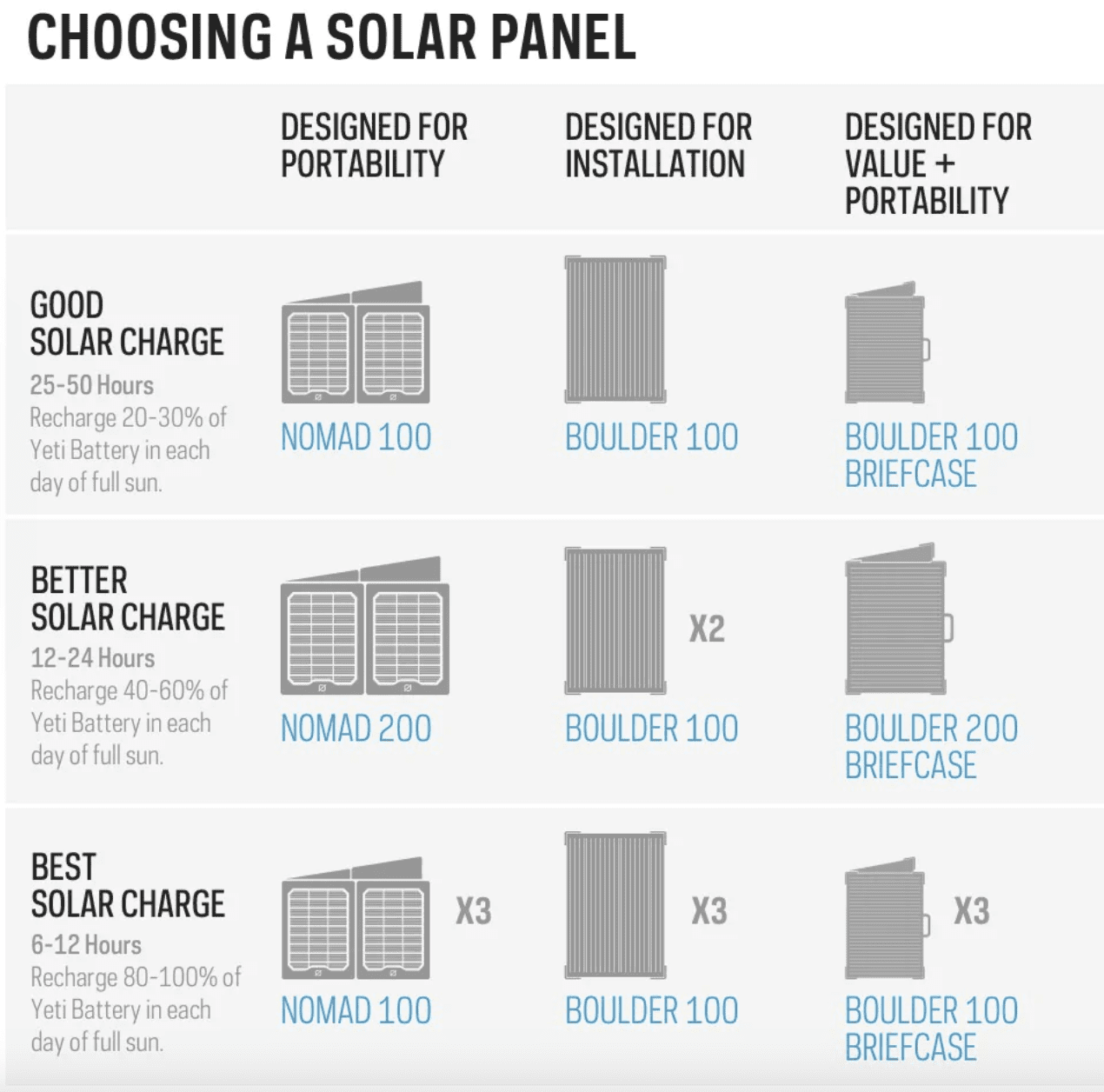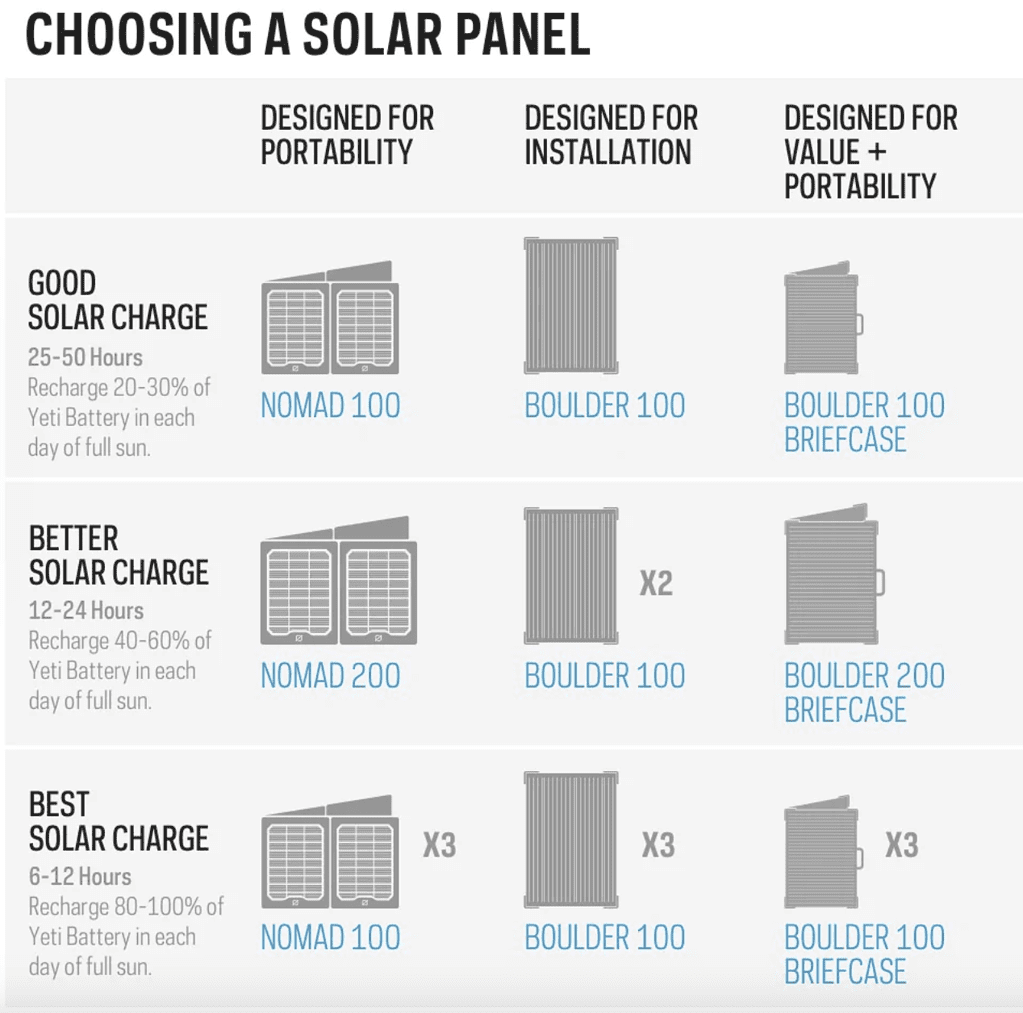 With the additional option of solar panels or car chargers (sold separately), you can get rapid charging that is perfect for the on the go lifestyle. We don't have time to sit around and wait for our stuff to charge! We want to explore! The good news is, it takes around three hours with maximum input using solar panels ac wall charger or AC adapter.
Sustaining Power-Hungry Appliances
The 1500X power station has enough juice to run small refrigerators! Yep. That makes it a great option for camping trips or even power outages. It can also power other appliances like TVs, power tools, and medical devices.
Comparison to Other Power Stations
The Yeti 1500X is a step up from the Jackery Explorer 1500 Pro and the Explorer 1000. While the Jackery Explorer 1500 Pro has a slightly higher wattage, the Yeti 1500X has a larger battery capacity and more output options. The Explorer 1000, on the other hand, has a smaller battery capacity and fewer output options.
The performance of the Goal Zero Yeti 1500X is impressive, with its power delivery capabilities and versatility.
Price
Competitor Comparison:
Jackery Explorer 1000: This popular alternative has a lower total capacity but comes at a more affordable price point.
Jackery Explorer 1500 Pro: With similar specifications as the Yeti 1500X, this competitor offers comparable performance while being slightly cheaper.
In terms of pricing alone, both Jackery models may seem like better deals. However, when considering factors such as build quality, battery life, charging options compatible solar panel (solar panel compatibility), and output variety (AC, USB-C), the Goal Zero Yeti 1500X might still be worth your investment. If you're looking for an all-around reliable power companion that can handle even demanding appliances like refrigerators or power tools, the Yeti 1500x is the way to go.
The Price of the Goal Zero Yeti 1500x is reasonable for what it offers and it's quality.
Given its advantages, the Goal Zero Yeti 1500x is certainly worth considering when deciding on a purchase.
Pros and Cons
Conclusion
With its various charging options, including solar panels, wall outlets, and car chargers, it can cater to different needs in outdoor adventures or even emergency situations.
The portability and design of the Goal Zero Yeti 1500X make it a great option for those who need reliable power on the move. The multiple output types (AC, USB, and USB-C) ensure compatibility with a wide range of devices such as phones, laptops, cameras, as well as high-powered appliances like refrigerators and power tools.
While the price may be higher compared to other alternatives, investing in the Goal Zero Yeti 1500X guarantees quality performance backed by years of expertise from Goal Zero. Ultimately, the Yeti 1500X is a great choice for those who need a reliable and powerful portable power station for their outdoor adventures.
Frequently Asked Questions
How long does a Yeti 1500X last?
With its 1516Wh capacity, it can run small appliances for several hours or charge smartphones multiple times. For example, it can power a fridge for up to 28 hours or fully recharge a smartphone around 75 times.
How many years will Goal Zero Yeti last?
The lifespan of a Goal Zero Yeti largely depends on power usage and maintenance. The battery is rated for approximately 500 cycles to 80% capacity with proper care. This means that if you use and recharge your Yeti frequently, it may last around three to five years before needing replacement.
What can Yeti 1500X run?
Yeti 1500X is versatile in powering various devices such as laptops, TVs, mini-fridges, lights, fans, smartphones, tablets and more. It features multiple output ports including USB-A & C PD ports (up to100W), AC outlets (2000W surge) and regulated DC outputs like the standard carport (12V).
Is Yeti or Jackery better?
Both brands offer reliable portable power stations; however, Goal Zero's products generally have higher capacities than Jackery. In terms of build quality and customer support reputation both are comparable but choosing between them ultimately comes down to individual needs based on device compatibility requirements & desired runtime duration.