By Peter Hoopis
An RV-specific GPS is one of the most important gadgets on our list of RV must haves. Without a doubt, it makes your adventures safer, more convenient, and more meaningful. It stores all the maps you need in the device, allowing you to navigate with ease, even in areas with no cell service.
 One of the top RV GPS systems in the market is the Garmin RV 890.
But what features make it stand out?
What are its major pros and cons?
And is it worth the money?
Read our ultimate review of the Garmin 890 RV to discover what it has in store for you.
 We are reader supported and as such we may receive a small commission at no expense to you by purchasing thru our links.
In the box, you'll find a large 8-inch GPS navigator that resembles a tablet. You'll also get a vehicle suction cup with a powered magnetic mount to install the GPS on the windshield. There's also another screw-down mount for installing the GPS on the dashboard or other spots in the cockpit.
Accompanying the GPS is a vehicle power cable and a USB cable to keep the device powered up. The charger plugs into the mounting base, not the tablet, making moving the GPS easy as you don't have to unplug cables.
How the Garmin RV 890 Works
Once you install the mount on the windshield, the GPS easily snaps into the magnetic mounting base, which holds it tightly, ensuring it doesn't fall off even on bumpy roads. You can set the GPS either horizontally or vertically.
At the most basic level, Garmin RV 890 works by taking into account the dimensions and weight of your recreational vehicle and suggesting the best route to your destination.
But that's not all: Below, we will explore all the main features of this GPS.
Features of the Garmin 890 GPS
Here are the top features of this impressive system:
Large Navigator Screen
The RV GPS boasts a big 8-inch crystal-clear edge-to-edge touchscreen display for you to visualize information.
Custom RV Routing
One of the most outstanding features of the Garmin 890 GPS is that it allows you to pin in all your vehicle specifications, such as height, width, length, gross weight, max speed, and propane tanks.
This helps you find the ideal route for your motorhome, fifth wheel or travel trailer.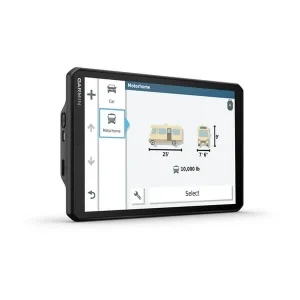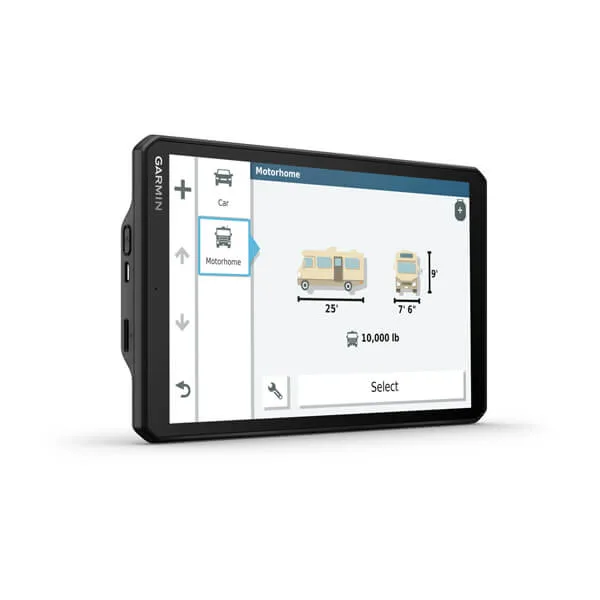 Road Warnings
Garmin RV 890 alerts you of any dangers lurking on the road ahead.  You will be notified of upcoming sharp curves, steep grades, and weight limits. This allows you to switch to an alternative route or be more vigilant if you decide to use the route.
RV Parks and Campgrounds
Another feature that sets this GPS apart from the rest is that it helps you find the best campgrounds along your route. It uses resources from Ultimate Public Campgrounds, KOA, iOverlander, and PlanRV to help you locate a nice place to park. 
It also has a a directory of U.S. national parks.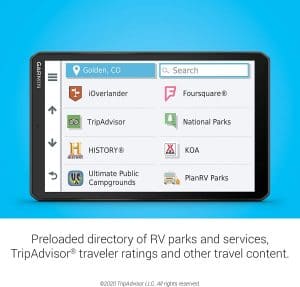 RV Services
This gadget also helps you discover RV services like dump stations, fuel stops, propane, rest stops, tire service, RV repair, and towing in your immediate vicinity.
This capability gives you peace of mind, knowing you can easily find any emergency service you need in the area you're traveling through.
Smoother Trip Planning
Garmin RV 890 makes trip planning a breeze. It pairs with the Garmin Drive app, enabling you to import and share routes with the app. Simply use the app to create and save a trip, then send it to the GPS screen.
Voice Assistant
You don't need to touch the device to set a destination. It has an inbuilt voice function that responds to your spoken commands and navigates to wherever you need to go.

Wireless Updates
The gadget is WiFi enabled, allowing you to effortlessly keep your maps and software up to date without having to manually search for new patches. Plus, it provides on-screen cues whenever a new update is available.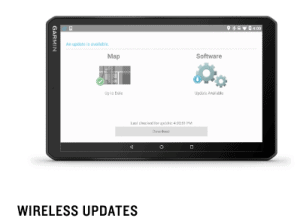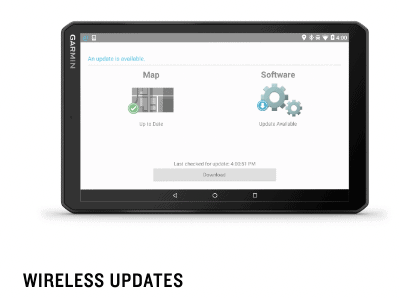 Live Traffic and Weather Reports
Don't want to be caught up in a traffic nightmare? Pair the GPS with the Garmin Drive app, and you'll get a live view of traffic ahead, allowing you to avoid busy roads. Additionally, you can visualize detailed weather forecasts and current conditions.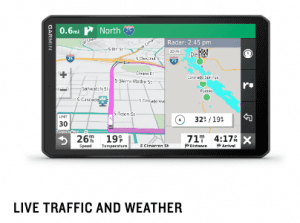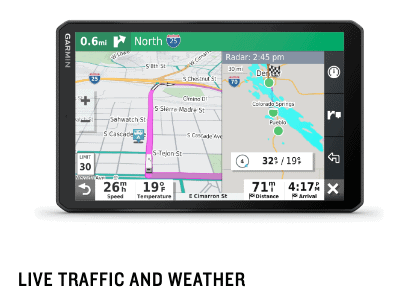 Buy On Amazon
Pros and Cons of the Garmin RV 890
What are the main positives and negatives of this system? Our review of the Garmin RV 890 covers all the pros and cons.
Pros of the Garmin RV 890
Provides a Bigger Screen

– The Garmin 890's big screen gives you a larger surface to visualize information as you drive without straining.
Finds Campground for You

– With this RV-specific GPS, finding a place to park your rig for the night is as easy as touching a few buttons.
Useful RV Related Info

– Apart from finding a suitable campground, you can use the app to find the cheapest gas station nearby, mobile repair service, tire shop, towing services, a dump station, or even a restaurant.
Makes Your Trip Safer

– Since the device allows you to customize it depending on your RV type, it helps you avoid roads that could be dangerous for your rig, such as those with low bridges, sharp bends, steep grades, propane restrictions, and bad weather.
Adds Convenience

– With features such as live traffic, you can monitor the roads ahead and find less congested routes, helping you save time and fuel.
Great for Finding National Parks, Historic Sites, and Hidden Gems

– Even if you aren't familiar with the area you are passing through, this system can help you unearth local attractions and things to do that you otherwise couldn't have known about.
Allows Quick Mounting and Dismounting

– The magnetic mounting base allows you to snap the gadget into the mount and pop it out easily. This is handy when you need to hold the device in your hands and type in the destination without having to lean toward the dashboard.
Hands-Free Operation

– If you're alone in the cockpit, you don't have to get your hands off the steering wheel, as this device can be operated with voice commands. You can use the function to call a contact from the phone book of your paired smartphone.
Ability to Switch into Car Mode

– It has a regular vehicle mode, meaning you can use it for your everyday car when you aren't RVing.
Extra Functions

– You can connect the device to a Garmin rearview camera and the footage will show up on the screen.
Free Lifetime Map Update

– You don't have to worry about your maps going out of date as you get cost-free lifetime updates.
Cons of the Garmin RV 890
Routing Issues

– Some users complain that it doesn't always suggest the best route for your RV type, so you need to double-check using other tools.
May Give False Route Warning – Other RVers noticed the device may give false red flags such as warnings about going through bridges and narrow roads even when the road is passable.

Screen Glare

– Although the large screen is fantastic, it's glossy and reflective, which increases glare. You may need to get a screen protector that reduces glare.
The Big Device Can Be a Hindrance

– Mounting the large device on the dashboard or windscreen takes up precious room, which can limit your view.
Price of the Garmin RV 890
So, how much does the Garmin RV 890 GPS cost? If you purchase this system on the official site, it will cost you $499.99.
Buy On Amazon
Is the Garmin RV 890 Worth it?
Certainly, the Garmin 890 RV GPS system is a great addition to any RV. It boasts 4.6 stars out of 5 on Amazon, as well as over a thousand reviews, key indicators that it's largely reliable.
This device will help you discover attractions and campgrounds on your route, monitor the weather, and steer clear of traffic, hazards, and restricted routes.
Put simply, this device will help you use the safest and most convenient routes. 
For more info on the Garmin RV 890, visit Garmin's Website.
Peter's passion is the great outdoors. From hiking through the mountains, climbing up tall peaks, skiing down pristine slopes, camping in serene forests, and fishing in tranquil rivers – he's done it all! Nowadays, his mission is to share his passion for the great outdoors with everyone he meets. Click the links to the left to follow him and all our updates on social media!