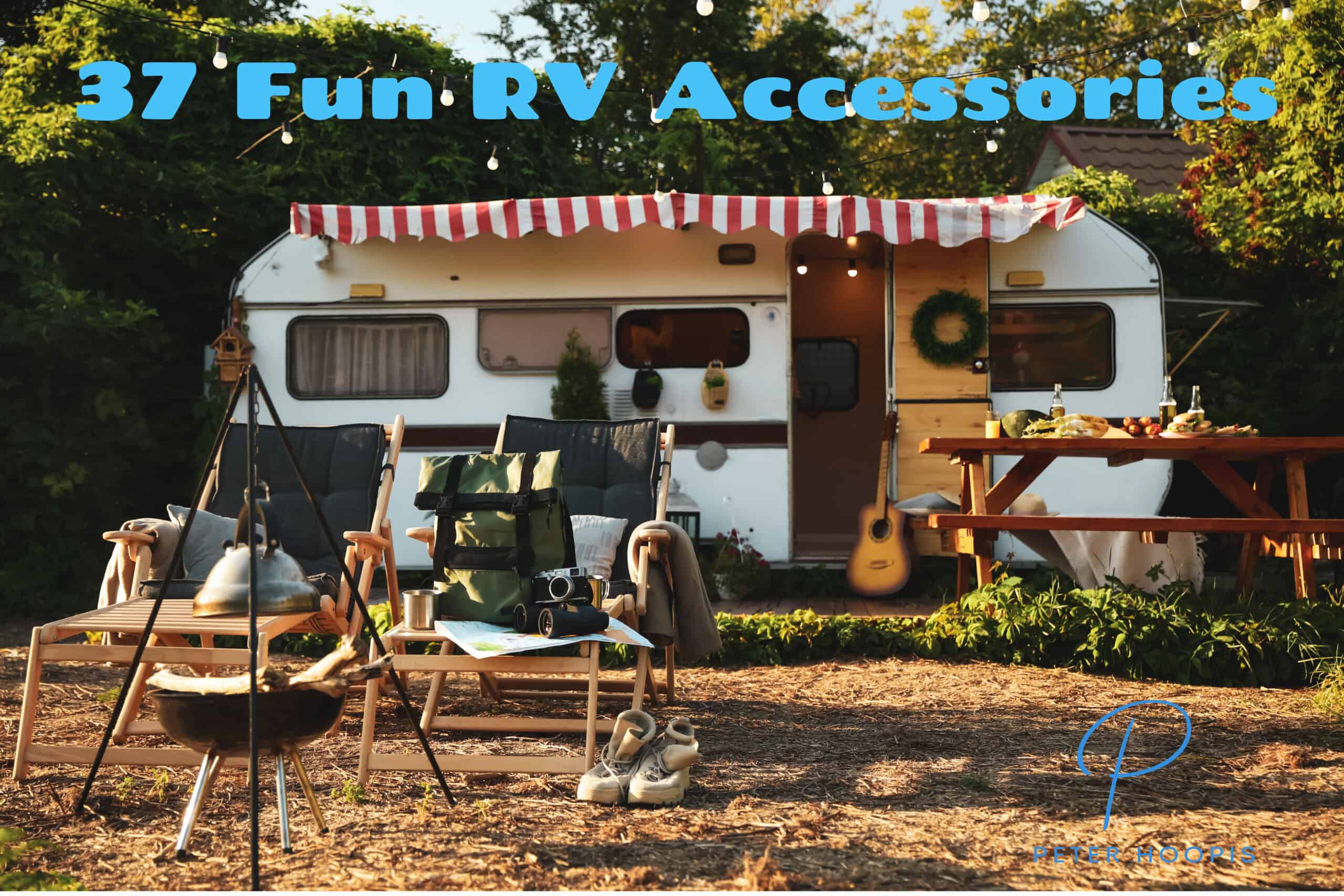 Hey there, fellow RV enthusiasts! Do you love spending time outdoors as much as I do? One of my favorite things about RV camping is being able to explore all of the beautiful natural landscapes that this country has to offer. But to make sure that I really get the most out of my RV trip and being able to relax at the camper after a long day exploring, I've learned that having some cool RV gadgets is essential.
Today, I want to share with you some fun RV accessories for outside. From camping chairs to grilling equipment and everything in between, these RV gadgets and camper accessories are sure to take your outdoor RV adventures to the next level.
Whether you have a pop up, travel trailer, 5th wheel or motorhome, there is something on this list for you!
So make sure to read on and let's get ready for your next trip with some awesome RV gadgets!
We are reader supported and as such may make a small commission at no expense to you by purchasing thru our links and we greatly appreciate that!
37 Fun RV Accessories for Outside
I love RV gear. I have been camping for years and let me tell you, I feel like I must have had all the RV supplies there are. I've narrowed it down to some of my favorite RV gadgets to help you with your RV camping adventure.
Here are 37 fun RV accessories that will help you get the most out of your outdoor adventures:
1. Smokeless Firepit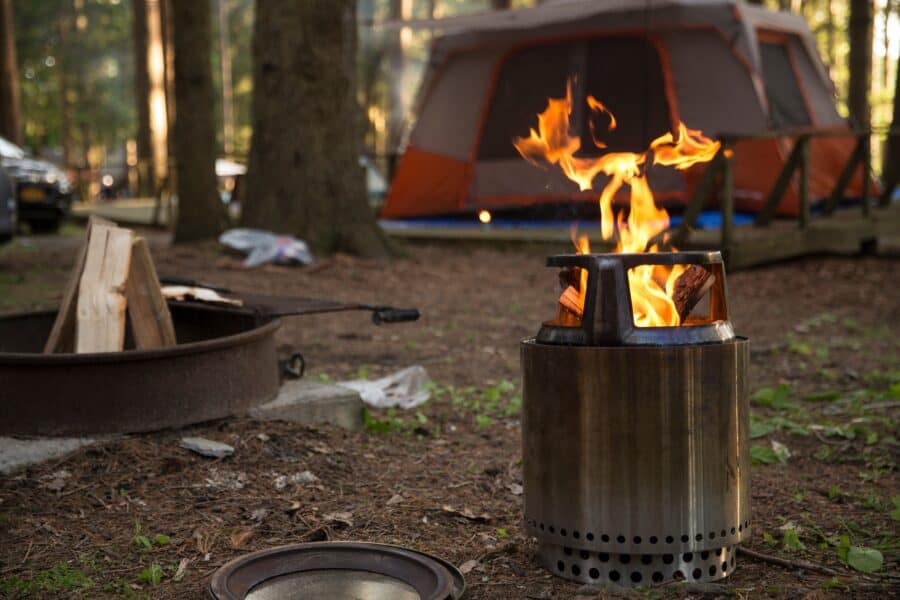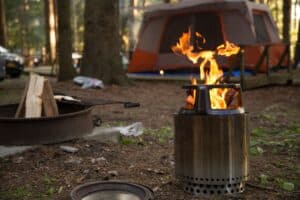 A smokeless firepit is one of the best RV gadgets you can have. It provides a safer and more enjoyable camping experience, allowing you to enjoy a campfire without the discomfort of smoke and potential hazards. A Solo Stove is a great option plus there are some other great Solo Stove Alternatives out there.
2. Portable Pizza Oven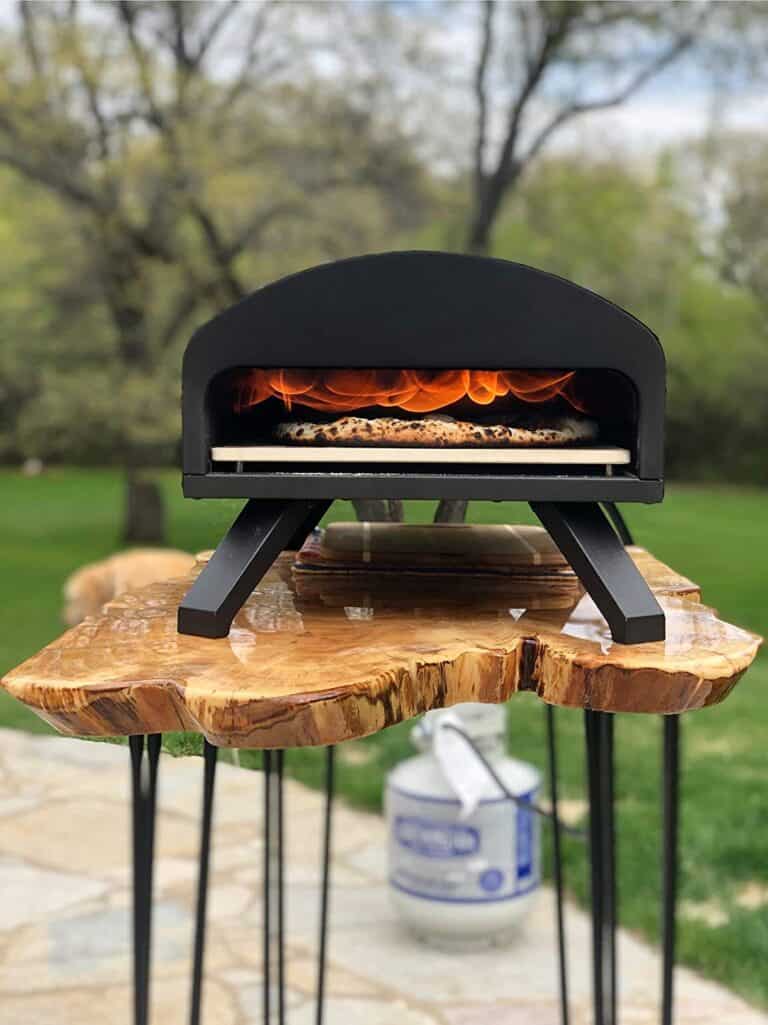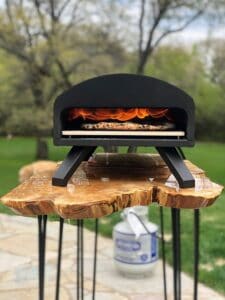 Portable pizza ovens are one of the perfect RV Kitchen accessories that will make you wonder what did with out one! Homemade pizzas for the win!
3. Portable Folding Table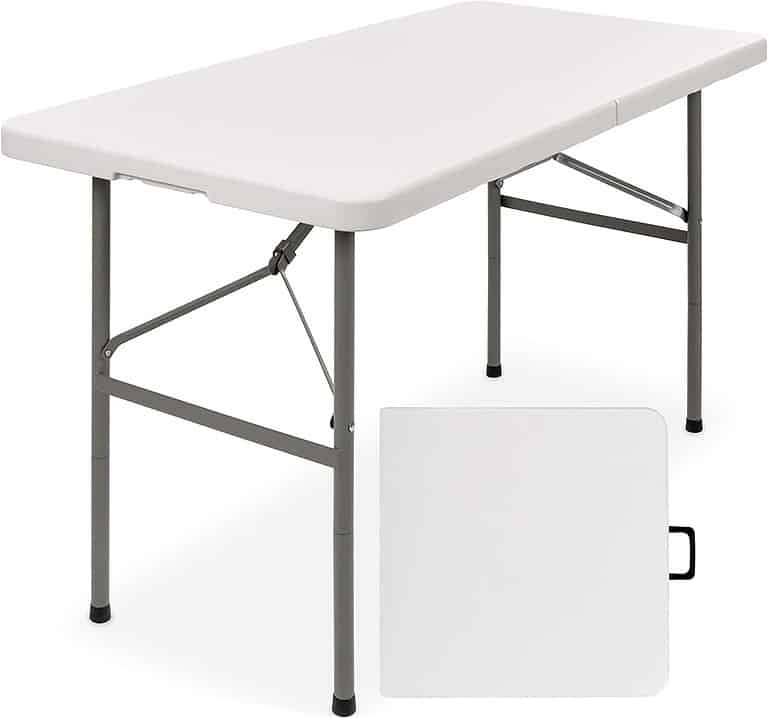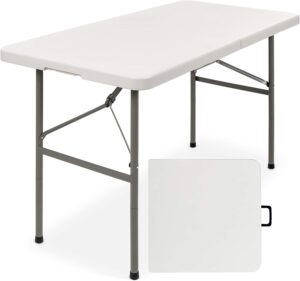 A portable folding table is an awesome RV accessory for those who love to eat, play games, or just need a flat surface for their camping shenanigans. Sometime those site don't always have picnic tables.
4. Portable Gas Grill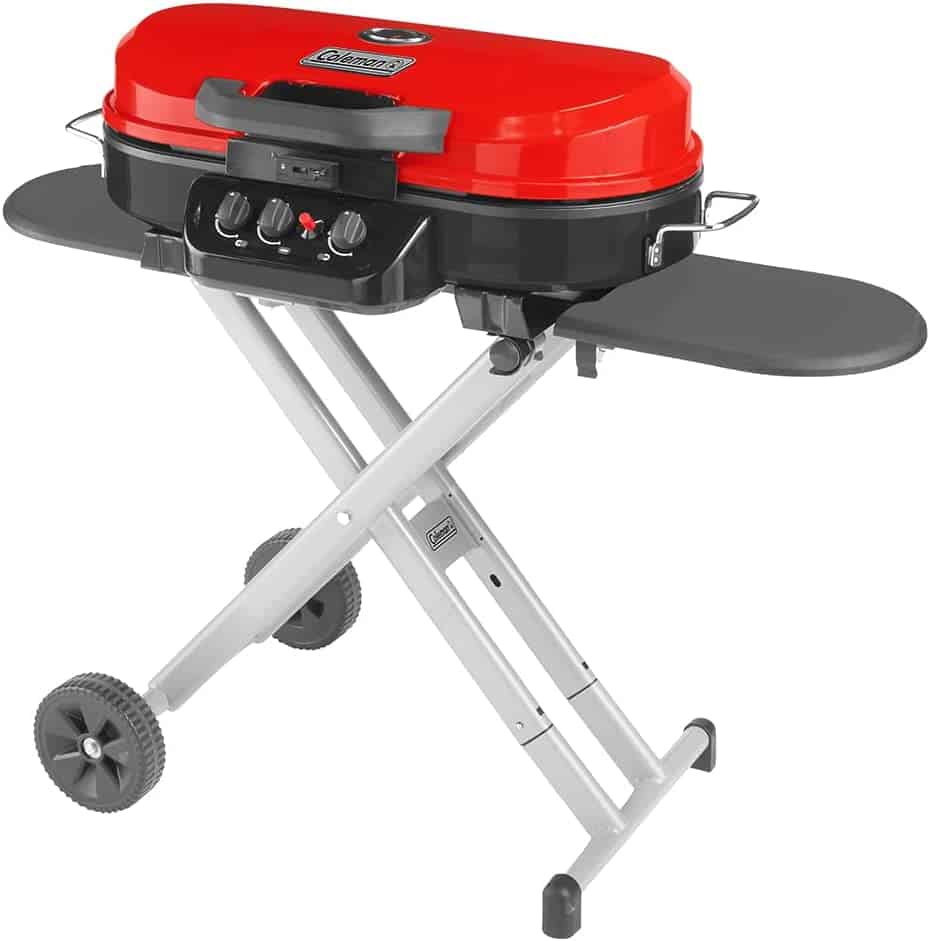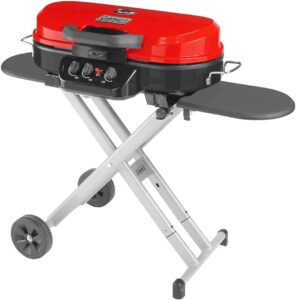 A portable gas grill is a camping essential for any grill master who wants to sizzle up some delicious meals, while letting everyone else enjoy the great outdoors!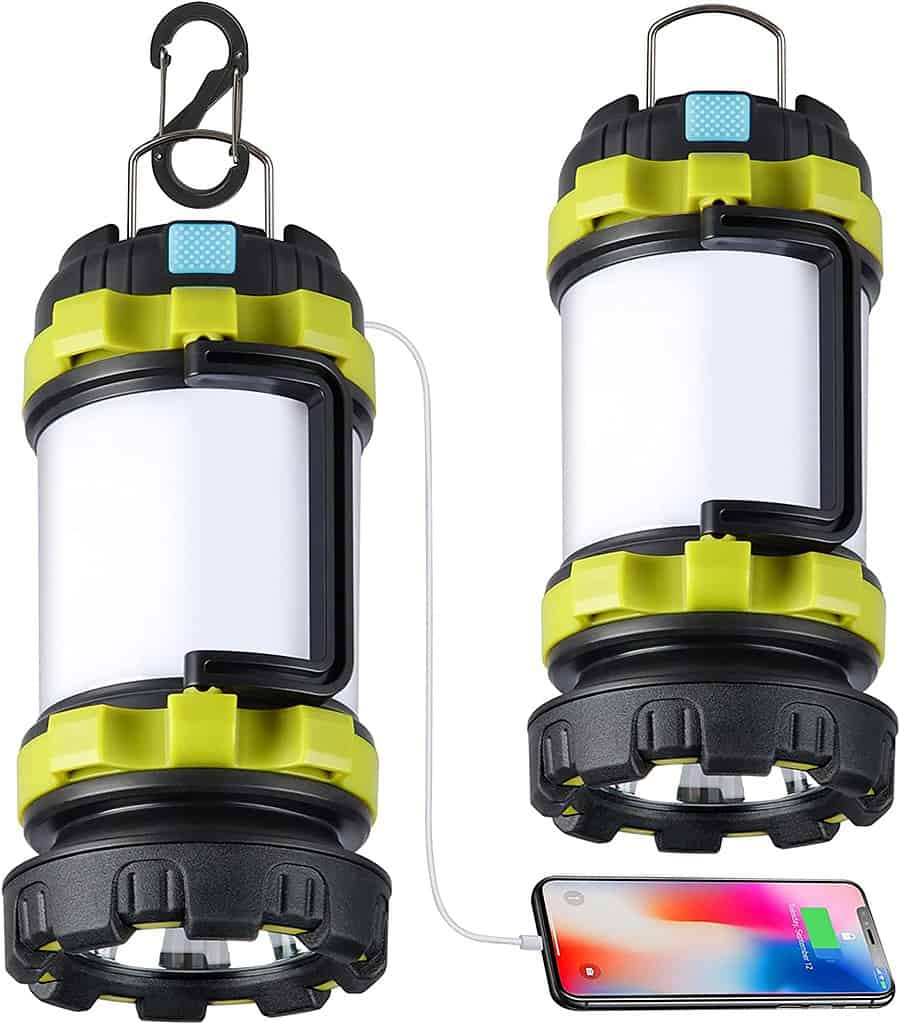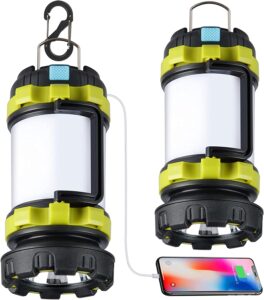 It's a lifesaver for outdoor games, barbecues and avoiding tripping over everything in the dark!
6. Collapsible Trash Can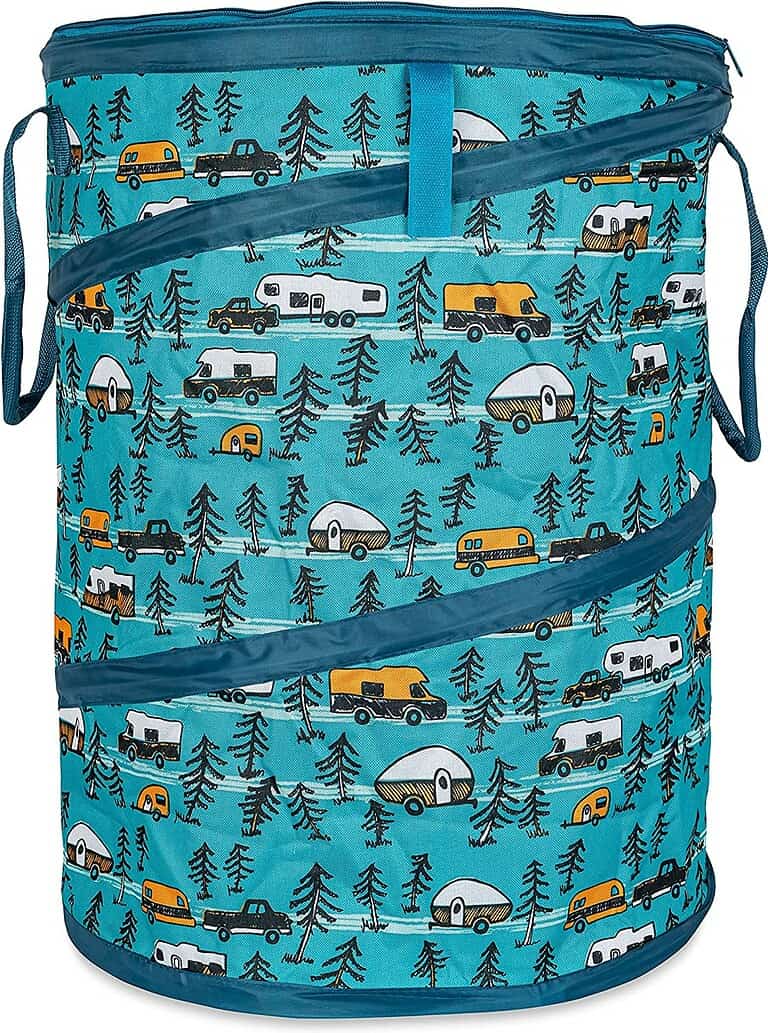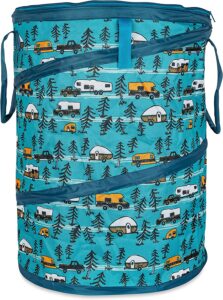 Keep your campsite clean and tidy, and store it away easily when done! This can is perfect for the campground!
7. Folding Wagon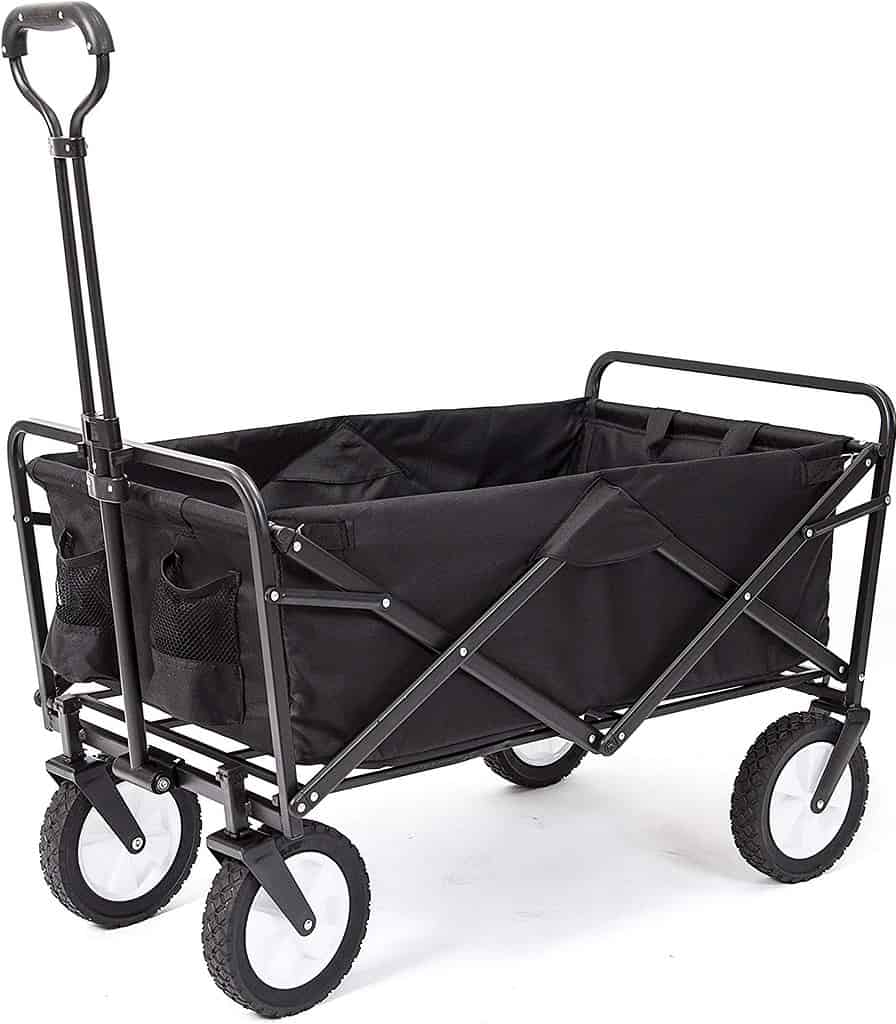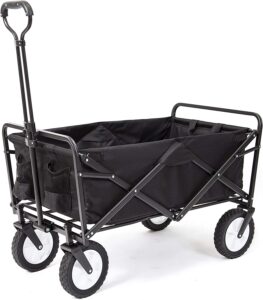 A folding wagon is perfect for hauling gear or groceries to your site to make your RV living easier.
8. RV Patio Mat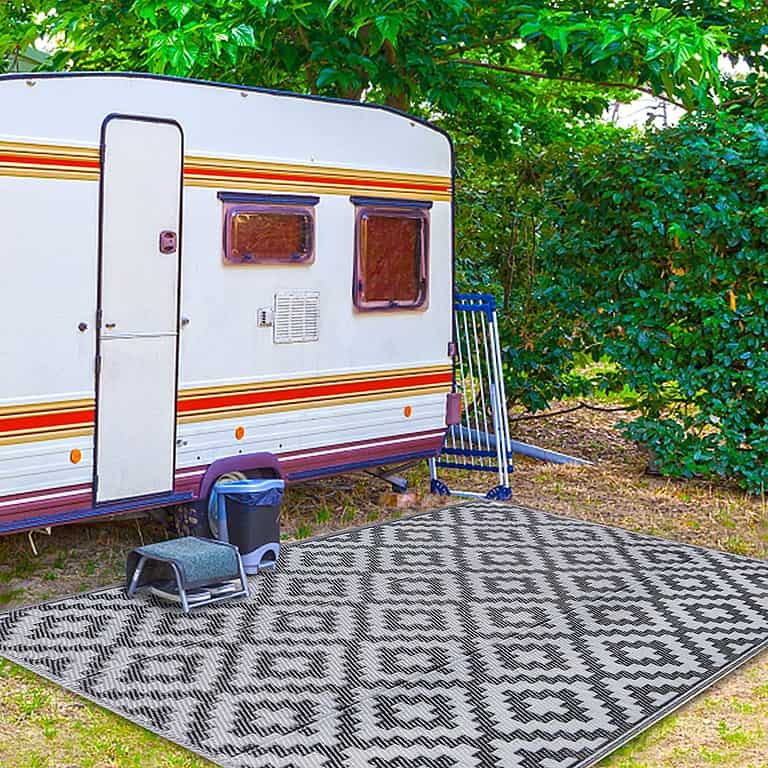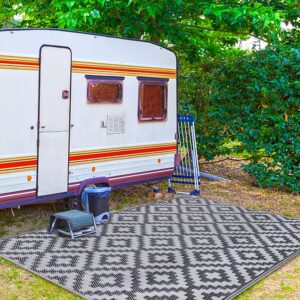 An outdoor camping rug is an important RV accessory for creating a clean and comfortable outdoor living area. Also keeps your RV clean on the inside.
9. Collapsible Bucket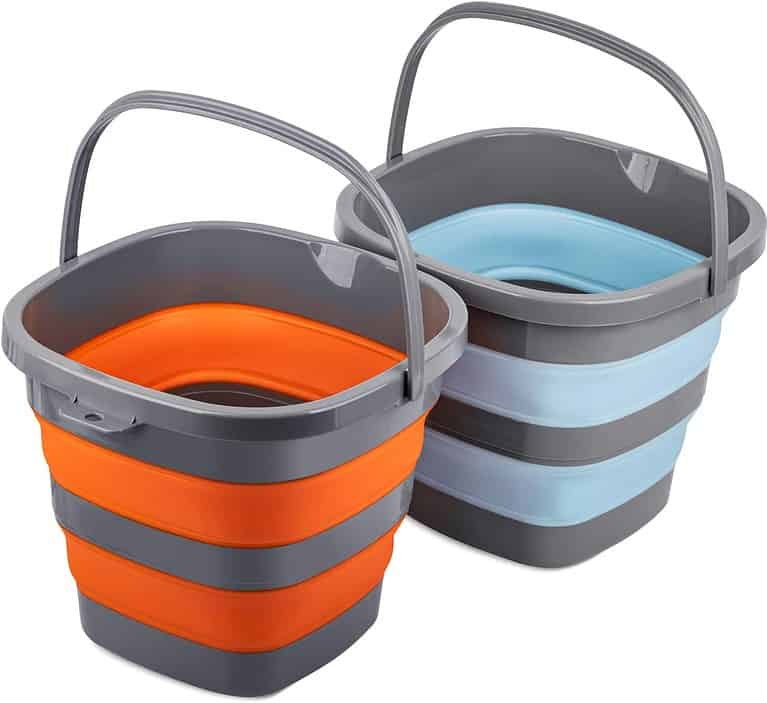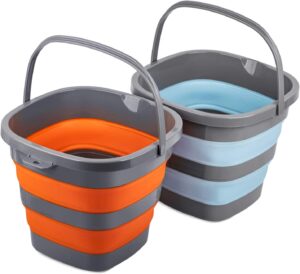 RV owners know that having a collapsible bucket on your RV trip is a good idea because it is lightweight, saves storage space, and can be used for variety of different things.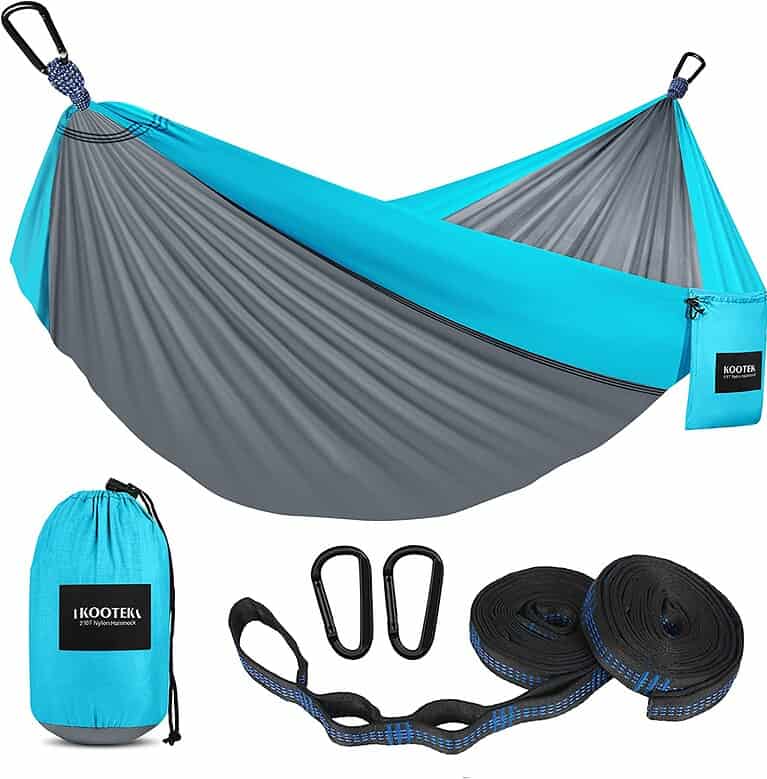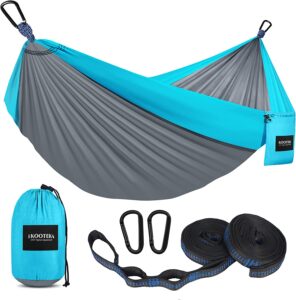 Perfect for taking a relaxing nap, reading a book or just enjoying the view.
11. Outdoor Storage Container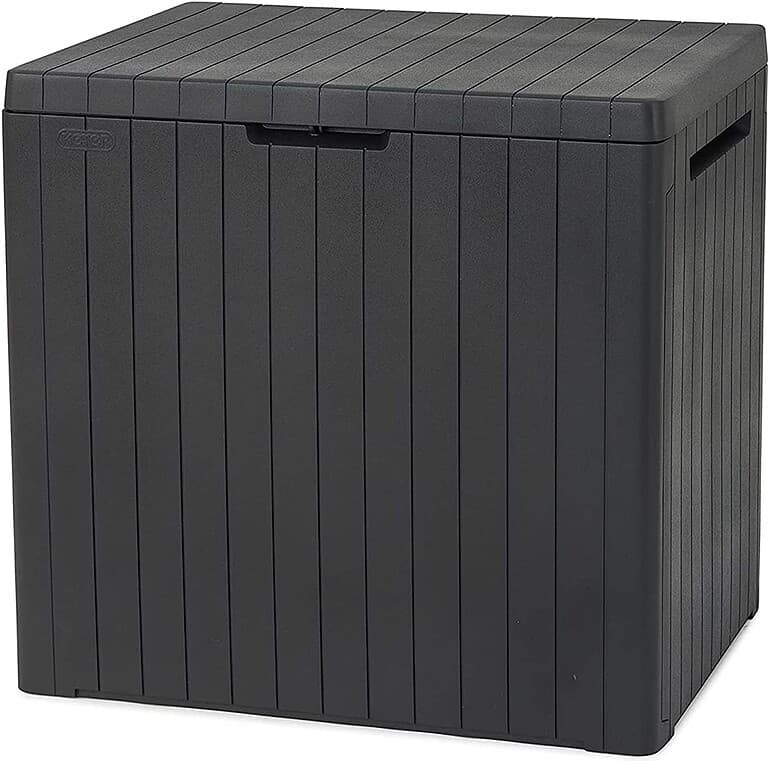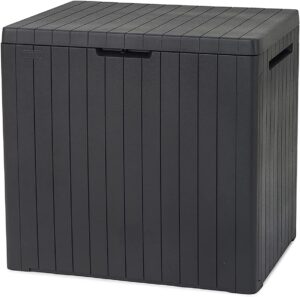 And RV gadget for your RV gadgets :). A waterproof container to store your camper accessories and outdoor gear.
12. Inflatable Kayak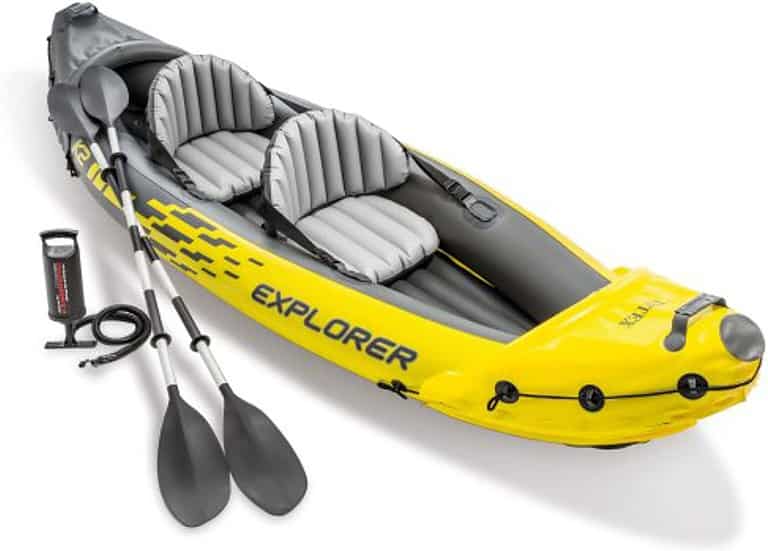 This inflatable kayak is a fun and easy way to explore nearby bodies of water.
13. Pop-up Canopy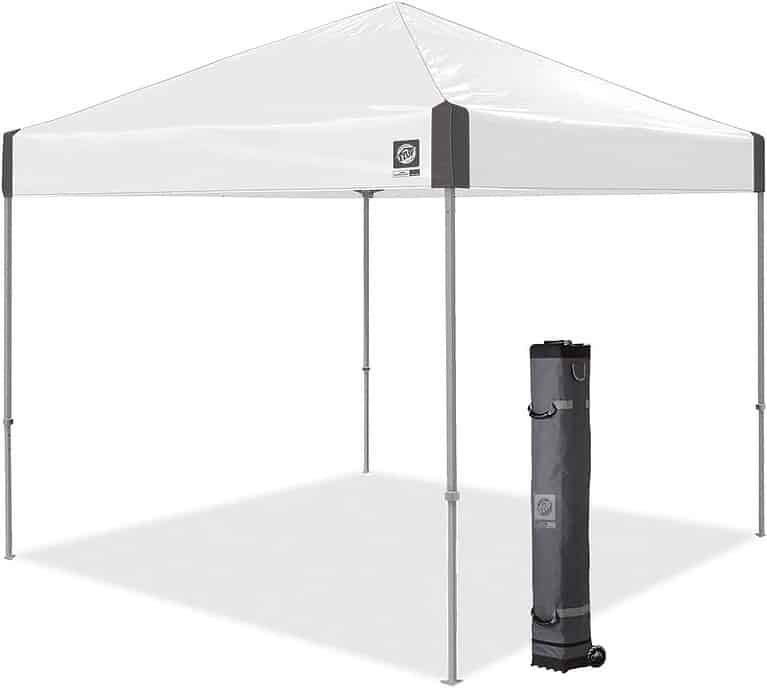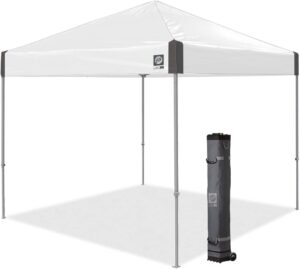 A pop up canopy can provide shade and shelter from the sun and rain.
14. Folding Bike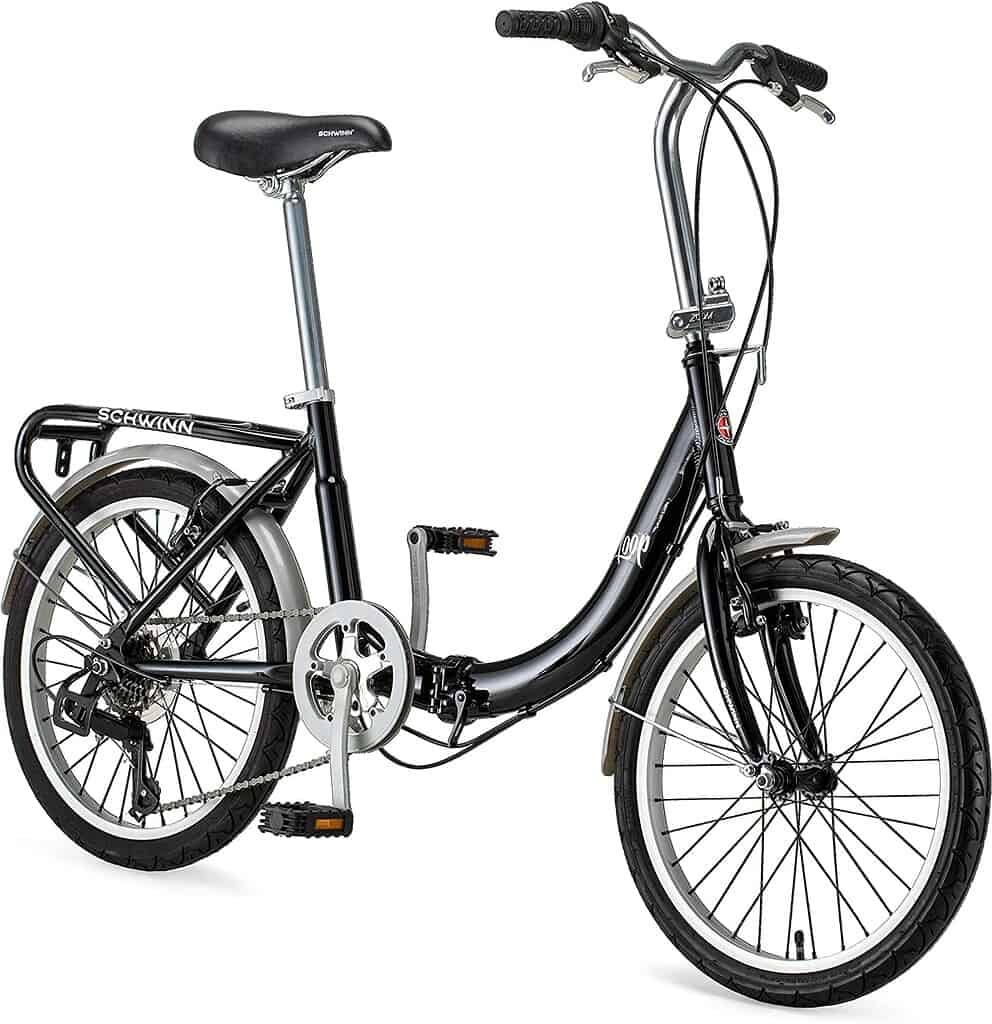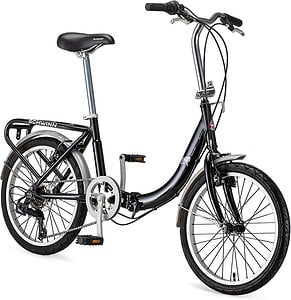 Folding bikes are perfect for your Rv and great for exploring nearby areas and scenic bike paths and yet again, easily storable.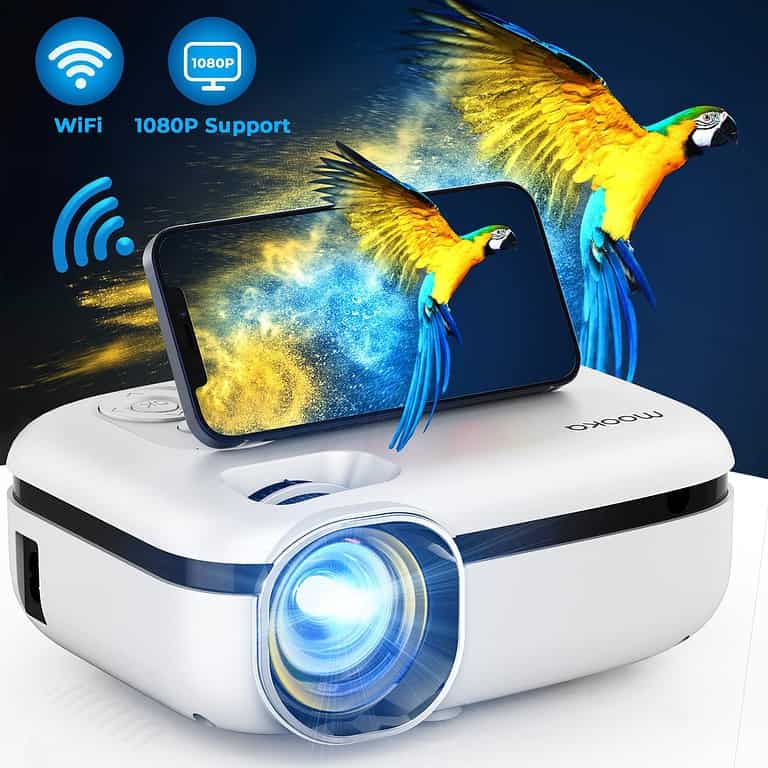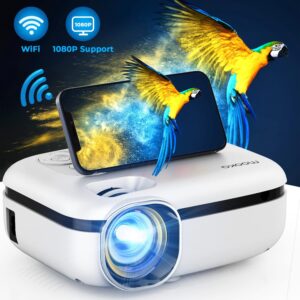 One of the coolest RV gadgets and a fun way to enjoy a movie under the stars.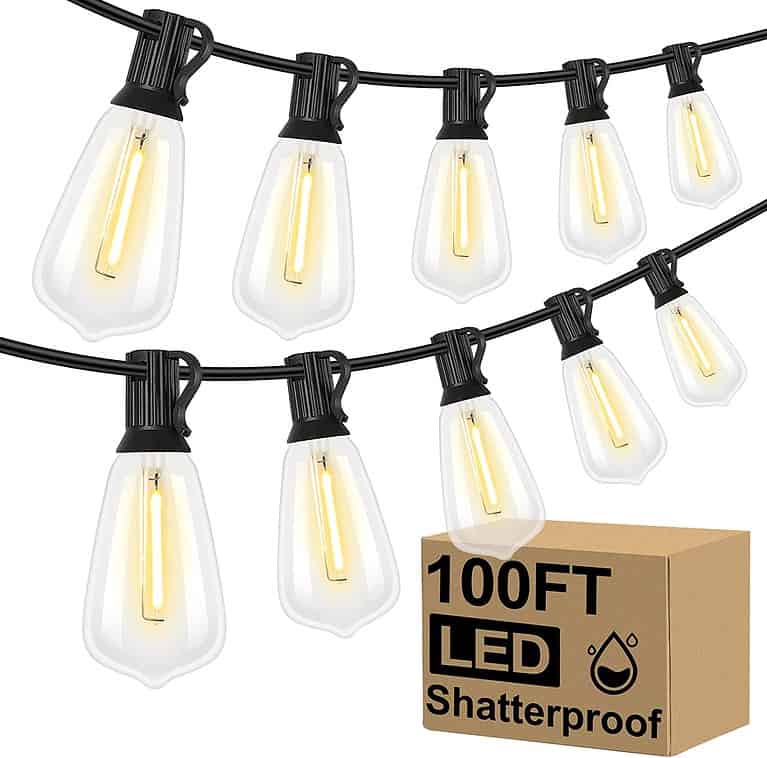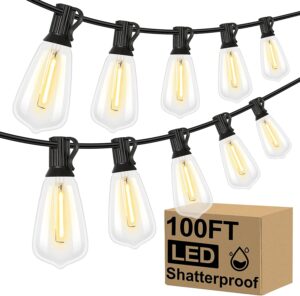 Add a touch of fun and light up your campsite with these easy camper accessories.
17. Portable Generator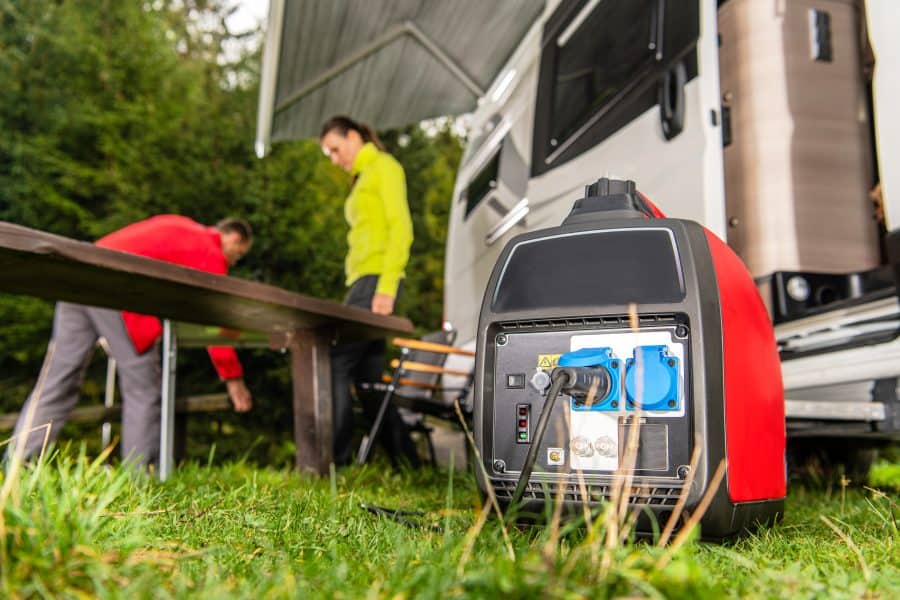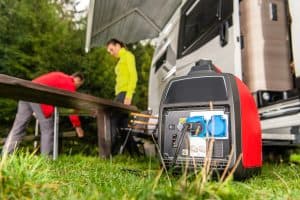 Portable generators are great for powering any necessary appliances or gadgets on the go. Also, needed for off the grid camping spots.
18. Outdoor Portable Speaker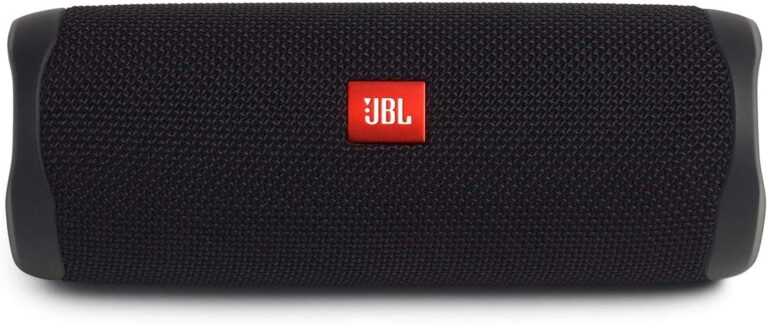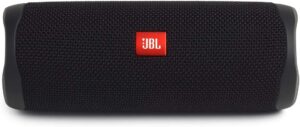 A waterproof and durable outdoor Bluetooth speaker allows you to enjoy your favorite tunes while relaxing outside. Keep the party going!
19. Solar Bug Zapper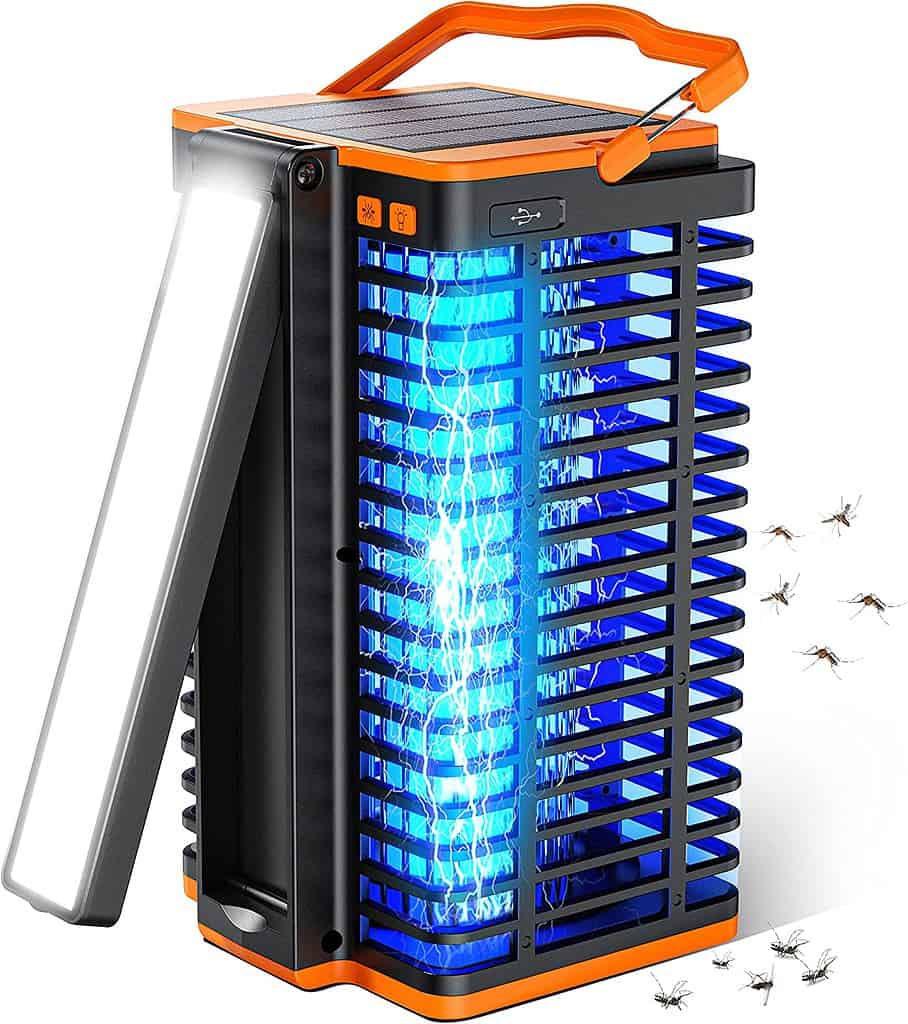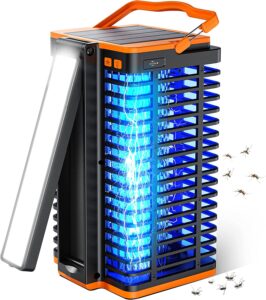 A solar bug zapper is one of those RV must-haves for outdoor living. You'll be glad you did.
20. Solar Phone Charger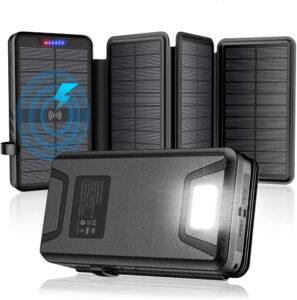 Solar chargers are perfect for keeping your gadgets charged while you're away from an outlet.
21. Cooler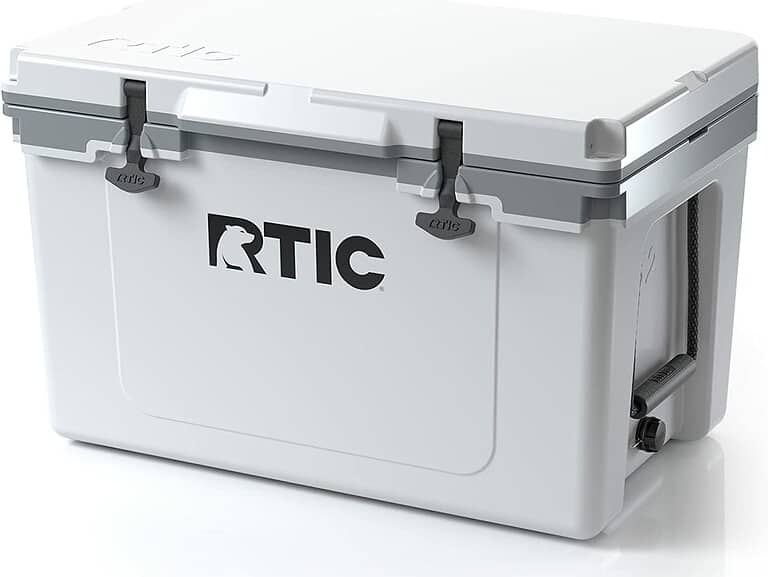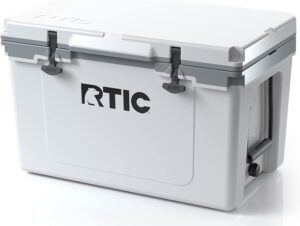 A cooler is an essential RV gadget for keeping drinks and food cold while on the road. Look for coolers that are durable, stay cold long and have a large capacity.
22. Outdoor Games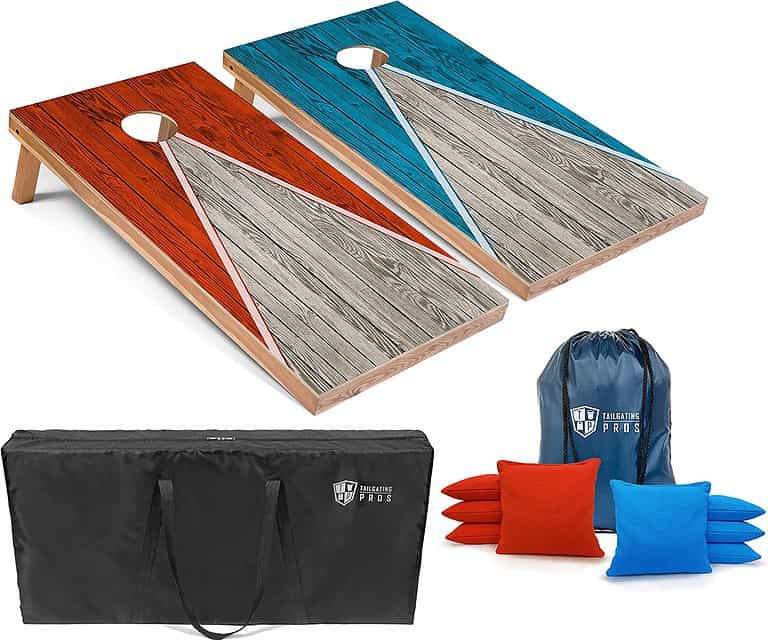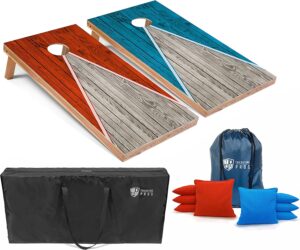 Outdoor games like cornhole, , frisbee and ladder toss are a great way to have fun and get some fresh air.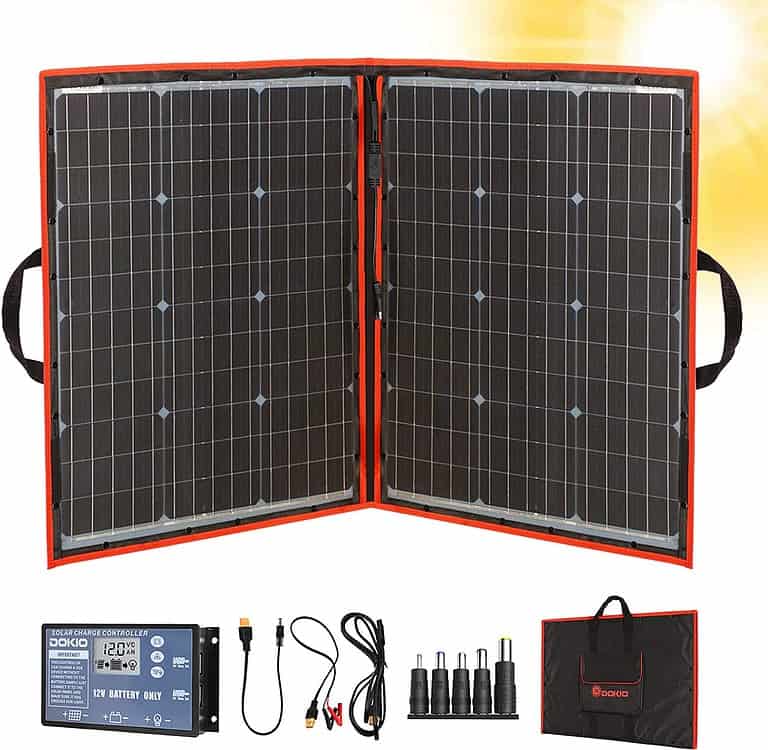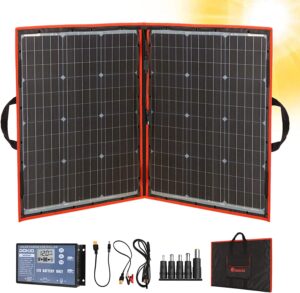 Great for powering electronics, appliances, and lights while camping in remote areas.
24. Firewood Carrier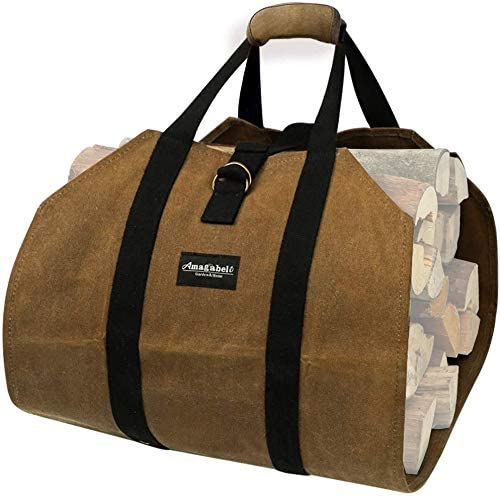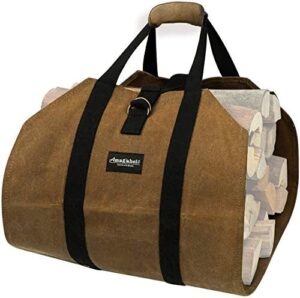 A handy RV gadget that is great for transporting firewood from your car to the campsite.
25. Portable Dog Fence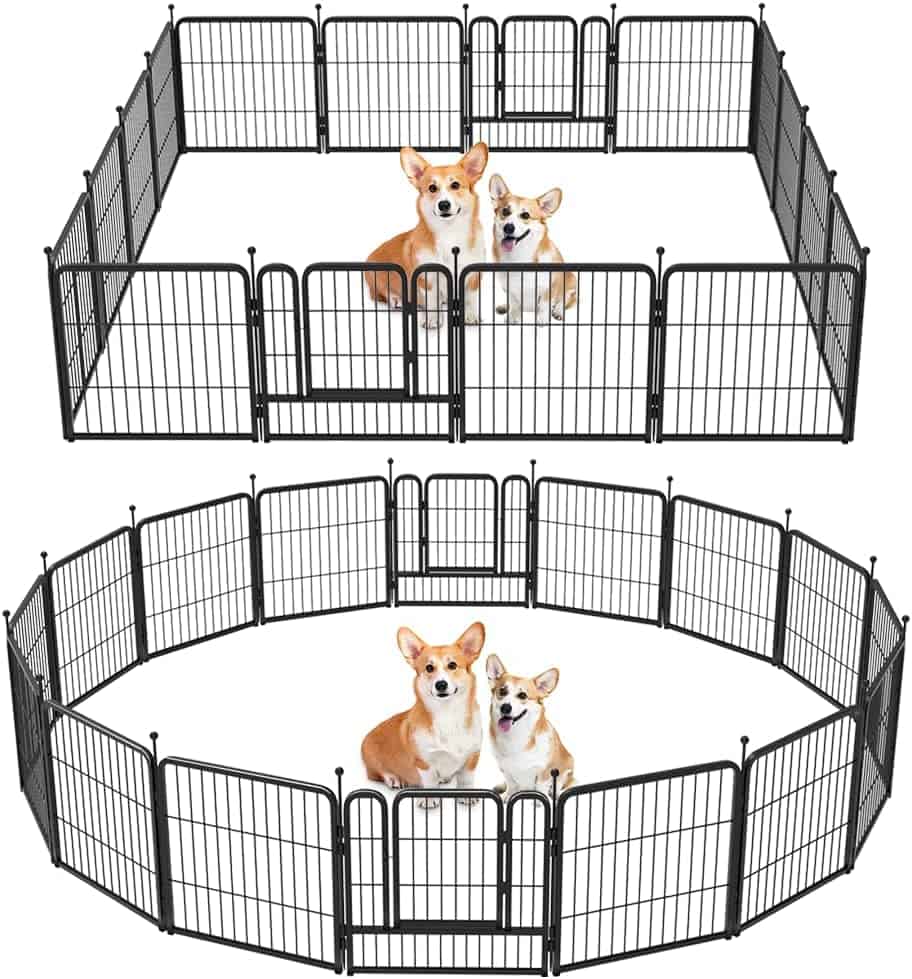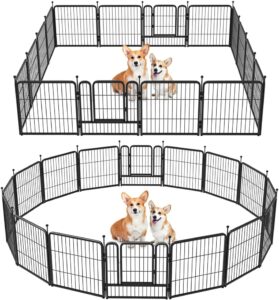 Your dogs need RV gadgets too! A portable dog fence is perfect for keeping your furry friends safe and secure while enjoying your camping trip.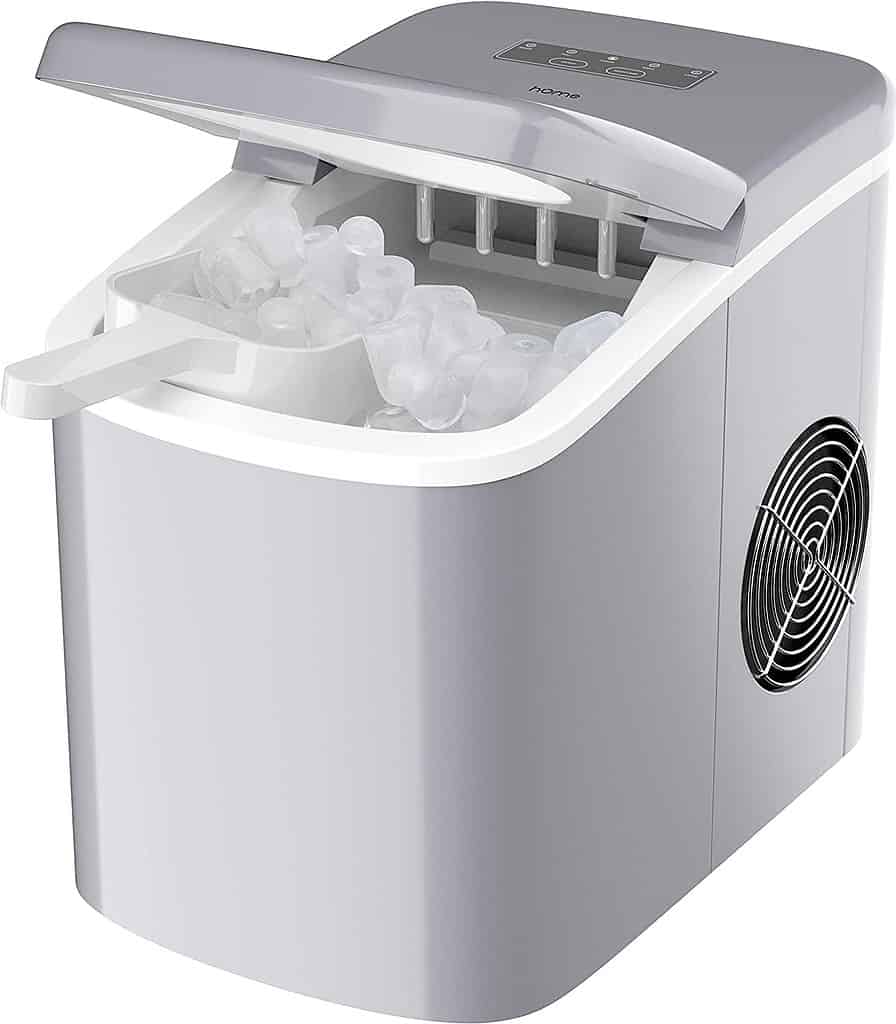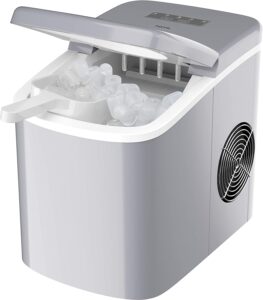 Never run out of ice again with this great RV kitchen gadget. Just add water and let it do the work!
27. Satellite TV Antenna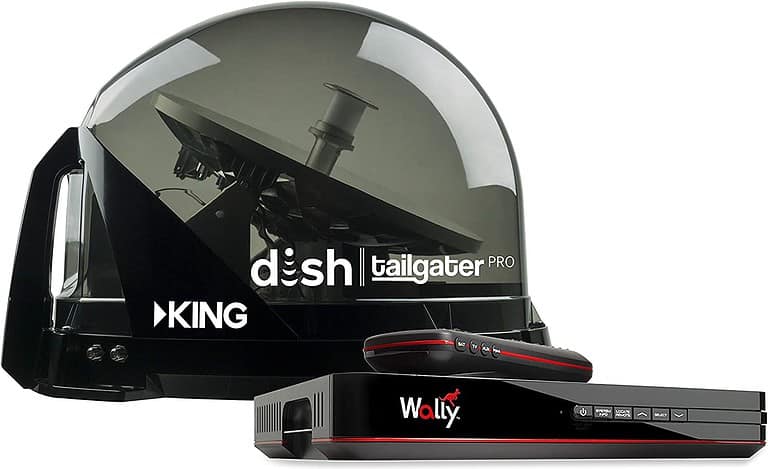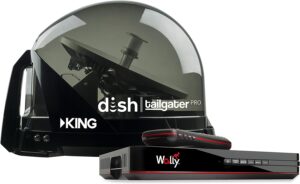 Ok, a satellite dish is not one of the totally needed RV gadgets, but what the heck right? Enjoy your favorite shows, movies and sports while camping. Wonderful if you are full time RV living. Don't forget the surge protector!
28. Alfa Wifi CampPro Wifi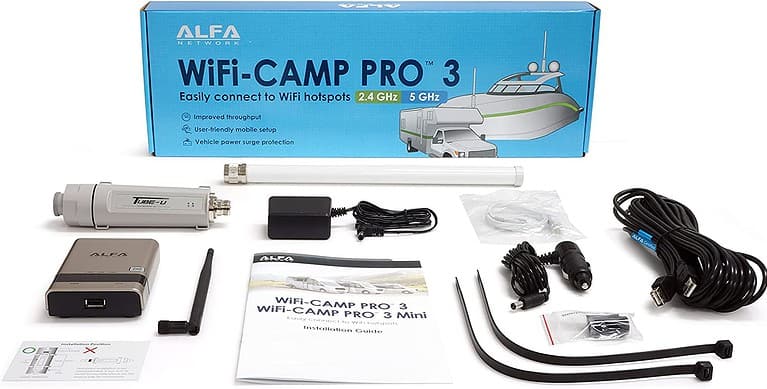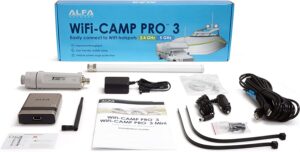 Boost your internet connection with this great set up!
29. Outdoor Inflatable Couch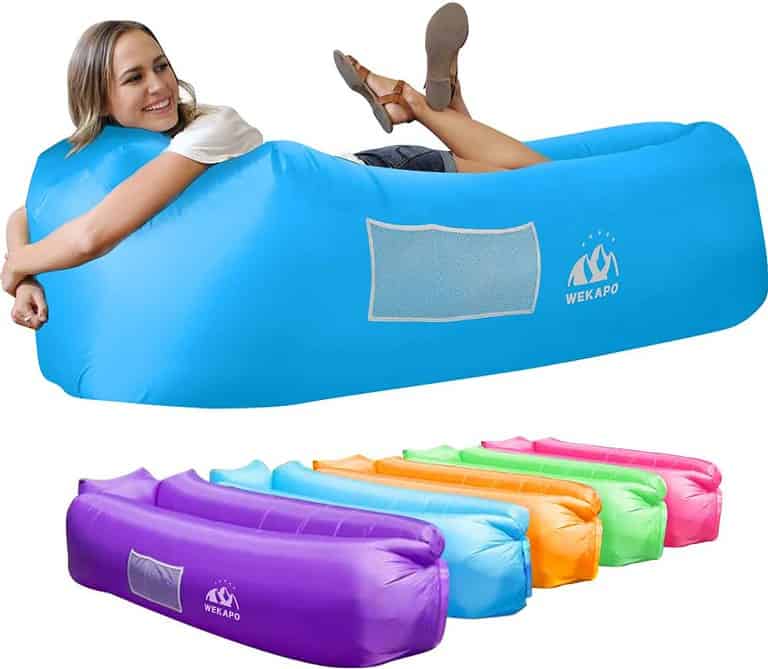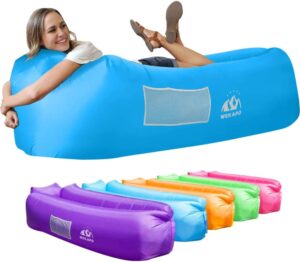 RV camping can bee comfortable! An inflatable couch is a fun and comfortable way to relax outside your RV.
30. Portable Outdoor Griddle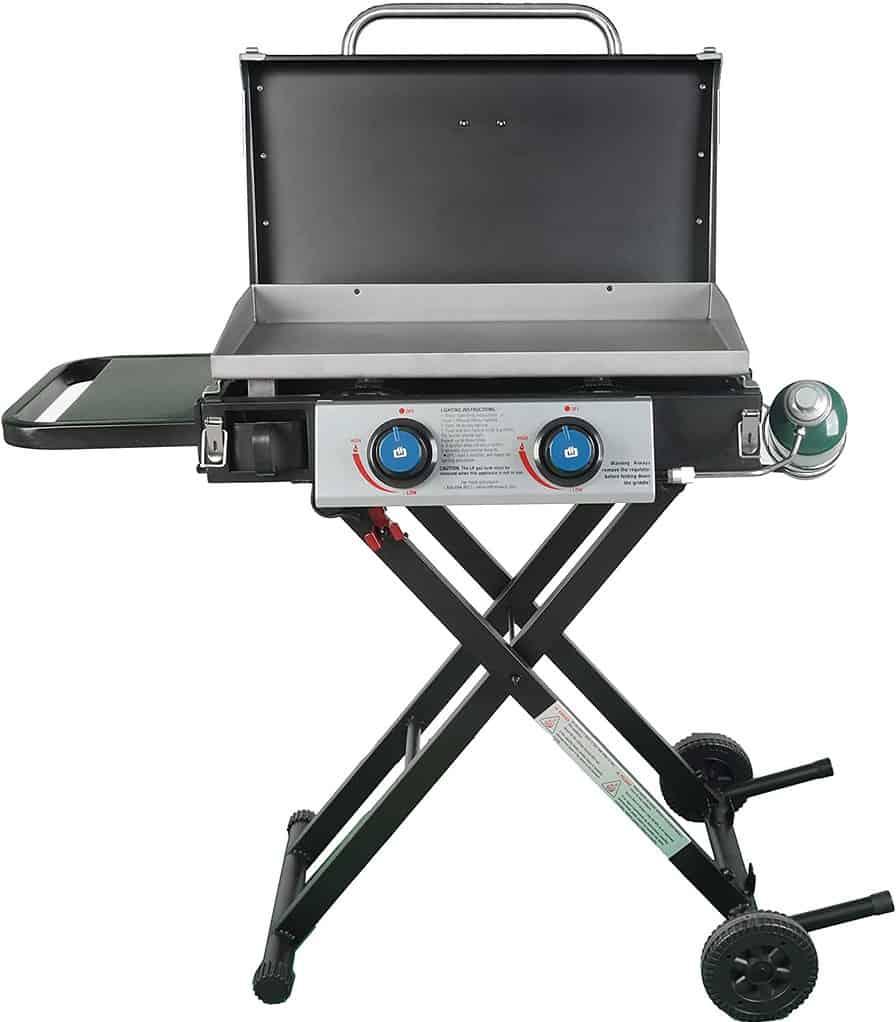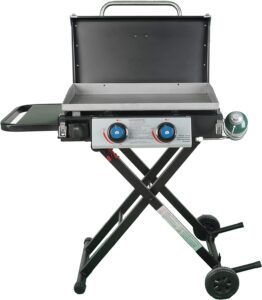 A portable outdoor griddle is perfect for cooking breakfast, lunch, or dinner in your outdoor kitchen. You can find models that run on propane or butane.
31. Outdoor Shower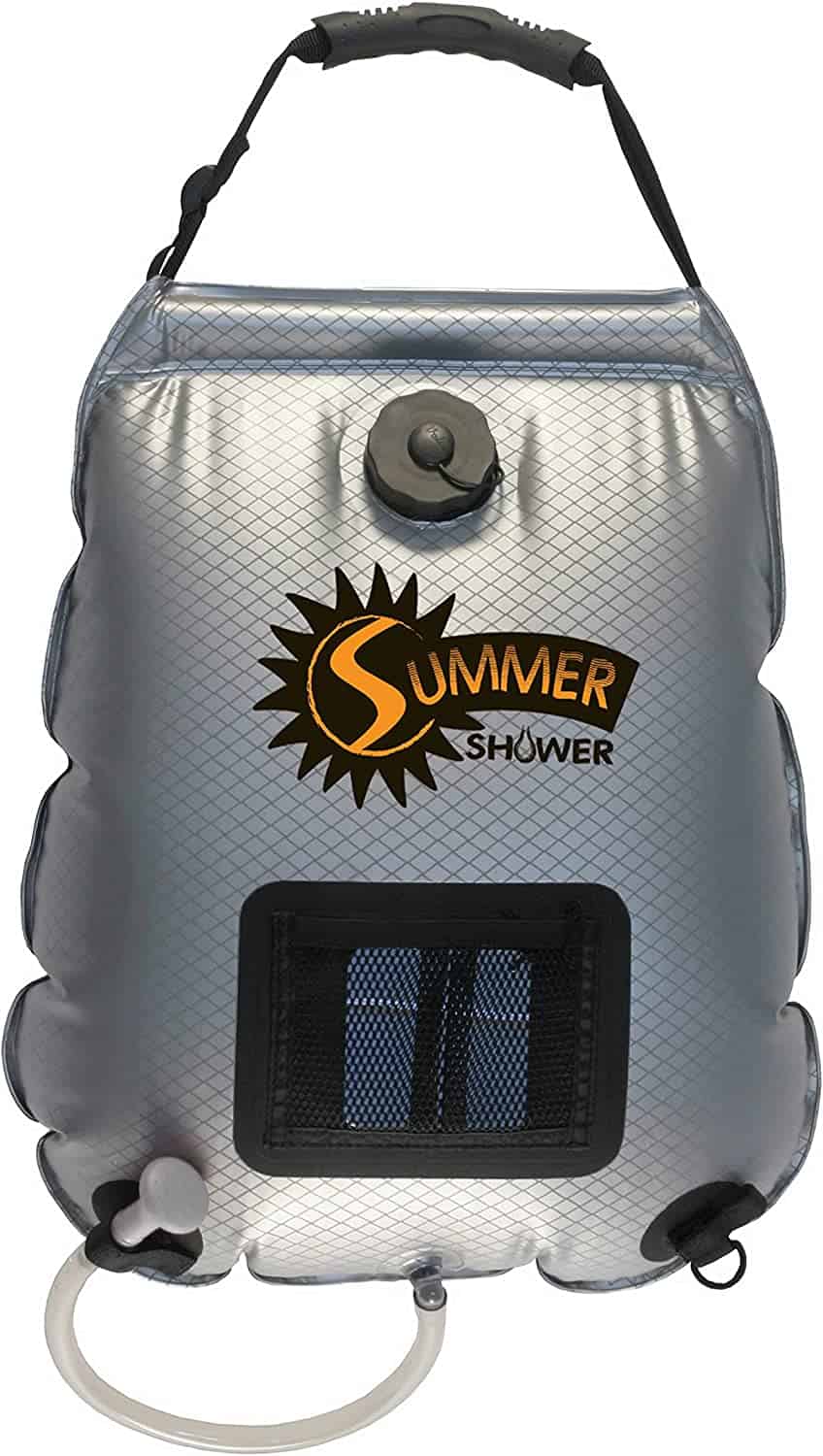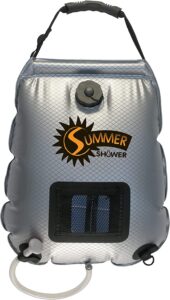 An outdoor shower can be a great way to rinse off after a day at the beach or a hike. You can find models that are portable and easy to set up.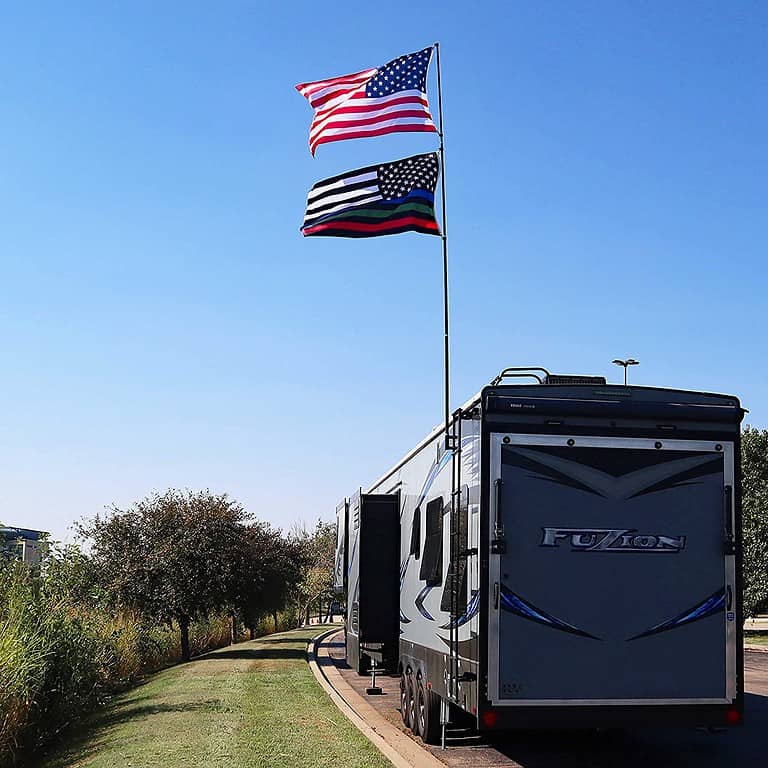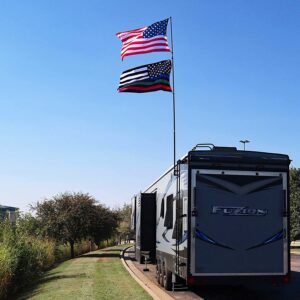 RV owners can share their pride when parked at the RV park!
33. Campfire Cooking Tripod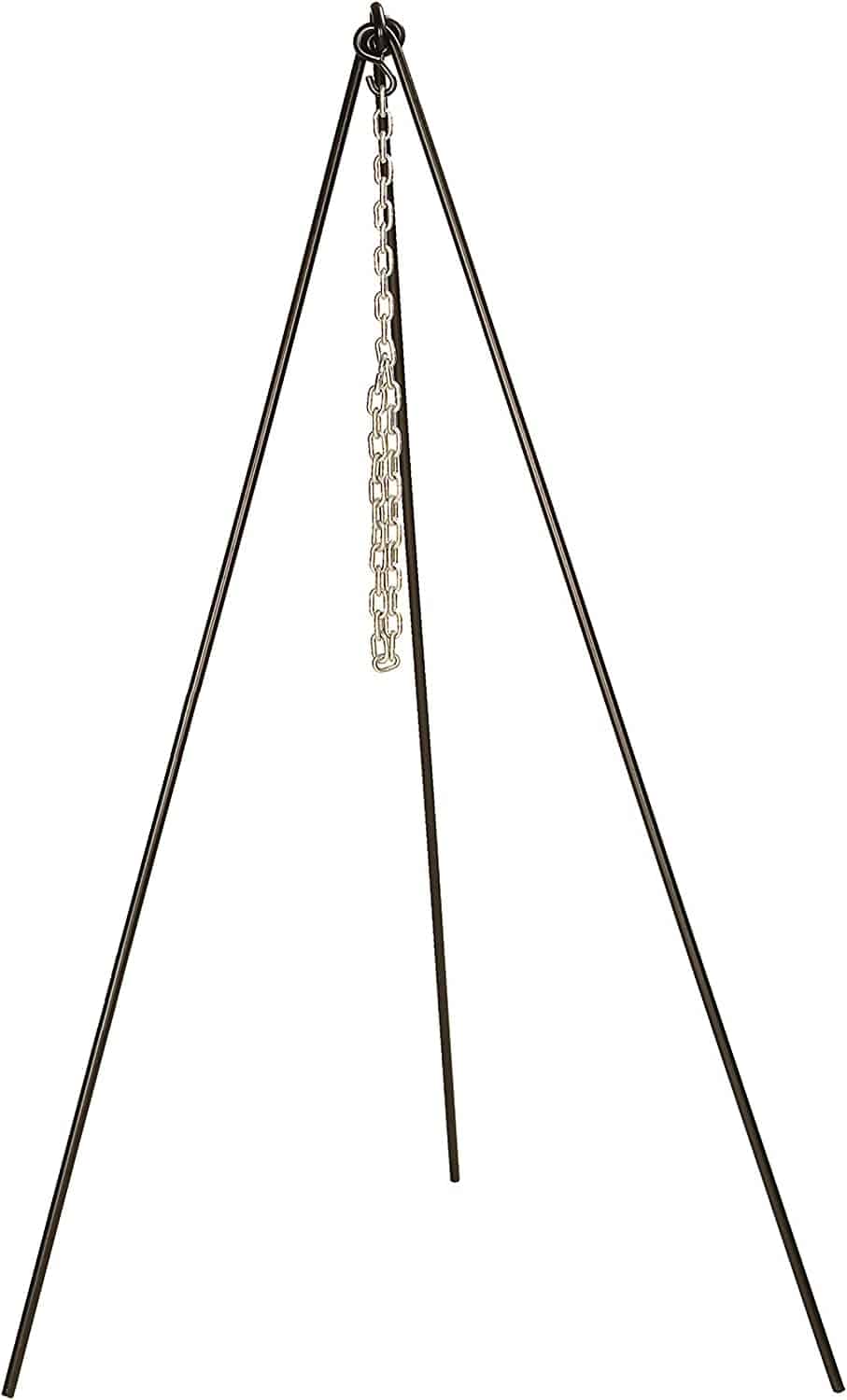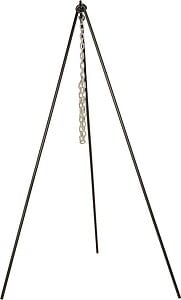 A tripod is one of the best rv kitchen gadgets! You will love this! We use ours all the time!
34. BBQ Tool Set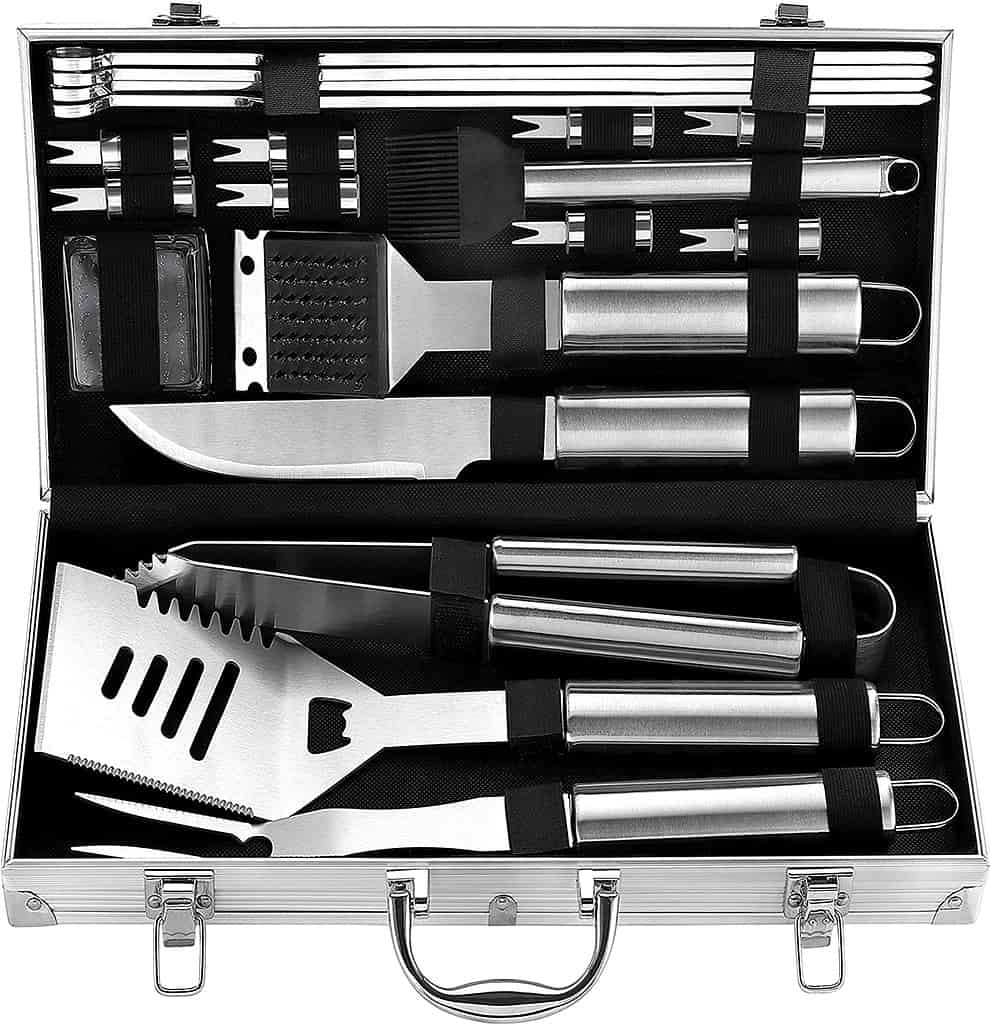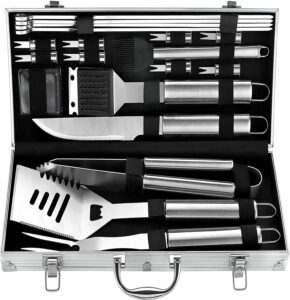 No RV kitchen is complete without a good BBQ grill tool set.
35. Outdoor Camping Lantern
Pretty much an RV camping staple right? But it comes in handy all the time and in so many different ways.
36. Flashlight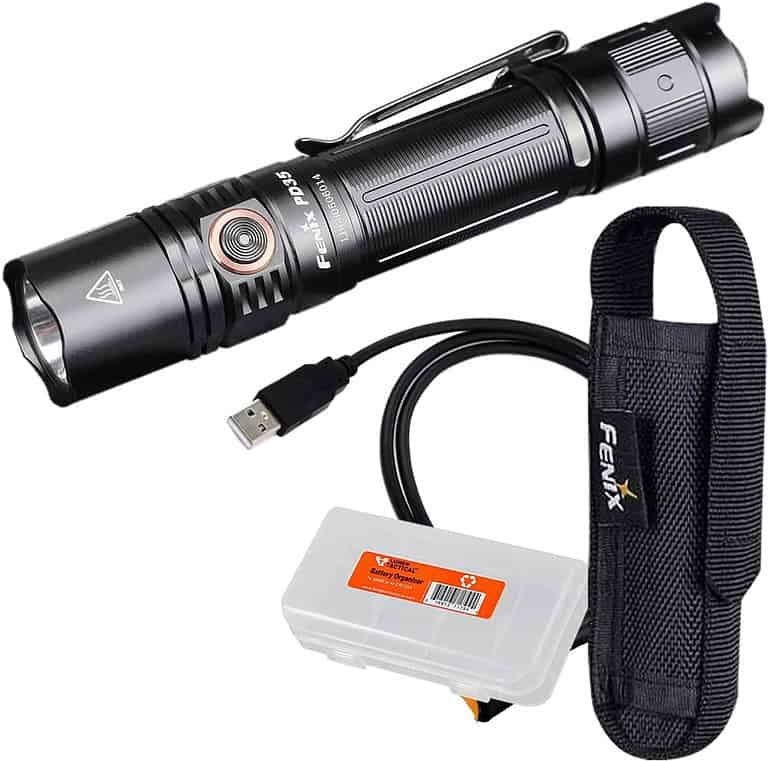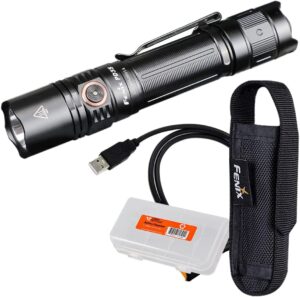 A good flashlight is one of those RV supplies that is just straight up mandatory.
37. Zero Gravity Chairs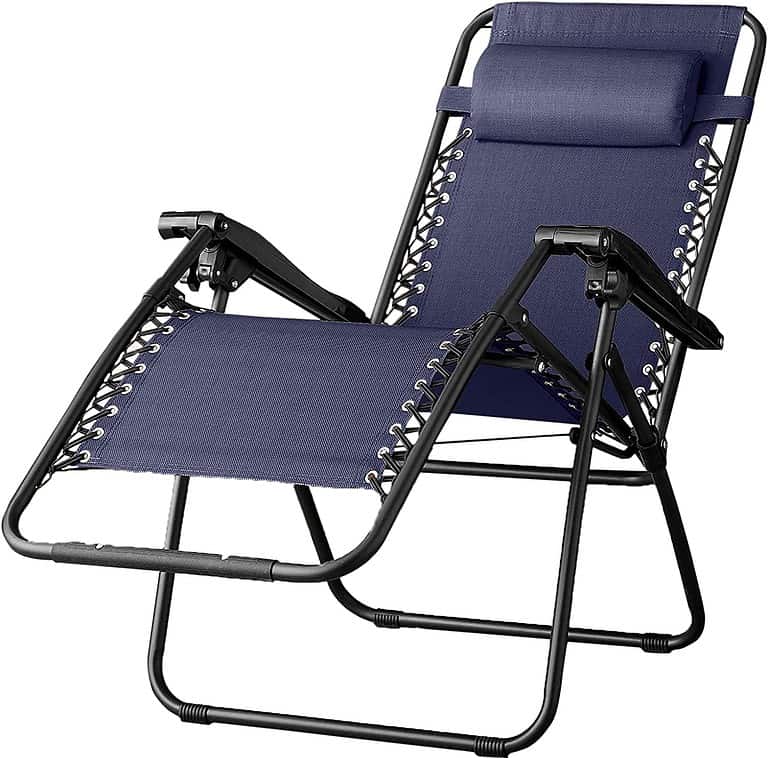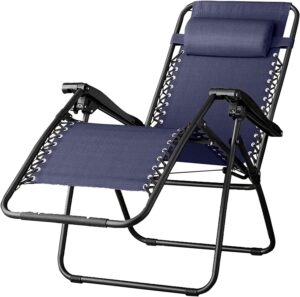 If you are going to get one chair, this is the one to get. You're welcome.
Popularity of RVing
RVing, or recreational vehicle travel, has been growing in popularity in recent years. There are many reasons for this, including the desire for more outdoor experiences and the freedom that RV travel provides. RVs allow people to travel and explore new places with the comforts of home, making it a great option for families, retirees, and adventurers alike.
One of the biggest draws of RVing is the ability to disconnect from the stresses of everyday life and immerse oneself in nature. Many RV parks are located in beautiful natural areas, providing easy access to hiking trails, lakes, and other scenic spots. RVers can also camp in more remote areas, off the beaten path, for an even more rugged and adventurous experience.
Another reason for the popularity of RVing is the sense of community it provides. RV parks often host events and activities that encourage socializing and making new friends. RVers tend to be a friendly and tight-knit group, sharing a common love of travel and the outdoors.
Overall, RVing is a great way to experience the beauty of our country and connect with like-minded individuals. As more people seek out alternative forms of travel and outdoor recreation, RVing is likely to continue to grow in popularity.
Importance Of RV Accessories
As a passionate RV enthusiast, I cannot stress enough the importance of having the right RV accessories. Whether you're a frequent traveler or someone who enjoys a weekend camping getaway, the right accessories can make your RV experience complete.
Firstly, safety is of utmost importance when you're traveling in an RV. Essential RV accessories like backup cameras, tire pressure monitoring system, and GPS devices not only make your journey safer but also give you peace of mind.
Next, you need to make sure that you're comfortable during your trip. Accessories like awnings, rv leveling blocks, rv sewer hose and RV tire covers keep you and you're RV protected from the elements and can relax in comfort. Additionally, having the right bathroom and RV kitchen accessories can make your RV feel more like a home away from home.
Another important aspect of RV accessories is maintenance. Regular maintenance is key to keeping your RV in top condition, and accessories like water filters, sewer hoses, and battery chargers can help you maintain your RV with ease.
Last but not least, the RV fun stuff. The best RV accessories add to the overall experience. Adding party lights, outdoor speakers, and camping chairs can make your RV feel like your own private oasis.
Storage and Organizing For Your RV
Storage and organization are key components to a happy and stress-free trip. Let me tell you, there's no better feeling than pulling into a campground and knowing exactly where everything is located in my RV. This is key to making my camping trips go smoothly.
First things first, let's talk about storage. One of my favorite storage options are these nifty little hanging mesh organizers that attach to the walls of my RV. They're perfect for storing small items and keeping things off the floor.
Another must-have RV storage solution is a set of collapsible storage bins. These babies are a lifesaver for keeping everything in its place while on the move. I use them to store things like food, linens, and even shoes. And when I'm not using them, they collapse down to practically nothing, taking up minimal space.
Now let's talk about organization. One of my favorite organizational tools is my trusty label maker. Yes, I'm that person. But let me tell you, nothing makes finding what I need easier than having labels on everything. Plus, it's a great way to amuse yourself on a rainy RV day.
Another fun organization option is creating a magnetic board to keep all my papers and notes in one spot. It's a simple DIY project, but it's a game-changer when it comes to keeping track of important documents like maps and reservations.
Overall, a little bit of creativity and some helpful storage and organizational tools can make all the difference when it comes to RV travel.
Conclusion
That's it, folks! As a fellow camping enthusiast, let me tell you that having the perfect RV camping accessories can make all the difference in creating an unforgettable outdoor experience at the campground. And with these 37 RV accessories for outside, you can take your outdoor adventures to the next level! From cozy outdoor carpets to stylish awnings and trendy string lighting, you'll be the talk of the RV park! So, let's get packing and start planning your perfect camping trip, and I promise your fellow campers will envy your incredible setup!