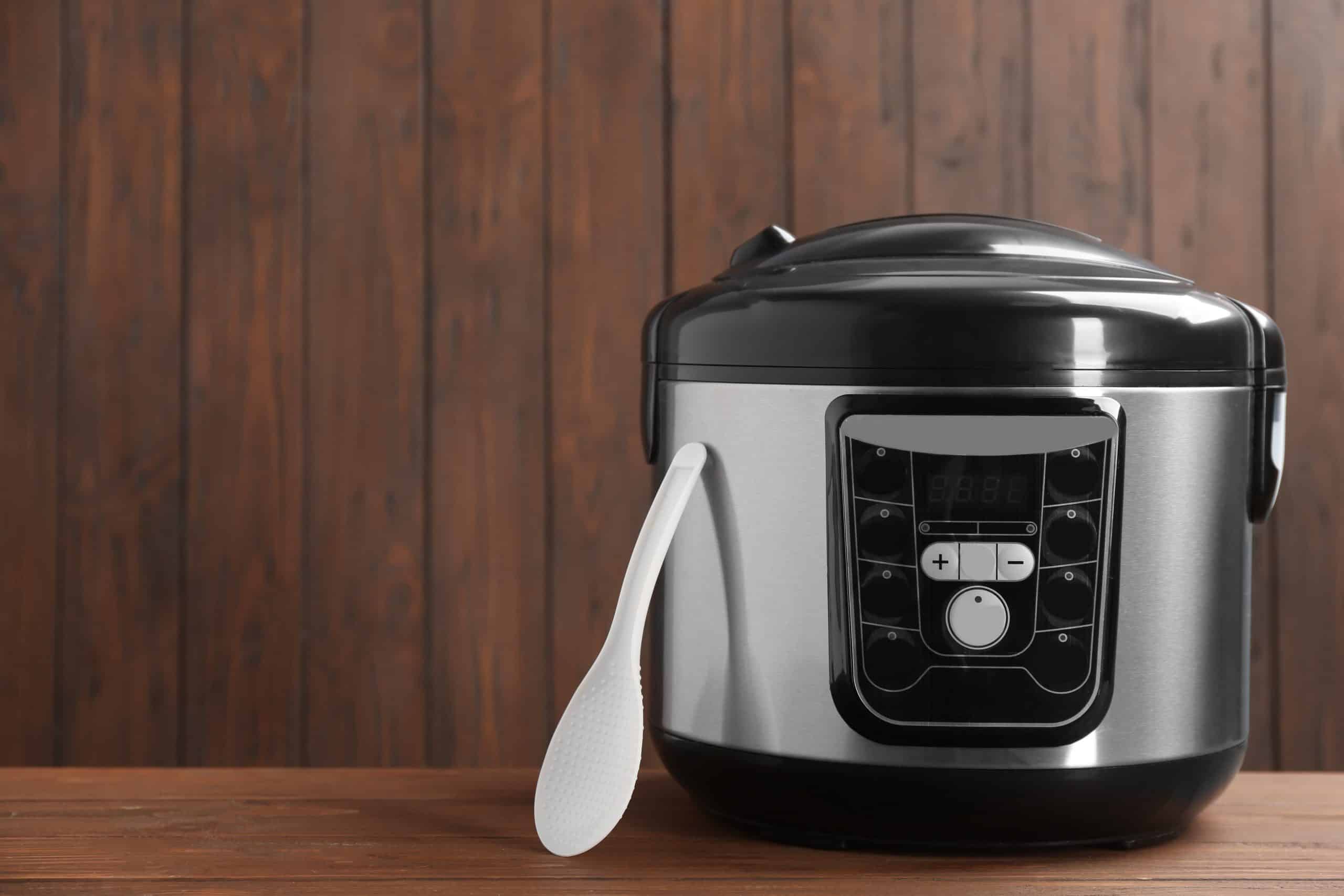 Fall is in the air, and that means one thing: CROCKPOT SEASON IS HERE!
Today I'm sharing nine of my favorite easy Crock Pot Camping meals that are perfect for the fall. All of these camping crockpot meals are simple to make, and they pack a ton of flavor. These slow cooker recipes are perfect for a chilly Fall day spent outdoors and will leave you feeling full and satisfied.
Sometimes we don't need to reinvent the wheel, but rather add a touch of who you are to these easy camping crockpot meals.
I decided to make this list for those that cherish their time on their camping trip and just want simple ingredients we can find right at our local grocery store. These slow cooker recipes not only have delicious flavor but also provide a feeling of comfort on these cooler fall days.
Please feel free to add your twist and spin to make them yours. Enjoy our easy camping crockpot meals!!
And when you're finished, don't forget to check out our 5 Camping desserts with 5 ingredients or less!!
Our 9 Favorite Easy Crock Pot Camping Meals
1. Game Day Chili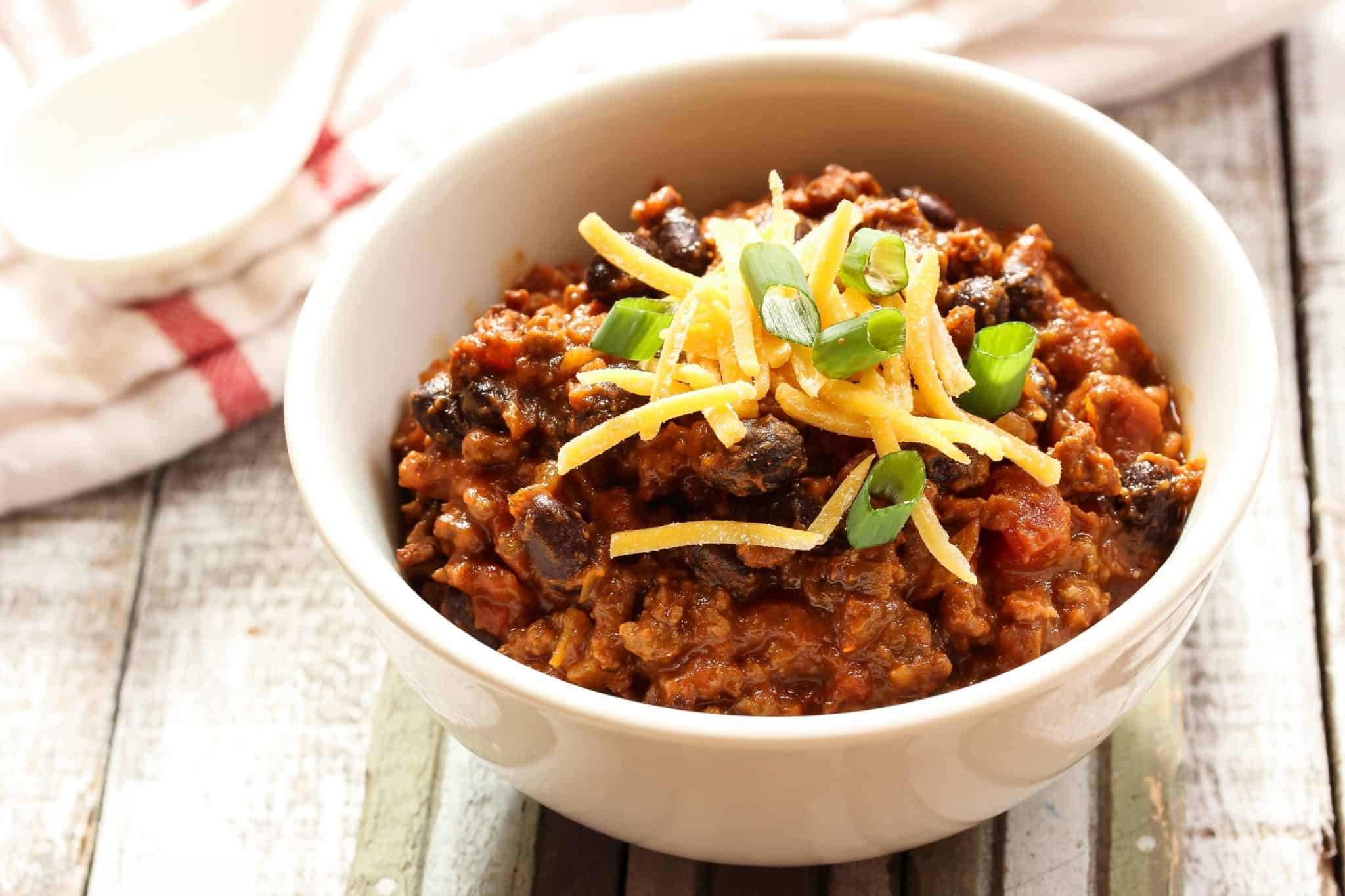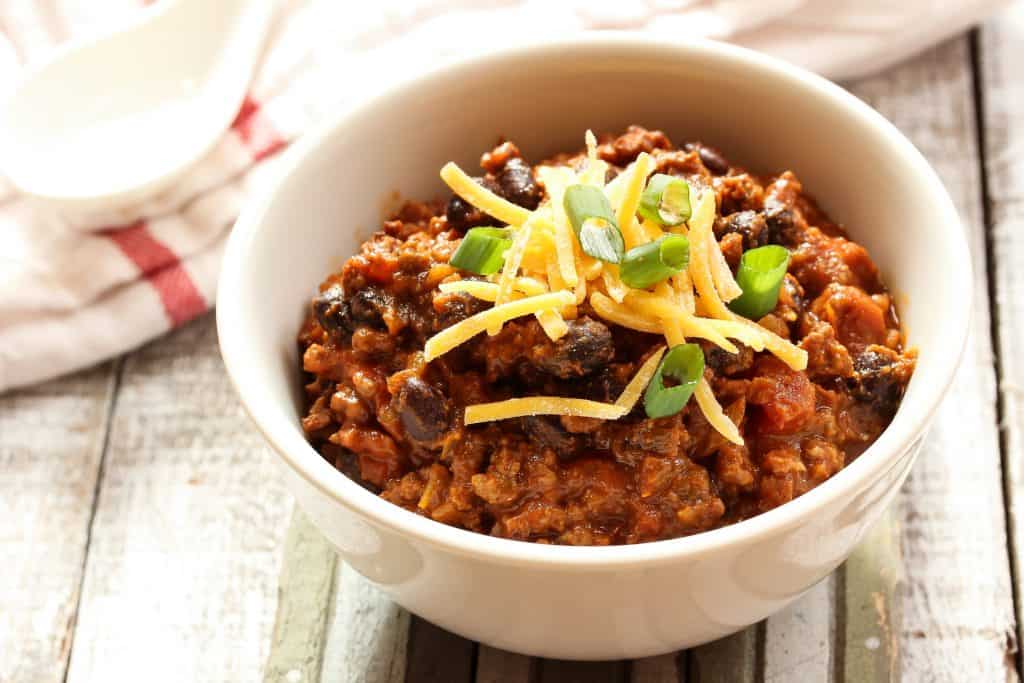 This recipe is delicious!! Slightly different than your traditional chili recipe, I use sweet potato in place of beans (I don't like them ☹)! You can make this vegetarian if you'd like, I have before, and seriously my kids had no clue!! Throw all the ingredients in the slow cooker, sit back and enjoy your college or pro football games for the rest of the day!
Ingredients:
2 lbs ground beef
1 29.5oz Tomato Sauce (I love Muir Glen brand)
2 cans Rotel w/juice (I use "hot" but feel free to use your spice level)
1 red onion chopped
1 Tsp minced garlic
3 Cups of Beef Stock
1 cup chopped carrots
2 sweet potatoes diced/cubed
2 Bay Leaves
½ Tsp Thyme
½ cup chili powder
Dash of Salt, Pepper, Oregano, & Red Pepper flakes (to taste)
If you'd rather use a packet of Chili seasonings instead of the ** items, please feel free
Optional Toppings:
Shredded cheddar or jack cheese
Diced onion
Sour cream
Directions:
Prep all your chopped and diced ingredients and set aside. Brown your ground beef, onions, and garlic. Drain the fat if you wish. Place cooked meat into the slow cooker, add tomato sauce, Rotel, beef stock, carrots, sweet potatoes, and all seasonings, then give it a good stir. Cover and set on low (7-8hours) or high (ready within 4-5 hrs). Before I serve, I toss out the bay leaves and dish out into individual crocks or bowls. Serve with my delicious cornbread dump recipe and enjoy!!
2. Delicious Cornbread Supreme Dump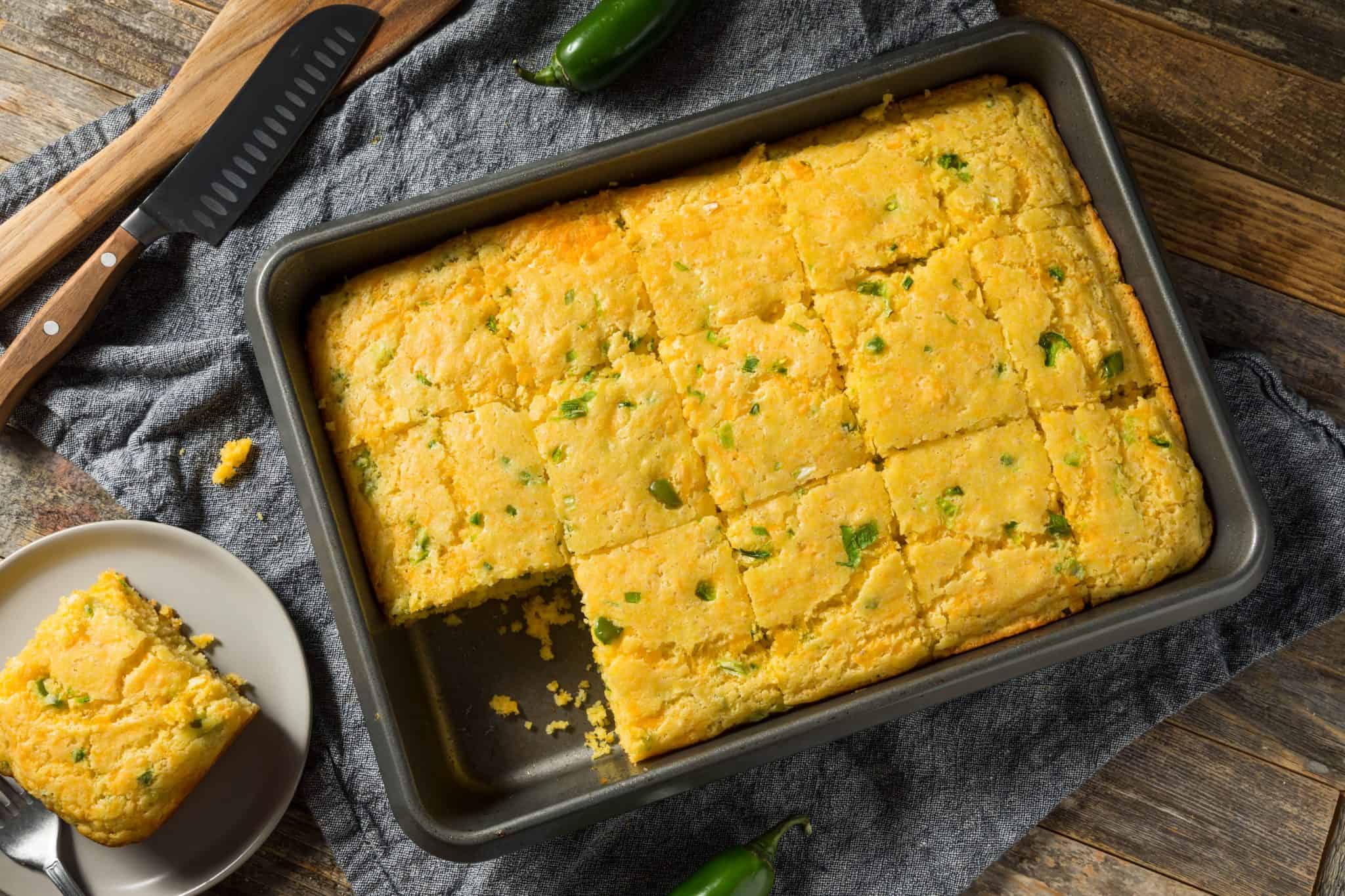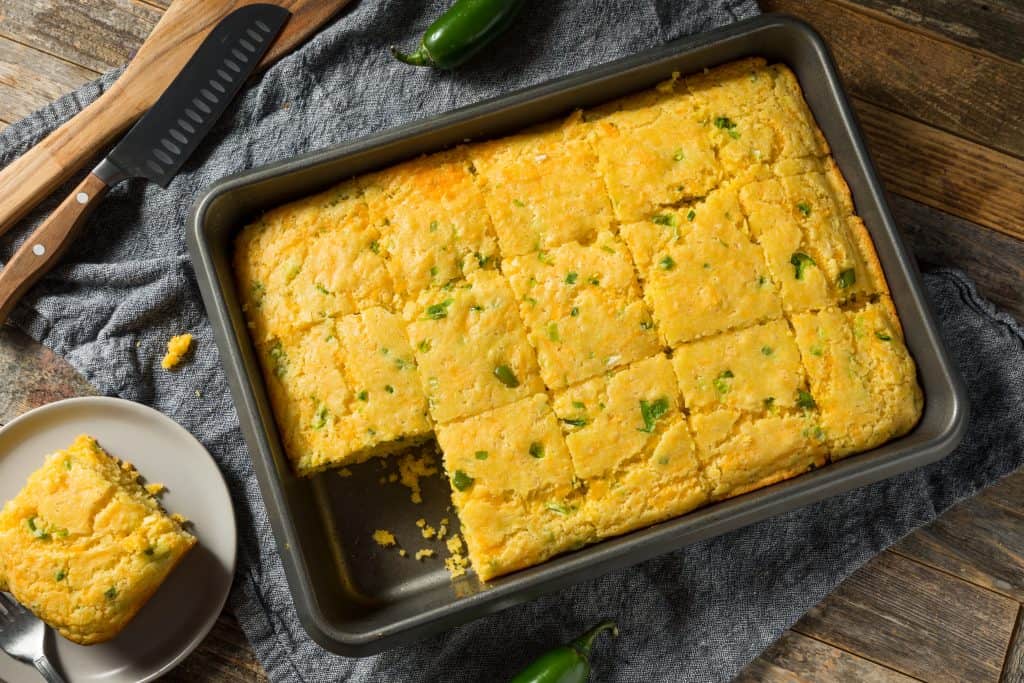 Paired beautifully with my Game Day Chili to make a complete meal, this crockpot camping recipe is so so comforting. I am salivating just thinking of making it! I like a little kick to my cornbread when I'm only cooking for adults, but if children are involved, my recommendation would be to leave the spice out. Now, if you happen to be making my Game Day Chili and do not have another slow cooker available, you can use a casserole dish (350 degrees for 50 minutes, or until golden brown and cooked thru (toothpick test). If you do the oven method, let it rest for 10 minutes before serving.
Ingredients:
2 boxes of Jiffy cornbread mix
16 oz frozen whole kernel corn
1 16 oz cream-style canned corn
1 16 oz sour cream
1 cup of melted butter
4 eggs
(optional) diced jalapeno
Directions
Using a large bowl, beat the 4 eggs. Then combine all remaining ingredients together and stir until all are well combined. Pour the batter into a greased slow cooker. Sprinkle cheese across the top, cover, and let the magic happen. TIP: I would personally watch the center if you are going to cook on high. Make sure the center is set, but if you cook too long, the edges will burn. Slow cooker timing: 2-2 1/2 hours on high, 4 hours on low. Each crock pot cooks a little differently so just watch the center.
3. Gramma's Super Simple Chicken and Rice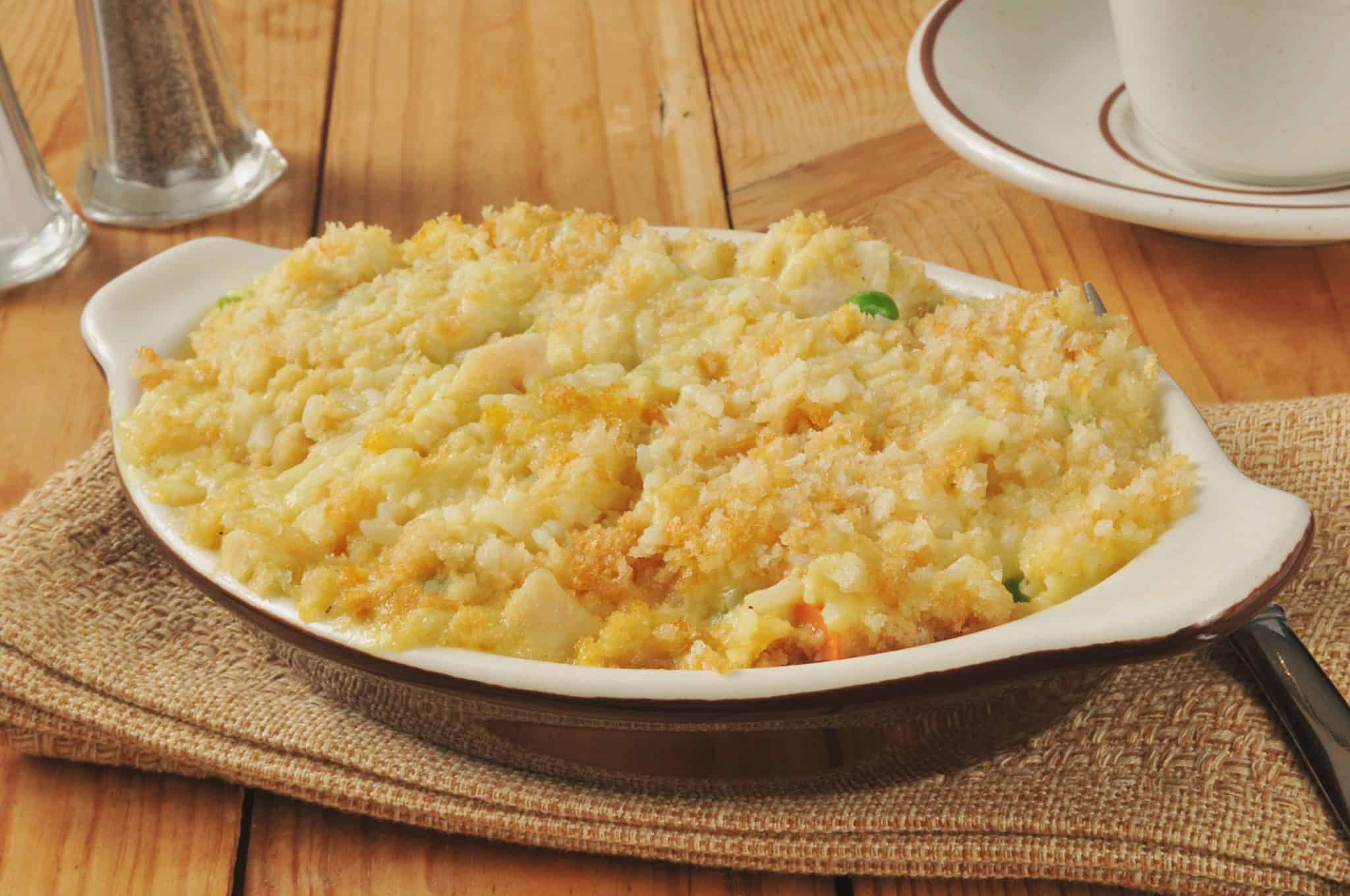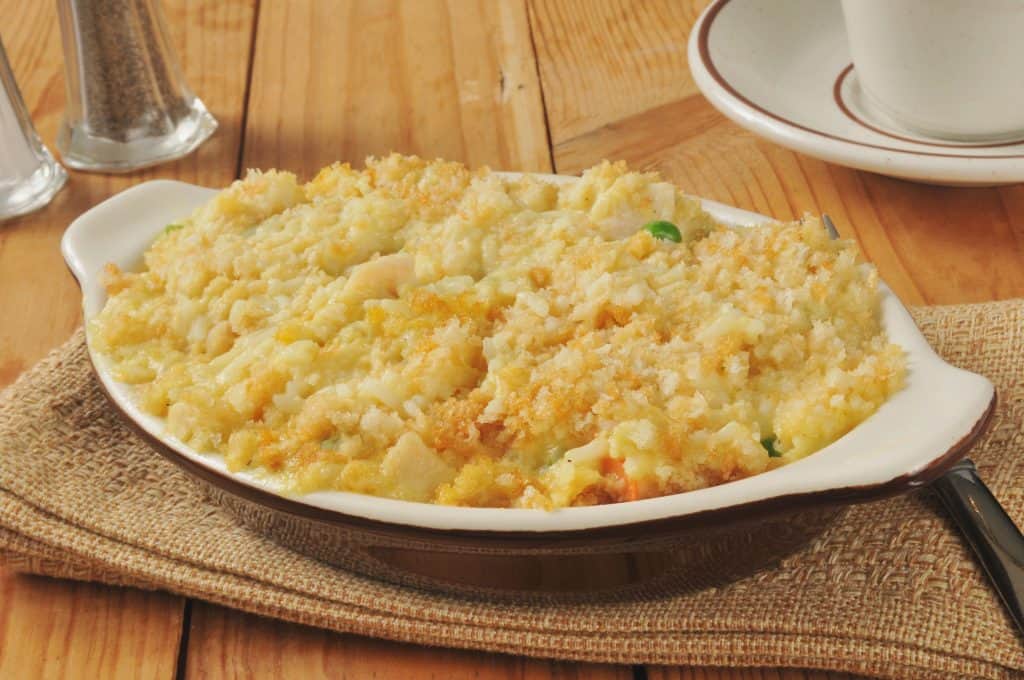 Of all the slow cooker chicken recipes, this one tops our list. Casserole-style dishes scream comfort and this does not disappoint; adults and children alike will be headed back for seconds on this delicious and satisfying meal. Gramma's chicken and rice is picky eater friendly and can be paired with a fresh loaf of bread and butter. Done and done!
Ingredients:
3-4 chicken breasts
1 can of Campbells Cream of Chicken Soup
1 can of Campbells Cream of Mushroom Soup
1 can of Campbells Cream of Celery soup
(you do not have to use this variety. You could use all of the same flavor soup should you wish)
2 cups of water
2 cups of Instant White Rice
(optional) diced broccoli florets (fresh or frozen)
Salt and Pepper to your liking
½ -1 cup of stick butter – sliced (if you love butter, go for the full cup)
Directions:
Place chicken on the bottom. Combine Soup, Water, Rice, and optional broccoli into your slow cooker. Stir all ingredients together until well combined. Turn your slow cooker on low for 7-8 hours, or high for 4-5 hours. Place sliced butter on the top, cover, and cook. About 1 hr before being done, take your chicken out and shred. Place back in the slow cooker and cook for an additional hour. Done!
Helpful tips:
If you'd rather not shred chicken and just be able to let the food cook, then you can cube the chicken ahead of time, while raw, and place it in the slow cooker that way. Totally your call.
4. Butternut Squash, Sweet Potato, & Carrot Ginger Soup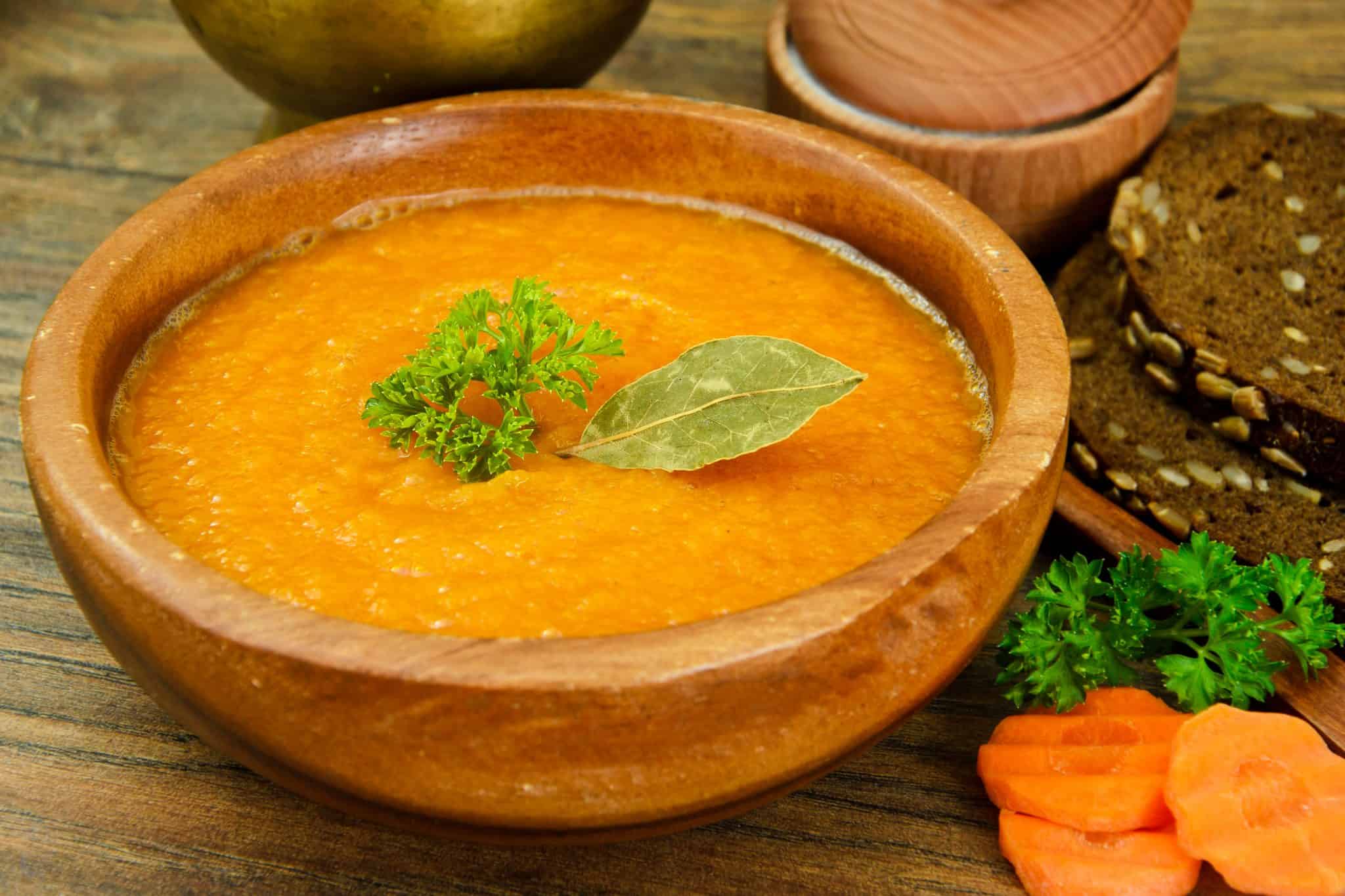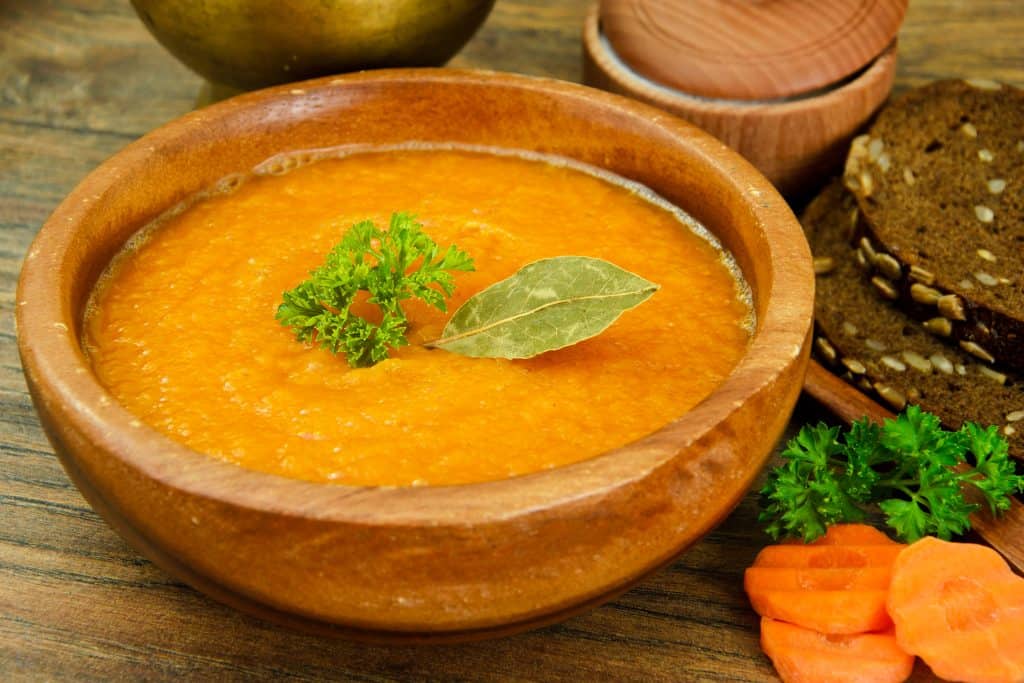 I will admit, this is one of the slow cooker camping recipes that takes a bit of prep work, but there is good news!! You can get the chopping prep out of the way the night before or even before you leave for your camping trip to save time. Just place all of your chopped ingredients in a ziplock bag or container and keep in the refrigerator. This is such a savory recipe that warms you from the inside out.
Ingredients:
1 Large (or 2 small) Butternut squash
1 Sweet Potato
2 Large carrots diced. Does not need to be perfect
1 Tsp fresh ginger ( I buy the squeeze tube in the produce section)
2 Cups Vegetable broth OR chicken broth
4 cloves of garlic
1 ½ Tsp Turmeric
½ Tsp Paprika
¼ Tsp Cayenne Pepper (don't leave it out)
1 TBS olive oil
1 Can of Unsweetened, Full Fat Coconut milk
Toppings:
Basil leaves chopped (fresh preferred)
Pumpkin Seeds
Directions
Prep all of your chopped vegetables: butternut squash peel and chop, sweet potato peel and chop, carrots peel then chop. Combine butternut squash, sweet potato, carrots, ginger, garlic, and broth to your slow cooker. Cook on low (6-8hrs) or High (3-4 hrs). After your time in the slow cooker is up, ladle your ingredients into a blender or you can use an immersion blender. The ingredients are hot so just be cautious. Once all of your ingredients are well blended, pour them back into the slow cooker. Now you'll combine your remaining ingredients to the soup: salt, spices, coconut milk, and olive oil. Mix until well blended. Serve and enjoy!!
5. White Chicken Chili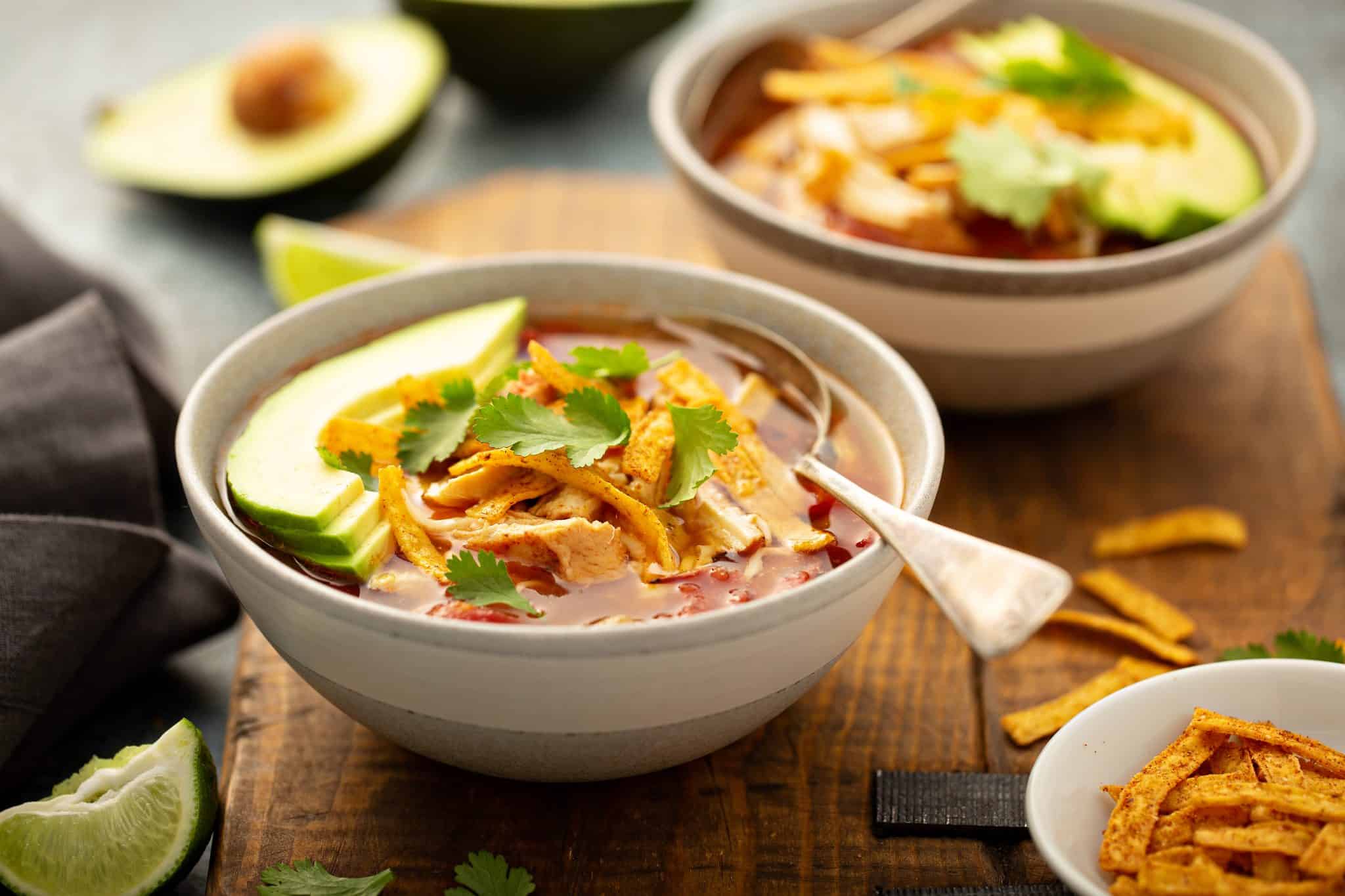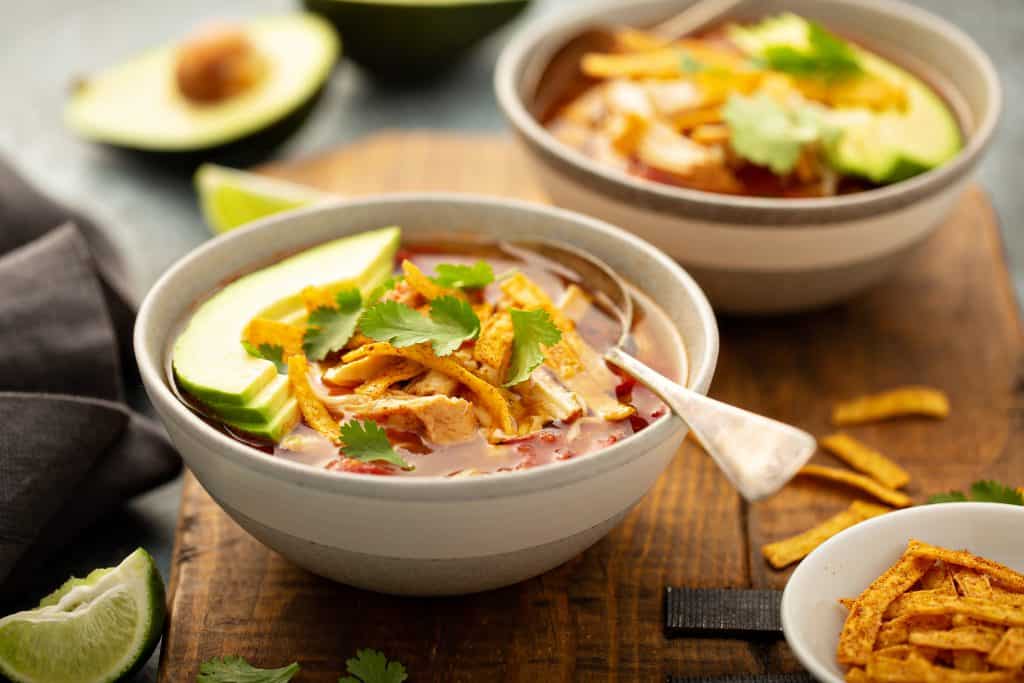 This delicious meal was made by a girlfriend of mine many years ago and I've altered it just a bit to my taste buds. It's definitely a dump-style recipe and thus is super quick and one of our favorite slow cooker meals. You can change the level of spice by whichever salsa you choose! I love spice, so bring on the heat for me! Serve with tortilla chips and you're set! So good!
Ingredients:
3-4 boneless chicken breast
2 16oz jars of salsa (your choice), but I use a chunky and hot variety.
1 can of Rotel (your heat preference)
4 boxes (32 oz) of chicken broth
1 15 oz can of Northern Beans- drained
Optional toppings:
Tortilla chips
Shredded Mexican cheese
Sour cream
Cilantro
Directions:
Place your chicken on the bottom of the slow cooker. Dump all of your ingredients, except for the beans (save for later). Cook on high 4-5 hrs, or low 7-8. When you have about 30 minutes left, pull your chicken out and shred it. Place the chicken back into the crockpot and give everything a good stir. Add your drained beans and cook for an additional 30 minutes. Serve and enjoy!
6. Slow Cooker Mozzarella Stuffed Meatballs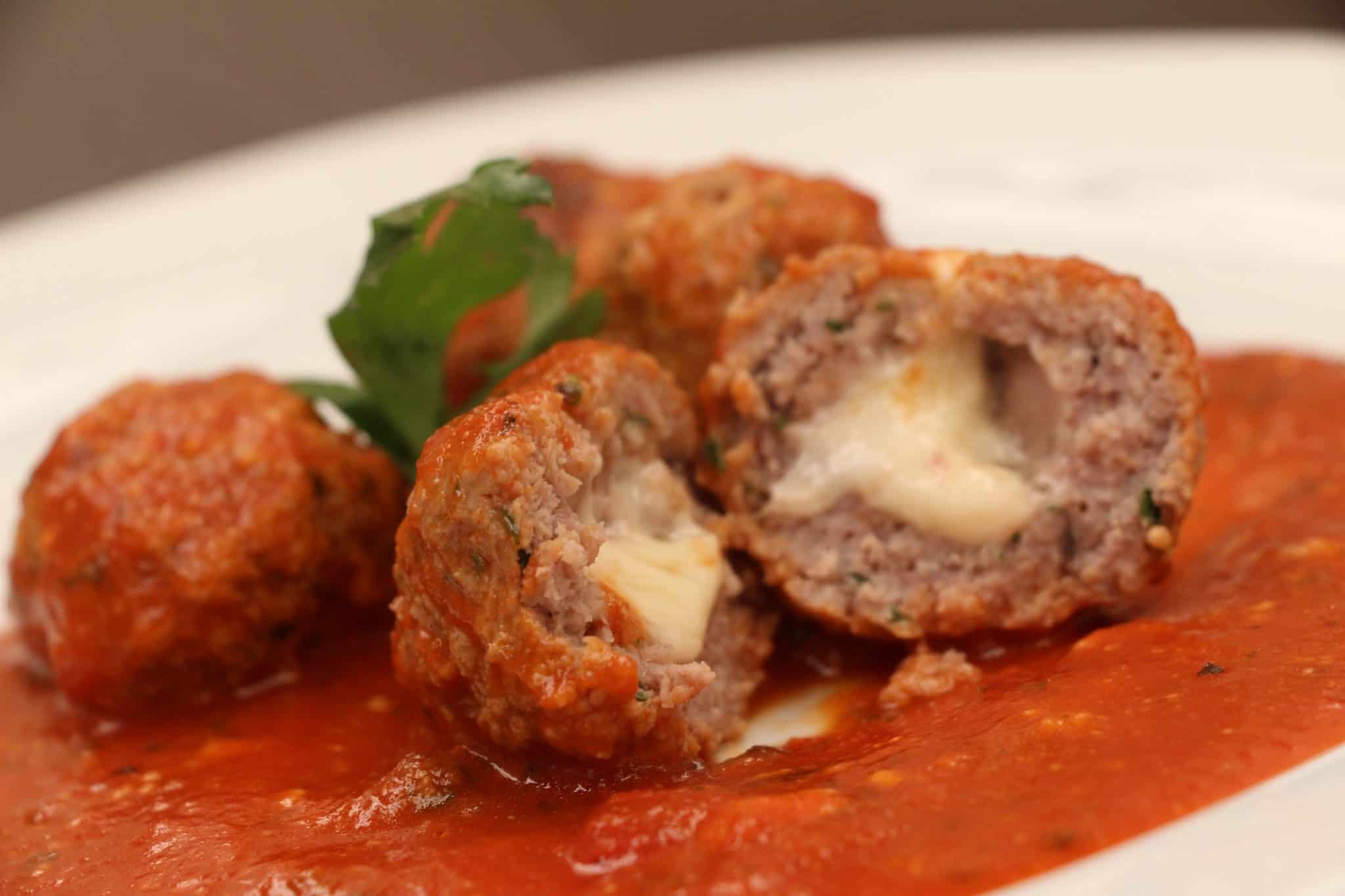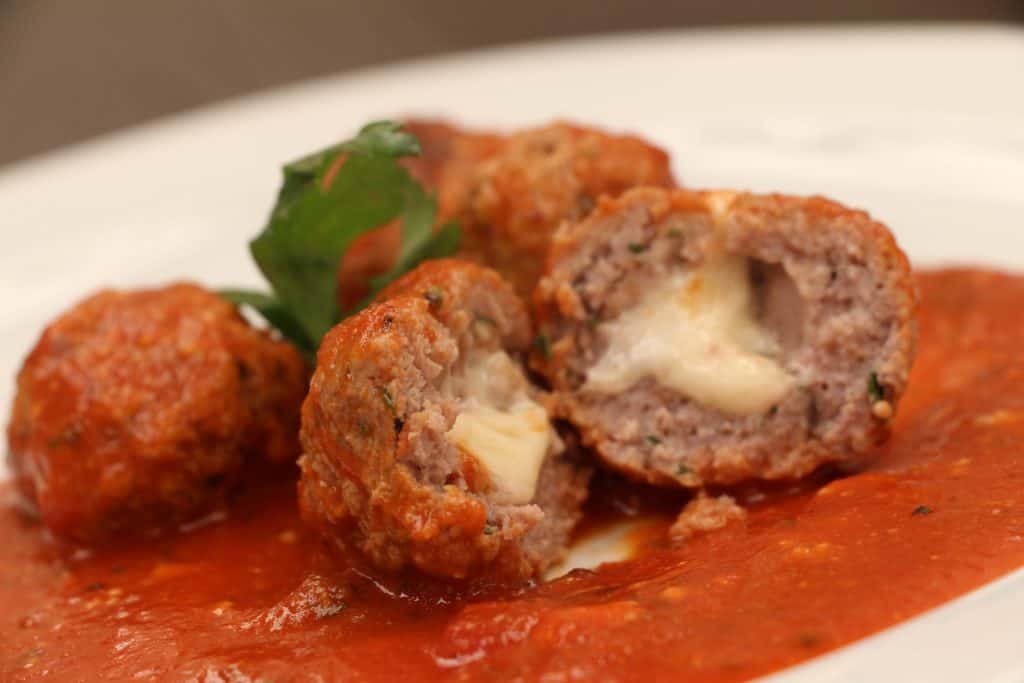 Who doesn't love an awesome meatball stuffed with cheese?!? Not only does this feed a family, but you'll also have leftovers too! Serve them alone, with some pasta, or on a sandwich. No matter what, no one is disappointed at the end of this meal!
Ingredients:
1lb fresh Italian sausage (mild or hot)
1 lb ground beef (lean)
3-4 String Cheese Sticks
½ cup of Parmesean Cheese Whisps crushed or ¼ cup parmesan
¼ cup of parmesan
¼ cup heavy cream
1 jar marinara sauce
1 egg
8 oz shredded mozzarella cheese
2 tbs olive oil
Dash of Salt
Dash of pepper
1 Tsp Oregano
1 Tsp garlic
1 Tsp parsley
1 tsp onion
½ Tsp Thyme
Helpful Tips:
I measure and gather the "**" ingredients before I leave for my trip and place them in a plastic sealable baggy. I don't have all of these spices with me typically, so I just prep this portion in advance. If you are shopping at a store while you're on your trip, then just grab the "Italian seasoning grinder" in place of these spices. The grinder packs a full punch of flavor and I recommend as a household spice staple regardless.
Directions:
Cut your cheese into 4 pieces per stick, about a ½". In a large bowl, combine your ground beef and Italian sausage. Add all of your remaining ingredients: whisps or parmesan, garlic, salt, pepper, oregano, onion, thyme, cream, and egg. Mix well – I use my hands. Oil the bottom of your slow cooker. Take a small handful of your meat mixture and stuff it with a piece of cheese. Roll into a meatball with your hands and then place it in the crockpot. Repeat this process until all of the meat is gone and all meatballs are placed in the slow cooker. Top with marinara sauce, then top with 8 oz mozzarella cheese. Cook on low (7-8hrs) or high (4-5). Sprinkle Parsley and Crushed Red Pepper flakes if you'd like and serve.
7. Mississippi Pot Roast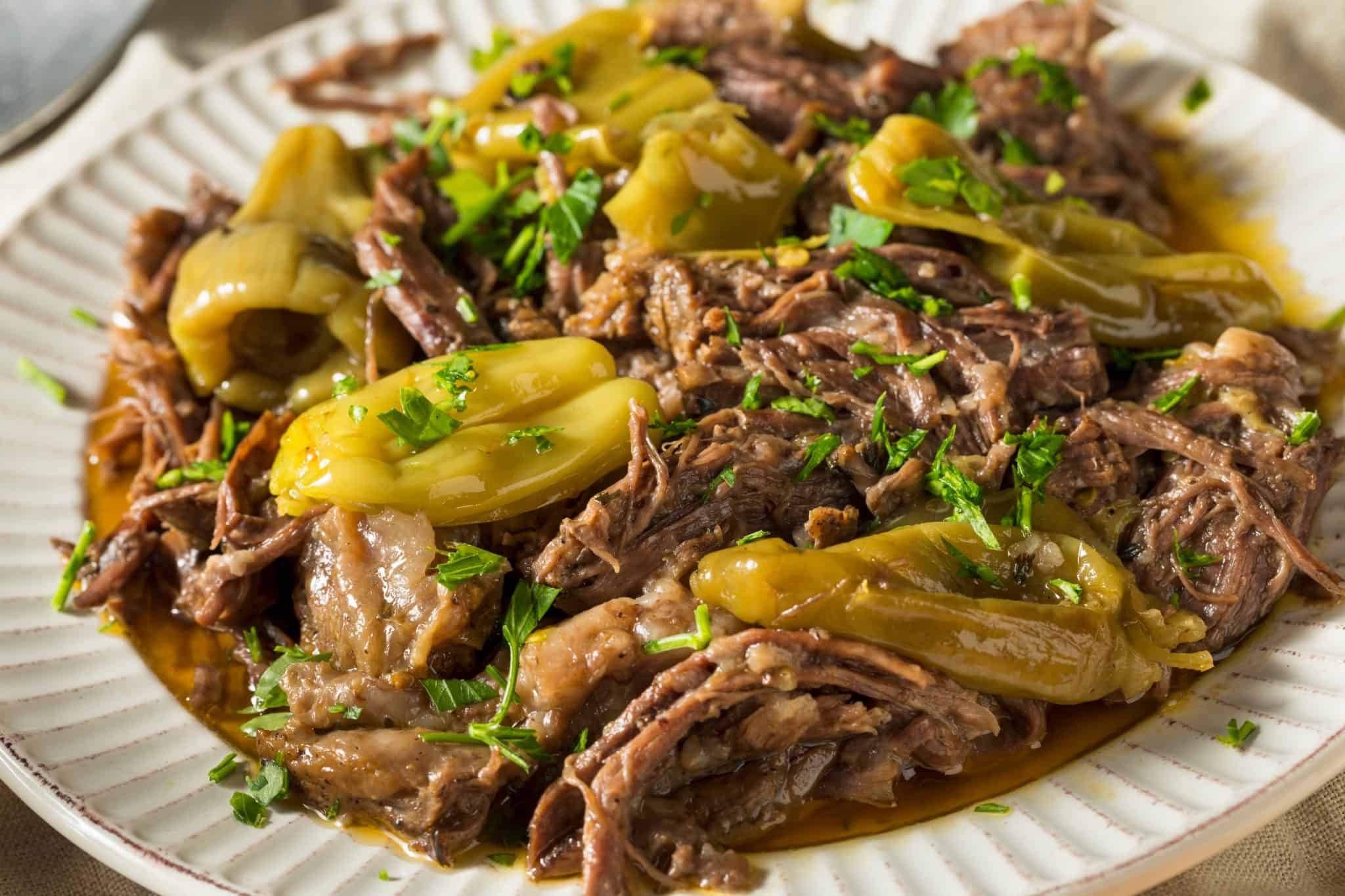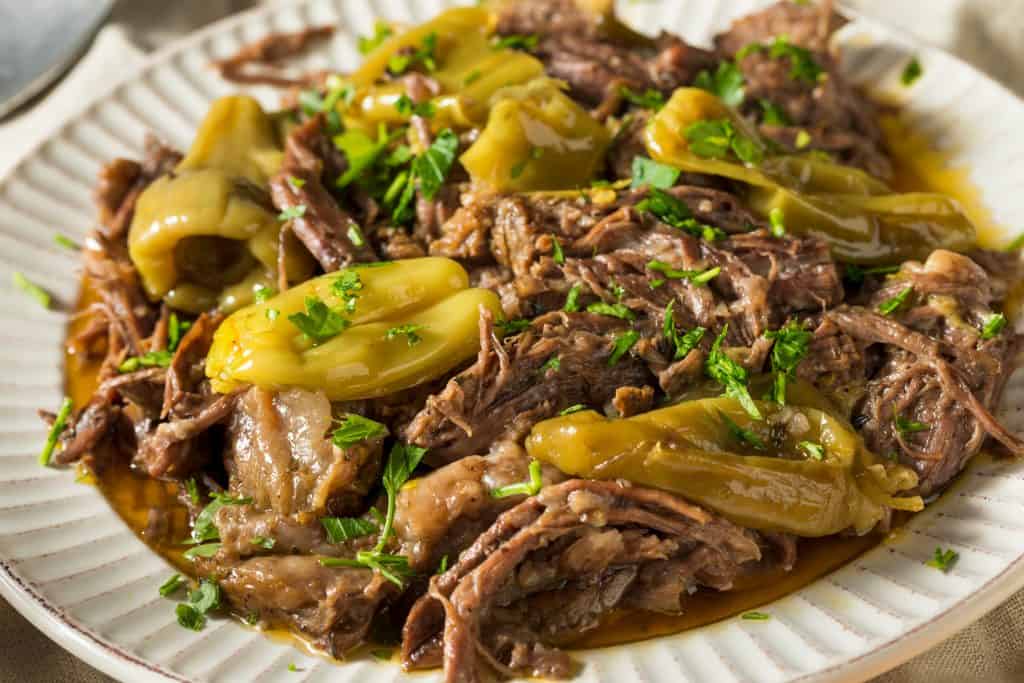 YUM – EE!! The name doesn't do it justice. When I think of pot roast, this is not what I think of. This is from another world good and seriously one of our favorite camping crockpot meals. This recipe will feed 4 healthy servings. It's low carb all on its own and I tend to eat it by itself, but if you don't care, serve it with a side of mashed potatoes or on some warm rolls to make the ultimate comfort dinner recipe!
Ingredients:
6lbs + Beef Chuck Roast
2 packets of Hidden Valley Ranch Dressing Mix (I believe in Hidden Valley, do not buy an off-brand)
2 packets of Dry Au Jus Gravy Mix
2 sticks of Butter (salted or unsalted, your choice)
1 Jar (larger) of sliced pepperoncini peppers (1/2 drained)
Directions:
Place the roast in your slow cooker. Sprinkle Ranch Dressing Packets and Au Jus Packets over the top – it does not have to be an even layer or perfect. Place your sticks of butter directly on top and then add your whole jar of peppers to the crock pot. Cook on low for 7-8 hours.
8. Roasted Veggie Enchilada Casserole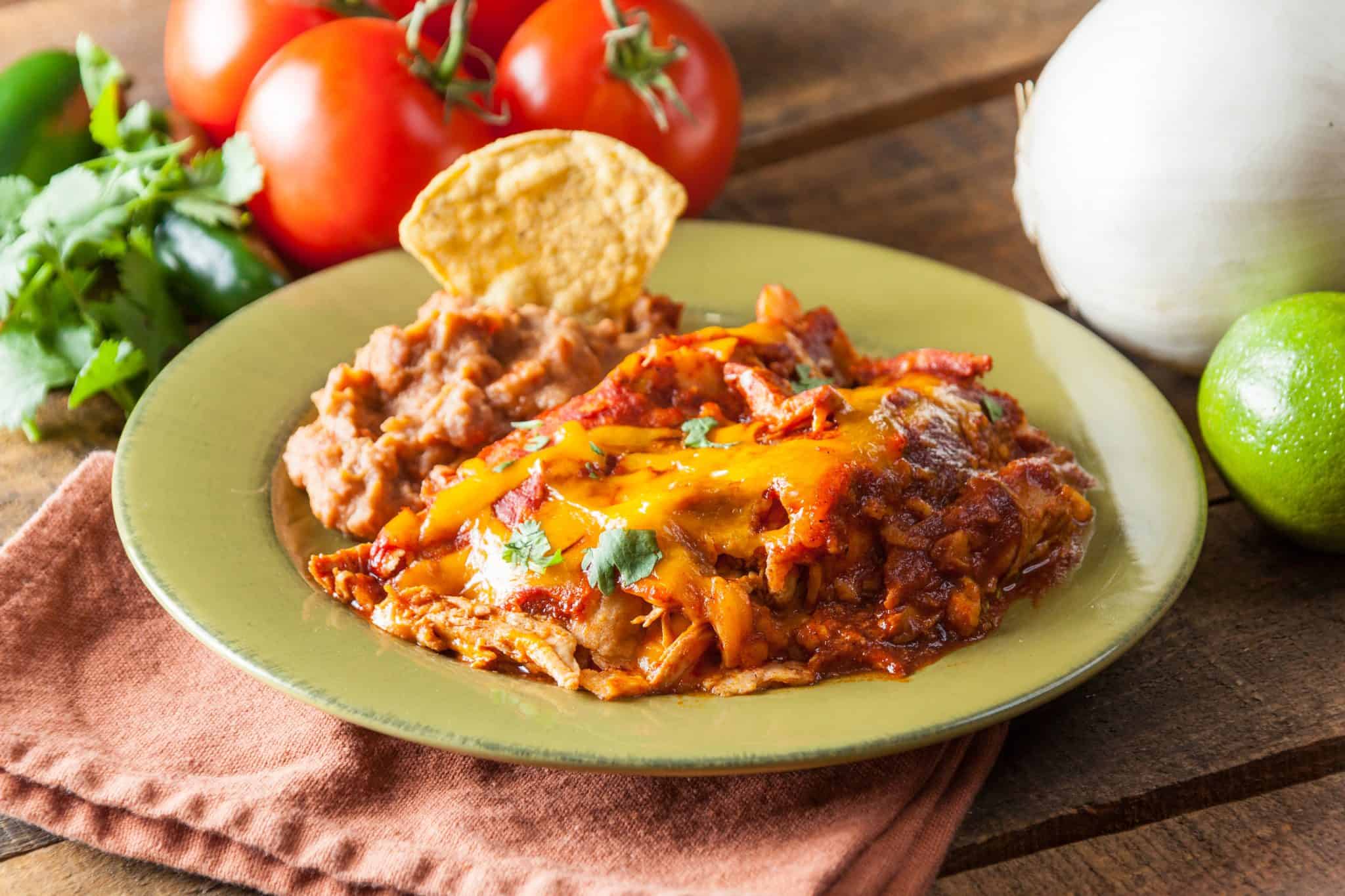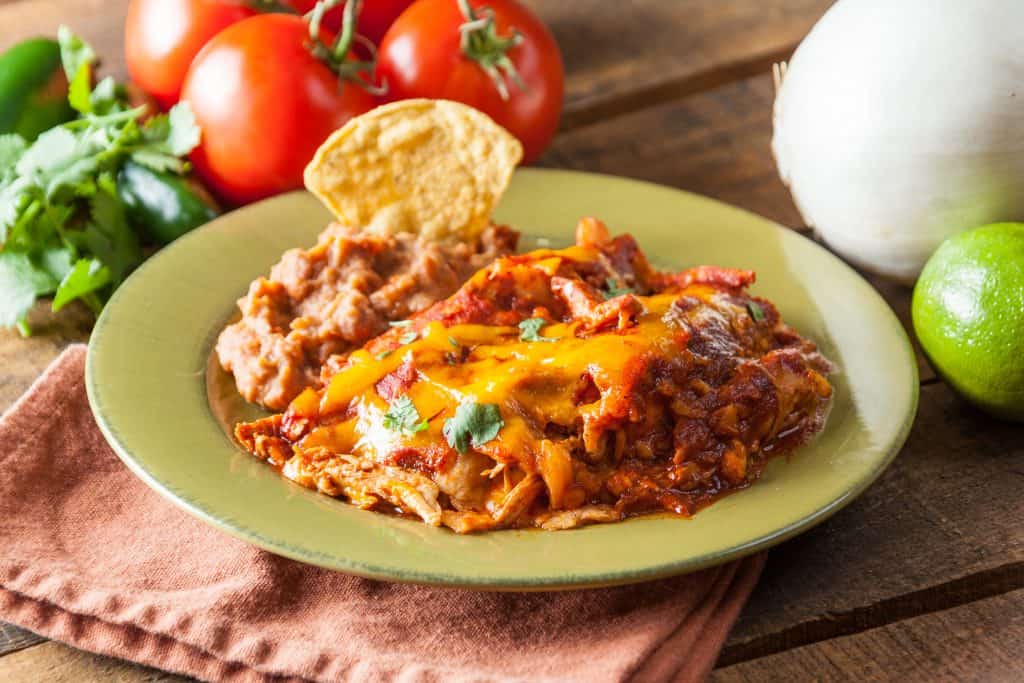 My husband and I made this dish when we were both vegetarians. Although it is a vegetarian dish, meat lovers will not be disappointed in the missing meat!! Super flavorful, savory, filling….one of the best Mexican dish slow cooker meals! This should realistically feed a family of 4 but honestly may not leave room for seconds. My husband and I eat half by ourselves!! We are super full when we finish, so I'd say an additional two bodies could share with you, max. Also, this recipe has some prep work, so you may want to think about it the night before you're making it to make life a little easier on your camping trip. BUT, I promise it's worth it. You will have a delicious meal waiting for you!
Ingredients:
1 small/medium head of cauliflower cut into small florets (smaller chunks is better)
1 sweet potato peeled and cubed
2 red or orange bell peppers cut into small squar-ish pieces
1 yellow onion diced
1 Tsp cumin
Salt to taste
Pepper to taste
1 jar of salsa (your preference of heat)
1 can of Hatch TexMex enchilada sauce (trust us, use Hatch)
½ cup chopped fresh cilantro
9-10 corn or flour tortillas (I like flour)
½ bag of spinach leaves
2 cups of shredded Mexican cheese
Optional: 1 can of black beans rinsed and drained (I personally don't use them)
Directions:
Preheat oven to 400 degrees. Spray nonstick cooking oil on two large baking sheets. Prep your vegetables as stated in the ingredients list. Combine Cauliflower and Sweet potato on your first sheet. Combine the bell peppers & onions on the second. Drizzle olive oil over both pans, then sprinkle with cumin, salt, pepper, and then toss. Add olive oil if there does not appear to be enough coating on the veggies. Place in the oven and bake for about 30 minutes or until veggies are cooked tender. If you make the veggies the night before, let cool and then place in a container or ziplock bag and refrigerate overnight.
Crockpot:
Stir the cilantro into the salsa. Spread ½ -1 cup of salsa on the bottom of the crock pot (I'm generous). Add tortillas forming a single layer over the salsa on the bottom. Top w/ half the beans (optional), one-third of the vegetables, one-third of the spinach, and one-third of the cheese. Then spoon enchilada sauce generously over the top. Make a second single-layer of tortillas over this. Repeat beans, vegetables, spinach, cheese, and enchilada sauce. Now repeat layering one last time: tortillas, now salsa, beans, vegetables, cheese, enchilada sauce. Bake on low 7 hours or high for 4. I really just watch for the top cheese to be fully melted. Serve and Enjoy!
9. Deconstructed Jalapeno Popper Chicken: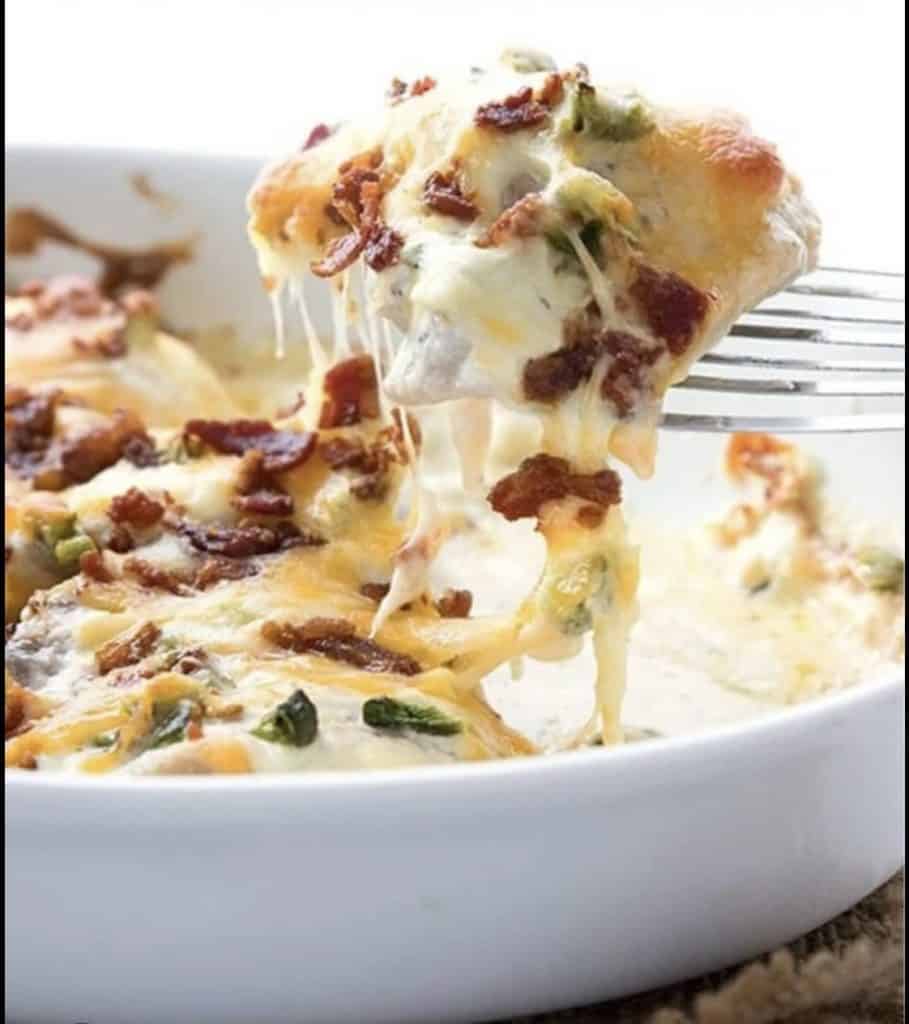 One of our favorite slow cooker chicken recipes. This recipe is rich, creamy, and spicy, and gives you all the feels of a jalapeno popper. If you don't like spice, I'd skip along to another recipe of mine. I love this recipe because of its flavorful profile, and yet very easy recipe. Limited ingredients, maximum time spent doing anything else but cooking!
3-4 boneless chicken breast
1 packet Taco seasoning (I typically only need to use half)
8 oz cream cheese
¾ cup shredded Cheddar or Mexican cheese blend
½ cup or more of crispy bacon (or use fresh bacon bits)
4 jalapeños
Directions:
Place the chicken breasts into the crock pot. Sprinkle taco seasonings over the top of the chicken breasts. Slice jalapeños into thin pieces or chop if you'd rather. I leave the seeds to make it a bit spicier. Take the cream cheese and cut it into thirds or fourths (depending on if you have 3 chicken or 4). Place the cream cheese directly onto the chicken and then top with jalapeños. Cover and cook on low for about 6 hours (you can check the temperature of the chicken to make sure it's 165). Once cooked, top with bacon and cheddar cheese. Cover and cook on high for 20 minutes until cheese is melted. Serve and Enjoy!
Conclusion
Whether you're looking for some simple slow cooker recipes or something with a bit more flavor, we've got you covered for your camping crockpot meals. Our list of slow cooker camping recipes is sure to please. From jalapeno popper chicken to enchiladas, we've got a recipe that will fit your taste. There's something for everyone. So fire up the campfire, relax and let the slow cooker do the work! Enjoy your crockpot camping!
Looking for Keto friendly? Check out our 7 Easy and Delicious Keto Camping Meals Post here!
Outdoor pizza ovens are taking outdoor kitchens by storm. Do you find the best outdoor pizza ovens? Go here