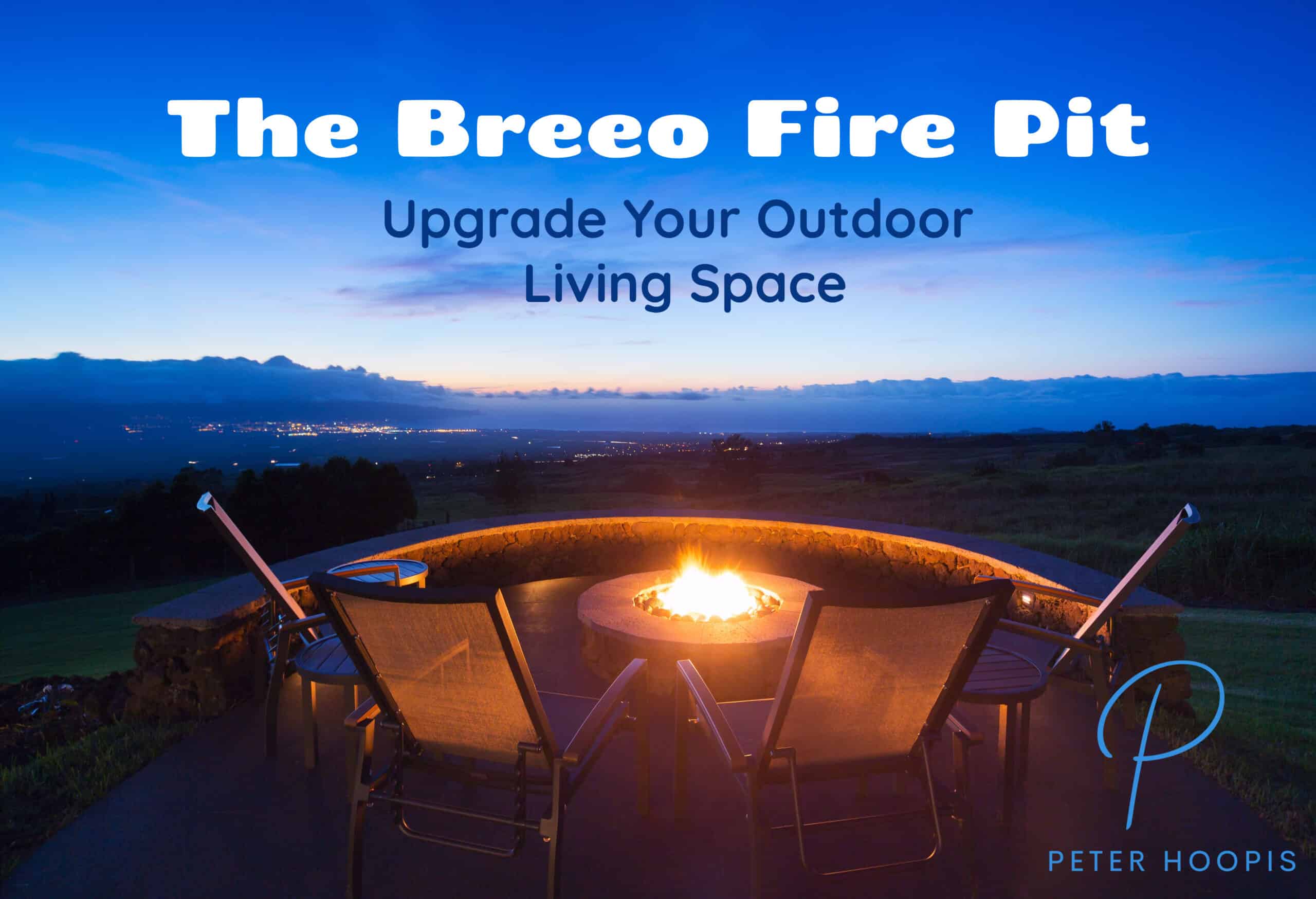 Who doesn't love gathering around a cozy fire pit? I sure do.
But sometimes, the smoke that comes from traditional fires can really ruin the campfire experience. Smoke in your eyes and the smell that won't leave your clothes for days!
That's where the Breeo Fire Pit comes in.
Breeo Fire Pits, and smokeless fire pits in general, are gaining popularity in backyards and campgrounds all over. There are plenty of great features and benefits to these great outdoor appliances.
Breeo's are some of the best, if not the best out there. They are top-of-the-line and offer many additional features that make them a great choice.
These fire pits are designed to reduce smoke production, making them a more eco-friendly choice. They also incorporate a secondary combustion system, which not only reduces smoke but also creates a hotter fire and better efficiency.
But what truly sets a Breeo smokeless fire pit apart from the rest is their durable and long-lasting design. Can you say lifetime warranty?
So let's get into it to learn more about the Breeo Smokeless Fire Pit.
We are reader supported and as such, may make a small commission at no expense to you by purchasing thru our links and we greatly appreciate that!
What Are The Breeo Fire Pit Models?
Breeo smokeless fire pits are known for their versatility and ability to accommodate different lifestyles and backyard settings. They have a range of options available, from the stylish Luxeve fire pits to the adaptable X Series and the portable Y Series. Breeo has created a product line that caters to specific needs ensuring that smokeless fires can be enjoyed in any location.
Luxeve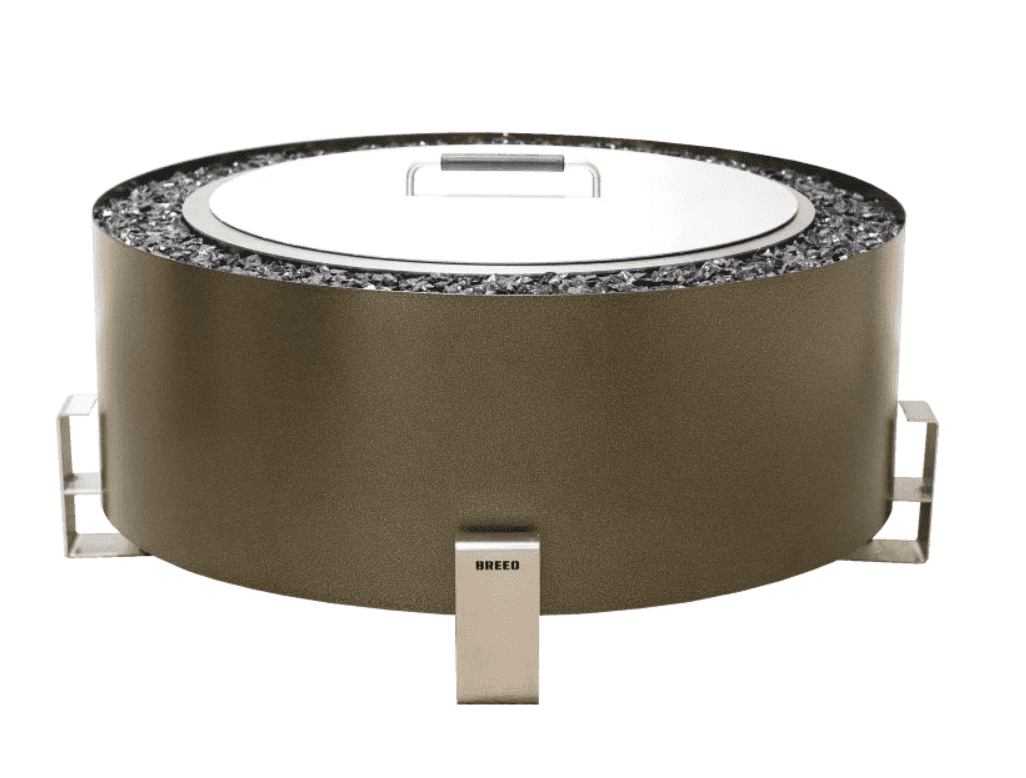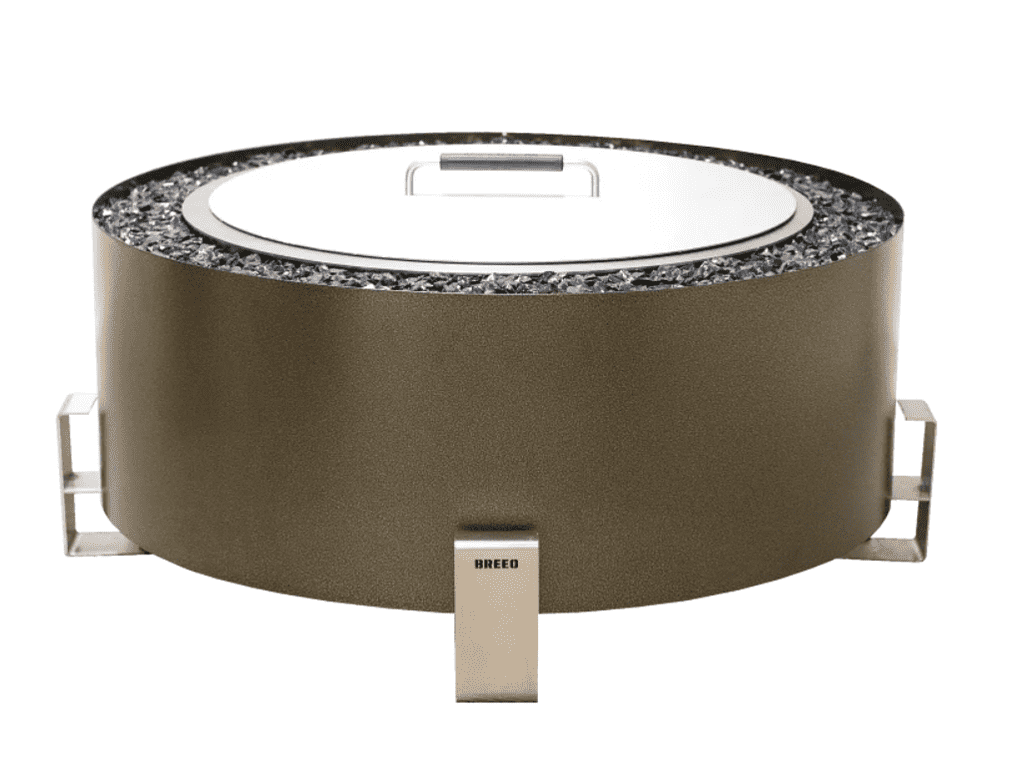 The Luxeve smokeless fire pit has gained a reputation for its top-of-the-line design that can transform any outdoor area. With the option to choose from four powder-coated colors and several colored glass rims, this fire pit is highly customizable to fit your desired look.
Not only is it a beautiful addition to your space, but it also offers an enjoyable, smokeless experience. However, it is important to note that the Luxeve is not outfitted to work with Breeo cooking accessories. If cooking over a live flame is a priority for you, consider the X Series smokeless fire pit.
X Series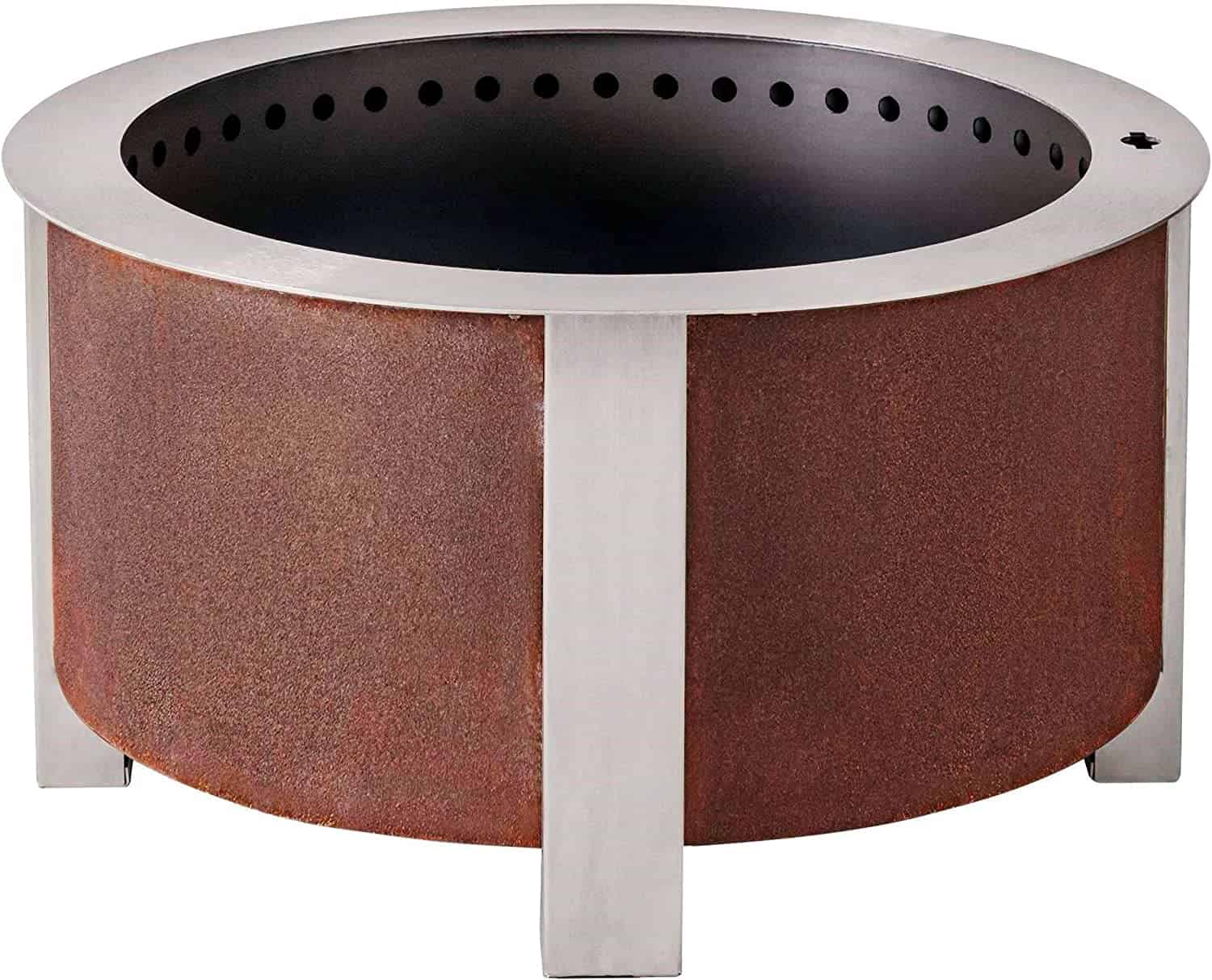 The X series has three different sizes; 19 inch, 24 inch, and 30 inch. This is their most versatile fire pit series. The weights range from 47 pounds to 94 pounds on these units. You can choose between Stainless Steel and Corten Steel.
All X Series fire pits are compatible with Breeo's live-fire cooking accessories, which allows you to customize what you want to enhance your outdoor cooking capabilities. If you're looking for an exceptional live-fire cooking experience, the breeo X Series, is a must-have addition to your backyard.
Y Series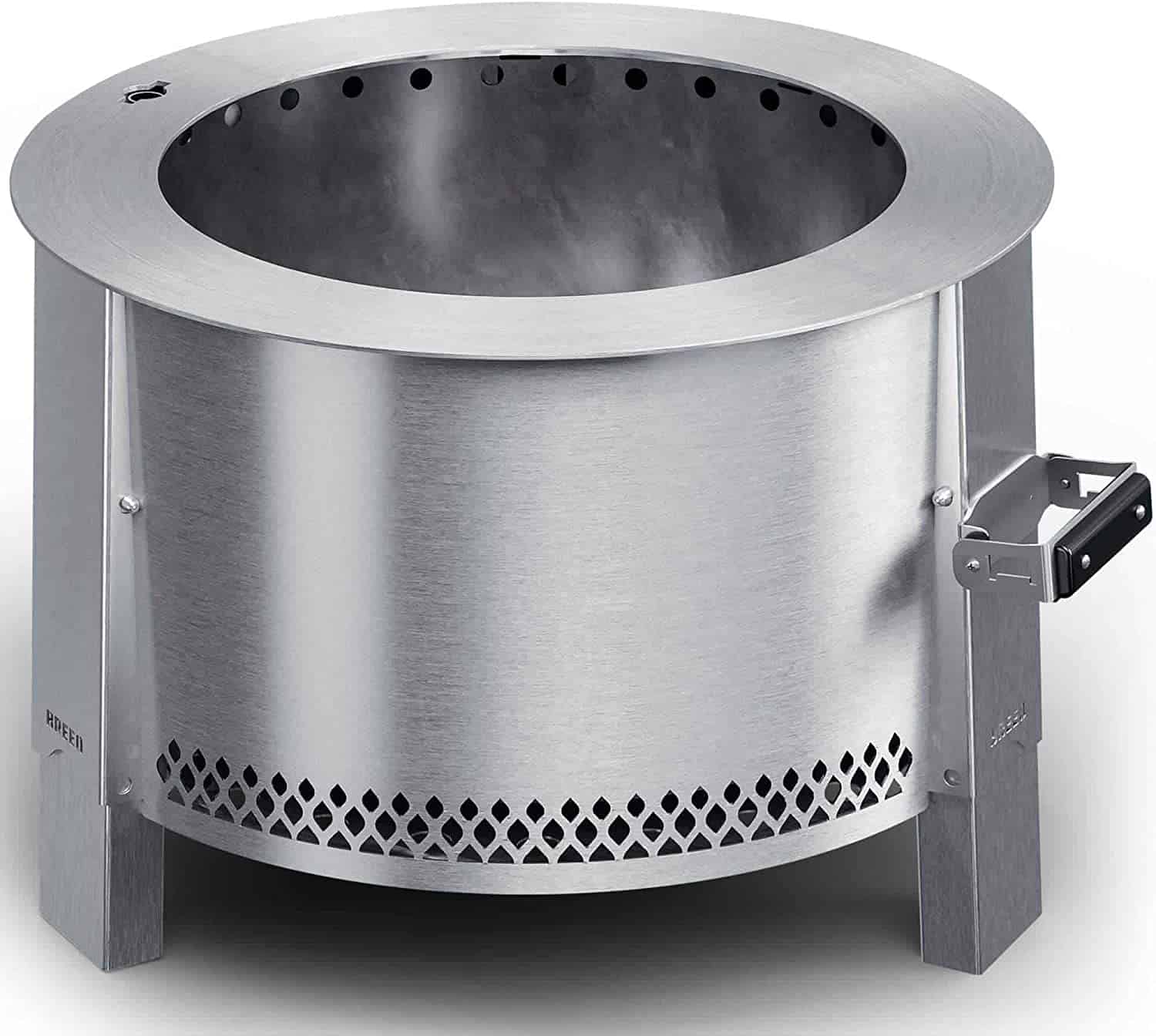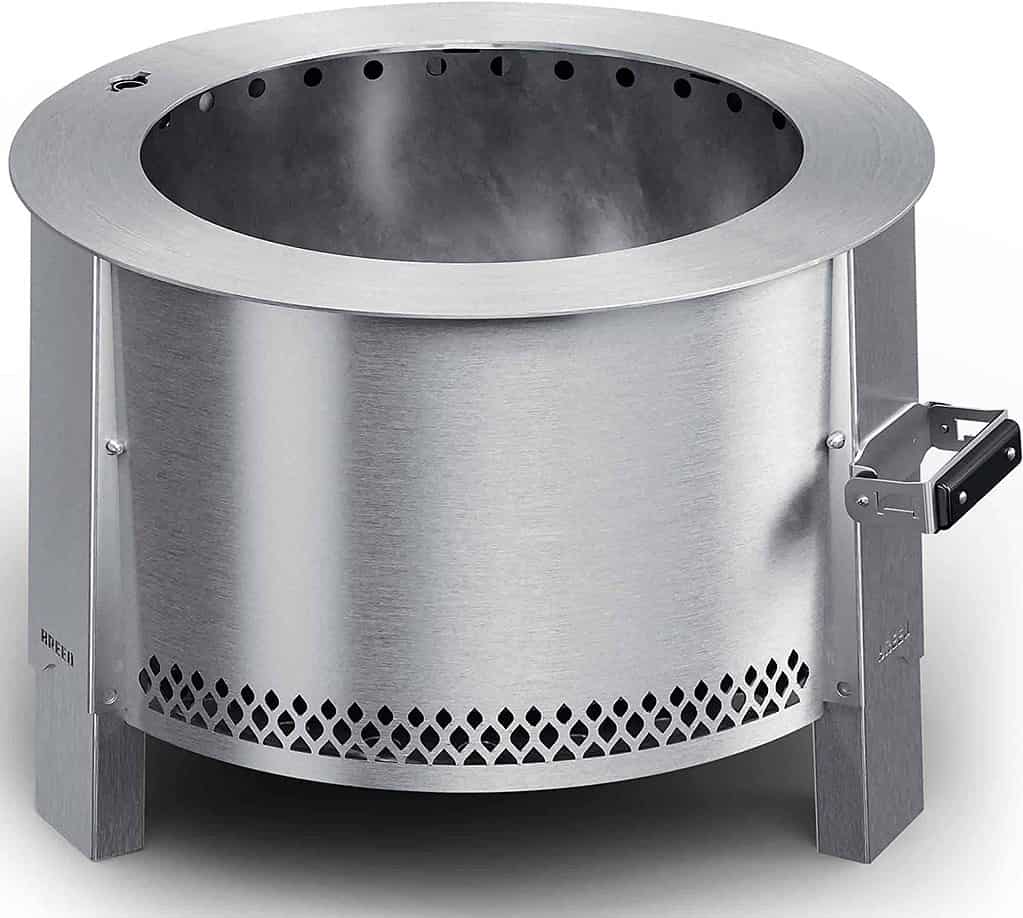 Weighing at only 31 lbs, this fire pit is designed to be easily portable smokeless fire pit without compromising on the lifetime build quality that Breeo offers. The fire pit can be conveniently used at different locations like the beach, park, or a tailgate party without emitting any smoke.
The Y Series also features a built-in heat shield, which ensures that the fire can be lit anywhere without any worries of causing burns. Additionally, it's tri-fuel feature allows you to choose from pellets, wood or coals to light up the fire pit.
Features and Options
Insert Ring or Free Standing
With the unique Insert Ring feature, users can take their X Series smokeless fire pit to the next level by seamlessly integrating it into a stone surround. This makes it look like a nice permanent fire pit in your backyard. This allows you to tailor your fire pit to blend with your current landscaping or even create a surround of your own. The Insert Ring requires no tools for installation, making it easy to add or remove at any time. Compatible with all X Series wood burning fire pits already, the insert ring also supports all the cooking features of the X Series lineup.
Stainless Steel or Corten Steel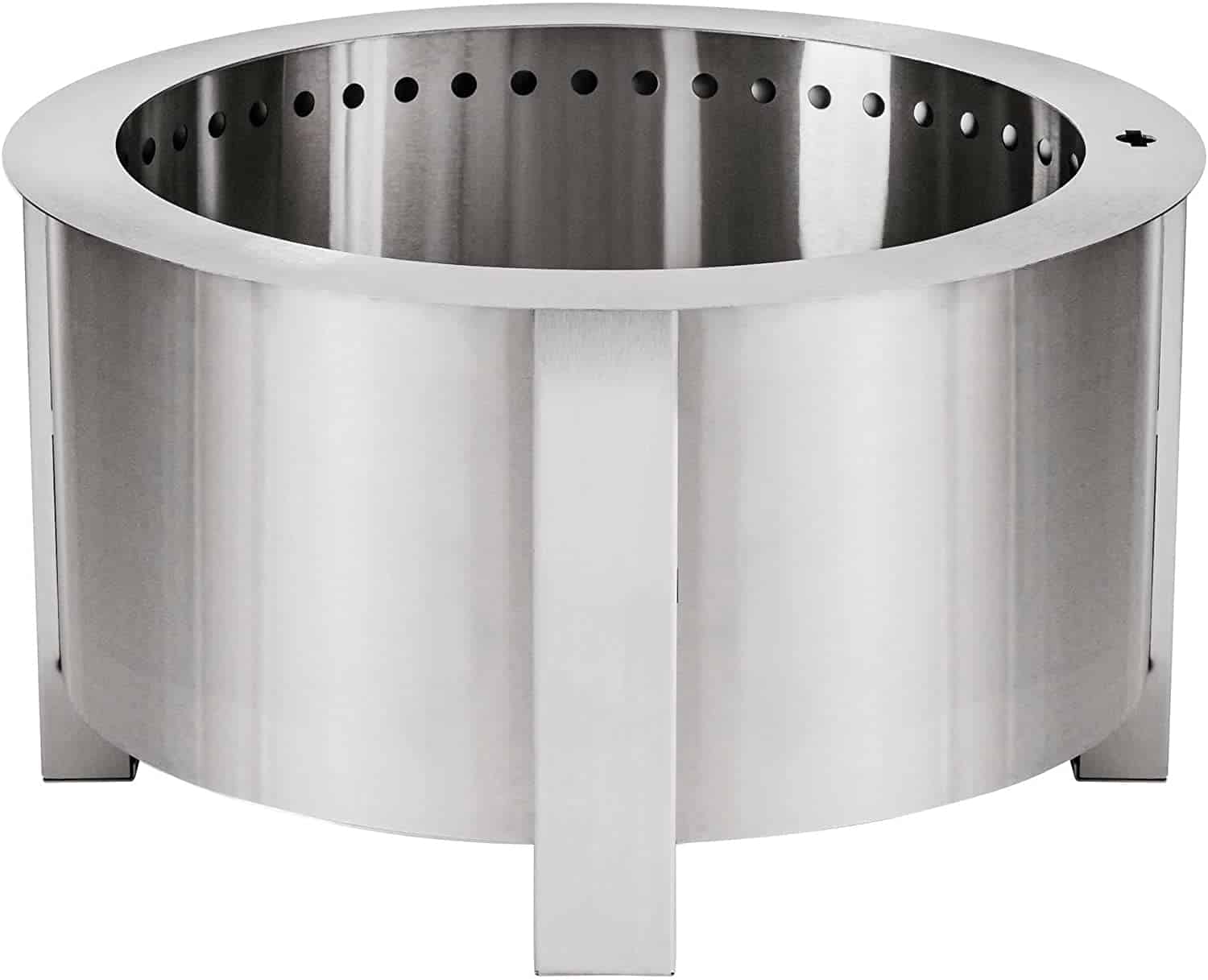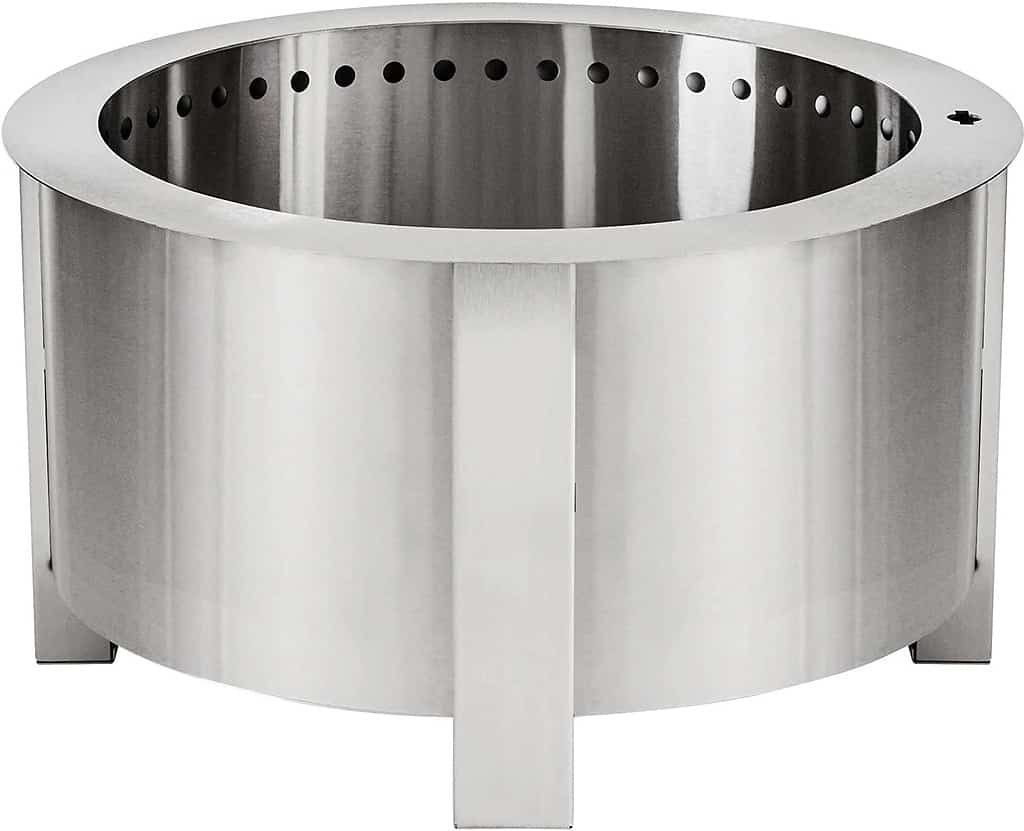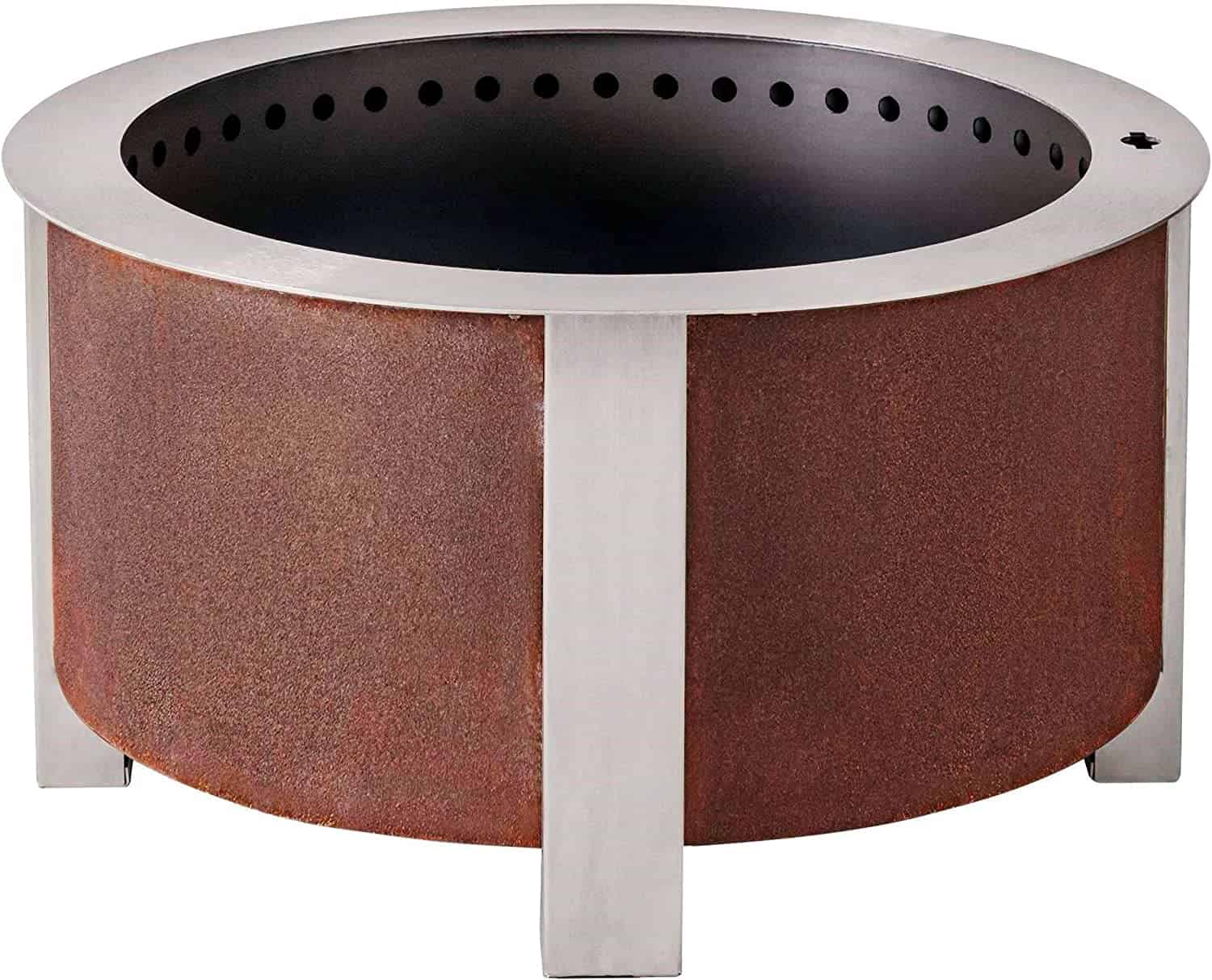 In regards to the X Series, the striking visual difference between Stainless Steel and Corten finishes is its notable feature. Breeo uses 304 stainless steel– a metal commonly employed in automotive wheels and kitchen appliances. You can go with the classic stainless steel look or with the Corten look.
Corten starts as a blue steel finish, and over time, develops into a weathered iron oxide coating known as patina while enduring exposure to elements. There is the possibility to accelerate this process by utilizing four simple components as stated on their website. With both steel types, you can count on their durability, ensuring your fire pit will remain functional for a lifetime.
Cooking Accessories
Outpost™ Grill
The Outpost™ Grill is the ultimate over-the-fire cooking solution. It has been designed for maximum heat control, durability, and portability. Built with 304 stainless steel, the Outpost™ Grill is ultra-portable and ready for all your camping adventures!
With the Outpost™ Grill, you get a fully adjustable height and 360° rotation system. Use it on its own or pair it with your X or Y Series fire pit thanks to the detachable Anchorpoint™ system.
Searplate Griddle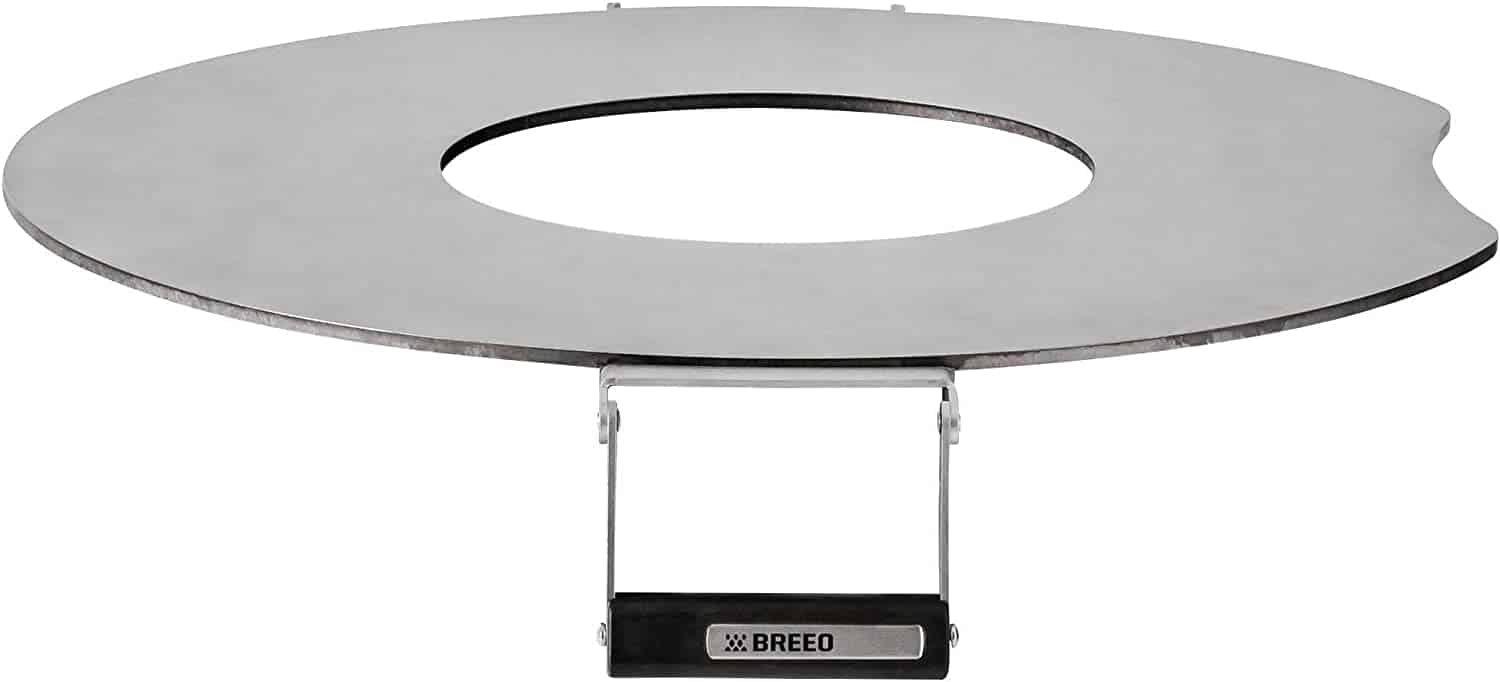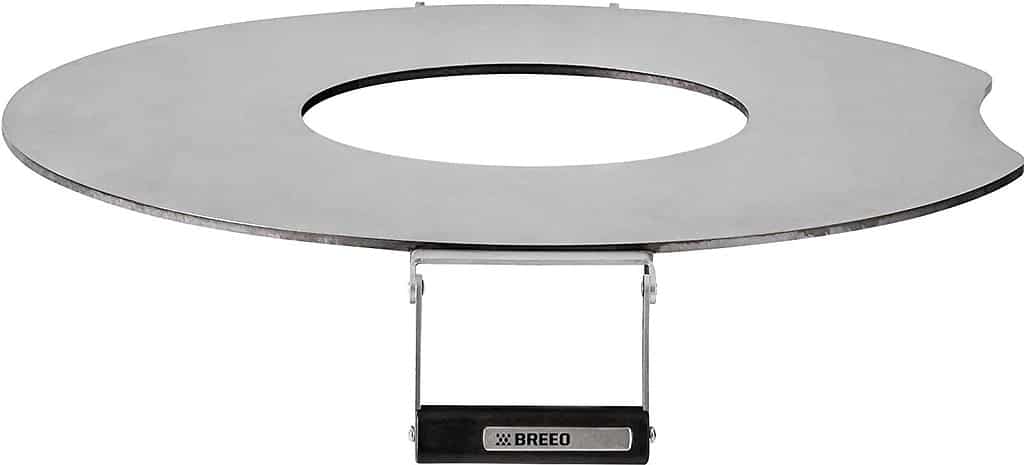 The Searplate Griddle attachment provides a high heat source for your Breeo smokeless fire pit, allowing you to cook for large groups with ease. This attachment is so cool. With its built-in wood handles, the SearPlate Griddle is ultra-easy to add and remove from your fire pit.
Crafted from premium ¼ inch hot-rolled carbon steel, the SearPlate Griddle has awesome heat retention and nonstick qualities. This is a great cooktop for all your meals – you will have all the cooking capabilities for breakfast, lunch, and dinner! Literally can cook almost anything on this!
The SearPlate Griddle arrives pre-oiled with food-grade oil so it's ready to go.
The Searplate is compatible with X Series and Y Series only.
Kettle and Hook
Kettle
This cast iron kettle just screams campfire cooking! The kettle is made of pure cast iron. It is fully compatible with the latest Breeo® grilling accessories, making it a versatile and long-lasting addition to your cooking toolkit.
Kettle Hook
The unique Kettle Hook is specifically crafted to not only effortlessly hoist the Breeo® Kettle but also suspend a variety of other foods. Constructed from 304 stainless steel, this the perfect compliment for your kettle plus open up many other options for cooking over a fire.
History and Background of Breeo Fire Pits
In 2011 Andy Kaufman and Jr. Troyer had a shared vision of creating the ultimate wood-burning fire experience. They wanted to find a new way to enjoy a fire pit with out the smoke. They introduced the world's first smokeless fire pit under the brand Camp King Fire Pits.
In 2013, in Lancaster, Pennsylvania, Jonathan Miller was introduced to this innovative product and the idea of smokeless fire pits. Jon's passion for off-the-grid living was the perfect match for the new invention. Together with Andy, they became business partners and founded Breeo Industries the following year.
Not long after, Breeo's flagship product, the Ablaze fire pit, was launched and won the Vesta award in Salt Lake City at the Hearth, Patio, & Barbecue Association Expo in 2014. Jon knew that the product had immense potential and decided to take things to the next level. He and his wife, Janessa, moved into a travel trailer to live out their newfound dedication to the product.
For the next two years, they went on a nationwide tour dubbed the "Rethinking Fire Tour," showcasing the Ablaze smokeless fire pit and building relationships with customers. They also relied on the product to cook their meals and lived off of it as a way to further promote Breeo fire pits.
Fast forward to 2022, Breeo continues its drive for innovation. The portable Y Series Fire Pit, a full Fireside Furniture Collection, and a range of fire pit accessories, including the Heat Deflector, Breeo Base, and 304 Fire Poker, were launched. Breeo officially reached a groundbreaking year with over fifteen newfound products.
How Is It Smokeless?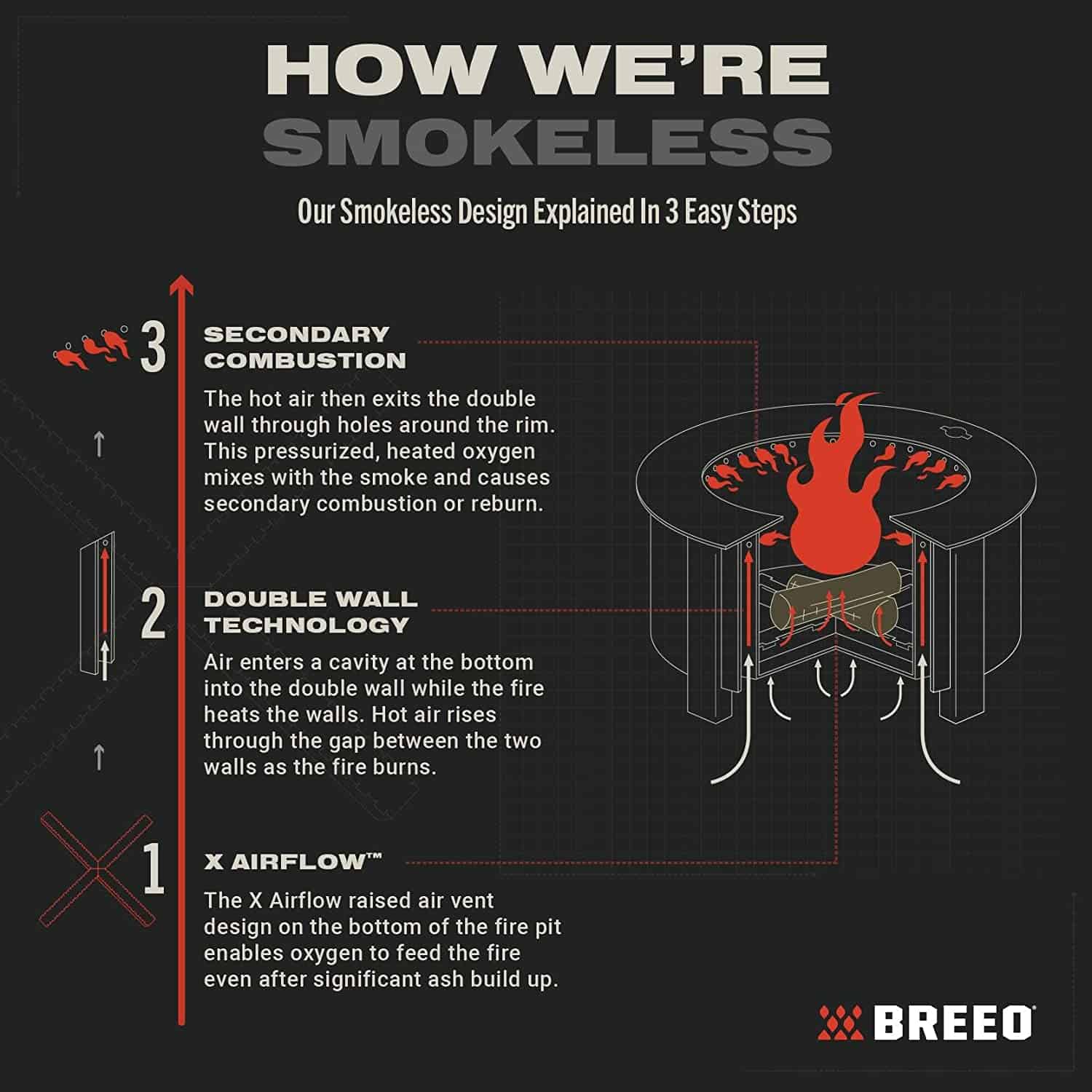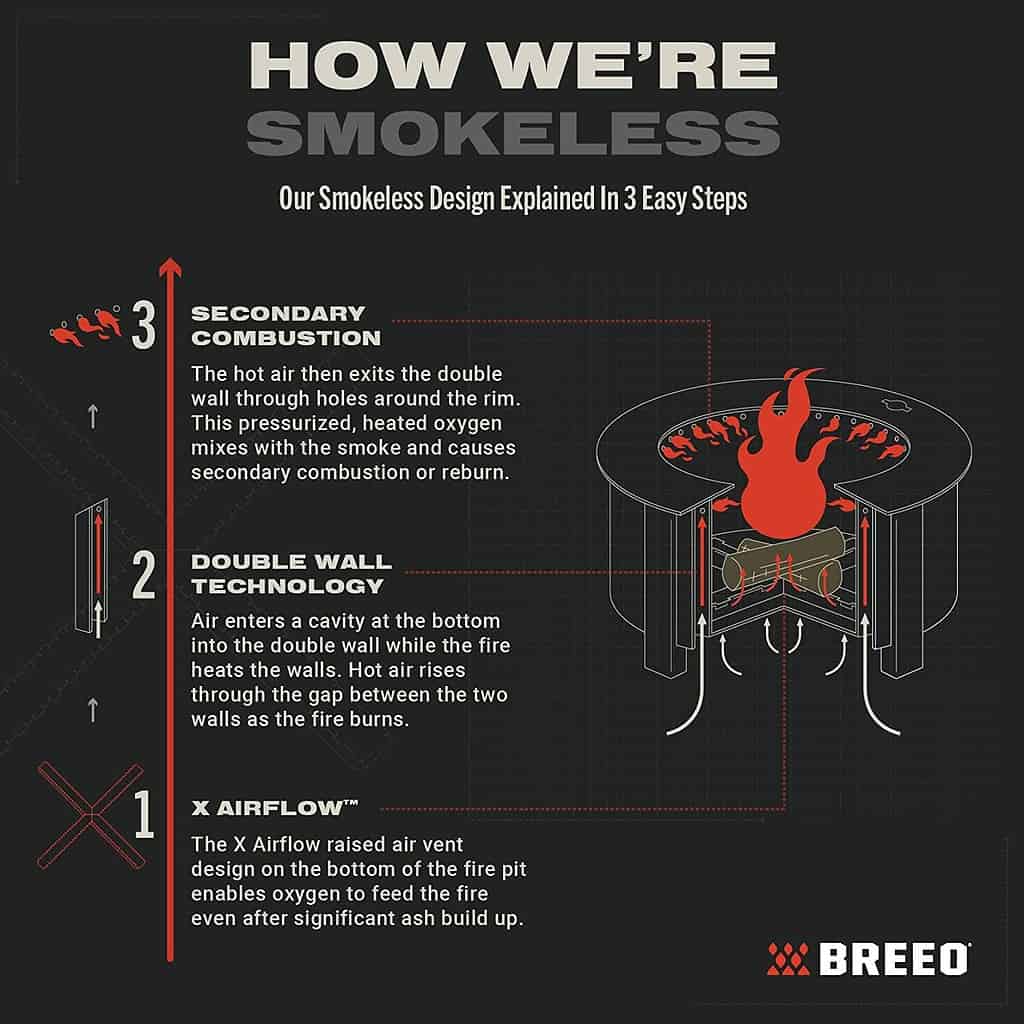 When individuals hear the term "smokeless fire pit," they usually wonder how it is even possible. However, the answer is quite simple. Breeo fire pits are manufactured using a patented X Airflow technology that acts as an air source for "primary combustion." With this technology, the fire burns from the bottom of the fire pit.
The secondary combustion holes around the fire pit's edge burn off the smoke before it rises from the fire pit. For a smokeless fire, it's crucial to maintain proper airflow. You want to keep your wood burning fire unhindered as the fire heats from the bottom. The fire pit enables oxygen to enter from the bottom helping to reduce smoke output.
What Is Corten Steel?
Corten steel has become a popular choice for outdoor structures, thanks to its unique visual appeal and durability. It is a corrosion-resistant material specifically designed to withstand the elements, making it ideal for use in architectural and landscape structures. One of the key advantages of Corten steel is that it forms a protective patina over time that prevents further corrosion, giving it a weathered, earthy appearance. Notably, it can endure a variety of weather conditions, so you don't have to worry about storing it indoors.
Although Corten steel requires some attention, it is a low-maintenance material, and it will last for years without rusting deeper than its surface. It is perfect for outdoor fire pits, that can be used in all seasons without worrying about rust or damage. During the patina process, you'll need to be careful where you place your fire pit, as the patina can bleed, but it's easy to accelerate the process by mixing water, dish soap, peroxide, salt, and vinegar, and spraying it on the surface of the Corten steel. Make sure you're wearing protective gear while doing so.
Corten steel is a unique material that adds beauty and functionality to outdoor spaces. Its unmatched strength and design make it a reliable and classic choice for fire pits, ensuring that it creates an engaging and welcoming gathering space for guests in the backyard.
Frequently Asked Questions
How Long Does It Take To Get A Fire Going?
We suggest about 20-30 minutes to get a fire going. Getting a blazing fire going usually requires a little more time.
What Do I Burn In My Breeo?
We suggest only three things to burn in your Breeo: firestarter, kindling, and cordwood. Use high-quality, very dry materials.
How Do I Start A Fire In My Breeo?
To start a fire in your Breeo fire pit, the best method is to build a log cabin with your cordwood and kindling. This will help to create maximum airflow throughout the open fire or pit, resulting in a more successful and efficient fire. Use a grill lighter or a long match to light your fire.
How Do I Put Out The Fire?
Let the fire burn down until it becomes ashes. If you need to leave the fire pit unattended, cover it with a spark screen. After the fire pit has cooled down, remove the ash using the Breeo Ash Shovel.
Conclusion
In conclusion, if you're looking for a high-quality, durable, and versatile fire pit that will provide you with a lifetime of enjoyment and warmth, then Breeo fire pits are an excellent choice. Each model is designed with careful consideration of functionality and beauty, and they are built to withstand the elements and the test of time. A Lifetime.
I hope this review has helped you understand why I love Breeo fire pits so much and why I recommend them to anyone who loves spending time outdoors. So go ahead, invest in a Breeo fire pit, and experience the joy of the great outdoors sitting around a warm, crackling fire with family and friends.